Best Easter Salad Recipe with Orange, Mint, and Asparagus
Are you looking for the Best Easter Salad Recipe? I've got a pasta salad made with Orange, Mint, and Asparagus that I think you're going to love.
In our family, many times a simple salad was served at the end of our easter dinner. Serving the salad at the end of a meal is considered to be an Italian tradition and is believed to aid with digestion. Americans love a salad prior to dinner which can help discourage overeating. Either way, I love colorful easter salads. But the salad I'm sharing has a twist!
I am of the opinion that easter salad recipes should be filled with fresh ingredients and is the perfect way to either start or finish your easter meal and easter celebration.
That is why today I'm sharing my best easter salad recipe using pasta, orange, mint, and asparagus, just in time for Easter.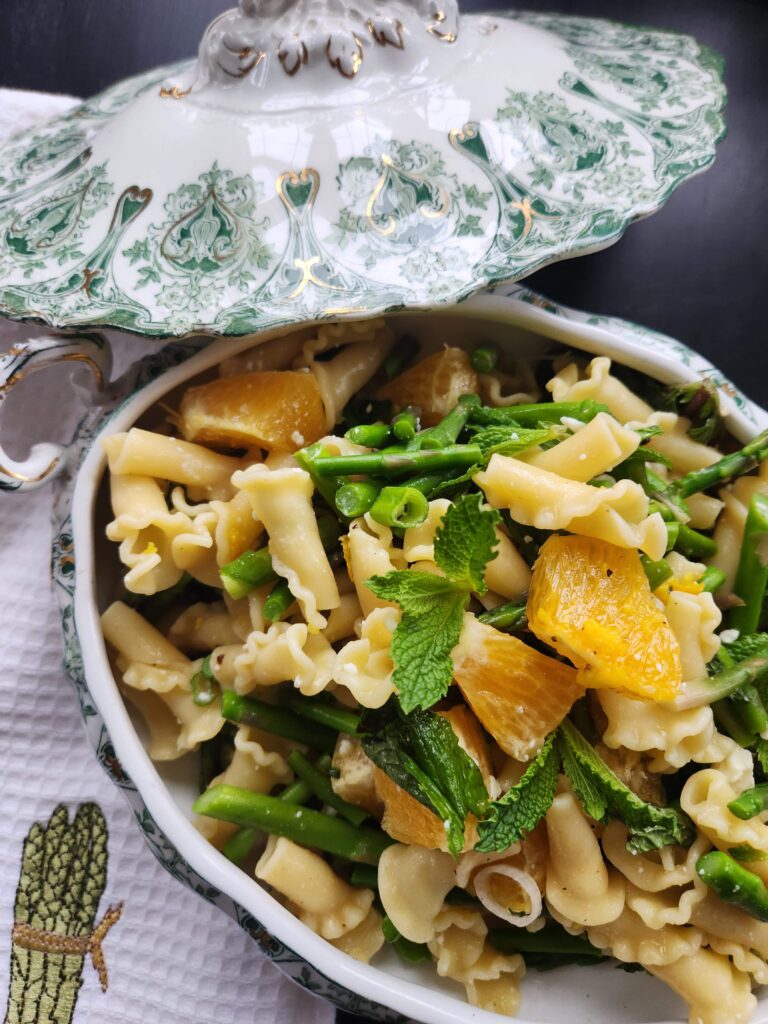 ""As an Amazon Influencer, I earn from qualifying purchases. This post may contain affiliate links which means I may earn a small commission. You may read my
disclosure policy here
".
What makes the best salads?
I love a good salad. Most days you can find me eating a mixed green salad with sundried tomatoes, edamame, chopped-off-the-bone ham pieces, and chunks of provolone cheese, then topped with a dollop of cottage cheese.
I don't even add salad dressing. The cottage cheese serves this purpose perfectly without added calories.
One of my favorite salads is a strawberry salad with balsamic. If you've been here for any length of time you know how much I love anything Jeanine from Love and Lemons serves up. Her book Love and Lemons is definitely a favorite of mine. This book is filled with fresh vegetable recipes.
Another favorite salad of mine is a spinach salad with walnuts, apples, and cranberries.
The key to making a great salad is simple. Start with fresh green, sprinkle in some sweetness while mixing in crunchiness, and then top with a delicious dressing.
What are the five salads?
During a meal, salads can be served throughout several courses: first as a starter course, as an accompaniment, main course, as an intermezzo (palette cleanser), and as dessert. Dessert salads typically contain fruit, mixed nuts, or whipped cream.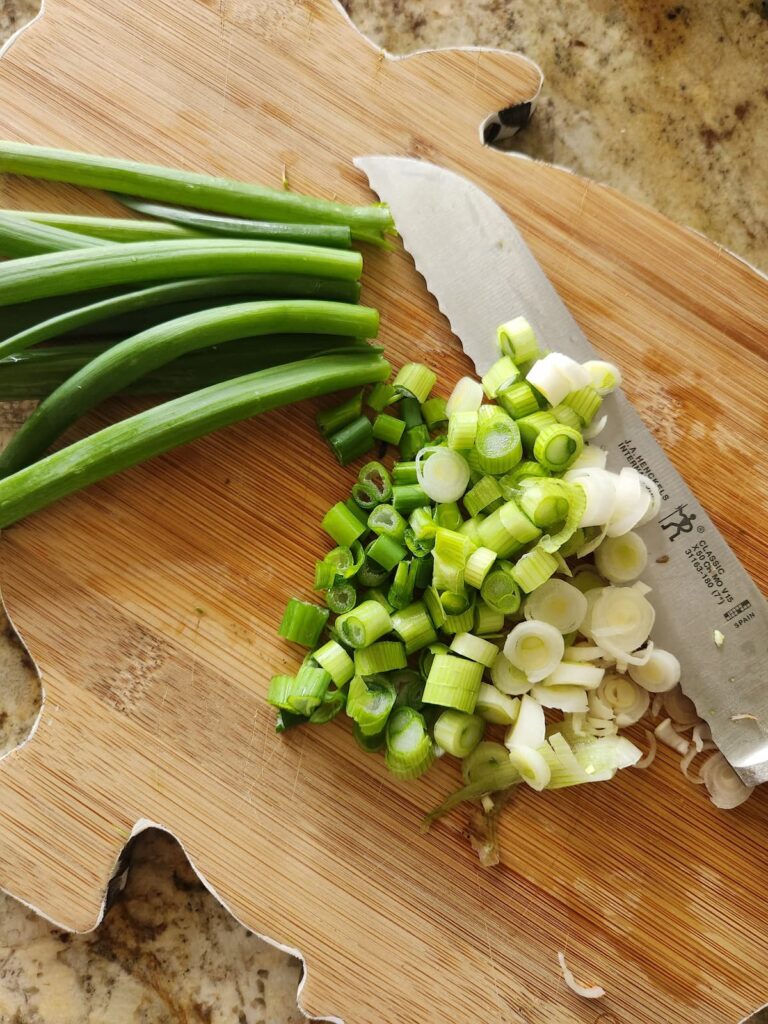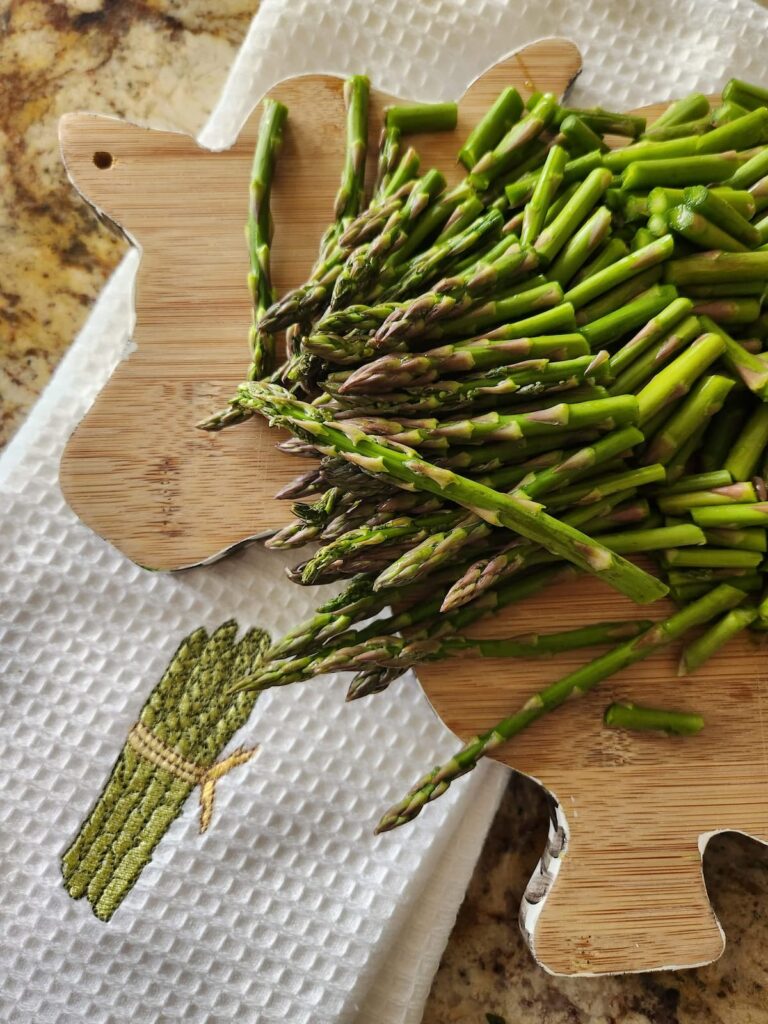 Not your typical green salad
If you're like me, you love olive oil which is a perfect addition to a delicious salad. Although, when I got to thinking about what type of salad I wanted to serve at my easter brunch, I thought, how about something a bit different than a typical green salad?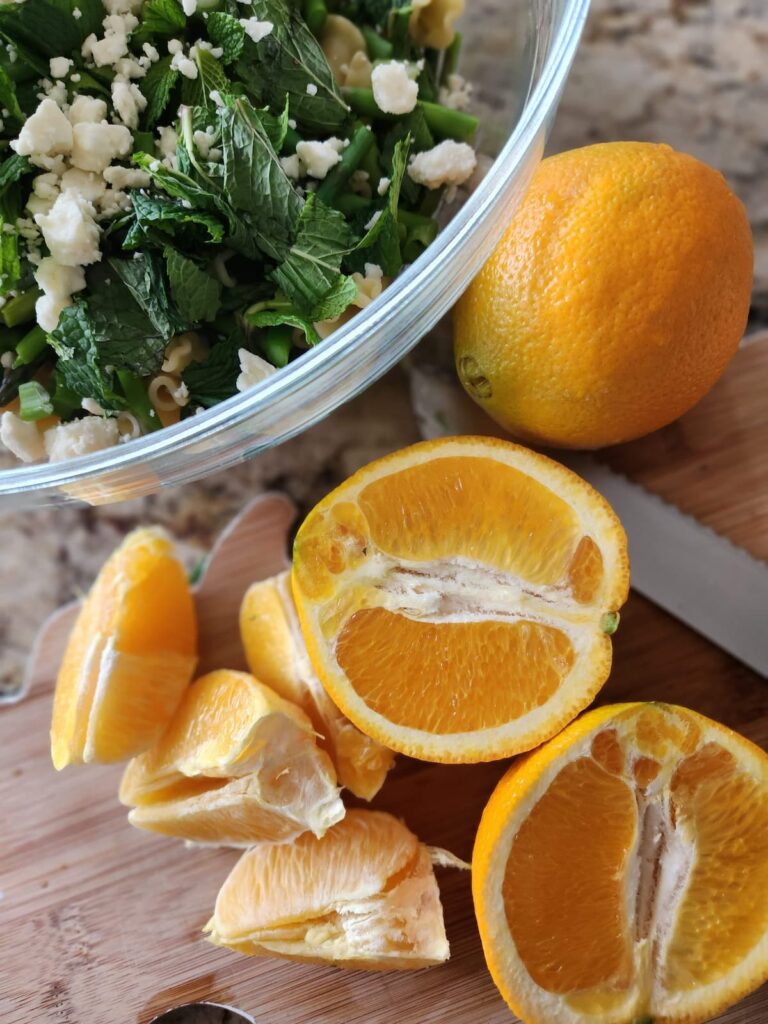 When I think of a fresh spring salad, I think of either a strawberry spinach salad, egg salad, or ambrosia salad. All of these are delicious for a summer meal don't get me wrong.
For my easter table, I wanted to use fresh produce that was in season, as well as have it be an easy easter salad recipe using pasta.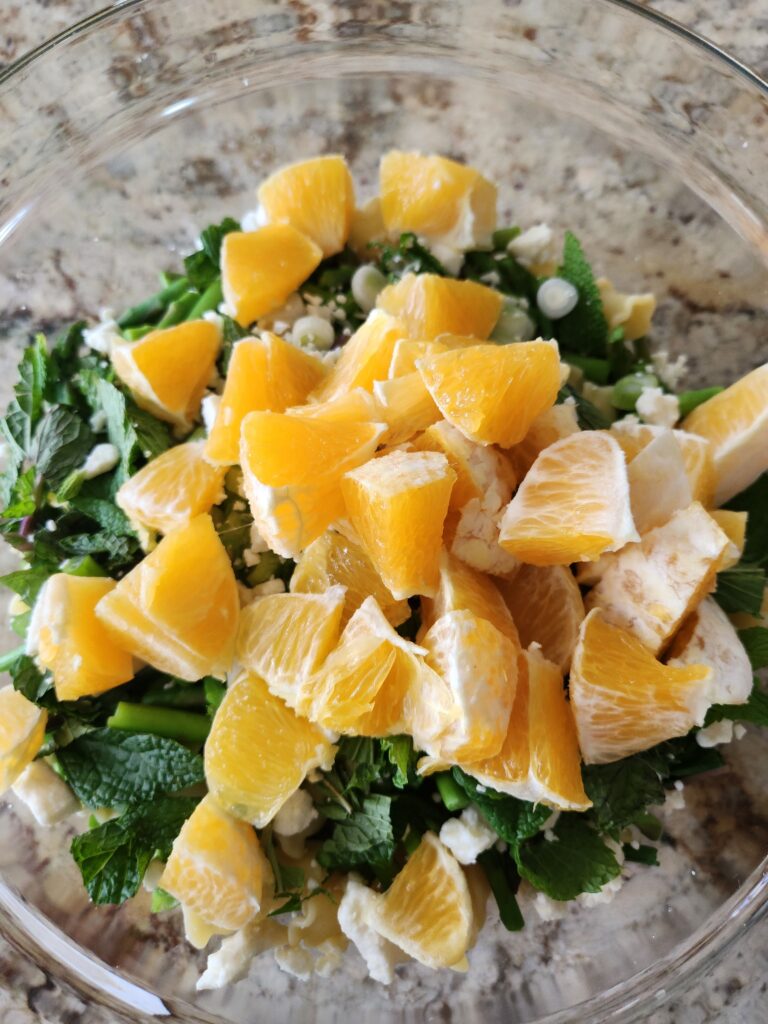 The ingredients
First, let me tell you what's not in my salad recipe. There are no poppy seeds or hard-boiled eggs in my salad. No green beans, leafy greens, or no lemon juice included.
Wait? What? No greens?
That's right.
Not the greens you are probably thinking of. How about an asparagus salad? Asparagus is green.
Better yet, how about a spring pasta salad using a few of my favorite ingredients such as green onions, mint, and fresh oranges?
What my bright spring salad does have in it is white wine vinegar, fresh mint, large navel oranges (or Cara Cara and /or blood oranges), crumbled feta cheese, thinly sliced green onions, and asparagus which holds a bright green color, and a super fresh flavor.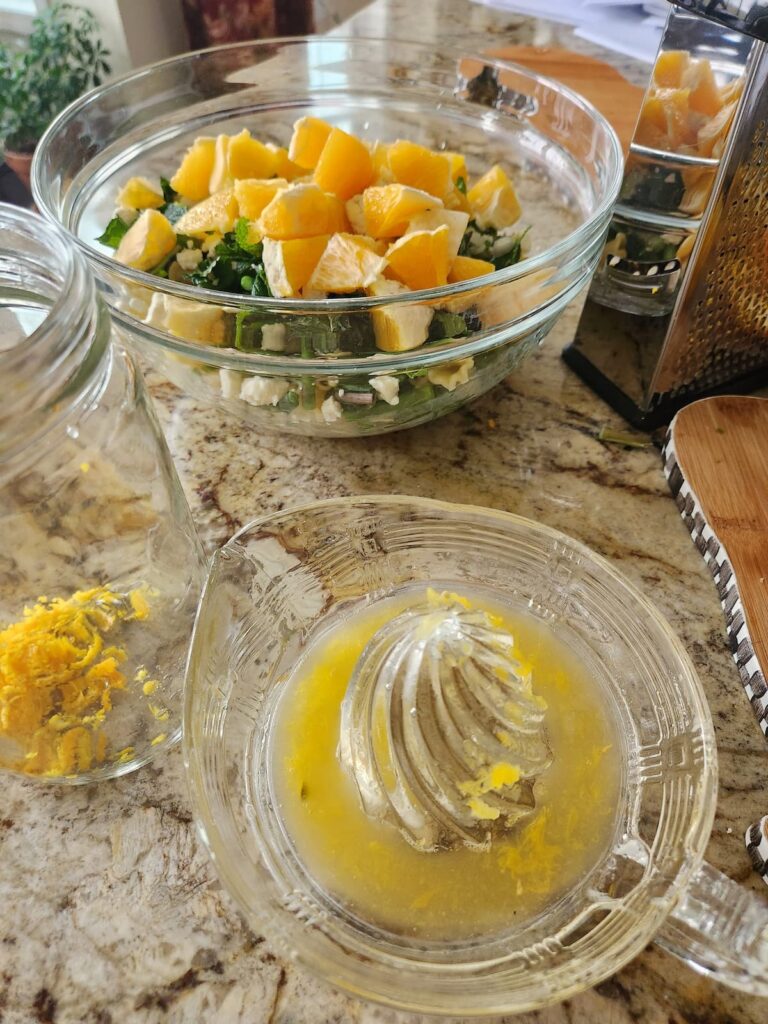 Do orange and mint go together?
I think you are going to love this when you taste it for the first time and here is why. The citrus orange flavor blends beautifully with the mint. In short, yes the two go together perfectly!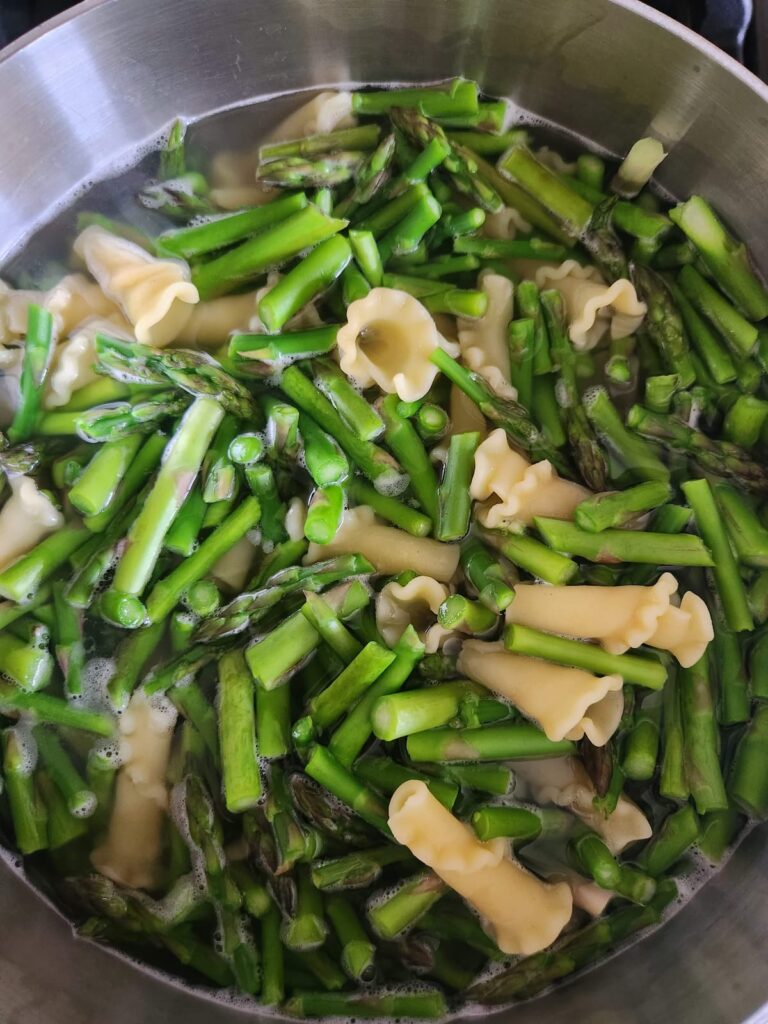 For the full recipe, see below.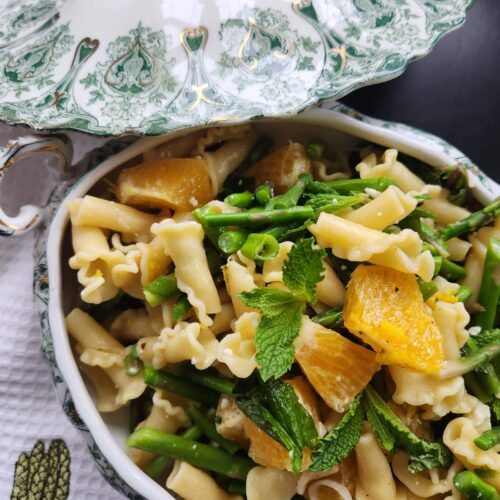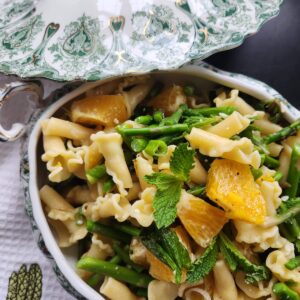 Orange, Mint, and Asparagus Pasta Salad Recipe
Are you looking for the Best Easter Salad Recipe? I've got a pasta salad made with Orange, Mint, and Asparagus that I think you'll love.
Ingredients
8

oz

campanelle pasta

1

lb

asparagus

sliced in 1 inch pieces

1/2

cup

thinly sliced green onions

1/3

cup

fresh mint, chopped

1/2

cup

feta cheese

3

large

naval oranges, Cara Cara or blood oranges

4

tbsp

Olive oil

4

tbsp

orange juice

2

tbsp

white wine vinegar or cider vinegar

1/2

tsp

salt

1/4

tsp

pepper
Instructions
Cook pasta per package directions

Add asparagus the last 2 minutes of cookiing the pasta

Drain, rinse with cold water. Drain, transfer pasta with asparagus to seperate bowl.

Add green onions, mint and feta cheese to pasta mixture.

Use a serrated knife, remove peel and white from two of the oranges, Halve the oranges lengthwise, then crosswise. Add to the pasta mixture.
Dressing
From the remaining orange finely shred 2 teaspoons peel. In jar with screw top lid, squeese 2 tablespoons orange juice. Add orange peel, olive oil, vinegar, salt and pepper.

Pour over pasta. Combine well.

Cover and refrigerate for 1 hour or overnight. Toss before serving
My best Easter salad recipe with orange, mint, and asparagus doesn't get any easier!
The best part is that you can make this salad for any Sunday brunch or holiday meal.
My favorite tip! This pasta salad is even better the next day.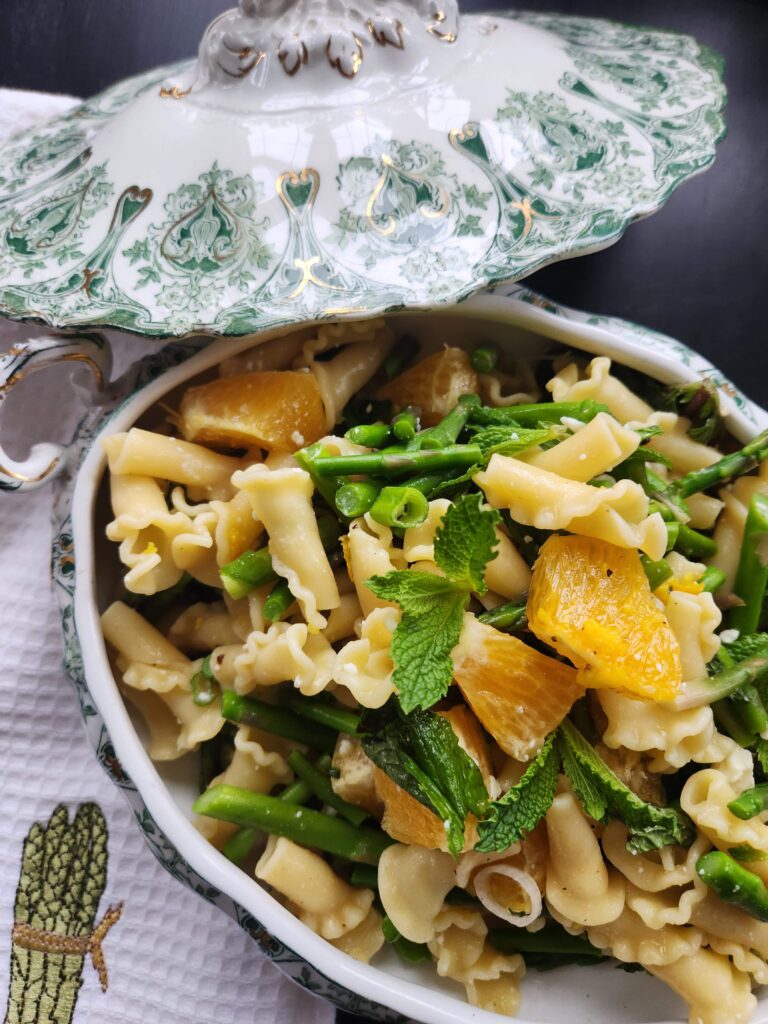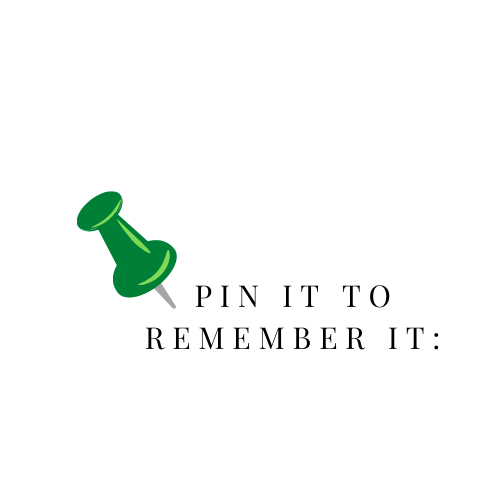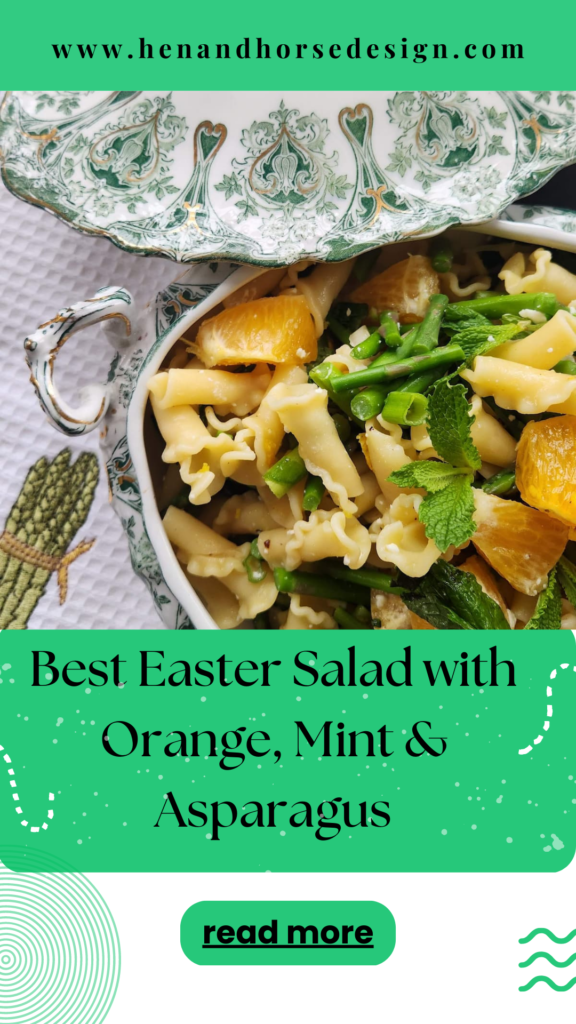 Related posts:
I hope you enjoy this recipe. Let me know if you try this recipe out. I'd love to hear from you.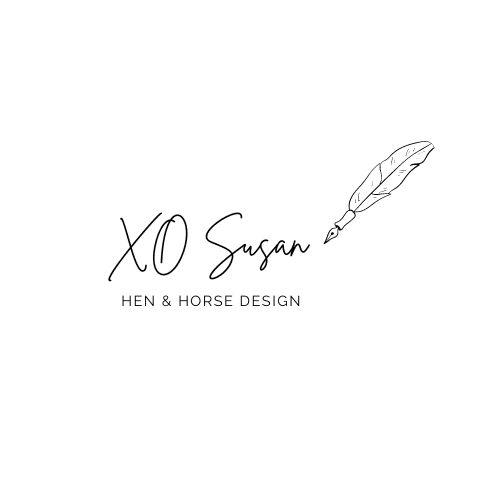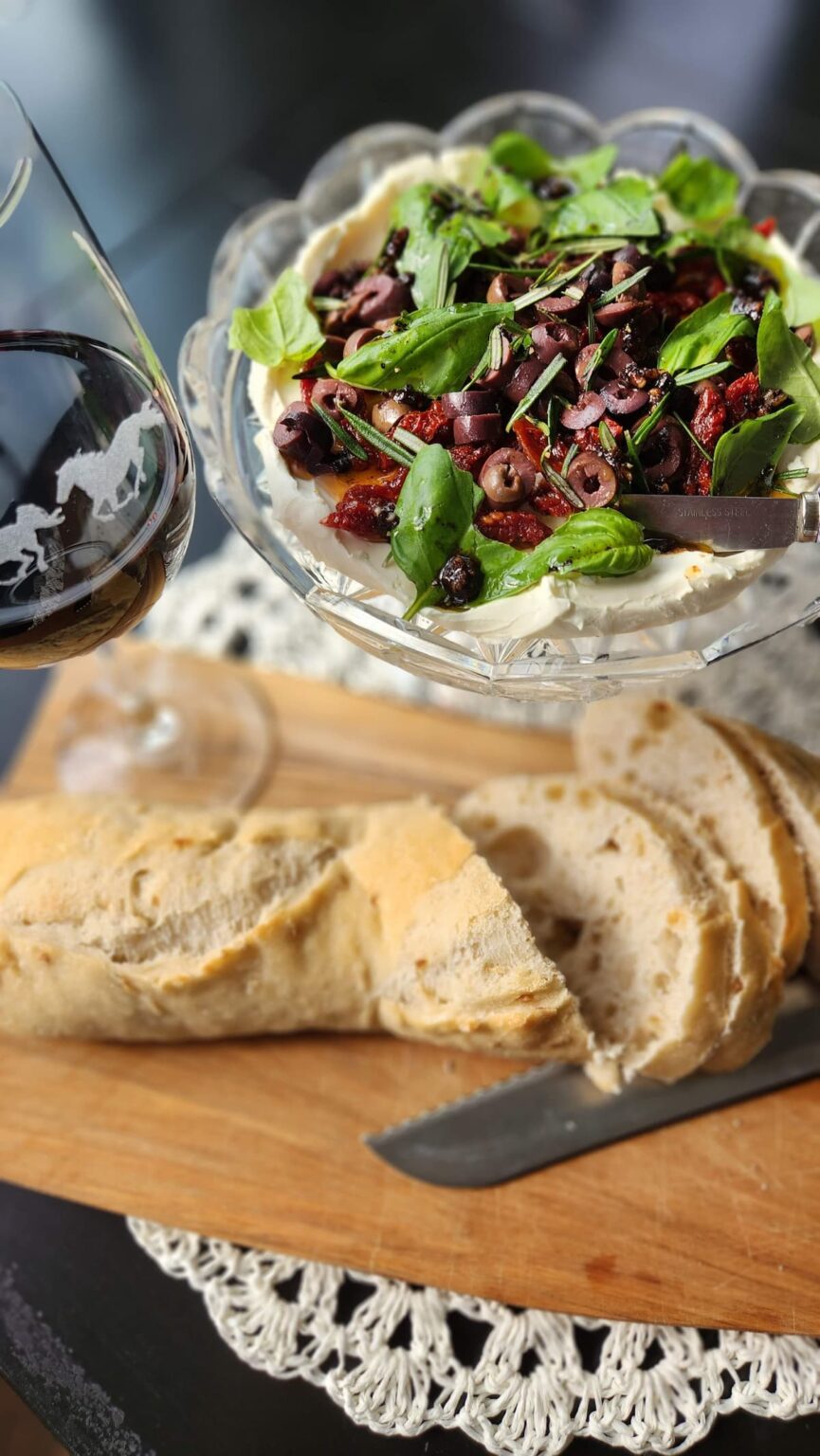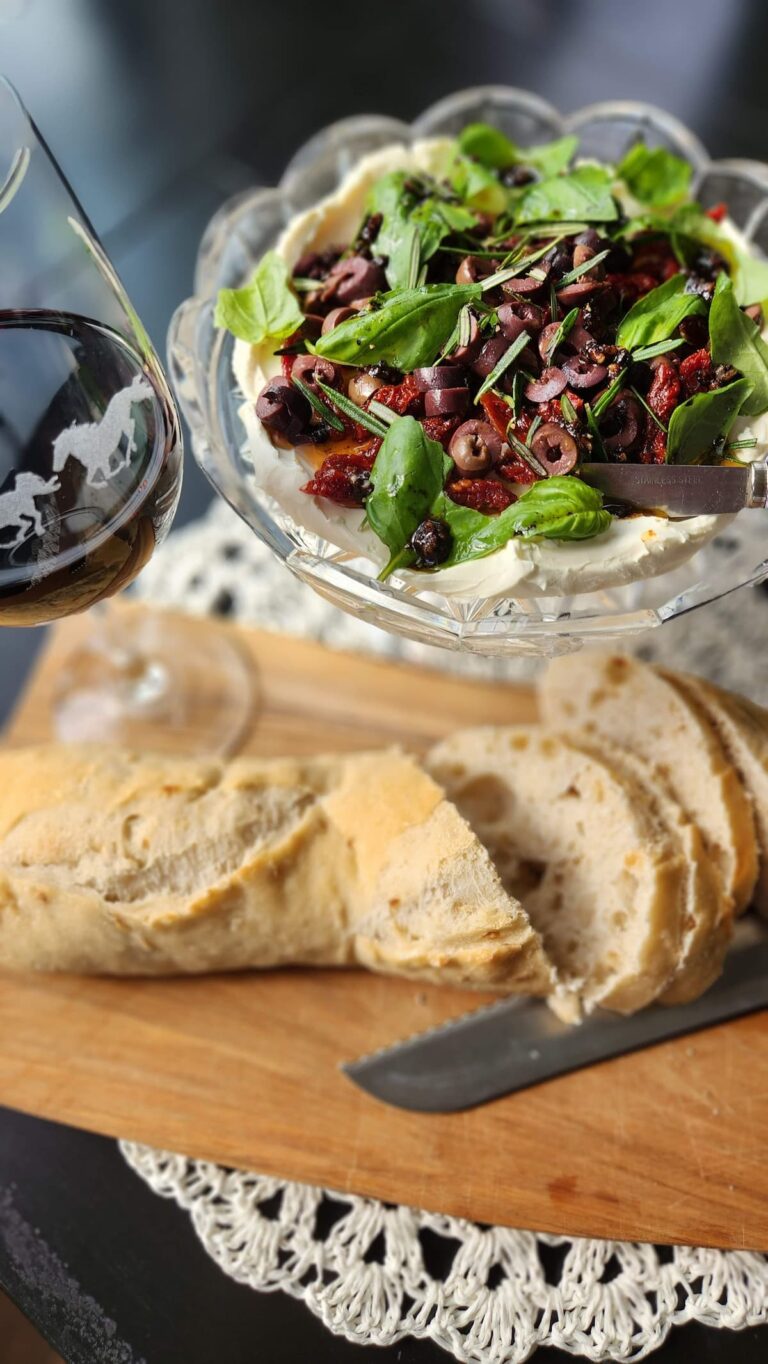 This Sundried tomato and goat cheese on crostini recipe is the ultimate appetizer. Rated a 5-star appetizer, it's the best you'll ever have.