Easy 4th of July Patriotic Tablescape Ideas
Looking for easy 4th of July Patriotic tablescape ideas to create a beautiful patriotic tablescape? Wait till you see these fun ideas!
With the Fourth of July just around the corner, I thought it would be a great time to share my patriotic decor. This past week I set three patriotic tables for you. Each one is a little bit different than the next. I used things I had and styled them in different ways with different combinations.
The summer holidays and independence day are so much fun, aren't they? Summer parties, barbeques, family gatherings, picnics at the beach, and beautiful tablescapes all go hand in hand. Let's start decorating.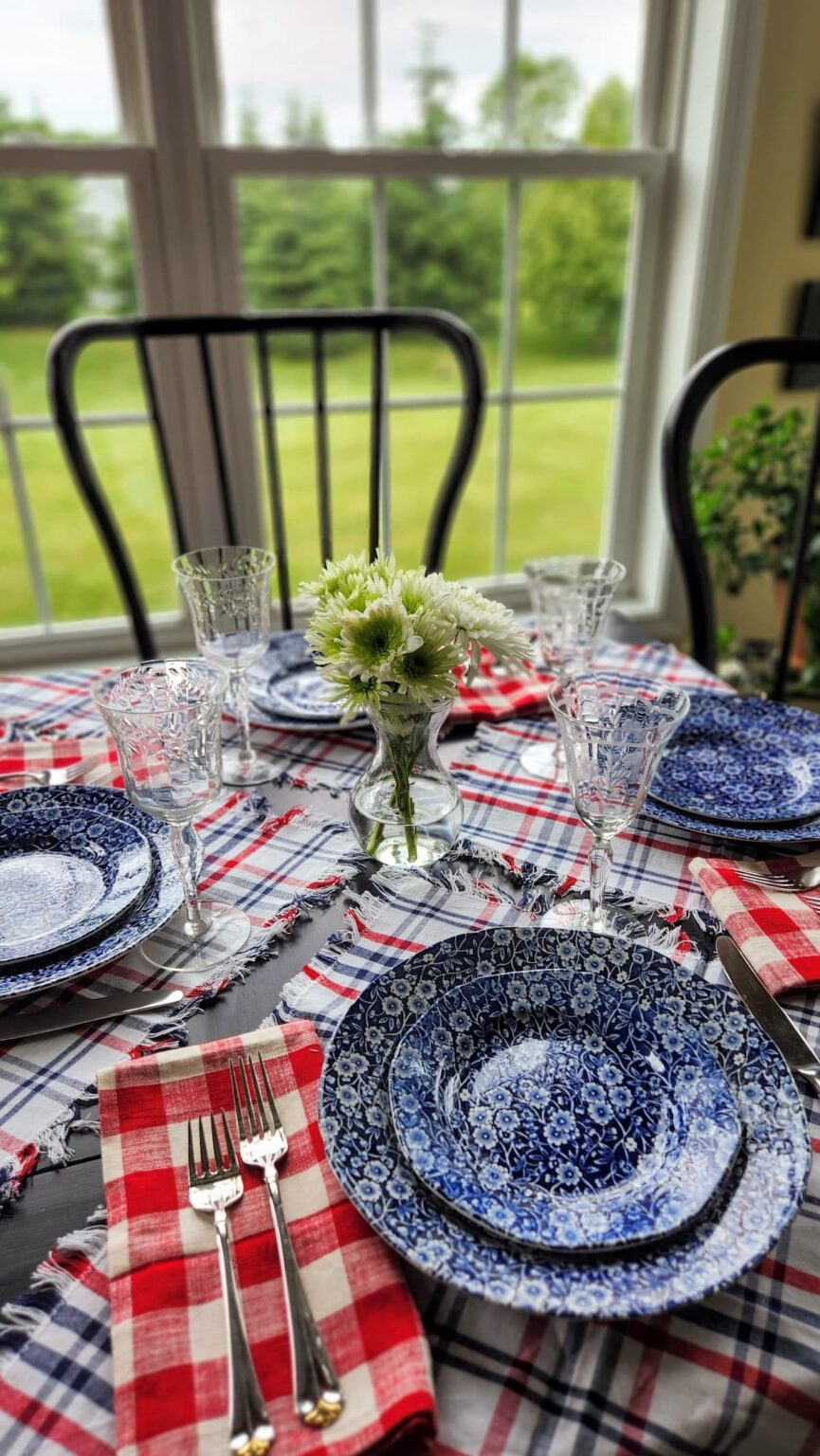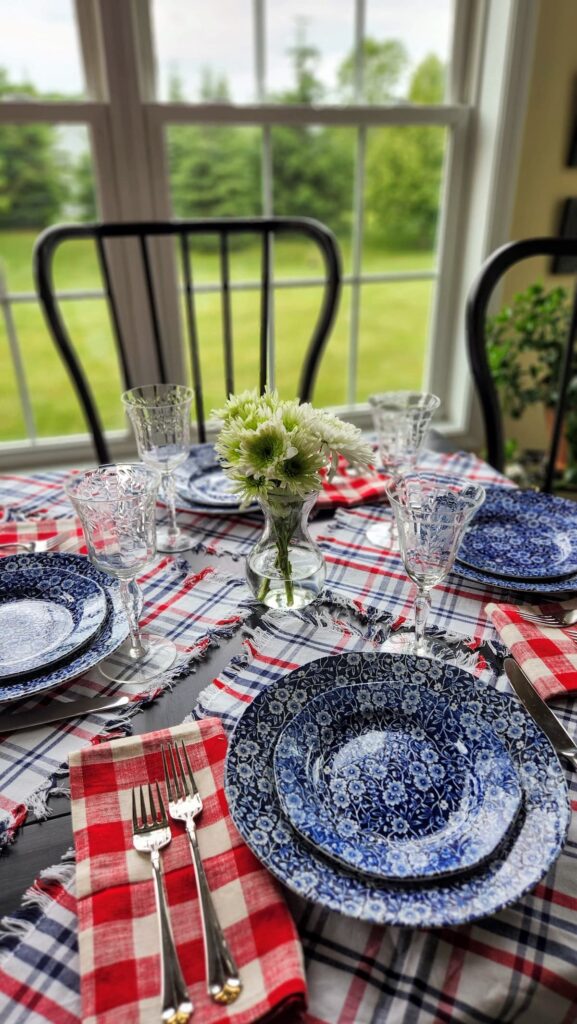 "This post may contain affiliate links which means I may earn a small commission. You may read my
disclosure policy here
".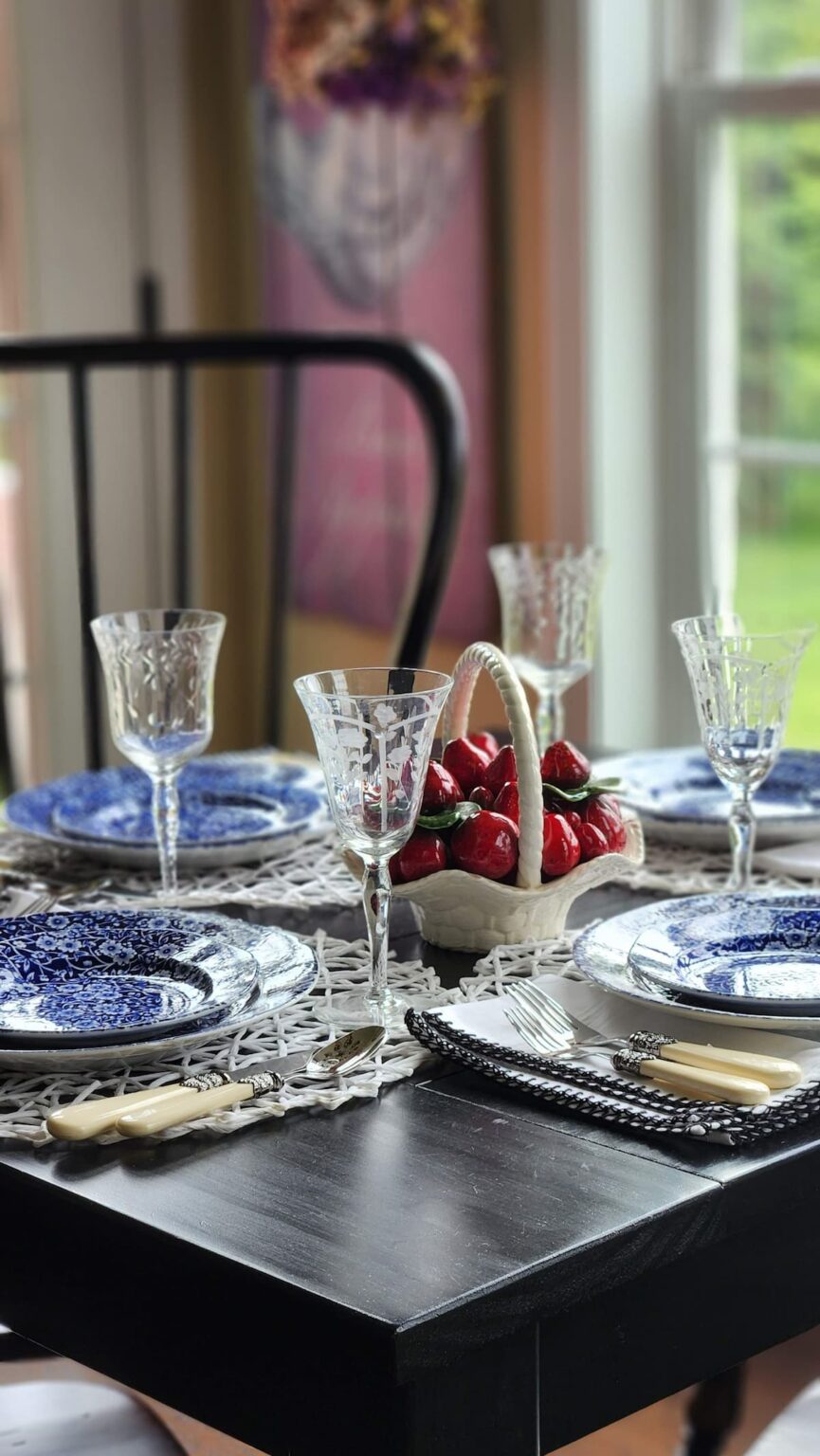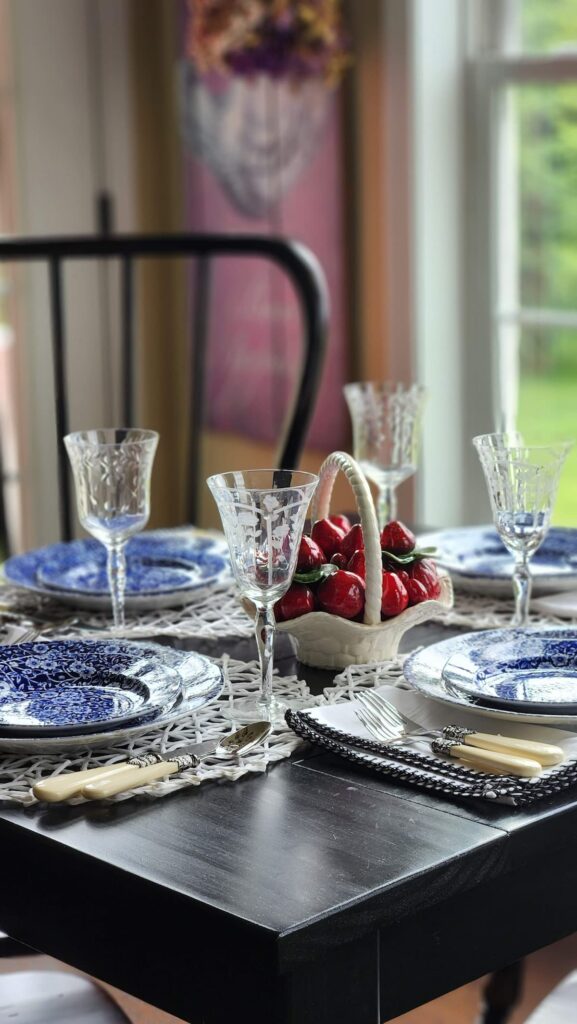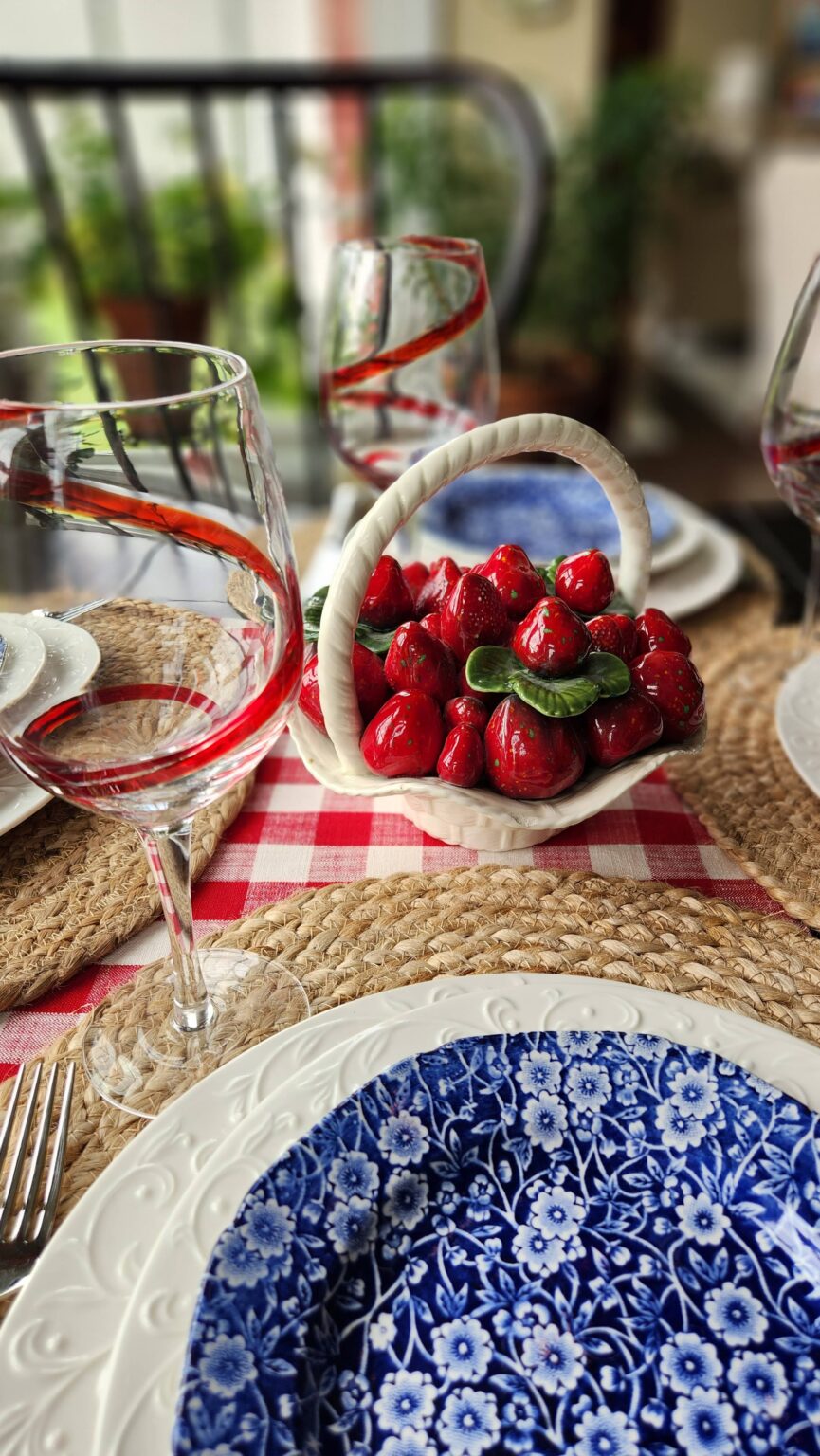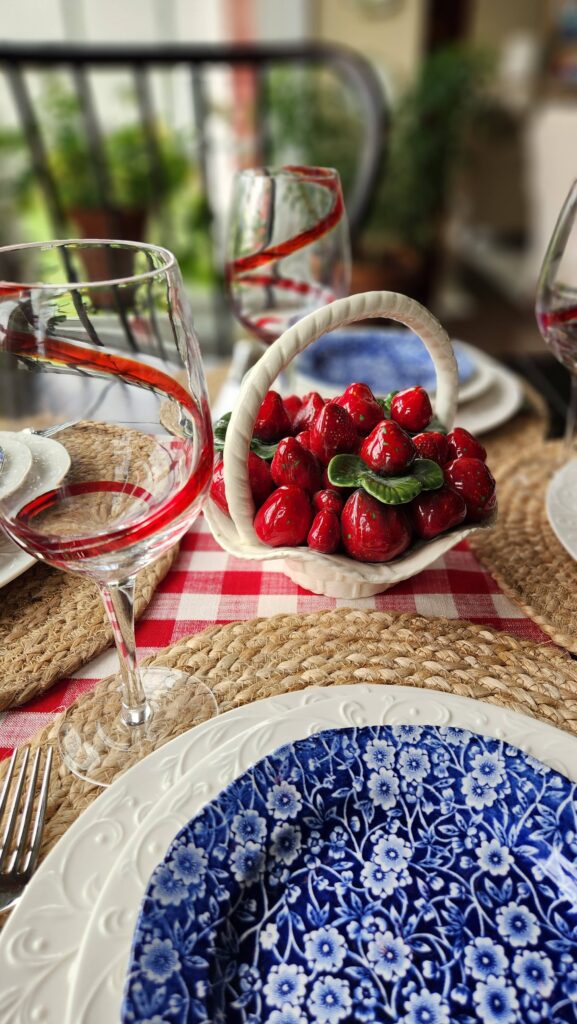 Before we begin, let's first talk about the purpose of setting the table. A while back I shared with you a story about how my mom taught me to set the table first before you even begin cooking your dinner.
What I have learned is that this simple little tip brings huge results. My mom was right about so many things.
Setting the table first, and early in the day, totally takes the stress out of dinner time because hey, all you need to do is make something to eat.
The other tip is to take a few minutes to fuss with setting your table! By fussing I don't mean it has to look like The Plaza Hotel in NYC. What I do mean is that setting a beautiful tablescape creates an atmosphere for you, your family, and your guests that the time spent at your table is special.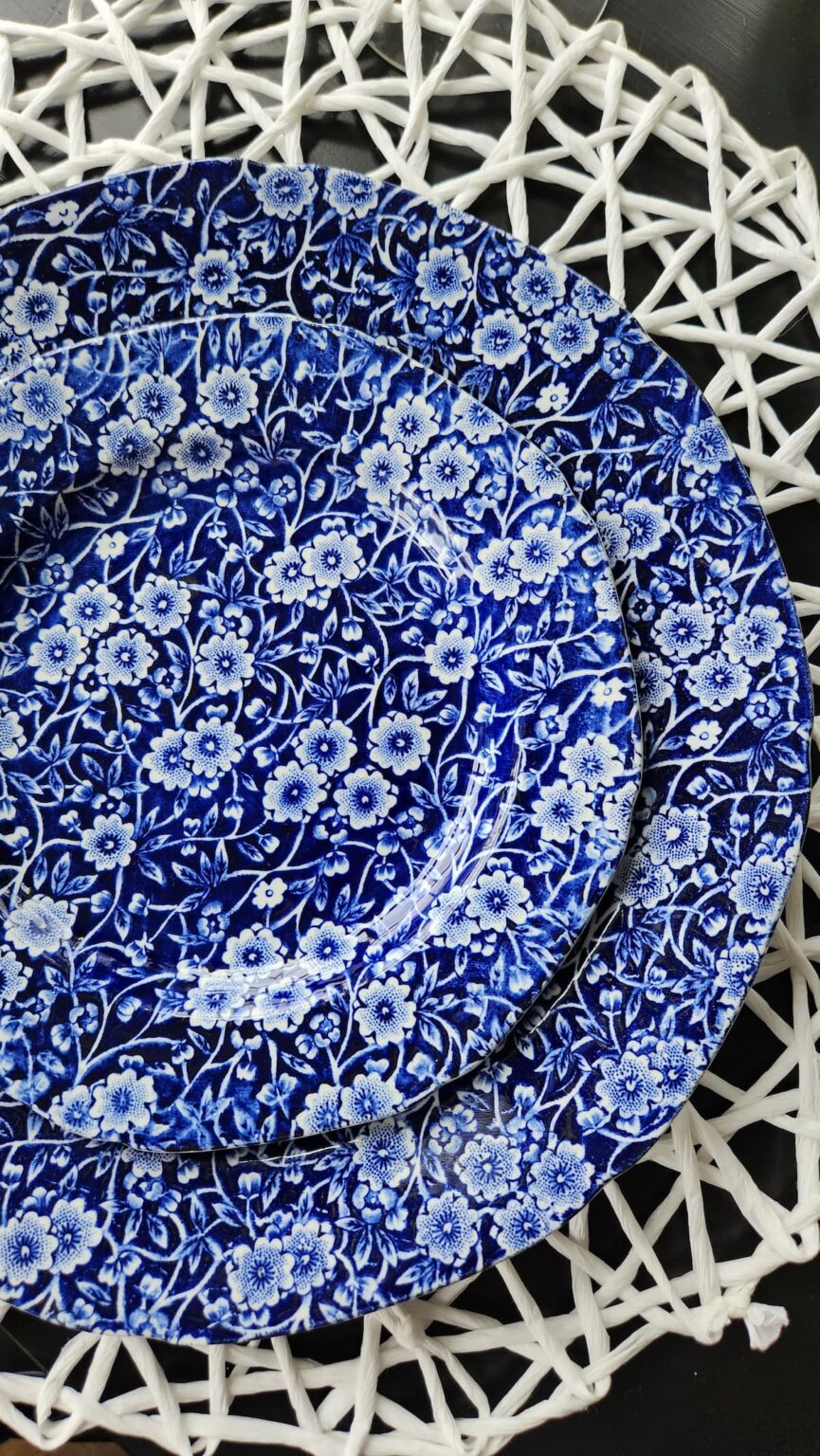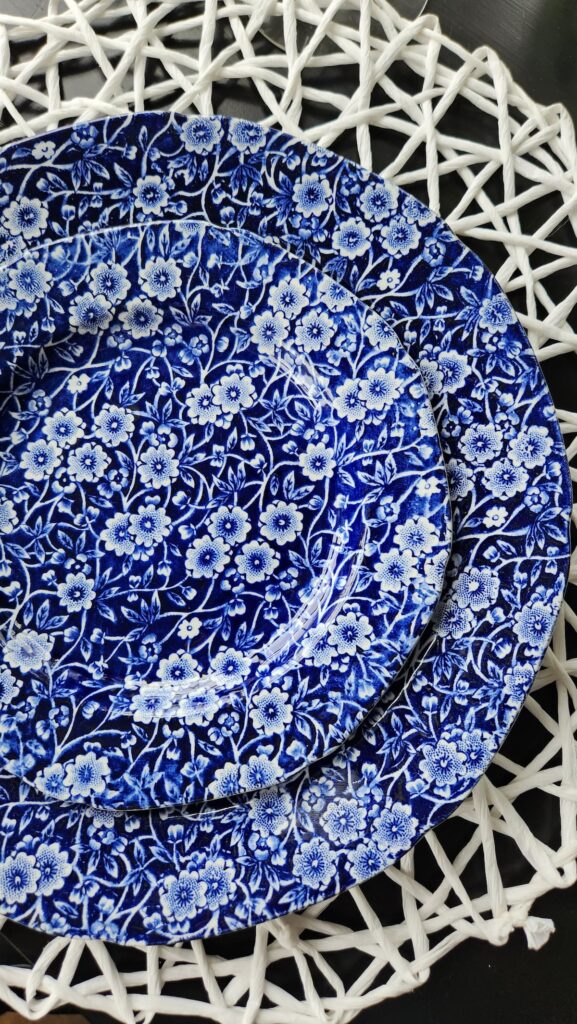 What is the purpose of a tablescape?
The purpose of setting a beautiful tablescape is to set the stage so to speak for a memorable evening or unique experience. Setting the table is a way of letting your guests know that they are important to you. When you set your table, think of it as a mini stage. One where friends will want to gather around and share their stories and the tales of their life.
It's one of my favorite things to do, is to set the table.
Dinner time is family time
So often these days dinner time is rushed between family schedules, after-school sporting games, or even spent in front of the TV or cell phone screen.
When the table is set, it gives a pause to your day.
Maybe you are not able to set the table every day, but have a goal set to try and have a designated time and the dinner table set, a few times per week. The benefits of gathering around the table are enormous for family time.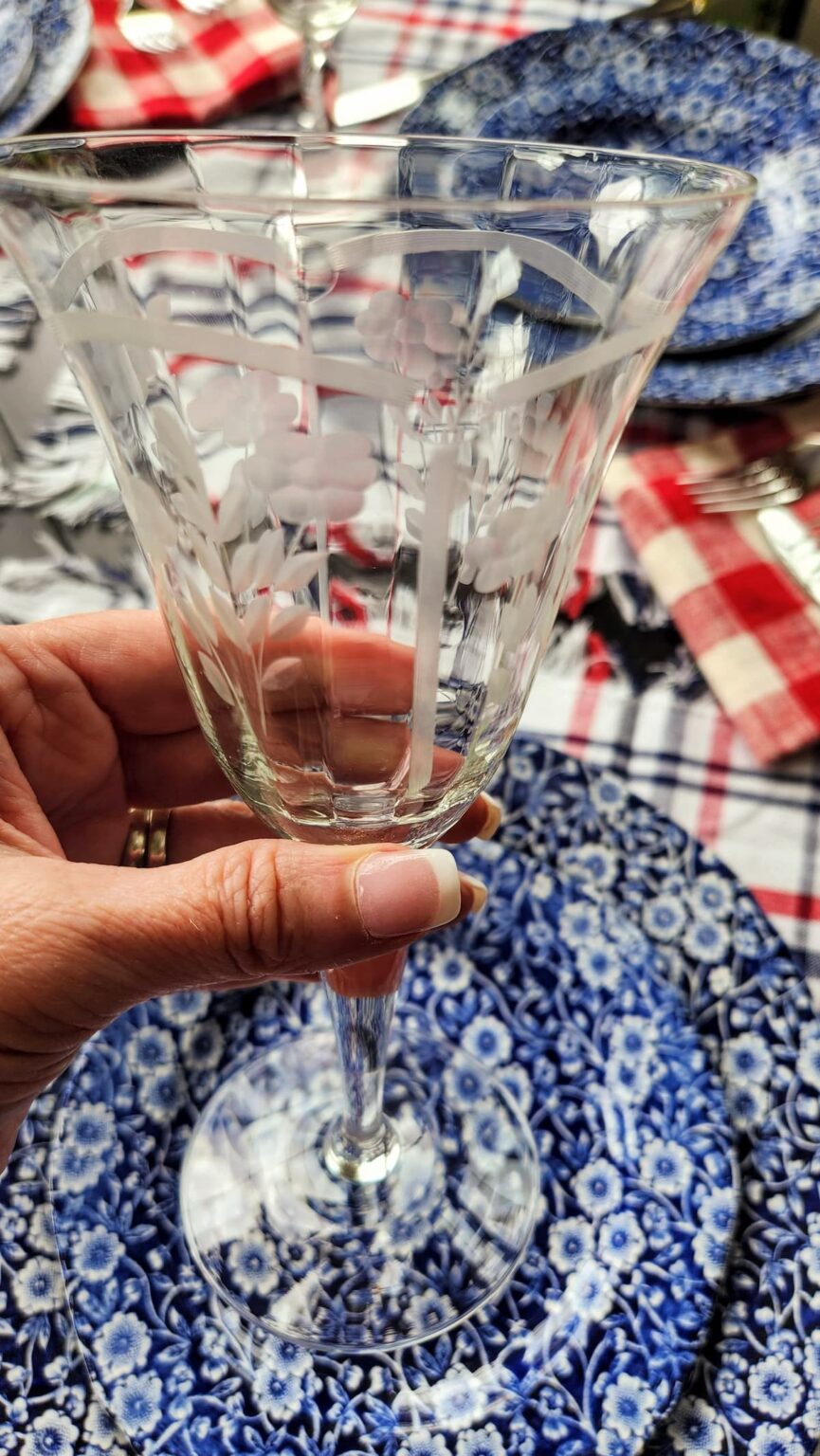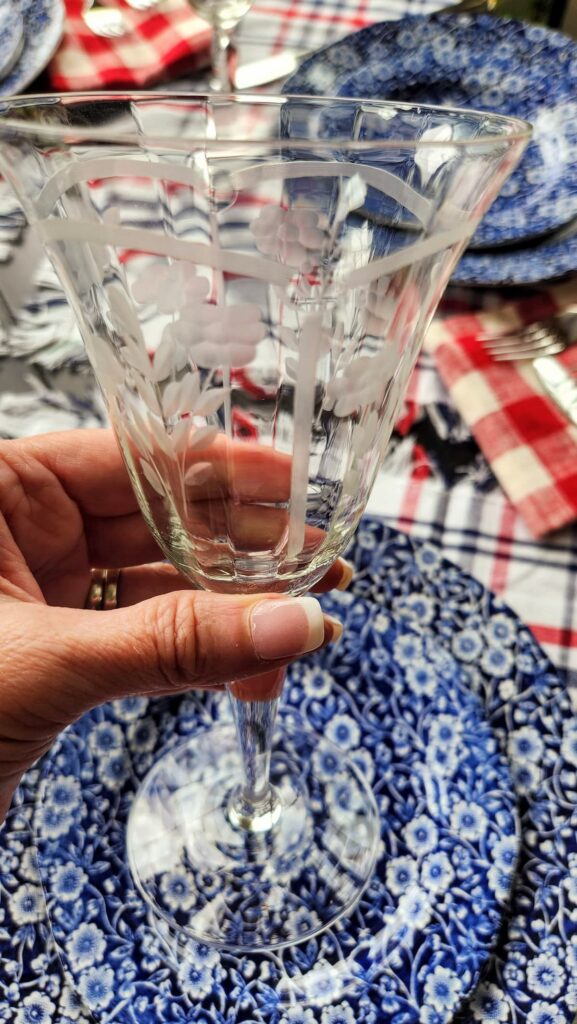 How to do simple tablescape?
A few tips for keeping your Patriotic tablescape simple
Keeping things simple when setting your table is key. A simple table will consist of dinner plates, possibly a salad plate on top of a tablecloth or a placemat. There is no need to stress about what dishes to use or whether to use your white dinner plates or blue hydrangeas. Also, there is no additional cost that is needed. Use what you have in a new way.
What does matter is that you find joy in doing it.
Take the time and enjoy the process. Create your stage! As long as you like it is what matters most.
How do I make a tablescape beautiful?
Add flowers in mason jars or a small plant in the center.
I always enjoy lighting a candle or set of candles no matter what time of year it is. Candles instantly set the stage, that it's time for dinner. Your guests will appreciate what you have created and enjoy lingering a little bit longer.
Accessorize with flowers for height.
For a blue color scheme use red roses with white daisies in the center of your table.
Place small American flags in a jar or vase
Use rattan chargers for a neutral look
Add colorful

napkin rings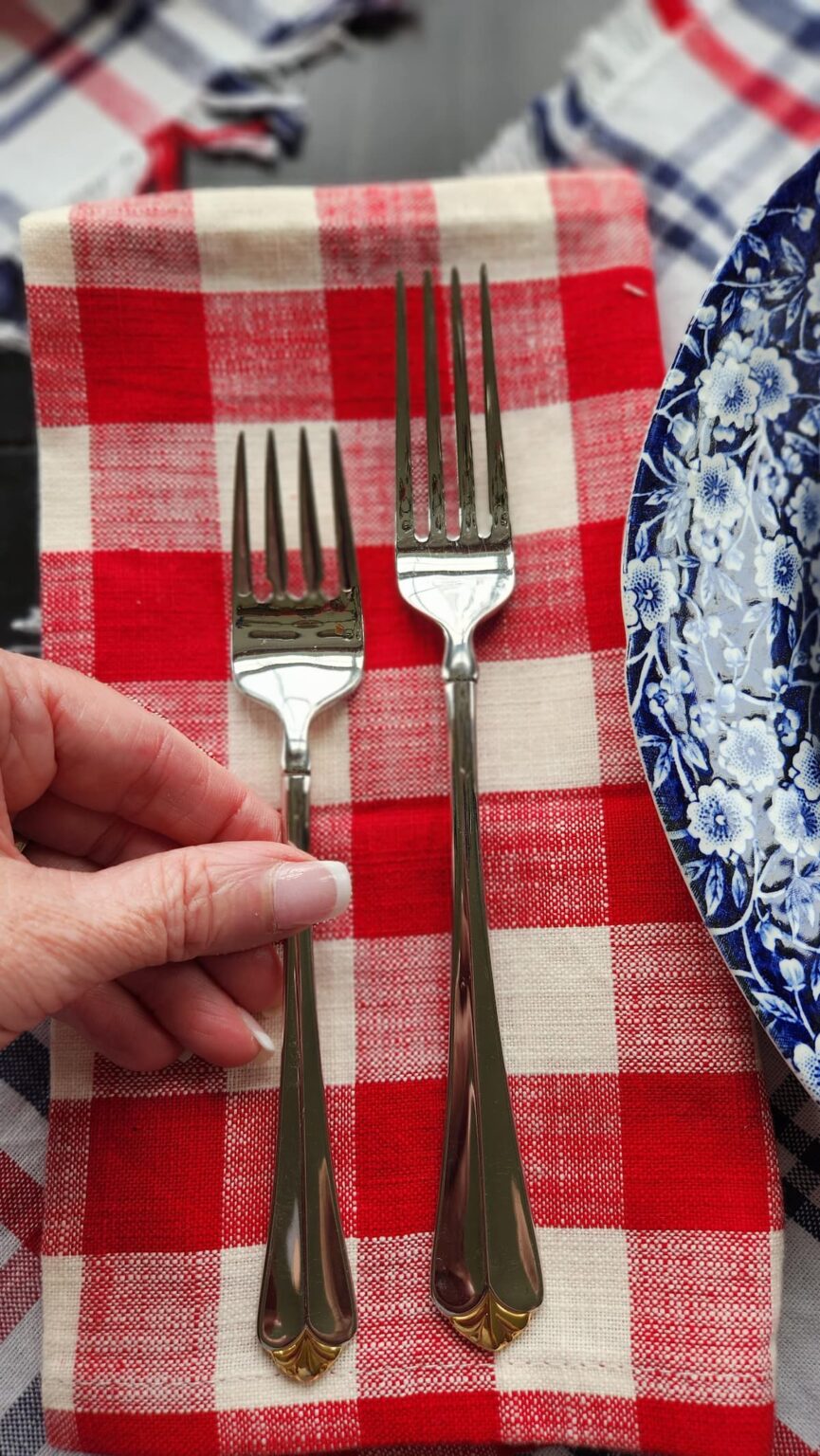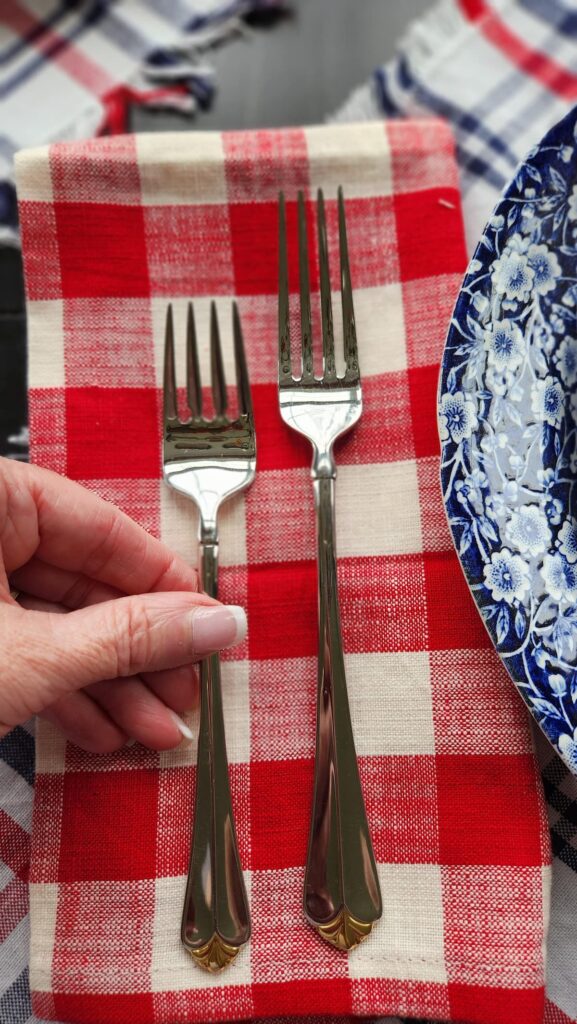 5 Easy steps for July 4th Patriotic Tablescape
Step 1: Plan ahead for your festive patriotic tablescape
The first step is to plan ahead. Planning for your patriotic holidays is key for a stress-free party. This step includes taking into consideration the number of people that will be at the table. Whether a large or small group will be attending.
Make a list of your attendees. You can then decide if you are going to use your dining room table or possibly head outside for outdoor dining. I cannot wait until I have a patio for dining outside.
Step 2: Make a list of what you will need
Next, make a list of how many dishes and plates, napkins, and glasses you will need. For my table, I'm setting a small table for four party guests.
Don't forget to look at your favorite things to see if you already have items you can use.
Thrift store finds are perfect for this. You may not own anything with red, white, or blue in your home decorating theme. Not to worry. Keeping a few items tucked away that you picked up at the thrift shop will come in handy when it comes to setting your table on Memorial Day, Veterans Day, the 4th of July, and even flag day and Labor Day!
Thrifting these items is wonderful for finding budget-friendly pieces to have on hand. I have a few classic pieces and vintage items that I can use all through the year.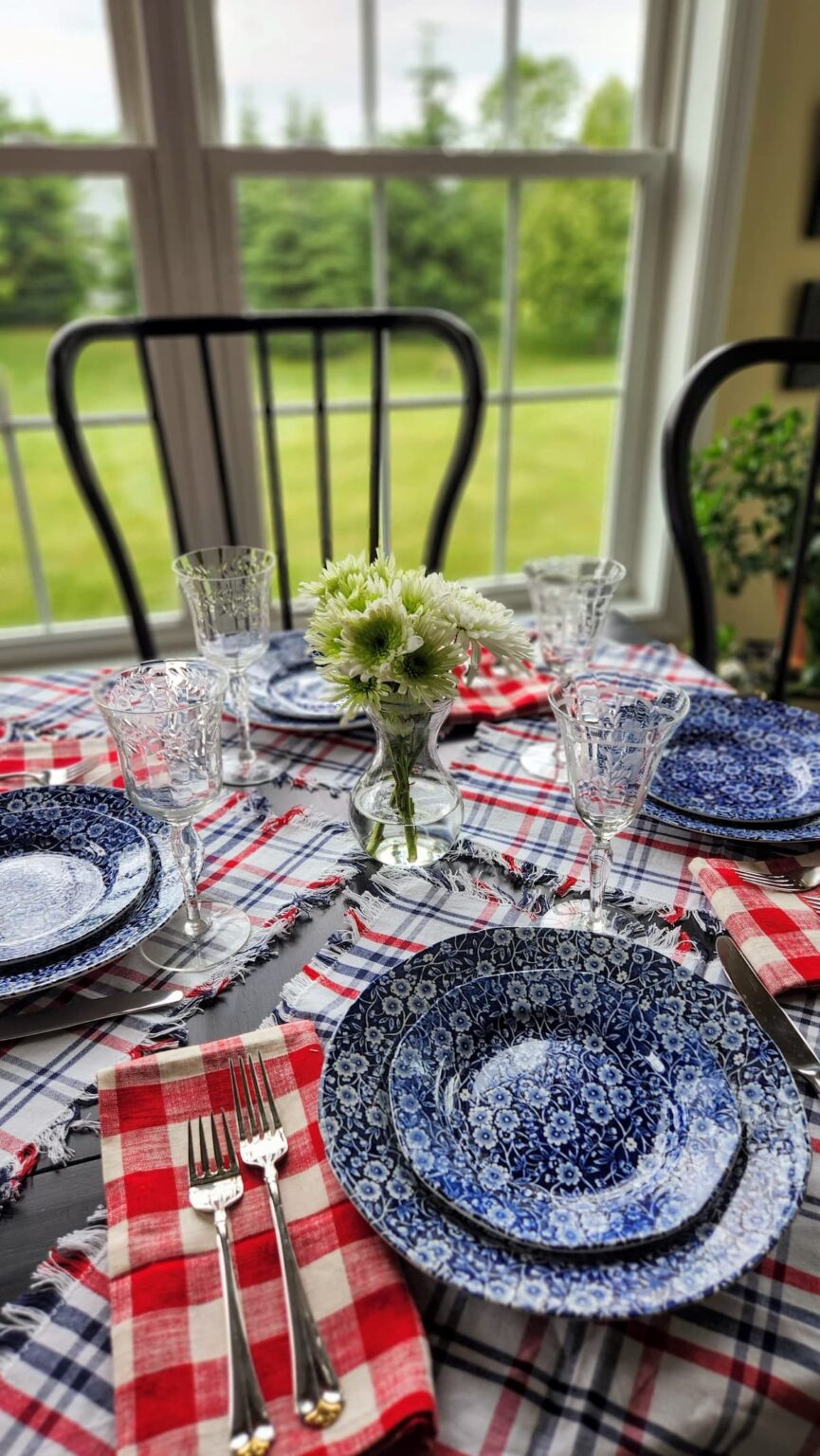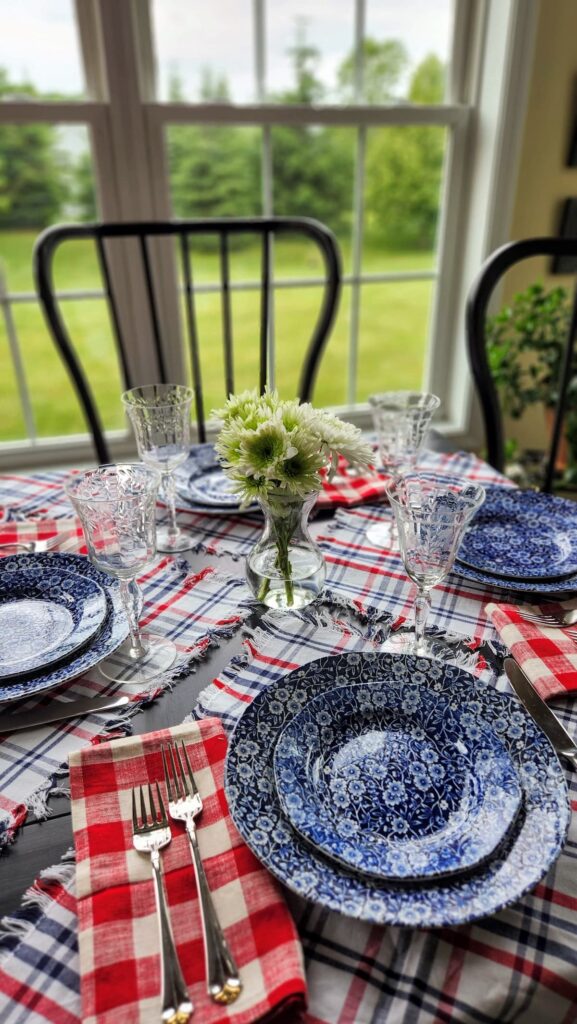 Step 3: Pick your color scheme
Now, it's time to pick your color scheme. With a patriotic table that's the easy part. Any combination of red, white, and blue makes the perfect patriotic table setting.
Adding little American flags, and blue hydrangeas alongside white hydrangeas are great ideas to enhance your blue decor.
Step 4 Add your place settings
Since you have your colors set, next is to layer. When I say layer, I mean layer everything! Red chargers with a red napkin layered on a white table runner create a lovely patriotic theme.
Layers and textures always add interest to your place settings.
Step 5: Have fun adding decorations
One visit to Hobby Lobby or the dollar store will fill your mind with ideas for adding decorations. I've been looking for red and white polka dot napkins to coordinate with the blue plaid cloth napkins I already own. Mixing patterns is another way to create and give your table the perfect patriotic spirit you are looking for.
I recently made this patriotic door wreath in the shape of a hat. You can easily use a wreath, laid flat on the table to instantly create the perfect July centerpiece.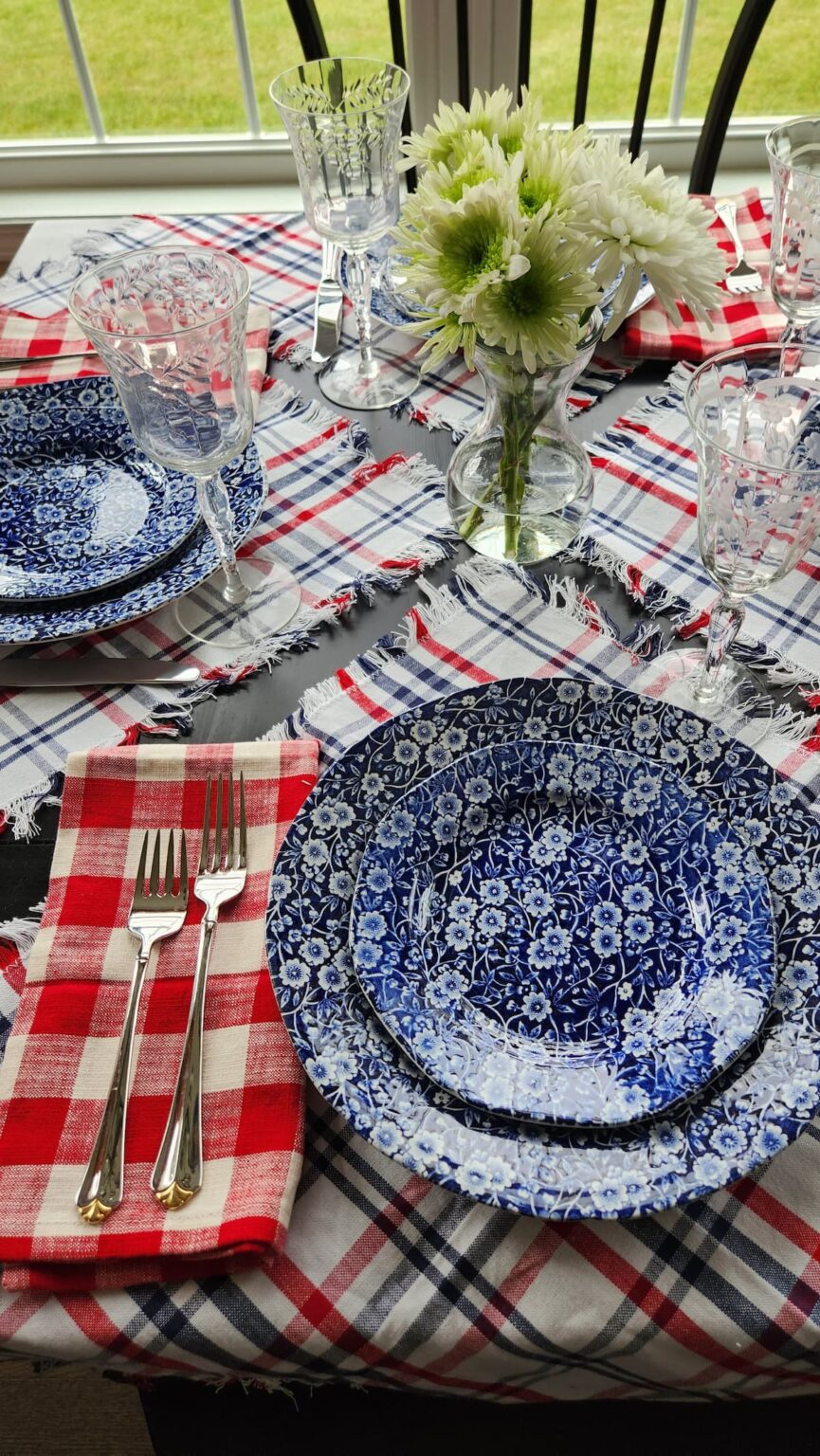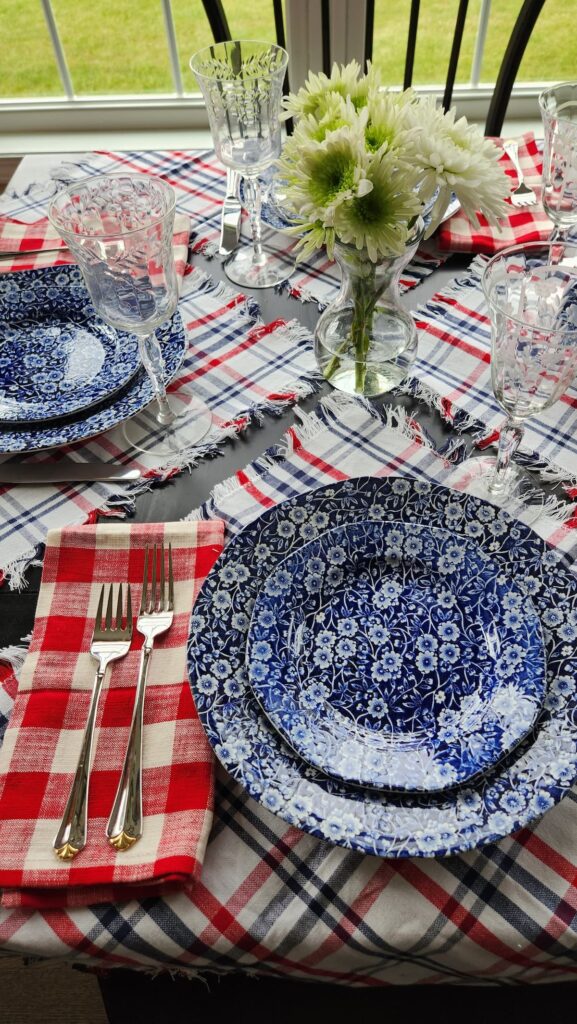 Table 1: Red checked cloth napkins layered over blue plaid napkins
With my first table, I took blue plaid fringed napkins and put them on a diagonal to use them as placemats.
I then layer my blue and white vintage chintz dinner plate with a salad plate on top.
Then I added red and white checked napkins, silverware, and my etched vintage wine glasses.
To finish the table off, I placed white daisies in a glass carafe in the center of the table.
Table 2: White weaved round placemats with the same blue chintz dishes
For my second table, I lightened it up a bit. I opted to not use a table runner or tablecloth. Simply placing these white weaved placemats on the table lay the ground for the blue dishes.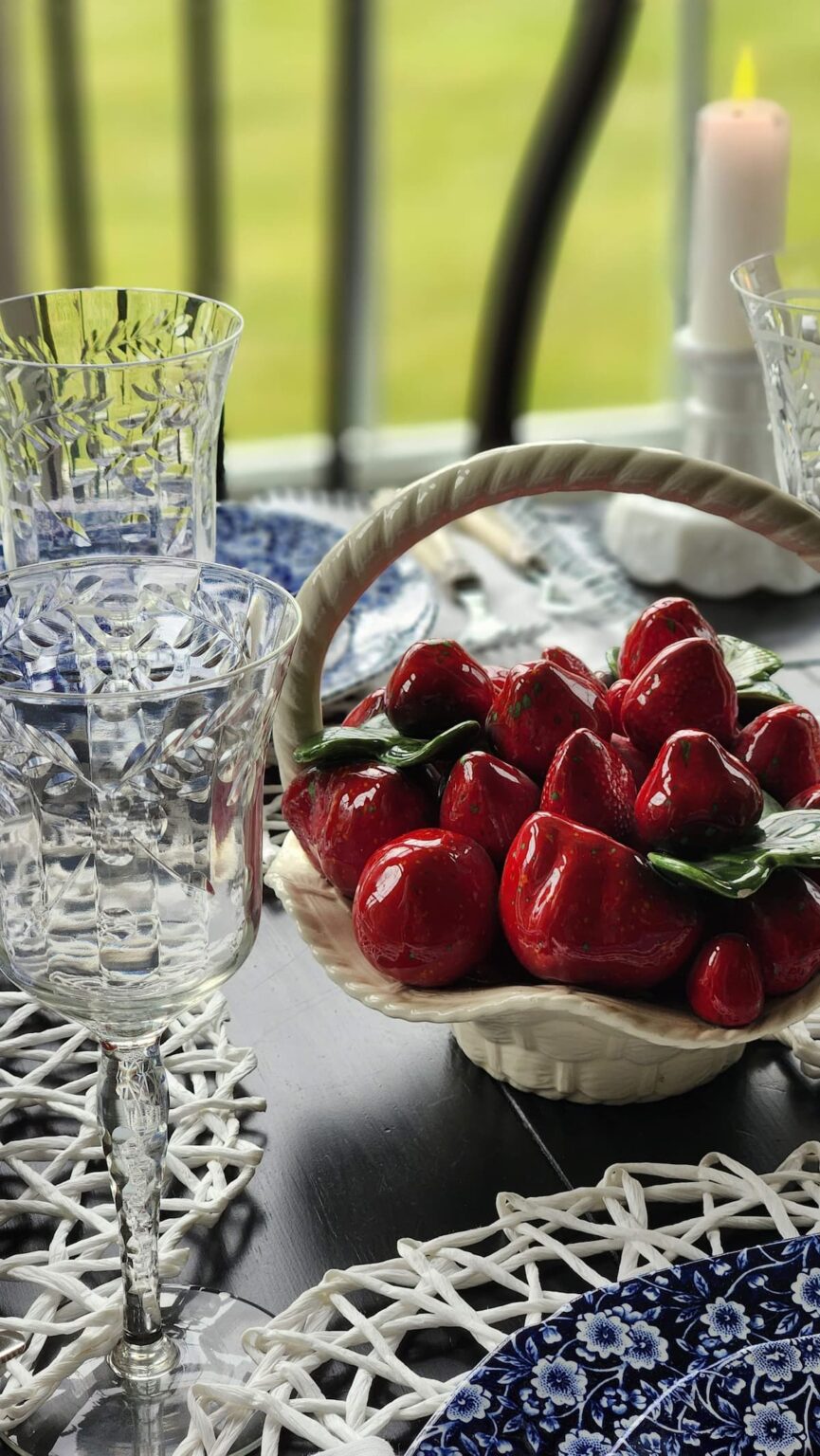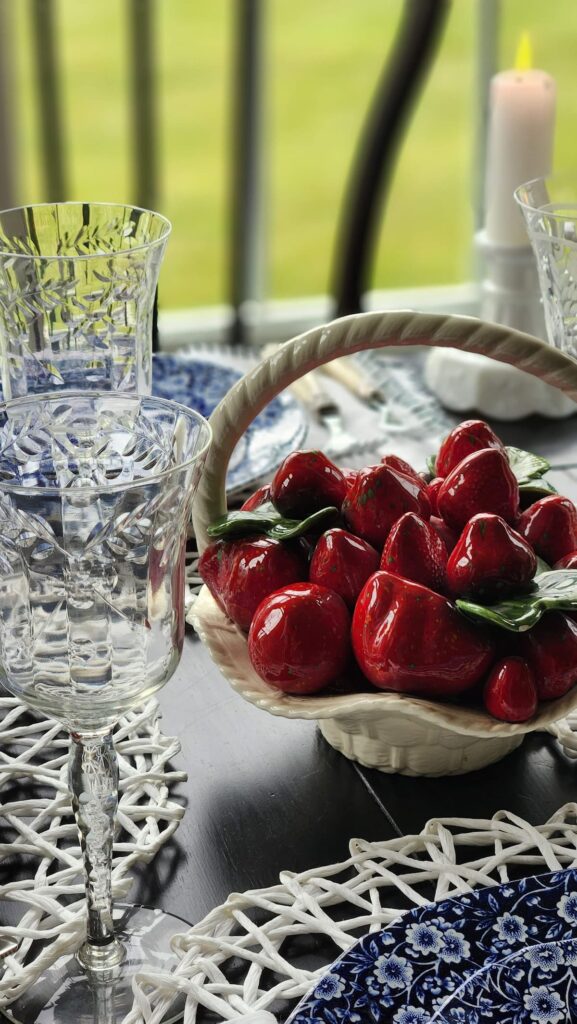 The ceramic strawberry basket was my mother's. For years it sat on her buffet and holds a beautiful memory of her well-styled home. Every Spring I look forward to pulling it out of my treasure chest.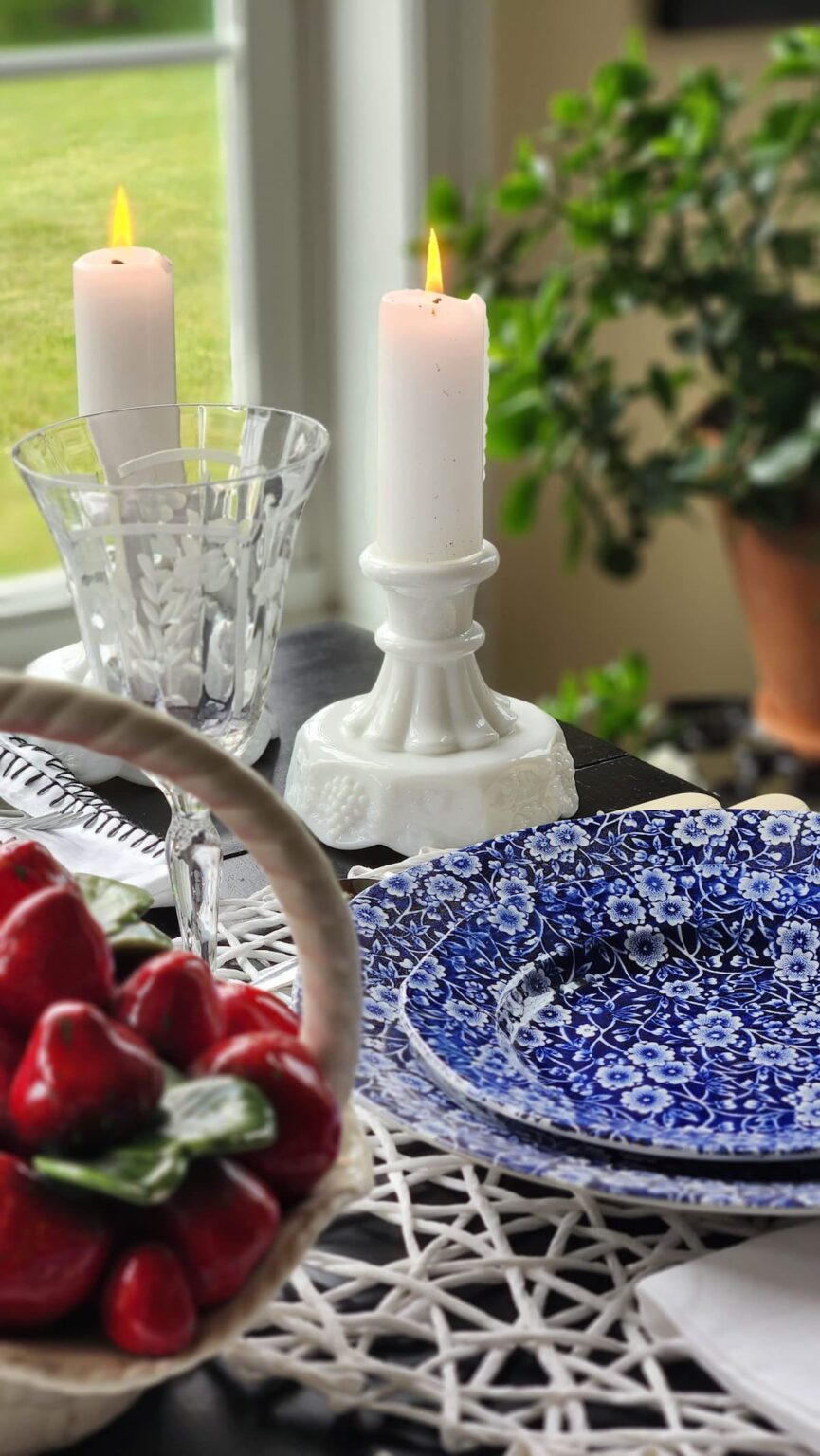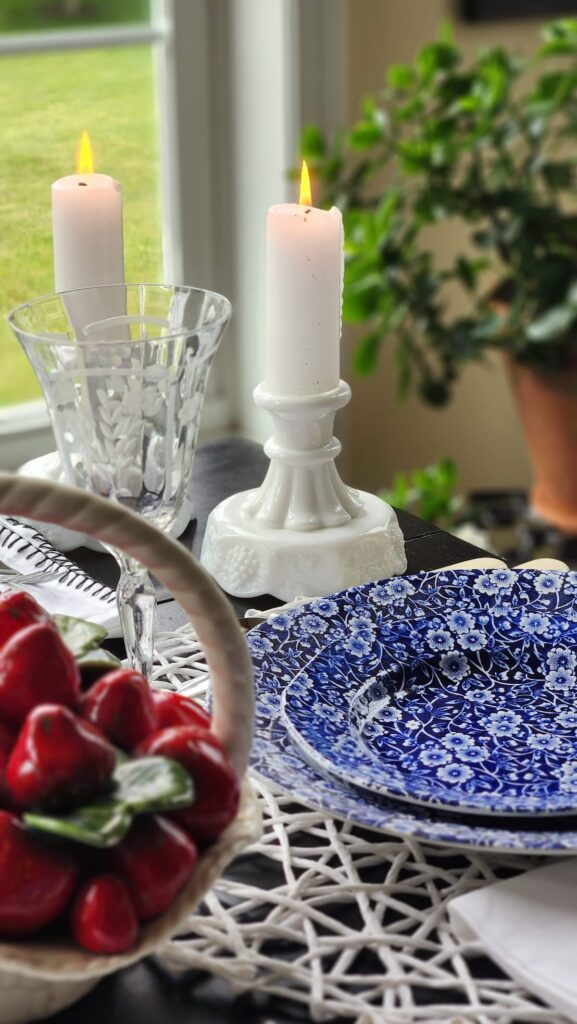 Two milk glass candleholders I found vintage shopping finished off this easy patriotic table.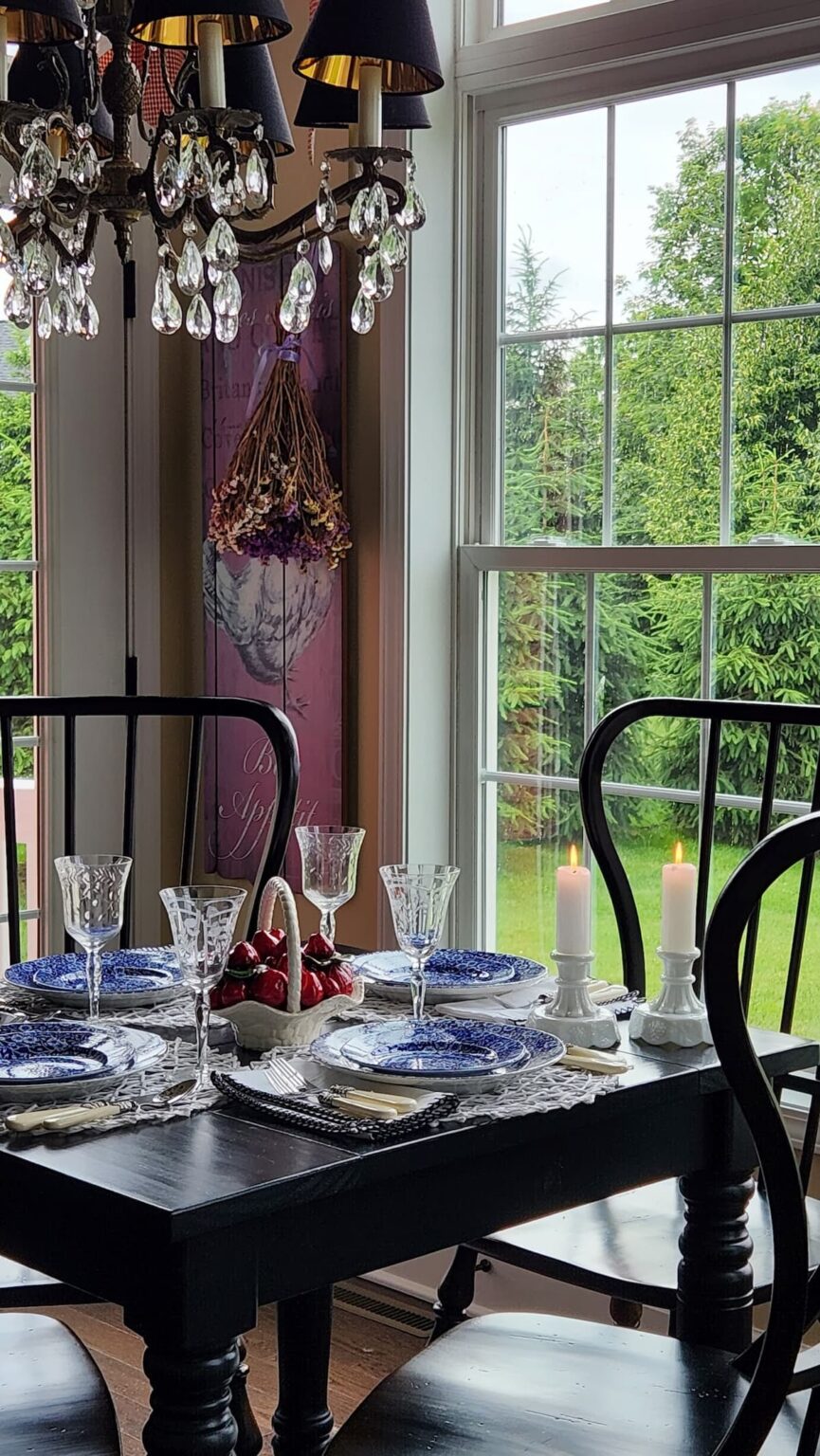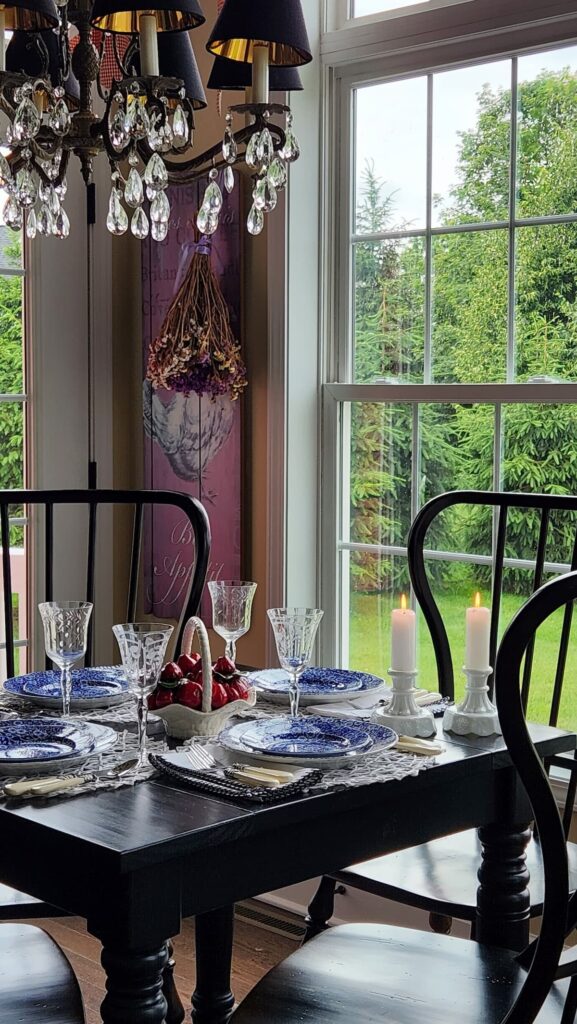 Table 3: Ribbon swirl glasses, red checked table runner, and blue chintz dishes
The third setting is a bit more colorful. I added these whimsical red ribbon swirl glasses along with a red checked table runner and matching napkins.
On top of the placemats, I used four white dishes, layered with a white salad plate and then one blue and white chintz dessert dish on top.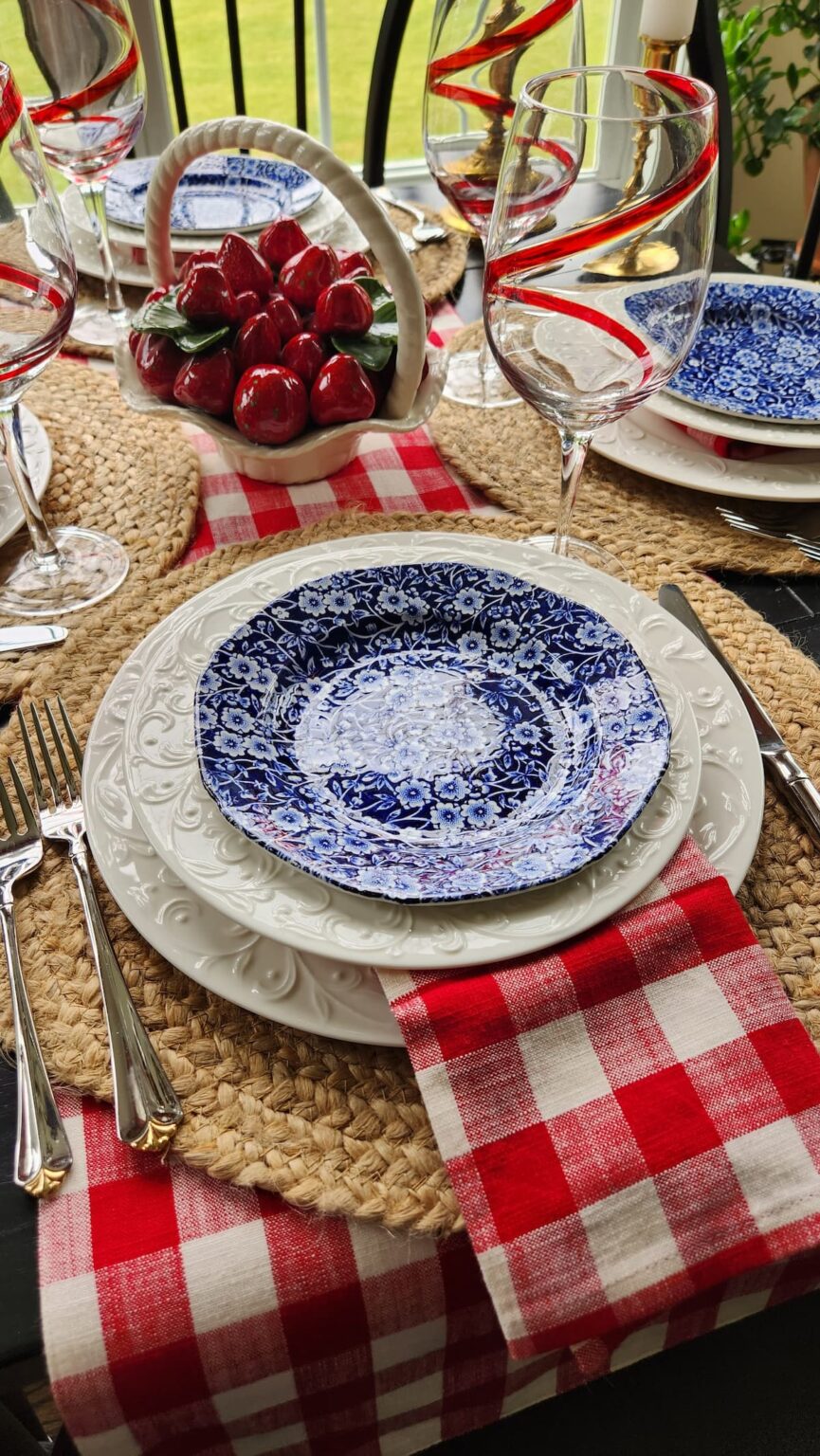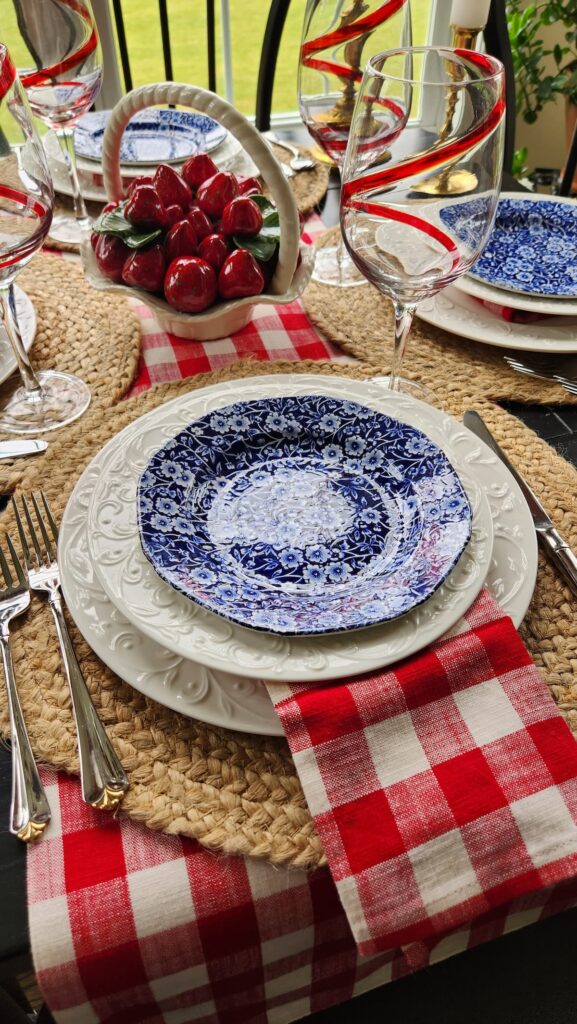 I found this fun felt red, white, and blue star banner to hang from my chandelier. While I didn't make this. you could easily do so.
Simply cut felt in the shape of stars, hot glue, or sew the edges and hang by pretty string.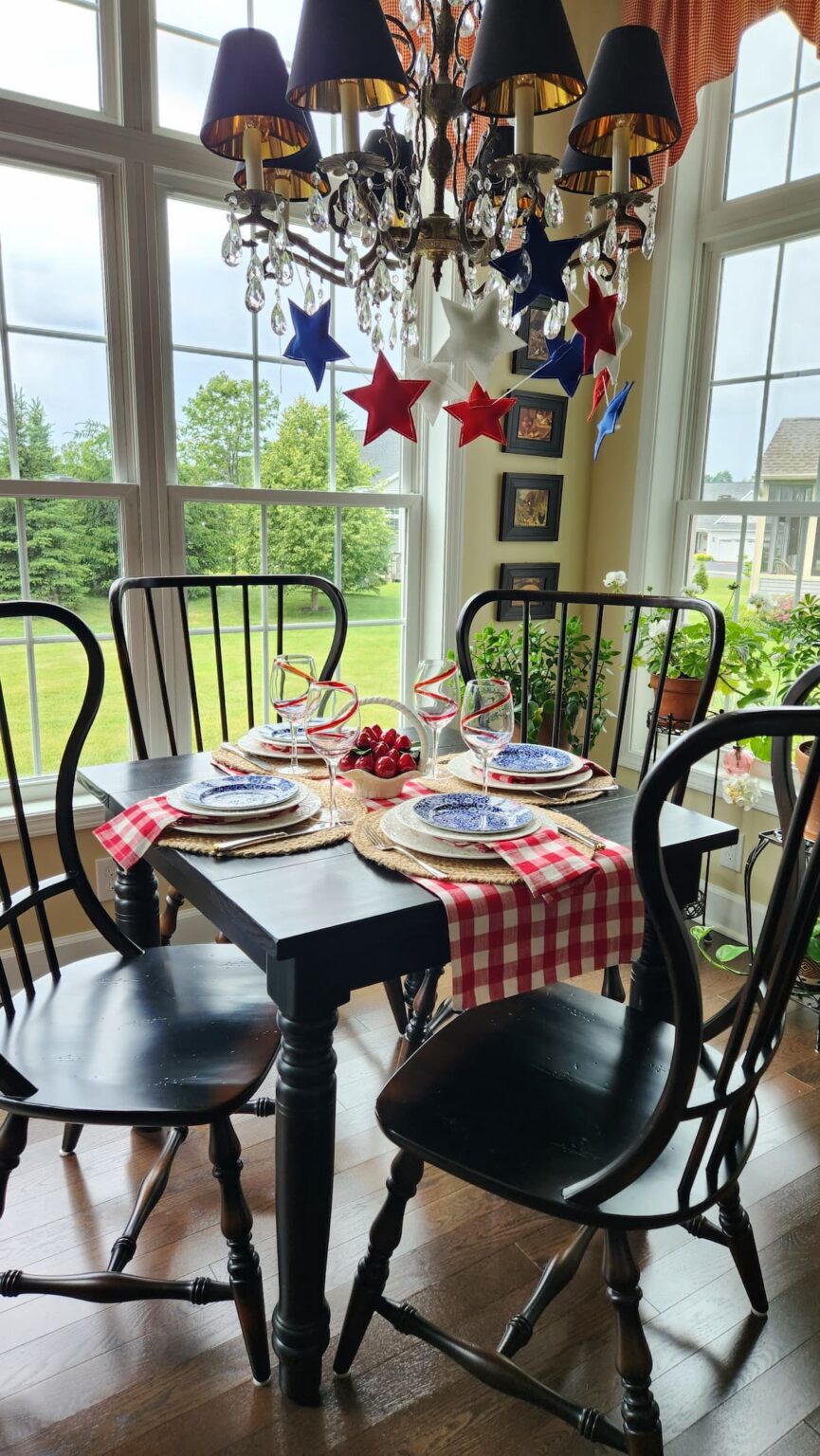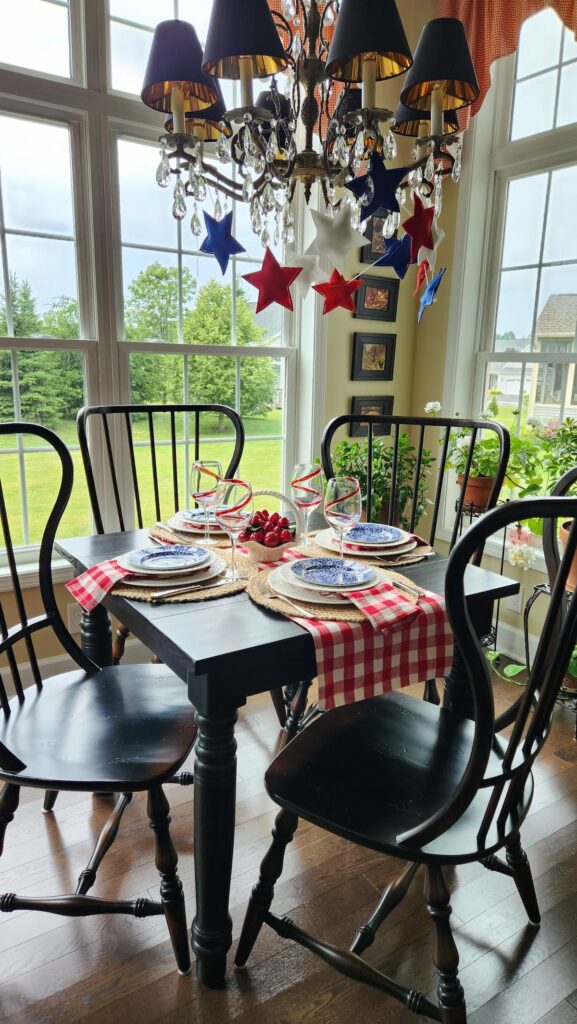 Using the jute placemats gave the table a contrast with the white dishes.
Shop & Source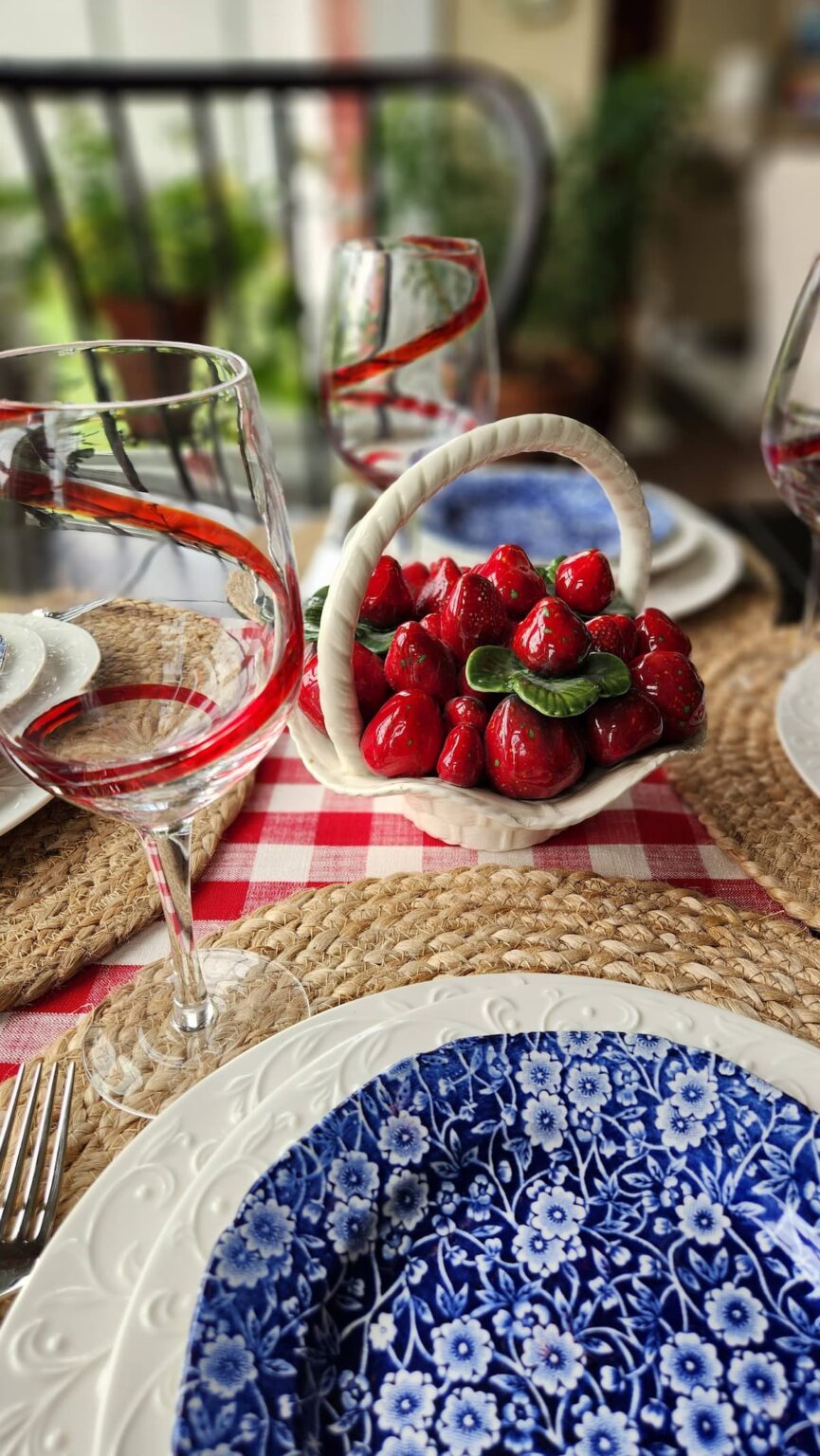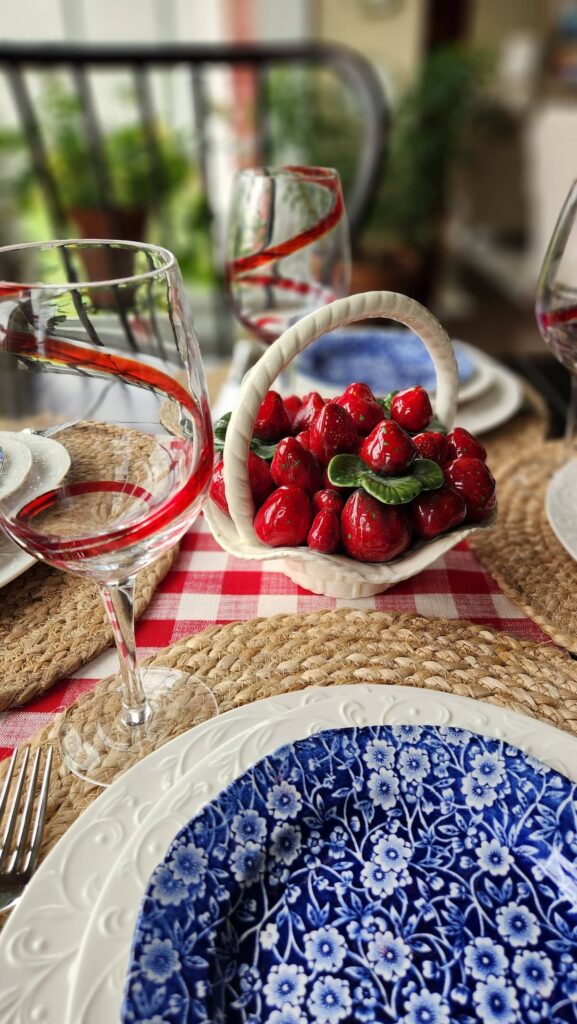 Lastly, make a shopping list of what you will need for appetizers and meal items.
For appetizers I made, this hugely popular sun-dried tomato dish and this fig and goat cheese dip. Both are highly rated by readers.
After dinner, I served a chocolate charcuterie on my dessert table. A charcuterie board is a great way to offer sweets to your guests. There is always something on it for every palette.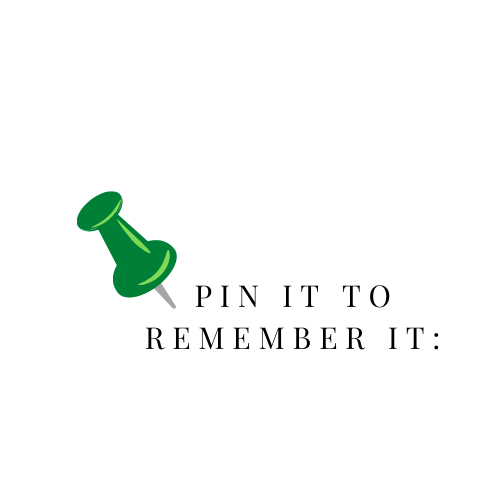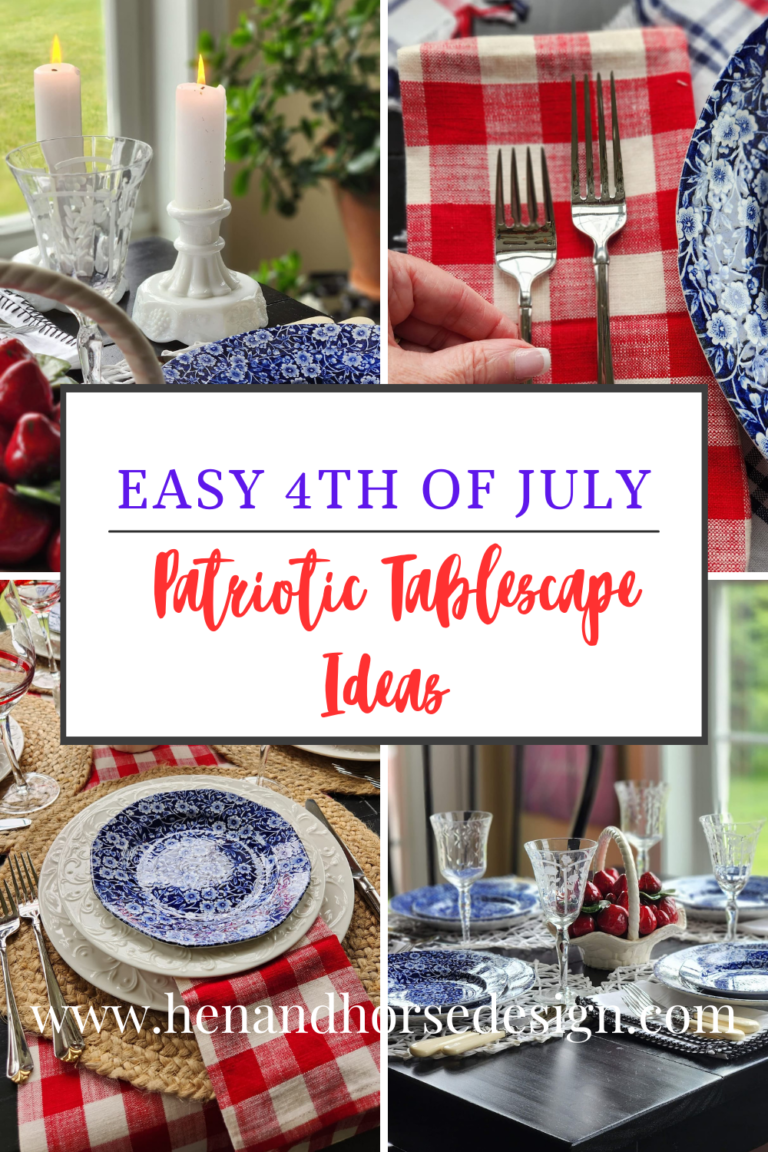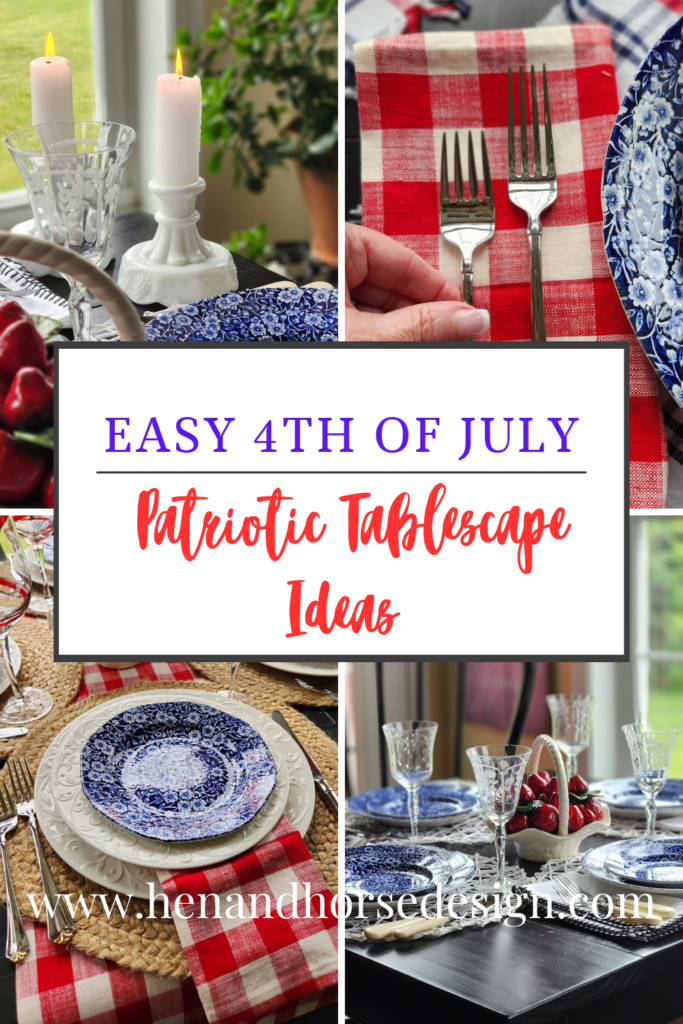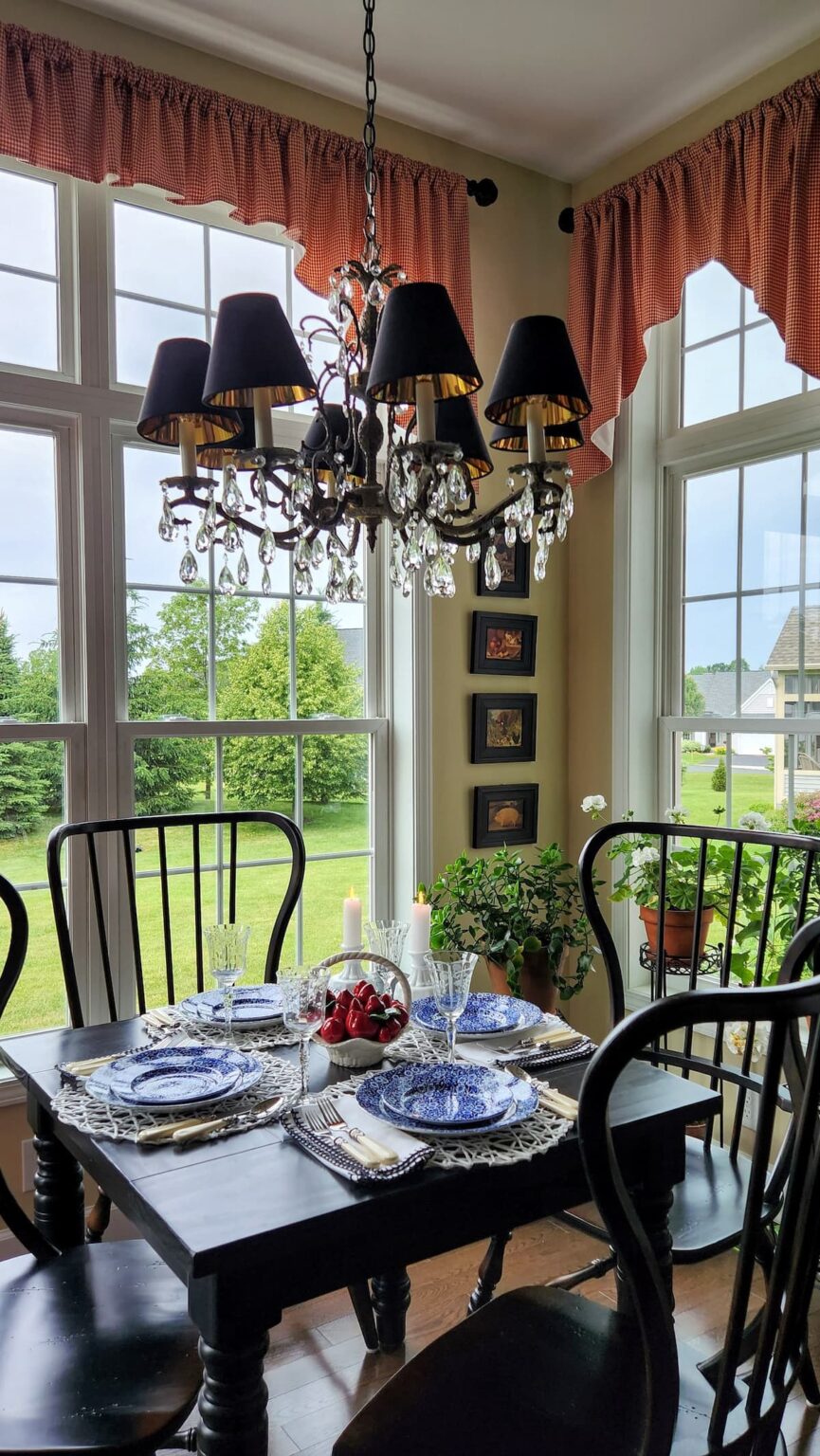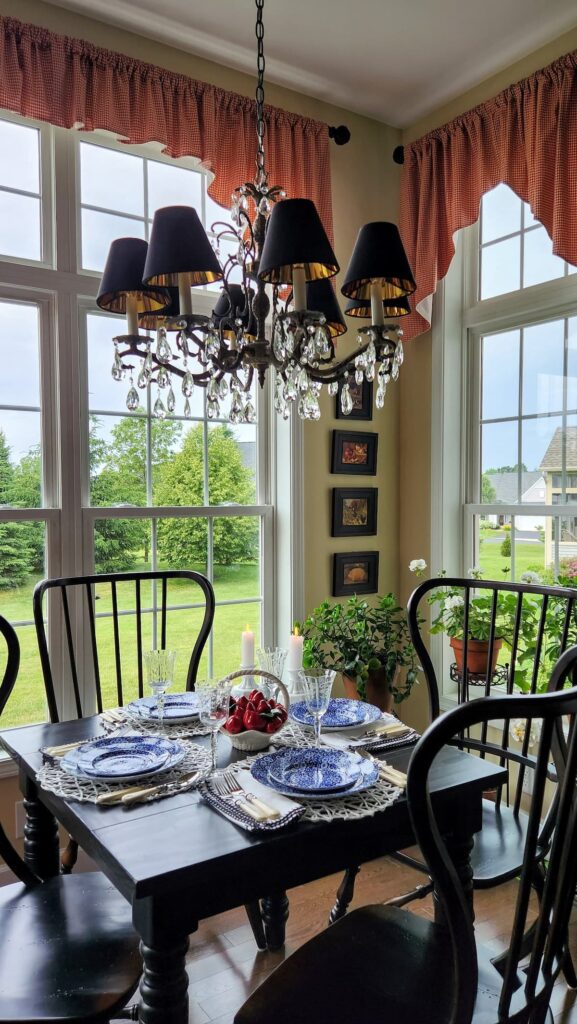 I hope you enjoyed this blog post and are inspired to set your own patriotic tablescape. Whether it's blue table decor or a red festive table, I'm sure it will be full of festivity.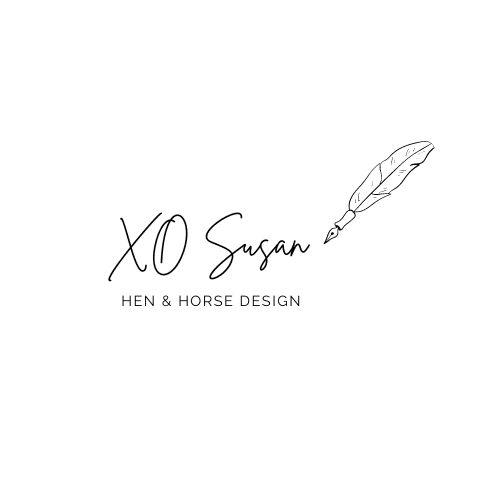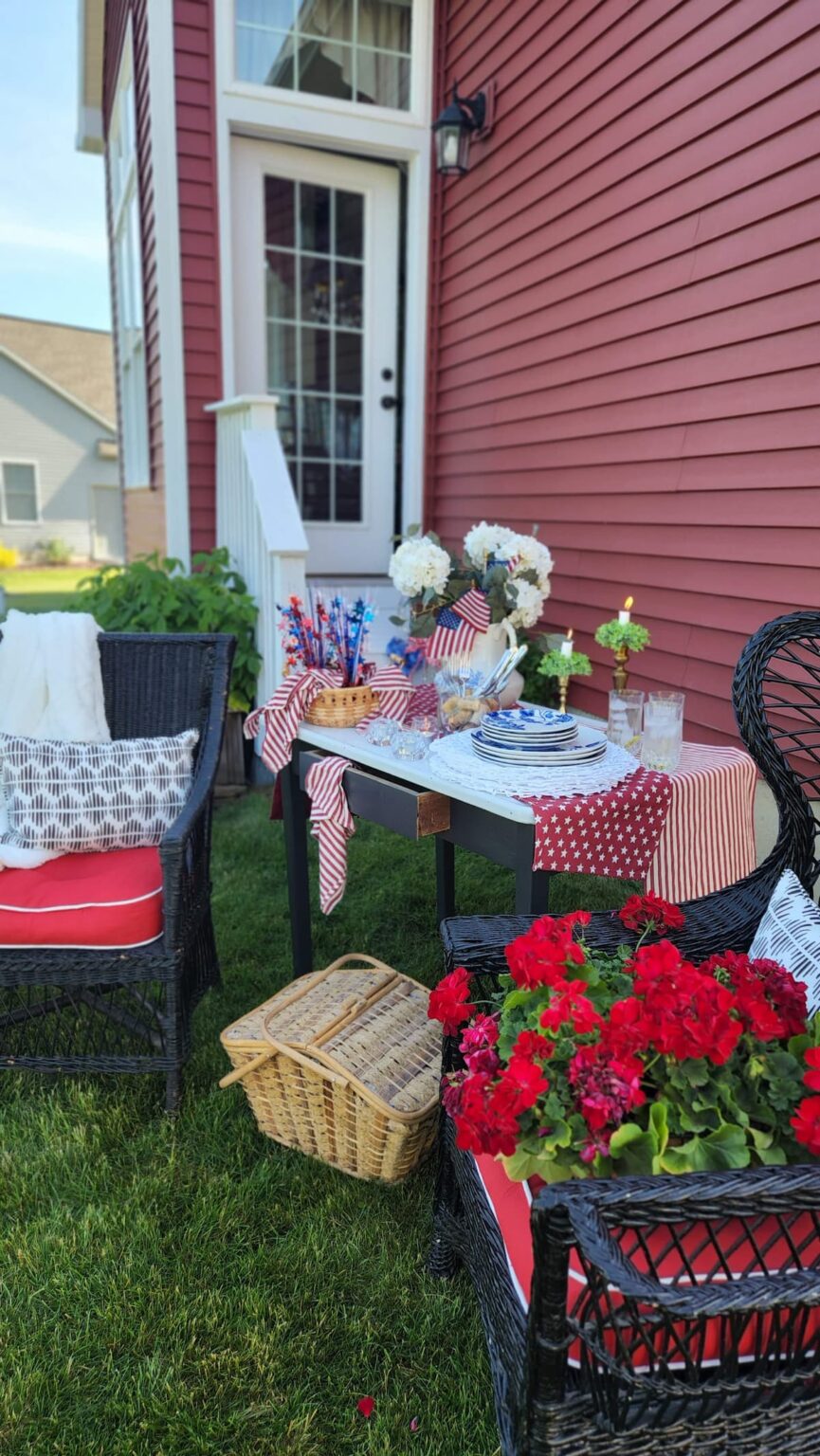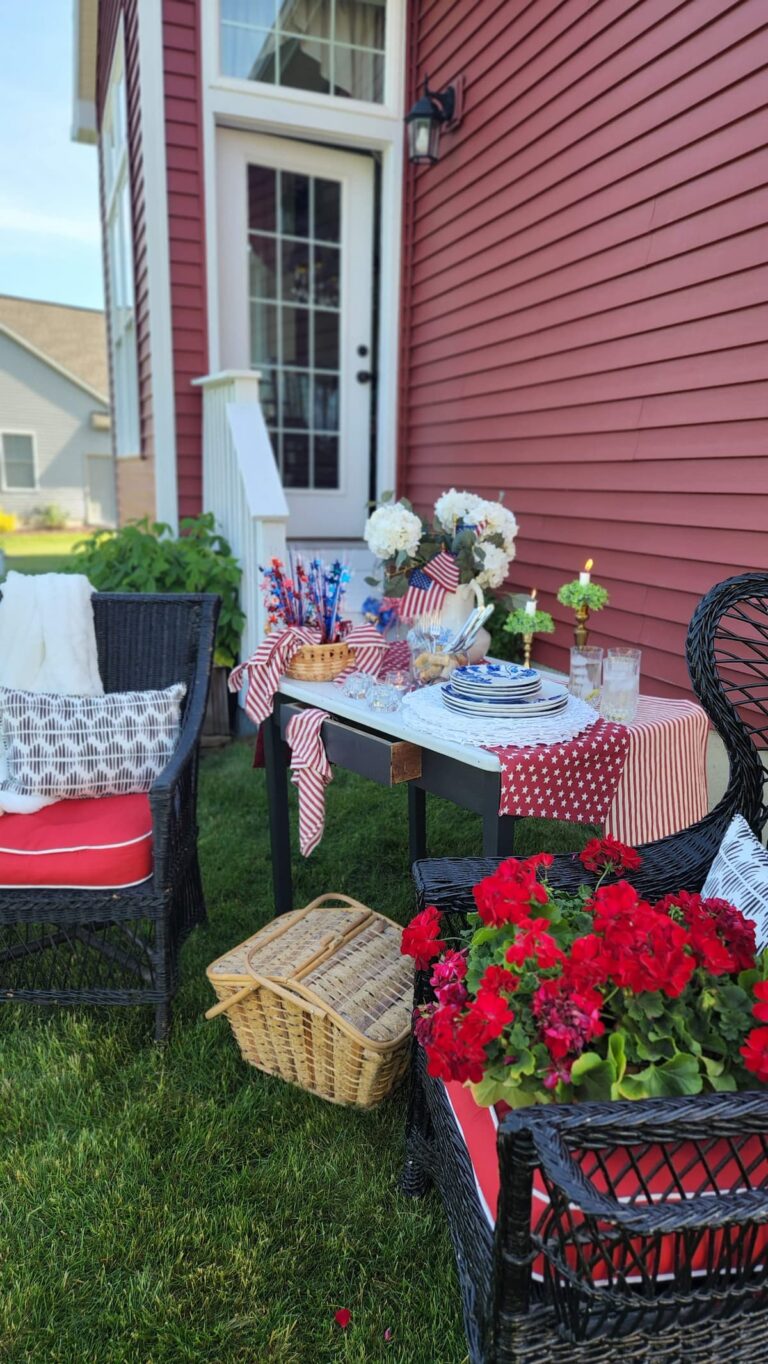 Sharing 17 festive memorial day table decor ideas that are easy, and a fun way to start your memorial day weekend!