17 Festive Memorial Day Table Decor Ideas That Are Easy
Sharing 17 festive memorial day table decor ideas that are easy, and a fun way to start your memorial day weekend!
Raise your hand if you like a pretty table setting! I see you. I do too!
One of my jobs growing up was to set the table for family members.
It was no secret that my mom loved dishes and setting the table just as much as I do. I remember her teaching me to carefully place the silverware on the folded napkins, triangle in shape or occasionally a rectangular fold, Then I would add the glass to the right side of the place setting. All the while I'd be enjoying the scents coming from her magical and aroma-filled kitchen. It was the best of times.
It is also no big secret that one of my sisters taught me that you always want to be the 'dishwasher' rather than the 'dish dryer'. Are you curious why? She told me, 'The person that is the dishwasher gets done first!' Being the youngest, I rarely got the opportunity to wash and get out of the kitchen. I was the designated dryer. To this day, however, I much prefer washing my dishes over putting them in the dishwasher! Go figure! haha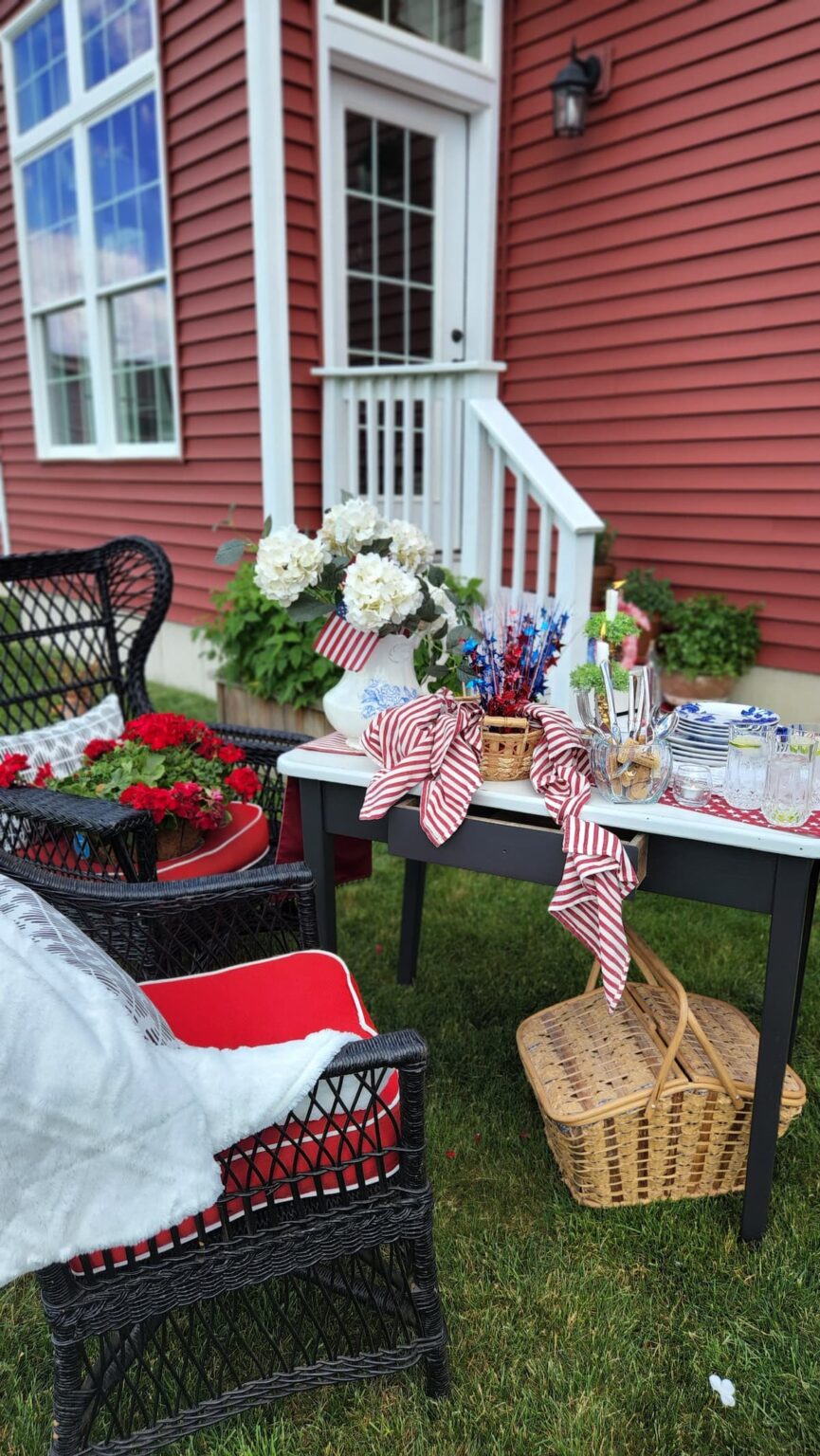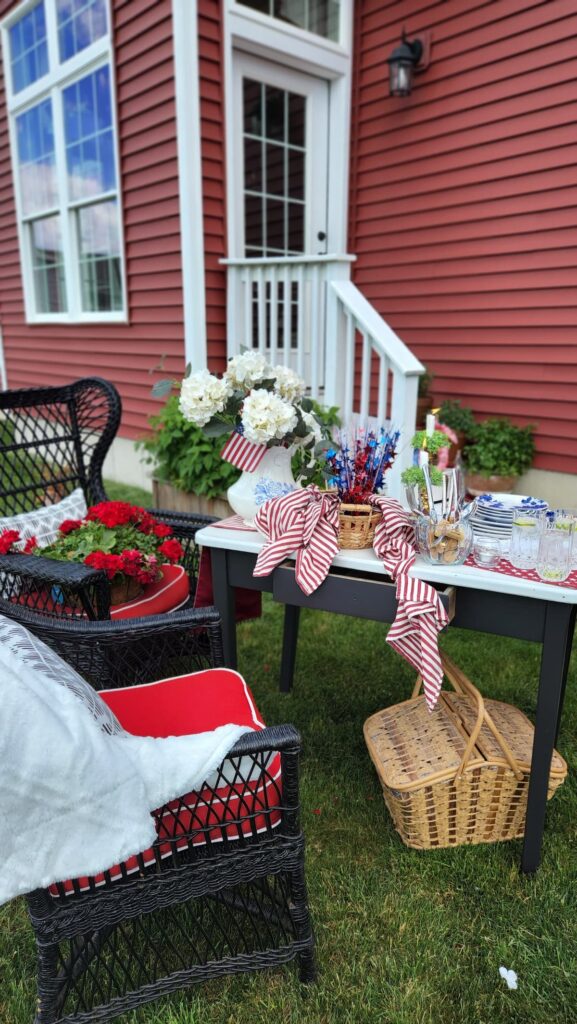 "This post may contain affiliate links which means I may earn a small commission. You may read my
disclosure policy here
".
With the upcoming Memorial Day celebration right around the corner, I thought it would be a good time to get out my white plates and get into the patriotic spirit. It brings me great joy to celebrate our federal holiday and acknowledge those that gave the ultimate sacrifice.
It's a time to gather together over the long weekend and honor the brave men and women that have served our country so well. What better way than creating a special table for this unofficial start of summer? Let's set the table together this year.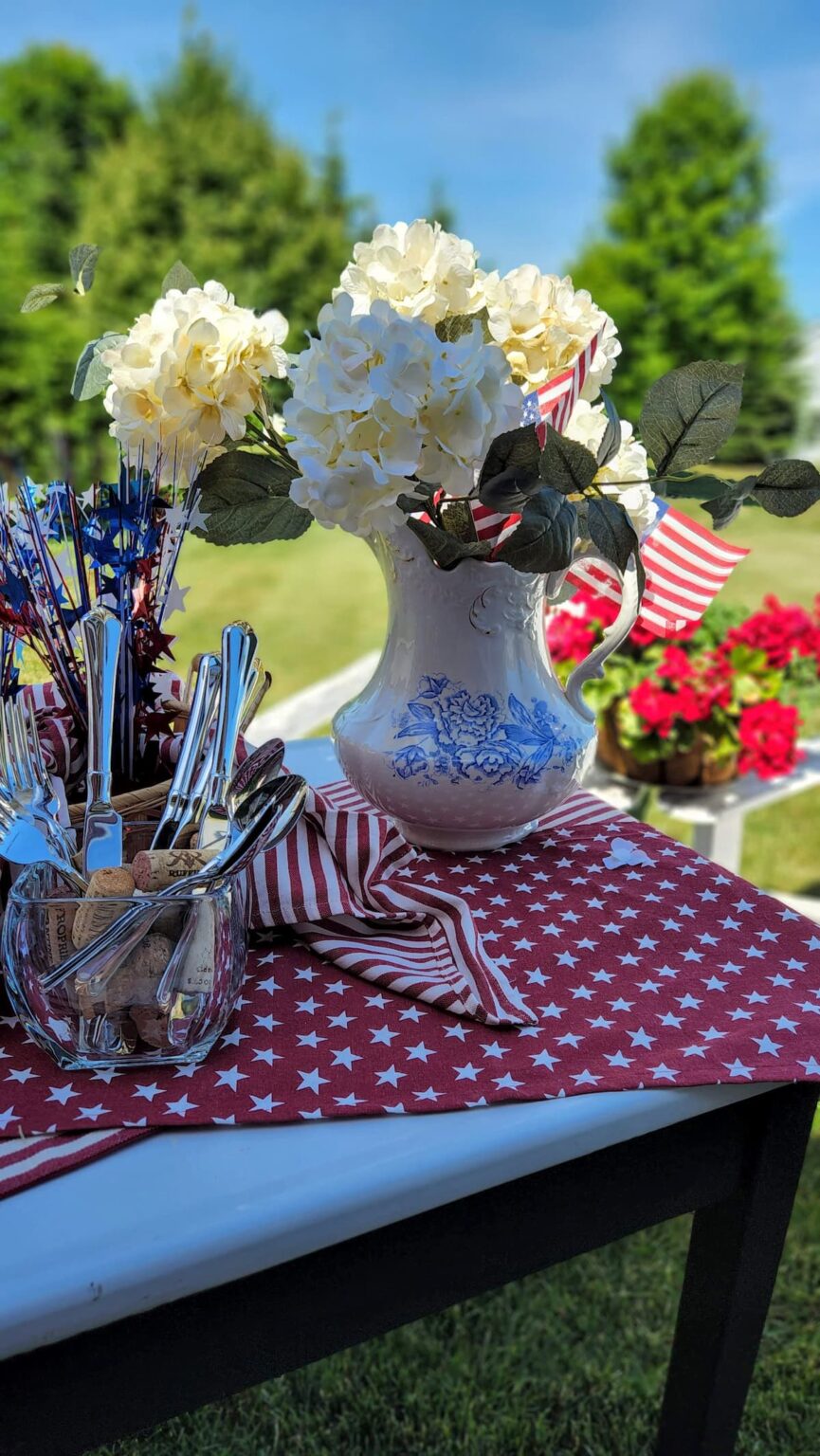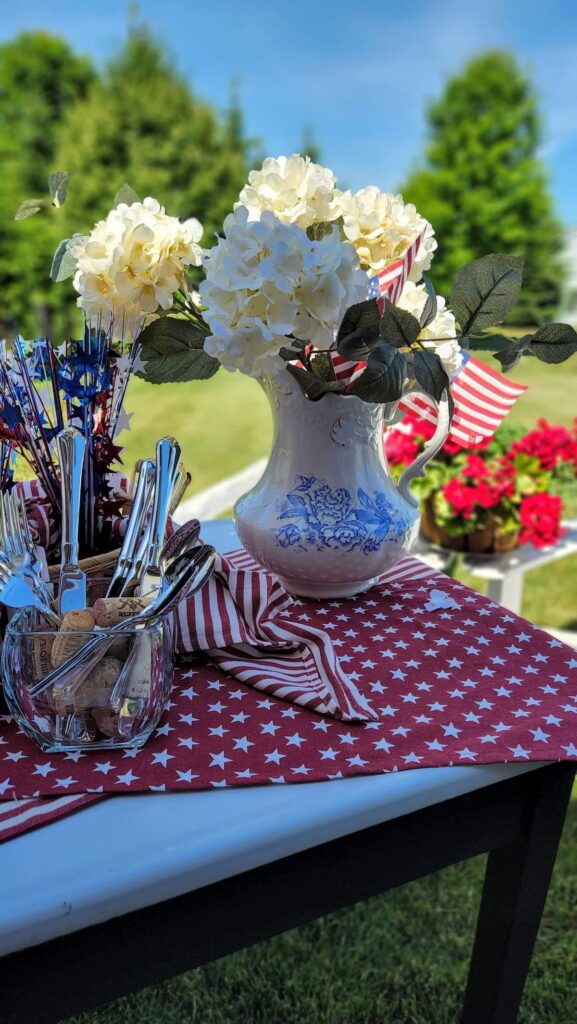 What decorations are appropriate for Memorial Day?
Red, White, and Blue Ideas
While red white and blue are the wonderful colors of the United States. While it's traditional to have flags, and buntings on your front porch, it's not the only way to celebrate this patriotic holiday!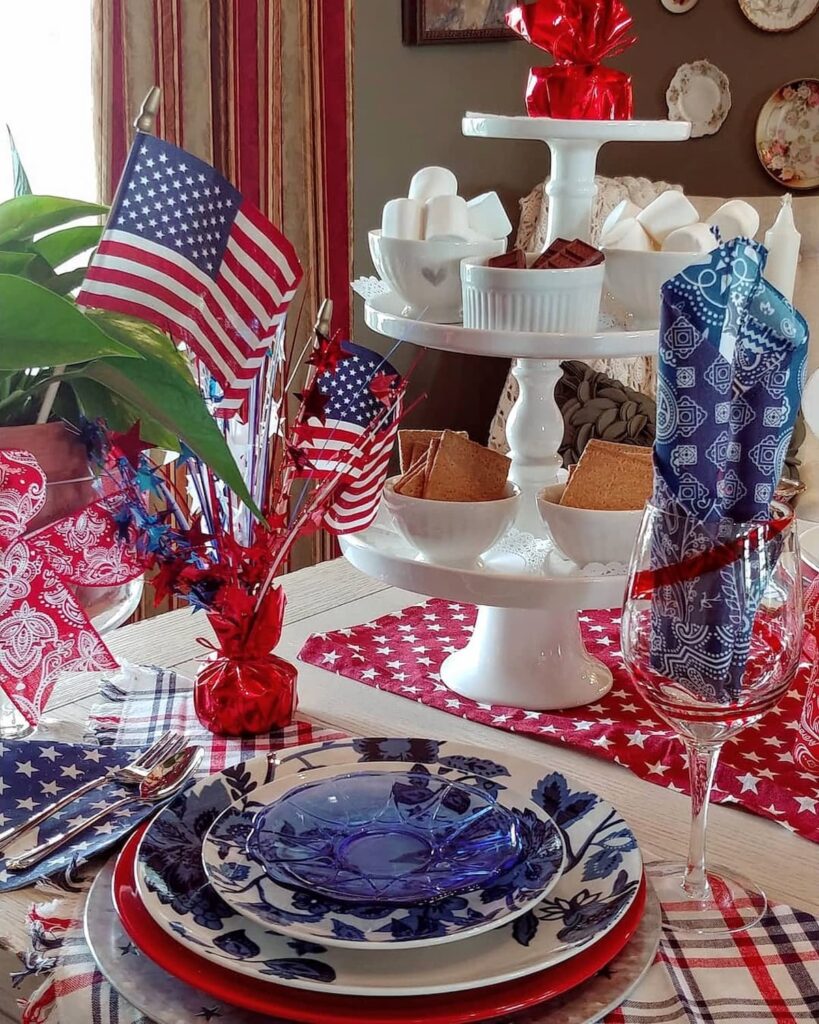 Another way to share your best patriotic interpretation is by setting the table with a combination of these colors and then, enjoying a fun backyard barbecue.
Memorial Day decorations for your table can consist of a simple setting using a gorgeous white tablecloth and blue bandanas with tiny red apples in a dough bowl, alongside a large bouquet of white hydrangeas that are adorned with a pretty blue ribbon.
How do you decorate a memorial table?
Flags
Each year our small town would hold a fabulous Memorial Day parade. I'm sure you've seen many parades where paper pinwheels and flags are in abundance twirling in the wind marking the beginning of summer. Kids love these so don't be surprised if your grandkids head home with your table decorations as party favors.
Whenever you add mini flags to your table or fill a mason jar with string lights you know it's going to be a celebratory party your guest will love.
As the sun sets, your outdoor table will be glowing with beauty.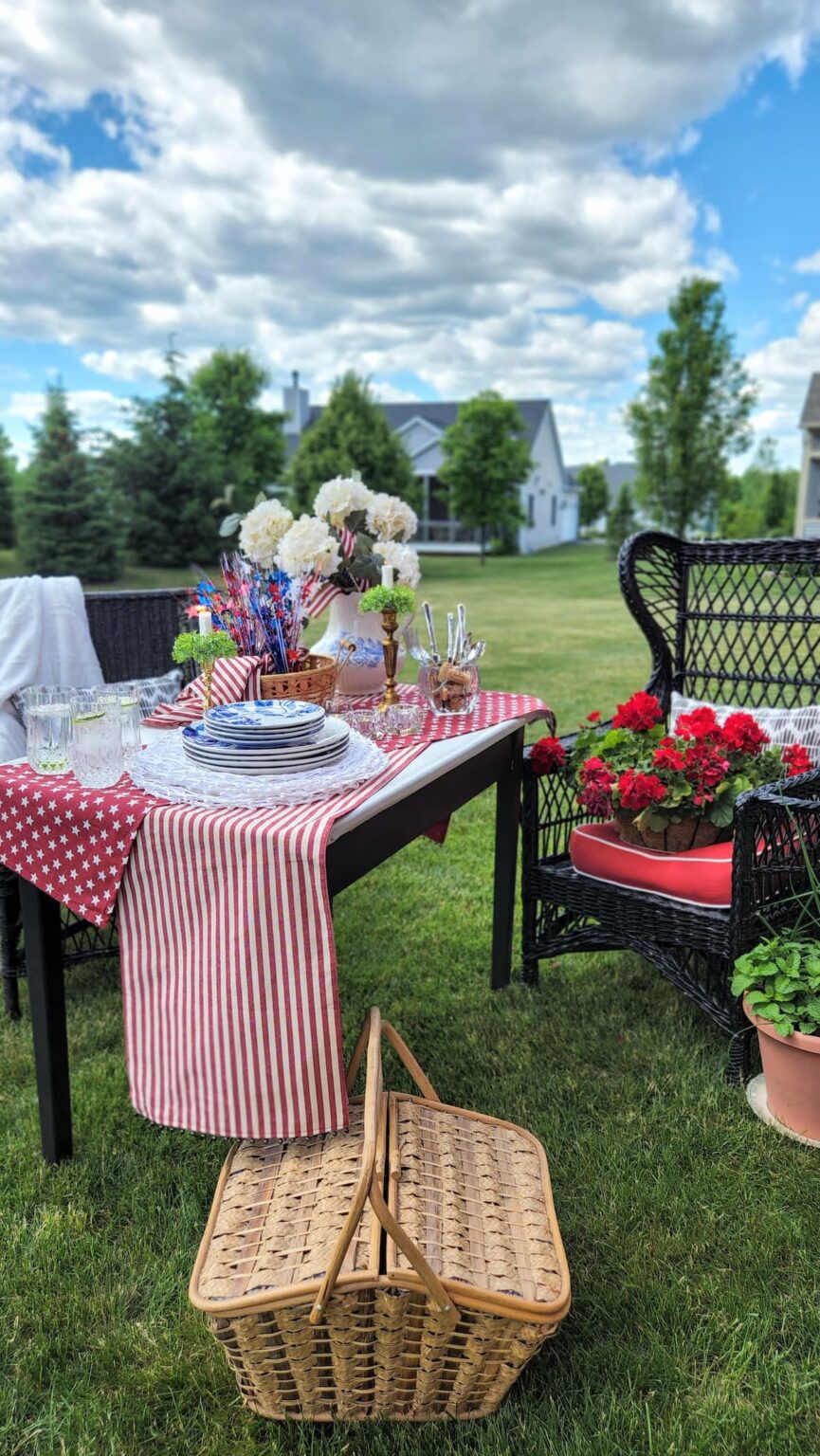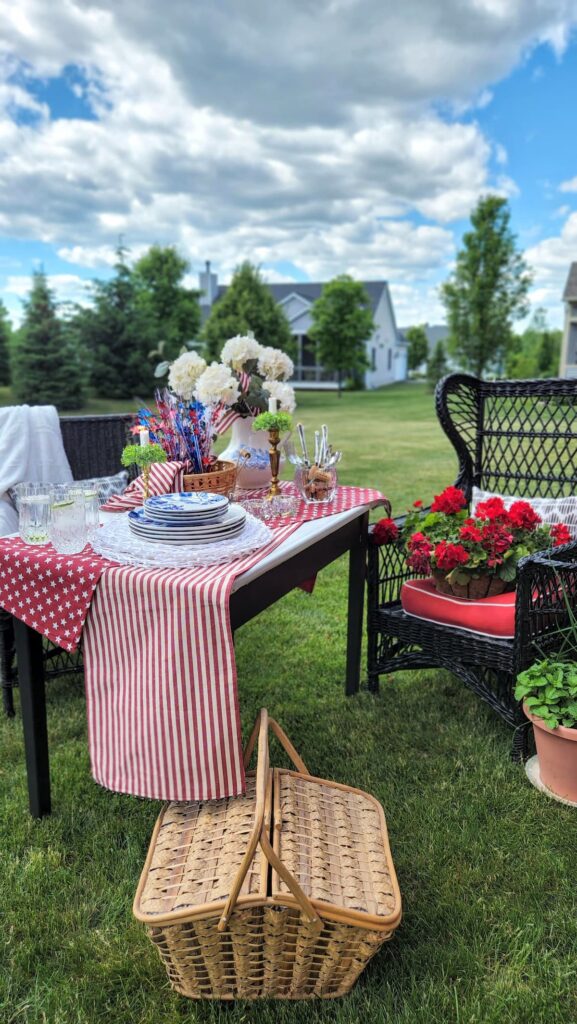 Patriotic wreaths
Any time you get to use white flowers I say go for it. Adding white is the best part for me. First, anything in white is my favorite. White flowers are my favorite color of flower and second, white goes with everything. This color can be easily added and used all the way thru to the fall.
I added white magnolia flowers to my straw hat door hanging. You can check it out here.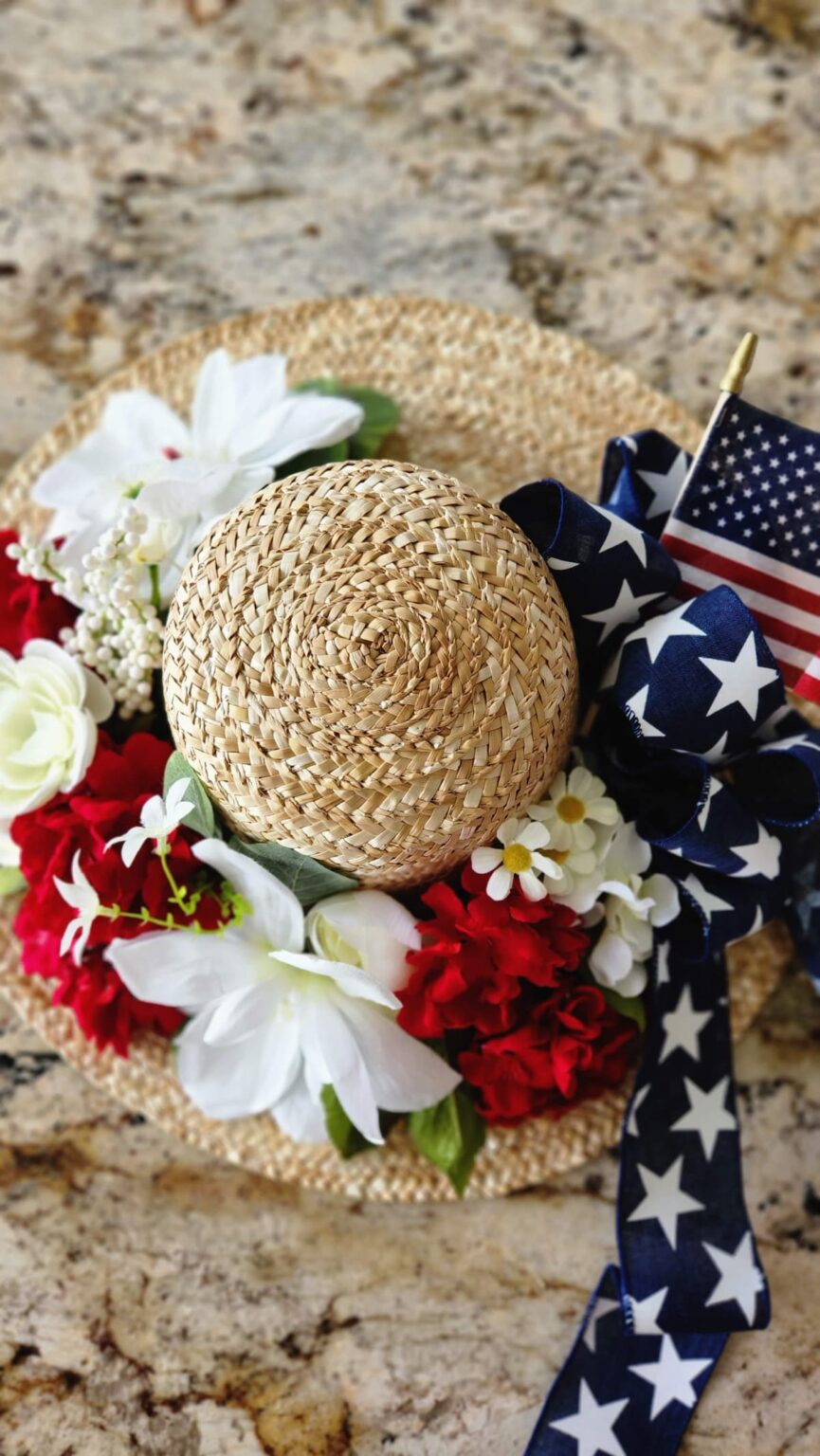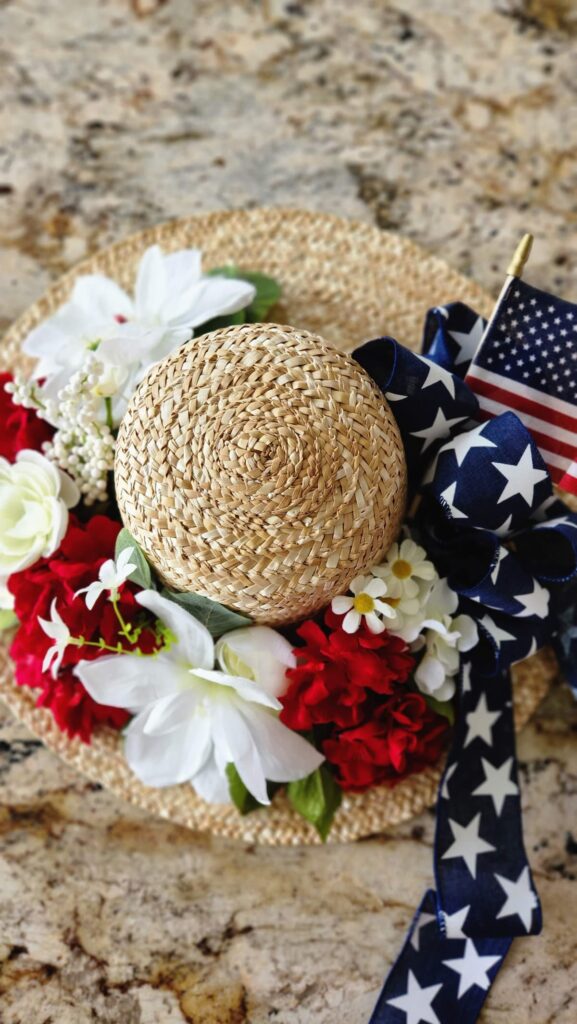 ​Throw pillows & Rugs
Don't forget when adding to your table decorations to add accent throw pillows on a few of your chairs for a relaxed and cozy feeling. Rugs can easily have the same effect. A decorative rug or mat in the kitchen will add instant ambiance for the 4th of July.
Table top ideas
Simple ideas such as adding cocktail picks or colorful straws are always fun and add a unique idea to beverages or on a dessert charcuterie board.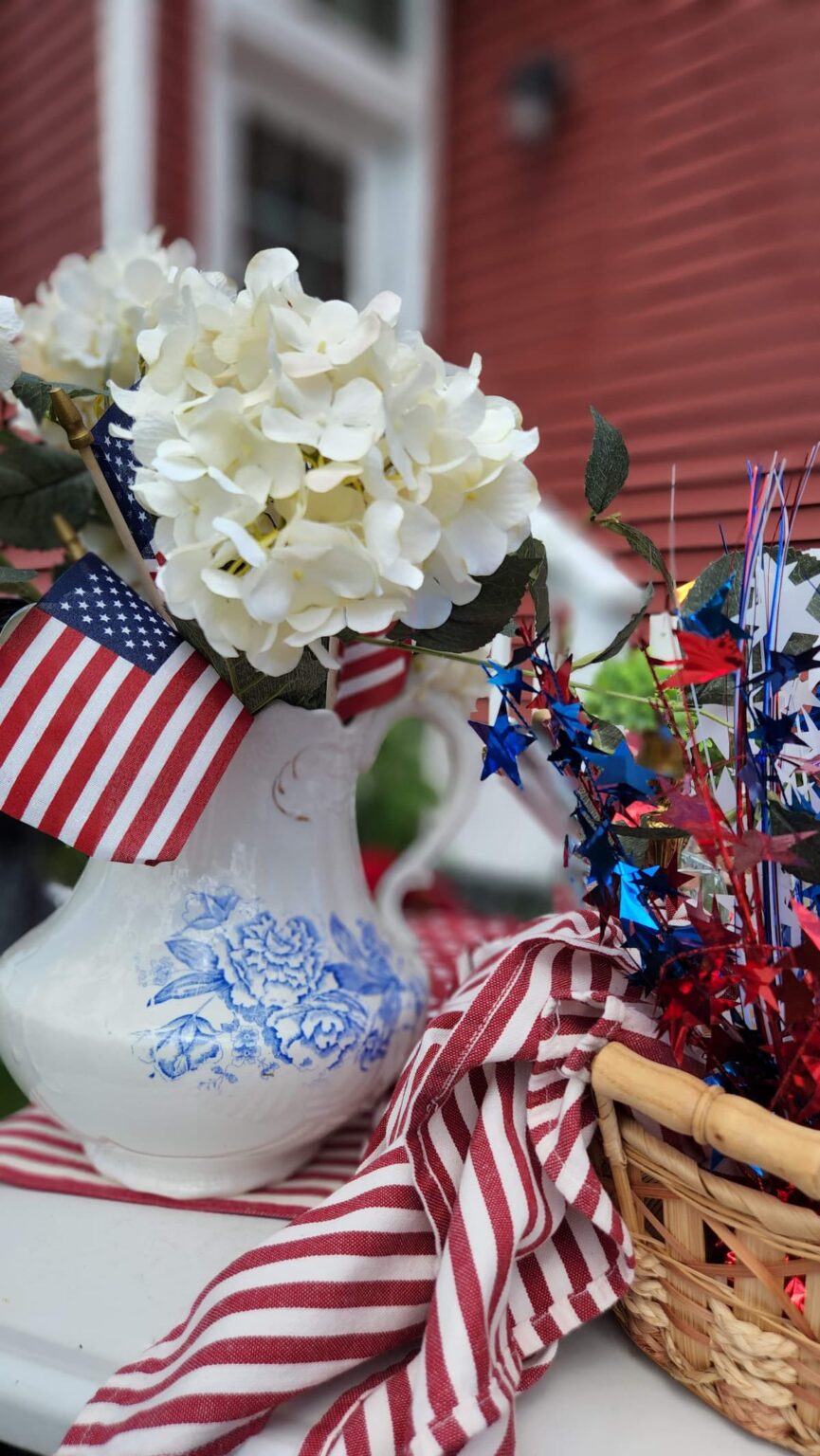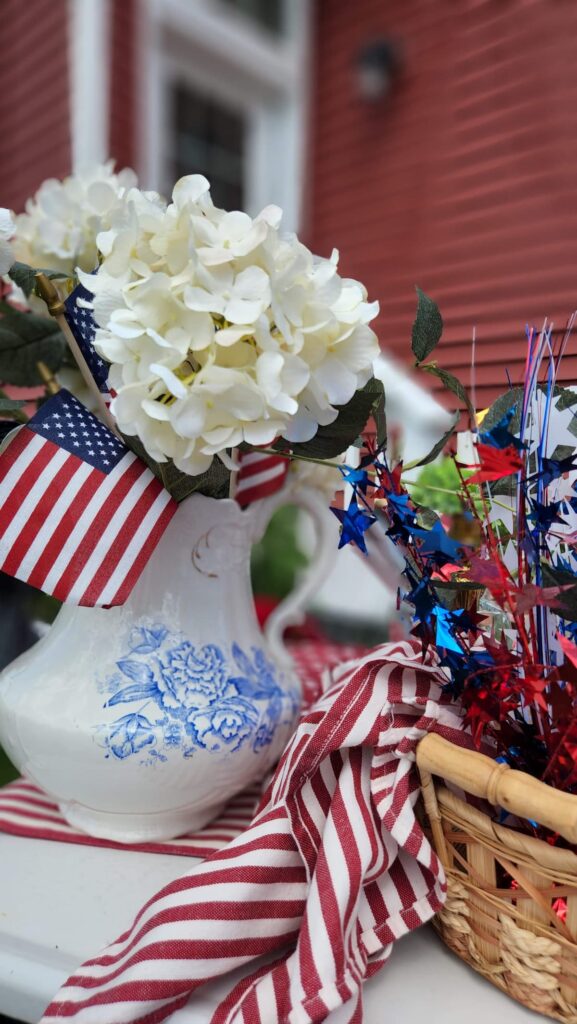 Lanterns
Tabletop lighting is a must in my book. Candles are a great choice. Or if you prefer, a black lantern adds whimsy and charm. I love a great lantern or small lamp on the table.
Chargers and plate choices
Galvanized charger plates are an adorable idea, especially for an outdoor party. The chargers I used have star cut out in them. I've sourced a similar style below.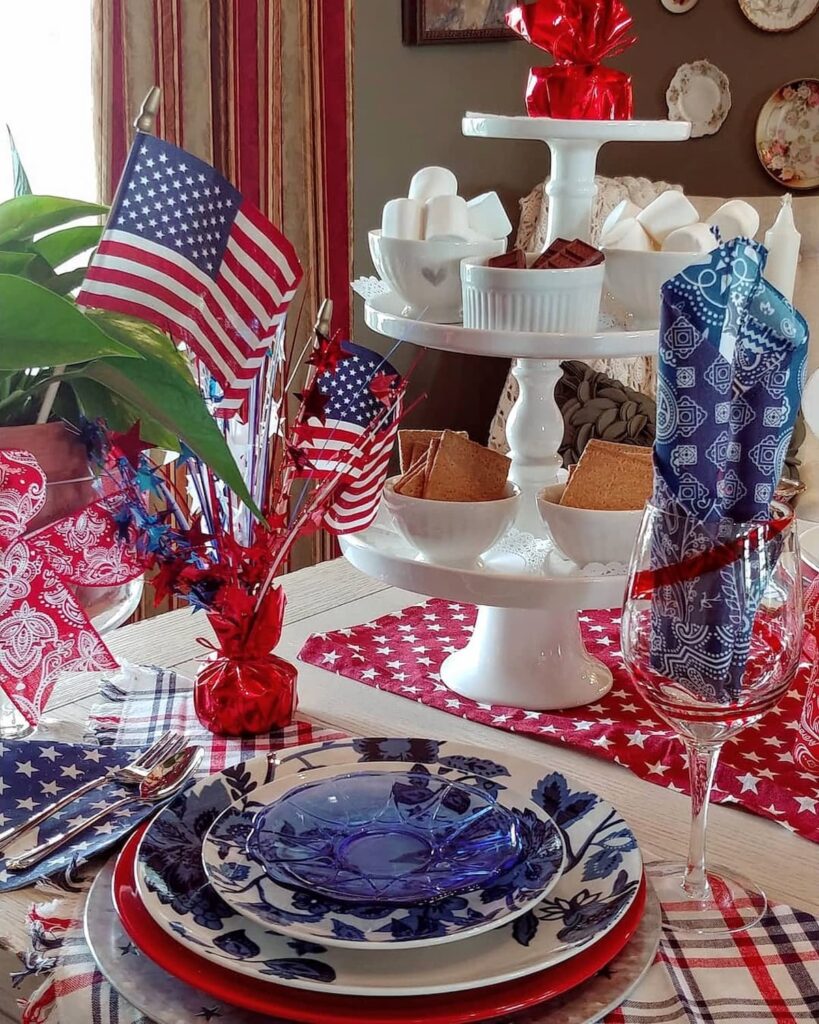 For this particular tabletop, I used a triangle fold and fringed red, white, and blue napkins in a plaid design for my placemats. Another option would be to use blue tablecloths or a table runner to top your table.
17 Festive Memorial Day Table Decor Ideas
Add paper pinwheels
String lights over your table
Fill mason jars with fairy lights
Pop mini flags into a white ironstone pitcher
Use holiday-themed accent throw pillows to add a cozy vibe, varying the patterns
Group several candle holders with red, white, and blue candles in them
Serve drinks with theme-based colored straws
Use cocktail stirrers in the shape of flags
Layer two table runners across your table. One slighter wider than the other on the bottom, then a narrower runner on top.
Fill a wicker basket with potting plants
Vary table linens by using red and white checked for the tablecloth and blue and white checked for the napkins
Use potted plants in terra cotta pots as your centerpiece
Make cocktails that are red in color and serve them in clear glasses
Paint or purchase wooden blocks and spell out USA or 4th of July, Memorial Day or it's a party!
Layer your dishes alternating white, red then blue
Hang a festive banner across the table
Place a row of blue-colored vases down the center of the table, fill them with white or red flowers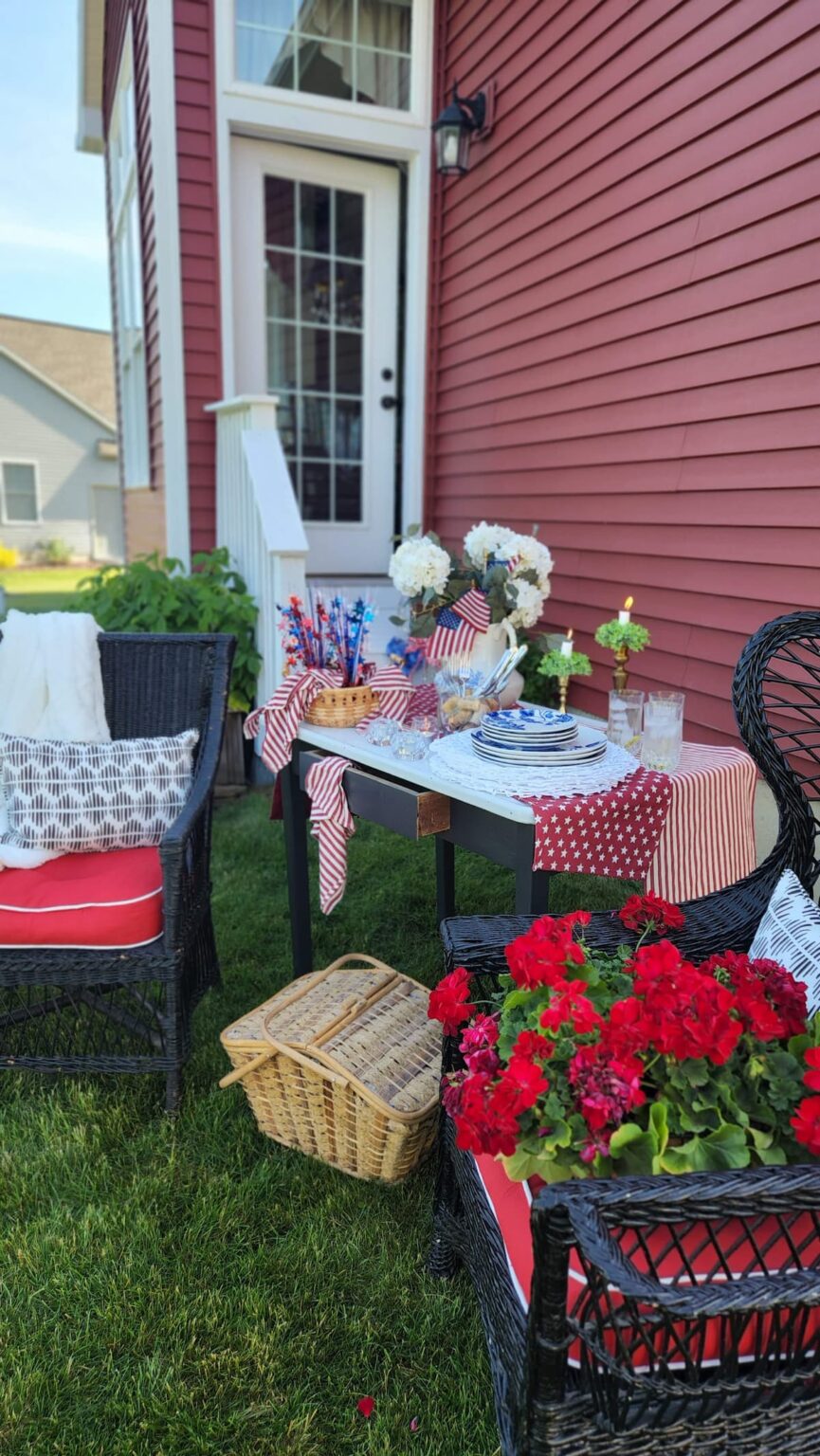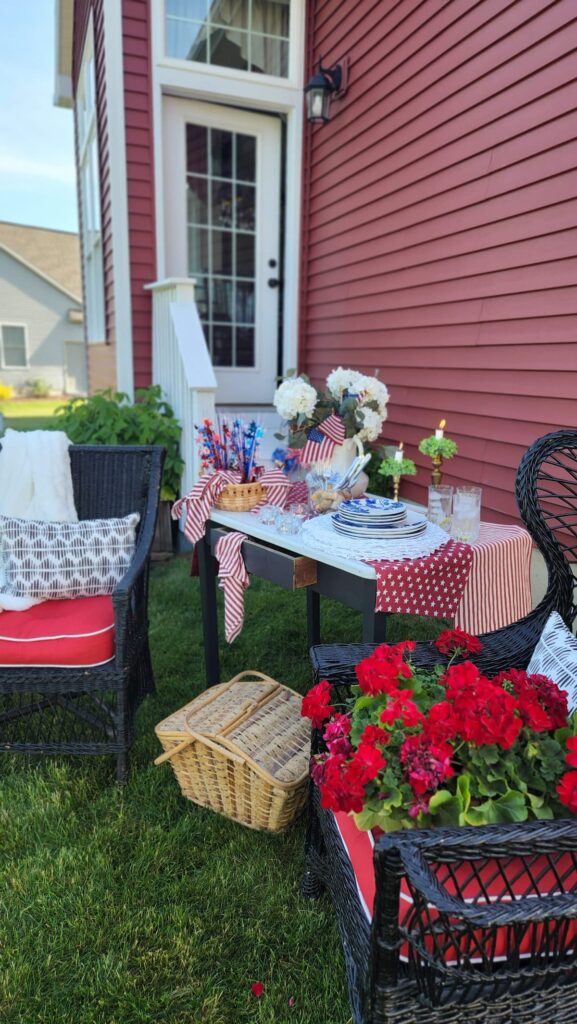 Easy Memorial Day Recipes to Serve
More Memorial Day table decor from around the web
Wendy from WM Design House shared her patriotic party ideas. I love how Wendy incorporates a lovely blue color scheme using blue glasses and red berries. Filling her wicker basket adds such warmth to the table.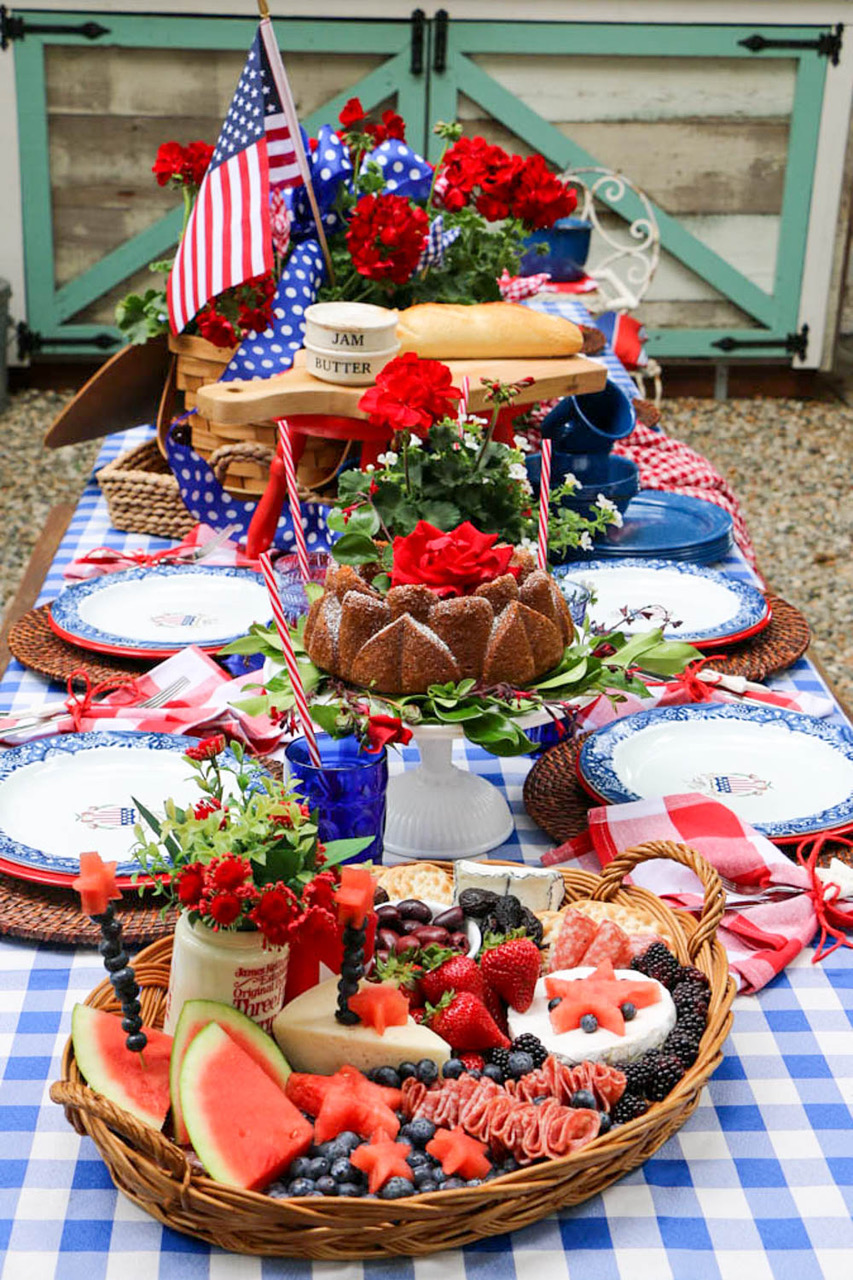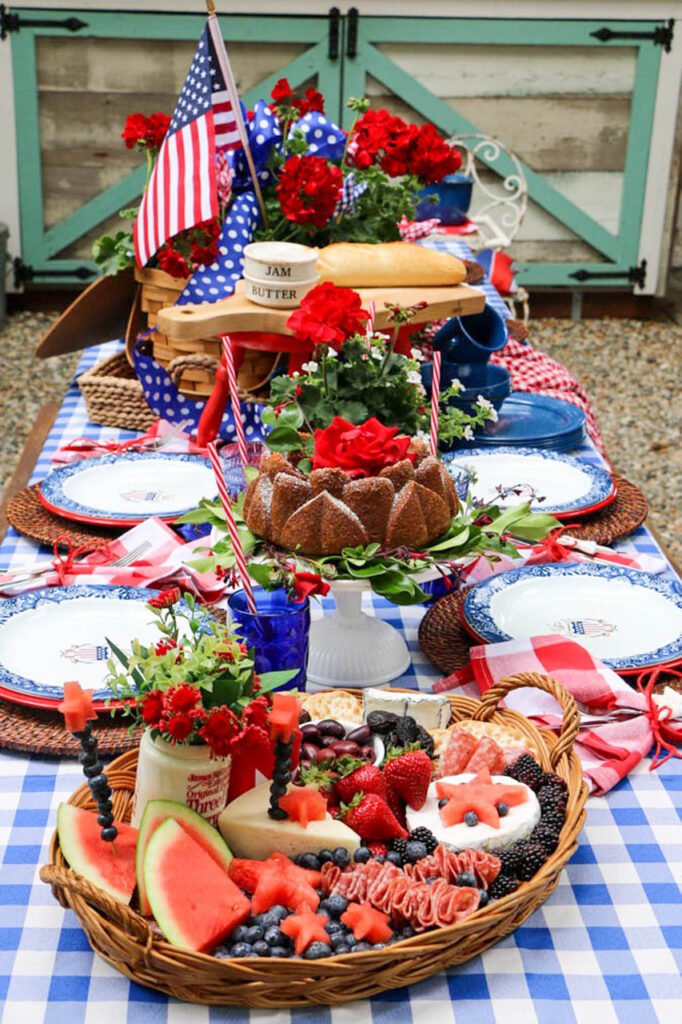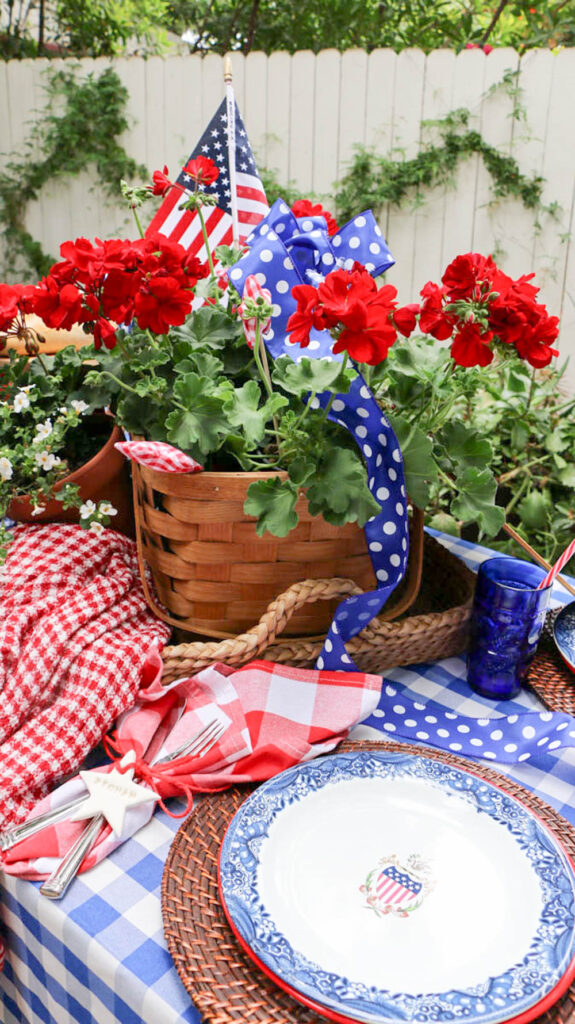 Missy from Sonata Home Design has you covered with her tabletop ideas. I love how Missy married a variety of textures and patterns to give her table a festive and inviting look. The large blue and white vase sets the tone for her delightful table.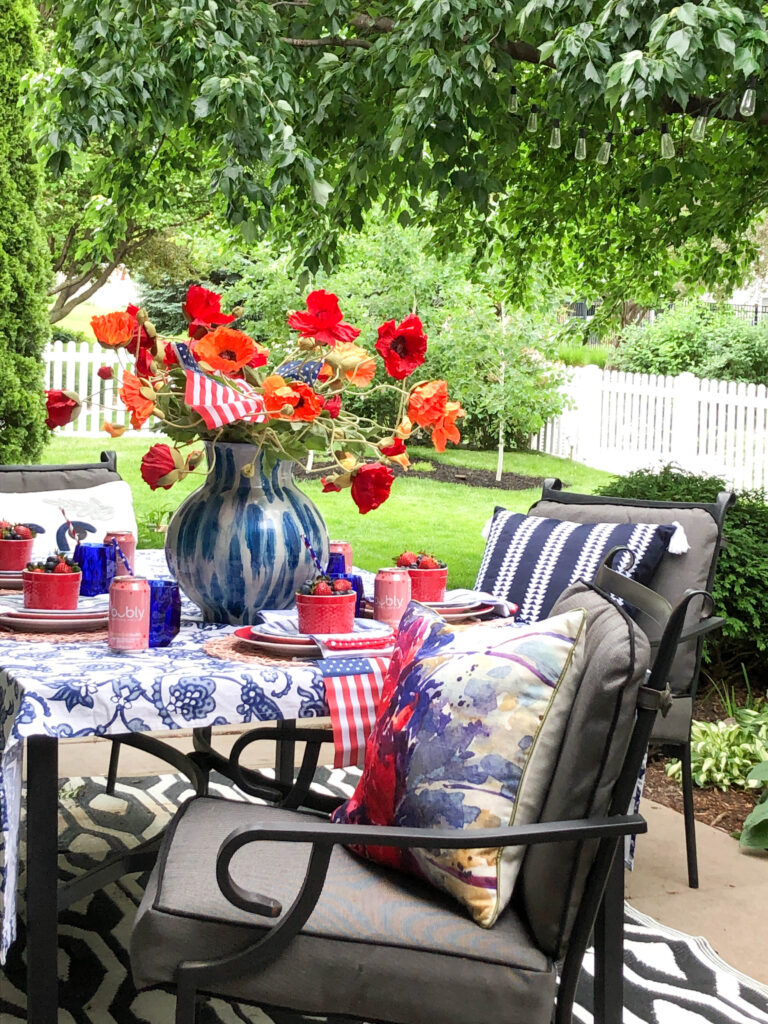 Kristy from Kristy Mastrandonas celebrates with her here's to the red, white and blue table! Adding the black lanterns gives her table a fun yet relaxing vibe.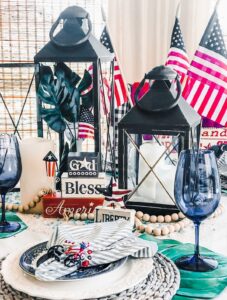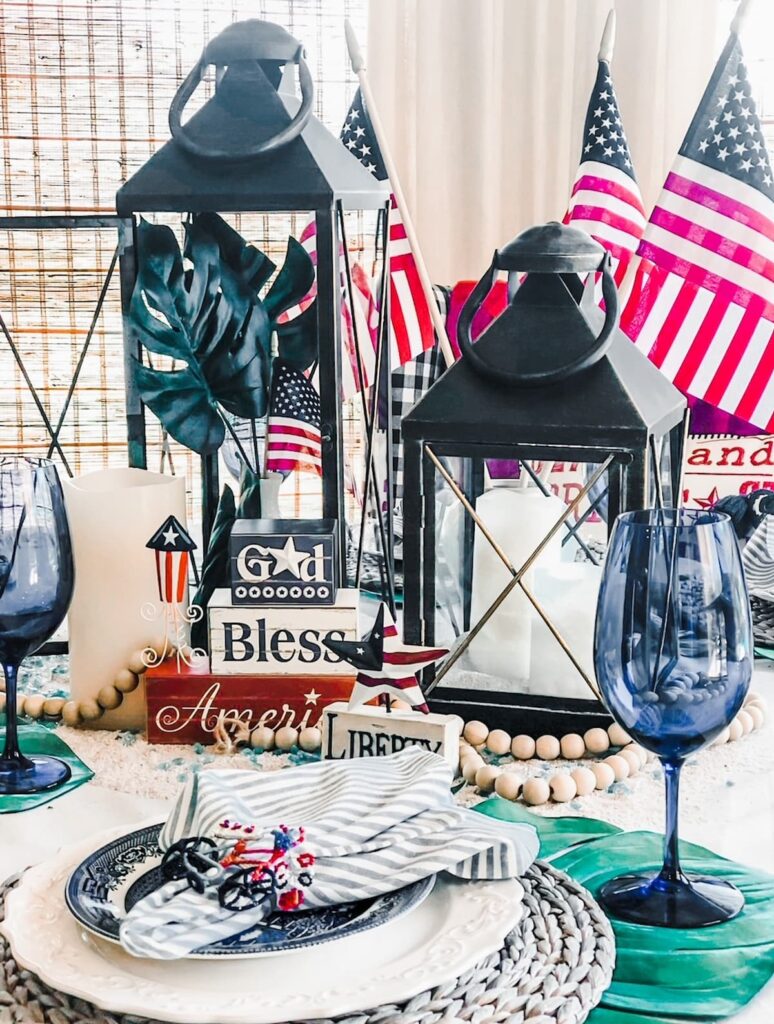 Erin from Erin Evolving set her table with vintage red and white transferware. Her simple vase of white daisies and the American flag adds just the right touch to this patriotic table.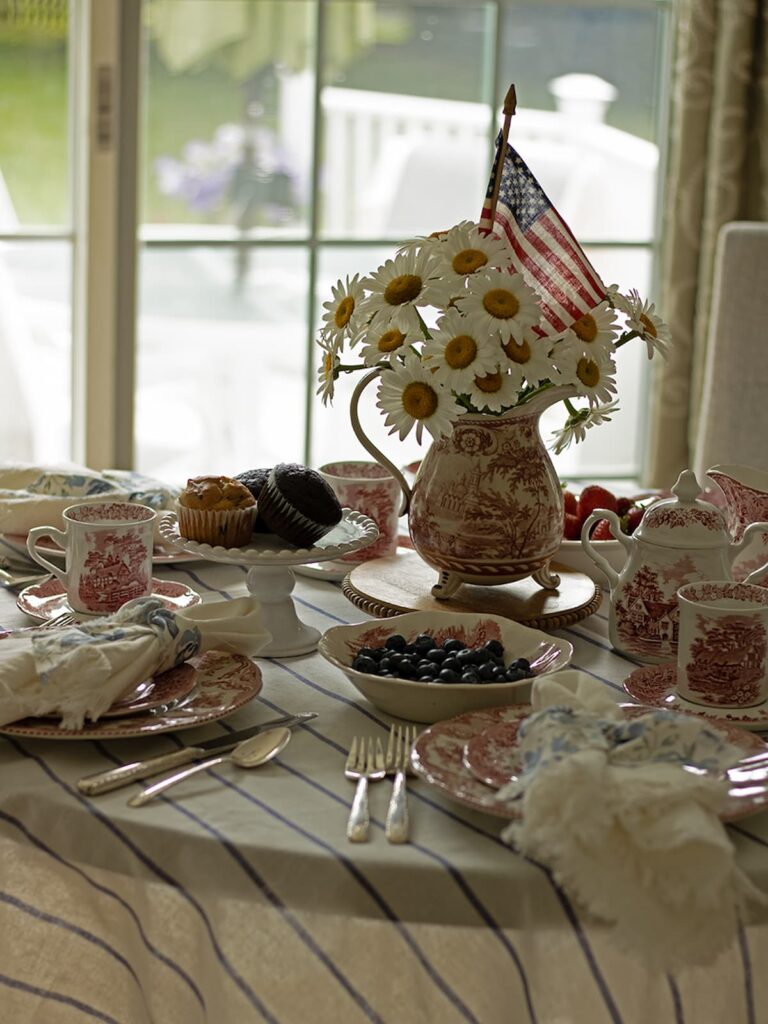 Shop & Source Memorial Day table decor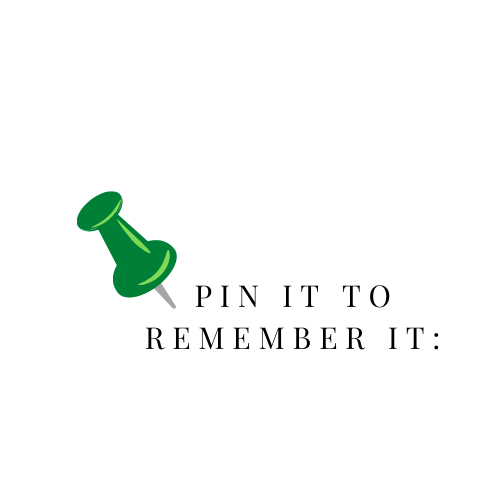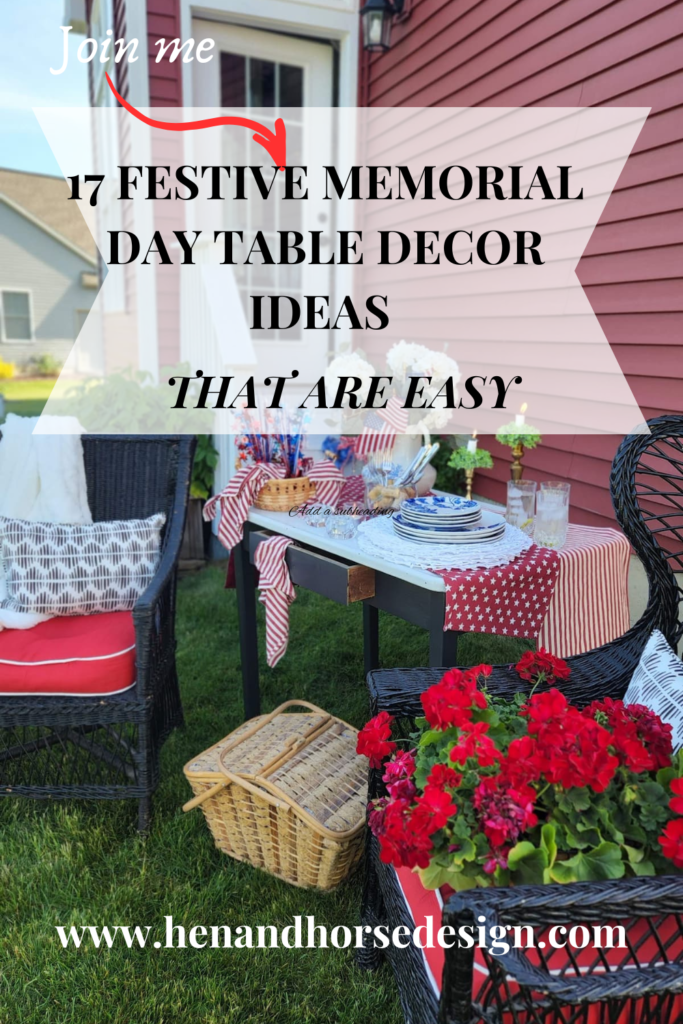 How to decorate table for celebration?
Deciding on whether to use a blue pot or a red one, a galvanized bucket or a wicker basket filled with red geraniums won't matter. What will matter is that your whole family is together to play lawn games and have fun on this important day.
So have a great time together. Celebrate!
I'm so pleased you joined me today. Leave a comment below on what you'll be doing this weekend. I'd love to hear how you celebrate.
oh, and just remember,…. if you come to my home for a party, I'm washing the dishes! ha
Happy Memorial Day to you!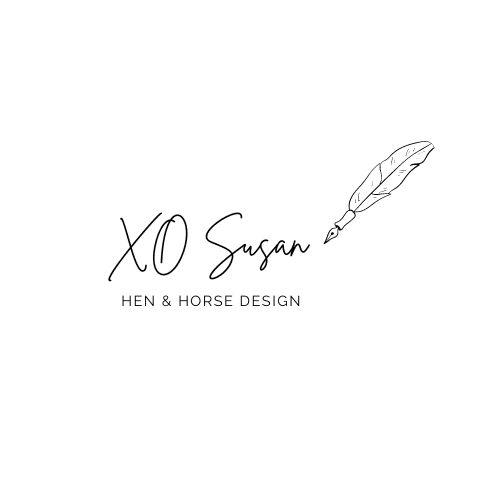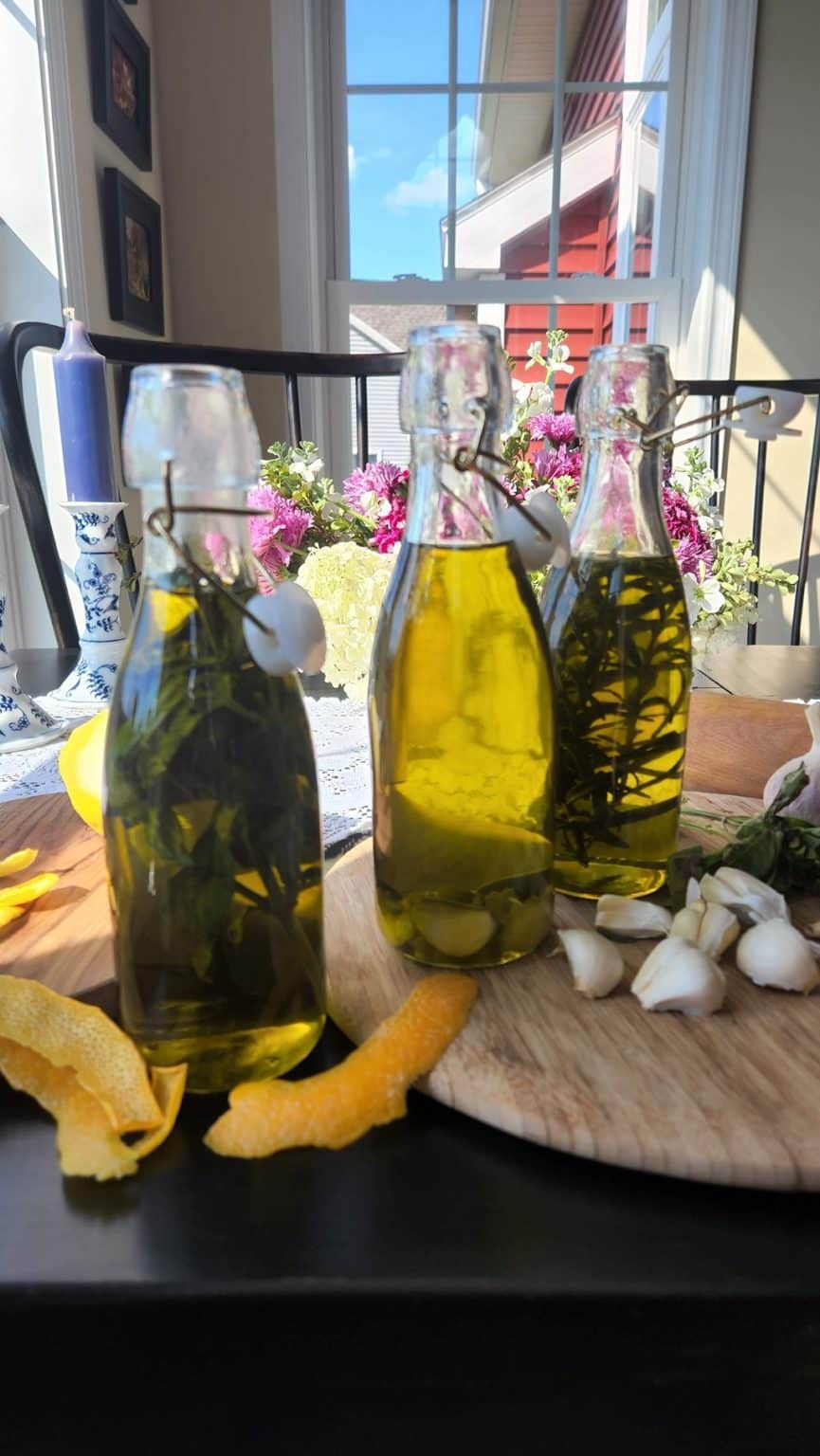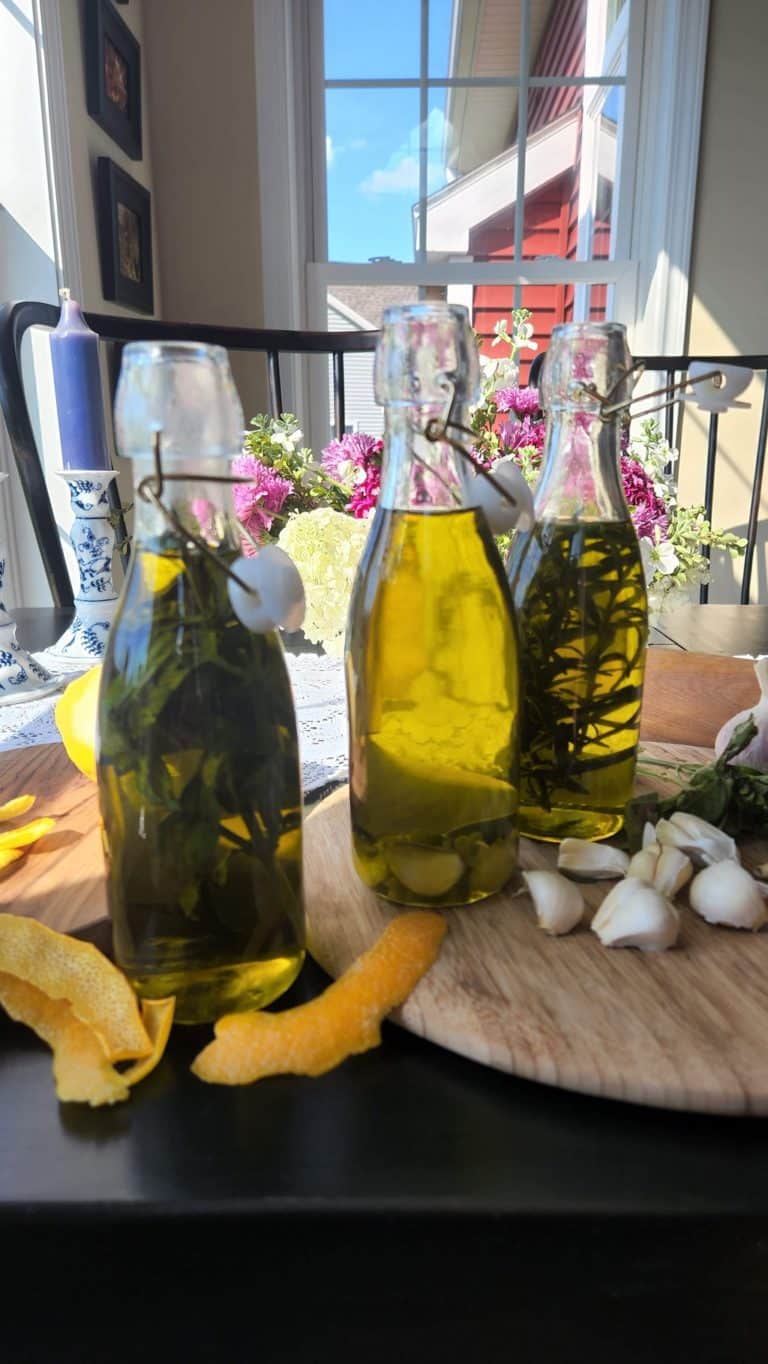 Infused olive oil is a great way to add some extra flavor to your food. Learn How to Make Your Own Infused Olive Oil!