Easy 3 Ingredient Chocolate Mousse Recipe Made in Minutes
This quick and easy 3 ingredient chocolate mousse recipe can be made in minutes and is a perfect dessert for any occasion!
If you've been reading my blog for even a hot minute, you know that I have a thing for desserts. Pies and cakes too. This easy chocolate mousse recipe fits perfectly into any dessert rotation. I'm sure all you chocolate lovers are going to love it.
With three simple ingredients that you probably already have in your kitchen, you can make this delicious chocolate mixture in no time.
One of my favorite memories growing up was when my parents were in the kitchen baking in preparation for an upcoming holiday.
My parents worked together well in the kitchen. It's true. While that may not be the case in general, my mom and dad figured out the best way to bake in abundance.
Most often my dad would make the dough. Rolling out the pie crusts while my mom would prep the apples for apple pie, or the pumpkin mixture for pumpkin pies.
When they would bake, they were known to make 10 pies at a time. One day I'll share my dad's famous apple pie recipe. It's the best I've ever had.
Chocolate pudding pies and chocolate mousse were also on their long list of bakery confections. Read on for more.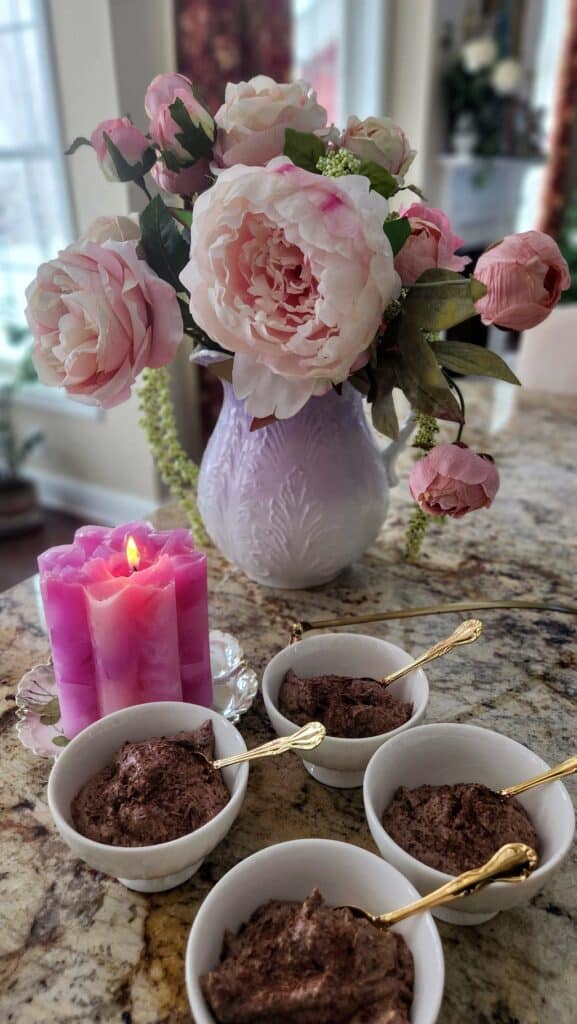 "This post may contain affiliate links which means I may earn a small commission. You may read my
disclosure policy here
".
What are the three basic elements of a mousse?
The three basic elements of mousse recipes are a base, a sweetener, and an aerator. Adding air will be an important step to achieve the fluffy texture of this sweet treat.
The first time I made homemade chocolate mousse I learned quickly just how important the air and whipping is. I'll share more on this below with 'Why is my mousse not fluffy'.
While my first attempt at making a fluffy mousse was not highly successful, I did not give up.
What makes a good mousse?
What makes a good mousse is the light and airy texture. Think fluffy and creamy when thinking of this quick recipe. Mousse is an incredibly light and delicious dessert that is sure to satisfy any sweet tooth. But what really makes Mousse so unique? It is all in preparation and the rich flavor!
Traditional Mousse Ingredients
Traditional mousse is made by whipping heavy cream, eggs, and sugar together until stiff peaks are formed.
When using ricotta cheese, the ricotta adds a creamy texture and flavor that truly elevates the flavor profile of the dessert. This smoothly blended combination creates an airy experience with each spoonful that feels lighter than air on your palate.
Using a good quality ricotta cheese is a lighter version and is also egg free option.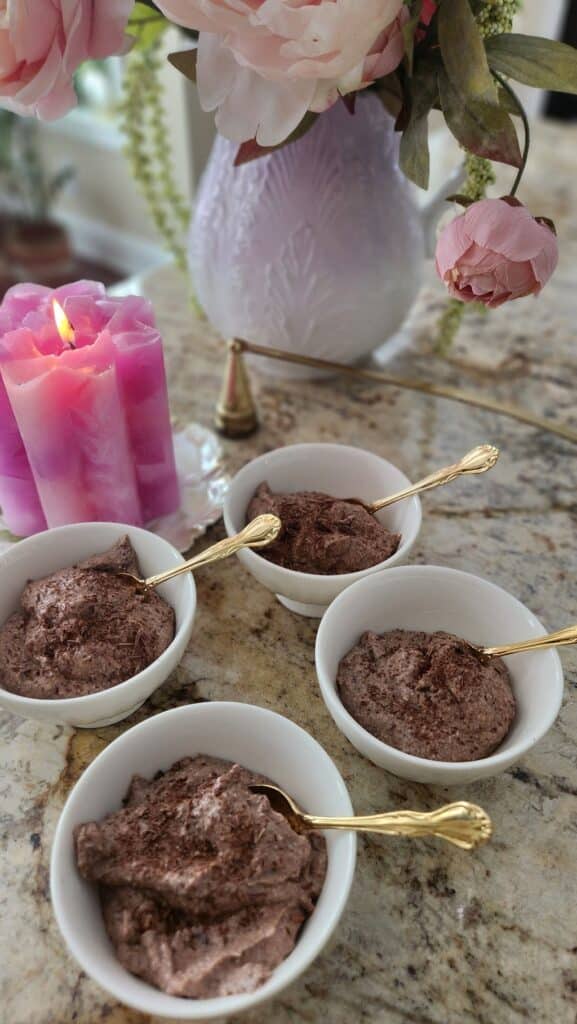 Why is my chocolate mousse not fluffy?
Creating a fluffy mouse can be the hardest part. There are most likely two explanations why your chocolate mousse is not fluffy. First, the lack of fluffiness is that the melted chocolate you used was too thick. Second, the mixing did not produce enough air in your mousse.
This can happen if you use chocolate with a high cocoa content or if you don't melt it down enough before adding in your other ingredients. Melt the chocolate slowly & until completely smooth.
(If the mousse becomes grainy in texture, it has been overmixed)
3 Ingredient Chocolate Mousse: What you will need
Large bowl
Hand Mixer
Ricotta cheese
Semisweet chocolate (Melted, plus a little more for chocolate shavings)
Confectionery sugar
Instructions
Gather the ingredients and kitchen tools that you will be using.
I highly recommend either an electric mixer or a stand mixer to achieve a fluffy chocolate mousse.
Blend 2 cups of the Ricotta cheese in the food processor making sure the confectioner's sugar is mixed well.
Once the sugar and cheese are well-blended slowly melt the chocolate. Follow instructions if melting in a microwave, slowly melting a few minutes at a time.
However, if you opt to use a double boiler, you may have more control over the temperature and time to melt your chocolate. I prefer this method.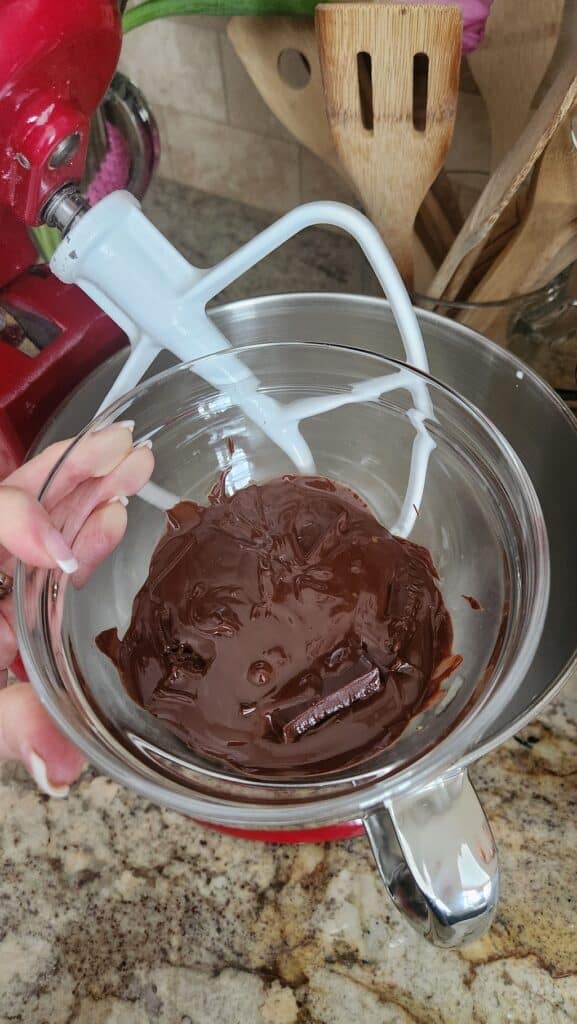 Next, add the chocolate to the ricotta mixture and blend on medium-high speed.
Refrigerate the mousse.
After chilling in the refrigerator for 2-3 hours, remove your easy chocolate dessert from the refrigerator.
Shave chocolate over the top. Then let set at room temperature before serving.
Easy 3 Ingredient Chocolate Mousse Recipe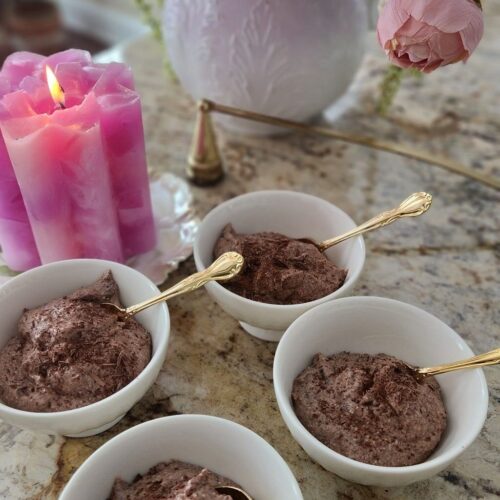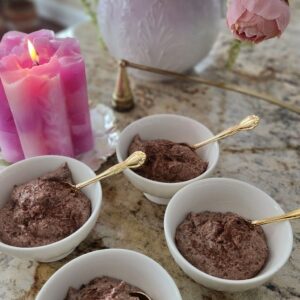 Easy 3 Ingredient Chocolate Mousse Recipe Made in Minutes
This quick and easy 3 ingredient chocolate mousse recipe can be made in 5 minutes and is a perfect dessert for any occasion!
Ingredients
1

15 oz

Ricotta cheese, approximately 2 cups

4

oz

Semi Sweet Chocolate, Melted, plus a bit more for Shaving

2

TBSP

Confectionery Sugar
Instructions
In a food processor, blend the ricotta, sugar and melted chocolate

Divide among bowls and top with shaved chocolate

Can be refrigerated for up to 2 days. Bring to room temperature before serving.
For a special occasion, scoop the mousse into small bowls and add fresh berries and a cool whip topping. If you have time, rather than use a store-bought topping, make a bowl of homemade whipped cream. Mix until soft peaks form.
Fresh whipping cream on top of this chocolate lover's dream is the best part! (in my opinion ha)
More dessert recipe ideas
Below are a few reader favorites on the blog. Everything from a delicious carrot cake and decorating to breakfast muffins, a chocolate charcuterie you can make in a flash, and an easy Cappucino dessert.
Easy Cake Decorating Ideas + Amazing Cake Supplies
Best Cranberry Walnut Muffin Recipe with Orange Marmalade
Chocolate Charcuterie Board Ideas You Can Make Today
Easy Cappuccino Dessert to Make with Coffee
The Best Ricotta Vanilla Challah Bread Pudding Recipe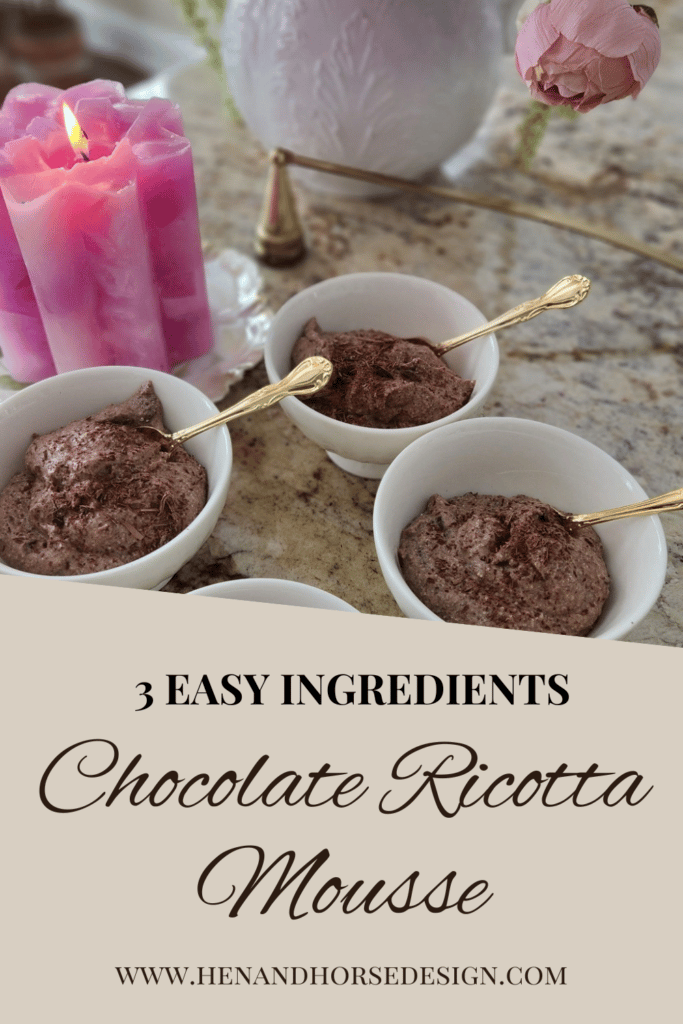 Lastly, one very big reason I love this recipe is that it is an egg-free recipe. I have one niece who has a severe egg allergy and it can be quite challenging to find a dessert for her to be able to share. In the future, I'm going to be sharing an egg-less chocolate cake recipe that is amazing!
It's moist and tasty and you would never know there are no eggs in it.
I hope you enjoyed this quick and easy 3 Ingredient Chocolate Mousse Recipe made in minutes. Gathering around a delicious dessert table is a good reason for guests to linger. It's sure to impress your guests at your next dinner party.
Should you make this recipe, please come back and share your thoughts. I'd love to know how you liked it. Until next time, happy baking my friend!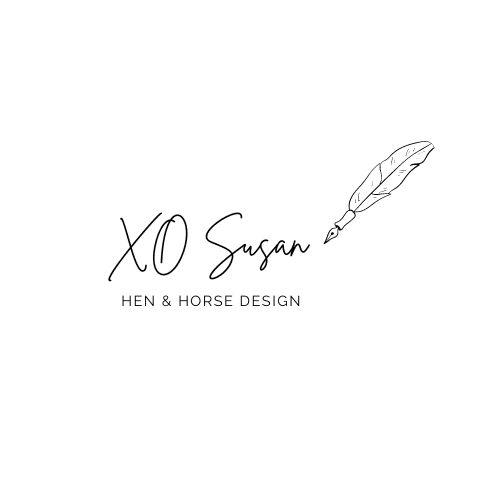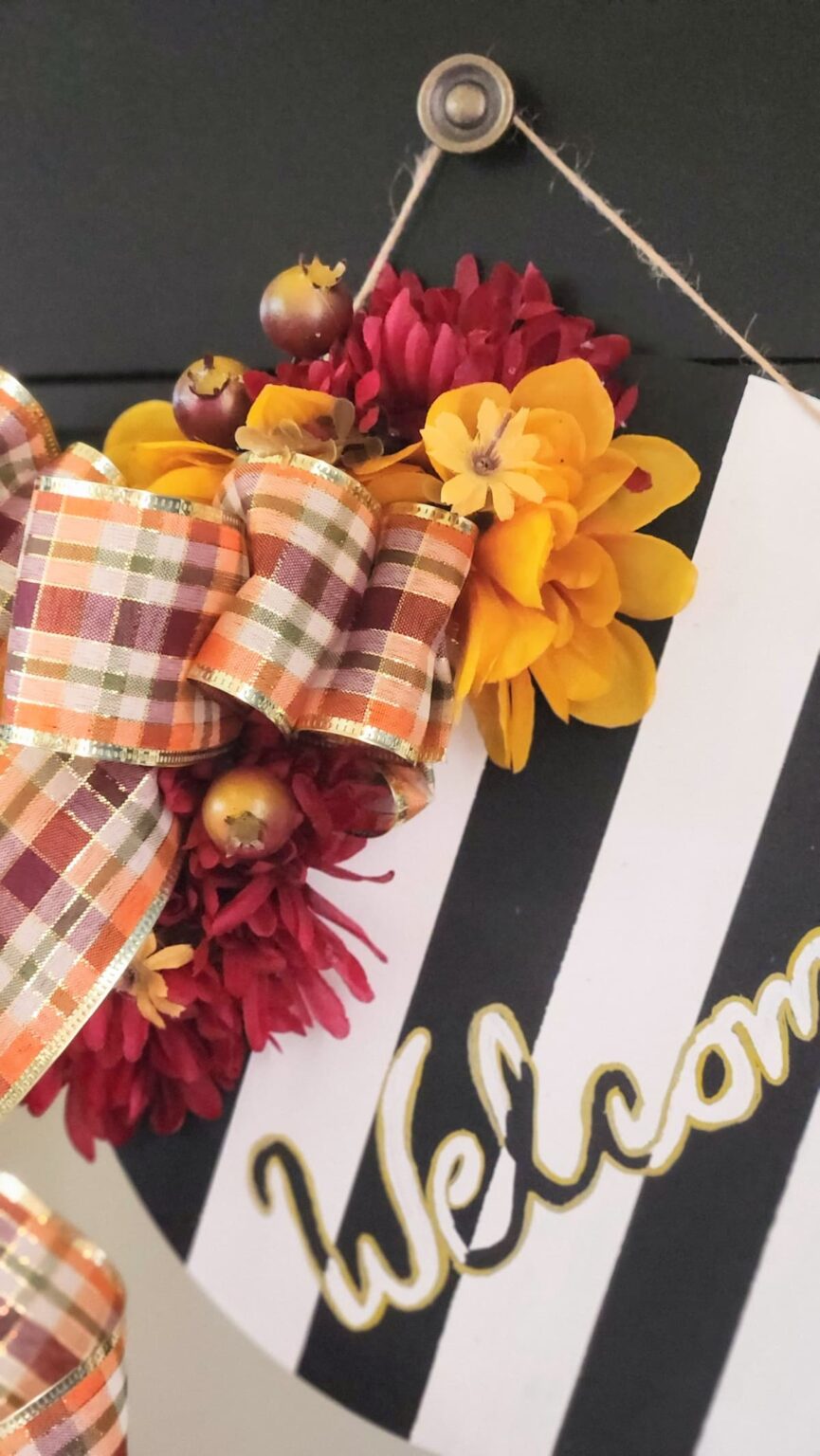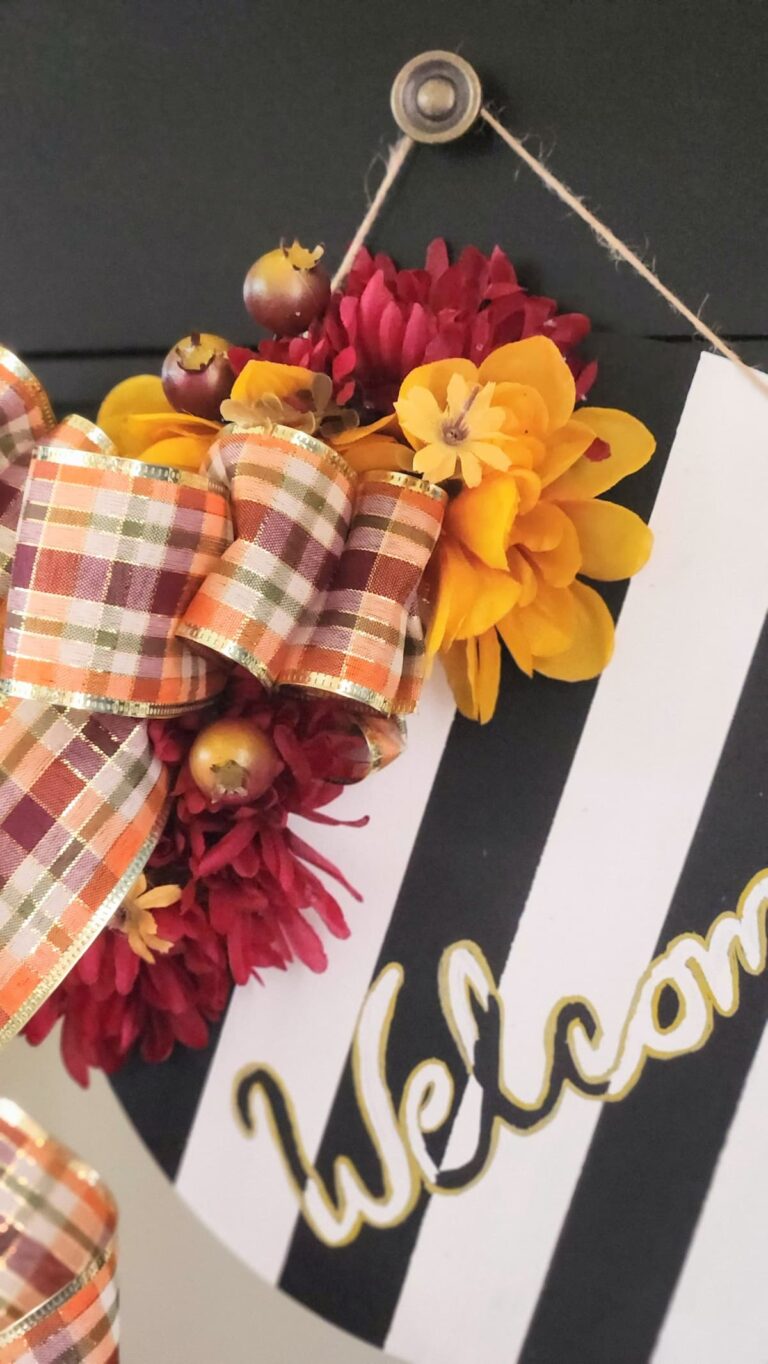 Hey there, crafty friend! Are you ready to dive headfirst into the wonderful world of DIY door hangers? Picture this: a cozy afternoon with your favorite tunes playing in the background, a table overflowing with colorful paints and craft supplies, and an empty wooden door hanger just waiting for your creative touch. It's like a mini canvas for your front door, and trust me, the possibilities are endless for a new pretty welcome sign.
End of Content.