Chocolate Ricotta Mousse Made with 3 Ingredients
Do you love dessert? This quick and easy chocolate ricotta mousse recipe can be made in 5 minutes and is a perfect dessert for any occasion!
If you've been reading my blog for even a hot minute, you know that I have a thing for desserts. Pies and cakes too. Anything that is easy to make and tastes delicious.
Well, in truth I can't say anything or everything because I am a bit choosy when it comes to my recipes. I have an unspoken rule that it must look really good on a plate, and have 10 or fewer ingredients. That is not always the case, but I try! Haha
However, if you are so inclined and enjoy the 3 step, 20 ingredient, 2 hour cooking instructions and time, then my hats off to you. You're my hero!!
The simple skinny is, you can make great tasting dishes and deserts in little time!
What makes mousse a mousse?
Are you a fan of ricotta mousse? Then you're in for a real treat. Mousse is an incredibly light and delicious dessert that is sure to satisfy any sweet tooth. But what really makes mousse so unique? Well, it is all in the preparation!
Traditional Mousse Ingredients
Traditional mousse is made by whipping heavy cream, eggs, and sugar together until smooth. When using ricotta cheese, the ricotta adds a creamy texture and flavor that truly elevates the flavor profile of the dessert. This smoothly blended combination creates an airy experience with each spoonful that feels lighter than air on your palate. Using ricotta cheese is a lighter version and is also egg free option.
As an alternative to other types of filling, I love using ricotta in recipes
"This post may contain affiliate links which means I may earn a small commission. You may read my
disclosure policy here
".
Why is my chocolate mousse not fluffy?
Creating the perfect mousse can be a challenge and if yours has not turned out as fluffy as you hoped, then the most likely explanation is that the chocolate you used was too thick. This can happen if you use one with a high cocoa content or if you don't melt it down enough before adding in your other ingredients.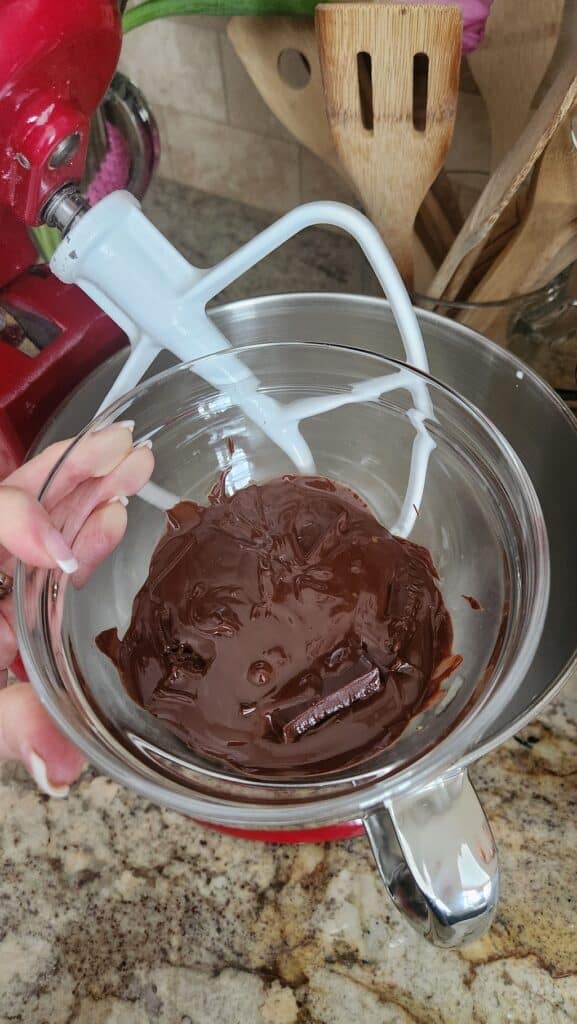 5 Minute Mousse
Chocolate ricotta mousse only takes a few moments to whip together, and is soon ready for enjoyment! Get out your chocolate chips or bars and let's get on with it; this mousse pretty much makes itself!
Ingredients you'll need
1 15 oz. package ofRicotta Cheese
4 ounces semisweet chocolate, melted, plus a little more for shaving & topping
2 tablespoons of confectionery sugar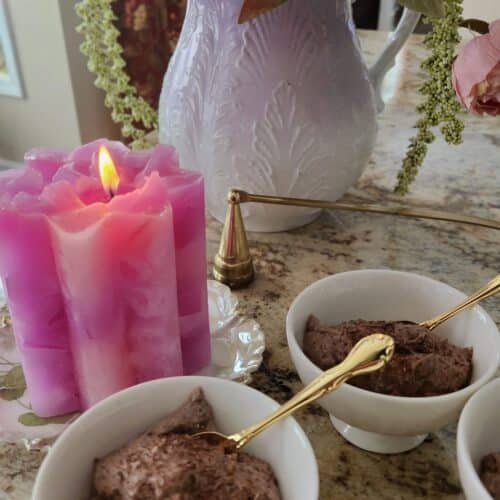 Chocolate Ricotta Mousse Made in 5 Minutes
Do you love dessert? This quick and easy chocolate ricotta mousse recipe can be made in 5 minutes and is a perfect dessert for any occasion!
Ingredients
1

15 oz

Ricotta cheese, approximately 2 cups

4

oz

Semi Sweet Chocolate, Melted, plus a bit more for Shaving

2

TBSP

Confectionery Sugar
Instructions
In a food processor, blend the ricotta, sugar and melted chocolate

Divide among bowls and top with shaved chocolate

Can be refrigerated for up to 2 days. Bring to room temperature before serving.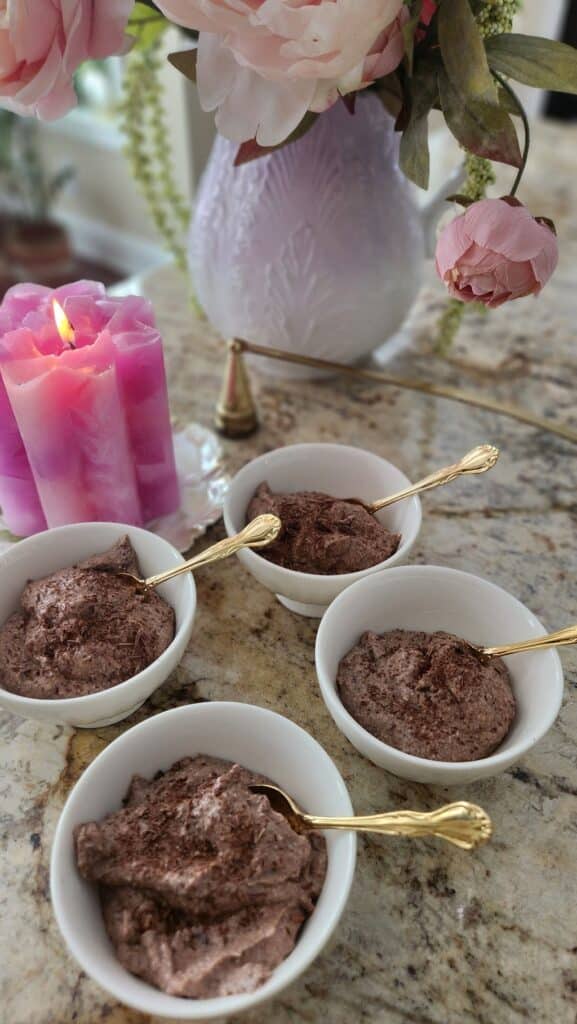 Not only is it creamy and delicious, but there's something special about rich flavors of chocolate and ricotta cheese that will leave your taste buds begging for more – it's sure to be a crowd-pleaser!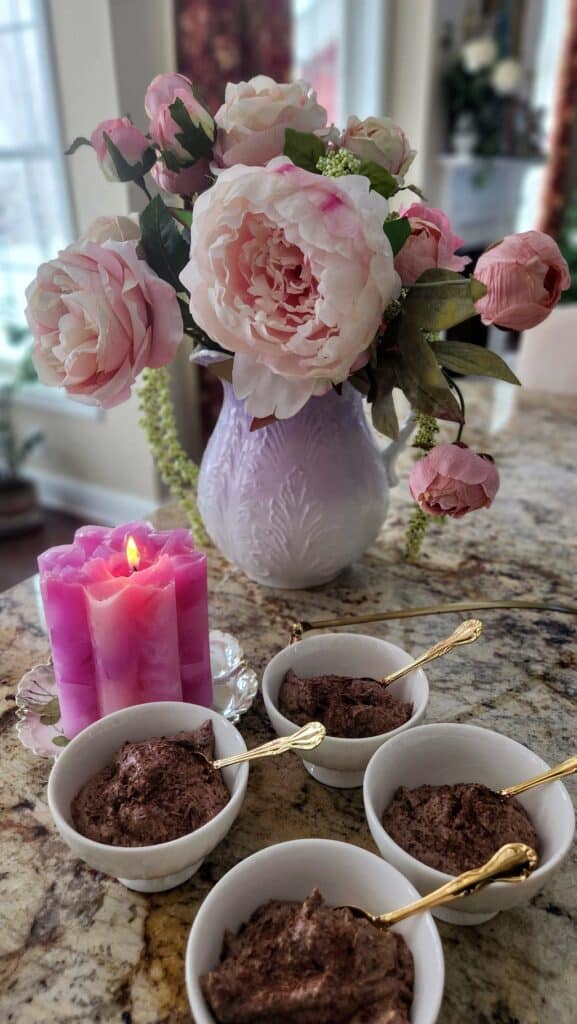 Have you checked out my other social channels? Follow along so you don't miss out on any of my tips, recipes, or stories! Join me on my other social channels for more! Pinterest, Instagram, and Facebook.

Pin It To Remember It: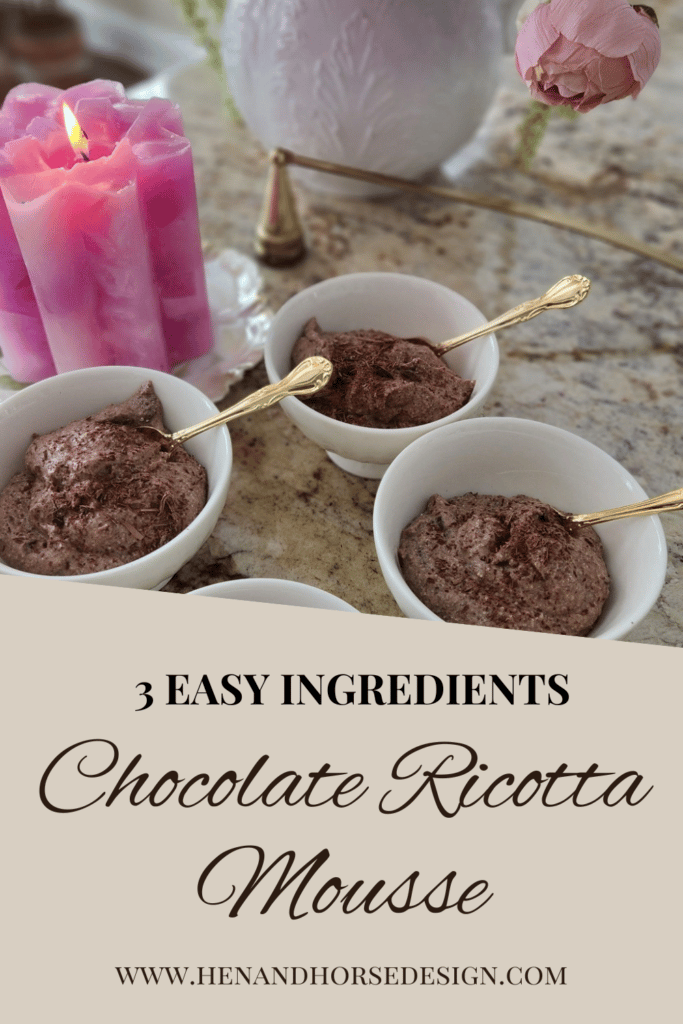 This easy chocolate ricotta mousse is the perfect, no-fuss dessert for any occasion. Best of all it only takes 5 minutes to make! Serve it in individual dishes or in shared bowls and add a few sprigs of mint to each serving for an extra touch of flair. Don't forget to refrigerate before serving and top with whipped cream if desired. I hope you take the opportunity to try out this delicious recipe yourself – let me know how it turns out! Bon Appetit!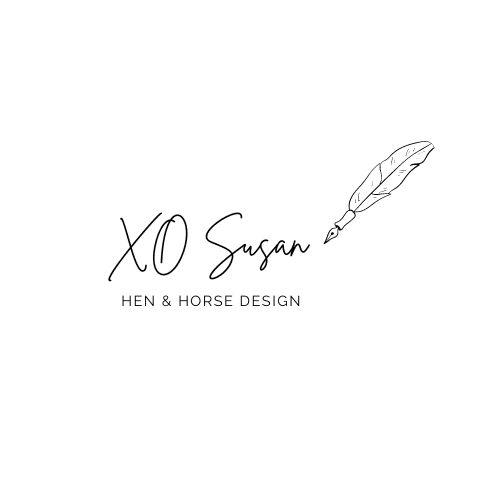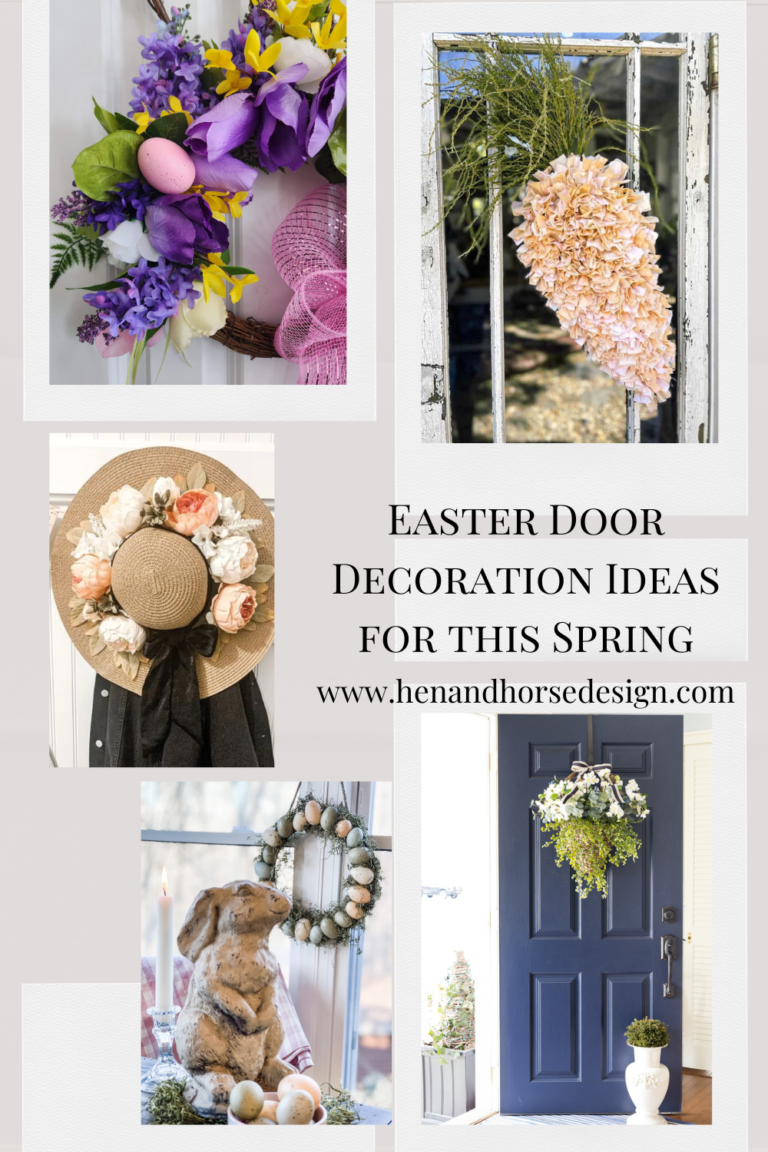 If you're looking for new Easter door decoration ideas for this Spring you've come to the right place. Easter is the perfect time for new life and beautifying the entrance to your home, especially after a long winter.
End of Content.