Chocolate Charcuterie Board Ideas You Can Make Today
Traditional charcuterie boards step aside, chocolate charcuterie board ideas are making their way to the dessert table!
Today I'm sharing a fun way to serve an alternative to a traditional charcuterie board with fresh fruit, meats, and cheese boards by creating a charcuterie board using dark chocolate and milk chocolate.
It wouldn't be a stretch to say chocolate treats, and fruits are a few of my favorite things. There isn't anything better than walking into a party and seeing a platter or table filled with delectable sweets and treats.
During the winter months, a hot cocoa charcuterie board with candy canes would be the perfect way to serve all of those sweet treats. However, Winter has passed, and with Easter around the corner, there is good reason to get out the chocolate bunnies, chocolate bars, and chocolate-covered pretzels and design the easiest dessert for your next holiday party.
The number one reason dessert charcuterie boards are the best is you don't have to be baking in the kitchen for hours. Also, with a charcuterie board, there is something for everyone.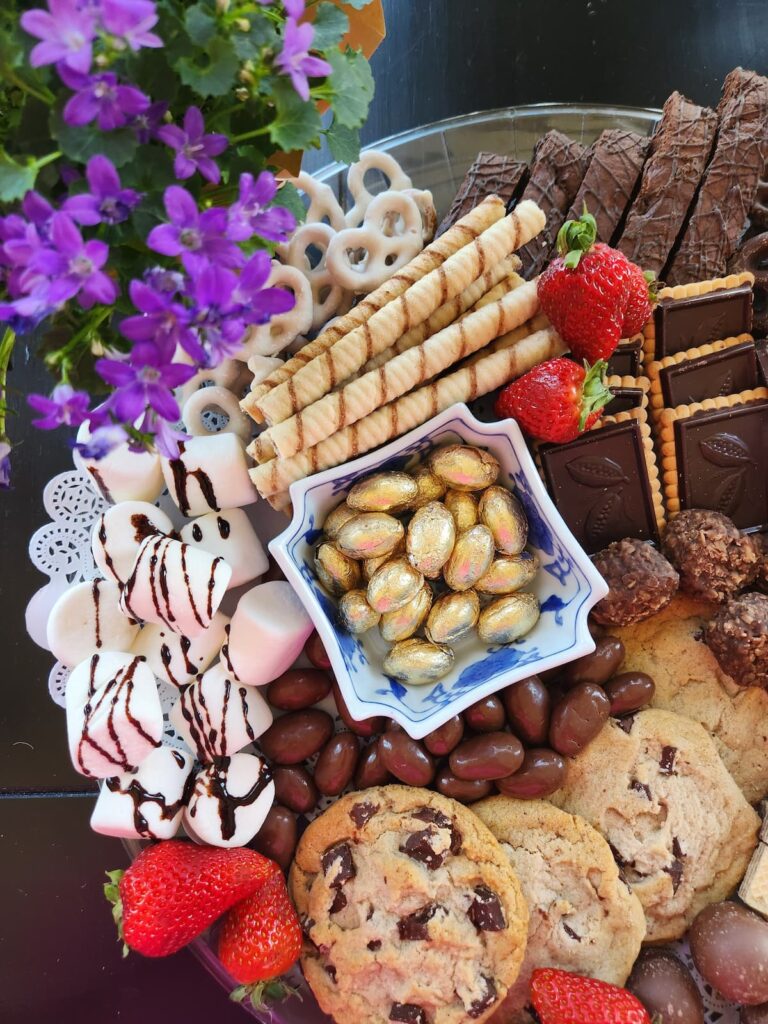 "This post may contain affiliate links which means I may earn a small commission. You may read my
disclosure policy here
".
What should I put on a dessert charcuterie Board?
Many times when I'm going to have a party and guests over to our home, my first thought is what will I serve for dessert? It's true.
The dinner, the appetizers, and all the sides are really easy to come up with. It all depends on the size of the group, the season, the holiday, or simply, what I feel like making to treat my dinner guests.
But what about for the dessert? The finale! That's a big deal and one that on occasion has me stumped!
It needs to be a crowd favorite.
And, it needs to be memorable. It's the last portion of the meal that guests will remember. The simple dessert charcuterie board needs to be a fun thing to enjoy as well.
A chocolate dessert board does all of that. Plus it is one of the best things because it really is so easy to do.
Second, pretty much everyone has a sweet tooth so all of your guests will think it's a great idea.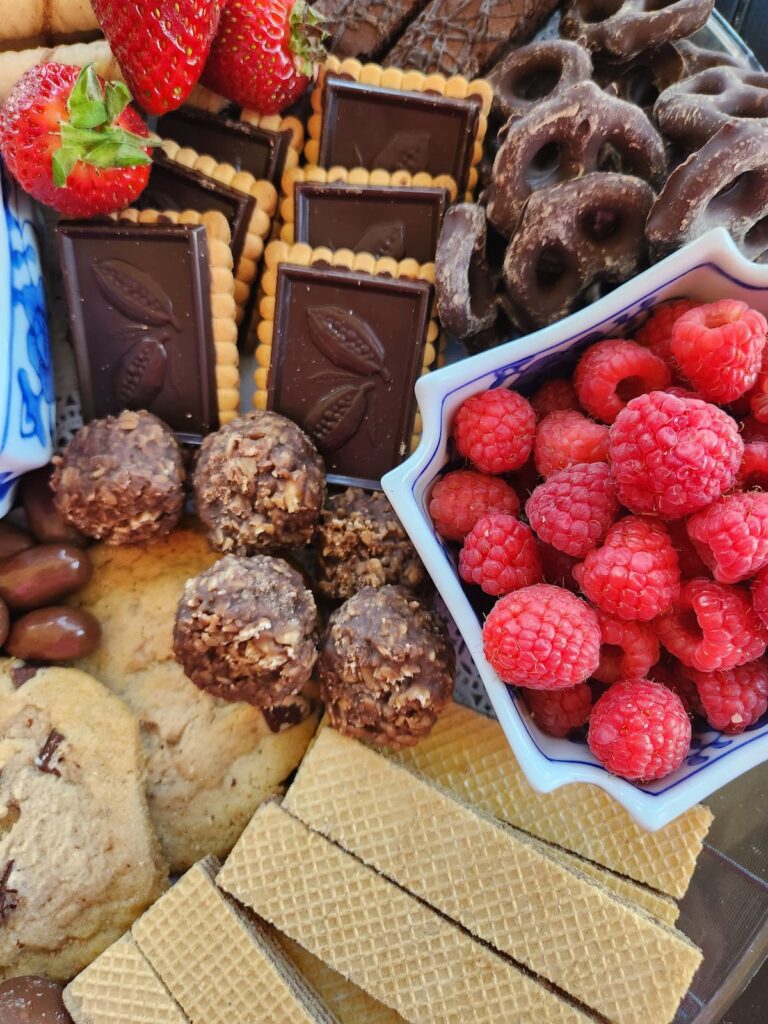 Chocolate Charcuterie Board Ideas
Cookie ideas to consider
Chocolate chip cookies
Pirouline's are a rolled wafer – decadent and delicious (one of my favorites)
Chocolate truffles
White chocolate fudge
Sprinkle mini cupcakes with coconut flakes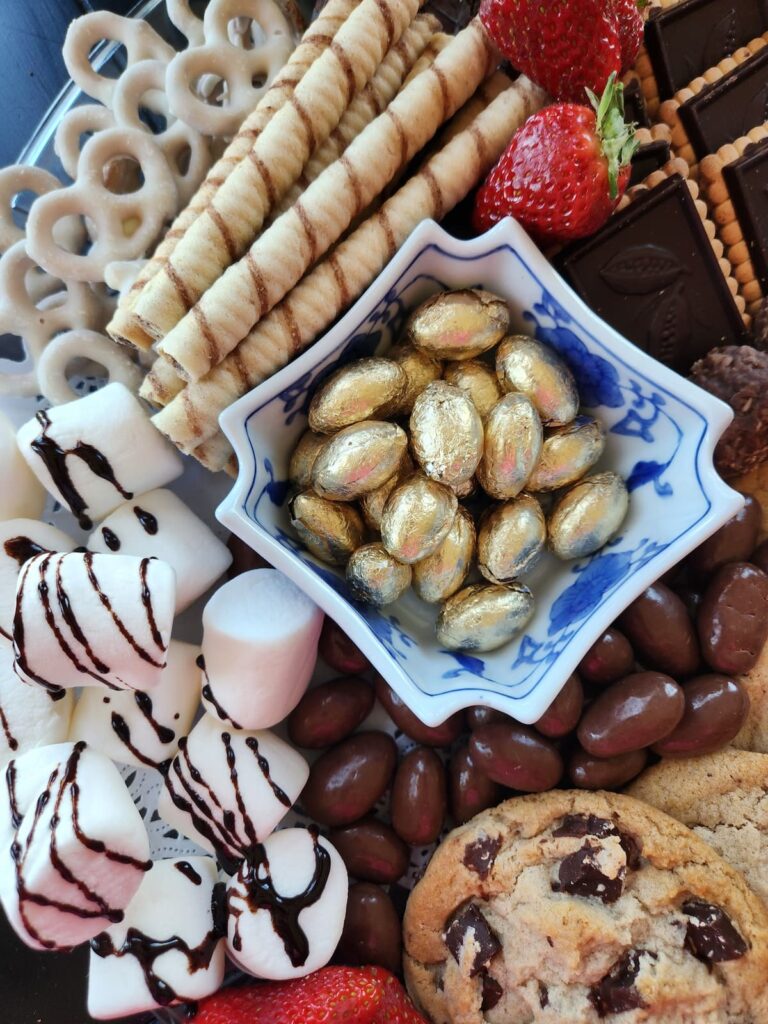 Candy options
Marshmallows with chocolate syrup drizzled on top
Almonds covered with dark chocolate
Gold-foiled chocolate eggs
White chocolate-covered pretzels
Small bowls filled with candy kisses
Chocolate-covered pretzels in this white swerve dish
Fruit
Strawberries
Raspberries
Green or red grapes
Sliced oranges halves (thinly sliced)
Apple slices
Cherries covered in chocolate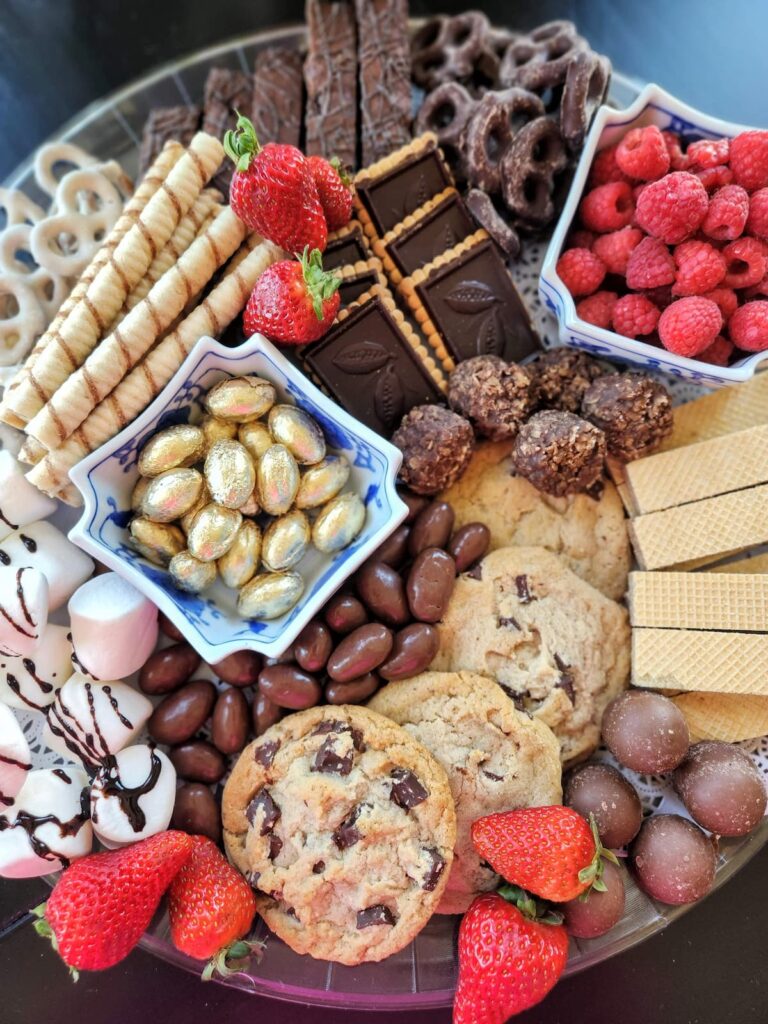 What are 5 tips for making a charcuterie board?
Before you being my first tip is to determine how many people your beautiful board with serve.
The next step is to determine what type of pretty board you will use. Think about using different textures and shapes when selecting your charcuterie tray.
Any board or platter may be used. If you don't have food boards large enough or want to keep it simple, brown kraft paper laid on a table will work perfectly. Get creative. The kraft paper can be cut into different shapes pertaining to the event. (such as football, bunny shape, or a star for patriotic parties, and more)
Want to bring it to the next level? A chocolate fondue board will bring it over the top. Dipping chocolate into chocolate is the ultimate in a dessert!
I love using these pretty gold utensils such as cheese slicers and serving tongs.
Next, look thru your pantry to see what you may already have prior to heading to the grocery store.
Arrange each addition by adding one item at a time creating a design, or pattern within the board shape.
When adding cheese, use a Cheese marker set. I love using these for my cheese boards and charcuterie trays to help my guests know the name of each cheese.
One last bonus tip, have a roll of plastic wrap or plastic bags to store any leftover chocolate cookies, etc. (although you may not have any leftover due to everyone loving the options)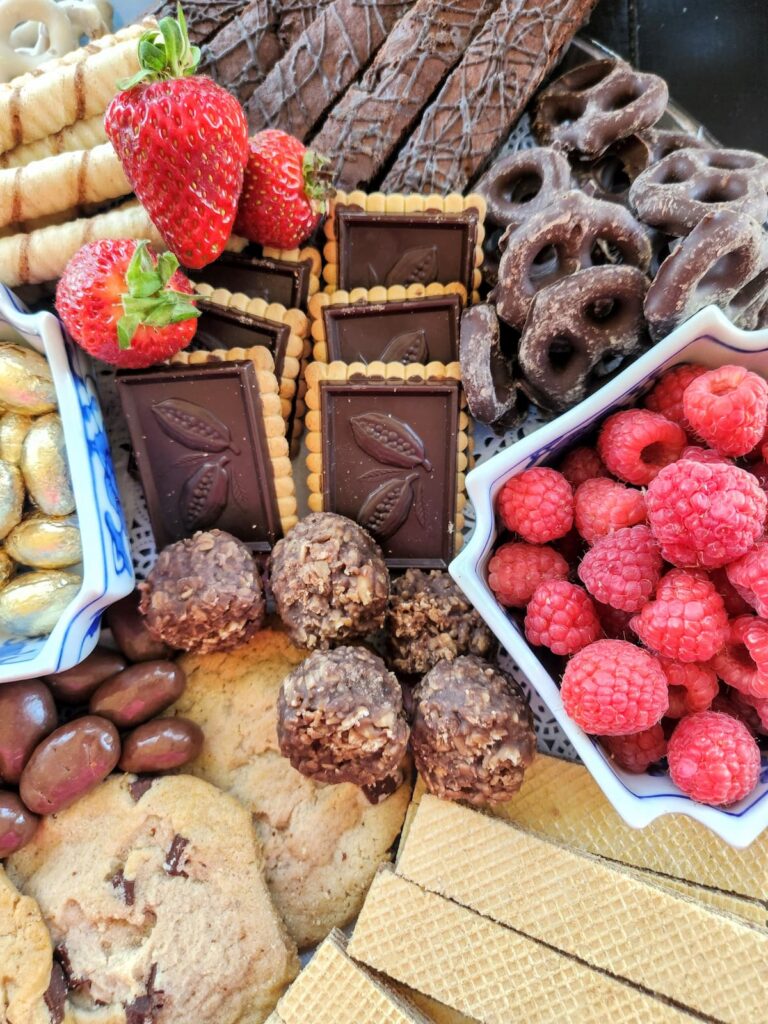 Do chocolate and cheese go together?
In short yes they do. Certain cheeses go better with dark or milk chocolate, however. When mixing the different types of chocolate, pair cheeses that go well with each.
Not everyone likes milk, or dark chocolate so varying types of chocolate will please every palette.
The same goes for soft goat cheese and sheep or cow's milk cheeses. The softer cheeses go best with dark chocolate. Both soft cheeses and dark chocolate pair well with wine also.
If your chocolate is more nutty, pair with aged, firm or nutty cheeses. I love using aged cheese with my chocolate.
Another great option for your next party is to add apple slices and fruit for the ultimate chocolate charcuterie board.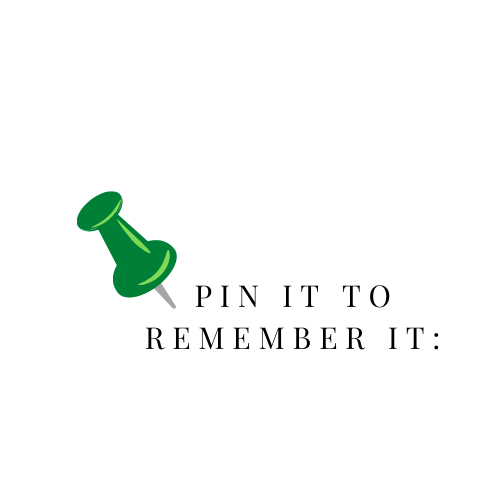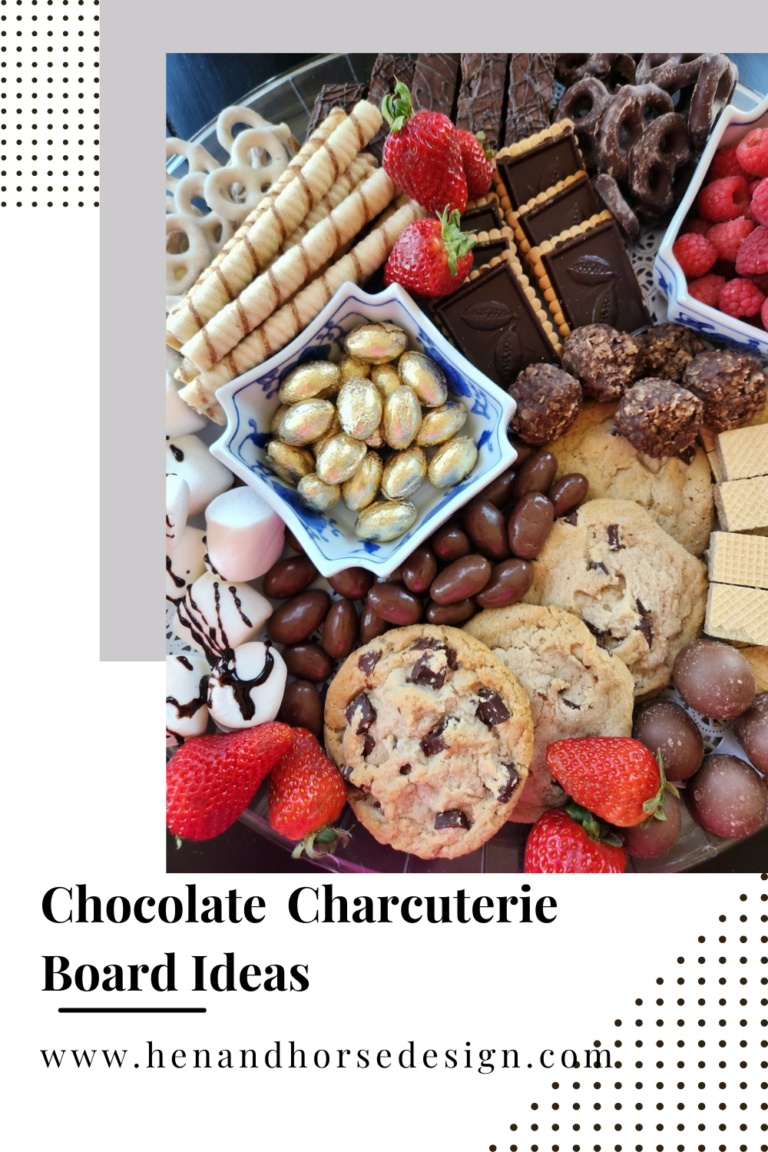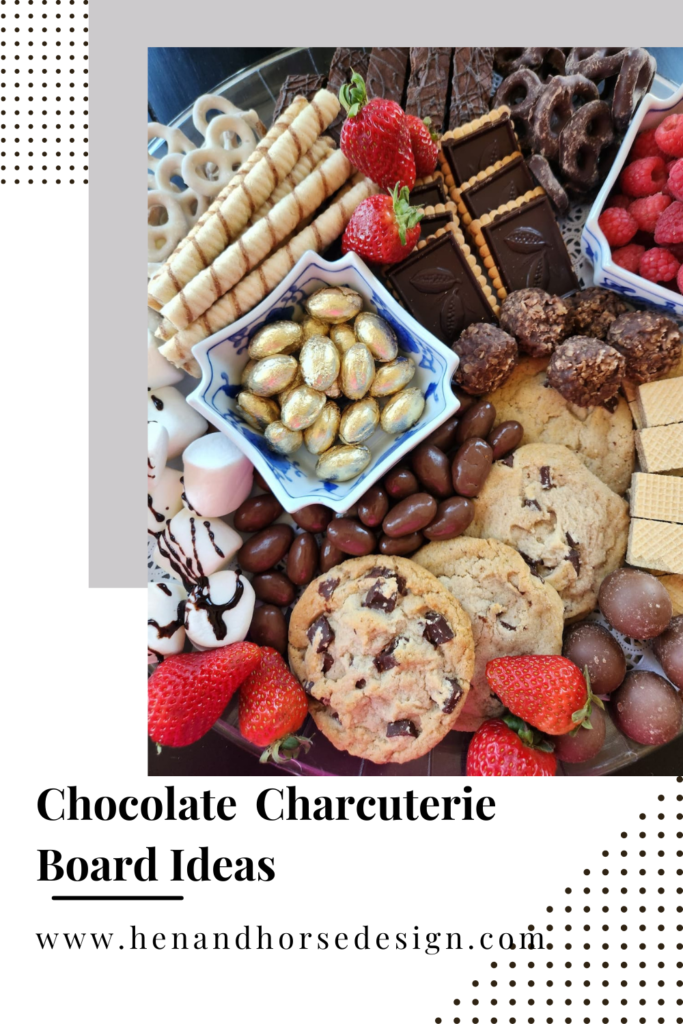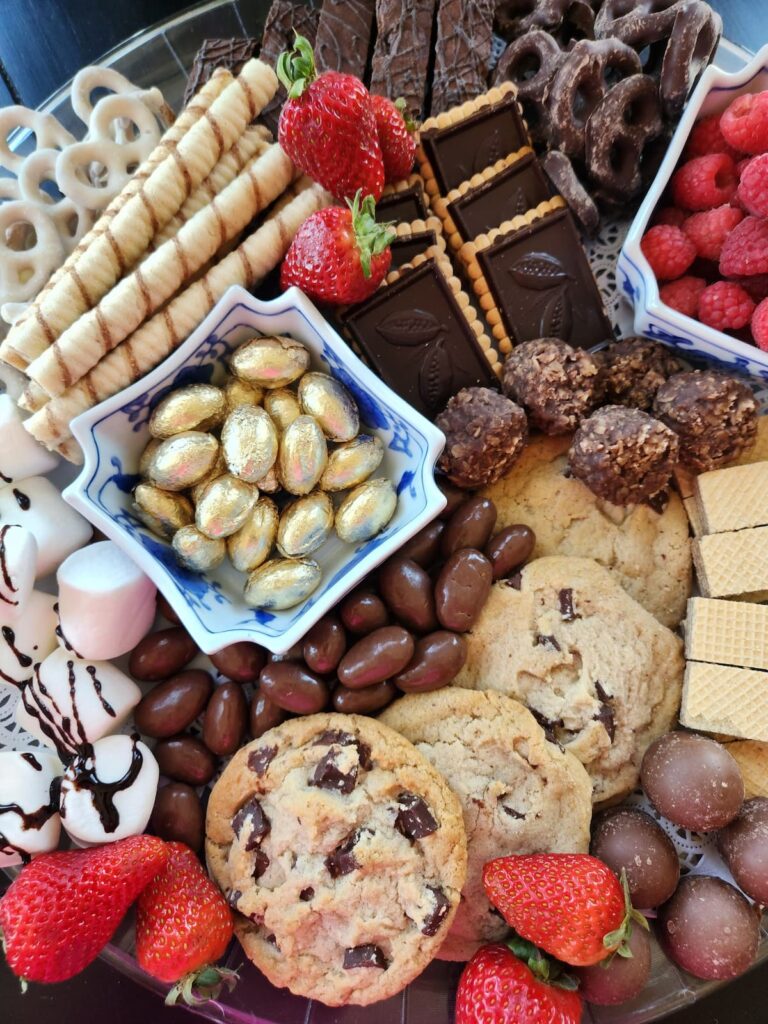 It is sure to be a chocolate lover's dream! Let me know in the comments below if you plan to make a chocolate charcuterie board this season!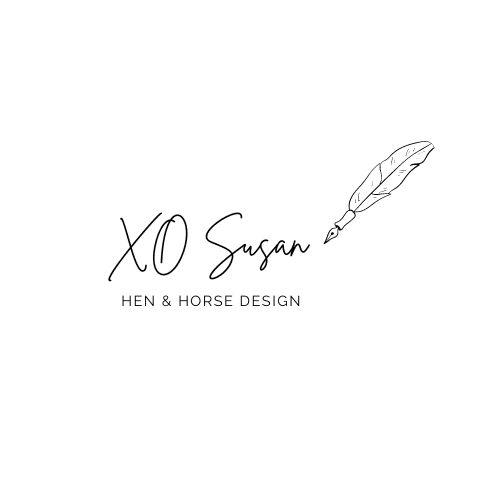 Other posts you may enjoy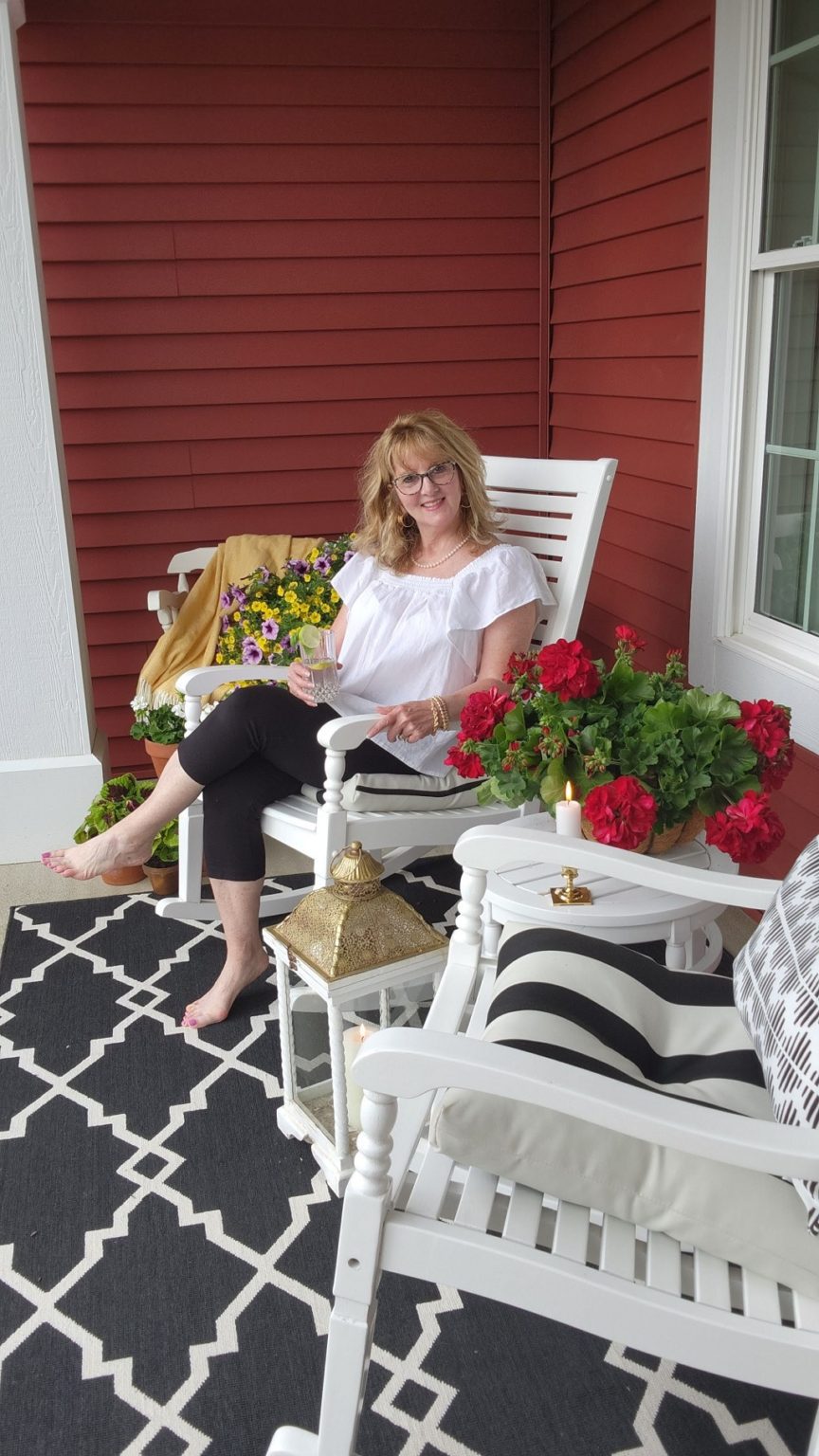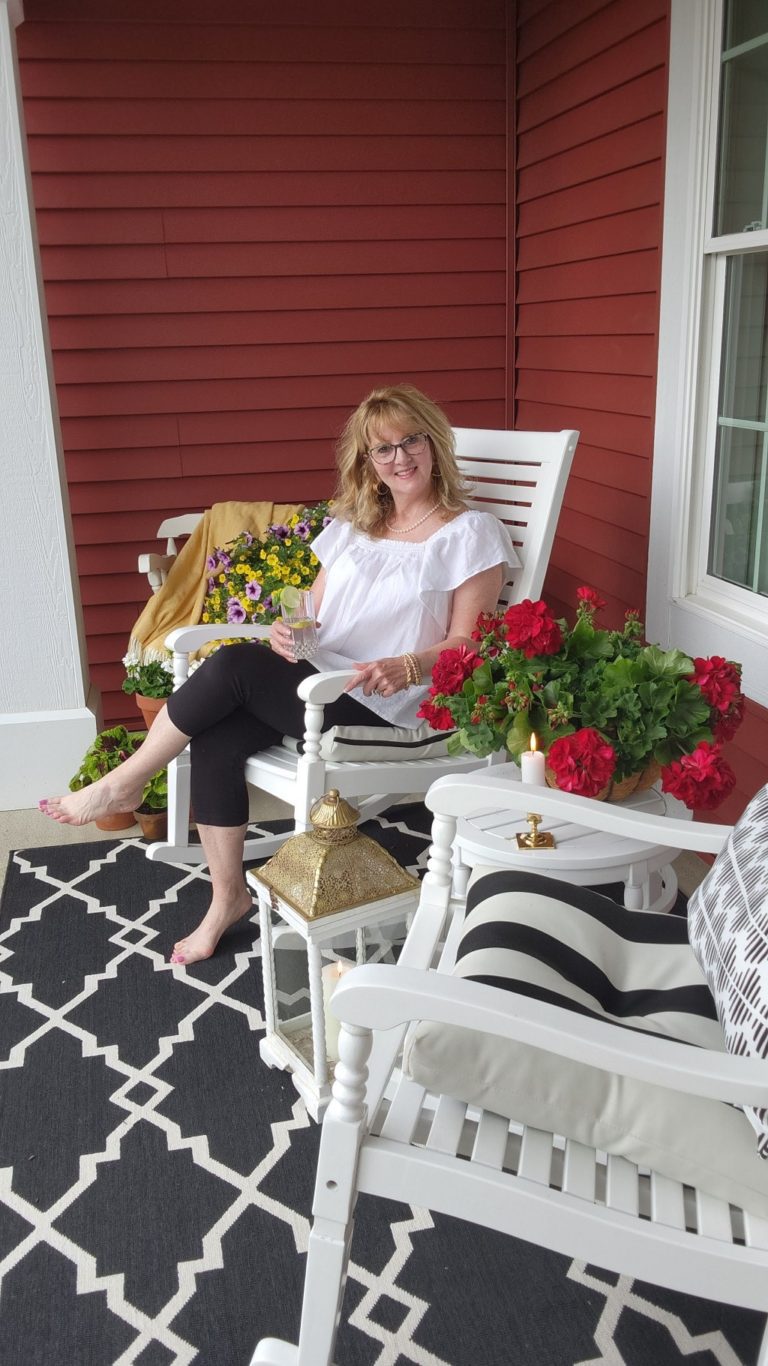 Looking for some summer porch inspiration? Here is my latest on How to Decorate Your Summer Porch! It's one of my favorite porches yet!