Easy Vegetarian Green Bean Recipe with Garlic
My Easy Vegetarian Green Bean Recipe with Garlic is cooked to perfection with cranberries, shallots, mustard, and garlic. It's so delicious!
I'm always ready to cook up an easy recipe. This might be my best one yet, especially when my green beans look this pretty. The dried cranberries, black pepper, sauteed green beans, and delish mustard vinaigrette blend together to give this green bean recipe a star rating.
Plus, it's a great option for any holiday table or all throughout Summer or Spring. Can you easily see the flavorful crisp beans alongside any main course? I sure can.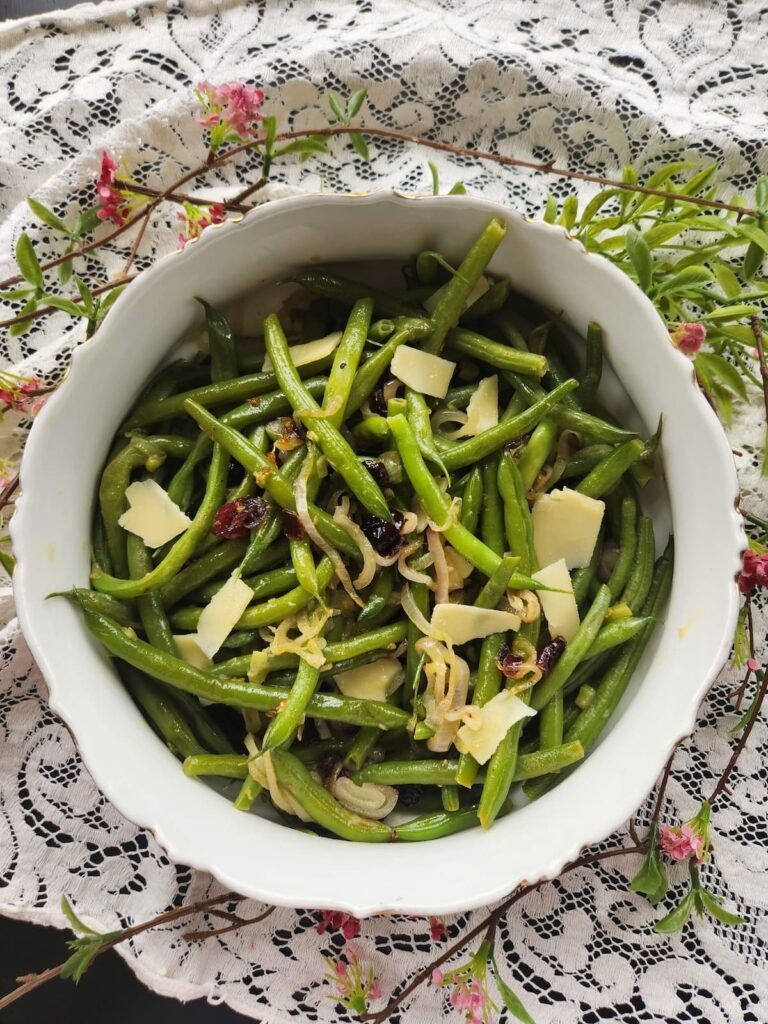 "This post may contain affiliate links which means I may earn a small commission. You may read my
disclosure policy here
".
What can I add to green beans for flavor?
In my opinion, the best way to bring out the flavor of green beans is with garlic powder or onion powder and salt and pepper.
It's mostly due to my Italian upbringing. My mom added garlic to everything. Plus, garlic is super healthy for you. Adding the mustard vinaigrette to the crisp green beans gives this recipe the zing and nice crunch that's needed for a great recipe.
How do I jazz up green beans?
What I love about this delicious vegetable recipe is the use of olive oil. That's my way of jazzing up any dish. I love olive oil. Whenever I get to use cloves of garlic along with string beans you know it's going to be good.
While my fresh green beans recipe doesn't call for soy sauce or red pepper flakes, it is full of flavor and a delicious side dish.
Other options to add flavor to your green beans
Red peppers
Roasted green beans with Sesame oil
Lemon zest or lemon pepper seasoning
Sarah from Badtothebowl has a delicious maple syrup bean recipe
Blanched with butter
Simmer in chicken broth
Combine with bacon
Should you blanch green beans before cooking?
Even tho I am a huge fan of blanching green beans, it's not necessary to do so.
However, here is why I love blanching my green beans. In blanching beans the nutrients and vitamins are not boiled out of the beans. Meaning, the nutritional value, and health benefits stay in the bean and pass it on to you, more so than when boiled.
Another reason I love blanched green beans is the fact that if you are planning to reheat the green beans in a simple skillet, the blanching of them leaves them crisp, bright green, and slightly undercooked or al dente. Perfect for reheating without overcooking. It's a great way and option if you are not serving them immediately,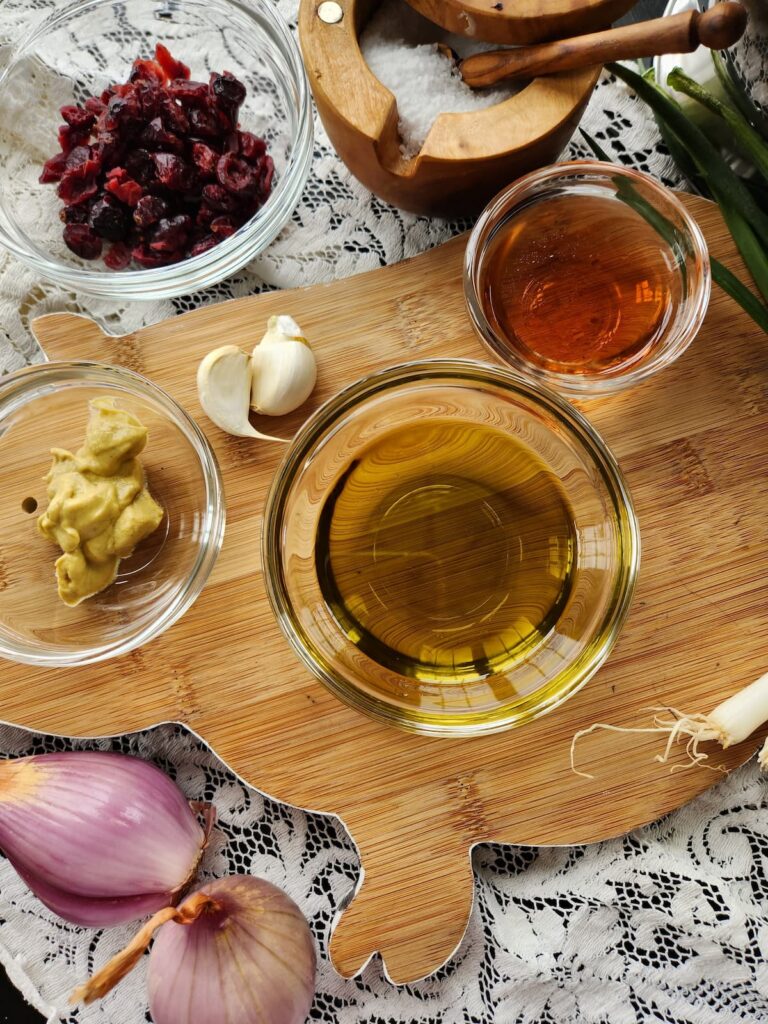 How to make my easy vegetarian green bean recipe with garlic?
Step 1: Whisk together vinegar, dijon mustard, (use regular mustard for vegetarian option) salt & pepper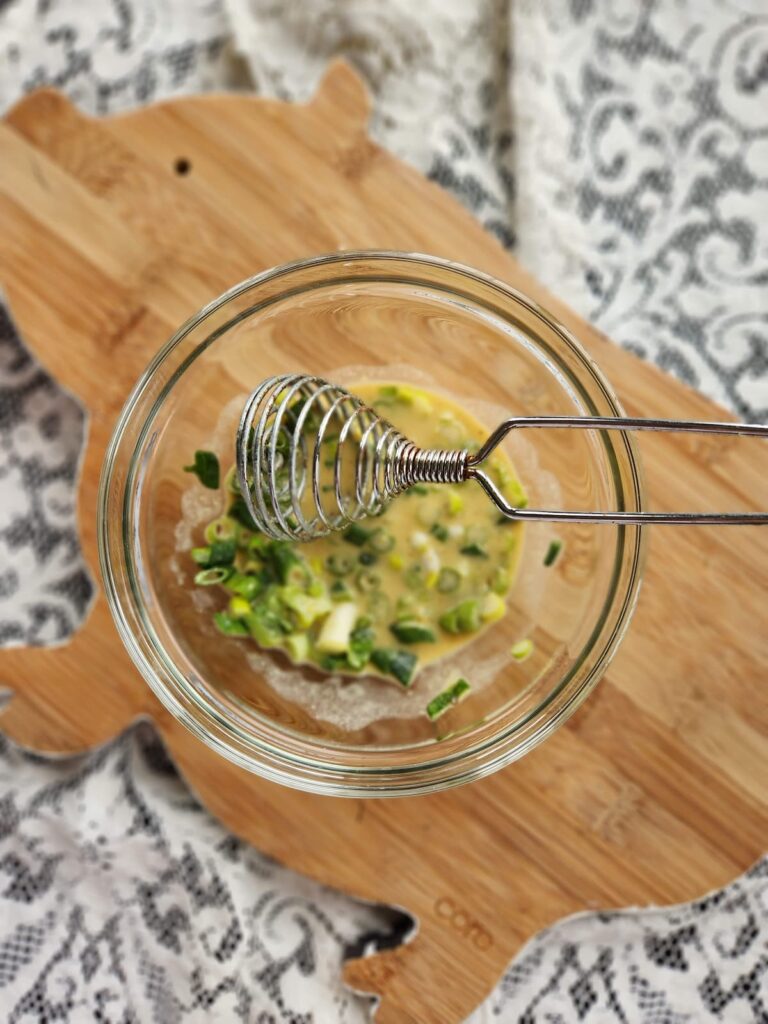 Step 2: In a large pot of water, over medium heat bring lightly salted water to a boil
Step 3: Trim green beans and add to boiling water, Simmer for 5 minutes. Drain. (optional tip: add to ice water to stop the cooking process) Toss with vinaigrette dressing.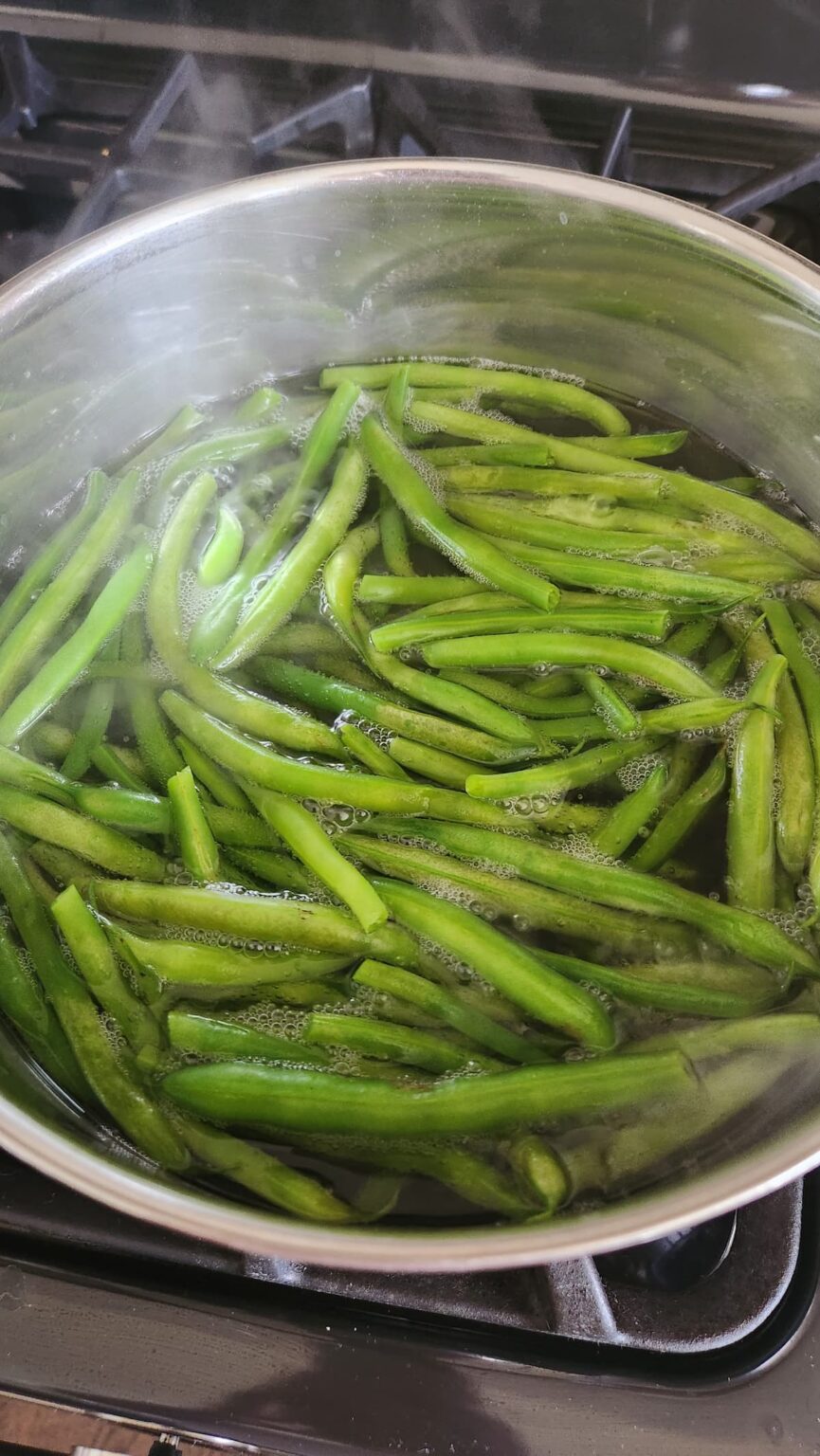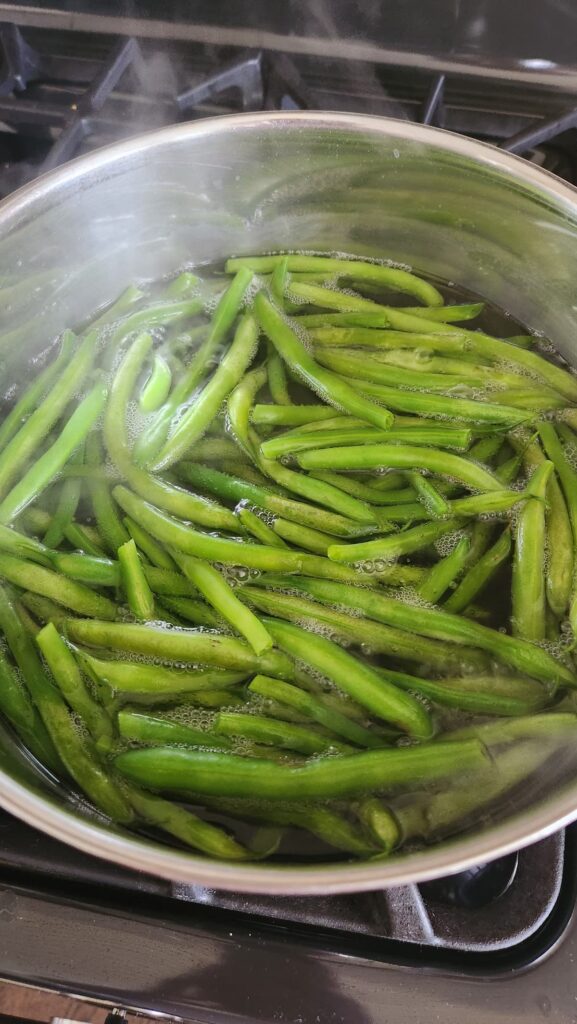 Step 4: Next, heat the oil in a large skillet over medium heat. Add the shallots, cranberries, and garlic until golden brown. About 6 minutes until softened. (I prefer shallots over red onions, especially for this dish. The shallots add some sweetness)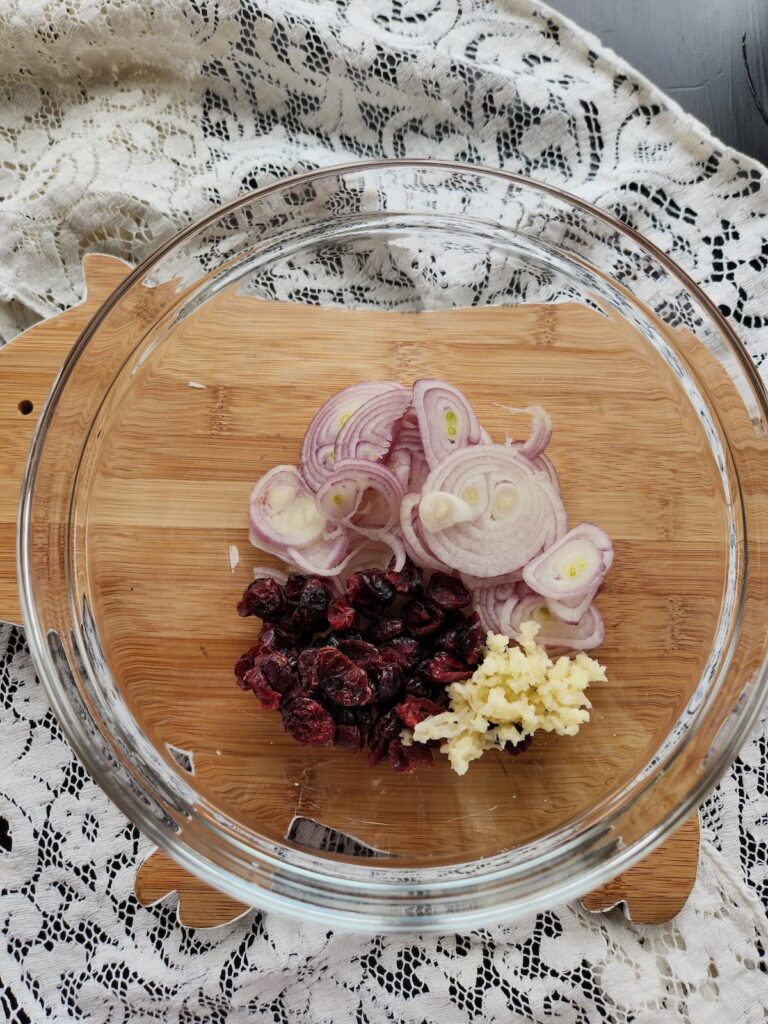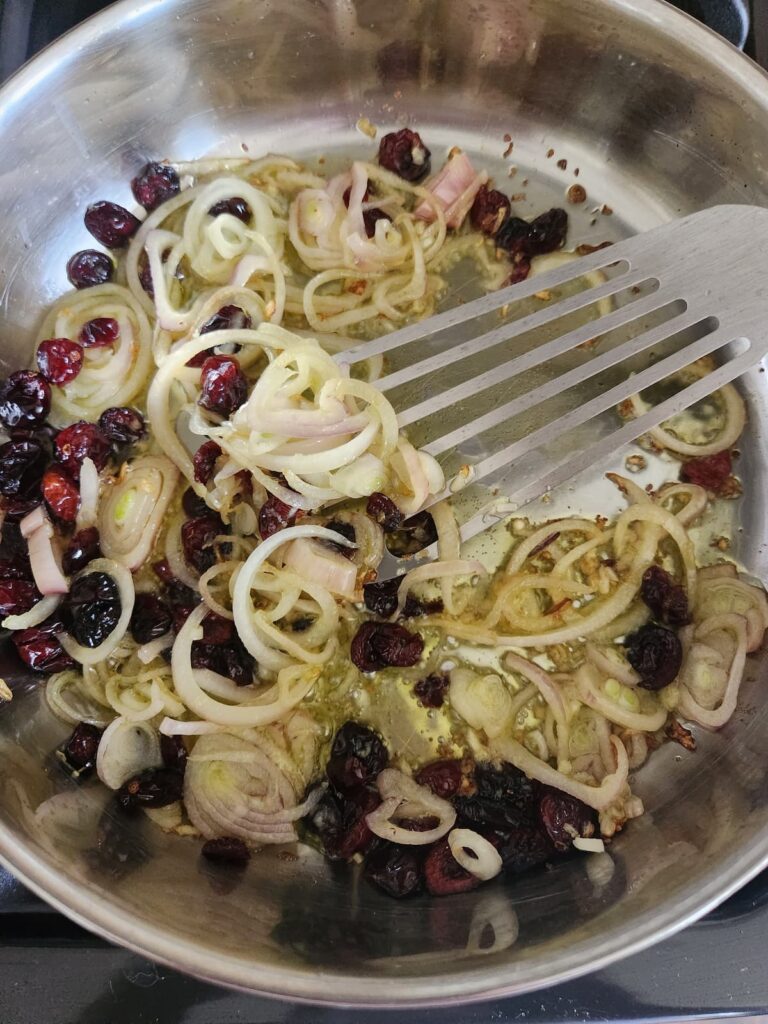 Step 5: Pour over beans, toss, top with grated parmesan cheese, (use gorgonzola for a vegetarian option) and serve.
These simple ingredients and the easy cooking process create a delicious dinner side dish. So next time you're looking for a tasty and easy green bean recipe, try this one.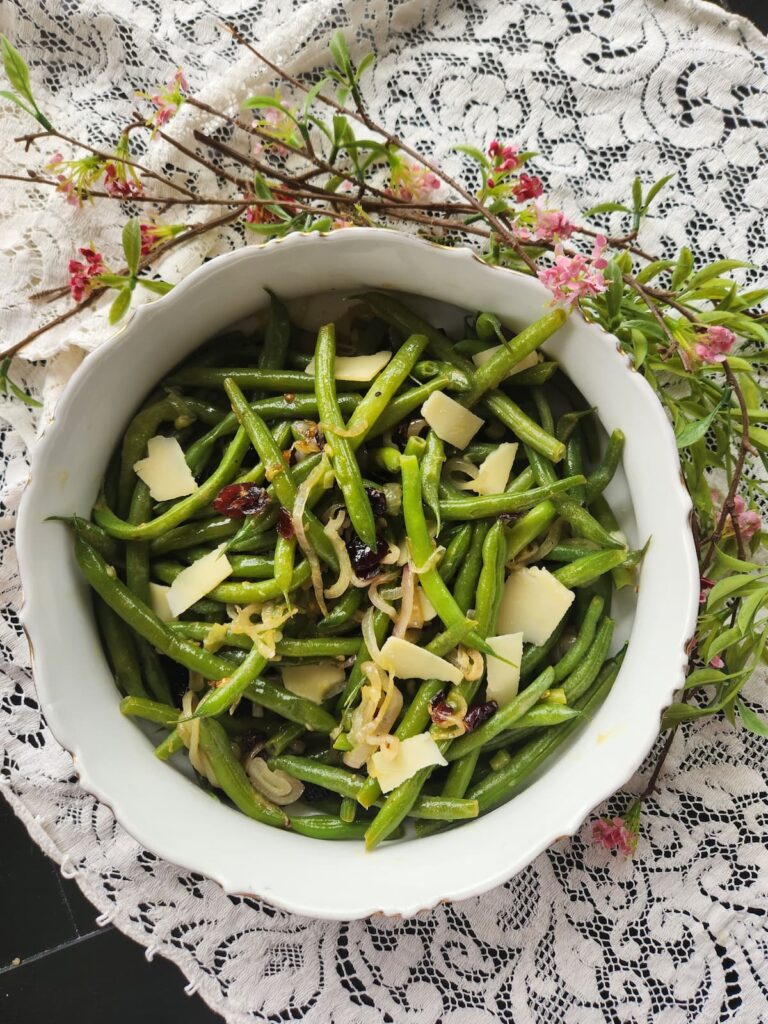 Easy Vegetarian Green Bean Recipe with Garlic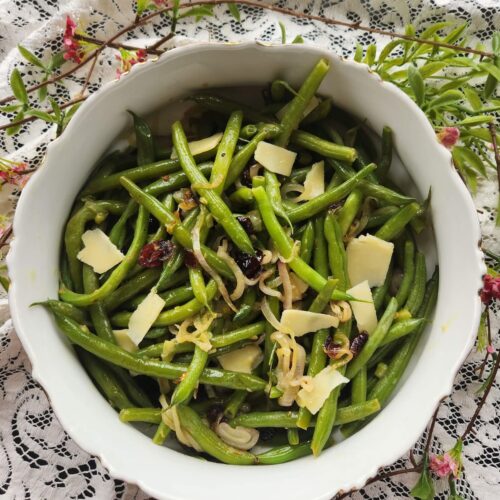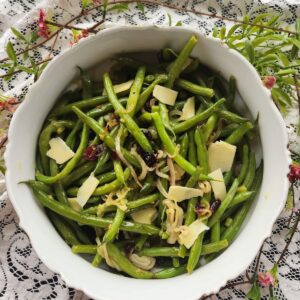 Easy Vegetarian Green Bean Recipe with Garlic
My Easy Vegetarian Green Bean Recipe with Garlic is cooked to perfection with cranberries, shallots, mustard, and garlic. It's so delicious!
Ingredients
Vinaigrette Dressing Ingredients
2

tbsp

Red wine vinegar

2

tbsp

Dijon Mustard

Use regular mustard for vegetarian option)

1/4

tsp

Salt

1/4

tsp

Pepper

5

tbsp

Extra Virgin Olive Oil

4

tbsp

Snipped Fresh Chives
Green Bean Ingredients
2

lbs

Green Beans, trimmed

1

tbsp

Olive Oil

2

large

Shallots, thinly sliced

1/3

cup

Dried cranberries

2

cloves

Garlic, finely chopped

3

ounces

Parmesean, shaved with a vegetable peeler

Use gorgonzola for vegetarian option
Instructions
How to Make Mustard Vinaigrette Dressing
In small bowl, which the vinegar, mustard, salt and pepper. Drizzle the olive oil, whisk until the dressing is emulsified.
How to Prepare Easy Vegetarian Green Beans
In large pot, salt water and bring to boil.

Add beans, simmer for 5 minutes until crisp.

Drain. Place in serving bowl and toss with finaigrette dressing.

Heat oil in medium skillet over medium heat.

Add shallots, cranberries and garlic

Cook approximalely 6 minutes or until softened.

Pour over green beans and toss.

Top with parmesan cheese and serve.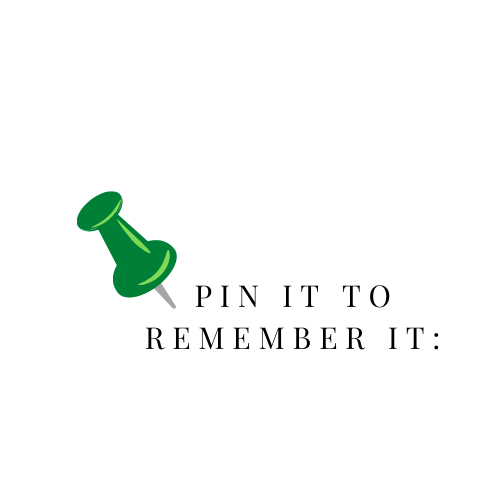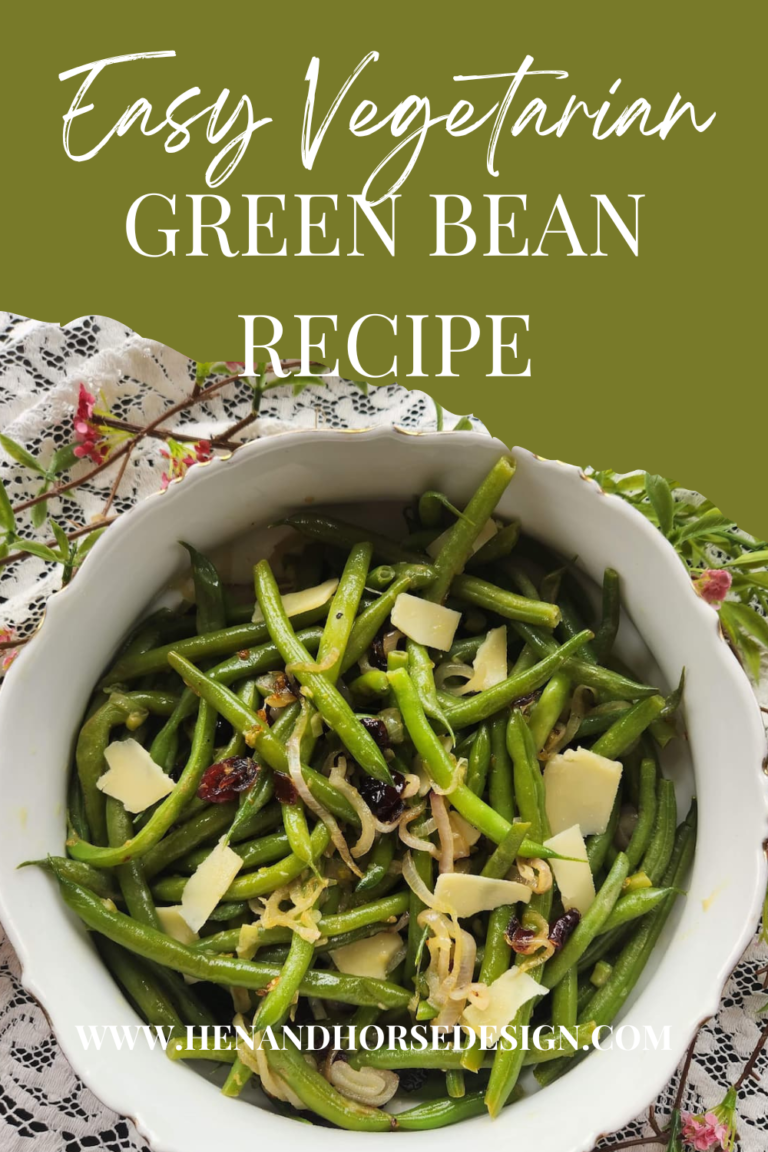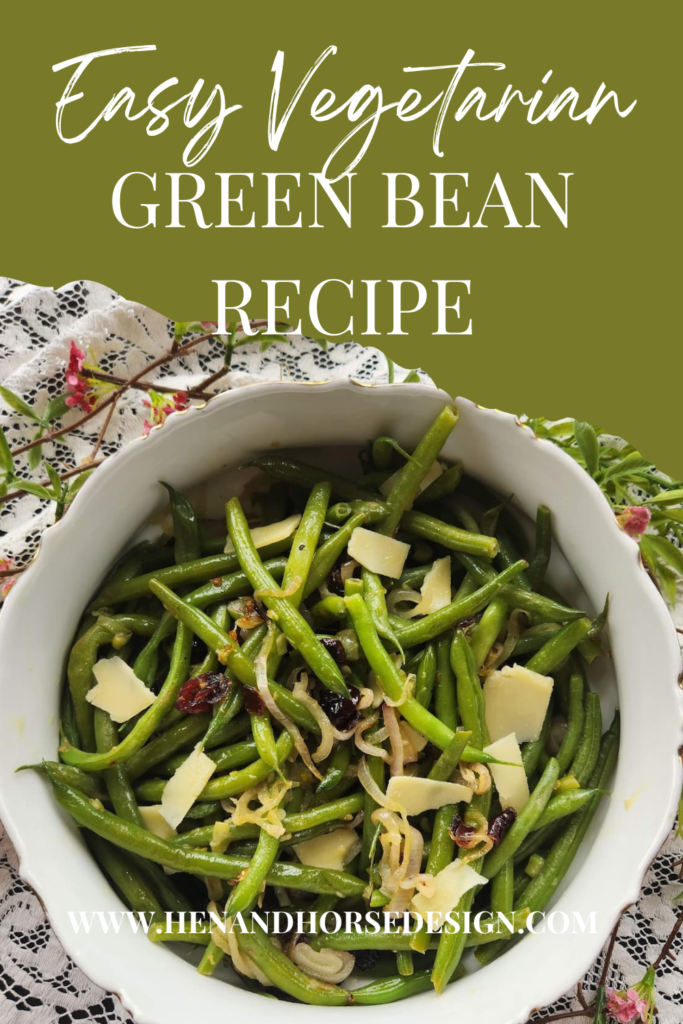 If you enjoyed this post, you may enjoy my Easy Garlic Green Beans with Lime Recipe.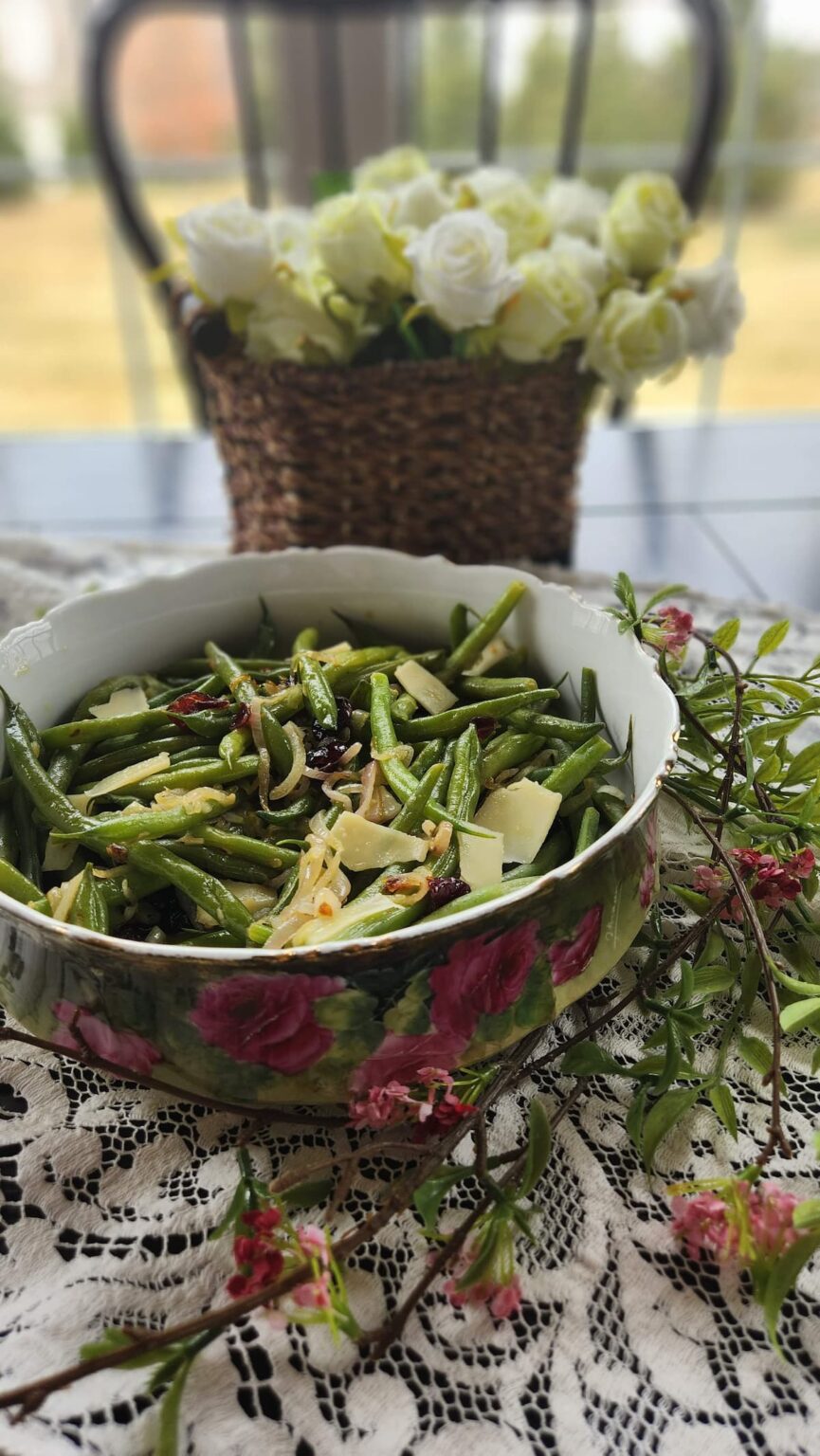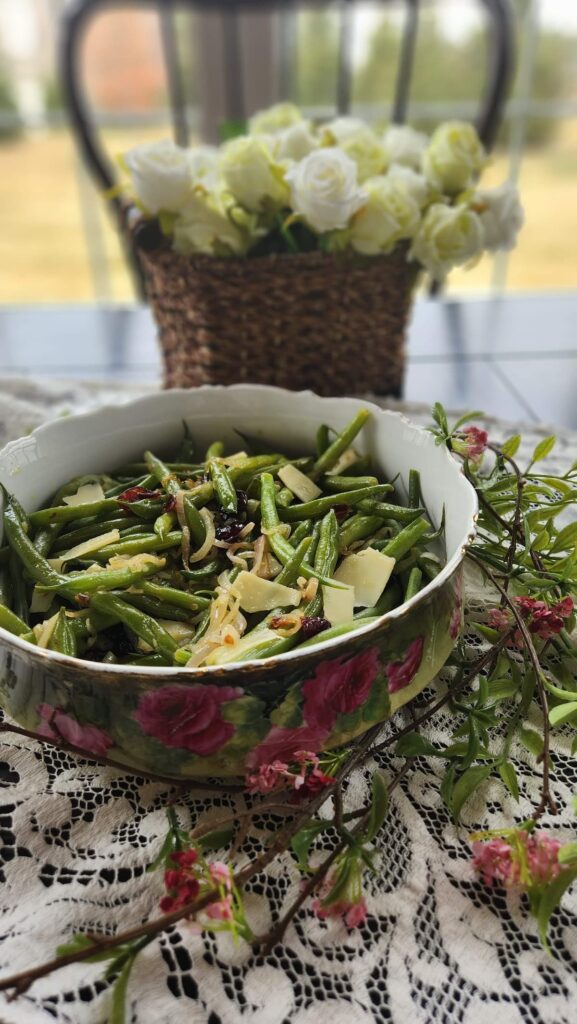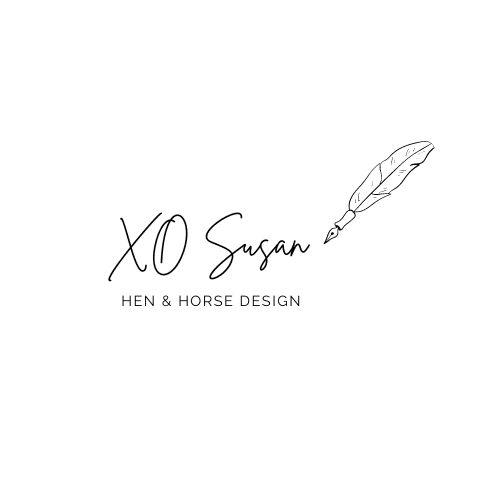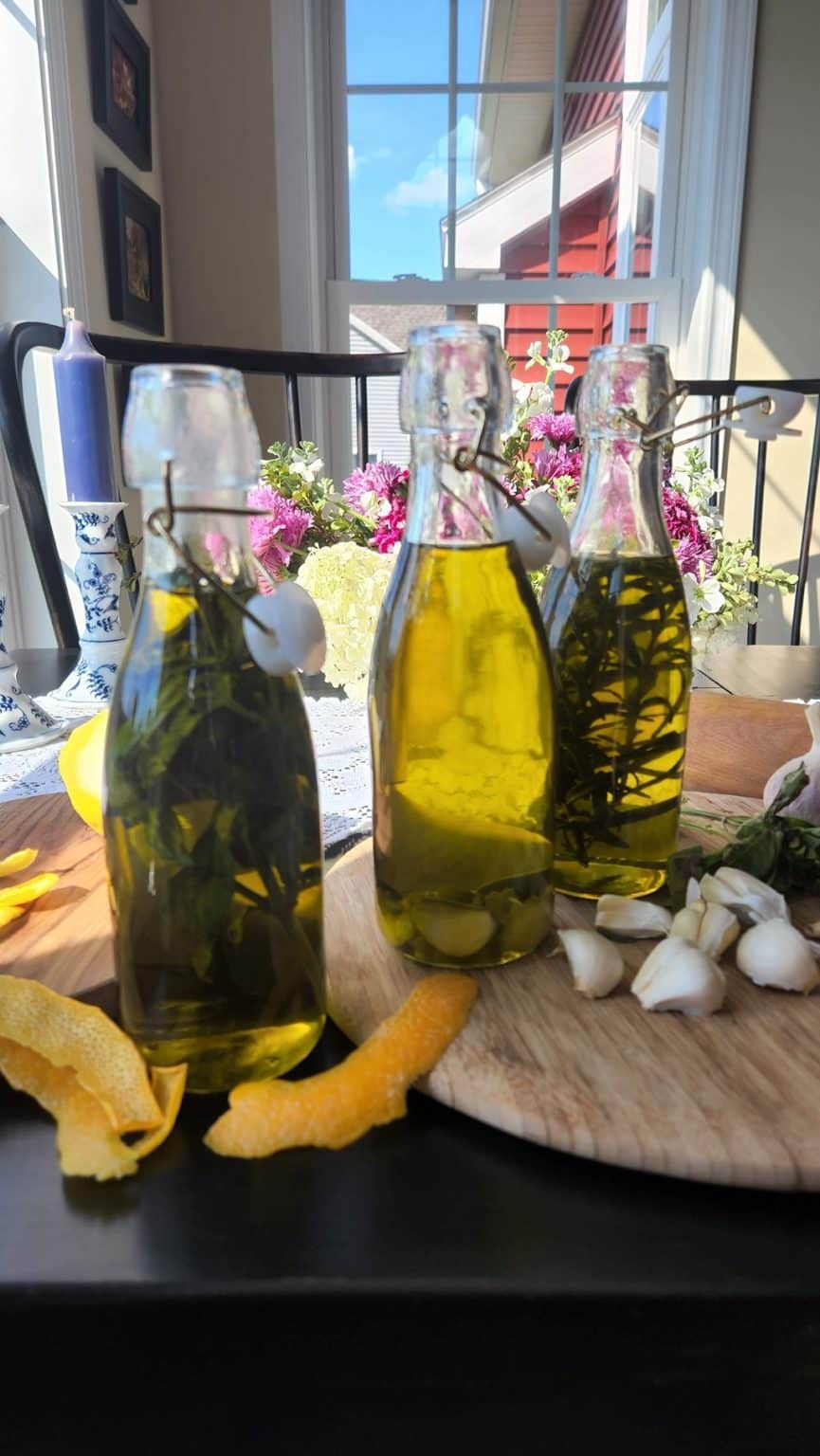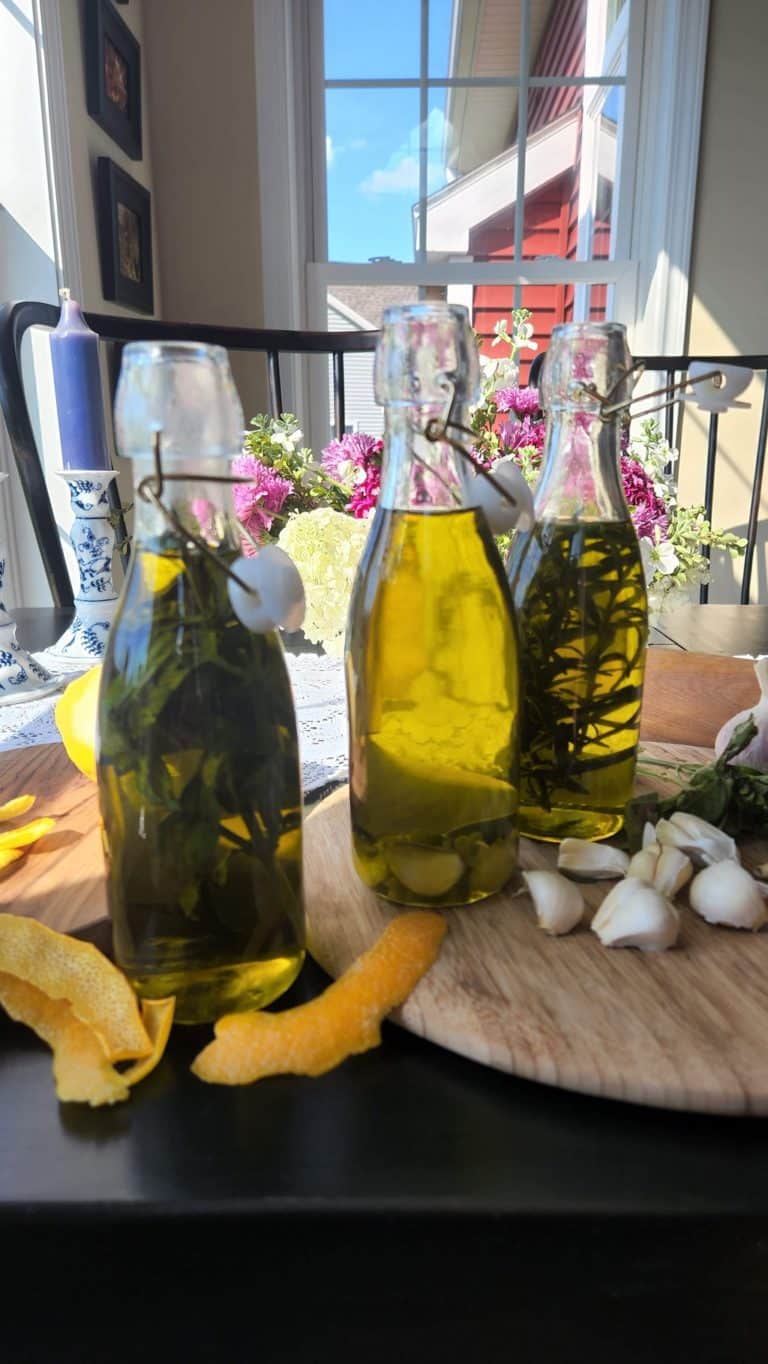 Infused olive oil is a great way to add some extra flavor to your food. Learn How to Make Your Own Infused Olive Oil!