Best Easter Bread Recipe for a Traditional Italian Holiday
Have you ever had Easter bread? You haven't! That's okay. Today I'm sharing the Best Easter Bread Recipe for a Traditional Italian Holiday.
One of the very best and most traditional recipes you'll find in any Italian or Greek home for that matter is a sweet bread, better known as Easter bread. Easter bread recipes are largely known as they have colored hard-boiled eggs gently pressed into the braided bread. What gives this bread its gorgeous golden glow is an egg wash prior to baking.
Hi there, I'm Susan. If you are new to 'the Roost' Welcome!! I always strive to provide fun new ways to inspire you each day, spark your inspiration and creativity, and give you the motivation to create the home of your dreams. All on a budget and while having fun doing it!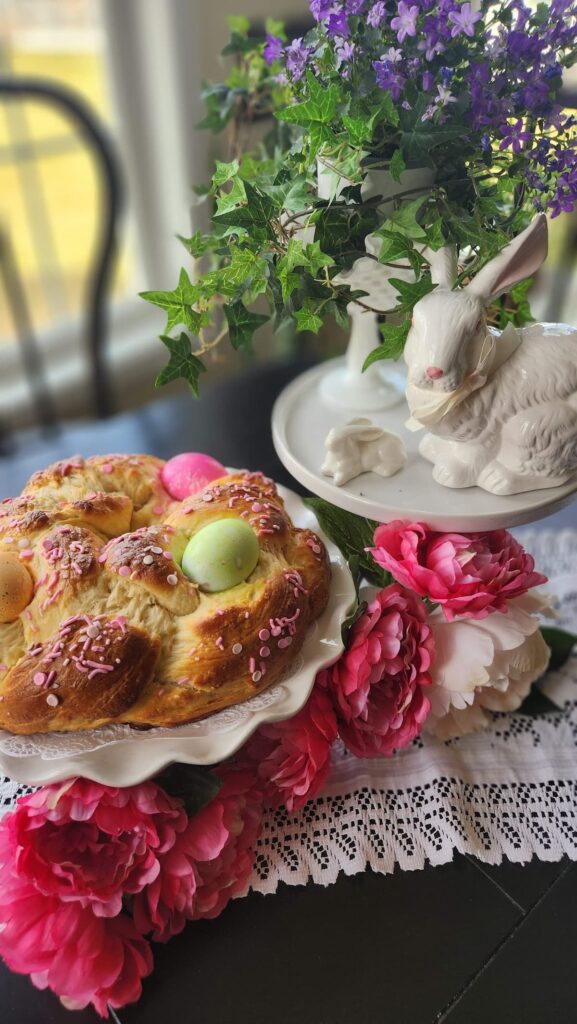 ""As an Amazon Influencer, I earn from qualifying purchases. This post may contain affiliate links which means I may earn a small commission. You may read my
disclosure policy here
".
Both my mom and grandmother had the most delicious easter bread recipes, They were the real deal. I couldn't find the recipe they used in time to make this but did find a similar one. Read more below.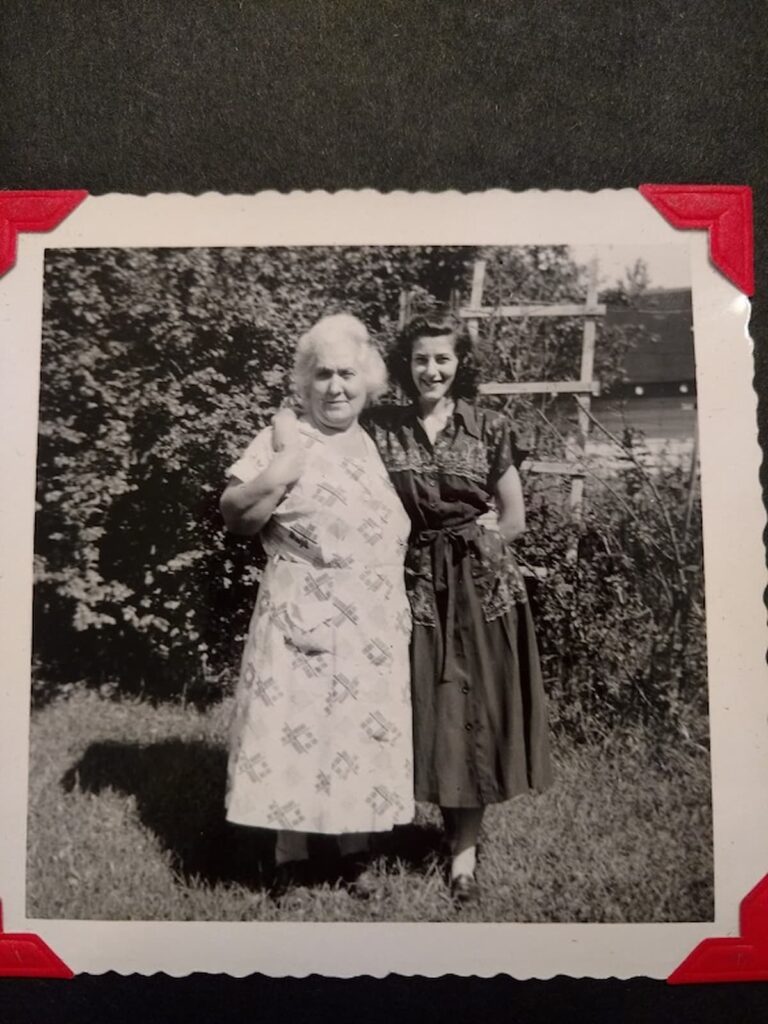 Several years ago my mom handed me a large box filled with her recipes. I've been sorting thru them all and hope to share many of our family's favorite recipes with you over time. For now, I'm making the best Easter Bread Recipe using a recipe from Delish.
Let's get started making this delicious traditional Italian Easter bread.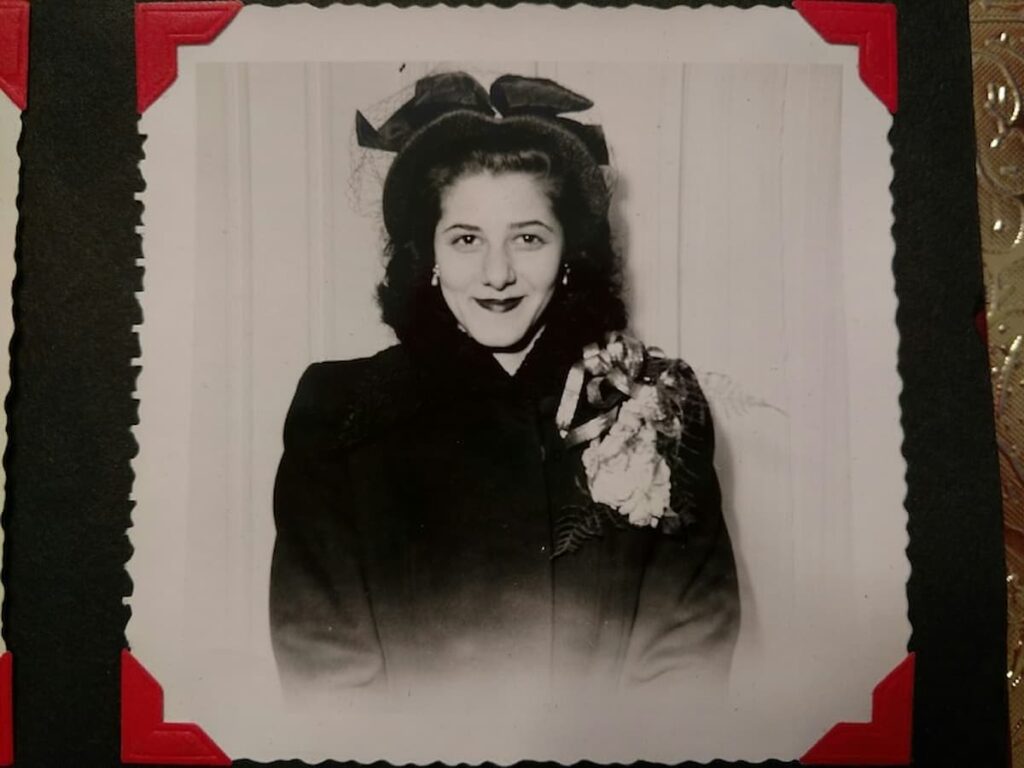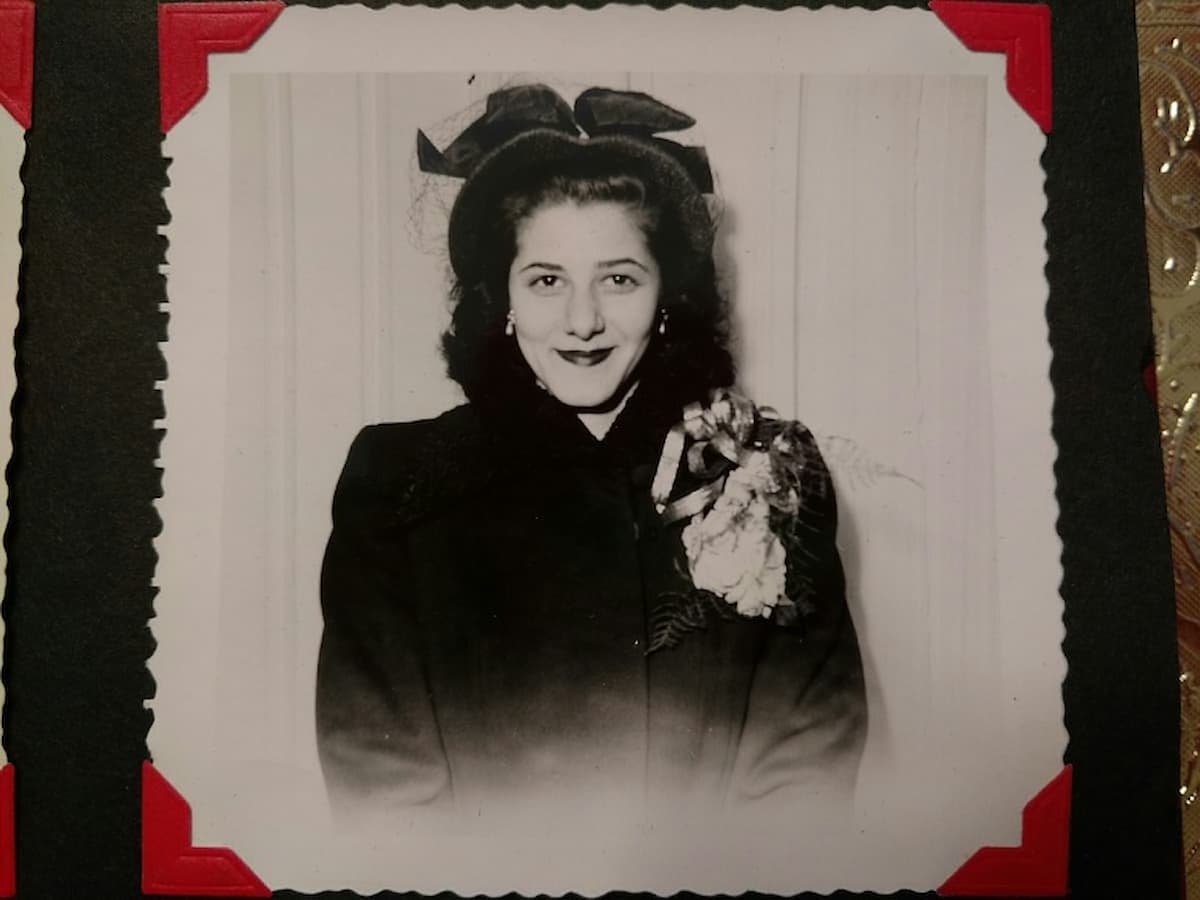 What is Italian Easter bread made of?
Think of warm golden bread with a sweet flavor and then add colorful eggs to it. Pane di Pasqua or Easter bread is fluffy and eggy, bursting with a sweet flavor, and often times citrusy from orange flavoring!
As a child, the scent of this bread baking is undeniably a scent you won't forget any time soon. When baking the aroma and sweetness fill the air! It's one of the best Italian traditions.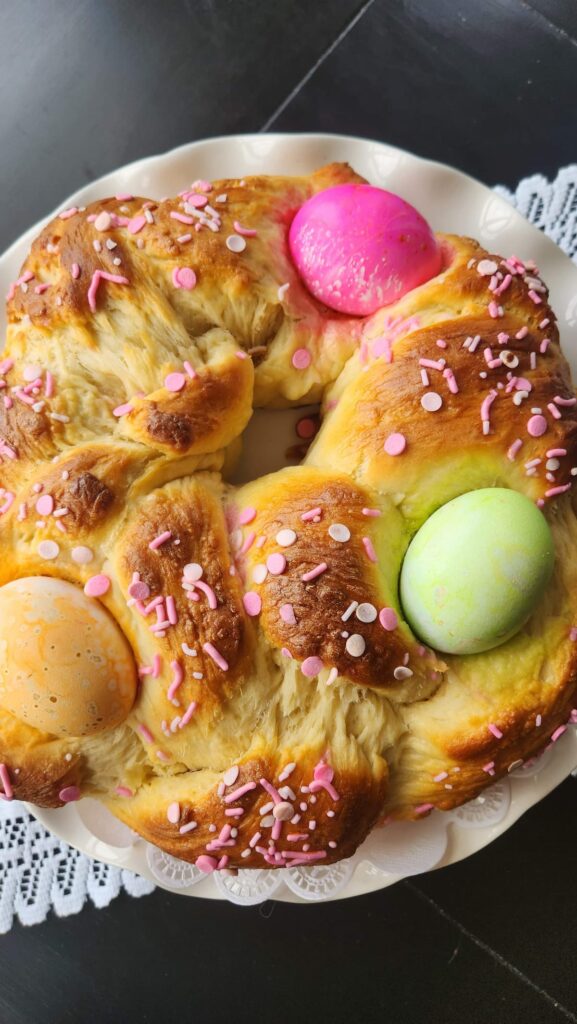 Why is it called Easter Bread?
This question has many answers. If you research where Easter bread originated you may find several different stories. Some stories date as far back as the 6th century.
For me, the best easter bread symbolizes many things. The eggs represent new life, growth, rebirth, and the sign of Spring, which may be summed up as, the circle of life.
The shape of the bread
When you look at the shape of the break, there are those that say it is the representation of the crown of thorns worn by the crucified Christ.
Then you have the three braided pieces which may symbolize the Holy Trinity, God the Father, the Son, and the holy spirit.
In other cultural kitchens such as the German and Austrian cultures, the loaves are shaped like a dove or with the shape of a cross embedded in the middle.
How you choose to see the bread, is totally up to you. Just know that when it comes out of my kitchen, it is always made with an abundance of love!
Is challah bread Easter bread?
If I were to compare challah bread with Easter bread, I would say they are very similar. Both loaves of bread hold a sweetness and softness, unlike other types of bread.
The only difference for me is Easter bread typically has hard-boiled colored eggs buried within the top of the bread.
This is just my opinion. If you find otherwise, please let me know. I'd love to know what you think.
How to make easter bread loaf?
There are several simple steps to make your bread. It's worth every step!
Ingredients you will need
Cooking spray
1 cup Lukewarm milk
1/2 cup plus 1 tsp. Sugar
1 package Active dry yeast
4 1/2 cups of Flour, plus more for rolling dough on board
2 tsp. Kosher salt
2 Large eggs
1 stick Butter (softened and cut into cubes)
Egg wash, for brushing
Sprinkles, for topping
For the eggs
4 Large eggs
1 cup Boiling water, divided (I used three bowls for each color or 3 cups water)
2 tsp. Distilled white vinegar, divided
Food coloring ( your preference )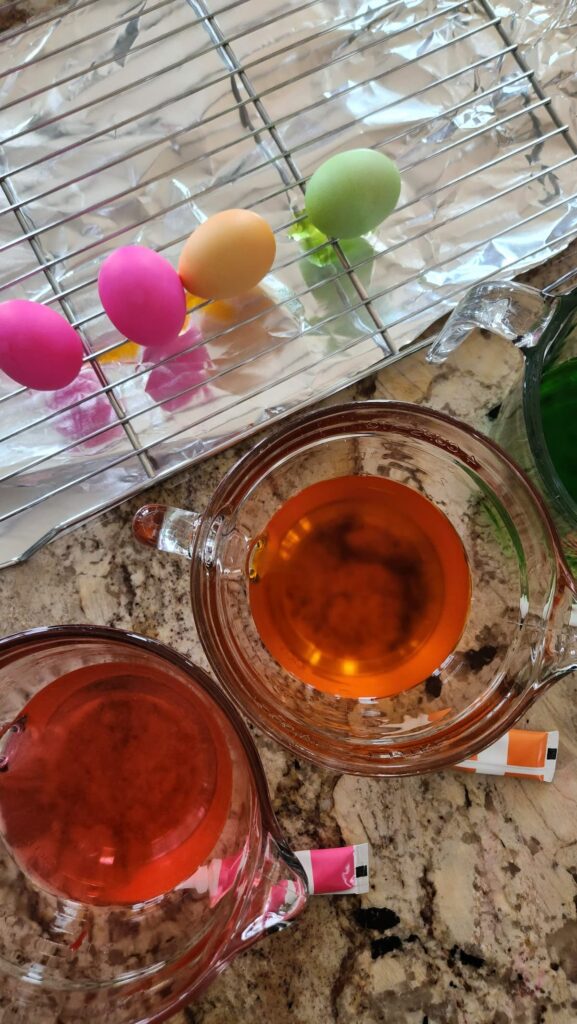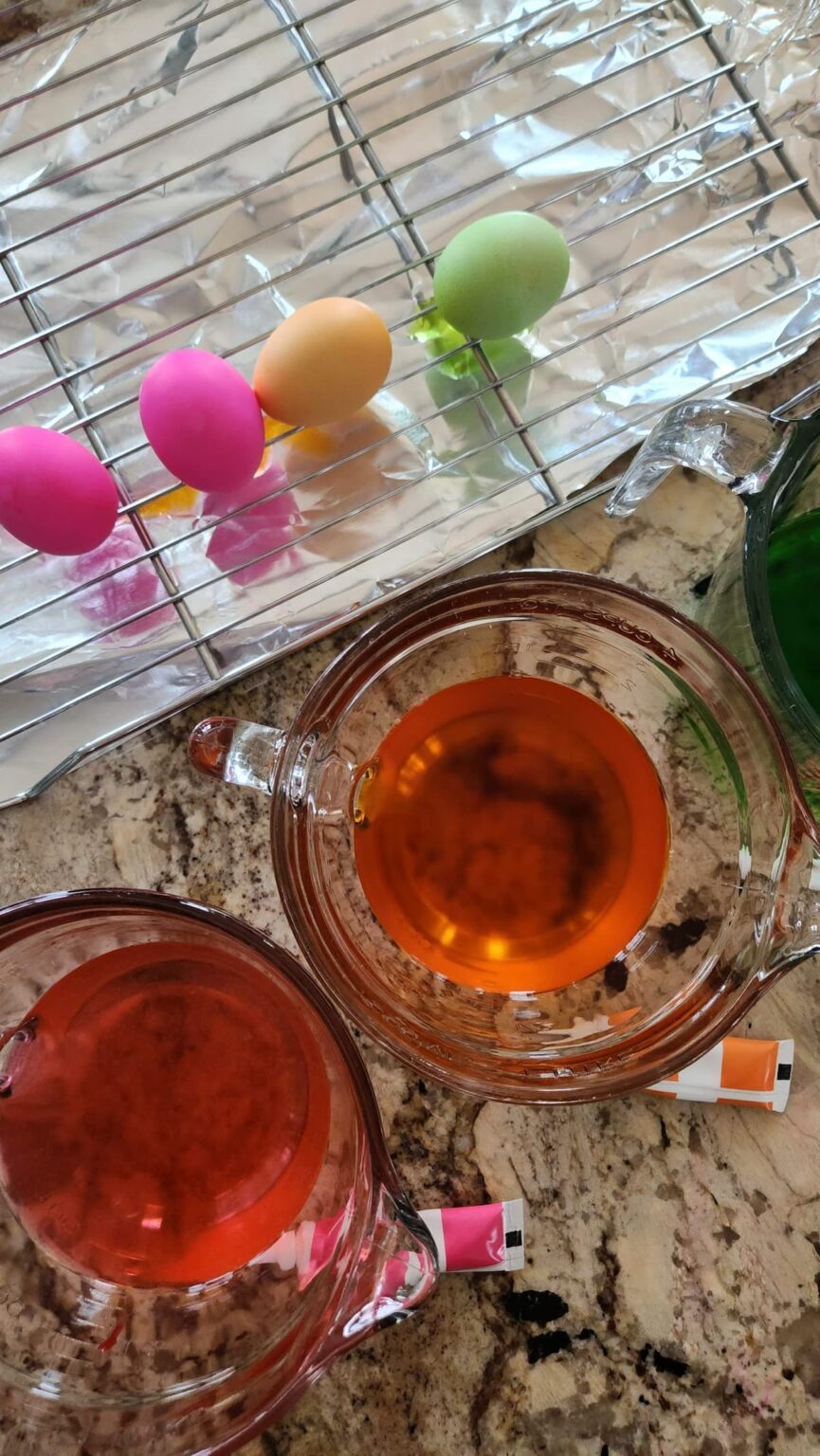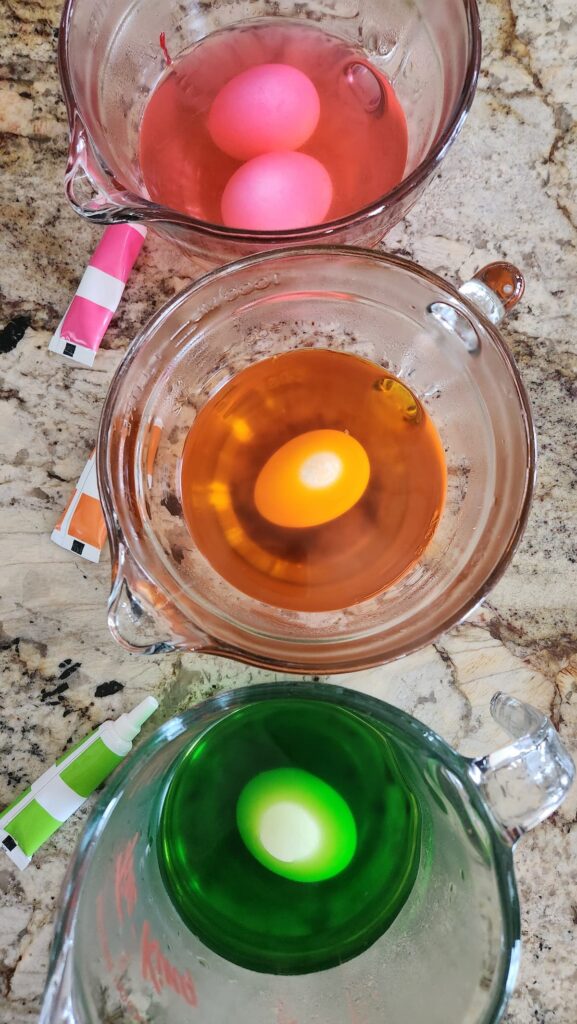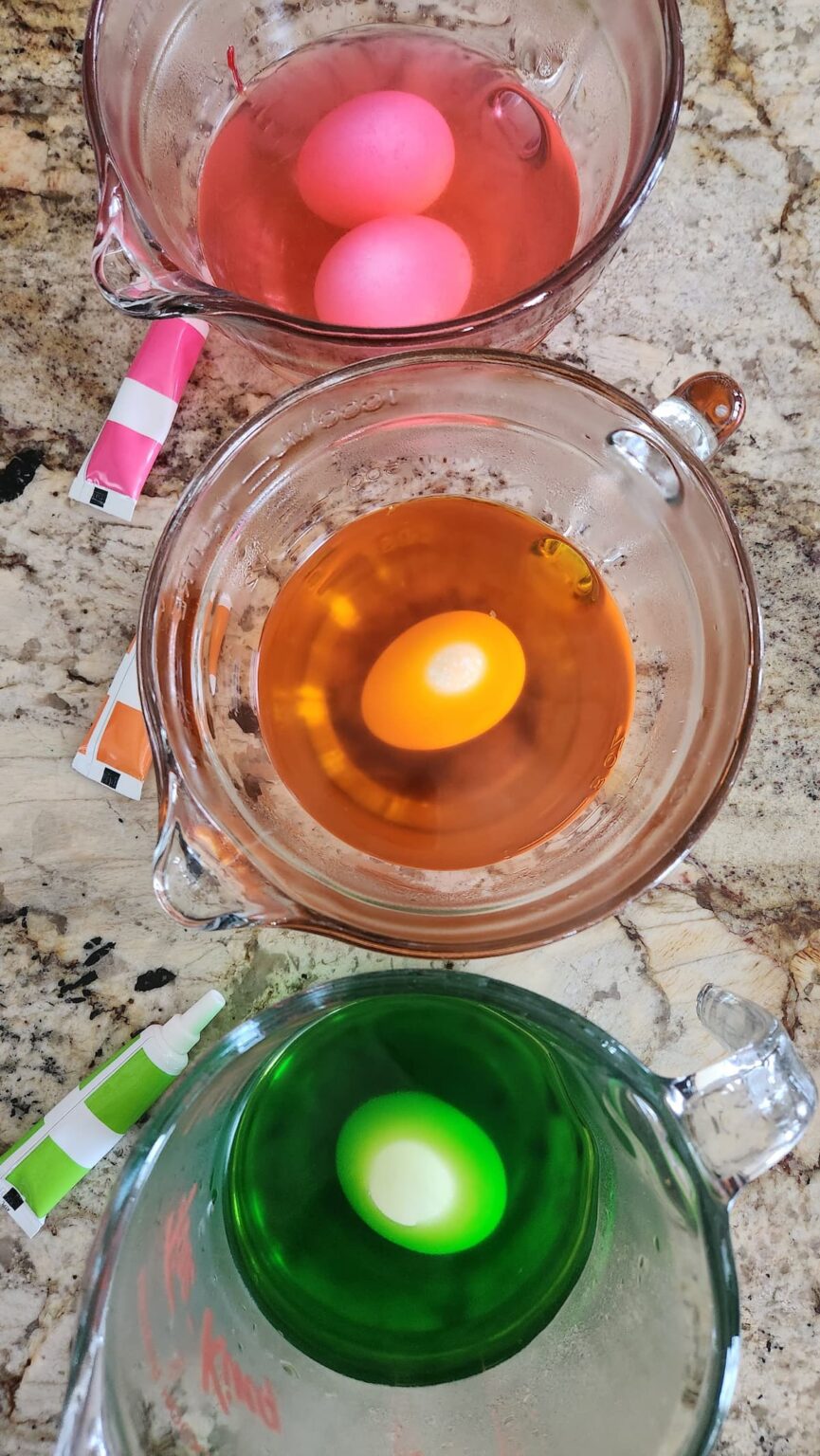 One of my favorite things is I that love the vibrant colors of the colored eggs. This is what separates this bread from all others.
This Easter Bread Recipe Pairs Perfectly With Dyeing Eggs & Priceless Memories
It's the perfect (edible) centerpiece.
Check out this recipe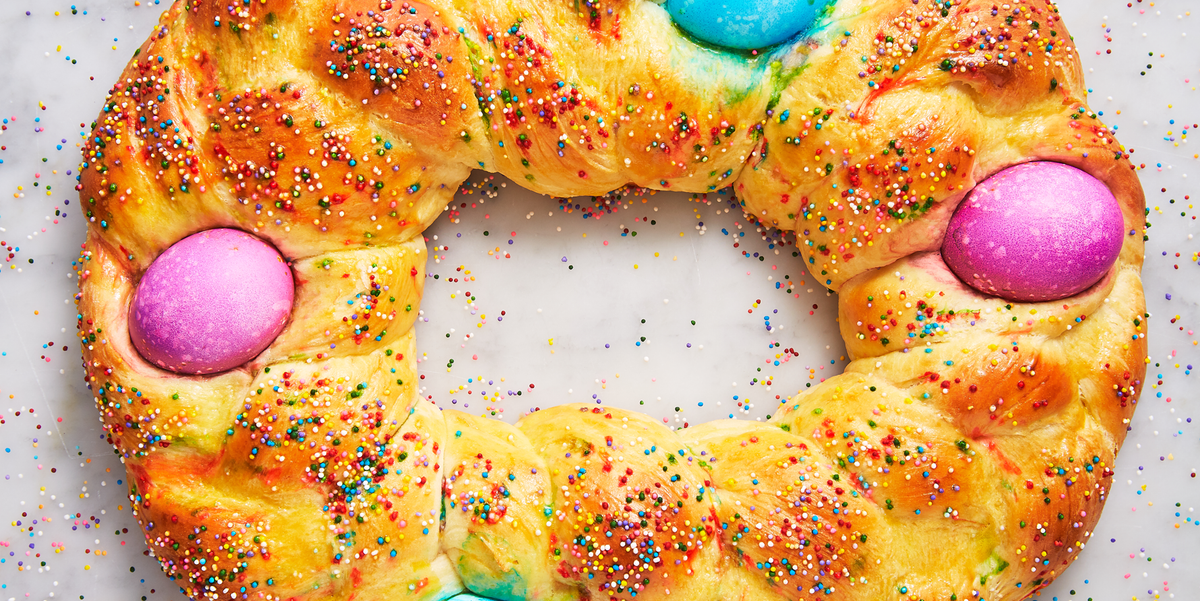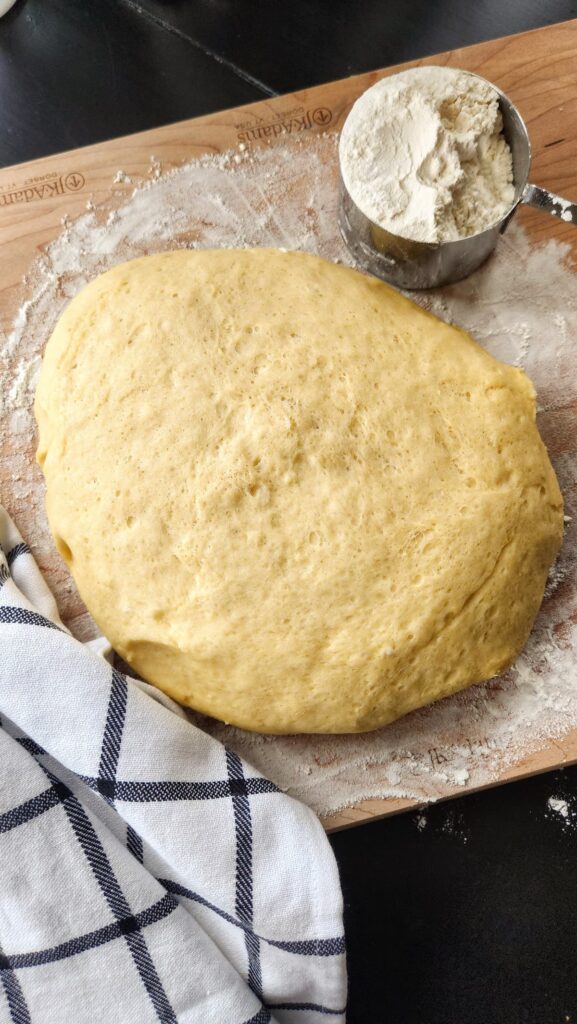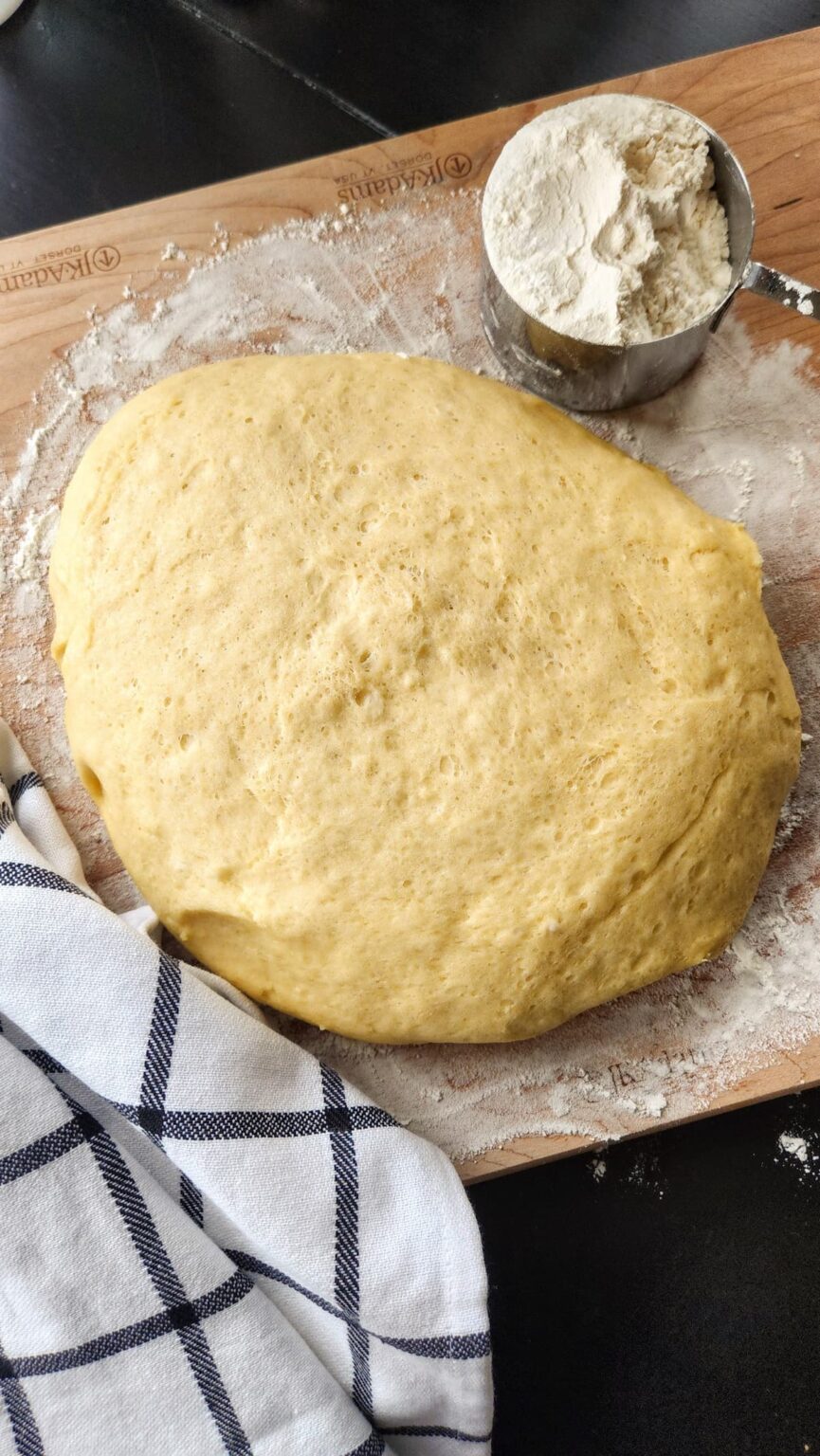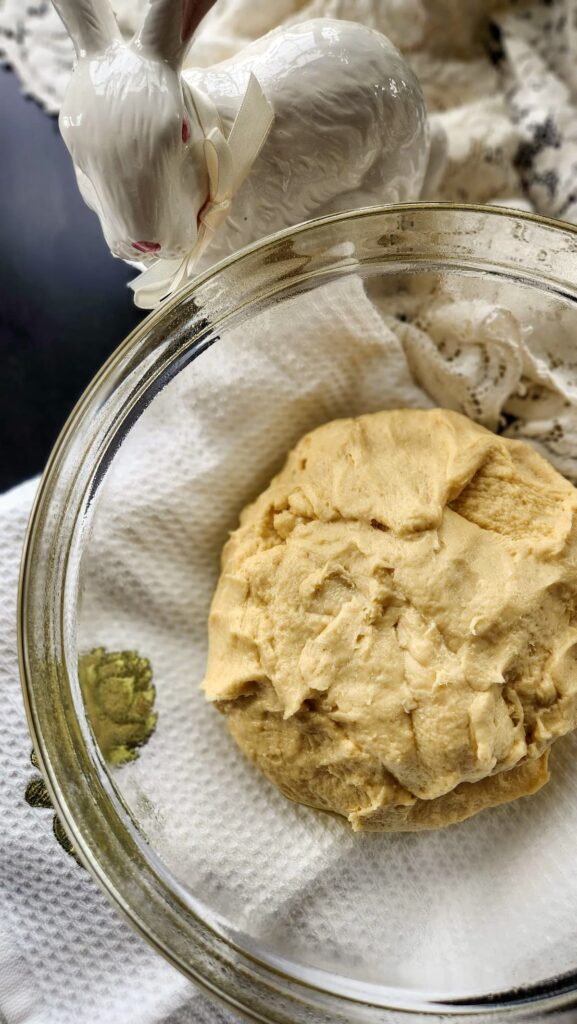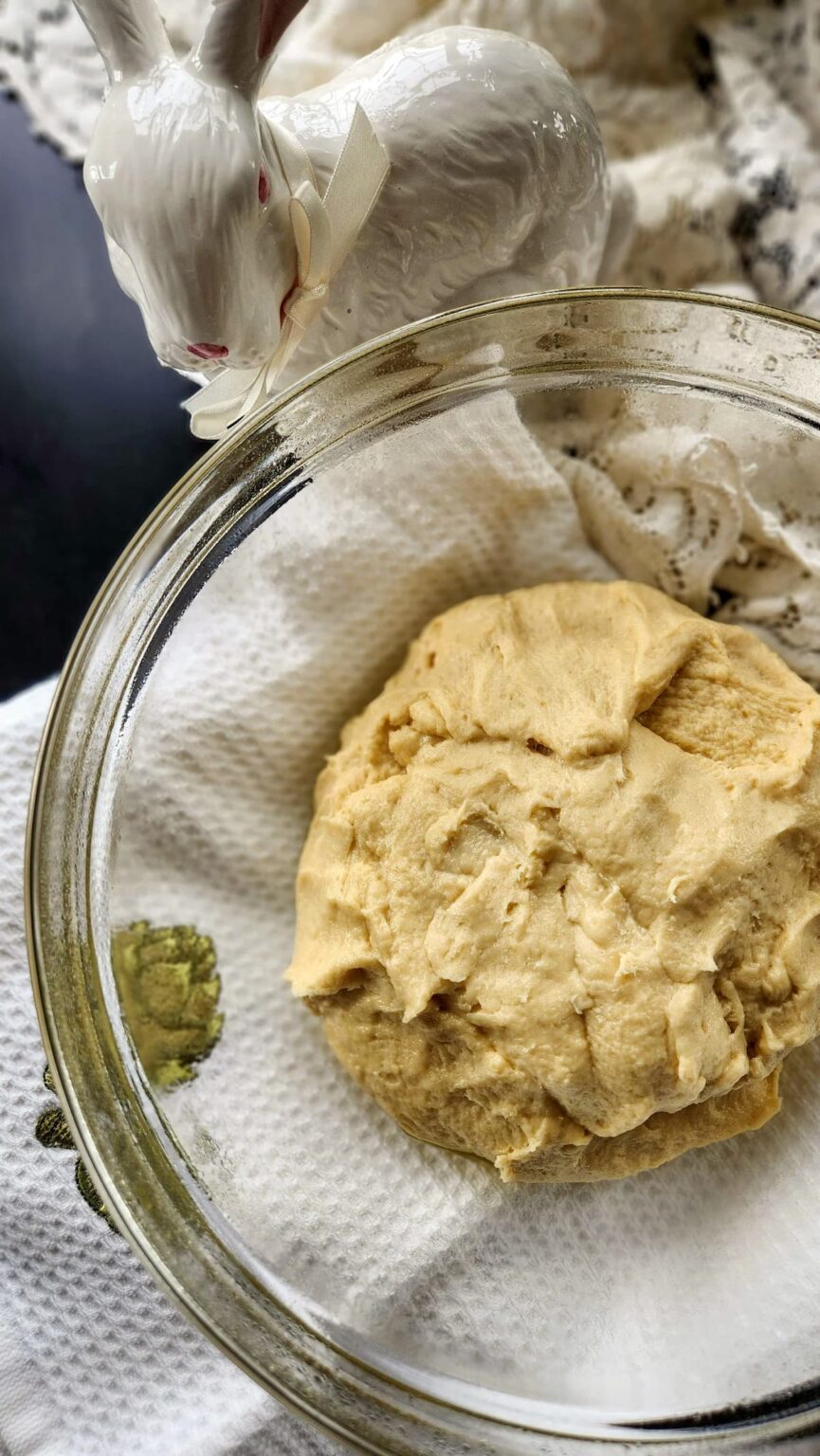 Instructions to make the best Easter bread
Before I began, I gathered all of my ingredients and made sure the eggs, butter, and milk were at room temperature.
Tip: (the milk gets warmed from this point to about 105 degrees to 115 degrees – higher will burn the yeast, lower temperatures the yeast will not rise)
Step 1: The first step is to whisk the yeast mixture in a small bowl. In full disclosure, I did it twice. I wasn't convinced the yeast was rising properly because it wasn't bubbling as instructed. The second time worked a charm and the instant yeast bubbled and came out great.
Next, I lined a baking sheet with parchment paper and then pulled out a large bowl. So far so good!
Step 3: While I waited for the yeast to rise, I boiled my raw eggs over medium heat and hard-boiled them.
Step 4: Then, in a bowl of a stand mixer with my dough hook attachment, I mixed my dry ingredients which included all-purpose flour, sugar, and salt.
Step 5: It's time to add the yeast and warm milk mixture.
Step 6: Mix well until the sides of the bowl are clean and the dough forms into a ball, The dough will pull from the side of the bowl. The dough pulls a bit which is perfectly fine.
I then placed the dough in a bowl greased with cooking spray, set it aside, and placed the bowl of dough in a warm place.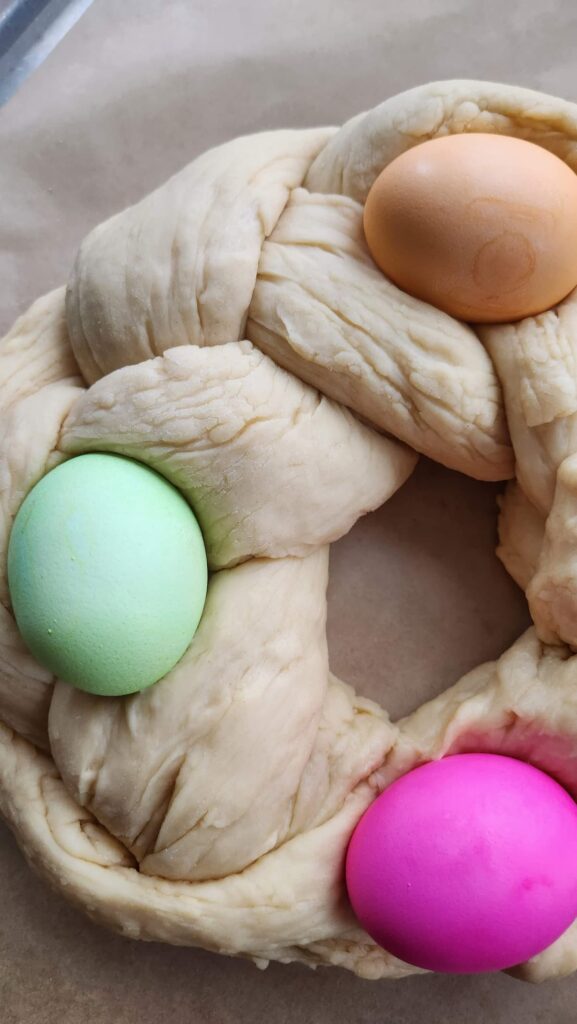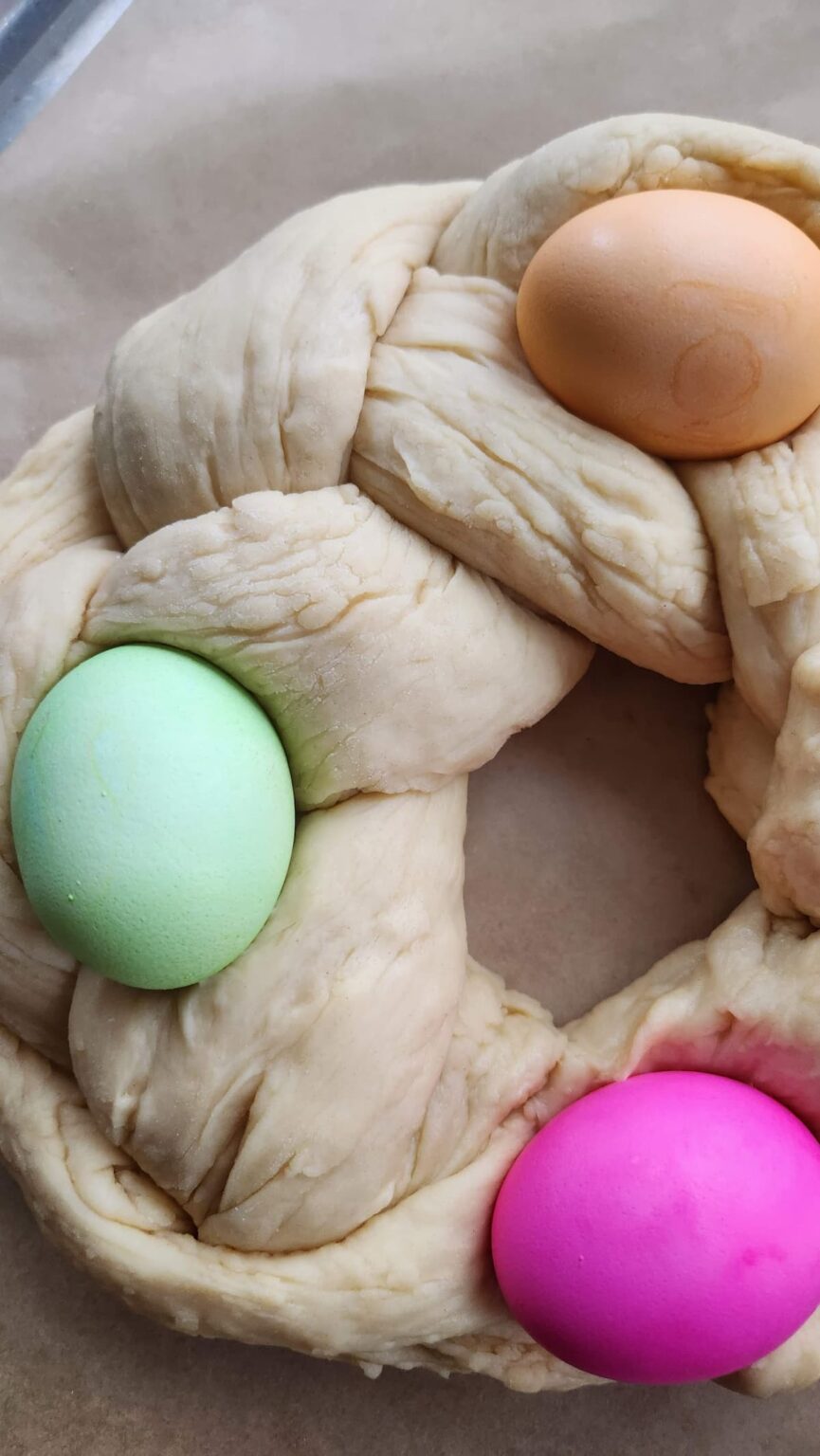 Rolling the dough out
On a lightly floured surface cut the dough into three equal parts. Roll the dough into long 16-inch long rope strands.
The first time I attempted this it was a challenge. My second and third attempt was much better. By the time I tried the fourth time, I was pleased with the braiding. ( I raised boys so my braiding days were quite limited ) ha
Press the hard-boiled eggs into the dough, brush with egg wash, and sprinkle with decorative sprinkles.
I then placed the braided dough on a large baking sheet.
For the second rising, cover with a clean kitchen towel and let rise for 30 minutes. Place in a warm spot in your kitchen for the final rise.
Transfer dough to a baking sheet and bake until golden brown for 30 minutes. Cool on wire rack.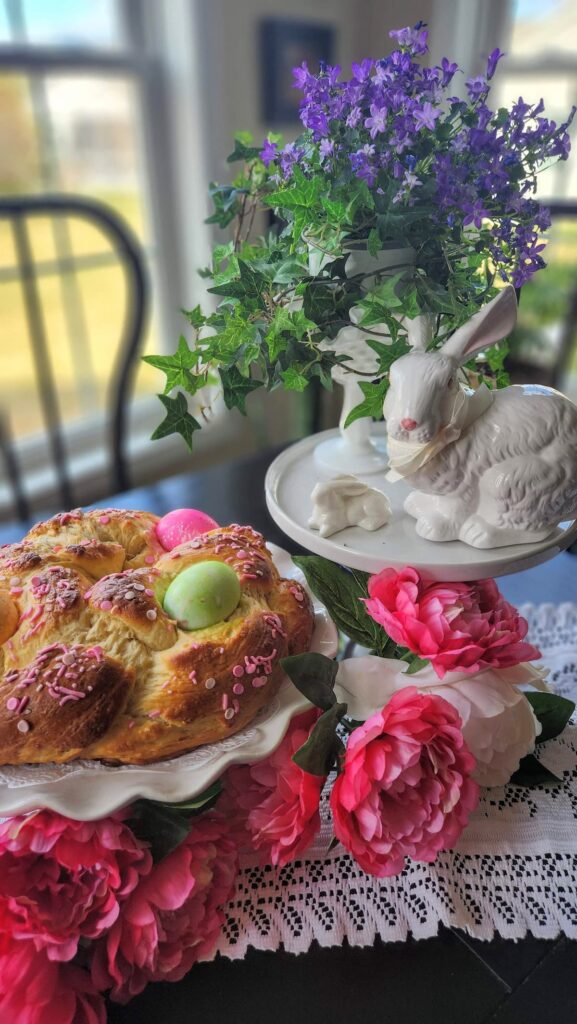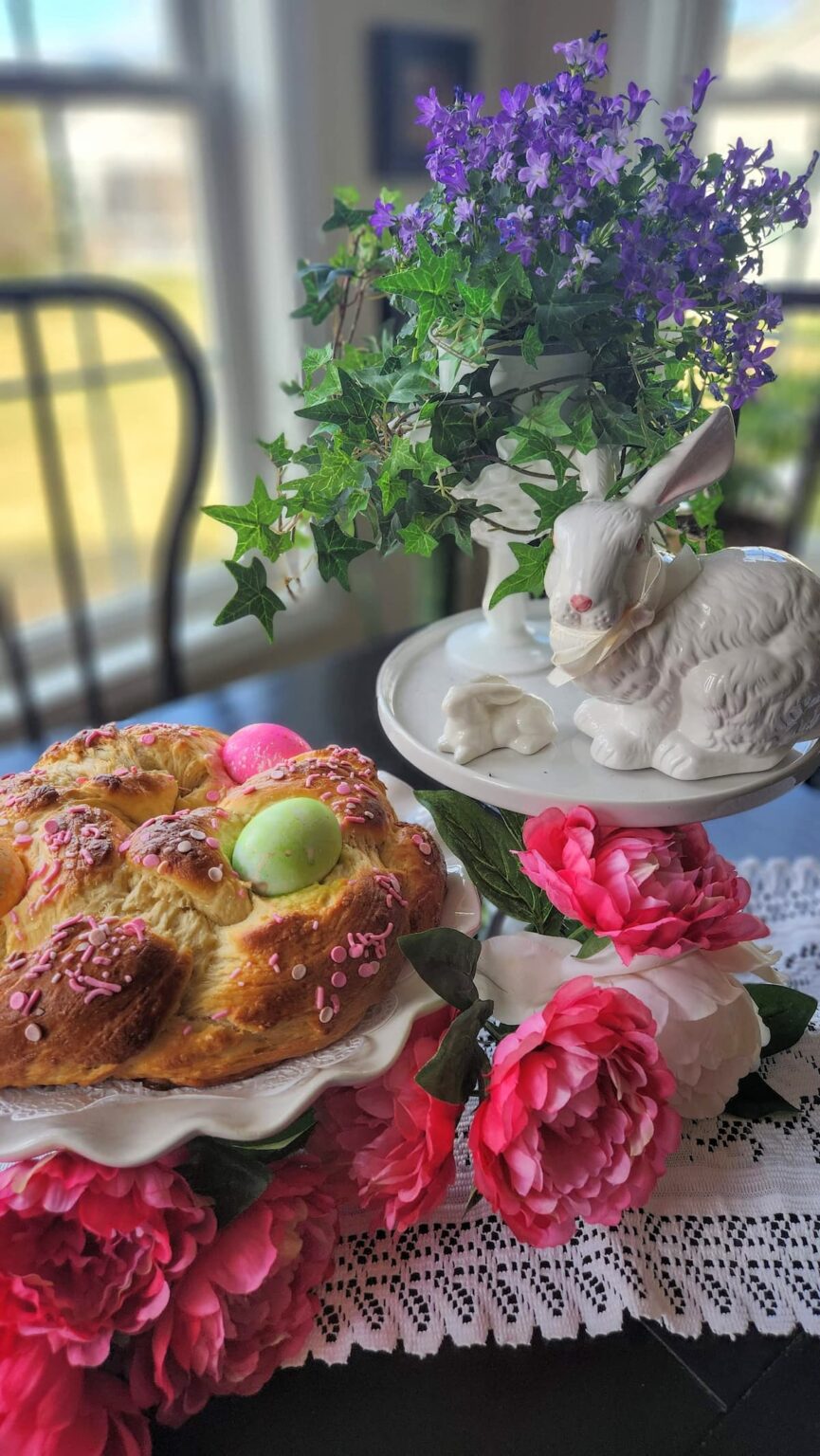 Looking for other related posts? You may enjoy these.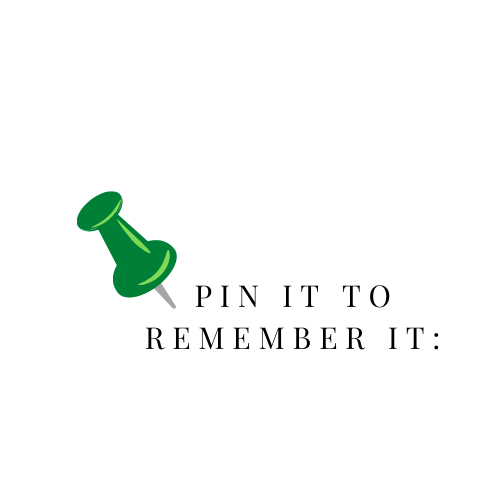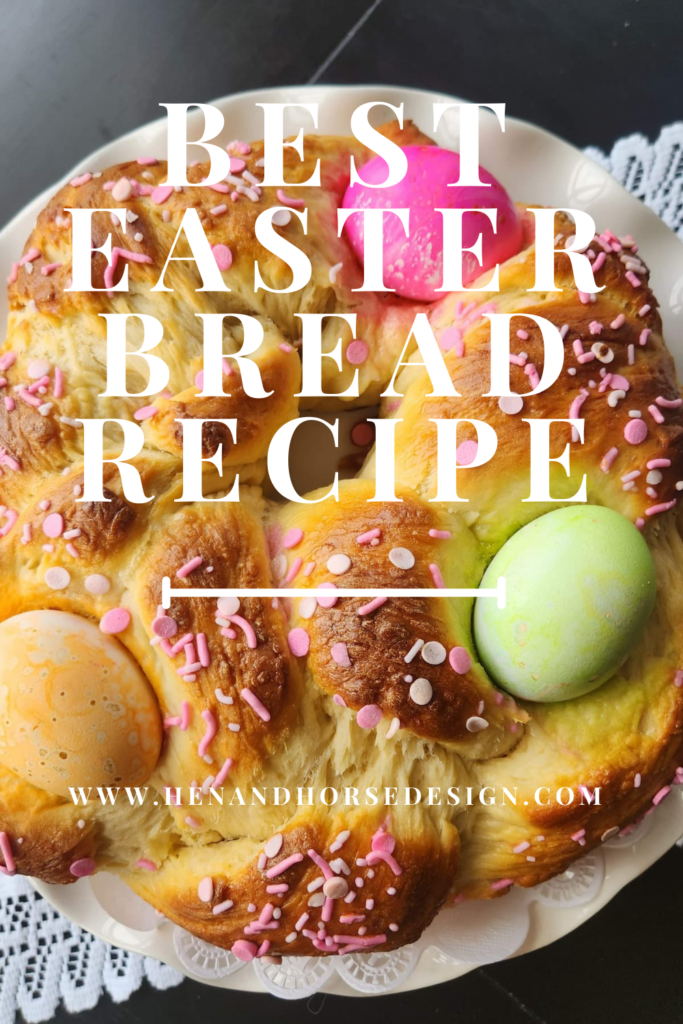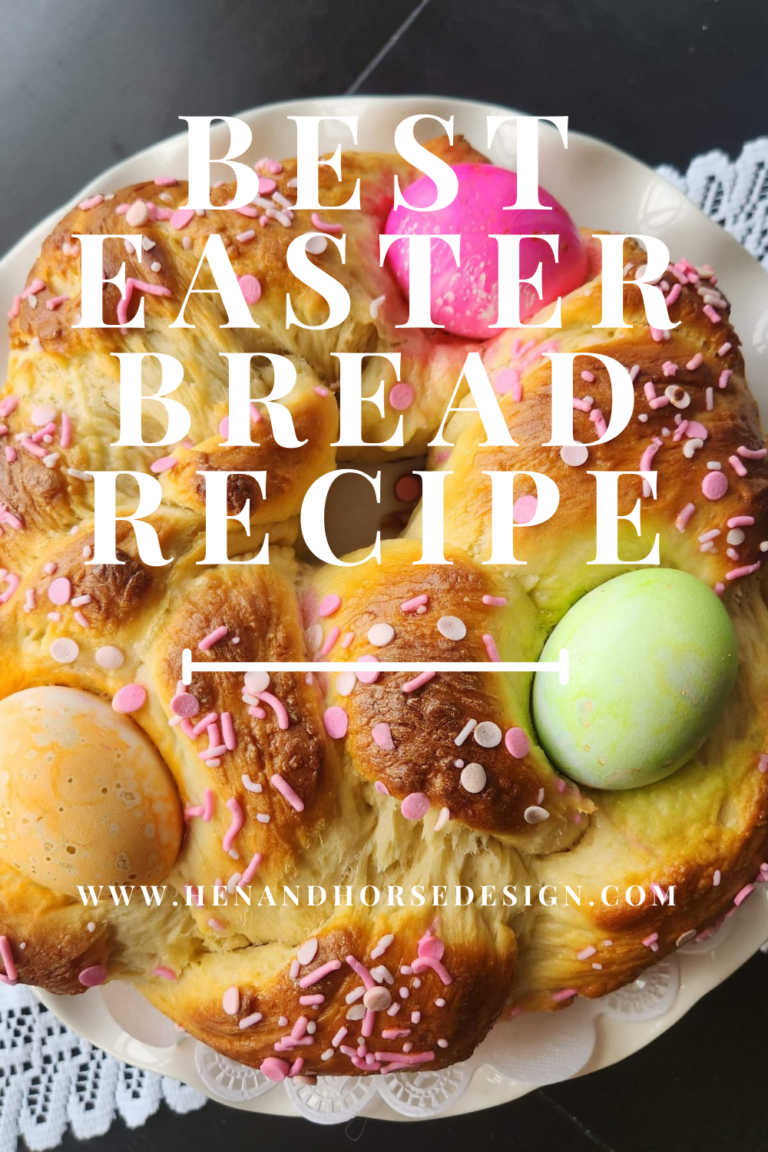 I hope you enjoy this family tradition for your Easter brunch. If you are looking for a delicious quiche recipe to add to your brunch menu, click here. Who knows maybe you will start your own tradition.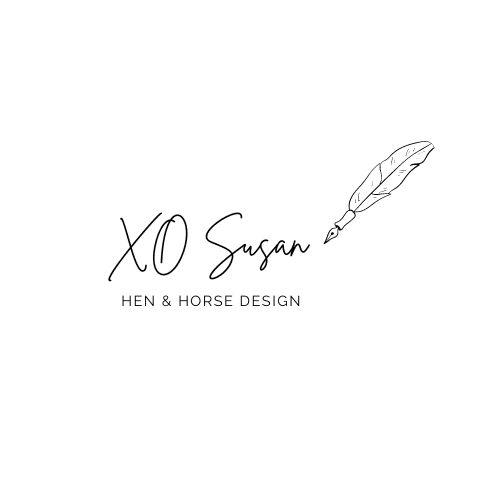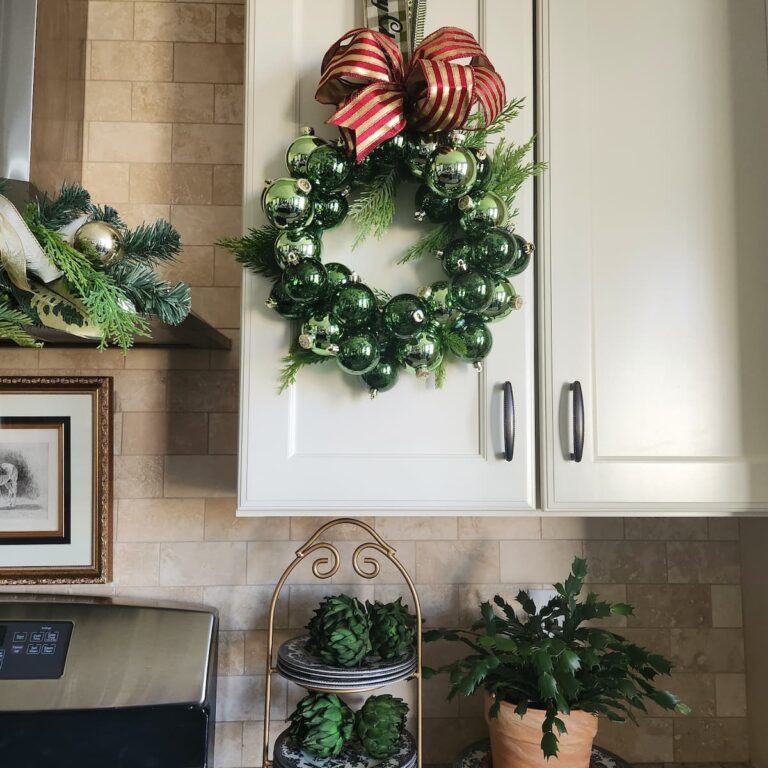 Come on in!  I've been waiting for you. Welcome to my cozy corner of holiday cheer. Today, I'm spilling the secrets of creating the perfect DIY Christmas wreath with ornaments. Do you like cocoa? Oh, that's great, I'll make you a cup while we have a few laughs and start crafting together – because this wreath-making adventure is as easy as it gets. Let's add a sprinkle of festive magic to our front door, and make some fun memories as we go