Inspiring Easter Tablescapes Ideas and Centerpieces
Inspiring Easter tablescapes ideas and centerpieces. Easy and affordable options that fit any home or budget!
Easter tablescapes don't have to start and stop with just easter eggs adorning an easter basket or bowl. The options are limitless when it comes to creating a beautiful setting for your family.
When creating my easter table setting I love to start by using a beautiful table runner and fresh flowers. (Technically, it's my second step, but we will get to the first step shortly) Of course, I will add an easter bunny or two, and decorative eggs, but my easter table decorations really could be used for any beautiful tablescape during the Spring season.
Having a versatile table is one thing I strive to do. After all, when you set the table for a holiday, typically within a few hours the dinner is over, the dishes are put away and you're left with an empty table to look at.
I much prefer setting a pretty table that I can enjoy for a few days or weeks for that matter. With simple decorations, you can achieve just that!
Today I'm going to share several ideas that I hope will inspire you to design your very own special table for this special season!
What do you put on a table for Easter?
The perfect way to style a beautiful easter tablescape really is up to you. That's probably not what you want to hear, but it's true. Use what you love and already have in your home and I guarantee it will be lovely.
Here are some of my favorite ways to style my easter brunch table.
More often than not, the first thing I start with is my easter centerpiece. I love natural elements and spring flowers are one of my favorite things and how I choose to bring nature inside.
Once I have my flowers selected, it's easier to select dish colors, napkins, and stemware.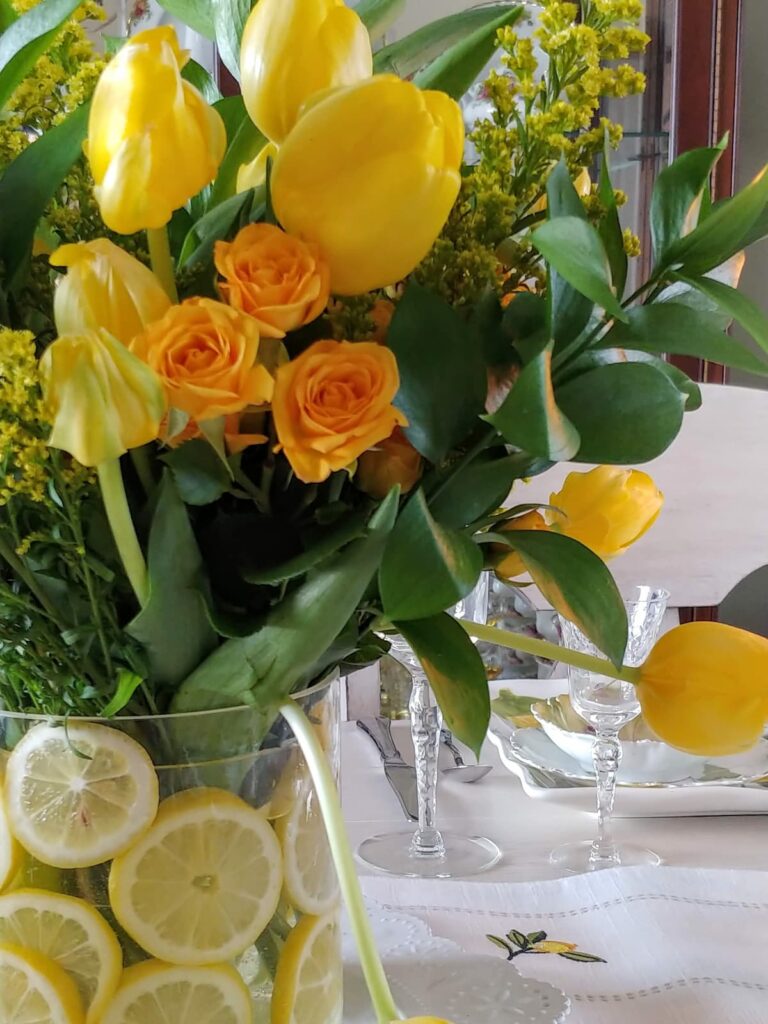 ""As an Amazon Influencer, I earn from qualifying purchases. This post may contain affiliate links which means I may earn a small commission. You may read my
disclosure policy here
".
Lemon inspired centerpiece
I love the way this centerpiece came out. The bright yellow flowers and lemon slices were definitely a focal point. If you are not a fan of yellow, you could use any color and coordinate from there.
Using two round vessels, one smaller than the other is how I accomplished this look. First I thinly sliced the lemons and then slid them in between the two vessels. Then I added yellow tulips, roses, and greenery to complete the look.

For my table, I used a bright white table runner with small lemons embroidered on it. After that, I added square lemon motif dishes and finished it off with a water pitcher in the shape of a lemon.

Thinking of adding a lemon dessert to your table? My lemon pound cake was just featured on Food talk!
Inspiring Easter tablescapes ideas and centerpieces
Here are a few ideas to get you thinking of what you might be able to add to your table.
Add printed botanical place cards
Layer different colors of table linens ( plaids, checks and flower patterns are perfect for Spring)
Fill a basket with colorful eggs
Folded bunny ear napkin rings
Fill green and white ginger jars with white tulips
Style a favorite piece of decor under a glass cloche
Group candles together in a set of three or five
Plant small flowers in teacups or a watering can
Use small potted plants for a centerpiece
Add a birds nest
Use mini clay pots filled with small succulents
Layer eggs and bunnies in a large dough bowl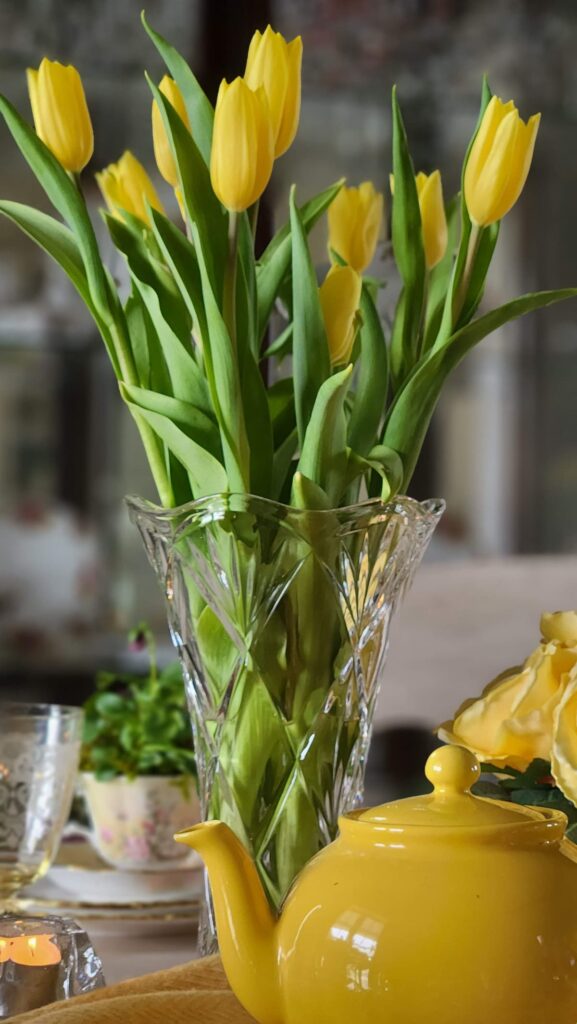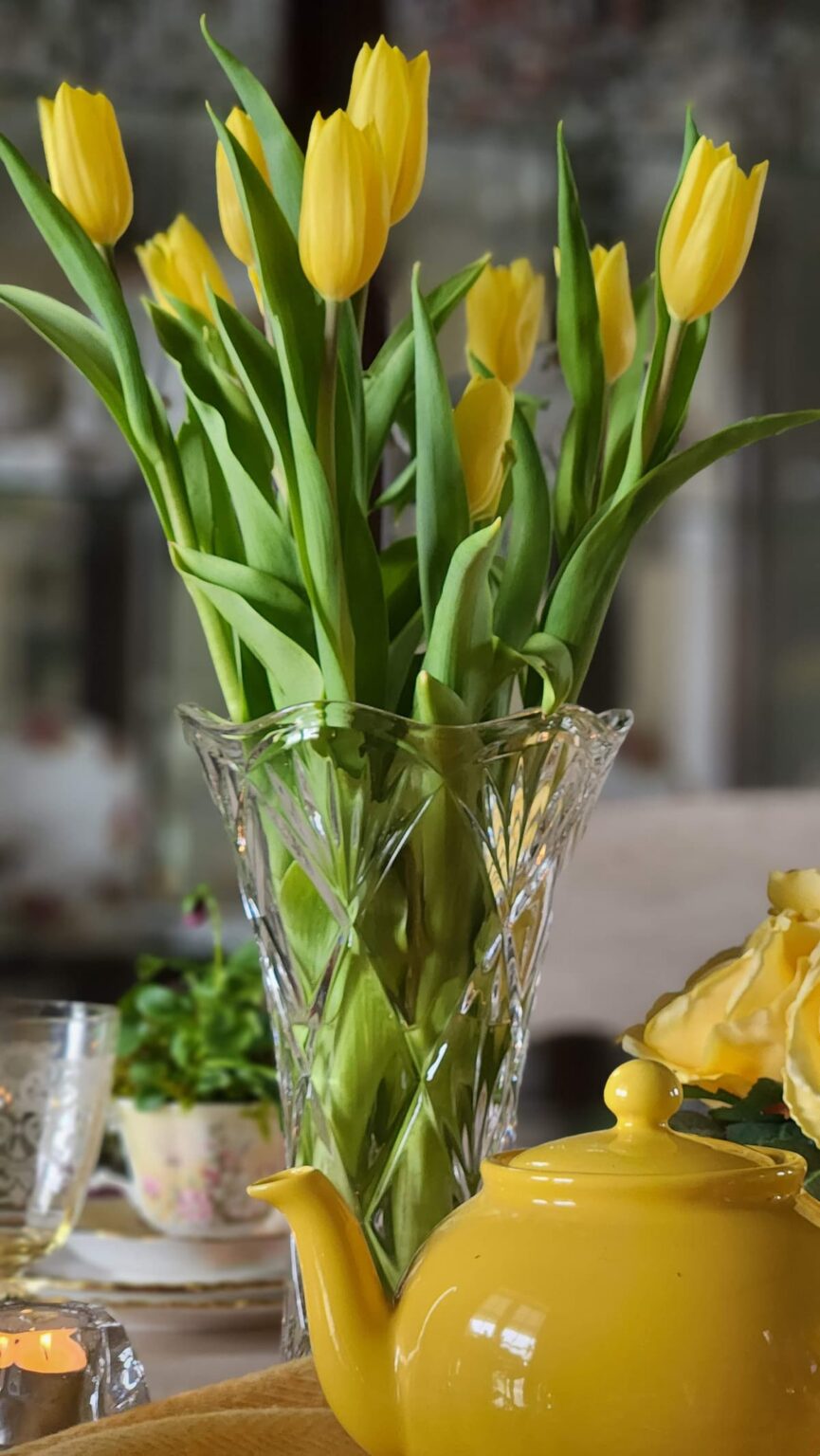 One of my favorite easter tablescapes and ideas was the one where I used my teacups in a unique way. I planted pansies in teacups, added checked yellow napkins, and layered my old country rose dishes. The bright yellow tulips and roses finished off the look perfectly for Spring.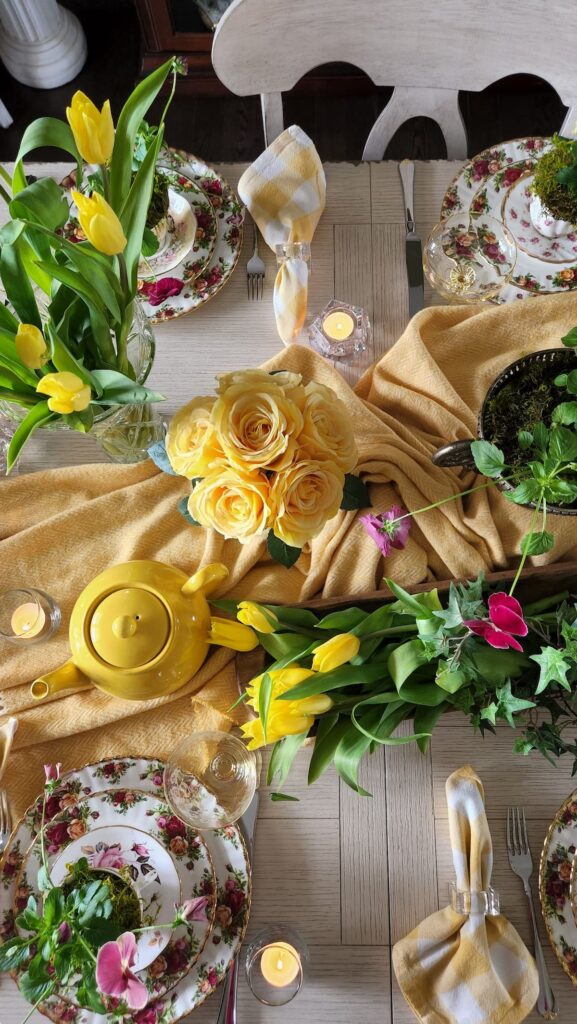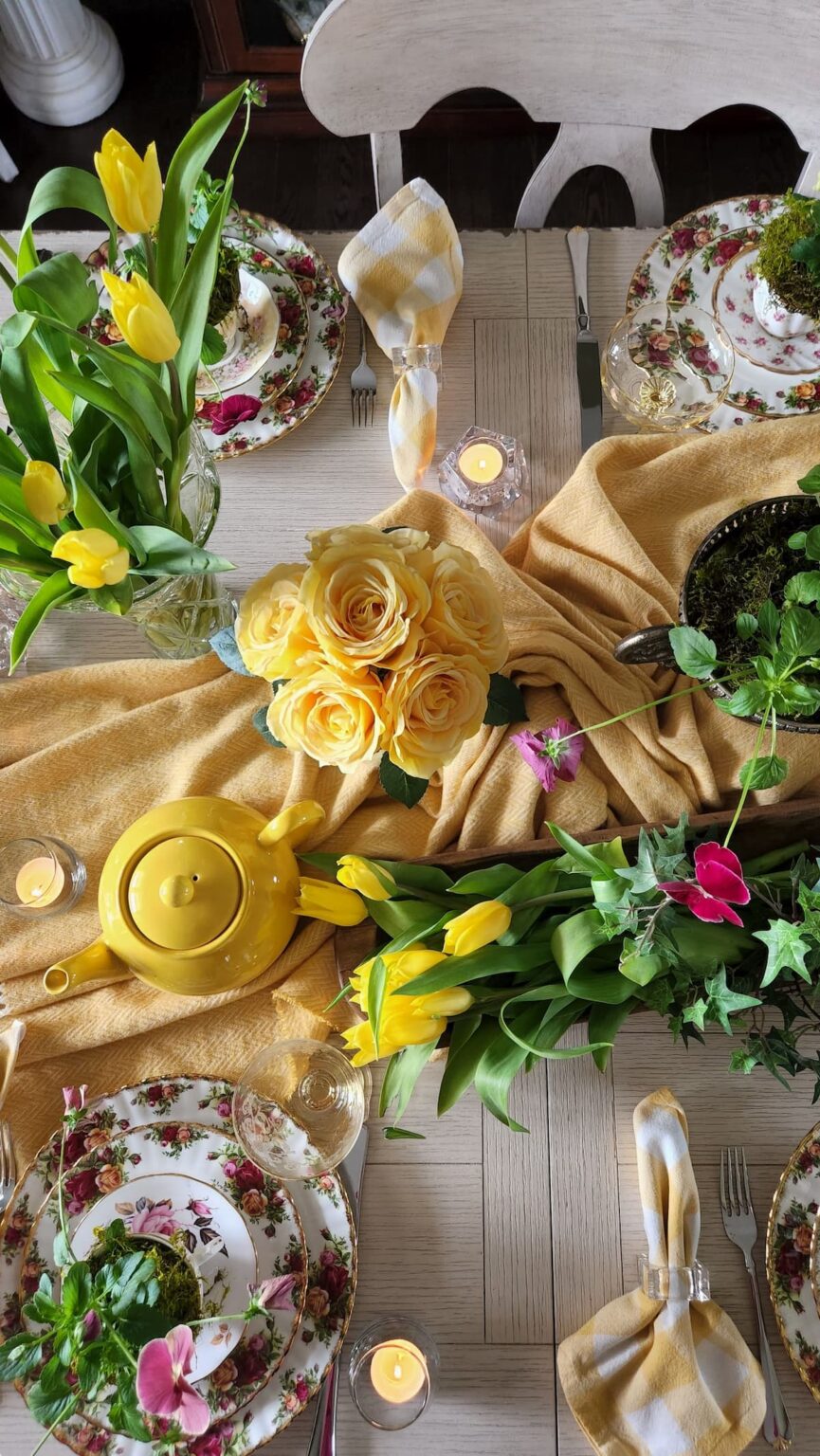 It really doesn't matter what color palette I choose. As long as I have flowers, I am happy.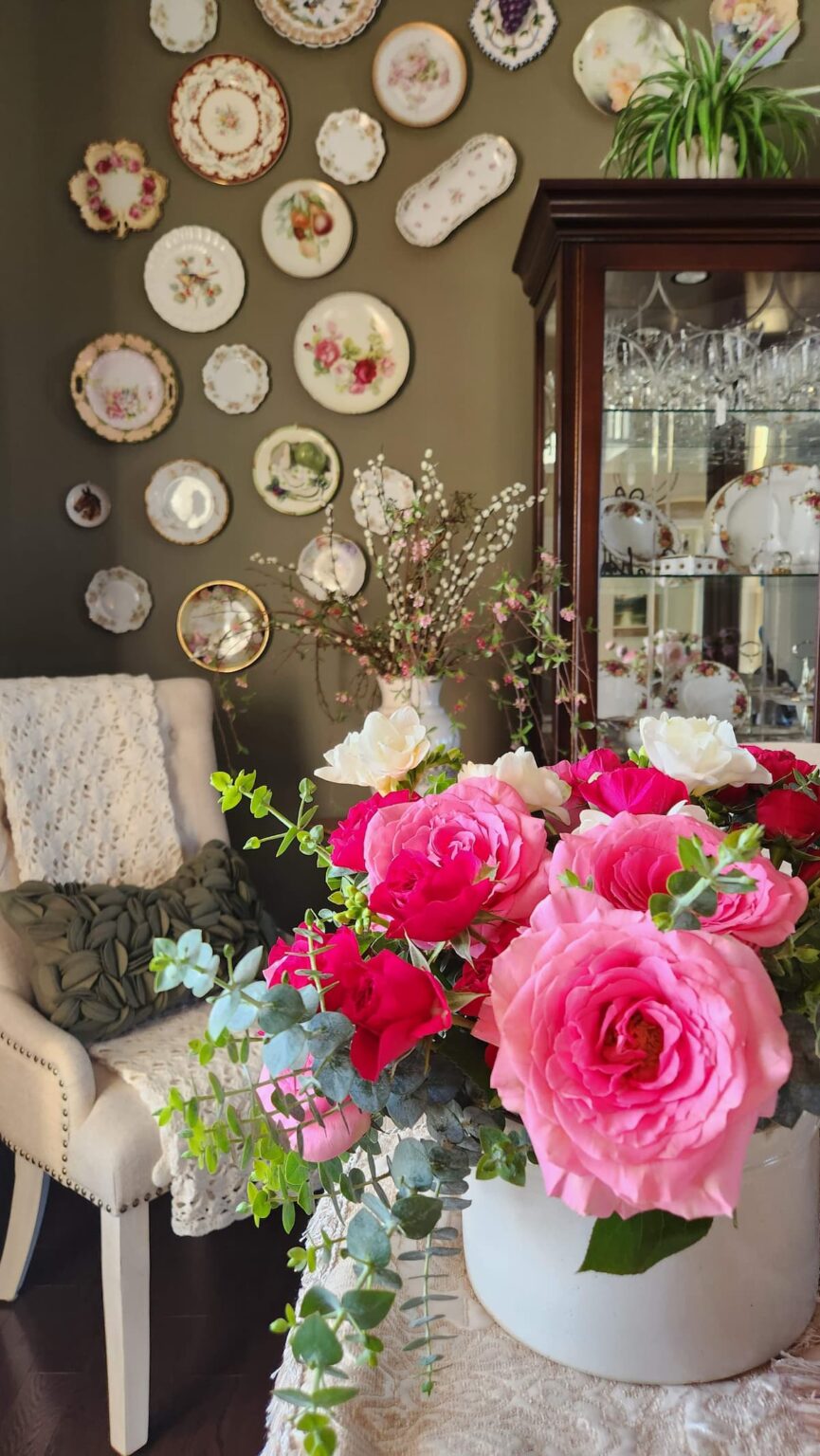 When I saw these gorgeous roses I knew this would be the inspiration for my next holiday table setting. The scent was amazing.
Designing this table I incorporated blue along with pink. I could easily see white easter bunnies added to this table.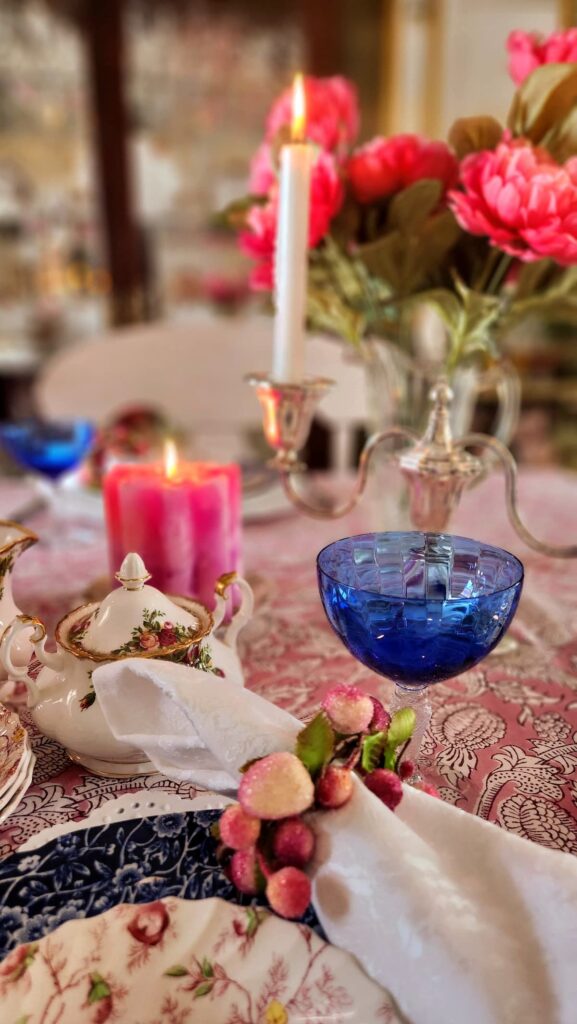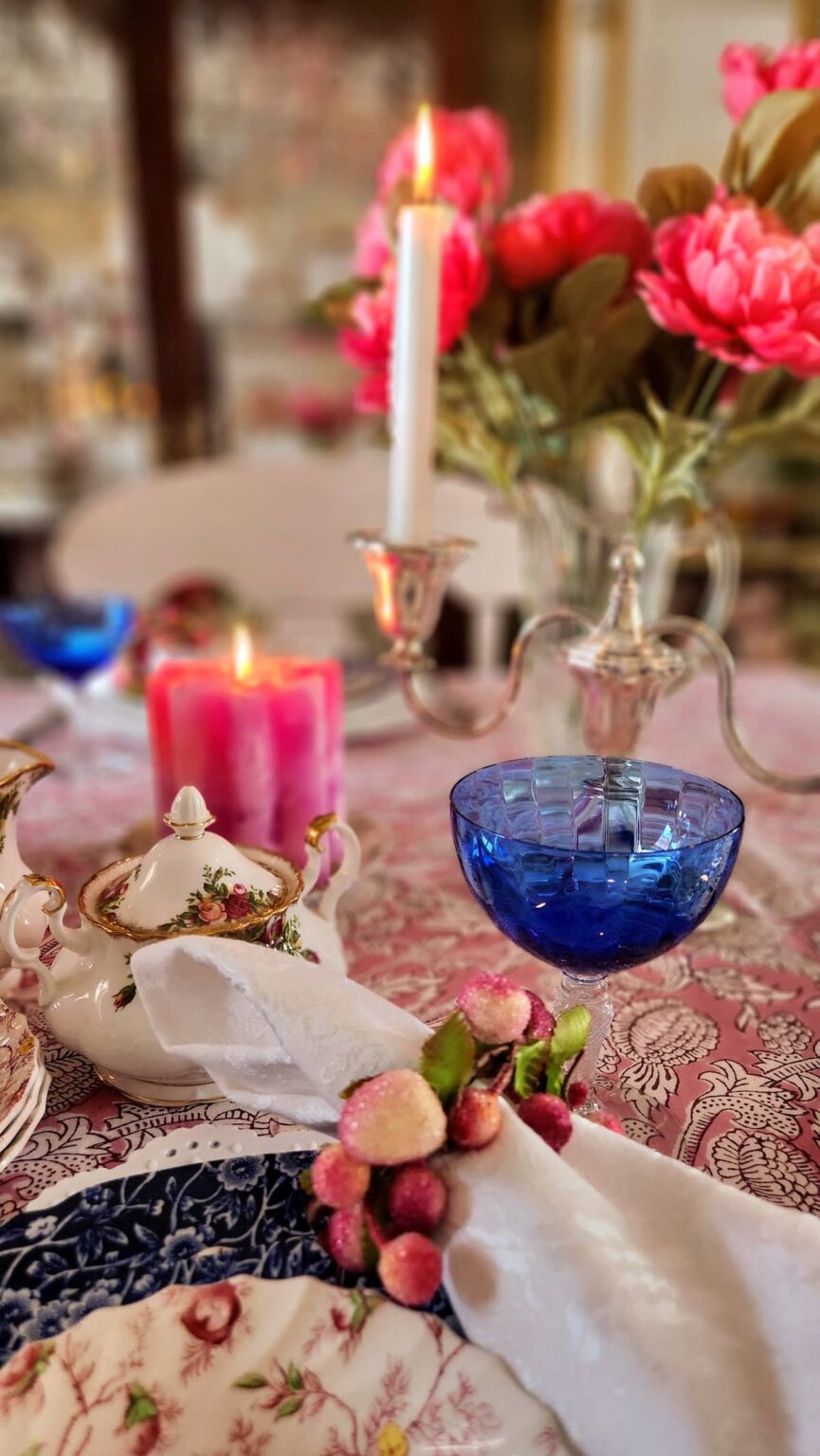 Lavender & green tabletop inspiration
Up next, I love the way this tablescape came out as well. I've been using purples and greens throughout my home this year. I'm loving the bright spring feel and the blend of these two colors.
These trader joes beautiful flowers under my wired cloche just seemed to fit wonderfully with my color scheme.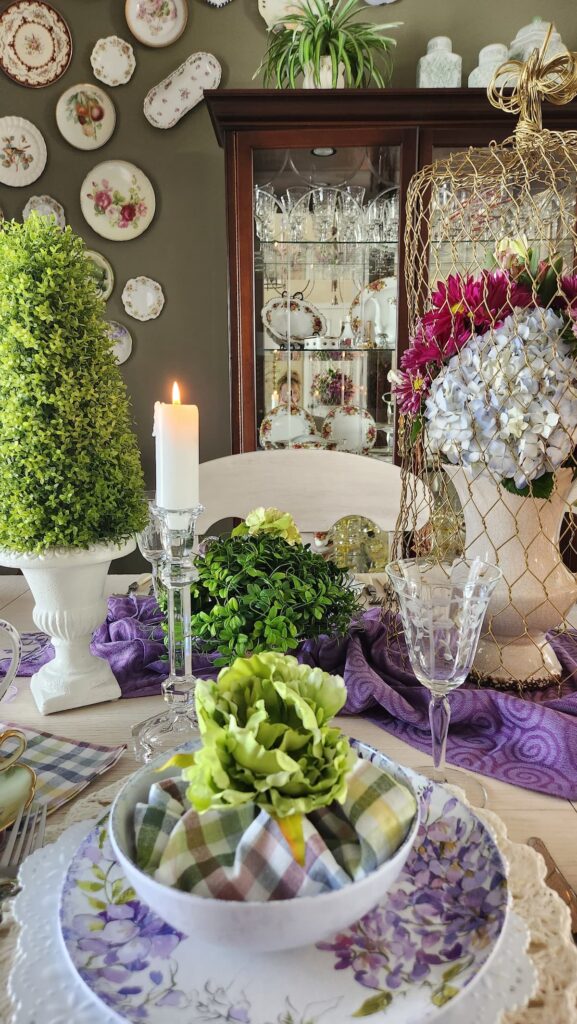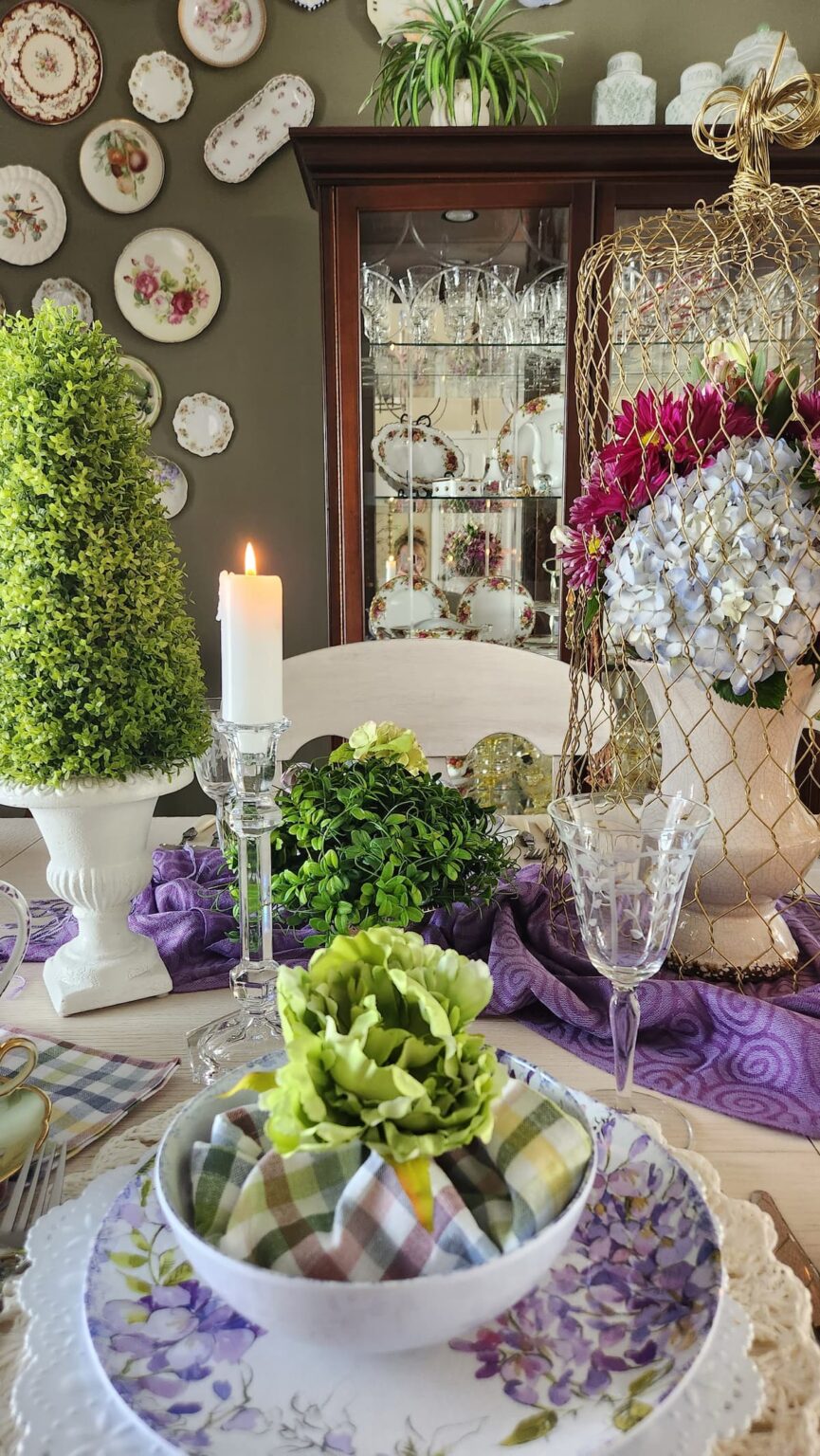 Layering my lavender dishes on top of the white-laced chargers gave my table just the right amount of romance.
Last spring, I set this table with the same green and purple combination.
I was able to mix both new and old dishes here. The cabbage plates came from a thrift shop and the green and tan dinner plates are melamine.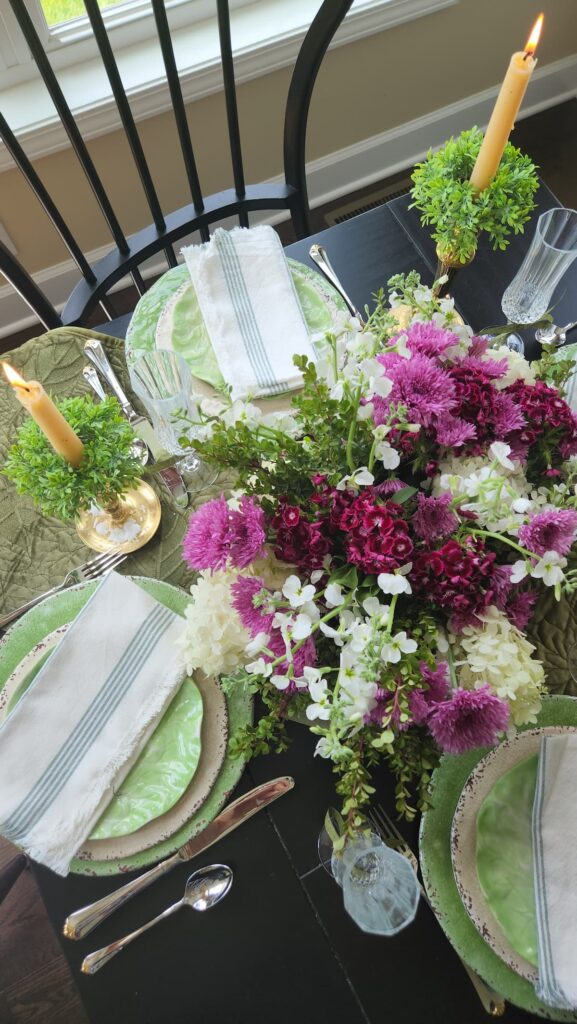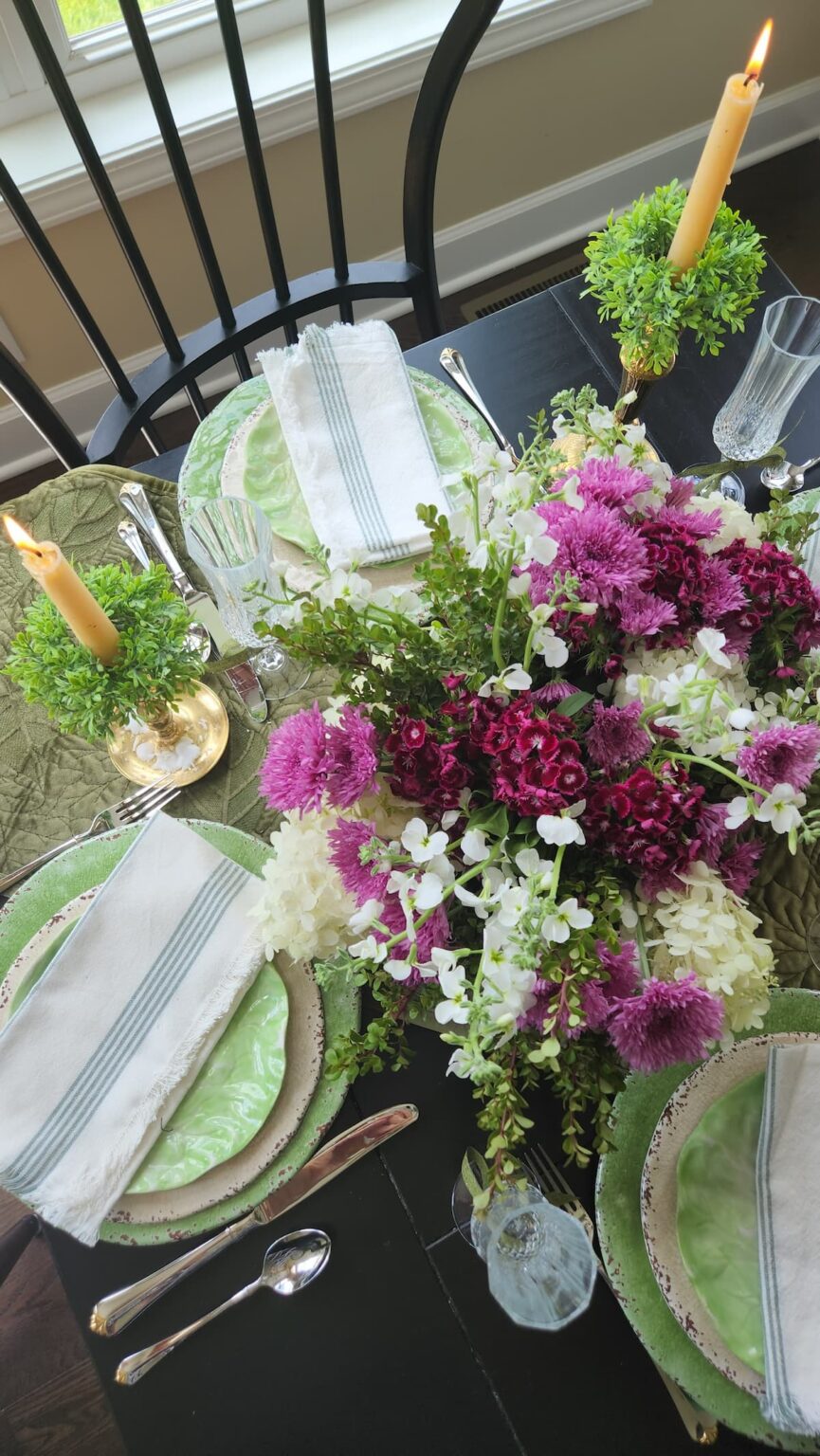 What decorations do people use on Easter?
Without a doubt chocolate eggs, easter egg baskets, and white bunnies are the most often used easter decorations.
When purchasing new items for your spring table, think of ways you will be able to use them after Easter and well into Spring. Things such as gingham placemats, pastel candles, and floral linens can extend their use well past Easter Sunday.
White on white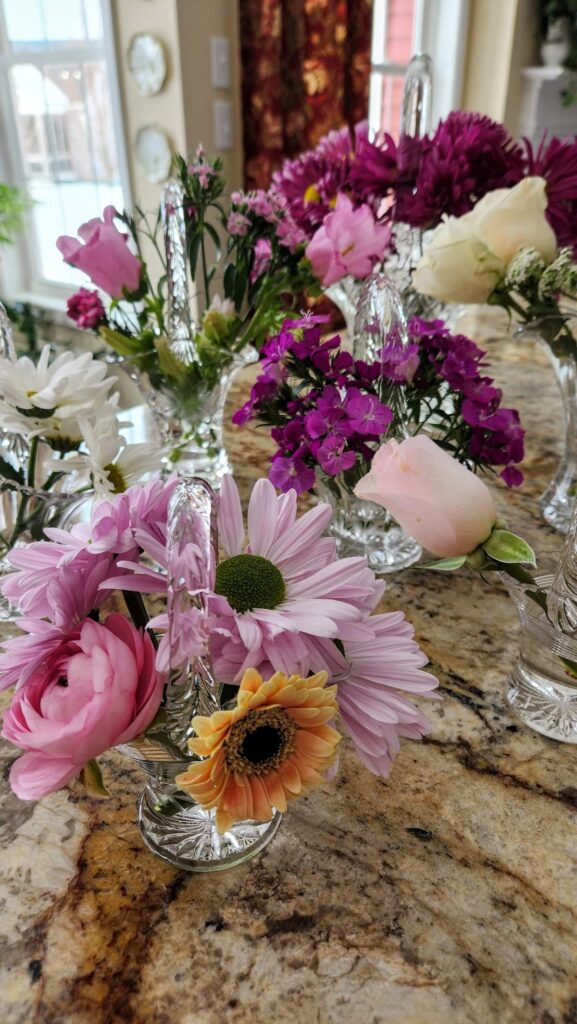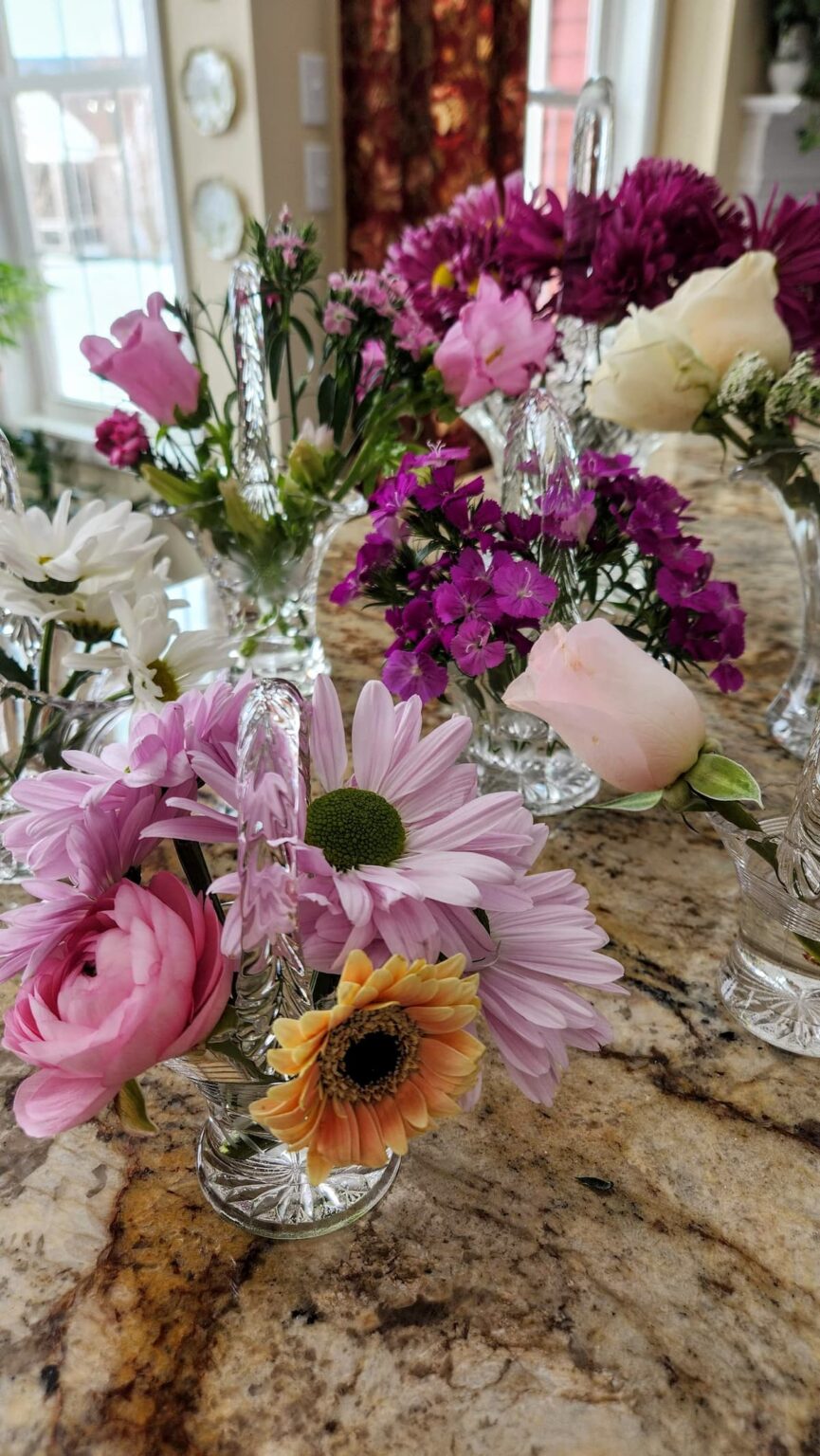 Any time I get to use my crystal baskets, I'm thrilled. Filling my glass baskets gave my table just the vintage feel I was looking for.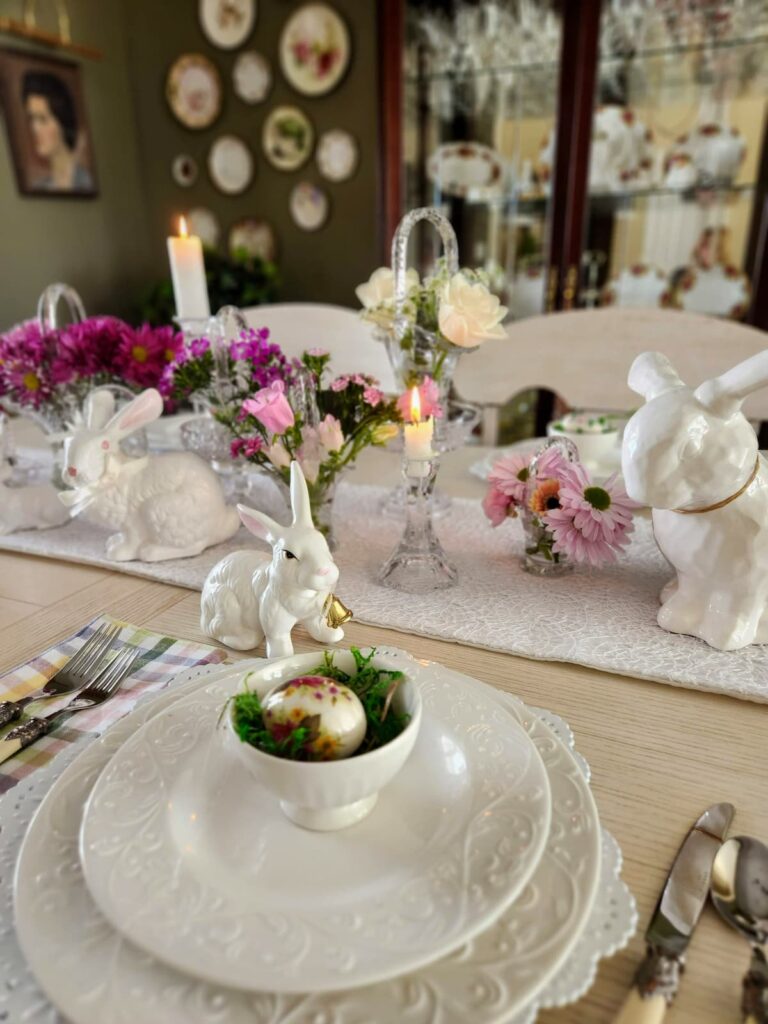 Using my white plates offset my spring colors in a great way! Choosing neutral decor certainly doesn't have to be boring. The center of the table made this table pop with colorful flowers. How about those white bunnies?
What are the 4 Easter colors?
Springtime is a great time to use all of your creative ideas. The most popular colors to use for this time of year are pink, purple, yellow, and white. I've created several pretty tables using these beautiful colors. Next year I may try something totally different and use bright oranges like in carrots. That would be a great color scheme. Bright but fun!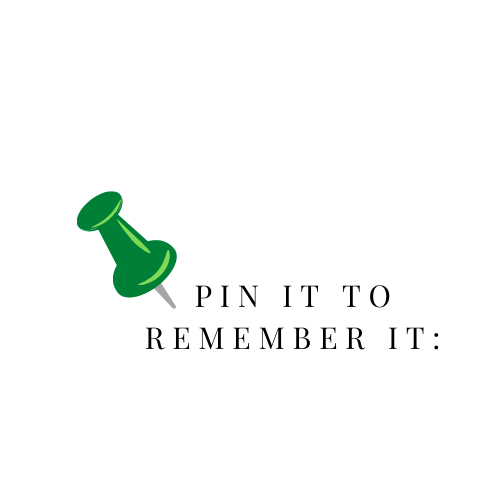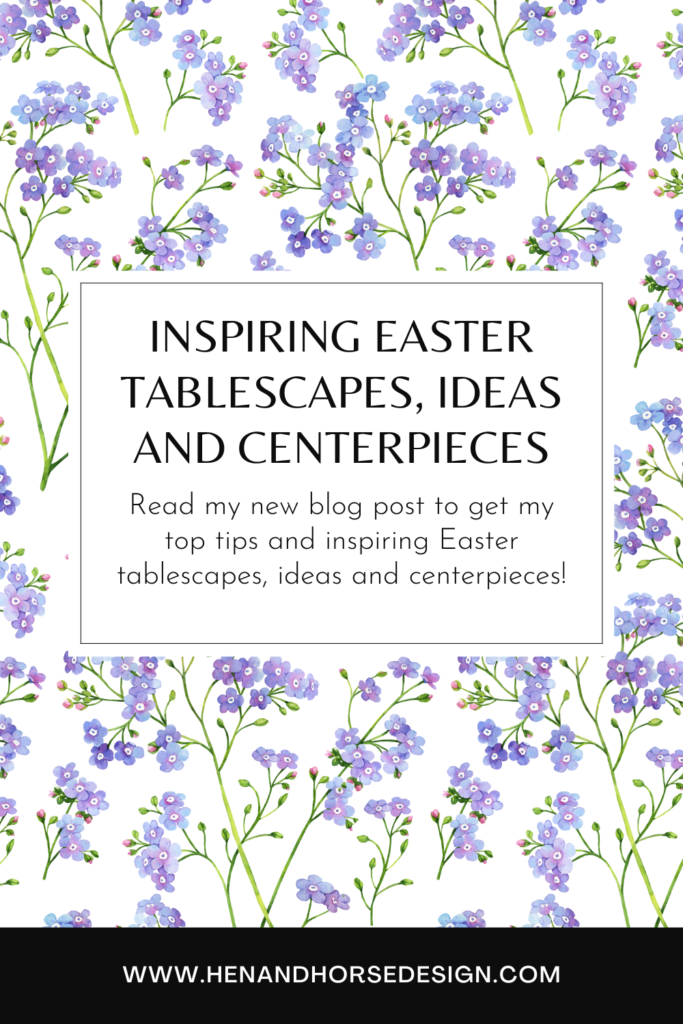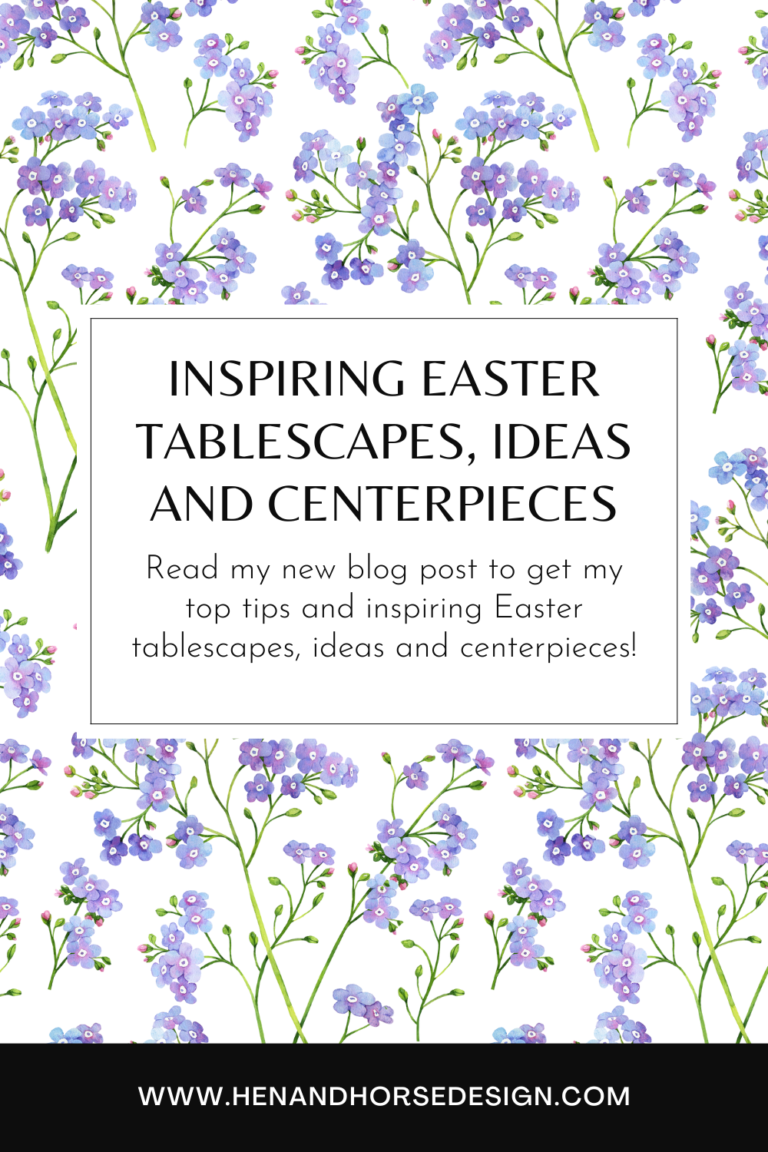 When styling your next Easter gathering Spring table, I hope you keep my Inspirational Easter Tablescapes, Ideas, and Centerpieces in mind!
Happy Spring!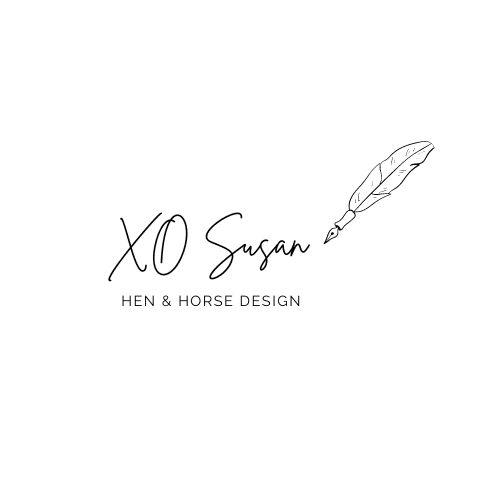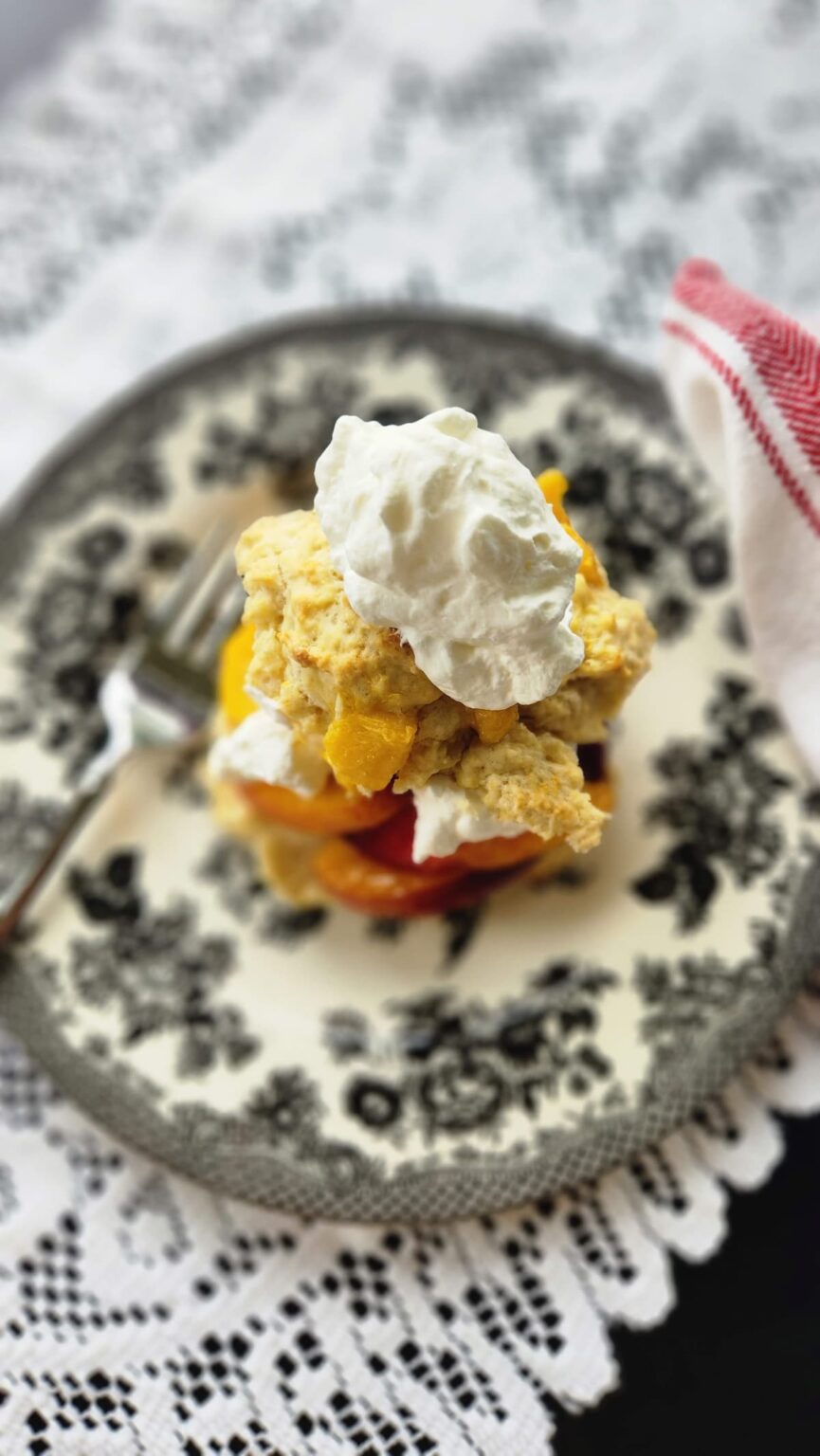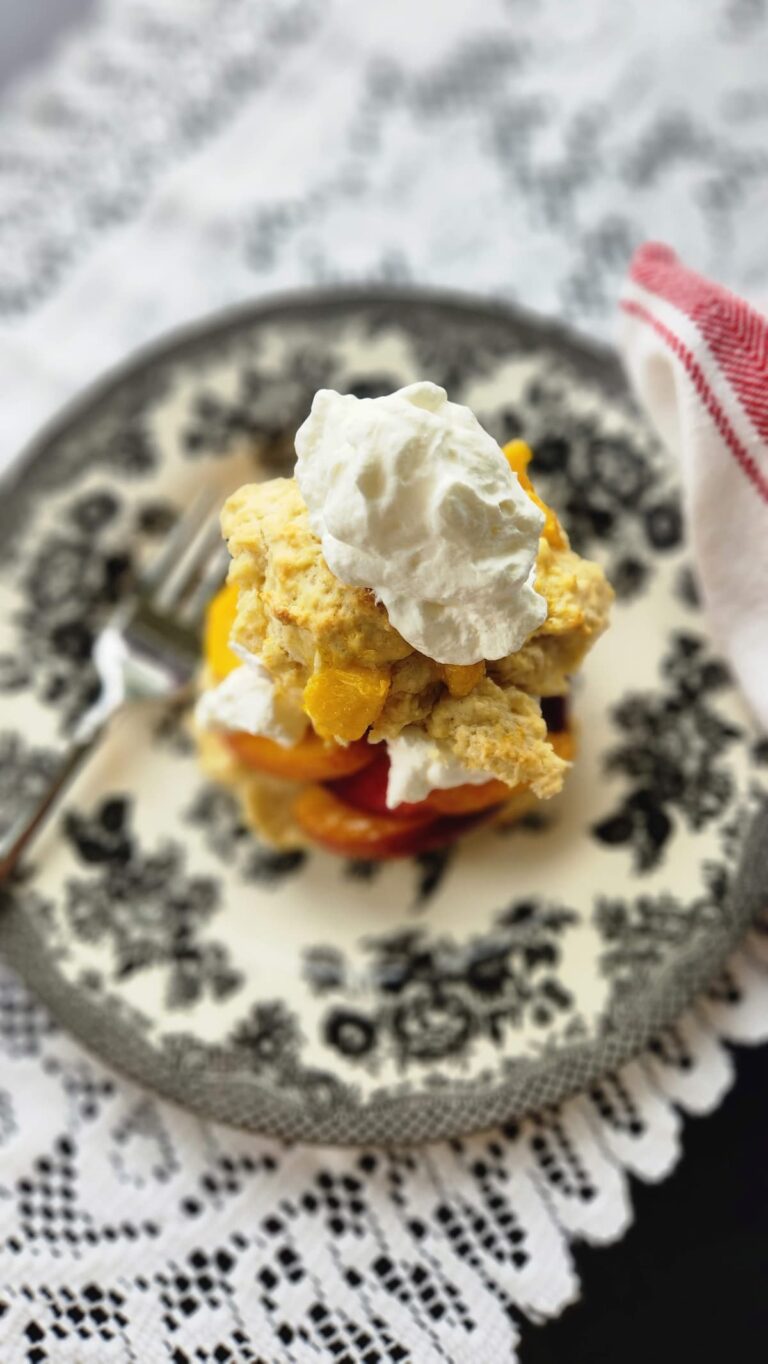 Delicious and healthy shortcake recipe with nectarines using reduced-calorie ingredients. This easy to make recipe is perfect for summer!