How to Decorate with Green and White Ginger Jars
Do you love ginger jars? Sharing Ideas for Decorating with Green and White Ginger Jars in Your Home. Ginger Jars are classic and timeless!
Whether it's a white ginger jar or a beautiful green ginger jar, I love finding them to add to my collection. Here is the thing, green and white ginger jars are not easy to find. Most often you find Chinese ginger jars in the classic color of blue and white. Blue and white decorative jars with the classic chinoiserie look are every bit as beautiful.
Finding them in green can be a bit more challenging. This is why I literally gasp out loud when I find one. The best places to find white ceramic ginger jars are either online or at an estate, yard, or garage sale. I've found many by shopping in these places.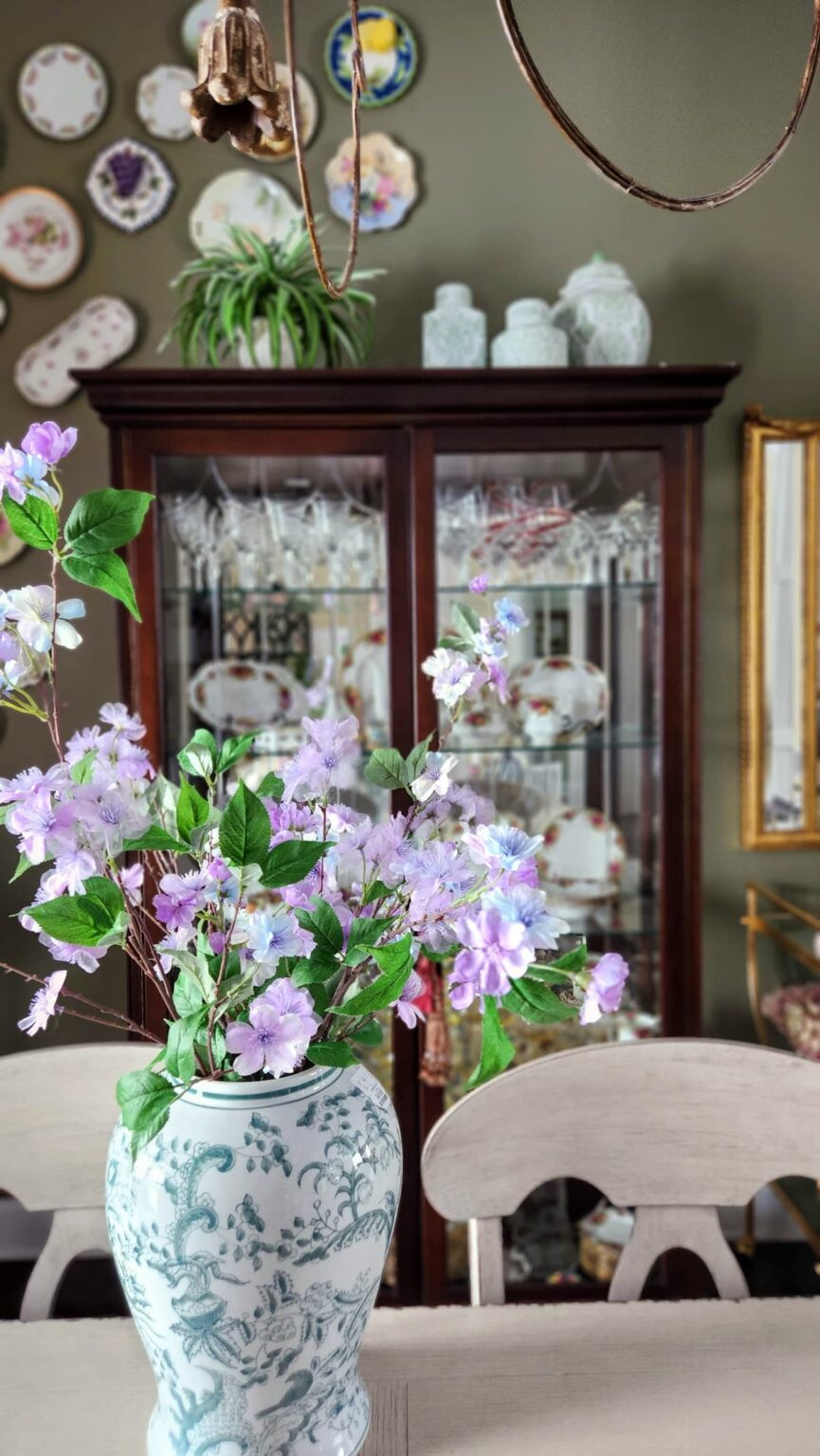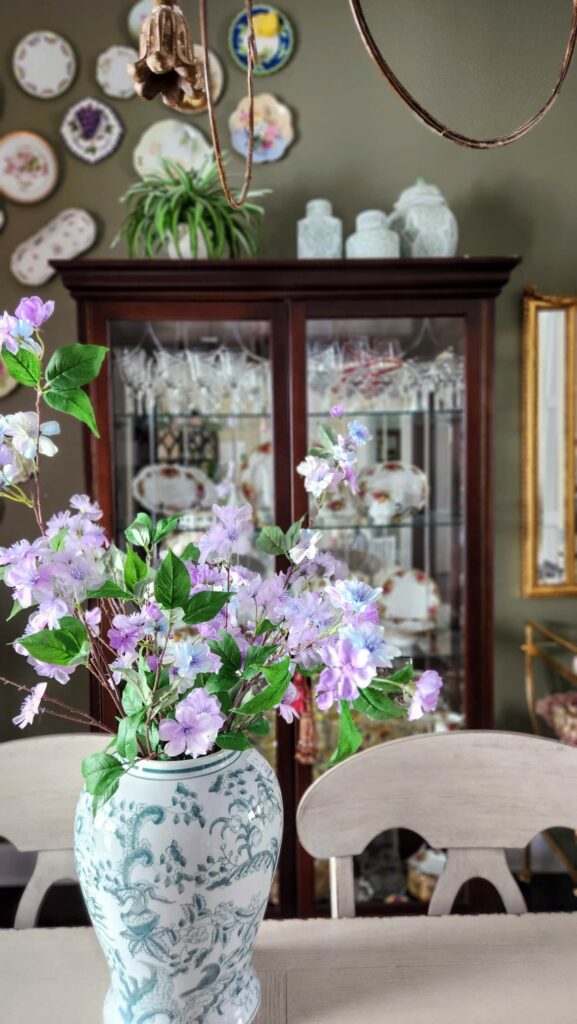 "This post may contain affiliate links which means I may earn a small commission. You may read my
disclosure policy here
".
Decorating with green and white ginger jars in your home
Styling ginger jars
When it comes to temple jars, oftentimes temple jars have a different shape to them. Temple jars can vary with additional decoration on them as well.
Whereas ginger jars are usually rounded in shape with a dome lid. There are so many ways and options to style either of them.
Either option makes for a lovely home decor display.
What to pair with ginger Jars?
Here are pairing ideas for ginger jars.
Books and Reading Nooks: Place a ginger jar on a shelf or side table alongside a collection of classic novels or inspirational books. Create a cozy reading nook by adding a comfortable armchair and a soft throw blanket.
Fresh Flowers: Pair a ginger jar with a bouquet of fresh flowers that complement its color or design. The vibrant blooms will enhance the jar's aesthetic and bring a touch of nature indoors.
Candles and Candleholders: Combine a ginger jar with a set of elegant candles and matching candleholders. The jar's intricate design can serve as a stylish centerpiece while the candles provide a warm and inviting ambiance.
Mantelpiece Decor: Place a ginger jar on a mantel alongside other decorative items like framed artwork, small sculptures, or decorative mirrors. The jar's height and visual appeal can balance out the arrangement and add a timeless charm.
Table Settings: Incorporate ginger jars into your table setting by using them as unique centerpieces. Fill them with potpourri, decorative stones, or even small LED lights for a captivating table arrangement during dinners or special occasions.
Fireplace
Flanking both ends of your fireplace with a pair of ginger jars is a favorite way to display them.
Whether you choose to place them on your mantle in a grouping, or on the floor on each side of your fireplace mantel, they will immediately add a classic look to your room.
Foyer
My front foyer table is on the narrow side so I've added only one of my favorite jars filled with pink peonies. ( I have several of the same designed ginger jars in my home. I love this pattern with the bird motif )
If your entryway has a larger table, creating symmetry with two on either end would be a great idea.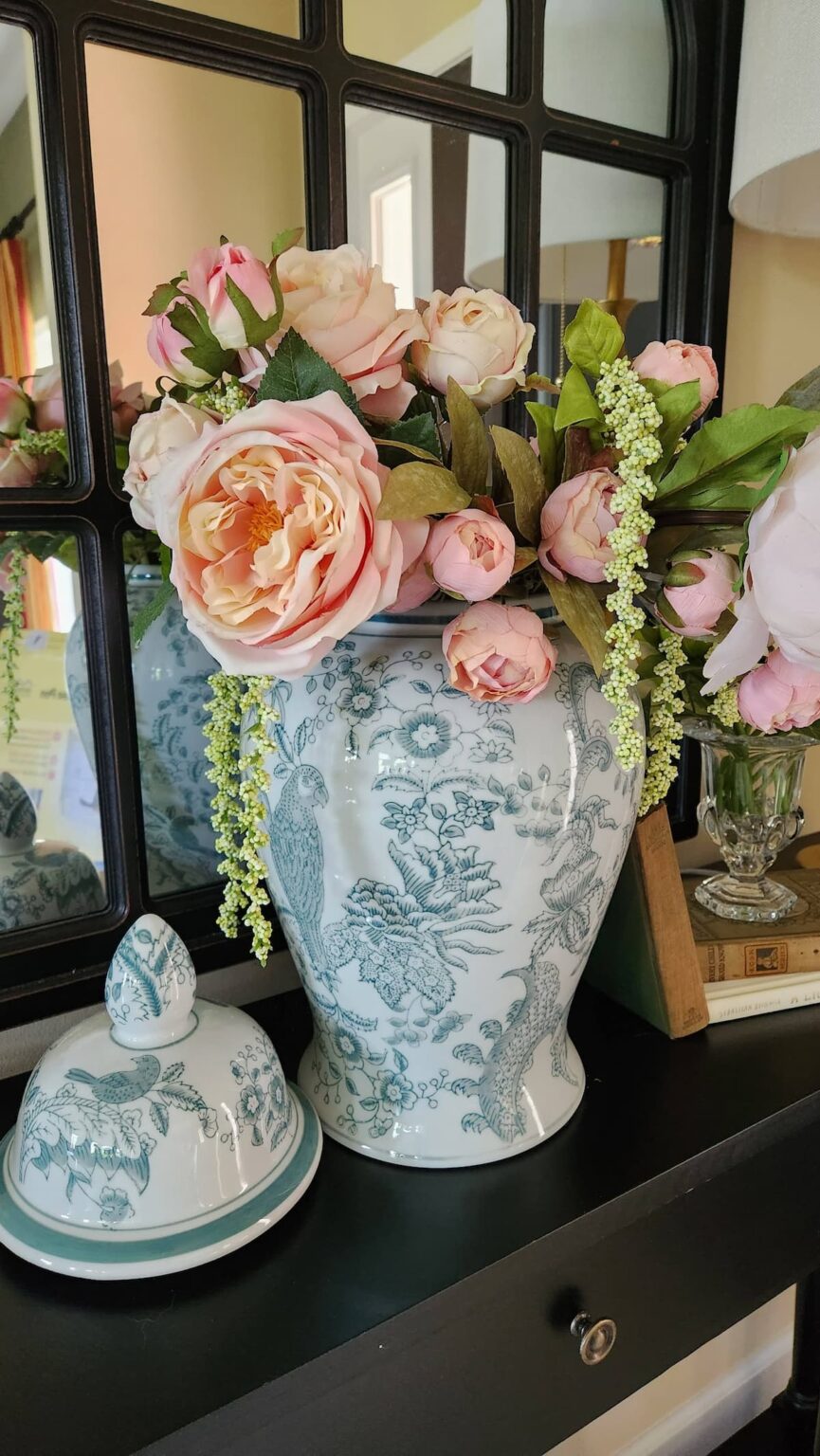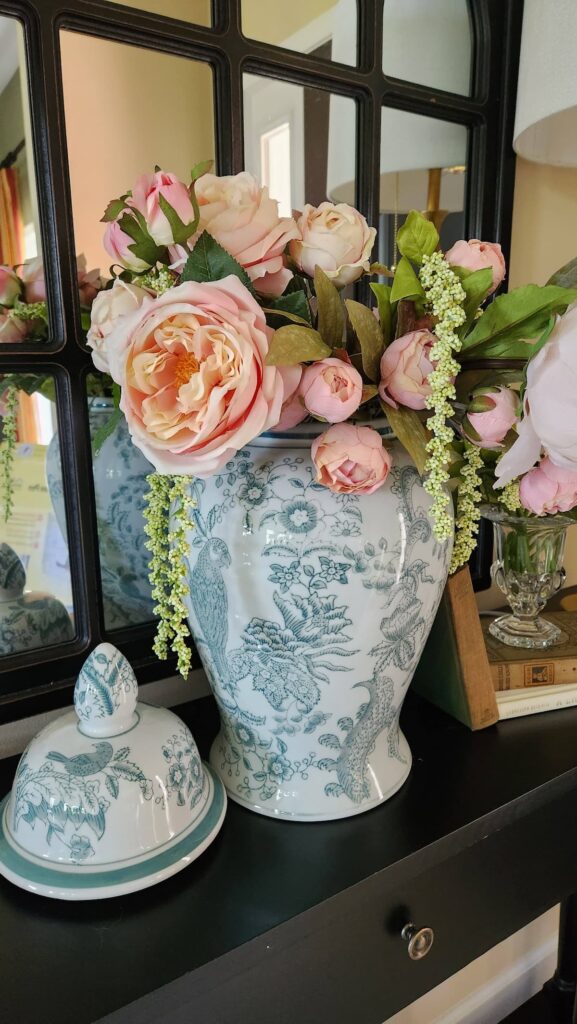 Dining room
Showcase your favorite jars on your dining room table for a great statement piece filled with faux florals. If you want a new look for each season, change out the stems according to that time of year.
Are you looking for 7 Simple Tips for How to Decorate a Hutch in Dining Room? My dining hutch post covers ways to decorate your china cupboard.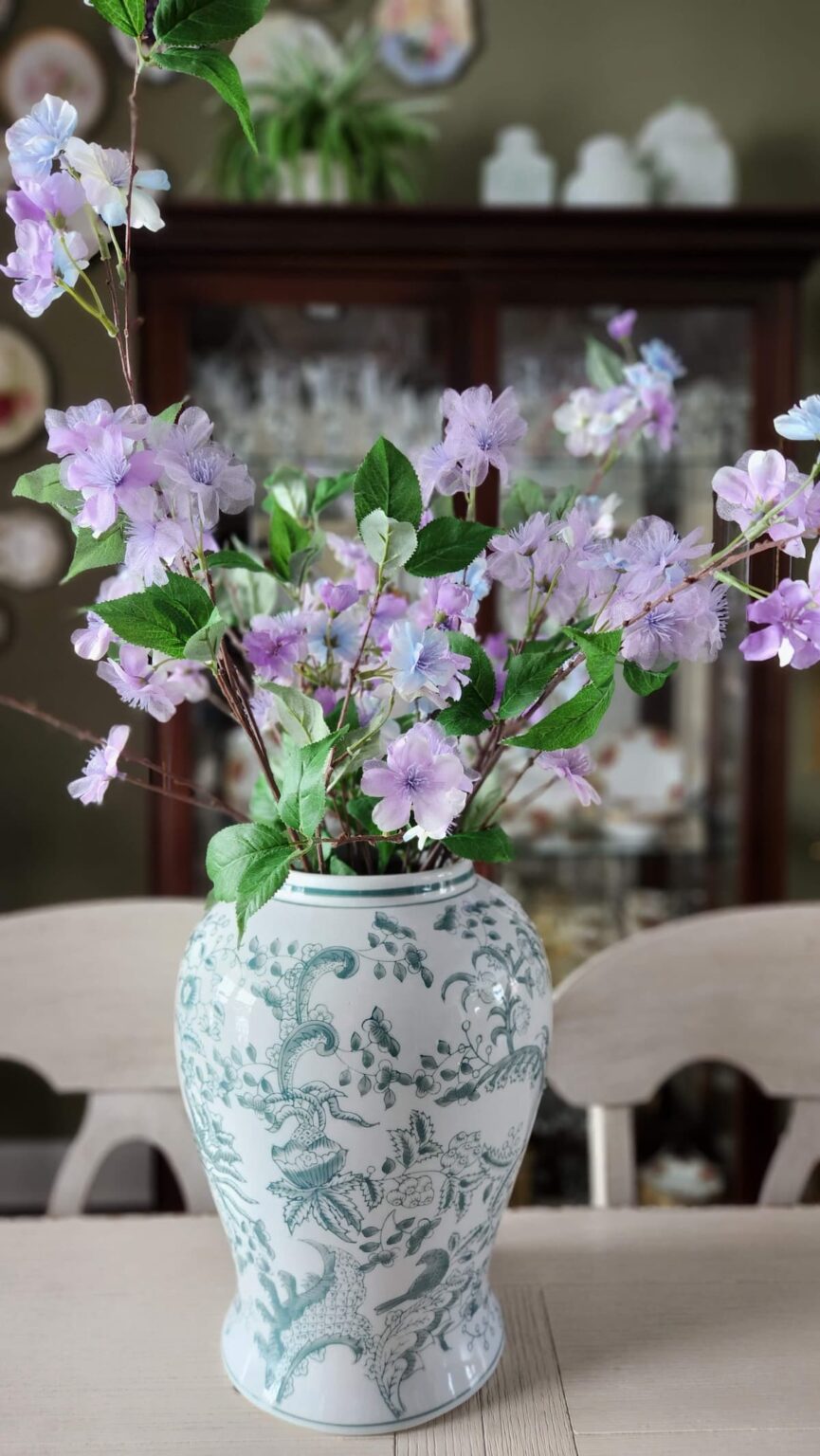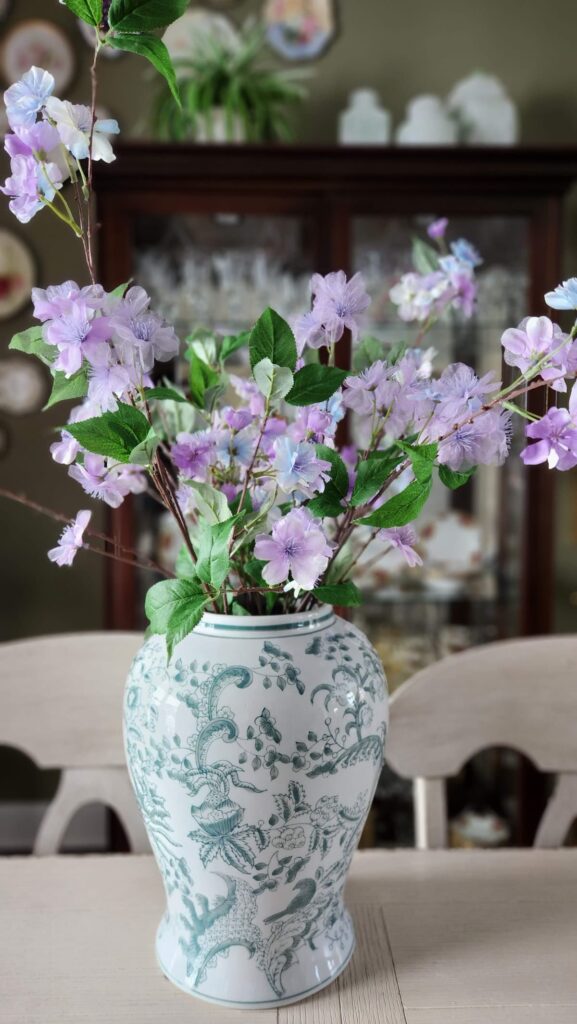 Having three of the same pattern, I placed them on top of my china closet cupboard in a grouping.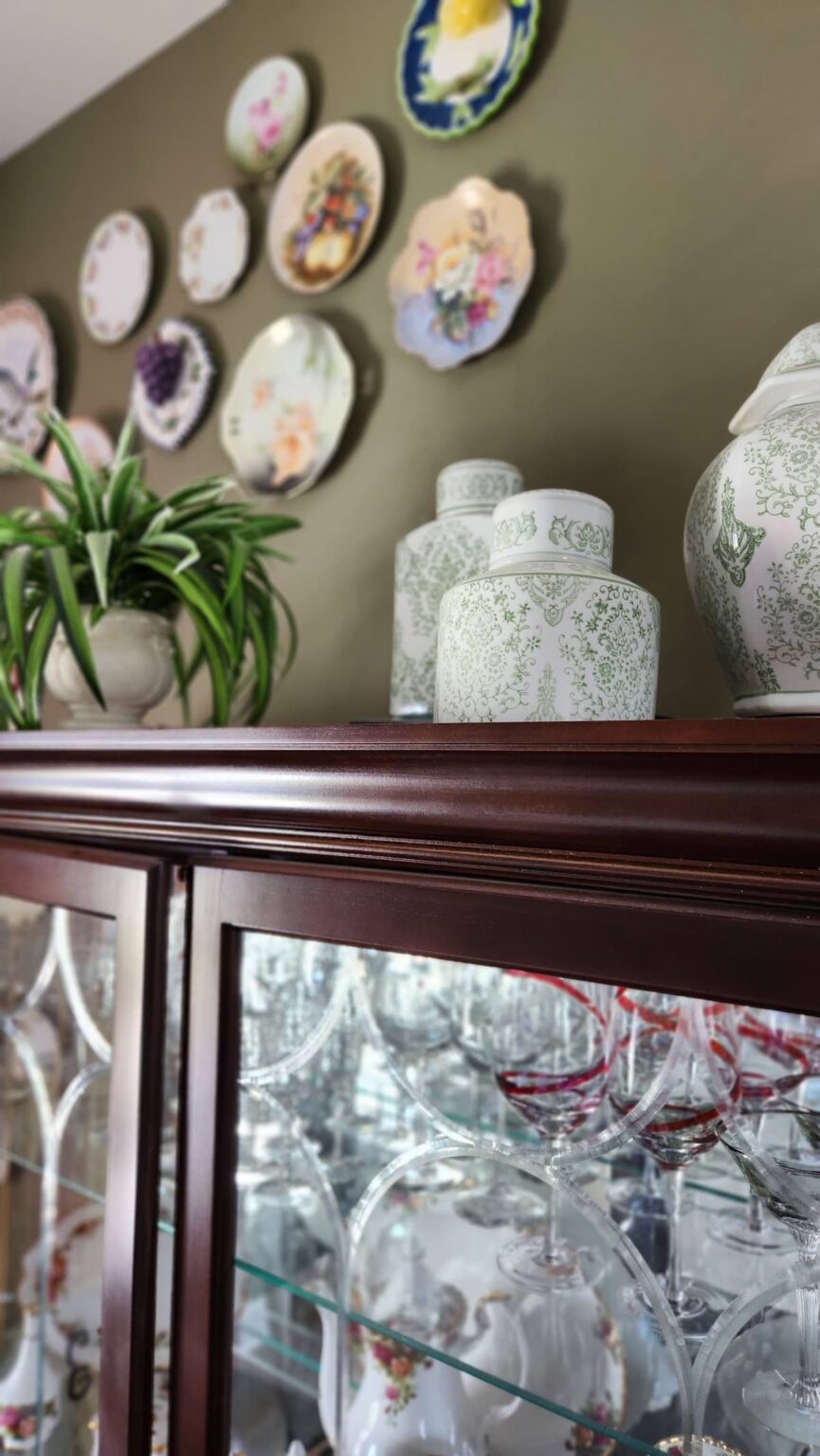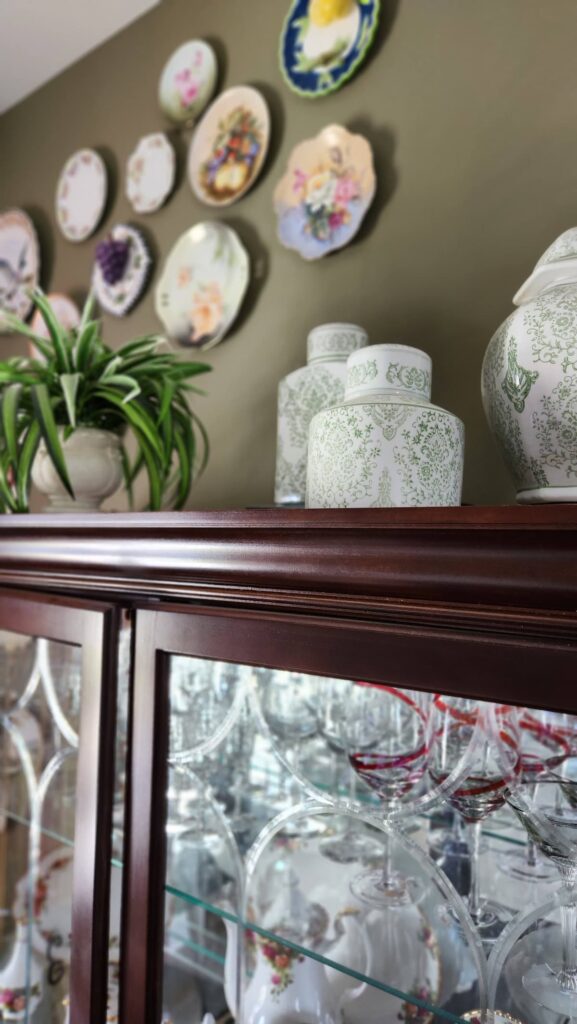 Kitchen Island
Mixing up accessories with wicker trays, baskets or candles is key for adding interest. Styling jars on your kitchen countertops and islands is a great choice! (You an even fill them with tea or candy)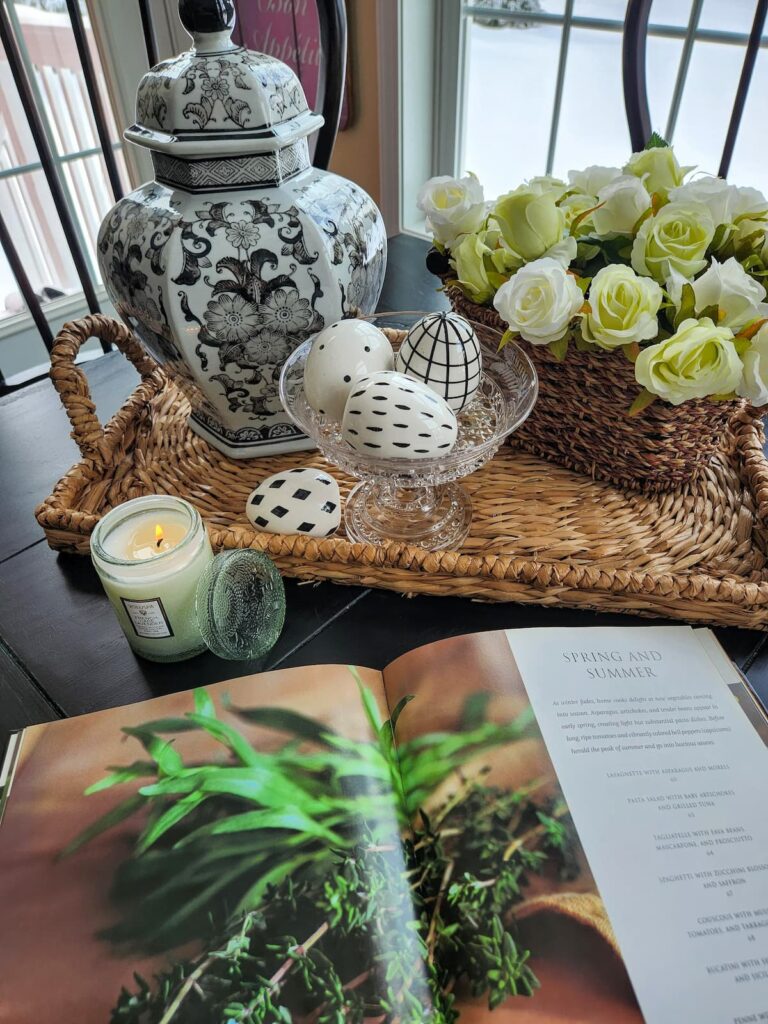 Try placing jars on either side of your kitchen sink or stove. There is no wrong way to use these gorgeous ceramic pieces.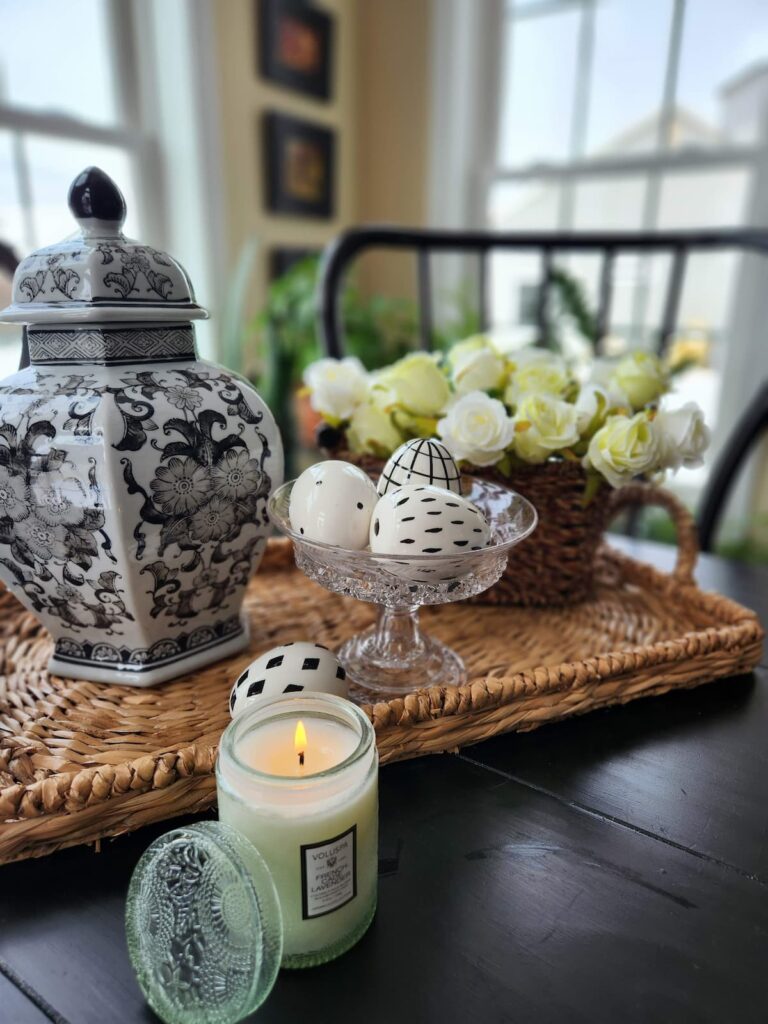 Bedroom
When I did a spring refresh this past month, I used all the same flowers throughout our home. I love the cohesive look of walking thru my home and seeing the same ginger jar in our bedroom with the lavender flowers and then again, on my dining room table.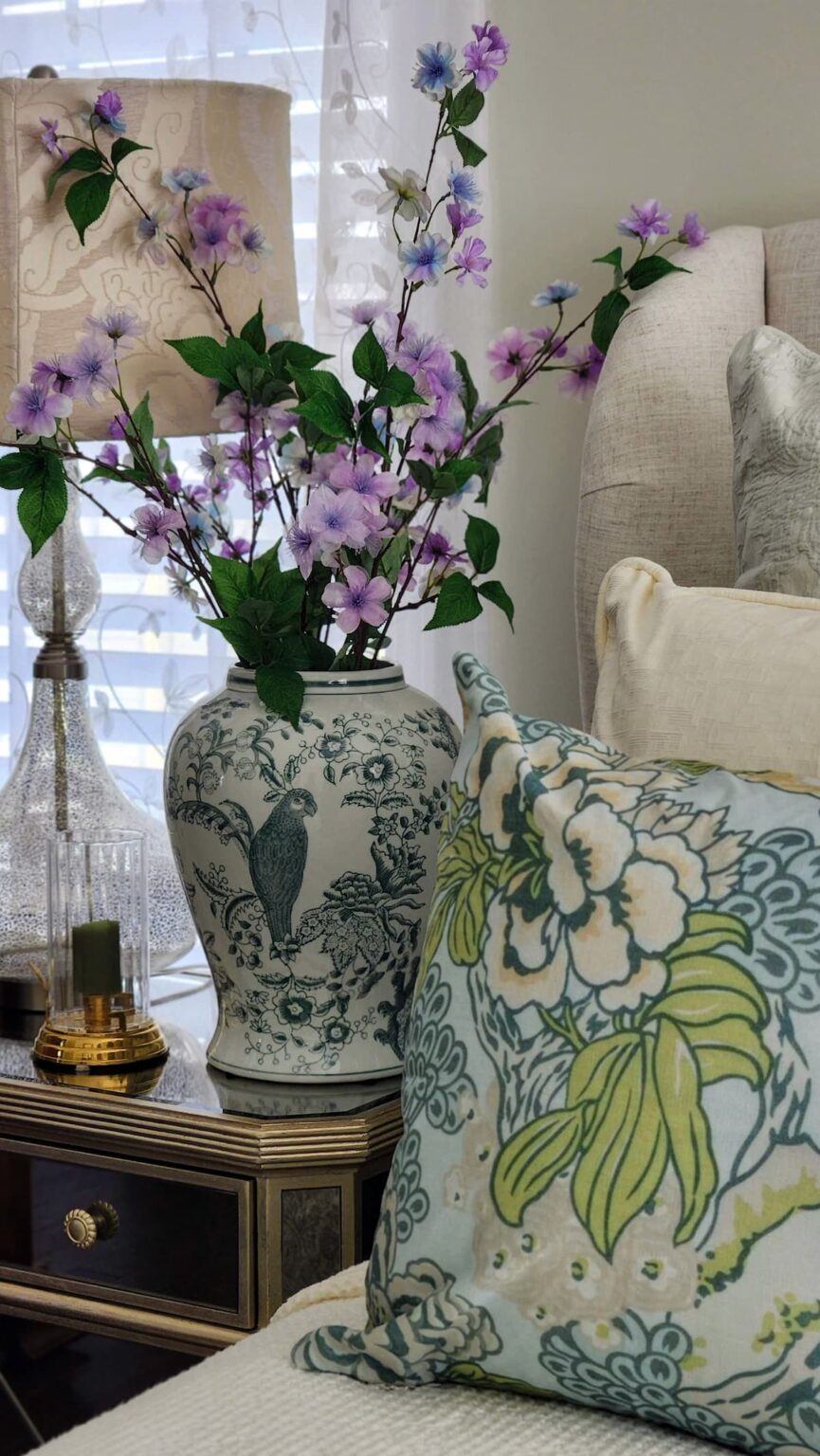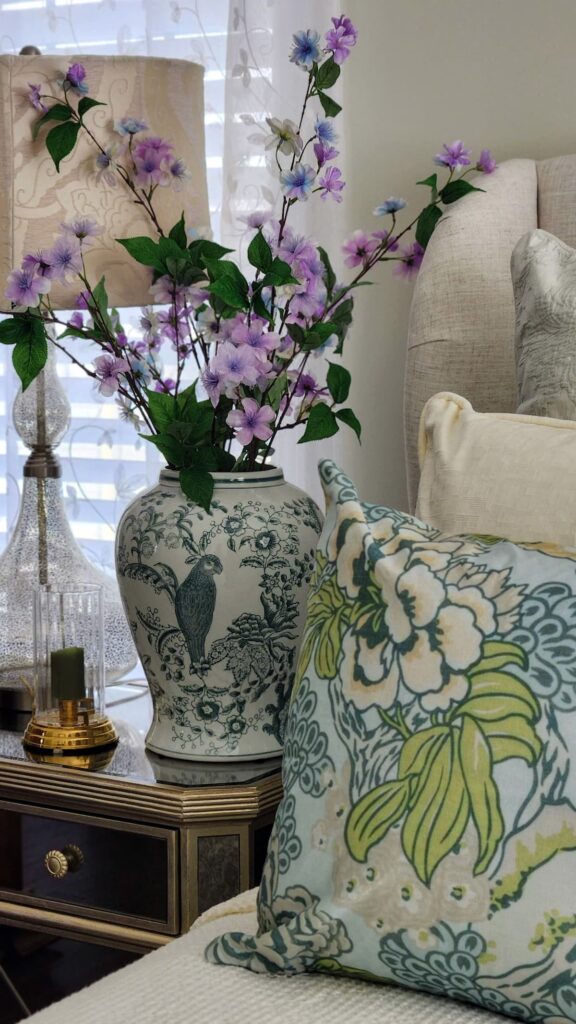 How do you style a ginger jar?
My favorite way to style smaller jars as decorative accents is to group coordinating jars in groups of three or five in my dining room. You can do this on a sofa table, coffee table, or on bookcase shelving as well.
If you are lucky enough to find a green and white ceramic table lamp in the shape of a ginger jar, consider yourself very lucky. I've been searching for ginger jar lamps for my side table for quite some time.
Fill with spring cherry blossom stems like these
Style your fireplace hearth with a few on either side
Display on the bottom shelf of your Sofa Table like this one
Make a statement with a ginger jar on a Styled Tray on your kitchen island
Decorate your coffee table with a grouping
Add to your dining room table
Place one, two, or three on your foyer table alongside a pretty lamp or floral bouquet
Style them on bookcase shelving with accessories

What is the significance of a ginger jar?
Painted dragons, floral designs, or bird motifs were some of the original designs created. Originally designed as gifts for the Emporer, the early significance of the jars was a gift at first. They have long since evolved as a home decorating staple from that time.
When were ginger jars popular?
Back in the 1600's Ginger jars were used to store and carry spices in Ancient China. Over time their purpose was replaced and used for decorative purposes becoming popular again in the 1960s.
Today they are still used as classic and timeless home decor.
Shoppable Links: Decorating with Green and White Ginger Jars in Your Home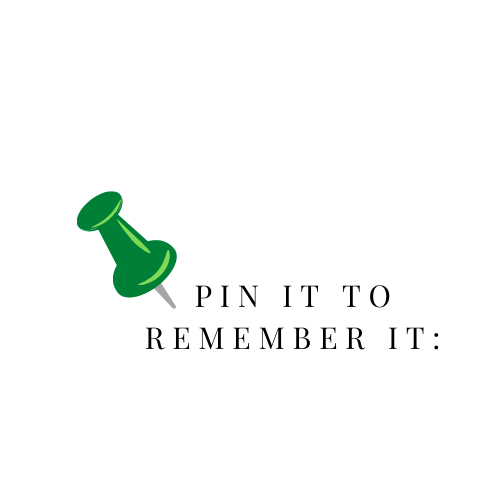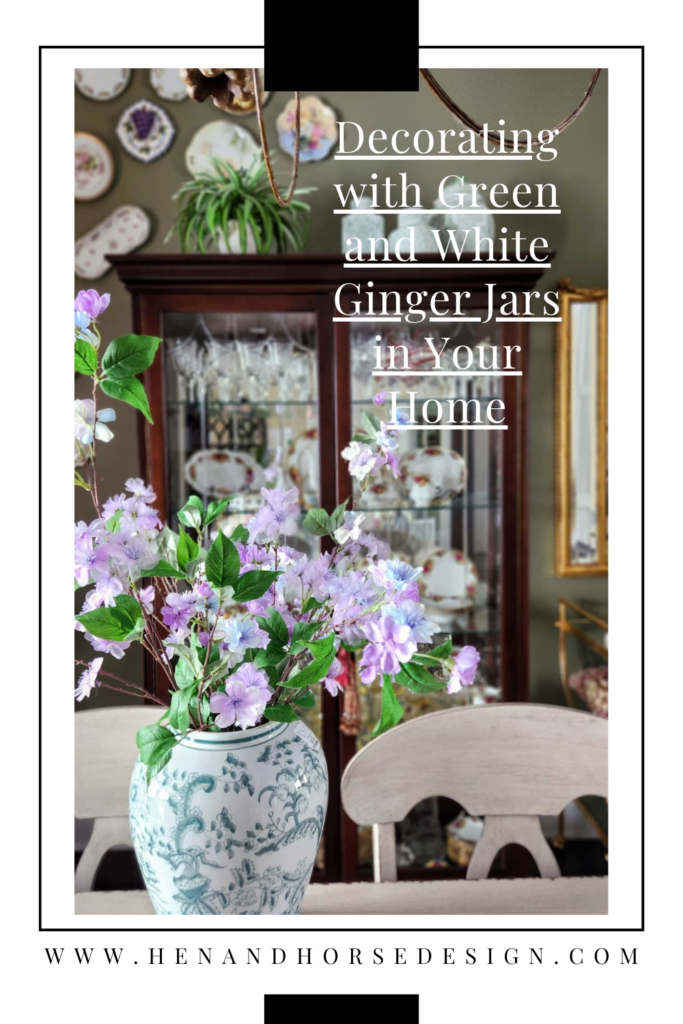 There are so many ways and options to style them. Whether you choose to place them on your mantle, in your bedroom, dining room, or on your foyer table alongside a pretty lamp or floral bouquet, the options are limitless.
No matter what your color preference is, decorating with ginger jars is a timeless accessory for any room in your home.
Happy Decorating!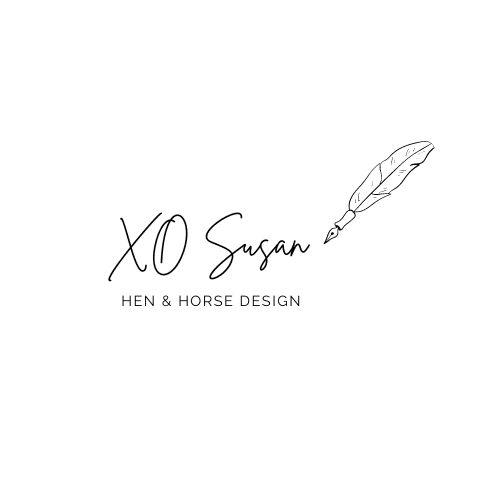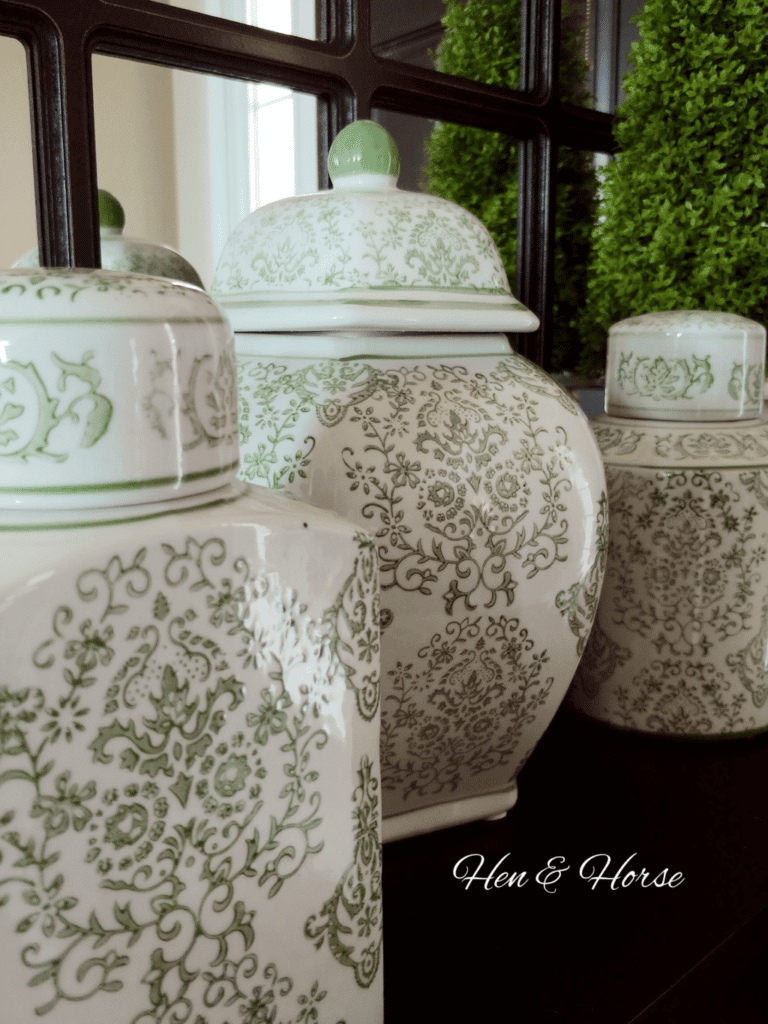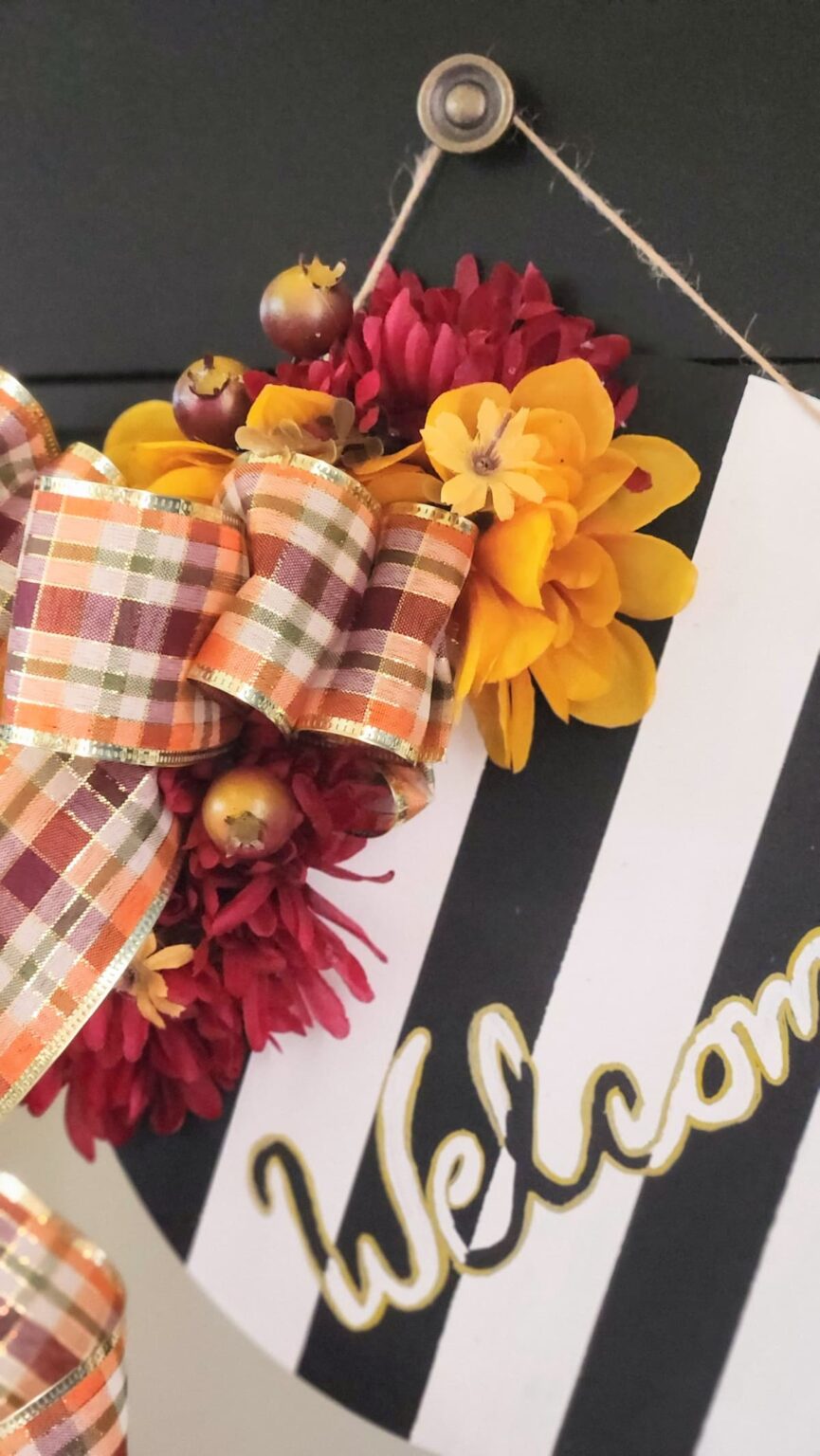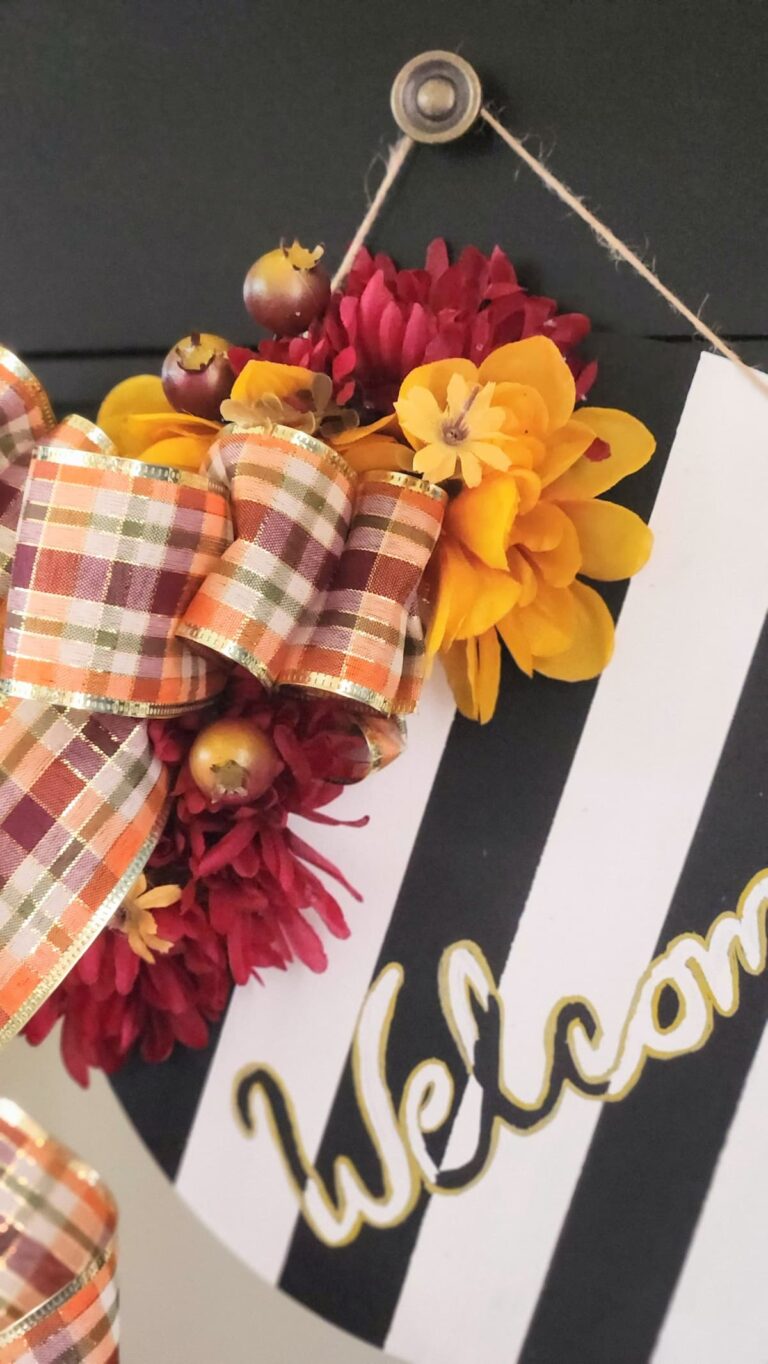 Hey there, crafty friend! Are you ready to dive headfirst into the wonderful world of DIY door hangers? Picture this: a cozy afternoon with your favorite tunes playing in the background, a table overflowing with colorful paints and craft supplies, and an empty wooden door hanger just waiting for your creative touch. It's like a mini canvas for your front door, and trust me, the possibilities are endless for a new pretty welcome sign.