Easter Door Decoration Ideas for this Spring
If you're looking for new Easter door decoration ideas for this Spring you've come to the right place. Easter is the perfect time for new life and beautifying the entrance to your home, especially after a long winter.
Hi there, I'm Susan, and welcome to 'the Roost'! I always strive to provide fun new ways to inspire you, spark your weekly inspiration and creativity, and give you the motivation to create the home of your dreams. All on a budget and while having fun doing it!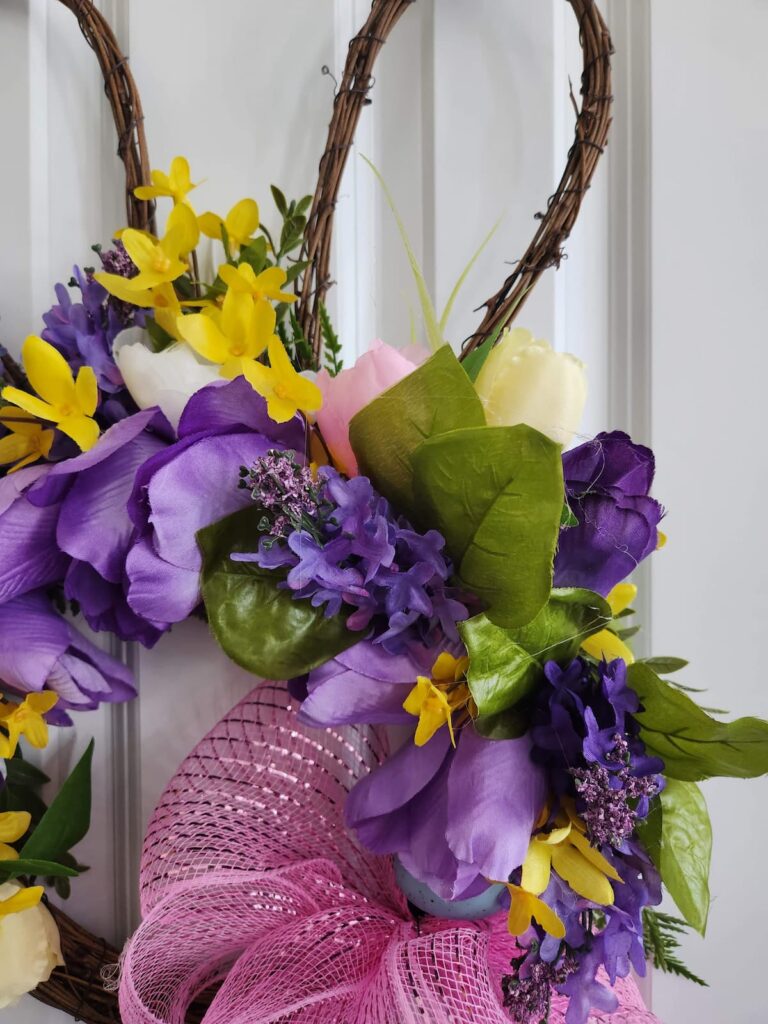 "This post may contain affiliate links which means I may earn a small commission. You may read my
disclosure policy here
".
The possibilities are endless when it comes to Easter wreath ideas and Easter decorations. A new wreath adorning our entrance is not only the best way to reflect all the vibrant colors of the season, but also a way to reflect joy and peace in your home. From colorful Easter eggs to fun Easter bunny decorations it's the perfect time to create a new look for your front door.
Whether your style is modern, traditional, or something in between, there are plenty of ways to decorate your door this Easter.
Let's get started.
How to decorate in front of the front door?
Greeting your guests with a gorgeous entrance is a must for any home.
I love walking up to a friend or family's home and seeing the front door all dressed up for the most current holiday.
This time of year seeing colorful eggs and floral wreaths or baskets always gets me excited to celebrate Easter and the Spring season.
As a child, I have the best memories of getting all dressed up for Easter, hat and all, and then heading out to church, having a big family dinner, and then visiting our relatives.
It's a tradition we hold steadfast and part of that tradition is decorating my home.
Whether adding a new Spring doormat, hanging a bunny wreath, or decorating your door with flowers, it doesn't take long and I guarantee it will boost your holiday spirits.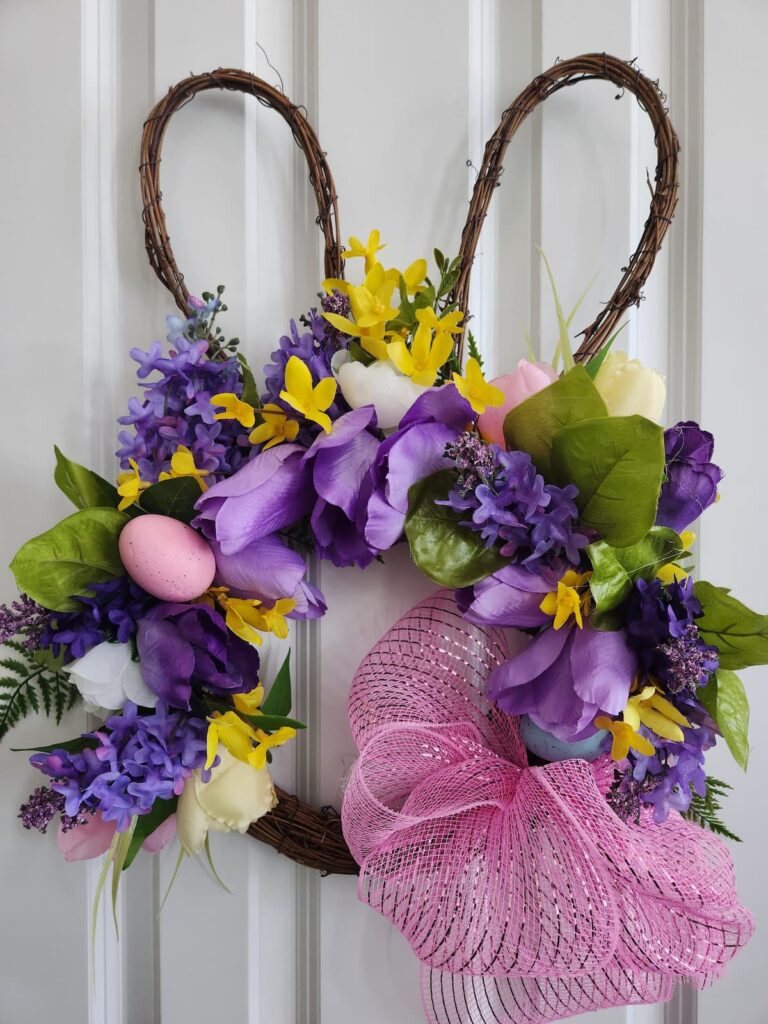 Easter crafts are a great way to say, Spring has sprung!
With social media pages abounding there is tons of inspiration out there to find the best way to serve jelly beans, arrange fresh flowers, set your table, and spruce up the front of your front door and home decor for easter celebrations.
Getting your front entrance ready for Easter
The first and most traditional way to showcase your front door entrance is by adding a gorgeous spring wreath.
Add planters on both sides of your door with a few faux cherry blossom stems
Create a grapevine wreath, adding colorful tulips
Add a fun Spring doormat
Hanging a basket filled with pussy willows are great additions
Change out your door hardware
Hang a welcome sign
Decorate with classic bunny wreaths
Eggcellent ideas: feel the joy of Easter with decorative egg-themed wreaths
Tie an easter garland across the top of your door
What can I decorate my front door with?
When I saw this basket I knew I had to bring it home to create something beautiful to welcome Spring. It was so easy. All I needed for tools was my hot glue gun.
I've hung this flower basket with faux lavender flowers on my back door. It was super easy to make. Follow the instructions here.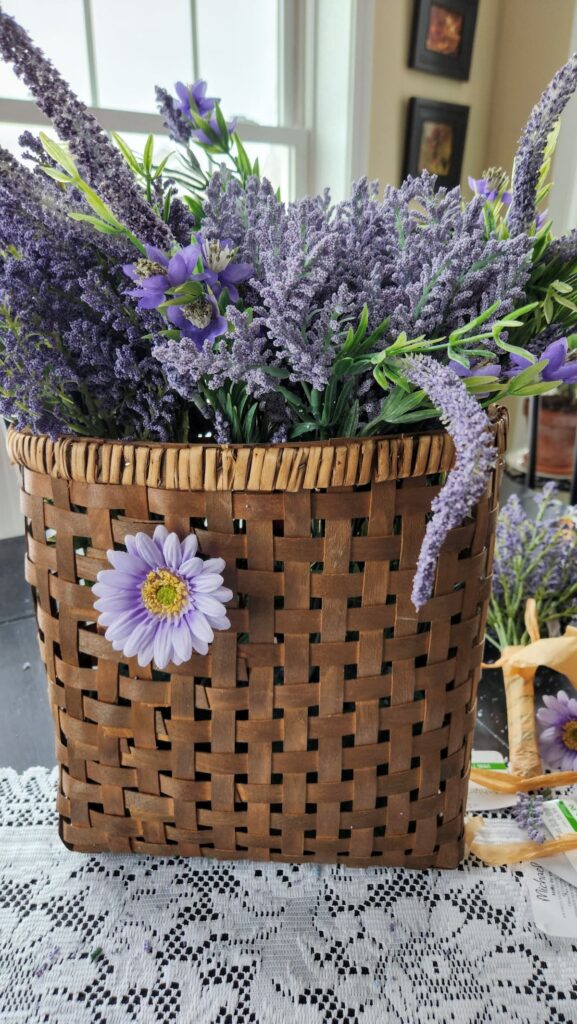 Easter door decoration ideas from my blogging friends
My friend Wendy at WMDesignhouse has a knack for tea dyeing fabric. This gorgeous Easter Carrot Wreath would look beautiful on any style front door. I love how she used real carrots to dye the beautiful natural muslin material.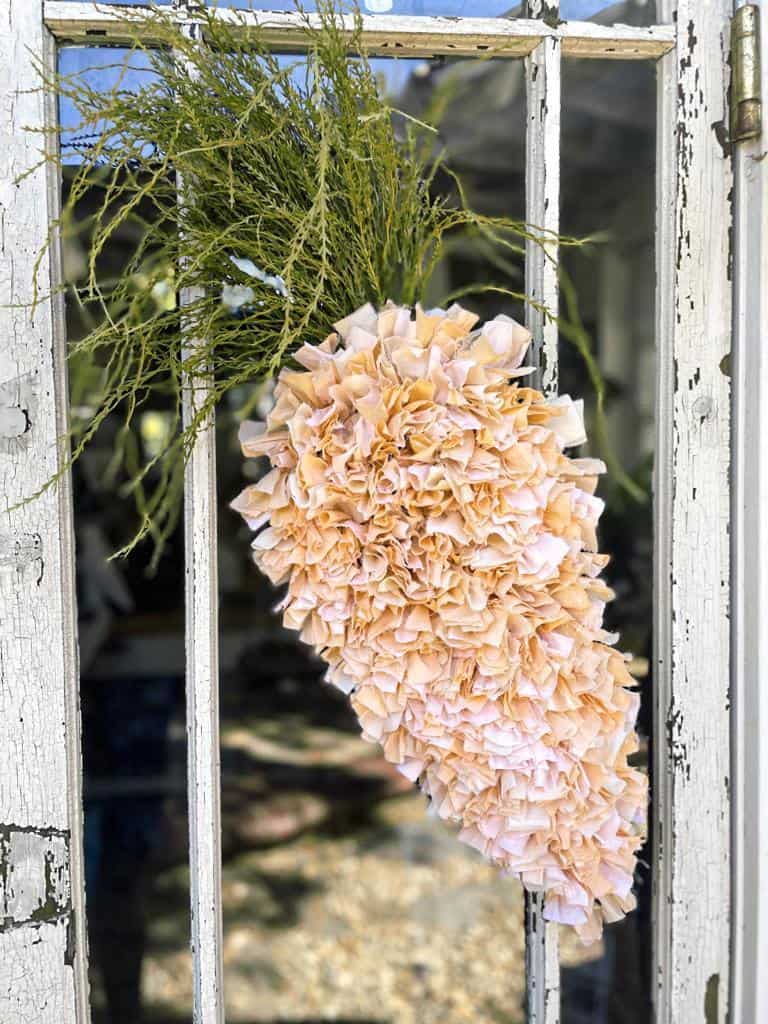 Ann from On Sutton Place is one of my latest blogs to follow. I love how Ann takes spring decor to another level. The way she added these blueberries was the perfect way to blend the blue with the shade of this basket! It just pops beautifully.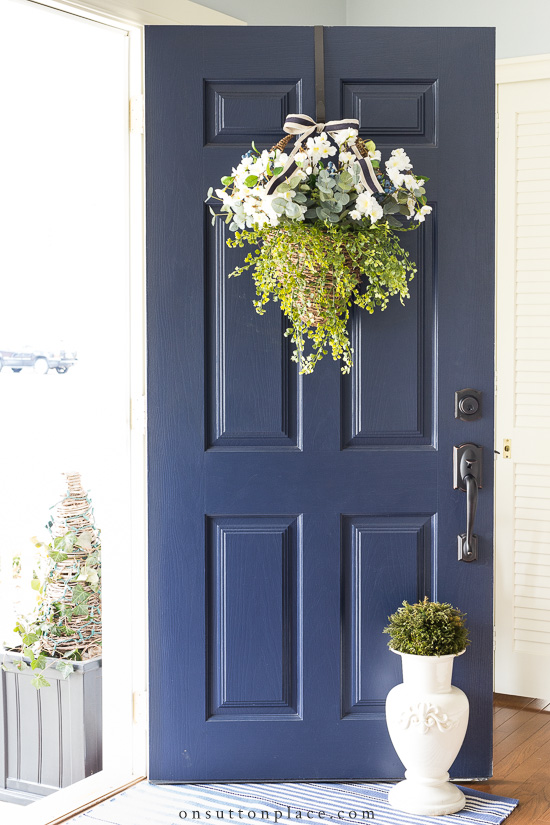 Lynn from Living Large in A Small House lives in chilly Chicago and recently updated her front porch and added a unique monogram to her front door wreath. Lynn's style is gorgeous and her recipes are fantastic! Just sayin! 🙂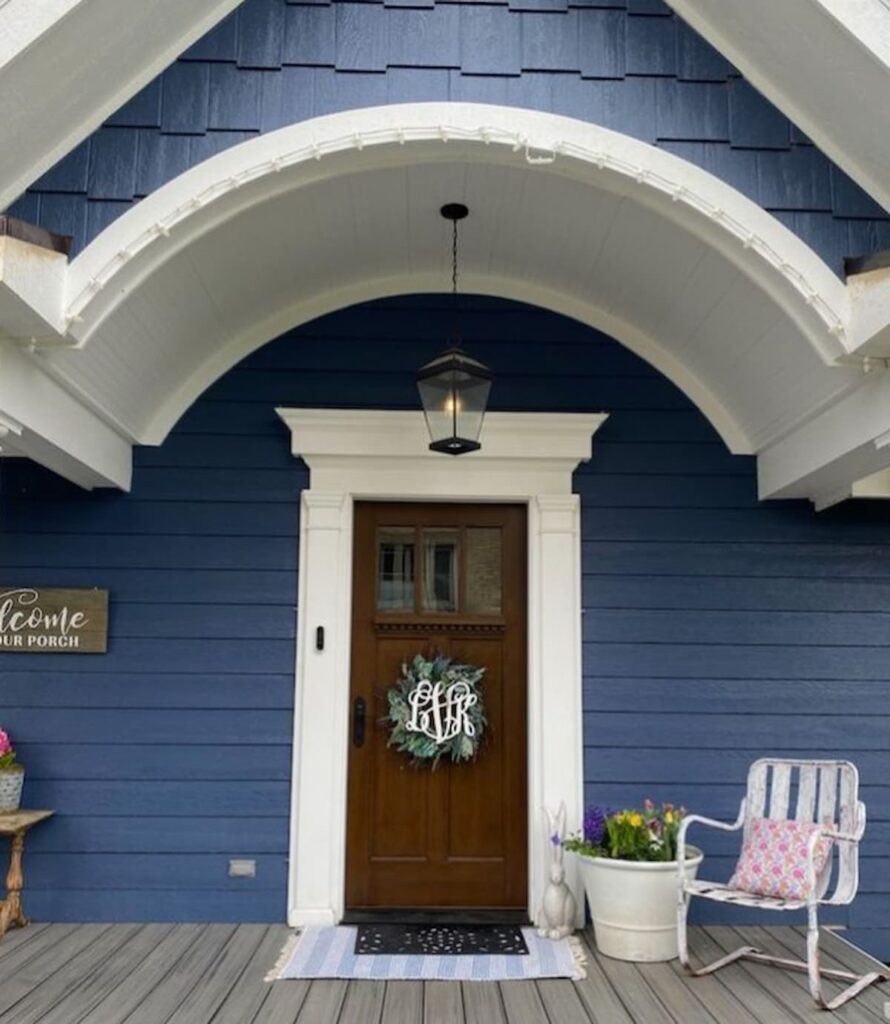 How cute is Kim's bunny wreath? The pom poms are so sweet. Guess who she made it for, which makes it even more special!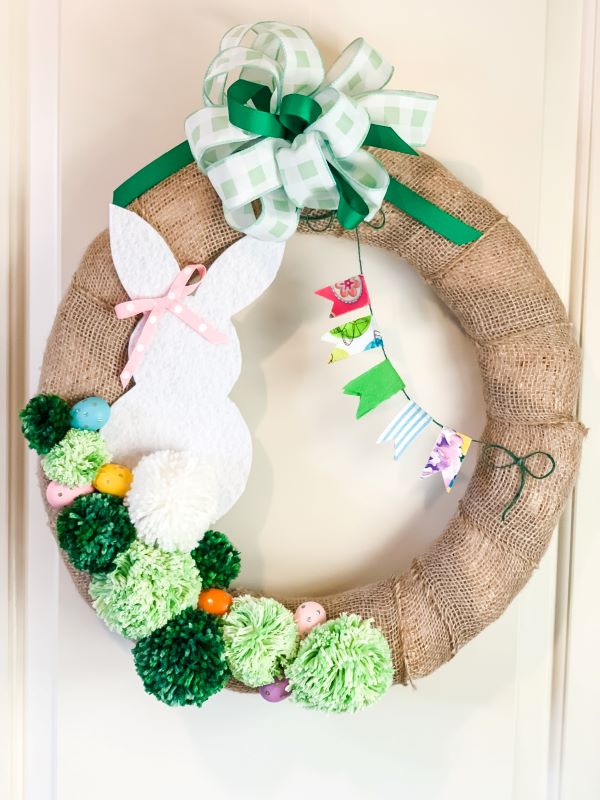 Stephanie has not only one but 6 easy DIY project easter wreaths. Wait til you see what she did with curly deco mesh! It's darling.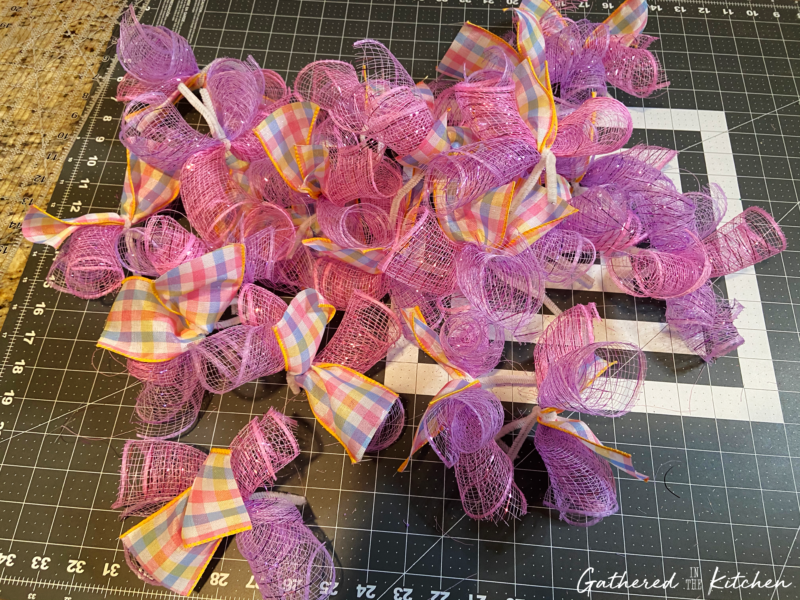 If there was anyone that could make a tin can look fabulous it's Regina from Saved from Salvage. Her simple but lovely farmhouse charm is fantastic. I love how she takes something from nothing and creates the most beautiful creations!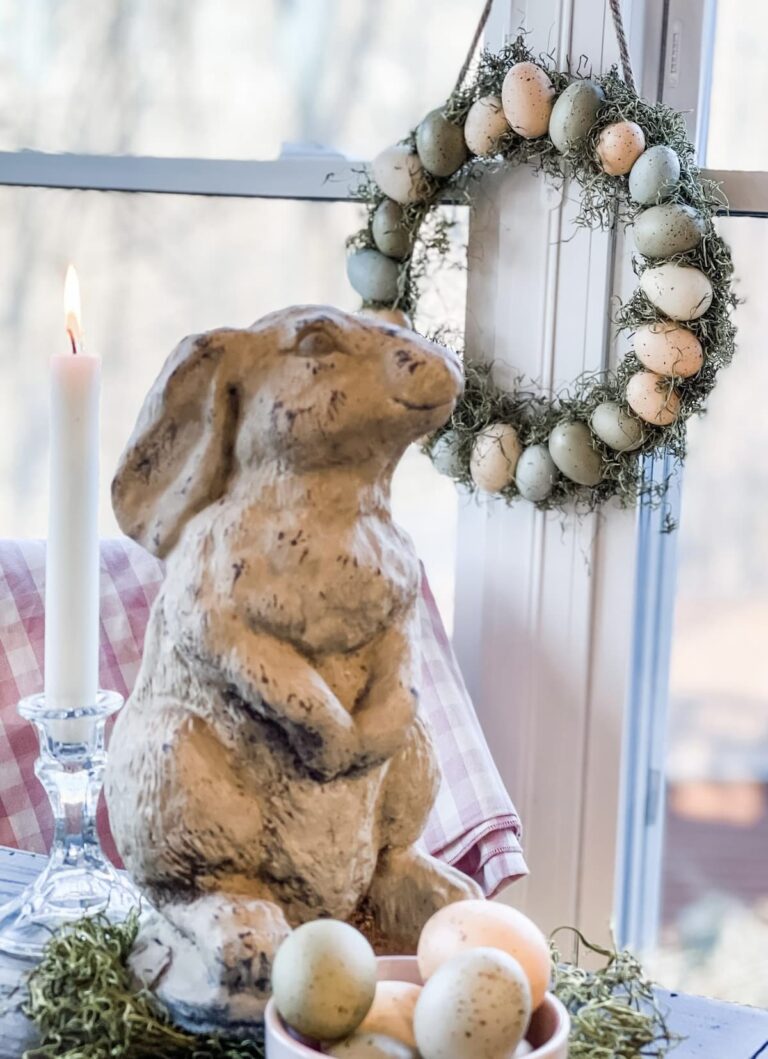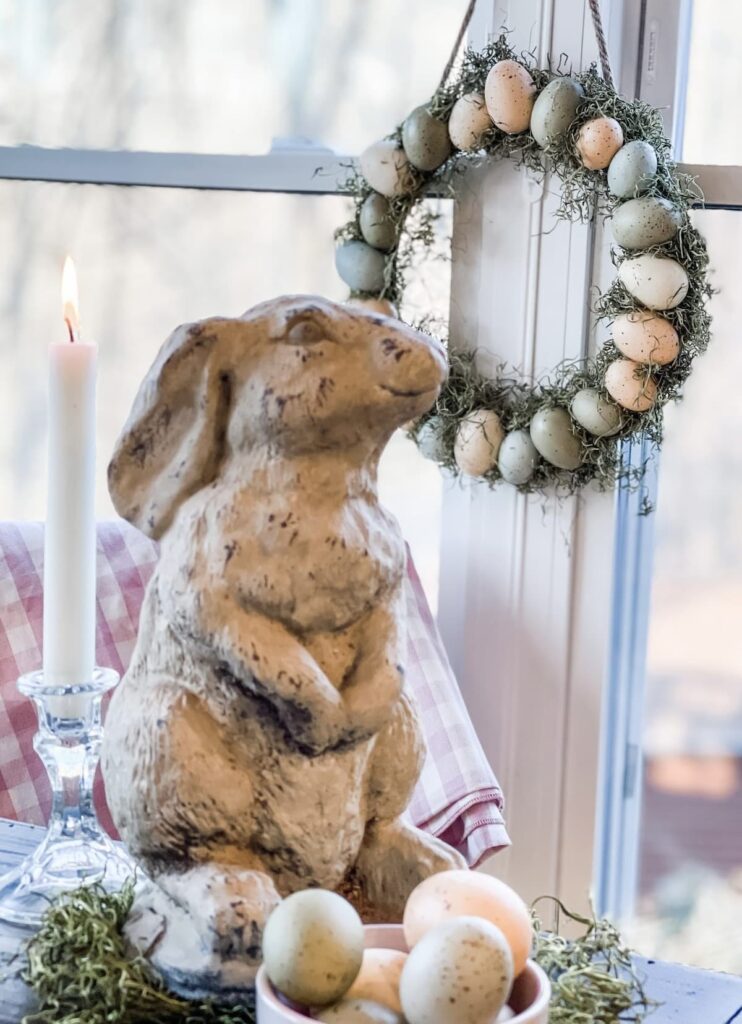 Tammy had me when I saw her hat! I love how she used a beautiful shade of peach for her flowers. This lovely hat could be hung anywhere in your home and look fabulous!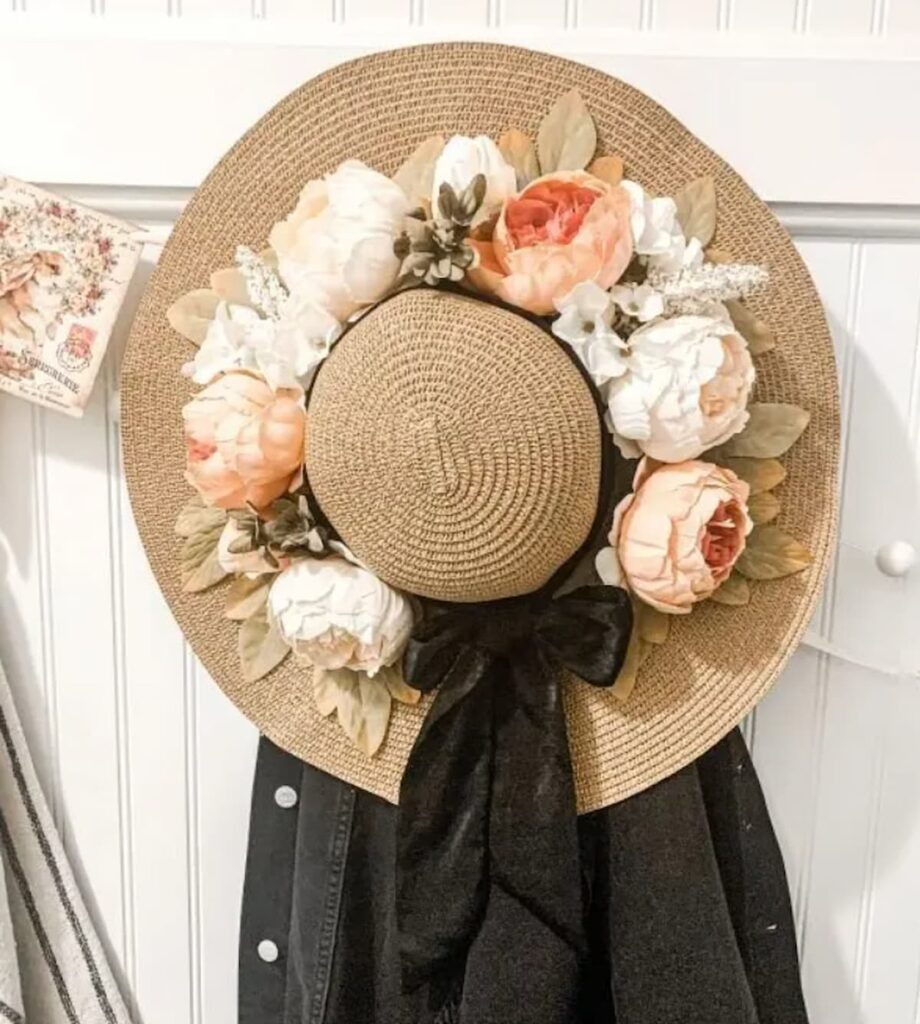 What can I hang on my front door beside a wreath?
Before you begin always shop your home to look for new ways to use what you already have. For example, an old watering can be hung with faux ivy cascading down!
Another fun idea for the easter season is to use an old umbrella, add flowers or plastic eggs spilling out the top, and then a gorgeous large bow. Springtime elements and craft supplies are in abundance and will give your door that fresh look we all love.
One great way to give your front door a quick boost is by painting the door a new color! Here are a few more ideas.
Paint the door with a beautiful accent color
Hang a seasonal wreath
Fill a flower basket and place it on the steps
Place a watering can full of faux flowers on a bench
Hang a wooden welcome sign
Add a brass door knocker ( we have one that is a horse )
Take a string and hang paper flowers in pastel colors ( if you have a roof covering your porch )
Using a wired form
Have you seen those wired forms in different shapes? Last year I thought I would try one out and made this carrot wreath.
The good part is I love it. The not-so-good part, I didn't take pictures, only a video, of how I made it. At some point, I may make a second one in order to share with you how to do it!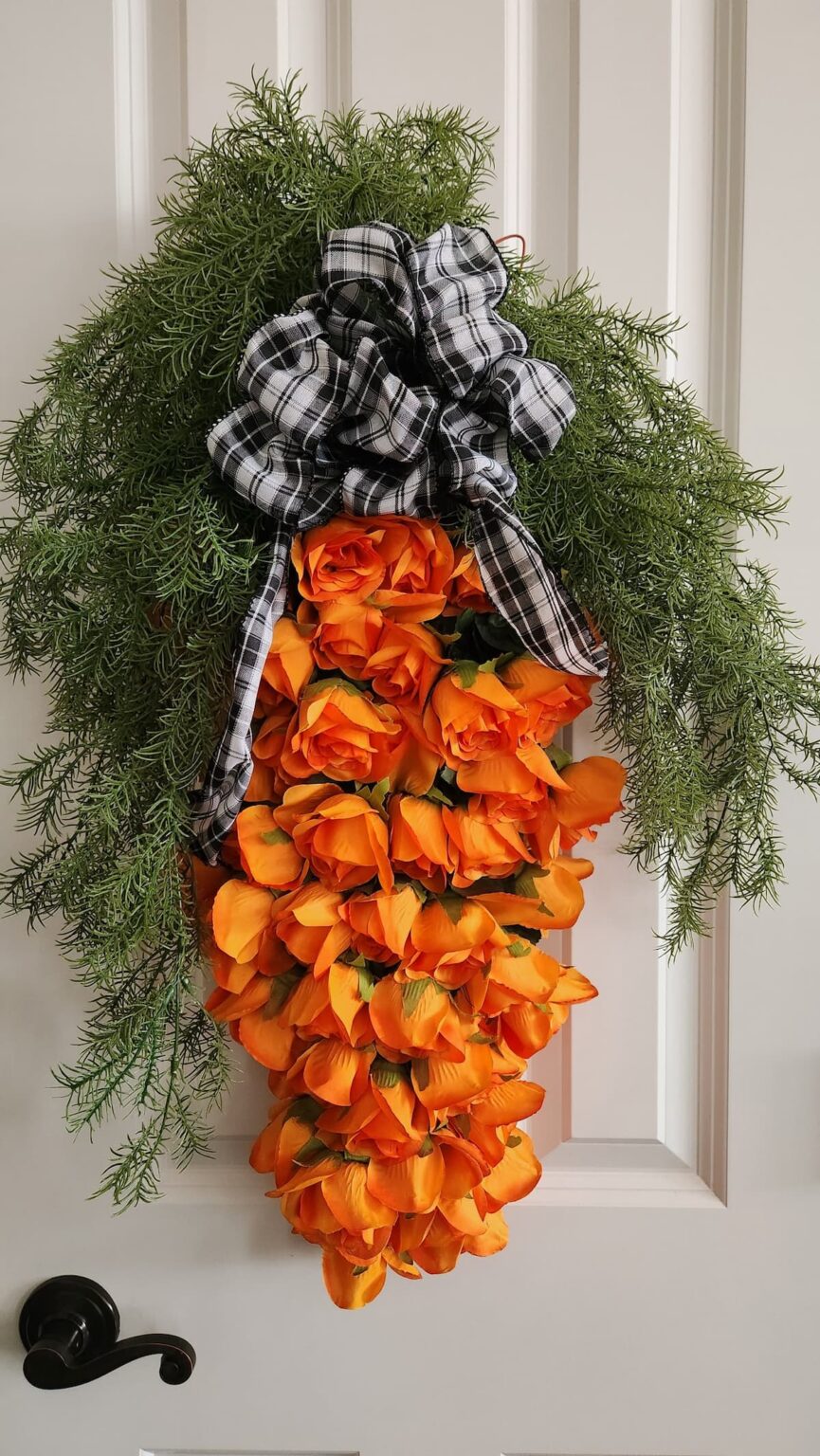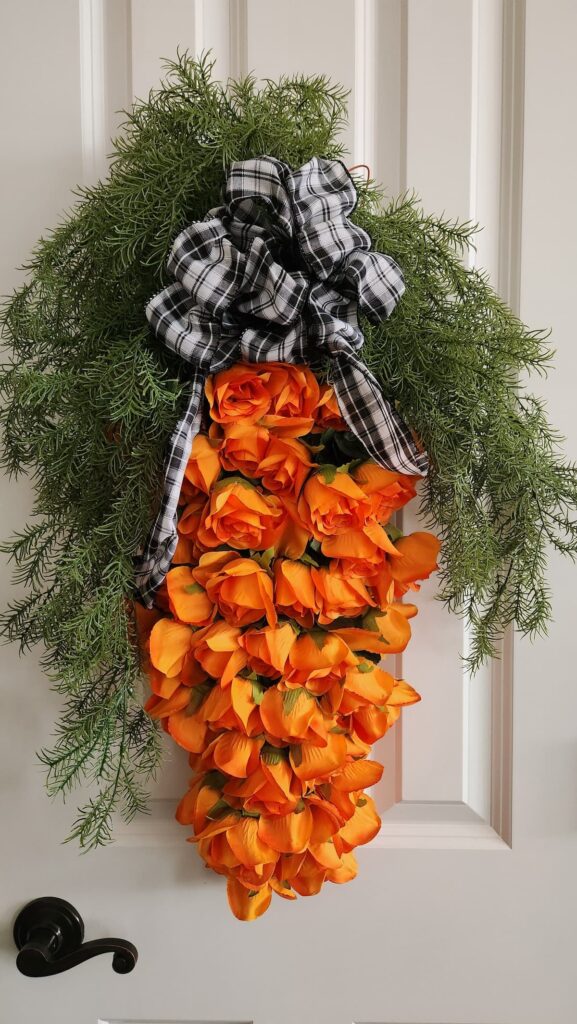 This year I opted to make a bunny-shaped easter door decoration by up-styling a Michael's wreath .
I added more flowers, a large mesh ribbon bow, and a few easter eggs. You may read more here.
How do you like how it came out?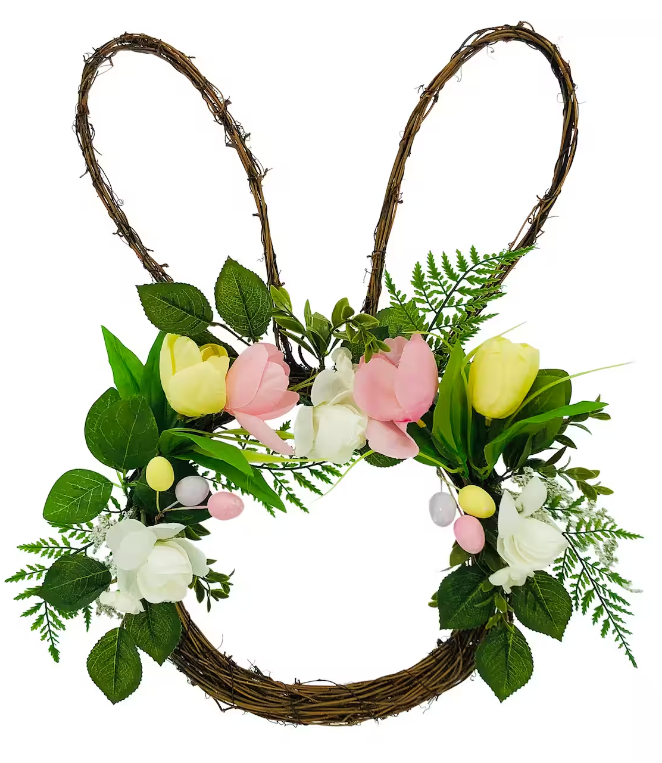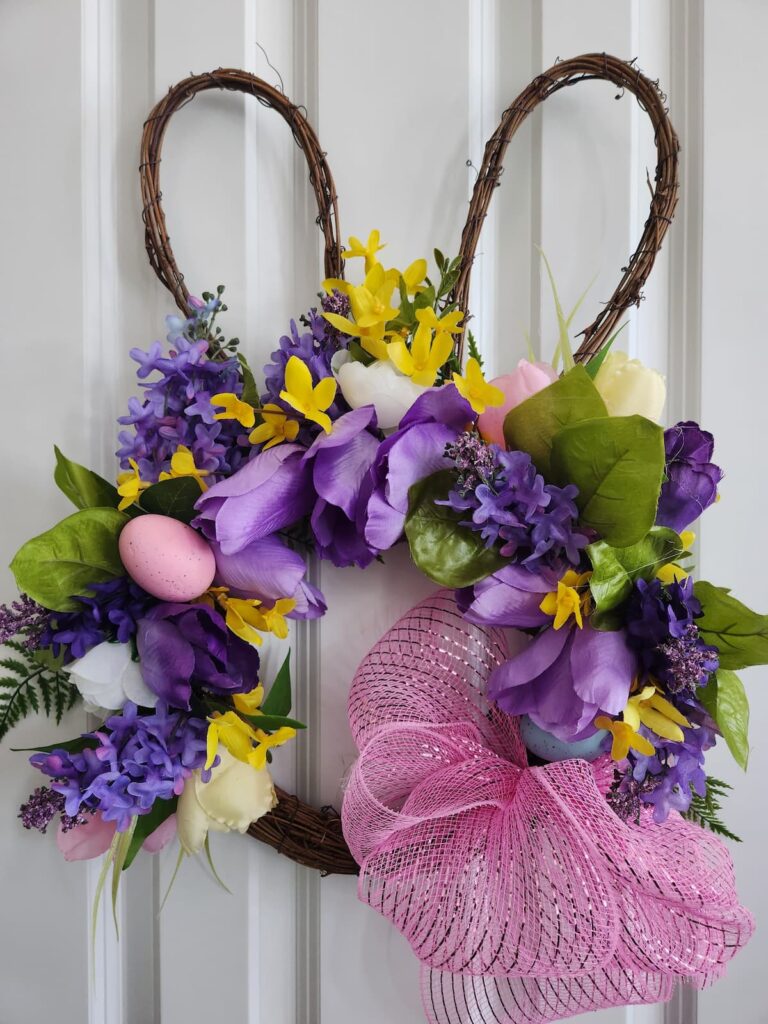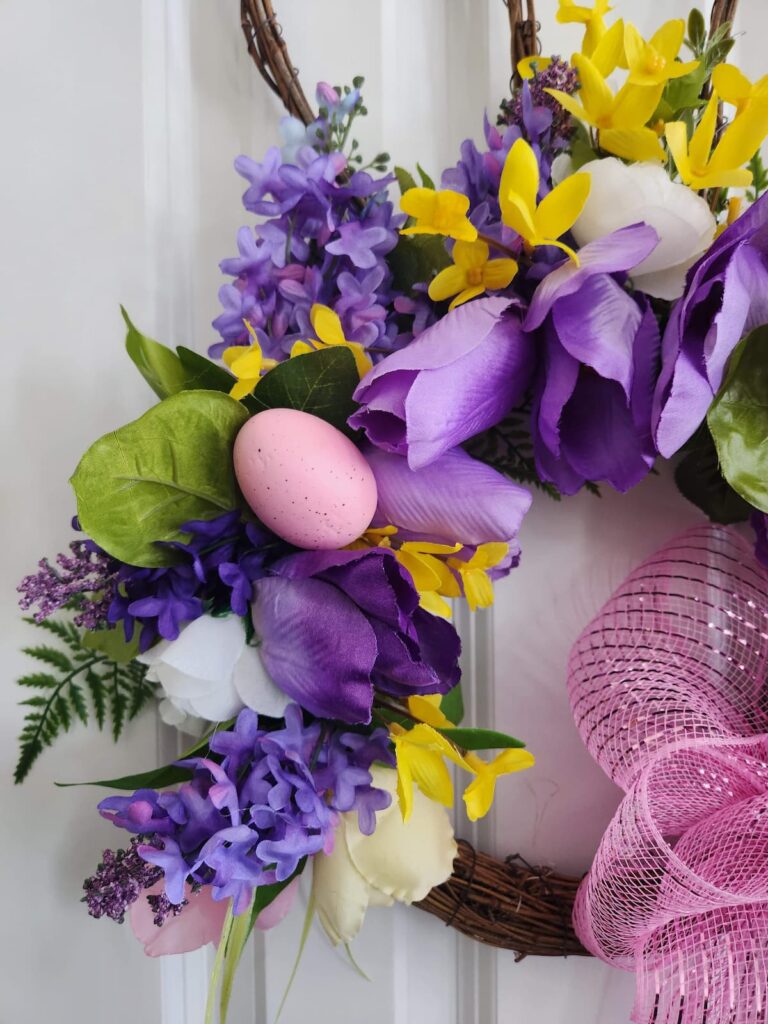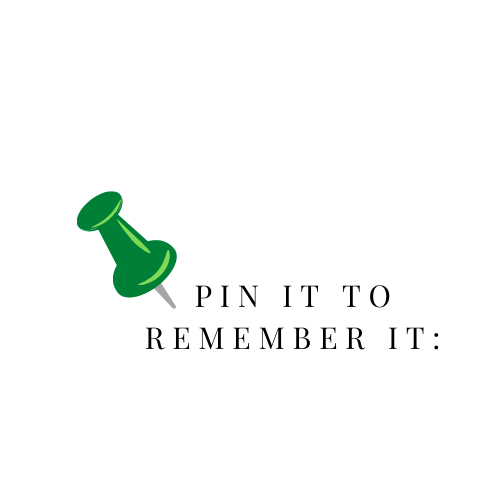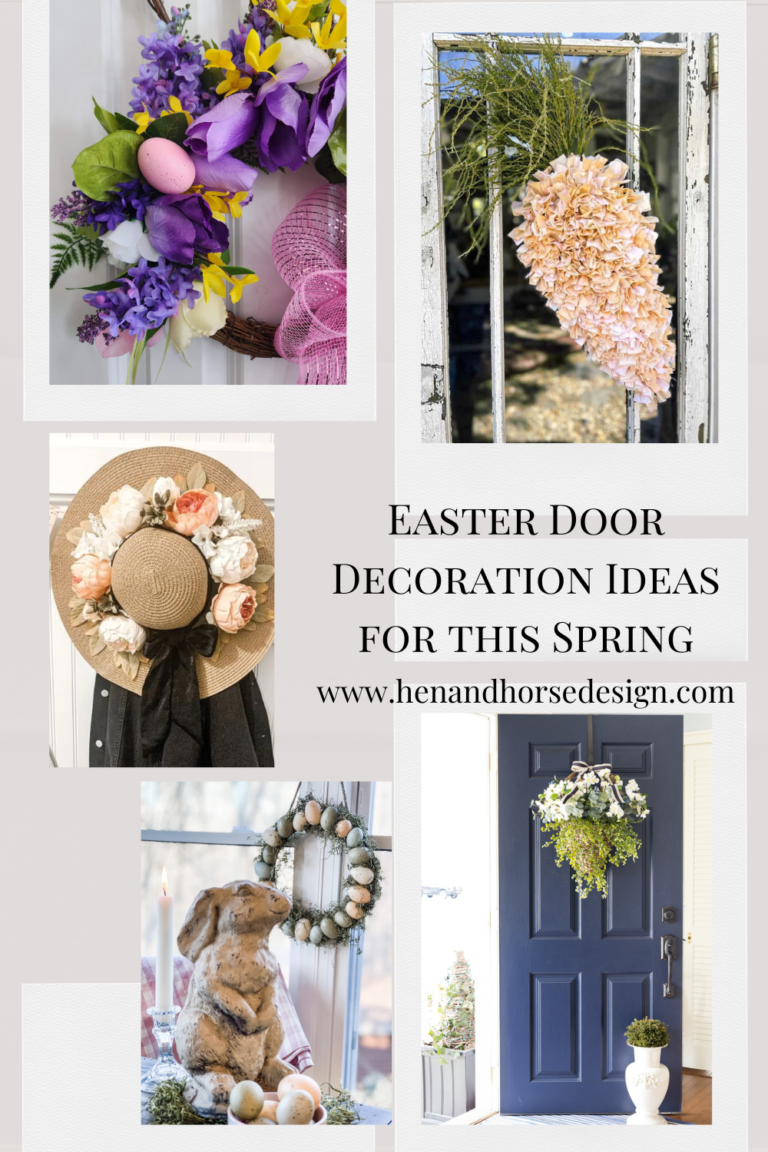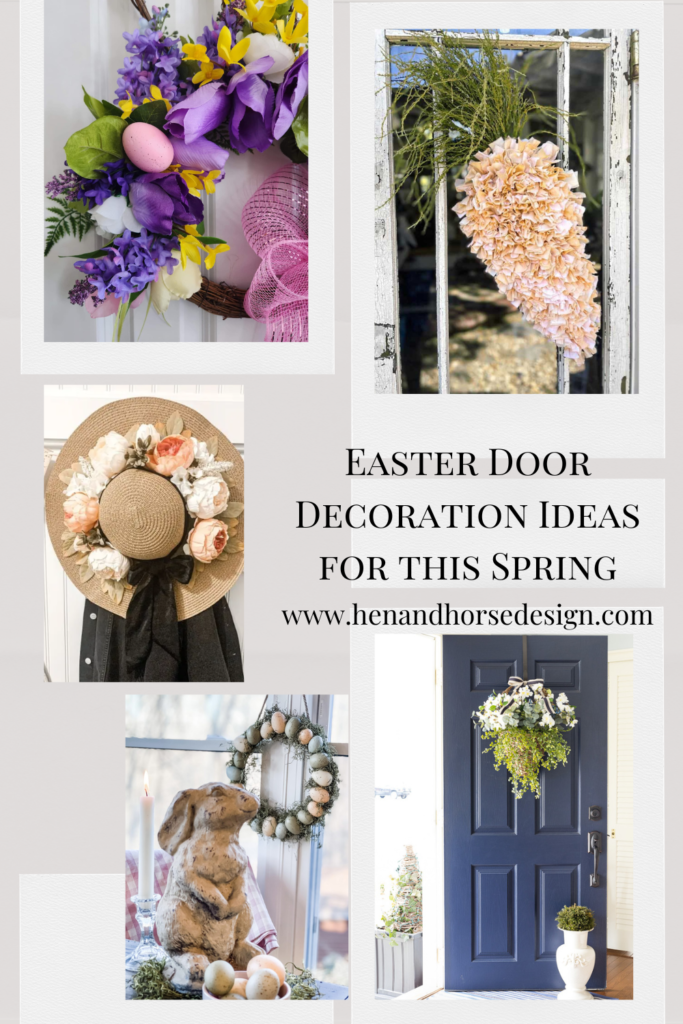 Rather buy a wreath than make one? I've got you covered!
Shoppable links

Easter is a time of joy and renewal, and what better way to express that than with an Easter door decoration? Whether you opt for a classic bunny-themed wreath or a more modern or unconventional design, these fun and creative ideas are sure to spark the perfect addition to your entryway.
Pick up your glue gun and head to the craft store to create a beautiful door decoration and give your entrance door a festive touch this Easter!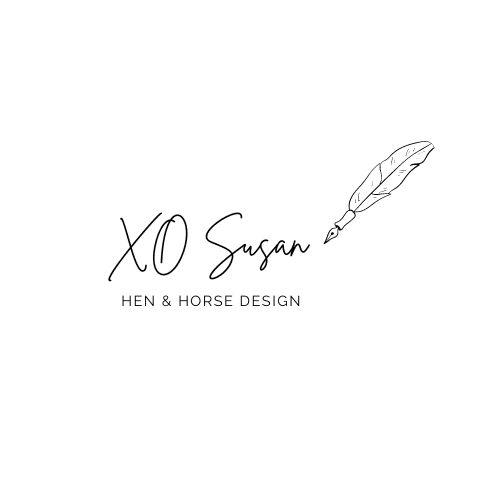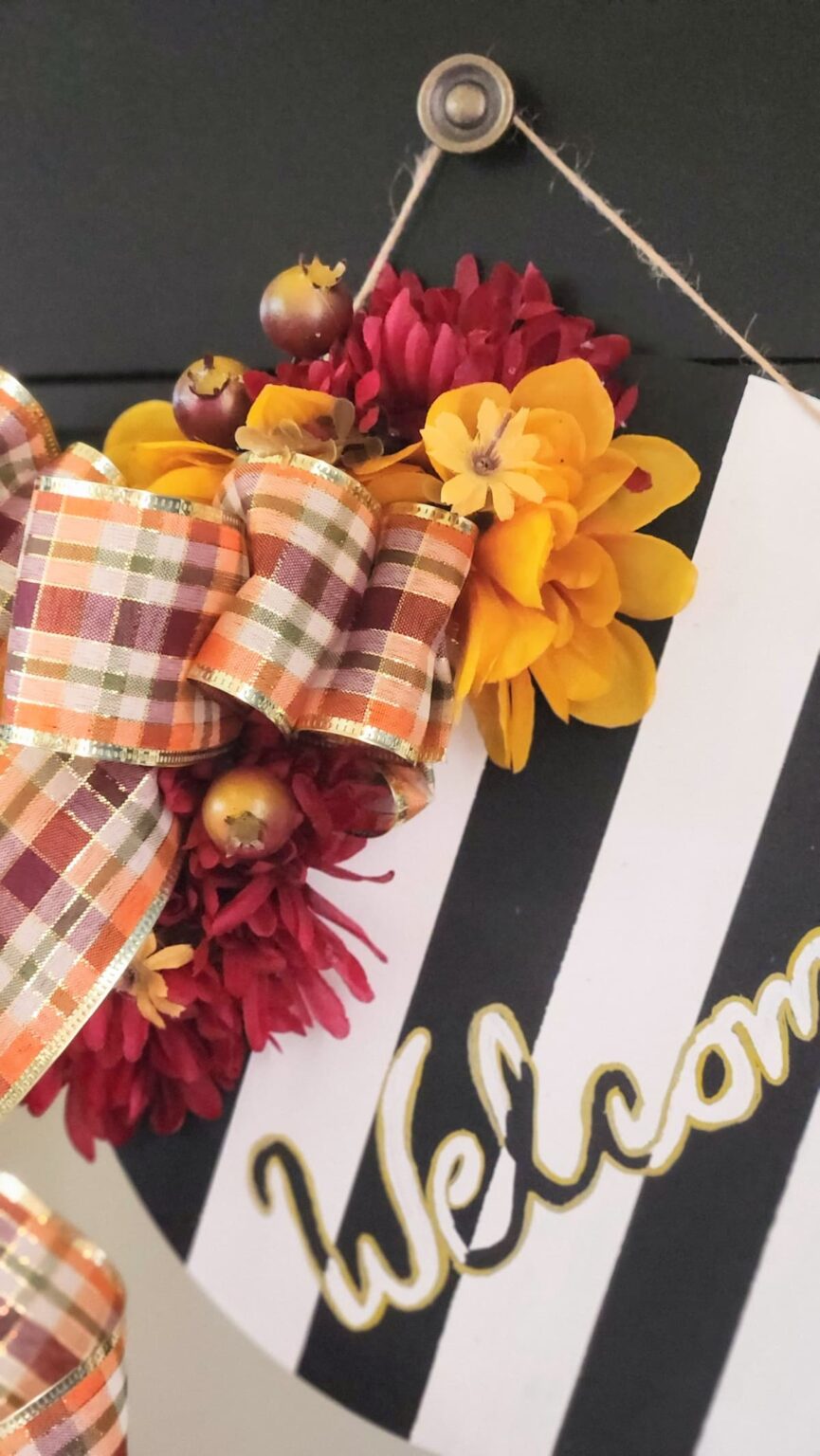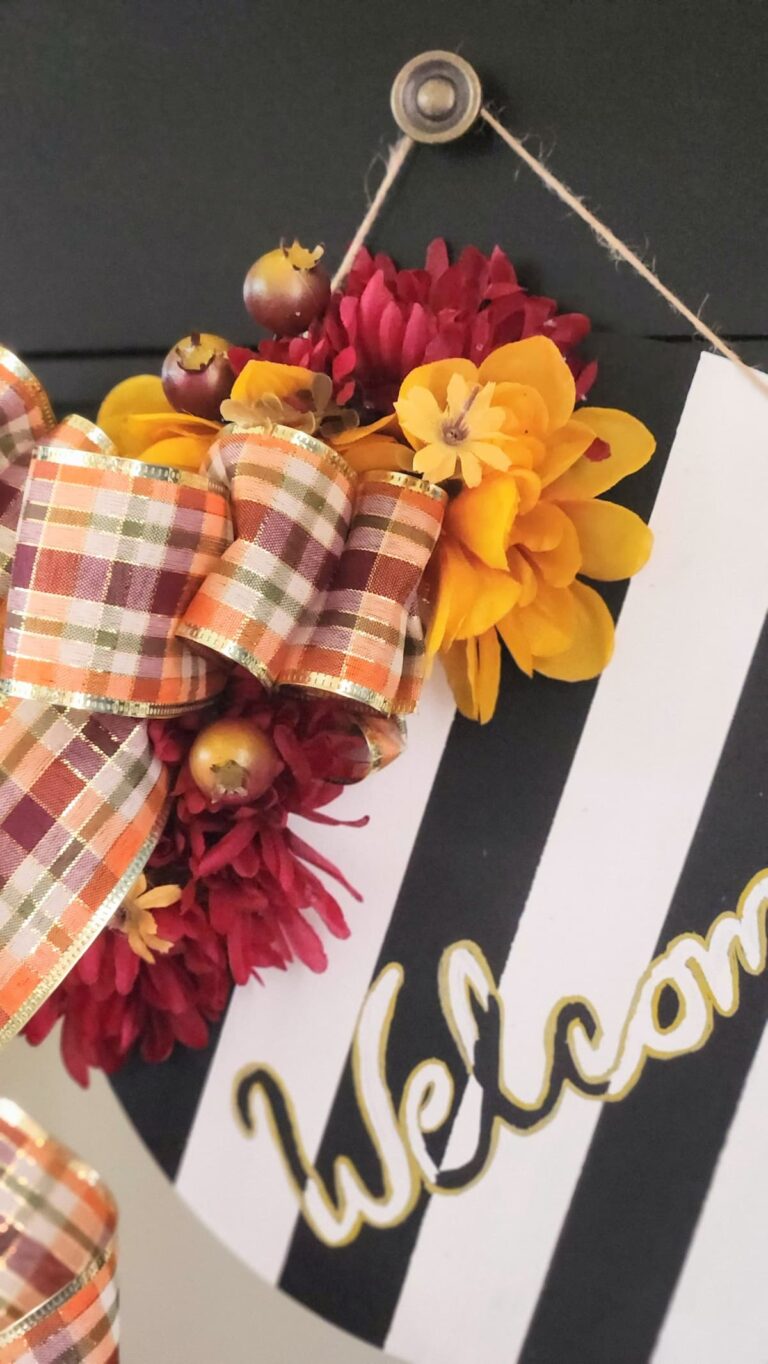 Hey there, crafty friend! Are you ready to dive headfirst into the wonderful world of DIY door hangers? Picture this: a cozy afternoon with your favorite tunes playing in the background, a table overflowing with colorful paints and craft supplies, and an empty wooden door hanger just waiting for your creative touch. It's like a mini canvas for your front door, and trust me, the possibilities are endless for a new pretty welcome sign.