7 Ways to Style Your Dough Bowl
Do you love dough bowls? I love my new dough bowl and I'm so excited to share with you today Seven Ways to Style Your Dough Bowl.
Dough Bowl Styling
When I first thought I would like to purchase a wooden dough bowl, I had no idea how many ways I would be able to utilize and style it. Today I'm sharing with you 7 Ways to Style Your Dough Bowl.
Let's just say, at first I didn't quite get the idea of using one. Well, that has totally changed. 
Let me back up a bit. This week has been the best of times. I teamed up with a group of very talented ladies and every day this past week we shared different ways to style our bowls.  The challenge was to style our bowls in different rooms in our home! Whew! Did I say I had a blast doing this?
Dough Bowl Challenge
I had so much fun working with these talented ladies and I'm sure you will be inspired by all of their ideas. (take a peek at the end of this post to see our photo collage – the links for each blog post is there as well)
If you are coming over from Stephanie's blog @gatheredinthekitchen  Welcome!
Rustic Dough Bowl in the Breakfast Room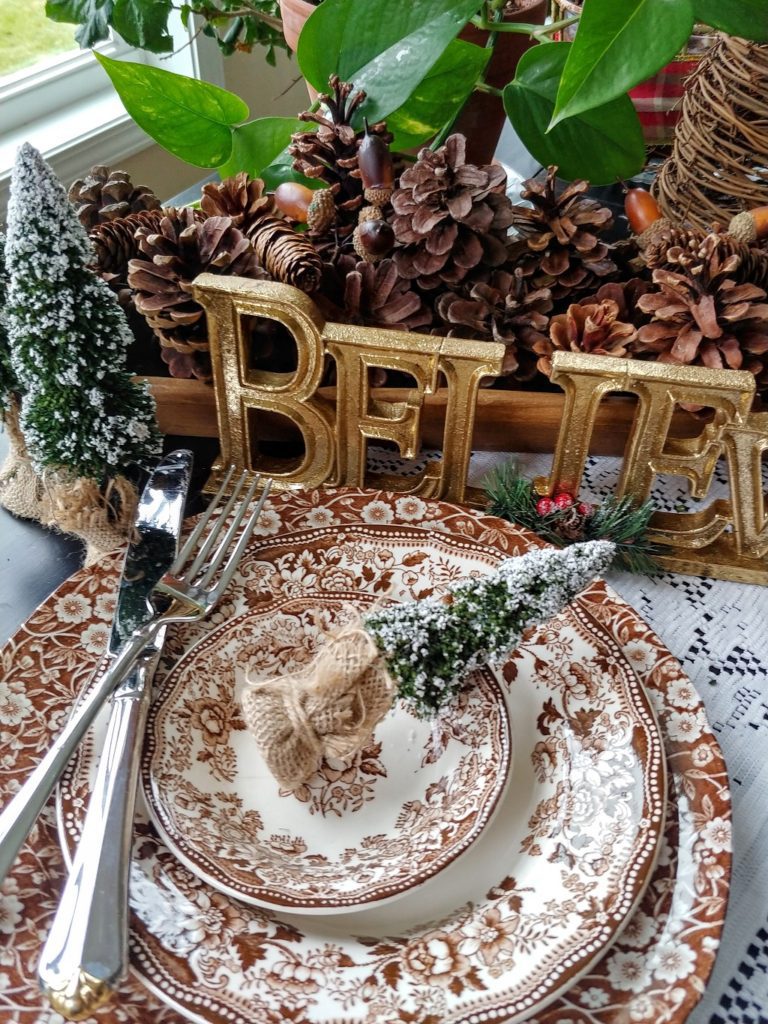 "This post may contain affiliate links which means I may earn a small commission. You may read my
disclosure policy here
".
7 Styles
My first stop was to decorate using my bowl in our breakfast room. Earlier in the season since I had so many pinecones for crafting, I decided to fill my bowl with acorns and pinecones. A simple yet warm and cozy option for sure. 
Recently I made this – click HERE!
I also made THIS!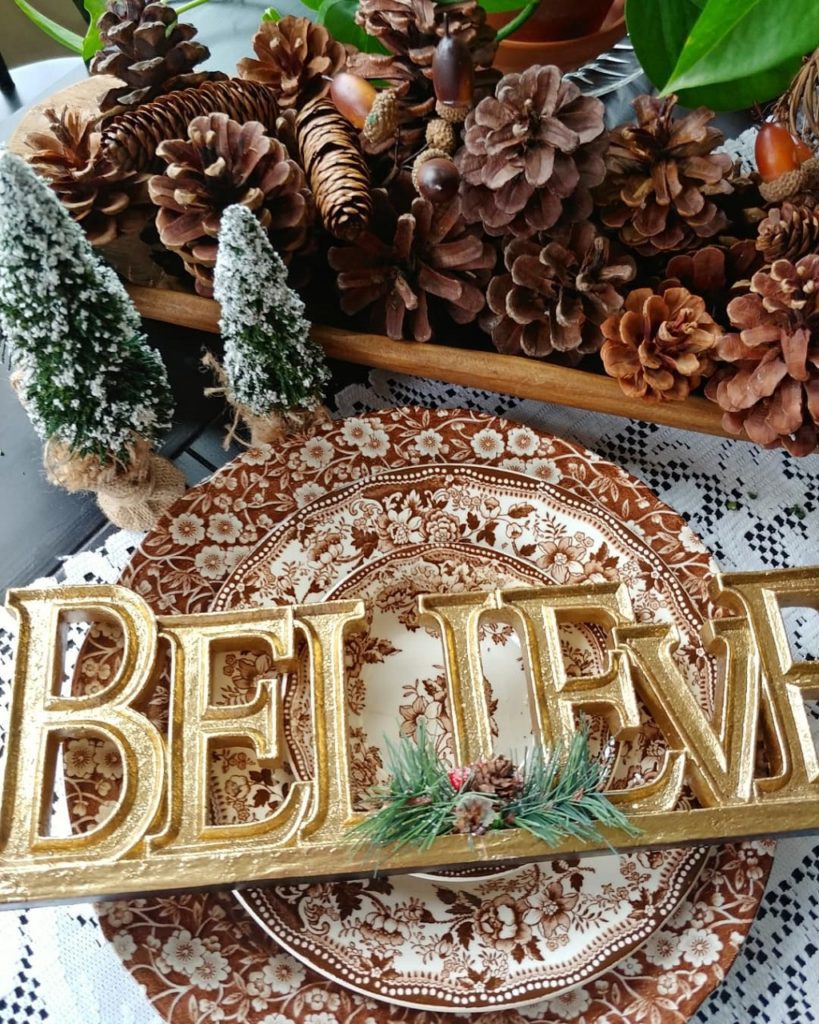 Up Next, how about a second option for the breakfast room, using red berries, white linen napkins, and a few vintage pieces. With a few simple changes, you have an entirely different look and feel to your table decor.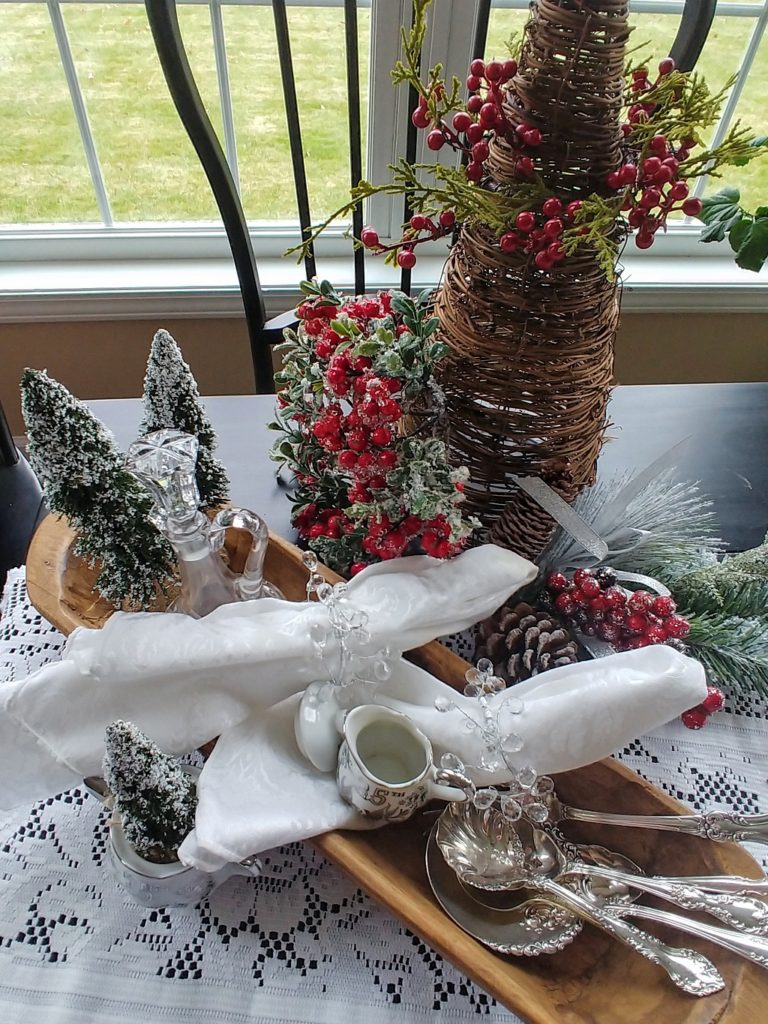 Next, I've added my parent's creamer and sugar bowl, which was a gift for their 25th wedding anniversary, by filling the sugar bowl with a green bottle brush tree! Isn't that the prettiest little tree holder?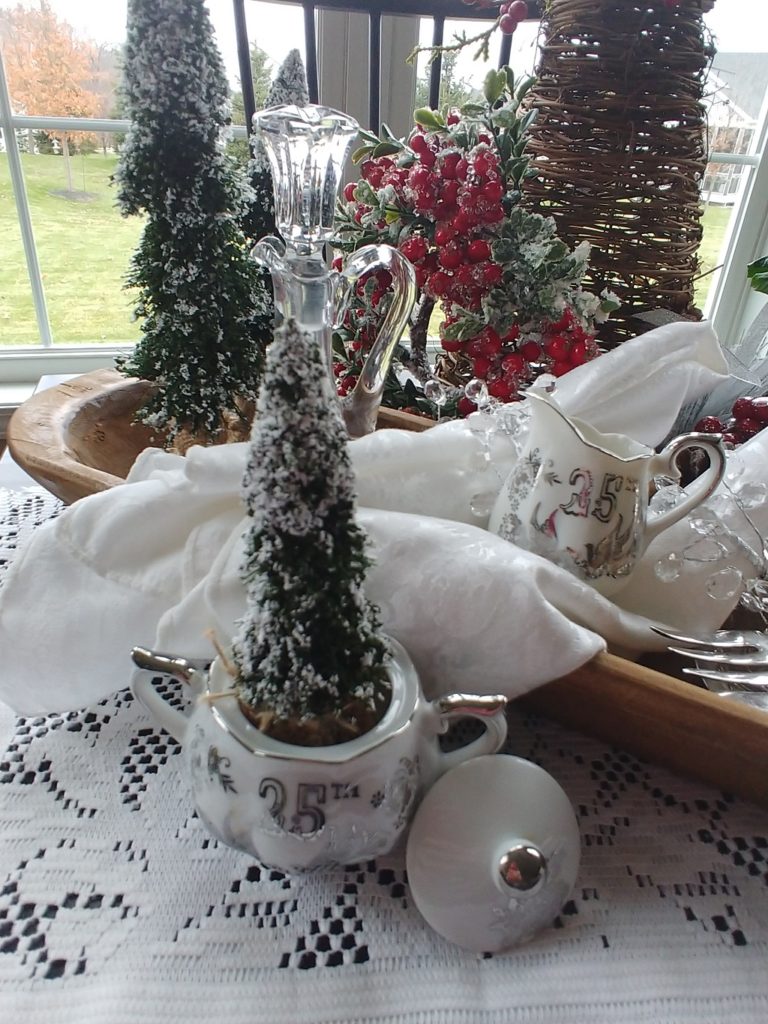 Using your bowl as a utensil holder is another idea. 
How about filling it with salt and pepper shakers, or napkins for a buffet?
Enjoying this Post? Sign up here for my Newsletter!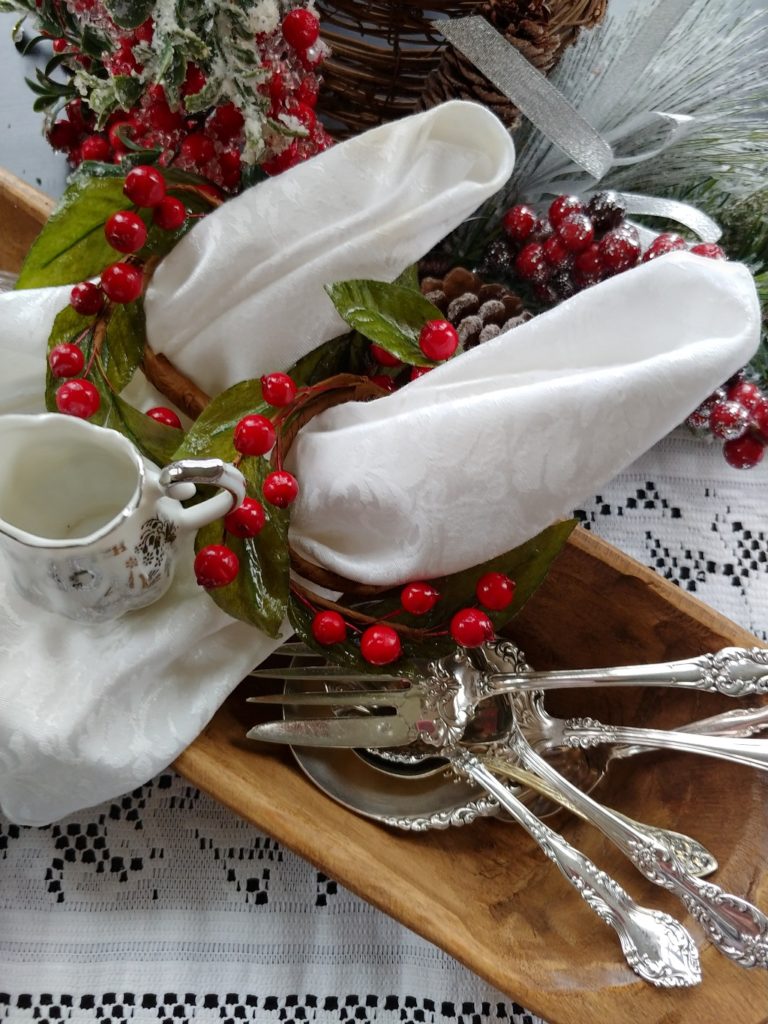 Moving from room to room, the dining room was our next challenge!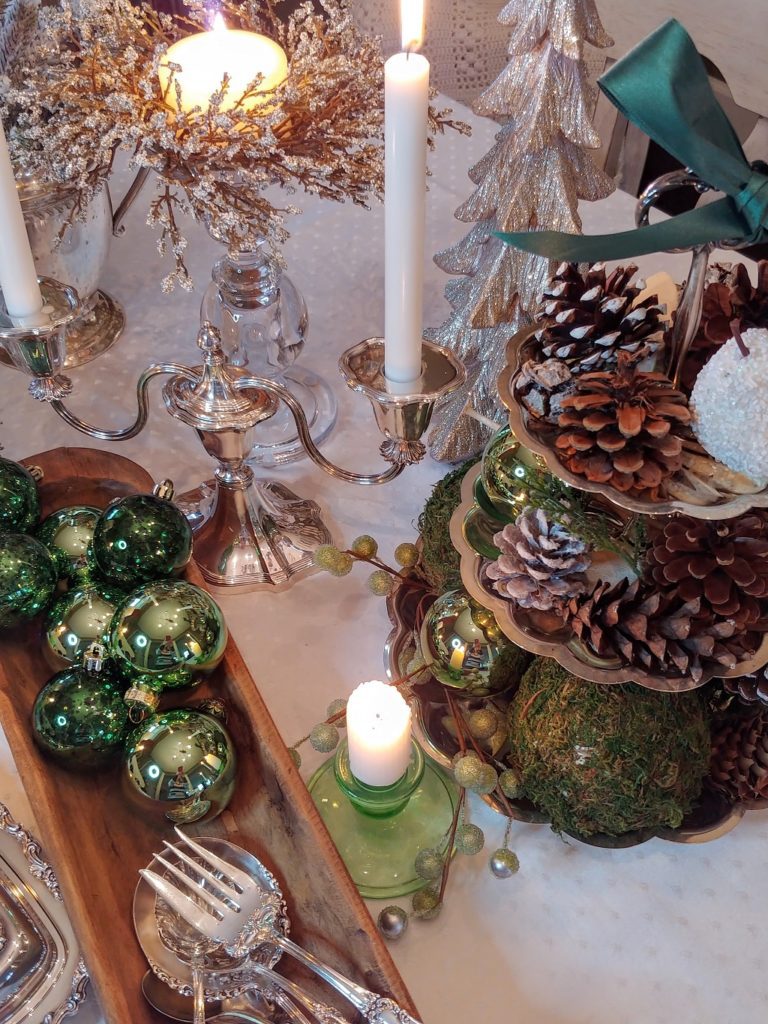 Then, I styled my wooden bowl slightly differently, opted for more formal silver pieces along with green Christmas ornaments for a pop of color. 
To complement the green ornaments, I used my green depression glass candle holder.
This would be lovely for a buffet table!
This might be my favorite option yet!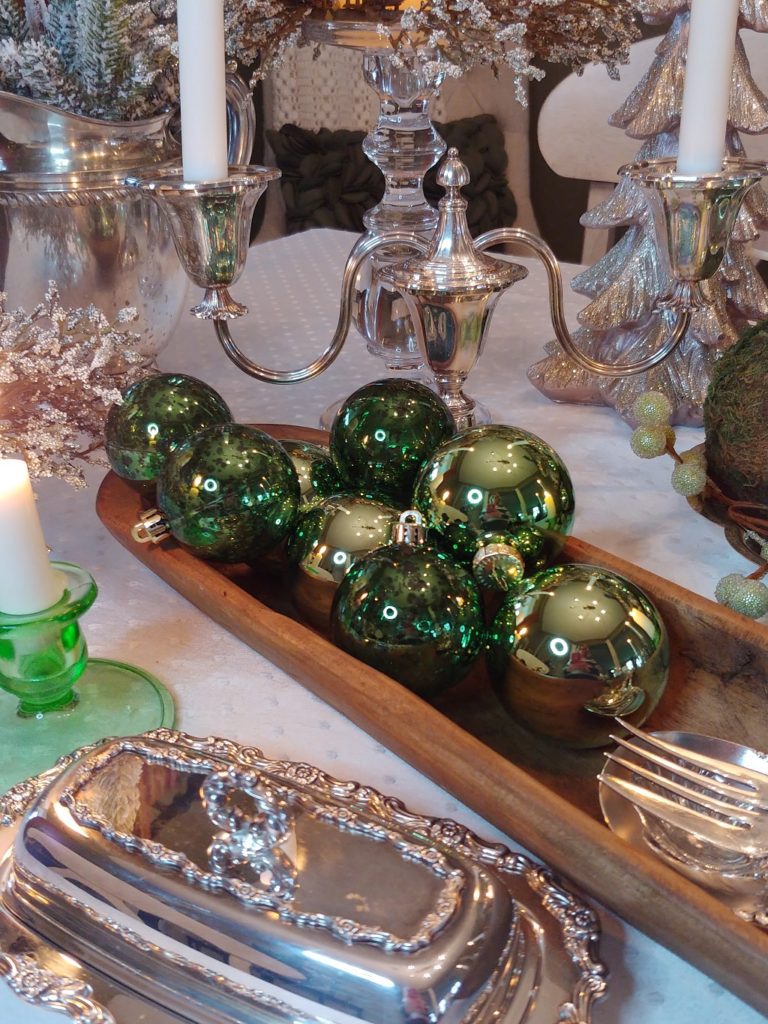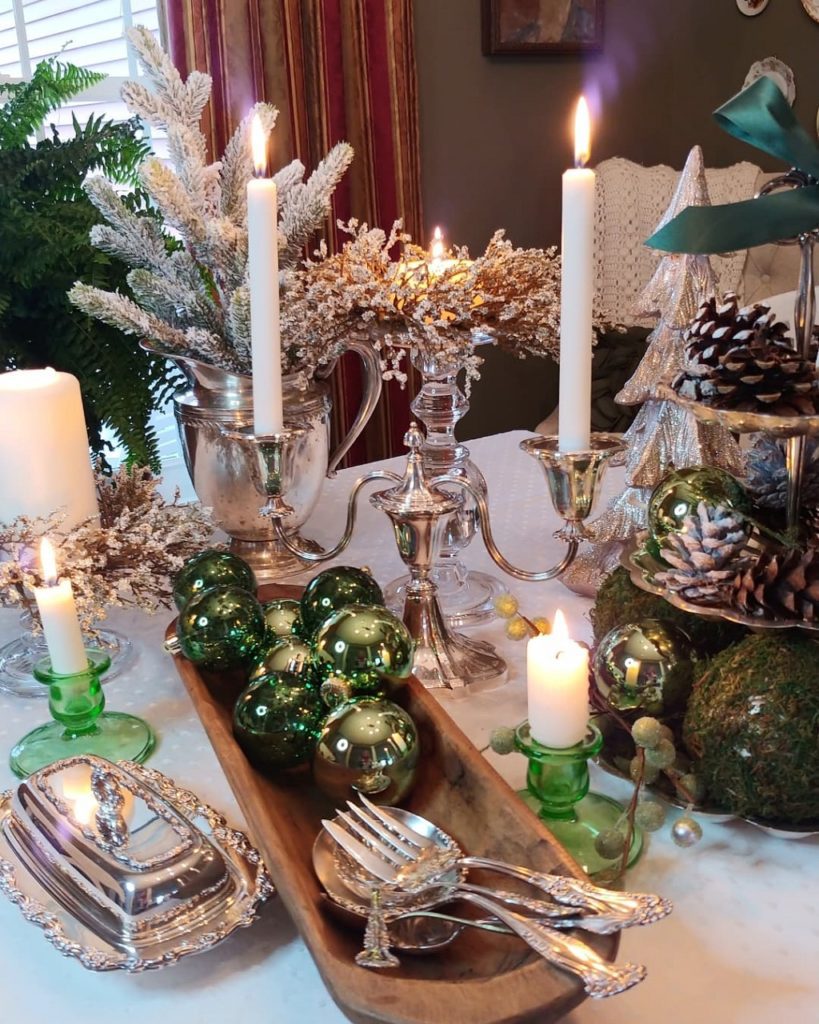 We've used silver, now, how about using gold with greens!
My hope is always to inspire you to create in your own home.  Are you getting inspired?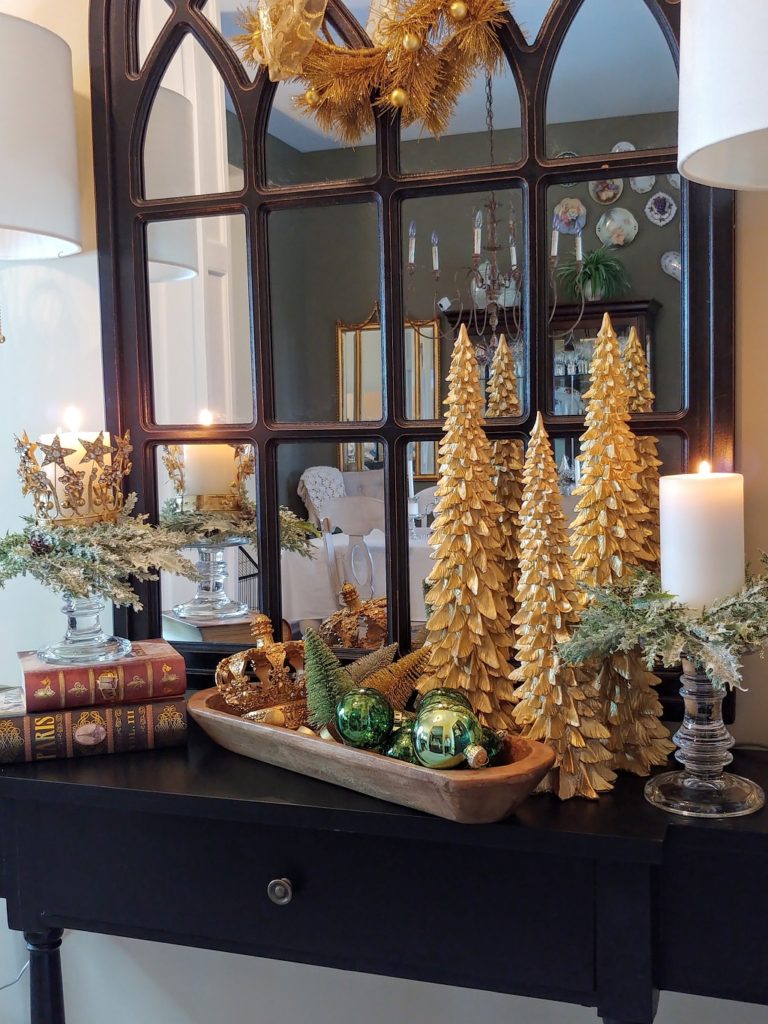 When designing, think about 'like things' with 'like things!' 
Adding groupings of items seems to 'please the eye'. 
Arrange a few higher pieces, then lower your eye to a few smaller pieces. 
Next are books. Books are amazing when it comes to designing. There is so much interest added when books are found in a home. It's your story so to speak. Which books do you find interesting?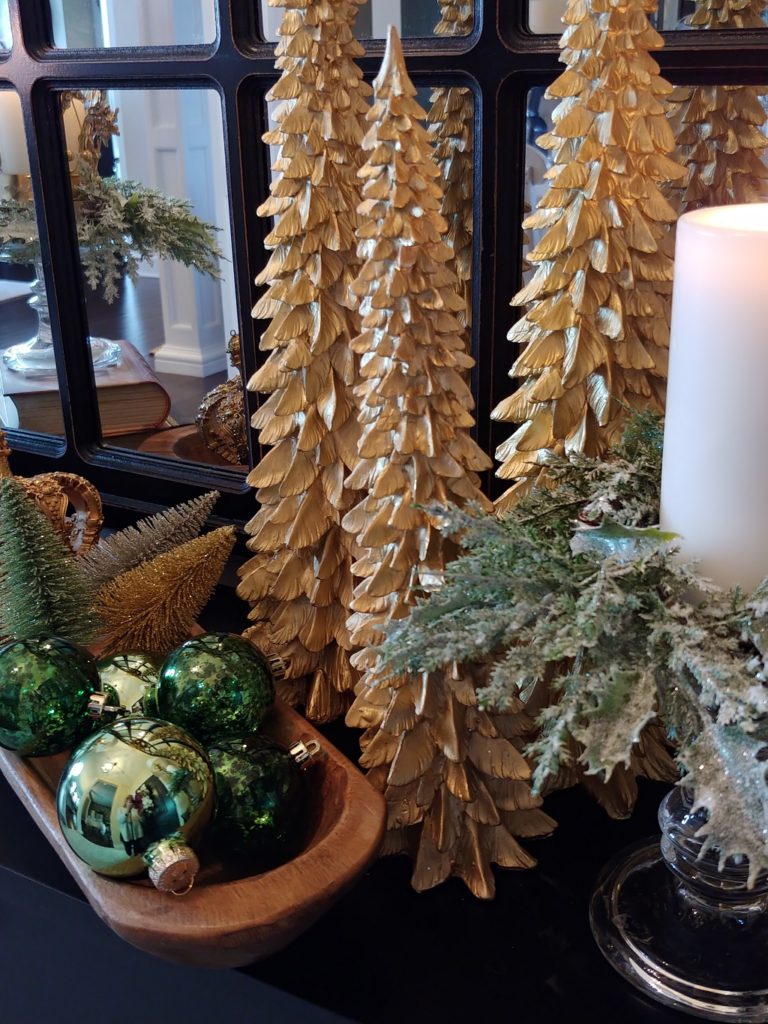 For option #5, I'm using my bowl as a bar cart accessory. 
It will work great for holding corks or bar utensils that may have wine or water on them. No drips here!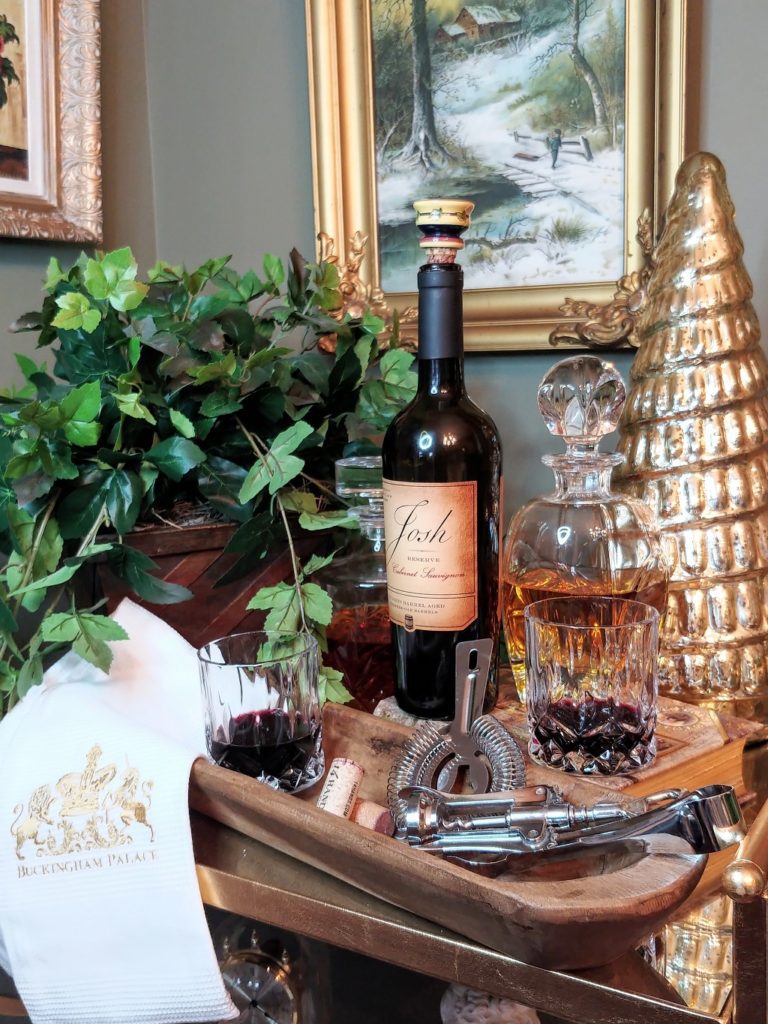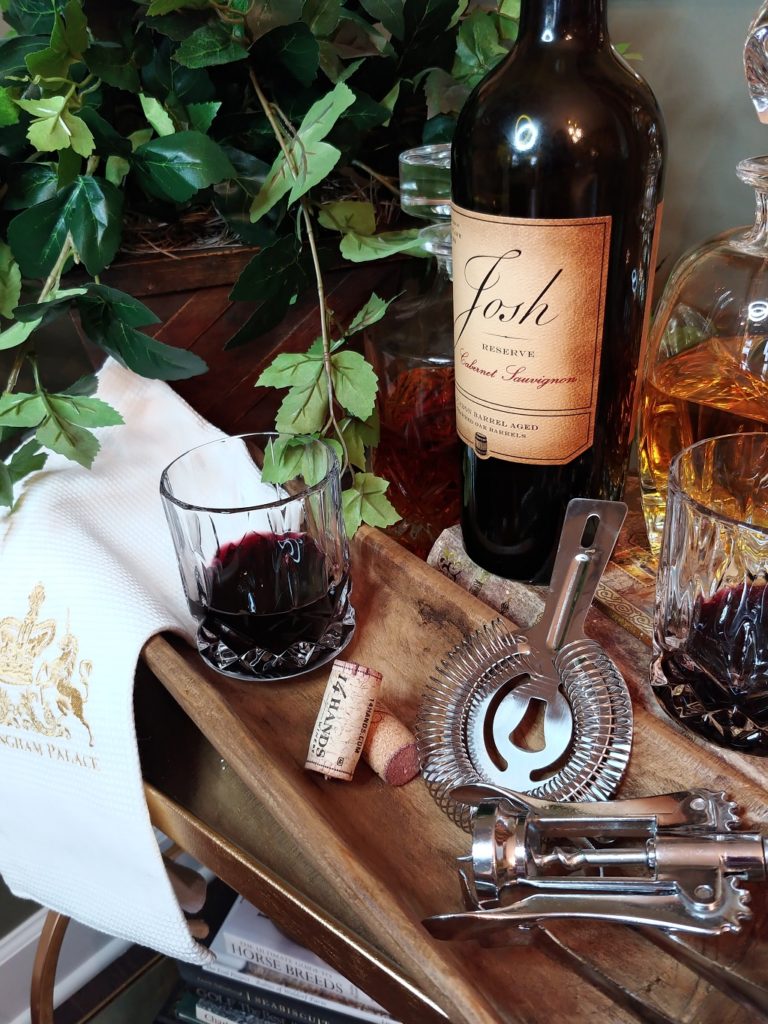 I could see your guests feeling so special with all this fussing for them.
I've filled my dough bowl with handmade soaps and lotions from my natural skincare line. You can read more about them HERE!
Another option would be to fill it with little jars of cotton balls, bath salts, bath bombs, or toiletries. 
Add a few sprigs of greenery or faux flowers for added color!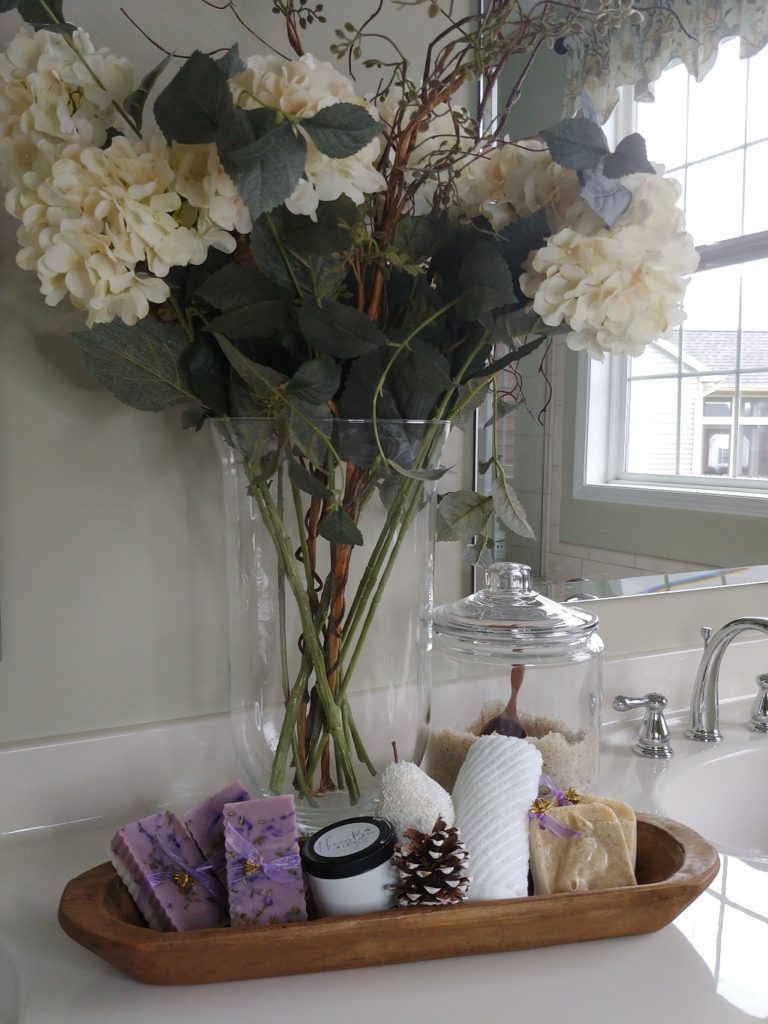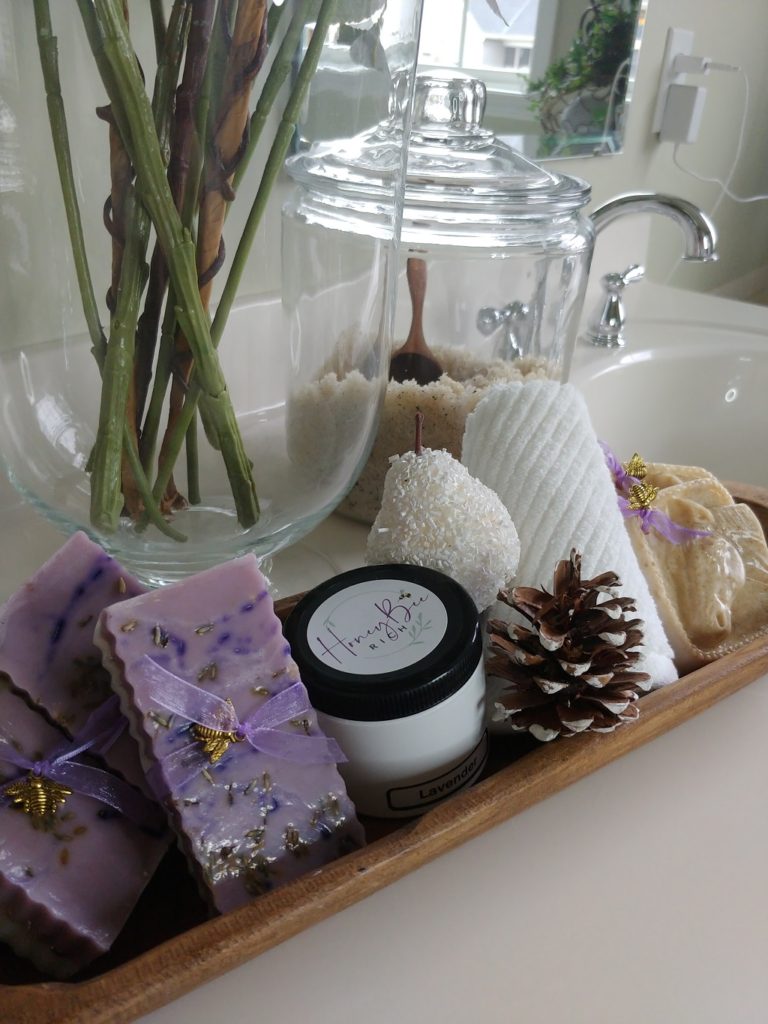 Holiday shopping was so much fun this year! I cannot wait to wrap my gifts with these pretty strings. The lyrics, brown paper packages tied up with string are playing in my head.
Unfortunately, I do not have a crafting room. If I did, however, I think I would fill it with wooden bowls like this one I'd use one for thimbles, one for threads, one for knitting needles, and one for my cutting utensils.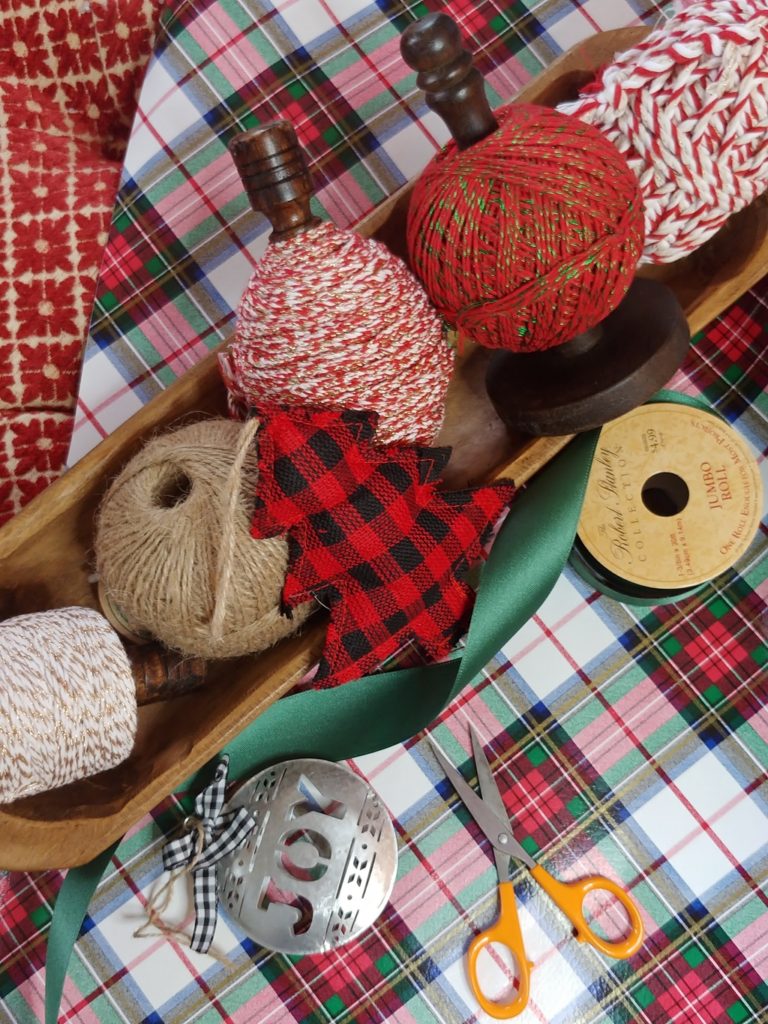 Have you checked out my other social channels? Follow along so you don't miss out on any of my tips, recipes, or stories!  Join me on my other social channels for more! Pinterest, Instagram, and Facebook.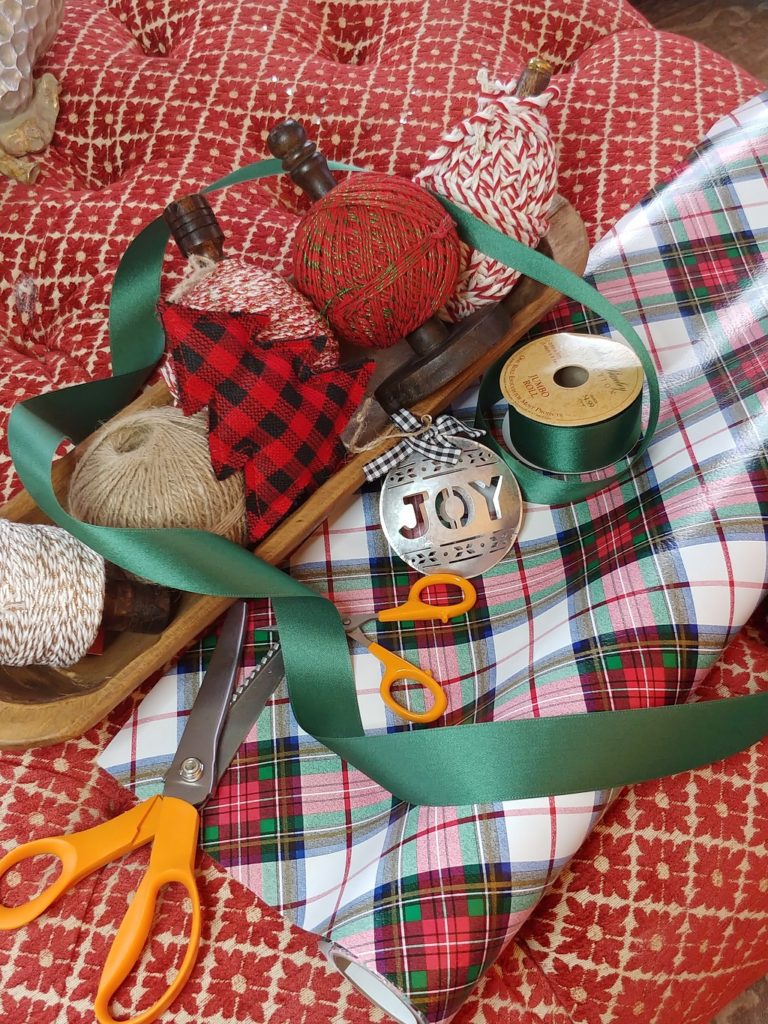 I hope you are inspired by my 7 Ways to Style a Dough Bowl.
As you can see, the options are limitless.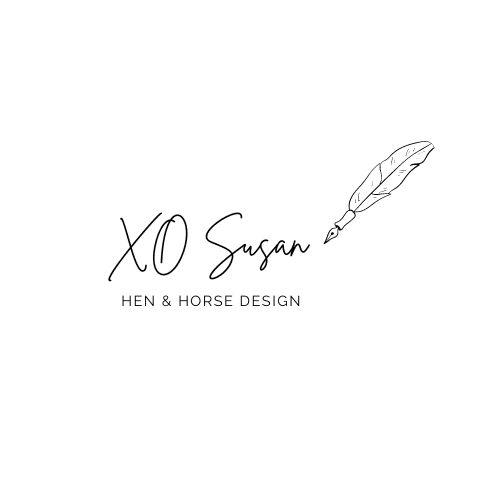 Dough Bowl Challenge 2021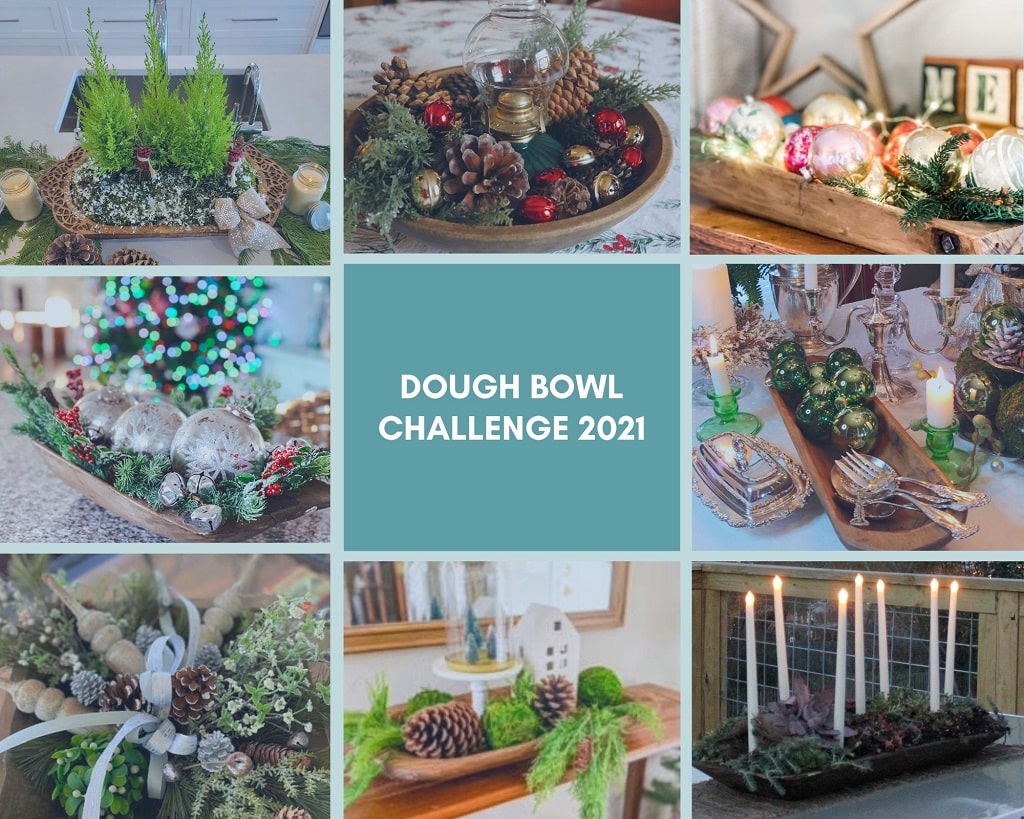 For more inspiration, be sure to check out all the ladies blog posts below!
@faithandfarmhouseblog (Danielle)
https://faithandfarmhouse.com/7-simple-ways-to-style-a-dough-bowl/
@fromfarmhousetoflorida (Kimberly)
https://fromfarmhousetoflorida.com/how-to-decorate-an-antique-dough-bowl/
@gatheredinthekitchen (Stephanie)
https://gatheredinthekitchen.com/8-festive-ways-to-style-an-antique-dough-bowl/
@henandhorsedesign (Susan)
https://www.henandhorsedesign/7-ways-to-style-your-dough-bowl/
@savedfromsalvage (Regina)
https://www.savedfrsalvage.com/post/ten-ways-to-style-a-dough-bowl/
@shopatblu
https://www.shopatblu.com/50-ways-to-style-a-dough-bowl/
@sweetvalleyacres (Crystal)
https://sweetvalleyacres.com/5-wooden-dough-bowl-decorating-ideas/
@whitelilacfarmhouse (Tammy)
https://www.whitelilacfarmhouse.com/beautiful-ways-to-style-a-dough-bowl-for-christmas/
All Post
Blog
Dining Room
Entertaining
Kitchen
Living Room
Recipes
Shop My Home
Tablestyling

Back
Breakfast
Salads
Side Dishes
Appetizers
Main Dishes
Cocktails
Desserts
Soups

Back
Kitchen
Dining Room
Living Room
Master Bedroom
Guest Room
Porch
End of Content.