How to Make a Pinecone Topiary Tree
When you have extra pinecones lying around, what do you do with them? Today I'm sharing How to Make a Pinecone Topiary Tree!
Maybe you thought it would be too hard or you are not sure how to make one? A Topiary Tree is easy and so much fun to make!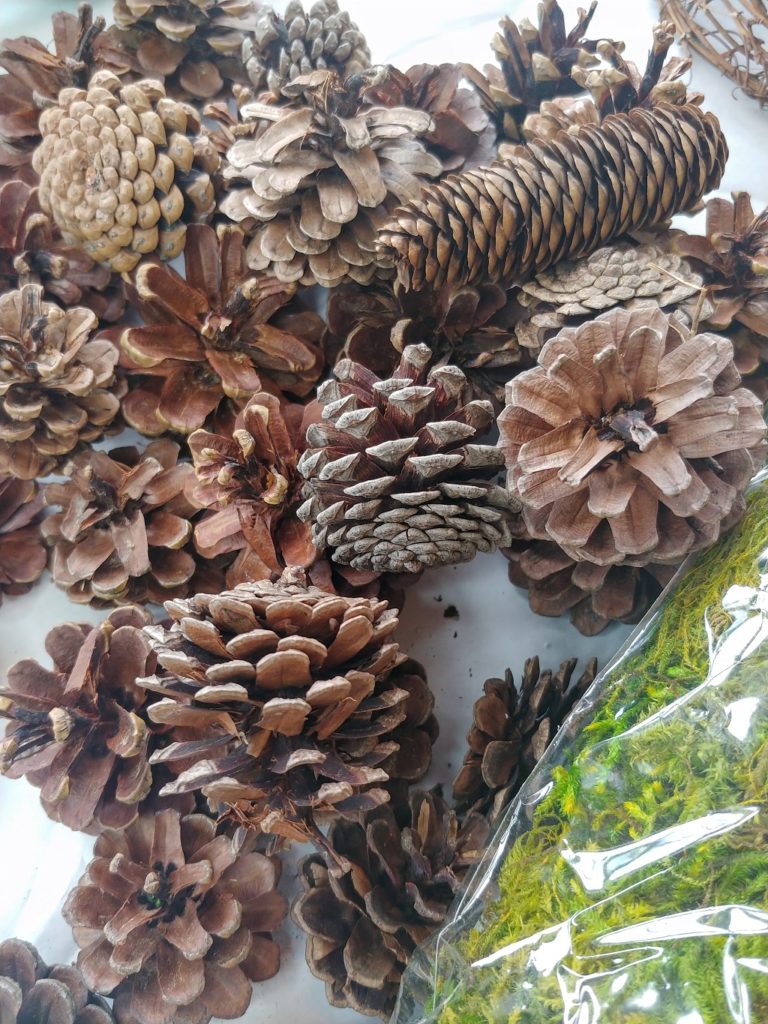 "This post may contain affiliate links which means I may earn a small commission. You may read my
disclosure policy here
".
What You'll Need to Make Your Topiary Tree
30 Pinecones (approximately) I chose different sizes and types
1 Styrofoam Ball
12-inch wooden dowel
Use any container of choice ( I chose my vintage urn)
Floral Foam -cut to fit your vessel
Any type of tape to adhere the foam to the vessel
3 Springs of greenery
a hand full of moss
8 – 10 Acorns (optional)
Glue Gun/Glue sticks
Black trash bag – cut small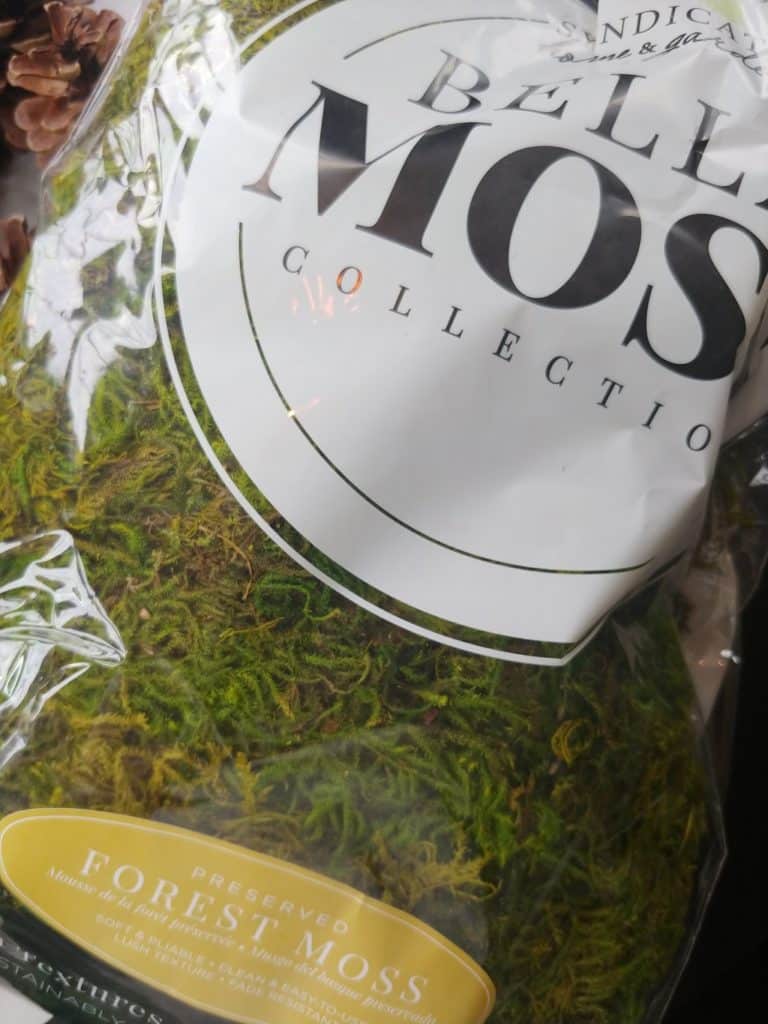 Adding forest moss will add a lovely layer of texture at the end while also being perfect for covering up the floral foam.
Where did Topiaries Orginate?
Topiaries are a popular form of garden landscaping that originated in England. The word topiary comes from Latin meaning "to make into shapes" and refers to the original intention for these sculptures. Not only did they provide beauty, but also served practical purposes, such as hiding unsightly brush or controlling erosion on hillside estates.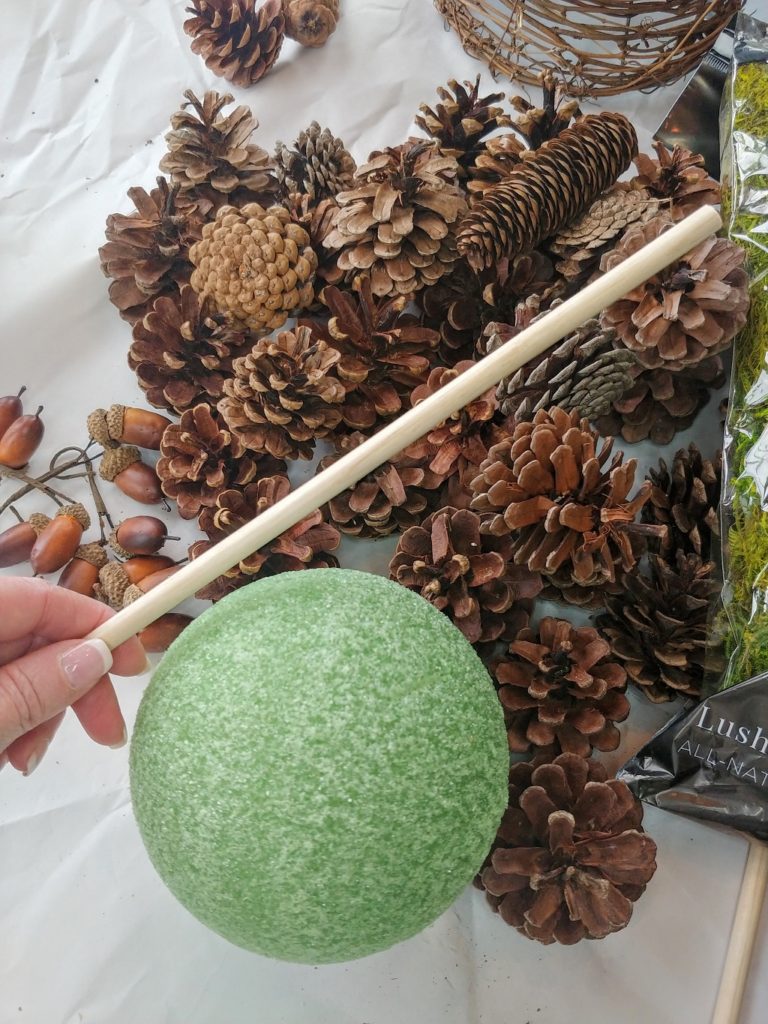 I've used a 12-inch dowel, along with a 6-inch styrofoam ball.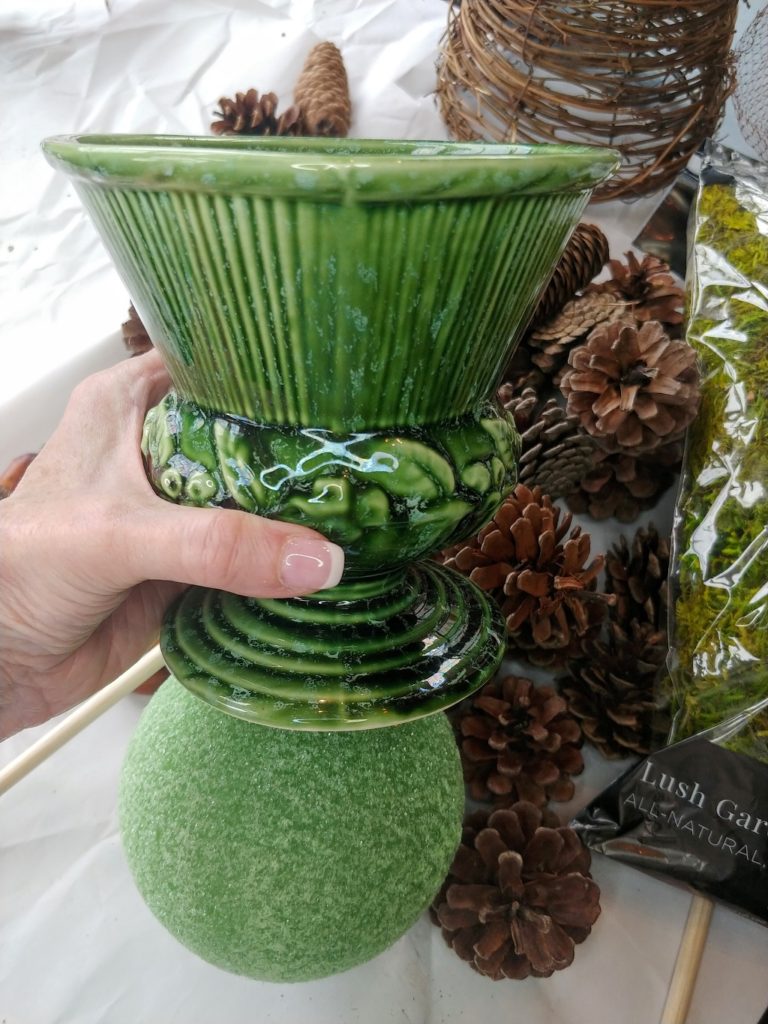 Recently, I've used my vintage green urn several times for flower arrangements and decorating vignettes. Finding this urn was such a bargain for only $8.00. It was hiding way in the back of a glass case. As far as I can see, it was meant to be that I found it!
the next step, fill your urn or vessel with floral foam to secure the topiary.
insert the dowel into the styrofoam ball, inserting the dowel into the foam.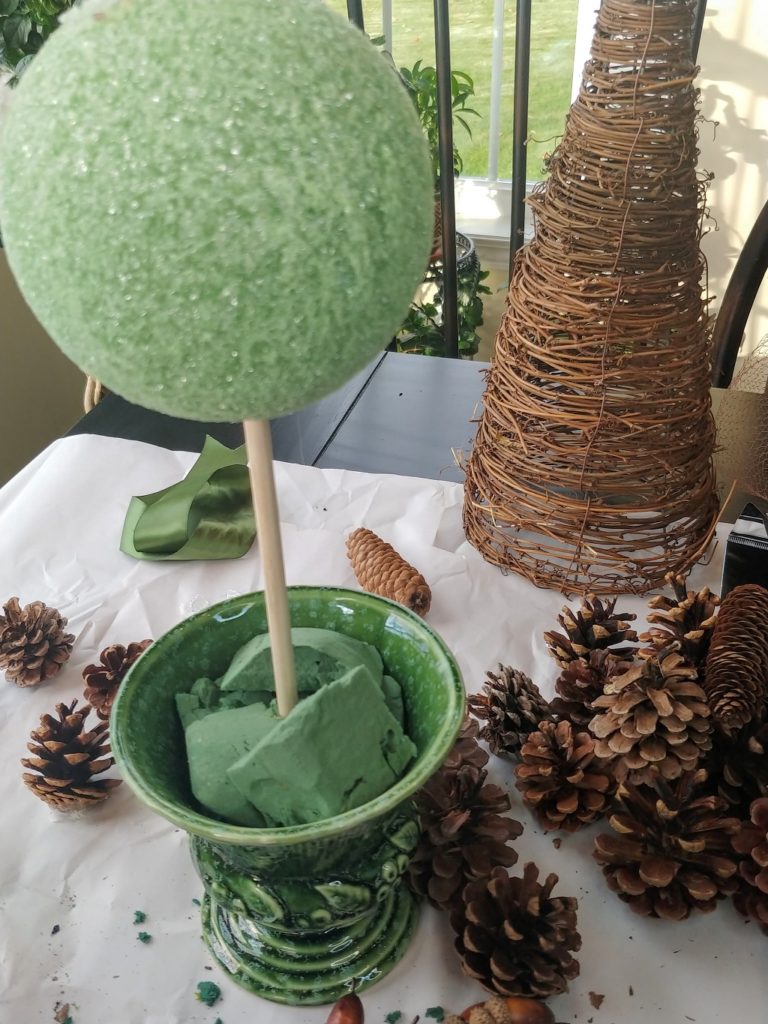 Step four was a bit tricky. In order to 'hide' the green foam, I opted to cut a small piece of a black trash bag and glued it to the styrofoam ball. (be cautious with hot glue while attaching the bag)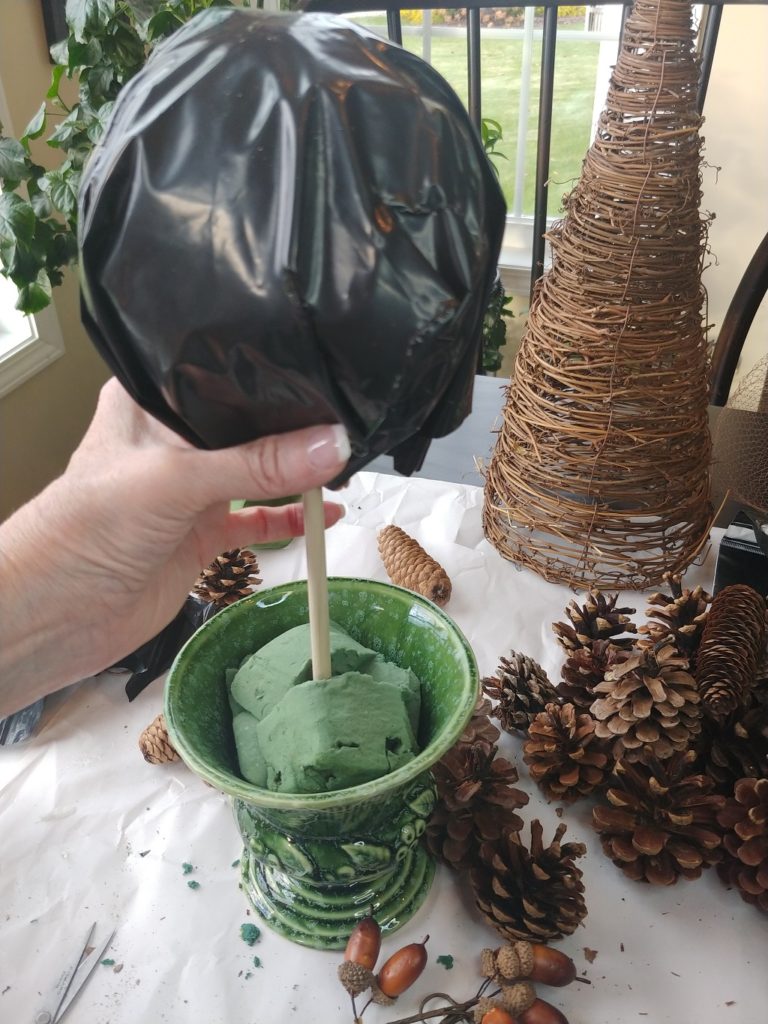 Enjoying This Post? Sign Up for my Weekly Newsletter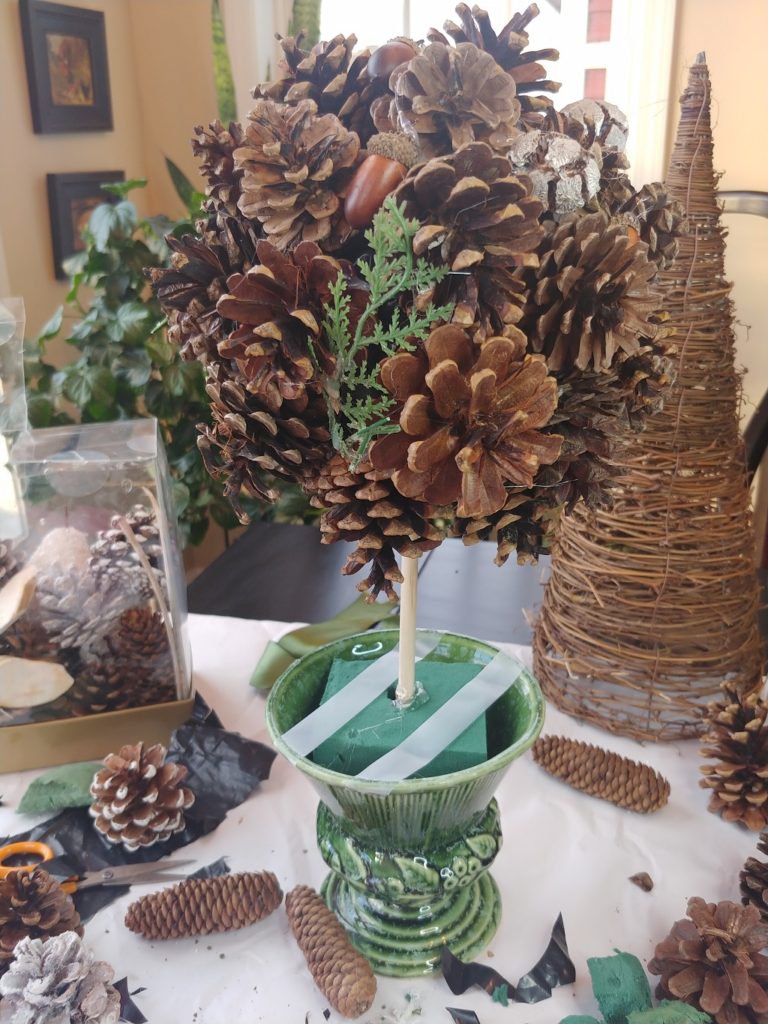 We're almost to the end. The next step was to adhere the foam, the dowel, and the styrofoam ball to the green urn.
Use regular scotch tape to secure to the side of the urn. Another option would be to use green floral tape.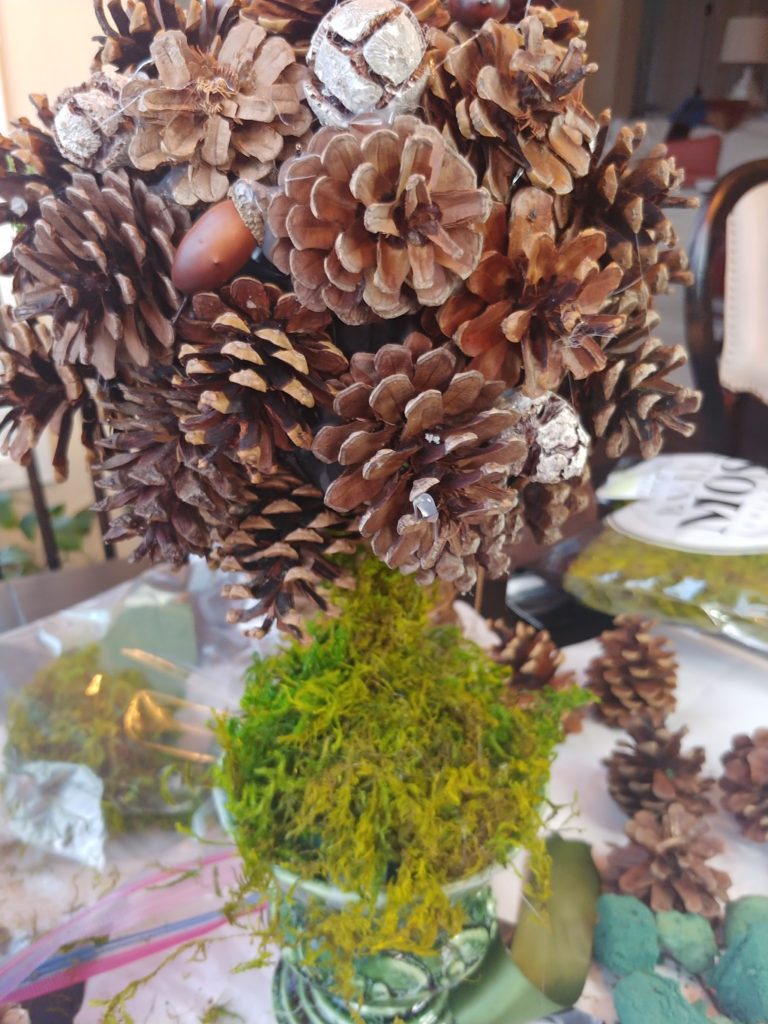 Lastly, after you have the ball secure, it's time to start gluing the pinecones.
It's fun to use different shapes and sizes to create a unique look.
When that step is complete, simply add your moss to the base for a finished look.
That is it!
You'll be styling your Pinecone Topiary Tree in your home in no time!
In early Autumn, I made this topiary with roses. Click here.
Then I did this with my pumpkins!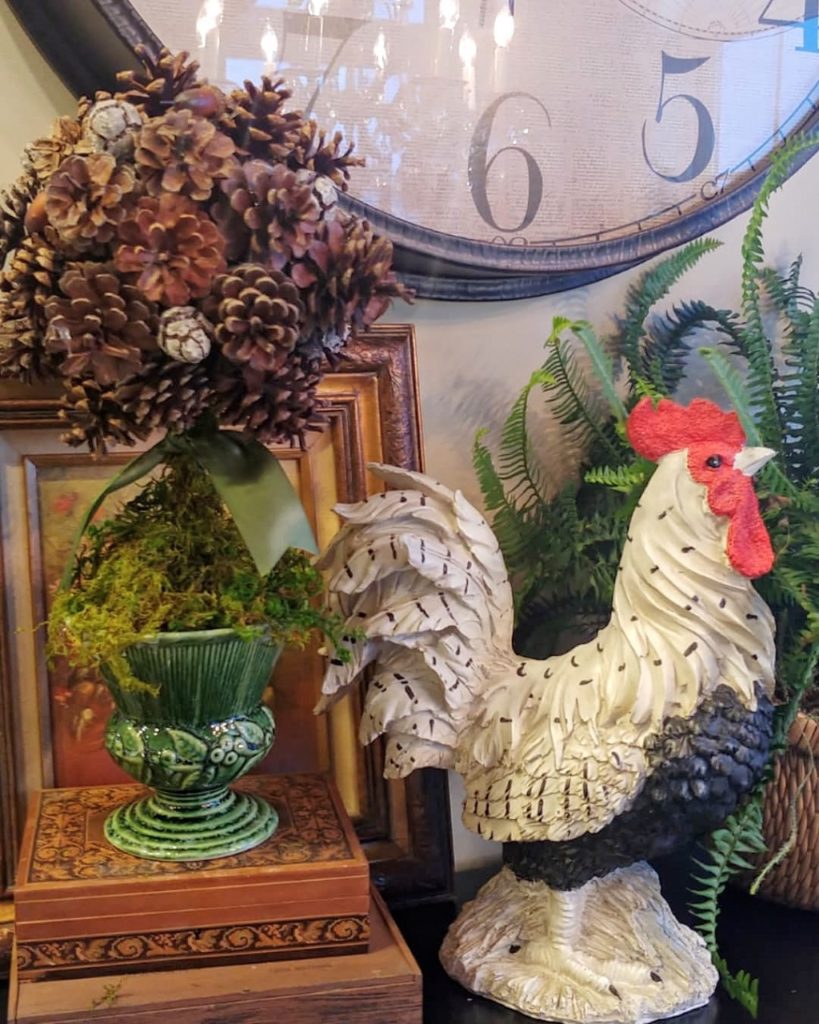 Have you checked out my other social channels? Follow along so you don't miss out on any of my tips, recipes, or stories! ( you know I love a good story 😉 Join me on my other social channels for more! Pinterest, Instagram, and Facebook.
I hope you enjoyed learning How to Make a Pinecone Topiary Tree.
Maybe next, I'll think about making a pinecone Christmas tree! Wouldn't that be great!
There are so many ways to style and create with pinecones!
Happy crafting friends!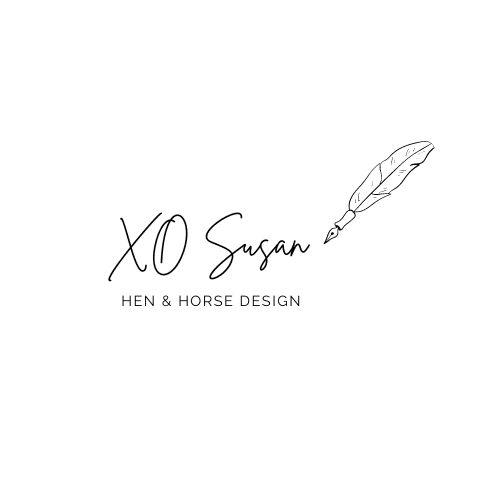 All Post
Blog
DIY
Entertaining
Garden
Home Decor
Recipes
Seasonal
Shop My Home

Back
Breakfast
Salads
Side Dishes
Appetizers
Main Dishes
Beverages
Desserts
Soups

Back
Breakfast Room
Living Room
Kitchen
Dining Room
Main Bedroom
Guest Room
Porch

Back
Tablestyling
Centerpieces

Back
Christmas
Spring
Summer
Fall
Thanksgiving
Patriotic
Easter
Valentine's Day

Back
Organizing
Easy Crafts
Home Improvement
End of Content.