My Mom's Christmas Panettone Tradition
How my mom's Christmas panettone tradition made her famous in the family and how we carry the custom on every year.
Throughout the years, my mom's Christmas panettone tradition has grown to be a part of our family celebrations – it always brings a smile and nostalgia. This special treat never fails to stir up fond memories that connect us all together through generations and this special food.
Every Christmas growing up I'd see my mom gifting the same thing – a panettone. As a teen, it all seemed so dull and unexciting to me; bread with fruit? ho-hum! But as I've gotten older, that classic Italian delicacy has become part of what makes every festive season special.
The 'Panettone Queen'
At first, everyone thought it was just a nice gesture from my mom, but they soon found out that it had become her signature at every family Christmas gathering.
Undoubtedly, this tradition quickly became known within our family as "Mom's Panettone Tradition." We began teasingly calling her "Panettone Queen" and eagerly awaited for her to deliver a loaf to us!
As time passed by, Mom's Panettone Tradition evolved into something even greater—it became an integral part of every Italian holiday celebration in our family – now I do the same thing she did and bring one to everyone during the holidays!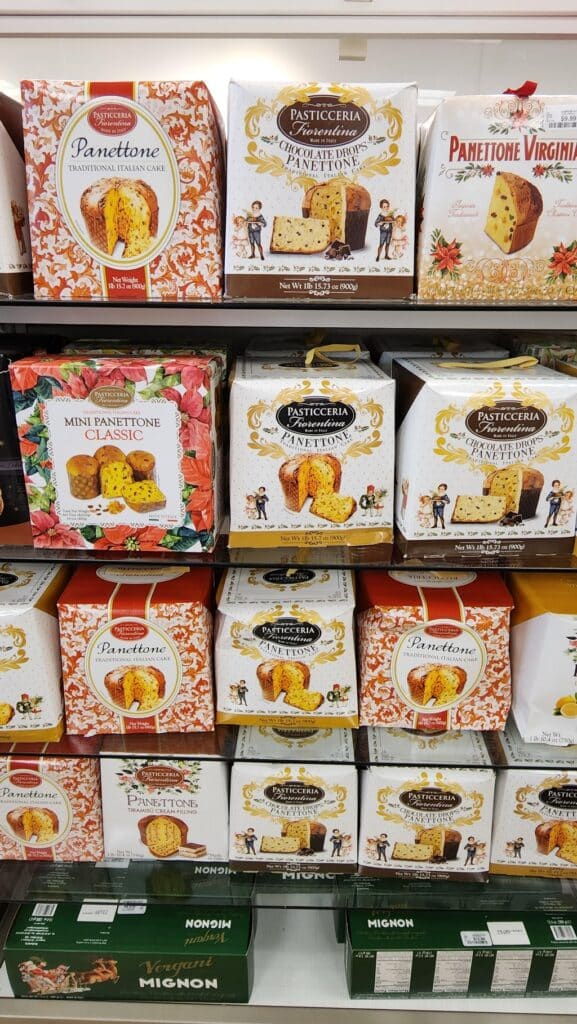 "This post may contain affiliate links which means I may earn a small commission. You may read my
disclosure policy here
".

What Is The Tradition Behind Panettone?
Christmas is a time for tradition and celebration, and one of the most beloved traditions has to be the eating of panettone. But what is the history behind this festive treat? Why do we eat it during Christmas? Well, let's take a look back into the past to discover everything there is to know about panettone!
The Origins of Panettone
It all began in Milan, Italy around the 15th century. It was originally called "pan del ton," or "bread of luxury," due to its rich ingredients that included raisins and candied fruits. This bread quickly became popular among Italian aristocracy. Over the centuries, it slowly evolved from its original form into the modern-day panettone.
Why Is Panettone Eaten at Christmas?
As for why it's eaten as Christmas, that dates back to the 19th century when an Italian baker named Angelo Motta baked his version of panettone for Christmas celebrations. His invention was an instant hit and soon spread across Italy as a traditional holiday food. Today, panettone can be found in almost every household during the Christmas season!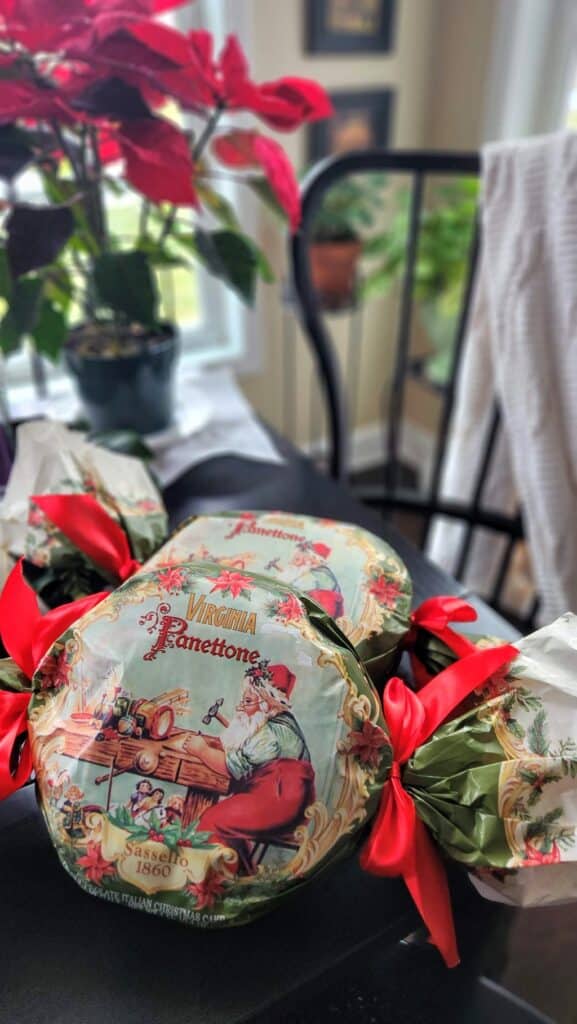 How Are You Supposed to Eat Panettone?
There are many ways you can enjoy panettone during this festive season – from adding it to your breakfast menu or baking it into desserts like tiramisu or French toast! You can also have it plain with a cup of hot chocolate or coffee.
Another way to eat panettone is by heating up slices in a skillet with butter and then topping them off with cream cheese frosting – yum! One thing's for sure – however you decide to enjoy this delicious bread, you won't be disappointed!

Have you checked out my other social channels? Follow along so you don't miss out on any of my tips, recipes, or stories! Join me on my other social channels for more! Pinterest, Instagram, and Facebook.
Pin It To Remember It: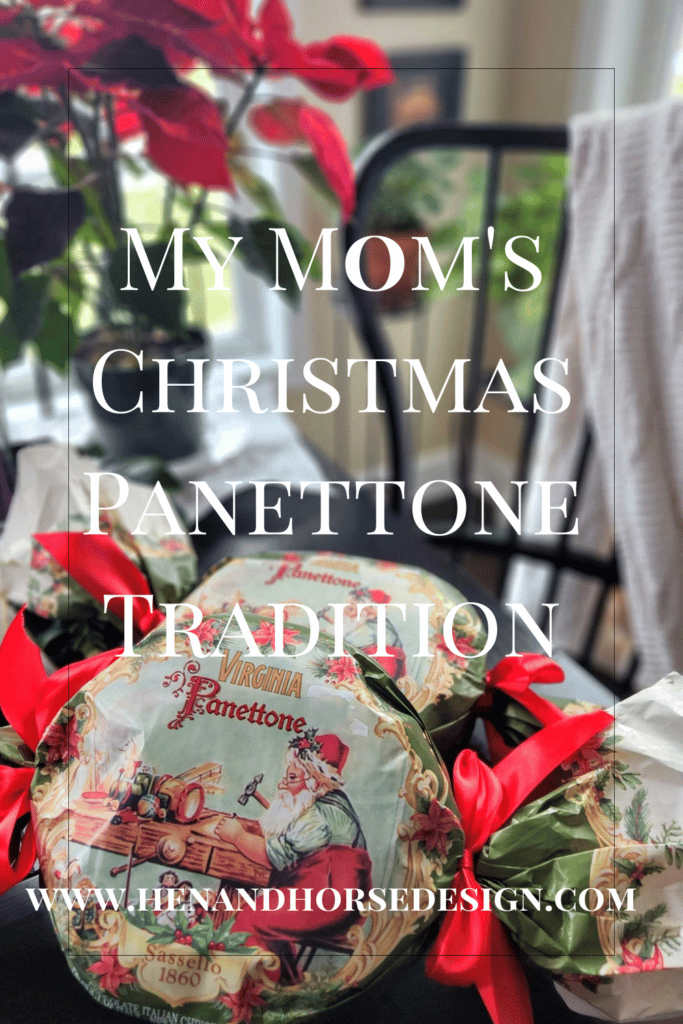 Thanks Mom!
I'm so thankful that the panettone tradition my mom began lives on through our family. Its sweet and savory taste evokes fond memories of holidays past, bringing warmth to both heart and home as I share it with those around me – just like Mom used to do!
Just in case you missed it, I shared a tour of our home. It was so much fun to decorate this year.
Panettone is a timeless treat that has been enjoyed by generations of Italians over hundreds of years. Today, it has become an essential part of holiday celebrations throughout Italy and other parts of Europe, where people gather around tables filled with different types of panettones each year!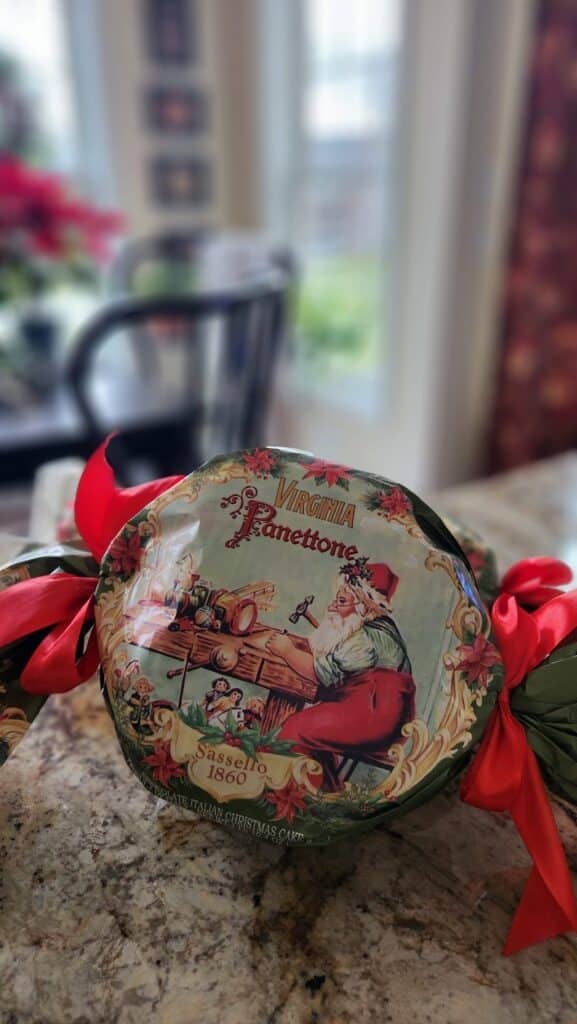 Whether you enjoy yours plain or fancy, one thing's for sure – no matter how you choose to eat your panettone, you won't regret it! I hope you pick up one the next time you see one on the shelf and celebrate this special tradition with family and friends!