Christmas Home Tour 2022 – Living Room
Welcome to my Christmas Home Tour 2022! Today I'm sharing a tour of my living room. It's the perfect cozy space for holiday entertaining!
This year, something extra special is in the air – it's time to add a touch of festive magic around every corner! I decided to create a peaceful holiday atmosphere by decorating each room with simple green and cream decorations combined with velvet and gold ribbons. As if this wasn't enough, these charming accents have been thoughtfully placed on our beautiful tree for that added magical sparkle throughout advent season!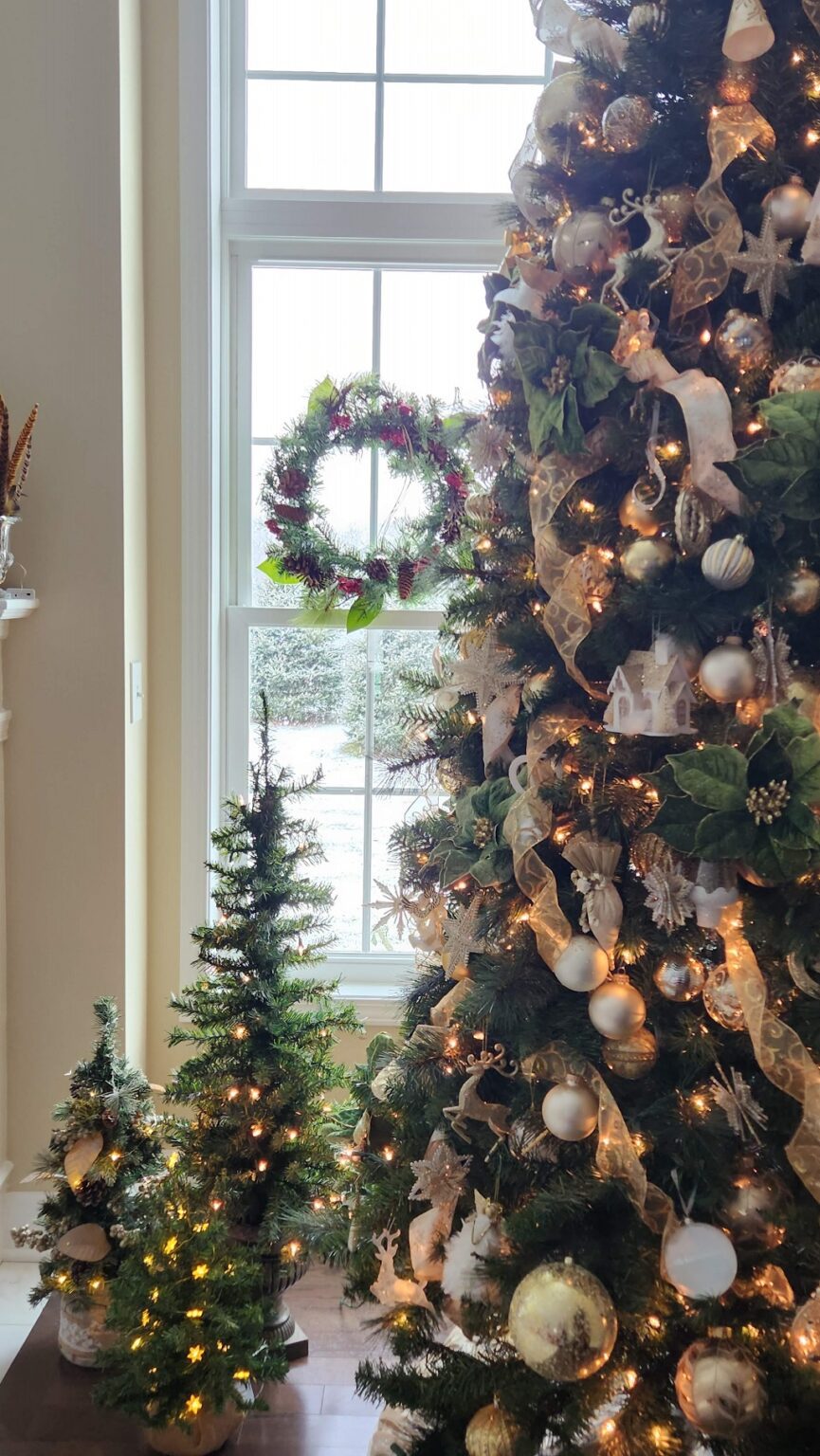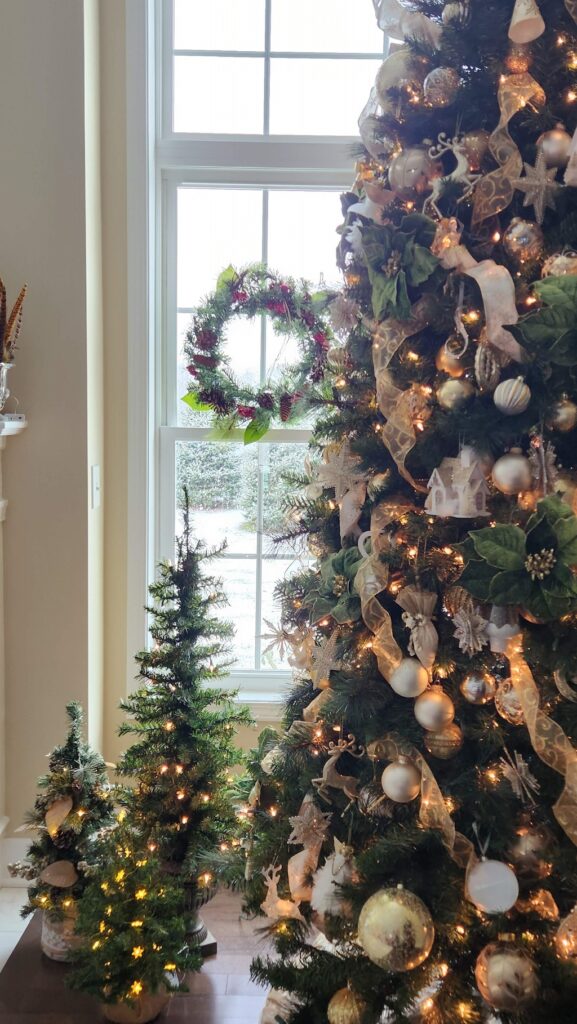 "This post may contain affiliate links which means I may earn a small commission. You may read my
disclosure policy here
".
In my living room, I have taken it one step further this season and coordinated both of my Christmas trees as well as other decorations throughout the house.
I'm here to give you a glimpse at how I created a cozy space perfect for entertaining friends and family this holiday season. Let's take a look around!
If you missed it, I shared my Christmas Home Tour – Breakfast Room & Kitchen this past week! Our breakfast room is my favorite room in our home. On any given day you can find me here, either cooking up a dessert for after dinner or catching up on emails.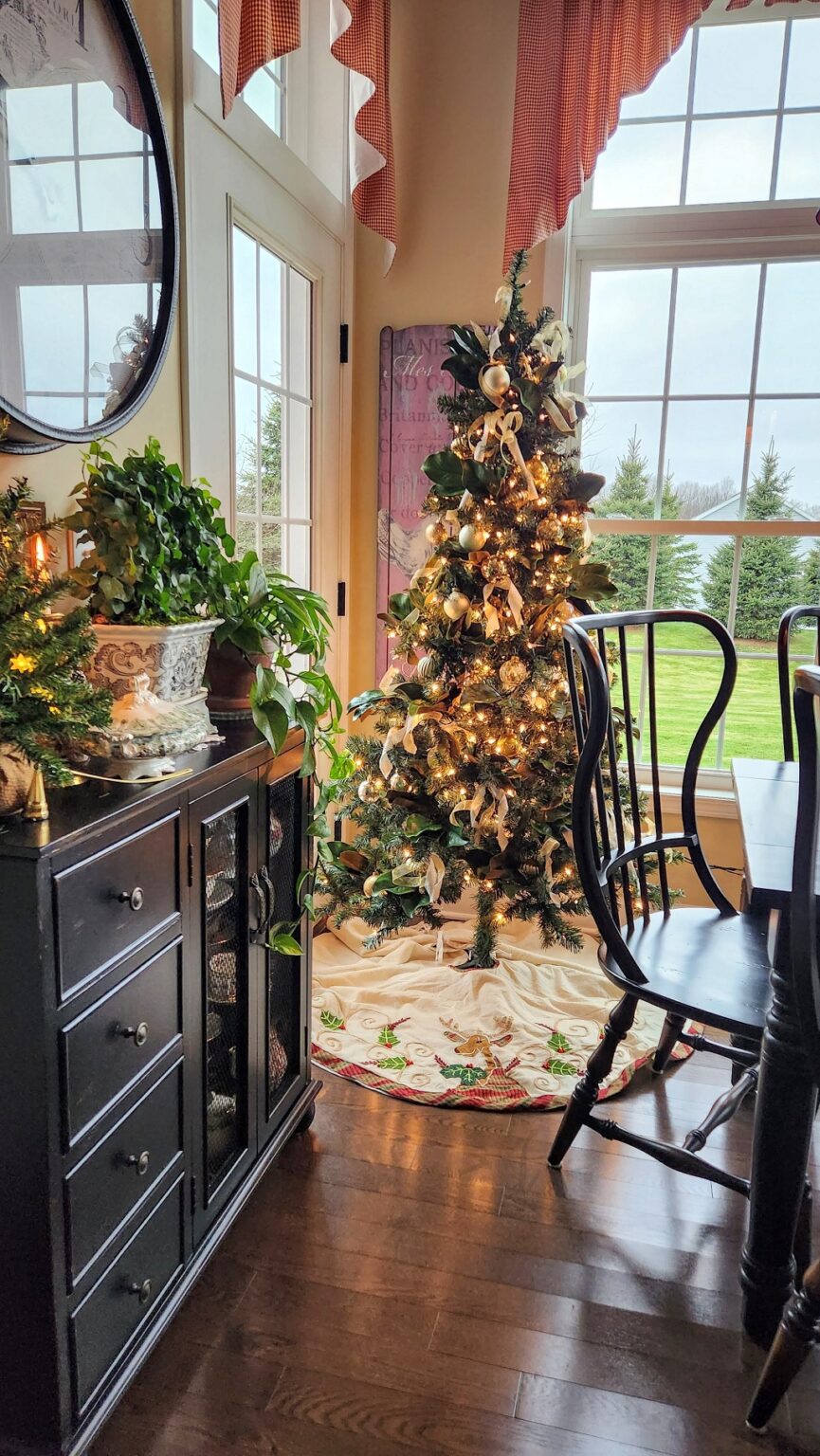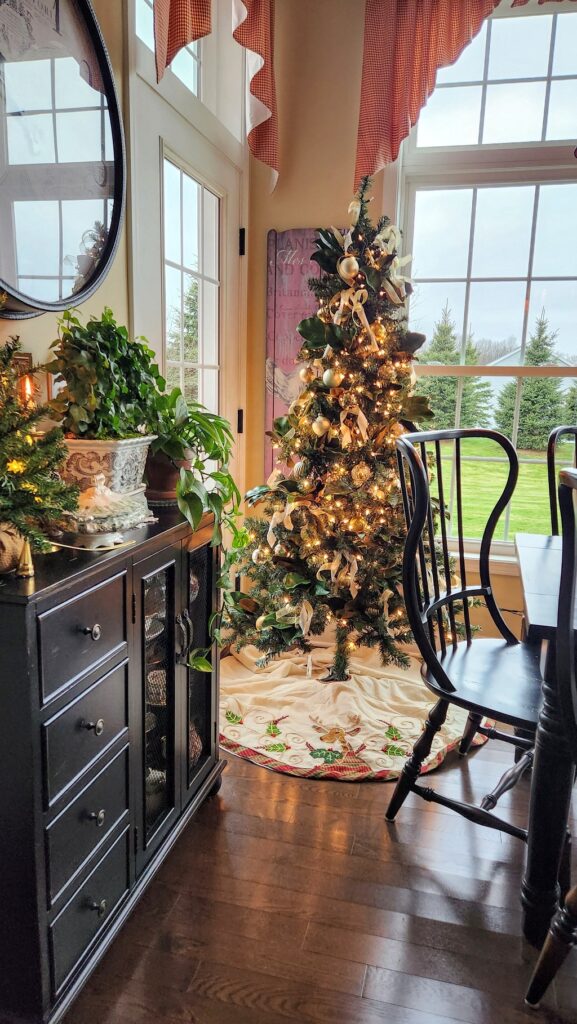 Shop the Breakfast Room Look Here

Living Room Home Tour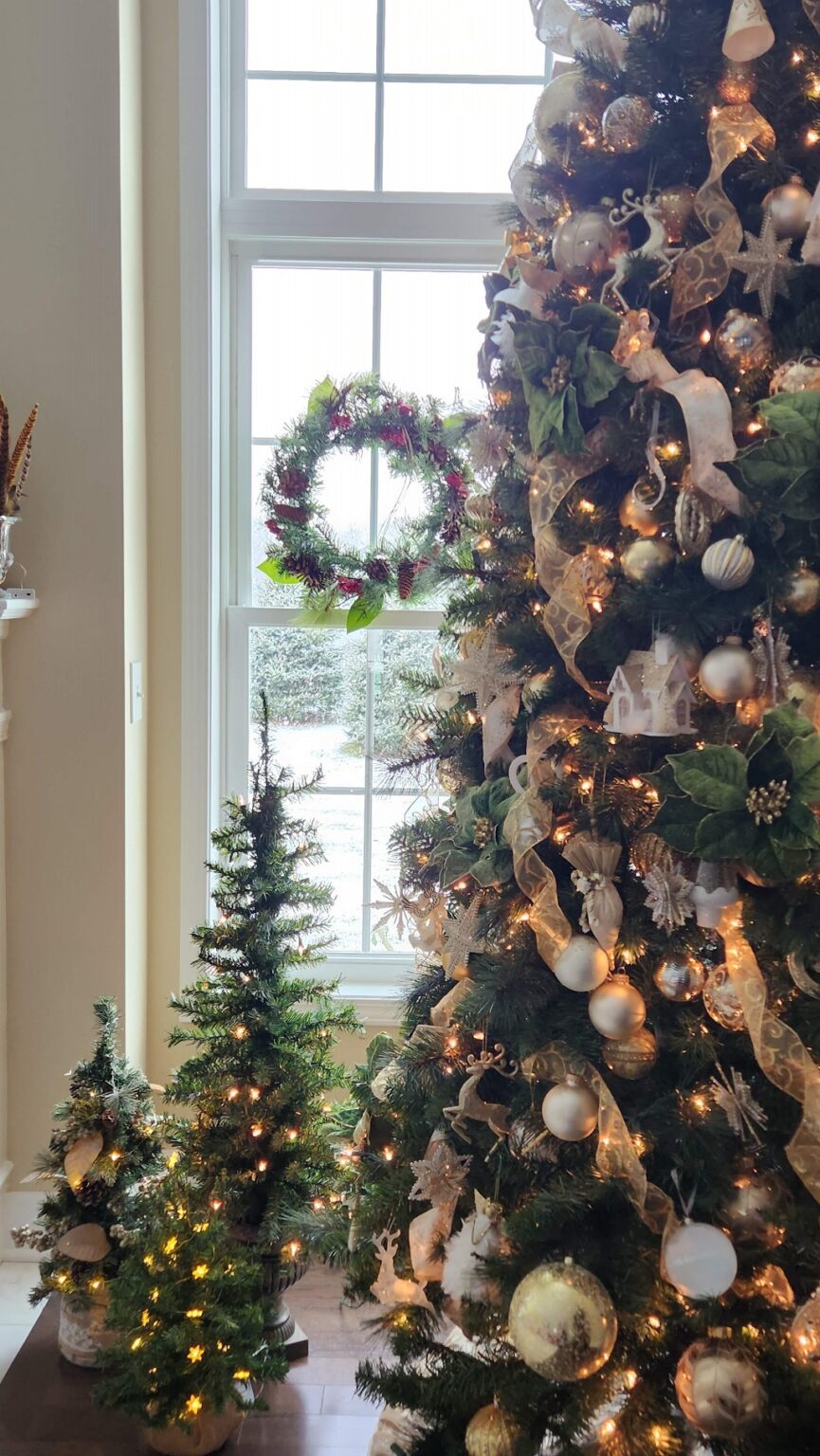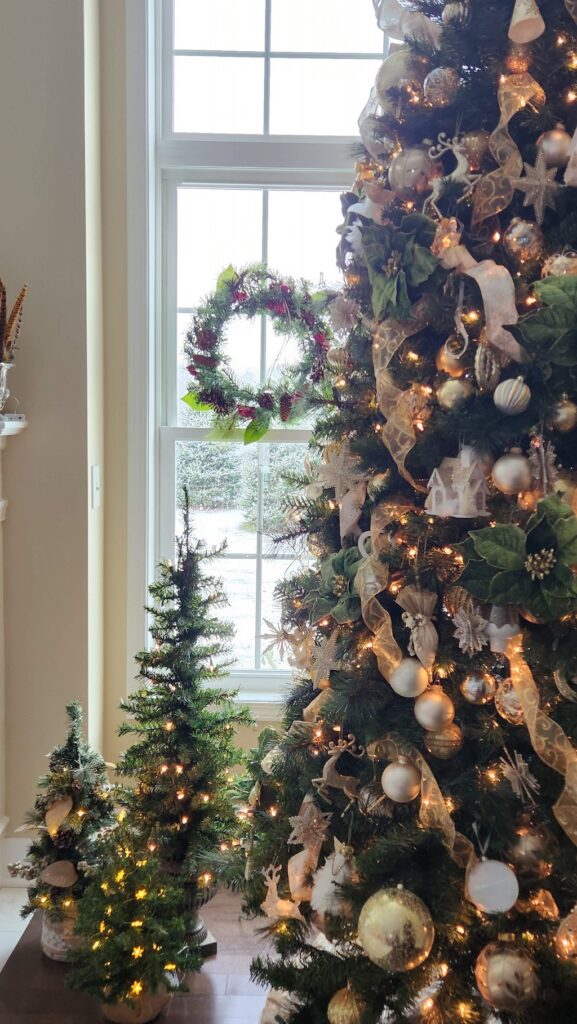 Up next, let's stop in the living room, where my stunning Christmas tree has been artfully arranged next to three smaller Christmas trees (I've switched up since this photo was taken and put one small tree on the left, and the other two smaller trees on the right of the fireplace.)
My larger tree is decorated in classic gold, ivory, and green, while for the smaller trees I left just the greenery with simple fairy lights throughout the branches. The tiny white twinkle lights add a festive sparkle to the room. On top of my large tree is an angel tree topper that was my mother's and adds a touch of elegance and grace, as well as fond memories of her tree.
First, prior to decorating, I decided to have a theme for my Christmas decorations this season. The first thing that came to mind was my love of the song Oh, Holy Night! It's my favorite Christmas song. I set off to create my version of Oh Holy Night!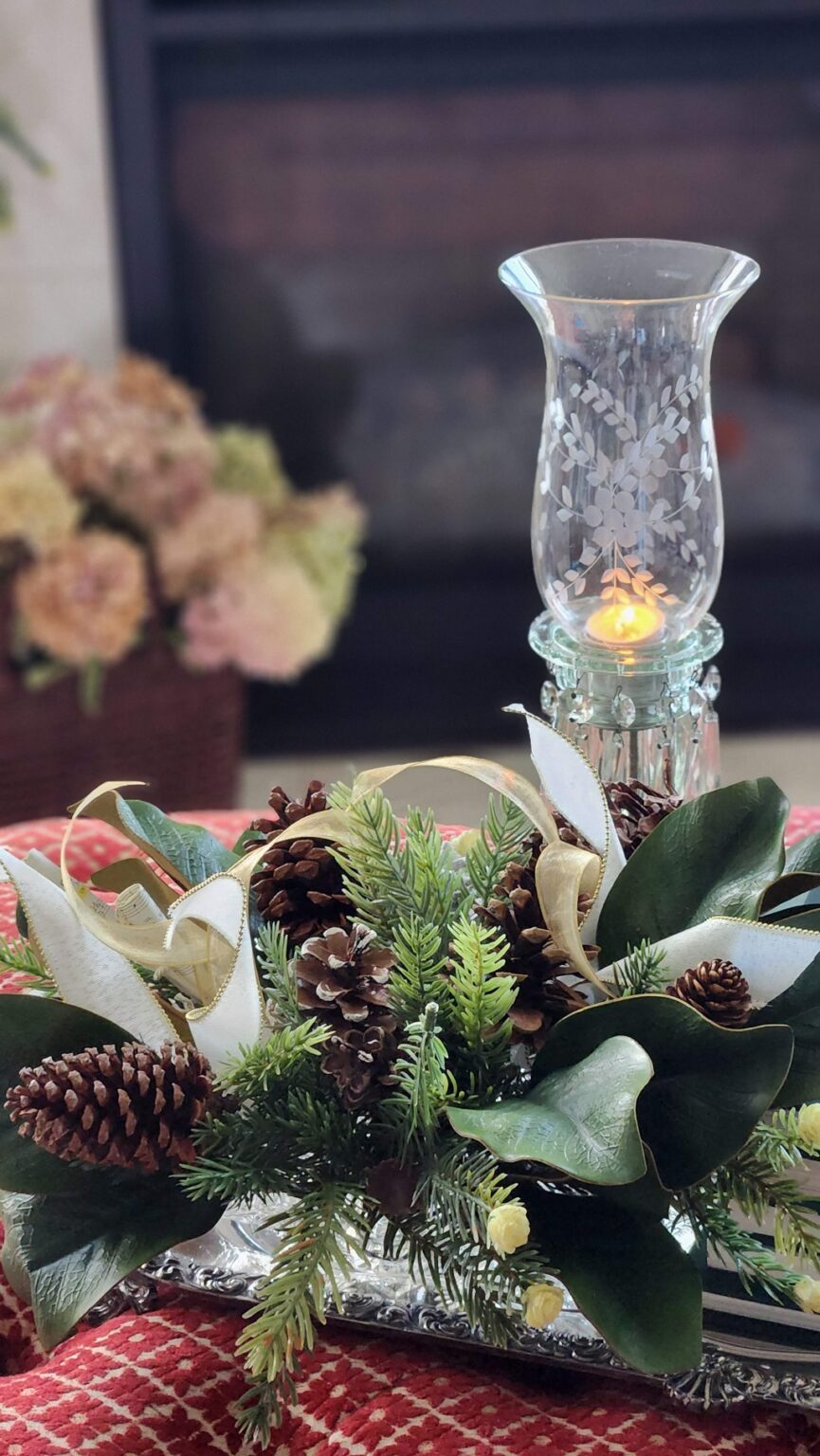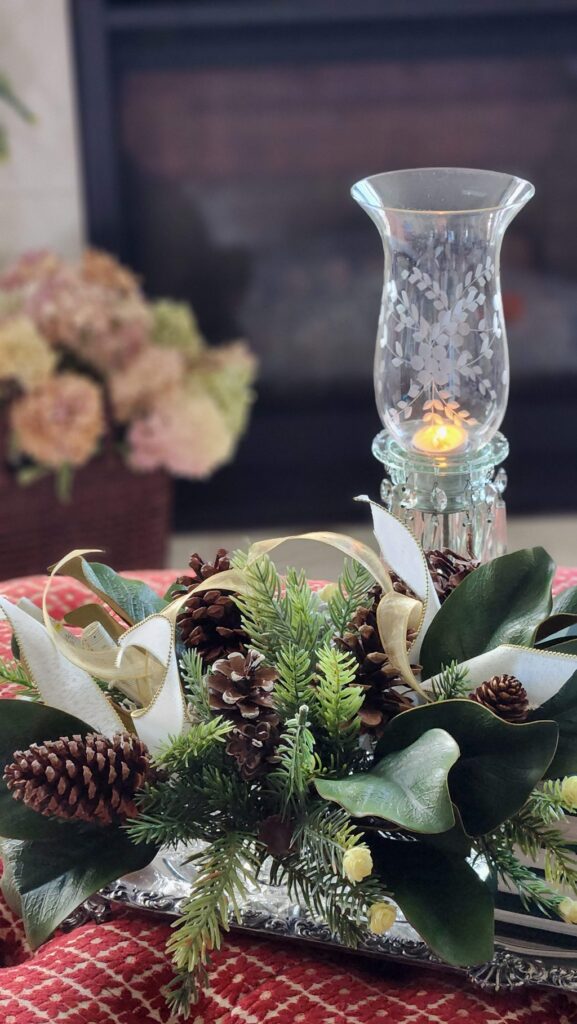 Moving over to the coffee table/ottoman, here is where I married the look of the mantel and the tree by adding magnolia leaves, pinecones, velvet ribbon, and gold ornaments to my arrangement on the ottoman.

Enjoying this Post? Sign up here for my Newsletter!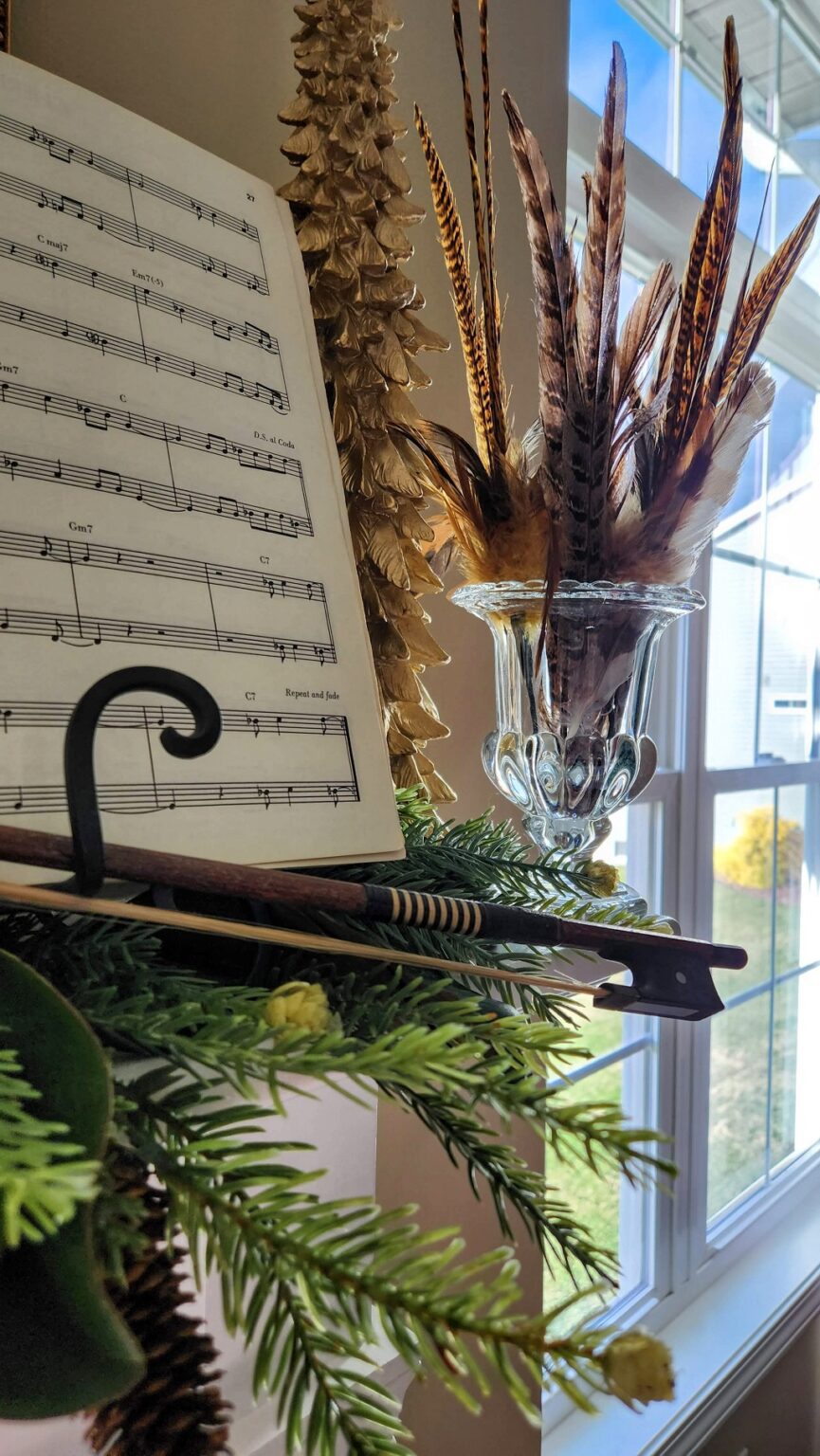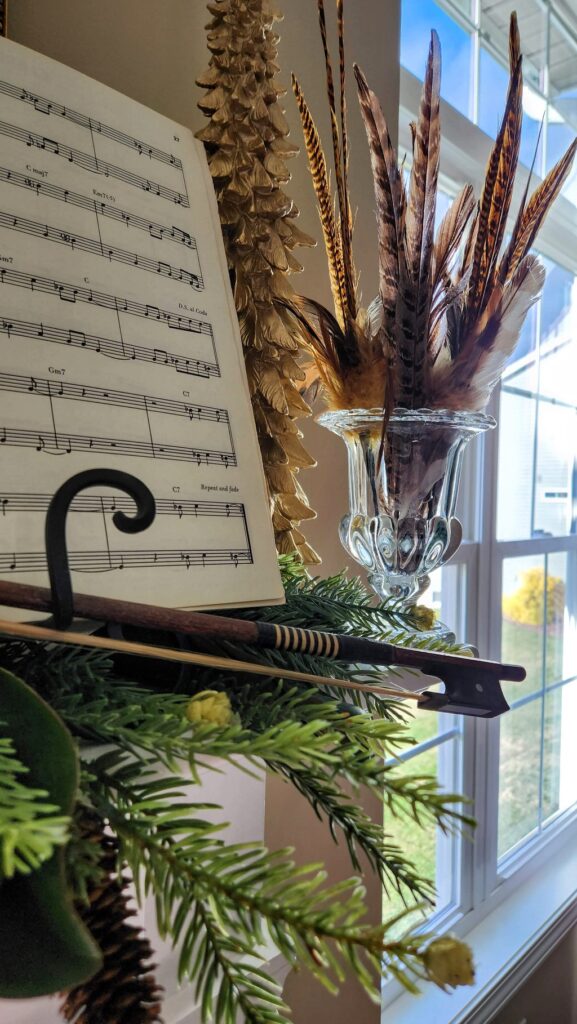 Next up, the mantel above the fireplace has also been decked out in all its holiday glory. On top, sits several festive pieces including a favorite stuffed pheasant, a vintage Swiss clock under a cloche, and a violin bow draped across Oh Holy Night sheet music.
– all in shades of ivory, green and gold tones. There is also a small vase filled with pheasant feathers that bring a touch of an English country home and nature indoors during these cold winter months.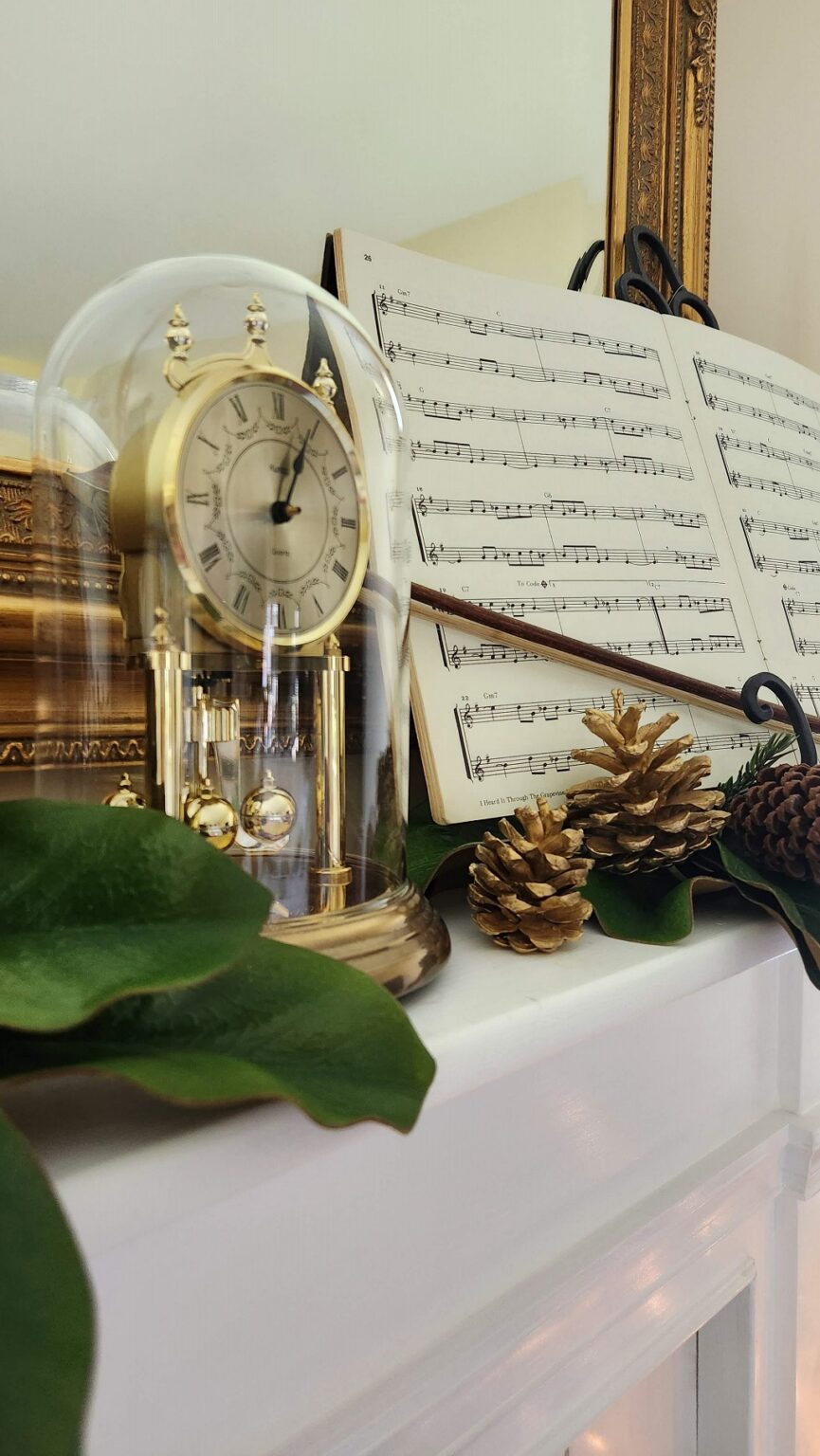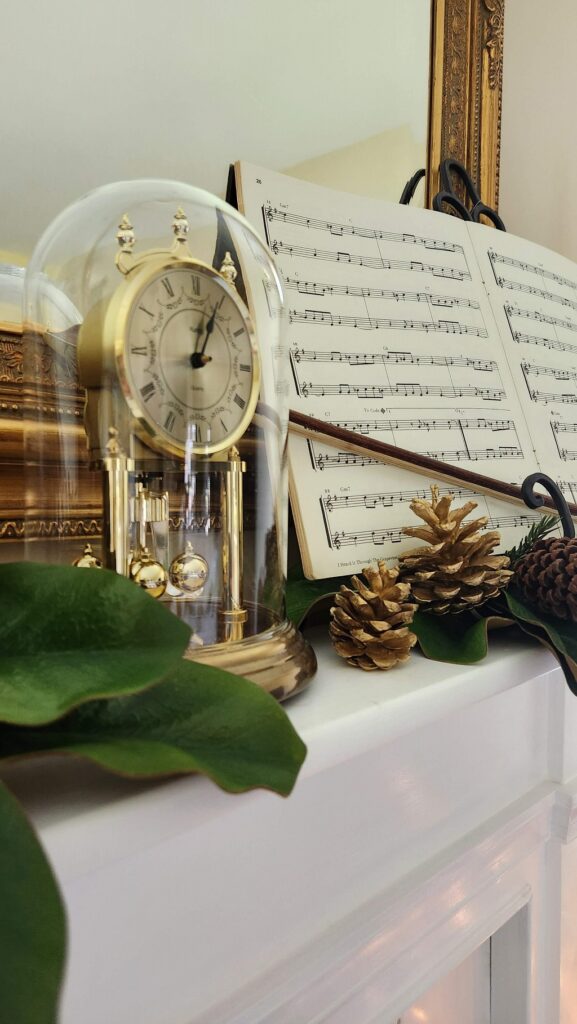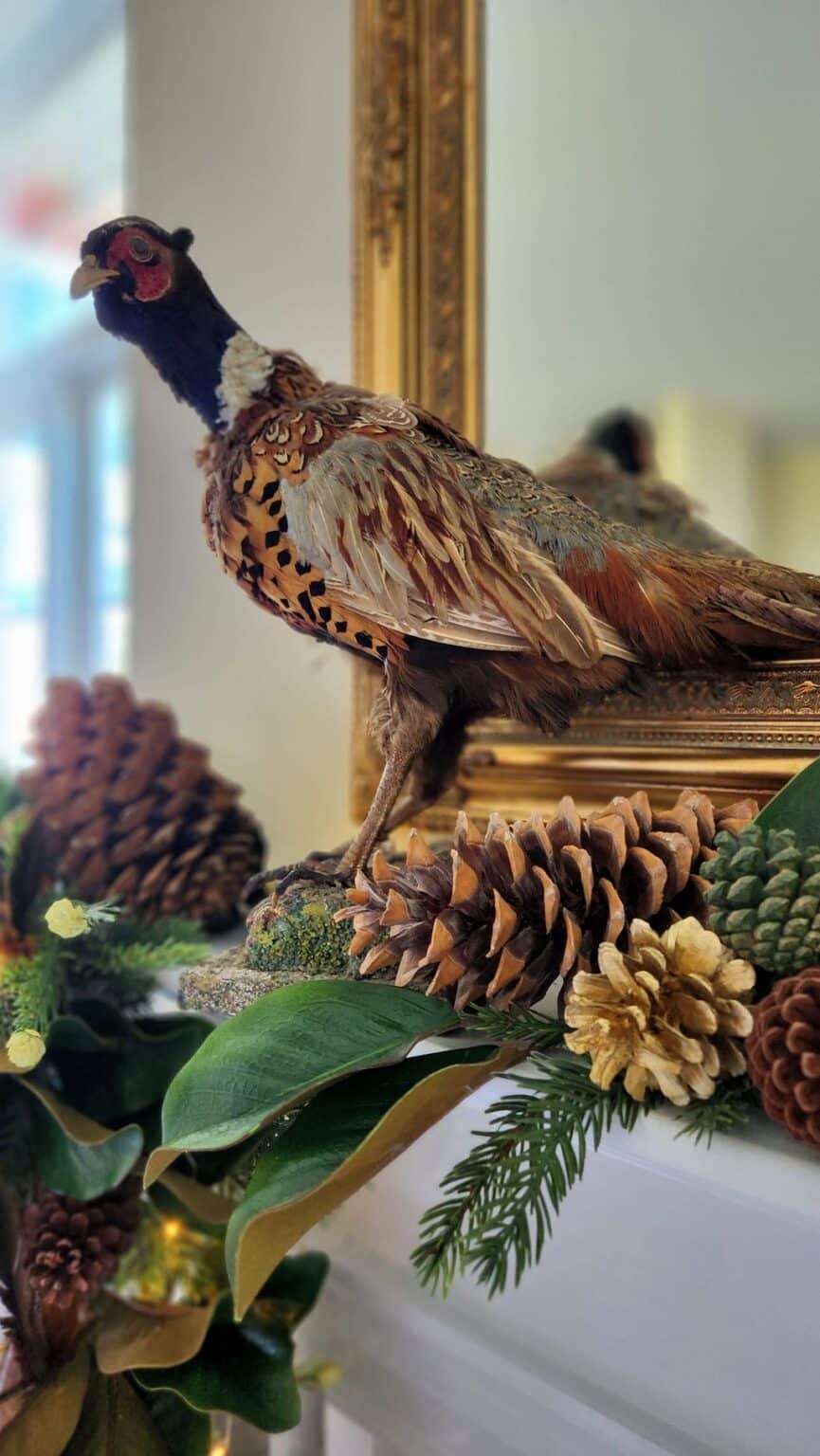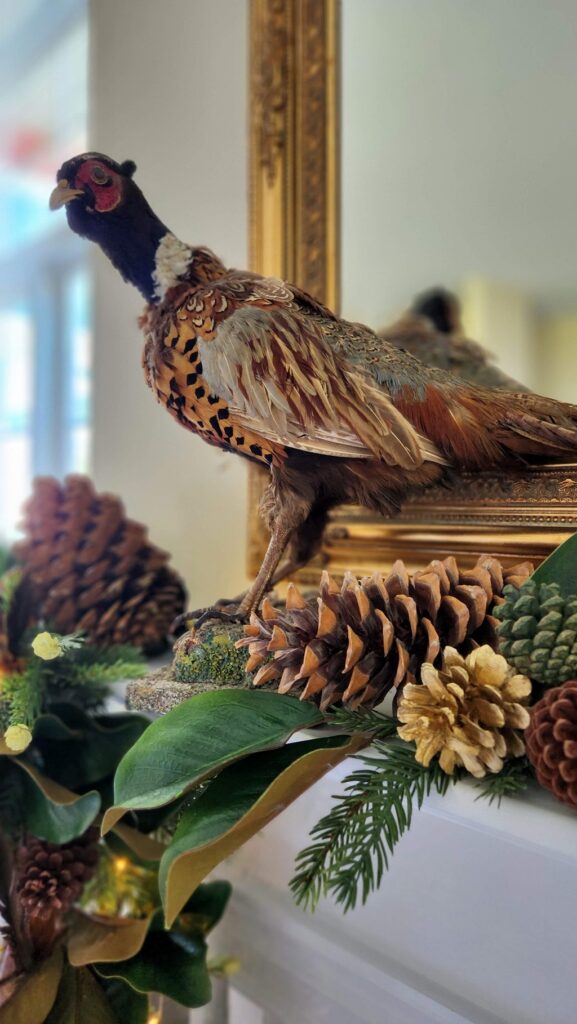 In addition to the decorations on the mantelpiece, I have also hung up my wooden violin using my chicken wire solution. Each magnolia leaf was added piece by piece along with rolled sheet music to add to the Oh Holy Night theme.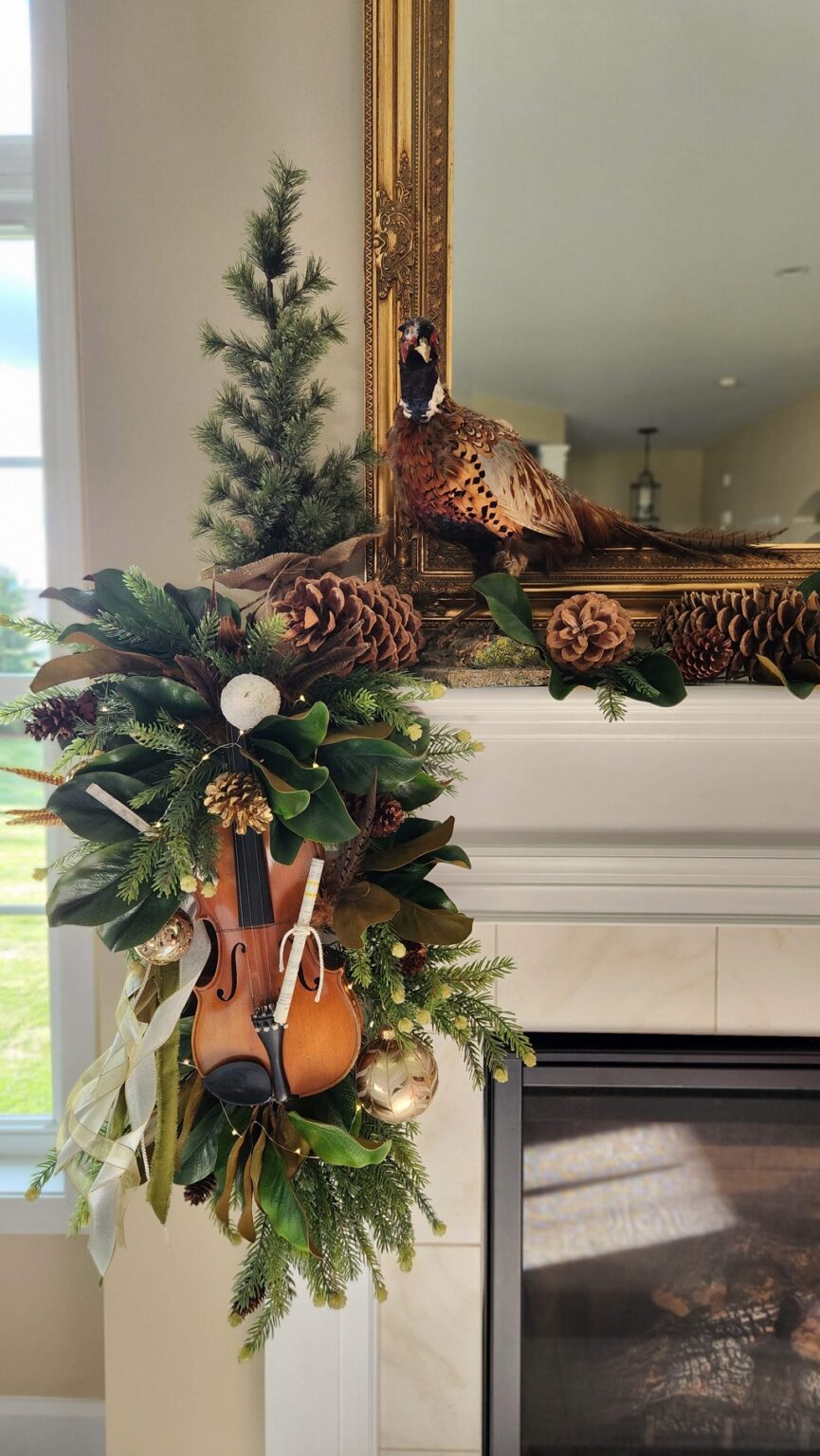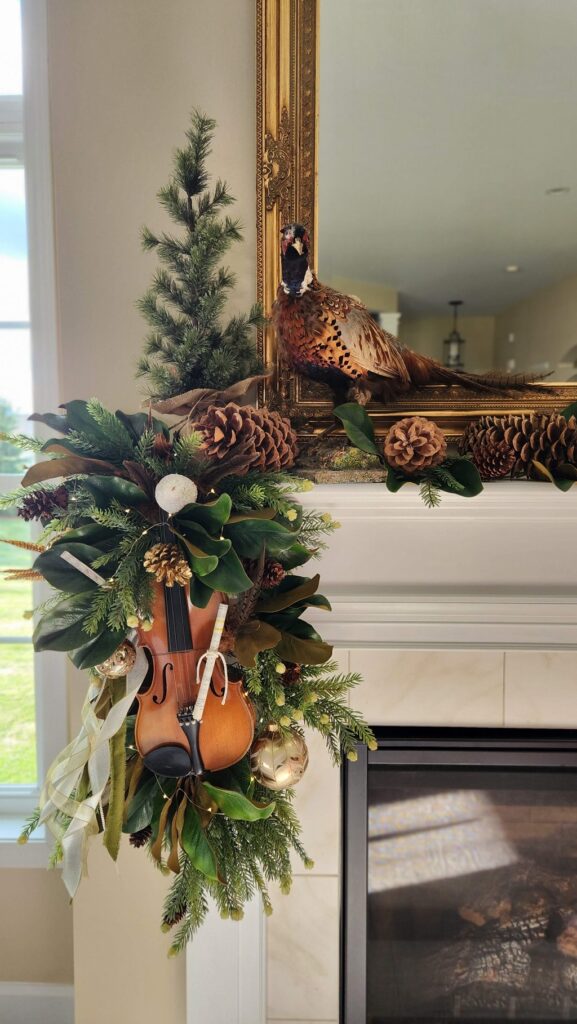 Are you wondering how I was able to hang the violin? Early in the season, I shared how to decorate your mantel using chicken wire. You may read more about that here.
To complete the look, I hung up some decorative pinecones and on both ends of the fireplace garlands along with mini wreaths on both sides of the fireplace for an extra special touch, then added several very large pinecones.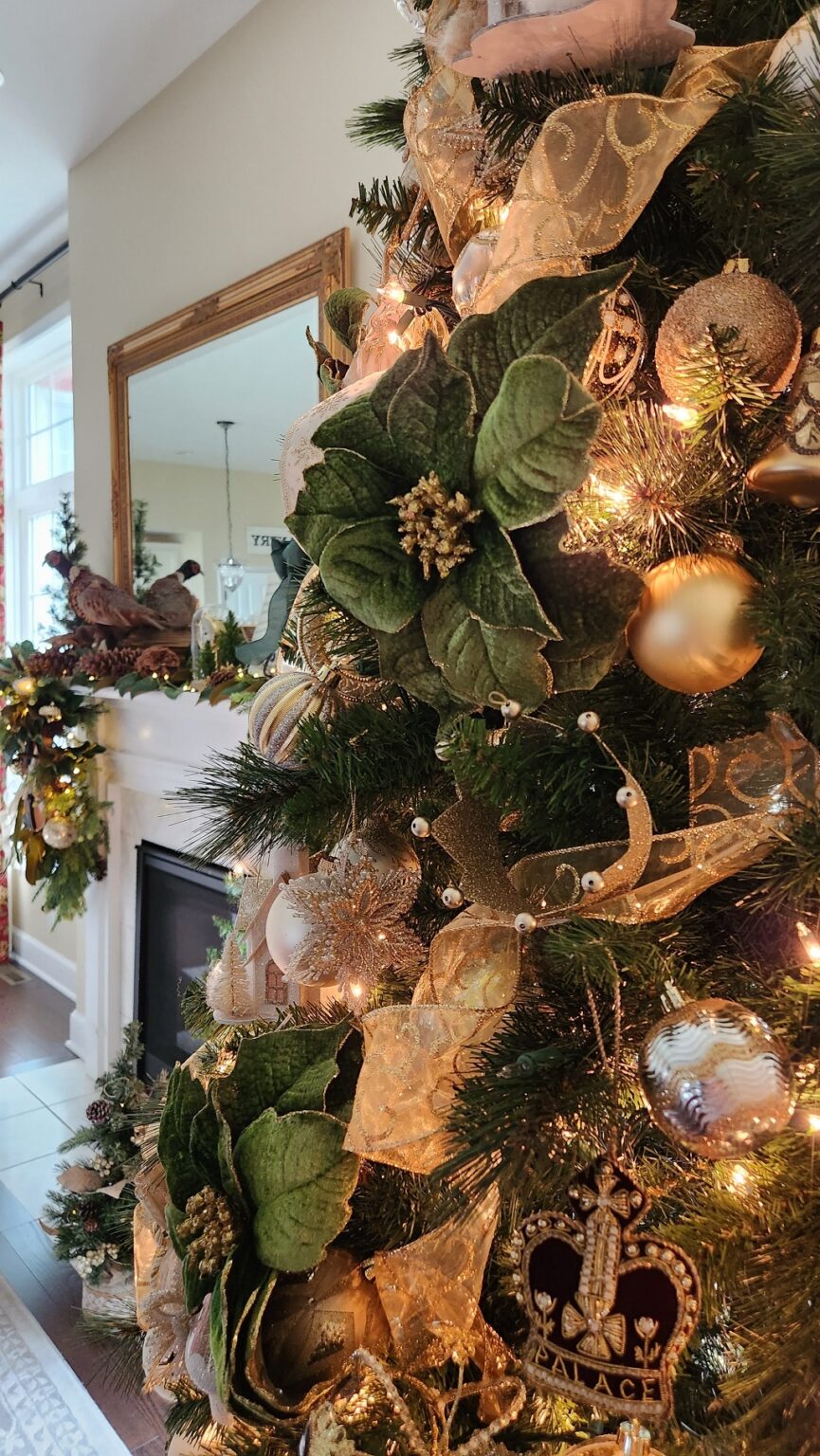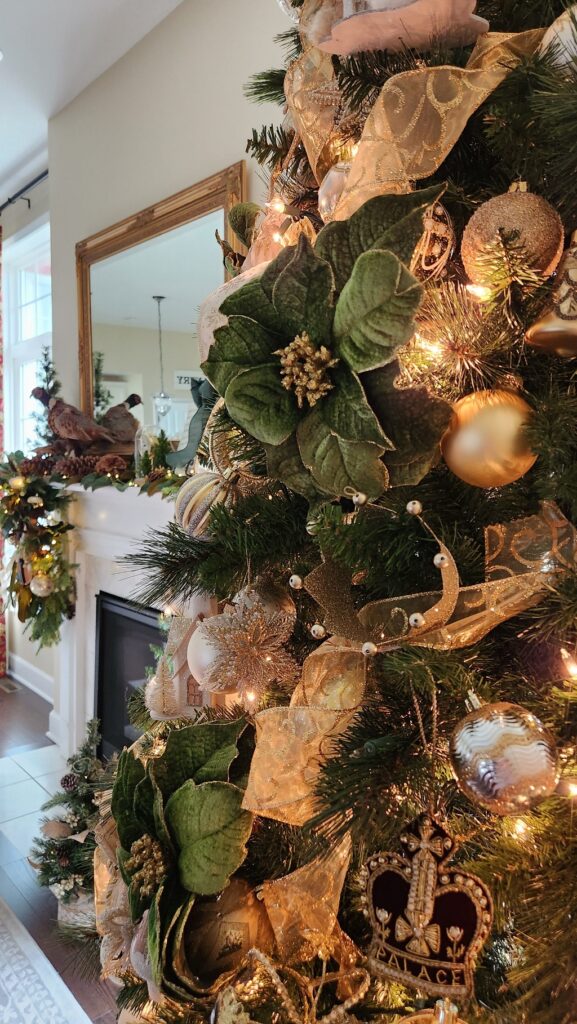 Are you like me and like to wrap your presents the same as your tree? This is how mine came out.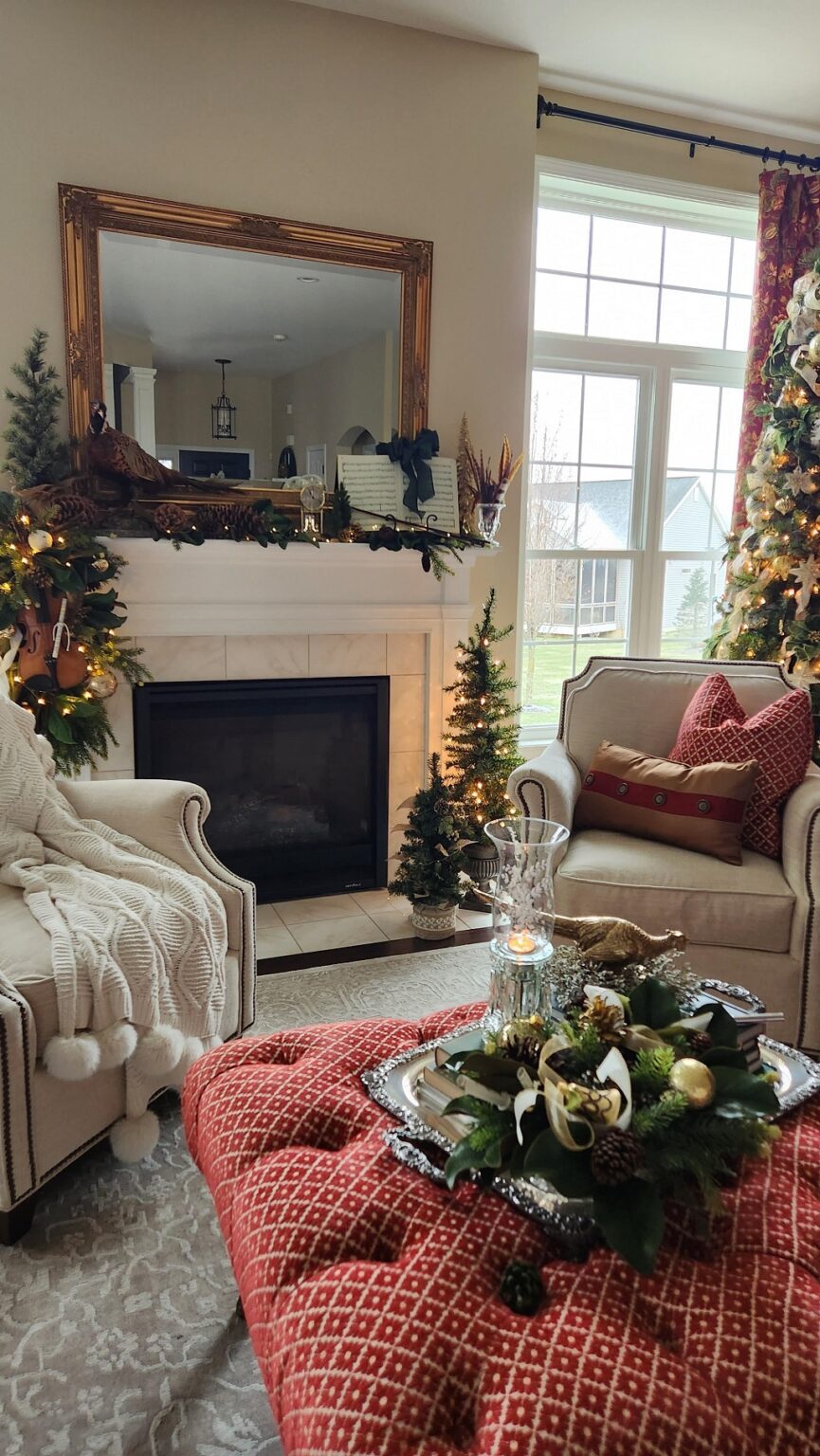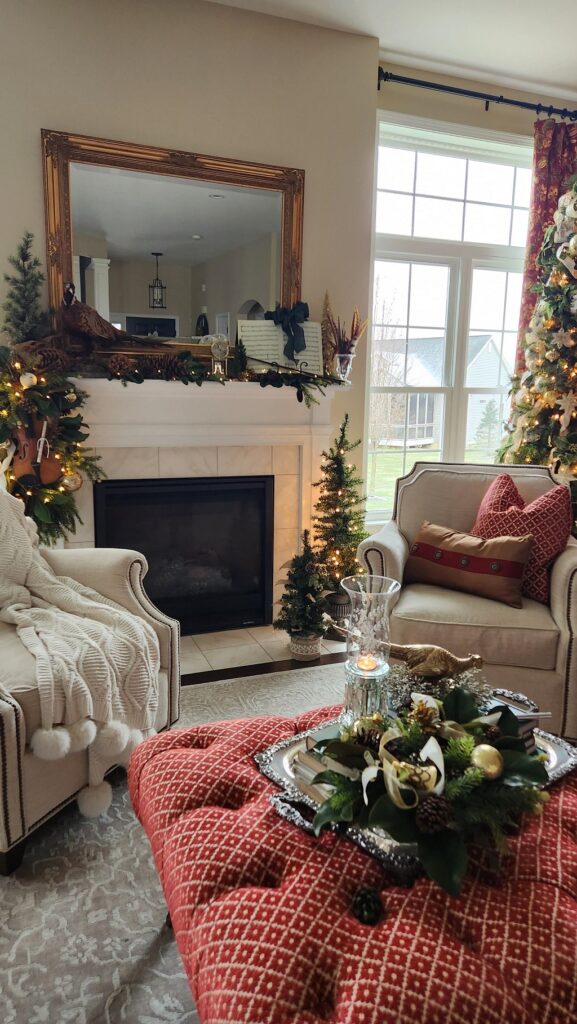 Christmas Dining Room
Lastly, I coordinated the same exquisite velvet ribbon from my living room into my dining room.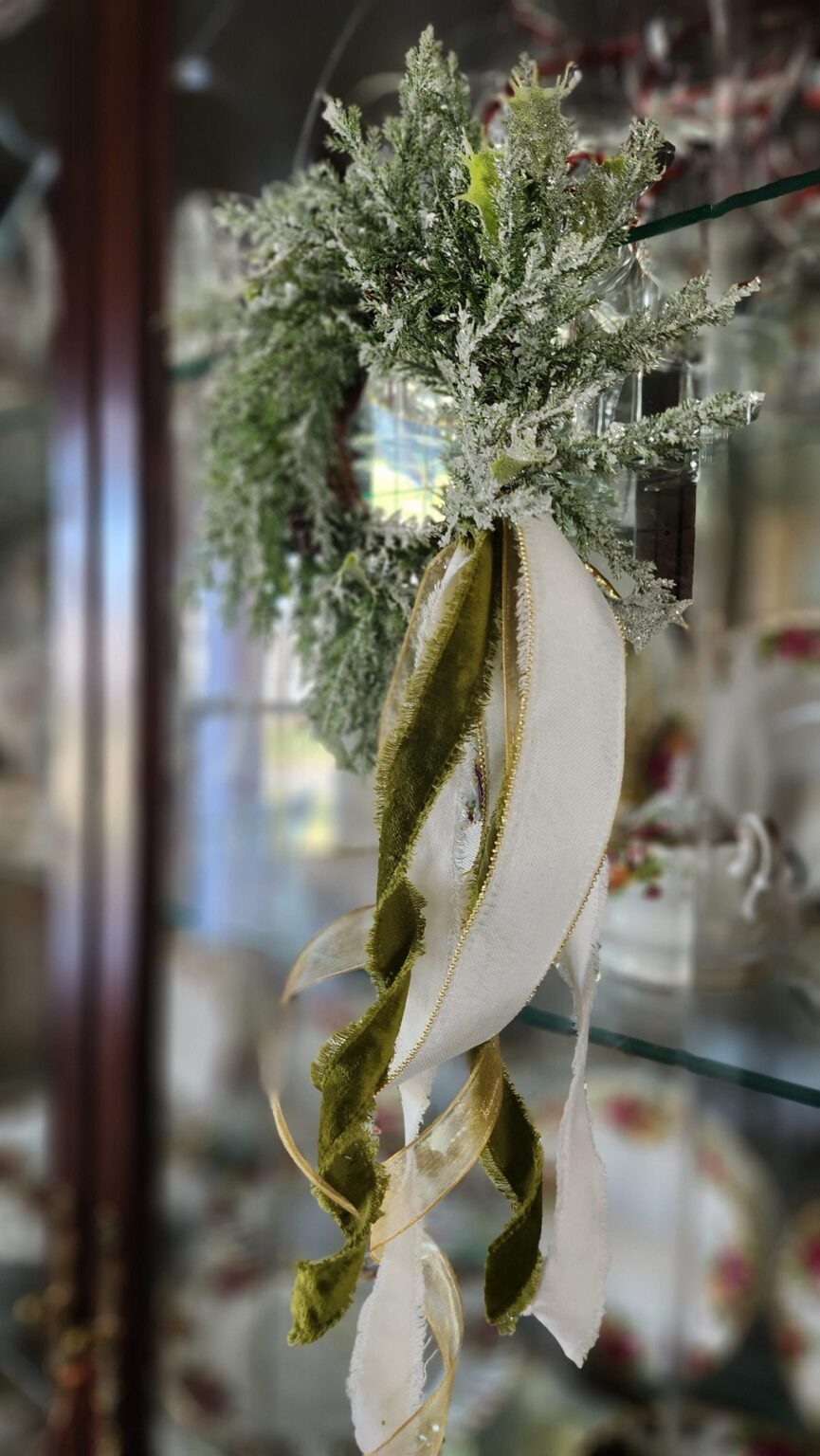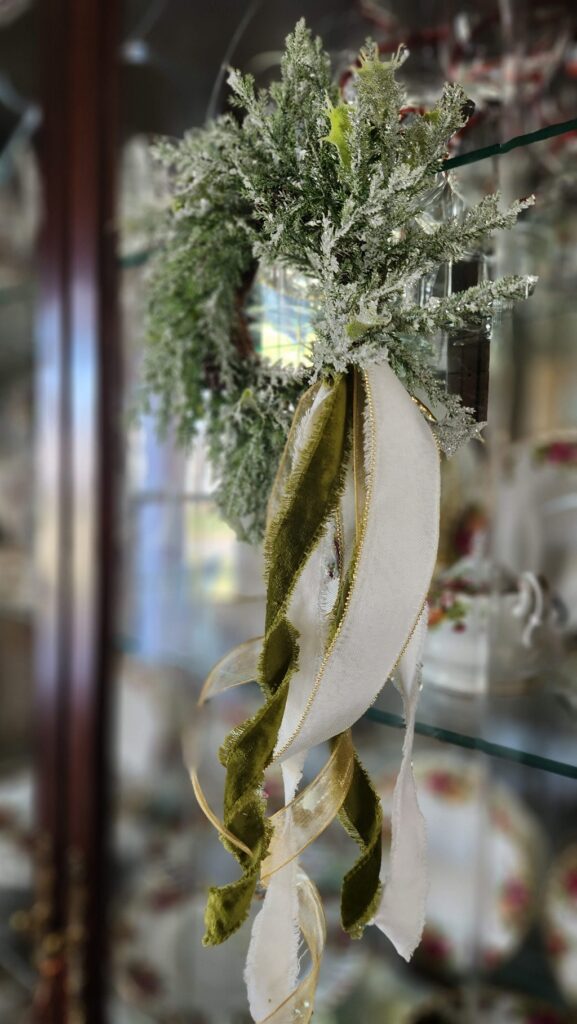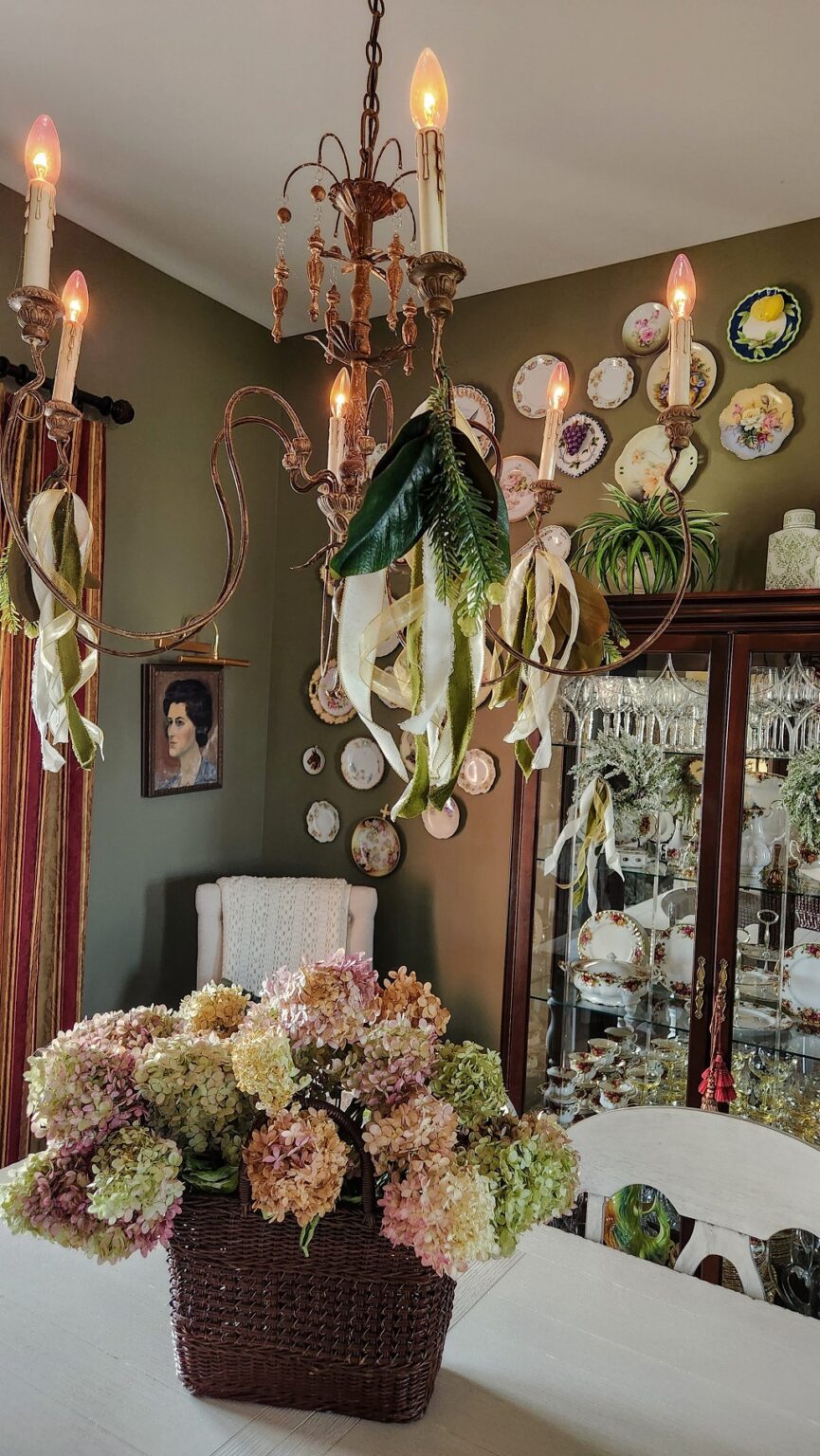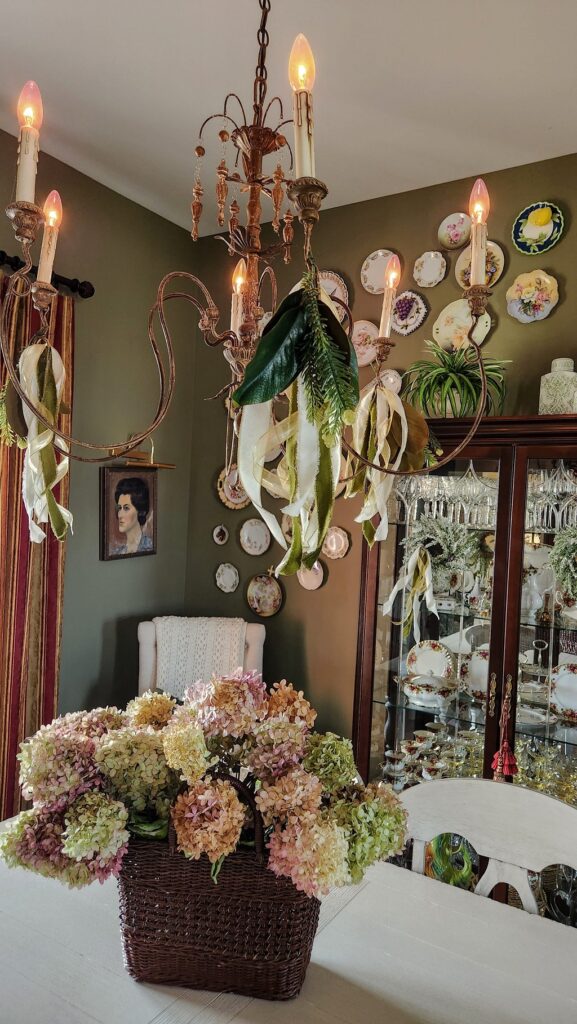 Have you checked out my other social channels? Follow along so you don't miss out on any of my tips, recipes, or stories! Join me on my other social channels for more! Pinterest, Instagram, and Facebook.
Pin It To Remember It: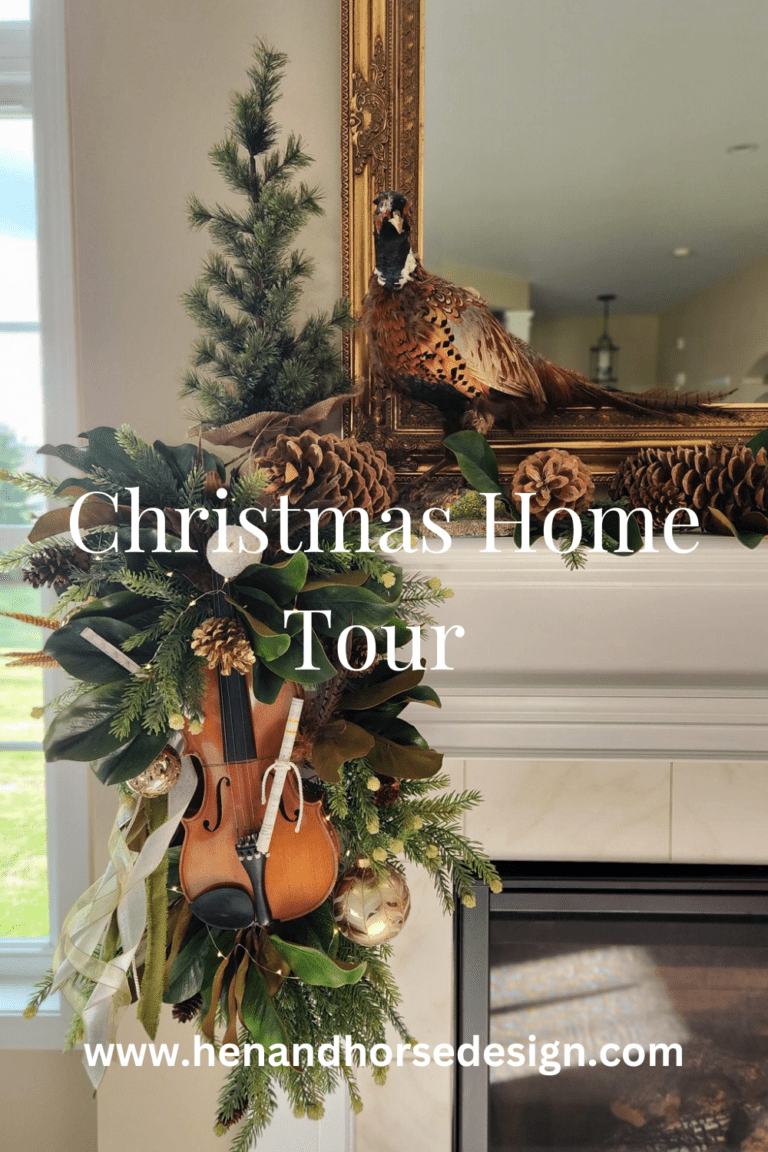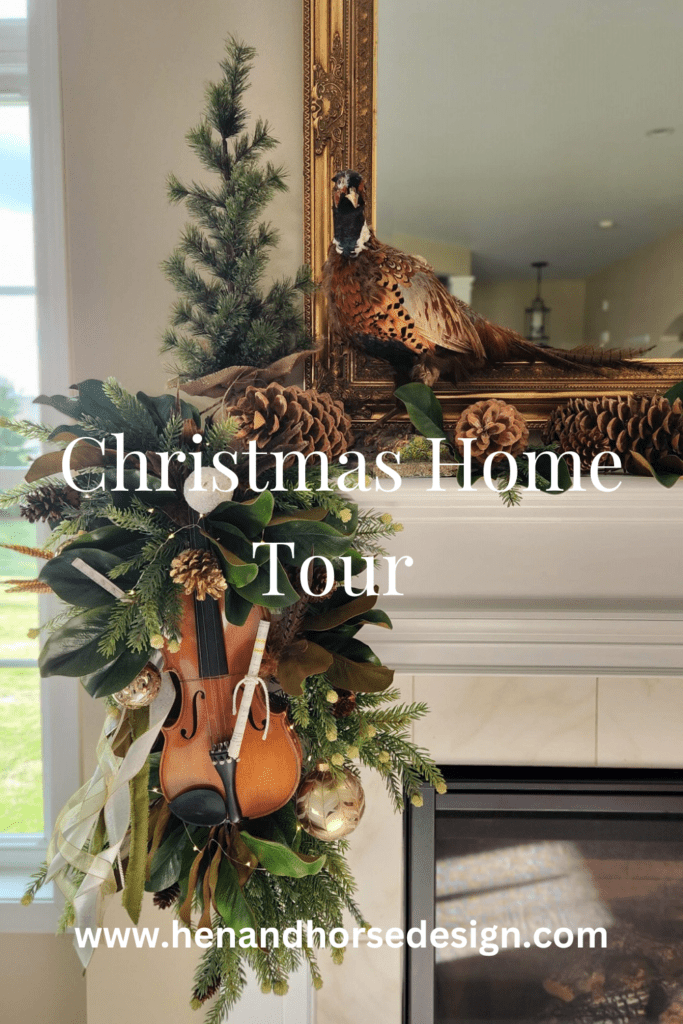 It's no secret that creating an inviting atmosphere over the holidays can be challenging but also incredibly rewarding! With thoughtful touches throughout my living room like coordinating colors between my two Christmas trees and adding personal touches like my Oh Holy Night theme – I was able to create a cozy space perfect for celebrating this special season with loved ones! Thanks for joining me on this Christmas home tour 2022 – living room. Happy Holidays Everyone!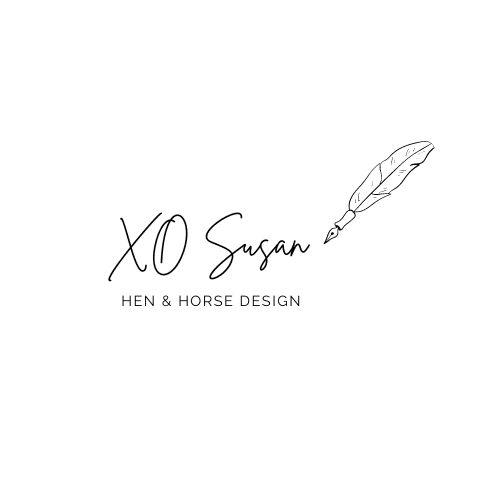 All Post
DIY
Entertaining
Garden
Home Decor
Recipes
Seasonal
Weekly News

Back
Breakfast
Salads
Side Dishes
Appetizers
Main Dishes
Beverages
Desserts
Soups

Back
Breakfast Room
Living Room
Kitchen
Dining Room
Main Bedroom
Guest Room
Porch

Back
Tablescapes
Centerpieces

Back
Christmas
Spring
Summer
Fall
Thanksgiving
Patriotic
Easter
Valentine's Day

Back
Organizing
Easy Crafts
Home Improvement
End of Content.