6 Easy Christmas Gift Wrapping Ideas
6 Easy Gift Wrapping Ideas for Christmas
It's that time already.
The tree is trimmed. The tinsel is sparkling. The outdoor lights are on. It's time to share my 6 Easy Christmas Gift Wrapping Ideas with you. 
Throughout the year, I love to be creative with my present wrapping, but when it comes to Christmas, I want my gifts to look as if they have been to Christmas Wrapping School to get an over-the-top special look!
I've teamed up today with some amazing creative ladies to give you some awesome Christmas Gift Wrapping Ideas!
Be sure to check them all out! You'll find their links below!
One of the best ways to make your gift outstanding is to embellish your presents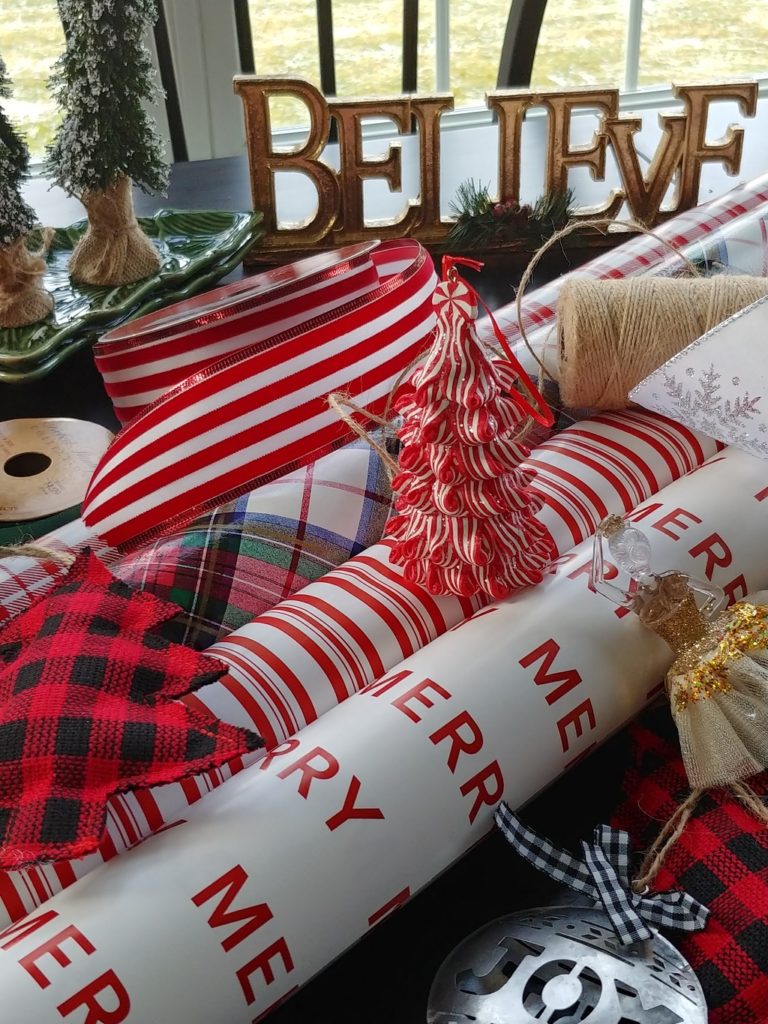 "This post may contain affiliate links which means I may earn a small commission. You may read my
disclosure policy here
".
Each year I start out by deciding what my wrapping color scheme will be.
A few years ago I did all checkered papers with various embellishments. Last year, I used all gold and silver wrapping paper.
I love having every gift under the tree coordinated. It makes for such a lovely display underneath your tree! 
This year I've decided to use the same red and white colors, although different patterns! 
One tip! When you are going thru your Christmas decorations at the end of the season, rather than donate what you might not need, save it in a box for next year for gift wrapping.
Tying ornaments, bells, greenery, and ribbons is my number one way to make a gift so special! 
How about adding a cookie cutter to the outside of a gift for the baker in the house?
Almost any small items can be attached to the outside of a gift! 
1. Wrapping Ideas – Add Embellishments Such as Stems with Berries
I love a present that is wrapped with a present!
This darling black and white checked tree ornament is a gift on a gift! 
When wrapping, fold an accordion-type fold within the wrapping paper for a little pocket. You can then add a card, an ornament, or a gift card to your present easily.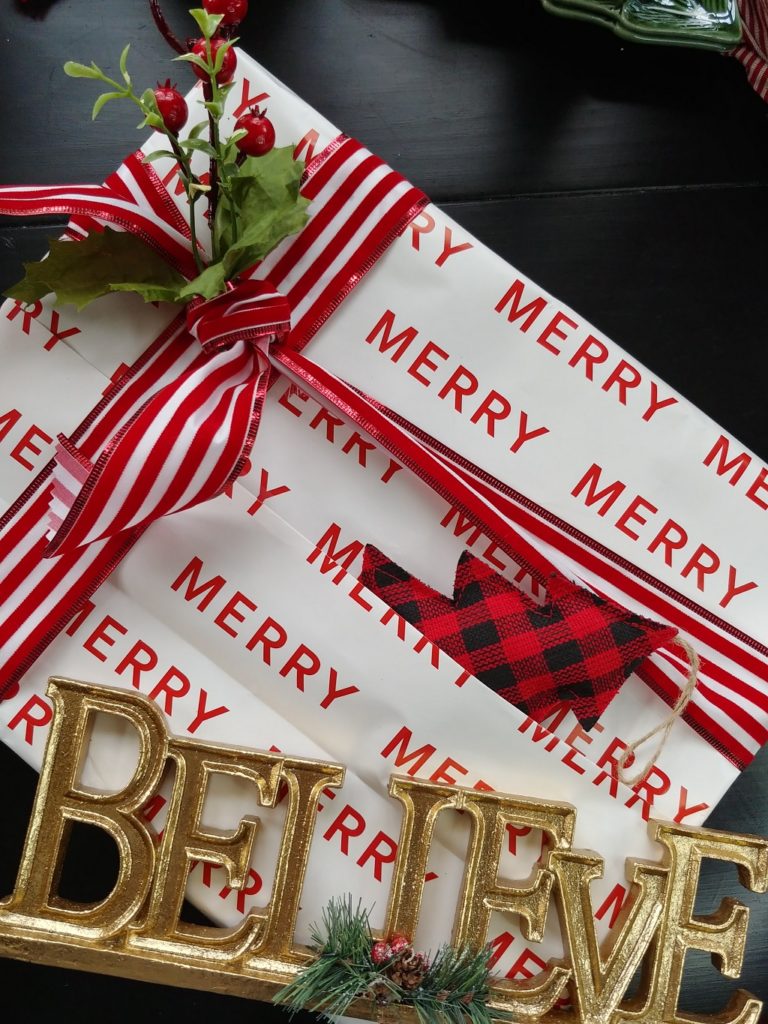 The ribbons.
The string.
The brown paper packages!
This is a time to be creative and let your imagination take hold!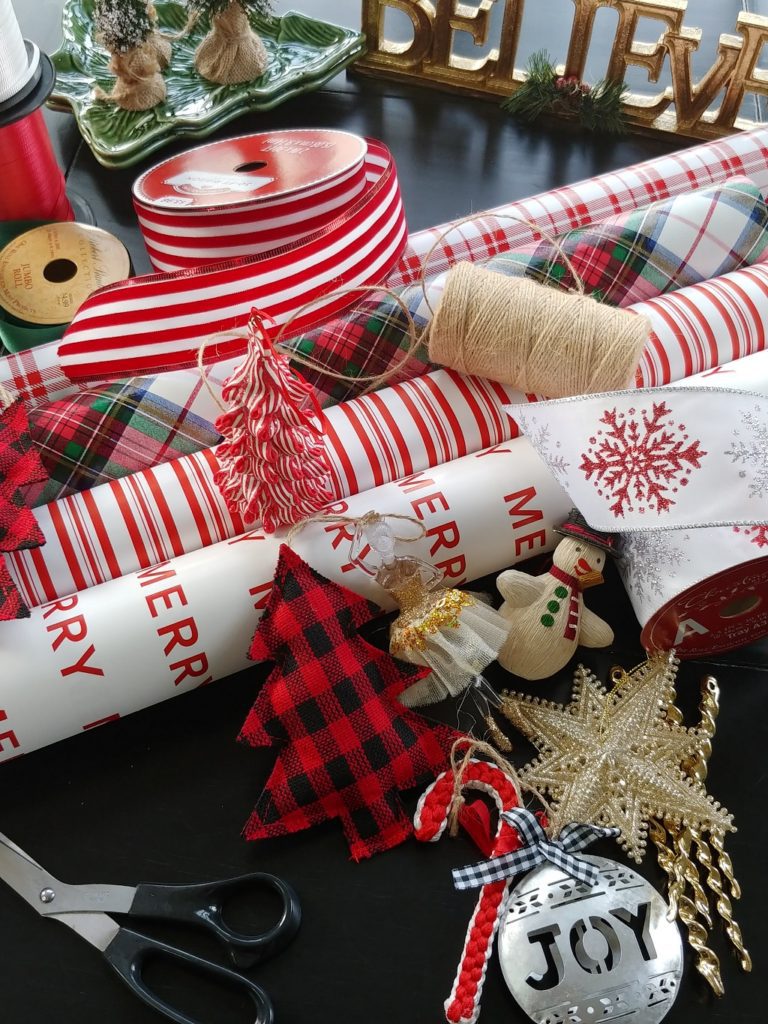 2. Christmas Dish Towels are Great for Wrapping a Gift
I went looking for a few Christmas dish towels to wrap a gift of spirits!
Isn't this reindeer the sweetest? This makes for a great hostess gift. A bottle wrapped in a fun kitchen towel looks fabulous! 
Using a pin or two I was able to wrap the towel around the bottle to secure it. Add a ribbon and your bottle is ready for gift giving! This is a fun wrapping idea!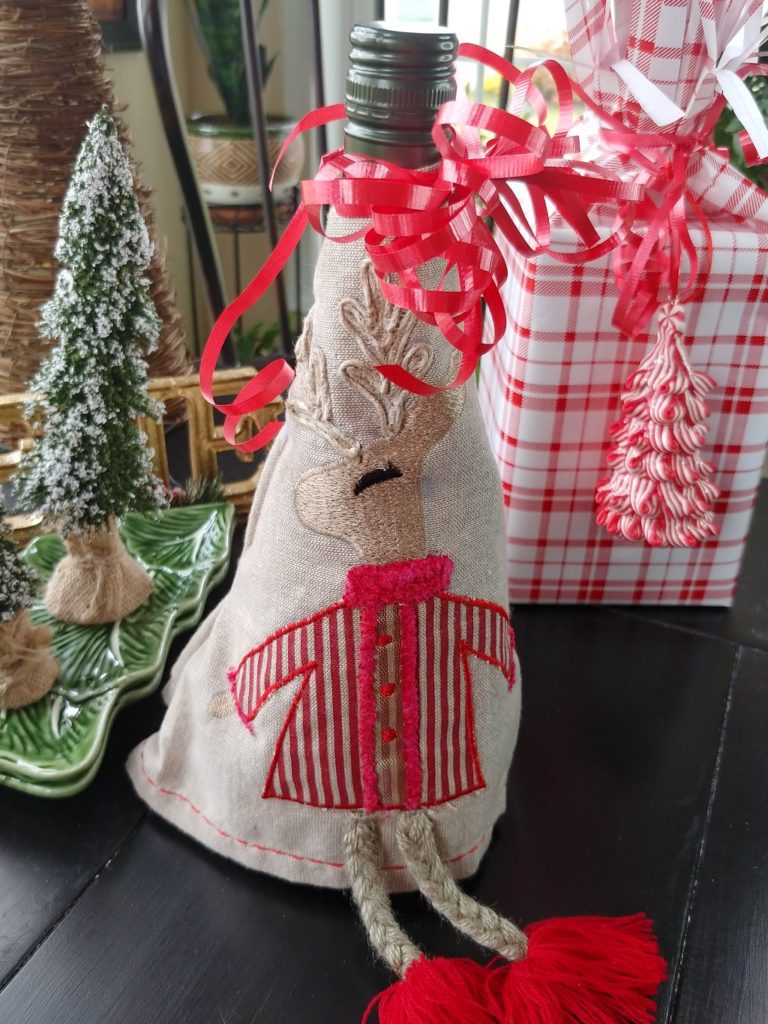 3. Shred the Top!
For this tall box, I could have just squared off the top and added a bow. 
Nope, not happening!
I shredded the top portion by cutting long strips down and adding a tree ornament!
The shredded became the tree topper in this case!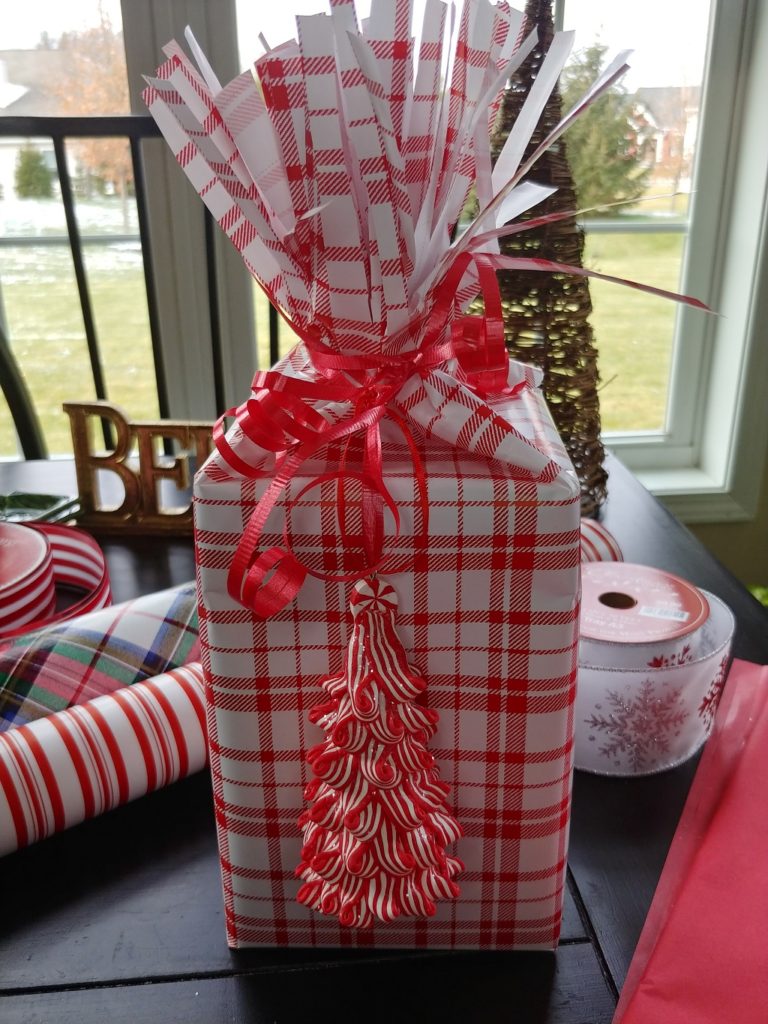 4. Add Candy Canes and Twine
I love this tree!
It's not my first tree this season. I have trees on the mantle.
Trees on the foyer table.
Trees on the tree!
I was a bit obsessed with trees this year!
With the twine, wrap your present several times, taping the back to keep the tree lines in place. 
I've added a star ornament for the top of the tree, along with a candy cane for the pocket!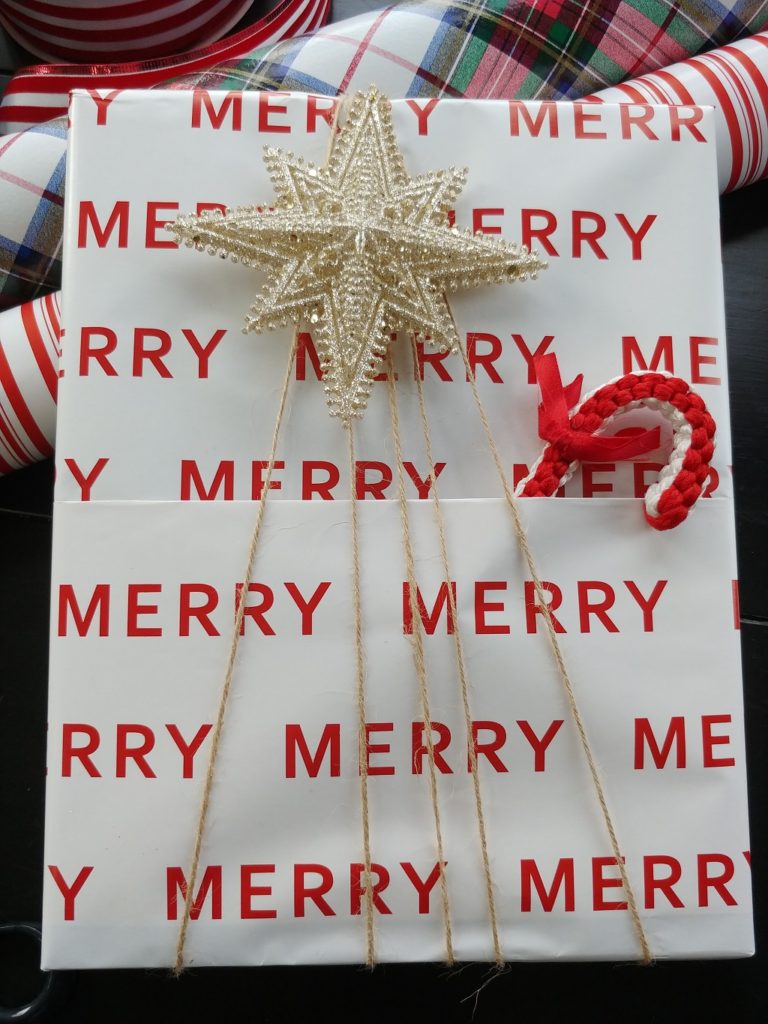 Storage for Your Wrapping

5. A Second Option for Using a Dish Towel as Wrapping Paper
With this gift, I wanted to wrap it using another rectangular striped kitchen towel, tieing it in a knot rather than using paper wrapping! 
Two gifts in one! 
Fresh rosemary adds not only a fragrant touch but the chef in the house can utilize it as well!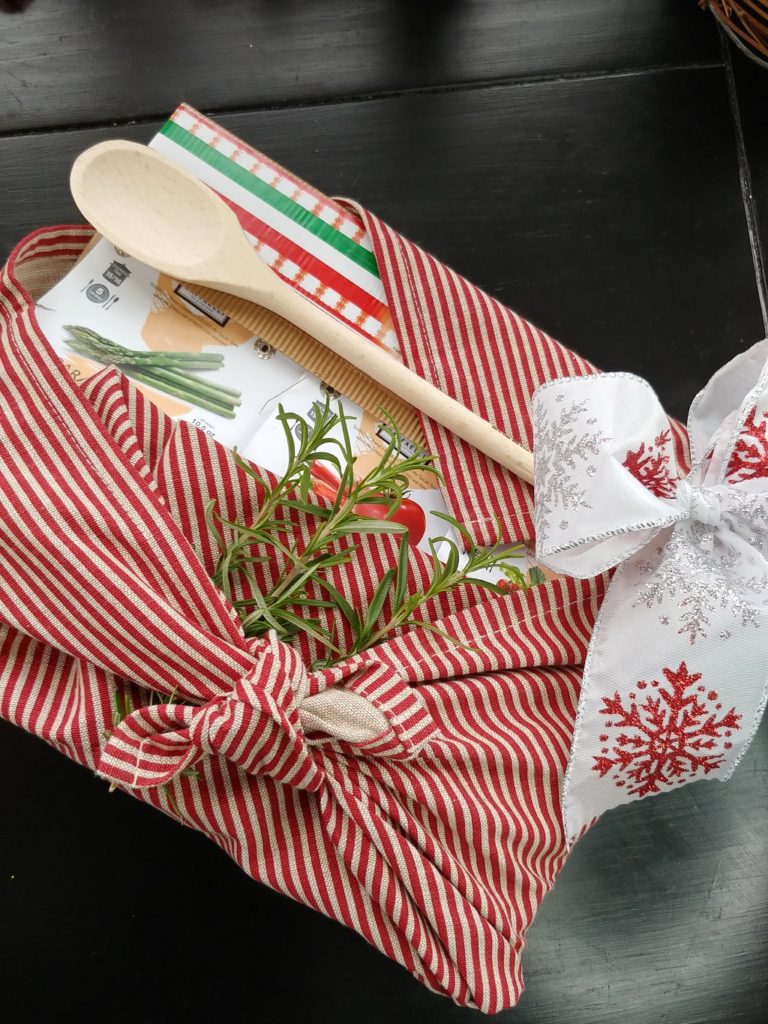 6. Reindeer Bottles Anyone?
You can read how I made my bottles look like reindeer HERE!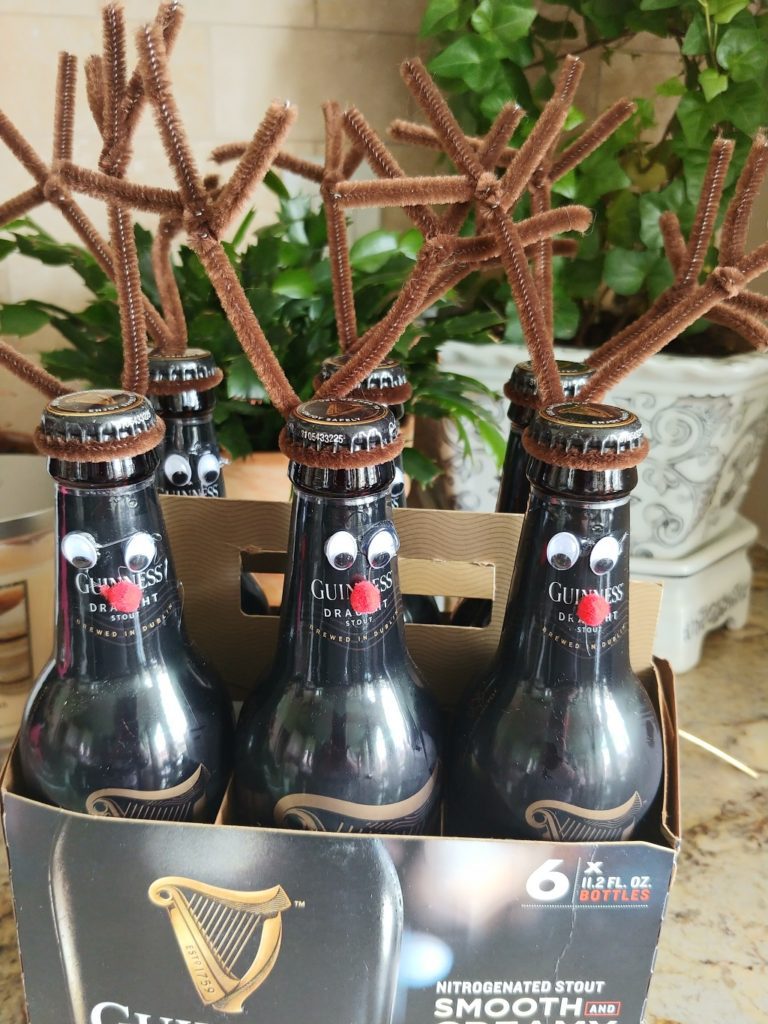 Don't forget to check out more gift wrapping ideas from these talented ladies!
Missy
https://www.sonatahomedesign.com/christmas-gift-wrap-ideas-one-personality-at-a-time/
Karianne
https://thistlewoodfarms.com/21-easy-diy-christmas-gift-wrap-ideas/
Wendy
https://wmdesignhouse.com/the-best-christmas-gift-wrapping-secret/
Regina
https://savedfromsalvage.com/cozy-creative-christmas-wrapping/
Anita
https://ajoyfulordinarylife.com/12-simple-gift-wrapping-ideas/
Kim
https://shiplapandshells.com/5-simple-ideas-to-make-gift-wrapping-fun-amd-easy/
I hope you are inspired to add embellishments to your gift wrapping ideas this year! 
XO Susan
Affiliate links may be used in this post, which means I may earn a small commission although it doesn't cost you a penny more!