Patriotic DIY Door Wreath + Front Porch Decorating Ideas
Make this super easy patriotic diy door wreath + front porch decorating ideas for your home, and keep it up all the way thru July 4th!
Bring a pop of color to your front porch with a beautiful DIY door wreath using bright colors and faux flowers from your local craft store. Easy and fast to do. Changing your summer wreath and updating your front porch is one of the easiest ways to add curb appeal to your home now that the warmer weather is here.
Thank you for stopping by to join me for a fun DIY project. Today I'm excited to share with you the perfect wreath that will take you from the spring season right into the summer season. The best part is that it is budget-friendly!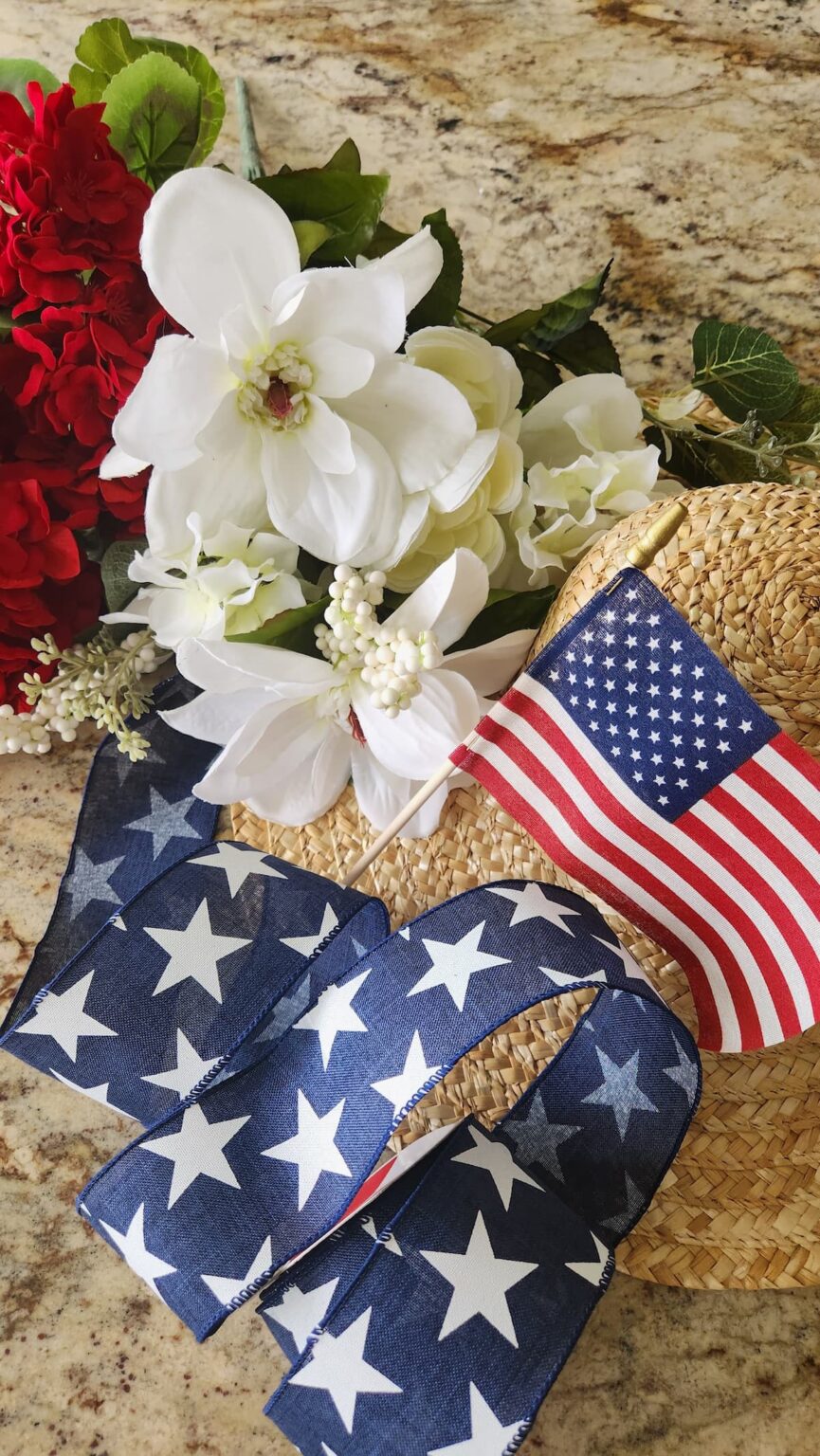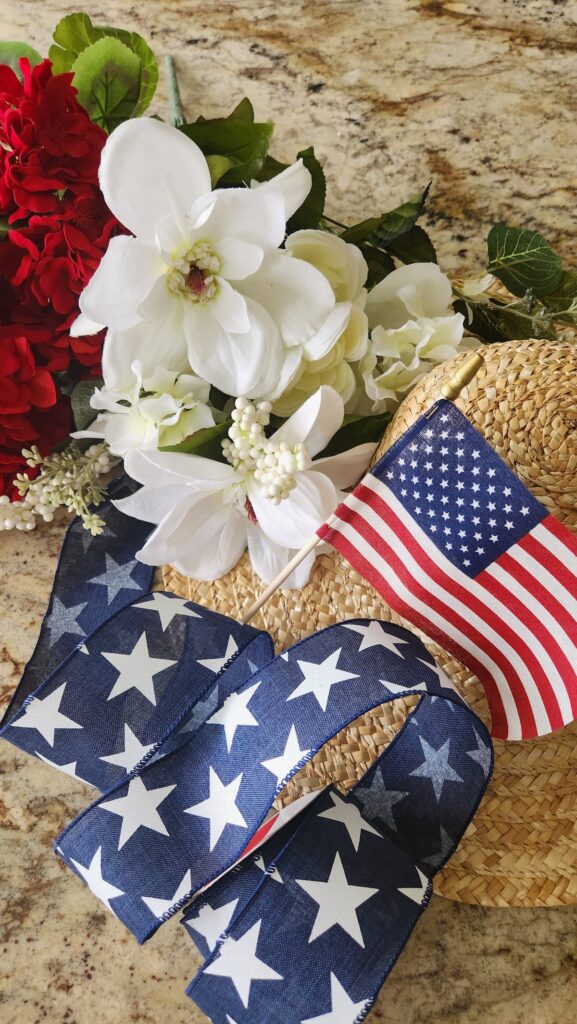 "This post may contain affiliate links which means I may earn a small commission. You may read my
disclosure policy here
".
How do I make a homemade door wreath?
At times finding inspiration for a homemade wreath can be challenging. Especially if you want your wreath to be unique to you and not have a cookie-cutter look to it.
For years now I have always loved to create my own DIY front door wreath. Faux wreaths are easy to do and totally spruce up your front door decor. Greeting any holiday season, a themed wreath is so welcoming when guests come knocking on your door.
All you need is the desire to create a beautiful wreath for your door, a little inspiration, plus a few simple supplies you may already have to get started. Read on for more.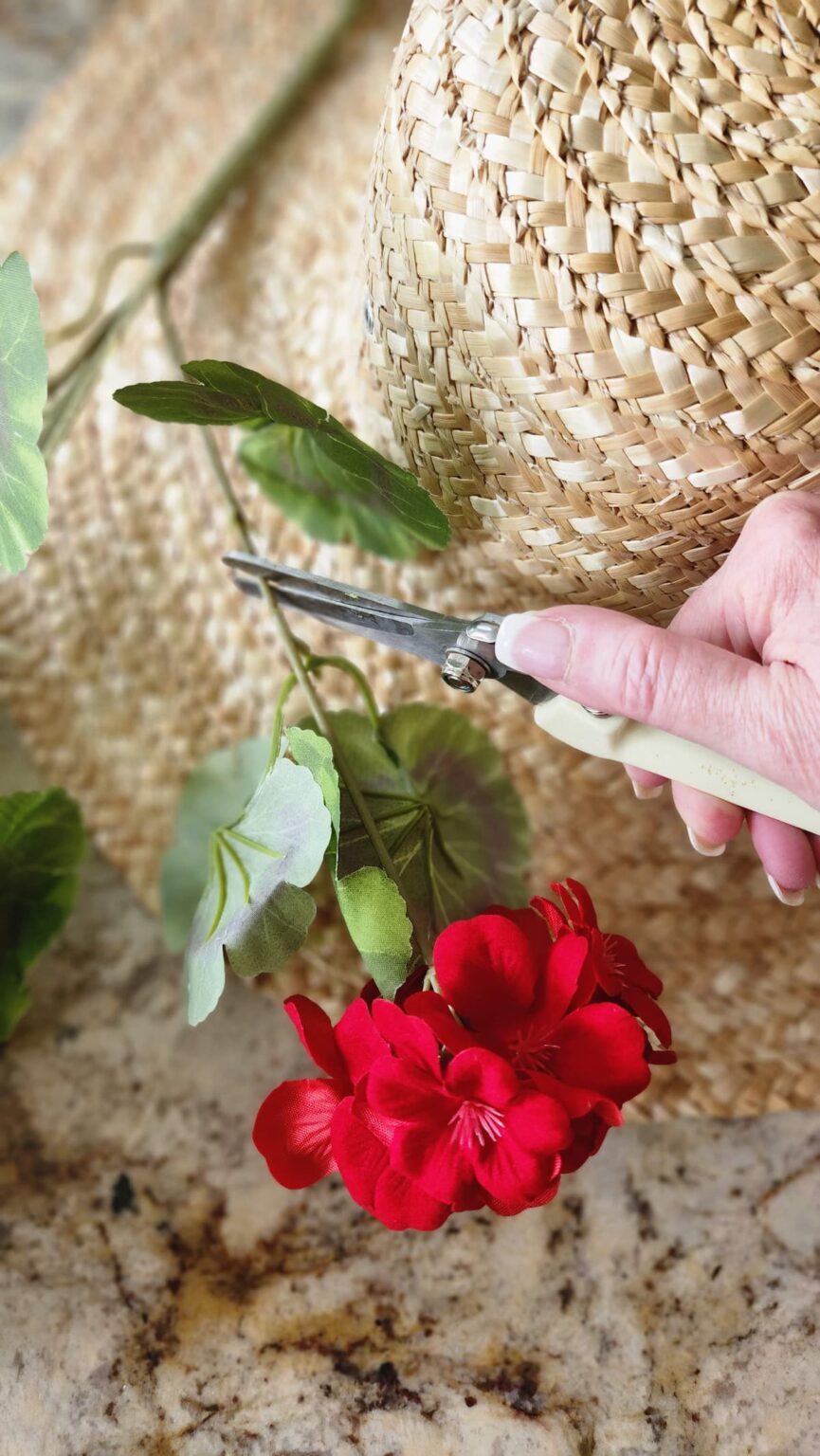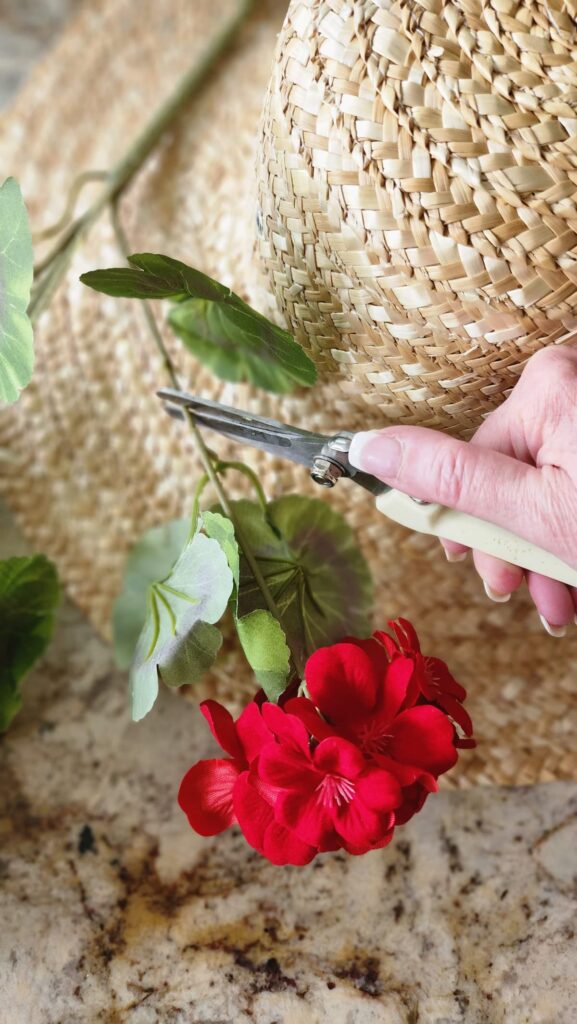 Find your inspiration
When looking to create DIY door wreaths, I look for items to use when shopping in our local dollar store, estate sales, thrift stores, craft supplies shops, or Pinterest to gather ideas.
Decide on a color scheme
Gather your supplies
Select a wreath base (a wire frame, embroidery hoop, straw hat, or grapevine form all make a gorgeous wreath)
Choose your fake flowers
Pull out your glue gun, floral wire if needed, and wire cutters
Once I found the inspiration for my colorful wreath, I got started by finding my wreath base.
With this wreath, I choose to use a straw hat rather than a wire wreath form for my base.
I had originally priced out evergreen wreaths for my base which are a lovely choice to use. The only thing was that pricing for this type of wreath, however, started at about forty dollars. That is just for the wreath, not the flowers, ribbon, and flag. Not exactly the budget-friendly idea I had to keep my costs down.  
Last year I choose red and white geraniums for my spring flowers on my simple wreath. This year I thought it would be a great idea to switch it up and use white magnolia-type stems along with the red geraniums.
Is it cheaper to make or buy a wreath?
Yes, making your own floral wreath is a great way to keep your costs down. Have you seen the prices of wreaths that are already made? They can be a small fortune. I've seen them at discount home decor shops ranging from $65.00 to $110 dollars and higher.
When gathering your supplies, keep in mind to use any craft store coupons you may have. It is also a great idea to watch for sales on faux greenery and different sorts of materials that you may need.
What can I hang on a door besides a wreath?
If you can dream it up you can create it.
The ideas for hanging door wreaths are endless. All you need is a little creativity and a hook!
Check out this gorgeous idea of using moss from my friend Brooke at Farmhouse 1820. I love how Brooke varied the green moss with the lavender color.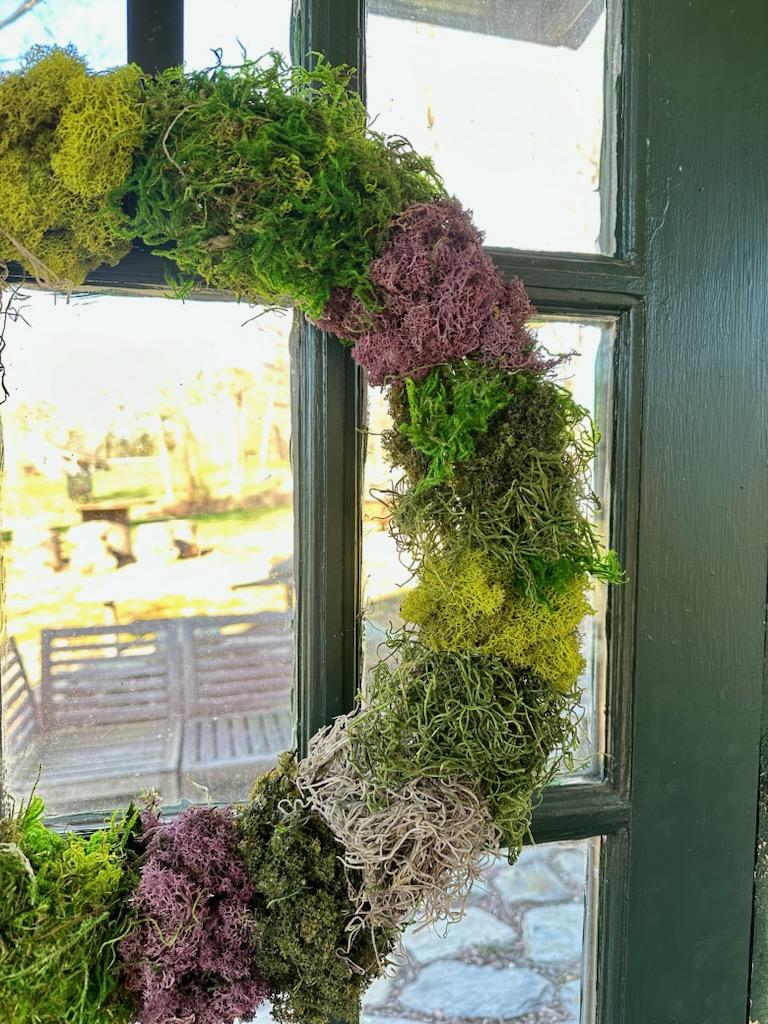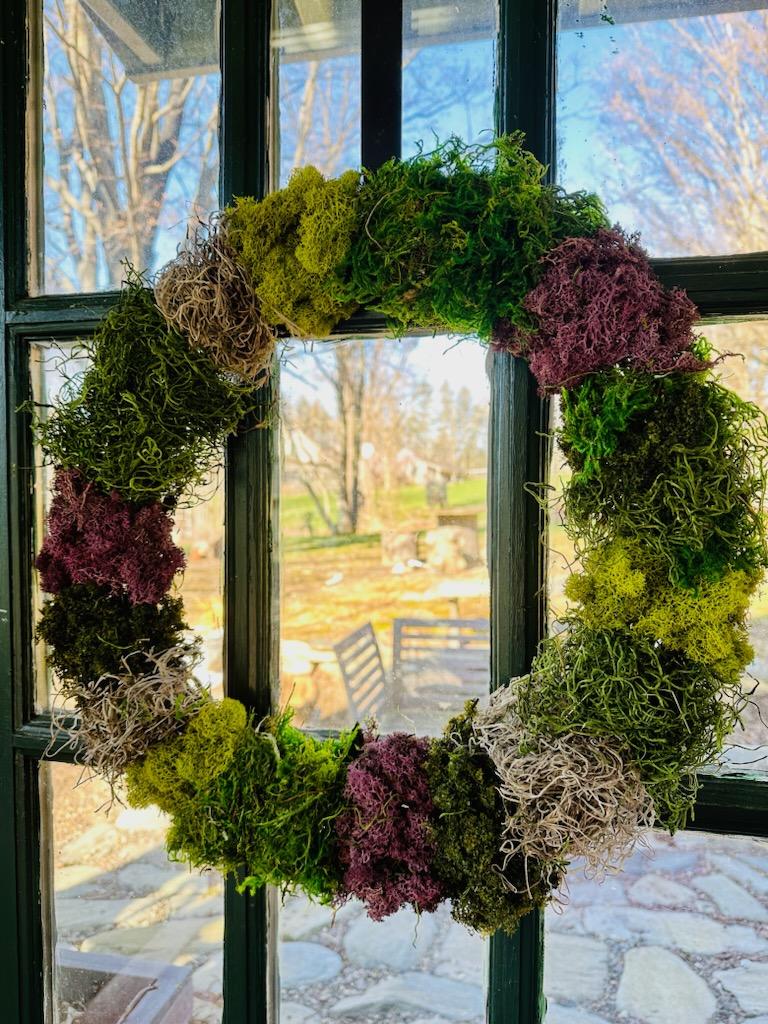 How about a succulent wreath? Wendy from WMDesignhouse created this colorful wreath out of succulents.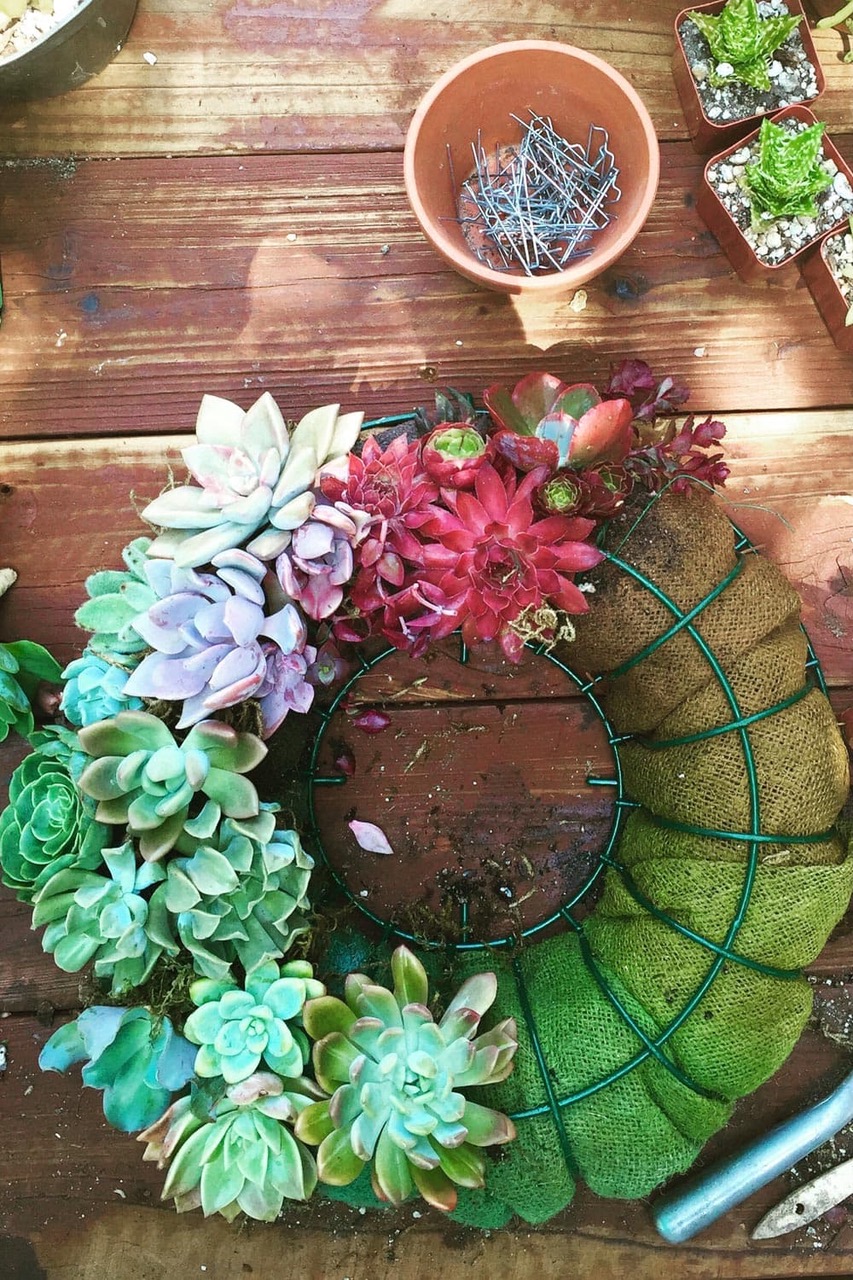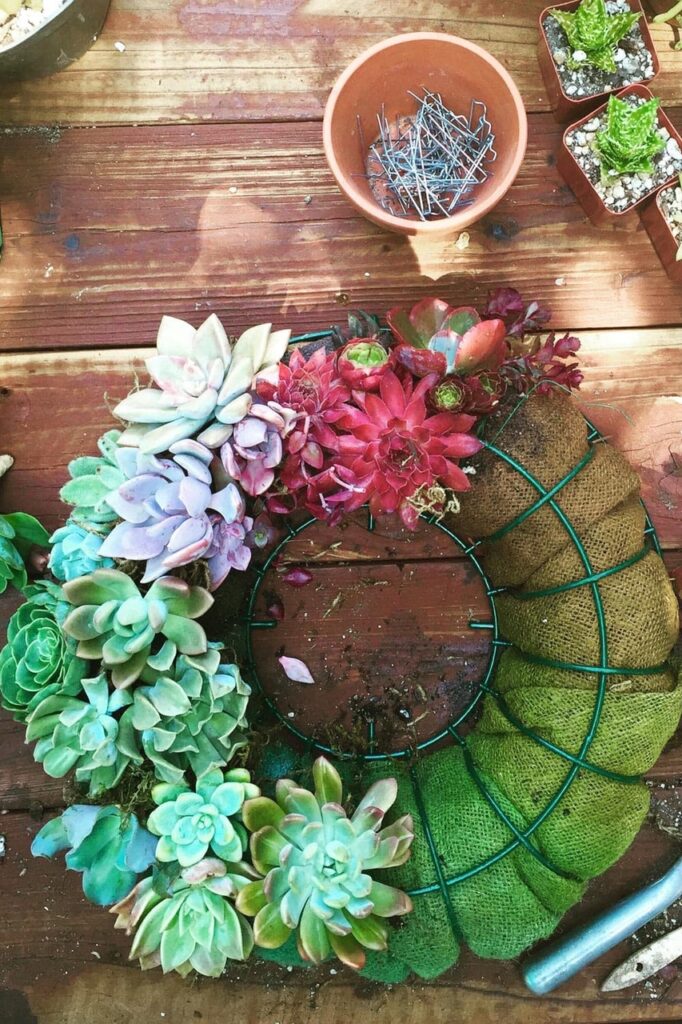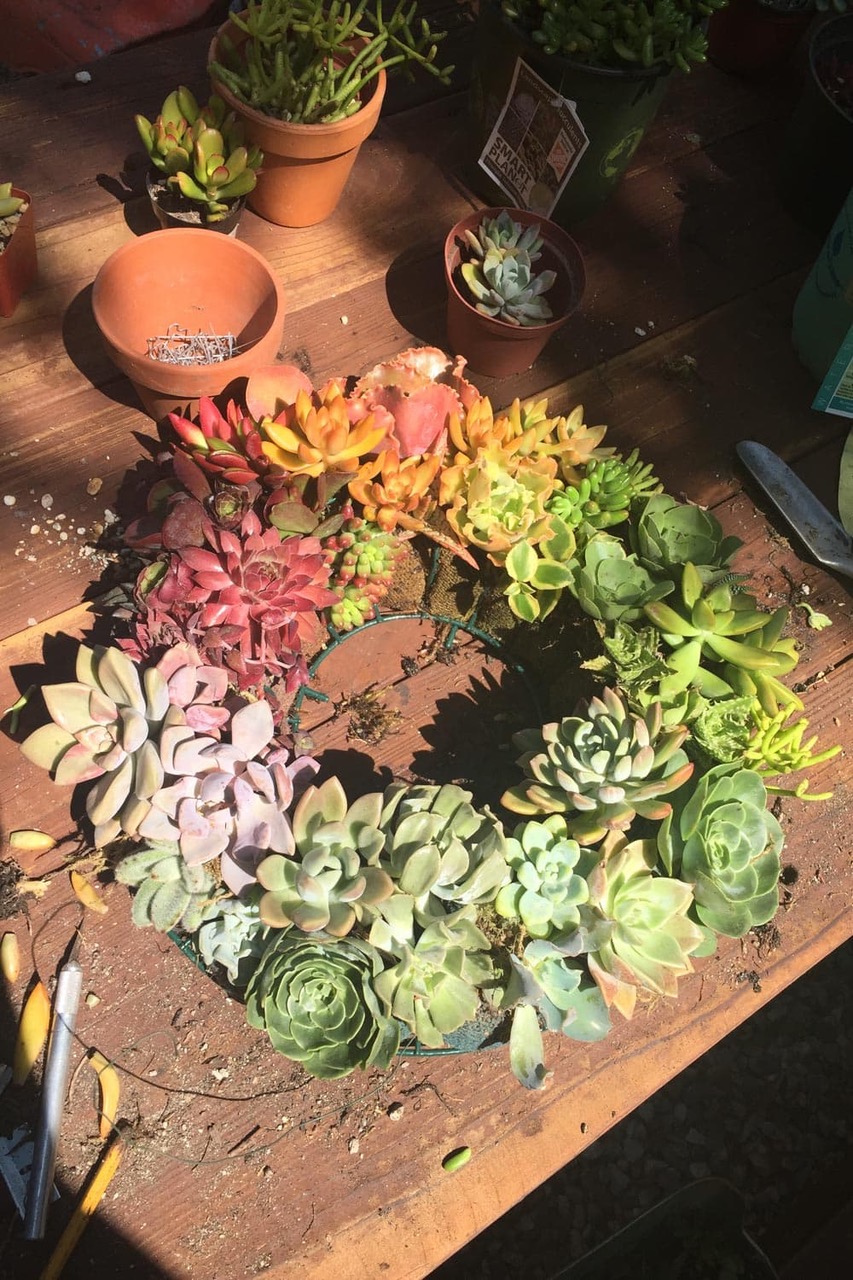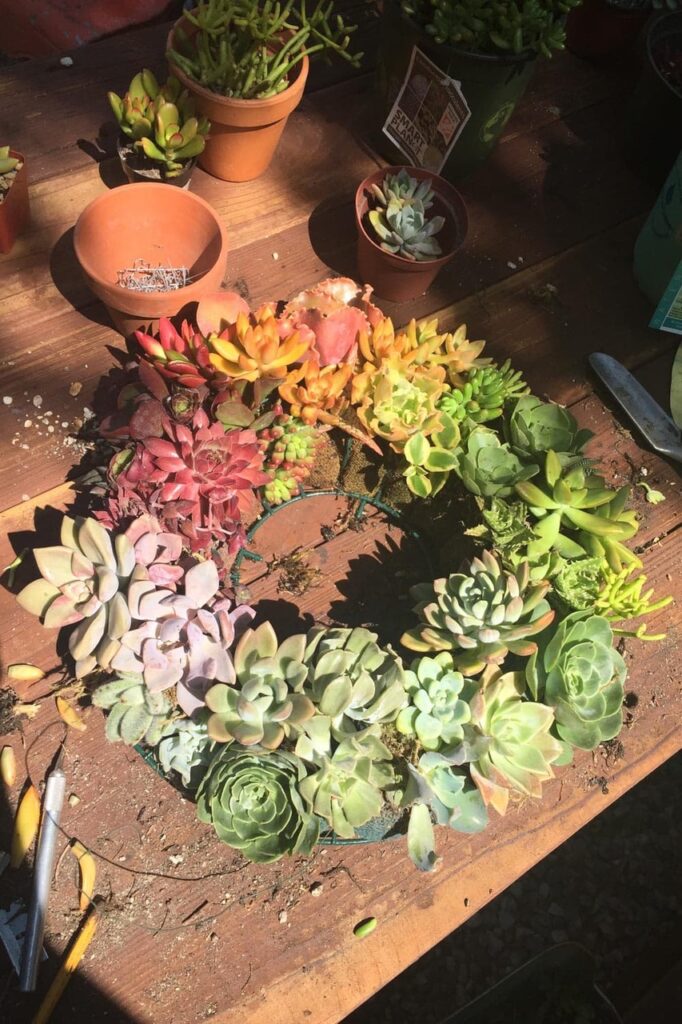 Supplies needed to make a Patriotic DIY Door Wreath
How to assemble?
Step by step tutorial
Add layers of greenery, varying the type and size of the leaves, adhering with your glue gun.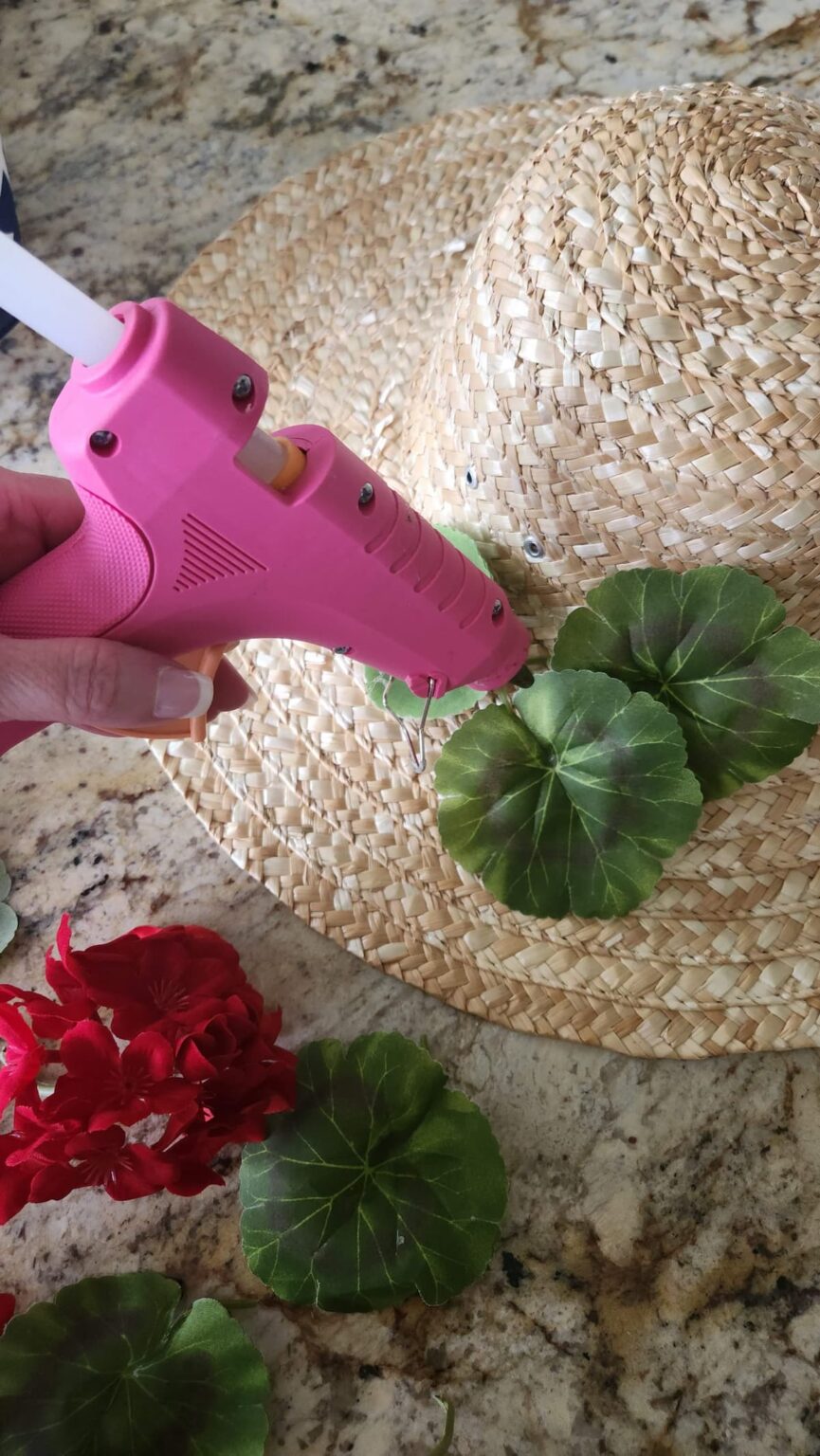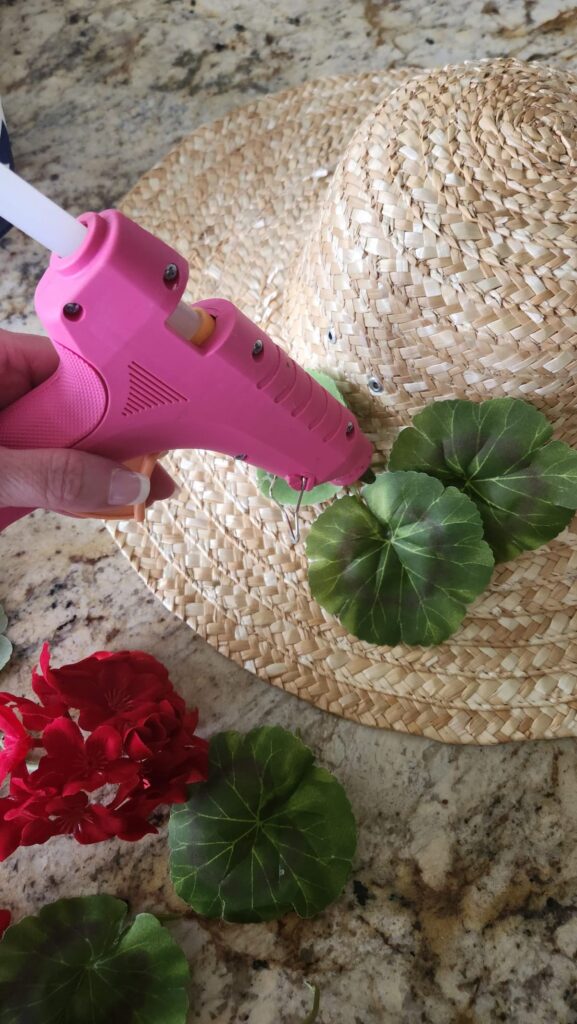 I used the stems from the bunch of faux flowers varying the direction of them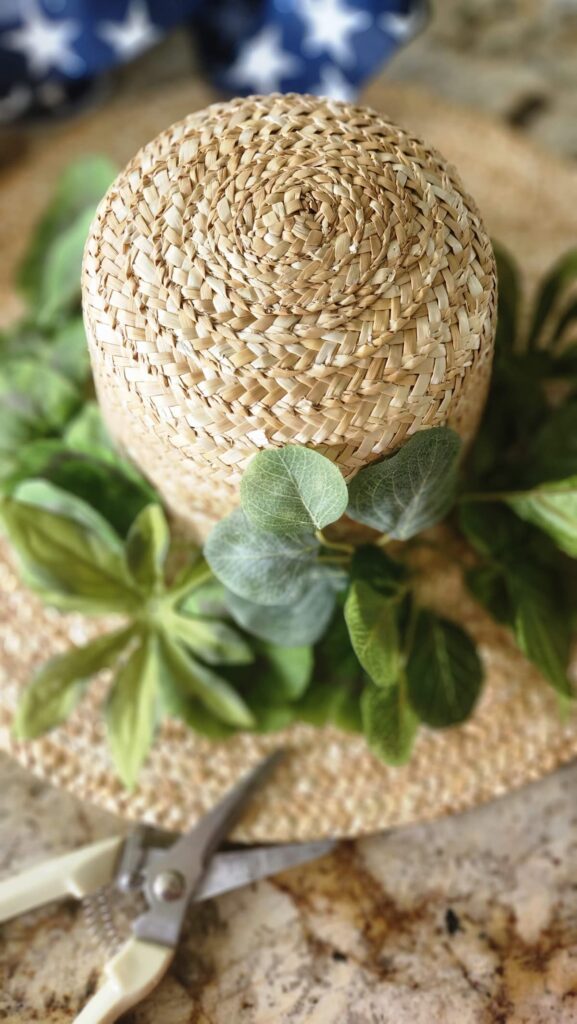 While using real flowers is my favorite thing, using faux stems is of course good for longevity. If you wanted a short-term floral hat for a bridal shower table decoration, real flowers may be used.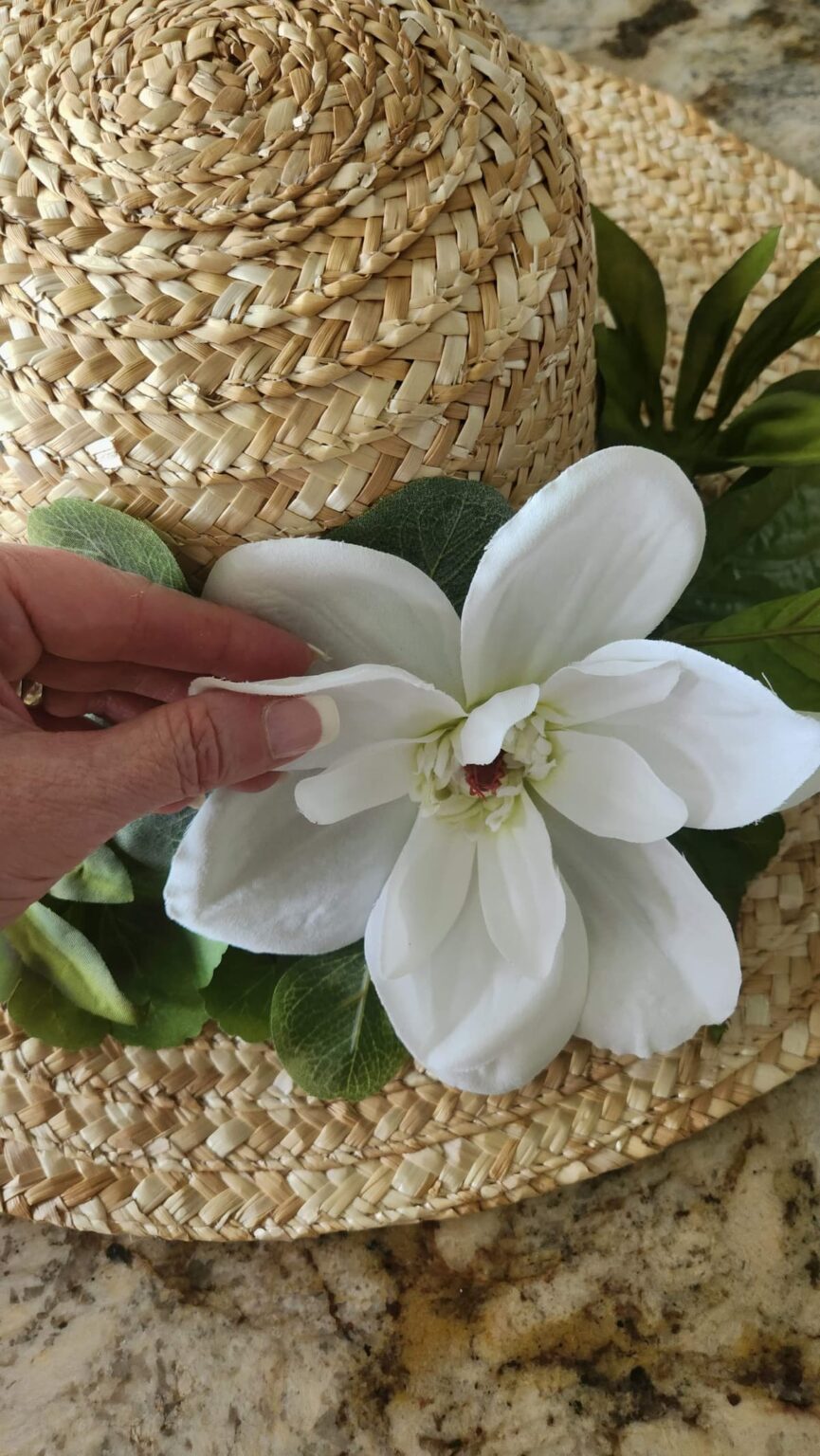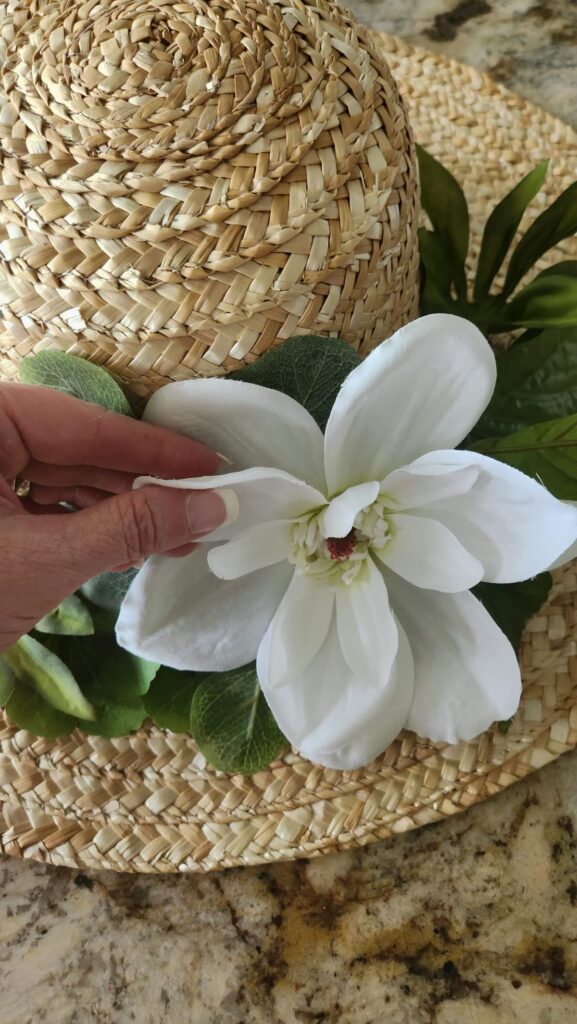 With this easy DIY, place the white magnolia flowers one at a time, checking your placement so that is it pleasing to your eye.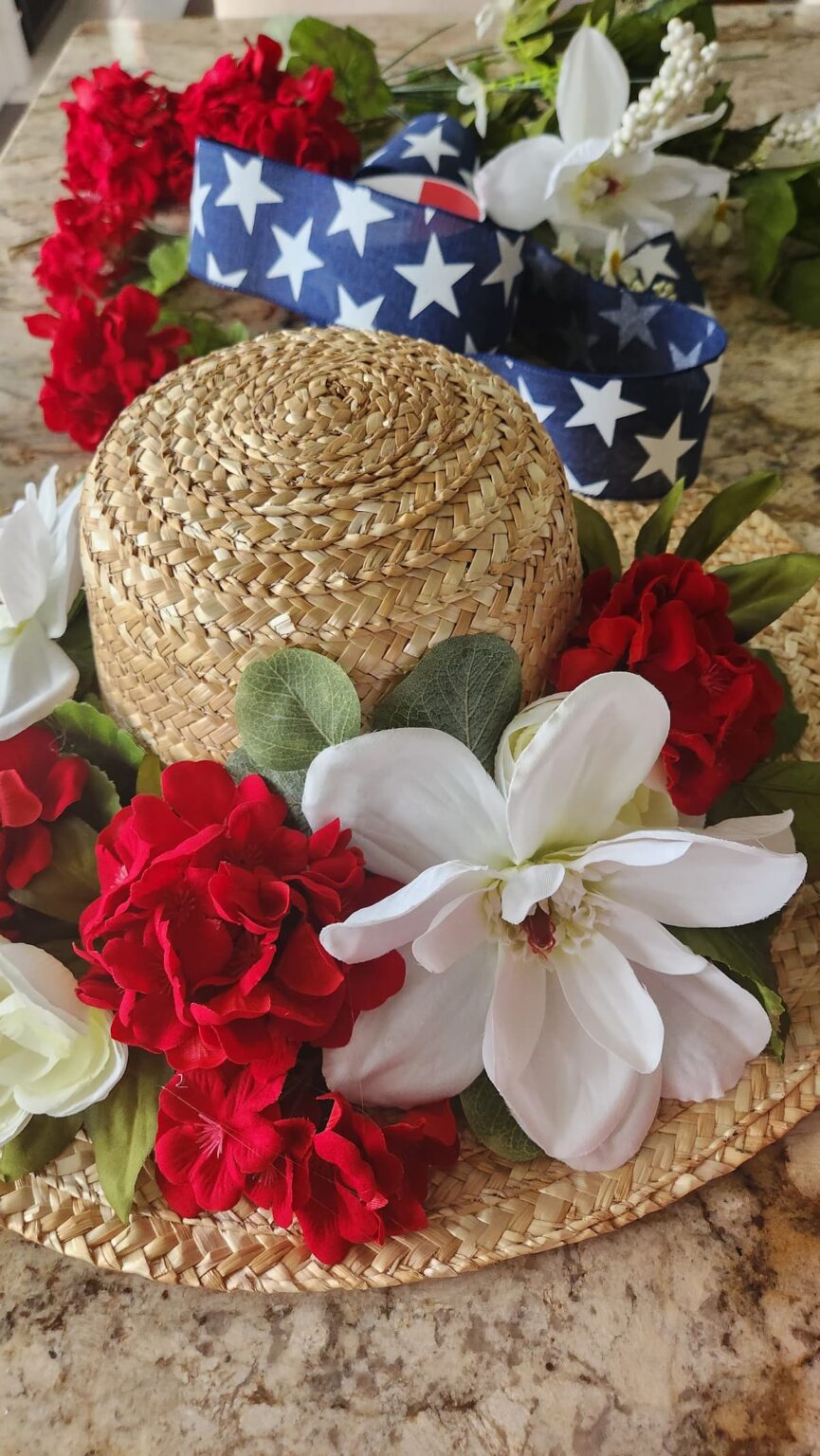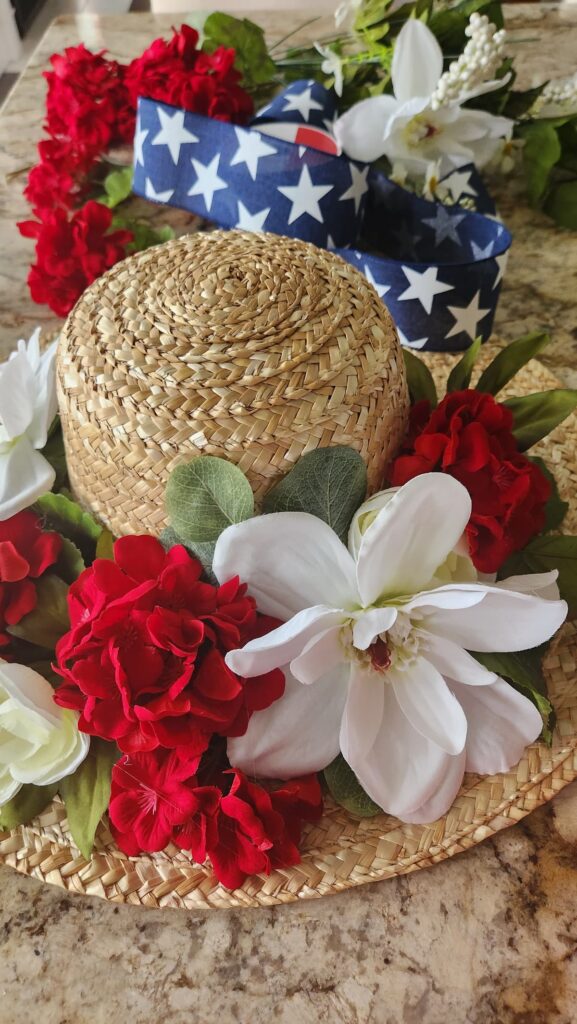 The best way to get a cohesive look is to vary different size florals. I've added small red geraniums, next to larger red blooms filling in any gaps.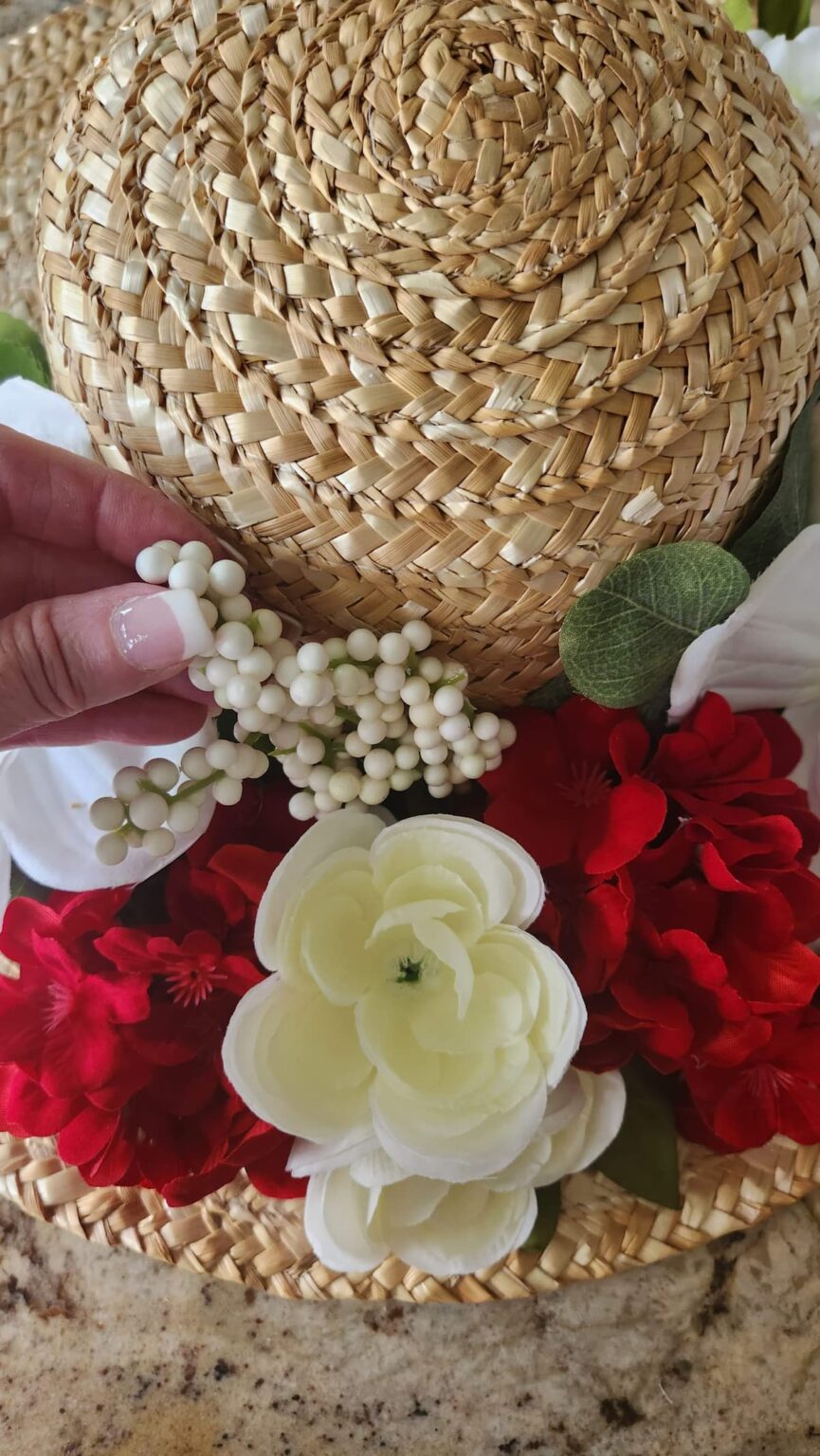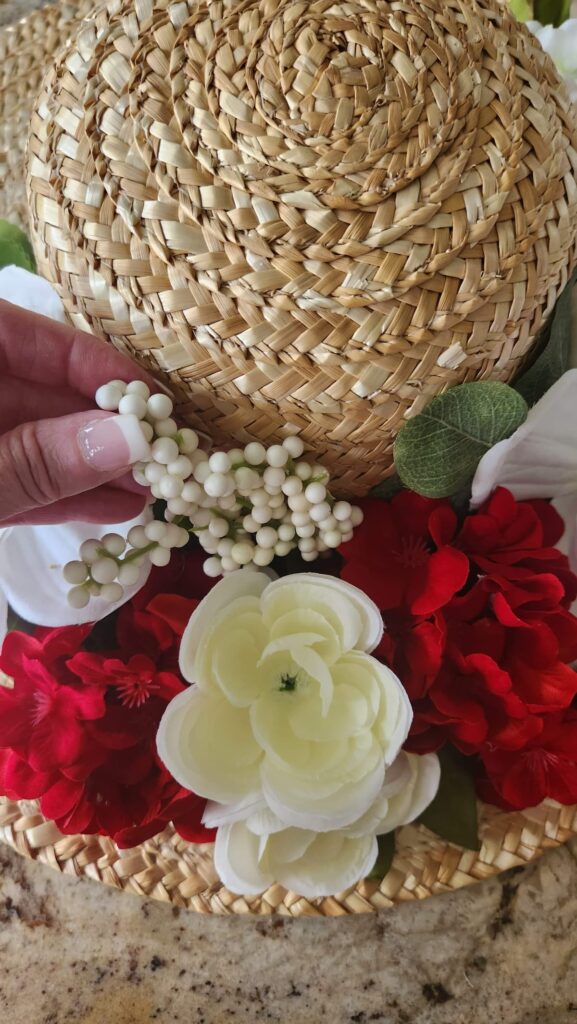 Next, add different types of textures. The white berry grouping adds just the right amount of variation and interest.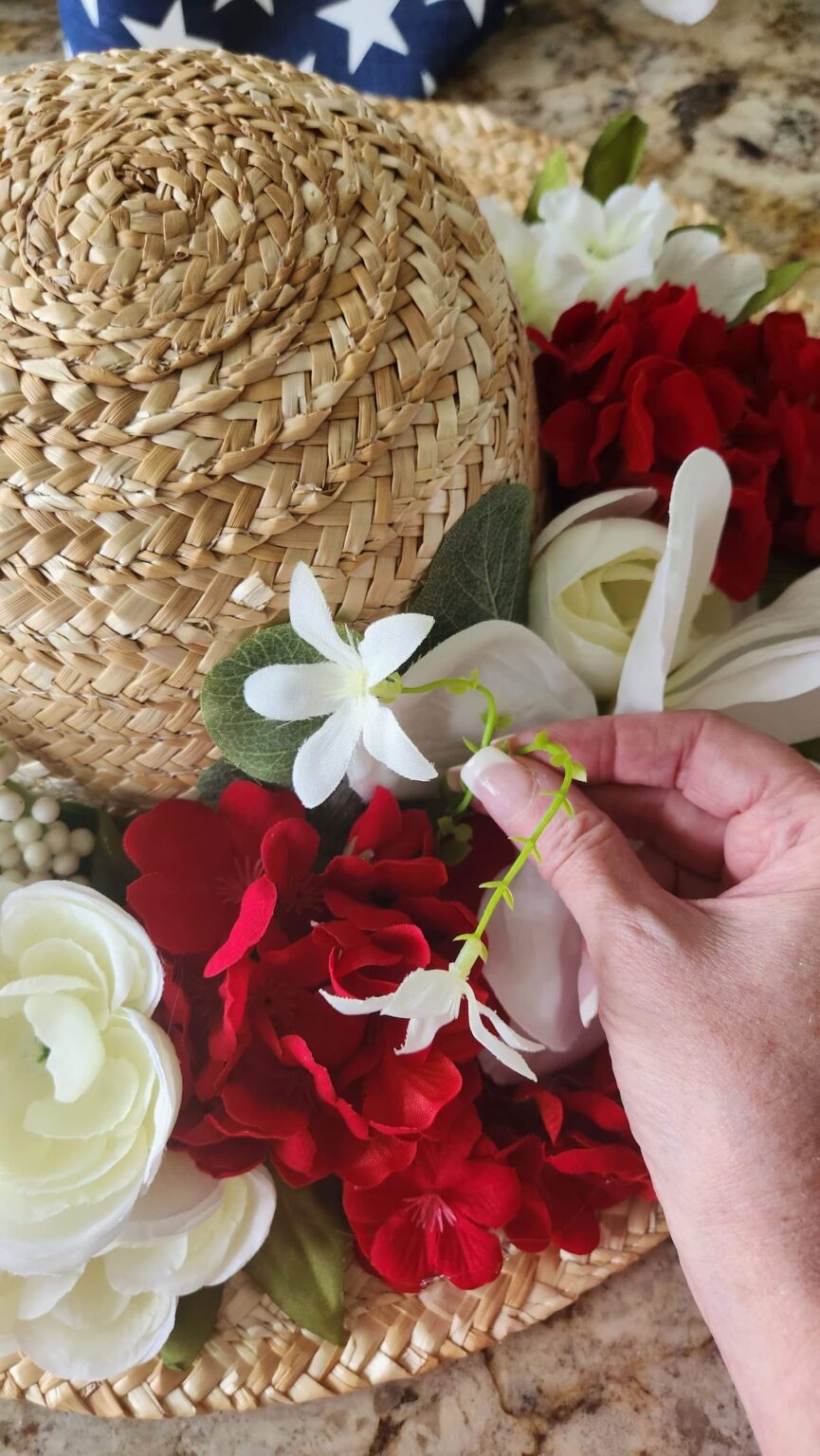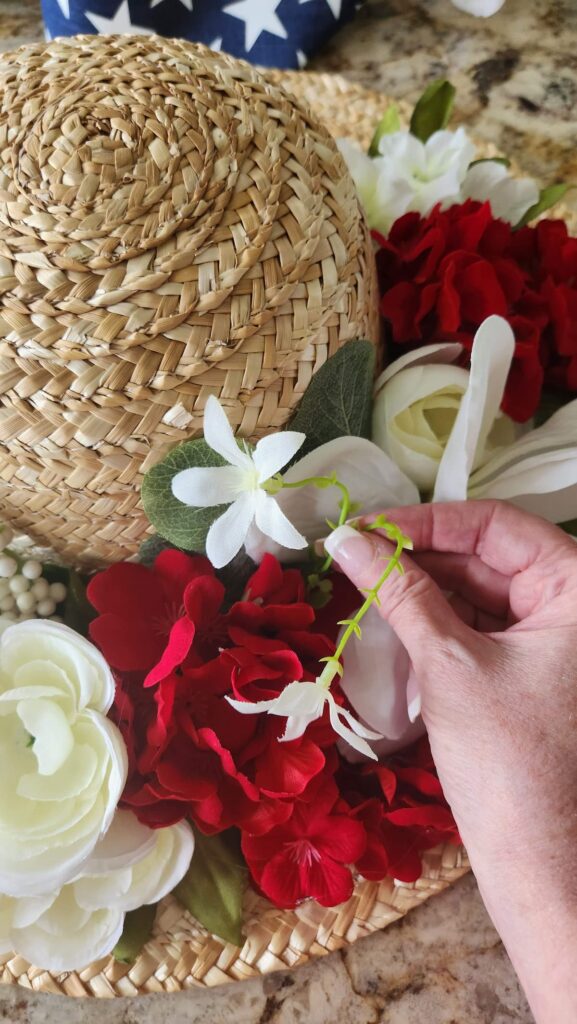 Fill in the small openings with layered white daisy flower bunches.
Adding embellishments for a finishing touch
Choose a patriotic ribbon to finish off your wreath. I choose this blue star wired ribbon
Lastly, I added a small patriotic flag to finish off my DIY door wreath. Doesn't it look dandy!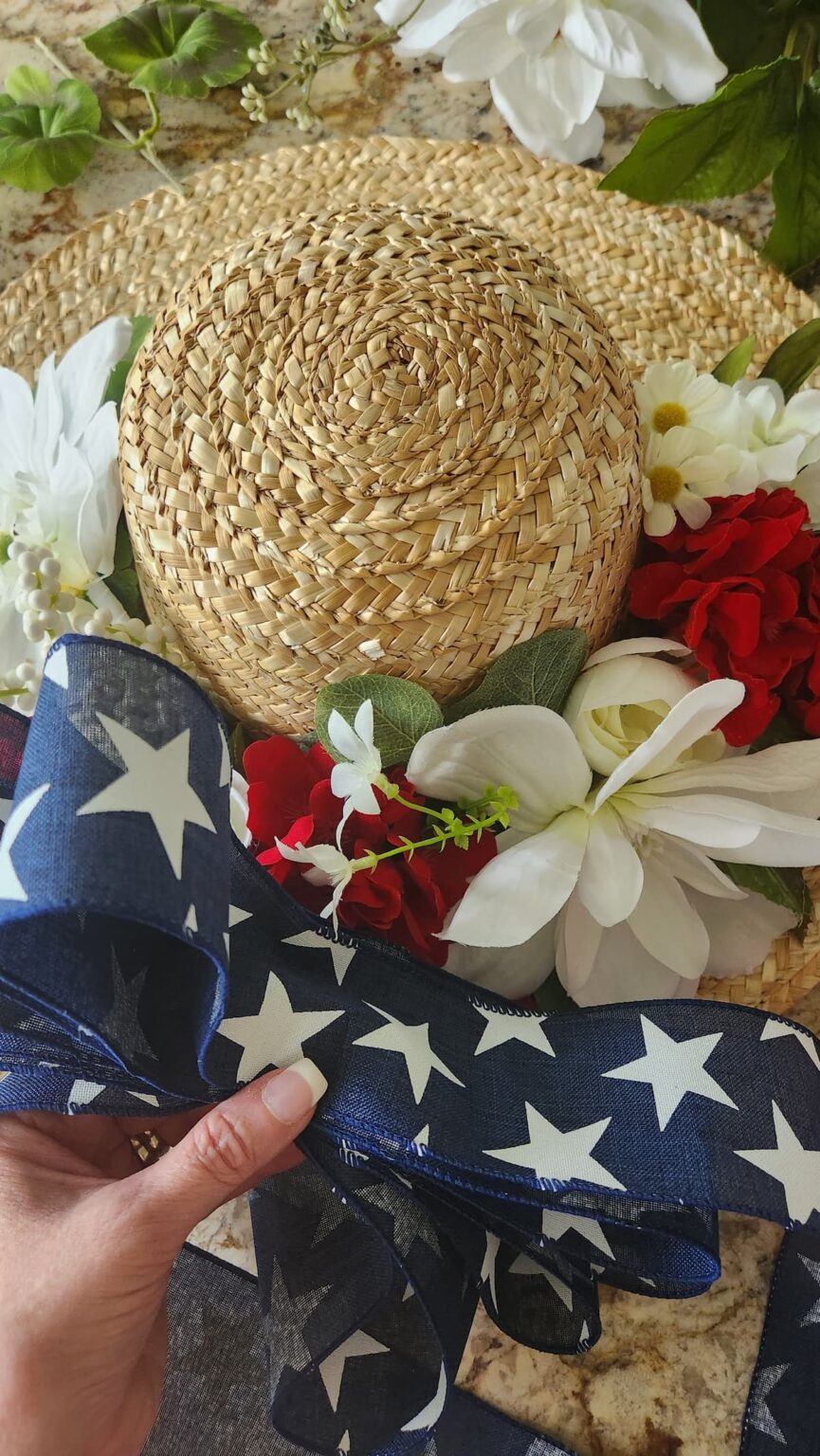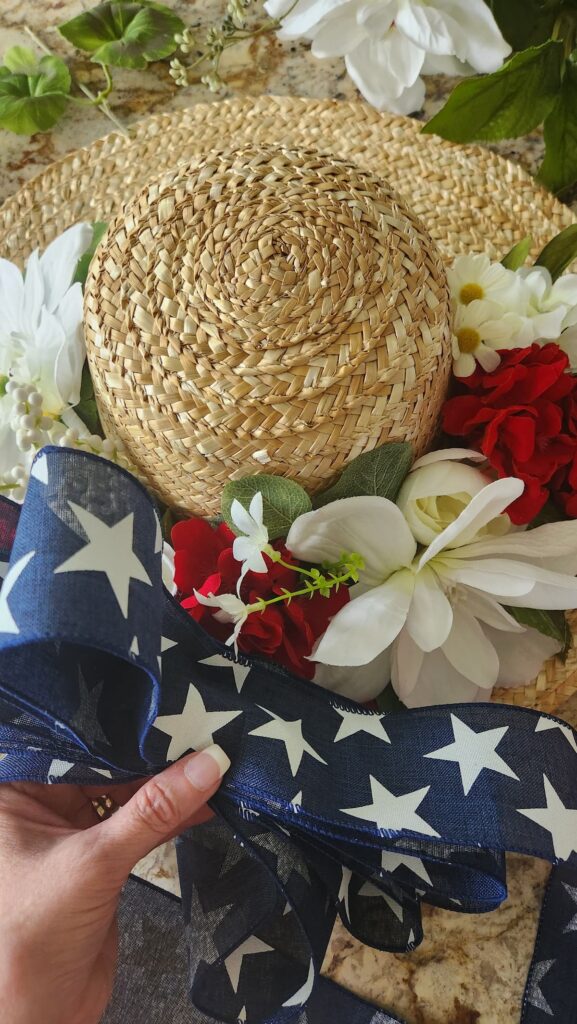 Since I couldn't find my floral wire, I used a handy wire that held my salad greens together. When you can, improvise!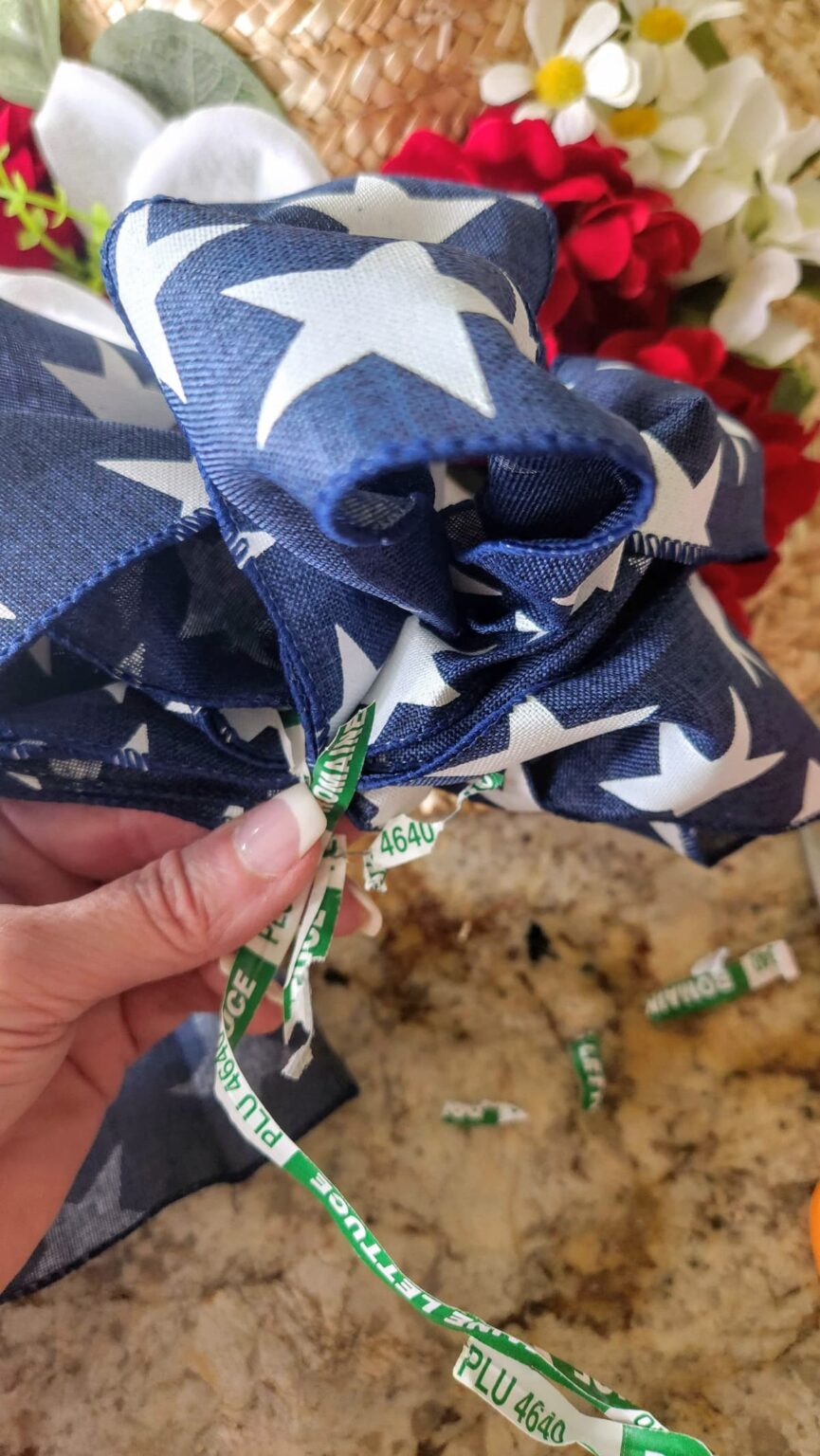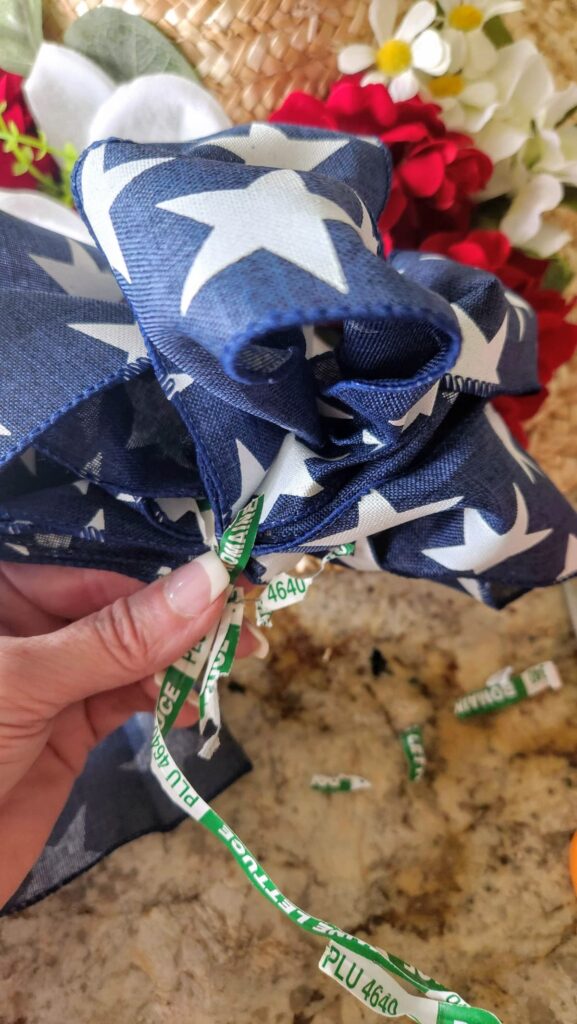 Shop & Source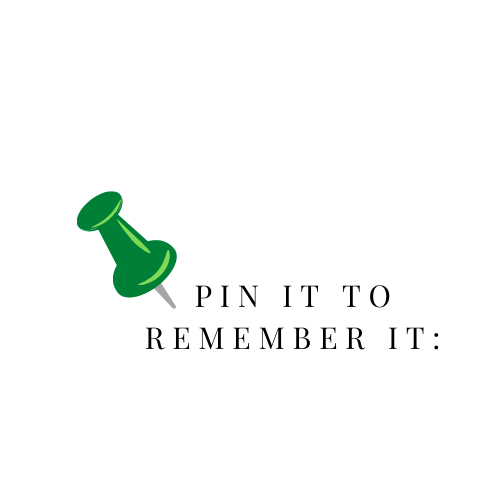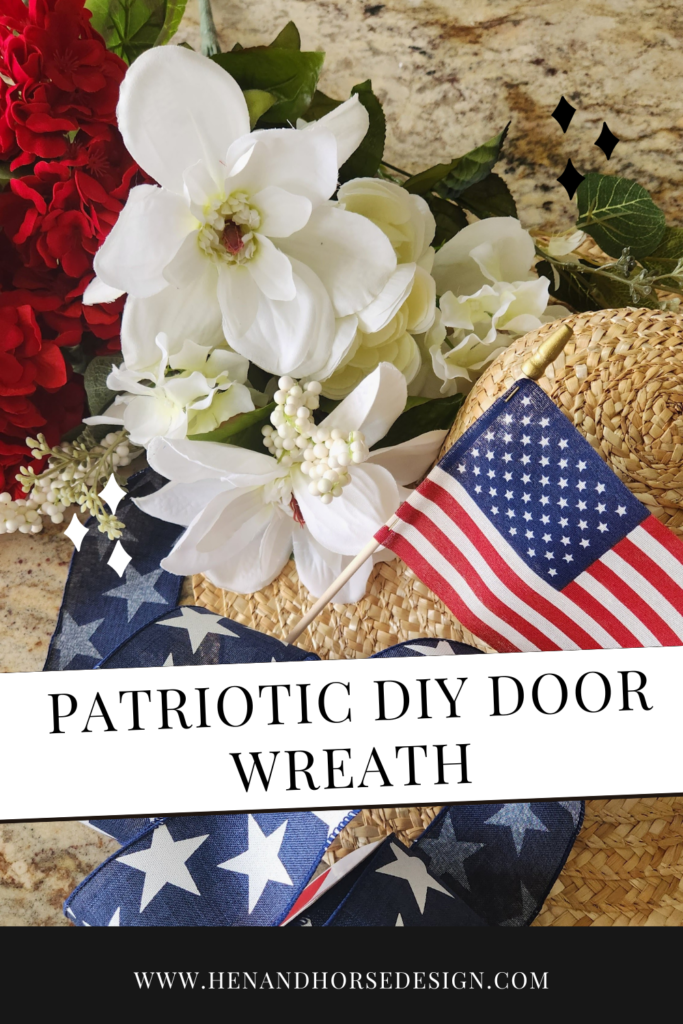 Unfortunately, I have to show you the finished DIY door wreath on my counter and not on my door!
​There is currently an occupied bird's nest with baby birds in my faux lavender door basket which means I will have to wait to hang up my straw hat until they vacate!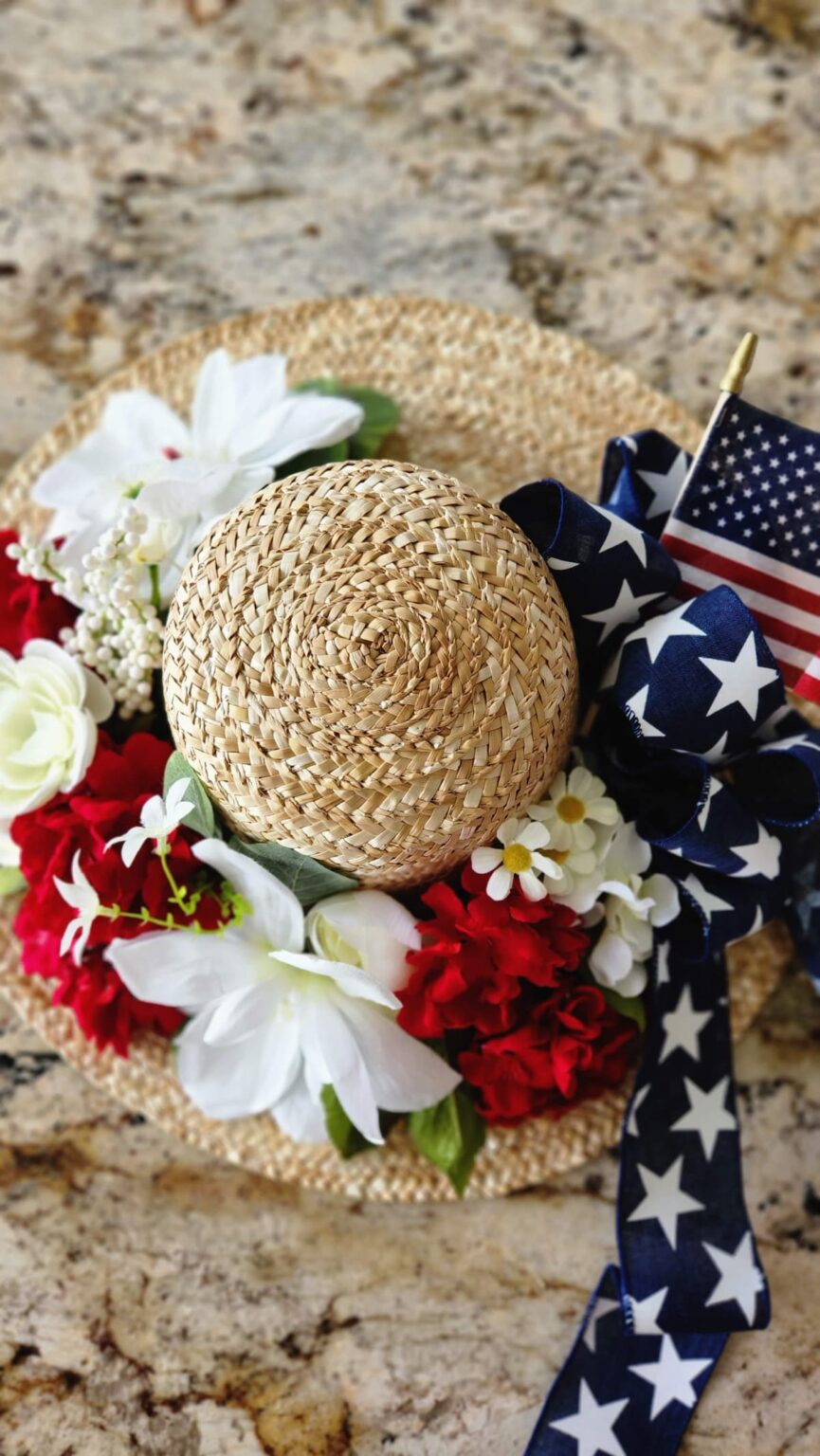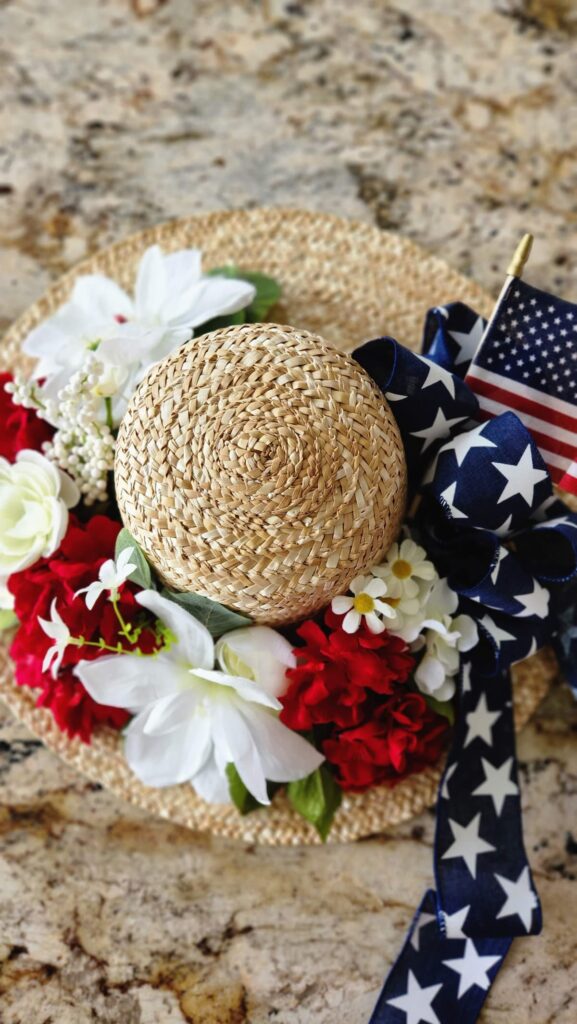 Final cost
The best thing is that the finished product only cost $32.34 to make minus the hot glue gun sticks. I already had a bag of those at home.
I hope you enjoyed this easy project using inexpensive materials.
If you were here last season you may remember my front porch. Once the birds are safely gone from my door-hanging basket, I'll be sprucing up my porch for this year.
One of my favorite things is to add a bunting across the front of our porch. I hung my flag by adding these hooks on the backside of the header beam. I prefer this type of hook since they have a safety buckle attached and the flag cannot be blown away with any wind.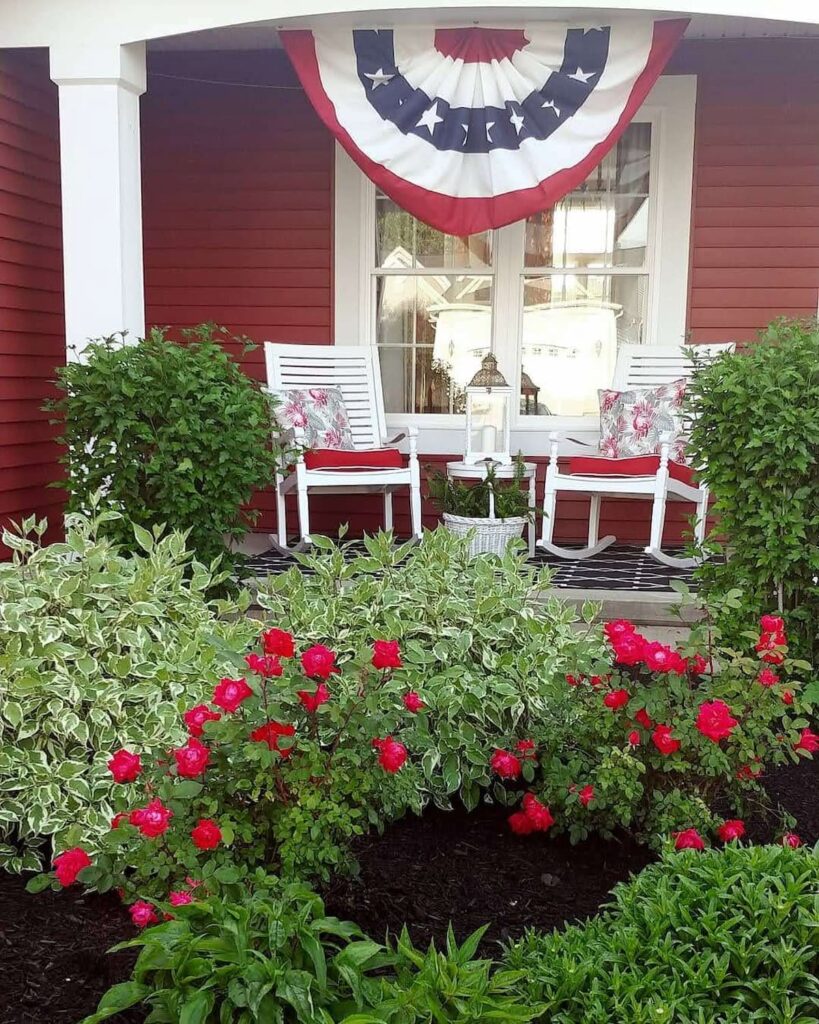 Adding a few small flags on sticks is an instant way to be patriotic.
This year I'll be switching out my rocking chair pillows to these rather than the red with white piping.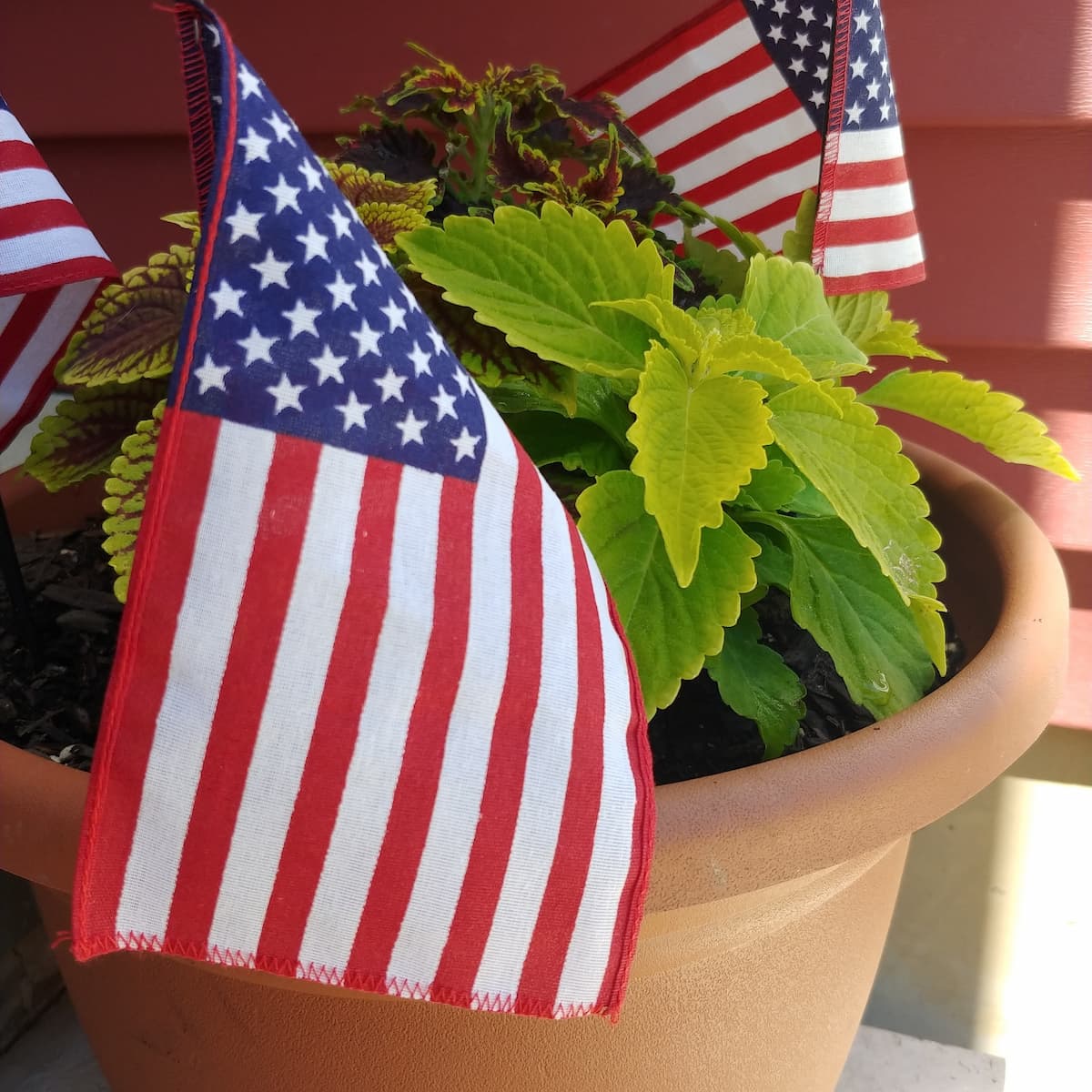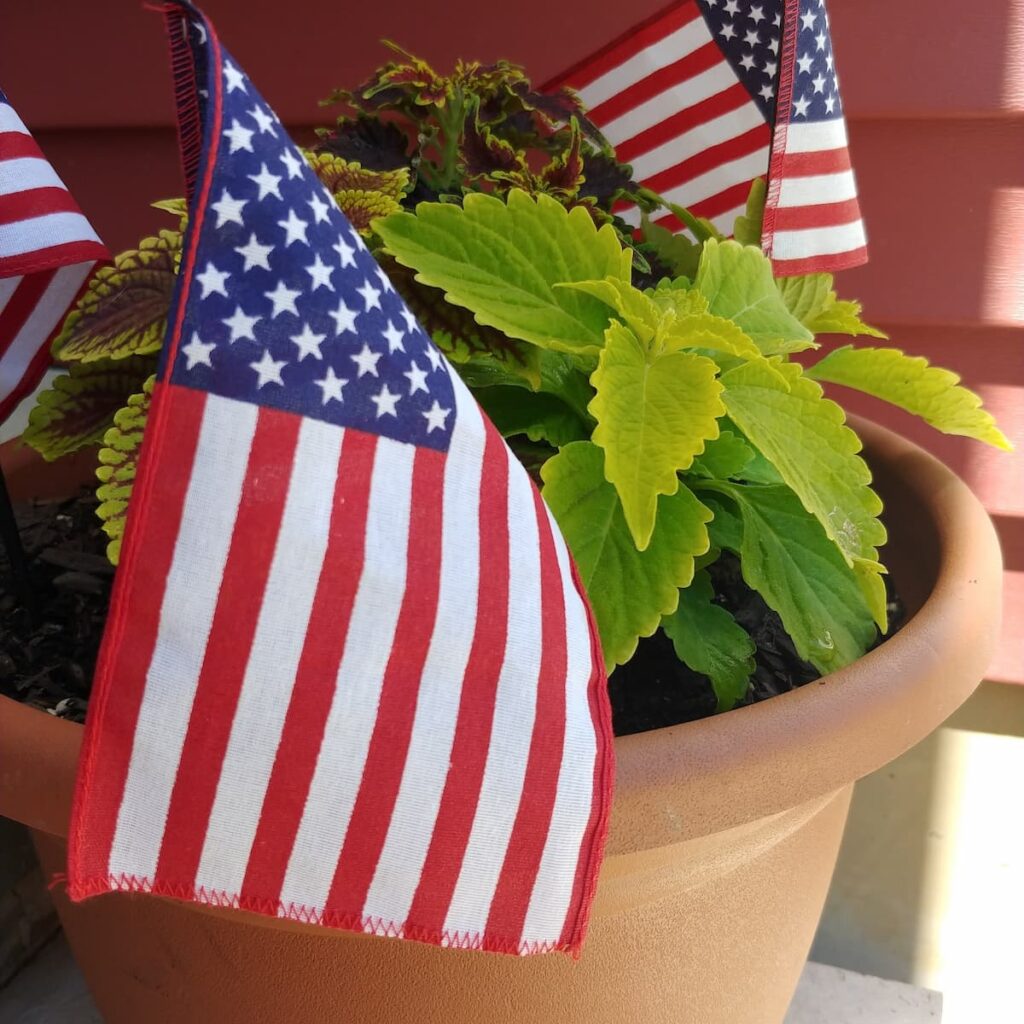 I hope you have a wonderful weekend and get to relax or do whatever makes you happy!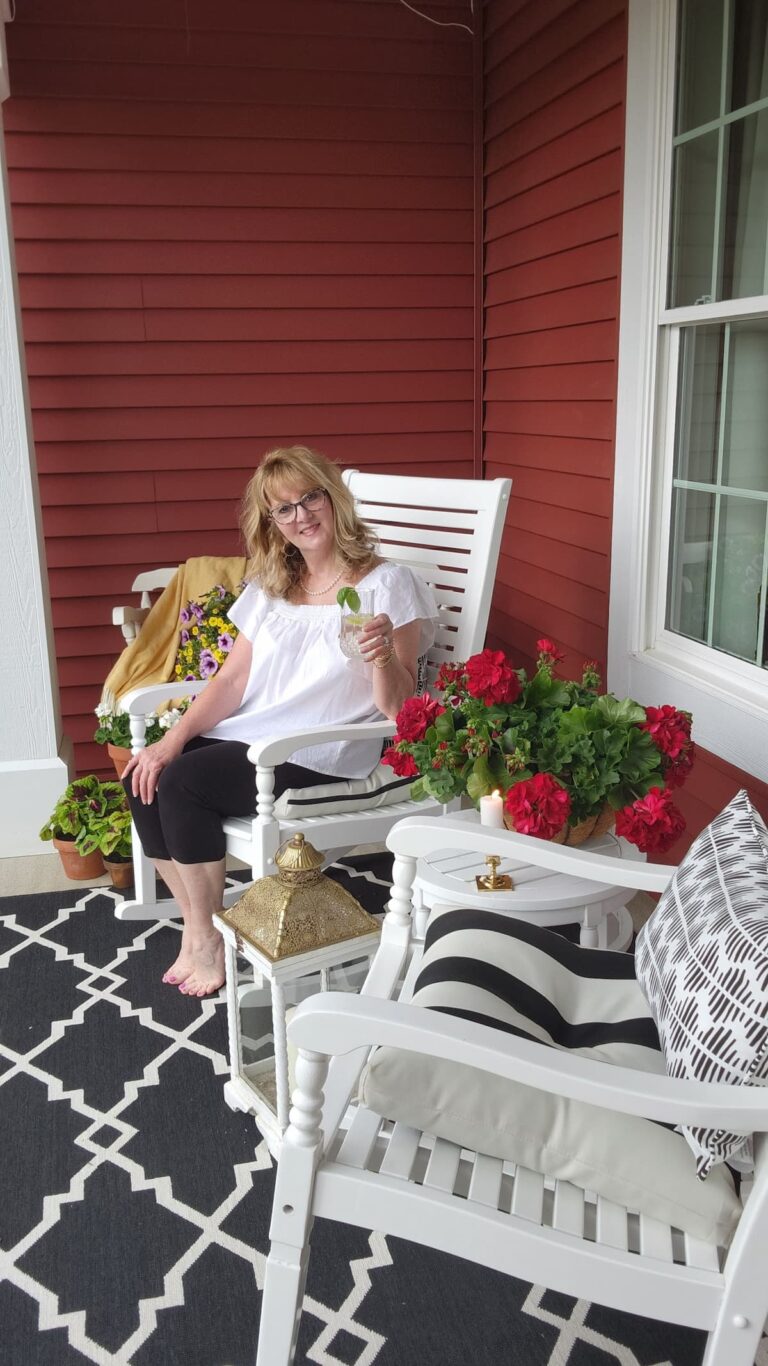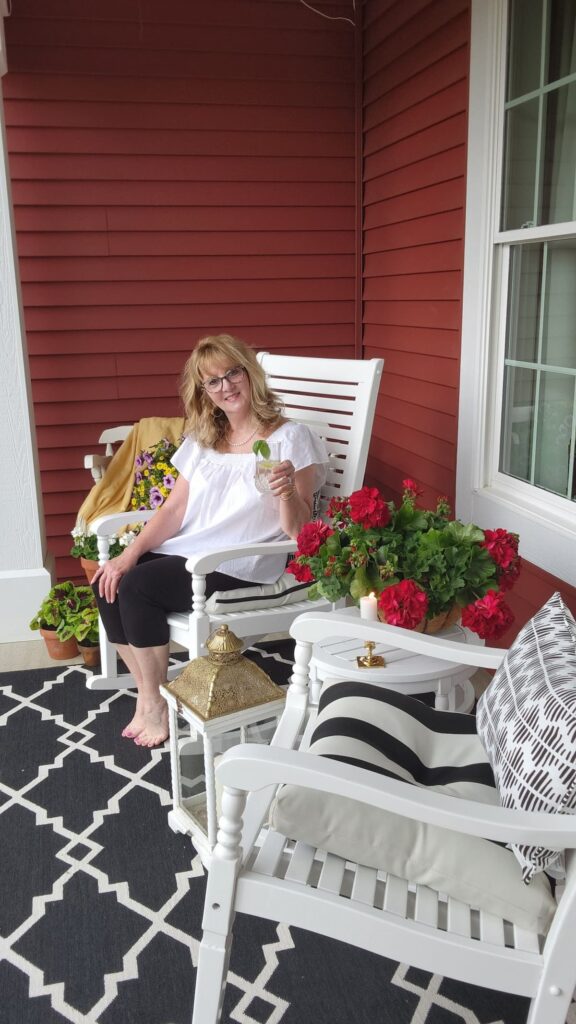 Did you know I share delicious recipes with great flavors?  click here to read more.  
Thank you for joining me today. If you try this easy , please come back and let me know in the comments what you think about it. I'd love to hear.
You can also follow along on the daily behind-the-scenes things I share on Instagram. I'd love to see you there too!
If you are new here, I'd love to have you join me. You can subscribe here so you don't miss a thing!  subscribe here to have my latest posts delivered to you via email.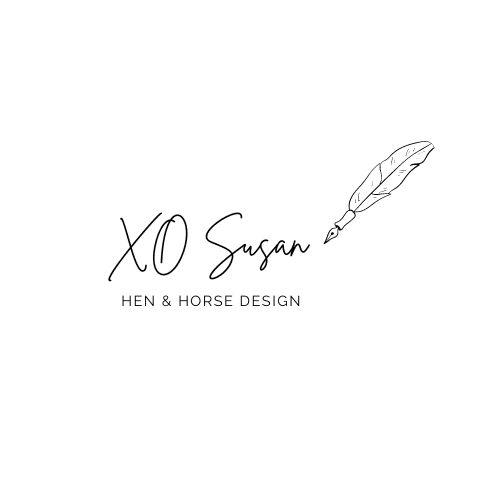 Infused olive oil is a great way to add some extra flavor to your food. Learn How to Make Your Own Infused Olive Oil!

---

Sharing the Best Garlic Plant Stages Guide to Growing Garlic. Knowing when to plant and harvest one of the most sought-after vegetables!

---

Sharing 17 festive memorial day table decor ideas that are easy, and a fun way to start your memorial day weekend! 

---