Ideas for How to Decorate a Dining Room Table for Everyday
A list of ideas on how to decorate a dining room table for everyday that is unique to you and your home, and brings a new look to your space!
With so many decorative items to choose from these days, creating an everyday dining area can be somewhat of a challenge. Dining tables come in every shape and every size. A large dining table may be round or rectangular, and may leave you wondering how you can be creative in decorating your table for every day.
Many times the dining space or tabletop, when not being used for a holiday or special gathering, is used for a game table, a place to pay bills, put puzzles together, a homework spot for the kids, or even folding a handful of laundry.
While all of these are must-haves, or have-to-do's, if you are like me, you want your dining room table decor to look good no matter what day it is.
Below you will find a list of ideas to decorate the center of the table and make it look great for everyday use.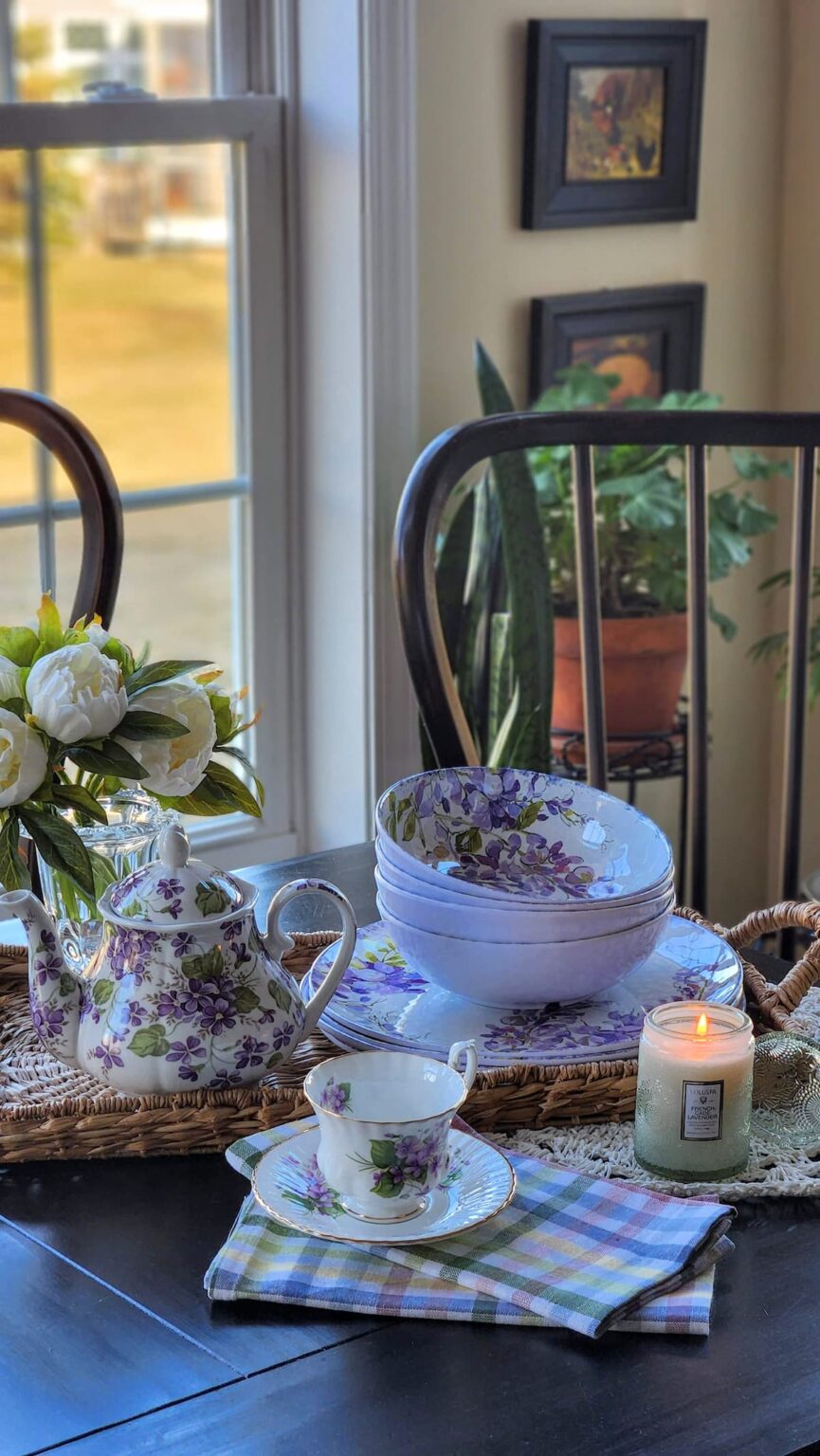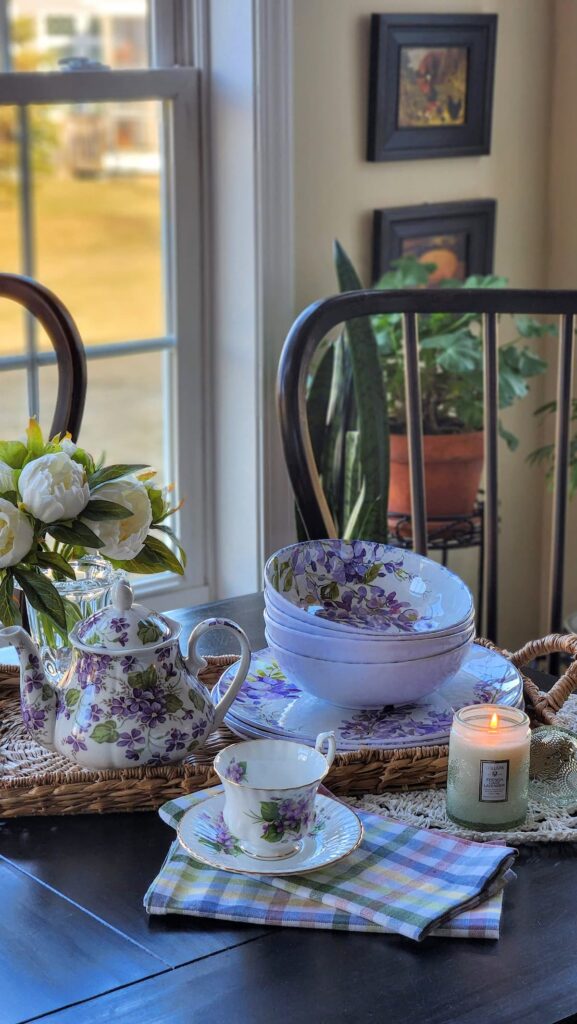 "This post may contain affiliate links which means I may earn a small commission. You may read my
disclosure policy here
".
How to decorate a table for everyday?
Centerpiece ideas
A great way to create a focal point on your round table or rectangular dining table is to simply add fresh flowers. Since dining room table centerpieces aren't just for special occasions, adding a table runner and a simple glass vase of flowers acheives the simplest look for your room. Read on for more.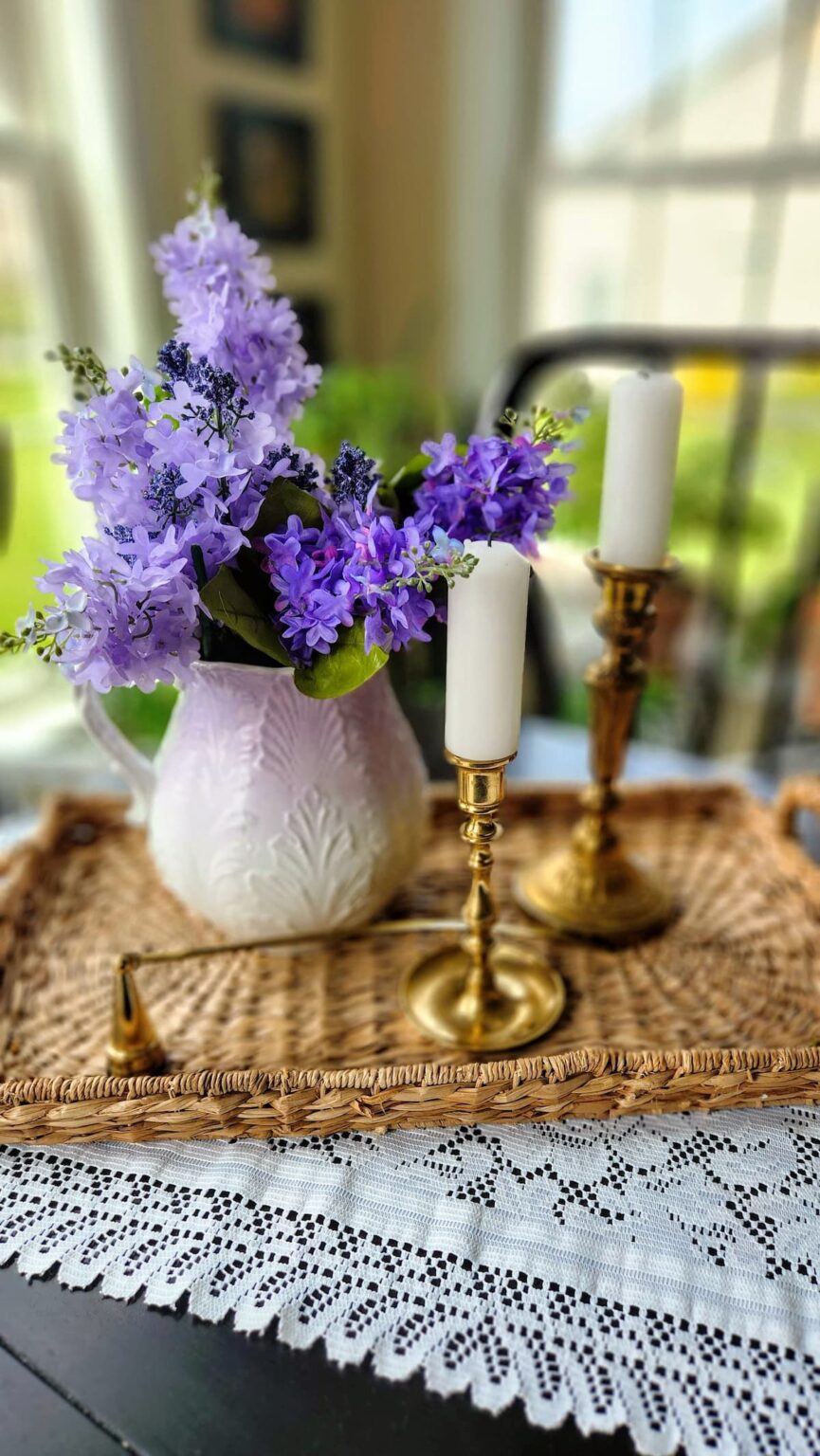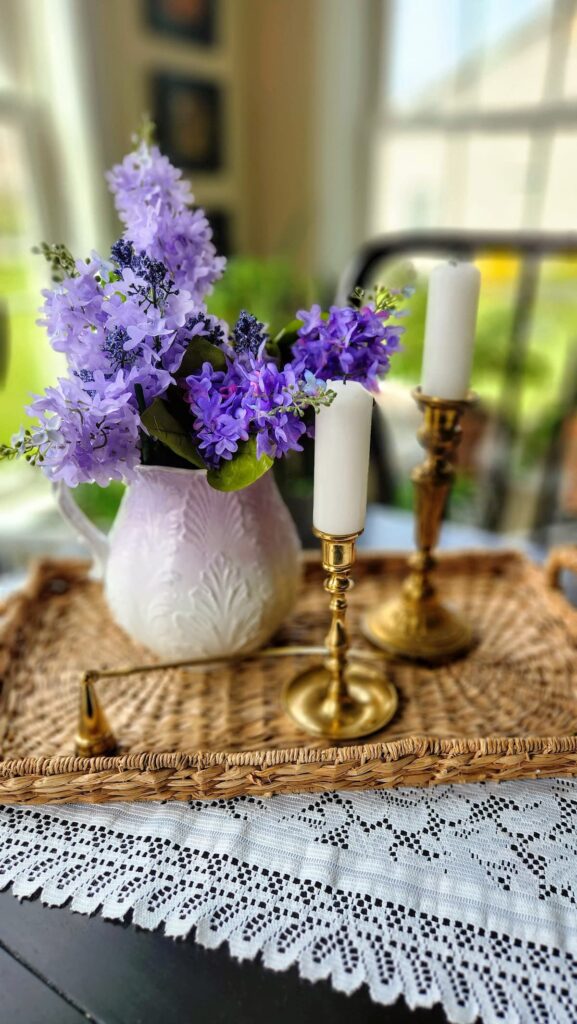 Budget-friendly ideas
There is no getting around it, I love a beautiful centerpiece of fresh florals whether it is on my coffee table or on my breakfast room table. But what if you don't have the budget for fresh flowers every week?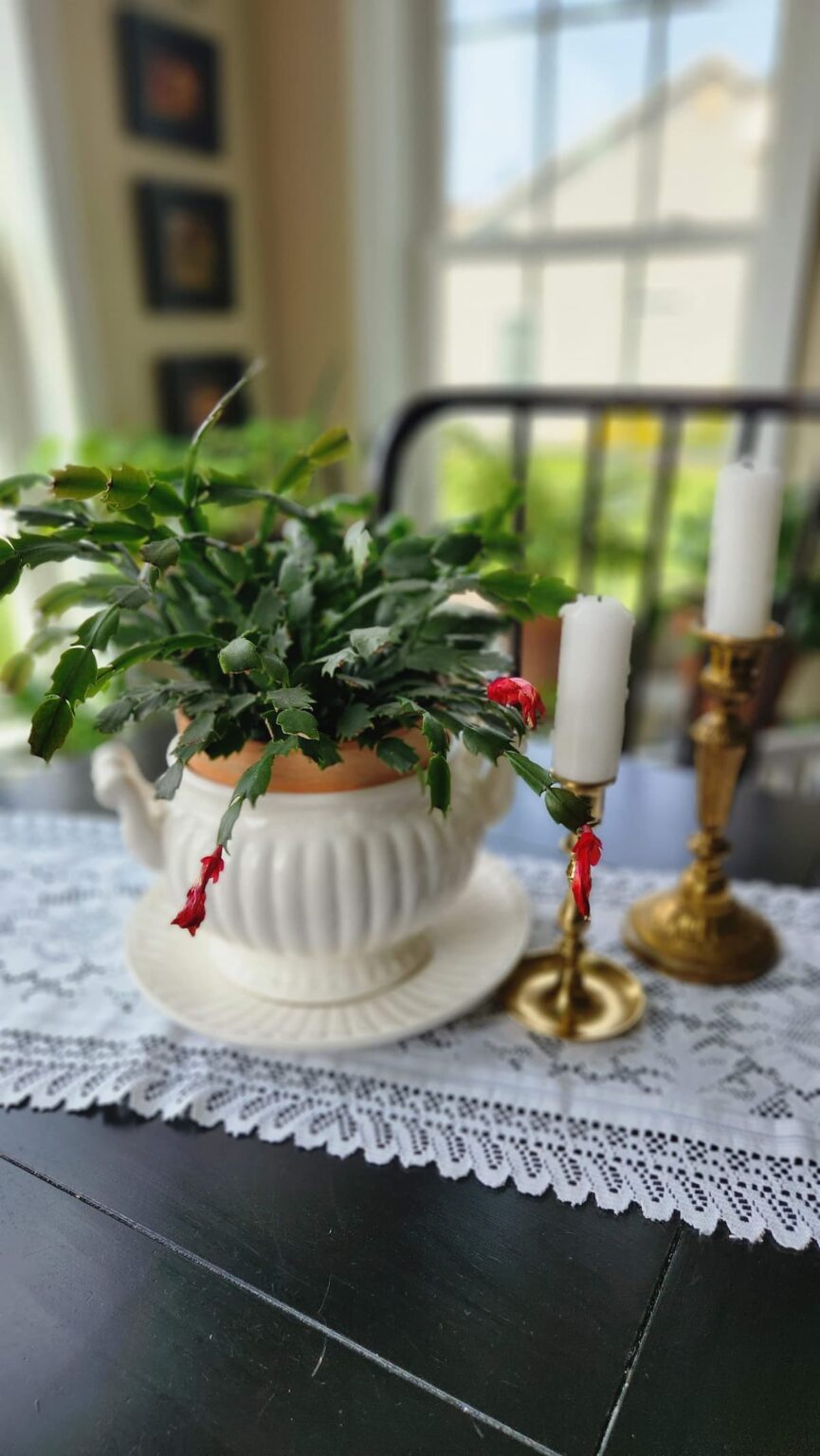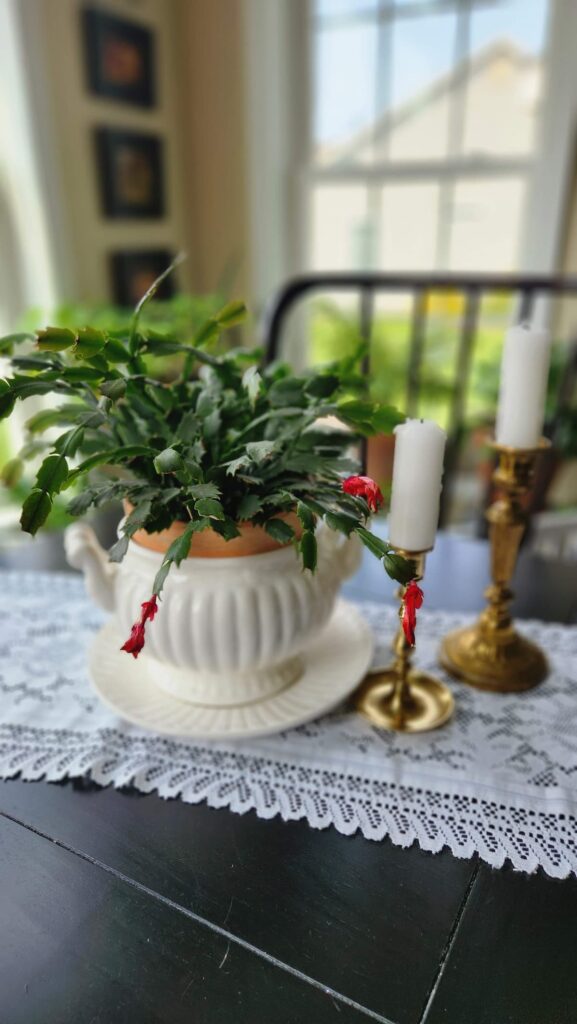 Many times I will forgo a large centerpiece in the middle of the table for a dish stack. When it's not a special event, I prefer keeping my dishes right on the table. If you think about it, the dishes go on the table, to the dishwasher, then to your cabinet, then back to your table.
It's the revolving door of dishes.
Keeping them stacked in a pretty manner eliminates one step. Since they are already on the table, they will go into the dishwasher after being used and then back to the table. This is a simple way of storing your dishes and is perfect for everyday dining table decor, as well as being budget-friendly. You already have the dishes!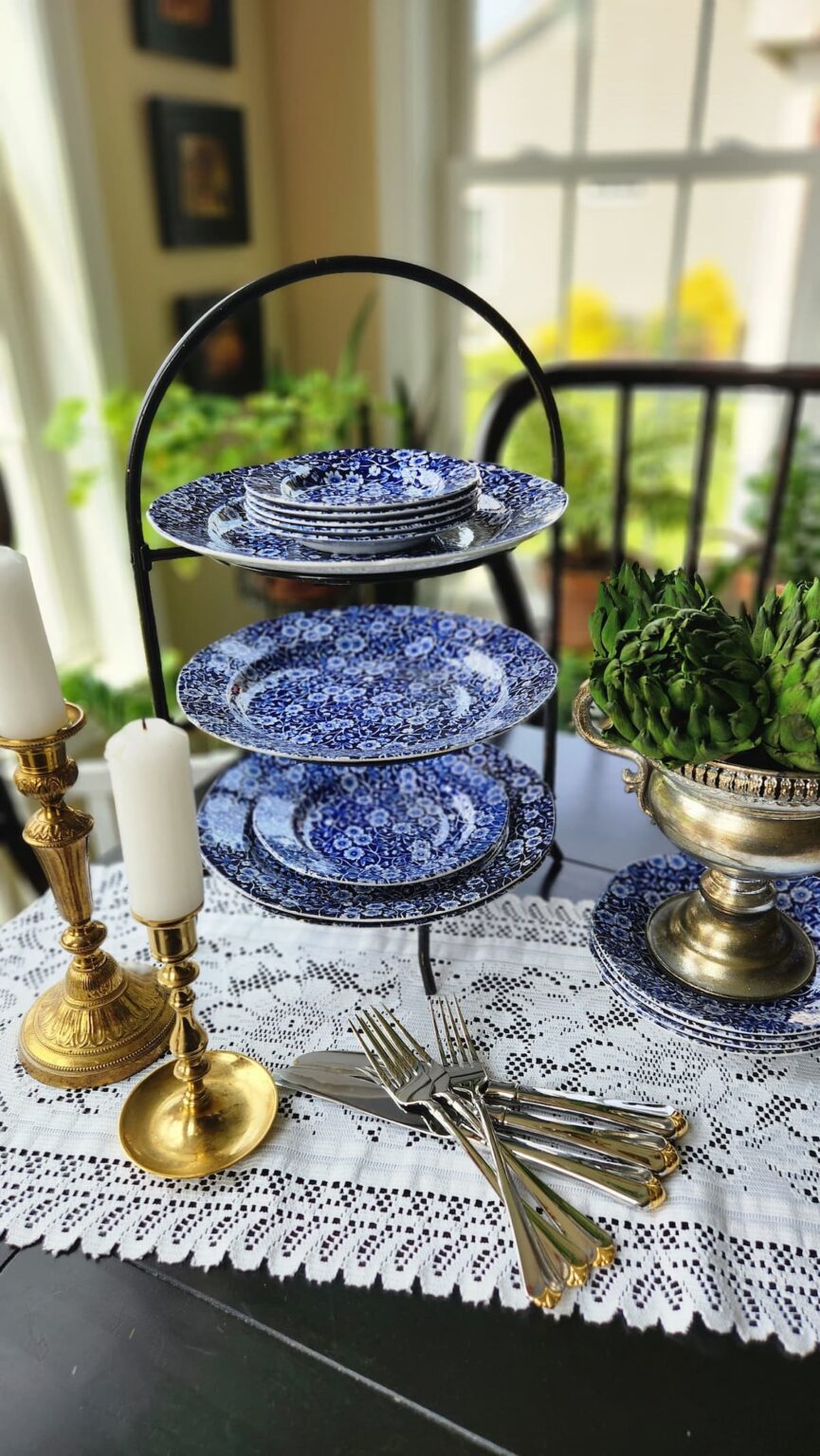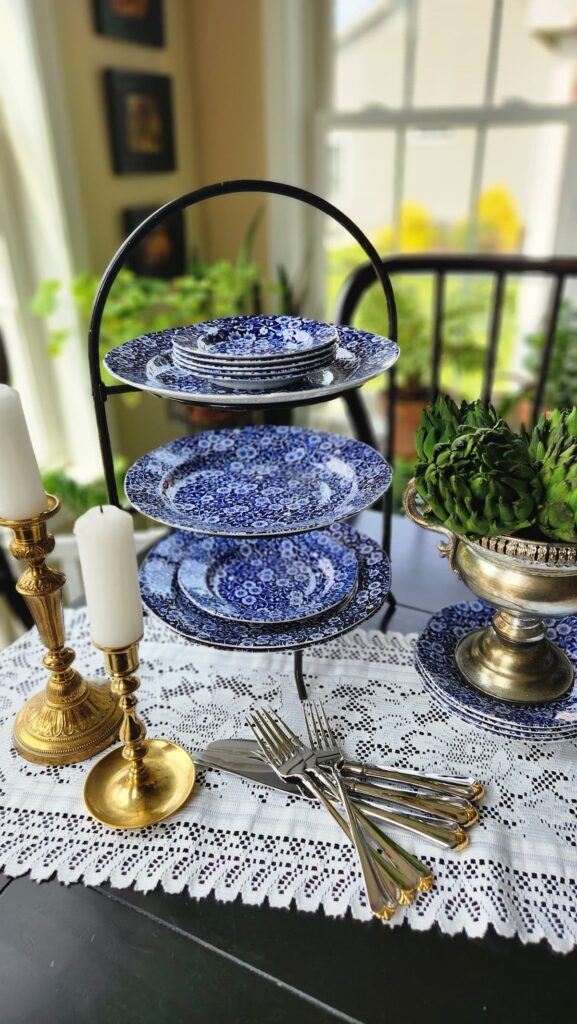 Using my tiered wire rack or a tiered tray helps store my everyday dishes for daily use in a pretty and functional way right on the table. I have several dish racks that I use. One in gold with two tiers, one in black with three tiers.
Small Candle holders
As a rule of thumb, I love lighting candles for dinner time no matter what time of year it is. Reaching for real candles is one of the first things I do when setting my dinner table. A cluster of candles varying in different heights makes your space feel elevated right off the bat. 
Dough Bowls
The possibilities are endless with dough bowls filled with natural elements for creative centerpieces.
Over the last year, I styled my dough bowl in a new way every month. You can read about my 12 months of creative centerpieces and ideas here.
Try filling it with glass decorative round orbs, candles, plants, utensils, or coffee and tea accessories. The list is endless. Regina from Saved from Salvage has 10 more great ideas.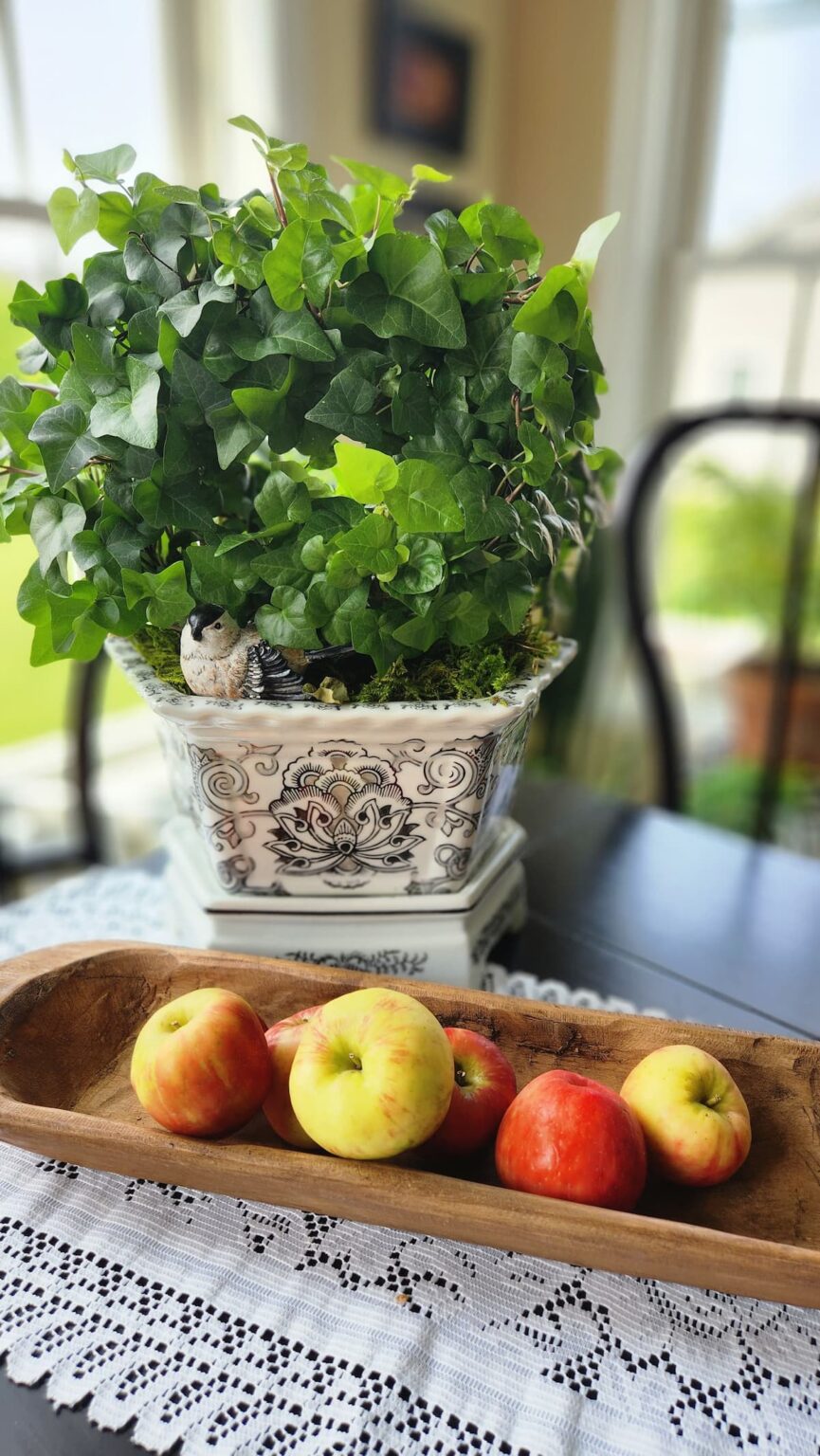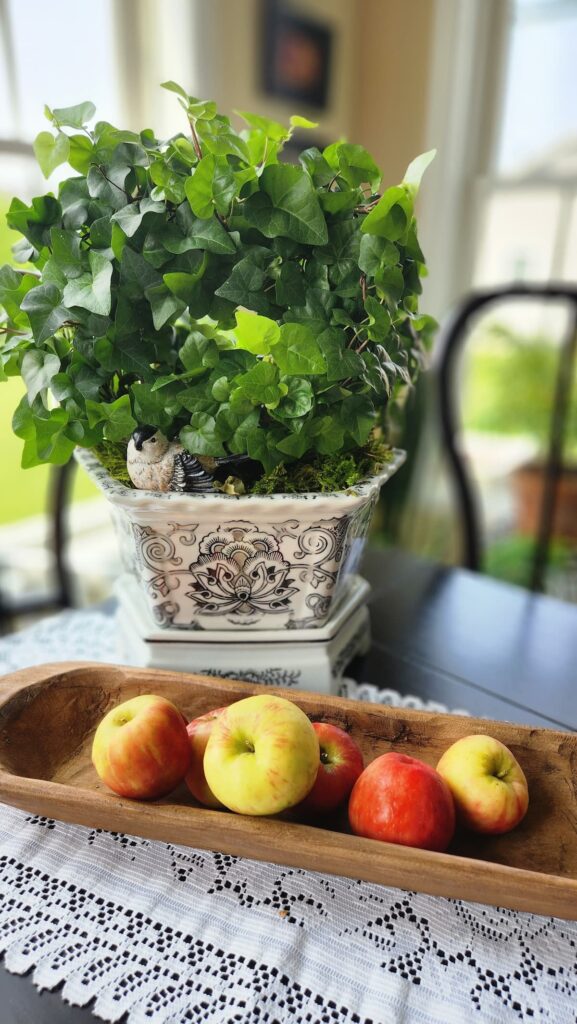 How do you decorate a dining room table when not in use?
Are you a fan of an uncovered table? Or do you prefer a table runner or leaving a tablecloth on your table every day even when it's not in use?
While using tablecloths can be gorgeous for a party or special event, uncovering and revealing the wood grain or quartz are always stunning options to showcase your dining table.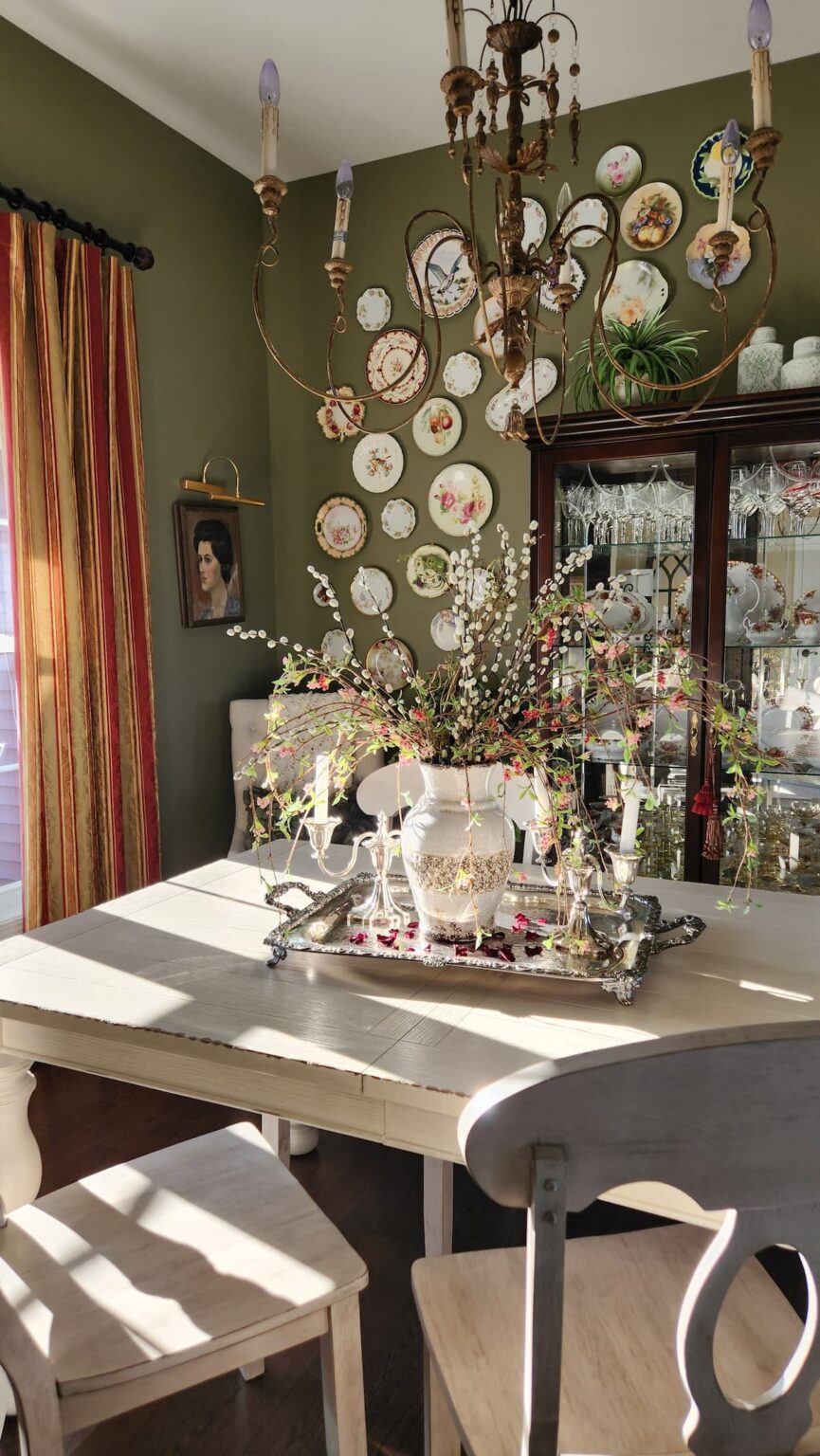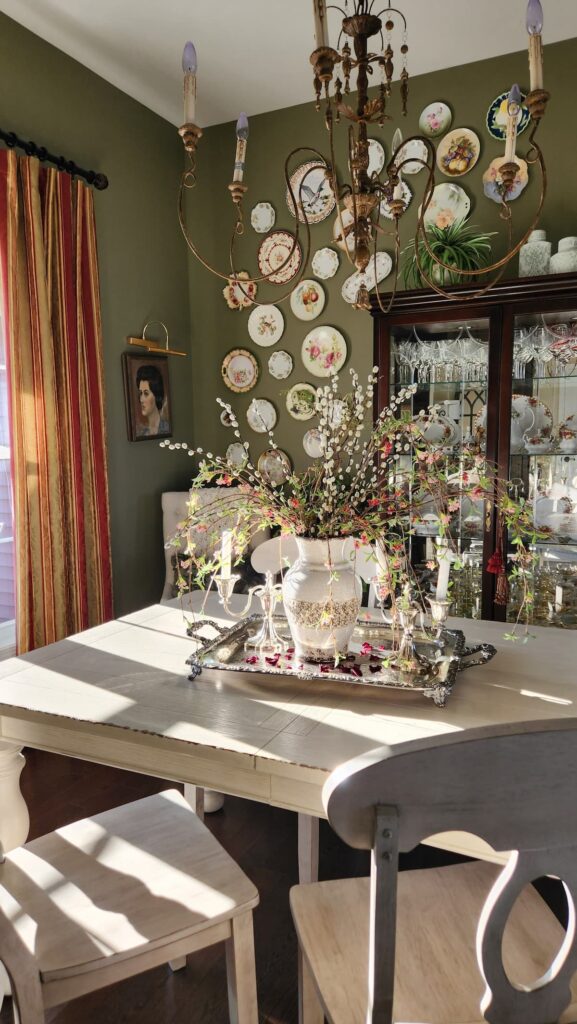 Filing a vase of flowers or mixing clear glass mason jars with garden tulips or peonies, or twinkle lights is another idea for a gorgeous centerpiece.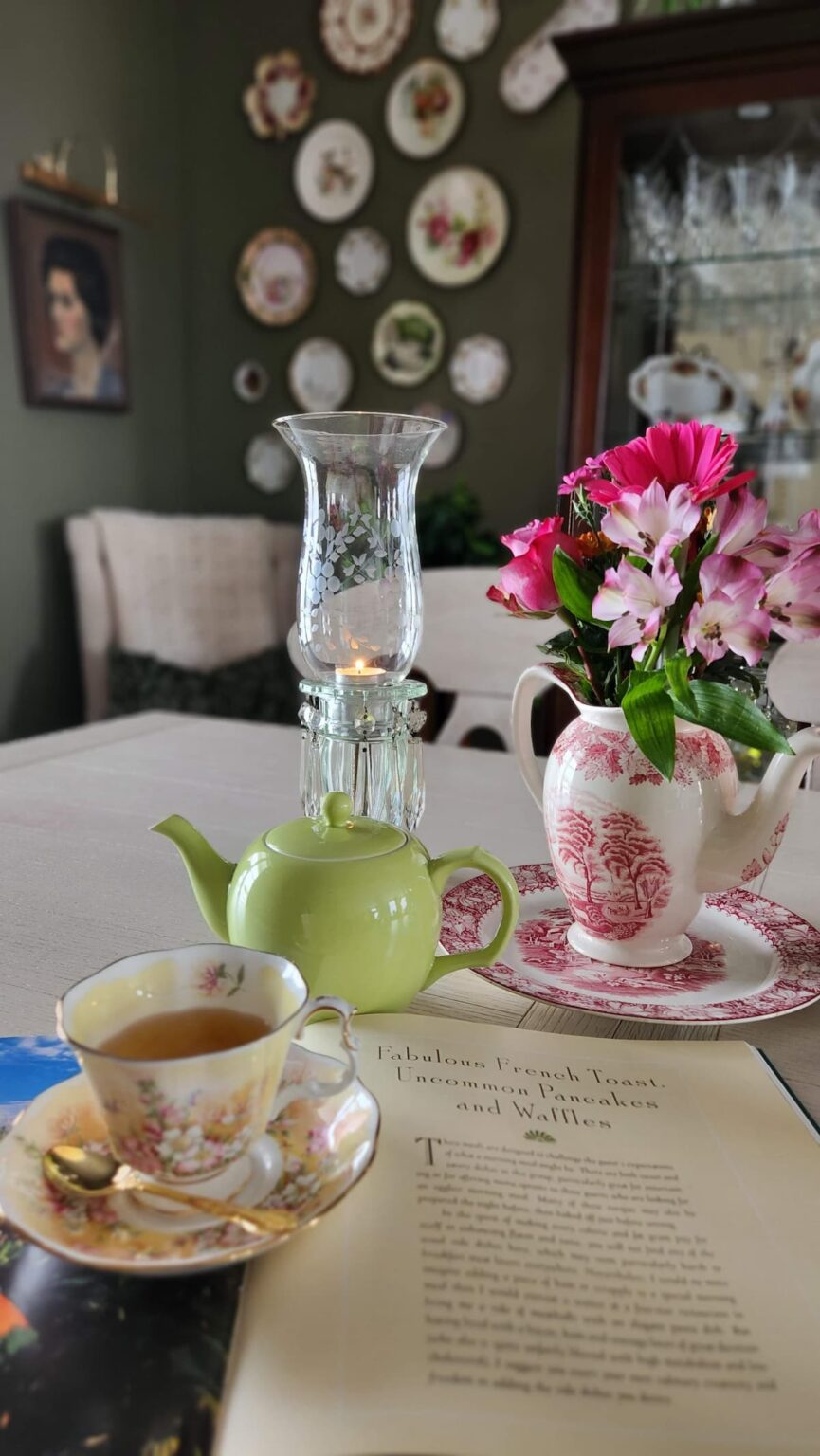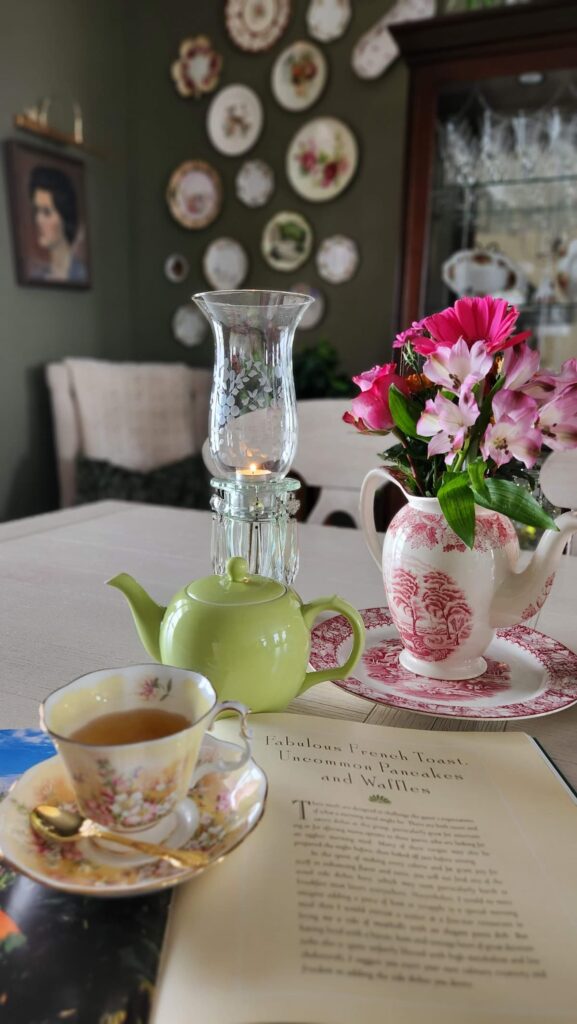 Texture & Color
Table Runners
Using a table runner immediately adds texture to the top of your table. Table runners come in a variety of colors and designs.
In between meals, leaving your placemats on your kitchen table is a good option for adding colorful texture to your tabletop as well.
The bonus is that it's quick for setting the table on busy school or work days
Cloth napkins do the same thing and also help the environment by being reused.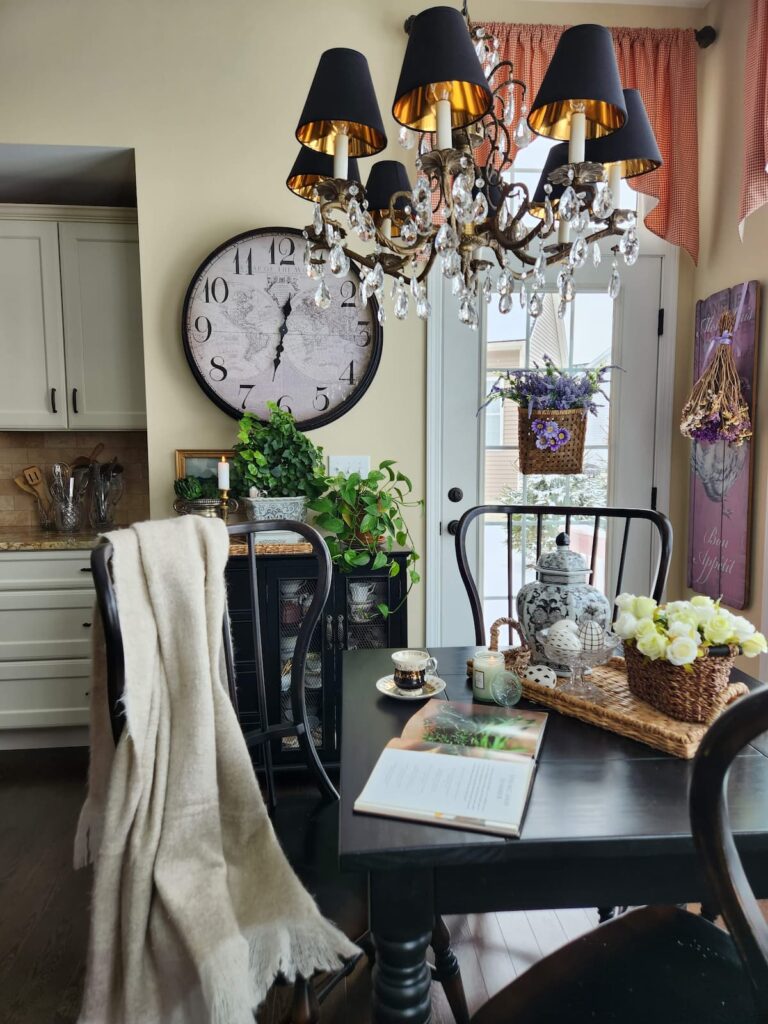 What can I put as a centerpiece on my dining room table?
Fresh flower arrangements
Glass jars filled with faux fruit
Faux plants
Fruit bowl with bright-colored fruit
Add texture with a table runner or placemats
Pops of color with different colors of glass marbles in apothecary jars
Varying the heights of items such as candleholders
Use tiered tray
Get creative by putting your favorite item under a glass cloche
Arrange a decorative birdhouse display
Layer with trays (silver, wood, or wicker)
Top your table with a decorative lantern
Use a statement piece such as a ginger jar or large urn filled with forsythia stems
Adding a small cordless lamp to your table is totally charming.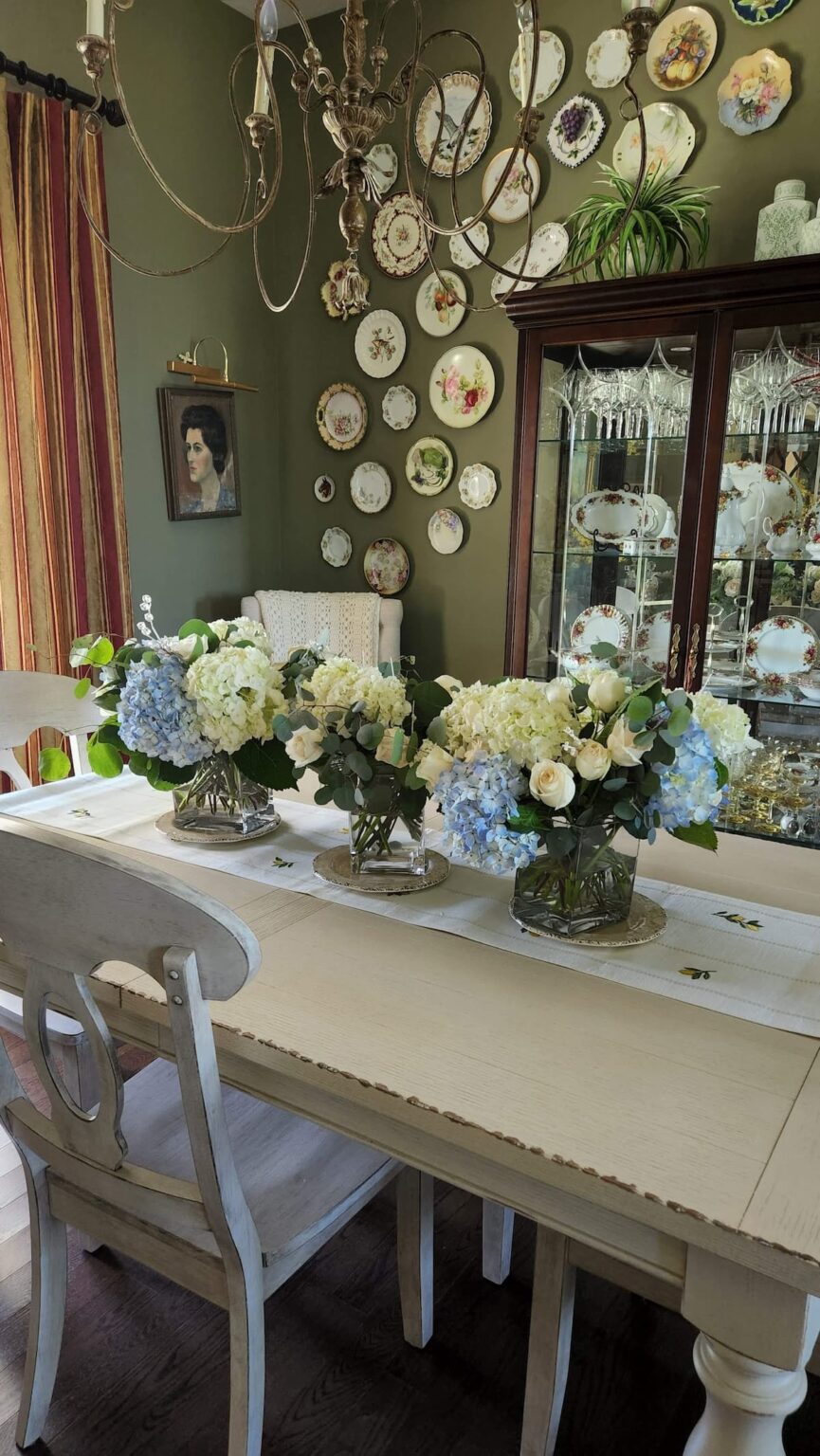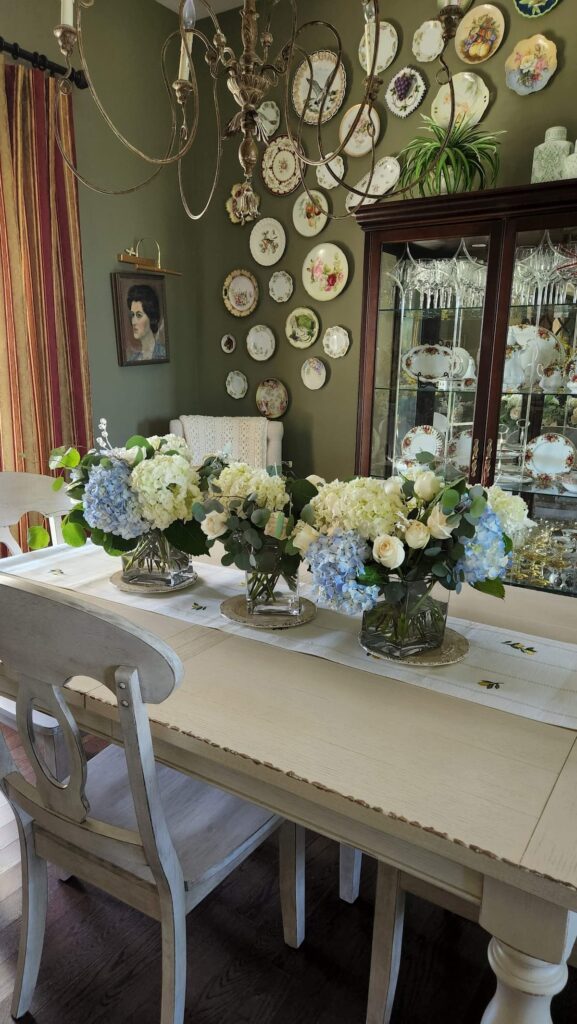 What are the rules for a table centerpiece?
First, consider the scale and size of the table you are creating the centerpiece for.
Next, take into account the shape of the table, whether round, long table or rectangular.
Third, coordinate your table centerpiece with the rest of your room or season.
When sitting at the table with the centerpiece on the table, the rule of thumb is the centerpiece should not be taller than 12 inches so you can converse and see your guests.
Lastly, another consideration is the lighting. The light fixture should offer enough light over the table and enhance what decoration is on the table.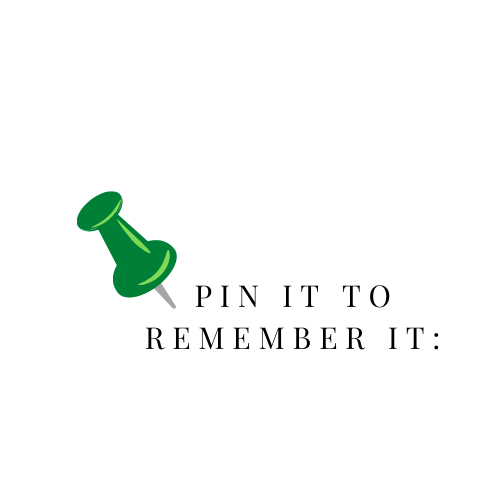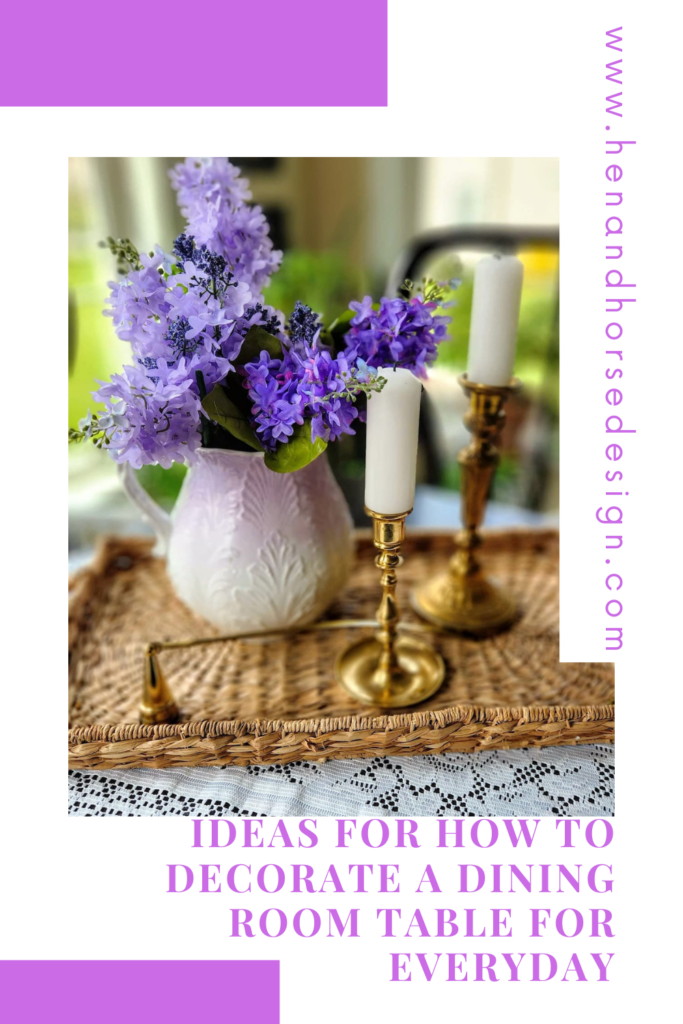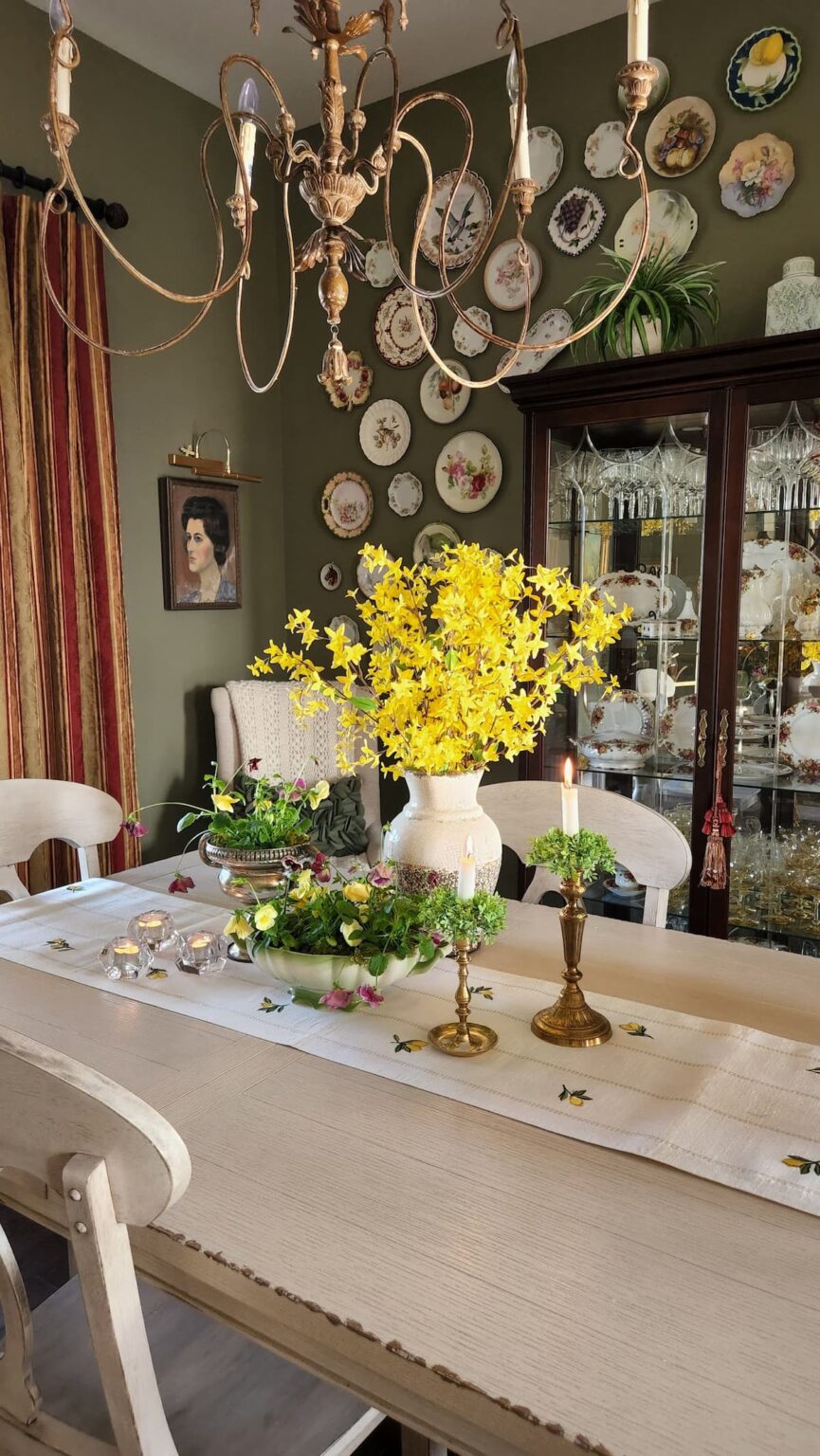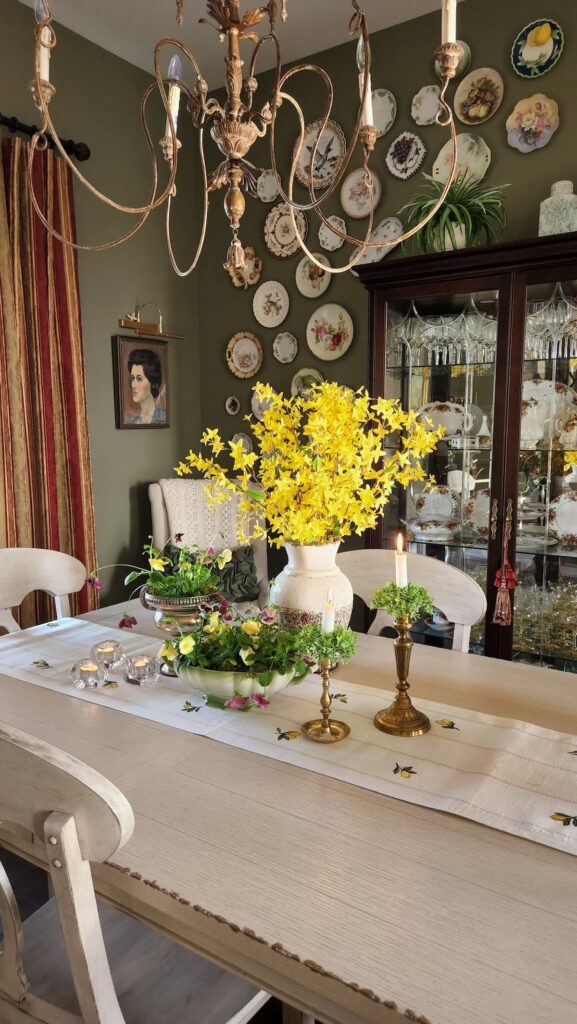 Add bright yellow or lemon anything! It always looks good.

The best idea for how to decorate a dining room table for everyday is to create your tabletop decor to reflect what you love and enjoy!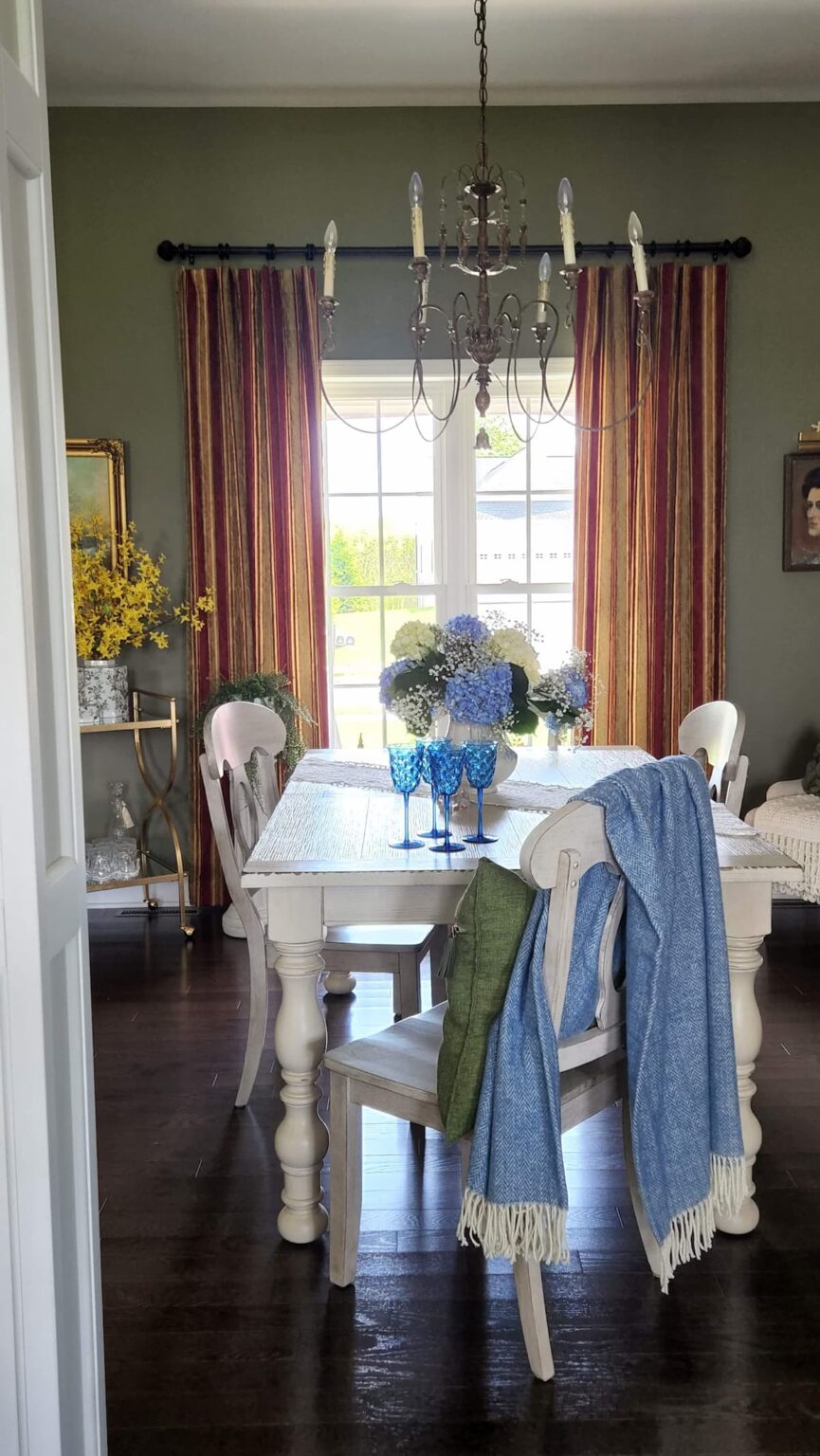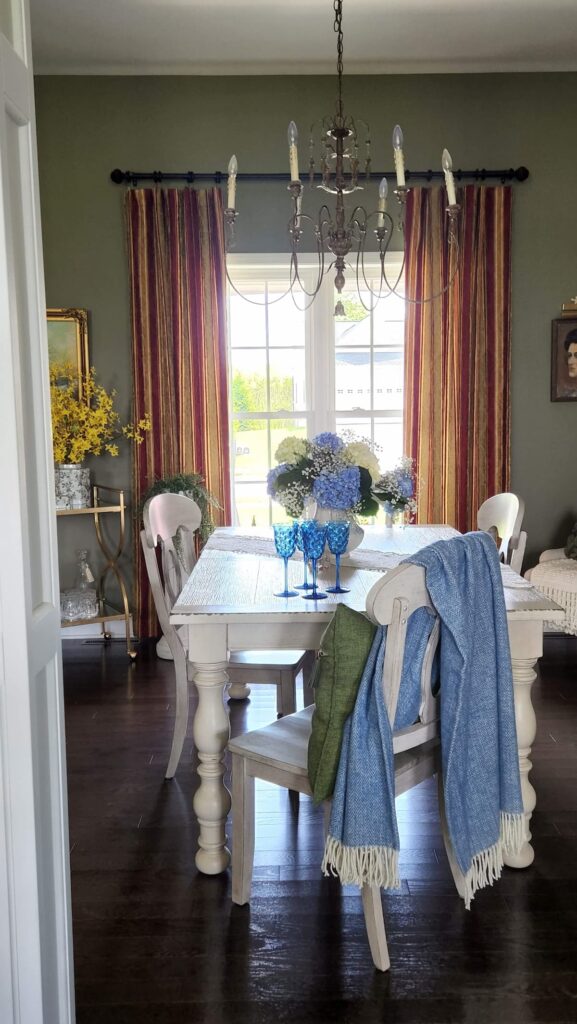 Now that your table is decorated, it's time to make dinner. For delicious recipes with great flavors click here.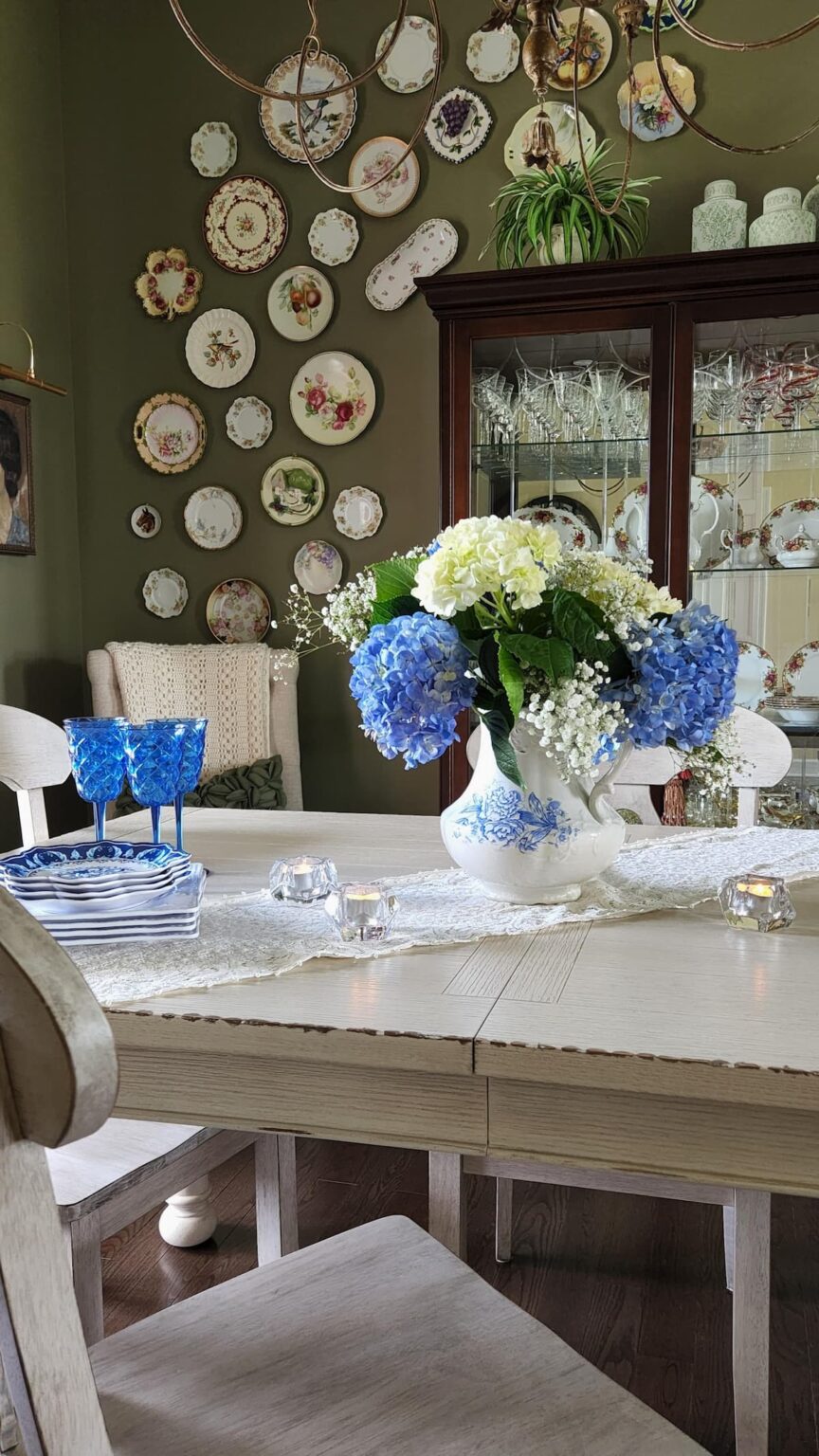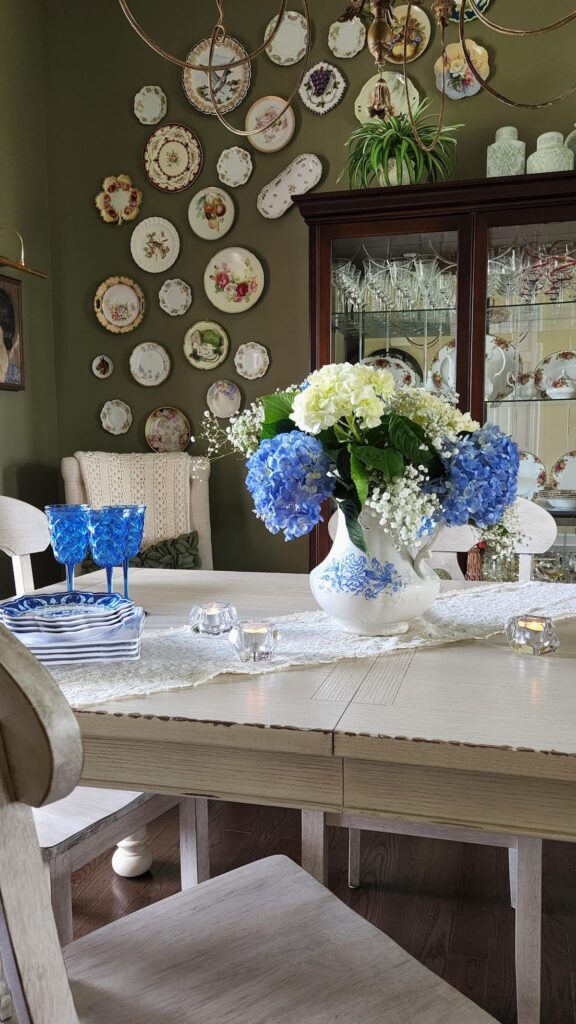 Thank you for joining me today. If you enjoyed this post, please let me know in the comments what you think about it. I'd love to hear.
You can also follow along on the daily behind-the-scenes things I share on Instagram. I'd love to see you there too!
If you are trying to catch up on blog posts you may have missed, sign up here to have my latest posts delivered to you via email.