Fall Table Decorating Ideas
Are you ready to decorate for Fall? Today I'm sharing my Fall Table Decorating Ideas!
I've been busy getting my Fall Table Decorating Ideas ready for you.
I love this time of year with all of the leaves changing to brilliant colors, apple recipes, flavorful spices, warm soups, and late-night fireside mugs of cocoa.
Meanwhile, it's just the first week of September!
While I don't want to rush the cooler temperatures to arrive just yet, however, I cannot help myself when I see all the brilliant colors of fall starting to gather.
Let's get started. With doing a little bit at a time, it will be easy and you'll be ready when the air really does change to cooler breezes!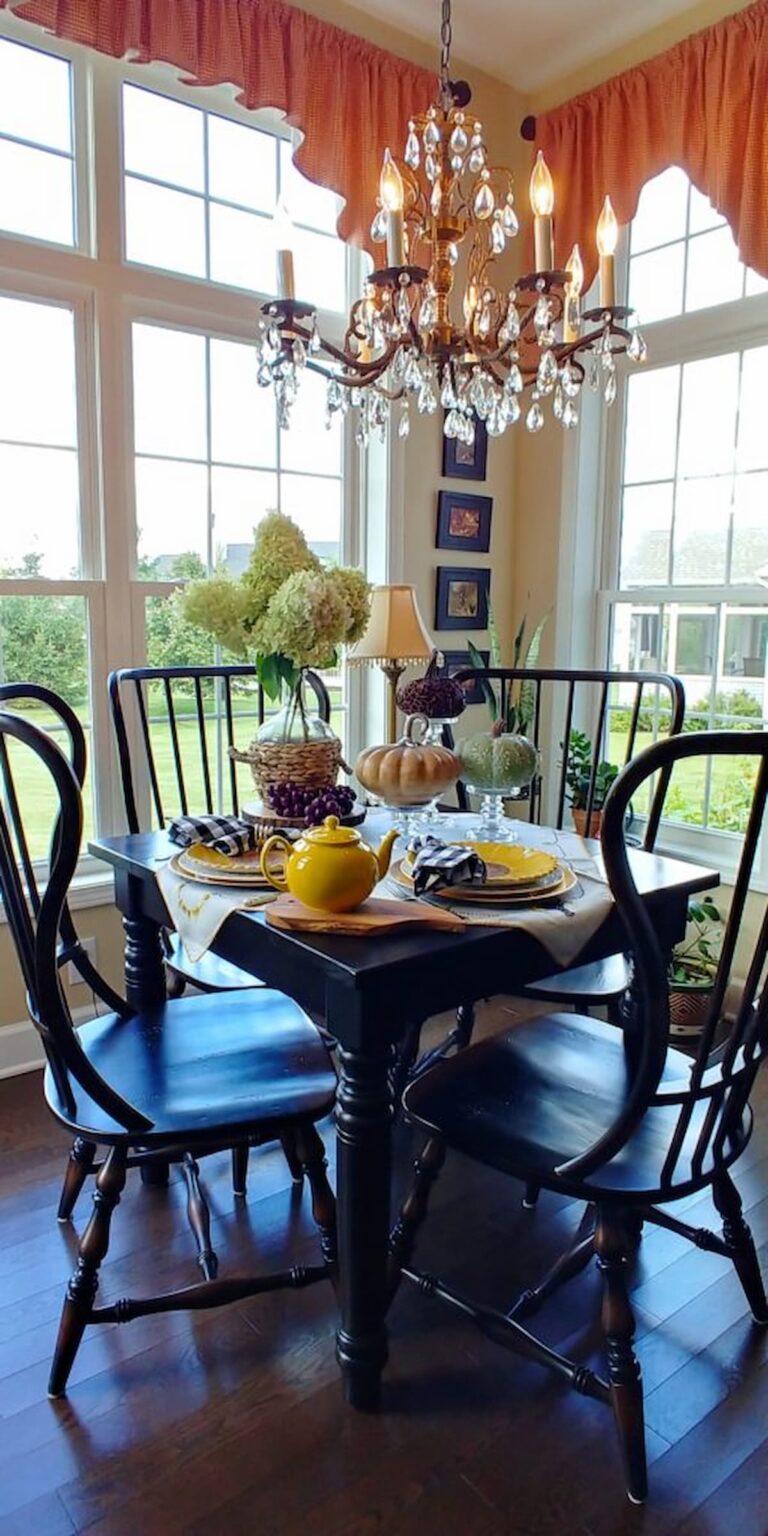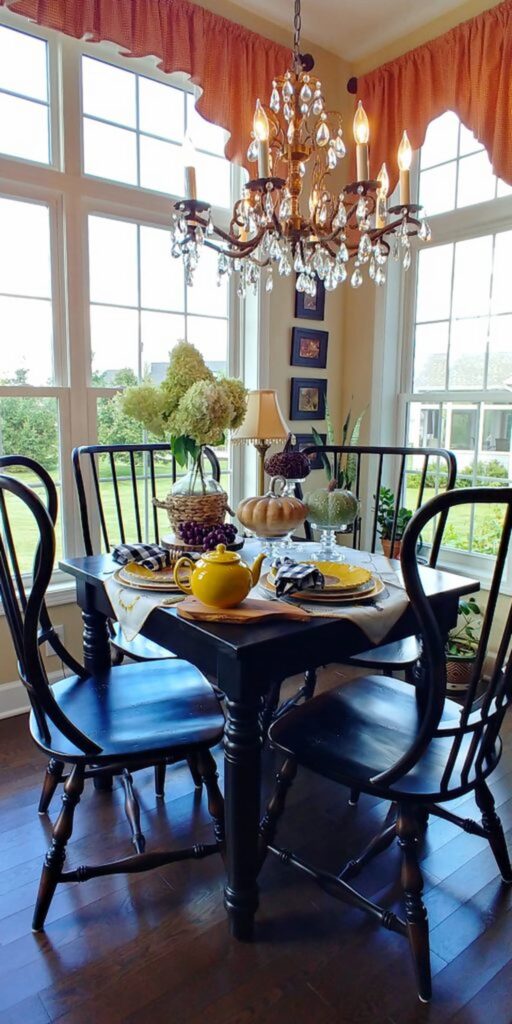 "This post may contain affiliate links which means I may earn a small commission. You may read my
disclosure policy here
".
How can I decorate my fall table?
To create a cozy and inviting atmosphere for your fall table, consider incorporating some creative decorating ideas.
Start with a rustic tablecloth or runner in warm earthy tones like deep orange or rich brown.
Add natural elements like pinecones, acorns, and colorful leaves as charming centerpieces or scattered accents.
Candles in autumnal hues can provide soft, warm lighting, and seasonal fruits like apples and pumpkins can double as both decor and delicious snacks.
Consider personalized place cards or elegant napkin rings to add a touch of sophistication.
Finally, don't forget to use warm, textured tableware to complete the look, and your table will be the perfect backdrop for memorable fall gatherings.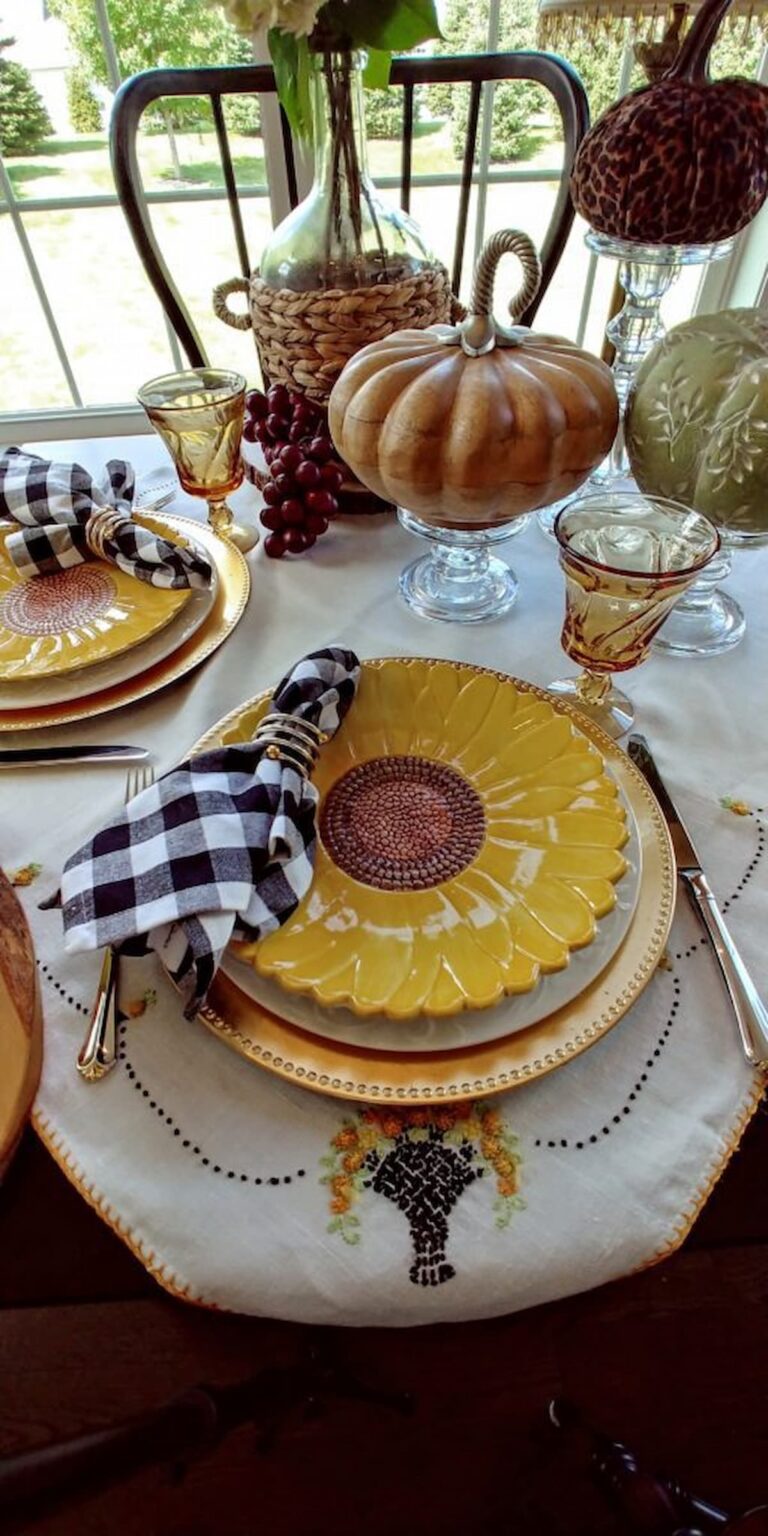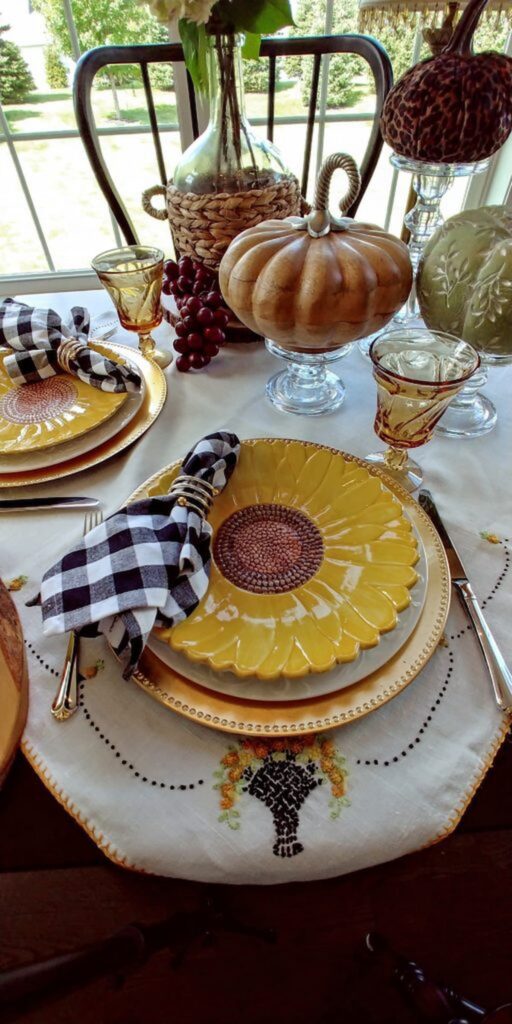 The inspiration for my Fall Decorating Ideas came from a simple, square, vintage tablecloth I picked up while vintage shopping. I love breathing new life into 'old' things!
Next, I started shopping my home for dishes and linens that would pull the black and gold together from the table covering.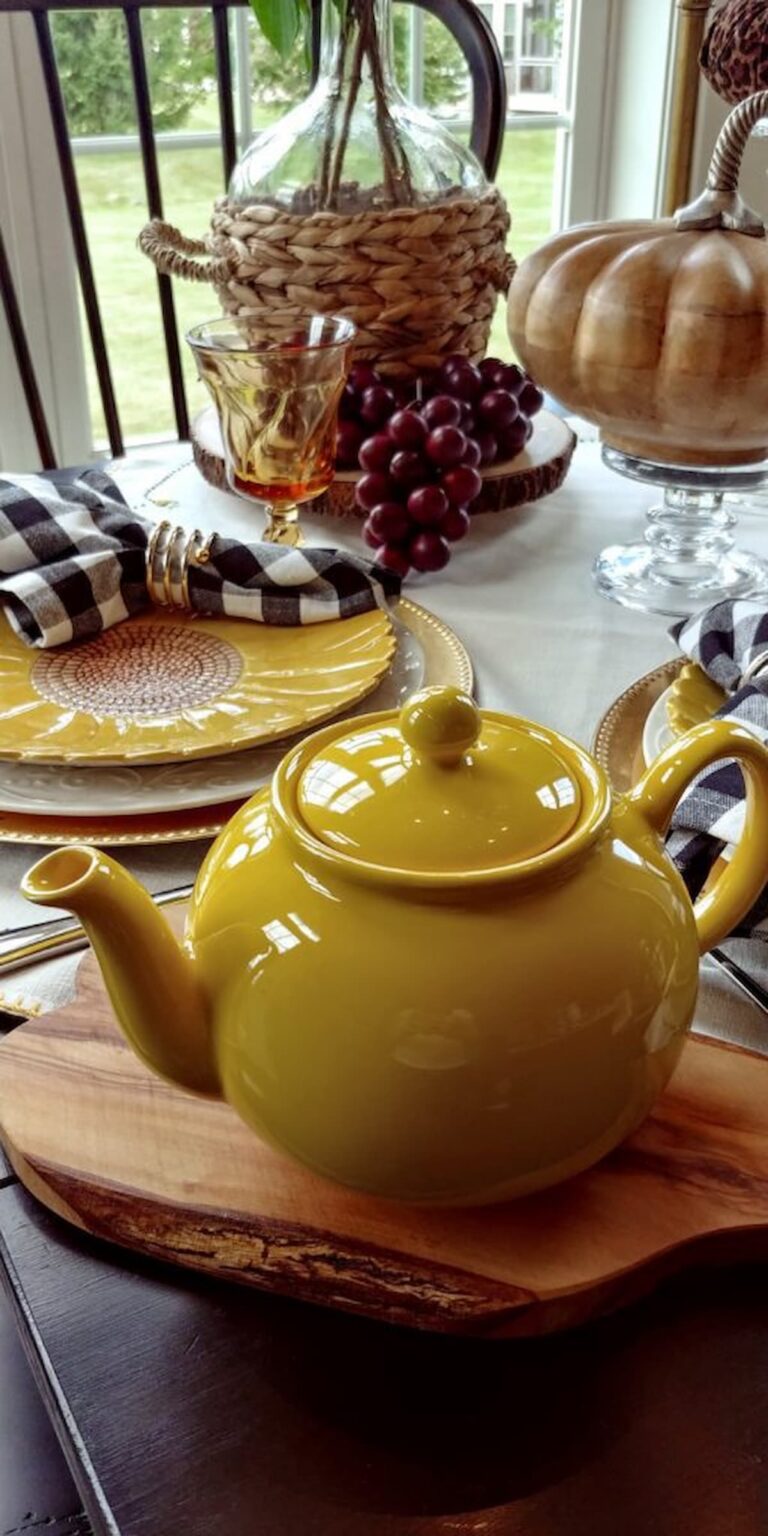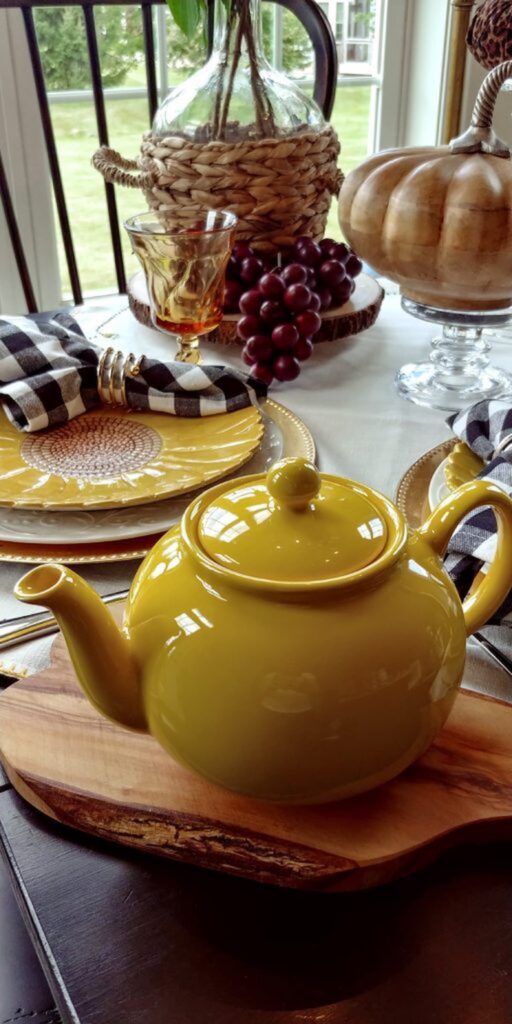 This darling yellow teapot was perfect for a pop of yellow. The sunflowers dishes are a favorite of mine. Perfect for this time of year, wouldn't you agree?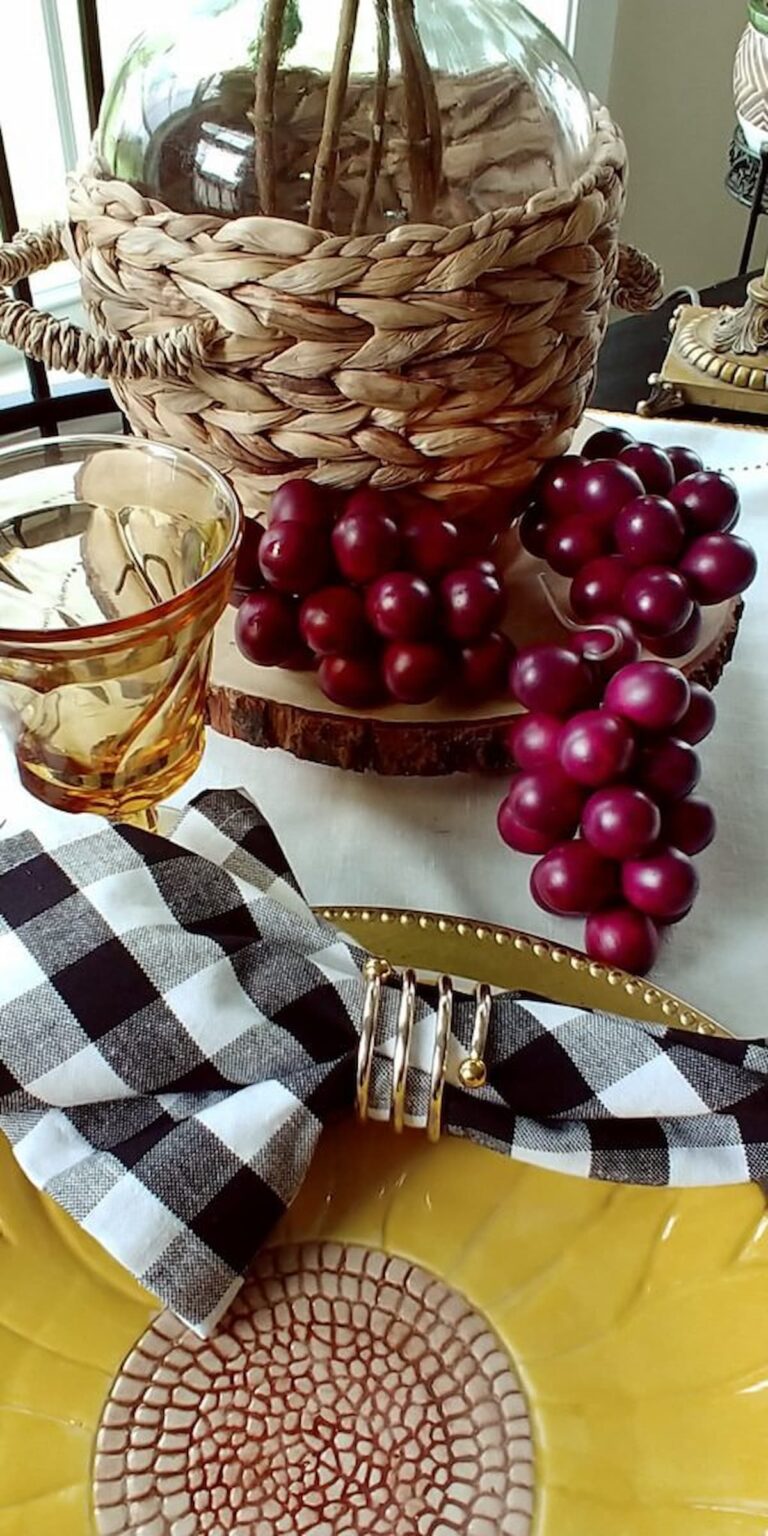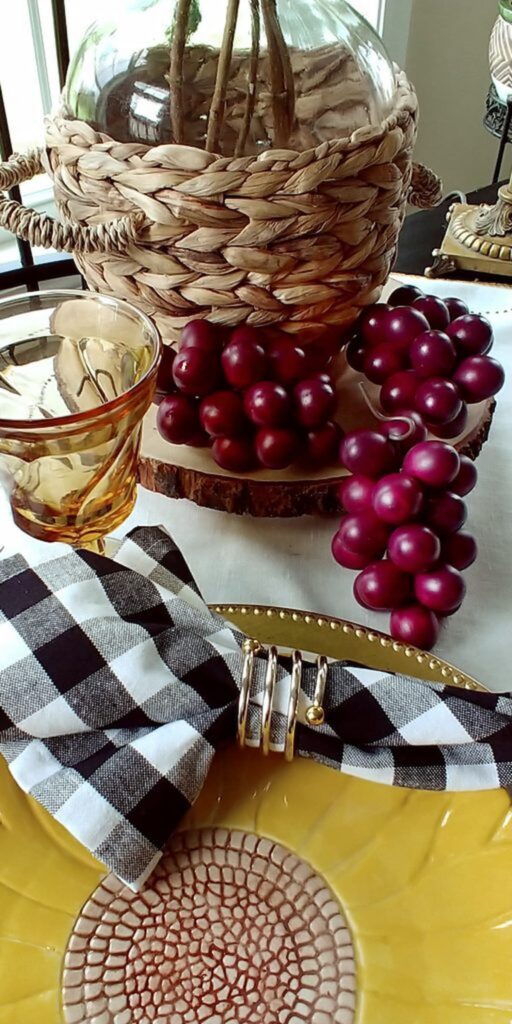 I love adding textures and different elements, bringing them all together.
These wooden grapes and wicker jug vase, along with the gold and silver napkins rings, black and white checkered napkins all add to the visual organic and metal interest. 
It's starting to feel like a fall farmhouse table.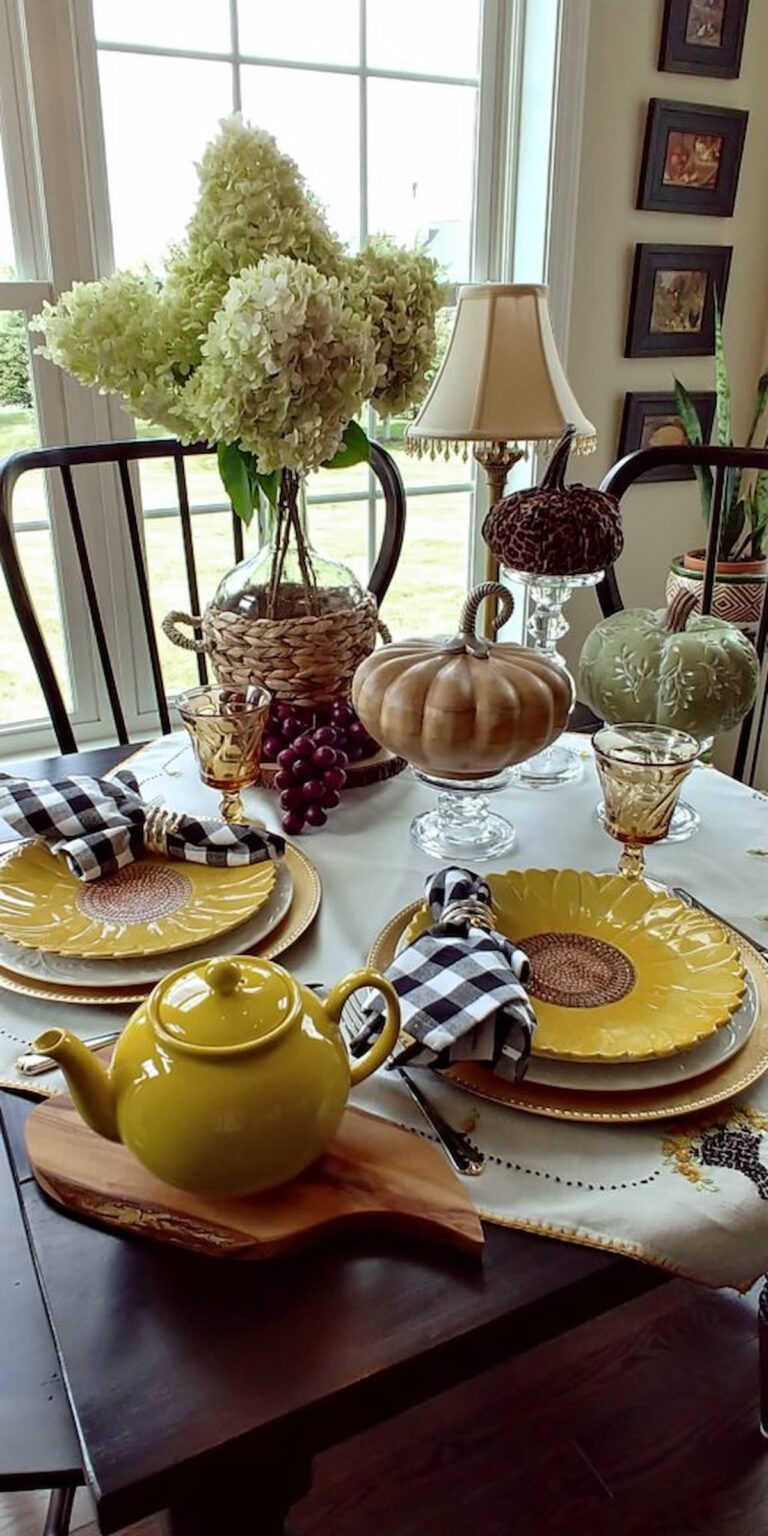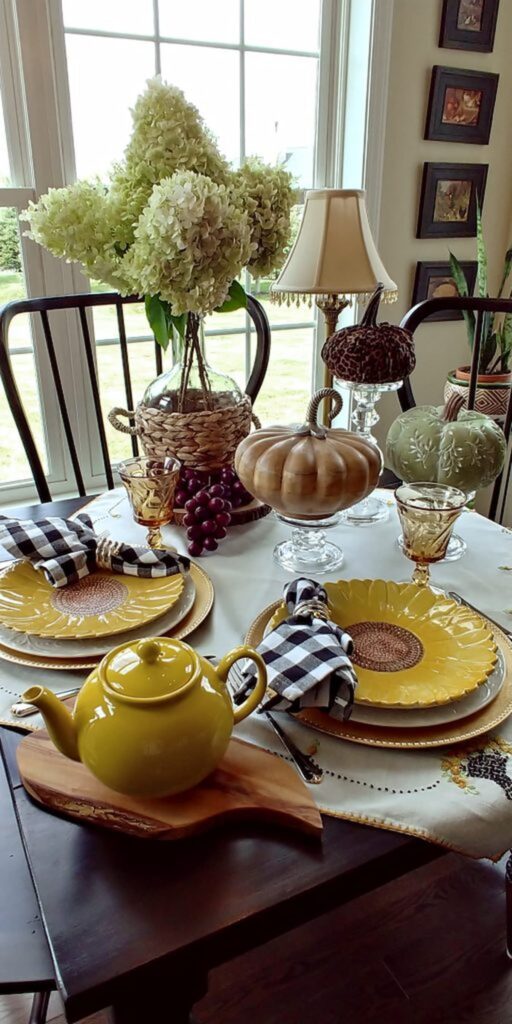 Lighting for me is a huge must-have. Whether it is a low lite crystal dining chandelier, candlelight, or a pretty little table lamp, all of which will add a warm glow and create a 'welcome to your home and fall table' feel.
When planning your table scape think of different ways and you might be able to use lighting. You'll be surprised at how much you'll come to love it!
The last addition was to add a few pumpkins to my table. I chose my velvet leopard print, natural wood, and green pumpkin for my table decor this time. I've propped them up on top on my glass candle holders. I use candle holders in many ways for adding height to your table. They truly 'elevate it'!
How do you style a fall table?
Styling a fall table involves a delightful blend of nature-inspired elements and seasonal color schemes to create a warm and inviting ambiance. Here are some tips to help you style your table for the autumn season:
Choose a Color Palette: Begin by selecting a cozy color palette that reflects the fall season. Deep oranges, warm reds, rich browns, and earthy greens are excellent choices. These colors can be incorporated into your tablecloth, napkins, or placemats.
Natural Elements: Bring the outdoors in by incorporating natural elements. Place a decorative centerpiece of fresh or faux fall foliage, pinecones, and acorns in the middle of the table. Scatter leaves, small pumpkins, or gourds along the runner or around the centerpiece.
Candles: Create a warm, inviting atmosphere with candles. Opt for candles in fall-themed colors and place them in stylish holders or lanterns. You can also use candlesticks for an elegant touch.
Tableware: Choose textured or rustic tableware to complement the autumn theme. Consider using ceramic or wooden plates and bowls. Add a touch of elegance with seasonal-themed dishes or chargers.
Place Settings: Personalize each place setting with autumn-inspired details. Use leaf-shaped place cards or tie twine around rolled napkins with a sprig of dried wheat or a cinnamon stick.
Drinkware: Add to the fall feel by serving warm beverages like spiced cider or mulled wine in decorative mugs or glassware. Consider incorporating copper or gold accents for a touch of sophistication.
Table Runner or Tablecloth: Lay a table runner or tablecloth with a fall pattern or texture as the foundation for your table decor. This provides a cohesive look and adds warmth to the setting.
Additional Decor: Don't forget to consider the space around the table. Hang wreaths or autumn-themed art on the walls, place a cozy throw blanket over nearby seating, and set out a basket of seasonal fruits like apples or pears for added decor and snacking opportunities.
By following these guidelines and incorporating your personal style, you can create a beautifully styled fall table that sets the perfect mood for autumn gatherings.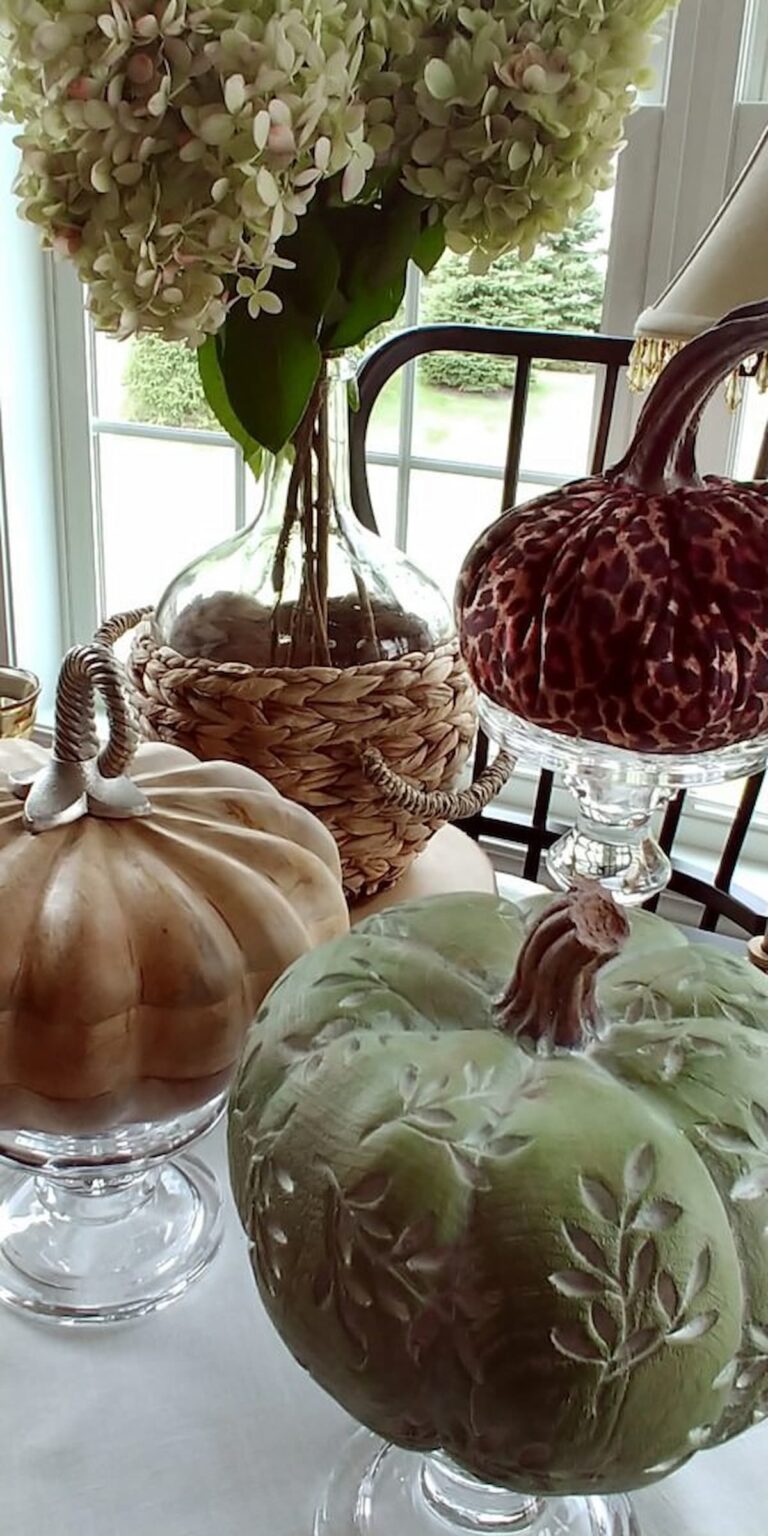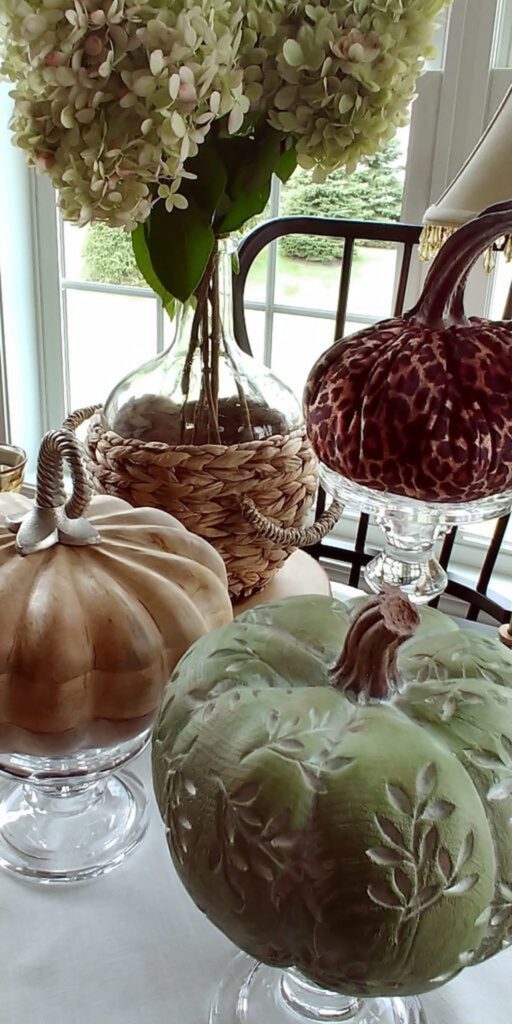 Adding your own personal touch
Since  my yard is full of hydrangeas this year, I opted for a simple bouquet of them. The best part is it didn't cost a penny. 
Did you know? Hydrangeas have three lives.
The first, is when they are blooming on the vine!
The second, is when they are picked and in the vase on your table or counter.
What's the last way they add life?….They are wonderful to hang and dry for future dried bouquet arrangements.
Shop My Home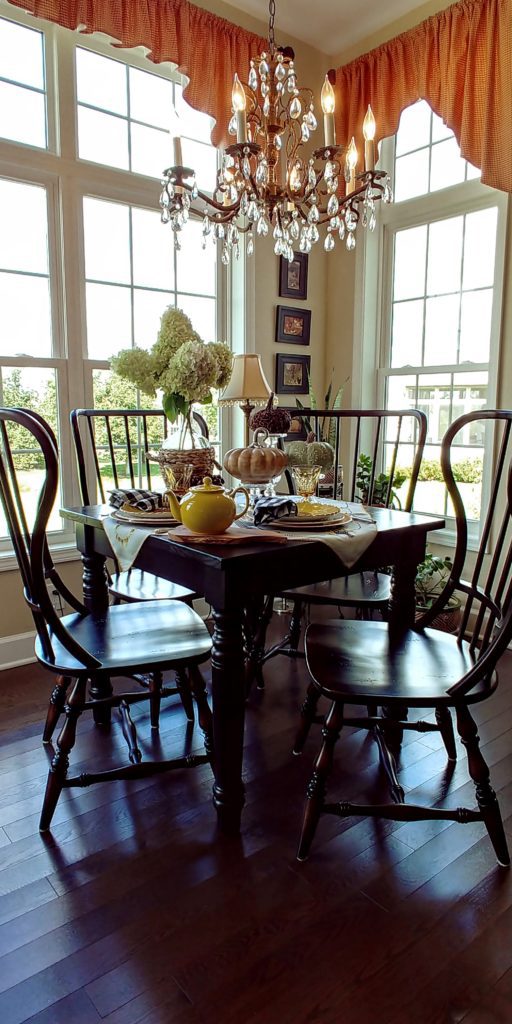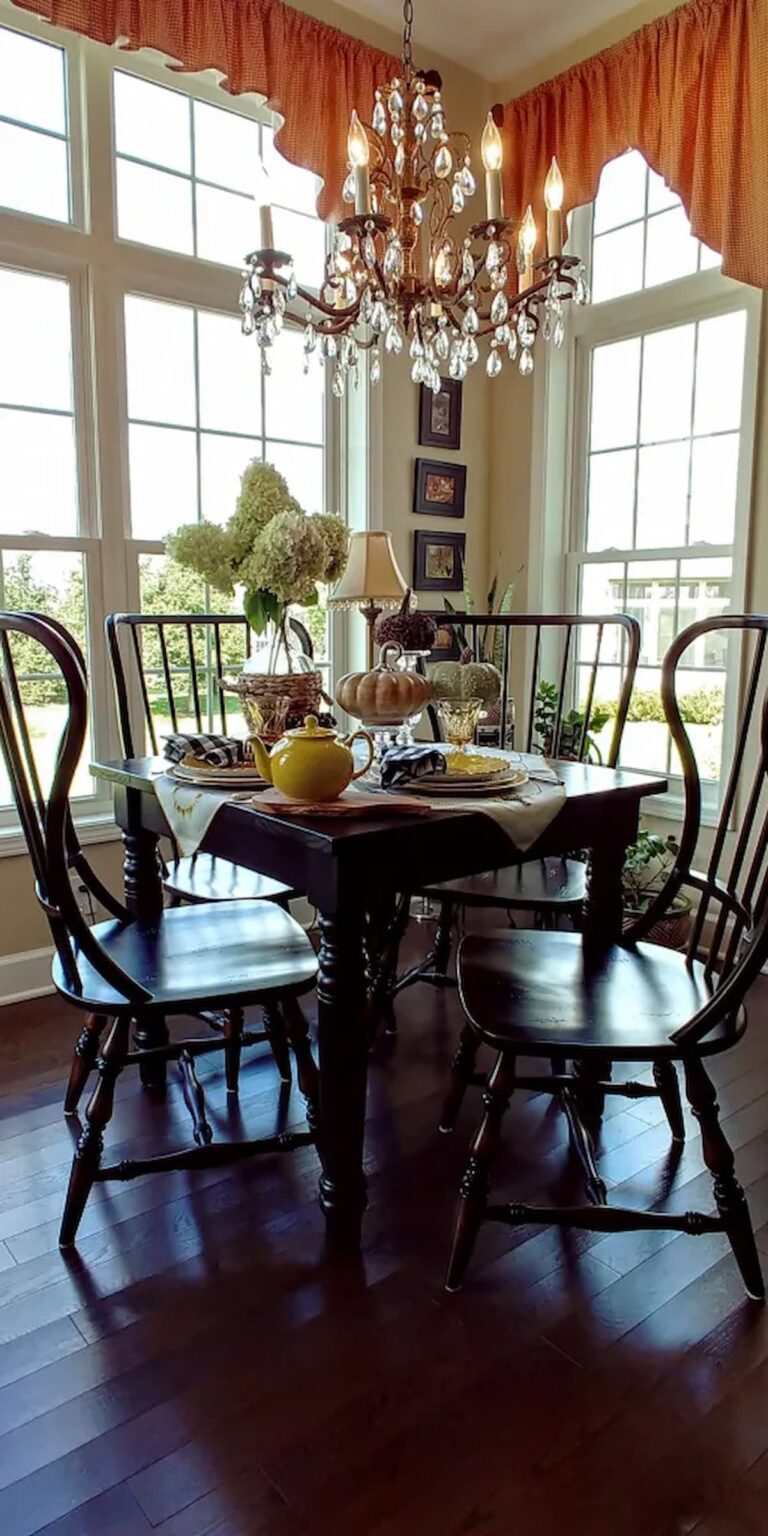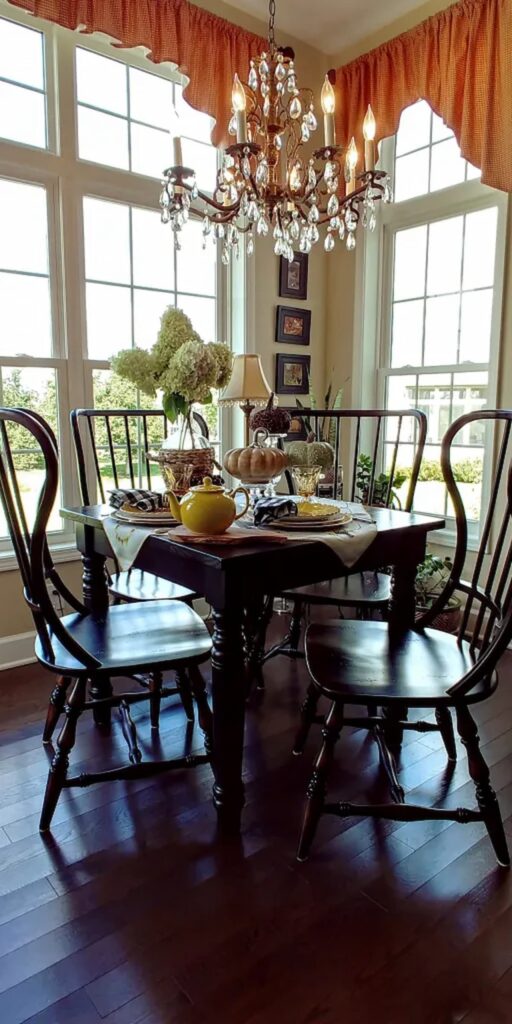 I hope you're inspired to start your Fall Table Decorating Ideas and create your own cozy home space!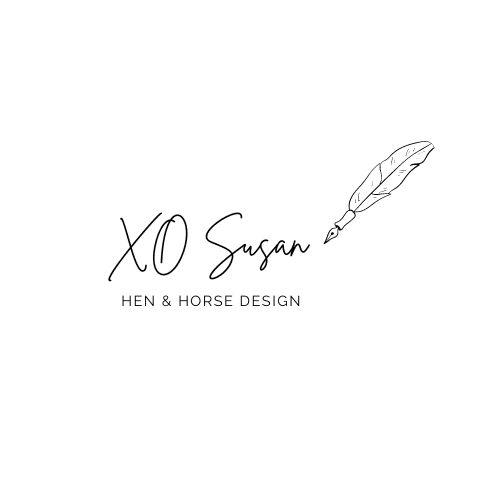 If you enjoyed this post, you may also enjoy these.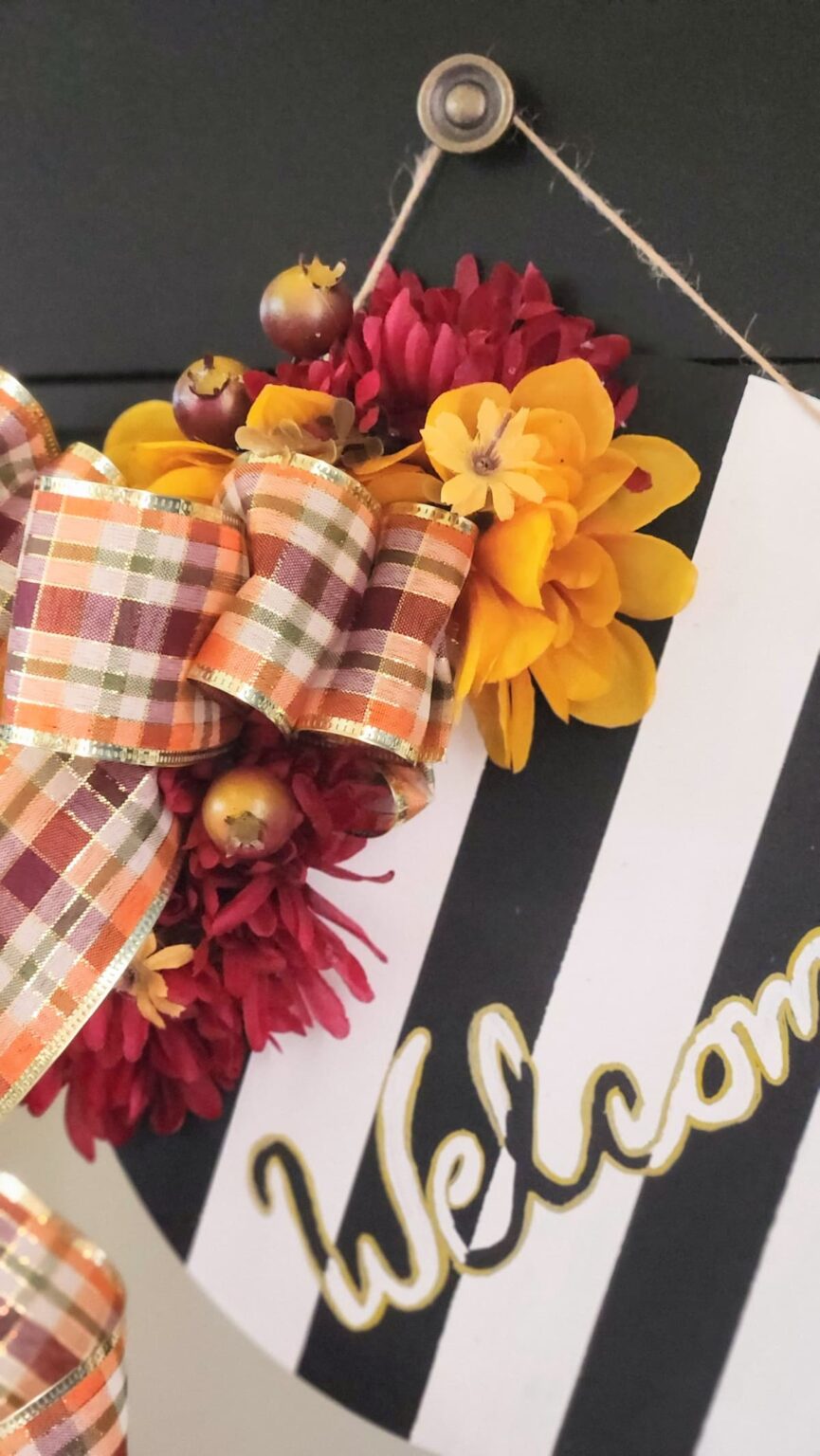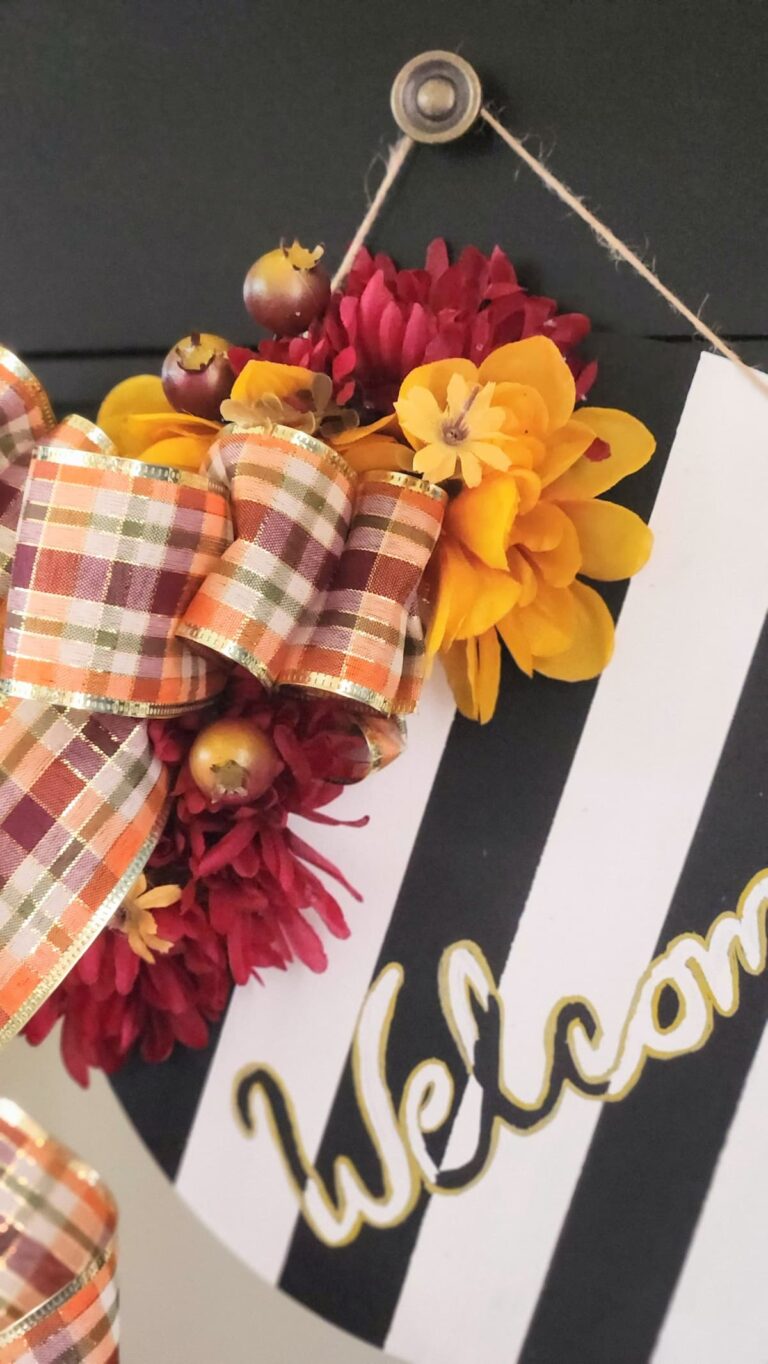 Hey there, crafty friend! Are you ready to dive headfirst into the wonderful world of DIY door hangers? Picture this: a cozy afternoon with your favorite tunes playing in the background, a table overflowing with colorful paints and craft supplies, and an empty wooden door hanger just waiting for your creative touch. It's like a mini canvas for your front door, and trust me, the possibilities are endless for a new pretty welcome sign.