Fall Table Decorating Ideas
Are you ready to decorate for Fall? Today I'm sharing my Fall Table Decorating Ideas!
I've been busy getting my Fall Table Decorating Ideas ready for you.
I love this time of year with all of the leaves changing to brilliant colors, apple recipes, flavorful spices, warm soups, and late-night fireside mugs of cocoa.
Meanwhile, it's just the first week of September!
While I don't want to rush the cooler temperatures to arrive just yet, however, I cannot help myself when I see all the brilliant colors of fall starting to gather.
Let's get started. With doing a little bit at a time, it will be easy and you'll be ready when the air really does change to cooler breezes!
Finding Inspiration for your Fall Table Decorating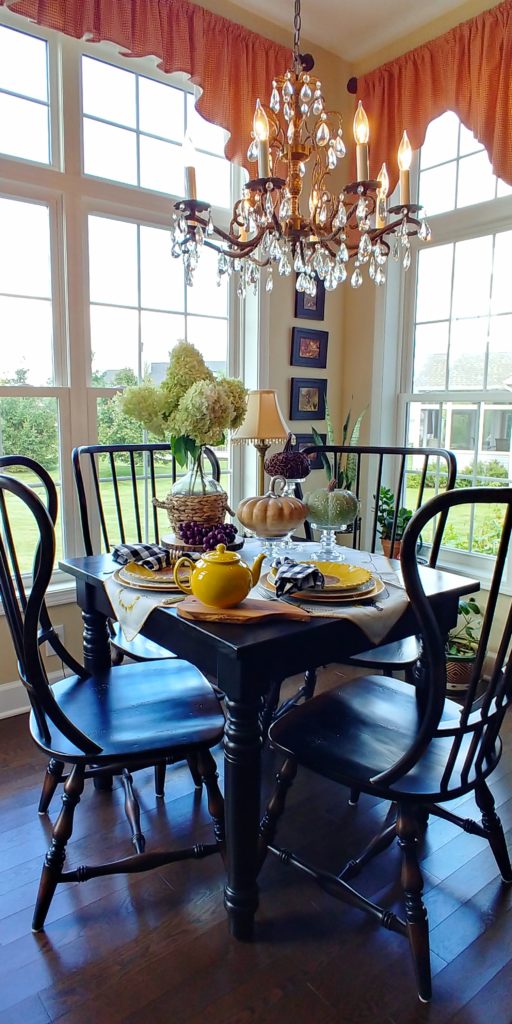 "This post may contain affiliate links which means I may earn a small commission. You may read my
disclosure policy here
".
The inspiration for my Fall Decorating Ideas came from a simple, square, vintage tablecloth I picked up while vintage shopping. I love breathing new life into 'old' things!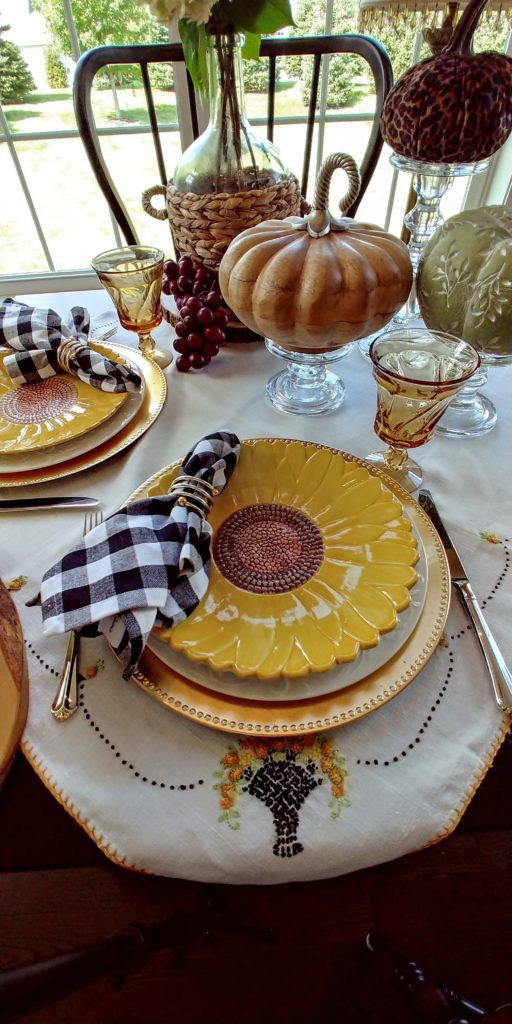 Next, I started shopping my home for dishes and linens that would pull the black and gold together from the table covering. My Fall Table Decorating Ideas are just getting started.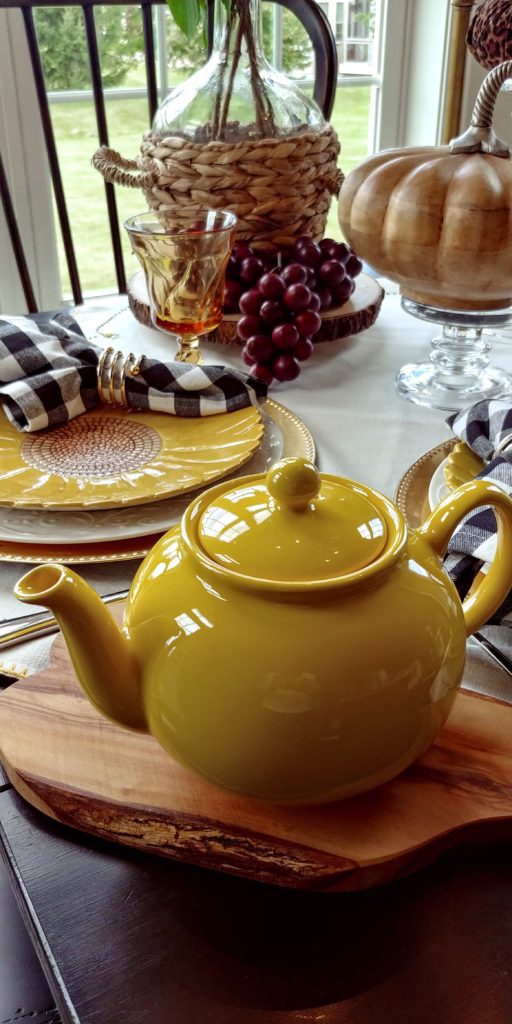 This darling yellow teapot was perfect for a pop of yellow. The sunflowers dishes are a favorite of mine. Perfect for this time of year, wouldn't you agree?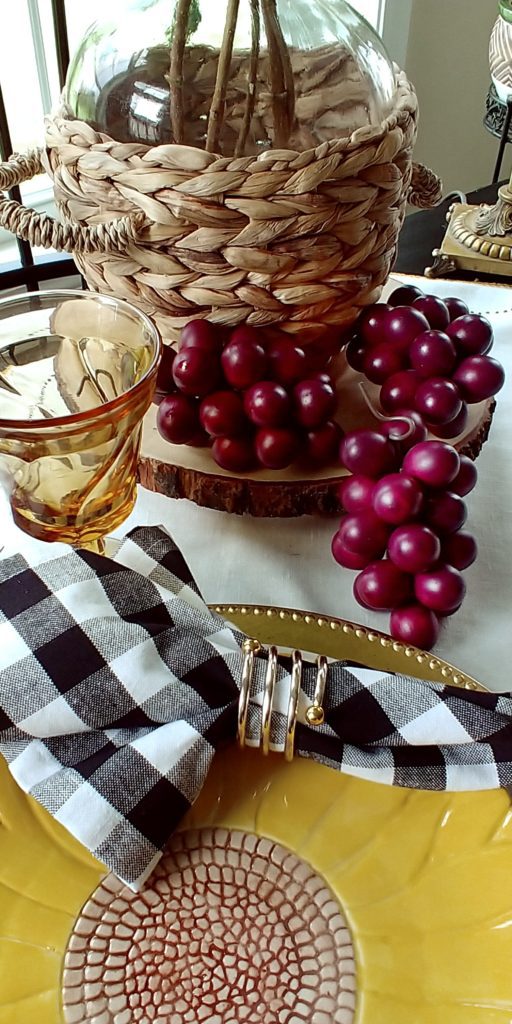 I love adding textures and different elements, bringing them all together. These wooden grapes and wicker jug vase, along with the gold and silver napkins rings, black and white checkered napkins all add to the visual organic and metal interest. 
It's starting to feel like a fall farmhouse table.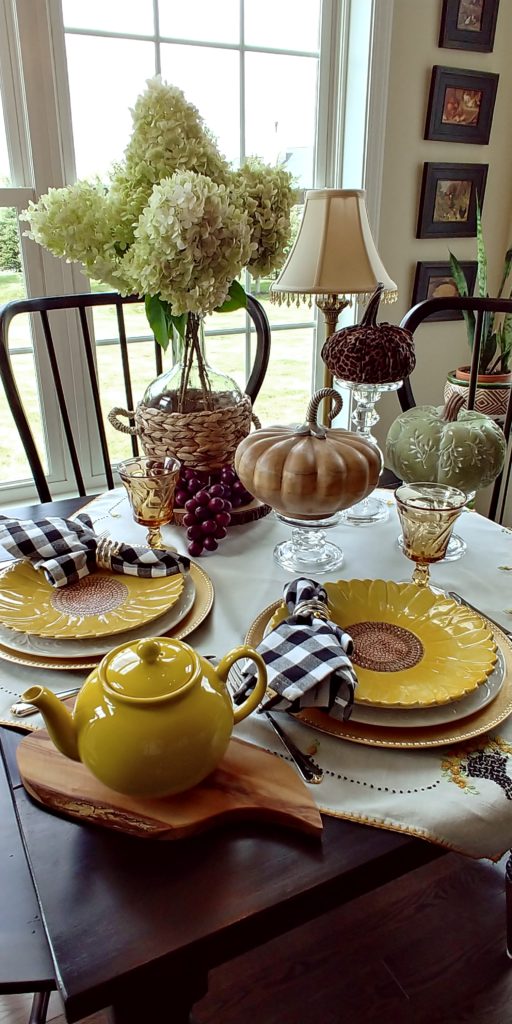 Lighting for me is a huge must-have. Whether it is a low lite crystal dining chandelier, candlelight, or a pretty little table lamp, all of which will add a warm glow and create a 'welcome to your home and fall table' feel. 
When planning your table scape think of different ways and you might be able to use lighting. You'll be surprised at how much you'll come to love it!
Here is what I did next
The last addition was to add a few pumpkins to my table. I chose my velvet leopard print, natural wood, and green pumpkin for my table decor this time. I've propped them up on top on my glass candle holders. I use candle holders in many ways for adding height to your table.  They truly 'elevate it'!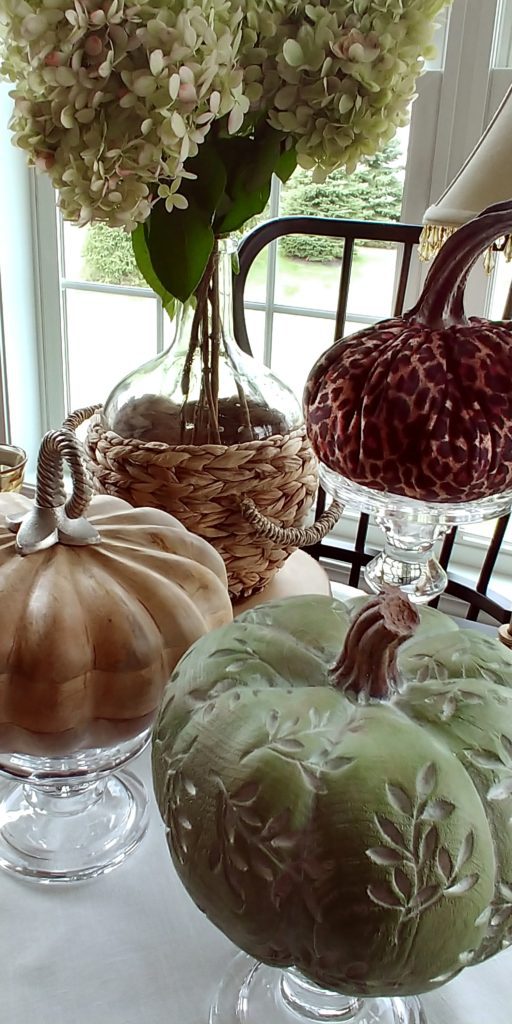 Since  my yard is full of hydrangeas this year, I opted for a simple bouquet of them. The best part is it didn't cost a penny. 
Did you know? Hydrangeas have three lives. 
The first, is when they are blooming on the vine! 
The second, is when they are picked and in the vase on your table or counter.
What's the last way they add life?….They are wonderful to hang and dry for future dried bouquet arrangements. 
Shop My Home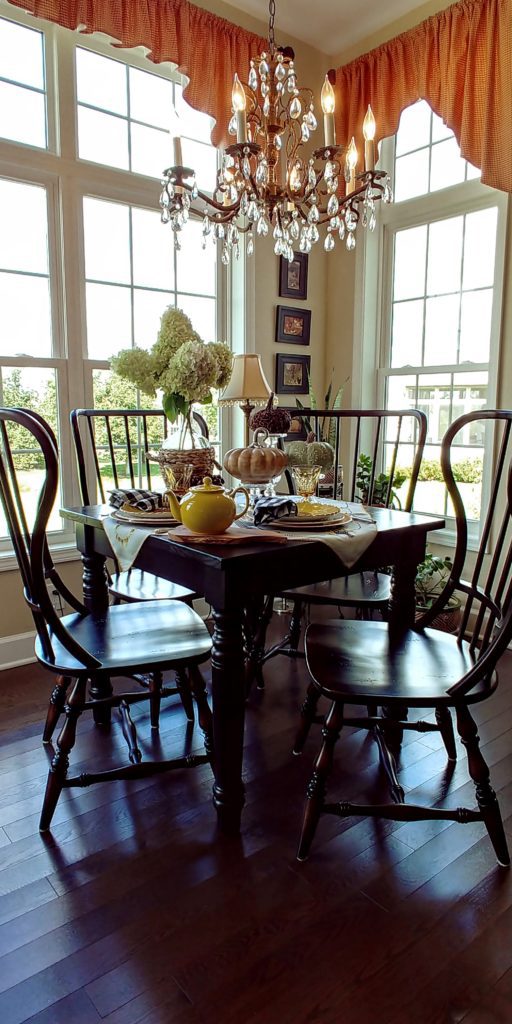 I hope you're inspired to start your Fall Table Decorating Ideas and create your own cozy home space! 
XO Susan 
If you enjoyed this post, you may also enjoy these.
This post contains affiliate links which means if you make a purchase after clicking a link I will earn a small commission but it won't cost you a penny more.