How to Decorate Your Mantle for Fall
What looks good on a mantle? How do you know when to decorate for Fall? Let me show you How to Decorate Your Mantle for Fall.
Decorating for fall has become one of my favorite things to do. After all of the 'summer whites' have started to fade and get put away, it's time to get going on 'warming' up your home for Autumn.
Today my blogger friends and I are sharing lots of fall ideas. Look no further if you are looking for inspiration for your home.
Thank you to my friend Kristy from @kristymastrandonas who has gathered us all together today to share our ideas.
If you're coming over from Missy's blog didn't you just love her A little Fall Tour in the Living Room post? Missy has a beautiful way of adding color to her home!
Fall is the perfect time of year to cozy up your home and get it ready for the colder months. One of our favorite ways to do this is by dressing up our mantel. Keep reading for some easy tips on how to take your mantel from boring to beautiful this fall.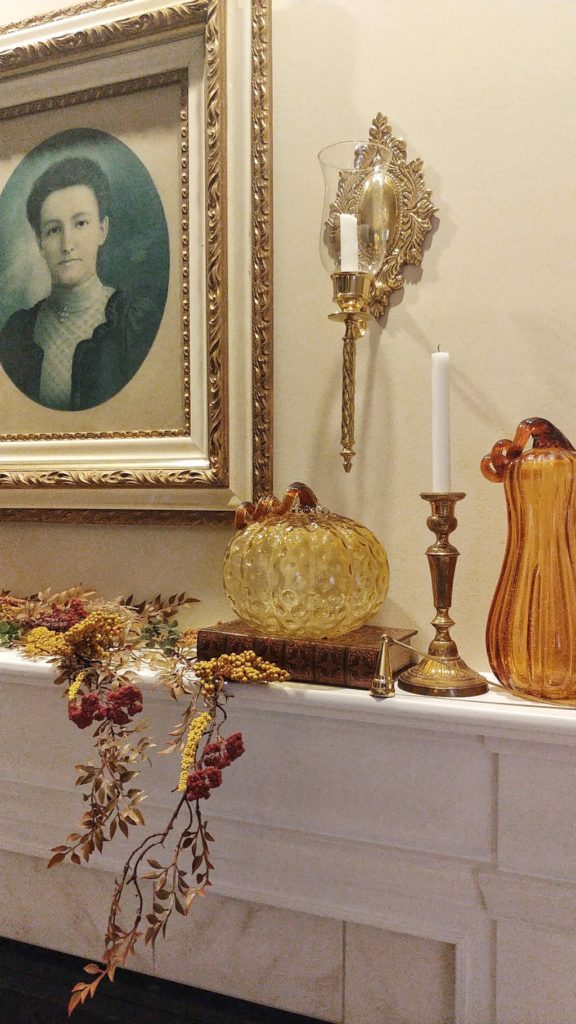 "This post may contain affiliate links which means I may earn a small commission. You may read my
disclosure policy here
".
When it comes to knowing how to decorate your mantle for fall, there really isn't any specific rule to follow, or when to start decorating. Typically, around the first week of September, I start to think about what colors I might like to use for the current year.
An easy way to make your mantel look more polished is by sticking to a neutral palette. Undoubtedly, this doesn't mean that your mantel has to be beige, but using a few colors that go well together will help create a cohesive look. My favorite fall neutrals to use are white, cream, gold, and green.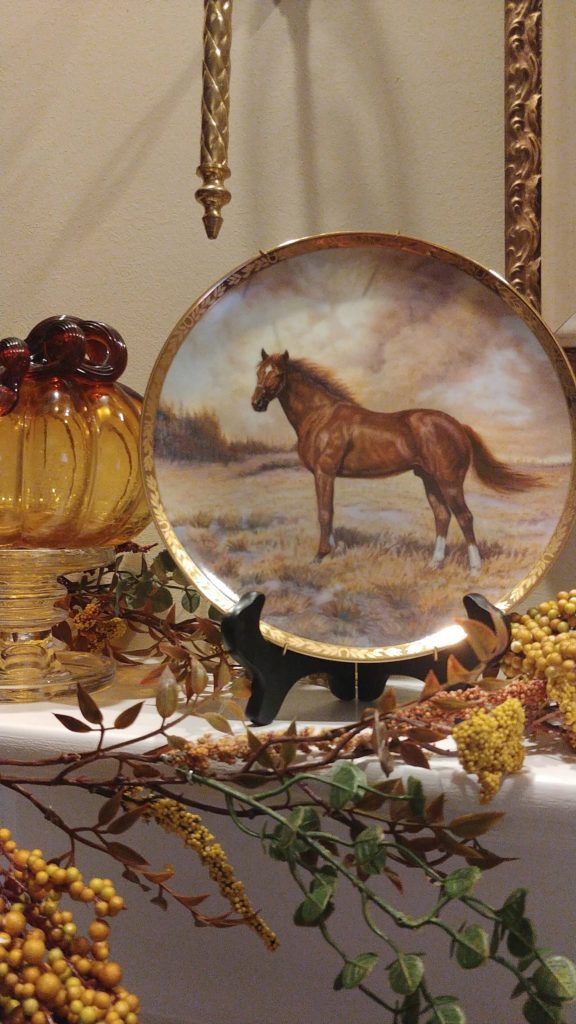 How to Decorate Your Mantle for Fall – Using Neutral Colors
When choosing this year's mantel colors, I decided I would like to use gold and neutral tones.
Once I decided to decorate my mantle with neutral colors, I then started to gather all my pumpkins, garland, candle holders, candles, and fall garland like the one below.
Neutral fall decor has become one of my favorite ways to decorate my home for autumn.
Every good mantel needs a focal point—something that will catch the eye and make the rest of the decorations come together.
A great way to create a focal point is by using a Mirror: Mirrors reflect light and make the space feel bigger, which is always a plus. Another option is to use Wall Art: A piece of art or framed photo that complements the rest of your décor can really make your mantel pop.
Candles are also a great way to add some interest to your mantel while also making it feel warm and inviting. Just make sure that if you do use candles, they're placed in safe candle holders!
Accenting Your Mantle with Nature
Another one of my favorite ways to decorate for fall is by bringing the outdoors in. Adding some pumpkins, gourds, leaves, or branches is an easy way to do this. You could even try painting or repurposing some old Mason jars and filling them with Fall-themed items like acorns or mini pumpkins. The possibilities are endless!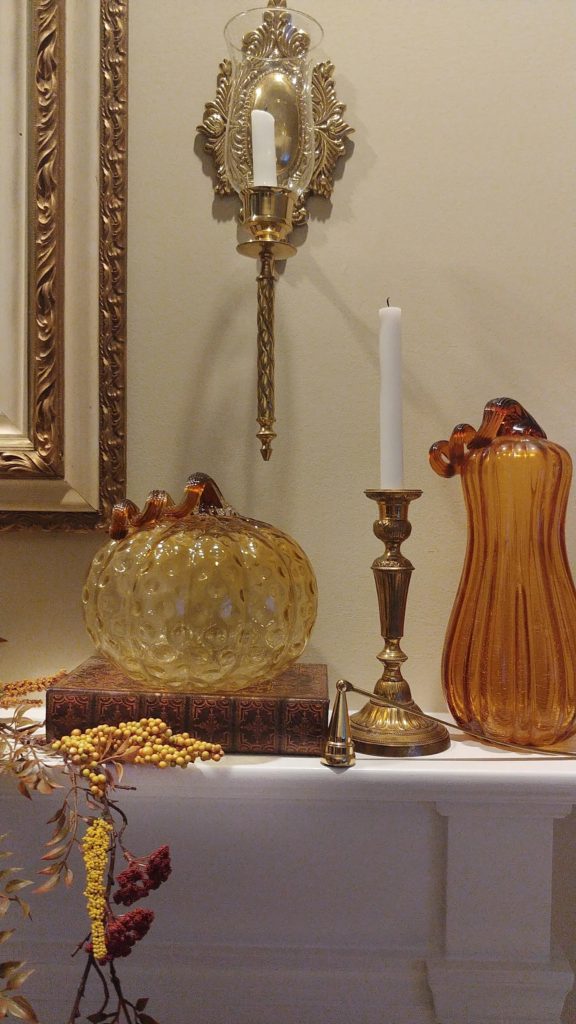 Enjoying this Post? Sign up here for my weekly newsletter.
How to Dress Up a Plain Mantel?
Up next, add a few pumpkins. When placing your items on the mantle you want to 'marry' them together. What this means is to place them near each other, so they look cohesive to the eye, rather than too far apart from each other.
Secondly, it always adds interest when you elevate a few pieces of décor. Using old books or risers is a beautiful way to elevate your decor.
Glass candle holders may be used for this as well.

Visually it is appealing to have your eye flow up and down across the mantle, giving your eye a break, or pause in between.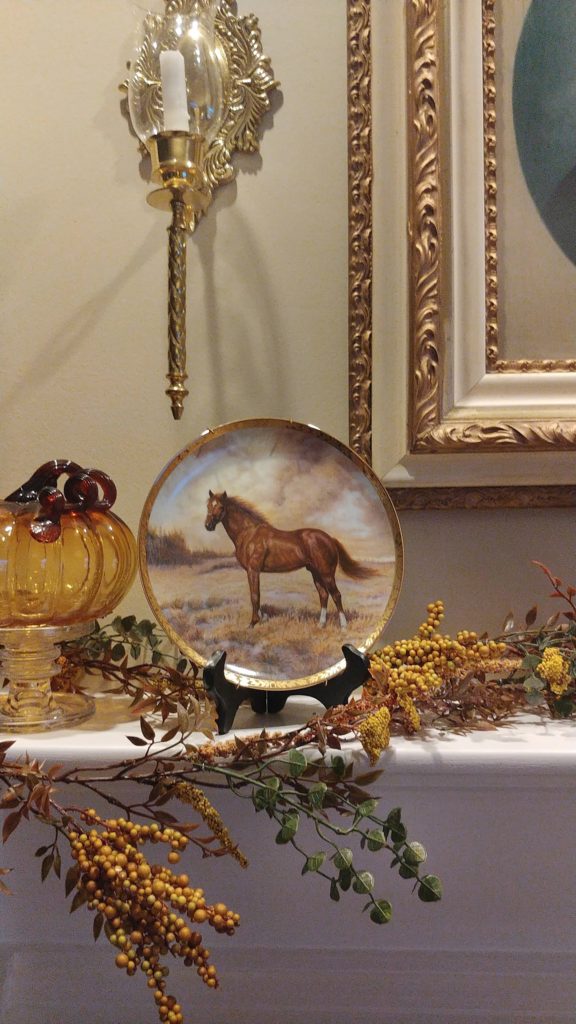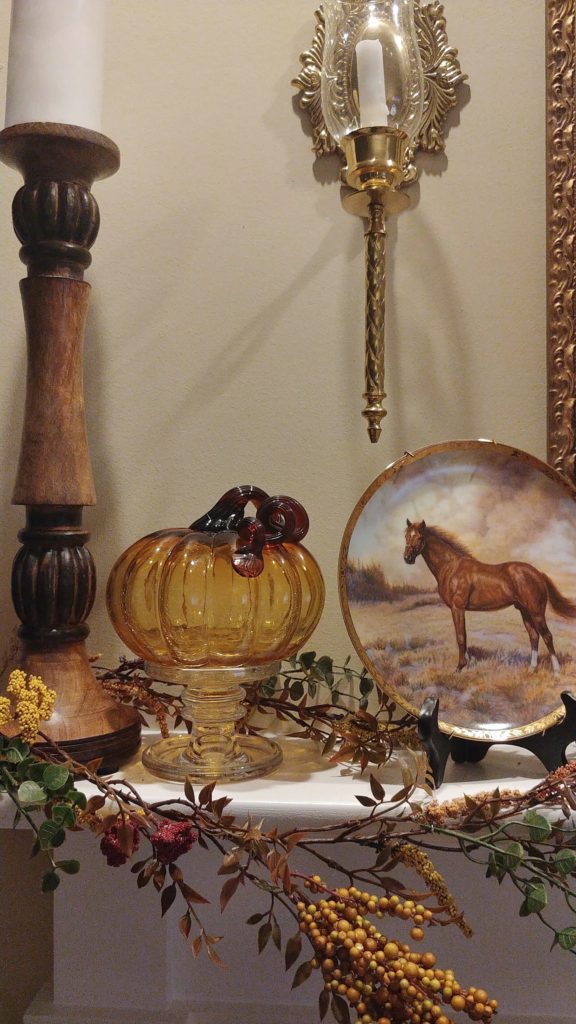 With literally a thousand ways to decorate your own mantle, be sure to add unique pieces of decor that you have either collected or that are sentimental to you. I added in a horse plate that I recently purchased at the Brimfield Antique Show.
If you ever have the opportunity to go, I highly recommend it.
In Conclusion – Choose What You Love
Lastly, these are just a few simple ideas to get you started on dressing up your mantel for fall. Get creative and have fun with it! Remember, there are no rules when it comes to décor—if you love it, that's all that matters. We hope these tips help you create a Mantel that you love this Fall season!
Most importantly, the decor pieces you choose should always be a reflection of what you love and enjoy.
XO Susan
If you have followed all of the links in this blog hop, you've made it to the end! If you haven't, you may start at the beginning by clicking here for Kristy's blog post. Each person will 'link' to the next until you make your way all the way around and end up back here!
Have you checked out my other social channels? Follow along so you don't miss out on any of my tips, recipes, or stories! ( you know I love a good story 😉 Join me on my other social channels for more! Pinterest, Instagram, and Facebook.
Pin It To Remember It: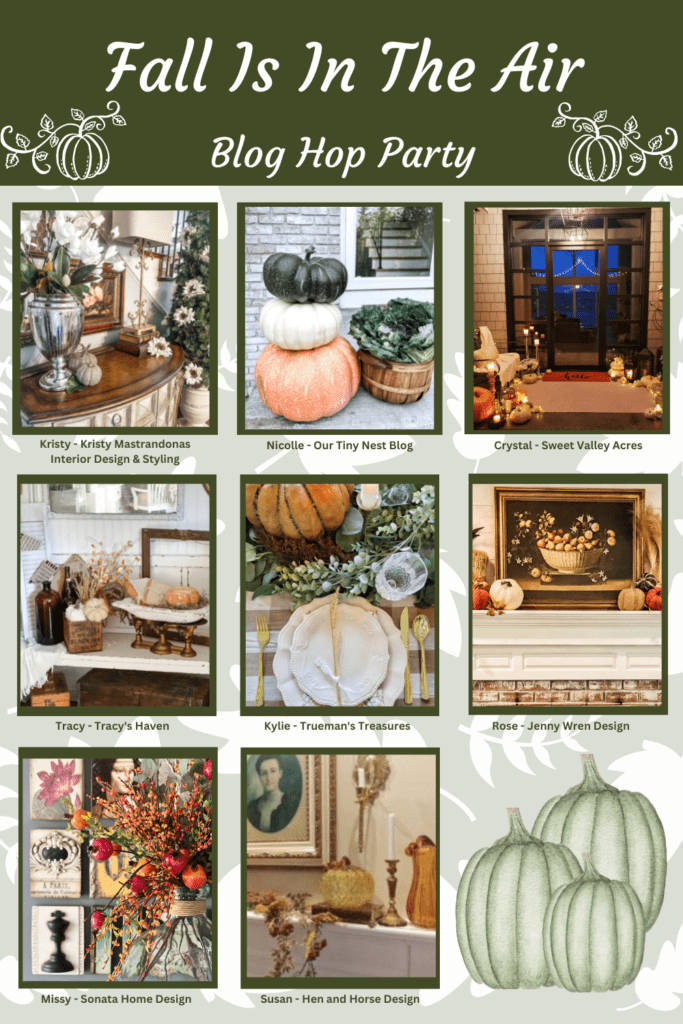 If you enjoyed this post, you may enjoy these.