Rambling from the Roost – A Weekly Roundup
Welcome to Rambling from the Roost! A weekly update on all things H&H. This week's topics include roosting, and a peek at what's up next.
Hey Friends, I'm starting something new here on the blog. Each week I'm going to share with you so many fun things. We can start with, so what is 'roosting'?
As they say, the rooster crows, announcing a new week. It's Tuesday! Well, we will call it a new week since yesterday was technically a holiday.
You'll find the latest news from myself and from my dearest blogging friends, plus what is coming up next. It's going to be a lot of fun!
Fun DIYs.
Quick Recipes, and easy ones too!
And some random things happening over here at 'the roost'.
I hope you enjoy it. I'm rambling already!
Let's start out with the definition of 'Roosting'. At first, I had no idea what the meaning of this word was so off I went to google. You know, the wizard behind the big internet curtain!
Definition of Roosting
a support on which birds rest
a place where winged animals and especially birds customarily roost
a group of birds roosting together
The keywords that I really liked here are 'support', because that would mean each of 'You'. Without You, I wouldn't get to do what I love and am passionate about, which is creating!
'Rest' is what I'd like you to do when you stop by to chat with me. Pull up a comfy chair, pour a cuppa coffee, relax and visit with me. Come take a break and 'rest' here!
The word 'group' and 'together' both encompass friends that come to a special place and enjoy each other's company!! All these words relate to you, to us, and to you and me together! I love that!
Let's get to it!
This Week's Rambling at Hen and Horse Design
Unfortunately, we were struck by lightning and it wasn't the lottery! Everything is okay but it sure was a scary moment. The lighting struck our front garden bed. It blew open the mailboxes across the street, did lots of damage to the underground wires, and blew up my flower pots at the base of the tree.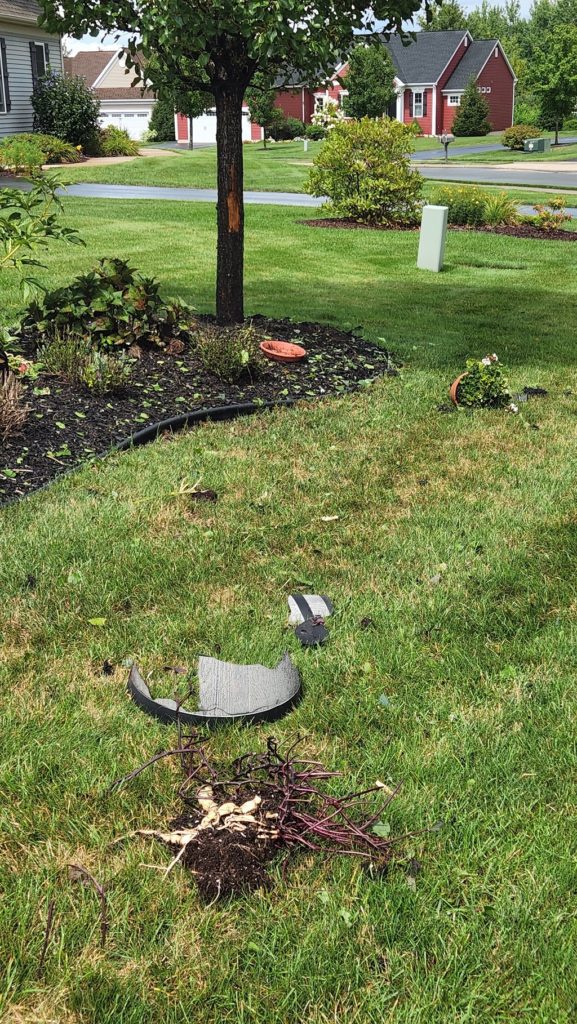 ""As an Amazon Influencer, I earn from qualifying purchases. This post may contain affiliate links which means I may earn a small commission. You may read my
disclosure policy here
".
When the firemen arrived the first thing they said was that the tree won't make it from the amount of electricity it sustained. More to come on this I'm sure!
We had so many ripe tomatoes in our garden I made a quick, delicious sauce.
The arrival of labor day means it is the end of track season at Saratoga. Our horse ran on Sunday and had a good race, but didn't win. He was running with some tough competition. He still got carrots back at the barn tho!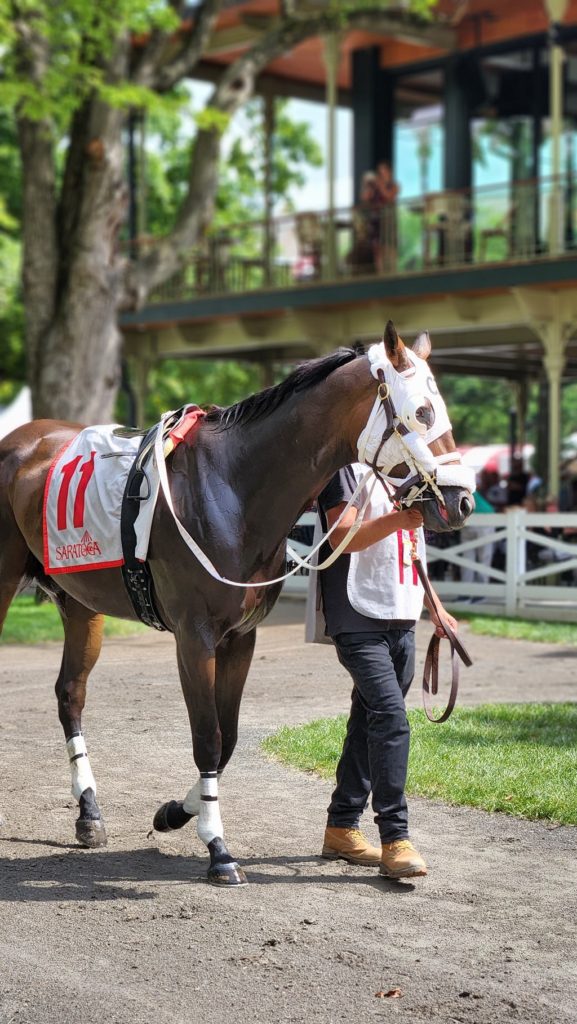 Andrew and I have been doing a lot of estate sale hopping since there are so many great sales locally this summer. I found this gorgeous platter. Plus I talked with the daughter of the woman whose home the sale was in and got lots of history. I cannot wait to share more about this beautiful tray and the house soon.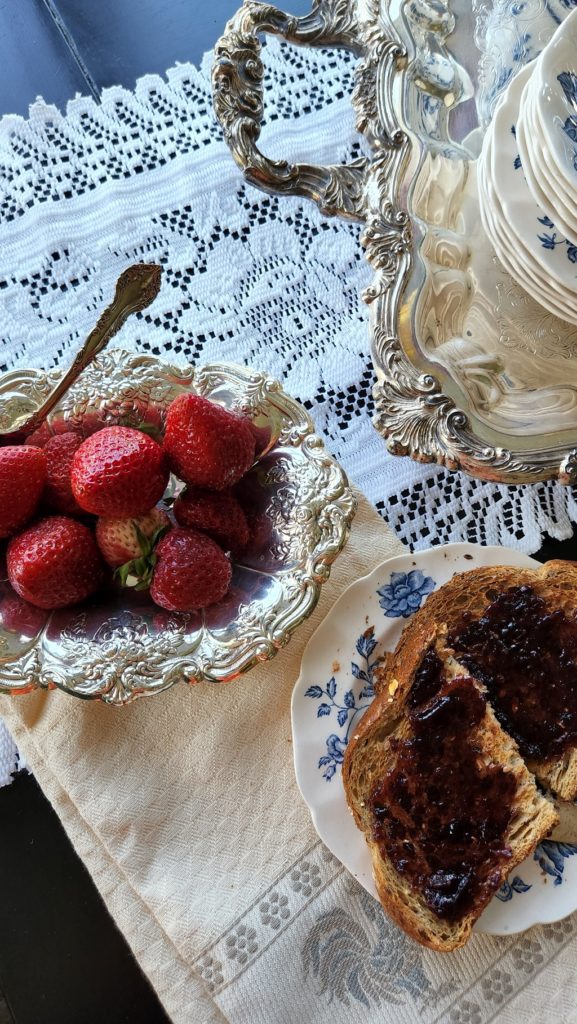 Enjoying this Post? Subscribe for the weekly here.
In other exciting news, the Vintage-Keepers shop is going to officially open this week. I'll be adding new items I've acquired weekly. Here you can do all of your vintage shopping in one great place.
It was a busy week on the blog. We talked about infusing olive oil with herbs, and those peaches. Wow, you all loved the peach dessert!
Coming up, I'm going to plant garlic for the first time. Have you ever planted garlic before? Any tips?
My potting bench is still sitting in the box in my garage, I'll be putting that together just in time to use it to plant my mums! No more bending down for this 'ol girl!
Favorite Inspiration from My Blogging Friends
I'm certainly not rushing the end of warm summer days, but boy, I do love decorating for fall in my home. It's such a warm, inviting, and cozy time of year. I get lots of inspiration during this time, especially from my friends.
What You Can Expect This Coming Week on Rambling from The Roost
Last week I put together a fall jewel-toned floral arrangement that went perfectly in my breakfast room. Coming up this week, I'm going to share with you how I styled two tablescapes differently with the same bouquet. One in the dining room, one in the kitchen. I'm so excited for you to see this inspiration.
Get ready with your paintbrush for this fun pumpkin DIY I'll be sharing as well.
These aren't your typical pumpkins!
Pin It So You Remember It: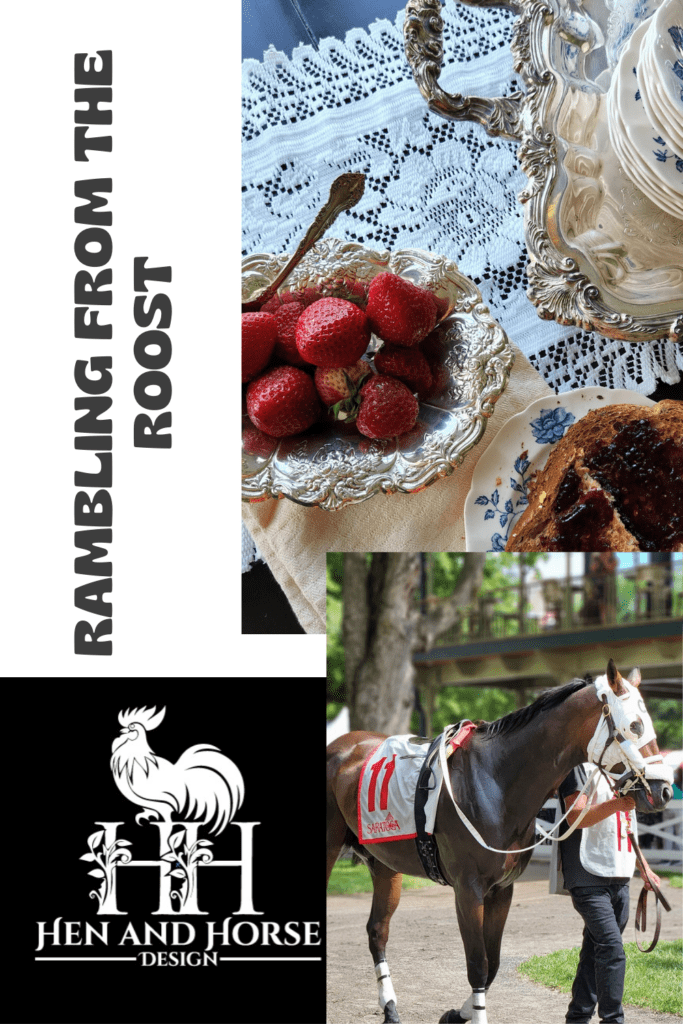 Have you checked out my other social channels? Be sure you don't miss out on any of my tips, recipes, or stories! ( you know I love a good story 😉 Follow me on my other social channels for more! Pinterest, Instagram, and Facebook.
Thank you for stopping by! I'm so pleased you did. Your support means so much! Leave me a comment below about how your week and holiday weekend went! I'd love to hear about it.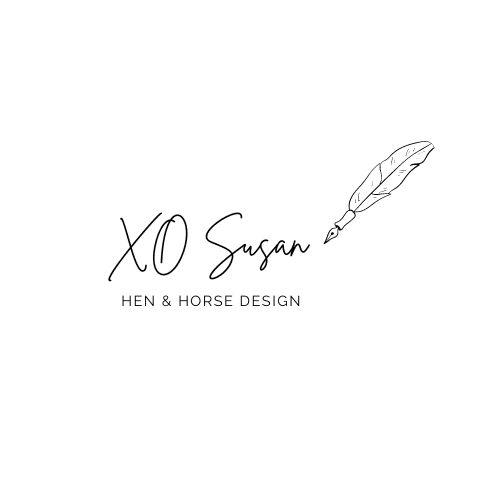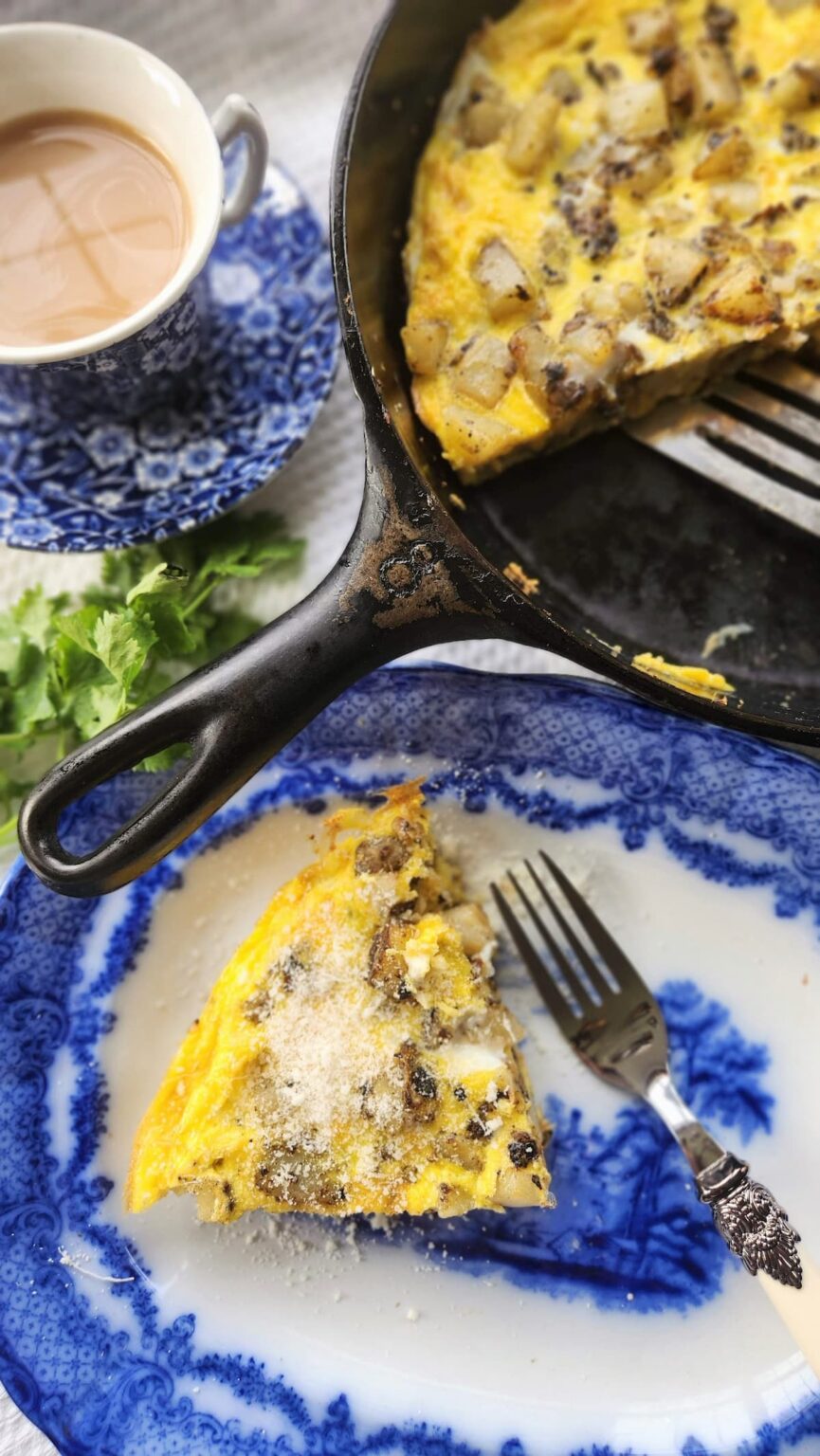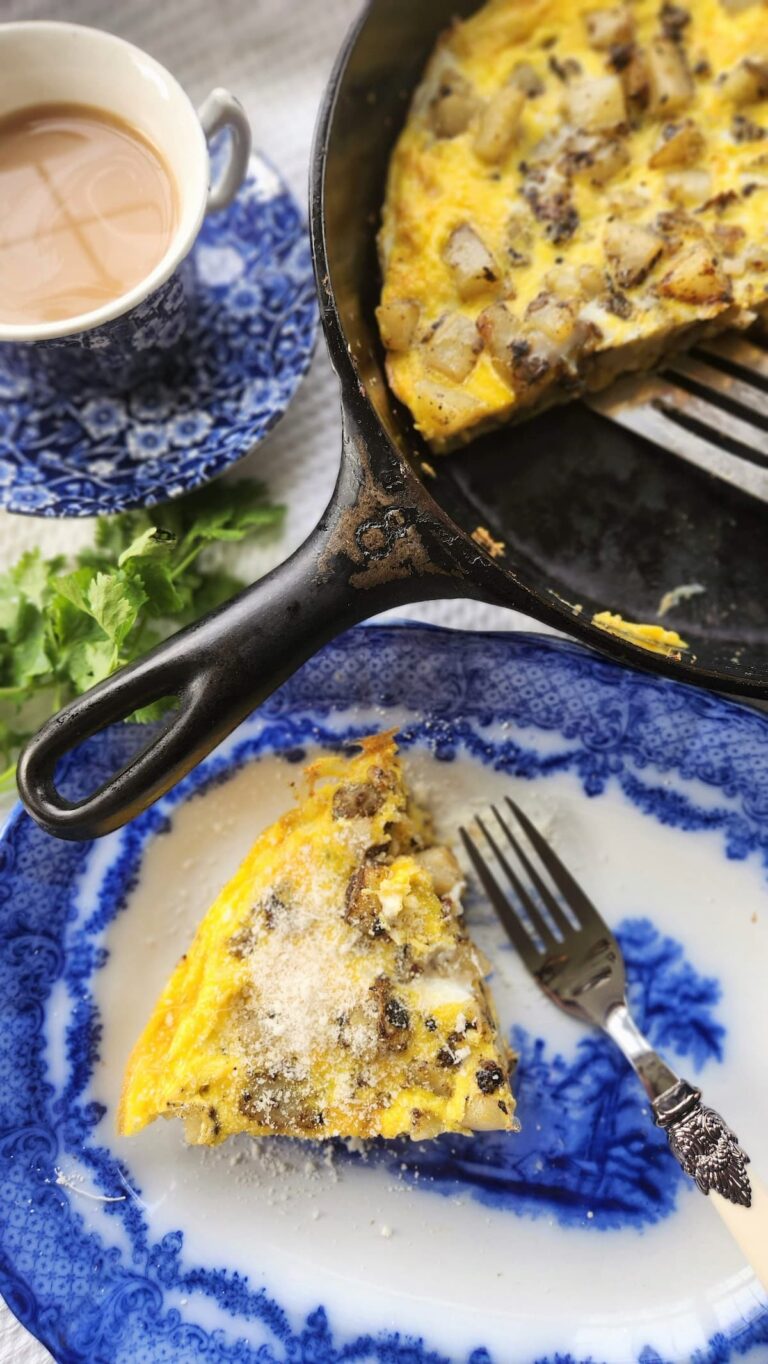 Hey there, foodie friends! Today, I'm taking you on a delicious trip down memory lane as we dive into the heart of authentic Italian cooking. It's those childhood kitchen memories that inspired me to share a taste of my home with you today – a mouthwatering journey into the world of an Authentic Italian Potatoes and Eggs Frittata Recipe.