How to Make a Quick, Fresh Tomato Sauce
This simple tomato sauce recipe will jazz up any pasta dish in minutes – perfect for a quick, fresh and easy meal.
Whether you're in the mood for a quick pasta dinner or you're looking for a new way to spice up your pizza or chicken, this recipe for quick, fresh tomato sauce is sure to hit the spot. Made with just a few simple ingredients, this sauce comes together in minutes and is packed with flavor. Plus, it's made with fresh tomatoes, so you can feel good about what you're eating. Ready to get cooking? Let's go!
All you need is a handful of fresh ingredients and about 30 minutes. So put on your apron and let's get started!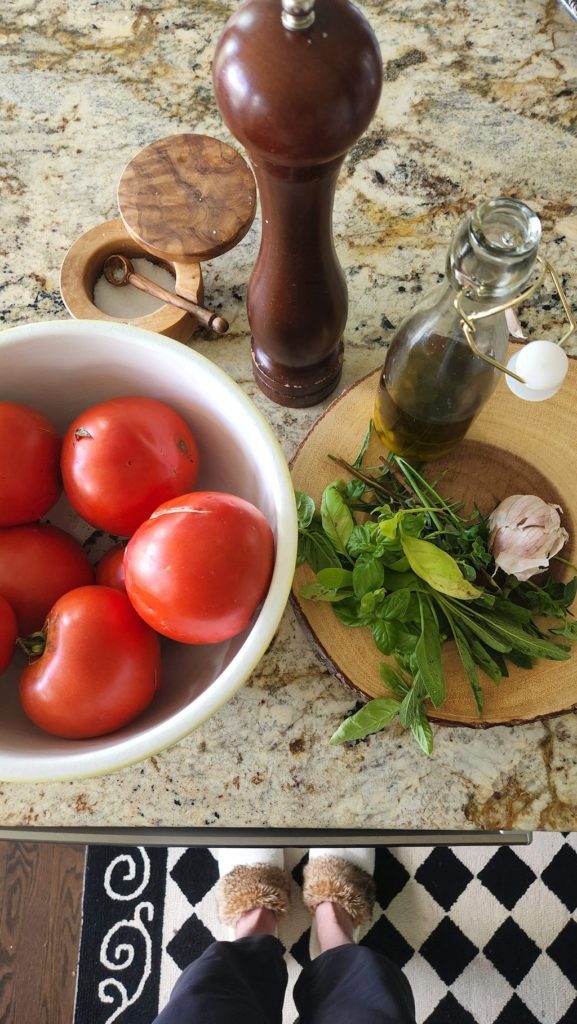 "This post may contain affiliate links which means I may earn a small commission. You may read my
disclosure policy here
".
What type of tomatoes make the best sauce?
When making a quick fresh tomato sauce, it's best to use Roma tomatoes. They have a thicker skin and less seeds than other types of tomatoes, which makes for a smoother sauce.
First, I washed and cleaned my tomatoes and the fresh herbs I'd be using.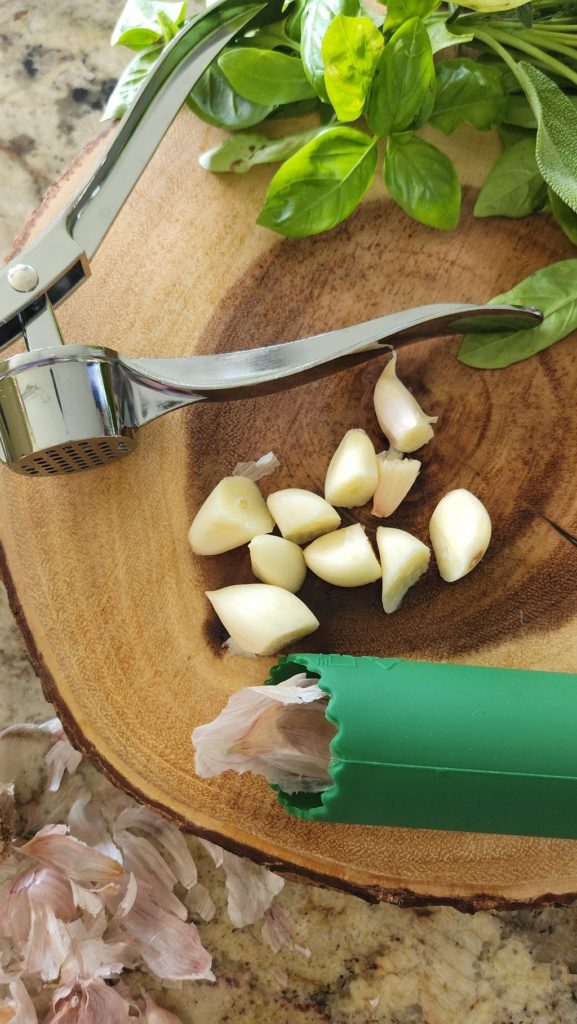 Next, time to prep my garlic. My brother had recommended this garlic roller to me a while back to easily take off the membrane of the outer garlic, and I love it.
Did you see my post from last week where I made infused garlic olive oil? Talk about the perfect addition to my quick, fresh tomato sauce!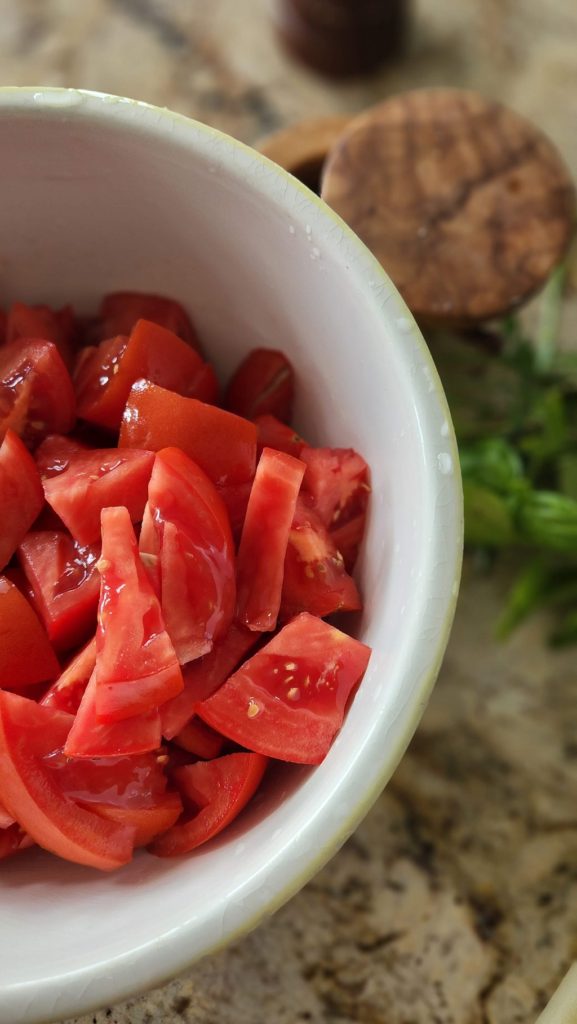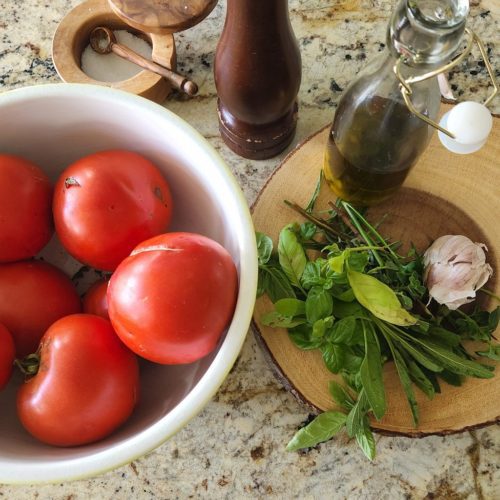 Quick Fresh Tomato Sauce
My simple tomato sauce recipe will jazz up any pasta dish in minutes - perfect for a quick, fresh and easy meal.
Equipment
Sauce pan

Cutting Board

Pairing Knife

Garlic Press
Ingredients
8

Tomatoes

1

Tbsp

Olive Oil

4

cloves

Garlic

1

tsp

Kosher Salt (as desired)

Garlic Salt (as desired)

Shredded Mozzarella (topping over pasta)
Fresh Herbs ( parsley, basil, oregano, as desired)
Instructions
Cut Tomatoes in quartered pieces

Heat Olive Oil over medium heat

Add Crushed Garlic (do not let brown as it will become bitter - just heat until tender)

Carefully add tomatoes to Olive Oil

Top the tomatoes with fresh herbs and let simmer for 30 minutes
Tomato Sauce Ingredients You'll Need
8 fresh garden tomatoes
2 tablespoons of olive oil
4 cloves of garlic
1 tsp each fresh basil, parsley, and oregano
(28 ounces) 1 can of San Marzano organic tomatoes (when a larger batch of sauce is needed and you do not have fresh tomatoes)
salt and pepper, to taste
sprinkle garlic salt and shredded mozzarella cheese on pasta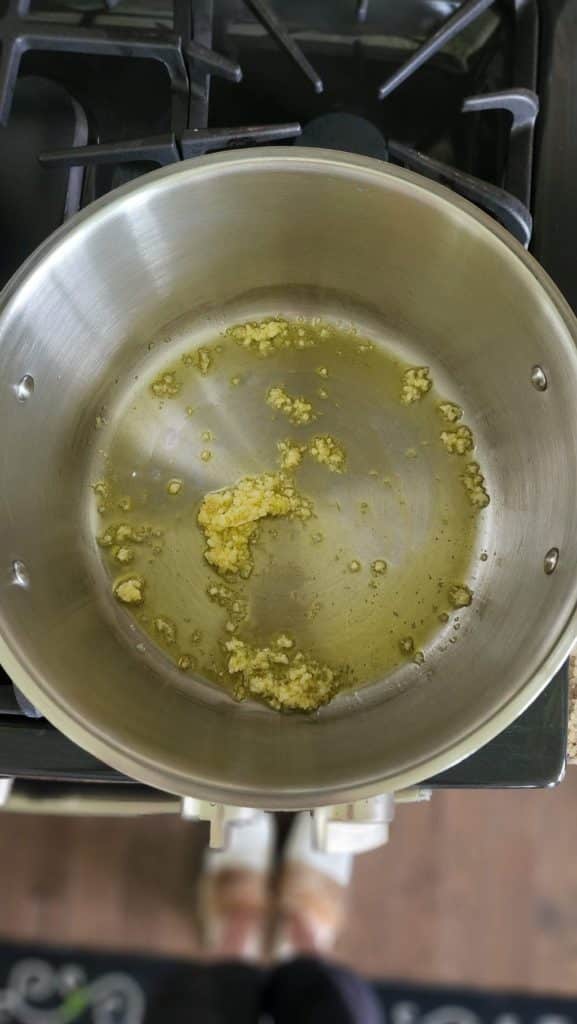 Up next, saute your garlic in the olive oil, not letting it brown as it will become bitter.
Kitchen Supplies for Making Tomato Sauce
Time to place your garden herbs on top of the tomatoes, allowing them to marry into the sauce for the best flavor!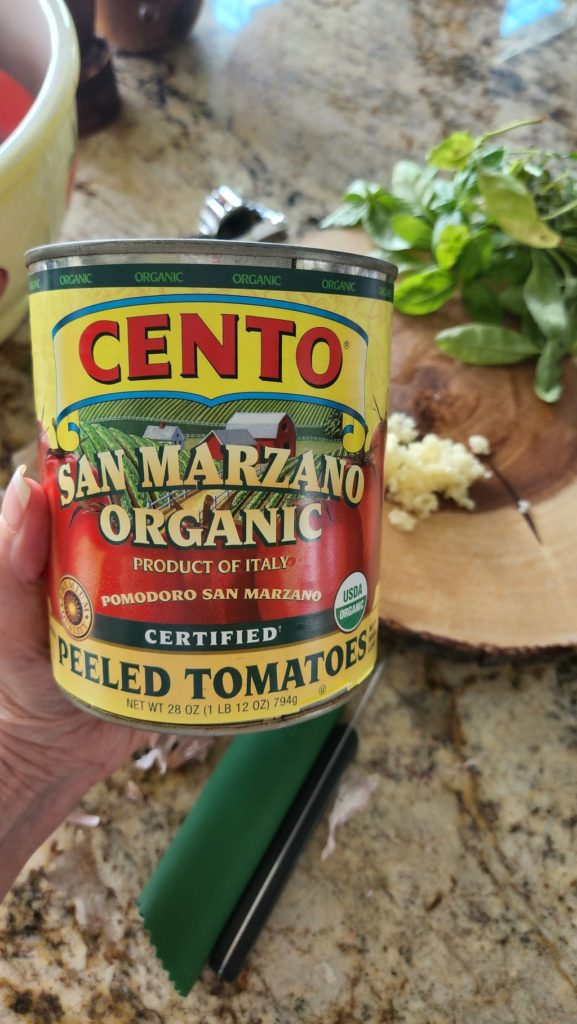 On occasion, to 'stretch' my sauce, I'll add a can of organic San Marzano peeled tomatoes. Subsequently, they are the only tomatoes I use. If you've tasted them, you'll know why! Deliciously good!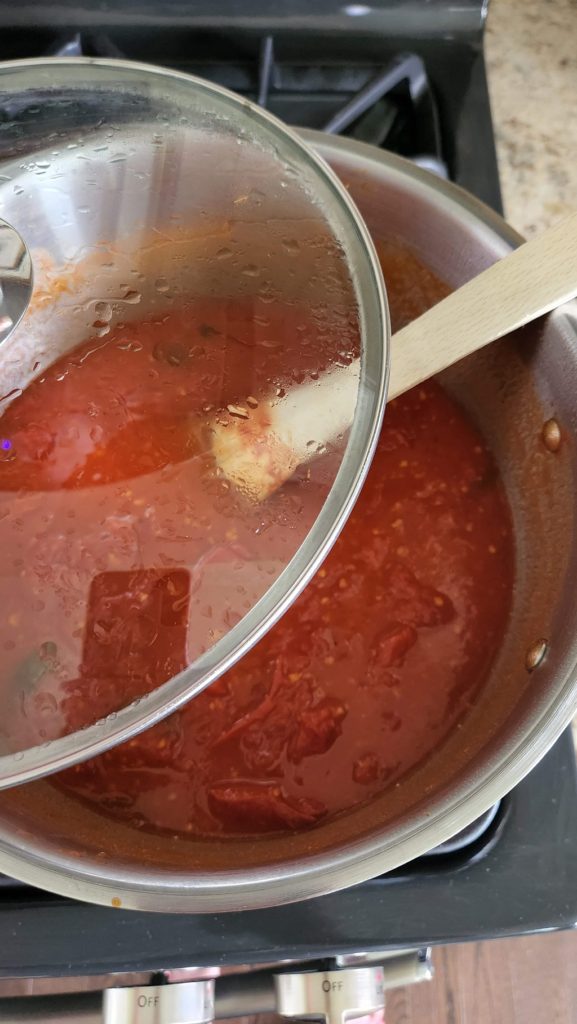 Meanwhile, allow the sauce to simmer for approximately 30 minutes.
Doesn't that sound amazing, and simple?
Pin It To Remember It: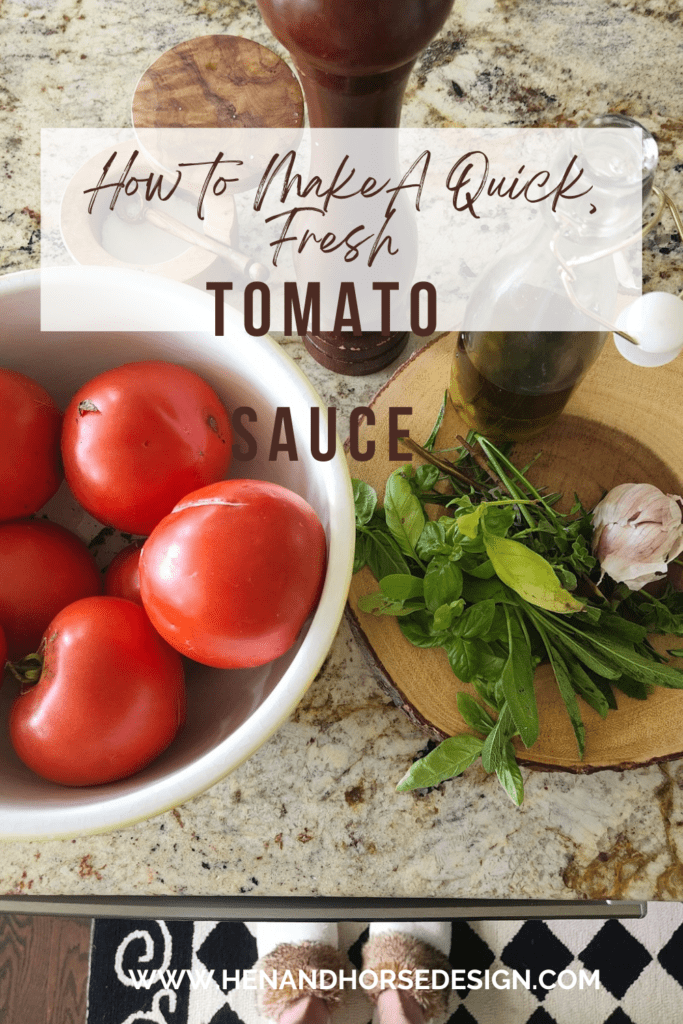 Dinner is served
Lastly, sprinkle shredded mozzarella cheese and a dash of garlic salt on top. Supper has never been so easy with this quick, fresh tomato sauce.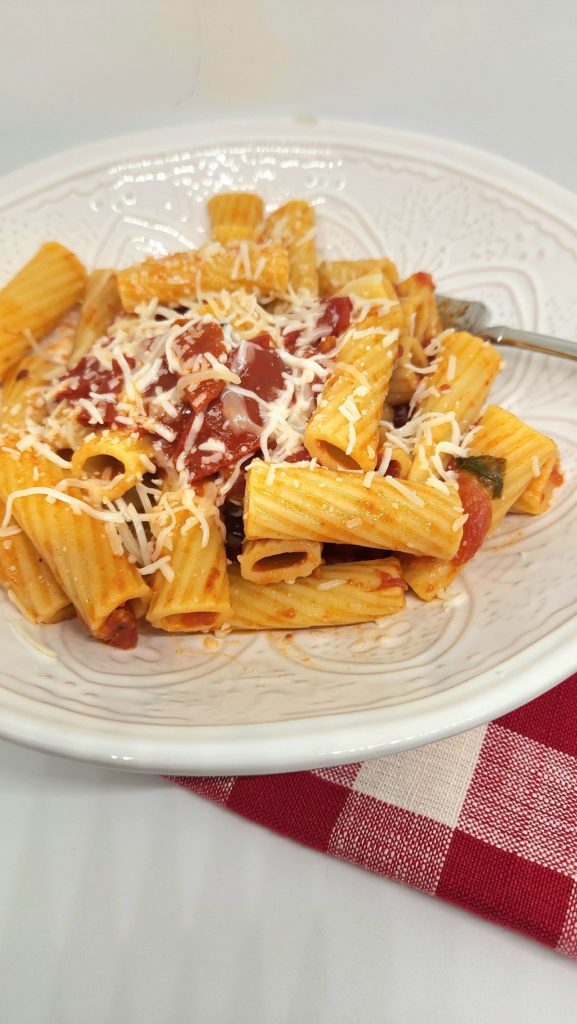 Have you checked out my other social channels? Be sure you don't miss out on any of my tips, recipes, or stories! ( you know I love a good story 😉 Follow me on my other social channels for more! Pinterest, Instagram, and Facebook.
In other news, my dear friend Sonya shares Simple Saturdays, where her weekly post shares easy ideas for all things home. Be sure to check her out!
In conclusion, making a fresh tomato sauce is easy and only requires a few ingredients. The most important part is to use quality, ripe tomatoes. By following these simple steps, you can create an amazing sauce that will elevate any dish. Ever try making your own tomato sauce? What tips would you add?
Thank you for stopping by my little corner of the world. It means so much to me. I hope you enjoyed this post! Leave a comment below and let me know, do you call it sauce? or do you call it gravy?
XO Susan
All Post
Blog
Dining Room
Entertaining
Kitchen
Living Room
Recipes
Shop My Home
Tablestyling

Back
Breakfast
Salads
Side Dishes
Appetizers
Main Dishes
Cocktails
Desserts
Soups

Back
Kitchen
Dining Room
Living Room
Master Bedroom
Guest Room
Porch
End of Content.