7 Simple Summer Porch Refresh Ideas
Looking for creative ideas to refresh your front porch for summer? Here are 7 simple summer front porch refresh ideas to use this summer.
When we were building our home having a front porch was high on our list. It was also important to have a rocking chair or two. I've always thought that front porches represent the quintessential addition and essence of American homes.
I love the idea of a welcome 'zone' between the house and the neighborhood. A friendly place where people feel welcomed and conversation can begin. A place where friends can linger and a friendly wave can be returned as neighbors walk by. Having a front porch is one of my favorite things about our home.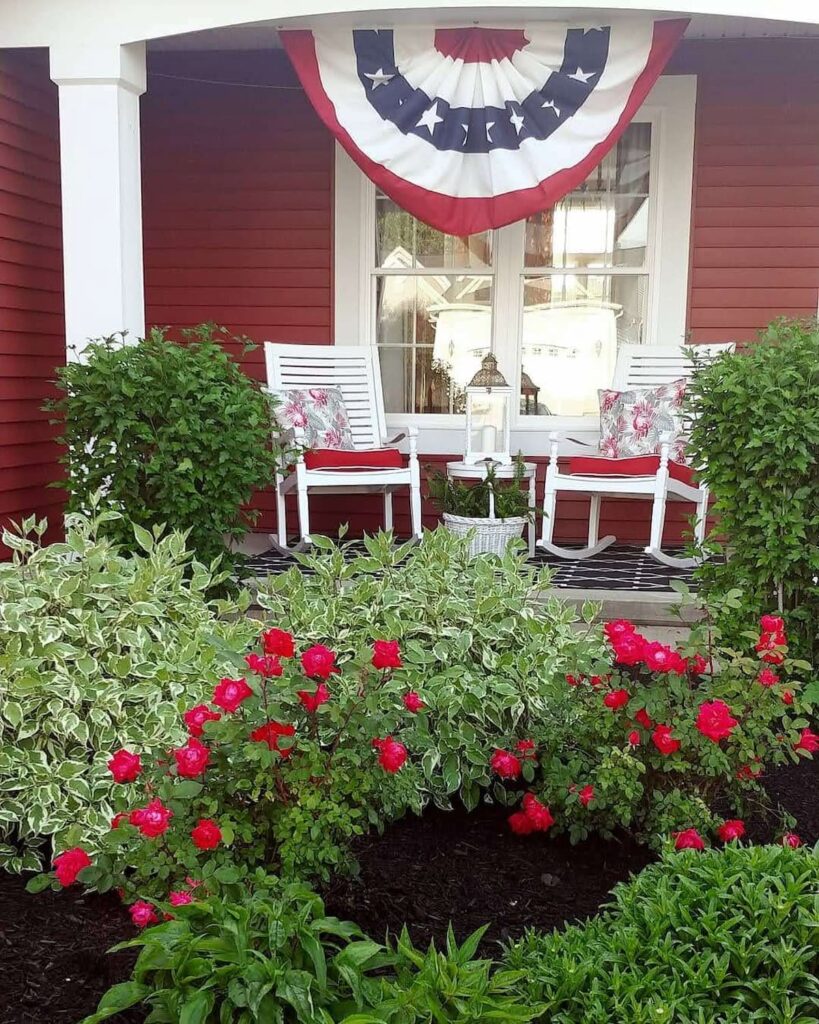 "This post may contain affiliate links which means I may earn a small commission. You may read my
disclosure policy here
".
Adding pops of color to your summer porch
Nothing says summer season more than a pop of color like my red, white, and blue wreath. The best part is that you can keep up a Patriot wreath all the way until labor day.
Personally, I love changing up my wreath. When July and August roll around (after July 4th) I'll be changing my wreath to one that has summer vegetables or sunflowers in it. I'm already thinking about my late summer porch and wreath.
But first, before we get started with 7 simple summer front porch refresh ideas, just look at my front door. I say this because I've had a flurry of activity where birds are making nests under our porch and in my door wreaths. I may not be able to keep my decorative hat up for very long.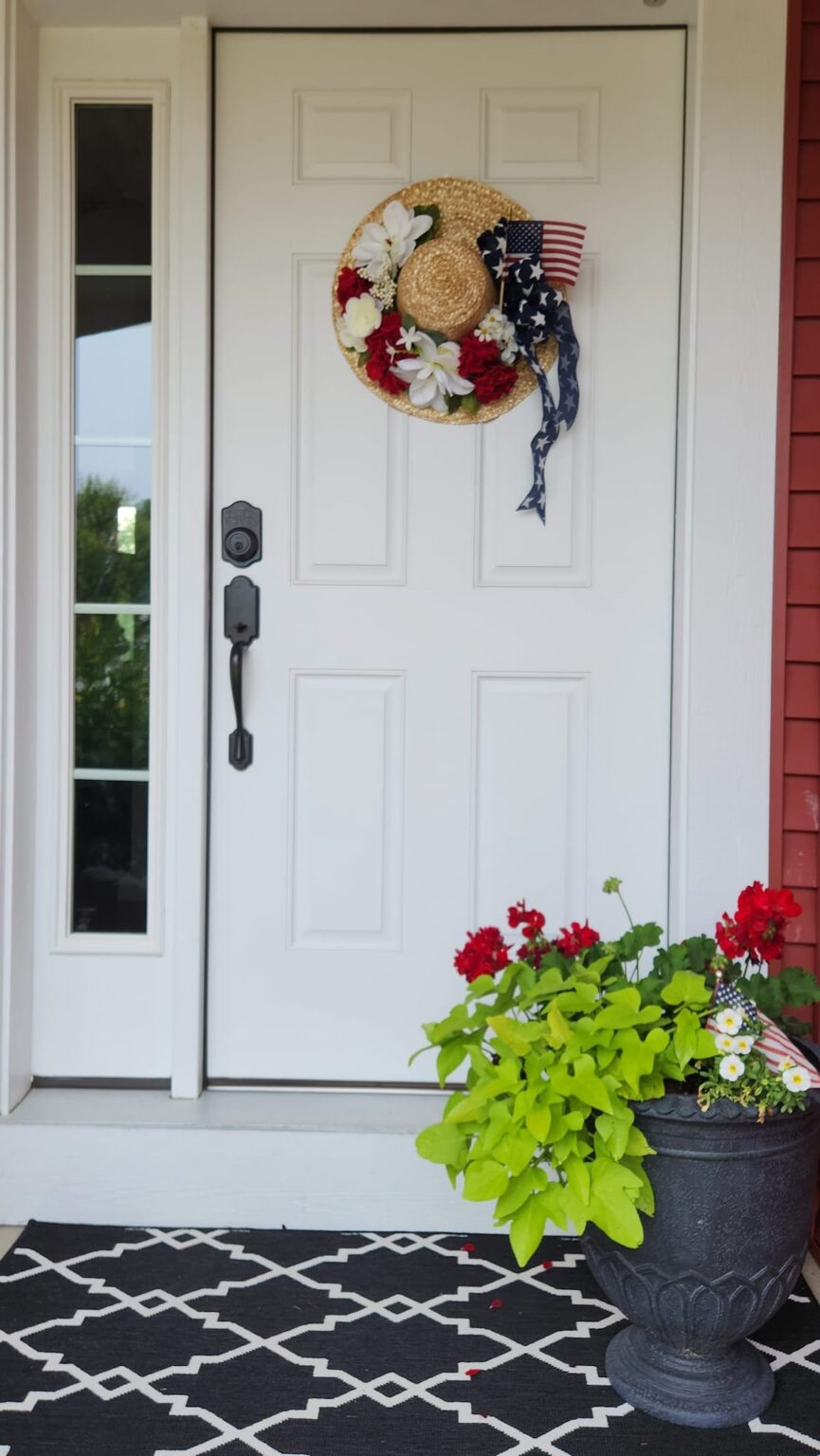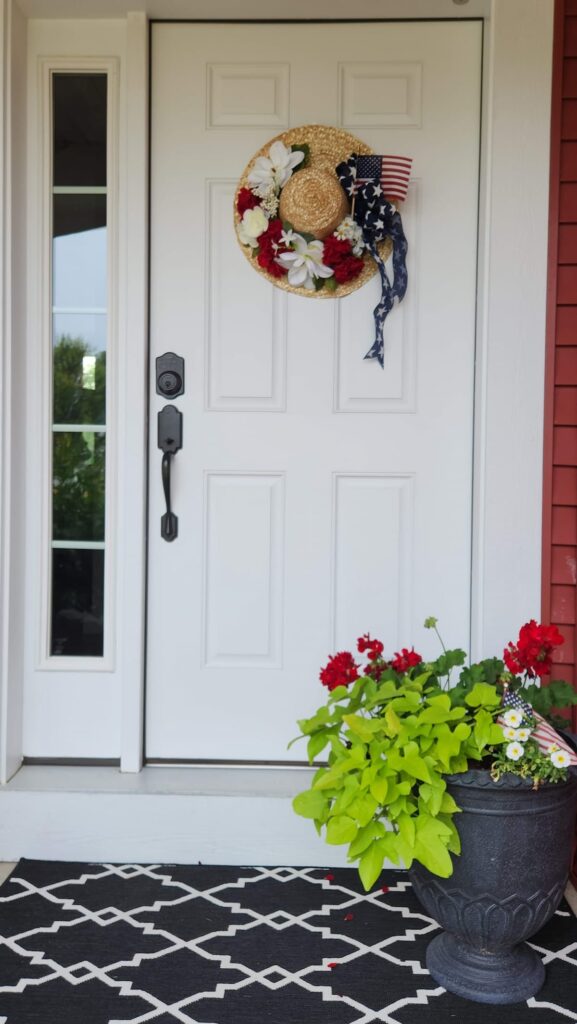 While we're on the subject, I loved my faux lavender hanging door basket.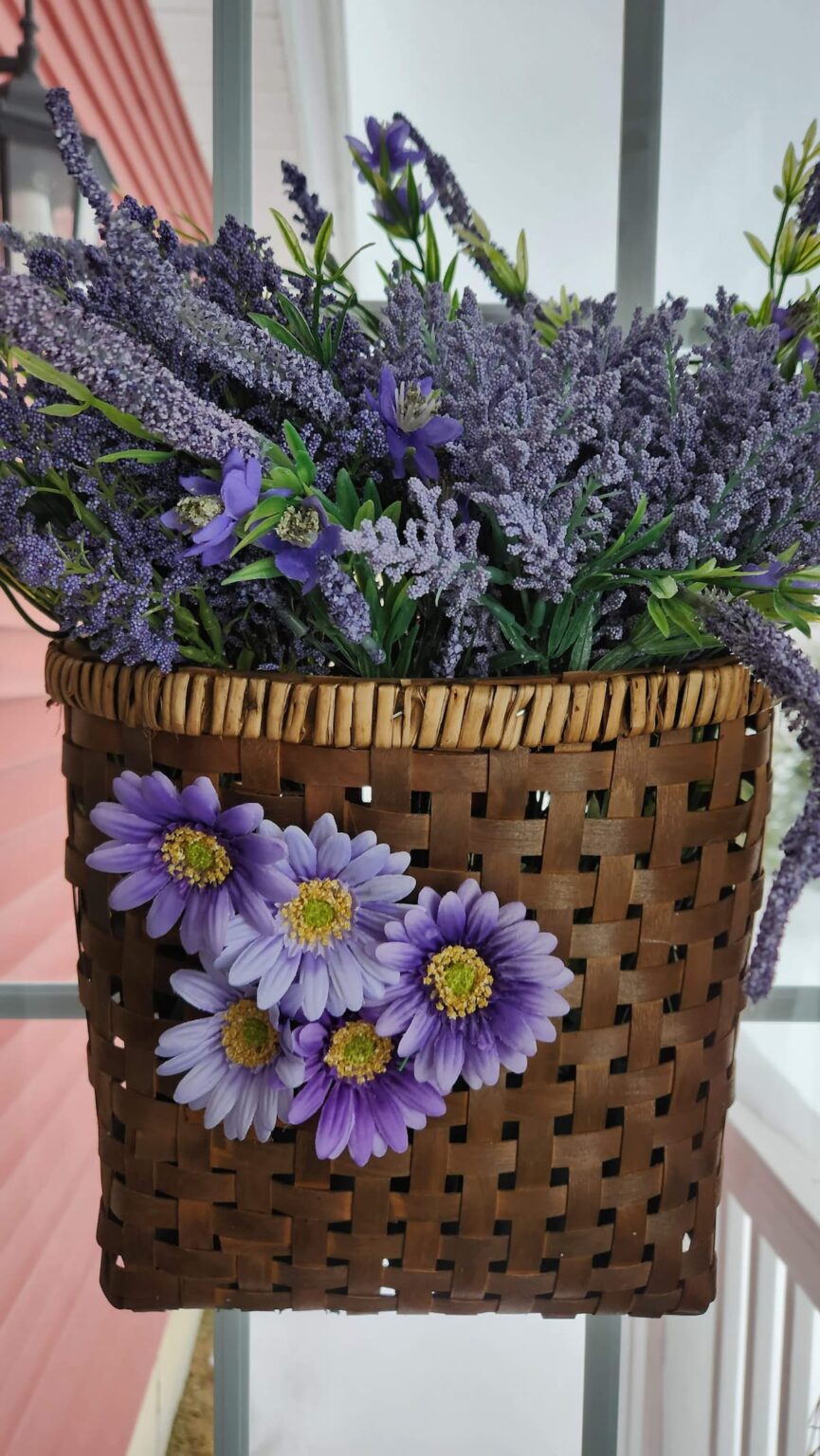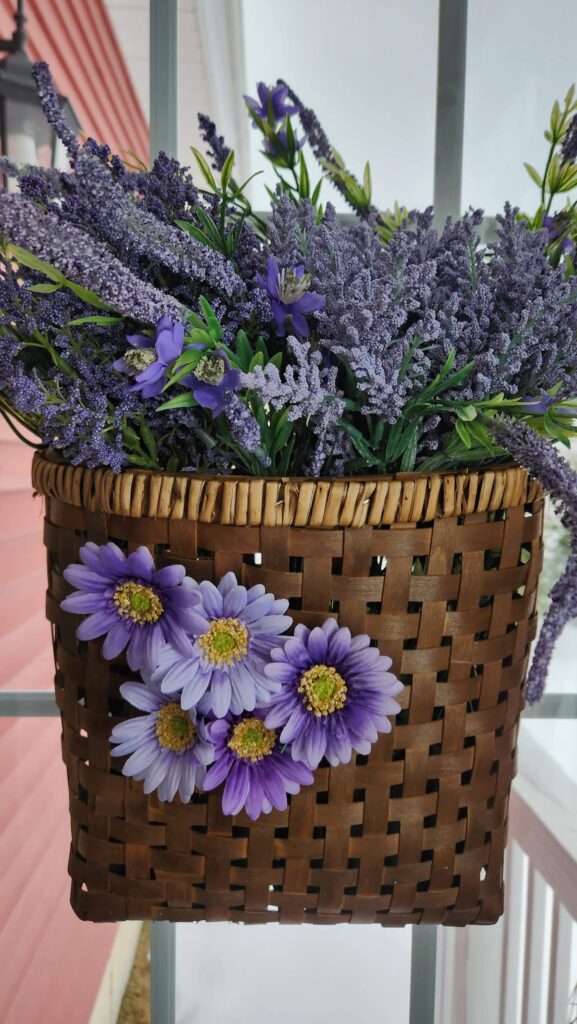 Maybe I loved it because it took me forever to hang my Spring wreath due to the baby birds nesting on my winter wreath.
Or possibly I love it just because I love lavender. Truth is my basket it didn't hang very long either because I changed it to a Memorial Day wreath not long after the birds left. That's the way it goes sometimes.
How do you spruce up a front porch for summer?
7 Easy steps to follow to turn your porch into an outdoor living area and an extension of your home.
Step 1. Thoroughly clean your porch
In early spring, I always start with a good cleaning. For me as soon as the warm weather comes this involves a good hosing off of the porch to get rid of any pollen cloud that may have settled or dust. I'll hose off my porch a few times during the summer months to keep it fresh.
Sprucing up a front porch no matter what the size is, is a great way to obtain a fresh new look. It doesn't matter if you have a small front porch or a larger one. Adding a few new items can work wonders and give your home a boost.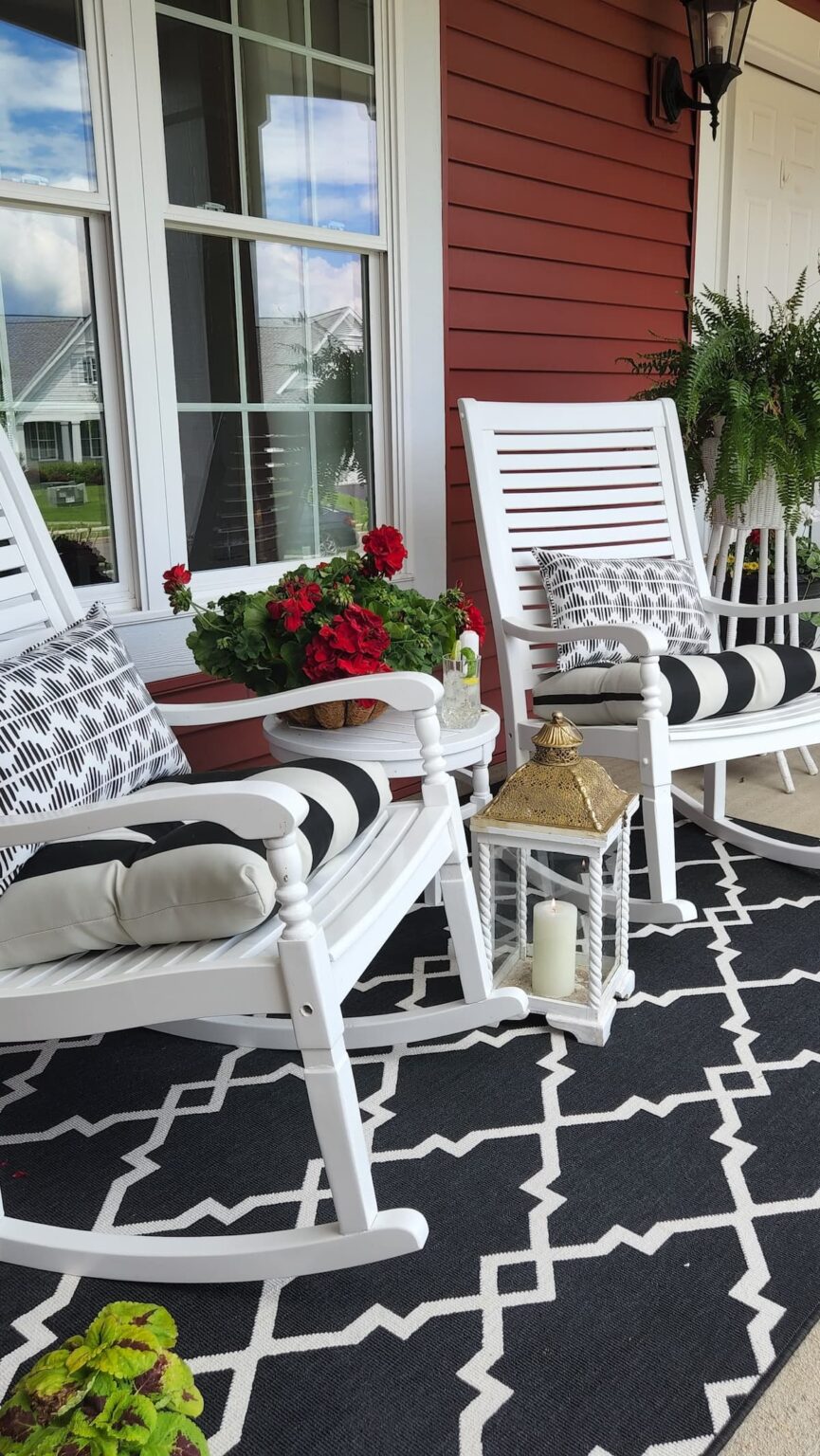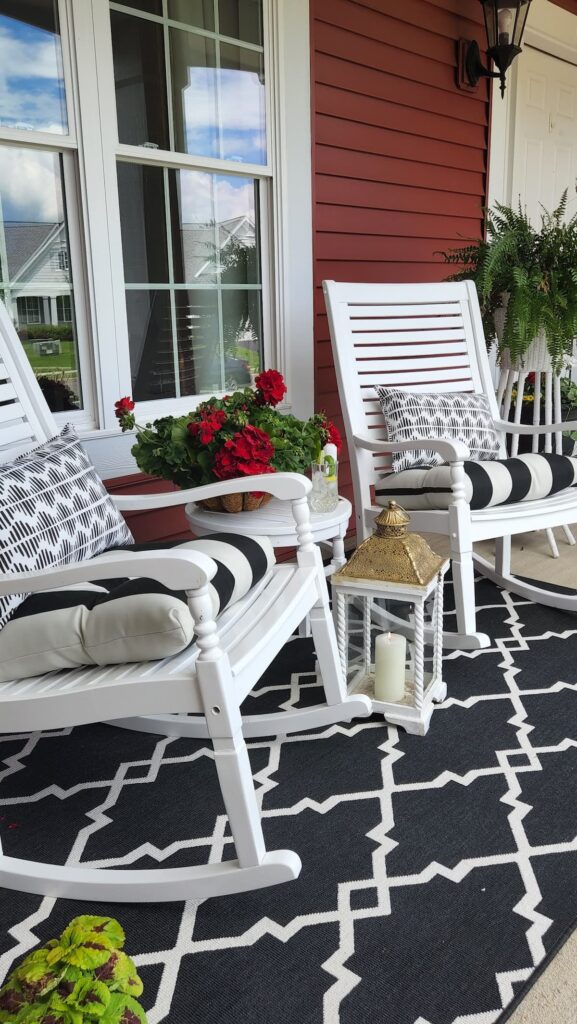 Step 2. Consider what pots and plant options you will use
Filling your flower beds and flower pots
For my pots and planters, I choose black urns. Each year I change the type, texture, and color of my flowers. This season I opted for leafy greenery along with red geraniums.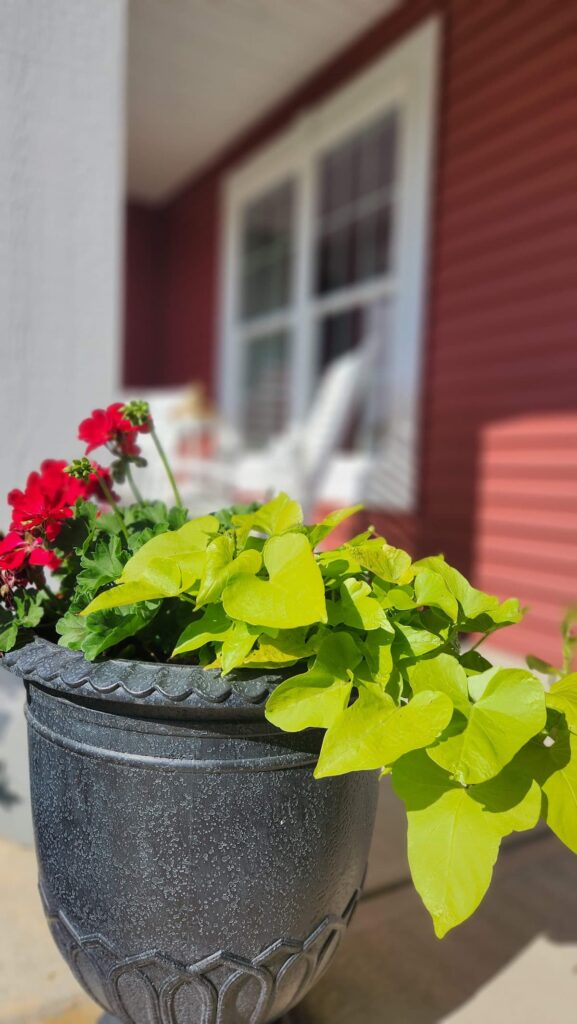 When planting consider your color palette and the aesthetic of your home. Our home has a cottage-style look with red siding and white trim. The black planters enhance the white and red colors of our home.
I love the charm of an English cottage aesthetic which is why my garden is filled with roses and perennials that bloom at various times throughout the summer. I'm not exactly there yet but it's a work in process. I'm waiting for the day when the roses seem to be taking over the garden.
Step 3. Update door hardware
Changing your new hardware to your door can provide a whole new look and have a big impact on curb appeal.
I added this brass door knocker recently. Unfortunately, you cannot see the knocker just yet. It's under my hat wreath. But that's okay.
When I hang a round wreath, it will be right in the center. Doesn't it fit perfectly with the Roost and horse theme tho?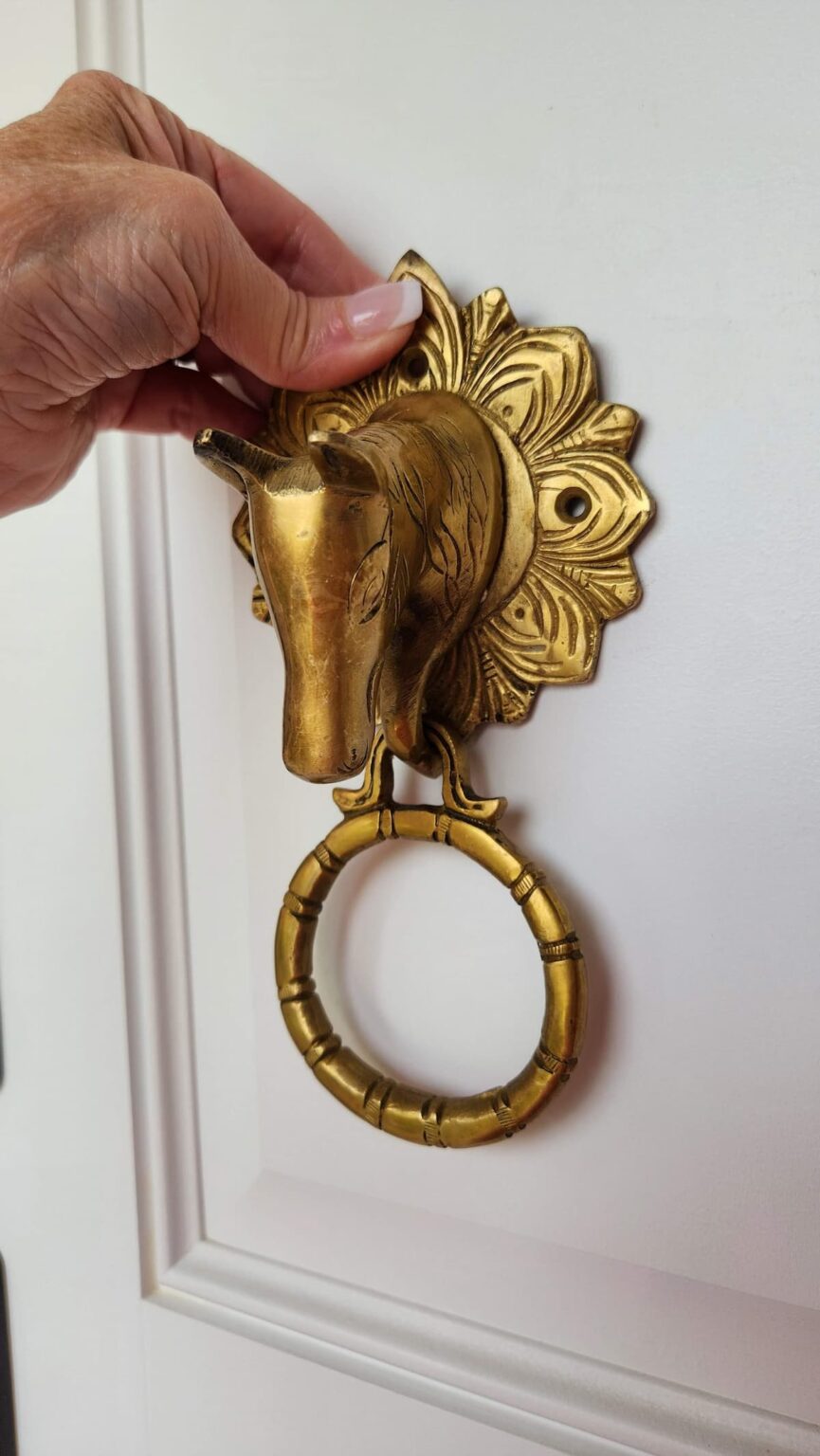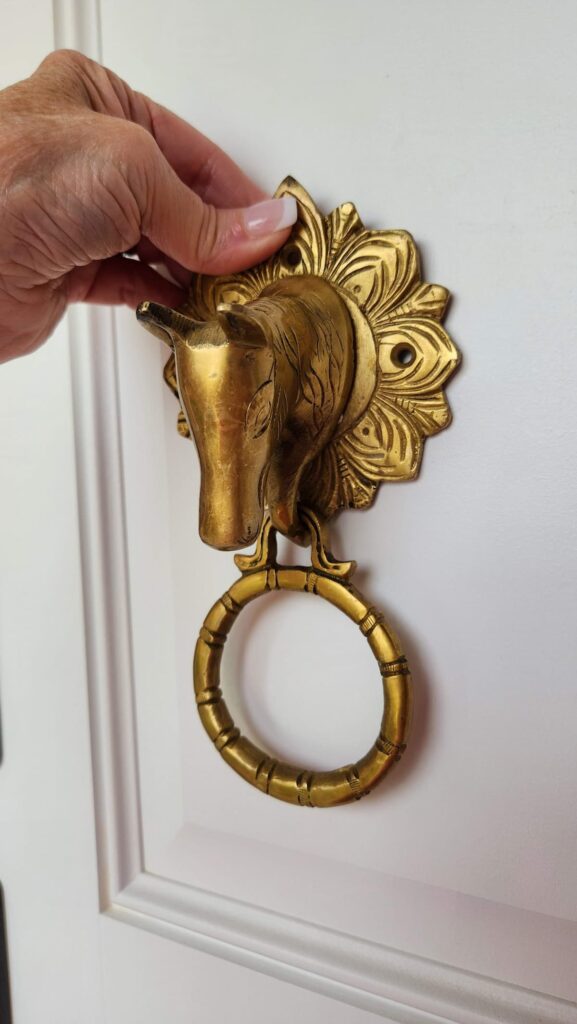 Use different urns, pots, and planters.
Think about planting options.
Add various types of plants for color and texture.
Pay attention to your door hardware.
Consider painting your door or porch area.
Think about lighting options.
Invest in seating.
Don't neglect the stairs or steps.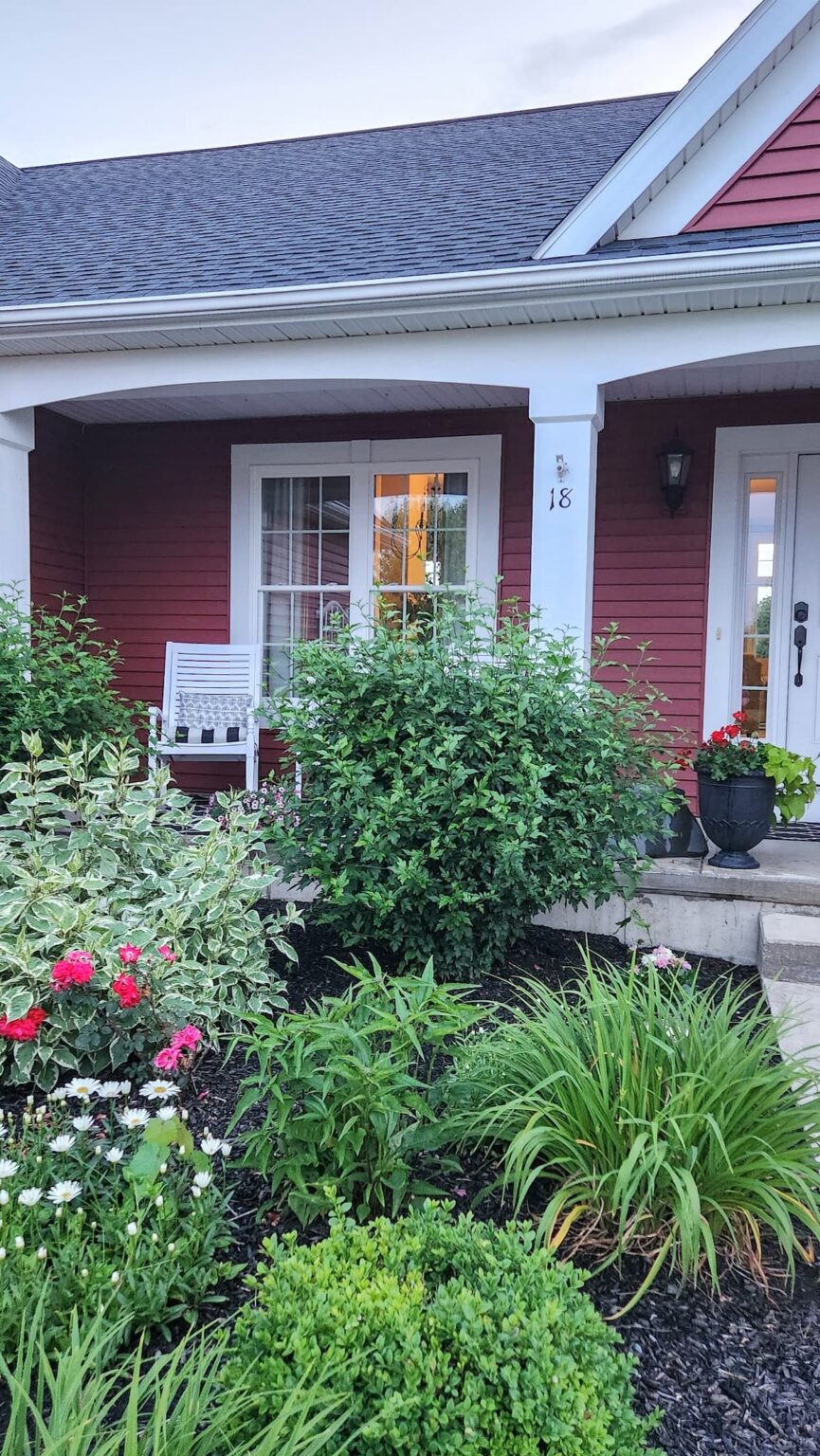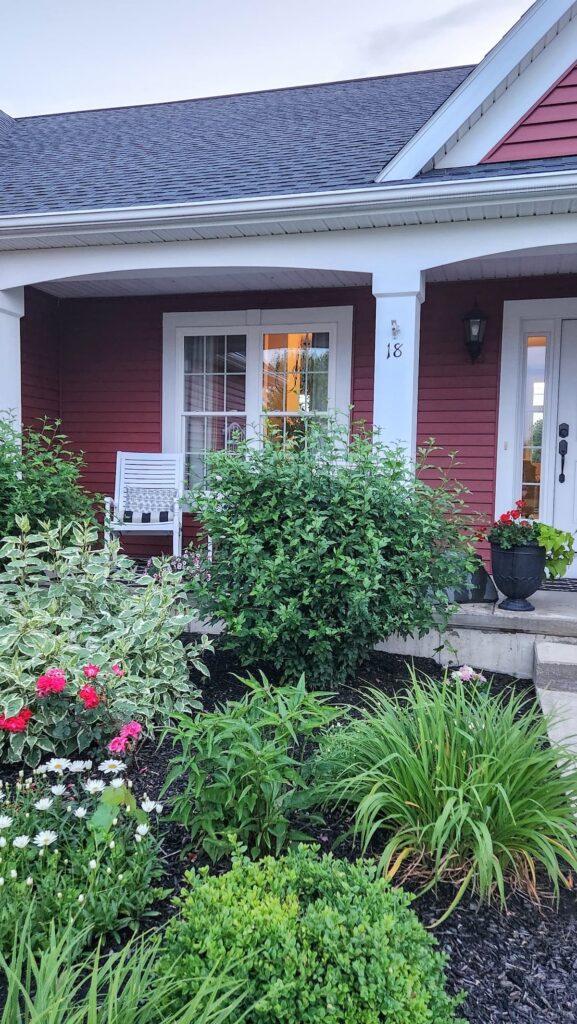 ​Step 4. Consider painting
When it comes to painting, paint can offer instant improvement. Have you seen the porches with the concrete stenciled on them? While I'm not thinking about painting the concrete itself, I will be painting our columns with a fresh coat of paint this summer.
For now, my lantern is in need of repair so I will be giving a quick coat of white spray paint to it.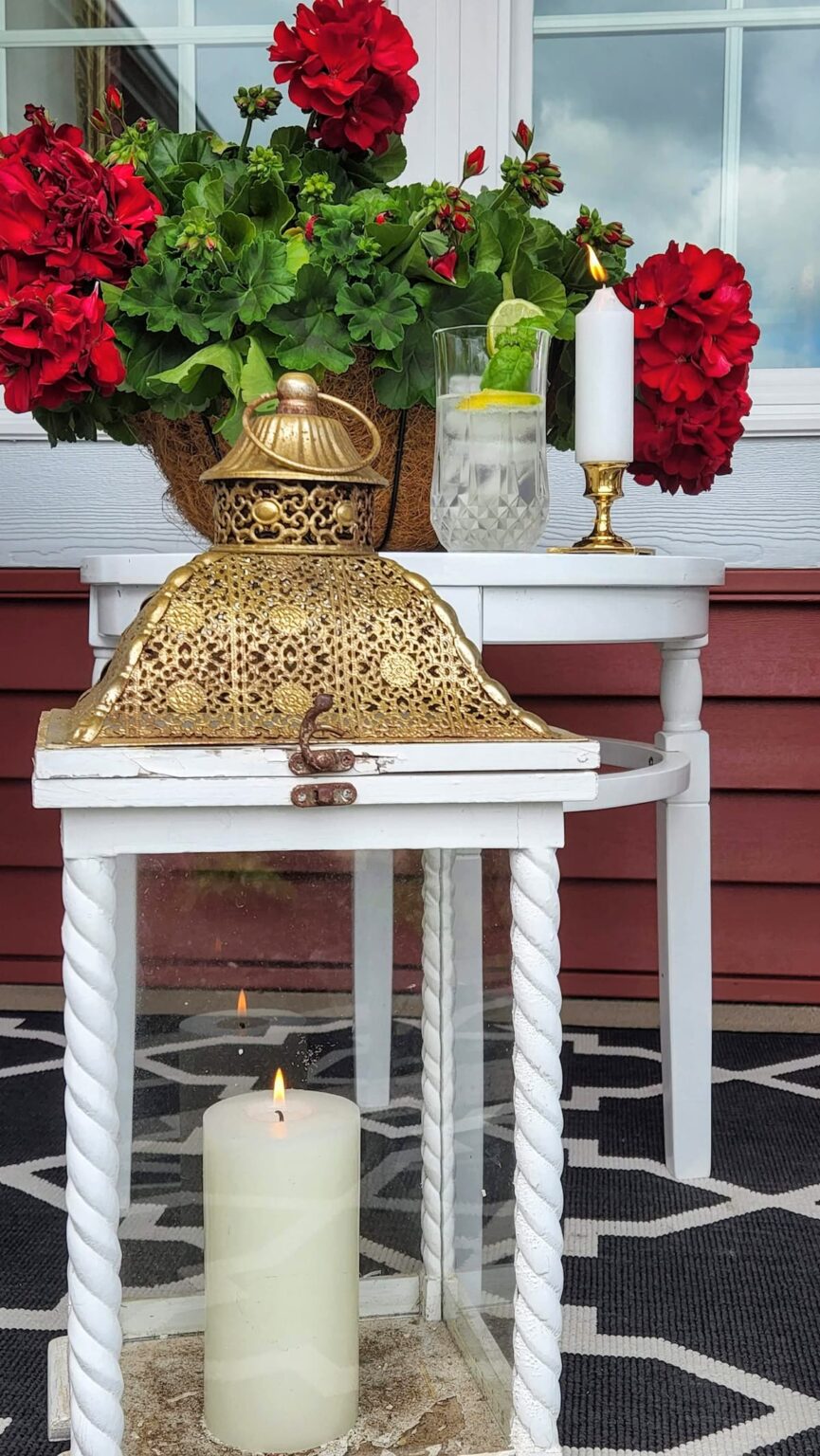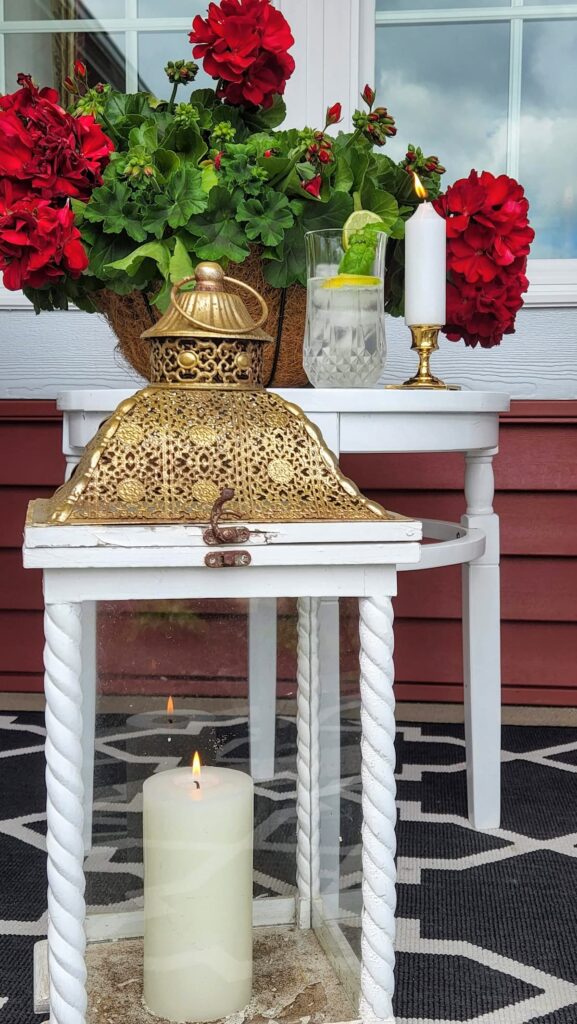 How can I make my front porch look nice?
Step 5. The importance of lighting
Never overlook the power of lanterns and lighting for a cohesive and finished look to make your porch look nice. Adding gorgeous lighting is like adding jewels to your outfit. Lighting can illuminate and elevate the whole area of your porch, literally and figuratively.
When it comes to lighting, bigger is definitely better. Make a statement with a bold look and significant lanterns.
Front porch ideas are endless and this step should be high on the list.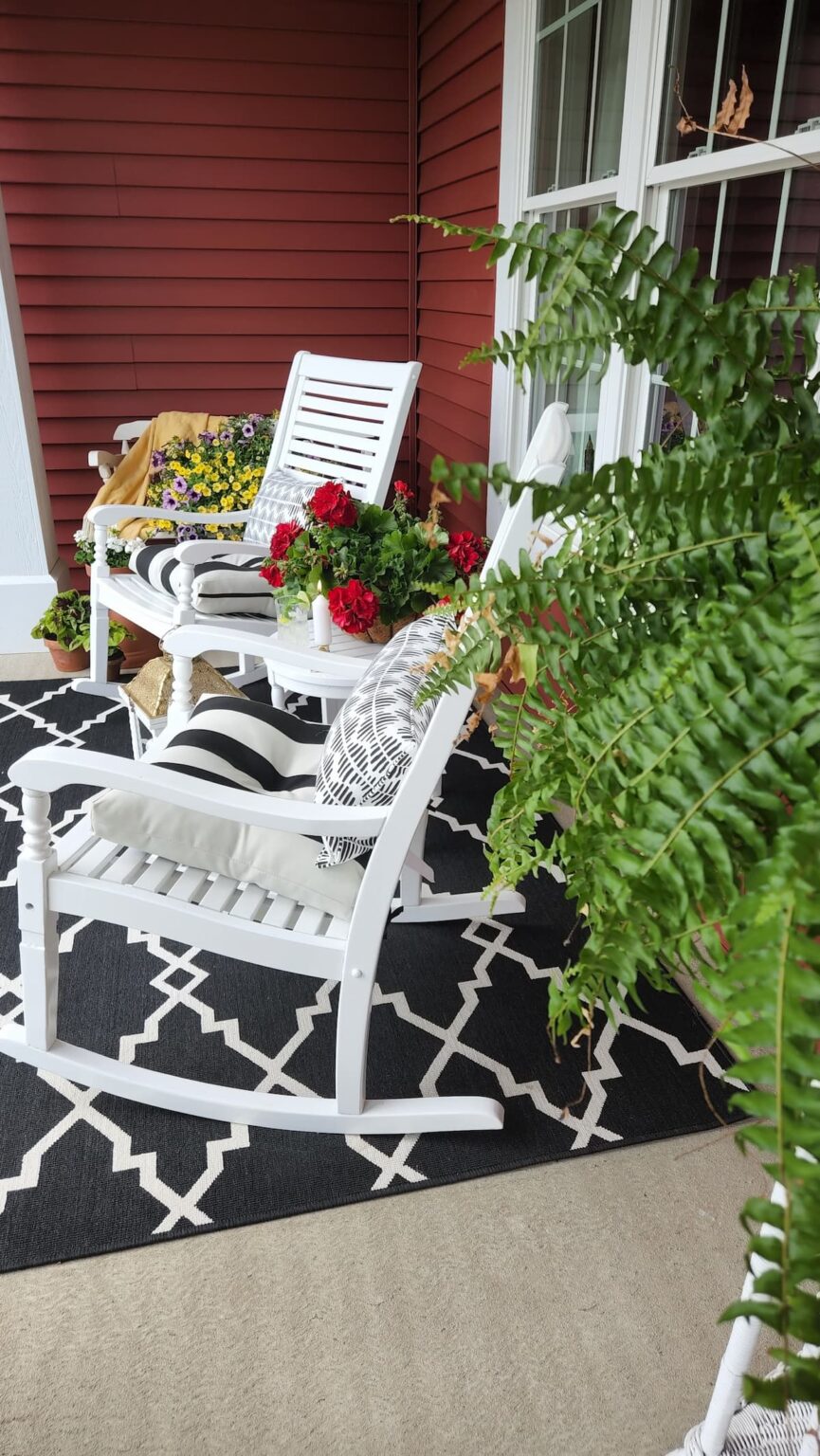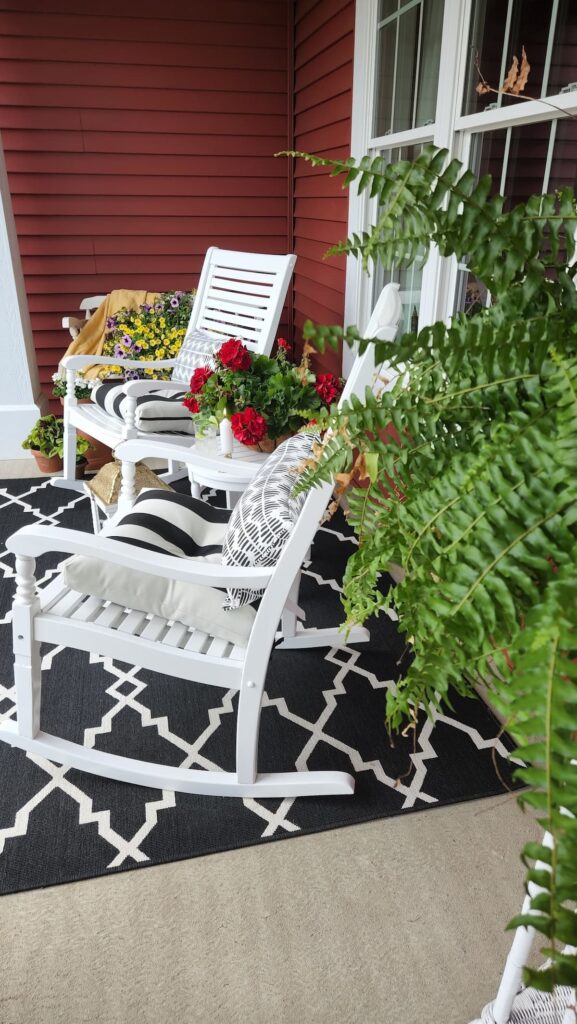 How can I make my front porch look cozy?
Step 6. Comfortable seating and pillows
Let's talk about seating and pillows for a moment. The first thing I do is to look at my seating area and think, 'How can I make this area comfortable?' Comfortable seating is a must for making your porch look cozy.
You can achieve this by investing in porch chairs or by hanging a porch swing and adding cozy cushions. I absolutely love our white rocking chairs. They are durable and very comfortable.
Cushions and Pillows
Each season I change my cushions with a new color pillow. After playing musical pillows, here are four options using two different chair cushions and two different pillow choices.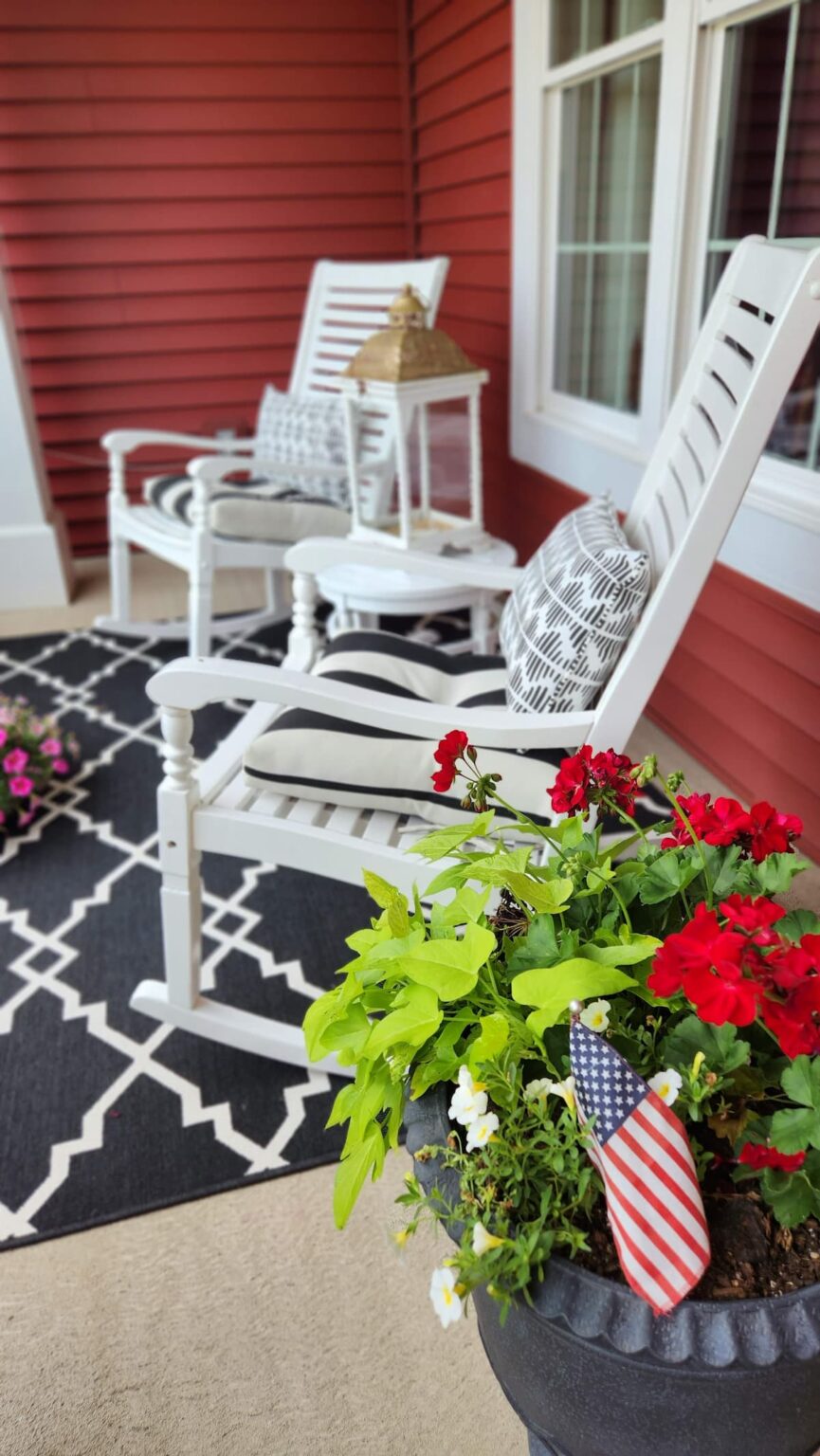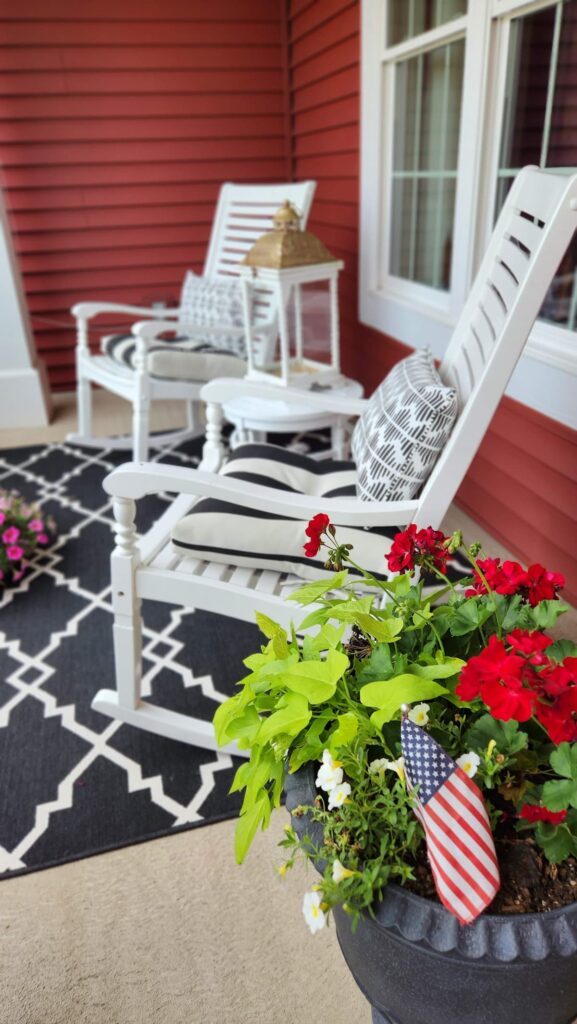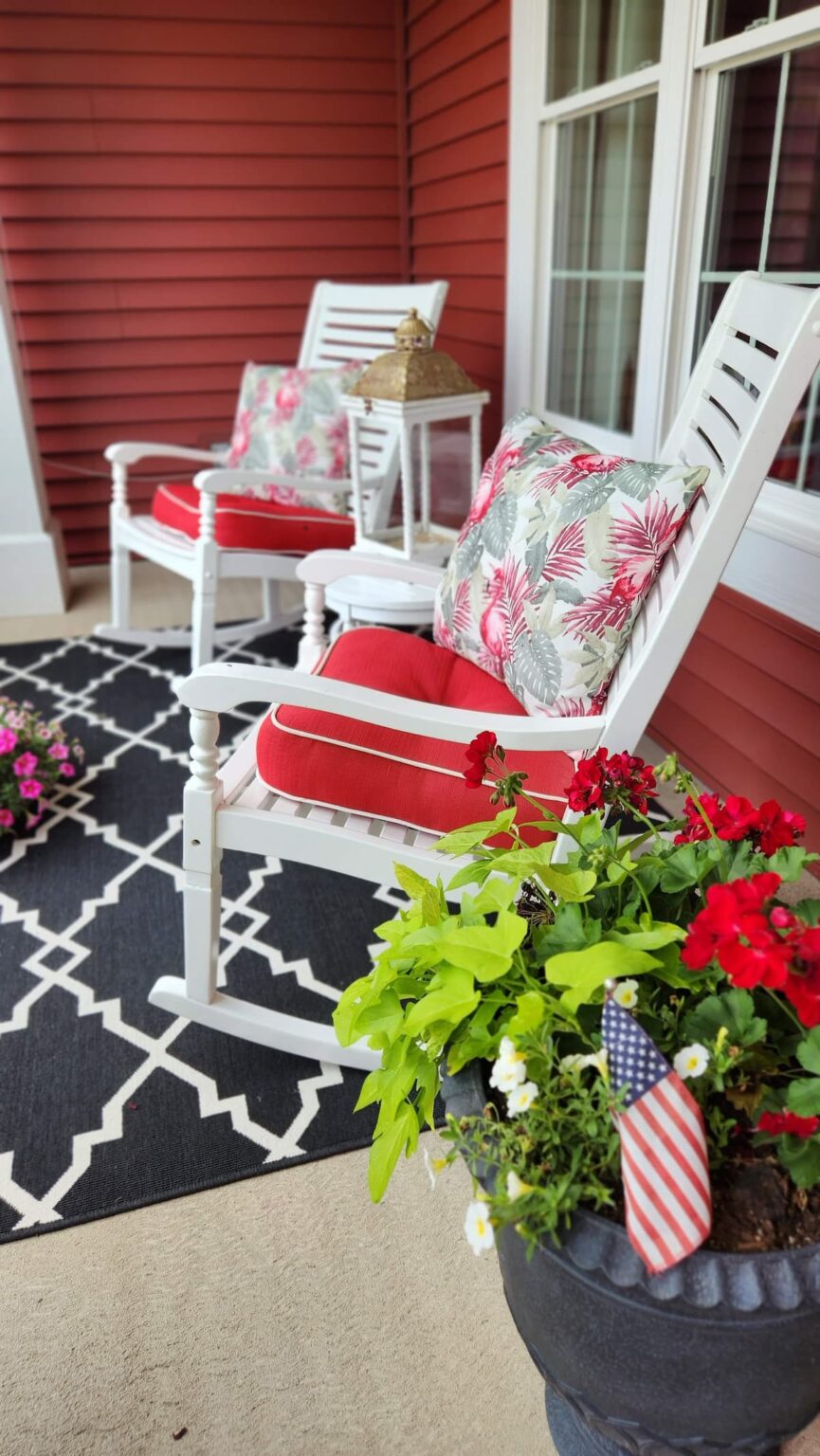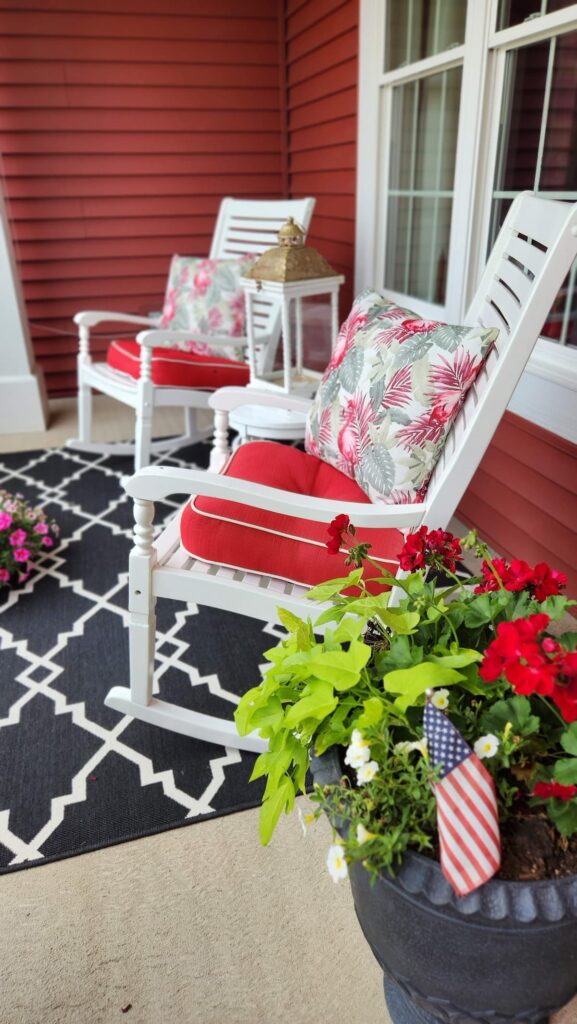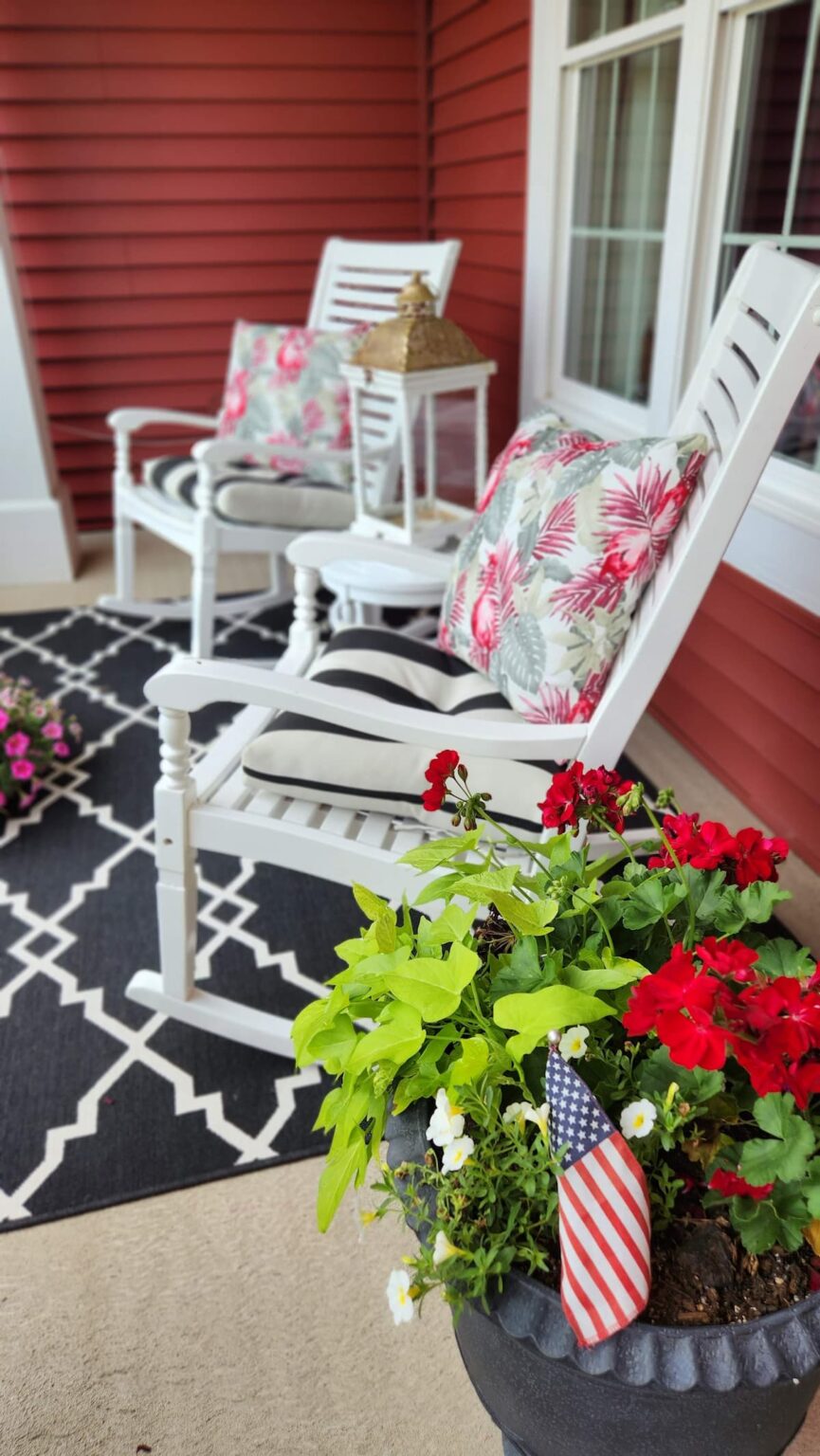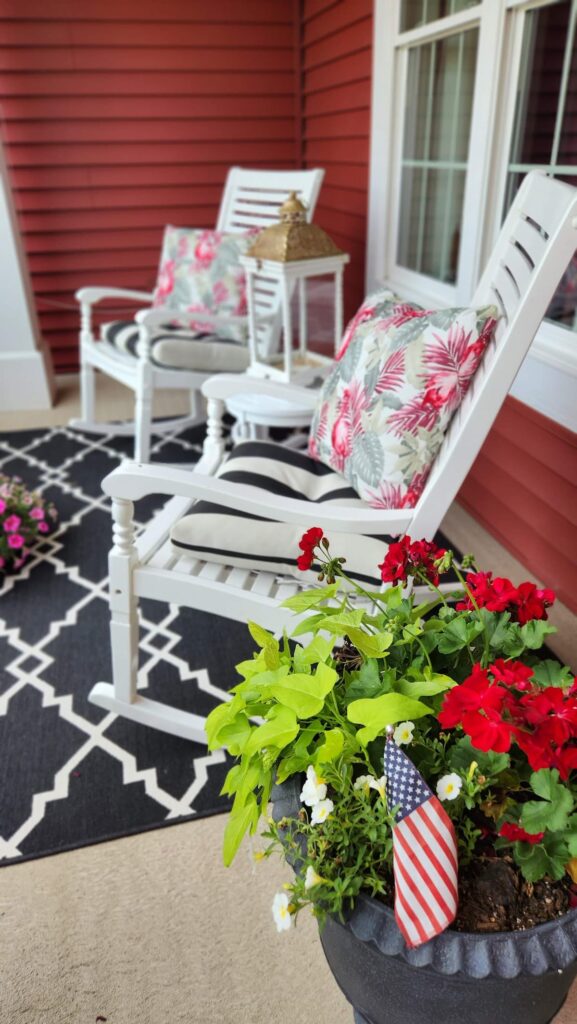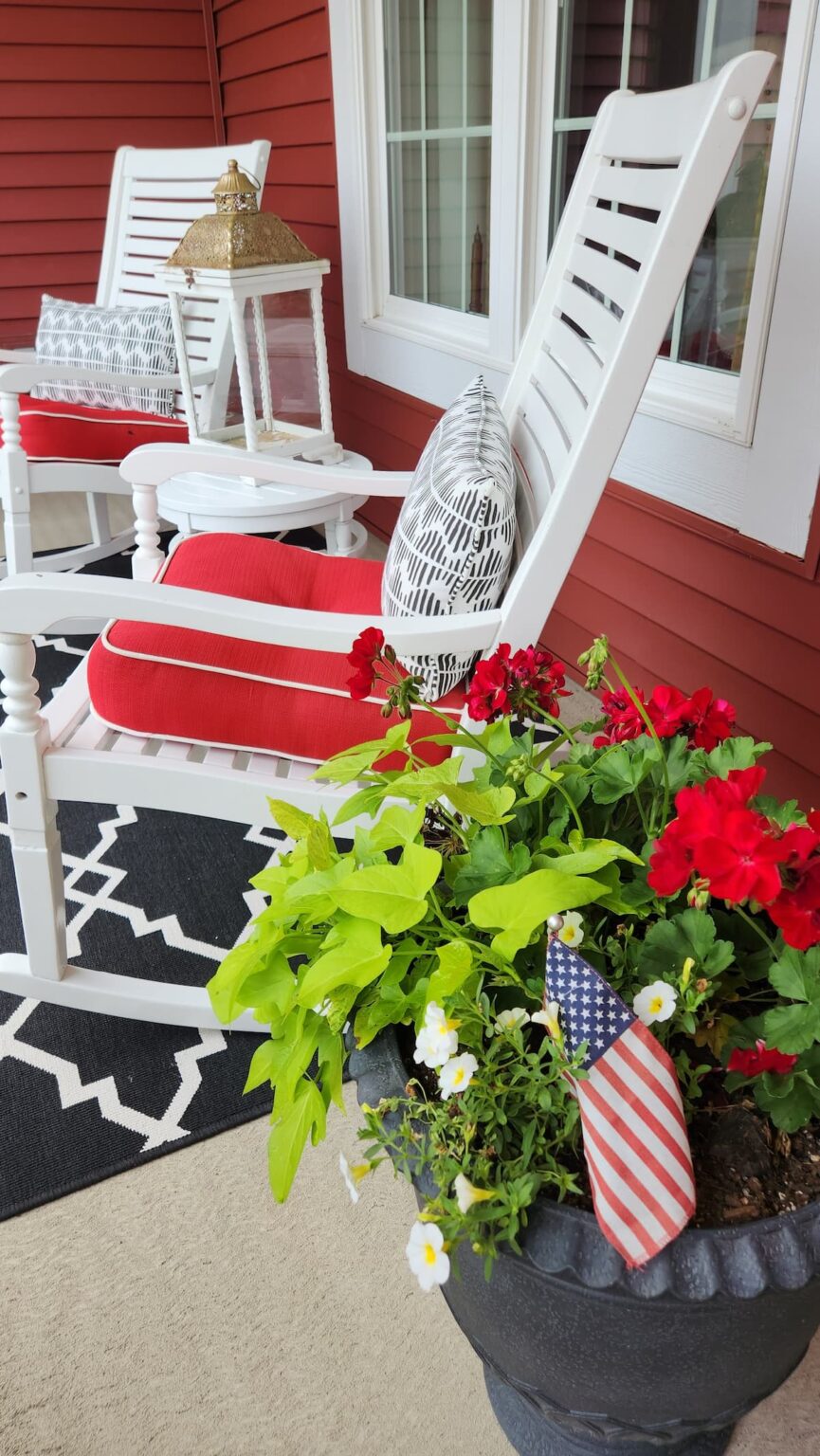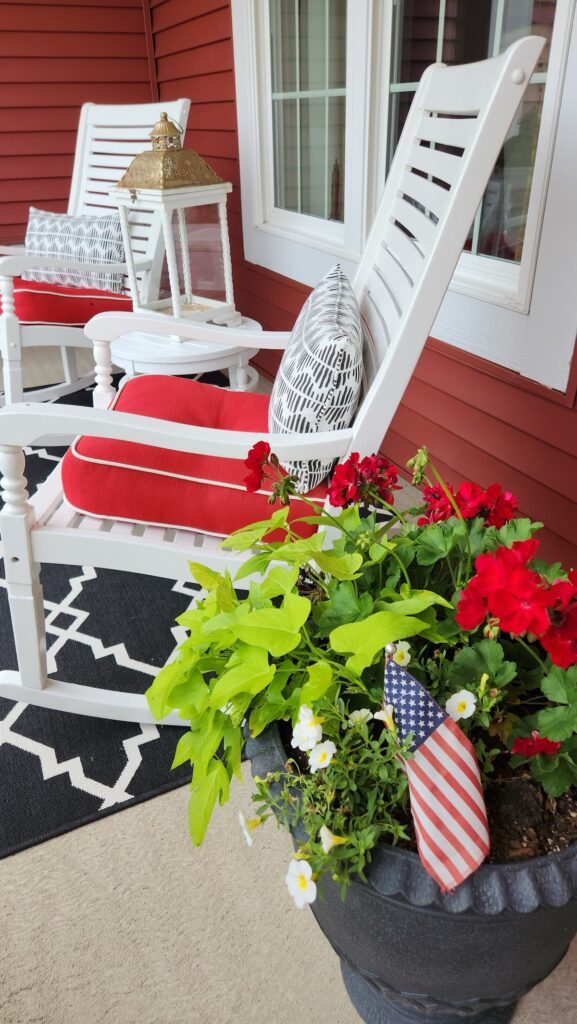 Step 7. Utilizing your steps
Step 7 is don't neglect the steps. Varying with different heights of flower pots and planters is easily accomplished by using your steps. Add several pots of flowers using your favorite colors. Steps definitely offer 'more real estate' to your porch.
Summer porch refresh decor ideas
For the brightest of summer vibes, red, white, and blue are always inviting. You can find so many options for this at Hobby Lobby.
If red, white, and blue aren't your colors, head to the Better Homes and Gardens post on how to use a color wheel to select colors.
Any time you can add texture I say go for it. Outdoor pillows, and changing your outdoor rugs, adding string lights are wonderful ways to update your porch and give it a cozy welcoming feel. The key is using your favorite colors and coordinating with the color of your home.
With so many shops that offer a great deal on throw pillows, you won't need to spend a fortune to stay on a budget.
With a little love, your porch can become the perfect place to hang out after dinner or in the morning when you have a cup of coffee.
Shop & Source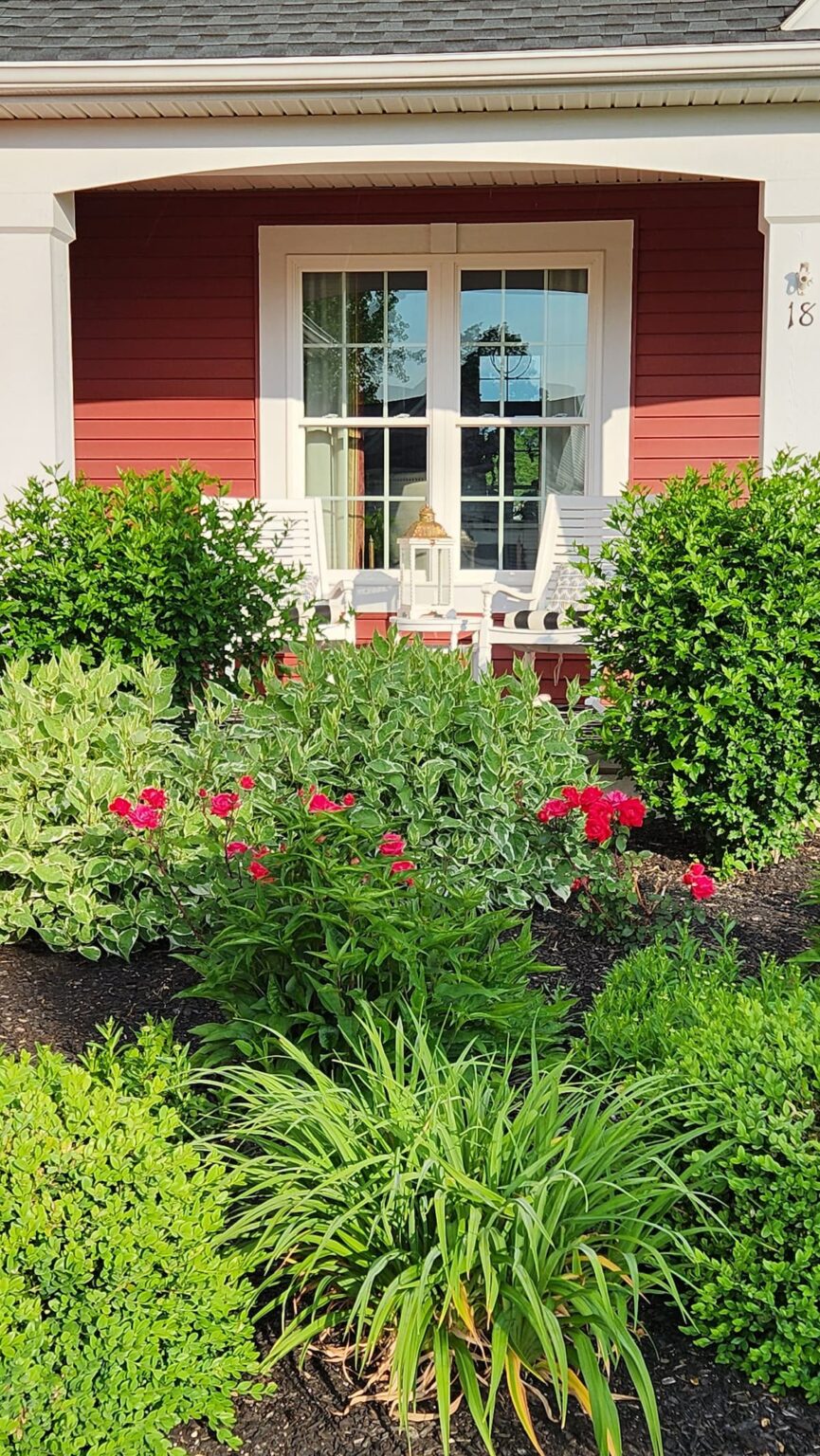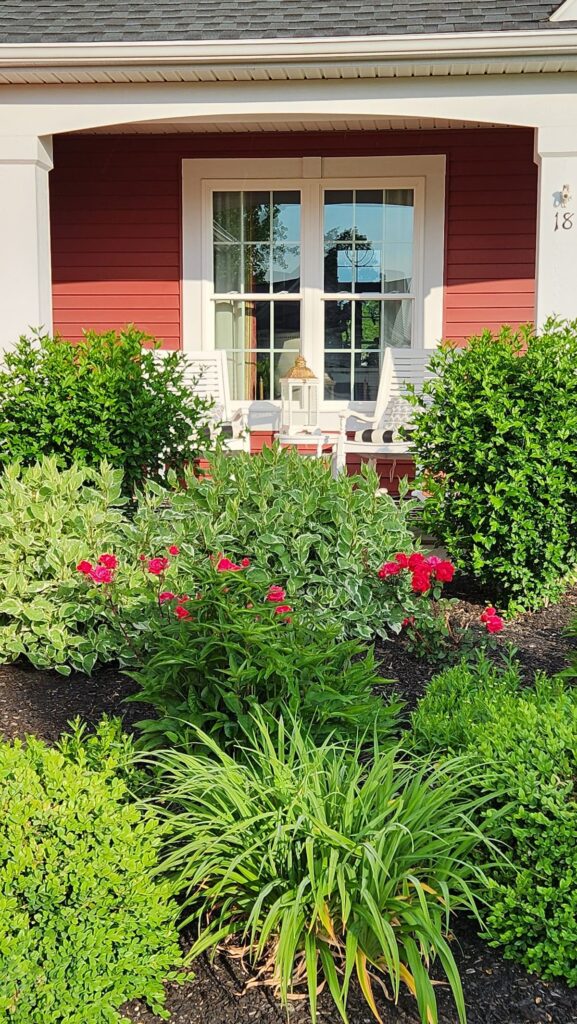 Additional tips
Buy pillow covers over buying the whole pillow. Pillow covers are easier to store in the winter months and they cost less.
Consider painting a new bench or an old one with a fresh coat of paint
Plan your design when considering the type of plants, pots, and planters you will use.
Varying with different heights when adding decor items on a side table
Another option is to change out your doormat which shouldn't cost a lot of money
Add side tables and lanterns
Place a throw over one of your chairs for chilly summer nights
Include natural elements like a jute rug or unmatched wooden chairs with terra cotta pots of flowers on them
Don't be afraid to use items you used last year. With a few simple changes, you can create a new look.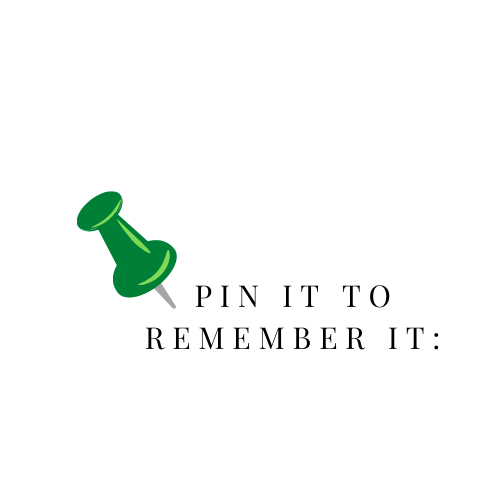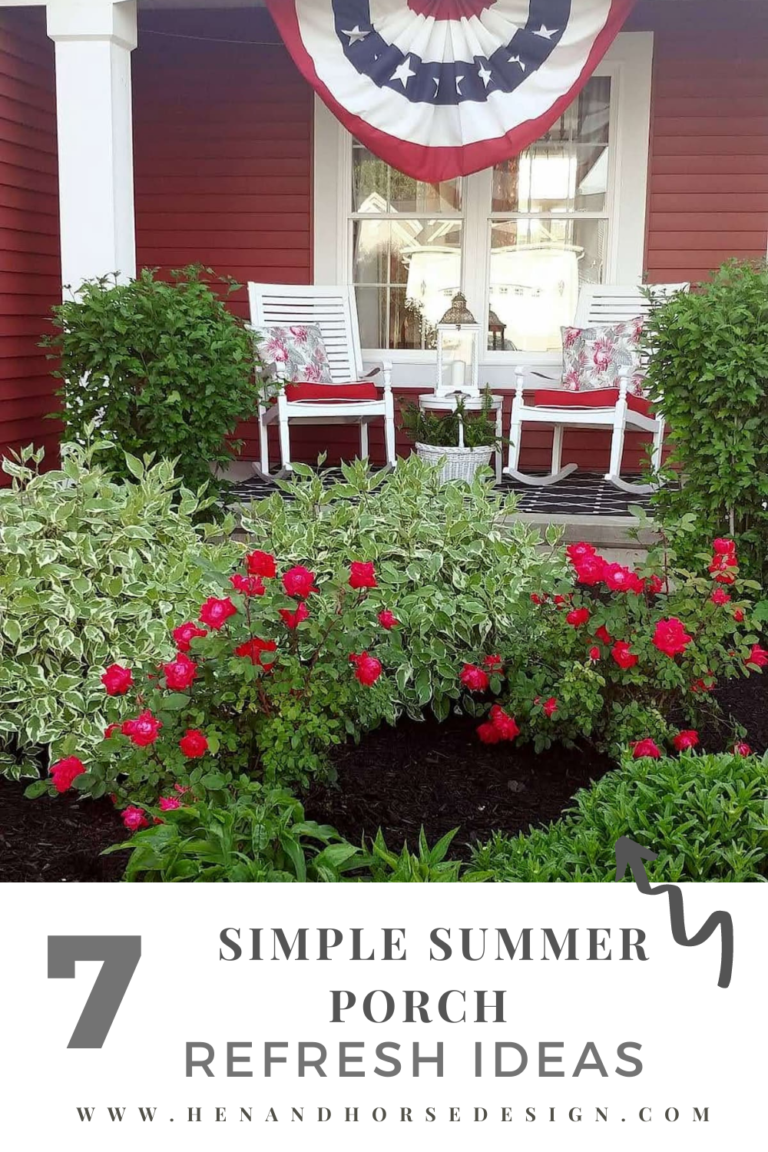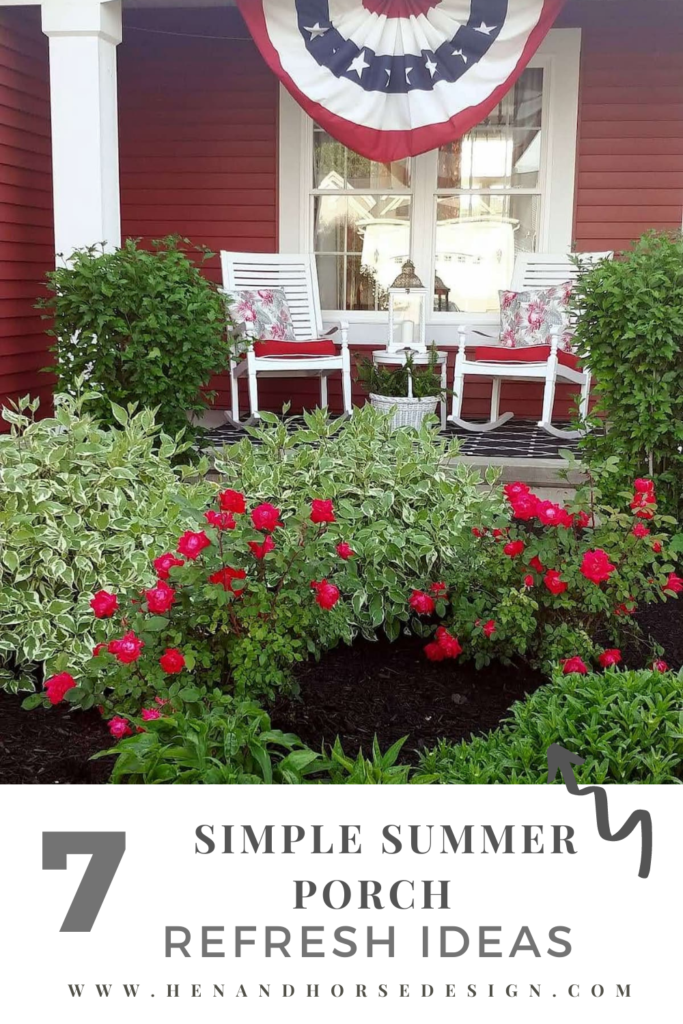 Backyard porch
We are currently in the planning stages of a back patio and porch. I'm picturing a pretty porch enclosed with large screens and steps out to a fire pit. On the edge of the patio will be climbing wisteria or morning glories up the side of a white pergola to create a welcoming outdoor living space.
I'm looking forward to the perfect spot underneath the stars or fairy lights to serve a cold drink to our friends and family. Whether a front porch or a back porch, enjoy the great summer weather and the pretty oasis you've created.
I hope you enjoyed these simple tips for refreshing your summer front porch.
And… If you'd like to catch up on blog posts you may have missed, be sure to sign-up to get my newest posts via email to stay up to date with everything that's happening here on the blog and more.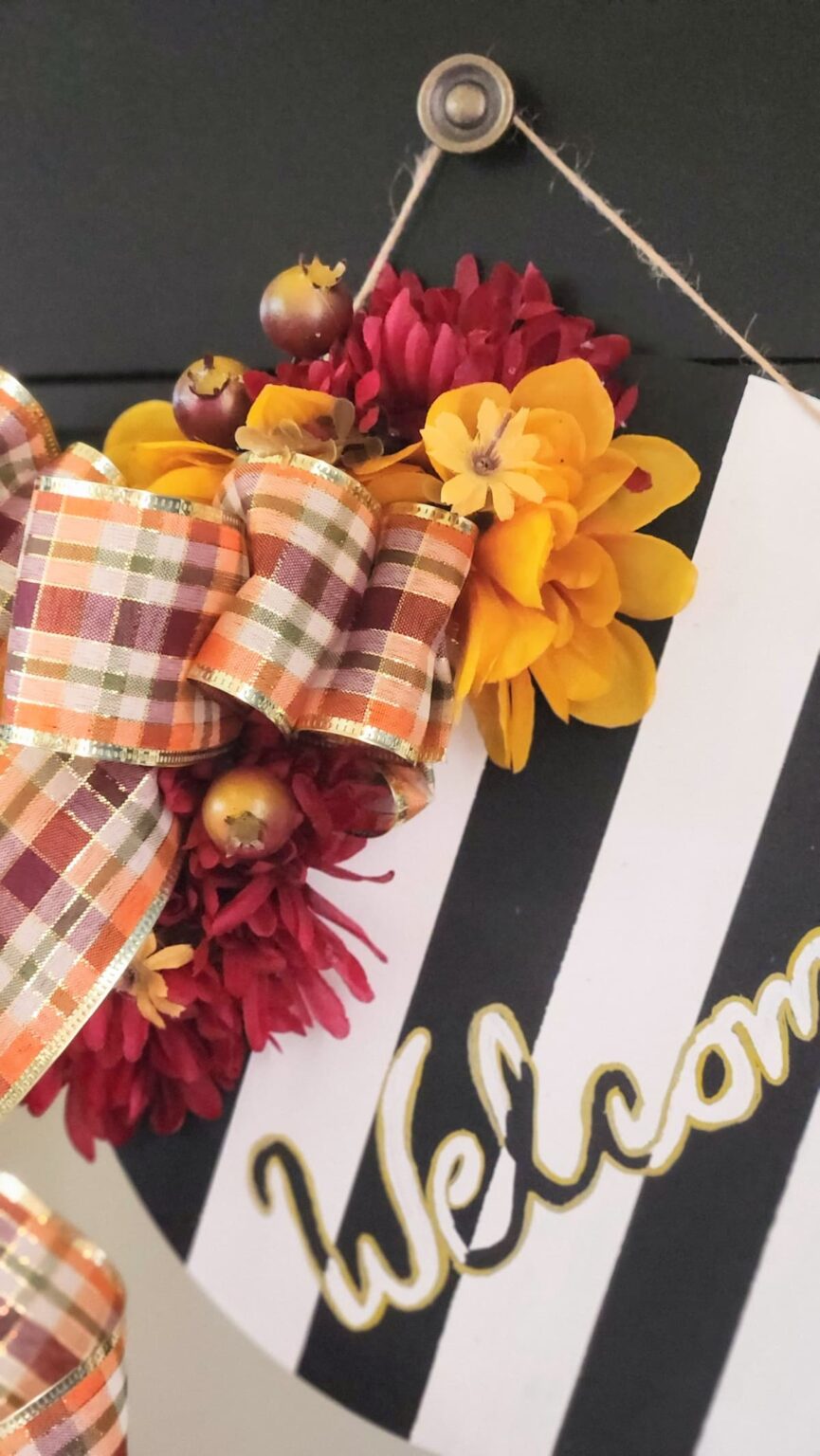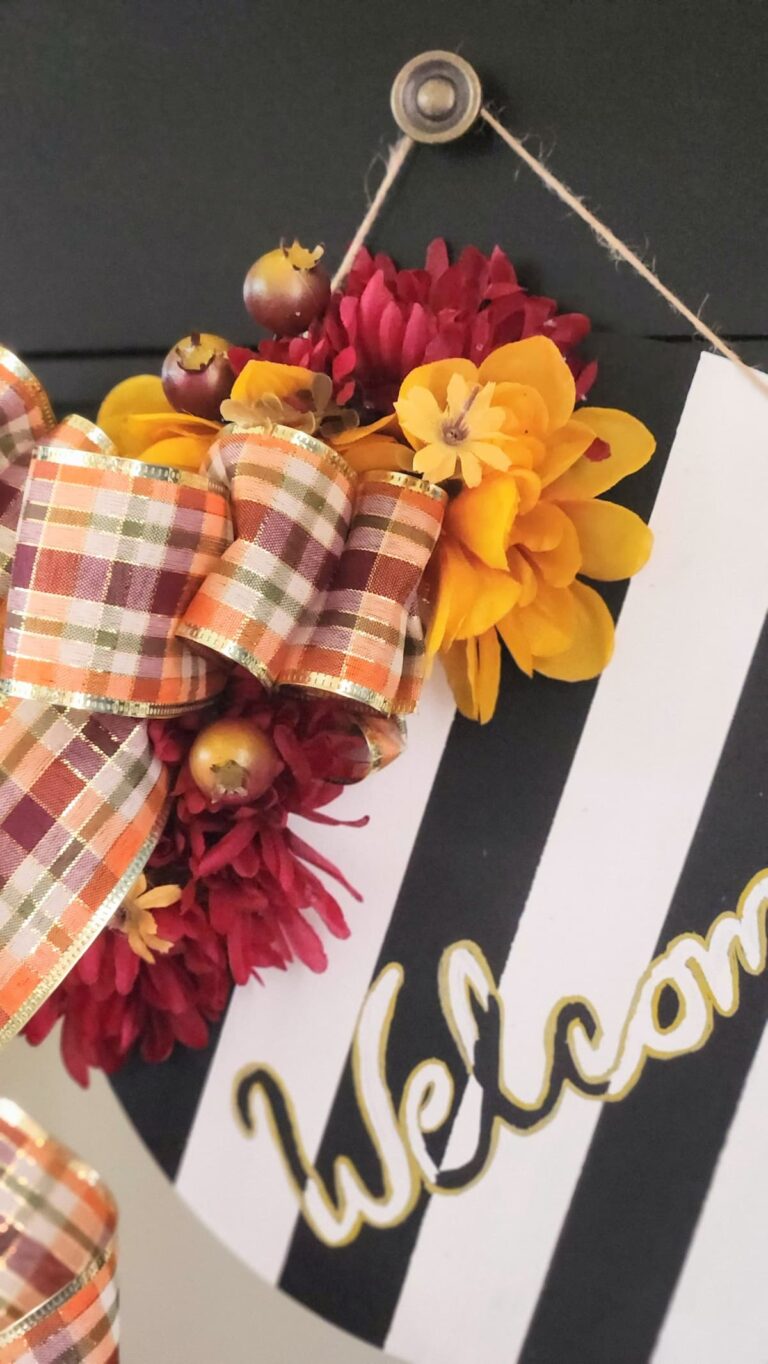 Hey there, crafty friend! Are you ready to dive headfirst into the wonderful world of DIY door hangers? Picture this: a cozy afternoon with your favorite tunes playing in the background, a table overflowing with colorful paints and craft supplies, and an empty wooden door hanger just waiting for your creative touch. It's like a mini canvas for your front door, and trust me, the possibilities are endless for a new pretty welcome sign.
That's all for now. See you soon!