How to Paint Wooden Porch Steps in 4 Easy Steps
It only took me seven years to paint our back steps. Had I known How to Paint Wooden Porch Steps in 4 Easy Steps I would have done it sooner.
This was just one of those things that I had wanted to do, just never got around to doing it. Can you relate? Today I'm sharing with you that painting wooden porch steps is way easier than you might think.
Doesn't it make such a big difference? Painting something is the quickest way to turn something from not-so-pretty into, well hello there!
Painting my steps went so well, I've been running around trying to find something else that might need a fresh coat of paint. I didn't have to look too far. Our snowblower guy happened to hit a piece of wood framing on the front of our house this past winter, so I'll be repainting that as well! Let's get started.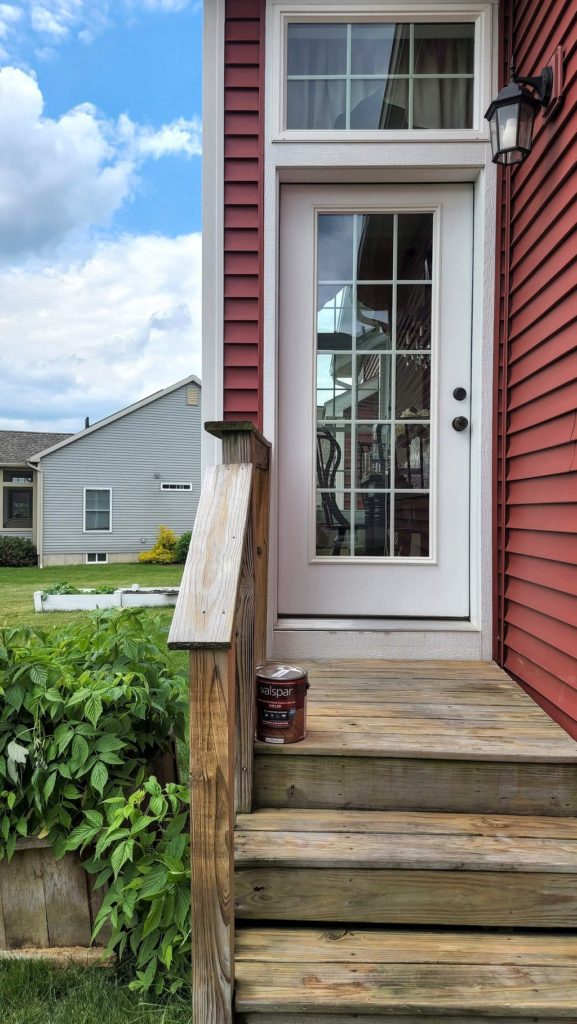 "This post may contain affiliate links which means I may earn a small commission. You may read my
disclosure policy here
".
Do you have to sand porch steps before painting?
The answer is short and sweet. Yes, and yes. Sanding or prepping your project is a must. I'm not a big fan of the prepping work because usually I just want to jump in and get 'er done.
What I've learned thru some trials and errors is, it's totally worth the extra effort.
As you can see, after seven years, my steps needed a power wash, and thorough sanding.
What paint to use on wooden stair steps?
Let me just say the guys at Lowe's are great! I love one-stop shopping and they nailed it. (get the pun?)
I also love one-and-done. The paint I chose was Valspar One-coat Exterior Stain & Sealer. This paint is perfect for decking and outdoor furniture.
What kind of paint do you use for outdoor steps?
Quality over price is key when selecting your paint. For the best results use a high-quality semi-gloss paint for it looks great and is incredibly durable. Stairs and steps are a high-traffic area and this best option will withstand a high volume of foot traffic.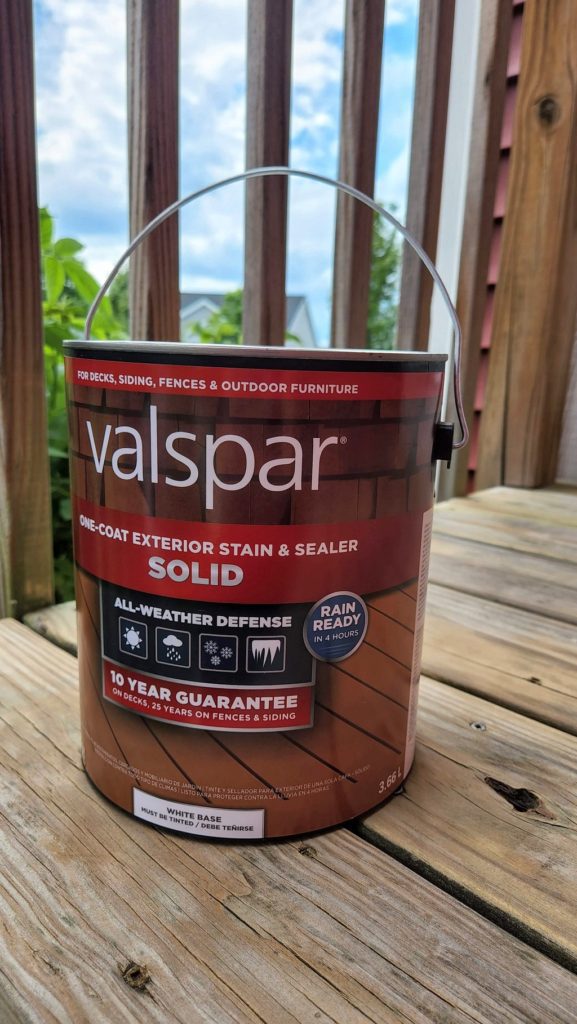 Should I prime steps before painting?
While in many cases the answer is yes. The type of paint you choose is key. Many paint supplies offer paint and primer in one application. I've selected a one-coat exterior stain and sealer solid paint which eliminates the need to prime the steps first.
4 Easy Steps to painting your outdoor stairs
Thoroughly wash or power wash your steps
Allow time to dry, then sand the steps
Prime steps if not using an all-in-one stain or paint
Paint the desired number of coats. Two is usually sufficient.
Before painting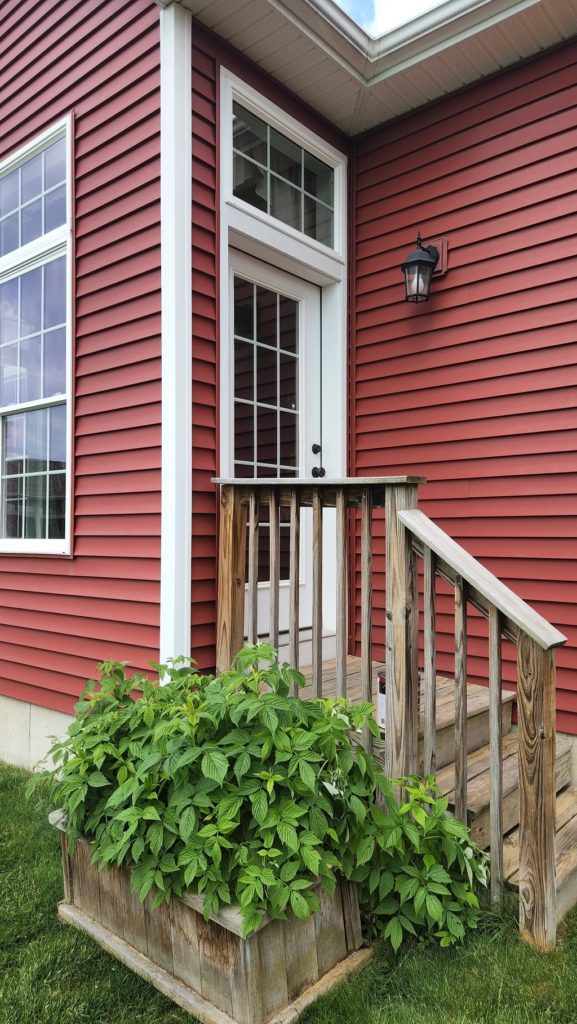 After painting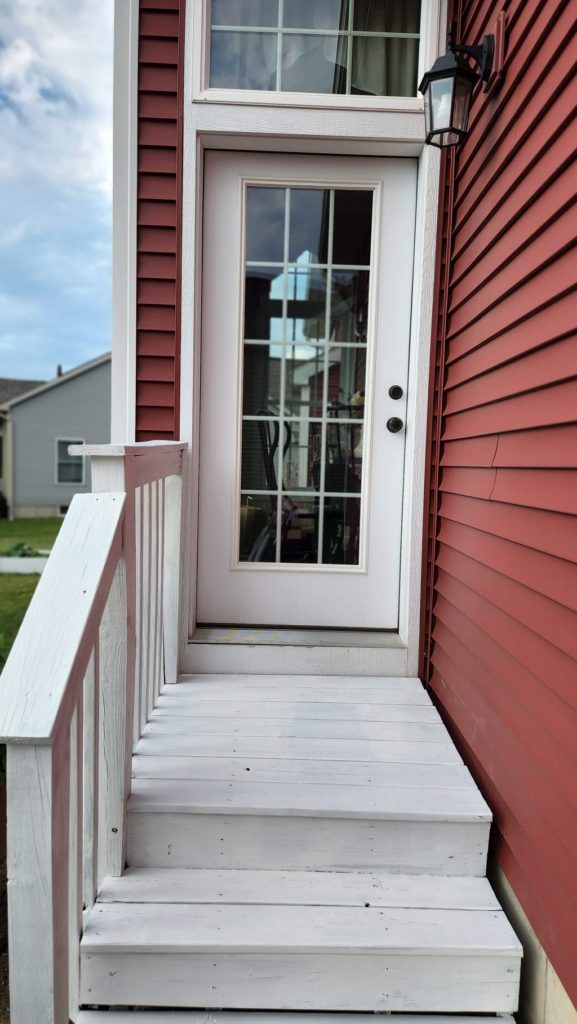 After letting the first coat dry,(this photo shows 1 coat of paint) I added a second coat of paint to get the desired look I was going for.
Favorite Painting Source & Supplies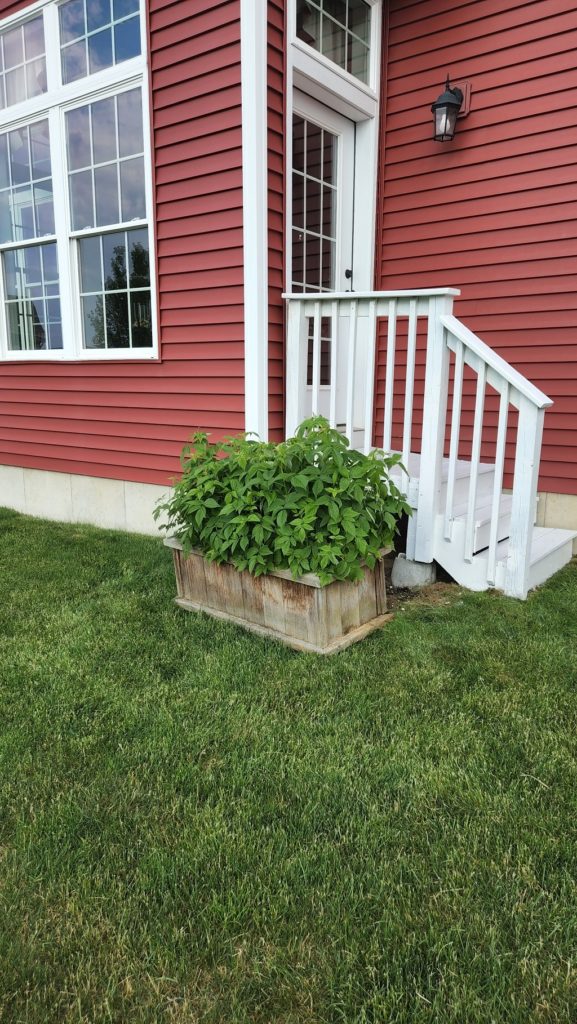 How to decorate your painted porch steps?
It's time to add some color and character to my steps. This is where you get to play. Make your home entrance unique to you, even if it's the back porch.
Adding a few pots and lighted bottles makes for an inviting back entryway. I love how festive the twinkle lights look as the sun goes down.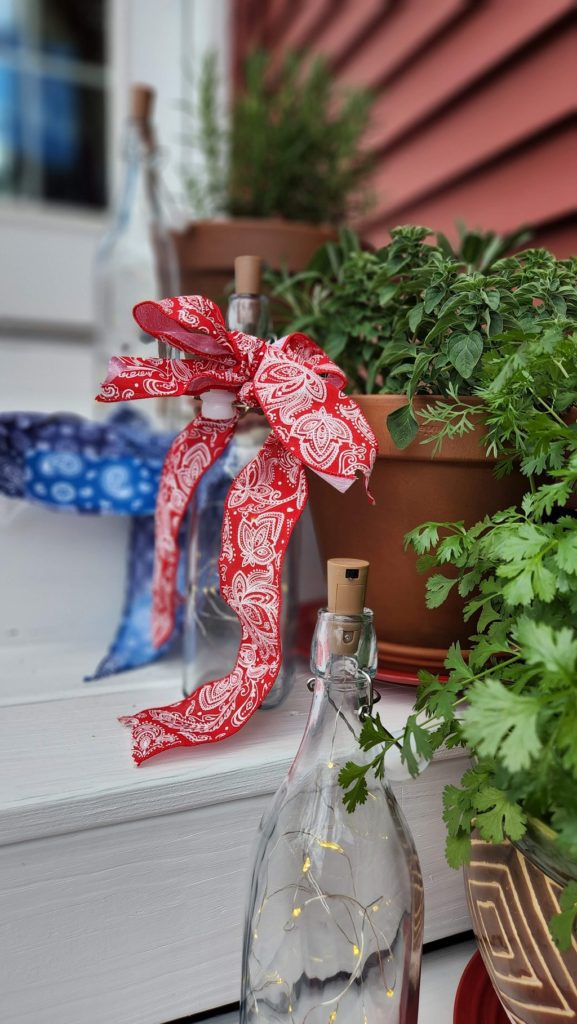 Now that my steps are painted, it's time to have a backyard party!
Painting my steps, literally put a new step in my game. I'm ready to celebrate the 4th with a backyard barbeque.
How about you? Do you have any fun plans for the summer? You may also like some Simple Patriotic Patio Decorating for your backyard!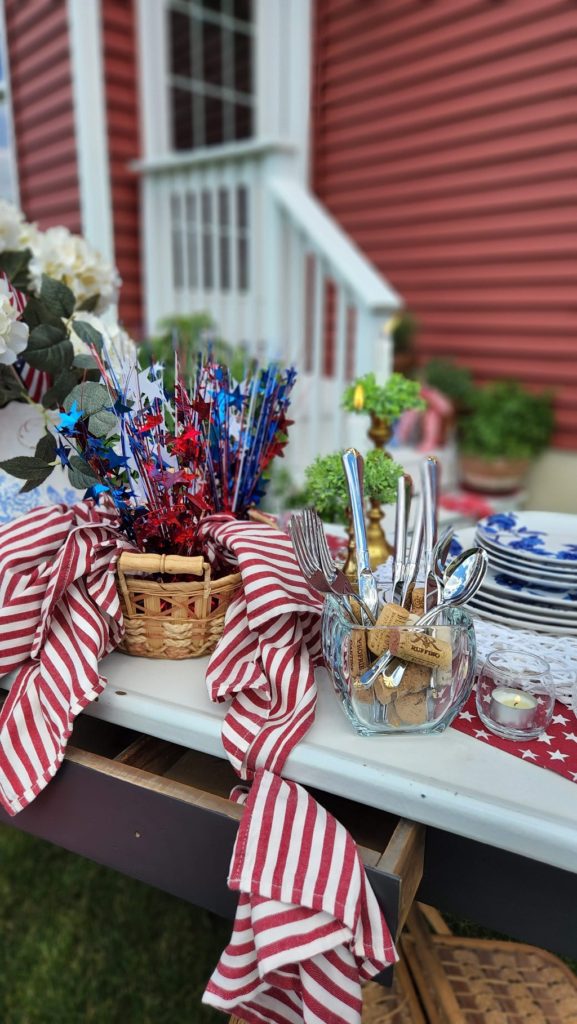 Thank you so much for stopping by! I hope you are inspired to dip your paintbrush in a bucket of paint and create something fun!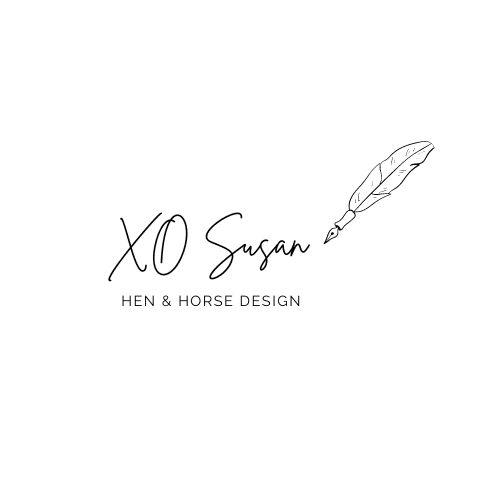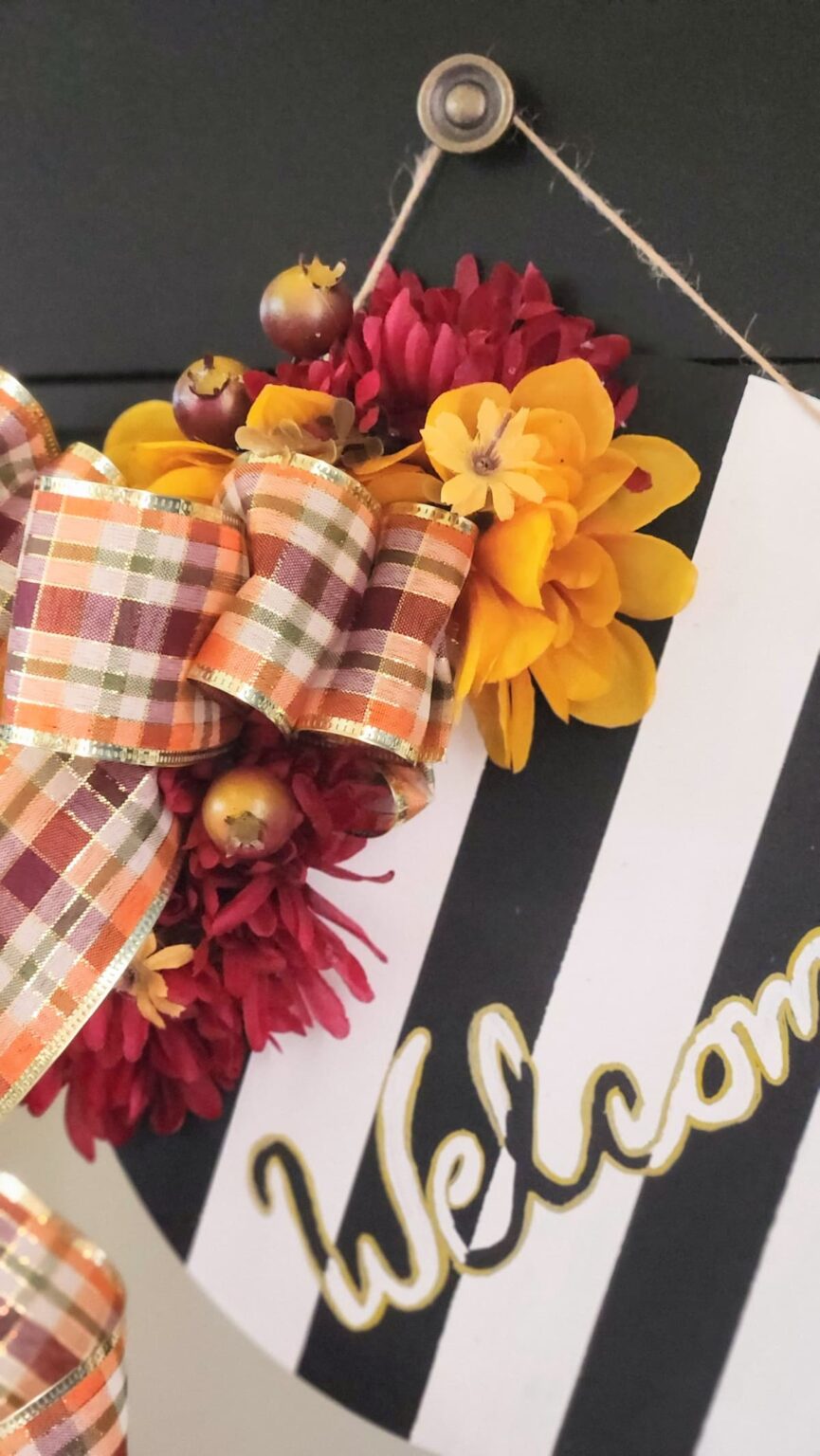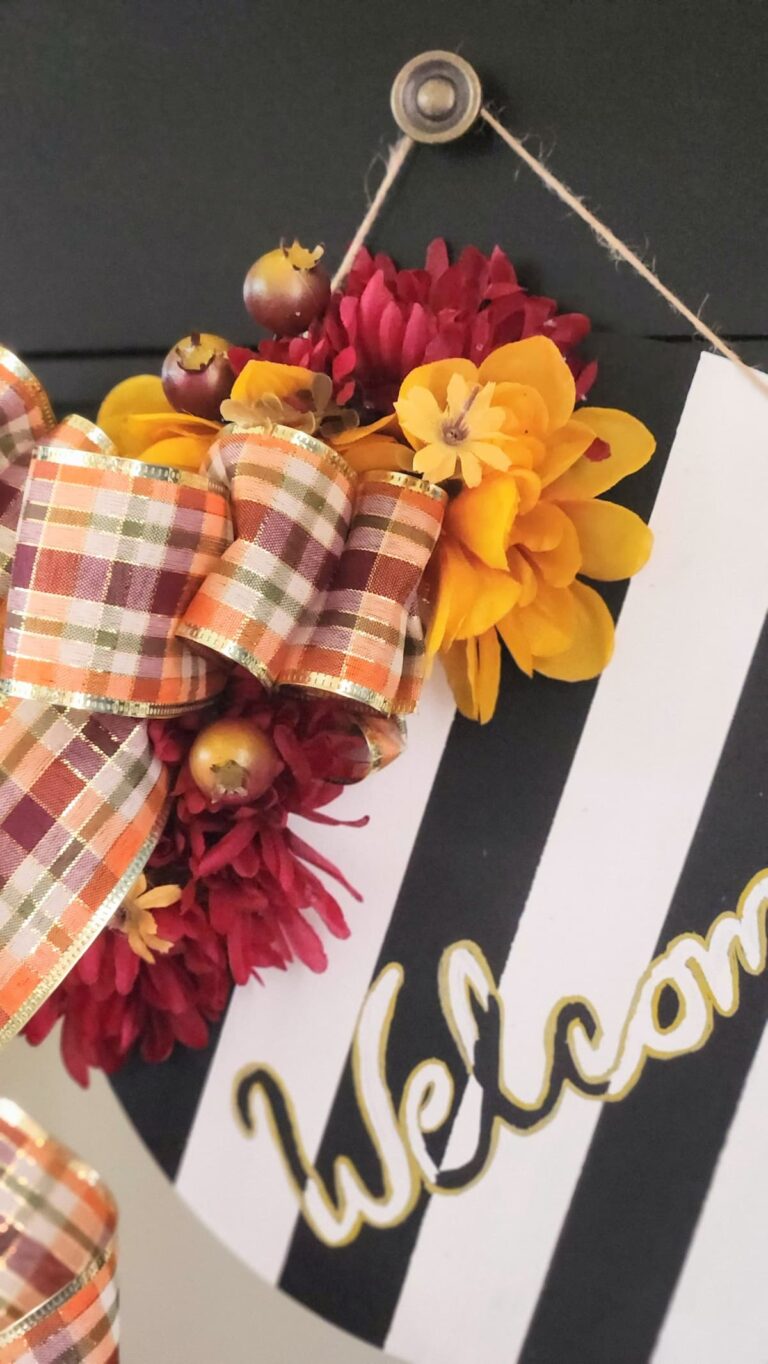 Hey there, crafty friend! Are you ready to dive headfirst into the wonderful world of DIY door hangers? Picture this: a cozy afternoon with your favorite tunes playing in the background, a table overflowing with colorful paints and craft supplies, and an empty wooden door hanger just waiting for your creative touch. It's like a mini canvas for your front door, and trust me, the possibilities are endless for a new pretty welcome sign.