How to Plant Plants for Kitchen Garden in Terra Cotta Pots
Do you have a small space and love a vegetable garden? Today I'm sharing how to plant plants for kitchen garden in terra cotta pots!
A simple kitchen garden is for you especially if you don't have much space! Depending on where you live your growing season could be short for an outdoor small garden. Or a raised bed just might not be available in your yard. Maybe you don't have the square feet needed. You can still have a kitchen garden. I'll show you how.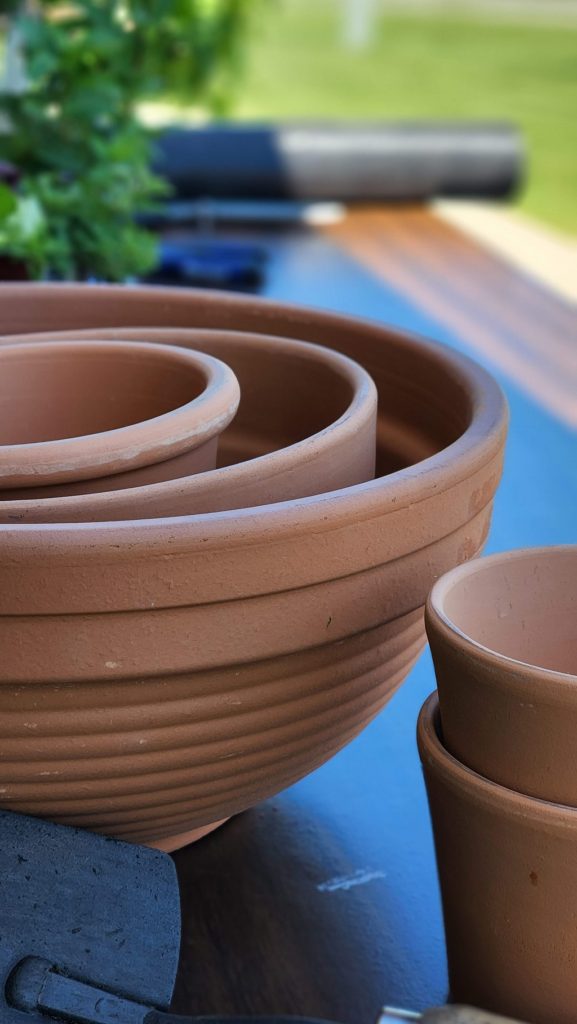 "This post may contain affiliate links which means I may earn a small commission. You may read my
disclosure policy here
".
What could be easier than stepping outside to gather a quick snip or two of fresh chives, sweet peppers, garlic, or a sprig of rosemary for your grilled vegetables?
How about a leaf or two of homegrown mint for your iced tea or mixed green salad? These are just a few of the best vegetables you can grow.
My simple kitchen garden is a great choice and here is why. Do you know it only takes about 30 minutes to make?
It's one of the best ways to get a head start on your garden especially if you live in colder climates and do not have a lot of space.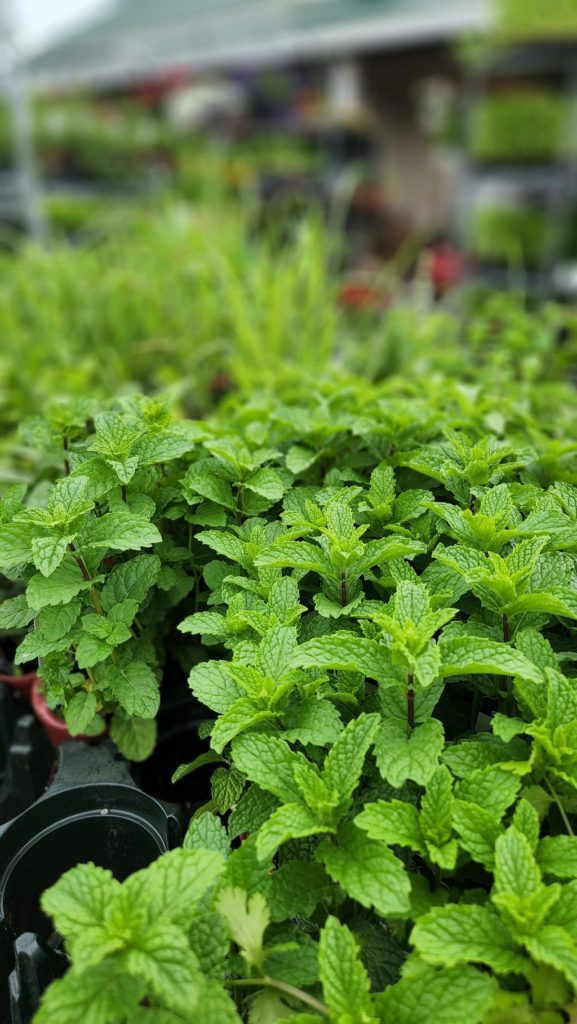 What is in a kitchen garden?
A kitchen garden can either be inside your home, or outside of the house as long as it is easily accessible to your cooking. Made for quick consumption, and mostly consisting of fresh herbs and vegetables, a potted herb garden or your own kitchen garden is a great way to grow your own food.
The key is to have well-drained soil, plenty of water, and several hours of sunlight.
Which plant is best for kitchen garden?
Selecting the right plants is key. My best tip is to plant what edible plants you purchase the most at the grocery store. Leafy greens swiss chard, and Italian parsley are always a good choice to begin with. I've selected chives, lettuce, basil, parsley, and mint.
There are no set rules for which plants to pick! Be creative and 'grow' with it!
A tip to consider. If you are making your plant kitchen garden for someone special, select herbs and small plants that they love and will use for their personal type of cooking.
How do you grow an easy kitchen garden?
In early spring it's as simple as getting out your seed packets and getting started planting.
My plan is to give this as a gift to my mother-in-law. She loves any type of plants and had one of the biggest gardens with good drainage. Unfortunately, it got a bit too big for her to care for. Having a tiered kitchen garden will be much easier for her to manage!
If you know of someone that has limited space and lives in a condo or apt this is a perfect solution as long as they have a sunny spot. My mother-in-law will be able to enjoy fresh herbs and lettuce for her daily salads without having to tend to an oversized garden!
I think she is going to love it!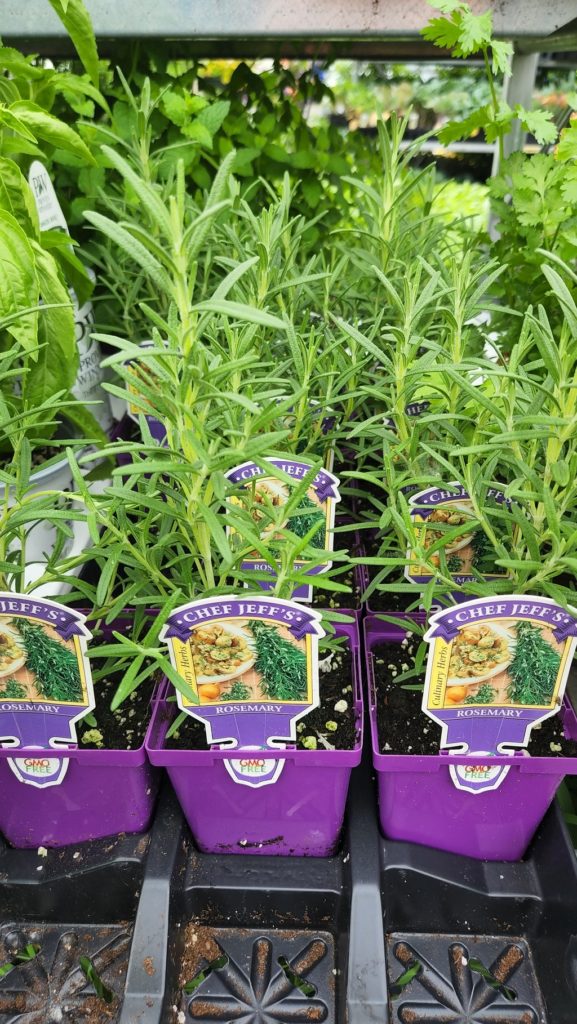 My mother-in-law loves fresh herbs in her salad. I'm certain the fresh basil, mint, and parsley I've picked out for her will be enjoyed every day!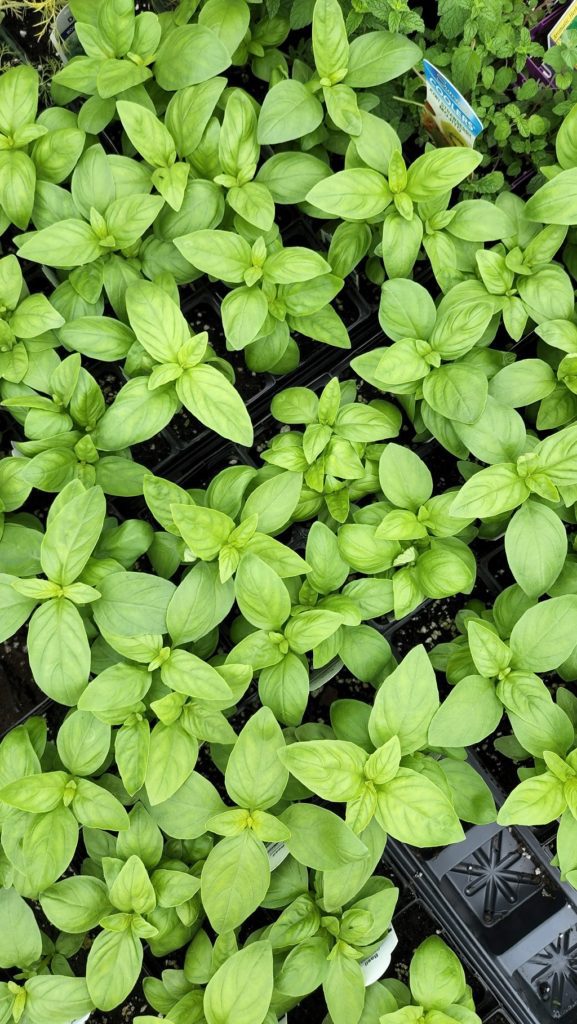 Of course, a kitchen garden wouldn't be complete without a few lettuce plants!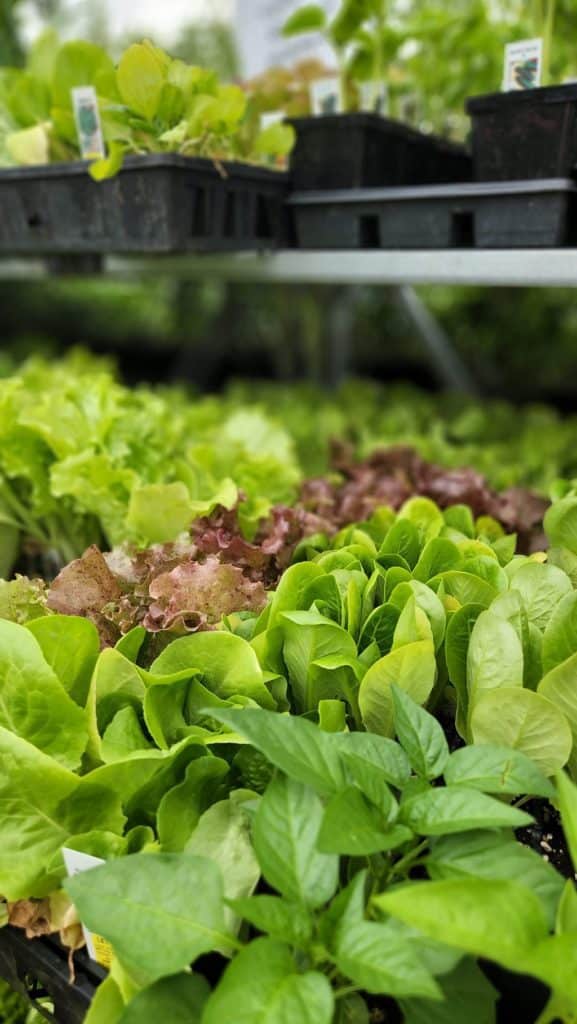 How do you make a kitchen garden?
Once I found three pots that would work well, it was time to pick out my garden soil.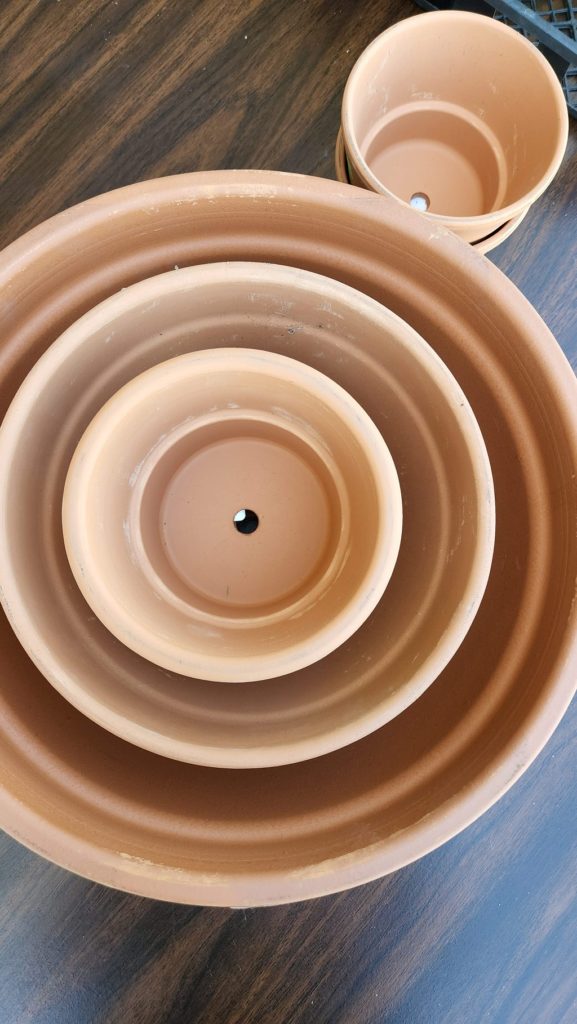 What supplies you will need
3 bowl-shaped planters (15 to 24 inches wide in descending size) I used two regular terra cotta pots since they didn't have the circular ones
2 small flower pots (approximately 5 inches tall)
Screen mesh or planting weed screen
clippers for cutting the screen
large bag of potting soil
herb and vegetable seedlings

Instructions
The first step is to start with the largest bowl. Cover the drainage hole with a piece of screen or mesh.
Place one of the small flower pots inside, upside down.
Keeping the small flower pot centered, add your potting soil. Miracle Grow is one of my favorites.
Up next place the medium-sized bowl in the center of the larger pot.
Repeat this step for the third pot. Be sure to leave enough space in between the pots for your young plants.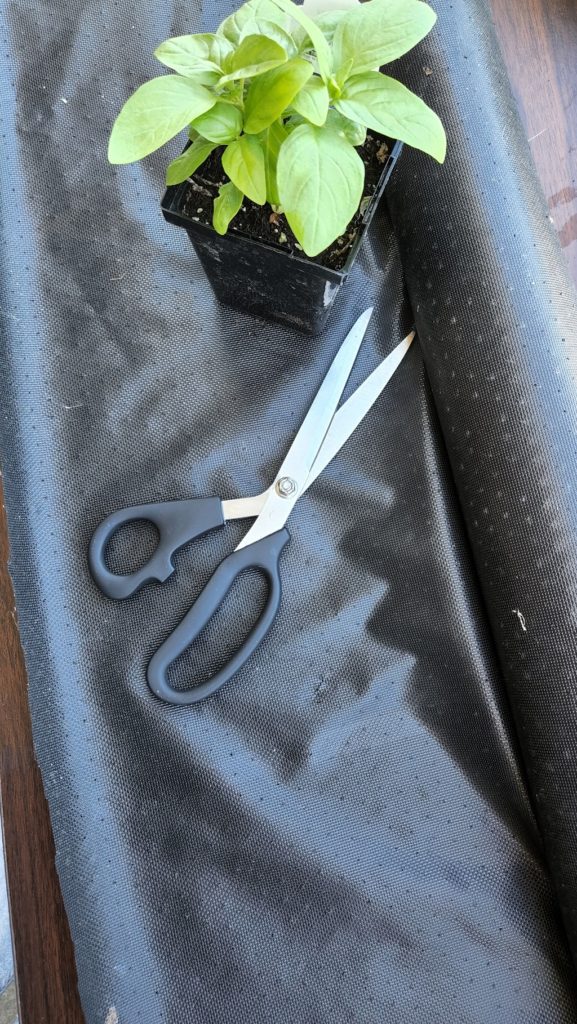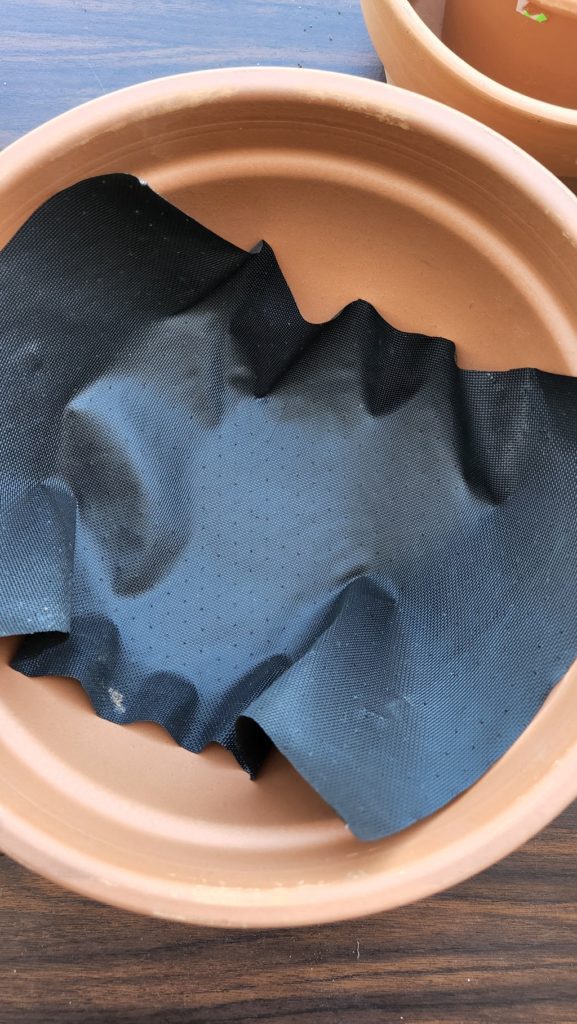 It's time to add fertile soil.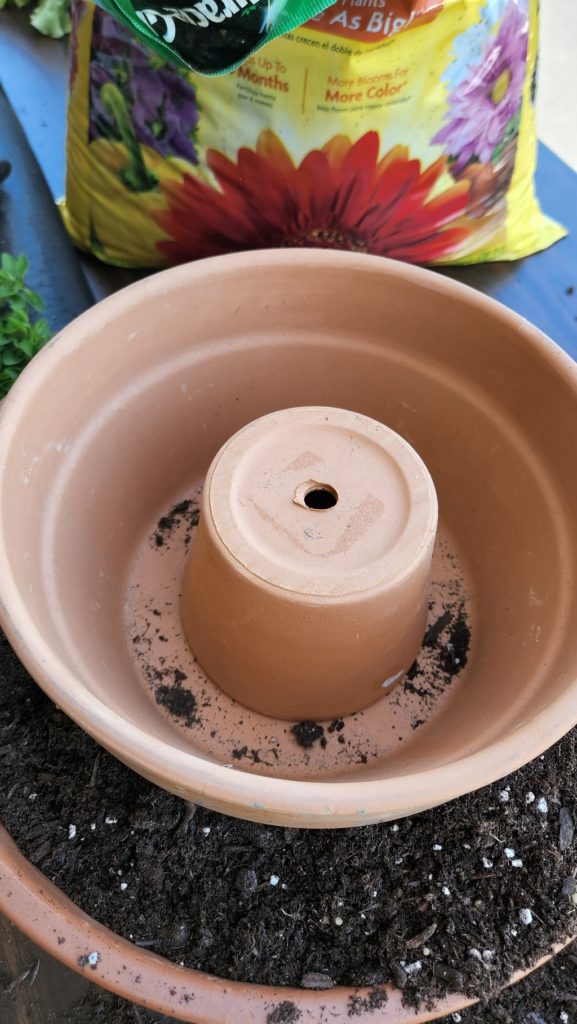 Once the soil is has been added, carefully place the fresh greens all the way around evenly.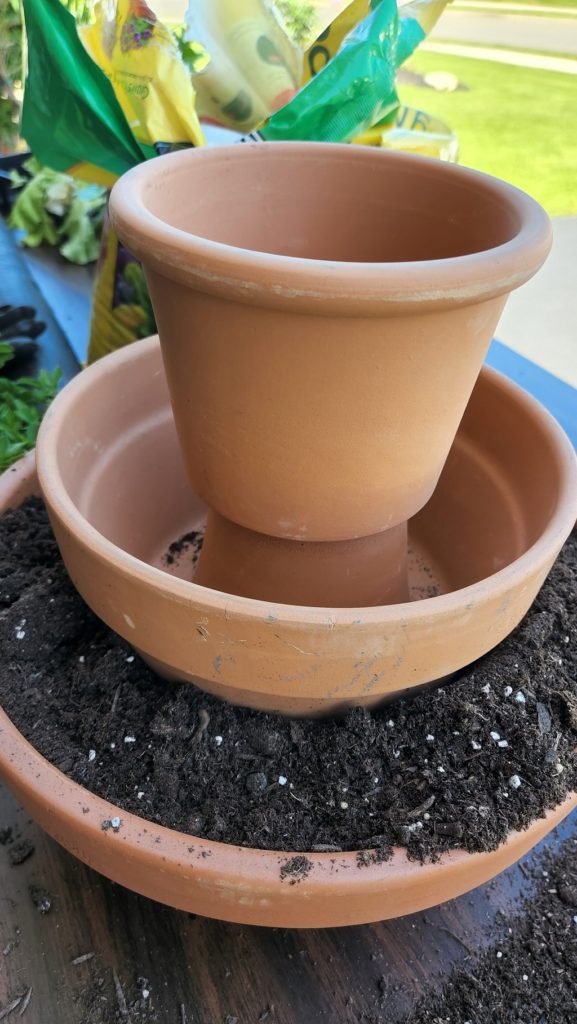 My romaine lettuce bunches look a bit sad, but after some watering, fertilizer, and sunshine over a couple of weeks, they will pop right up.
Lastly, water well and place your garden in sunlight.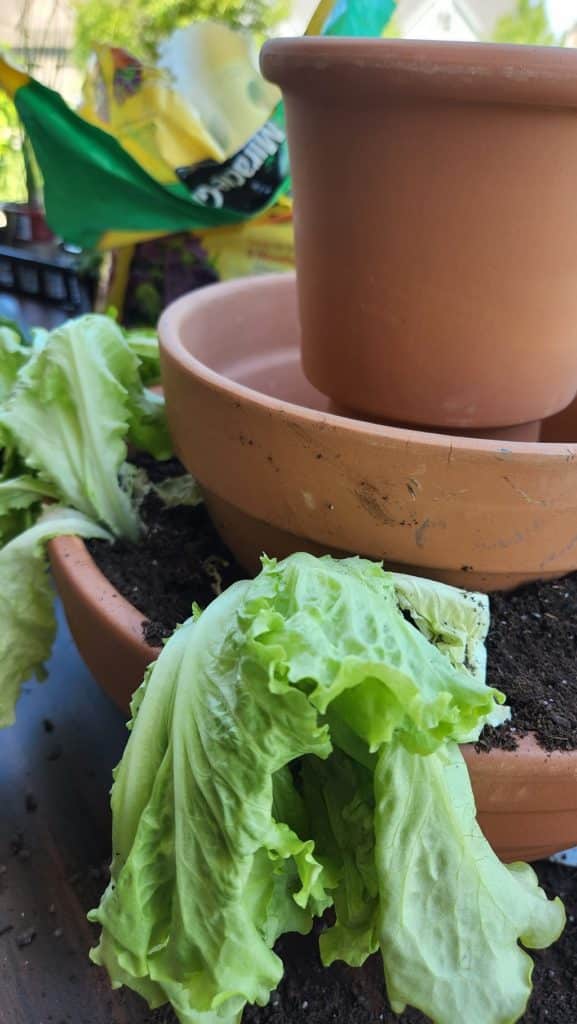 That's it. Isn't that easy? Most herbs will need at least six hours of bright light a day, as a general rule.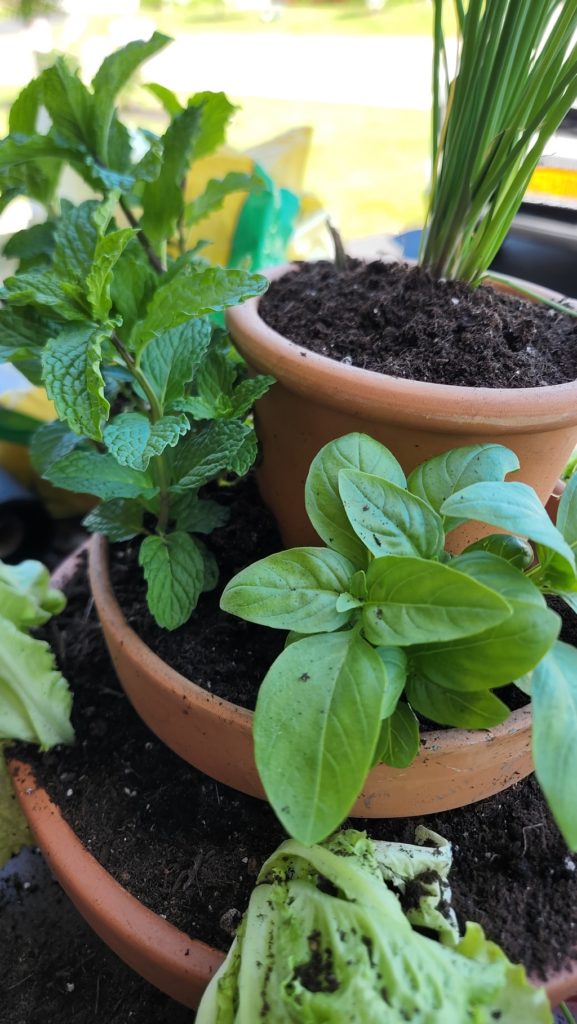 Herbs are a great starting point when planning a garden, not just for seasoning or cooking but did you know they can be good for deterring insects, used in borders, and encourage other plants to grow?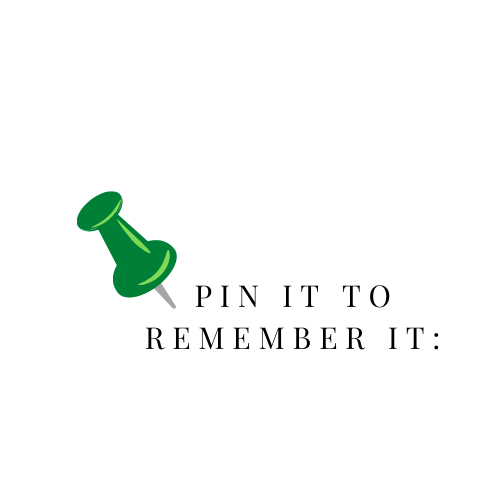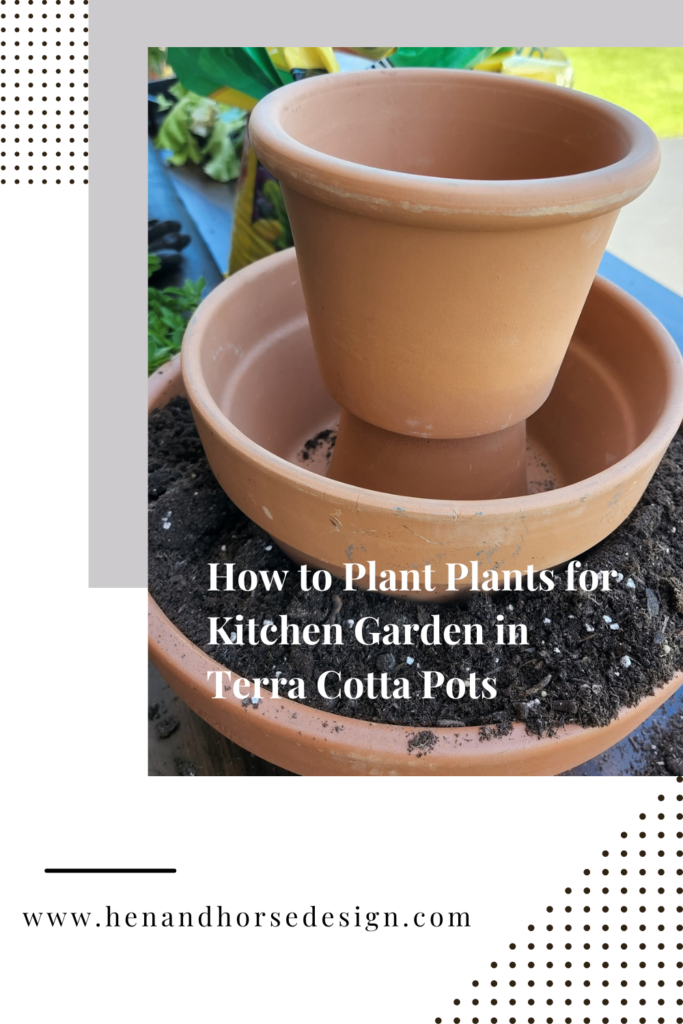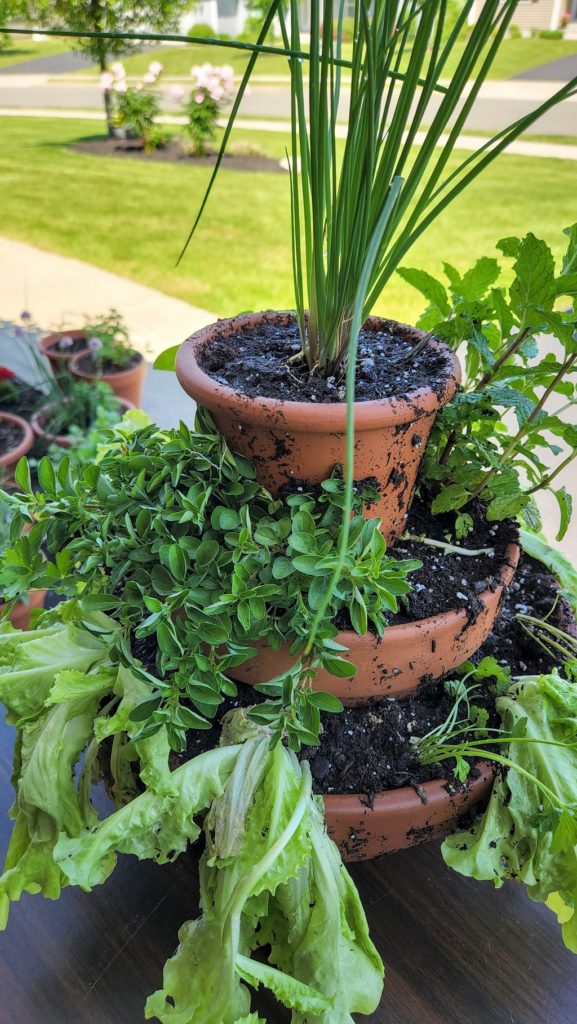 Speaking about plants to grow and borders, have you checked out my summer porch post?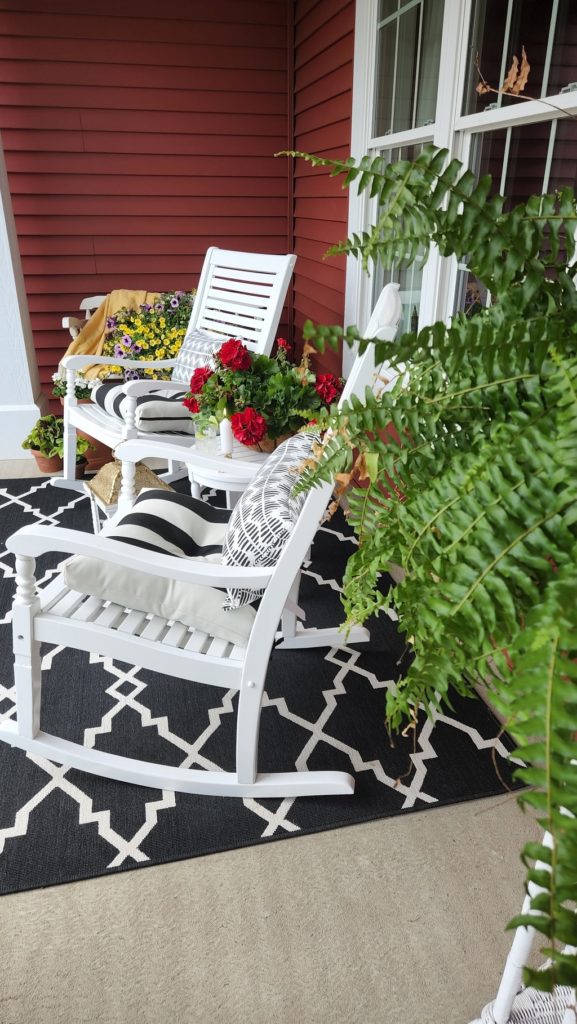 With little care, I hope you are inspired to create a simple kitchen garden for someone you love!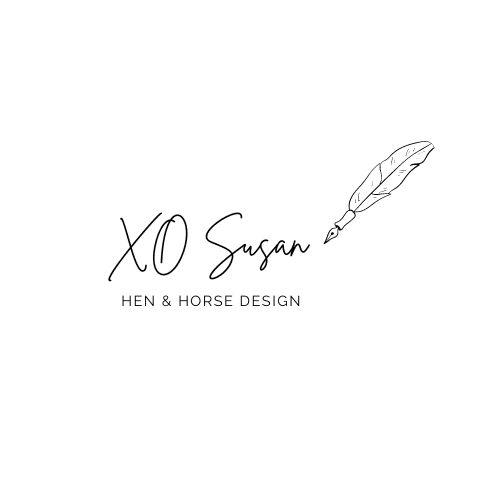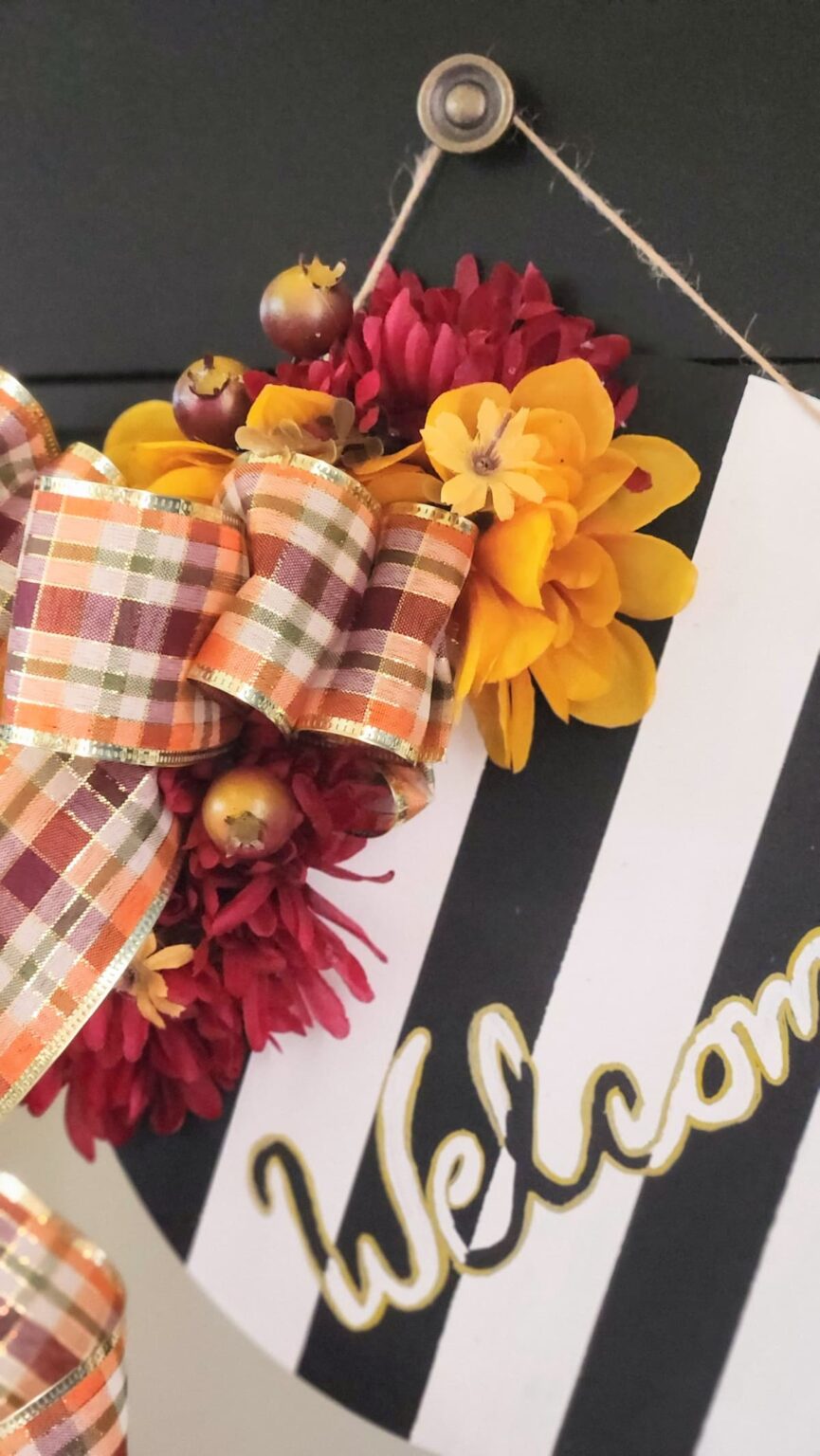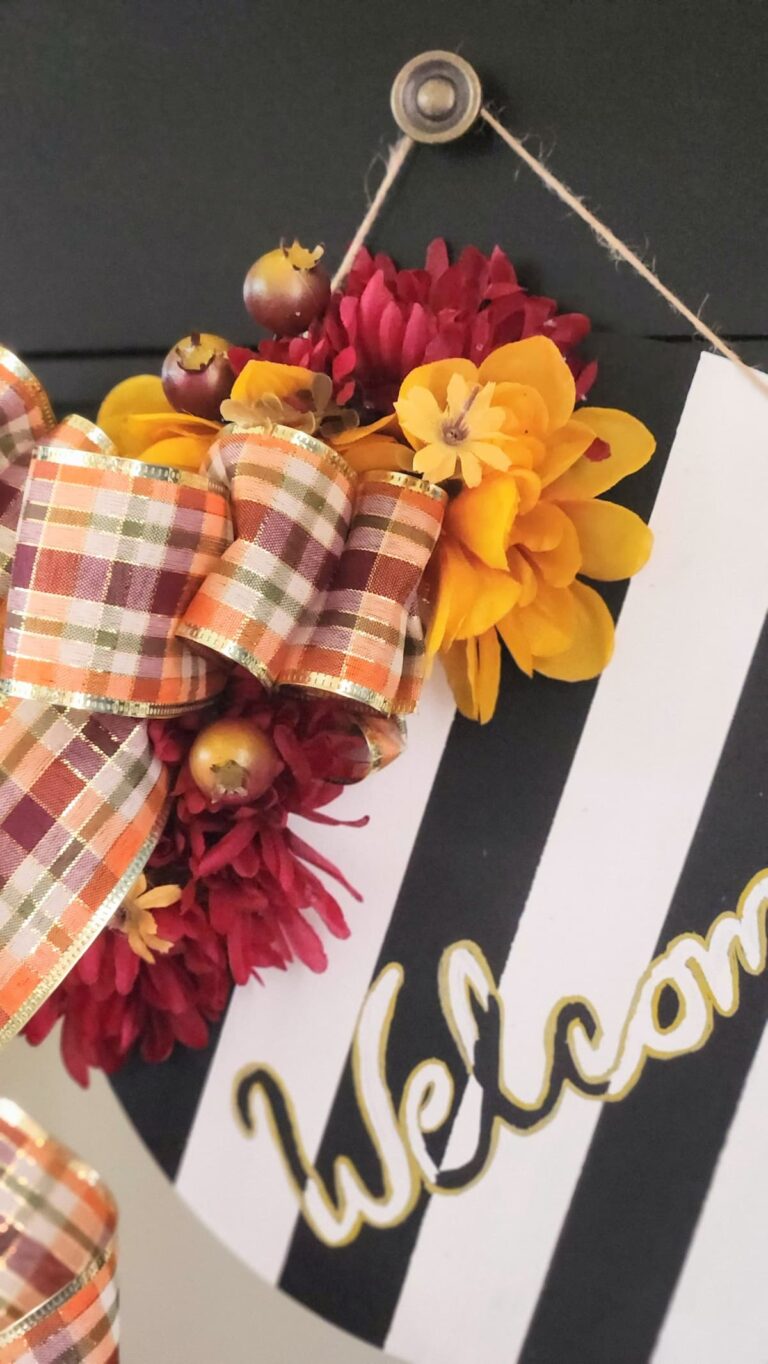 Hey there, crafty friend! Are you ready to dive headfirst into the wonderful world of DIY door hangers? Picture this: a cozy afternoon with your favorite tunes playing in the background, a table overflowing with colorful paints and craft supplies, and an empty wooden door hanger just waiting for your creative touch. It's like a mini canvas for your front door, and trust me, the possibilities are endless for a new pretty welcome sign.