5 Tips For Creating the Prettiest Spring Porch
One of the ways I love to welcome Spring into our home is to refresh our front porch! Today I'm sharing my 5 Tips for Creating the Prettiest Spring Porch!
A welcoming and relaxing porch can have so much curb appeal! It is the perfect place for you and your family to hang out, read a book, have your morning coffee, welcome your guests, or give that friendly wave to neighbors walking by! 
In our neighborhood, everyone and I mean everyone, walks around our development! It's an active and friendly community with beautiful new sidewalks and very friendly neighbors. 
One thing is for certain, you can expect your walk to take extra time due to everyone stopping along the way to chit-chat.  It's been a long winter up here in the North and we are all ready to hang out, say hello, and get caught up on what's new!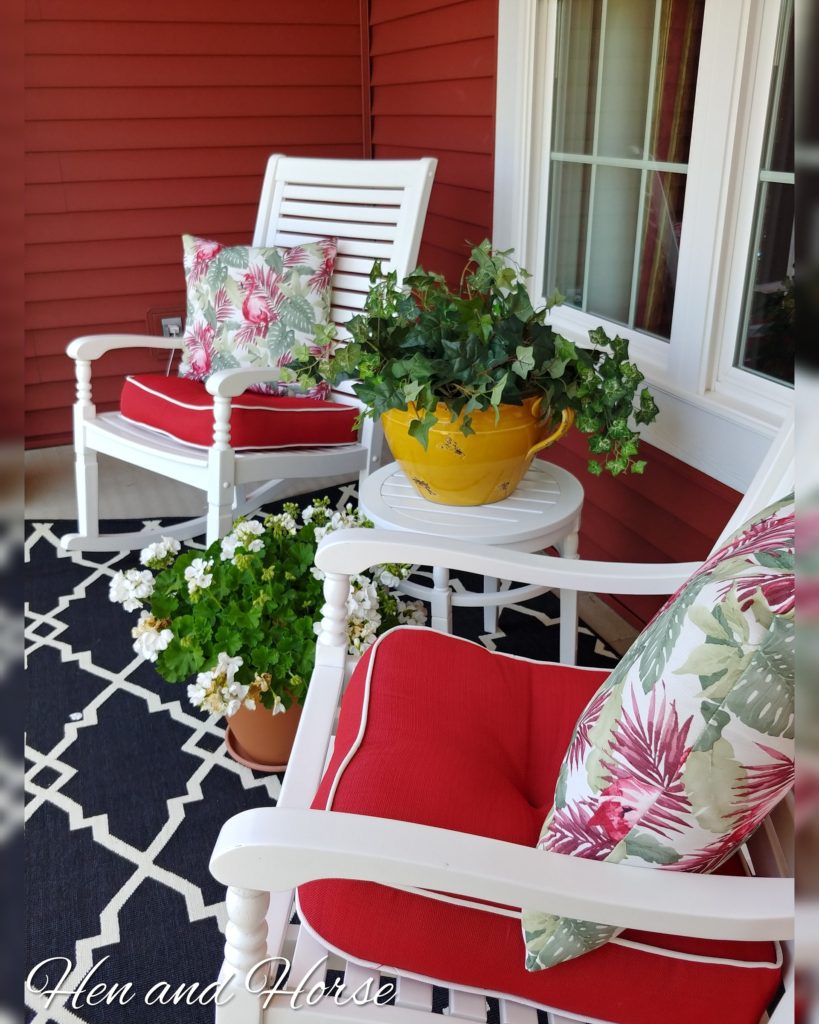 "This post may contain affiliate links which means I may earn a small commission. You may read my
disclosure policy here
".
How can I make my front porch more welcoming?
Twelve Tips for Decorating Your Spring Porch
The first thing I like to do is thoroughly sweep the space.
I then hose off my entire porch, being sure to get get the winter debris and dust all cleaned off. Doing a thorough cleaning and prep is key for getting the look and feel of total relaxation. If you have any windows, now is a great time to wash those as well. You certainly don't want to decorate everything then look over your shoulder and see cobwebs in the corner! That is not relaxing! 
Once the porch dries you are ready to add your decor.
Anchoring your porch decor with an outdoor rug
Next, add a durable and fun rug to anchor your porch furniture. Adding a carpet gives your space definition and an outline for your furniture.
When the rug has been laid down, it's now time to add your seating. Whether you like to mix or match your seating or choose symmetrical chairs, it's totally up to you. I've gone with symmetry and have two chairs that are the same.
Add a small table to hold your beverage and drinks or a lovely scented candle or snacks.
Optional ideas for Spring porch decor
If you like you can add a pretty privacy curtain tied to one side.
Nothing says slow down and enjoy summer more than a porch swing. Should you have room, I wouldn't hesitate to add one.
For a whimsical feeling, string a strand of lights across the porch for a pretty nighttime glow.
Once you have the base items selected, it's time to decorate your space.
Spring porch pillows
Pillows can really change the look by either matching or coordinating with the rug. Accent pillows offer a great way to add color and texture to your porch. Plus, pillows make your space look super cozy.
I've added red cushions to match the siding of our home with two floral accent pillows.
Adding greenery to your porch
Adding plants, a small tree, or a pot of flowers are easy and wonderful ways to create a cozy corner as well.
Natural greenery enhances any space and is one of my best choices for creating an oasis of nature.
If you have overhead lighting, a ceiling fan is a wonderful idea as well for the nights when it's hot out and you'd like a soft breeze. 
Lastly, a beautiful hanging basket or easy DIY wreath adds tons of curb appeal to your fresh and pretty spring porch!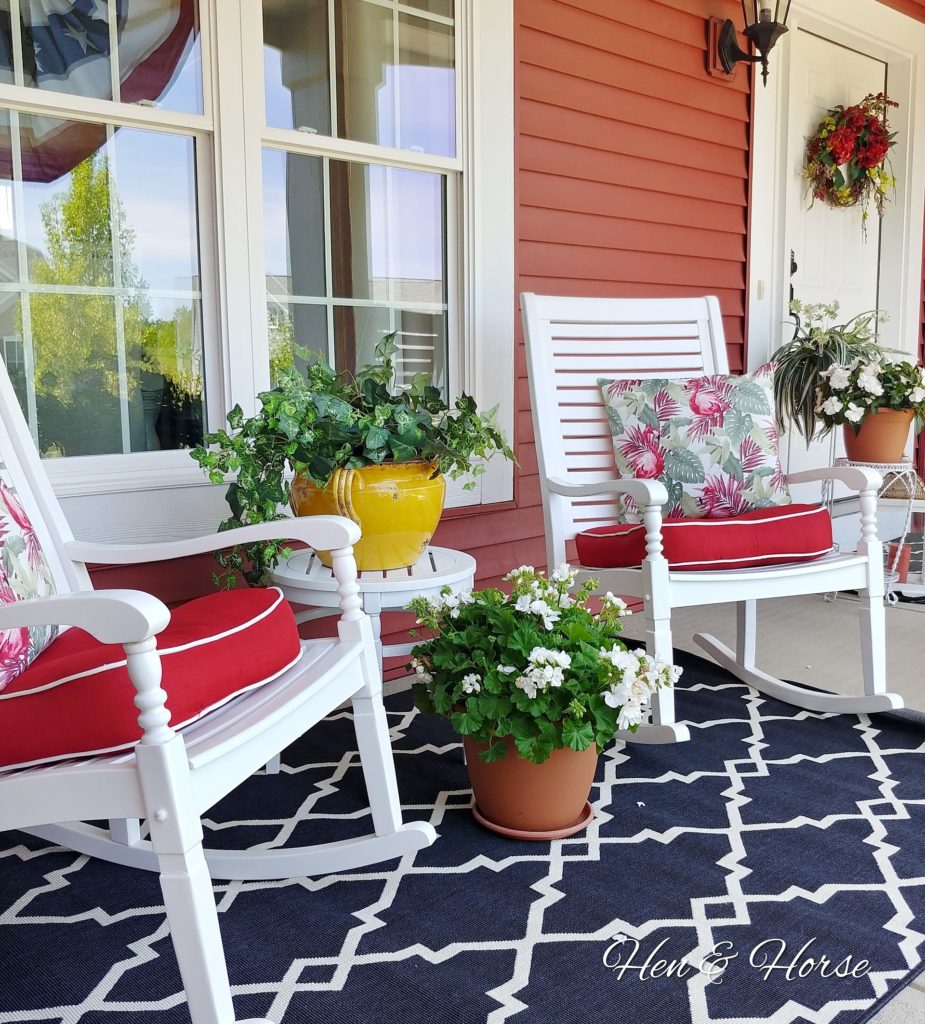 Shop & Source

Now that you are done, grab a cuppa coffee or tea, sit down and relax and enjoy the fruit of your labor!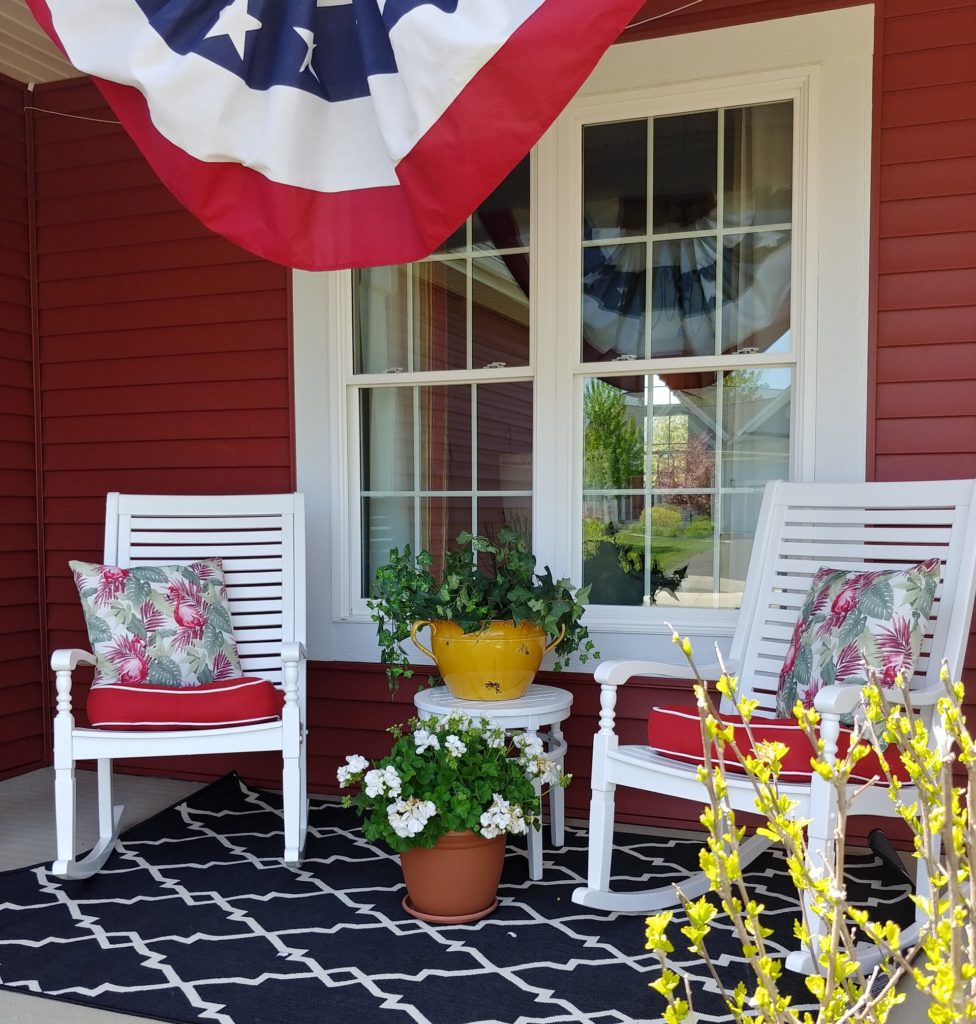 I hope you enjoy creating your welcoming oasis! If you enjoyed this post, you may enjoy reading my 20 minute house cleaning tips!
Happy Spring!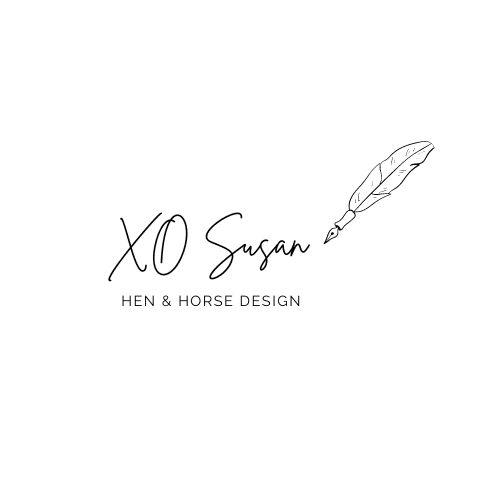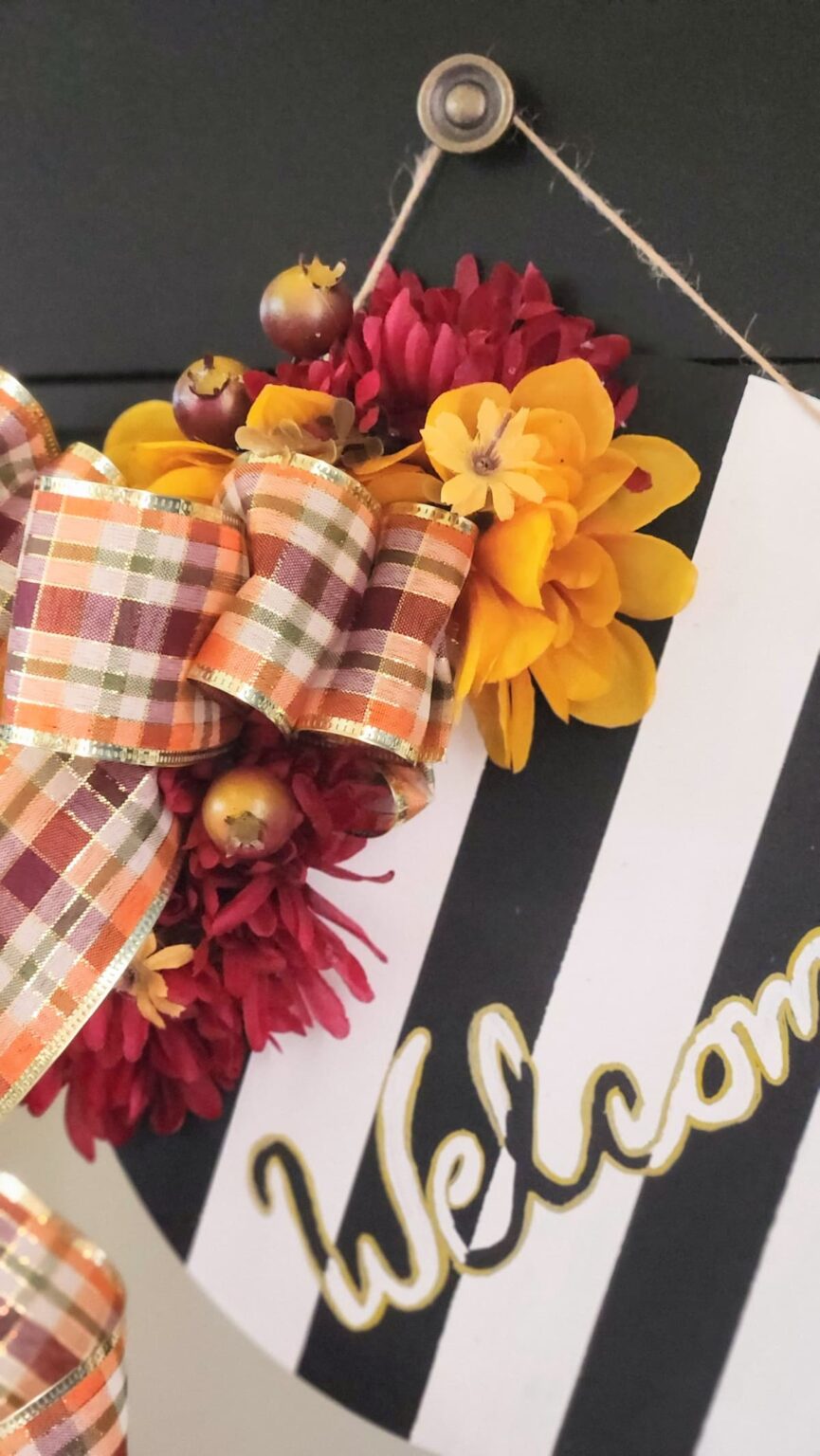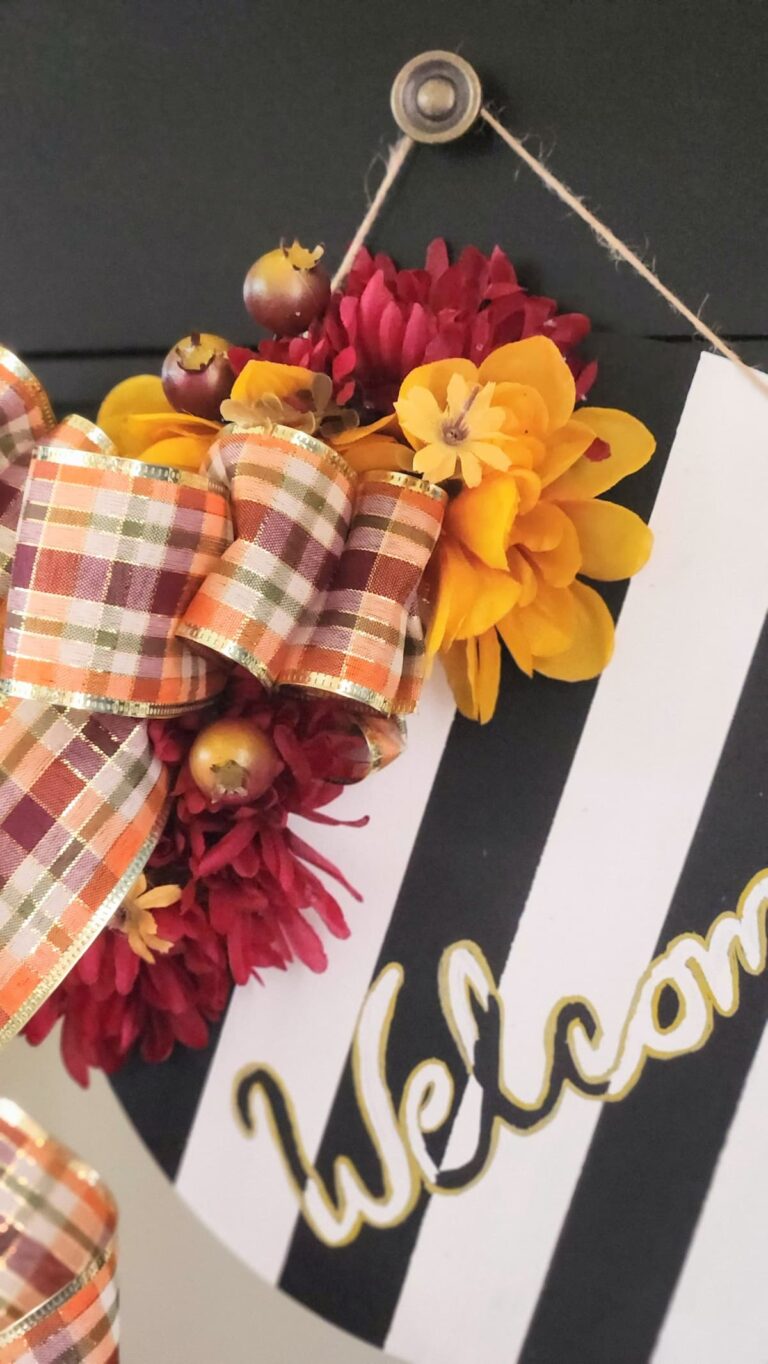 Hey there, crafty friend! Are you ready to dive headfirst into the wonderful world of DIY door hangers? Picture this: a cozy afternoon with your favorite tunes playing in the background, a table overflowing with colorful paints and craft supplies, and an empty wooden door hanger just waiting for your creative touch. It's like a mini canvas for your front door, and trust me, the possibilities are endless for a new pretty welcome sign.