Outstanding Bacon-Wrapped Pork Tenderloin Recipe
What's for dinner? How about this Outstanding Bacon-Wrapped Pork Tenderloin Recipe?
Does it seem like everyday dinner prep time rolls around so fast and comes with the thought, 'what am I going to make for dinner tonight?  I know that feeling all too well! Tonight how about making my Outstanding Bacon-Wrapped Pork Tenderloin Recipe! 
It's not that I don't like cooking. I really do enjoy creating and making a great meal for my husband and family! What I don't enjoy is being unprepared because I haven't planned what we are going to have. Last-minute meals always seem to end up being things that aren't as healthy for us. Do you find this as well?
Growing up dinner time was always so special to me. I have wonderful memories of that time with my family! (I remember hiding my peas behind my glass of milk as well, thinking no one would see them there and I wouldn't have to eat them  haha)
Up next, I'm sharing my five top tips to make your mealtime prep more enjoyable and with a lot less stress. I am all about keeping things simple and fun.
My 5 Best Tips for Making My Bacon-Wrapped Pork Tenderloin
The first tip is to decide what you are going to eat early in the day! For me, I decide typically by ten o'clock in the morning, which means I can take any meat or fish out of the freezer in time to thaw out for cooking later! I use a subscription box called Butcher Box which has been invaluable for helping with my meal planning. No more running to the store at the last minute for dinner ingredients! I open my freezer and have what I need right there!
My second tip is not to wait until you are hungry to start cooking! Give yourself time to prep and enjoy the process. When you are rushed it isn't as much fun for sure.
This next tip is probably my favorite one! Setting your table! I learned this from my mom. At the time, I was young and I really didn't fully appreciate how or why she would set the table so 'early' in the day. 
This is the best tip!
My mom was notorious for setting the table really early! One year I recall our Easter table was set three days in advance! When you set the table early she would say, "all you have to do is make a meal". How true is that! It sets the tone and gets you in the mindset of preparing your dinner. I cannot stress this enough. There is nothing like trying to cook, time your dinner, and then have to worry about getting everything set on the table, the glasses, the butter dish, the candles, etc.  When dinner is hot and ready to eat, the last thing you want to do is try and get all the dishes on the table. 
Preparing your table early allows you the time to fuss a bit as well and makes your dinner table look fabulous.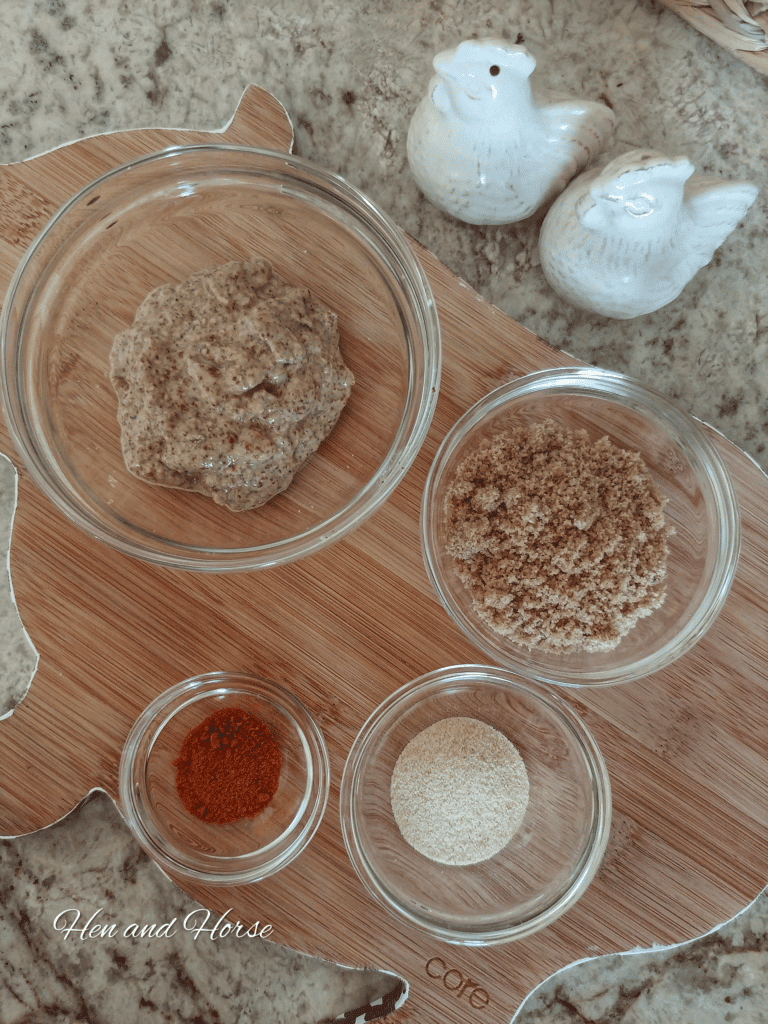 ""As an Amazon Influencer, I earn from qualifying purchases. This post may contain affiliate links which means I may earn a small commission. You may read my
disclosure policy here
".
Ingredients
What you will need!
10 Strips of Bacon
1 Pork Tenderloin (about 1 lb to 1  1/2 lbs)
1/3 cup Dijon Mustard
3 Tablespoons Brown Sugar
1 1/2 tsp. Garlic Powder
1/2 tsp. Cayenne Pepper
Salt and Pepper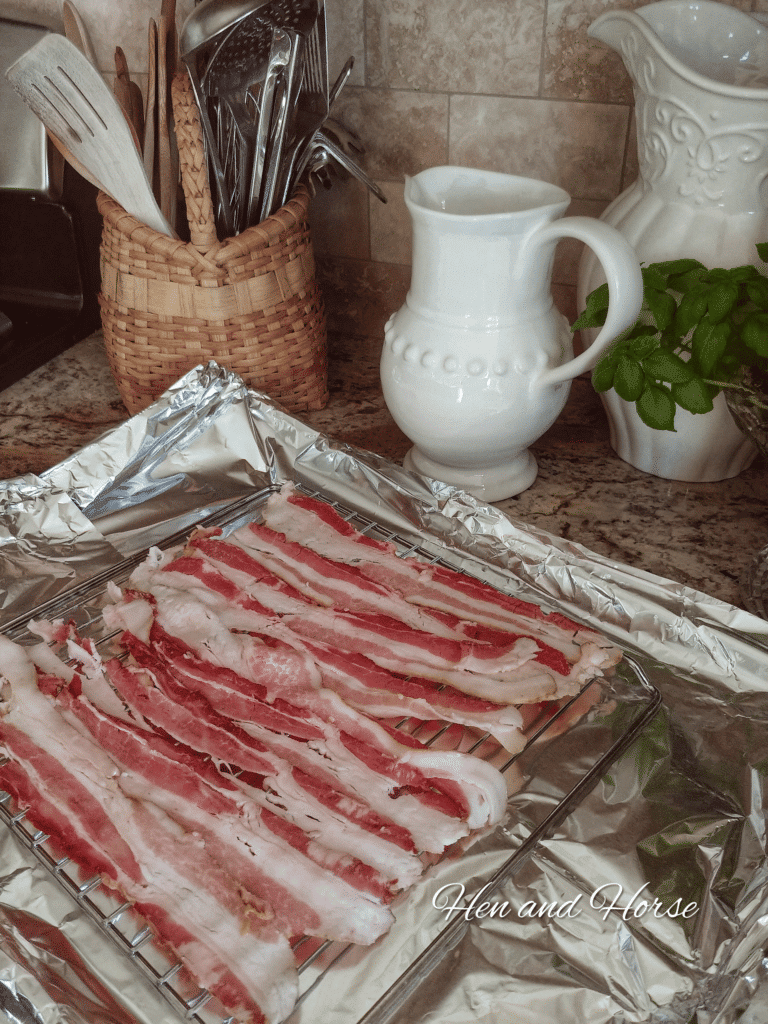 Preheat oven to 375 degrees
Lay bacon on a baking sheet. Bake until the bacon has rendered some of its fat but still flexible and hasn't begun to brown – about 15 minutes
Be Generous with Salt and Pepper – Sprinkle on the Tenderloin
In a small bowl, stir together the mustard, brown sugar, garlic powder, and cayenne pepper. Coat the tenderloin with the mixture on both sides
Start at one end and wrap the bacon strips around the tenderloin, overlapping them
Place the tenderloin on the baking rack and bake until roast is 130 degrees at the thickest point – about 17 minutes
Slice into 1-inch strips and serve.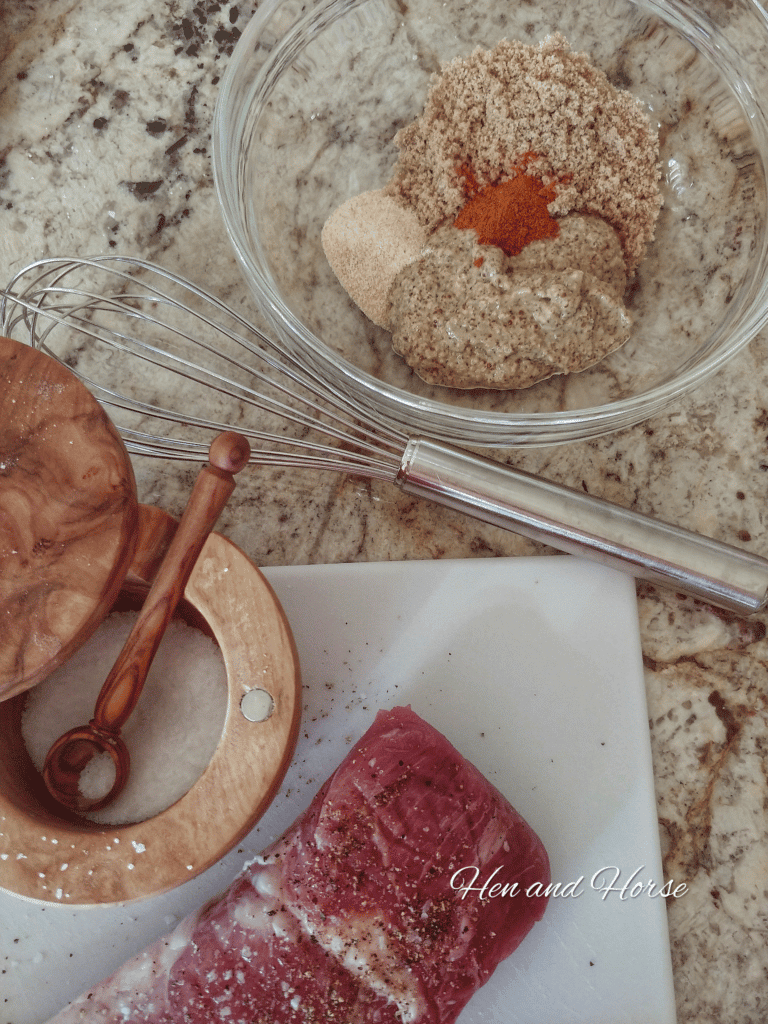 Shop All the Links Here
You can add any accompaniments you like! We love a fresh green salad, sweet potatoes, string beans, or mixed vegetables!
If you enjoyed this post, you may enjoy my strawberry dessert recipe. 
Bon Appetito! I hope you enjoy this outstanding meal as much as my family does. 
XO Susan