How to Freshen Up Your Front Door with a New Floral Basket Arrangement
How to freshen up your front door with a new floral basket arrangement. Let's freshen up your front door. I'll show you how!
Looking to spruce up your outdoor space? A fresh floral basket arrangement is a great way to instantly add life and charm to your front door!
Making a flower basket for your home's entranceway can be both fun and simple. This blog post will show you how to put together the perfect floral arrangement that will add elegance and personality to the entrance of your abode in no time!
How can I make my front door look better?
Adding more color around your front door is a great way to transform its look. A floral basket arrangement on each side can do wonders! Consider different flower varieties, hues, and seasonal plants to create an eye-catching display that is sure to draw attention.
Adding bright colors can make your home feel warm and welcoming while complementing the existing decor. If you really want to take it up a notch, you can use lush greenery instead of floral arrangements for a bolder statement. Either way, some minor changes are all you need to spruce up the entrance of your house!
How to make a hanging floral basket arrangement
The fun thing about faux florals is that you get to create whatever it is you want with them!
When I went shopping for a new front door decoration, I wasn't able to find what I was looking for, so I decided to make one on my own!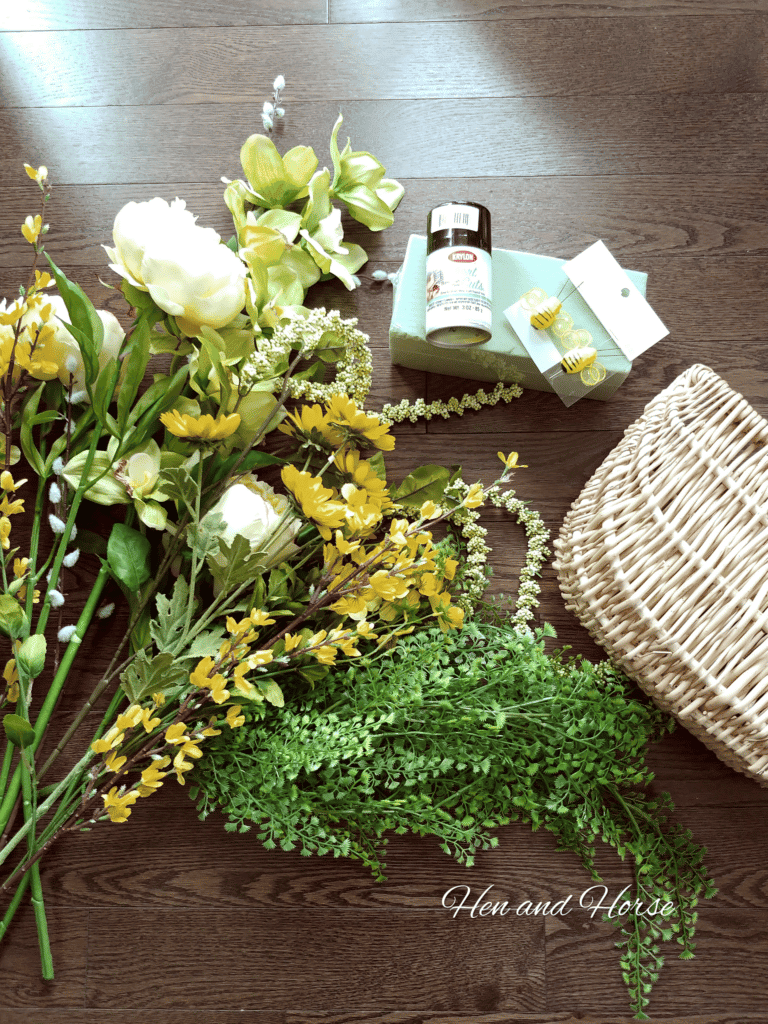 "This post may contain affiliate links which means I may earn a small commission. You may read my
disclosure policy here
".
What you will need
Choose your materials
You will need a hanging basket, floral wire, wire cutters, faux flowers, and scissors. You can find all of these materials at your local craft store.
Cut the stems of your faux flowers
Using wire cutters, cut the stems of your faux flowers so that they are about 6 – 10 inches long.
Create a base for your floral basket arrangement
Using the floral wire, create a base for your arrangement by wrapping the wire around the rim of the hanging basket. Make sure that the wire is secure so that your arrangement will not fall out of the basket.
Add the flowers to the basket
Now it's time to add your flowers to the basket! Start by adding the larger flowers first and then fill in with the smaller ones. Once you're happy with the way it looks, snip off any excess stem with scissors.
Hang your arrangement
Your front door is the perfect place to showcase your beautiful new floral arrangement.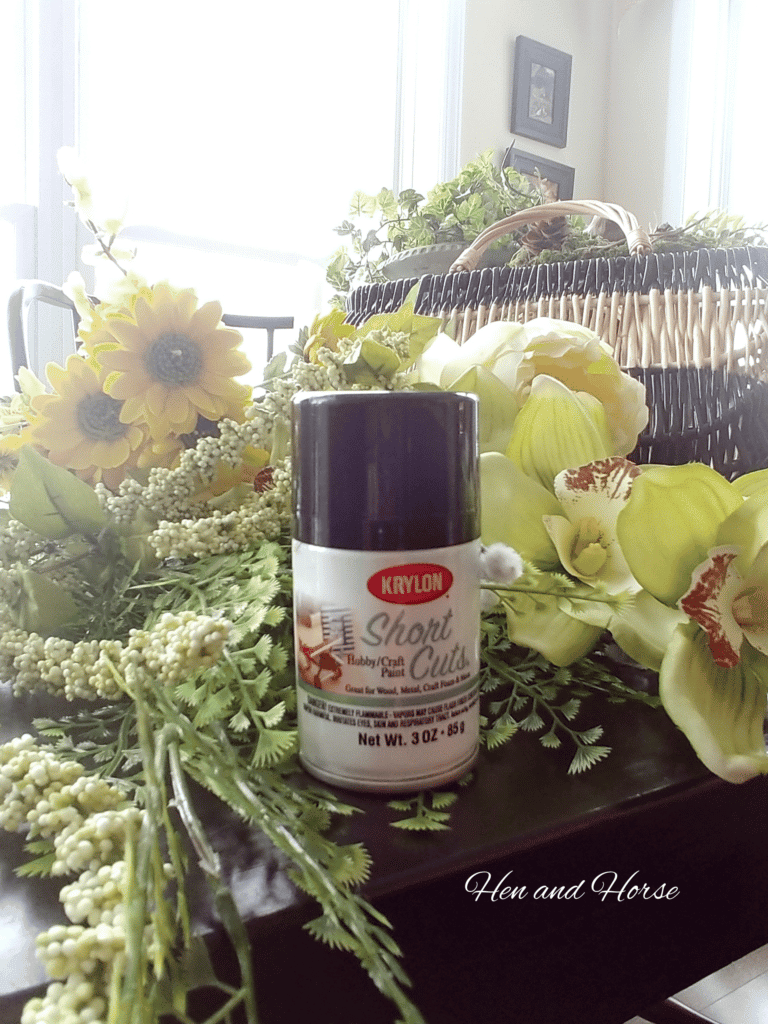 How I created my basket
I found this pretty wicker basket (this one is similar)  and thought I would paint half of it black. making new arrangements is something I've always loved to do.
Since my front door is white, I wanted my door decoration to show up and pop against the white backdrop!
I used frog tape to protect the part I wanted to keep wicker and then Krylon spray paint in black. 
What I Did Next
After the paint dried, I added three small pieces of green foam (blocks) on the inside to be able to secure the stems.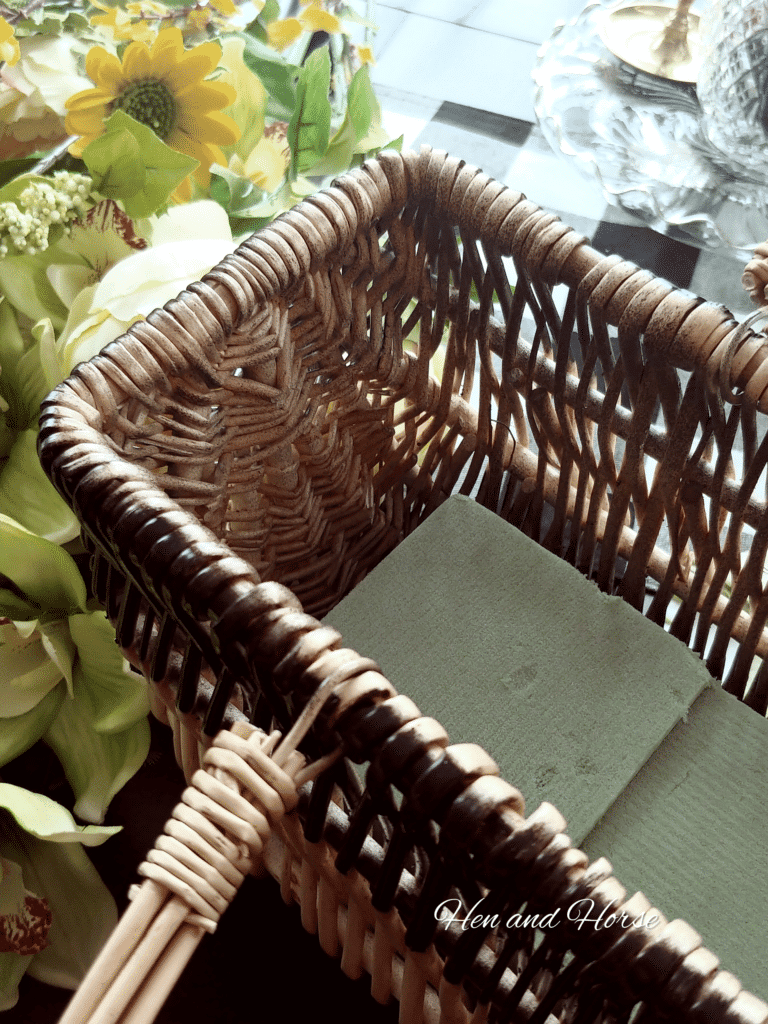 This is where you can get really creative. There is no right way or wrong way to add your faux florals…..just do what you like!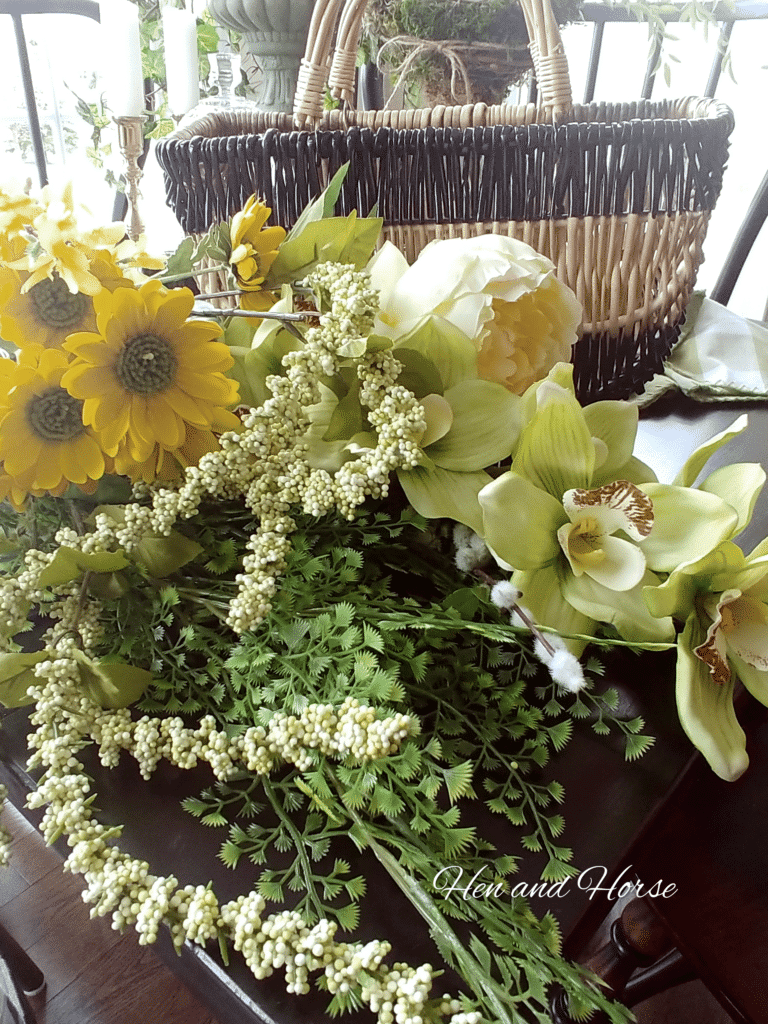 Lastly, I added a neck scarf bow I had laying around or you can make a bow from ribbon if you like!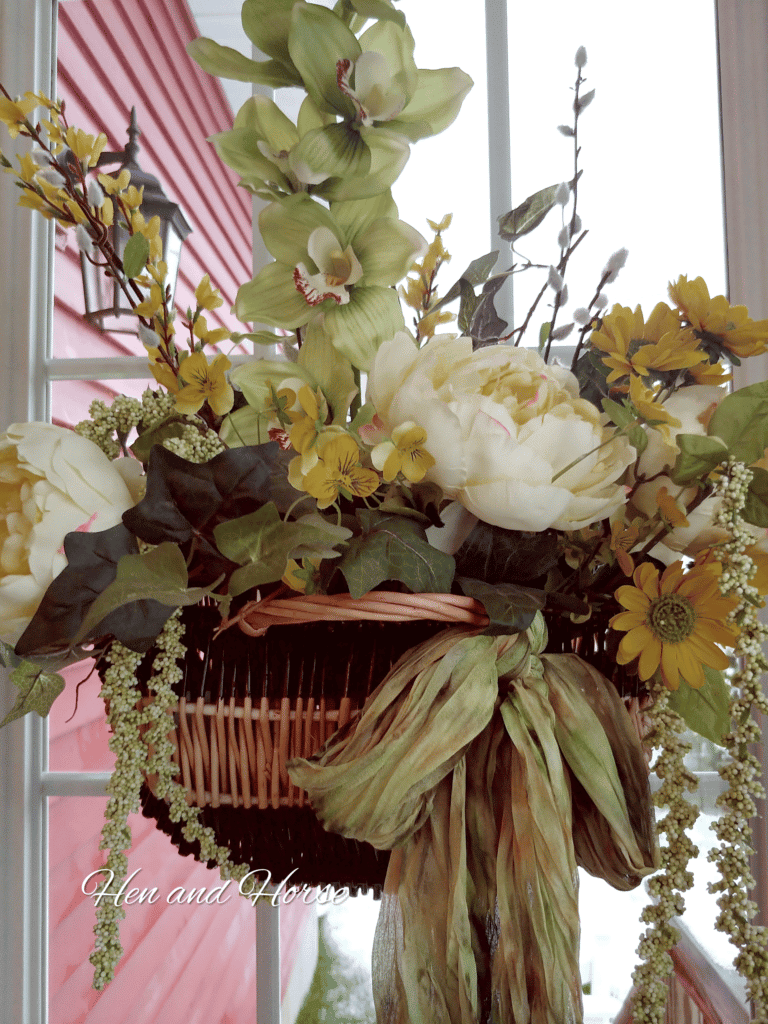 When I went to take a photo of the floral basket arrangement on my front door, I discovered a nest of baby birds in my late winter/early spring wreath! Yikes, I had moved it inside the door and heard the momma bird outside chirping in distress!
Onto a new plan. I took a photo of the basket on my back door so you could see it. I guess I am going to have to wait to hang it on my front porch! Stay tuned. We had snow today, so my porch update is going to have to wait.
Baby Birds and snow! Do you have this going on where you live? 🙂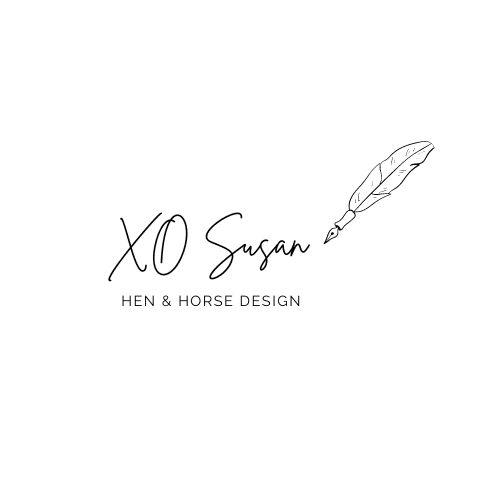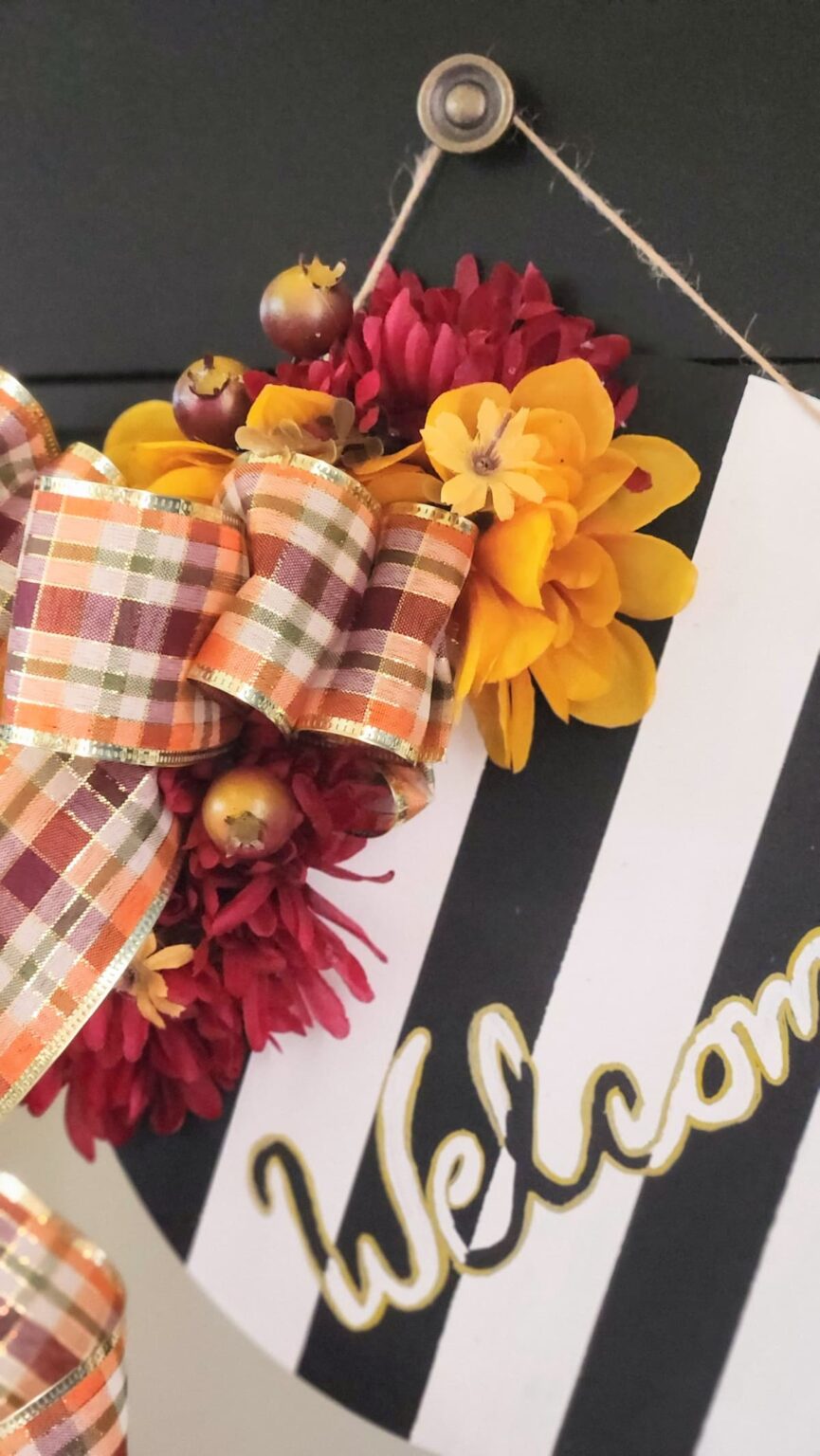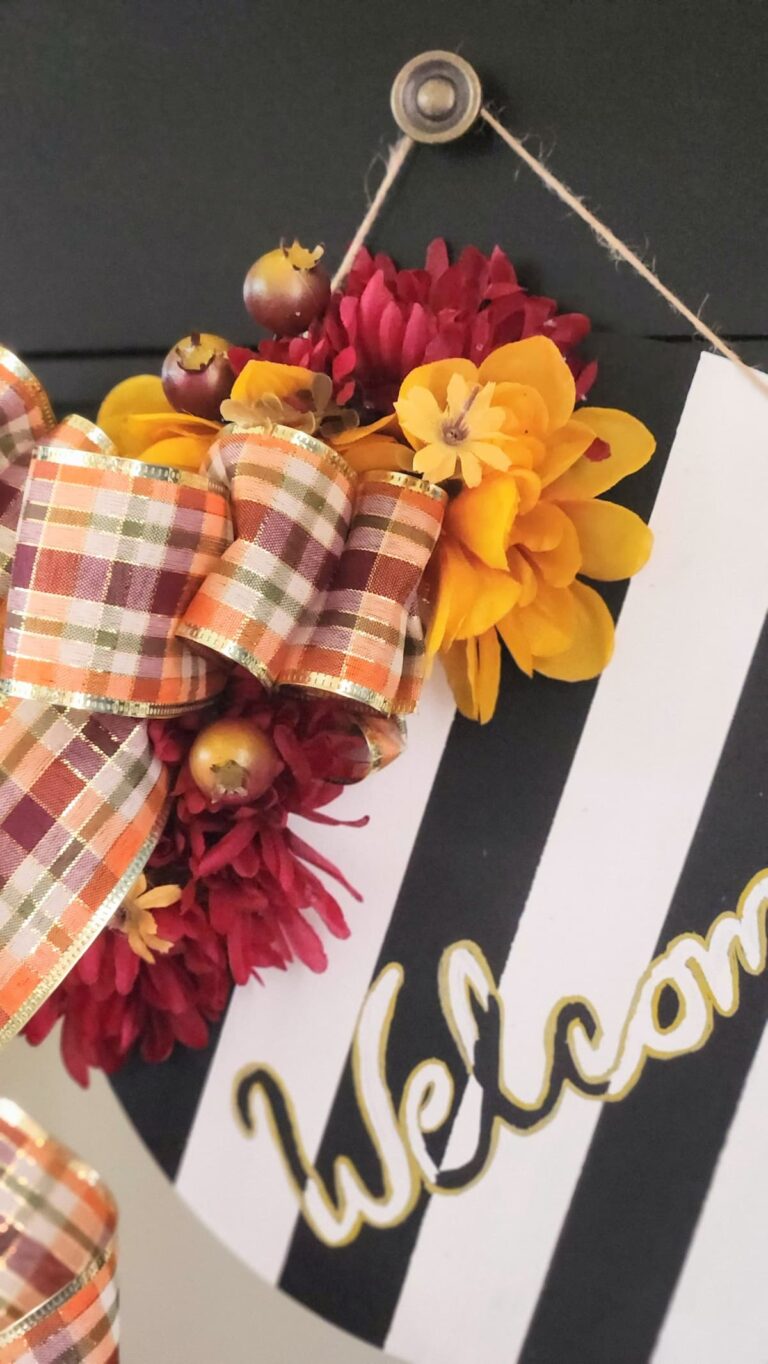 Hey there, crafty friend! Are you ready to dive headfirst into the wonderful world of DIY door hangers? Picture this: a cozy afternoon with your favorite tunes playing in the background, a table overflowing with colorful paints and craft supplies, and an empty wooden door hanger just waiting for your creative touch. It's like a mini canvas for your front door, and trust me, the possibilities are endless for a new pretty welcome sign.