How to Make a Valentine Floral Arrangement
Looking for a simple Valentine Floral Arrangement you can make at home? Oh Good! I have an easy arrangement you can make in ten minutes.
 Today I'm sharing How to Make A Valentine Floral Arrangement for your home! There is nothing as sweet as fresh flowers in a home! Especially, for Valentine's Day!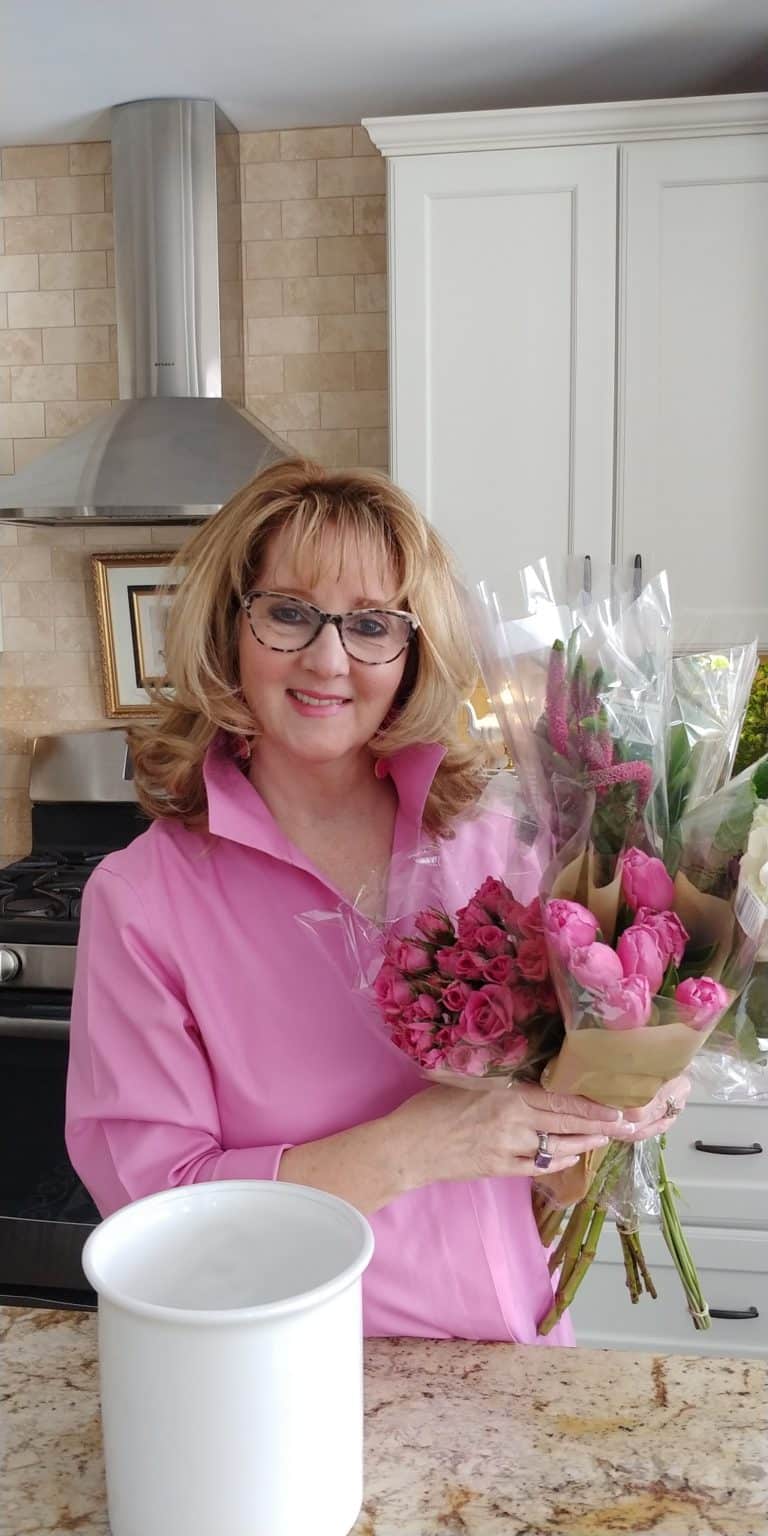 "This post may contain affiliate links which means I may earn a small commission. You may read my
disclosure policy here
".
A Winter Survival Kit Definitely Includes Flower Arranging 
Before I get into my Valentine Floral Arrangement can I stop and say, what about these frigid temperatures we are having? We've had about three weeks of temperatures in the teens or below! 
We have six inches of snow on the ground currently, with a forecast of several inches coming overnight. Whew!!
As a result, I'm finding such pleasure in buying a bouquet of flowers each week, to hold me over until Spring!
Where to Buy Flowers
First, the best place I've found to purchase flowers is at our local Trader Joe's store.
During the summer months, there are many local farmer's markets, pick your own fields and garden shops for finding an abundance of flowers. This time of year in the northeast it's a bit more of a challenge. 
Trader Joe's offers a lovely variety and the pricing is fabulous. 
When Trader Joe's came to our town, I was quite pleased for several reasons.
A) They have so many tasty ideas for dinner time.
B) For only several dollars, I am able to add beautiful bouquets to our dining table.
In this bouquet, I've used five bunches of flowers for $3.99 each. 
C) Have you tried their Raisin Rosemary Crisps? So, so good with goat cheese. I digress! 
Tulips, Roses & Hydrangeas
I've used one bunch of pink tulips, one bunch of pink baby roses, one bunch of white hydrangeas, pink veronica stems, and a bunch of greenery for this particular flower vessel.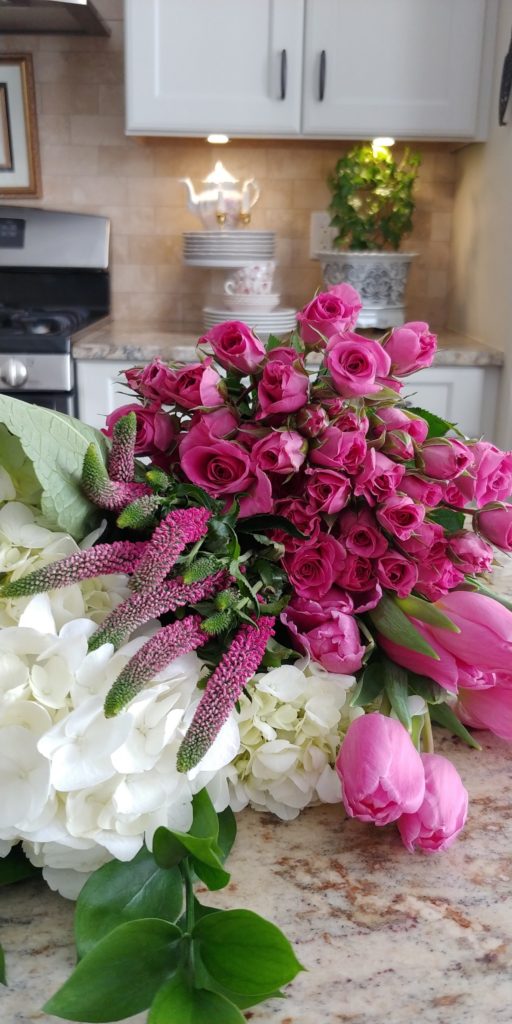 To begin, I started with the greenery, then added the large hydrangeas. 
Up next was to add the tulips, the roses, and finally the veronica! 
https://www.henandhorsedesign.com/wp-content/uploads/2022/01/0128221158.mp4
I'm all about the pinks right now! I've linked a few faux flower stems below from Afloral.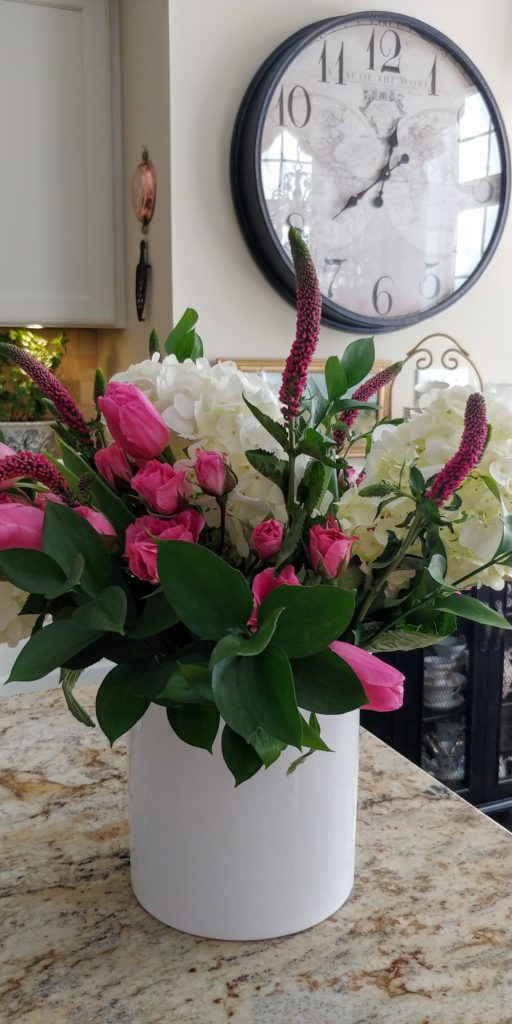 Ta-Da! I cannot wait to put this in the center of our table! 
Up next, I'll be sharing my Valentine's table setting! I'm so excited to share this with you! Stay Tuned! 
I'll give you two hints….it will be using pinks. I'm going to add these for after-dinner treats. 
I hope you enjoyed this post and are inspired to create your own Valentine Floral Arrangement! 
Comment below, and let me know your thoughts! I'd love to hear what you think!
XO Susan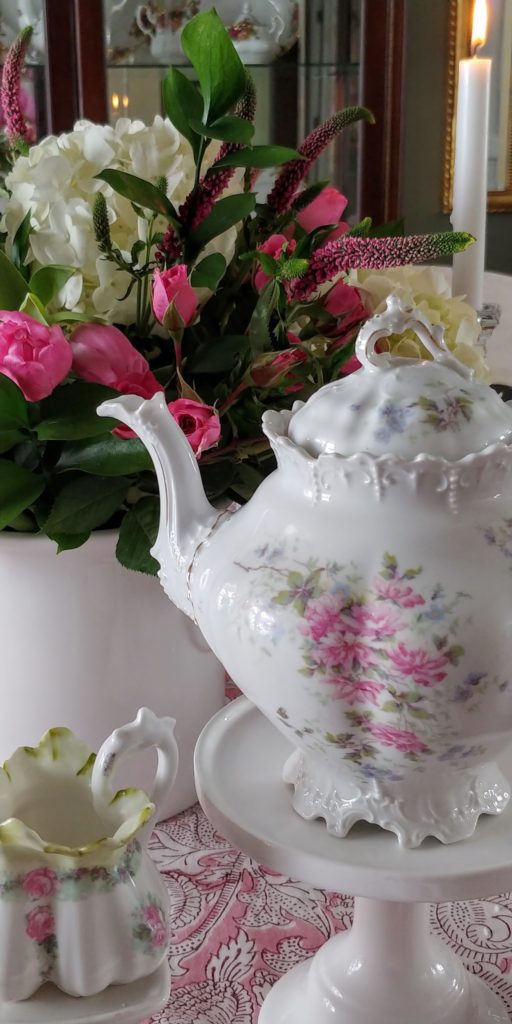 Affiliate links have been used in this post, which means I earn a small commission, but it won't cost you a penny more.