Best Spring Lettuce with Leeks Keto Soup Recipe
Fresh spring lettuce, paired with tarragon, makes this Best Spring Lettuce with Leeks Keto Soup Recipe perfect for a summer soup.
Plus it's a great addition to your keto diet and very healthy!
Soup isn't just for wintertime. I love a great soup with fresh veggies from the garden this time of year.
What I love most about this soup, is the unique flavor the tarragon adds. It's so delicious. If you are not on a keto diet, that is okay too! I have several options for other alternative additions you can add or take out!
The other thing I love is that the whole dish of low-carb vegetables can be made in just under thirty minutes.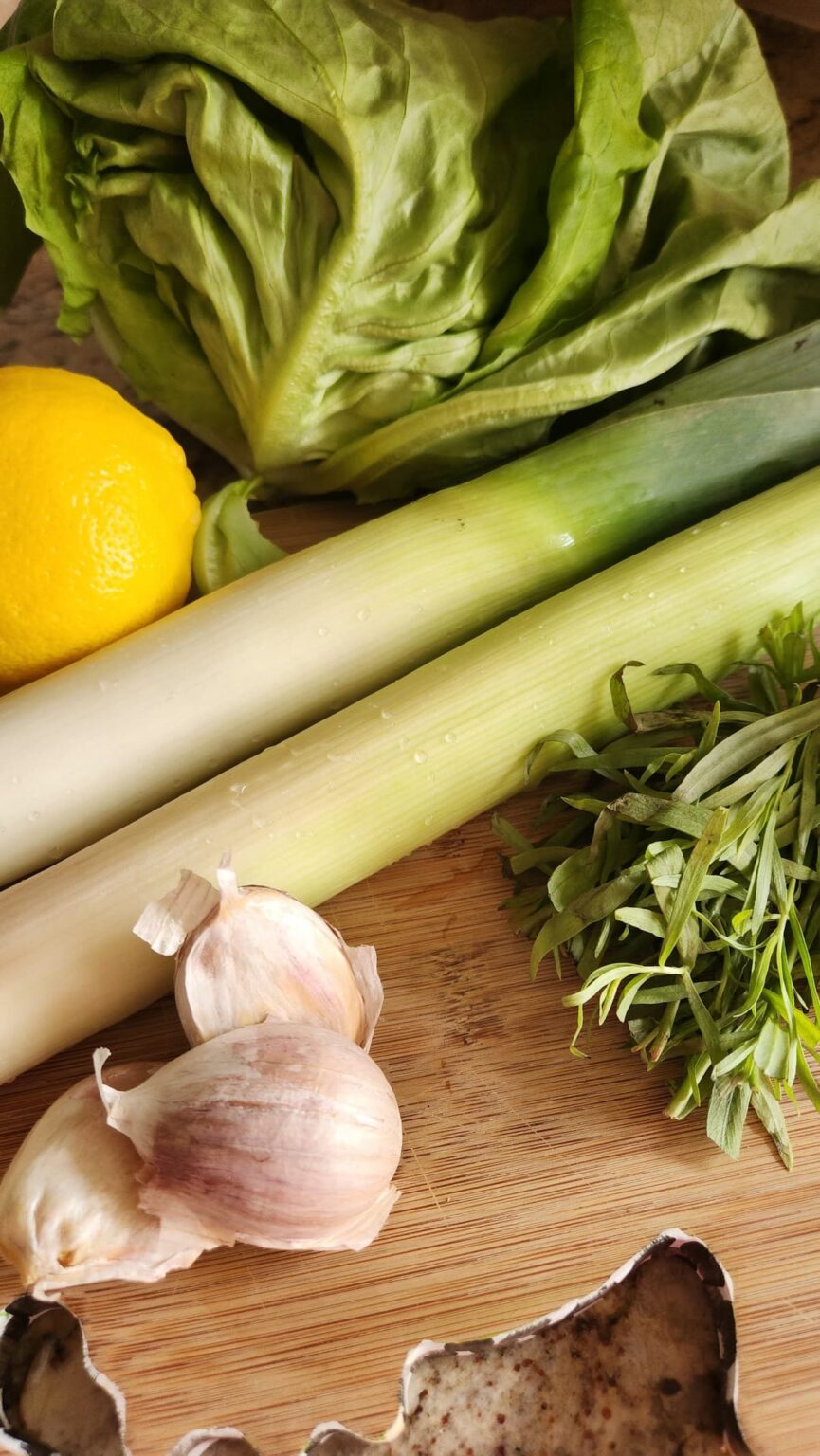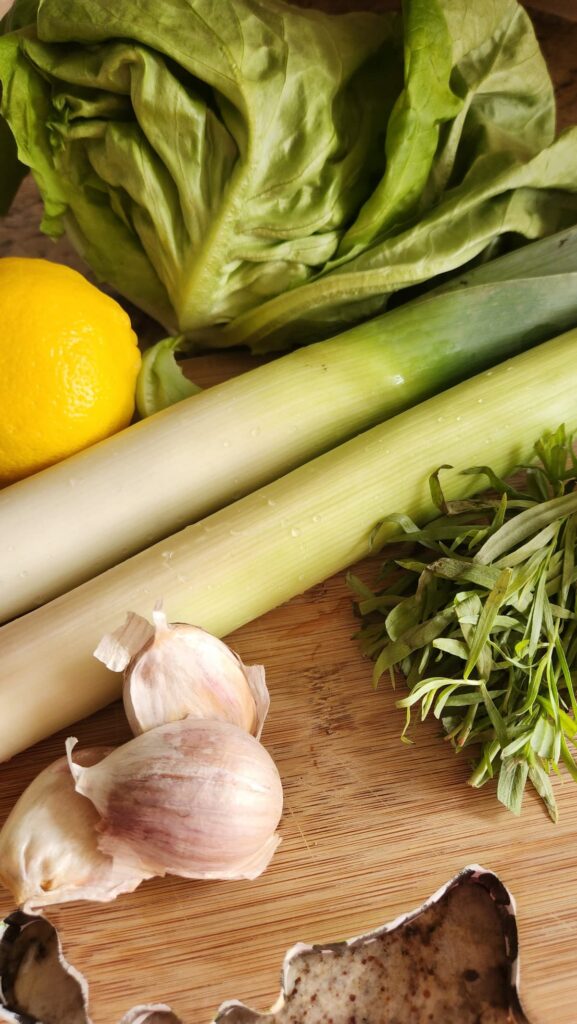 "This post may contain affiliate links which means I may earn a small commission. You may read my
disclosure policy here
".
---
"Soup is like duct tape. It fixes everything"

— Author Unknown
---
Are you familiar with leeks?
Deciphering the differences between the different types of onions can be daunting. There must be at least 20 different types of onions. For today, before we get started with my leek recipe, I am going to share with you just a few clarifications on the various types of sweet onions.
Deciphering the difference between onions
Green onions, spring onions, and scallions are all about the same. Each one has a sweet flavor, with some being milder than others. Then you have shallots. See what I mean, there are already four types and I've only just touched the surface. Leeks on the other hand are a bit different for several reasons.
Green onions & Spring onions
First, green onions have a sharper flavor and are a great option for cooking. Next, are spring onions. Spring onions are basically green onions but have a round white bulb on the end. If spring onions are not picked they will grow into a larger onion.
Scallions
One of my favorite simple ingredients to add are scallions. Scallions are slim in size, with a small narrow bulb, and are sold in bunches. Scallions may be added to everything from omelets to salads, soups, and main dishes. I always have a bunch of scallions in my refrigerator.
Leeks
Up next, we have leeks. Leeks are more cylinder in shape and have longer end bulbs.  Leeks are not considered to be a root vegetable, although green or spring onions are considered root vegetables. Green onions will have a stronger flavor than their leek counterpart.
What I love most is that leeks add a mild flavor to dishes.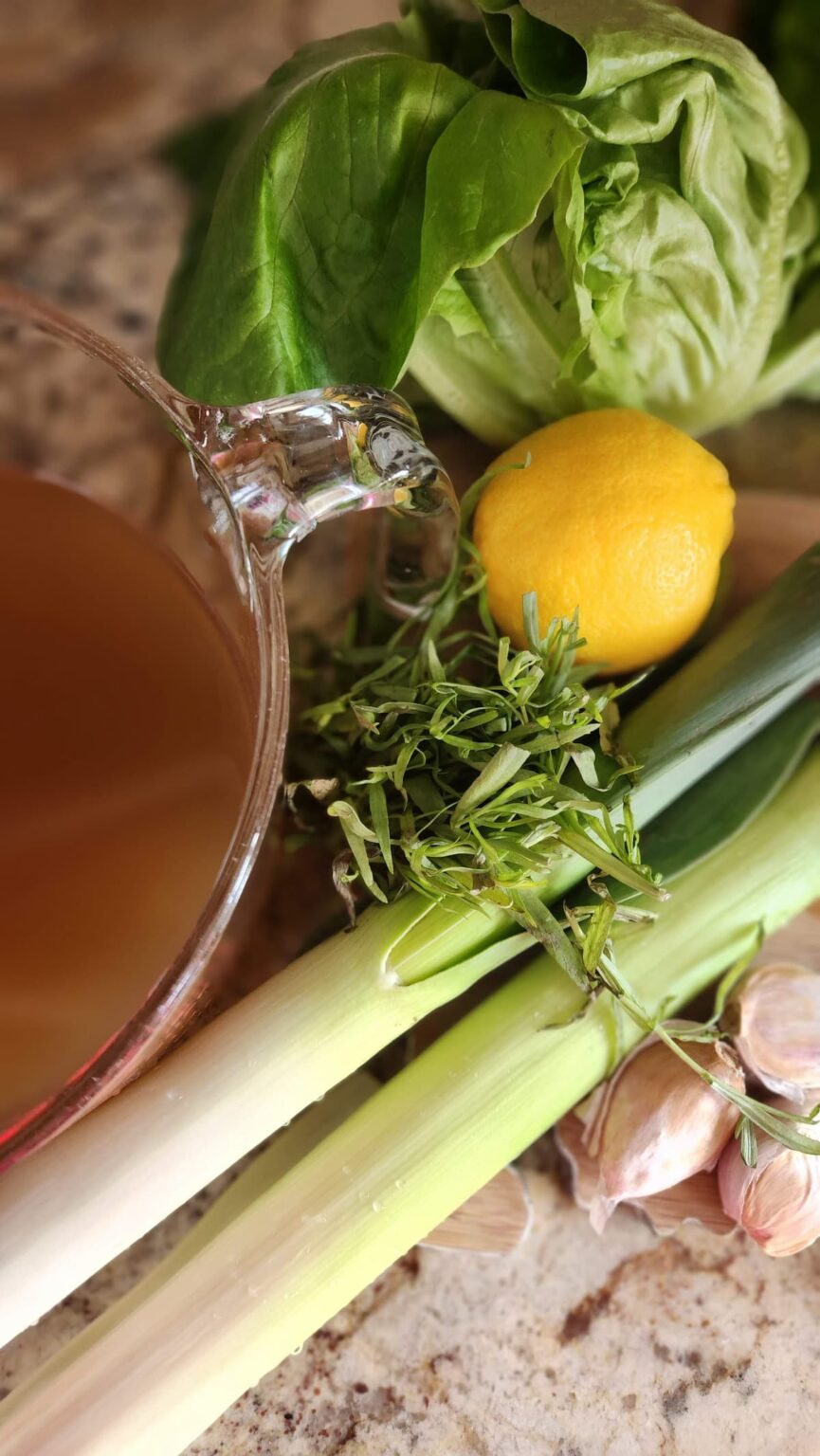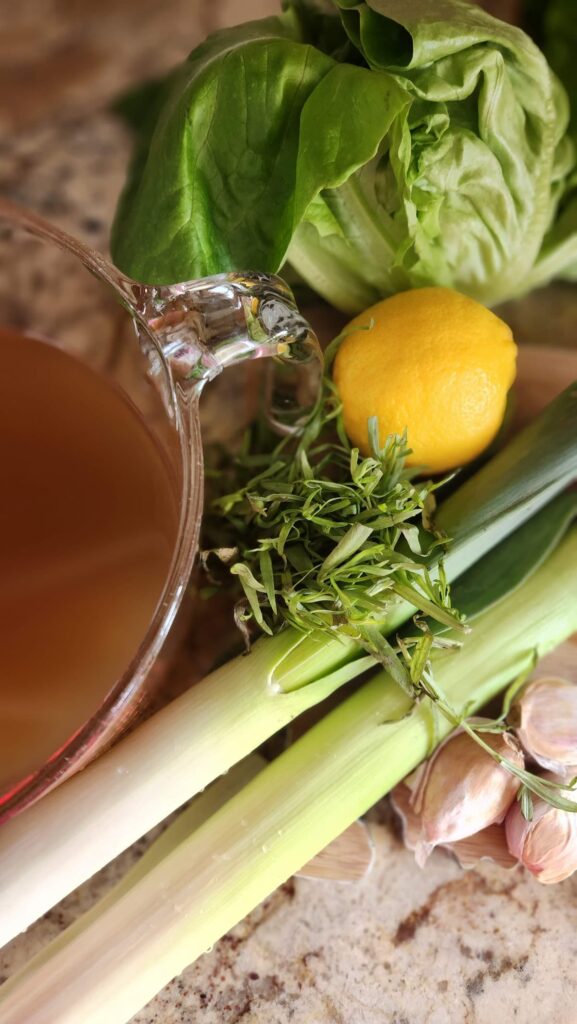 Can you have leek on keto?
While leeks can pack in with carbs, the small amount you'll use in this tasty keto soup is lower in carb content. So yes, you may have leeks on a keto diet plan. In fact, this superfood is high in Vitamin A, Vitamin E, and Vitamin K, along with a high level of flavonoids.
Are Leeks low carb?
Being on the lower end of low-carb foods, leeks will have about 14.5g per 100 grams. You can consider leeks to be low carb and a great choice for healthy weight loss.
What vegetables are keto-friendly?
Keto-friendly vegetable options
Spinach
Kale
Mushroom
Tomatoes
Brussel Sprouts
Cauliflower
Bell Peppers
Asparagus
Arugula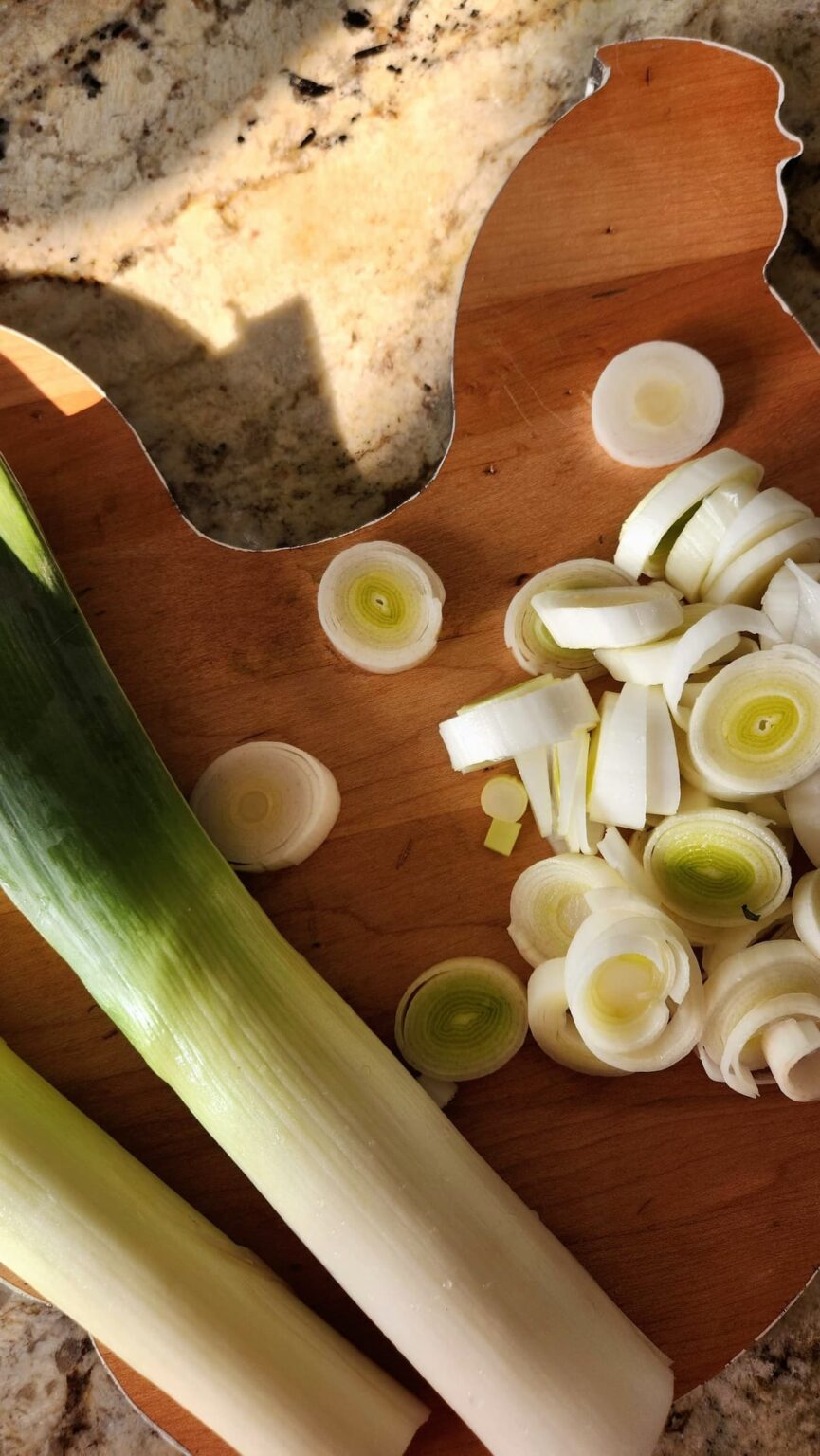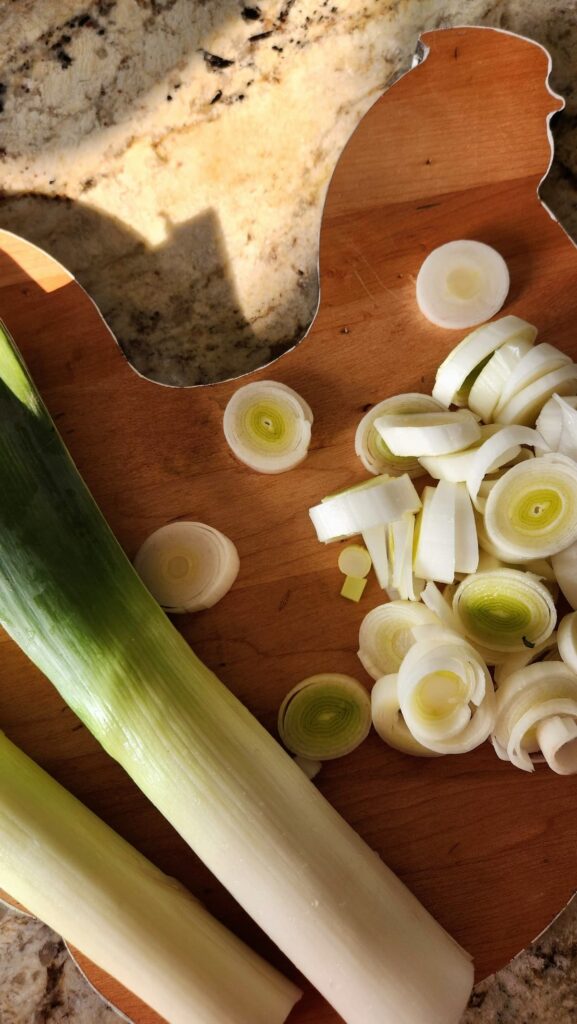 Ingredients you will need:
Olive oil (extra virgin is best)
Large Leeks
Medium Potatoes ( leave out for keto )
Carrots ( substitute with celery, cauliflower, or asparagus for keto )
Cloves of Garlic
Vegetable Stock (Chicken Stock may be used as well)
Frozen Peas ( For Keto substitute use green beans)
Fresh Tarragon
Spring Lettuce (romaine or butter)
Lemon
Salt and Black Pepper
Step-by-Step Instructions
In the first step, in a medium soup pot, heat the olive oil, three turns around the pot, over medium heat. No need for a large skillet. One pot may be used for the whole recipe.
Add the thinly sliced leeks, then season with salt and pepper. (the leeks can be used all the way up to the green parts)
Stir for two minutes, then cover and cook in the large pot until the leeks are softened, approximately 5 to 8 minutes.
Next, add the peas and tarragon. (substitute the peas with green beans, celery, or asparagus for keto) Fresh herbs are the best for great recipes.
Simmer until the vegetables are tender. If using vegetables that are frozen, about 5 minutes. For fresh veggies about 3 minutes. (When using any non-keto root vegetable such as carrots or potatoes, allow for a little longer cooking time)
Final steps
Add the spring lettuce and stir until slightly wilted, about 30 seconds.
Squeeze in the lemon juice.
Serve with delicious crusty bread or brie toast.
The serving size is approximately 6 servings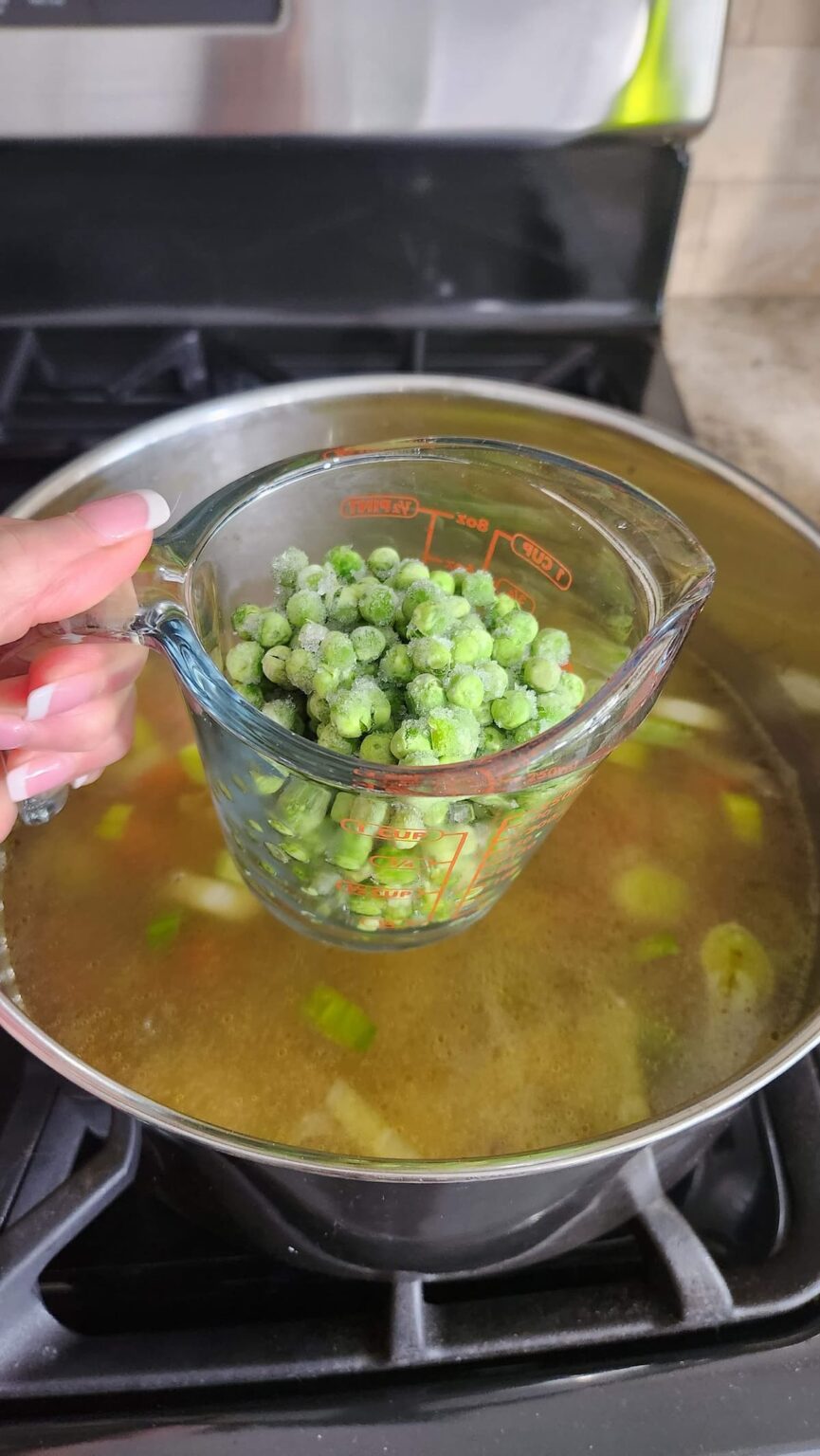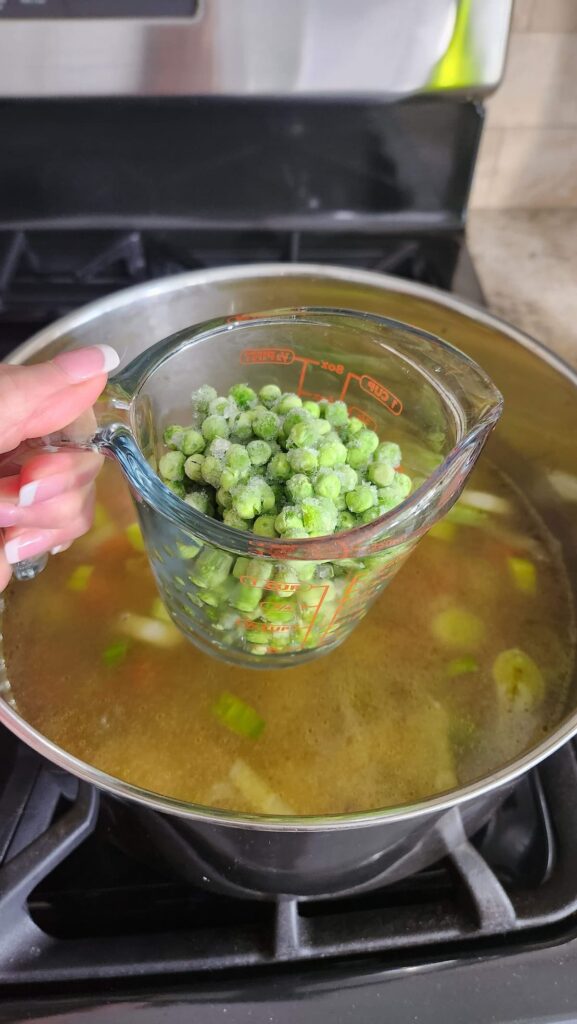 Using these simple ingredients, within 15-20 minutes you'll have made a big pot of healthy soup.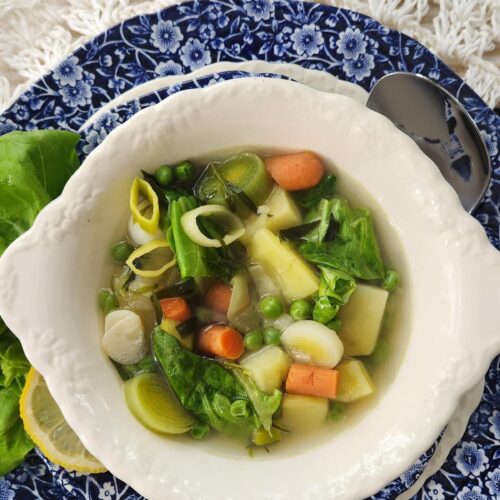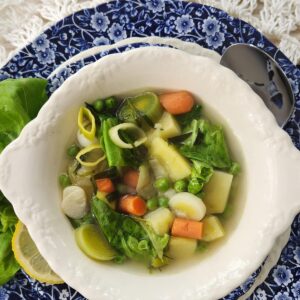 Best Spring Lettuce with Leeks Keto Soup Recipe
Fresh spring lettuce, paired with tarragon, makes this Best Spring Lettuce with Leeks Keto Soup Recipe perfect for a summer soup.
Plus it's a great addition to your keto diet and very healthy!
This light meal contains all the goodness of vegetables contained within a hearty broth. Even better? It only takes minutes to make!
Ingredients
3

tbsp

Olive oil

2

Leeks – trimmed, sliced and thoroughly rinsed

2

medium

Potatoes, peeled and chopped

Leave out for Keto

2

Carrots, sliced thin

Leave out for Keto

3

cloves

Garlic, Chopped finely

6

cups

Vegetable Broth

(Chicken broth can be used)

1

cup

Fresh or frozen peas or green beans

Leave out peas for keto

1/2

cup

Fresh tarragon leaves

Finely chopped

4

cups

Spring lettuce (butter or romaine)

Gently torn

1

Lemon, juiced

Salt and pepper to taste

crusty bread
Instructions
In medium stock pot, heat the olive oil over medium heat

Add leeks, potatoes, carrots and garlic

Season with salt and pepper

Cover and cook, stirring occasionally, until vegetables are soft (6 to 8 minutes)

Add the stock, peas and tarragon

Simmer until peas are tender, 3 minutes for fresh peas, or 5 minutes for the frozen peas

Add the lettuce and stir just until wilted (30 seconds)
Shop & Source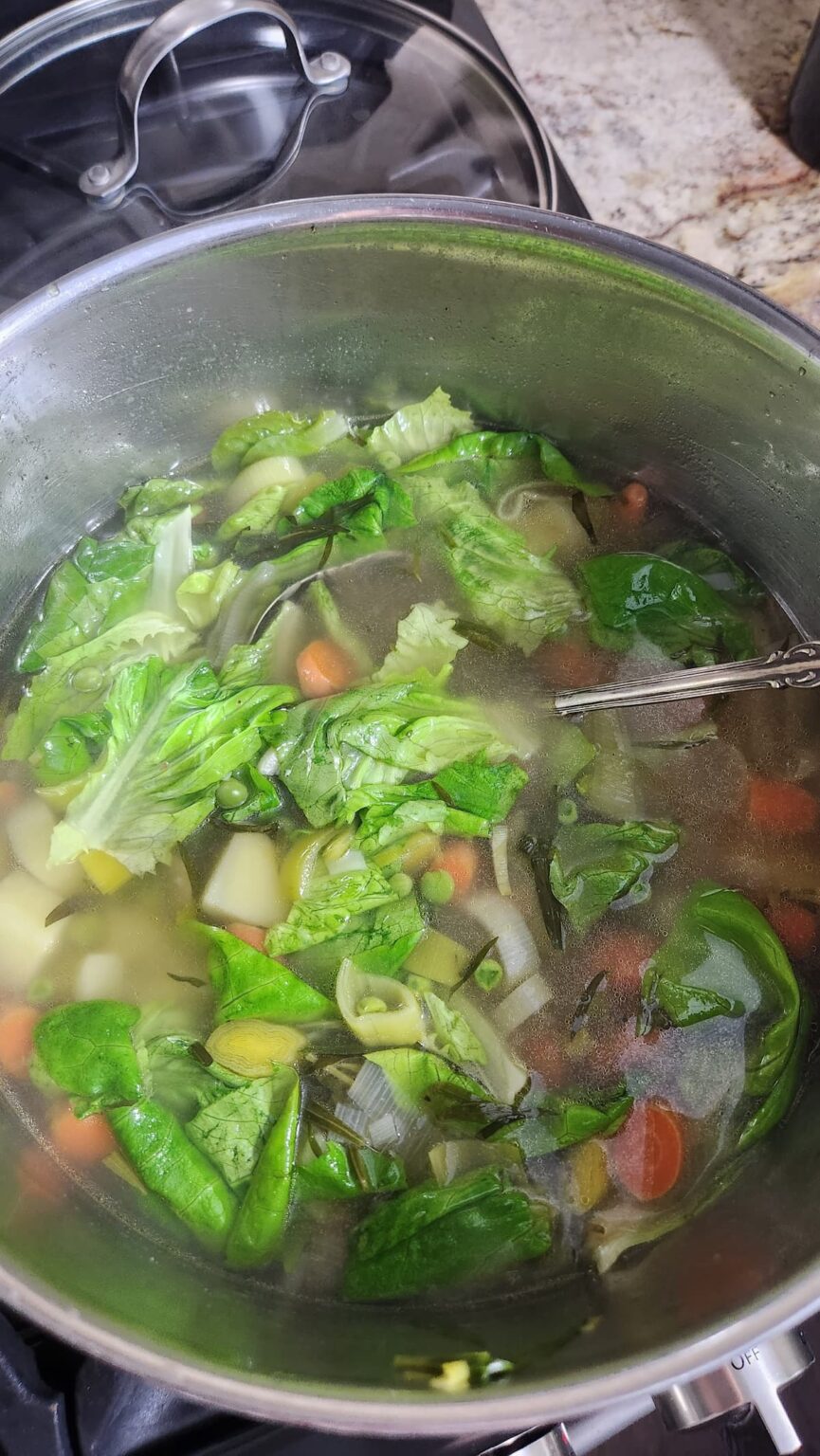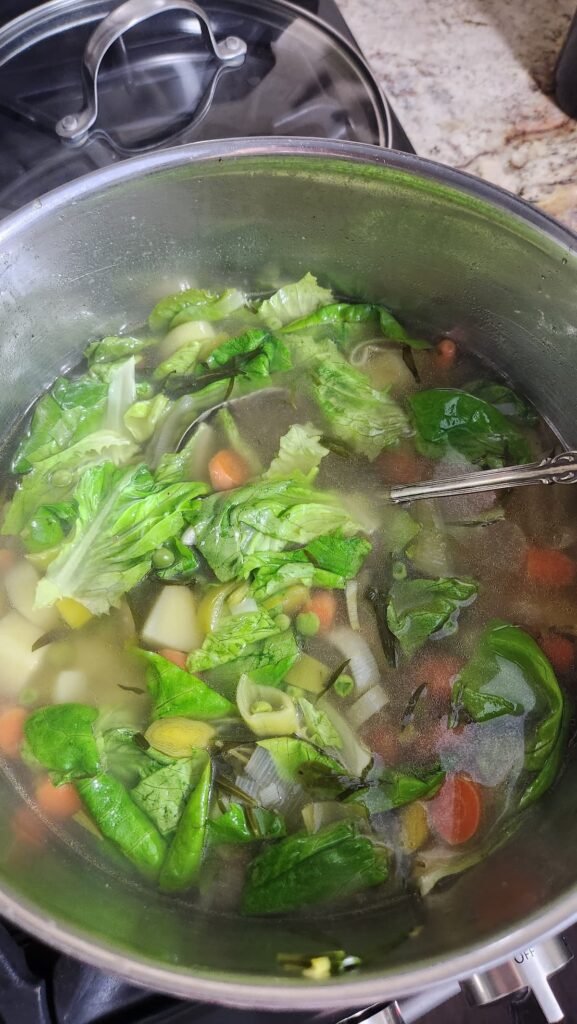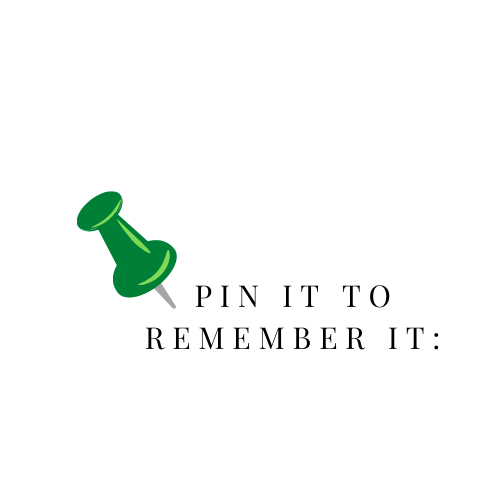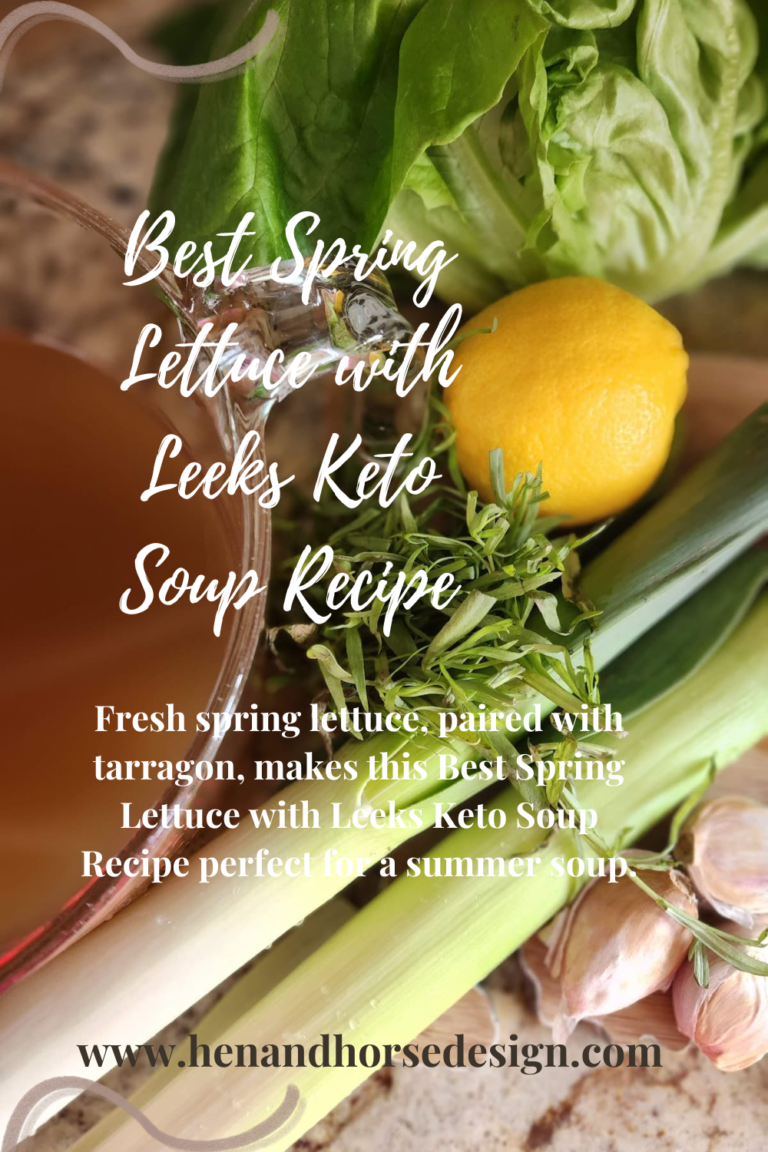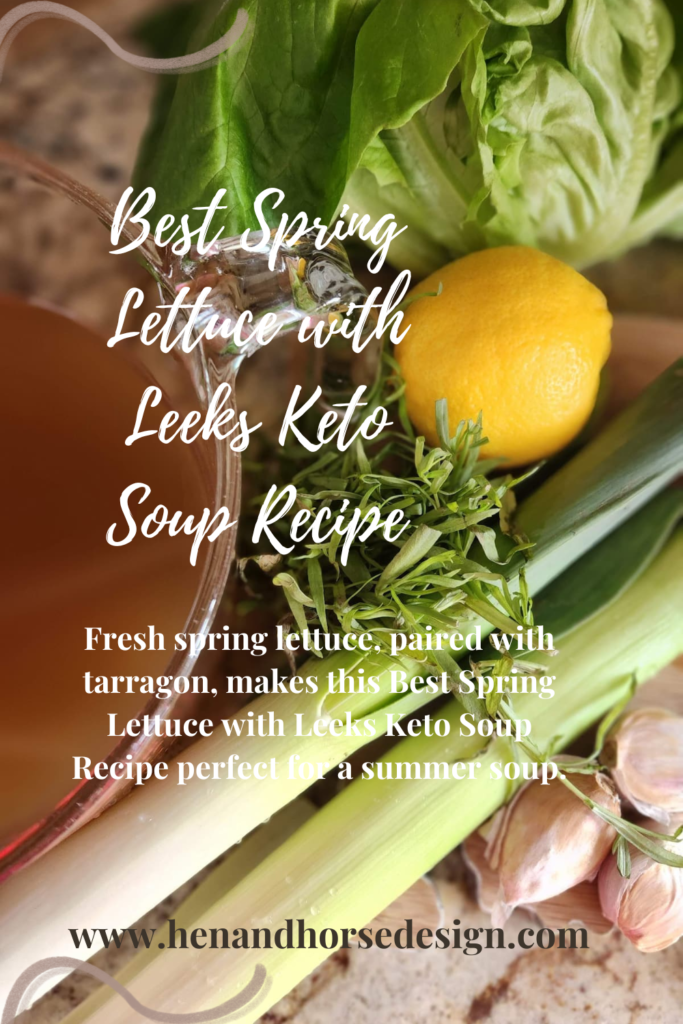 Looking for other great recipes or side dish recipes? Below are a few new recipes you may not have tried yet.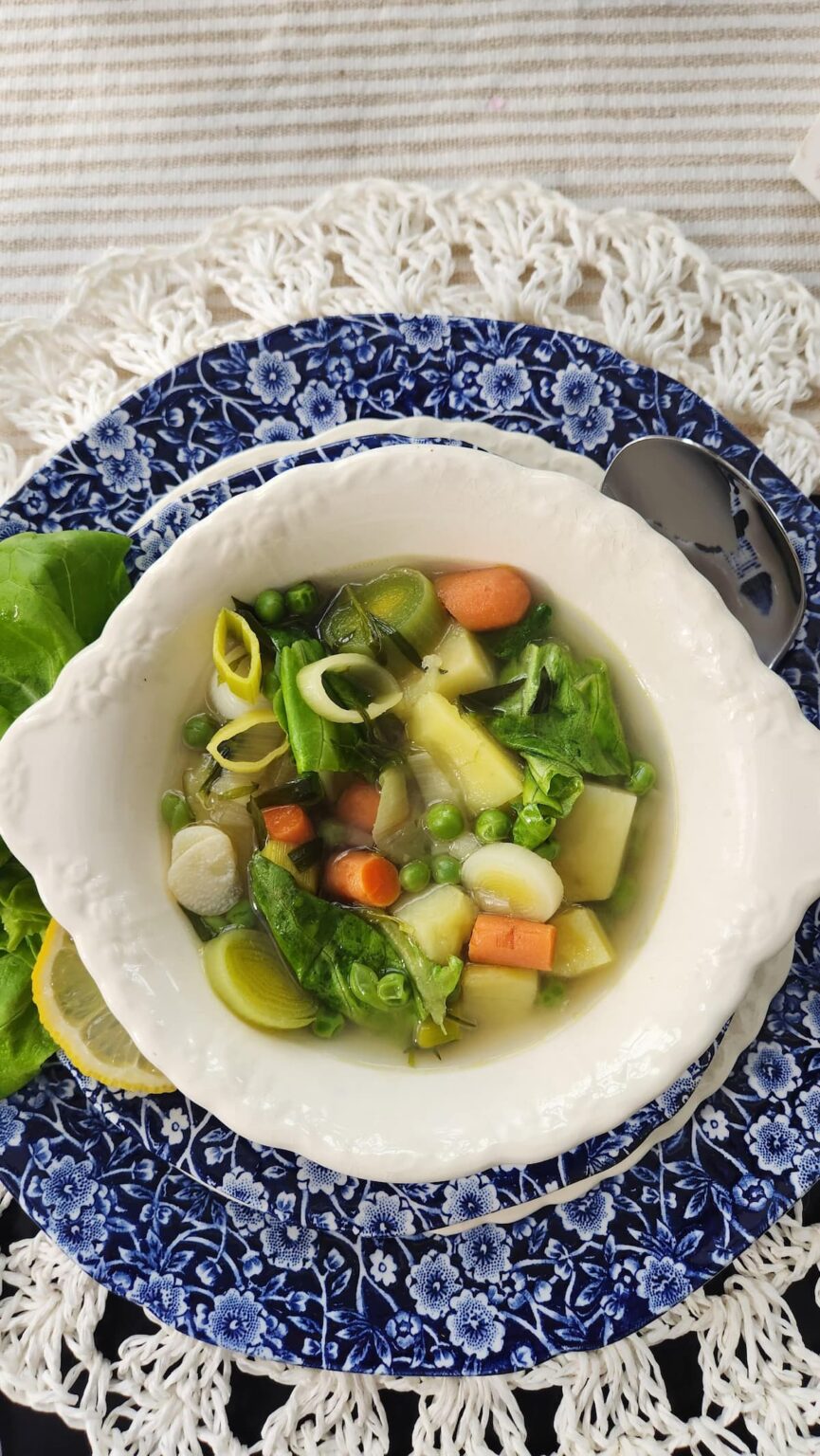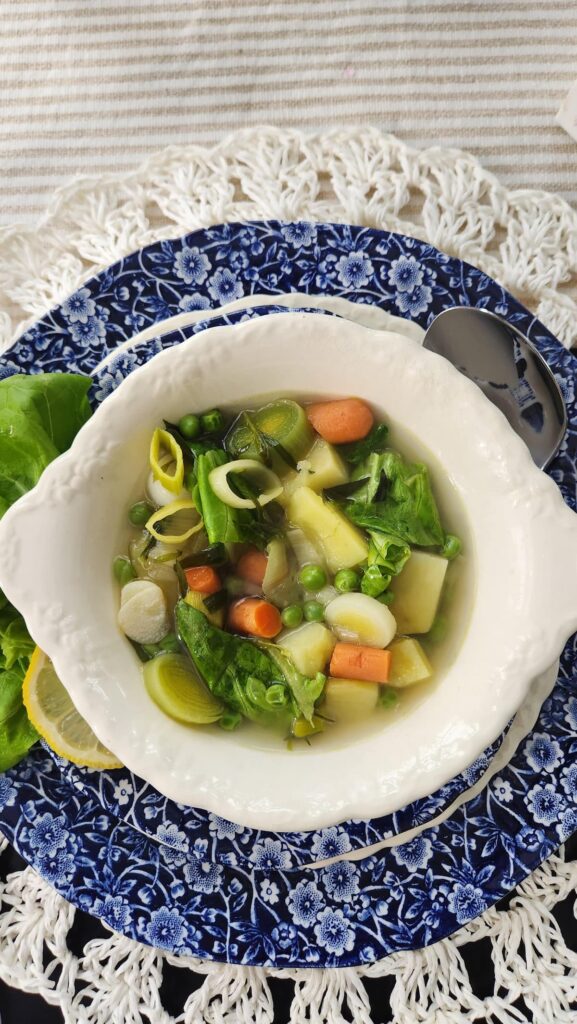 With so many health benefits, this main dish can be served in a different way. It's full of flavor and it's good for you!
So go ahead and enjoy this leek soup recipe! Until next time, I hope you have a wonderful day! See you soon!