Quick Minestrone Soup Recipe You Can Make in 30 Minutes
Learn how to easily prepare a Quick Minestrone Soup Recipe in 30 Minutes! This classic soup is packed with vitamins, minerals, and flavor!
During these cold winter months, there's nothing I love more than a piping hot bowl of soup. This minestrone soup recipe is one of my favorites because it's healthy, hearty, and can be made in just 30 minutes
And if you're short on time, you can even make it in the Instant Pot! Keep reading for the recipe.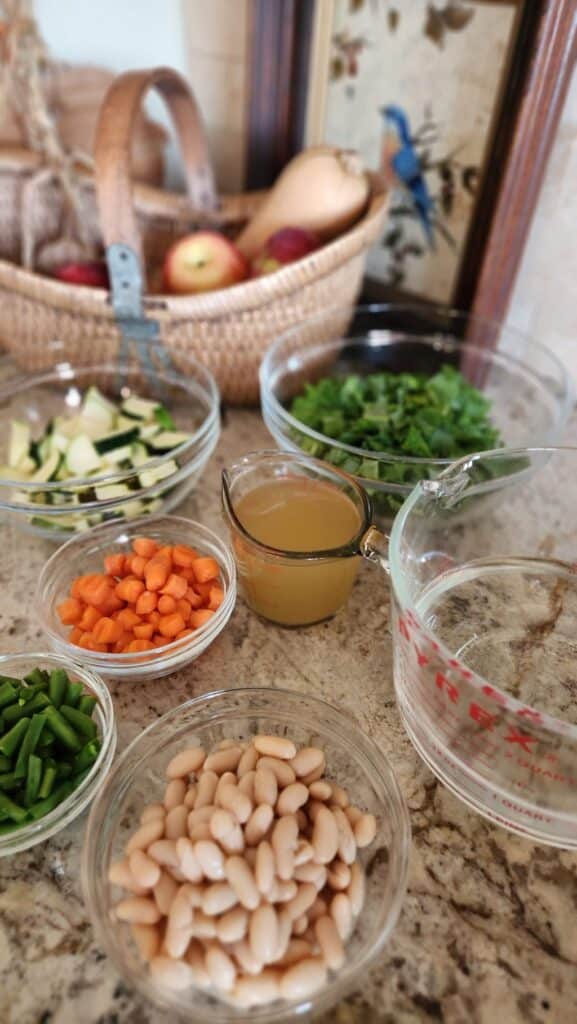 "This post may contain affiliate links which means I may earn a small commission. You may read my
disclosure policy here
".
What is Minestrone Soup Made Of?
Minestrone soup is a versatile dish that can be made with a variety of different vegetables.
However, the most common ingredients in minestrone soup are tomatoes, beans, onions, carrots, celery, and cabbage. This particular recipe calls for some broccoli rabe, which adds a pop of color and a nutritional punch. Have you used broccoli rabe in soup before?
Why is Minestrone Soup So Good For You?
Not only is this minestrone soup recipe delicious but it's also packed with nutrients. Tomatoes are rich in lycopene, which is an antioxidant that has been shown to reduce the risk of heart disease and cancer. I'll let you in on a secret. (I forgot to add the tomatoes) 🙂 Oh boy! Next time!
The beans are a good source of protein and fiber, while the carrots and celery provide essential vitamins and minerals.
Adding Broccoli Rabe
And last but not least, the broccoli rabe is an excellent source of iron.
Broccoli rabe is not just a side dish, it's an excellent source of vitamins A and C! The nutrients promote good vision as well as immunity. It also offers potassium which helps regulate blood pressure; magnesium for energy production in cells – this one might be key if you're feeling tired all the time because your body needs more than usual right now! Especially in the winter months when the sun isn't shining as much.
What is the Difference Between Minestrone Soup and Vegetable Soup?
While minestrone soup and vegetable soup both contain a variety of vegetables, there are a few key differences between the two soups.
First of all, minestrone soup typically contains pasta or rice, whereas vegetable soup does not. Additionally, minestrone soup is usually made with fresh vegetables, whereas vegetable soup can be made with fresh or frozen vegetables.
Lastly, minestrone soup often has a tomato-based broth, while vegetable soup typically has a clear broth.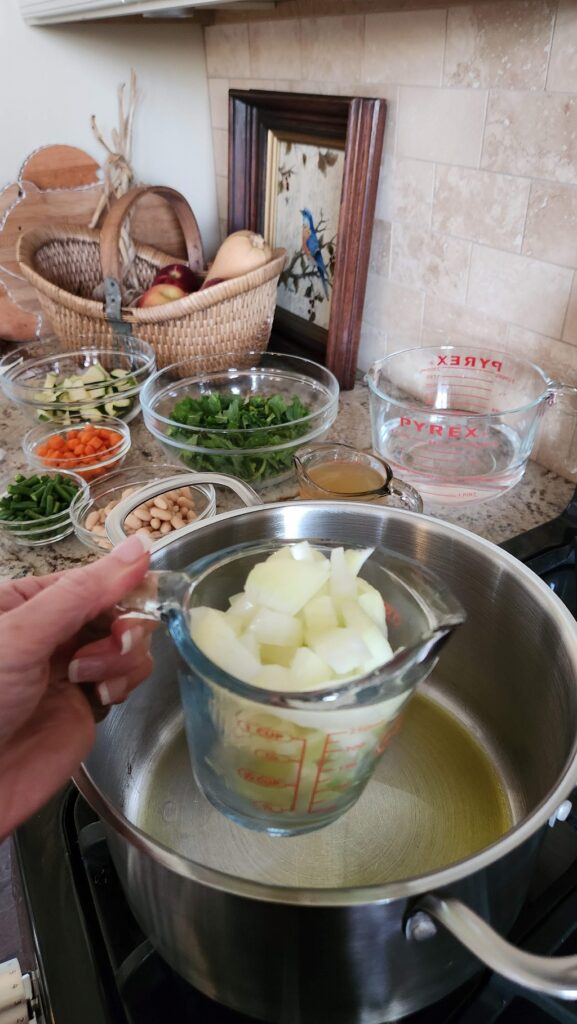 Add onions and garlic to heated oil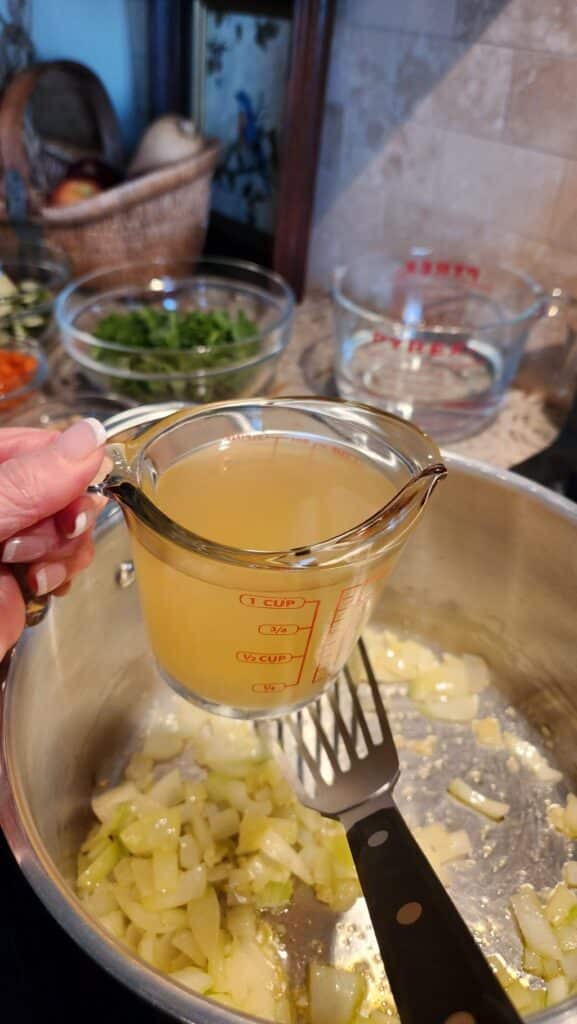 pour in 2 cups of chicken broth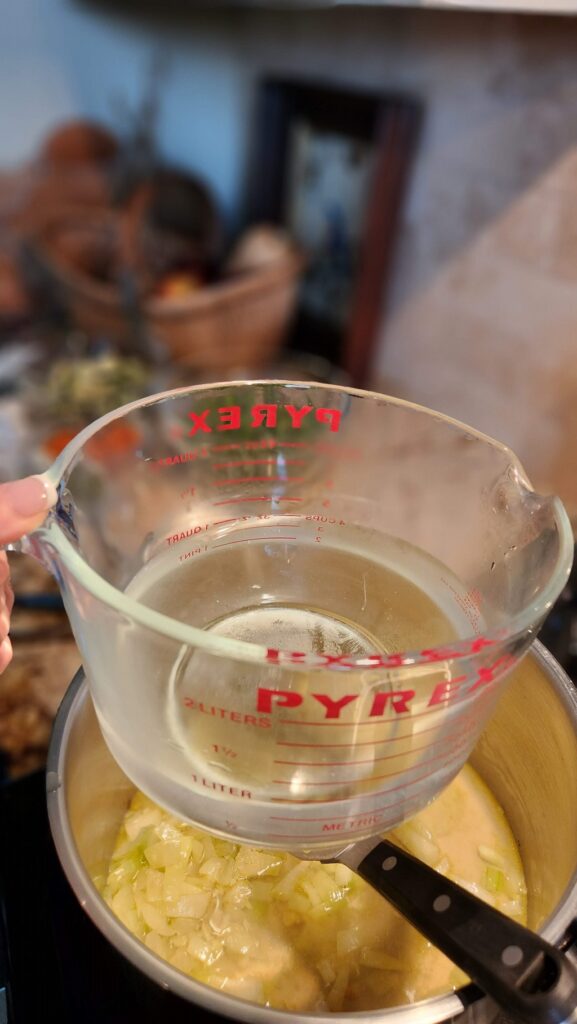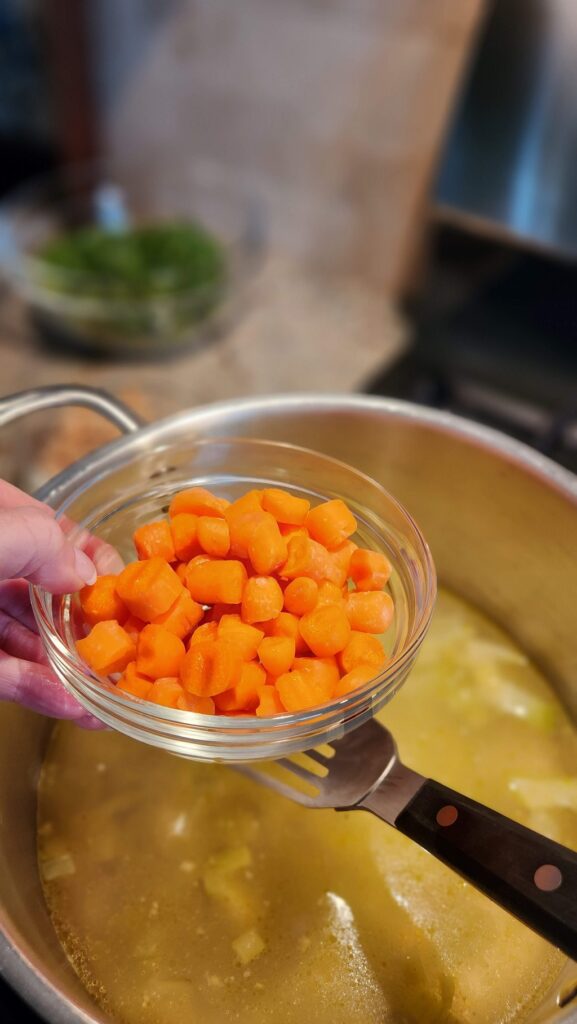 cut up two carrots and add to pot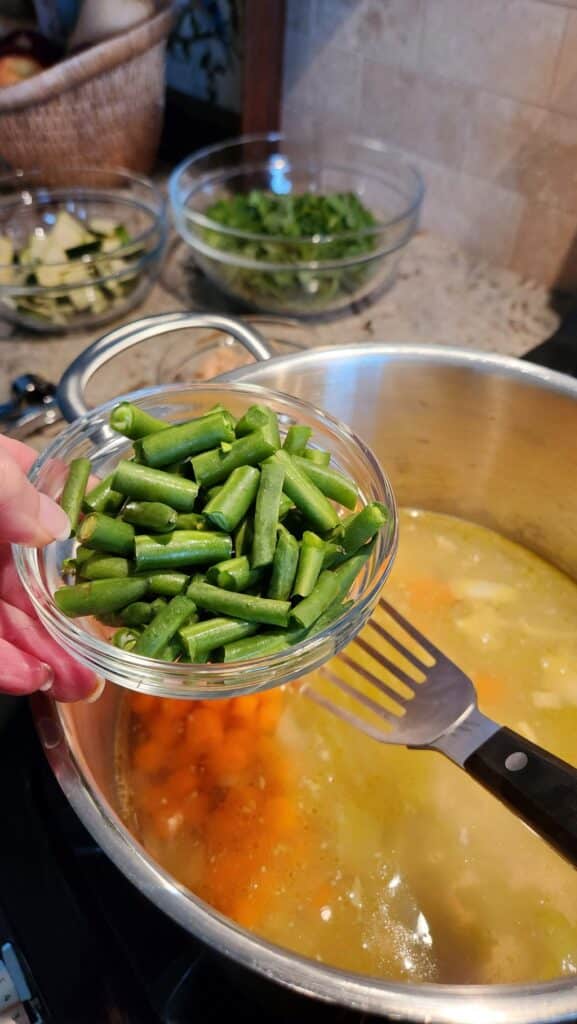 4 oz. of fresh green beans cut in 1 inch pieces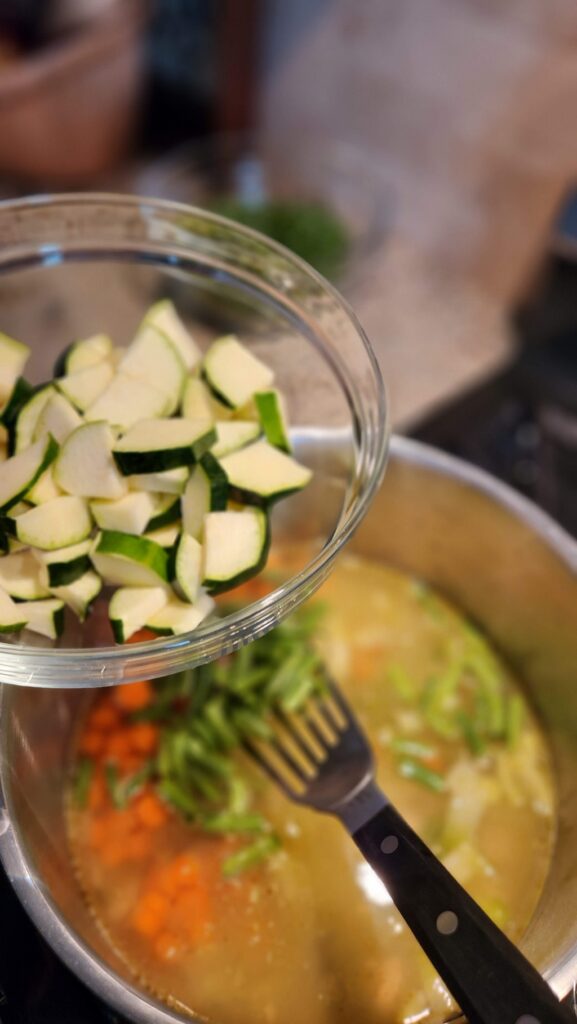 Next, 1 medium zucchini, cut in half, then sliced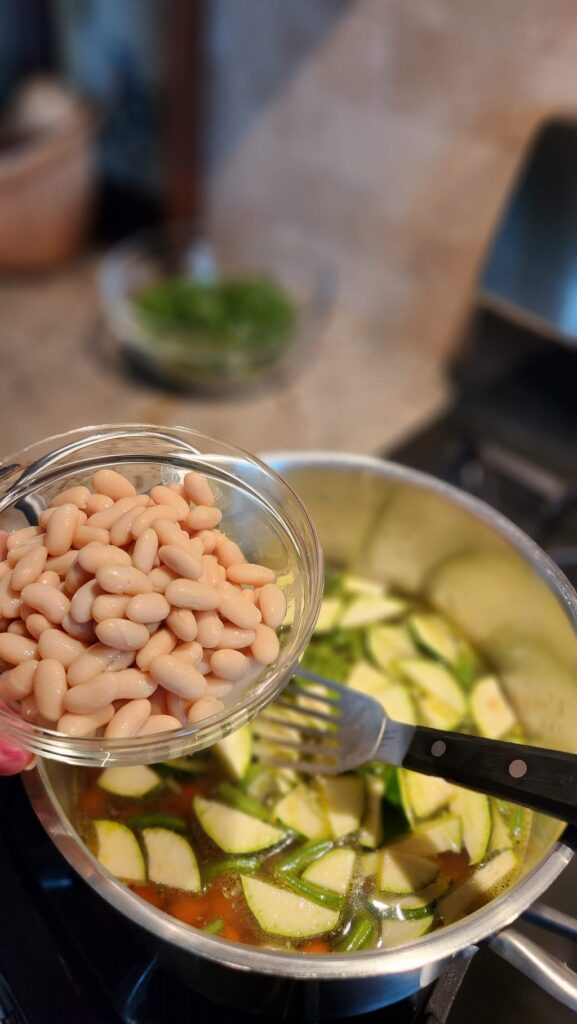 add 1 can of cannellini beans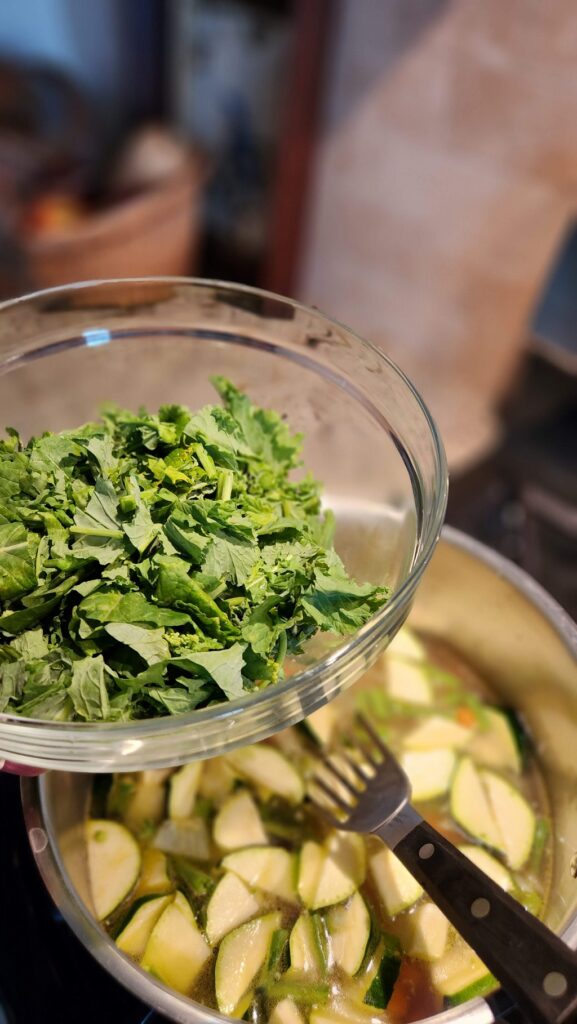 time to add 8 oz. broccoli rabe
Quick Minestrone Soup Recipe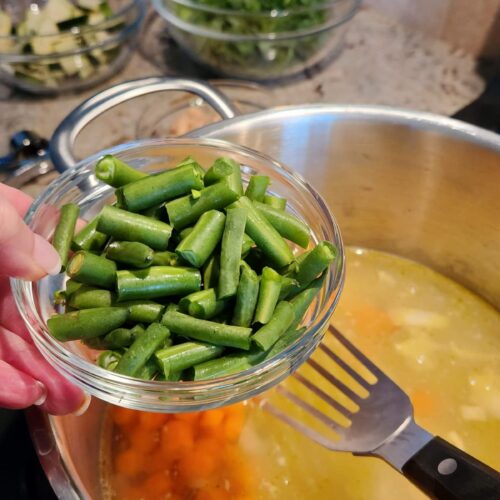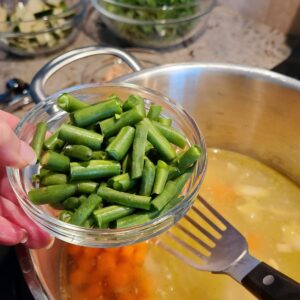 Quick Minestrone Soup Recipe You Can Make in 30 Minutes
Learn how to easily prepare a Quick Minestrone Soup Recipe in 30 Minutes! This classic soup is packed with vitamins, minerals, and flavor!
Ingredients
3

TBSP

Olive Oil

1

cup

Onion chopped

3

Cloves

Garlic

4

cups

Water

14 1/2

oz

Chicken Broth

1

cup

Small Pasta Shells

2

Carrots chopped

15

oz

Cannellini Beans

8

oz

Broccolli Rabe

1

Medium Zucchini, halved and sliced

4

oz

Fresh Green Beans

1

lb

Tomatoes cut in small pieces

Add oregano, basil, garlic powder, parsley salt and pepper to taste
Instructions
Saute onions and garlic until softened not brown in olive oil

Pour in water, chicken broth, carrots, cannellini beans, drained and rinsed, broccoli rabe, zucchini and green beans (tomatoes are last once vegetable are cooked tender)

In seperate pot, prepare small pasta of your choice

Cooki for 20 minutes until vegetables are just tender, but slightly crisp

Serve with garlic bread, sprinkle with grated cheese and fresh parsley leaves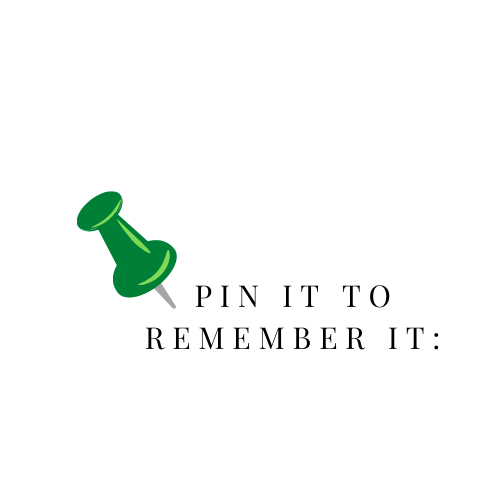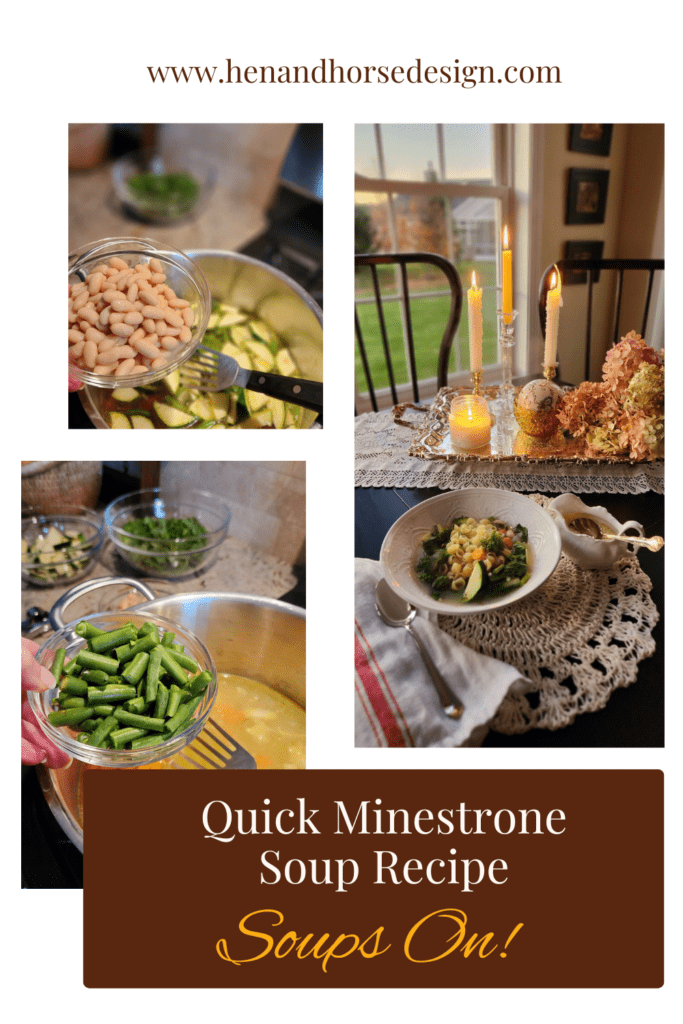 Shop & Source

Have you checked out my other social channels? Follow along so you don't miss out on any of my tips, recipes, or stories! Join me on my other social channels for more! Pinterest, Instagram, and Facebook.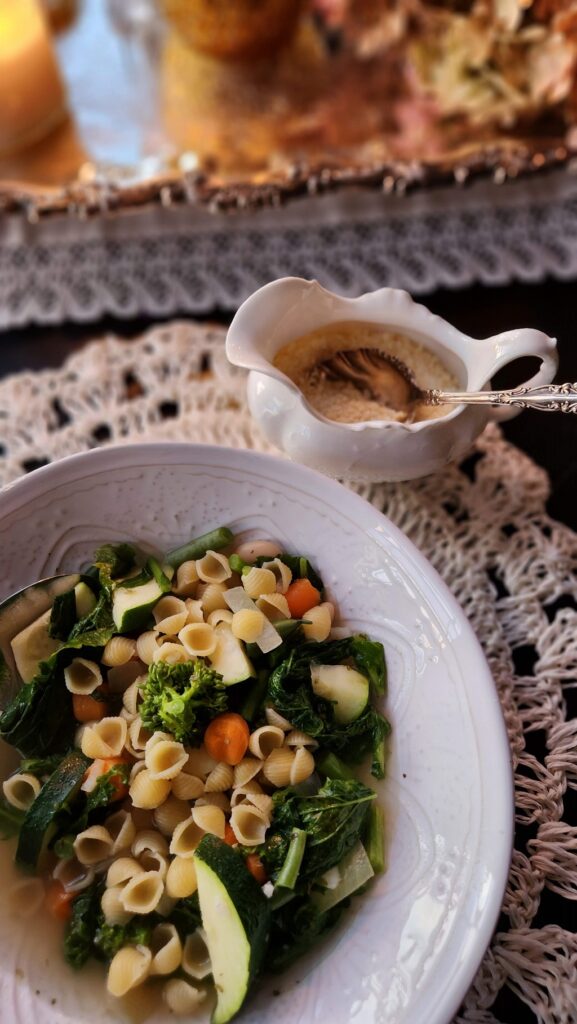 I hope you enjoy this delicious and healthy minestrone soup recipe! If you try it out, be sure to let me know how you liked it in the comments below. And if you're looking for quick and easy recipes like this one, be sure to check out my blog for more inspiration. Bon appetit!