Show All
Appetizers
Beverages
Breakfast
Desserts
Main Dishes
Salads
Side Dishes
Soups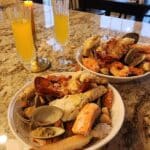 How to Make an Easy Seafood Boil! This easy seafood boil is great for a party or a weeknight meal. Get the recipe here!
How my mom's Christmas panettone tradition made her famous in the family and how we carry the custom on every year.
Get in the holiday spirit with my festive Christmas dinner menu! From appetizers to dessert, I've got you covered.
Love bread pudding? This recipe for ricotta vanilla challah bread pudding is going to knock your socks off, plus it's great for any occasion!
This easy pumpkin trifle recipe is perfect for any occasion! Layered with creamy pudding, pumpkin cake, and whipped cream, it's always a hit!
Get in the holiday spirit with this easy guide to creating a beautiful and tasty Christmas charcuterie board, served on a silver platter!
This easy spinach quiche without crust recipe is perfect for a light breakfast or dinner. It's perfect for holiday mornings or as a side dish!
Learn how to easily prepare a Quick Minestrone Soup Recipe in 30 Minutes! This classic soup is packed with vitamins, minerals, and flavor!
Craving pumpkin buns but don't want to go out? Learn how to make them at home with this easy recipe that's perfect for the fall season.
Want to make a delicious, easy, homemade pizza in no time? Here is Andrew's recipe for the best 5-minute pizza sauce ever.