Grilled vs Blackened Salmon: What's the difference?
Salmon is one of my favorite dinners. Deciding how to prepare it is another thing. Grilled vs Blackened Salmon: What's the difference?
When it comes to salmon, I haven't found a salmon dinner I haven't liked. (This is the exact opposite of Andrew when it comes to him eating asparagus. But we will get to that in a bit.) Here's the thing tho, I typically don't go for a blackened salmon dinner and stick with a fresh salmon filet or salmon steaks that are grilled with a light lemon pepper flavor. 
When it comes to the blackening process I shy away from the spice. Spice tends to be Andrews's thing.
I'm keeping an open mind, however, on my discovery of Grilled vs Blackened Salmon: What's the difference? Let's take a closer look.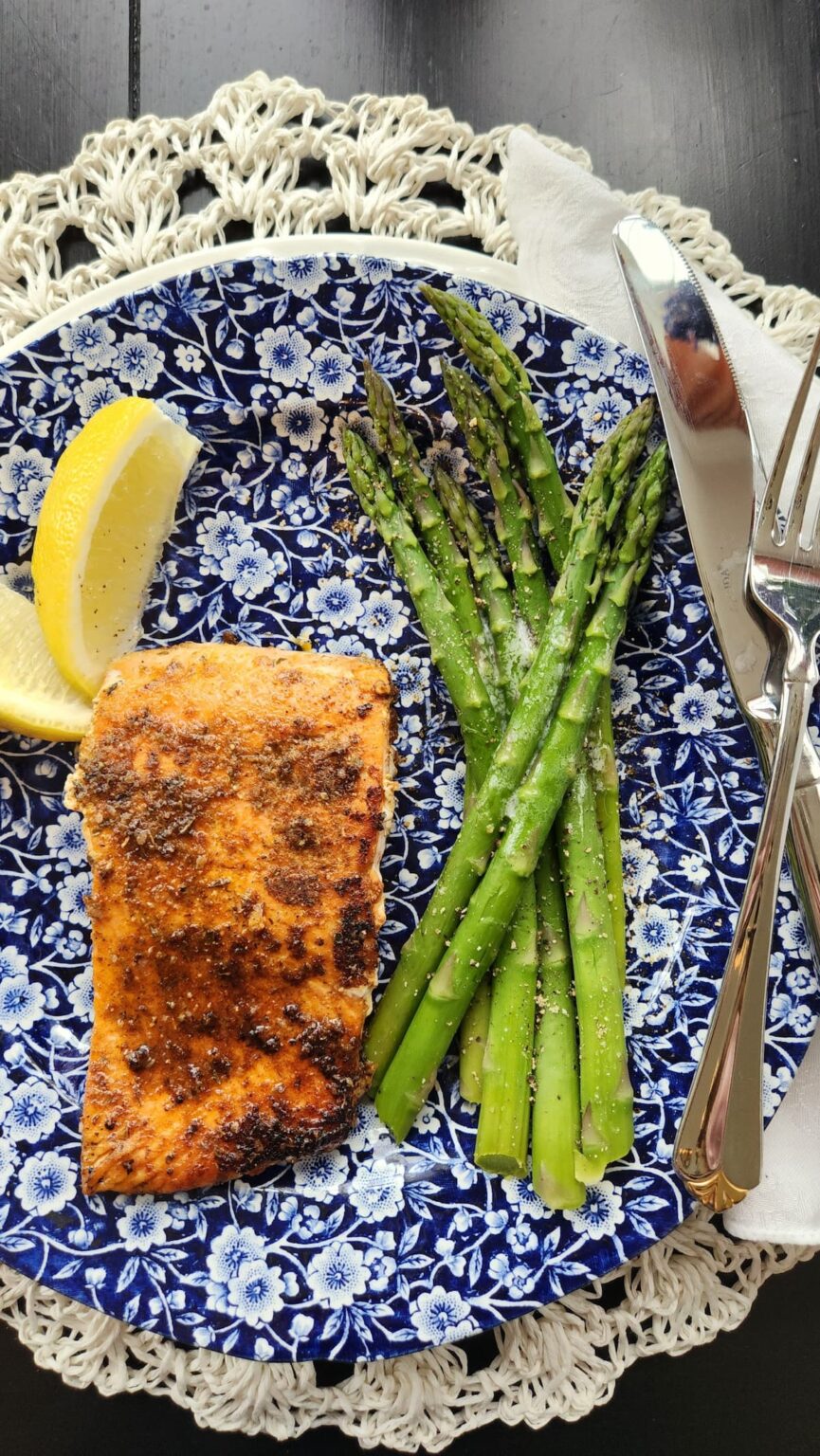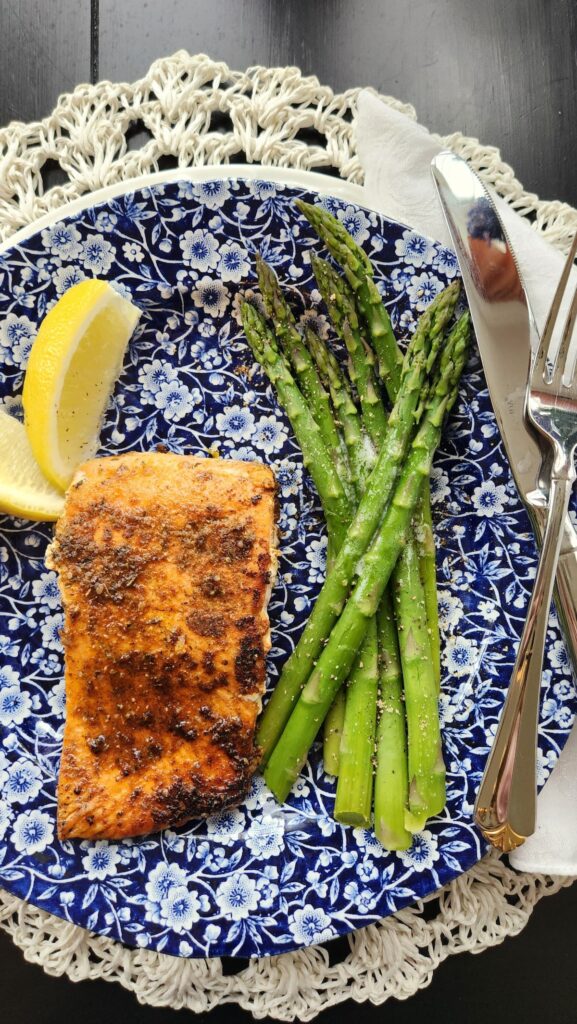 "This post may contain affiliate links which means I may earn a small commission. You may read my
disclosure policy here
".
What is the difference between grilling and blackening?
So what exactly is the difference between grilling and blackening?
The difference is they are two totally different ways to cook. Read on to learn more!
Cooking methods: Grilling vs. Blackening
When you talk about the difference between the two, it all comes down to the cooking method and the spice mixture. With blackening, the spice is required for the best results in the cooking process. For grilling when you add seasoning it doesn't depend on the seasoning mix or the cooking method to accomplish a well-grilled meal.
With blackening, the salmon is cooked over medium-high heat, for a charred outer layer. Basically, grilling requires food to be cooked over heat but not necessarily needing spice.
Both methods use dry heat and an open flame.
Both methods also take as little as twenty minutes to prepare from start to finish.
One of the things I love about blackening is the spicy flavor and the blend of herbs. The second thing I loved about this type of cooking is that I can make the blackened seasoning ahead and store it in an airtight container. All you need to do is fire up the grill, oven, or cast-iron skillet and toss in the fish, and sprinkle the creole seasoning.
This spicy blackening method is sounding better and better.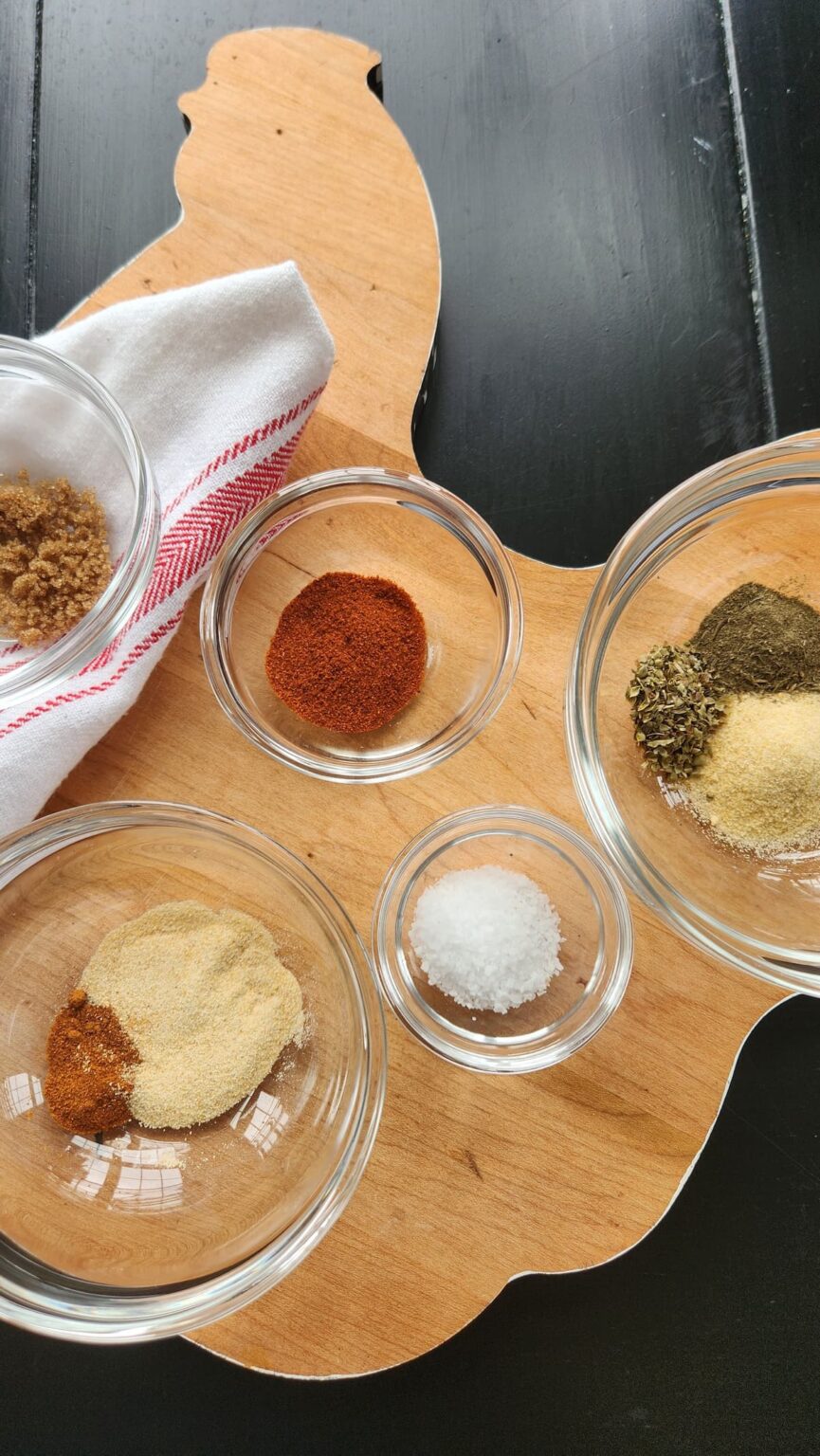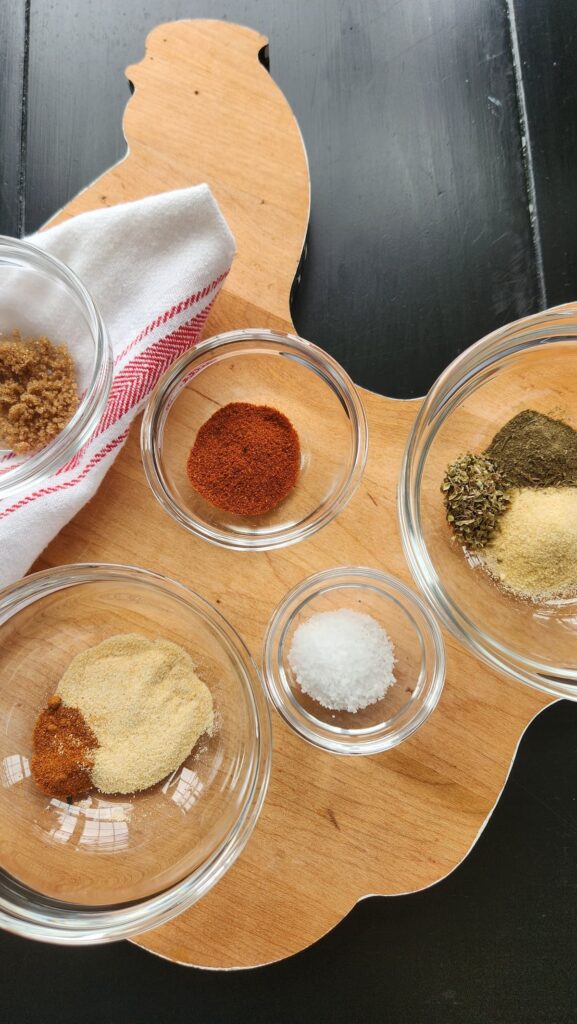 Is eating blackened fish healthy?
Eating wild-caught fish is exceptionally healthy for us. Eating fish twice a week is recommended for a healthy diet for heart disease, and the brain, and for healthy skin. Besides having omega-3 fatty acids did you know fish also has anti-inflammatory properties? The health benefits of eating fish are simply fantastic.
Adding the spice brings it up a notch!
A word of caution with blackening
The caution comes in when food is blackened at too high of heat and the food is too charred. Following the directions will yield a flavorful meal.
What does blackened taste like?
Think spicy, caramelized, rich, and buttery flavor.
Making your own spice rub is super easy. Most likely you have all of the ingredients in your spice rack already. The most typical ingredients are black pepper, cayenne pepper, onion powder, melted butter, garlic powder, and paprika.
Whichever cooking method you choose leftover salmon is excellent for adding to salmon tacos or topping on a salmon salad.
Blackened salmon instructions
Thanks to Erin over at Well Plated for her delicious Blackened Salmon recipe. This easy cooking technique and the blend of spices really sold me on this easy recipe.
Here is what she recommends.
On both sides, pat the salmon dry.
Mix together the ingredients for the spice blend. In a separate bowl melt the butter and brush onto the flesh side of the salmon fillets.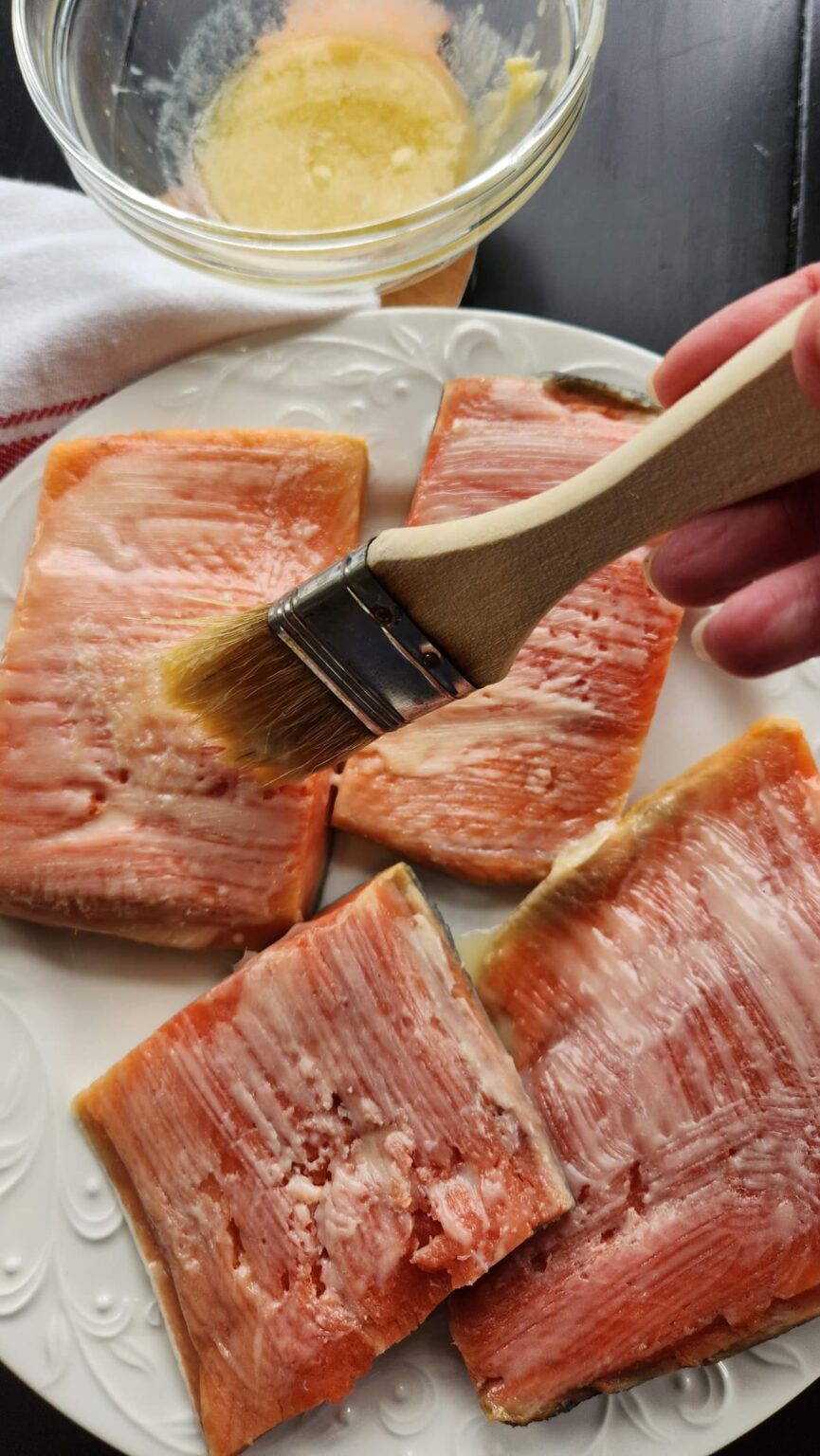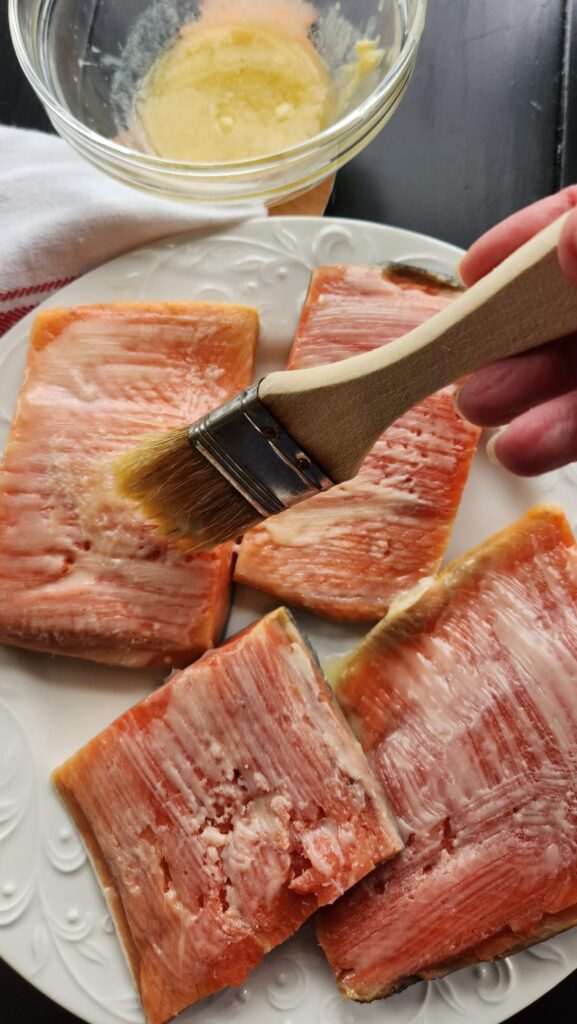 Sprinkle the spice evenly on the salmon. Lightly pat to adhere if needed.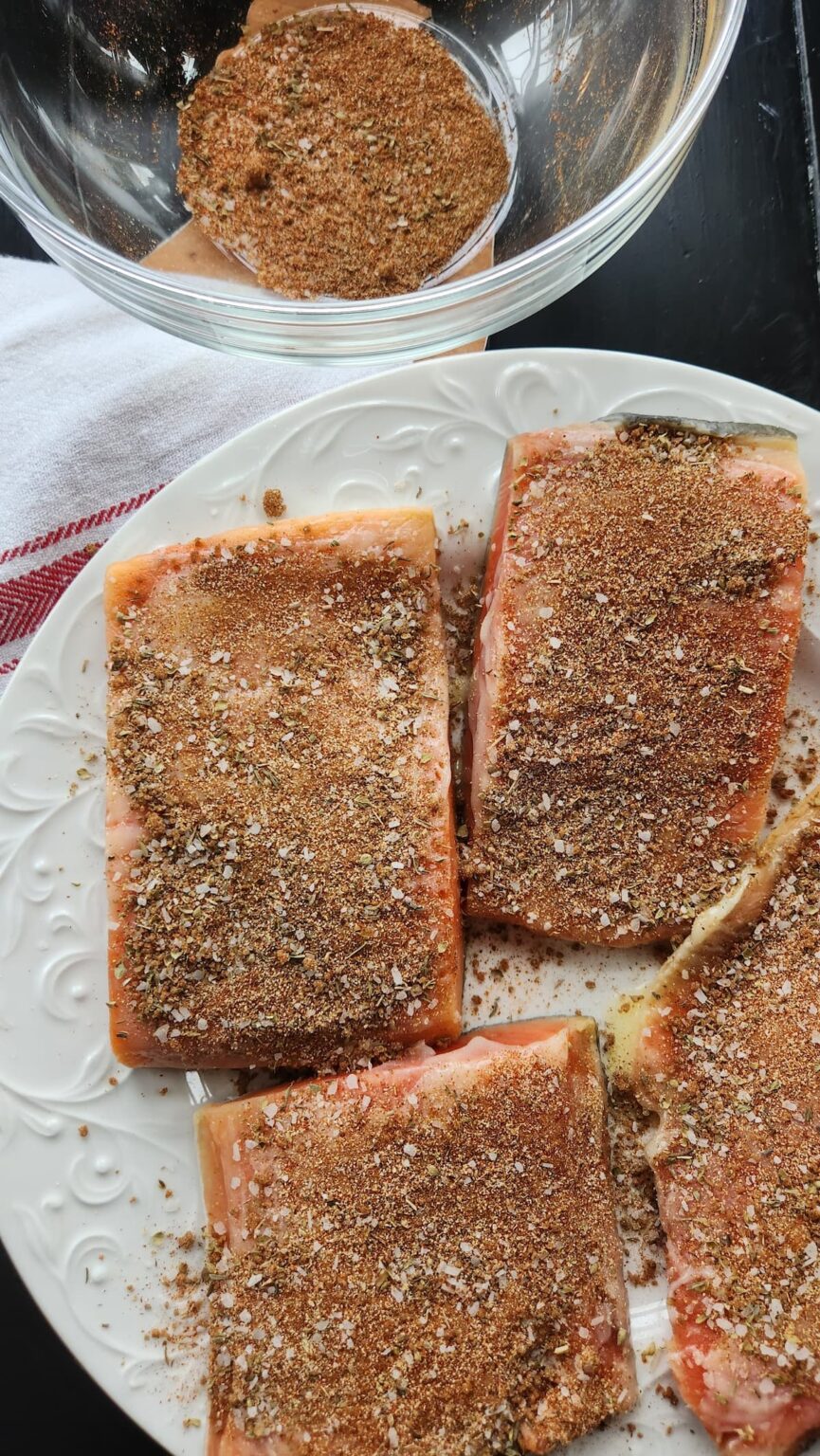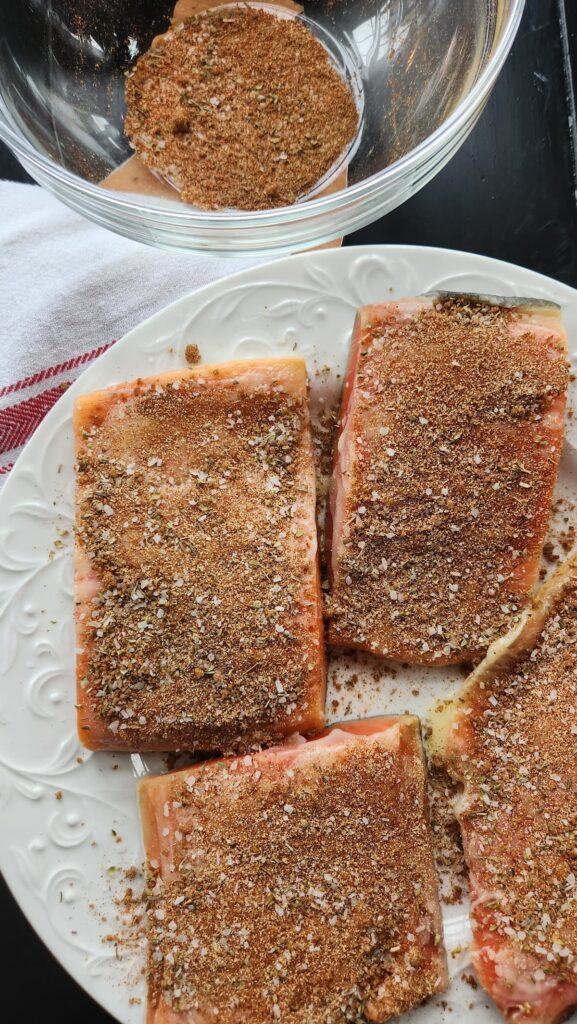 In a large cast iron skillet heat the pan over medium-high heat.
Add salmon fillets, one at a time, flesh side down. Cook for 2-3 minutes until the surface is blackened.
In the hot skillet over medium-high heat, turn the skin side over with a fish spatula.
Carefully turn each piece over and continue cooking until the skin becomes crispy and the fish is cooked thoroughly thru. About 5 to 6 minutes.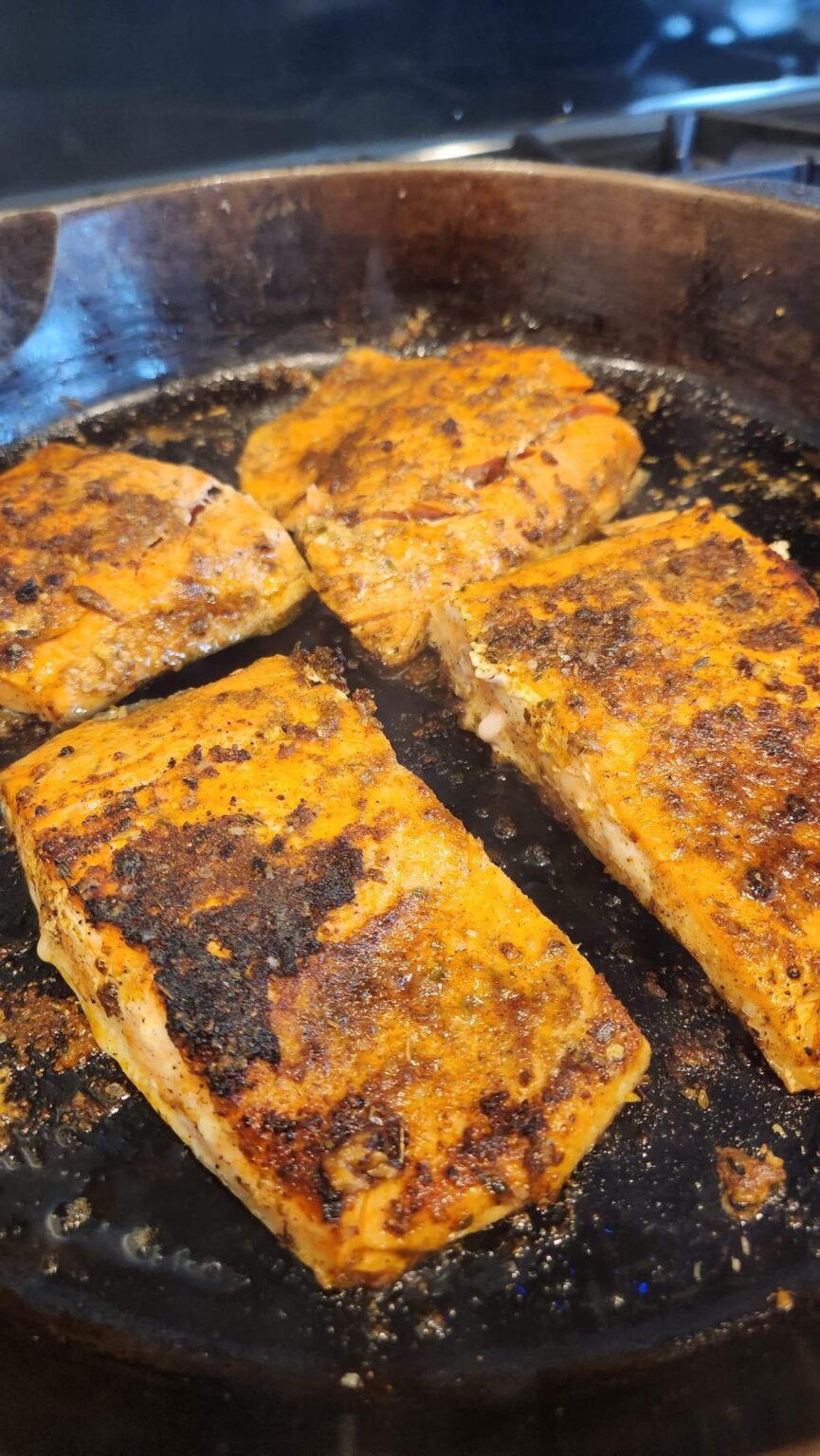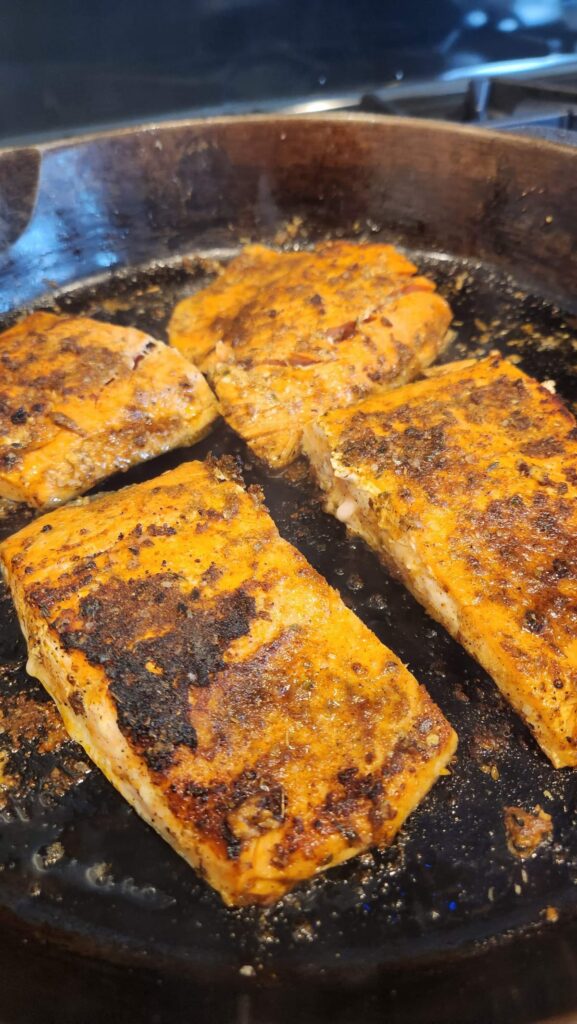 Drizzle with lemon juice prior to serving.
Equipment Ideas

What to serve with salmon
I have good news. Remember that asparagus I mentioned in the beginning? I think I've sold Andrew on it. Just like I'm now sold on the spice of blackened salmon. Aren't we a pair?
I prepared the asparagus by steaming it in a large pot with one inch of water. When slightly al dente or crisp, remove from pot with kitchen tongs, then add garlic salt, and fresh pepper with a slab of butter melted on the top.
He loved it and mentioned I should be sure to let you all know he's had a healthy meal, that included asparagus! haha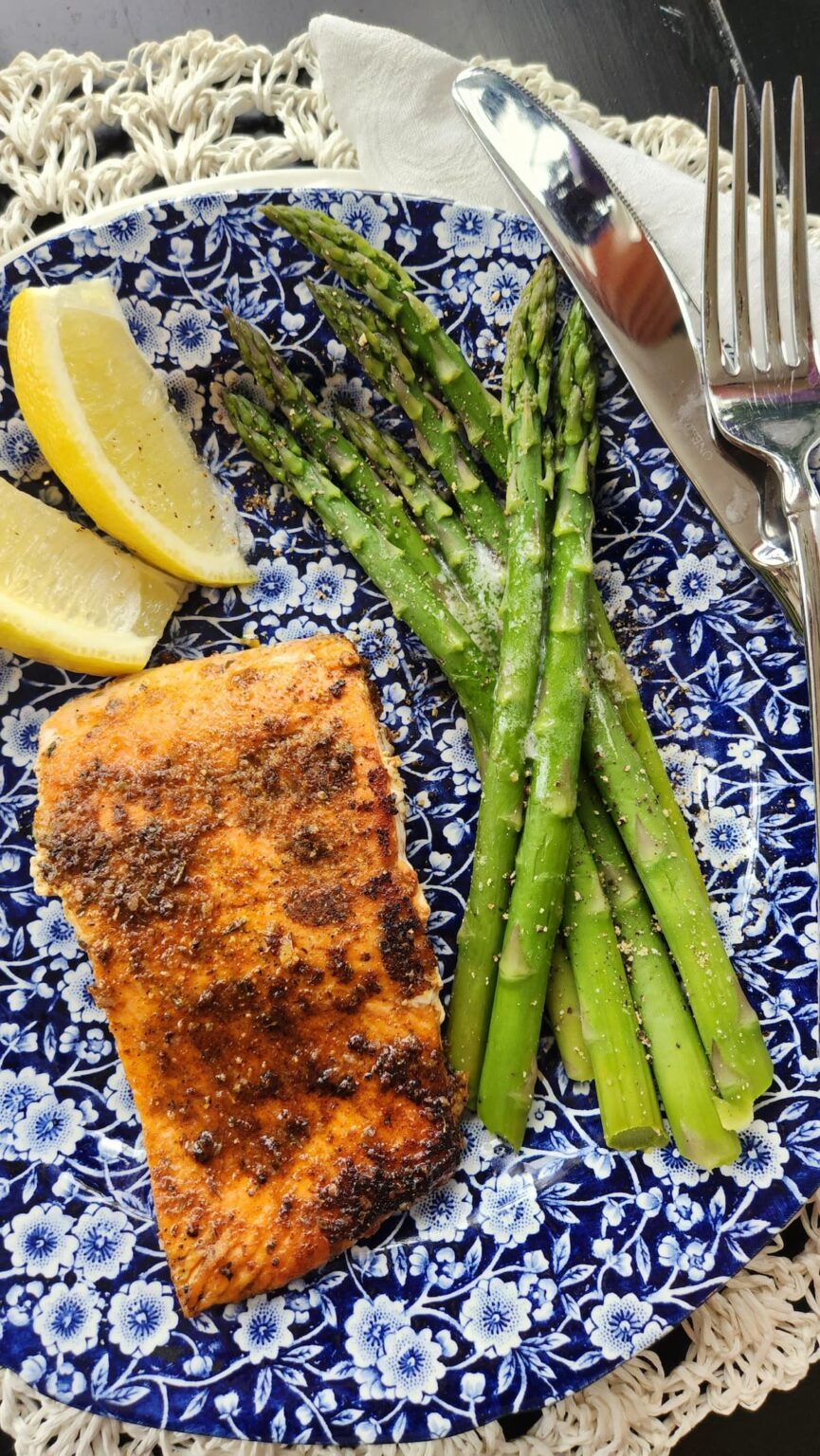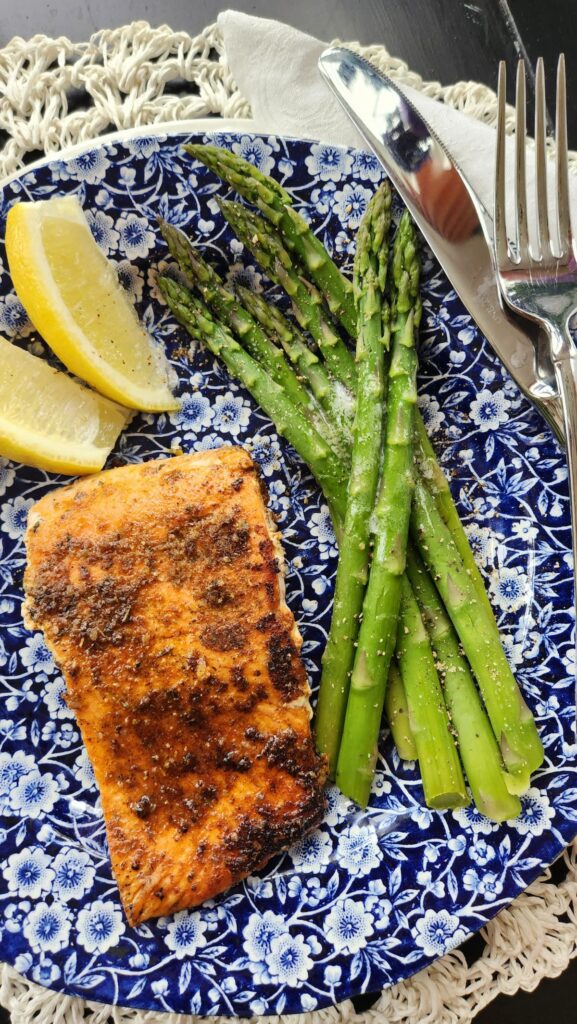 I hope you are inspired to try out both of these methods of cooking. Let me know what you think in the comments below.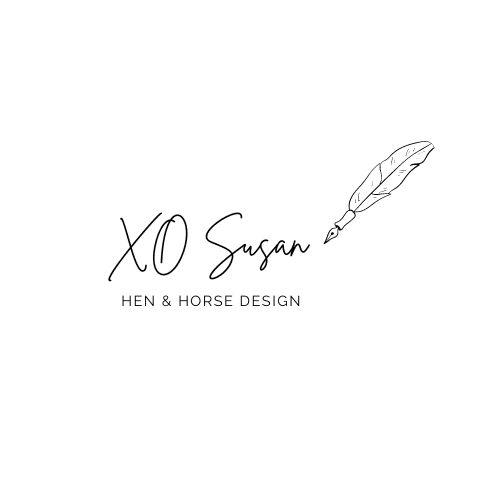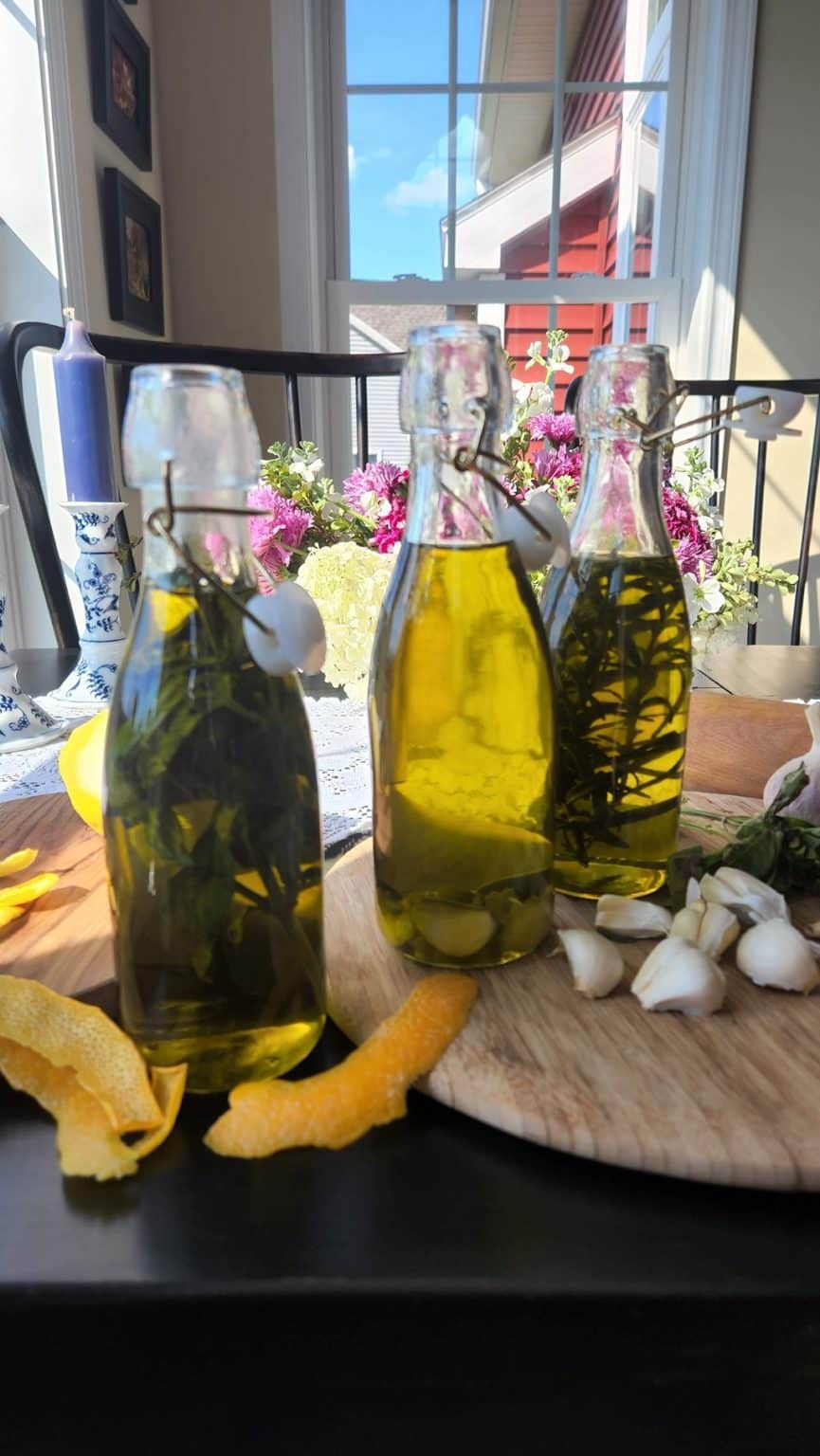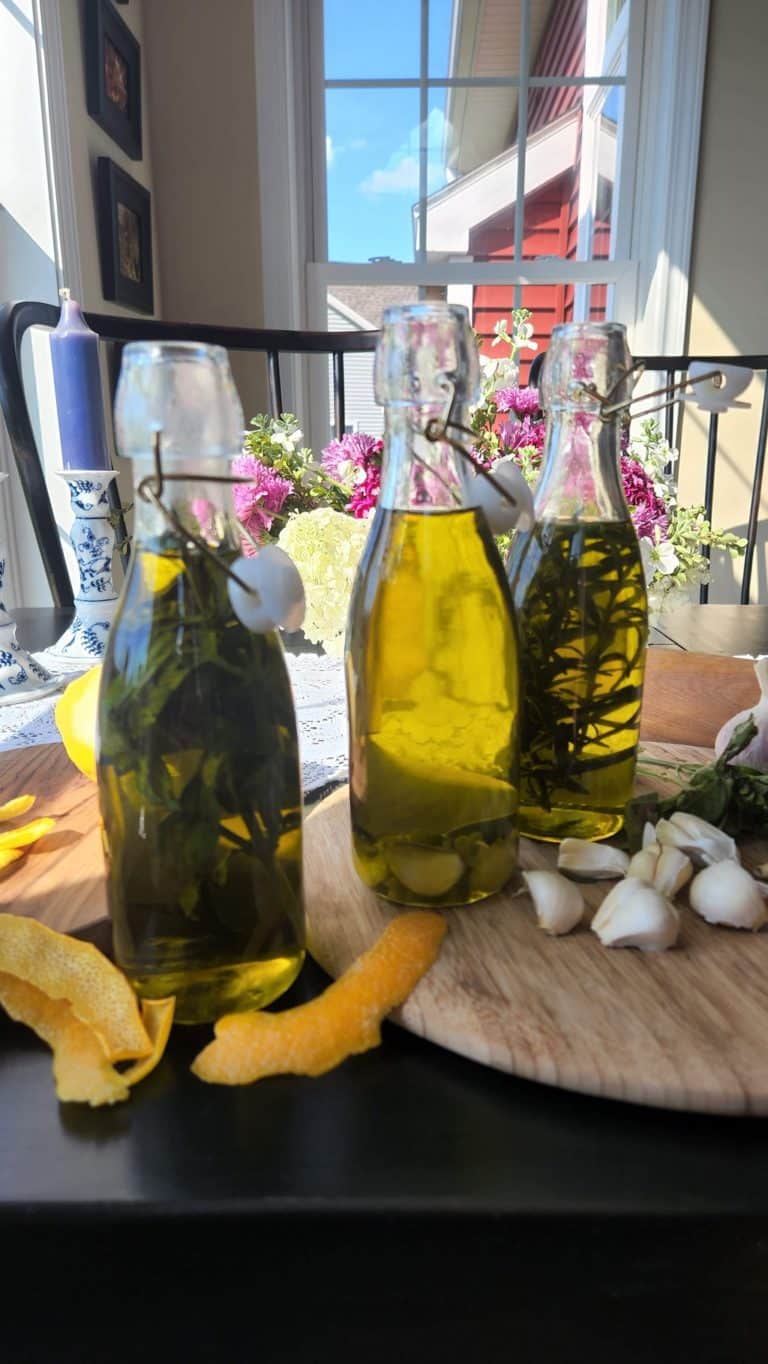 Infused olive oil is a great way to add some extra flavor to your food. Learn How to Make Your Own Infused Olive Oil!