Vintage Glassware – It's All About the Pattern
Whenever I go out 'thrifting', or as we used to say, 'antiquing', one of the first things I look for is Vintage Glassware! It's all about the pattern, the delicate stem, and the pale colors for this girl!
Looking back I can't remember a time that I didn't like pretty crystal items.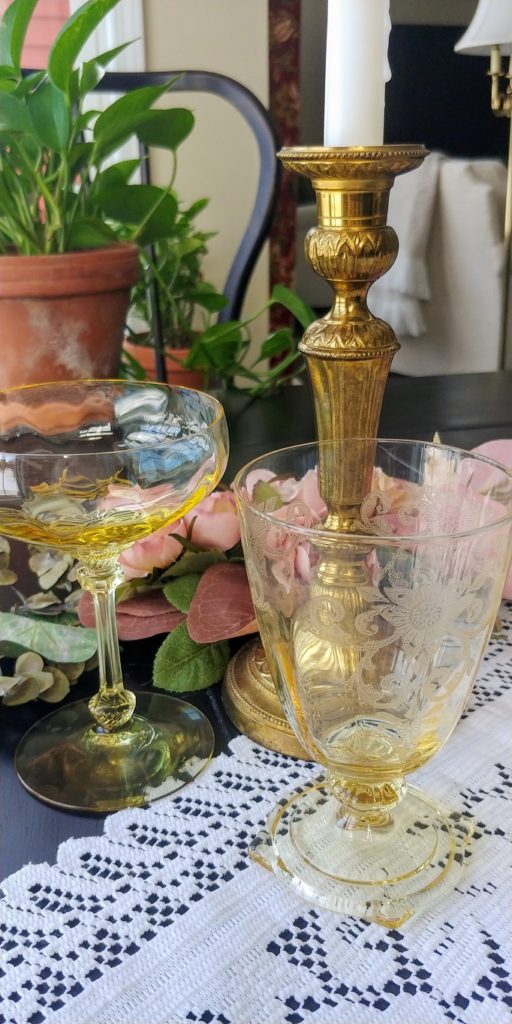 "This post may contain affiliate links which means I may earn a small commission. You may read my
disclosure policy here
".
Let's just say, the list of crystal items that I have collected thru the years is almost as long as my left arm.
First, there were vintage glassware wine goblets, champagne flutes, sherbert cups, and then cordial-sized crystal pieces.
Up next came exquisite crystal pieces, in the shape of a delicate basket.
This was followed by my new love, which is gold depression glassware or amber glass.
I found these beautiful gold glasses this past fall at the Brimfield Antique Show. If you haven't been, it's worth a trip from everywhere! With over 20 show fields, be prepared to see a lot of fabulous vintage items.
The Ballerina Pattern
With so many different patterns to choose from, I think that it's pretty poetic my favorite vintage glassware pattern is called 'the ballerina'!
Having been a ballerina for over 20 years, it sort of makes sense!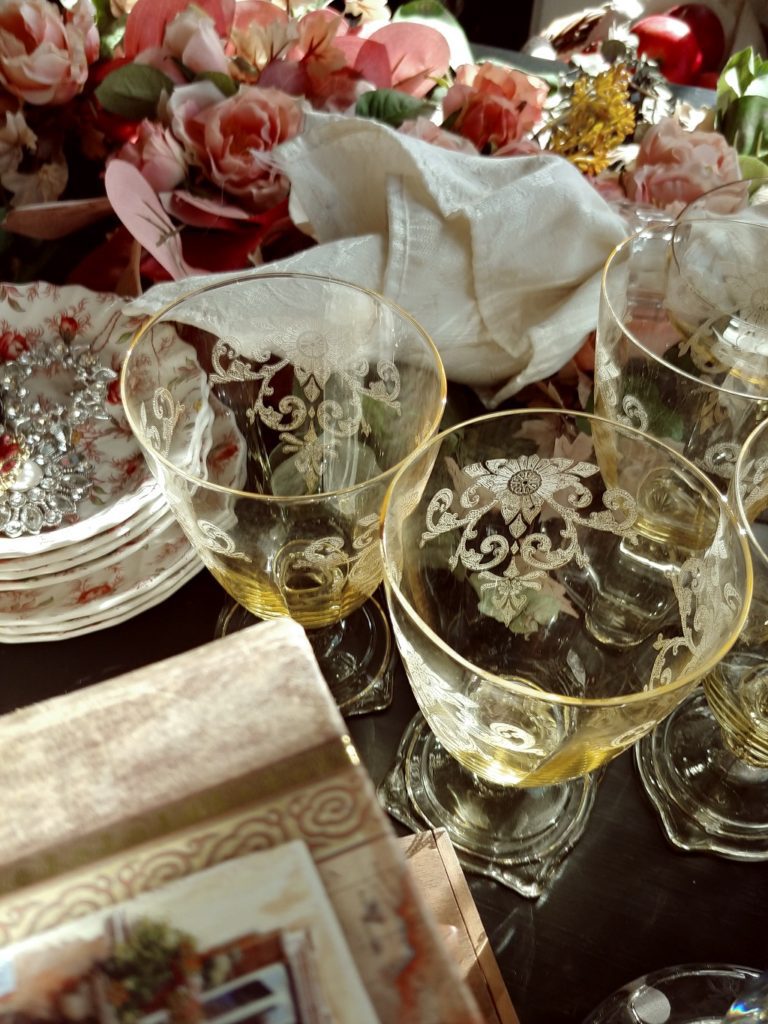 While it may be hard to choose between the American Sweetheart, the Aurora, or the Bubble pattern; the Ballerina, better known as the Cameo pattern, truly is the one pattern of vintage glassware that captured my heart.
The 'ballerina pattern' was mostly made in the colors of greens, pinks, with a limited amount of clear, or gold produced.
You can read more about depression glass in this wonderful article by Megan Cooper.

Each week I head out to my favorite thrift shops, local estate sales, and antique stores to see what I will find.
I love sharing my finds with you, to inspire you to start your own collection.
These are my three favorite vintage finds.
Join my friends Wendy, Sonya, and myself, over on Instagram every other Friday for #fridayfindsandfriends. We meet at 3:00 (eastern) to share what we've brought home with us this week!
If this is your first visit here, this is how we met and Friday Finds and Friends got started.
Be sure to follow each of us, so you don't miss anything!
Collecting vintage pieces can be fun! On your next drive, you may find a few pieces at a local estate sale, an antique mall, or your local thrift shop.
Just remember! A collection doesn't happen overnight, it's one piece of vintage glassware at a time.
Now that's what makes collecting so fun!
XO Susan
For Daily inspiration follow my Instagram, Facebook, or Pinterest pages!