My Three Favorite Vintage Finds
I love adding interesting antique pieces to our home! Today I'm sharing with you My Three Favorite Vintage Finds!
Do you love finding interesting and unique vintage finds for your home too? I sure do! 
I'll admit it. Sometimes narrowing my choices down is a bit challenging. I love collecting many different cool vintage items. 
You can understand then, that when I found my favorite vintage find, this beauty, I did not hesitate to bring it home.
Here is the thing though! I got much more than I bargained for!
About 25 years ago, I was perusing the booths at our local Round Lake Antique festival when I came across this gorgeous piece of art. 
It's not really, really art. But to me, I fell in love with the gold frame. It didn't really matter that the 'art' inside was just a paper picture. As I mentioned, I loved the frame!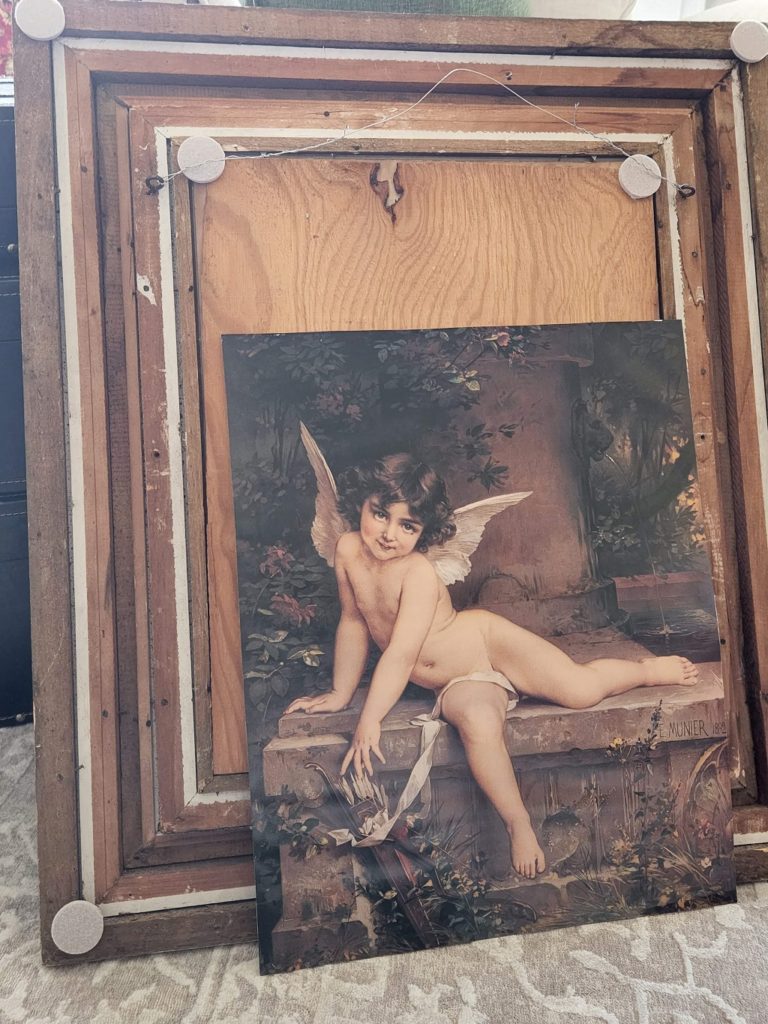 ""As an Amazon Influencer, I earn from qualifying purchases. This post may contain affiliate links which means I may earn a small commission. You may read my
disclosure policy here
".
It's far from perfect. In this instance, it didn't matter to me at all. A few knicks in the frame wasn't a concern to me. The wear and tear of such an old piece only adding the interest for me.
Let's go back a bit in time. It was around the time when 'cherubs' were a 'thing' in home decor. If you're about my age, I'm sure you remember! Not that many of us will admit it, but at the time they were cute, right!
Needless to say, those cute cherubs hung in my previous home for a long time.
Fast forward to our current home, where those sweet cherubs now were leaned against the basement wall for quite some time! ( My husband wasn't the fondest of those little cherubs, but then again, what man actually wants cherubs hanging in his living room? ) 
Time for Change for my Vintage Find
After inheriting a portrait of my mother, I got to thinking. Hey, I have a frame that I might be able to use for her picture?
Fast away, I went digging in the basement for my little lonely cherubs. I was certain the cherubs wouldn't mind making way for my dear mother's portrait!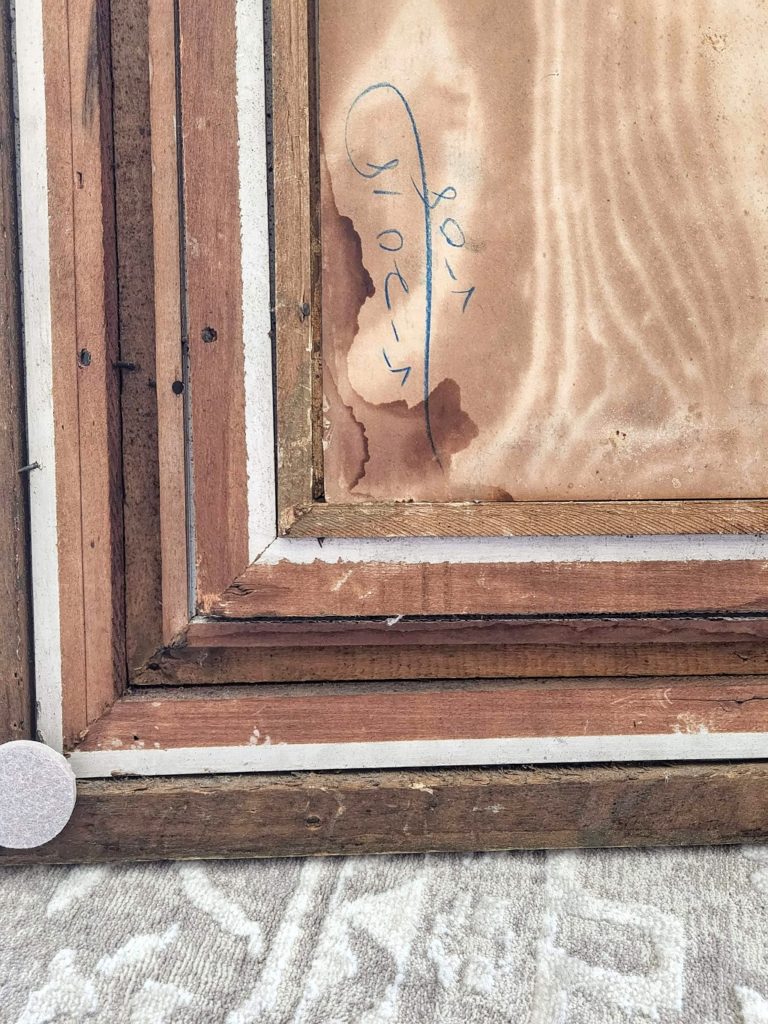 When I removed the backing of the wooden frame I was in shock. I removed the cherubs only to find the most lovely of ladies. Surprise! She was in the back of the cupids for years. Her portrait is unique in that it is not printed on paper, but on a very thin piece of wood.
I've researched and researched but to this day I cannot find how it adhered to the wood in this manner. Were photos printed on wood back then?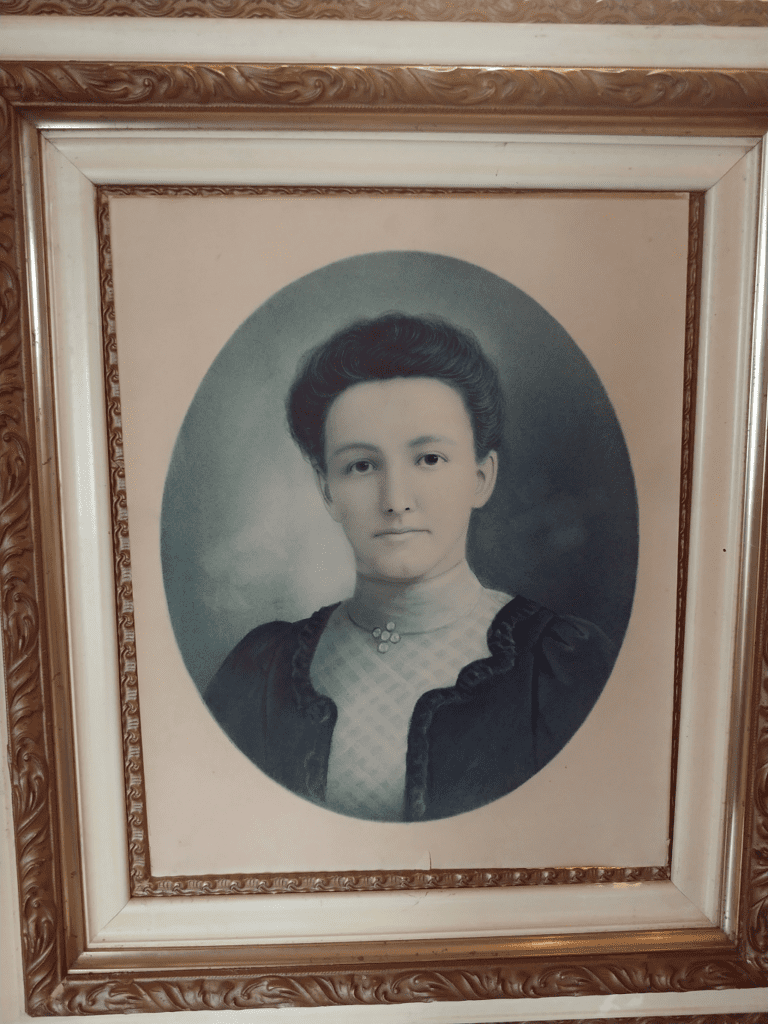 A woman has been living with me this whole time and I didn't know it!
Not only was she living with me, but her home was within this frame for a very long tme. Who knows how long? I certainly did not!
I couldn't remove her and replace my mother into this frame.  Mom would get a new frame just for her. My mystery lady would stay here.
She needs a name!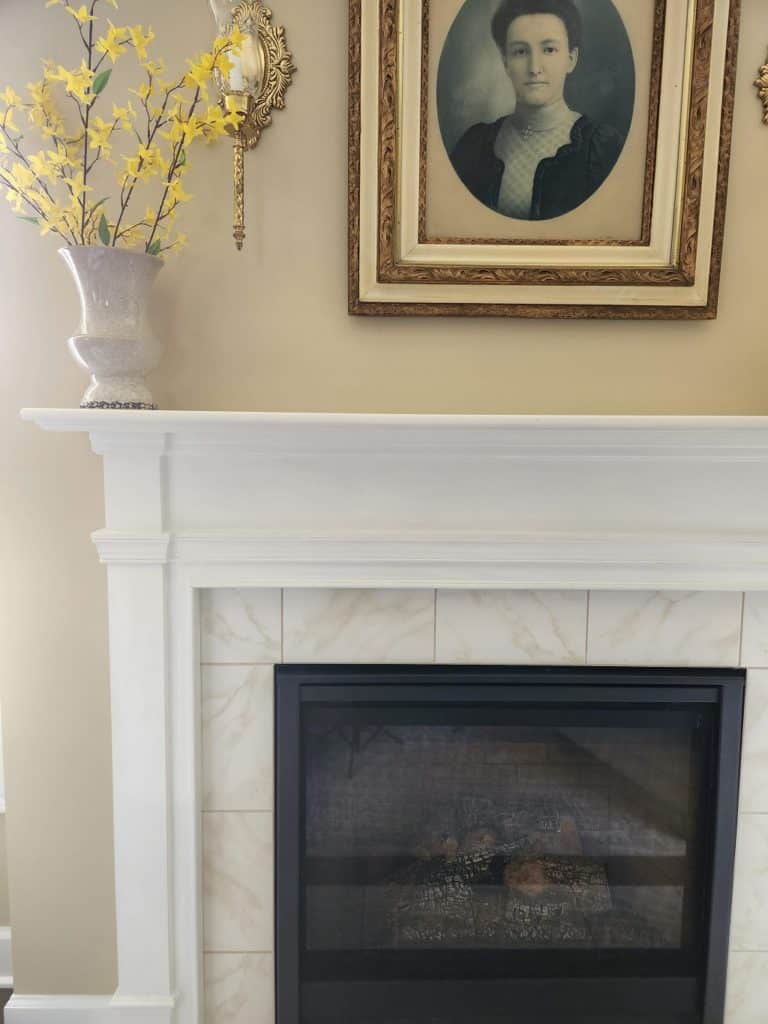 Thinking she looked like a Madeline, and with my sister's input with the name, Mary, from Mary Poppins, she became Mary Madeline! I'm so pleased to have such a lovely house guest in our home, permanently! Mary Madeline is one of My Three Favorite Vintage Finds ever! That is how Mary Madeline came to be top on my list of vintage finds.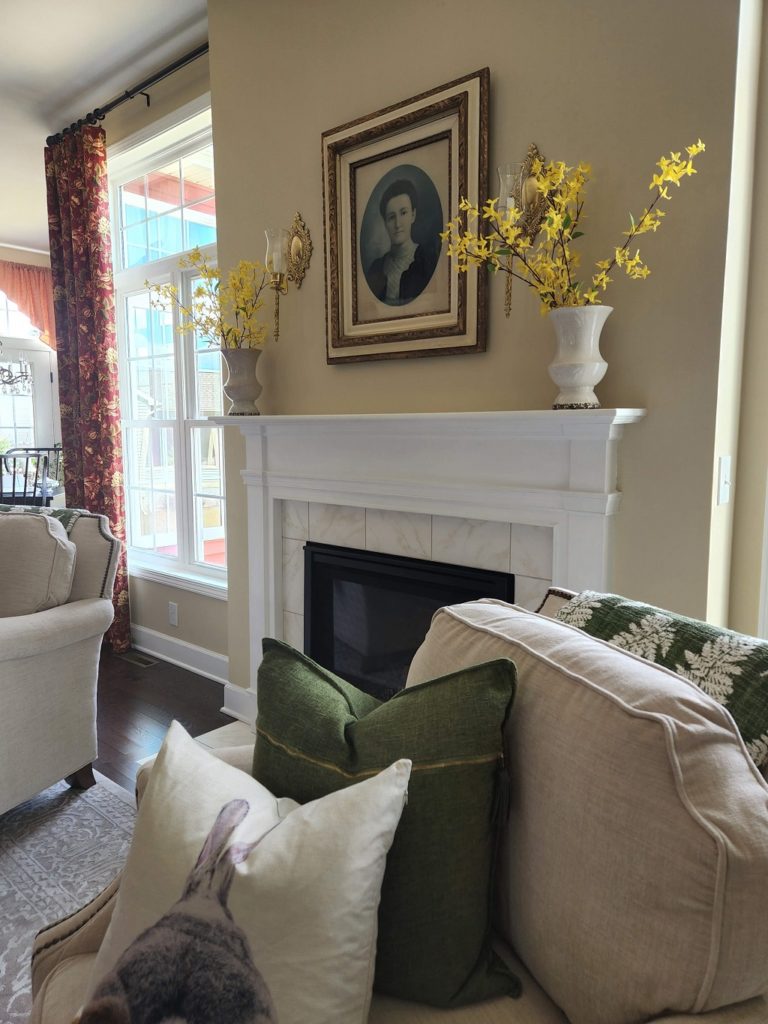 My Second and Third Favorite Vintage Find
Second, on My Three Favorite Vintage Finds list is my collection of covered dishes. 
I'm determined to have a large collection for when I have a 'truly covered dish' dinner for my family. It will be like a dinner surprise, each time they open up a dish to discover what's inside
!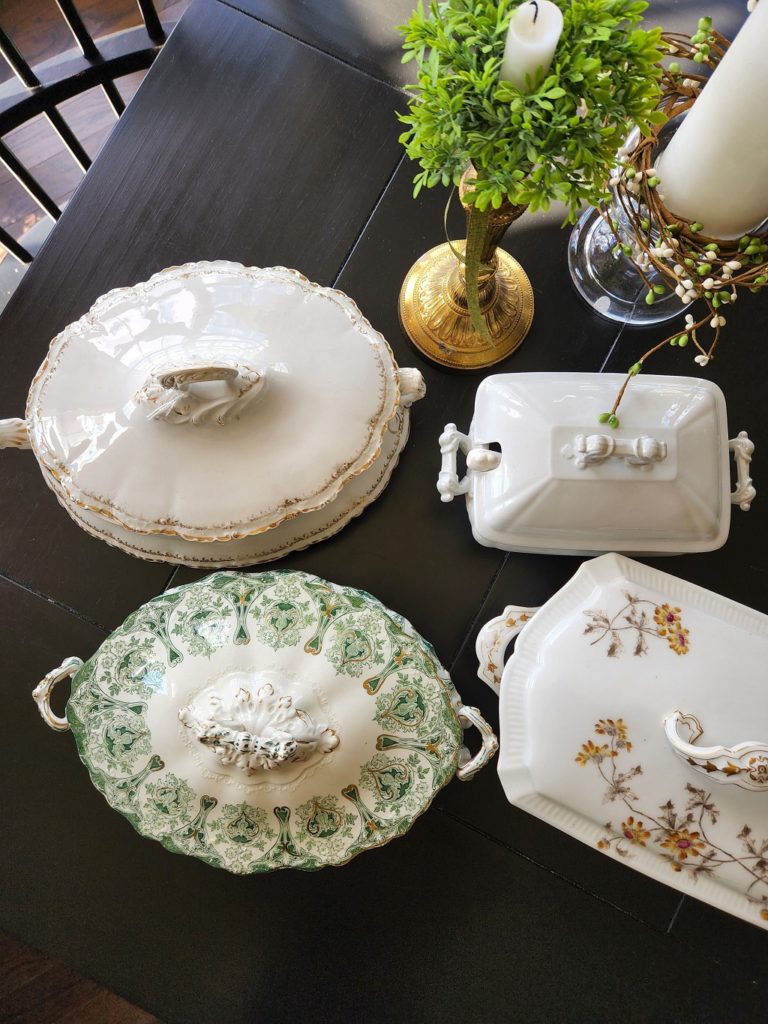 Last on the list are these lovely bird dishes. I have several sets of bird plates, each of which is different! 
As a dish collector, I am convinced you can never have too many sets of dishes.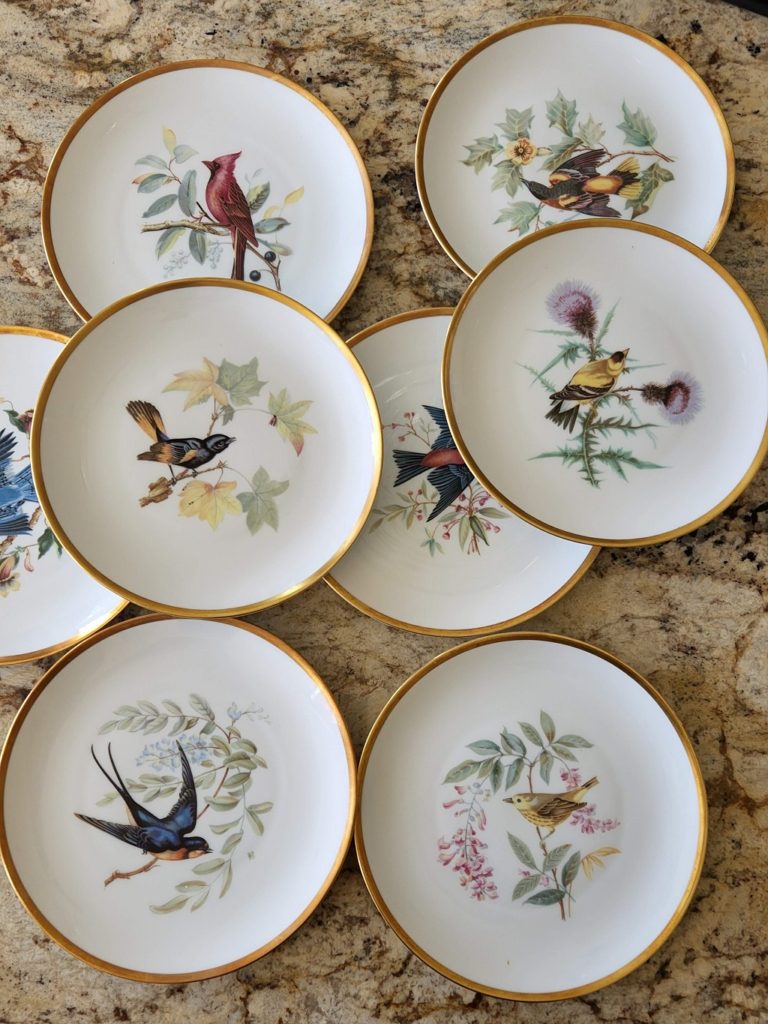 Each set is unique in its own way! I love that these have different birds on each plate.
No time to go thrifting. No worries, I've rounded up several similar items for you!
Shop Similar Vintage Finds Below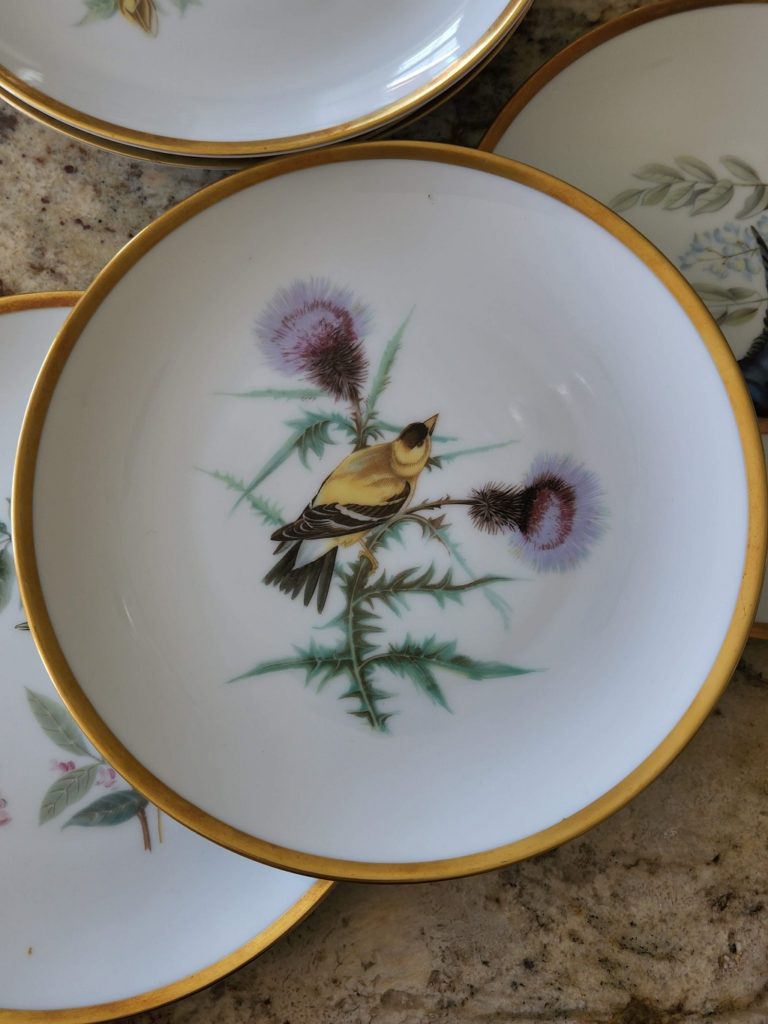 Thank you for spending time with me today! I'd love to hear what your three favorites are in your own home! Leave a comment below! 
XO Susan
If you enjoyed this post, you may enjoy reading about our Friday Finds and Friends Here! 
I hope you are inspired by this post! For more daily inspiration follow me on Instagram and Pinterest. 
Affiliate links have been used in this post which means I may earn a small commission, although it will not cost you a penny more! You can read my disclosure policy here.