My Top 3 Favorite Neutral Rugs for Fall
Here are three of my favorite, neutral area rugs that you can use in any room to add a little texture, warmth, and personality.
Since fall is now in full swing, I thought it would be a great time to share how to change up the decor in your home by changing the color of your rugs.
I had been thinking about changing up the decor in my living room for some time. So last fall I took the plunge and went from using a bright burgundy rug, to a lighter, neutral rug, and I couldn't love it more!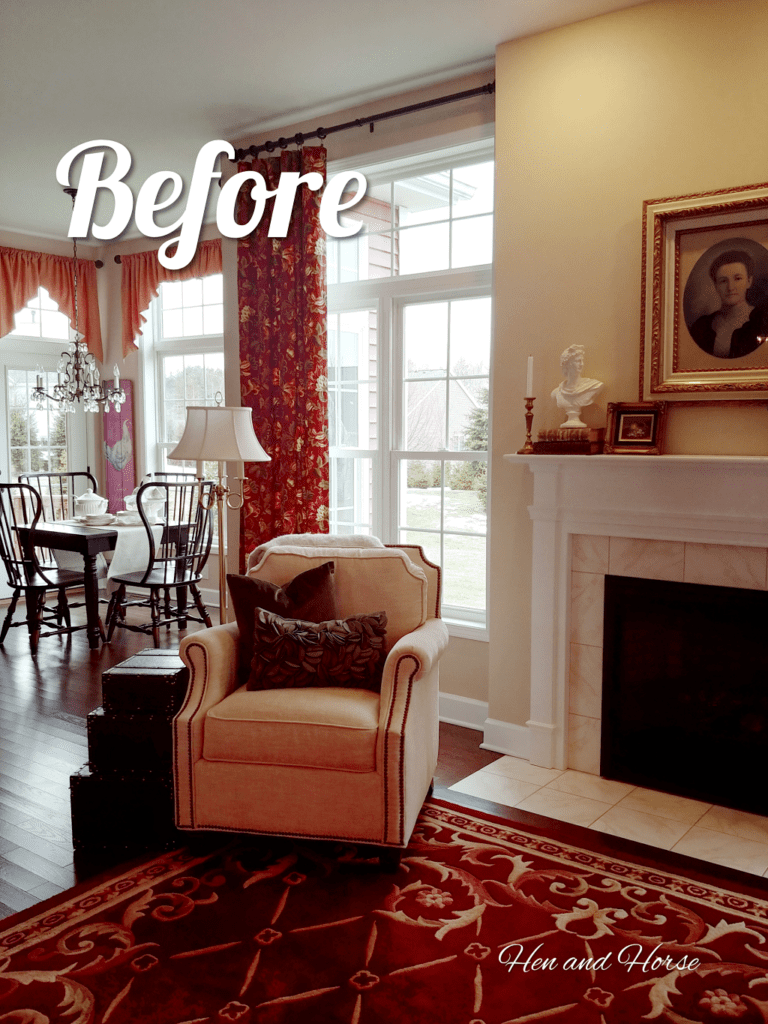 "This post may contain affiliate links which means I may earn a small commission. You may read my
disclosure policy here
".
If you are new to my blog, let me just say welcome! My name is Susan and I'm so pleased you stopped by.
Hen and Horse Design is where I share my love of home decor, gorgeous tablescapes, flowers galore, gardening, recipes and cannot forget to mention our bunny! Cannoli!
It is also where I share my weekly Rambling from Roost newsletter that will keep you up to date on all behind-the-scenes things that go on over here! 🙂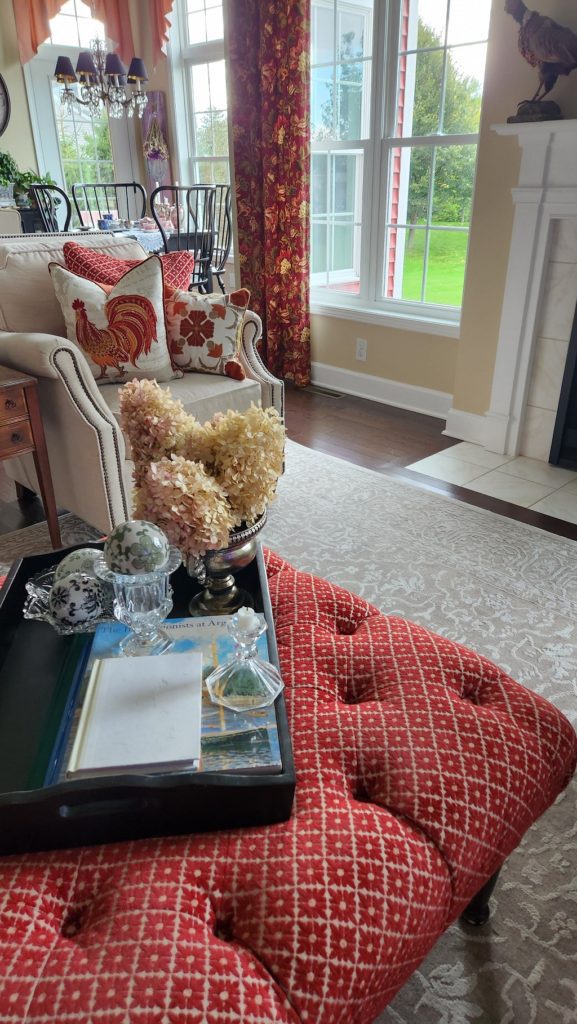 How to Pick out Neutral Rugs for Your Home?
When selecting a rug for your home, it is important to consider the style of your space and choose a rug that will complement it. If you are looking for a neutral rug that will work with any style, there are a few things to keep in mind
First, think about the colors and patterns in your space. A solid or lightly patterned rug will work well in a neutral space, while a rug with more of a pattern may be too busy for a neutral room.
Second, consider the size of the rug. A large rug can anchor a space and help to define it, while a small rug can be used to add interest or to fill a small space.
Finally, think about the materials and construction of the rug. A wool rug will feel soft underfoot and will last for many years, while a synthetic rug may be less expensive but may not last as long.
Once you have considered these factors, you can begin to narrow down your options and find the perfect neutral rug for your home.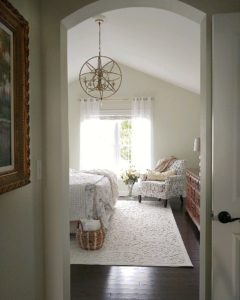 How to Measure for an Area Rug?
When measuring for an area rug, make sure to measure the entire space that you want the rug to cover. This includes the length and width of the space, as well as any furniture that will be sitting on top of the rug. Be sure to add at least six inches to each measurement to ensure that you have enough room for the rug to fit comfortably.
After having purchased several rugs throughout the years for various homes, my number one tip is to buy big! Buying too small a rug or 'not exactly' the right rug, is not the direction you want to go in. It's worth the extra dollars in the end!
Where to Buy Area Rugs?
When it comes to purchasing area rugs, there are so many great options.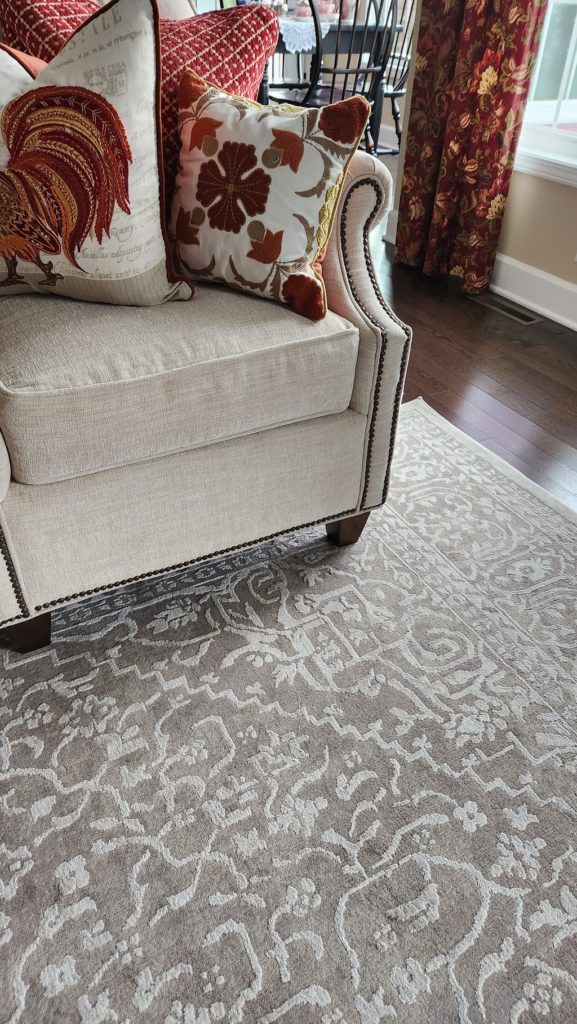 Enjoying this Post? Sign up here for my weekly newsletter.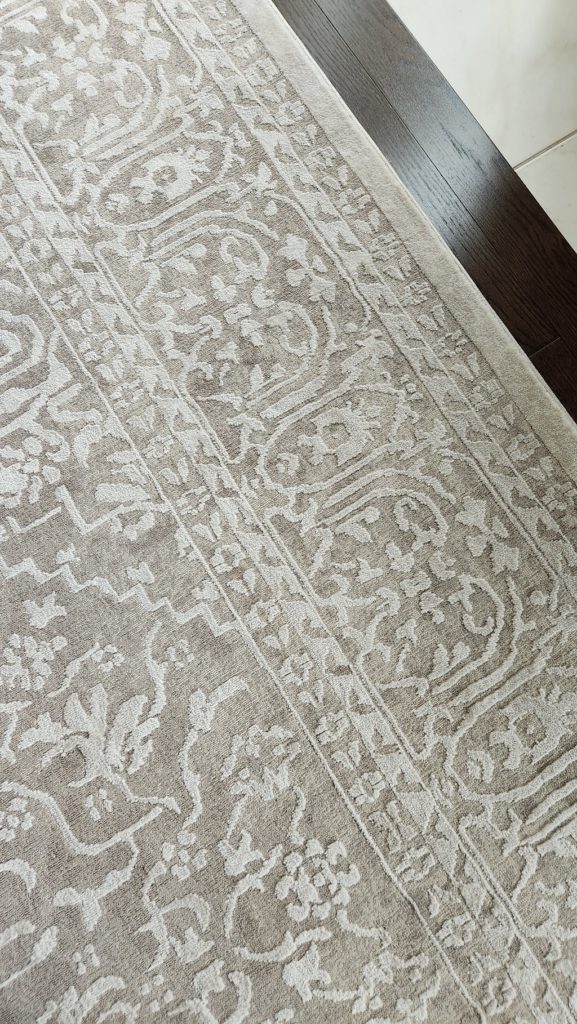 Here are three of my favorite neutral rugs for fall:
1. The Safavieh Bijar Collection has an old-world style and quality. These rugs bring traditional sophistication and the authentic look and feel of a traditional oriental rug. The soft palettes and open fields make these rugs easy to match to any decor. Each rug has a dense, soft pile and excellent quality, to ensure that you will enjoy the look and feel of your rug for years to come.
2. The Safavieh Reflection rug has an elegant Vintage feel and charm, that makes neutral decorating a breeze. I love the pattern for adding visual interest.
3. With the Orian Boucle Rug you will never have to sacrifice comfort or durability. Comes in a dreamy ivory color and stunning brocade pattern!
70 % Polypropylene 30 % Polyester
Stain Resistant & Non-shedding.
Kid and pet friendly
Great for high foot traffic and areas prone to unpredictable messes
Easy Maintenance
Polypropylene
Contemporary or traditional design for any room in your home
Power loomed constructions make for non-shedding
Low pile heights for a sleek look (one of my very favorite)
Elegant high-low, "sculpted" texture
Indoor/outdoor rug is 100% fade resistant and easily cleaned
Ivory rug with brocade Pattern
100% polypropylene fibers are virtually non-shedding,
Soft underfoot & 100 stain resistant
Made in USA
Shop My Favorite Rugs at Hen and Horse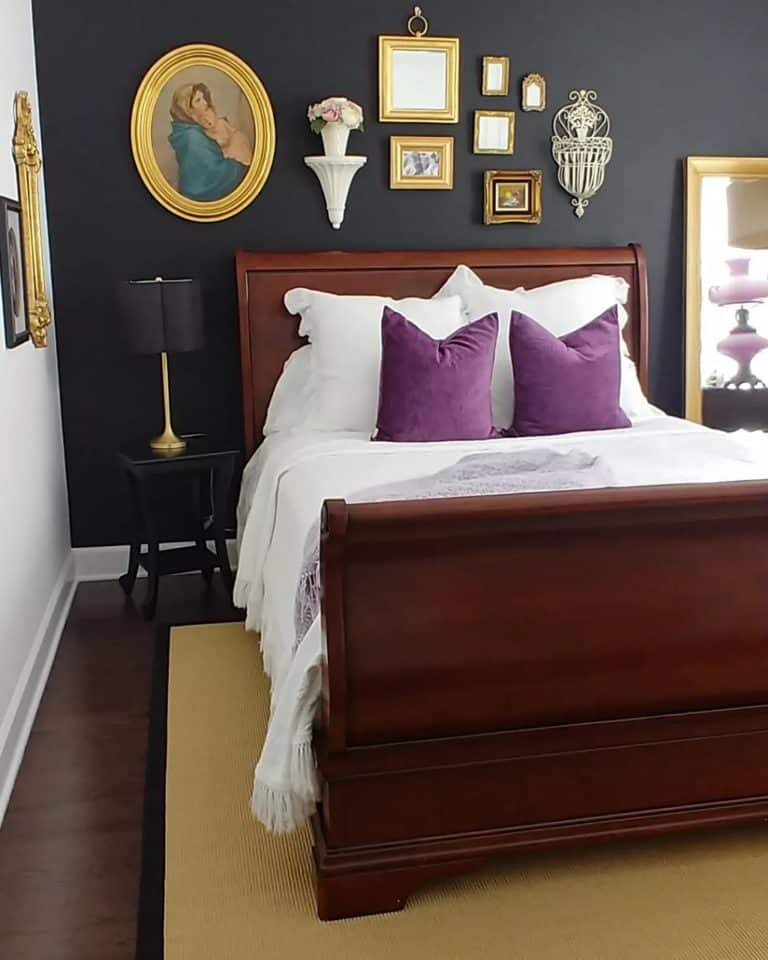 Have you checked out my other social channels? Follow along so you don't miss out on any of my tips, recipes, or stories! ( you know I love a good story 😉 Join me on my other social channels for more! Pinterest, Instagram, and Facebook.
While there are endless possibilities for what type of rugs to choose for fall, I wanted to share our top three favorite neutral rugs that will work with any style or color scheme. From natural fibers to playful patterns, these rugs will help you transition your home into the cooler months. Which of these rugs is your favorite?