Easy Dollar Tree Centerpiece for Valentine's Day
Looking for an easy centerpiece for Valentine's Day? You're in luck! Today I'm making a dollar tree centerpiece!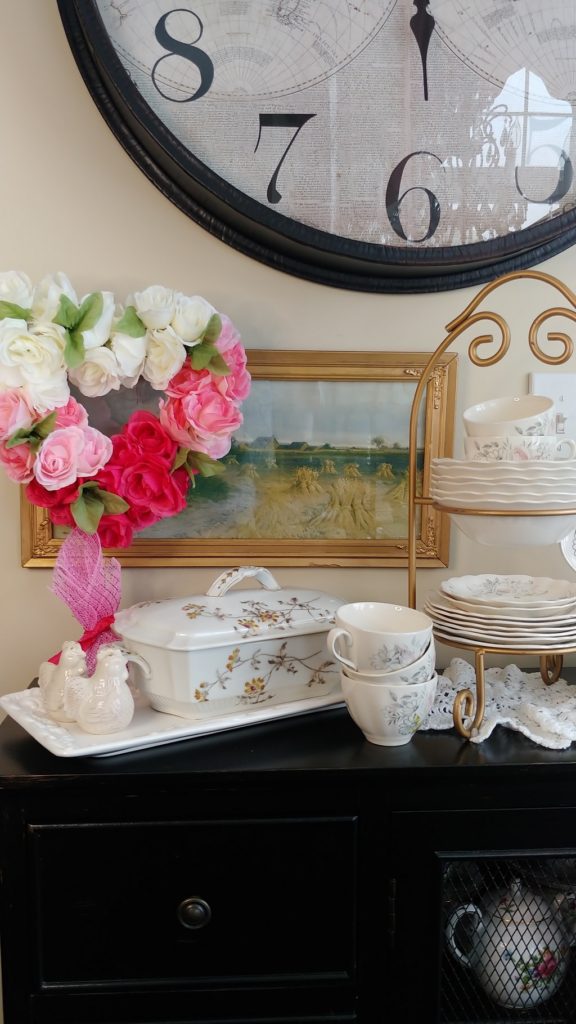 "This post may contain affiliate links which means I may earn a small commission. You may read my
disclosure policy here
".
Dollar Tree Finds
Have you been to Dollar Tree lately? I hadn't been in several weeks but decided to stop by and see what new things they had. My Easy Dollar Tree Centerpiece for Valentine's Day is today's inspiration for you. Making something from something else is an easy option when you cannot find what you are looking for! 
If you are new here, welcome!! And if you have been around a while, I'm so happy you are here. I truly appreciate you!
28 Days of Pink
If you have been following along on my Instagram page, you know that I'm embracing the cold winter month of February with the color Pink! 28 days of pink to be exact!
I'm not sure I have enough 'pink things' in my home to do that, but boy it sure sounds fun doesn't it!
In the past, I recall a similar 'Susan Challenge'. After we were married, I decided that we, he and I, should celebrate every day with a glass of champagne. We did that for one whole year!
Now mind you, some of those days it was a corked bottle from three days prior, but we did it! It was a fun challenge that we look back at it and laugh!
Posting something pink every day?…..I think I got this challenge!
In keeping with my 'pink' theme, I headed to Dollar Tree to see if I could find a few items to make a centerpiece with pink in mind.
There was nothing to be found. What was there was lots of red! Almost everything I saw had red or red and white in it! The tinsel heart below had the shape I was looking for, but, it was shiny pink tinsel with red. This was not going to suffice!
This was when I started to think, I could create one using this as a base template. All I needed to do was find pink flowers.
That party was pretty easy. These small bouquets of roses were on sale and were only $1.99 each. I used two of each color. (white, pink, and a darker pink for a ombre look)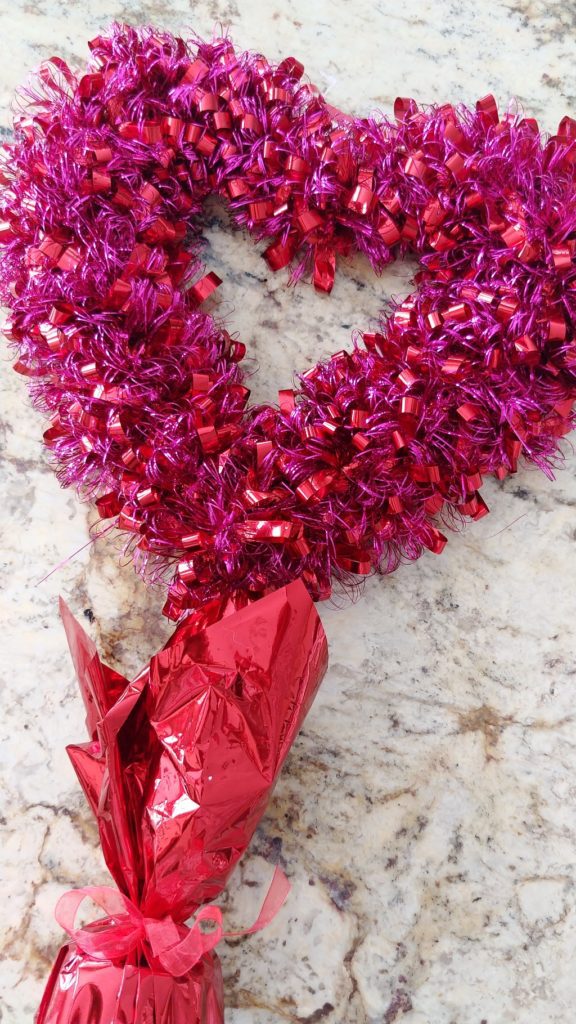 How I Made my Easy Dollar Tree Centerpiece for Valentine's Day
First, I removed the pink and red tinsel
Next, I traced the heart shape on a piece of cardboard (I used a shirt box from a Christmas gift)
Then, I cut out the heart shape
Trace the inside of the heart
Glue the heart onto the plastic heart template ( this will be backing to be able to glue on your flowers )
Use a glue gun to attach flowers of your choice – Be careful with the hot glue
Add a few green leaves
Cover the base in a pink fabric or ribbon – tie with a bow
If both sides will be seen, glue flowers on both sides of the heart
Style on your table with a few other pink items!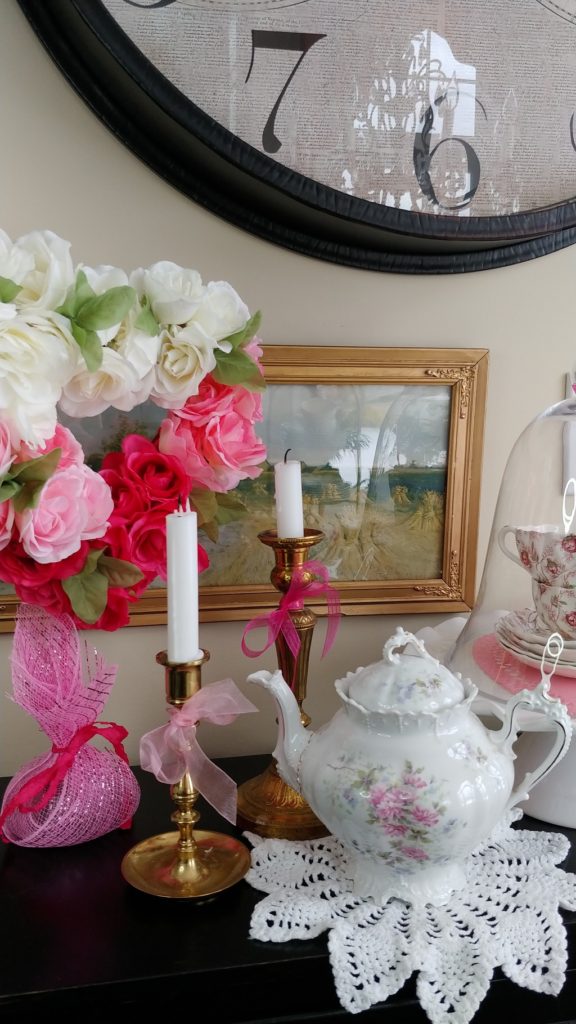 Once done, I styled my heart wreath with my favorite brass candlesticks. Pedestal stands are one of my favorite styling options as well. I've layered my vintage chintz teacups under my antique cloche that I found vintage shopping.
My pink kitchen sideboard is now decorated for Valentine's Day. 
I hope you enjoyed this easy, and inexpensive way to create a dollar tree centerpiece in a few easy steps!
XO Susan
Need a Valentine's Cake recipe, this is my family's favorite.