Easy Rustic Cherry Tart Recipe
Do love delicious desserts as much as I do? I thought you might! Today I'm sharing my Easy Rustic Cherry Tart Recipe! It's so yummy!
Easy Rustic Cherry Tart Recipe
First I'd like to ask you a question!  Are you familiar with those recipes that you make so often that they become such family favorites, you no longer need the recipe to make them? Knowing them by heart has its advantages, doesn't it!
This is that type of recipe!
Meanwhile, for years my mom made this delicious and Easy Rustic Cherry Tart Recipe for so many family events I couldn't begin to count them all.
"This post may contain affiliate links which means I may earn a small commission. You may read my
disclosure policy here
".
Before I continue, let's go back just a bit if I may.  Several months ago, when I was looking through my recipe books, is when I came across my mother's cherry tart recipe.
Now mind you, I have lots and lots of her delicious recipes. She was quite an amazing cook and baker. Her rustic Cherry Tart Recipe was one of my favorite tho. 
Cherry Tart History in Our Home
One day I remember her calling me up and asking me to stop over to her house. My mom had wanted to give me a box, which was filled with her recipes.
Undoubtedly, this was interesting to me, to say the least. Because at this time, I confess, I didn't cook or bake that often. So home they came with me with open arms and the wish to 'have more time' to bake. 
These were busy times I suppose as I was busy with young children running in every direction. 
Fast forward to current days and this has changed quite a bit. Just as I'm sure it's true for you, being home thru our last few years precipitated more at-home meals for my family.
During his time is when I found that I really enjoy baking and cooking!  
Apparently, my mom knew me before I knew me and was prepping me for what was to come. 
The Story Continues
By all rights, if you haven't gathered this yet, I would be remiss if I didn't mention that this is her recipe. I'm uncertain where she acquired it, but what I do know is that it was somewhere in the late '50s or '60s. This delicious Rustic Cherry Tart Recipe has been served for that long in our family! 
If you came by our home for birthdays, anniversary parties, lunch, dinner, or family Sunday pasta dinners, chances are you would get a Cherry Tart!
Many trays of tarts were delivered to friends and families throughout our little town.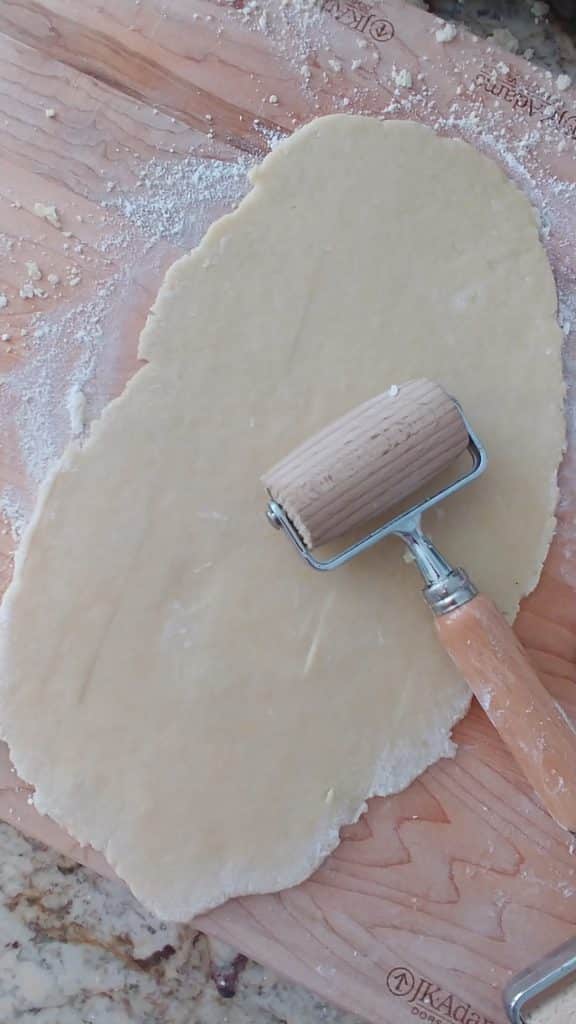 Would you like to know the secret as to why it's so easy?
Here is the secret. Everything is mixed in one bowl, then pressed into the baking dish. Bake and serve!
Did I say it easy! 🙂 Baking doesn't get easier than this!
Enjoying this Post? Sign up here for my Newsletter!
Easy Rustic Cherry Tart Recipe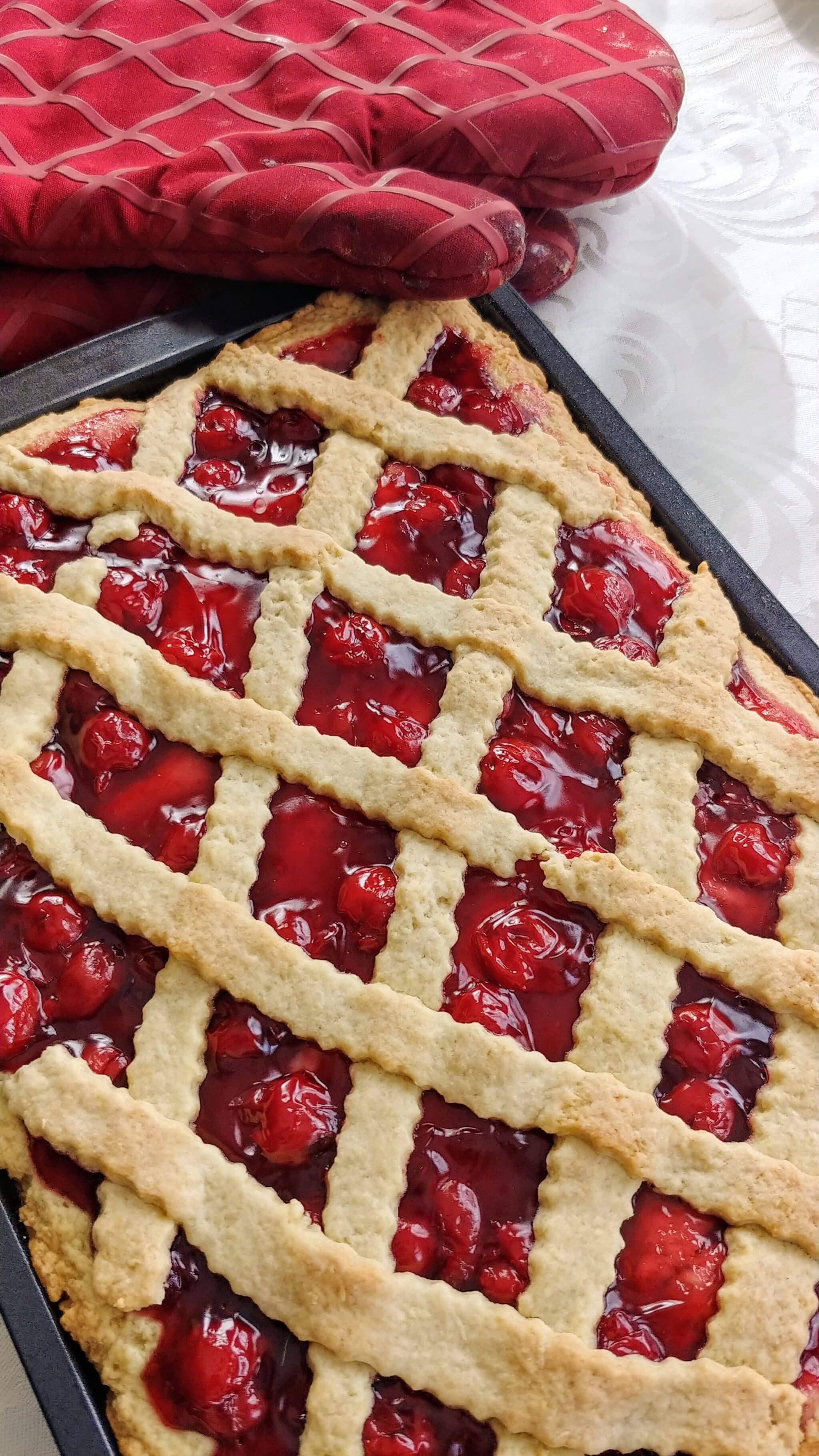 Easy Rustic Cherry Tart Recipe
This easy Rustic Cherry Tart Recipe can be made in one bowl! It's truly the easiest dessert that is packed with delicious flavor!
Ingredients
Dry Ingredients
3 1/4

cup

Flour

1

cup

Sugar

1

tsp

Baking Soda

1

tsp

Baking Powder

1

tsp

Salt
Liquid Ingredients
1/4

cup

Milk

2

Eggs

2

tsp

Vanilla

1

cup

Margarine

1

can

Cherry or any berry filling
Instructions
Mix Dry Ingredients in Large Mixing Bowl

Create a hole in middle of dry ingredients

Add eggs, Milk, Vanilla, Margarine in center of dry ingredients

Work dough with hands until a ball is created

Save a small portion of dough for strips across

Press dough into 13 x 19 Baking Pan

Top with 1 Can of Cherry Filling

Cover with cut strips of dough for lattice

Bake at 375 for 35 minutes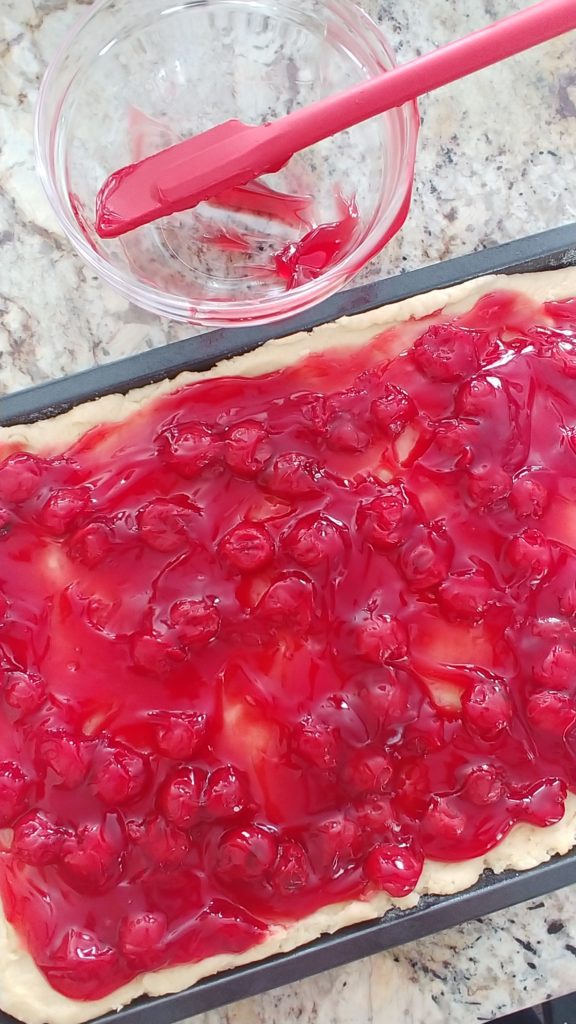 Blueberry or apple filling would be delicious also!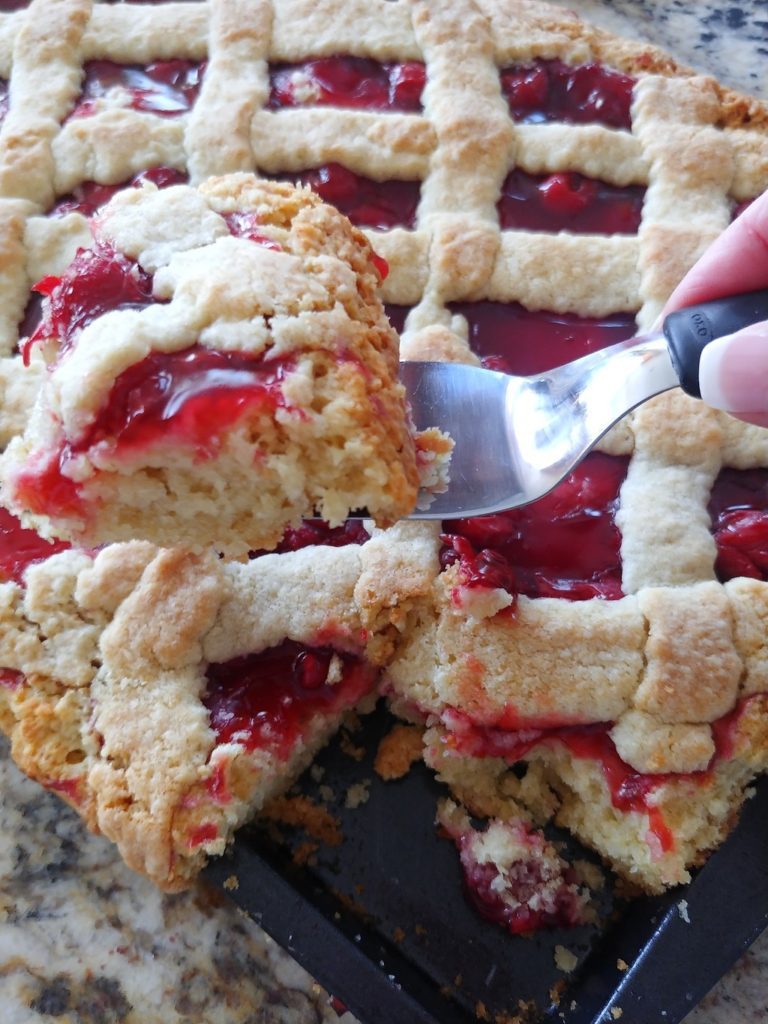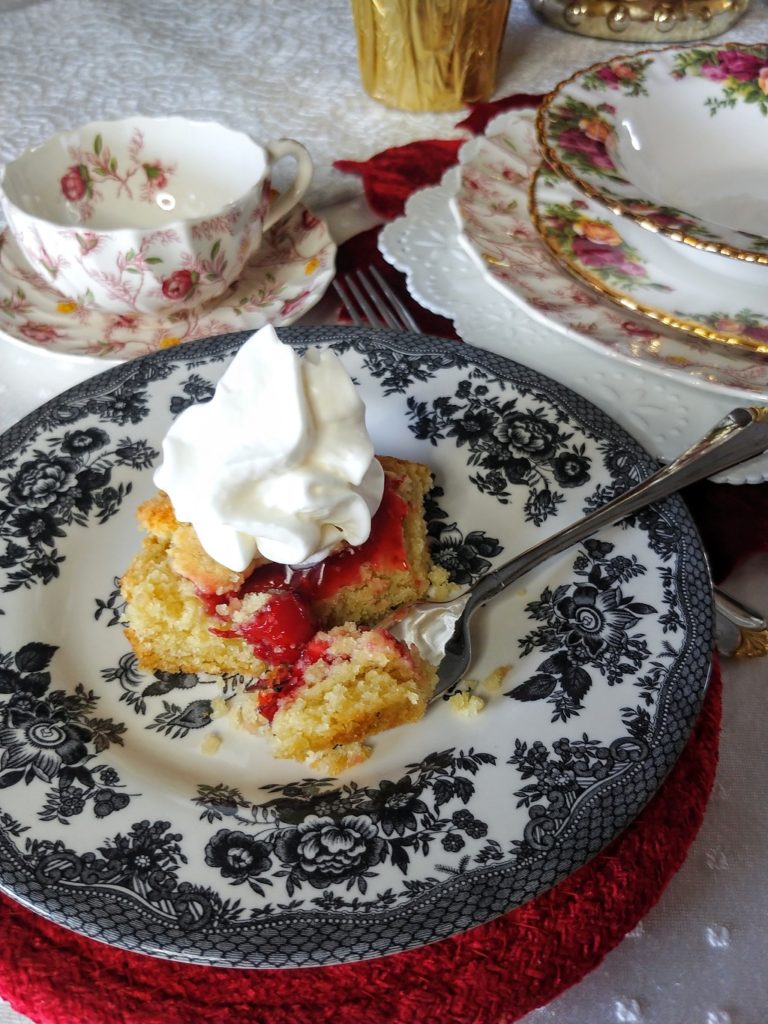 If you enjoyed this post, you may enjoy reading my Easy Baked Pear Recipe!
Have you checked out my other social channels? Follow along so you don't miss out on any of my tips, recipes, or stories!  Join me on my other social channels for more! Pinterest, Instagram, and Facebook.