Easy Small Kitchen Pantry Organization
Struggling to keep your kitchen pantry organized? My easy small kitchen pantry organization tips will help you get organized in no time!
Say goodbye to the days of mess and clutter in your kitchen pantry – with a few simple steps, I'll help you create an organized and efficient space that looks just like one of those picture-perfect pantries on Pinterest!
Getting your small kitchen pantry into shape doesn't have to be a daunting task and it doesn't mean completely overhauling your entire storage system. I know because I just organized several spaces in our home and I couldn't be more excited about it.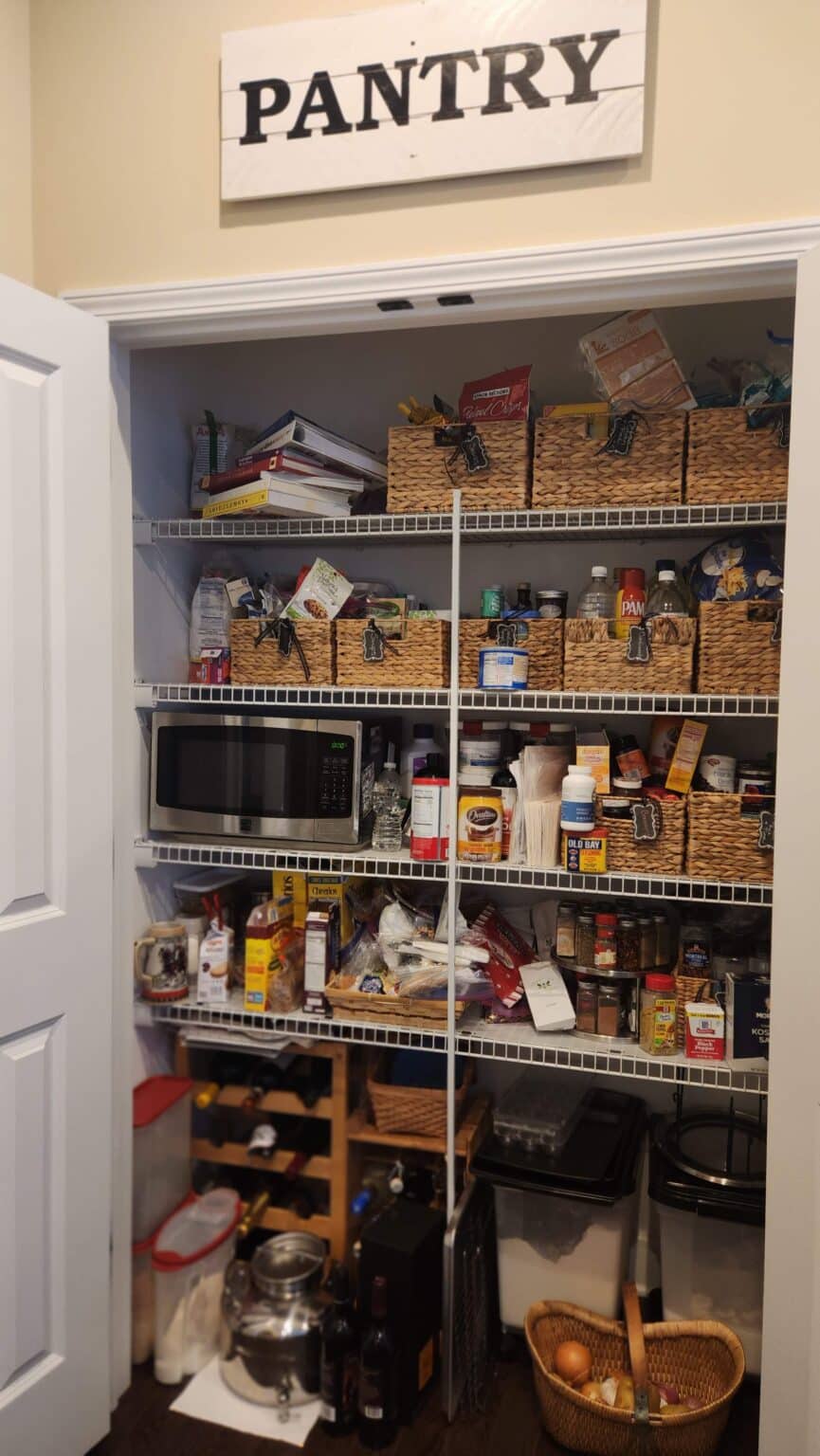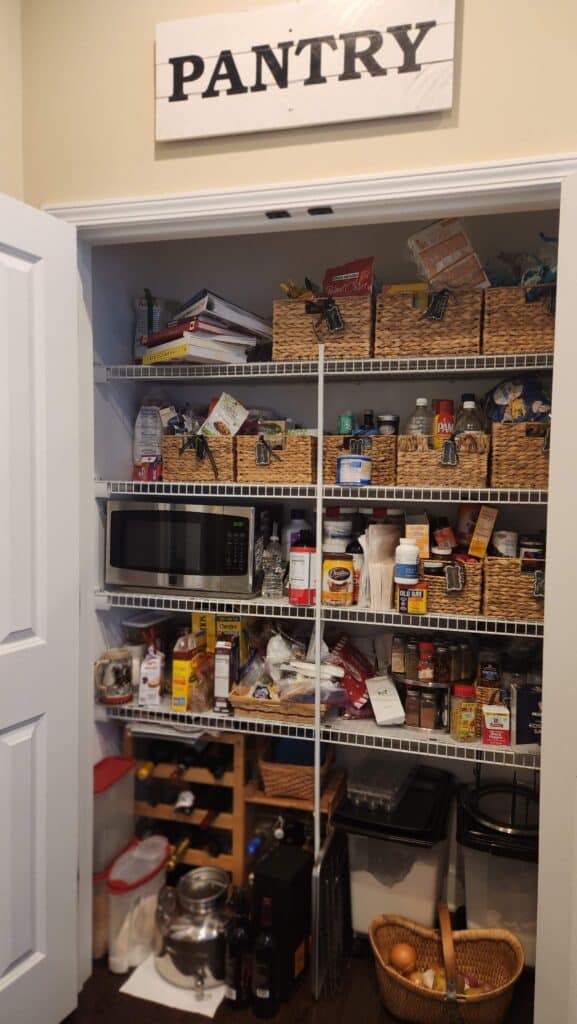 "This post may contain affiliate links which means I may earn a small commission. You may read my
disclosure policy here
".
In this blog post, I'll share some easy (and fun!) tips to help you with an easy small kitchen pantry organization without breaking the bank. So get ready for some helpful tips, cute containers, and inspiring ideas that will transform how you store food in no time!
It's going to feel so amazing when you are done. You can thank me later!
How do I organize a kitchen with a small pantry?
When we first built our home one requirement for me was to have a designated space or food pantry.
I had never had a pantry before so this was pretty exciting.
Back in the day, seriously, I had a home with only two closets. One in each bedroom. One! There wasn't even a closet for coats. Talk about learning how to organize things!
I digress! Which brings me to this house.
We ended up moving a closet on the back bedroom wall to create a double-door pantry on the kitchen space side. I thought I was in heaven.
The next step is to share with you how to get even more space within the pantry
If you're working with a relatively small kitchen pantry, like me, storage and organization can be a challenge. The key is to maximize the small space that you have to make sure everything has a home.
My motto is, like things with like things.
Always.
That goes for everything in your home, not just the pantry.
How do you do this? By adding useful racks, bins, storage containers, layered shelving, or lazy susan-type organizers.
Supplies needed for your easy small kitchen pantry organization
The essentials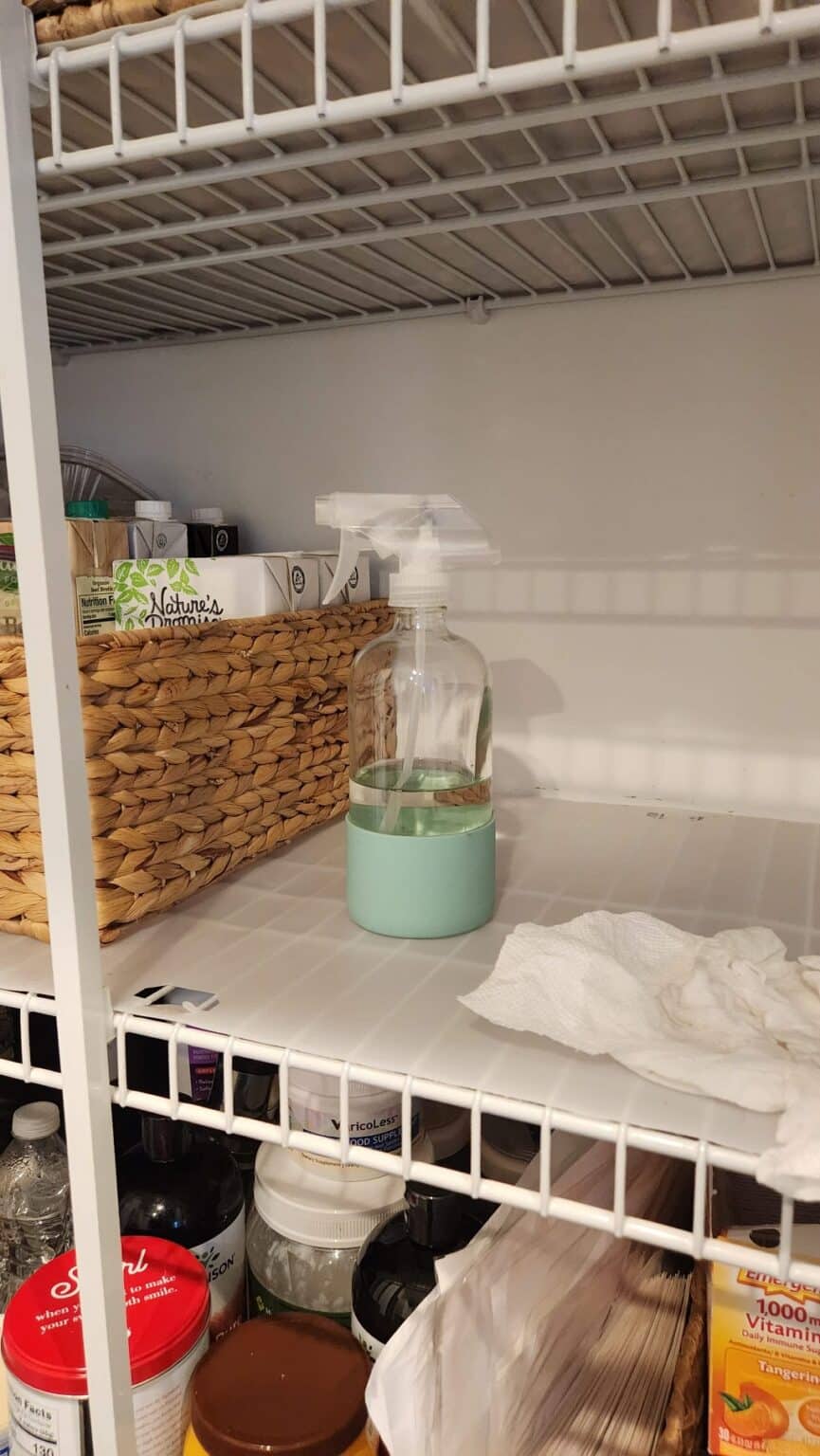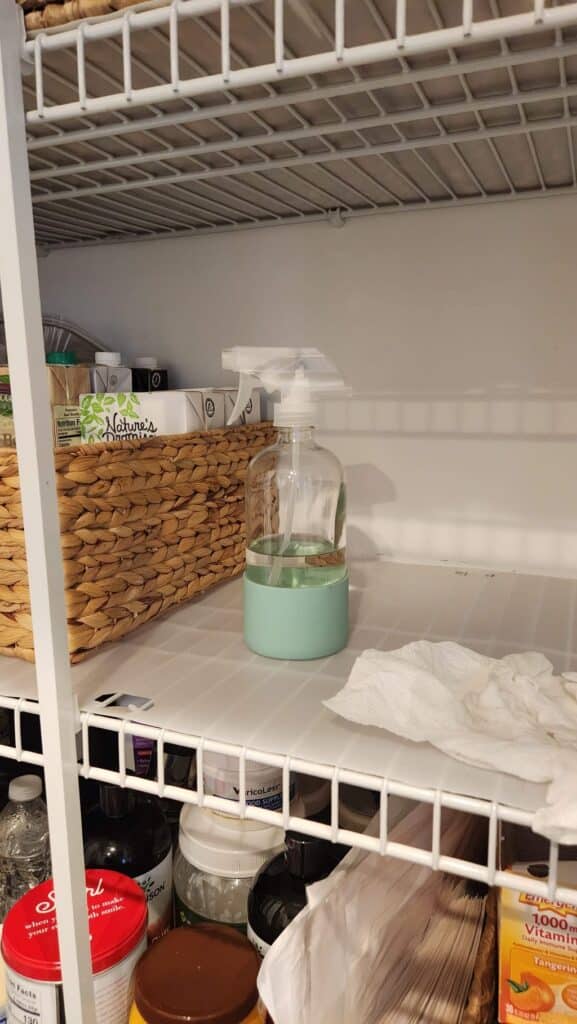 1. Thoroughly Clean Shelves
I started by thoroughly cleaning each shelf. Since we have wired racks, I use a plastic liner on top to prevent anything from falling thru.
Not big on the cleaning part? You would be surprised at how much you can accomplish in just 20 minutes.
Start by taking an inventory
2. Take an inventory of items
Start by taking inventory of all of your items and then properly categorizing them into groups, such as canned foods, snacks, condiments, spices, and baking supplies.
Now is a good time to discard any items that have expired or are no longer used or needed.
3. Decide what types of containers you will use
I used wicker baskets since I like more of a country look, but using clear containers with airtight lids to store small items like nuts or pasta is always an option.
How do I get more pantry space in a small kitchen?
One of my favorite additions to my pantry is my spice rack.
I use it every day and find it easy to find what I need rather than digging through a cabinet or having them piled in a drawer.
Using a spice rack: A spice rack is a great way to organize spices in a small kitchen pantry. This will help you to keep all of your spices organized and will make it easy to find the one you need when you are cooking. You can find spice racks at most stores that sell kitchen supplies.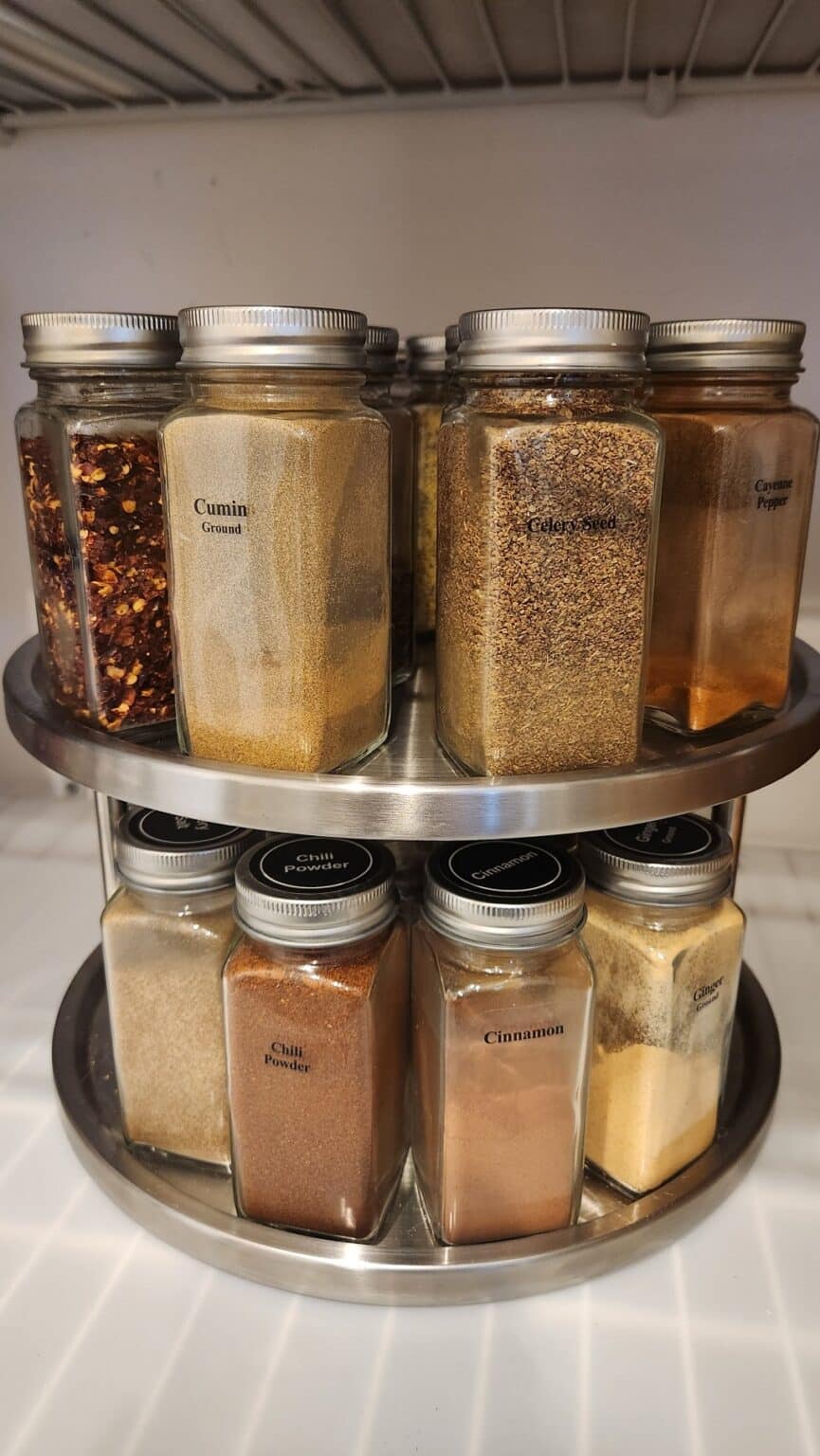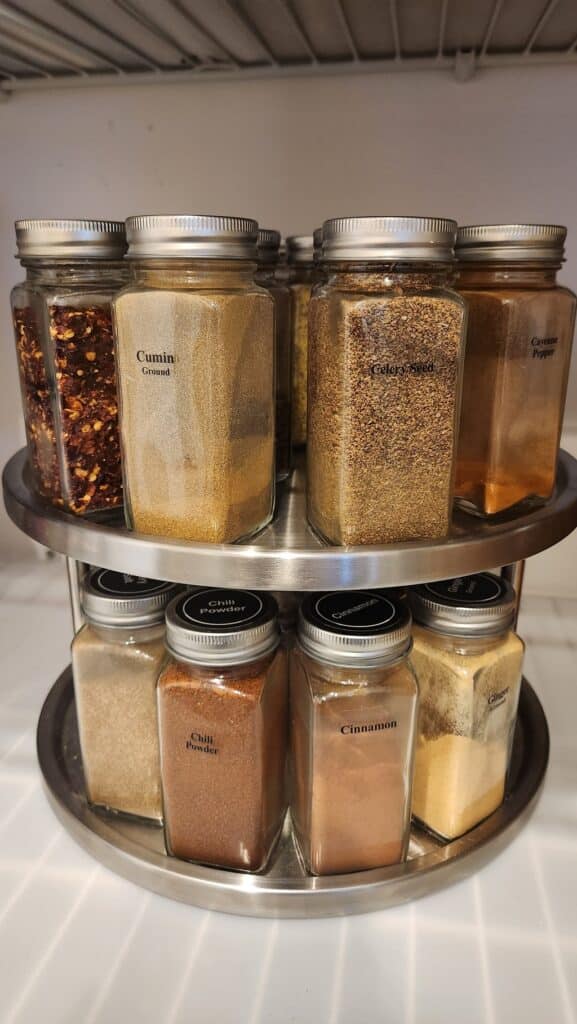 One of the best ways to organize a small kitchen pantry is to use clear storage containers. This will allow you to see what is in each container and will help you to find things more easily.
A dish rack is another great way to organize a small kitchen pantry. This will help you to keep all of your dishes organized and will make it easy for you to find the ones you need when you are cooking.
Another great way to organize a small kitchen pantry is to use labels.
These are helpful as well.
I love how these jars come with white labels for every type of spice.
This will help you to know where everything is and will make it easier to find things when you need them. You can either buy pre-made labels or you can make your own.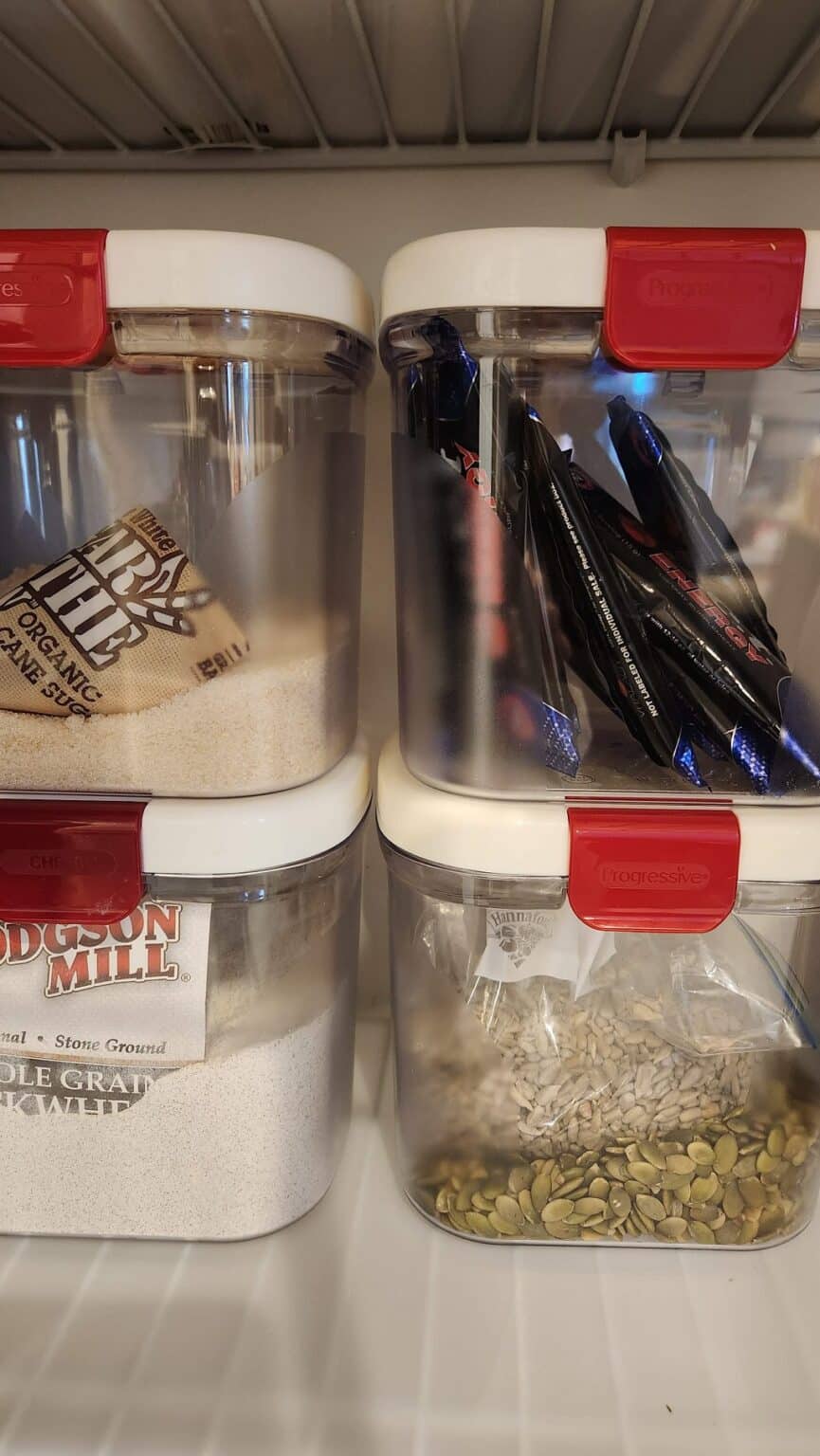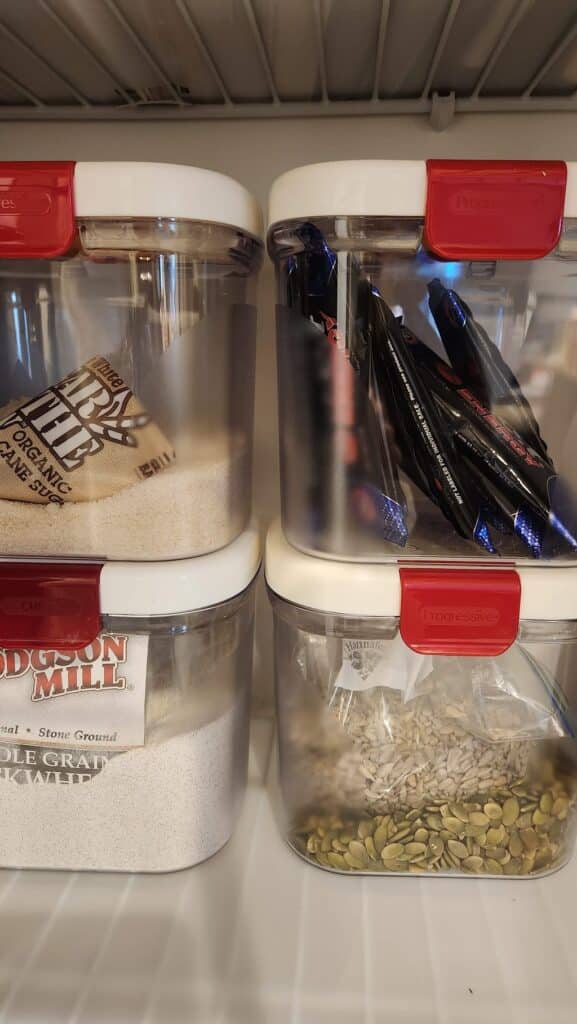 3. Fill containers
It's a good idea to cut the label from the ingredient packaging as well (it has the expiration date on them) or you can write the expiration date of the item on the bottom of your container.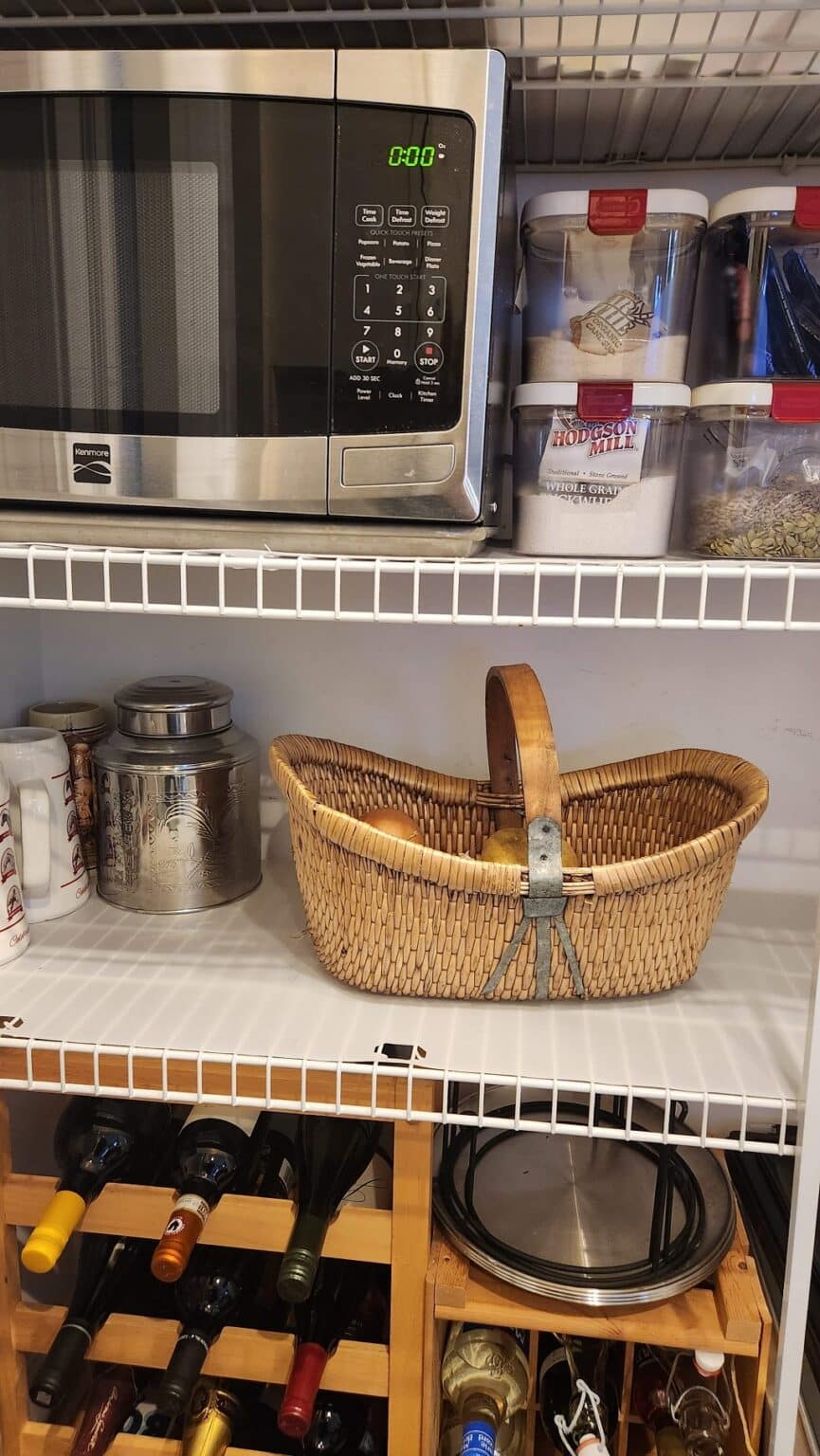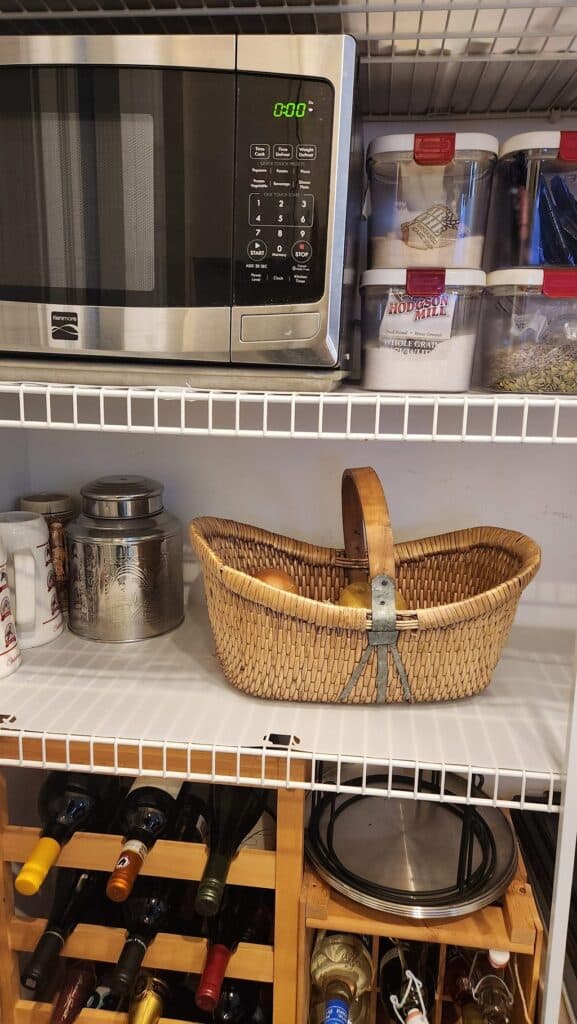 Tip: Building a new home? Ask your builder if he can do this!
We asked our builder to add an outlet in the pantry for the microwave. This can help save on cabinet or counter space and hide your microwave which is another perfect idea for your small kitchen pantry organization.
Our microwave typically isn't used often so this worked out great for us.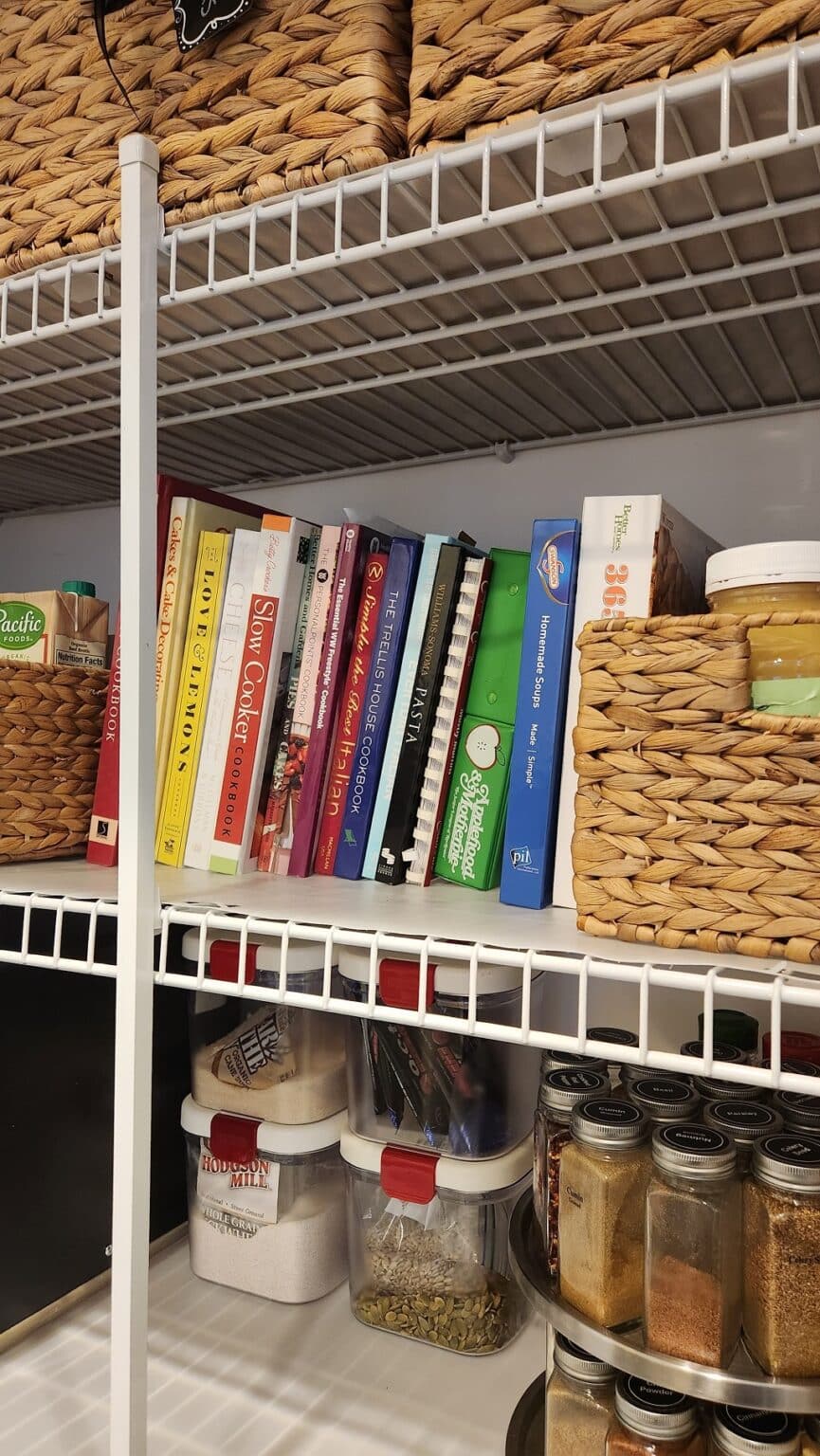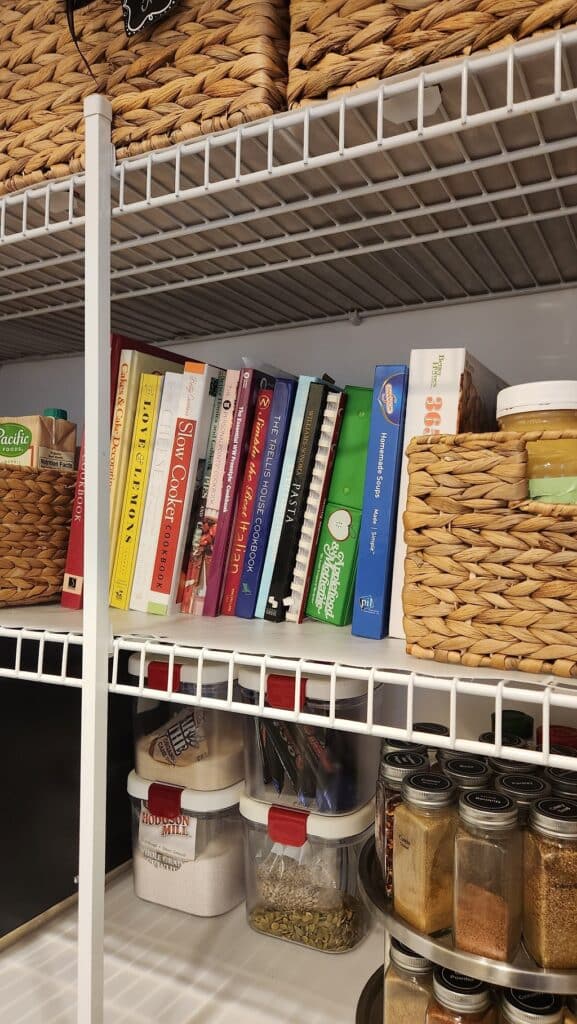 My cookbooks used to be on the top shelf which isn't handy being five feet tall.
Moving them to the middle shelf was genius. haha Why didn't I do this before I'll never know!

Pin it to remember it: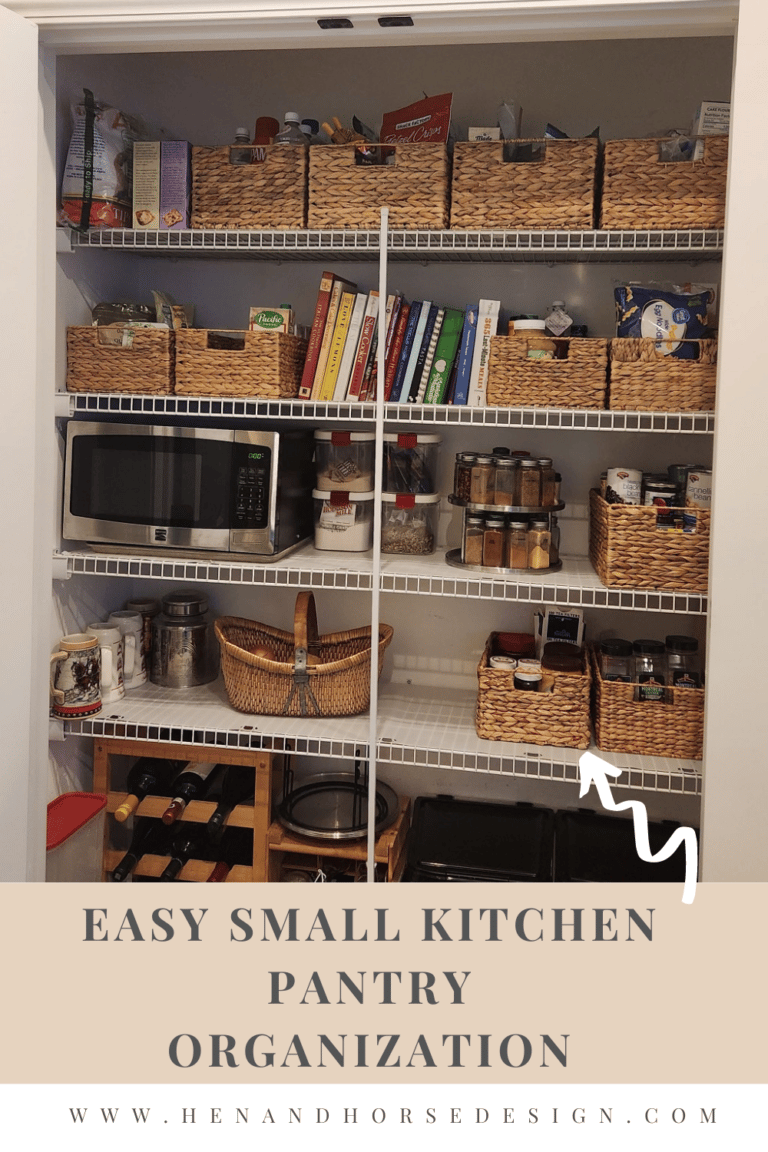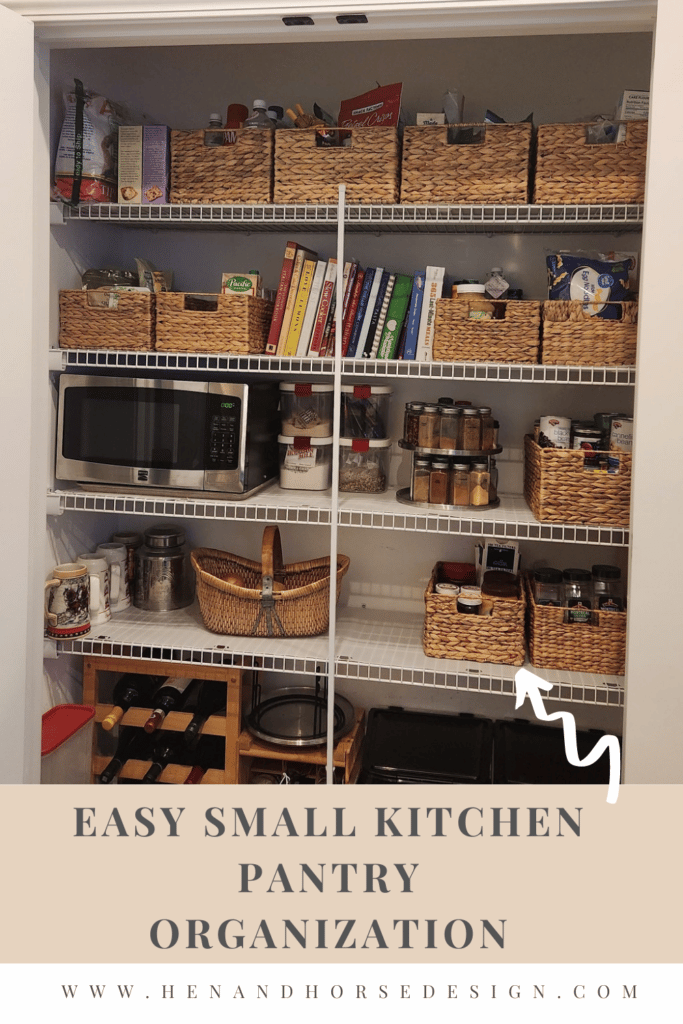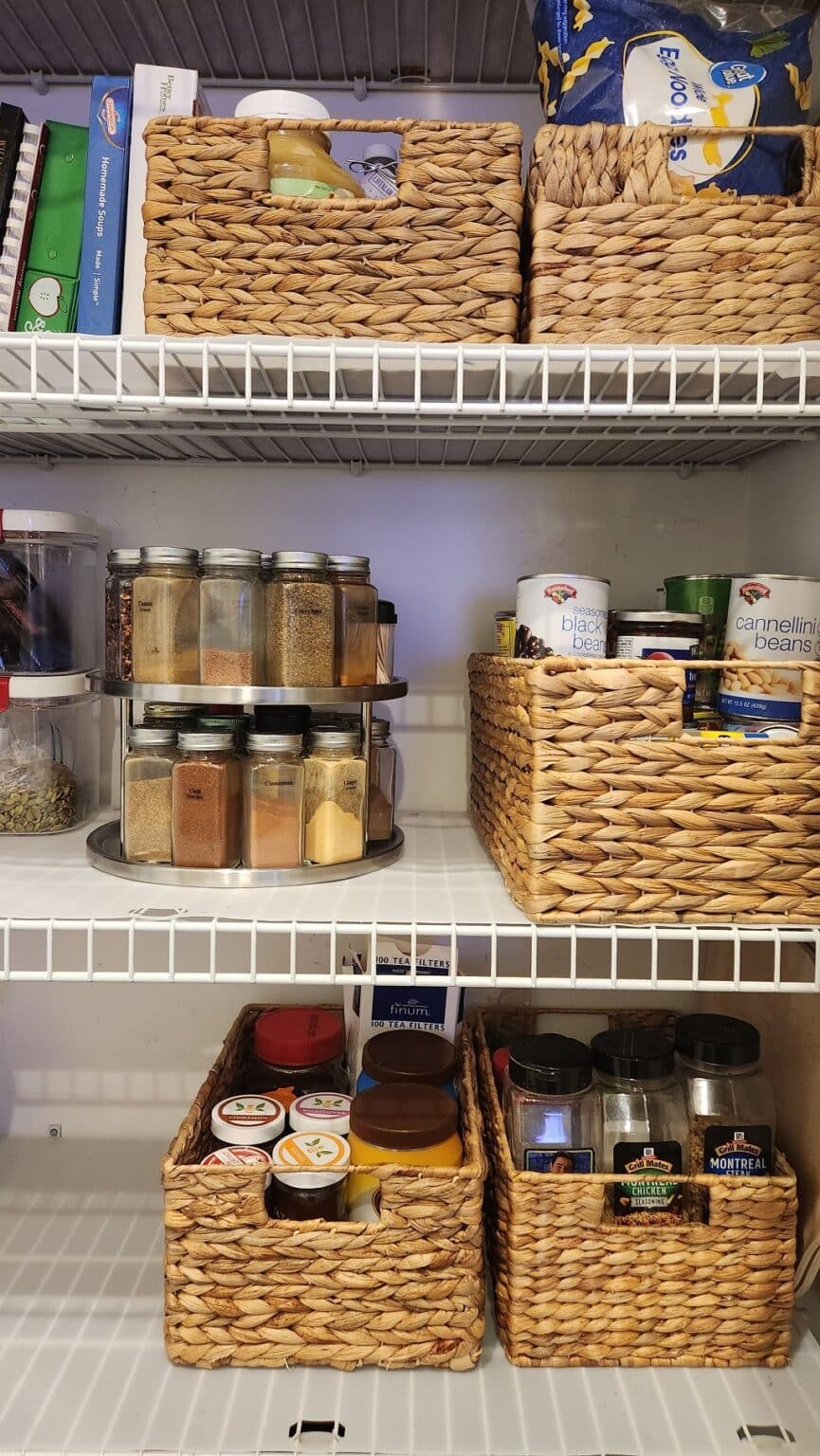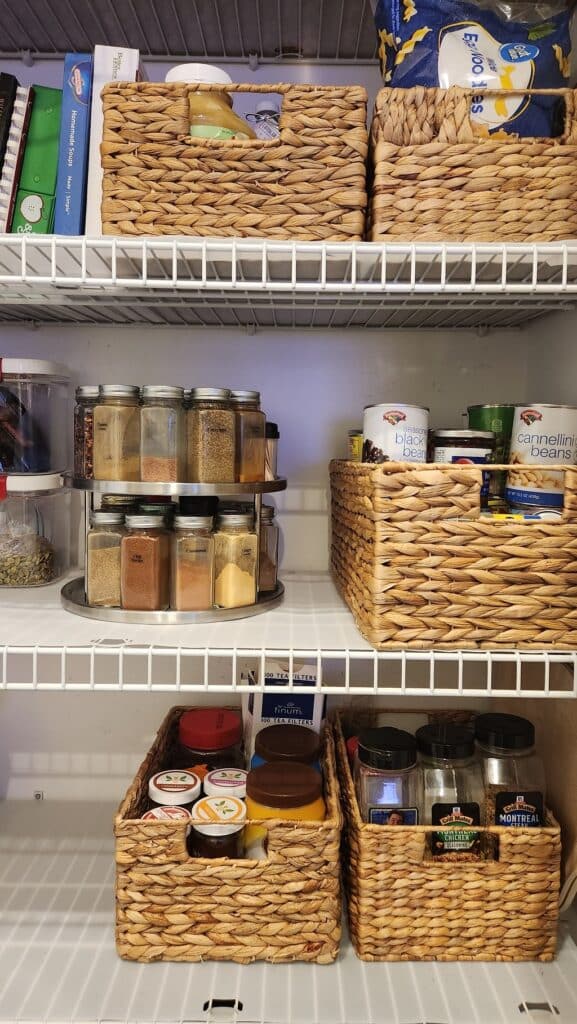 4. Place like items together in bins
Remember how I mentioned the concept of putting like things with like things? Now it's time to fill your baskets or bins.
In this basket, I have honey for tea, Ovaltine, and additional beverage items.
What if you have a pantry with pull-out drawers? Missy (from Sonata Home Design) has great ideas to organize your pantry drawers.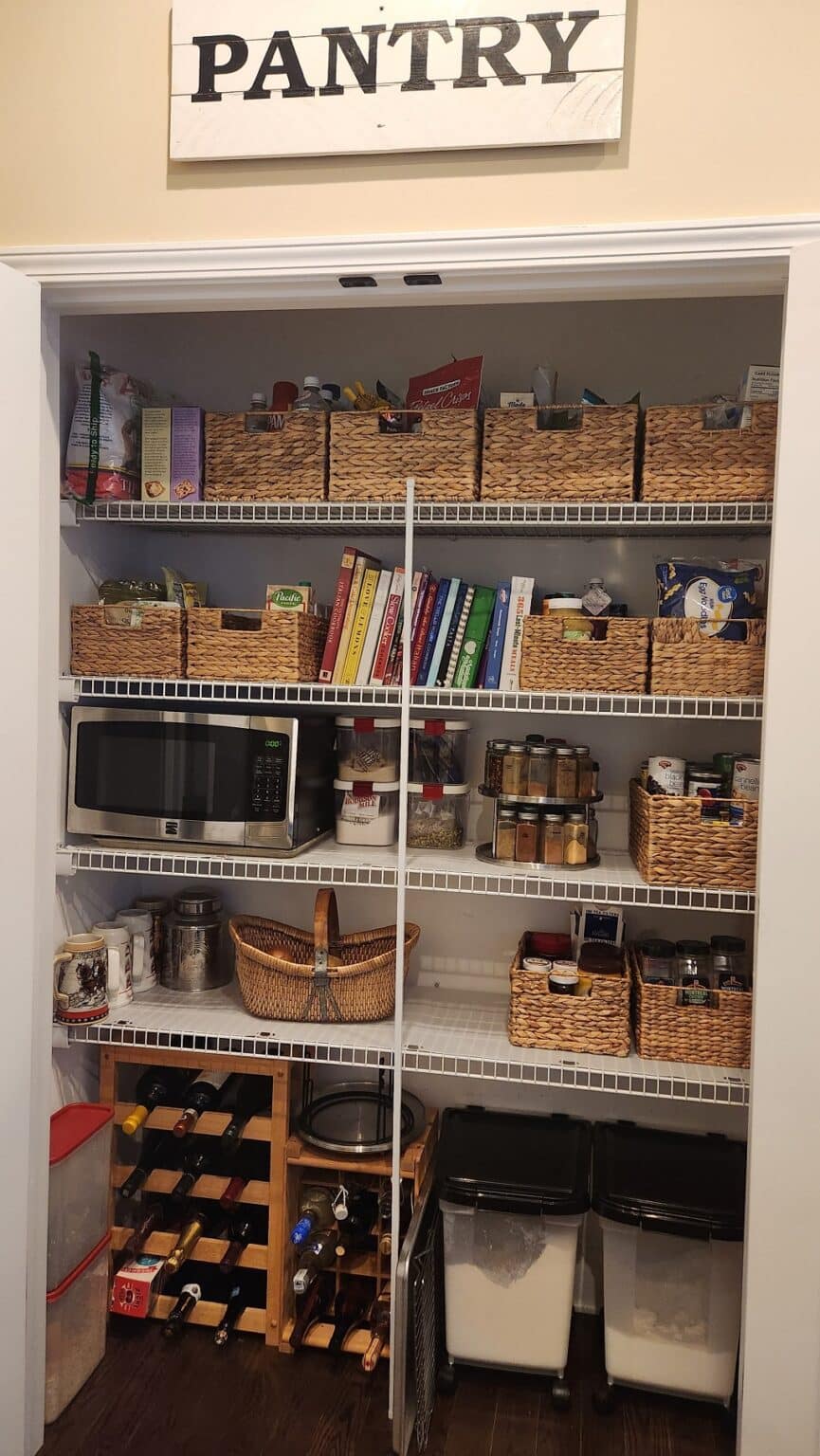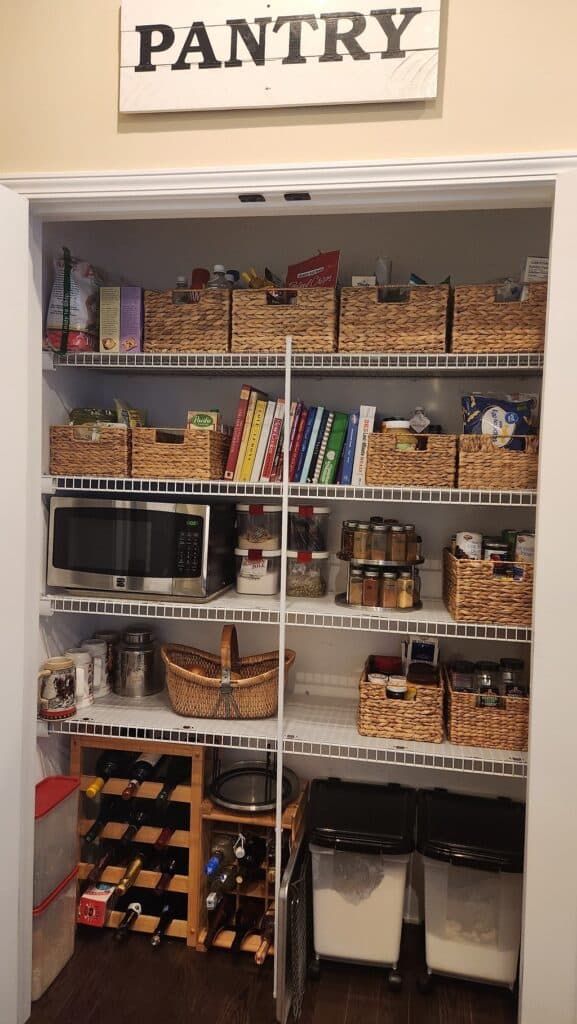 5. Place bins on the shelves
Go ahead and step back and admire your work!
I'll admit it. I opened and closed the doors at least 10 times the first day and just gazed!
Small kitchen pantry organization can be easily accomplished with a few simple tips. By considering what you need to store in your pantry and investing in the right storage solutions, you can create an efficient and functional space.
With a little bit of planning, organizing your small kitchen pantry is easy! Do you have a small kitchen pantry that needs some organization?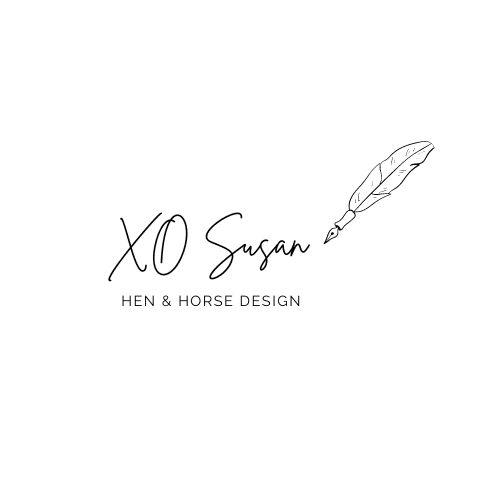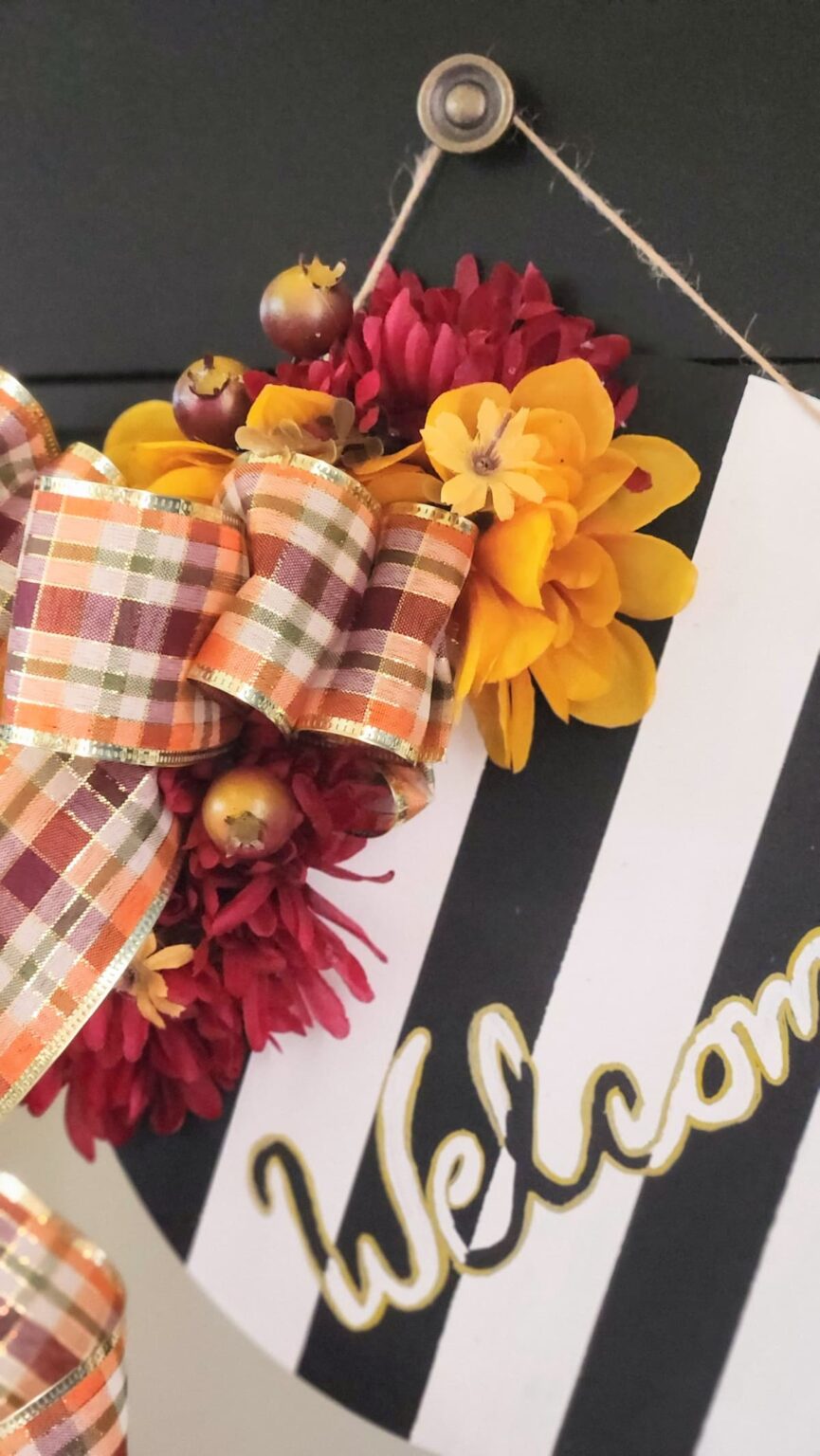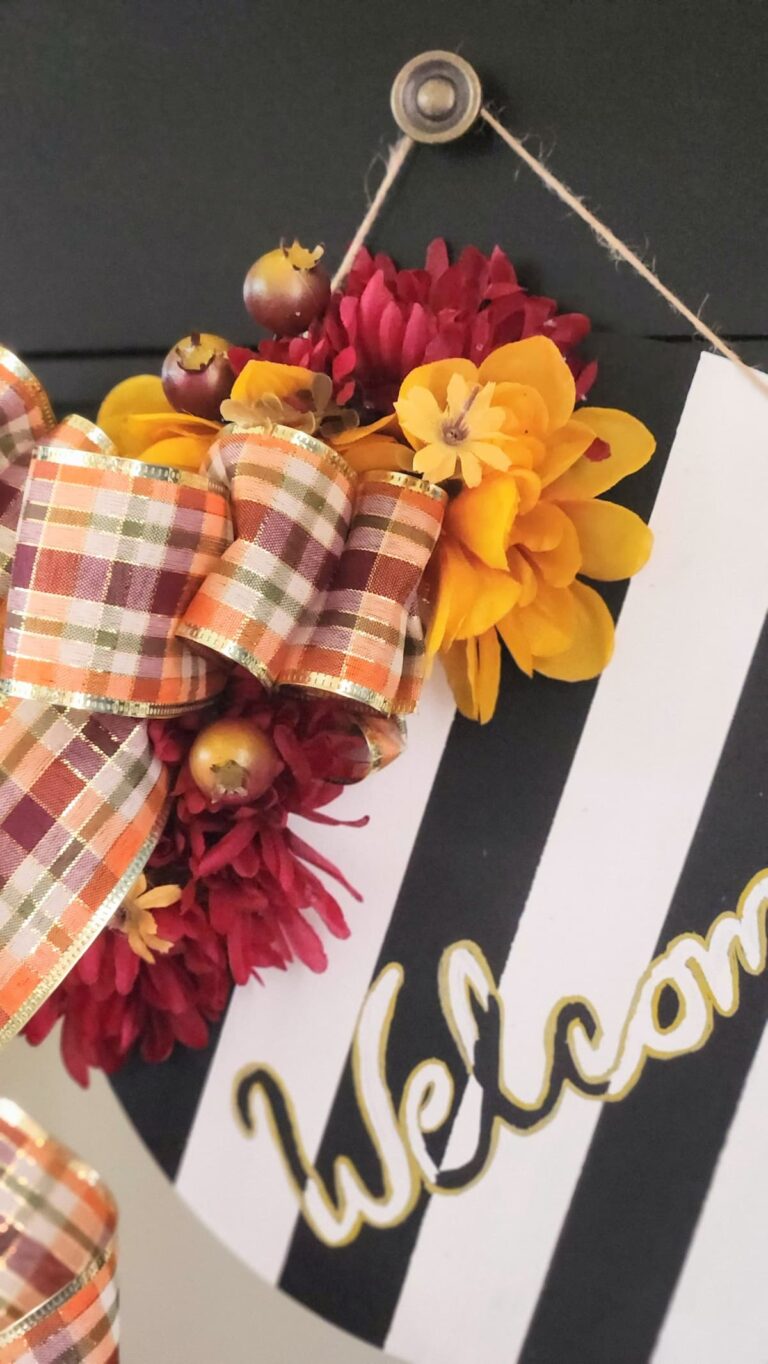 Hey there, crafty friend! Are you ready to dive headfirst into the wonderful world of DIY door hangers? Picture this: a cozy afternoon with your favorite tunes playing in the background, a table overflowing with colorful paints and craft supplies, and an empty wooden door hanger just waiting for your creative touch. It's like a mini canvas for your front door, and trust me, the possibilities are endless for a new pretty welcome sign.