Easy, Fresh DIY Rosemary Wreath: How to Instructions
Create aromatic charm with my step-by-step guide to crafting a stunning easy, fresh DIY rosemary wreath: how-to instructions. Elevate your decor and cooking with this easy DIY project.
Hi there! Welcome back. We are about to embark on a journey that not only will awaken your creative spirit but also infuse your kitchen with a delightful fragrant herb.
Say hello to my latest DIY rosemary wreath.
If you've been searching for a fun way to use your rosemary plant or a way to bring a touch of nature indoors, look no further than my Easy, fresh DIY Rosemary Wreath tutorial.
Bursting with the invigorating fragrance of rosemary and boasting a rustic yet elegant aesthetic, this wreath is a testament to the beauty of simplicity.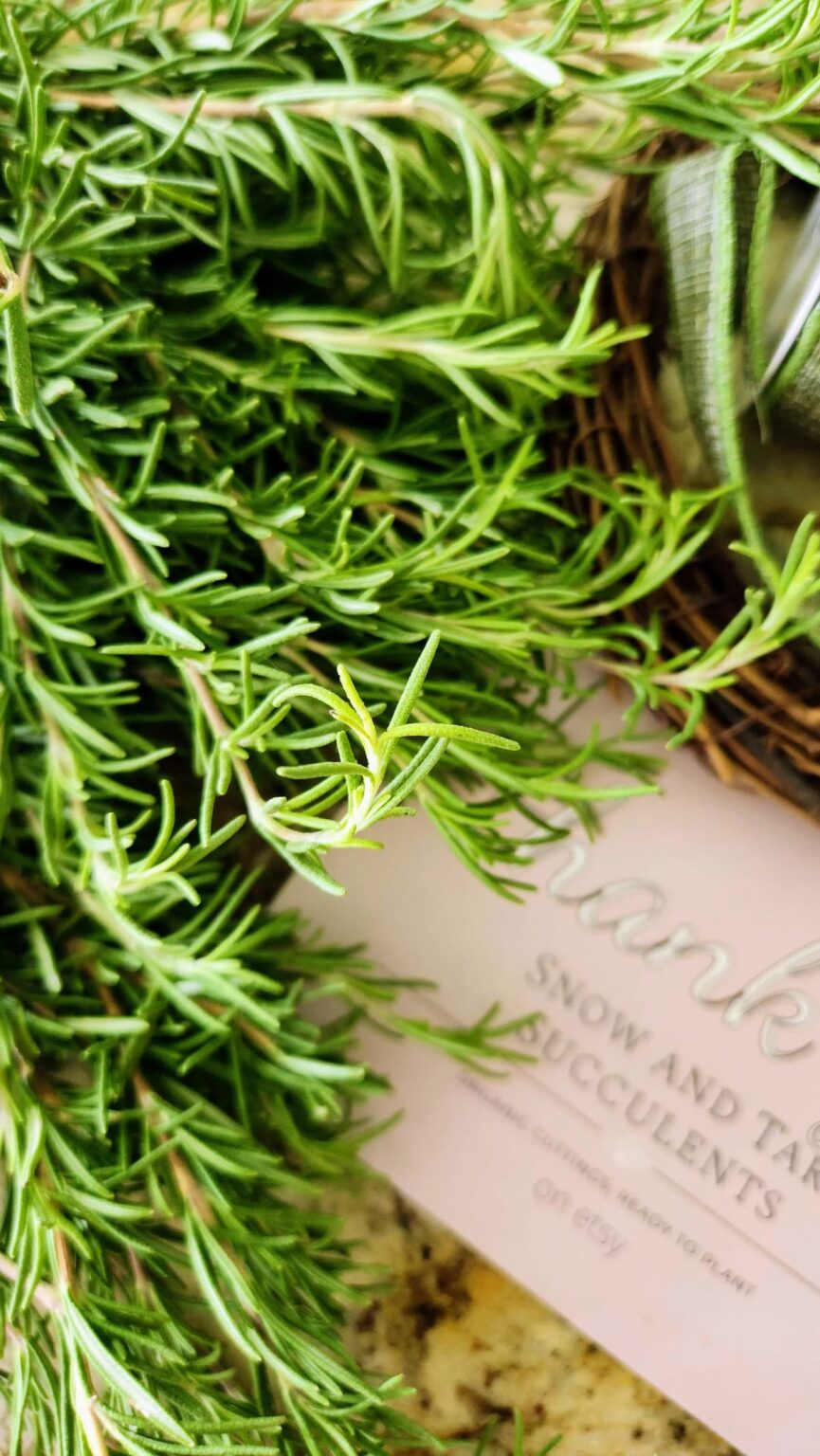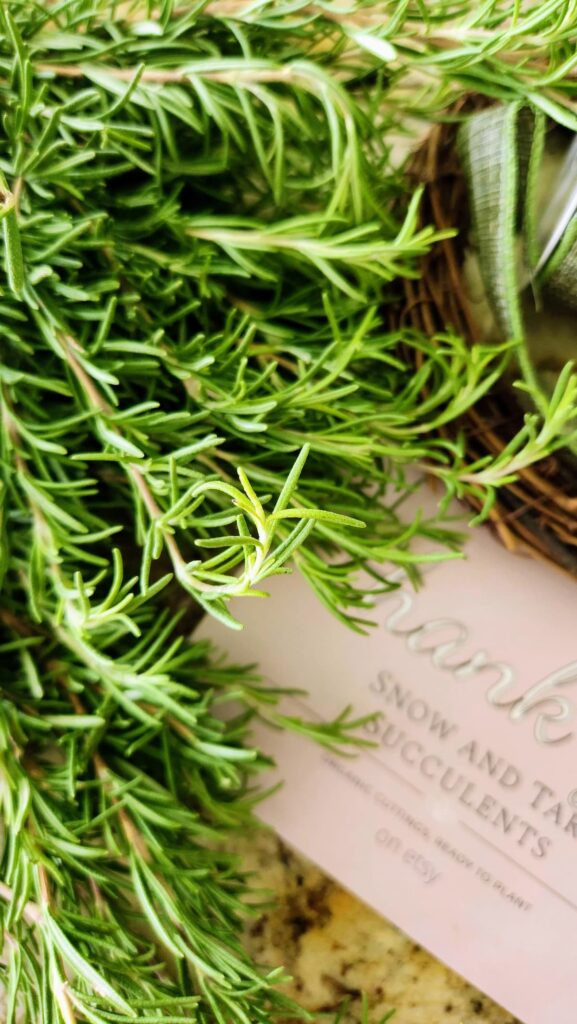 "This post may contain affiliate links which means I may earn a small commission. You may read my
disclosure policy here
".
It's no secret, that for a long time, one of my all-time favorite herbs is rosemary. Last year I had so much rosemary I used my rosemary stems and other herbs to make this. It was so much fun.
This time I thought it was the perfect time of year for making a few mini rosemary wreaths to have in the kitchen nearby for cooking.
Whether you choose to adorn your front door, grace your kitchen wall, or even serve as a unique table centerpiece, crafting your own rosemary wreath is a rewarding endeavor that promises to uplift both your surroundings and your crafting confidence.
Let's get started as I help you delve into step-by-step instructions, uncover handy tips, and explore the boundless possibilities of creating a botanical masterpiece that will leave everyone in awe.
How long will a fresh rosemary wreath last?
The longevity of a fresh rosemary wreath is a testament to the resilience and hardiness of this fragrant herb. When cared for properly, a well-crafted rosemary wreath will adorn your door or kitchen for an impressive length of time. Most often it will last for several weeks to several months.
Factors to take into consideration
1. The environment it is placed in.
2. How it is cared for.
3. Place it in a cool and well-ventilated area away from moisture and direct sunlight.
4. Mist the wreath regularly with water.
5. Gently handling the rosemary sprigs to help maintain the freshness
While the exact duration may vary, the one thing that is certain is your DIY rosemary wreath will grace your home with its beauty and fragrance for an impressive length of time.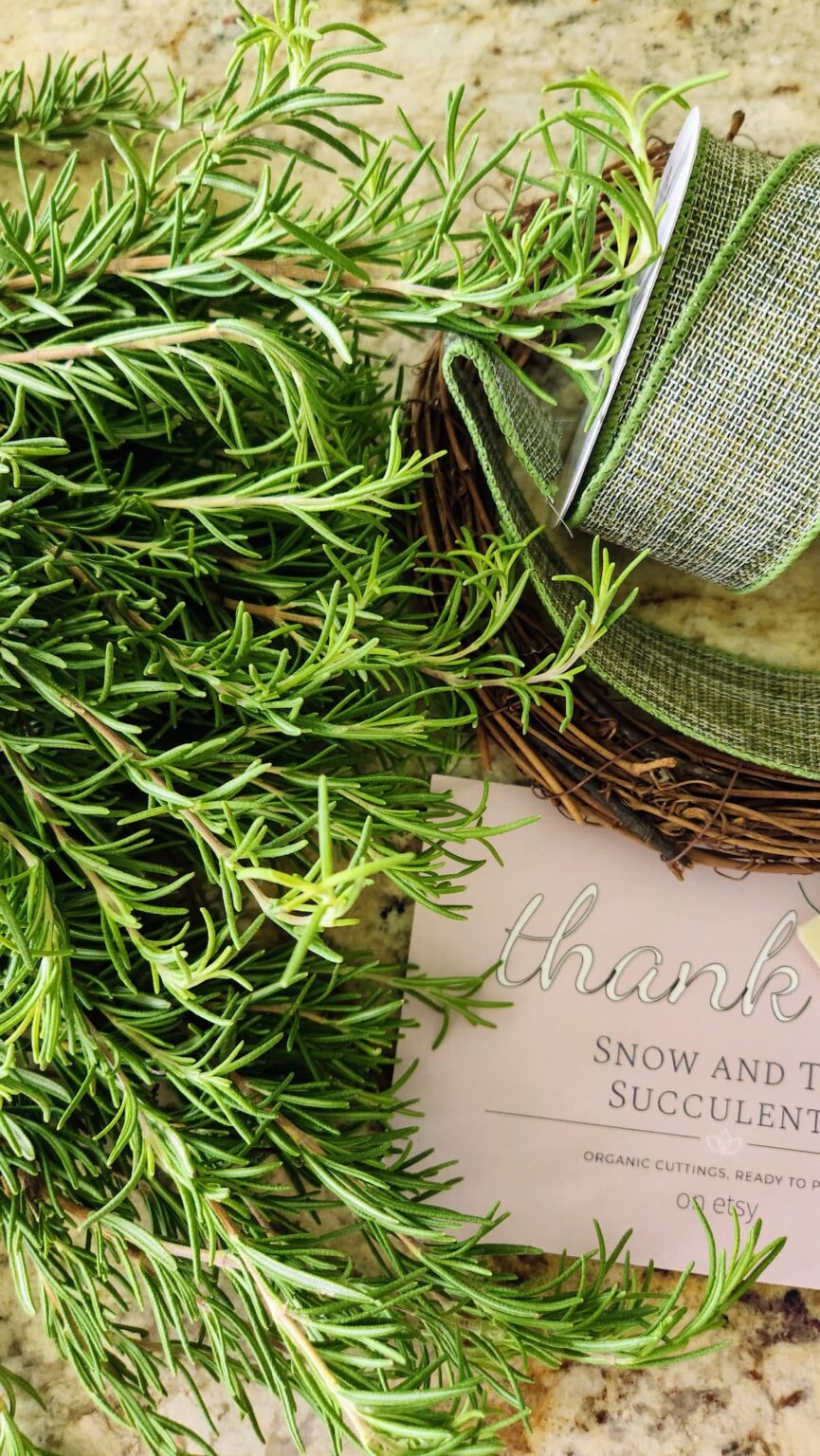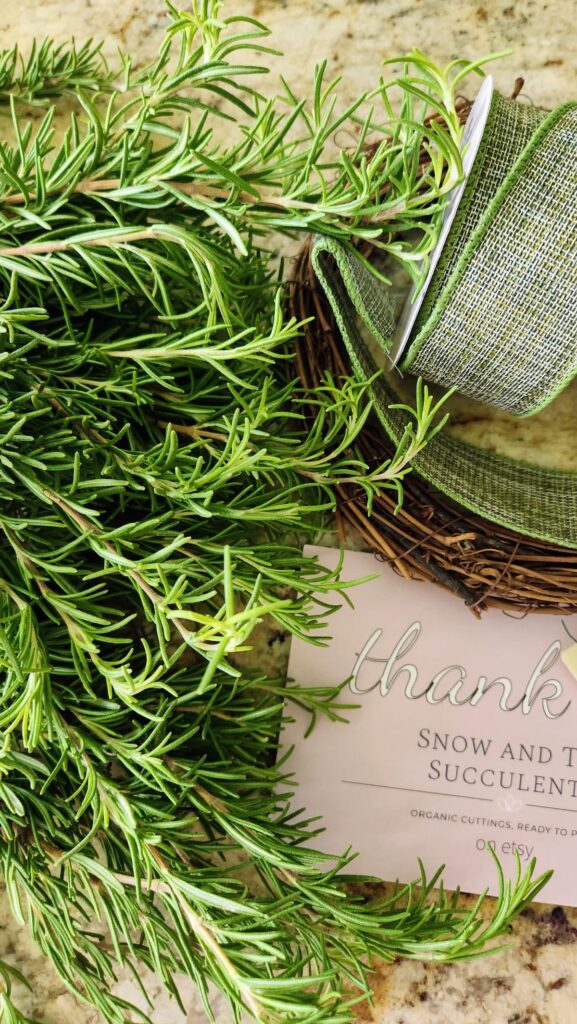 Can you make a wreath out of rosemary?
In short, the answer is yes, absolutely. Crafting a wreath out of rosemary is not only doable but also a delightful way to infuse your living space with the charm of rosemary stems. With its flexible and sturdy stems, rosemary lends itself beautifully to wreath-making.
Whether you're aiming for a simple and rustic design or a more intricate and elaborate arrangement, rosemary's slender, needle-like leaves create a visually appealing texture and a great way to add a touch of natural elegance to your home.
As a rule of thumb, many other dried herbs are the perfect source for wreath making as well.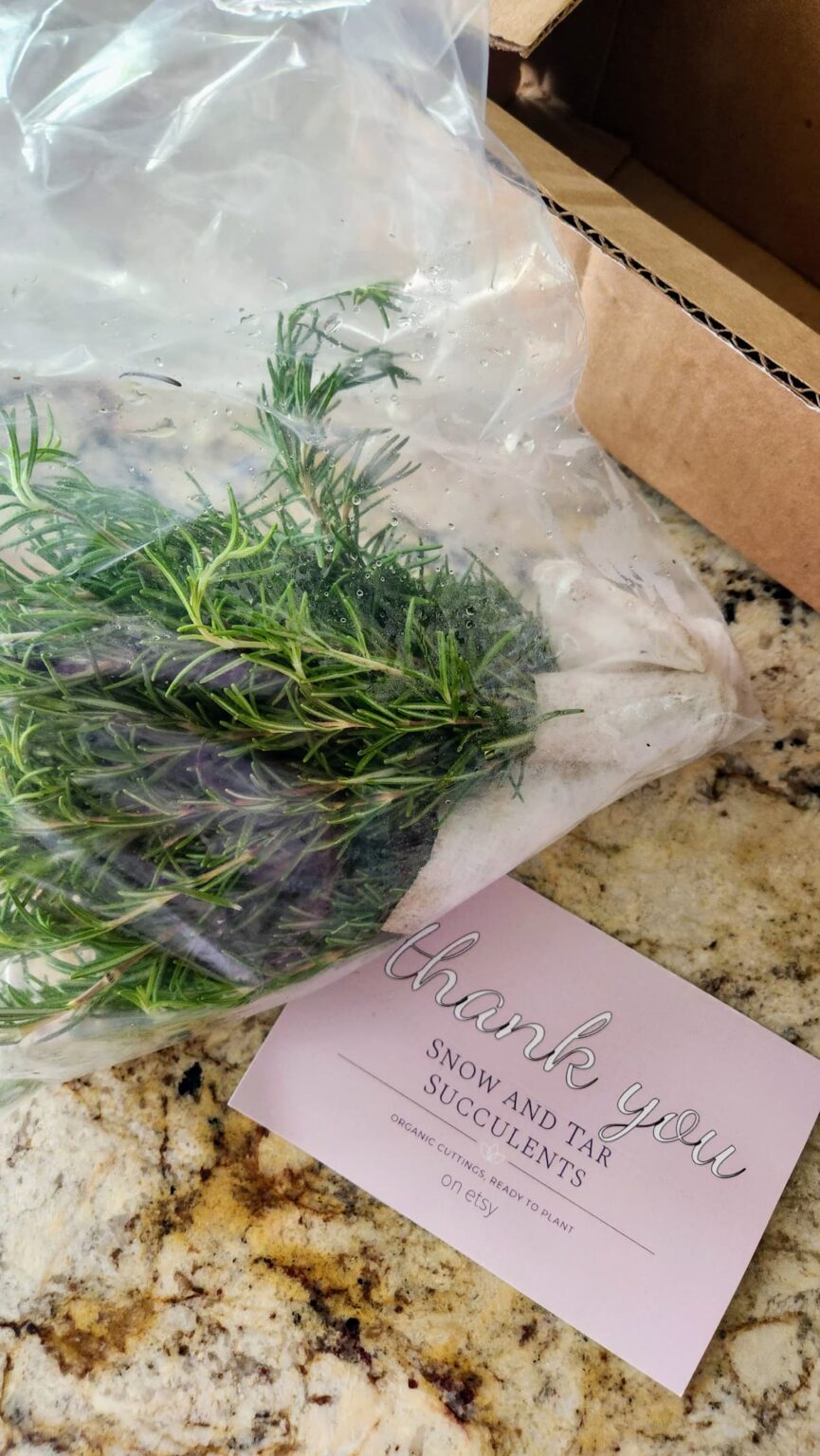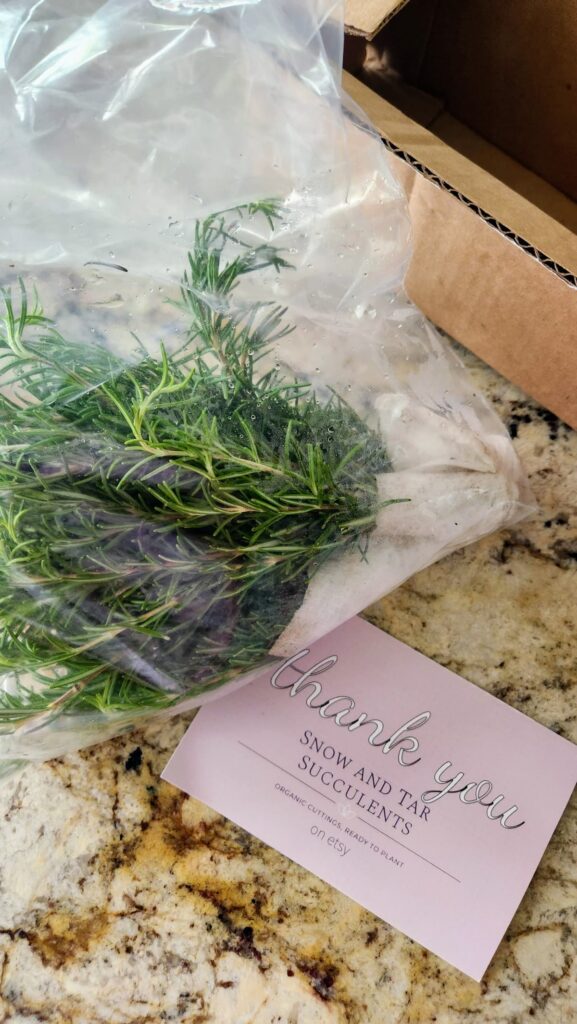 I ordered fresh rosemary from a company on Etsy called Snow and Tar Succulents. They provide organic succulent cuttings, live succulent plants, dragon fruit cuttings and plants, and more! I highly recommend Snow and Tar and thought the rosemary I received was very high quality.
The two bunches of rosemary arrived in excellent condition. The bunches were wrapped with wet paper towels and sealed well in a plastic wrap ensuring their freshness.
What you will need:
Rosemary stems
Wreath form or wreath base
Wire cutters
Floral wire
Ribbon
(optional) additional ornaments or decoration
When I headed to the craft store, I decided I wanted to use a small grapevine wreath rather than a wired form.
For reference, I ordered a second bundle to completely cover my wreath and make it full.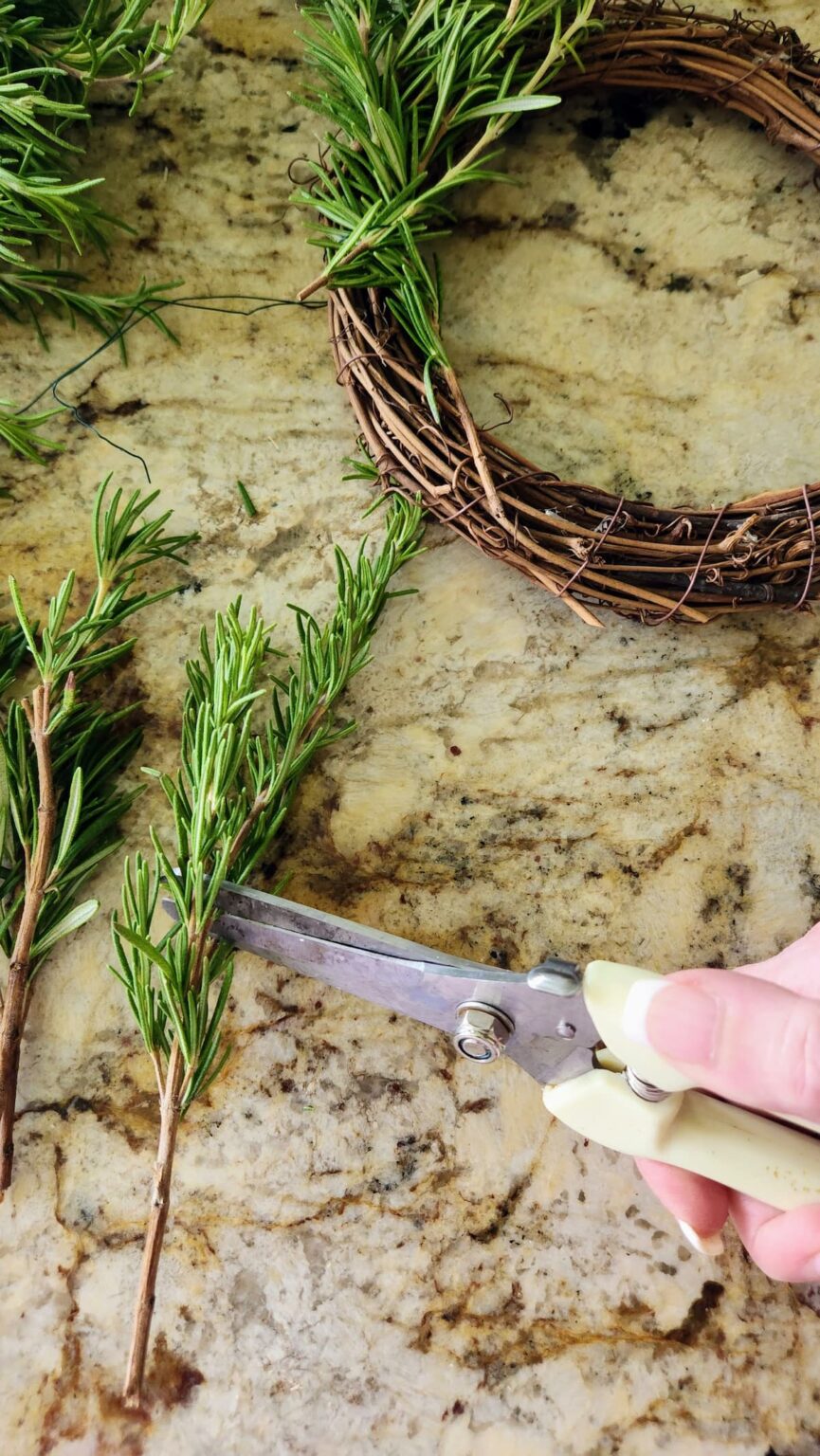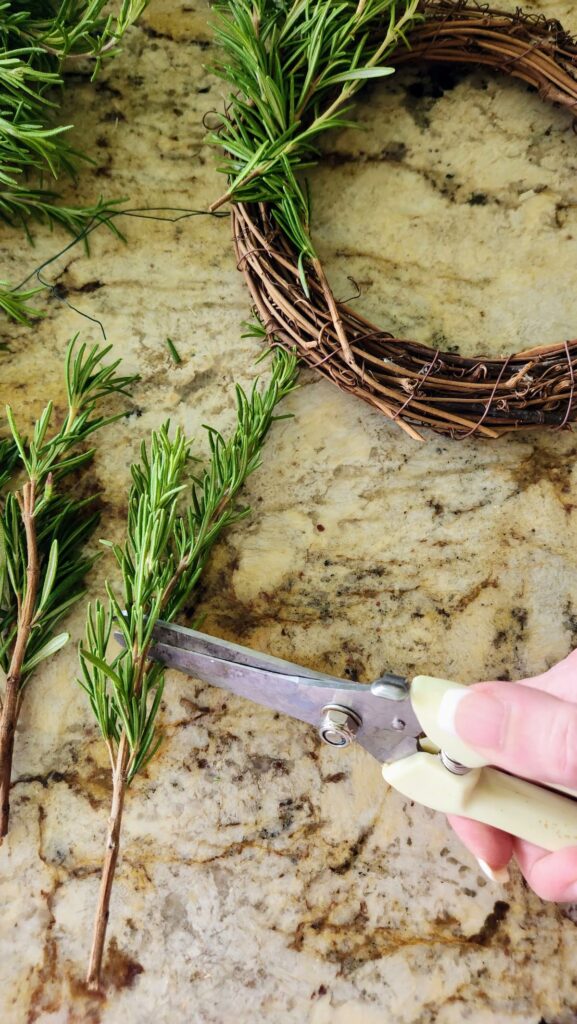 Step by Step Instructions
How to make diy rosemary wreath
Using wire cutters, cut the stems of rosemary in three to four-inch lengths.
Using a piece of floral wire (about twelve inches long) wrap two to three fresh rosemary sprigs at a time to the wreath form.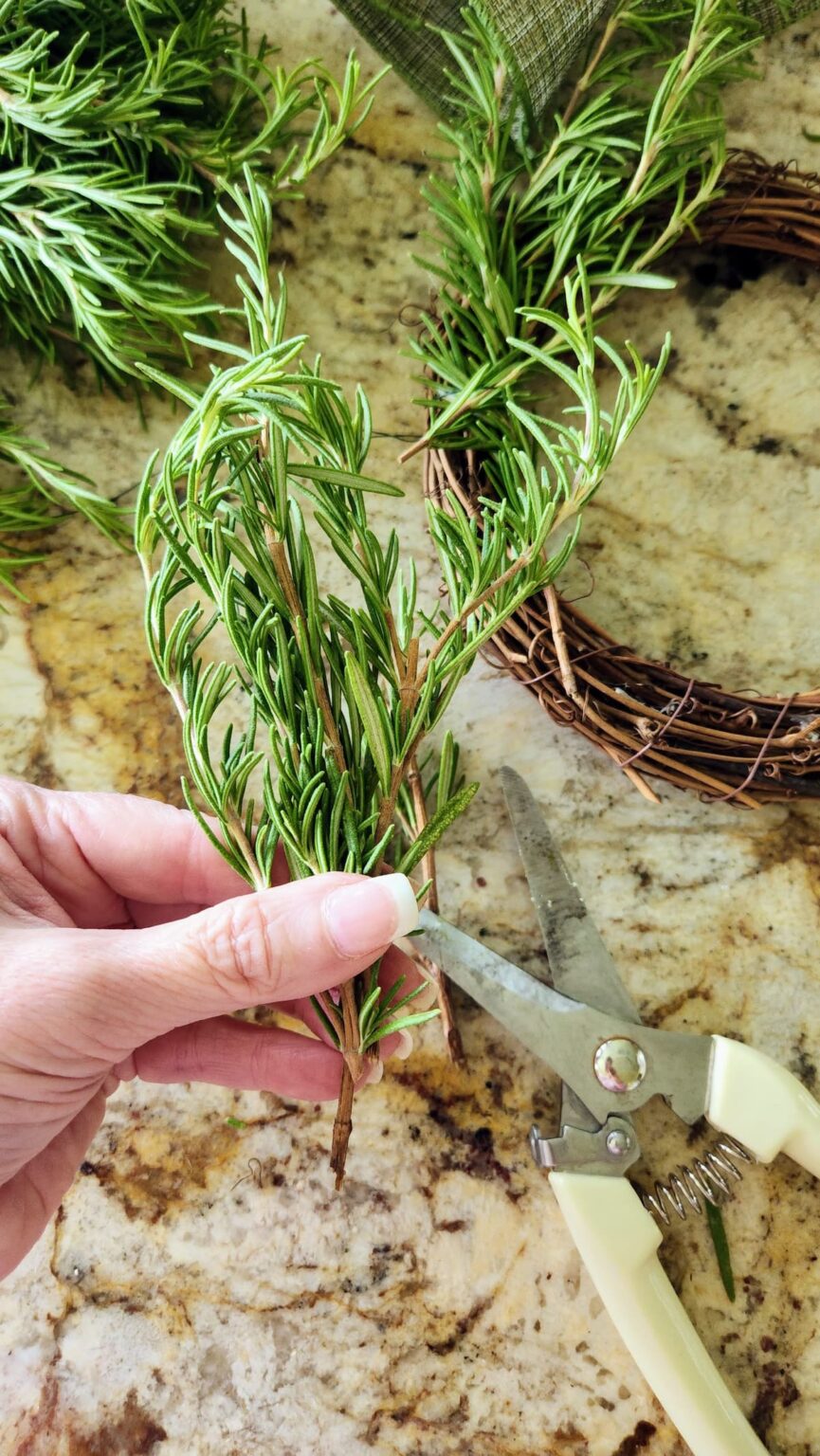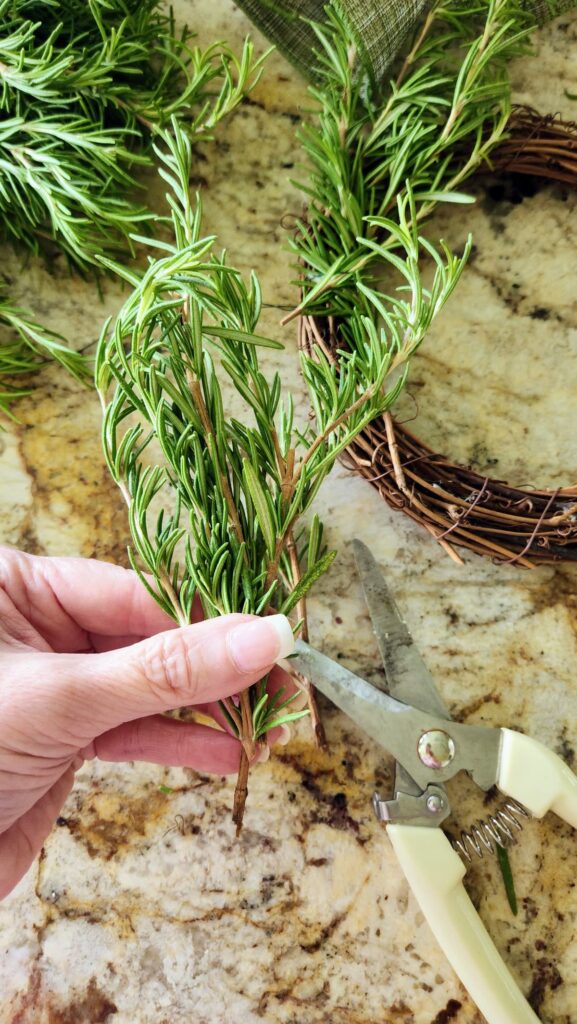 The next step is to continue adding sprigs around the wreath facing the same direction. Each time tieing the sprigs with florist wire.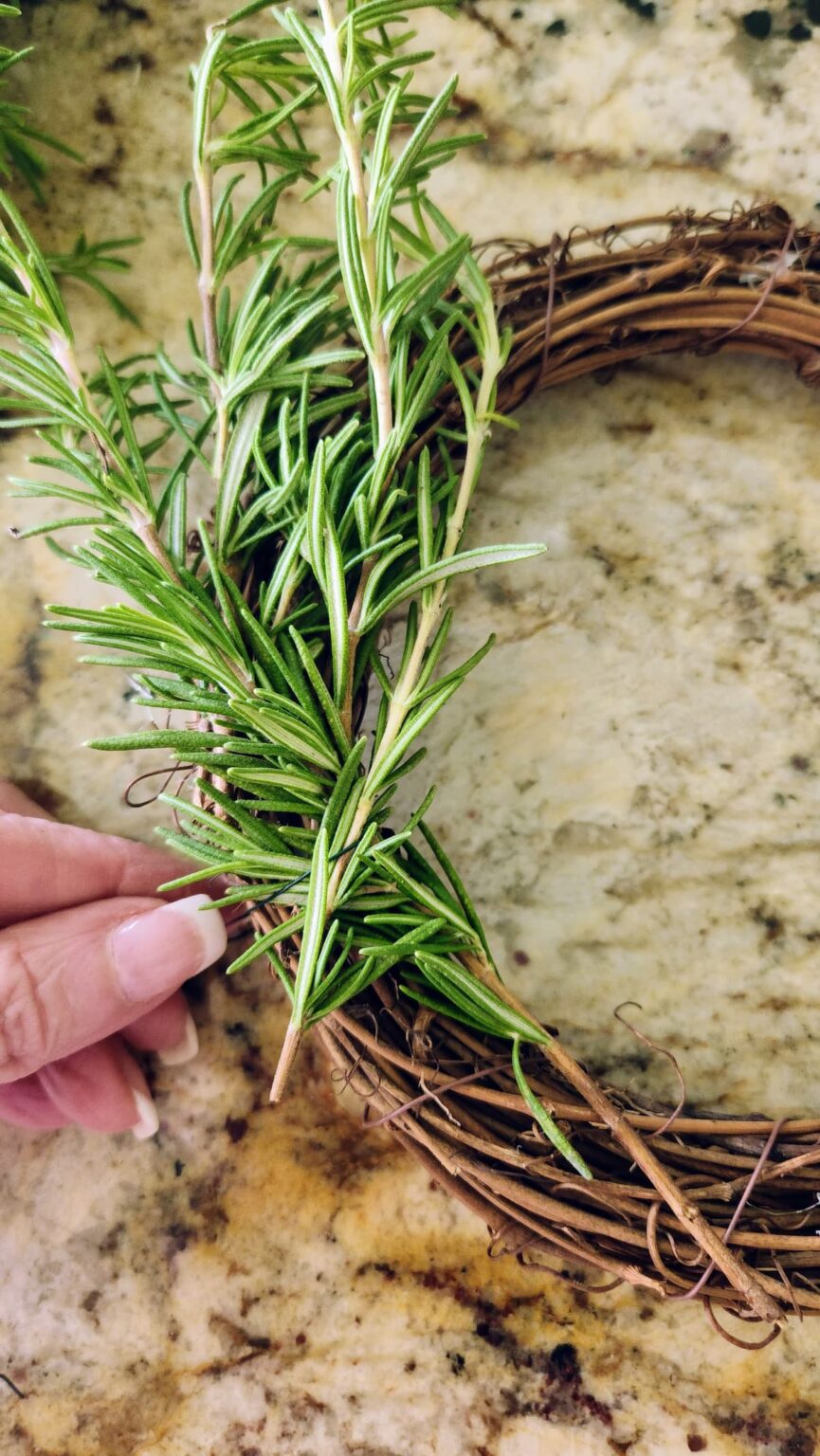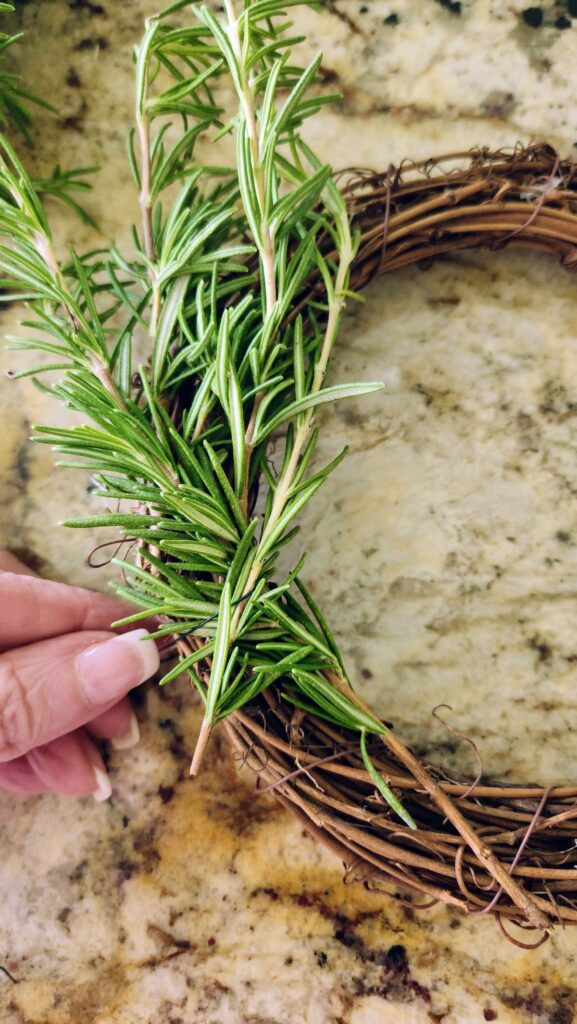 Layer the rosemary, filling in any gaps or spaces. The rosemary natural will follow the shape of a circle.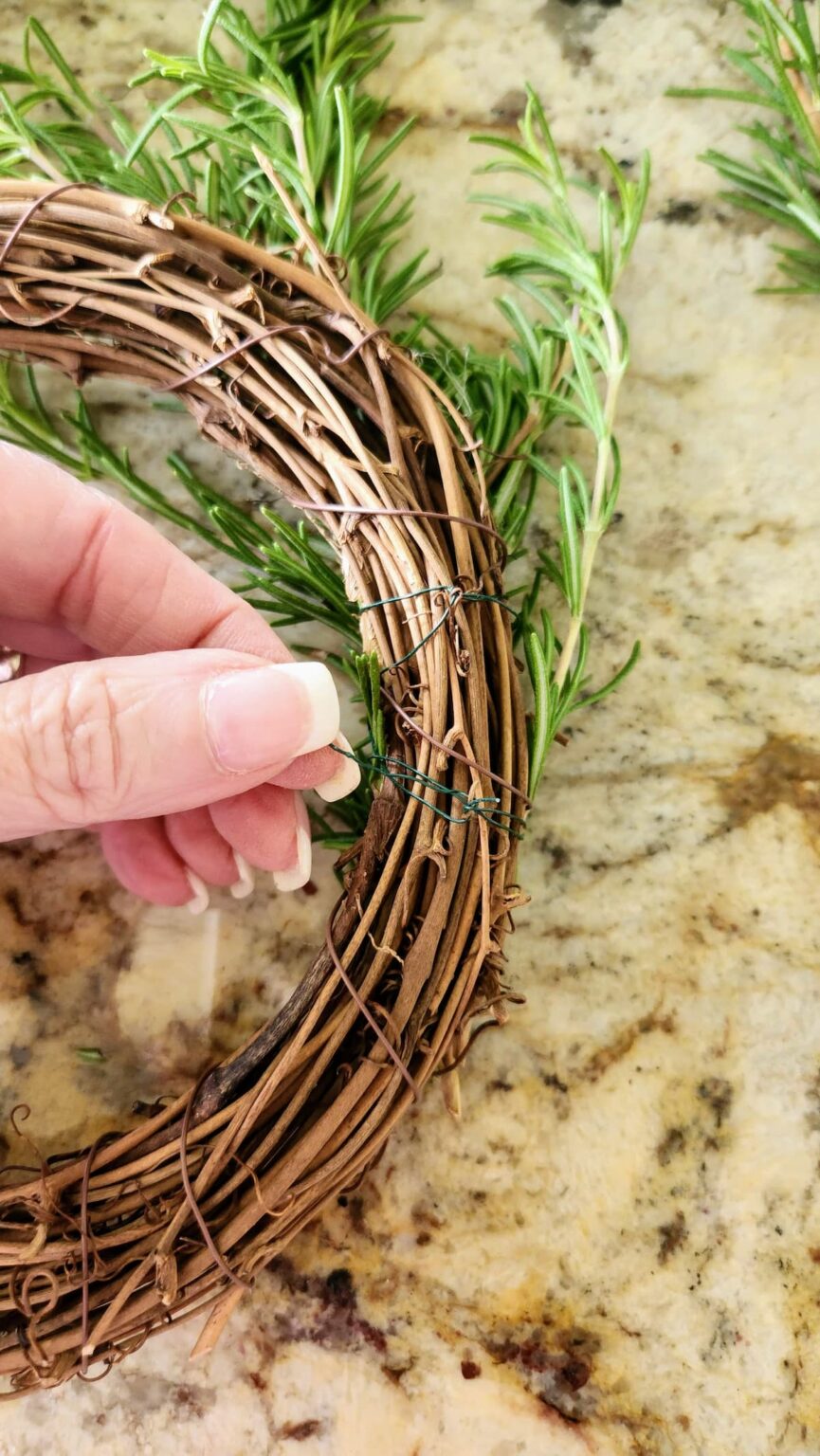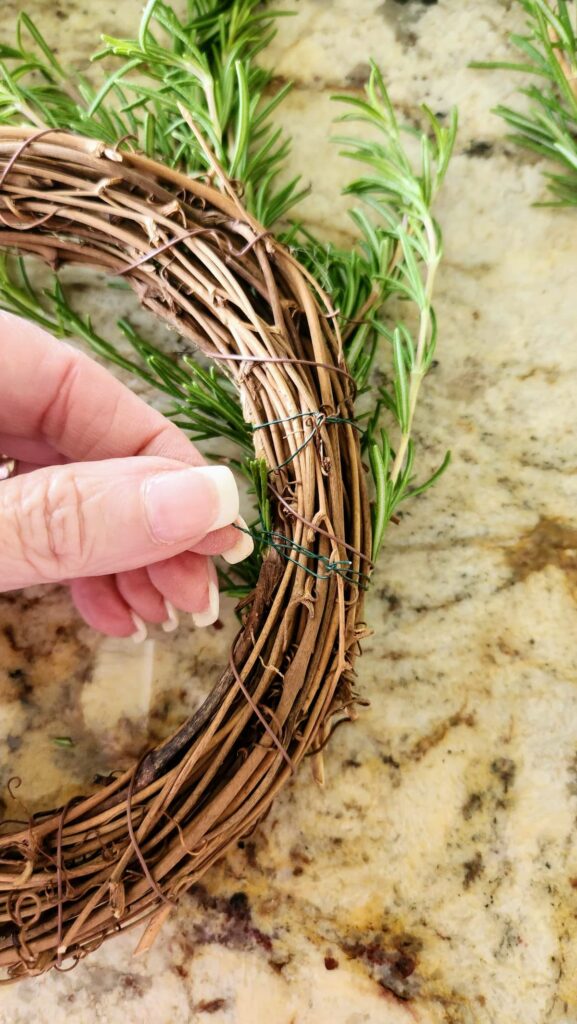 I twisted the wire around the back of the wreath.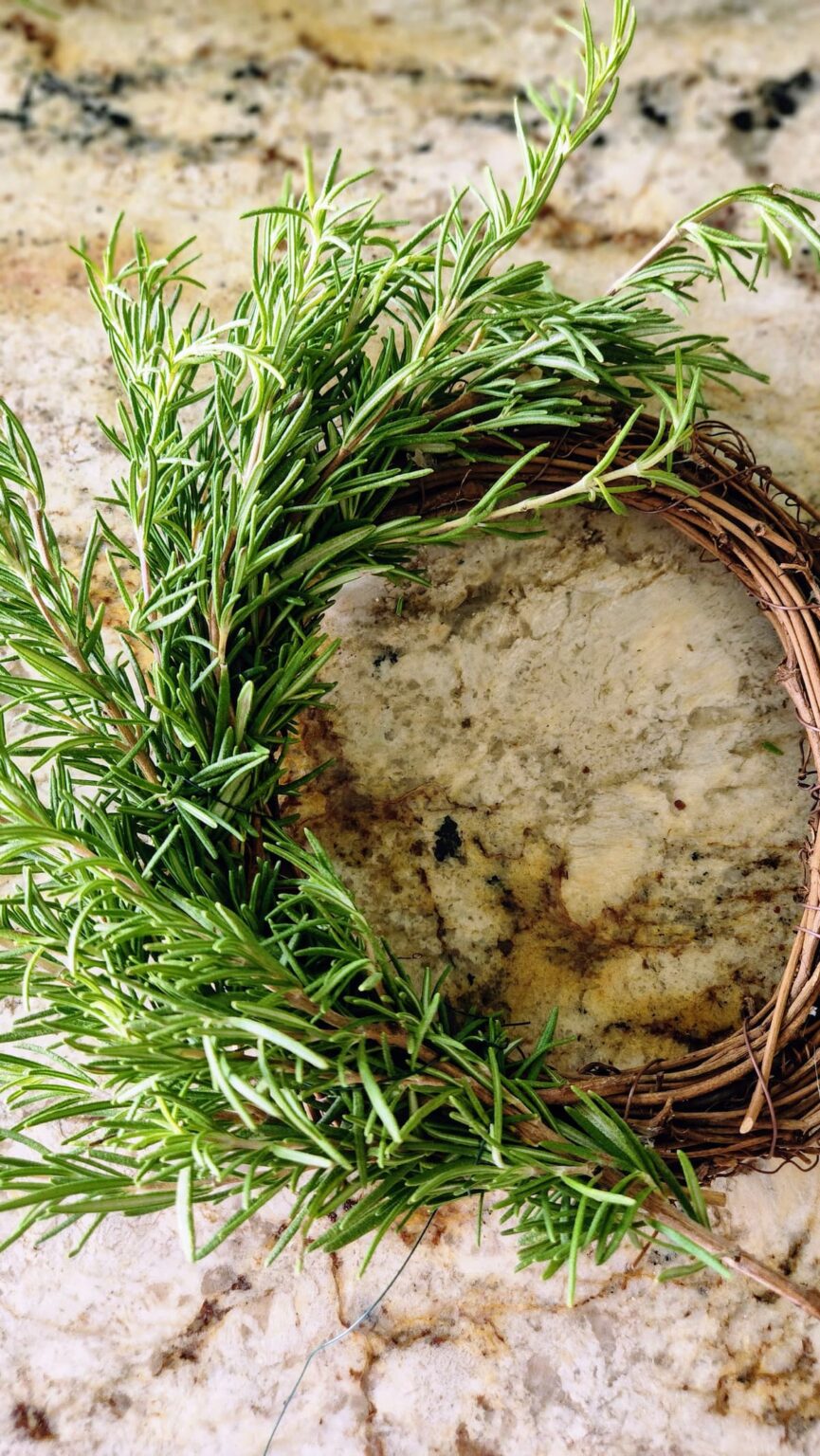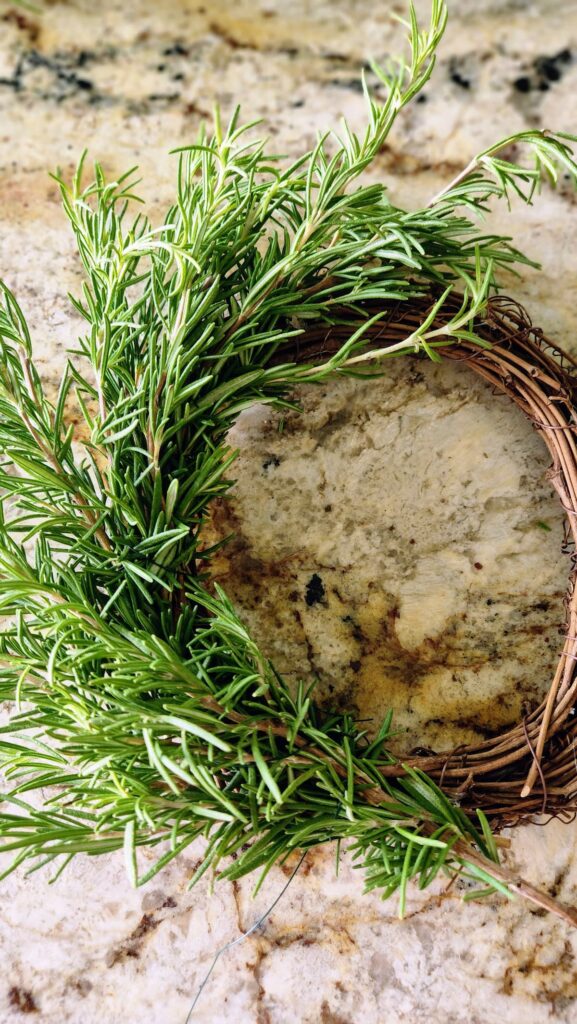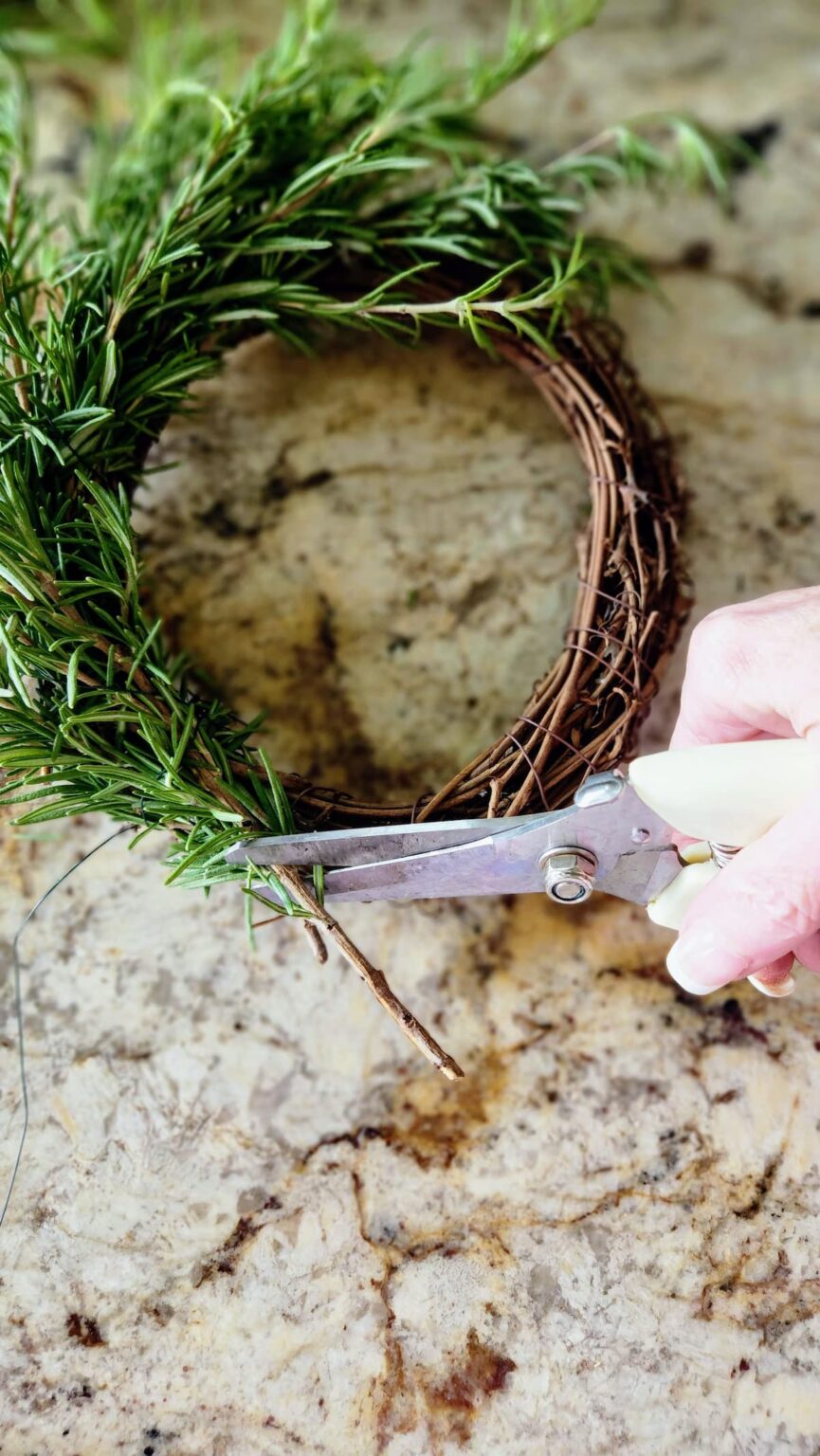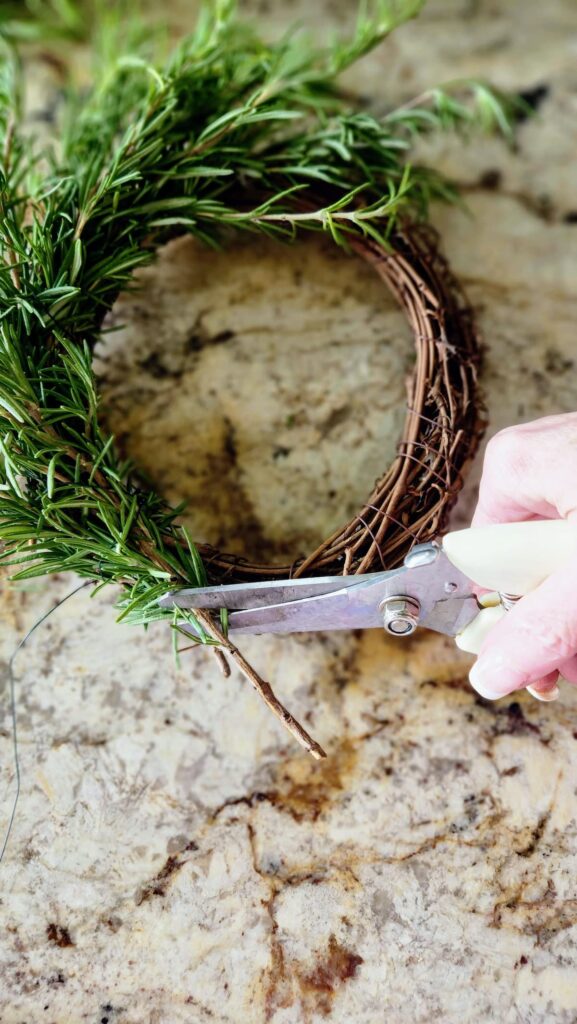 After that, I then clipped off any excess wire. As an option twist ties may be used. I used green floral wire and you can hardly see it.
The last thing is to add a beautiful ribbon for wall hanging or your wreath may be laid on a table as a centerpiece.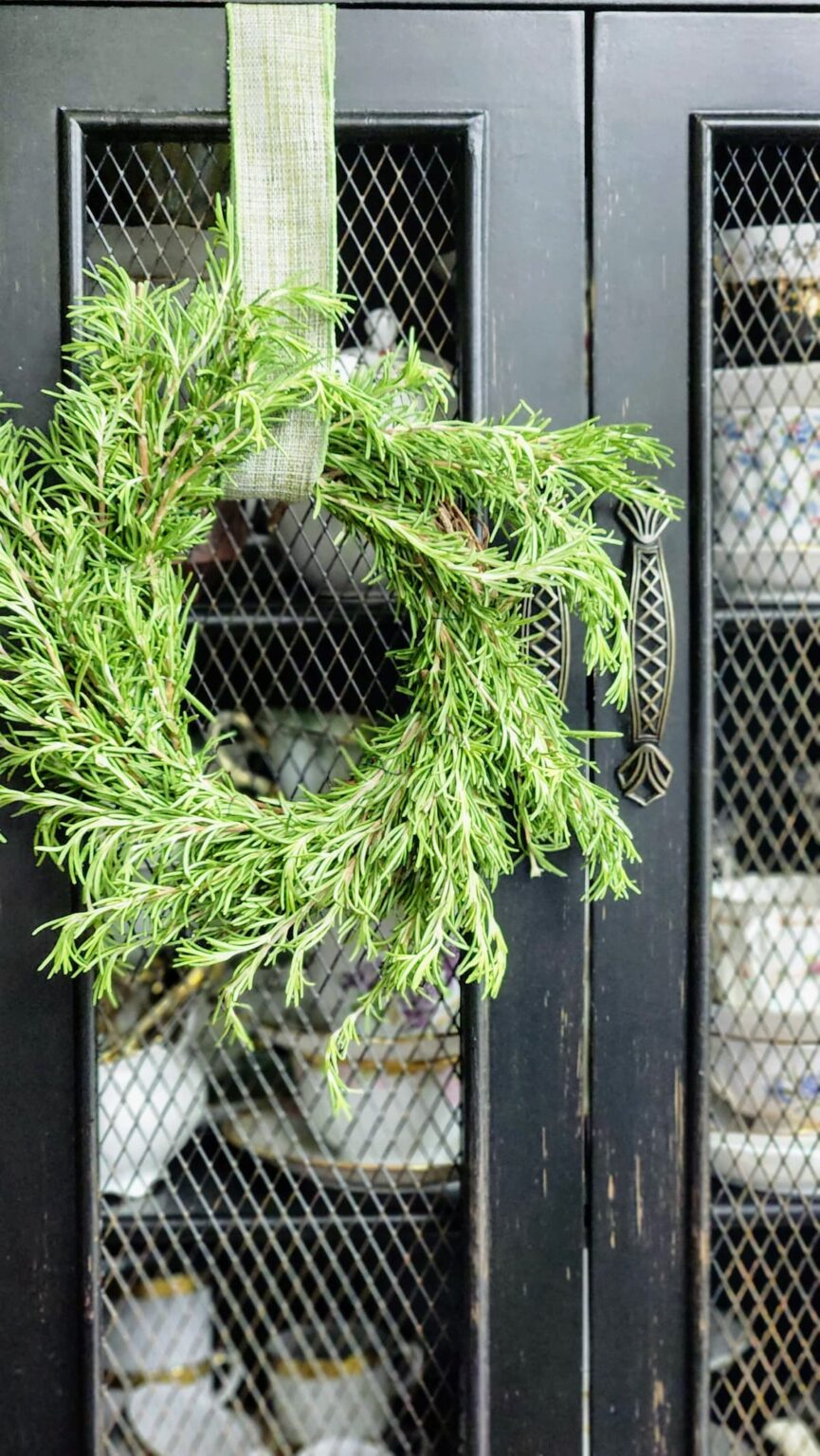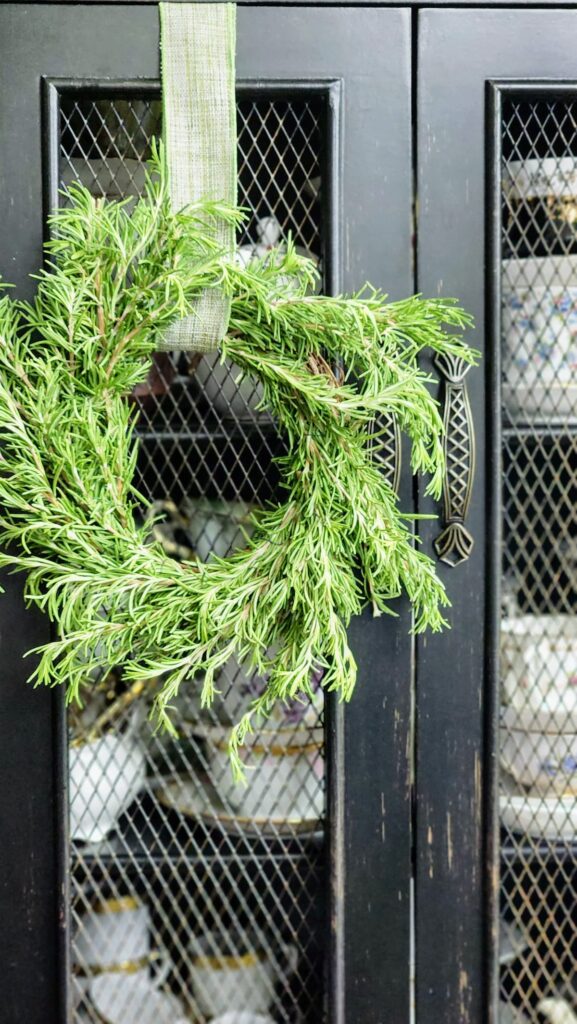 Favorite Crafting Supplies
Why do we put rosemary in wreaths?
Here are the top three reasons to put rosemary in wreaths.
Aromatic Ambiance
1. Aromatic Ambiance: One of the primary reasons for incorporating rosemary into wreaths is its captivating and invigorating scent. The distinct aroma of Rosemary has been celebrated for its calming and mood-lifting properties for centuries. When you place a rosemary wreath in your living space it not only adds fragrance that is pleasant but also creates an atmosphere of well-being and tranquility.
Symbolism and Tradition
2. Symbolism and Tradition: Deep-rooted symbolism in various cultures, rosemary is often associated with fidelity and remembrance. Rosemary has also been used in celebrations, ceremonies, and rituals for generations. This use can be a nod to cultural and special significance, which makes the wreath not only decorative but also a meaningful representation of timeless values.
Decorative Charm
3. Decorative Charm: Rosemary's slender, needle-like leaves and rich green color make it a visually appealing botanical element. When woven into a wreath, rosemary adds a touch of natural elegance that effortlessly complements a variety of interior and exterior design themes. Its versatility allows it to be used in diverse wreath styles, from rustic to modern, and its subtle beauty can enhance the aesthetic of any small space, be it a front door, mantel, or table centerpiece.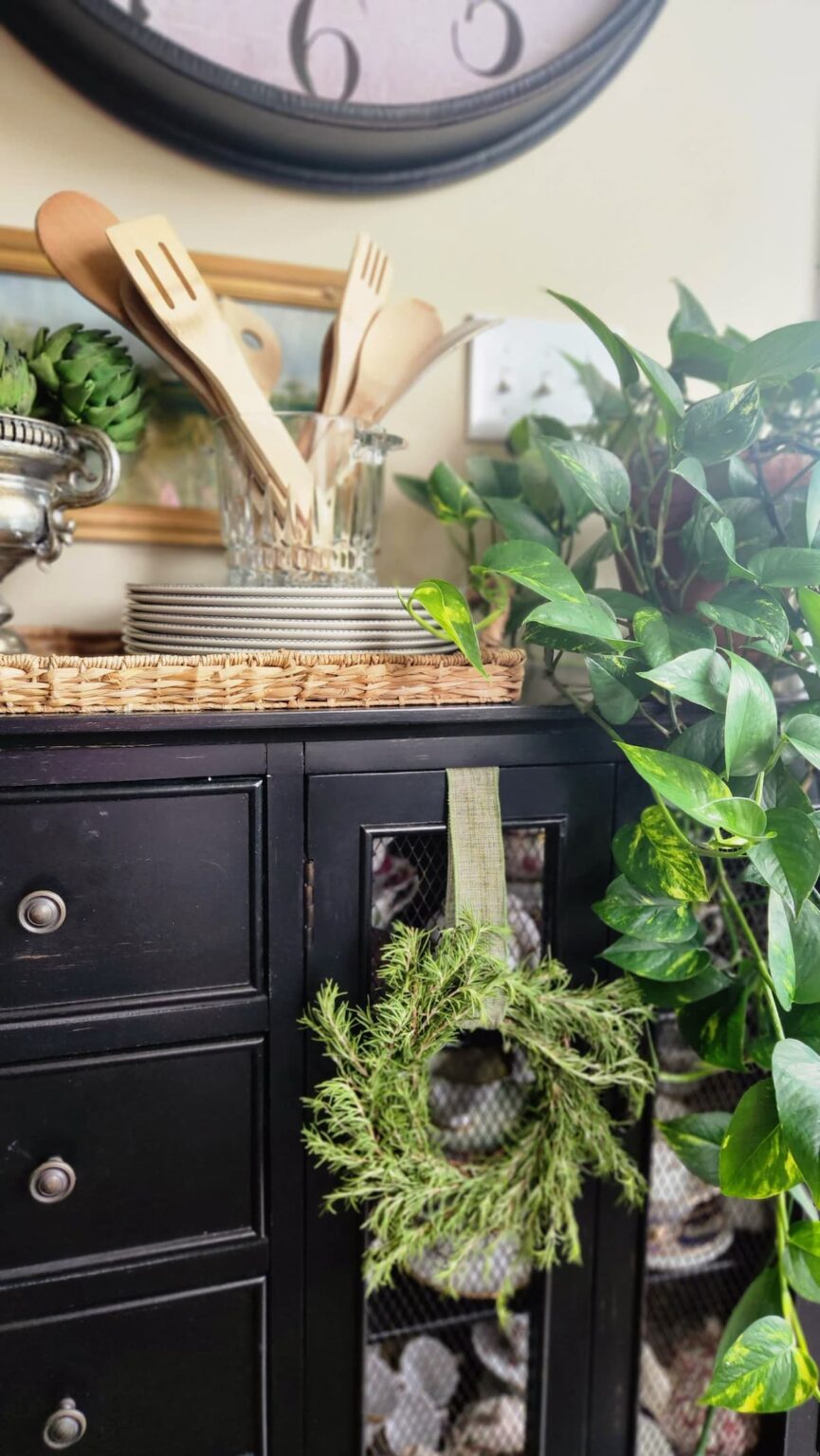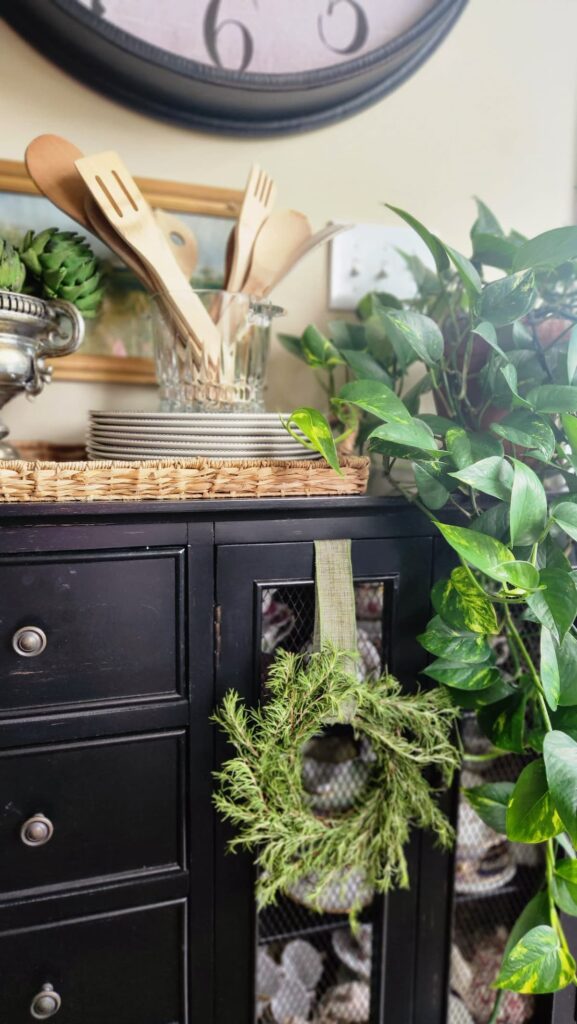 Not a crafty girl? No worries.
I've rounded up these neutral fall door wreaths if you'd rather have one delivered to your door.
Craft Festive Joy: DIY Rosemary Christmas Wreaths for Decor and Gifts
I know it's early however, during the holiday season, you can embrace the festive spirit by making small rosemary wreaths. These DIY rosemary Christmas wreaths are not only a great way to add natural charm to your decor but also make great gifts.
Incorporate dried rosemary for a timeless touch, and with just a sprig of rosemary, infuse the whole house with its delightful aroma.
It's never too early to get started and to get creative and spread holiday joy with these DIY rosemary wreaths that perfectly capture the essence of the season.
More ways to use rosemary wreaths
These little rosemary wreaths make the perfect place setting any time of year. All you need to do is pick a seasonal ribbon, layer on your dish stack and place a coordinating cloth napkin underneath. Your table setting will look fantastic any time of year.
I'm also thinking they would make a great hostess gift to bring for my friend the next time yu are invited to a friend's home. Tie the wreath with a white ribbon and wrap it in a colorful piece of tissue paper!
It's so easy and your host will feel so special!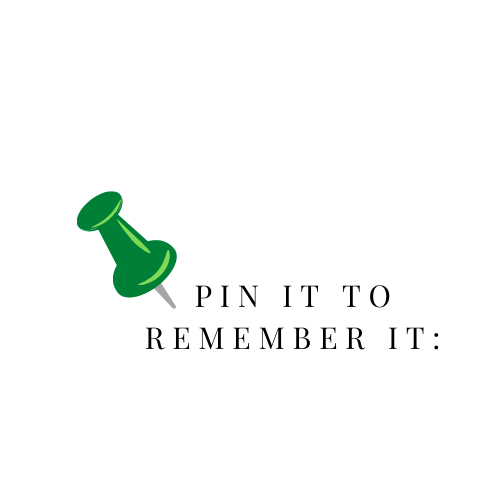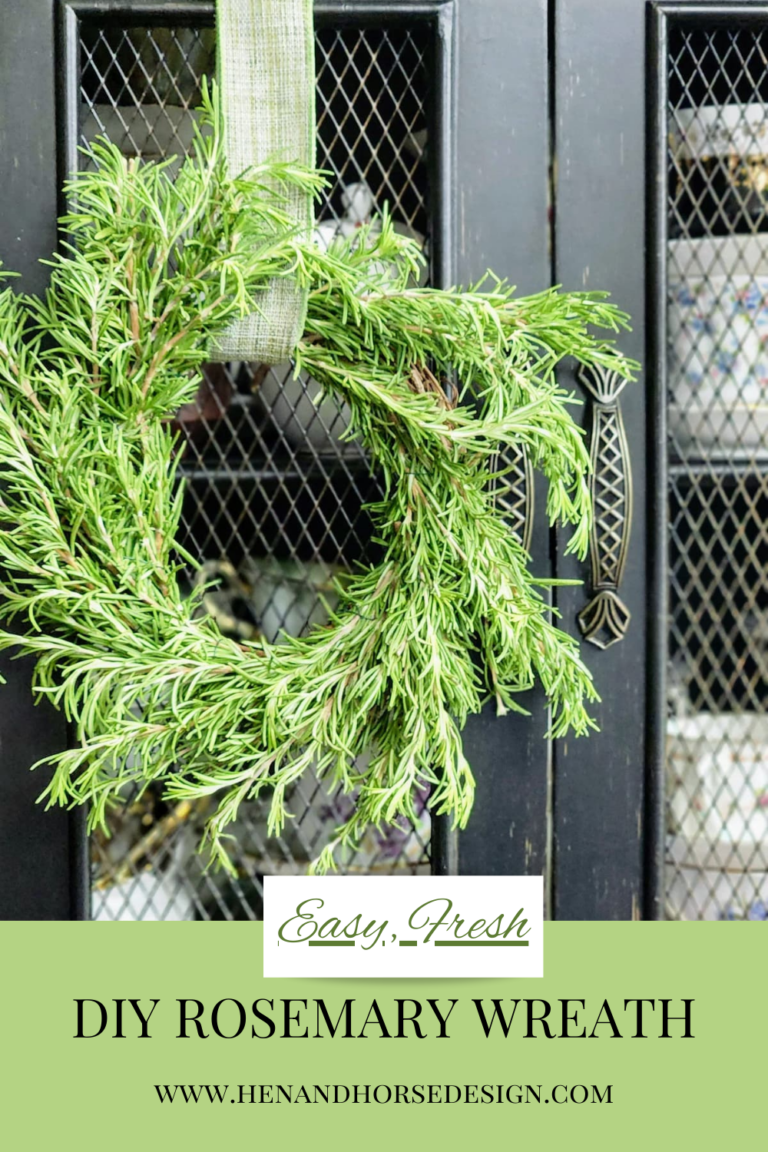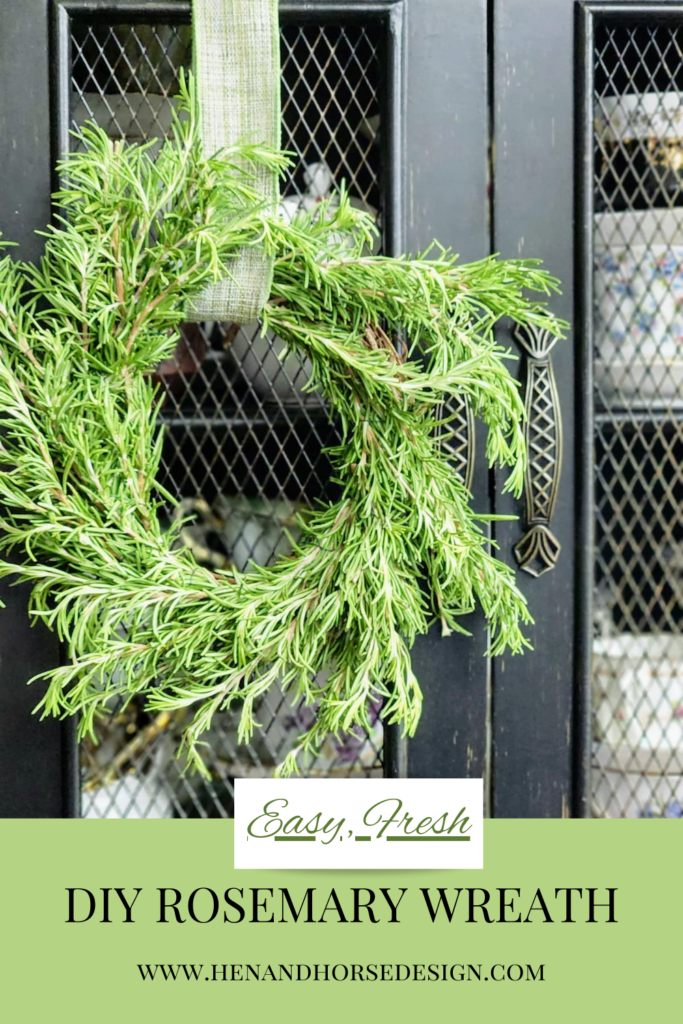 FAQ about Easy, Fresh DIY Rosemary Wreath: How-to Instructions
Q1: What materials will I need to create a rosemary wreath?A1: To craft your own fresh rosemary wreath, you'll need a sturdy wreath frame, floral wire or twine, fresh rosemary sprigs, and any optional embellishments you'd like to add, such as ribbons or ornaments.
Q2: How do I ensure my rosemary wreath stays fresh for as long as possible?A2: To maintain the freshness of your rosemary wreath, keep it in a cool and well-ventilated area, away from direct sunlight and excessive moisture. Gently mist the wreath with water every few days to prevent the sprigs from drying out.
Q3: Can I use the rosemary from my wreath for cooking?A3: Absolutely! The rosemary sprigs in your wreath can be harvested for culinary purposes. Simply snip off the sprigs you need and rinse them before adding them to your dishes. This dual-purpose aspect makes the wreath not only decorative but also functional.
Q4: Is the DIY rosemary wreath suitable for beginners?A4: Yes, this DIY project is beginner-friendly. The step-by-step instructions provided in the post will guide you through the process, and the materials required are readily available. It's a great way to explore your creative side and achieve a satisfying result.
Q5: How long will it take to make the rosemary wreath?A5: The time required to complete the rosemary wreath will depend on your crafting speed and experience. On average, it might take around 30 to 60 minutes. The simple process, coupled with the aromatic rewards, makes it a pleasant and fulfilling DIY endeavor.
Q6: Can I use dried rosemary for the wreath instead of fresh?A6: While fresh rosemary is recommended for its fragrance and pliability, dried rosemary could also be used if desired. Keep in mind that dried rosemary might not retain the same aromatic quality, and its brittle nature could affect the wreath's overall appearance.
Q7: Can I customize the wreath with other dried herbs or flowers?A7: Absolutely! Feel free to get creative and personalize your wreath by incorporating other herbs, flowers, or greenery. Mixing rosemary with lavender, thyme, or sage can create a captivating blend of scents and textures, allowing you to make the wreath uniquely yours.
Q8: Can I store the wreath for future use?A8: While fresh wreaths are best enjoyed in the present, you can preserve the wreath's beauty by carefully drying the rosemary sprigs. Hang the wreath upside down in a dark, dry place for a few weeks. Once the sprigs are fully dried, you can carefully store the wreath in a cool, dark location for future display.
Q9: Are there any safety precautions I should be aware of?A9: When working with floral wire or any cutting tools, exercise caution to avoid accidental injury. Additionally, if you plan to use the rosemary for culinary purposes, ensure that it has been properly cleaned before consumption.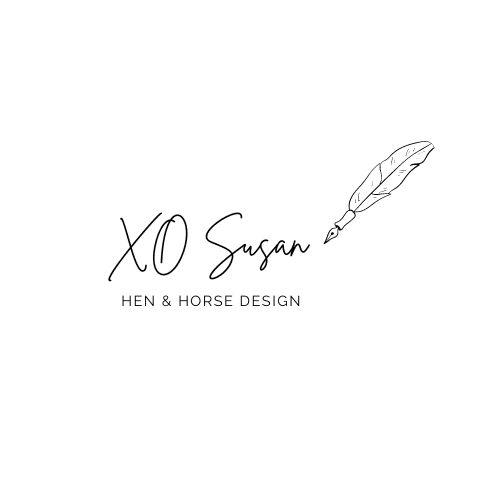 Hi, I'm Susan: A little bit about me
Designing Dreams with Tinker Bell Sparkle: Hello there, If you're new here, I'm delighted to meet you! If you've been around for a while, thank you! I love seeing you here.
Hen and Horse Design is my canvas of creativity. My journey from ballet to design has been a graceful evolution.
Home, Garden, and Neverland: From pirouettes on stage to crafting designs with the same finesse, I bring a touch of Tinker Bell's sparkle to everything I create.
I believe that home should be a place where you can relax, recharge, and be inspired. That's why I focus on creating designs that are both stylish and comfortable. I also love to incorporate vintage elements into my home, because I believe they bring a sense of the past and interest to any space.
From Ballet Slippers to Sofas and Pillows: I've traded in my slippers for sofas and pillows. Whether you're looking for a new sofa, a fresh coat of paint, or a complete home makeover, I'm here to help you create a space that reflects your unique style and personality.
I'm also a big fan of cooking and gardening, so I love to incorporate those elements into my designs as well. I believe that a well-designed home should be a place where you can enjoy all the things you love, from spending time with family and friends to cooking delicious meals to relaxing in your garden.
Join me as I pirouette through the world of home décor, cooking, and gardening,
I'm excited to share my designs with you and help you create a home that you love. Read more here.
Susan
Other posts you may enjoy
If you missed my posts, you can join me here so they will get delivered directly to you.
Missed my recent posts? You can catch up here.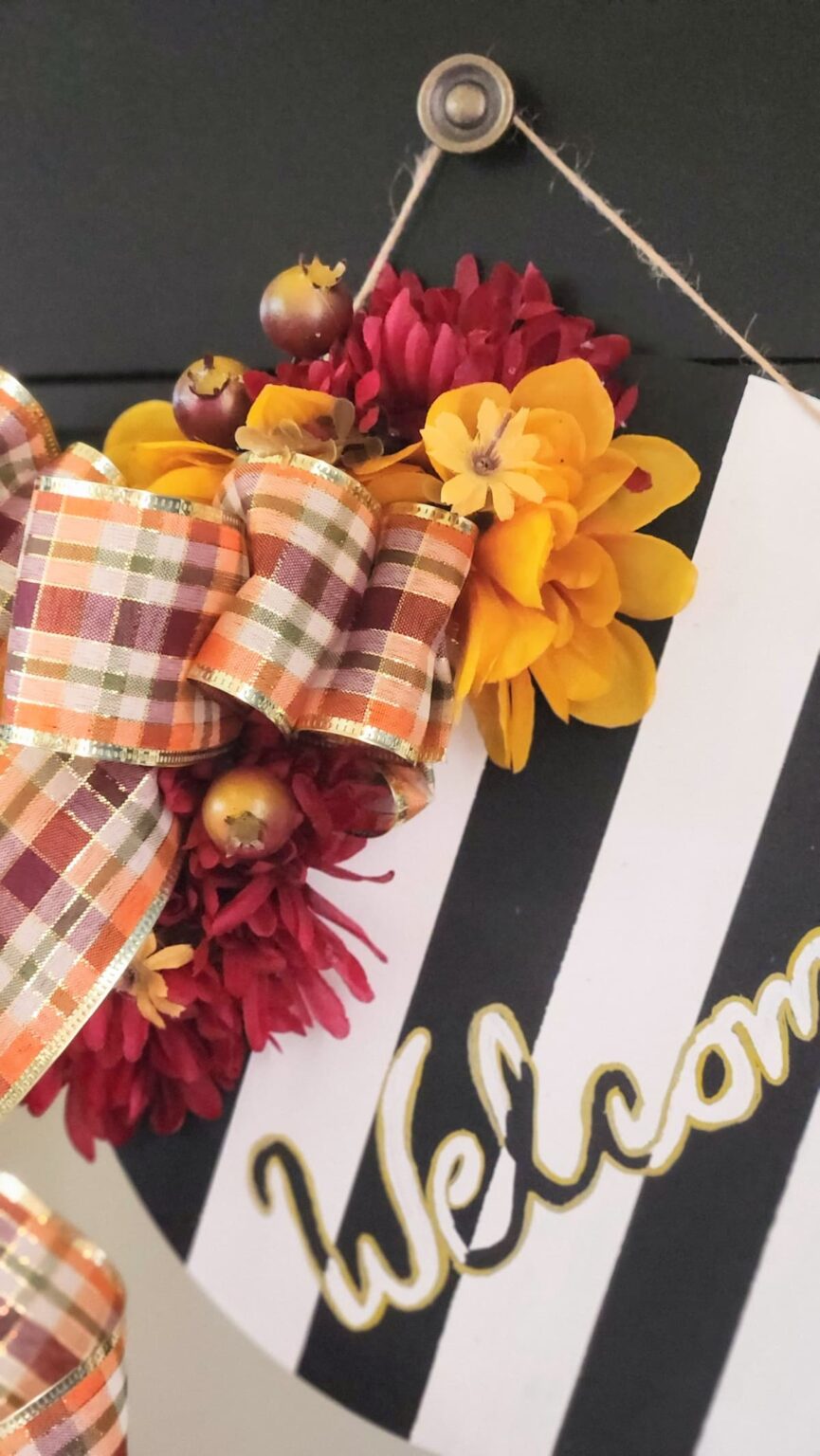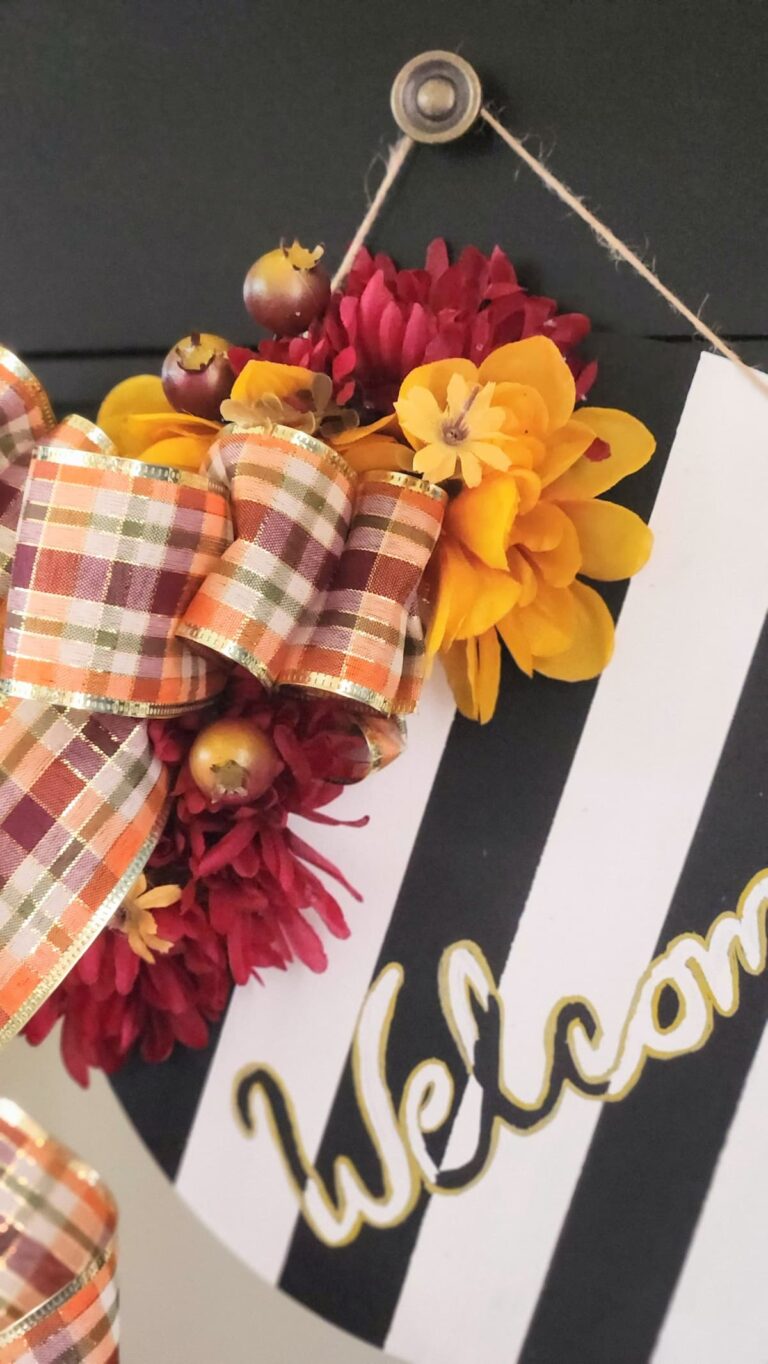 Hey there, crafty friend! Are you ready to dive headfirst into the wonderful world of DIY door hangers? Picture this: a cozy afternoon with your favorite tunes playing in the background, a table overflowing with colorful paints and craft supplies, and an empty wooden door hanger just waiting for your creative touch. It's like a mini canvas for your front door, and trust me, the possibilities are endless for a new pretty welcome sign.