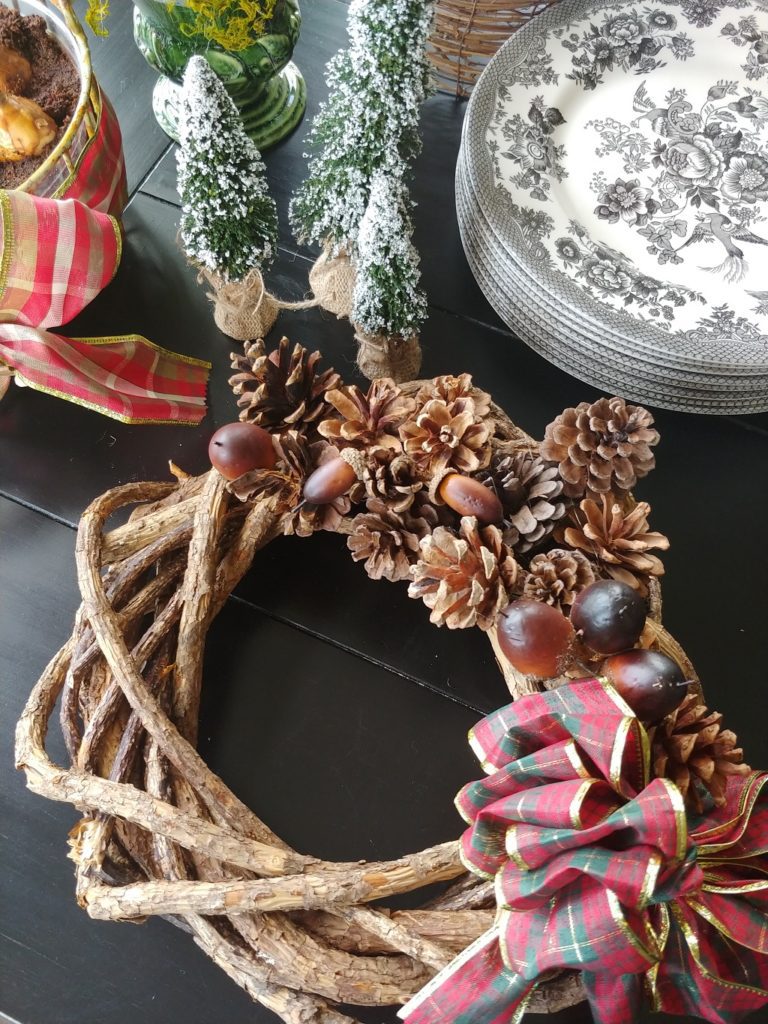 "This post may contain affiliate links which means I may earn a small commission. You may read my
disclosure policy here
".
One of the most popular ways to decorate this time of year is with Pinecones! They are so versatile when adding this pretty element to your holiday decor. Pinecones may be used in so many ways. Today I'm sharing with you an easy Pinecone Wreath DIY.
Ways to Decorate a Piniecone Wreath
How many ways can you use Pinecones? Let me count the ways! 
I love adding them to a pretty bowl and displaying them simply!
If you have these, you can add them to your countertop!
Another way you can use pinecones is to string them on a ribbon and add a garland to your mantle. How about making a tree with them?
Another way to display pinecones is by creating beautiful crafts with them!
Today, I'm sharing my easy Pinecone Wreath DIY with you! Can you guess what I'm going to do with it when I'm done?
Pinecone Wreath Steps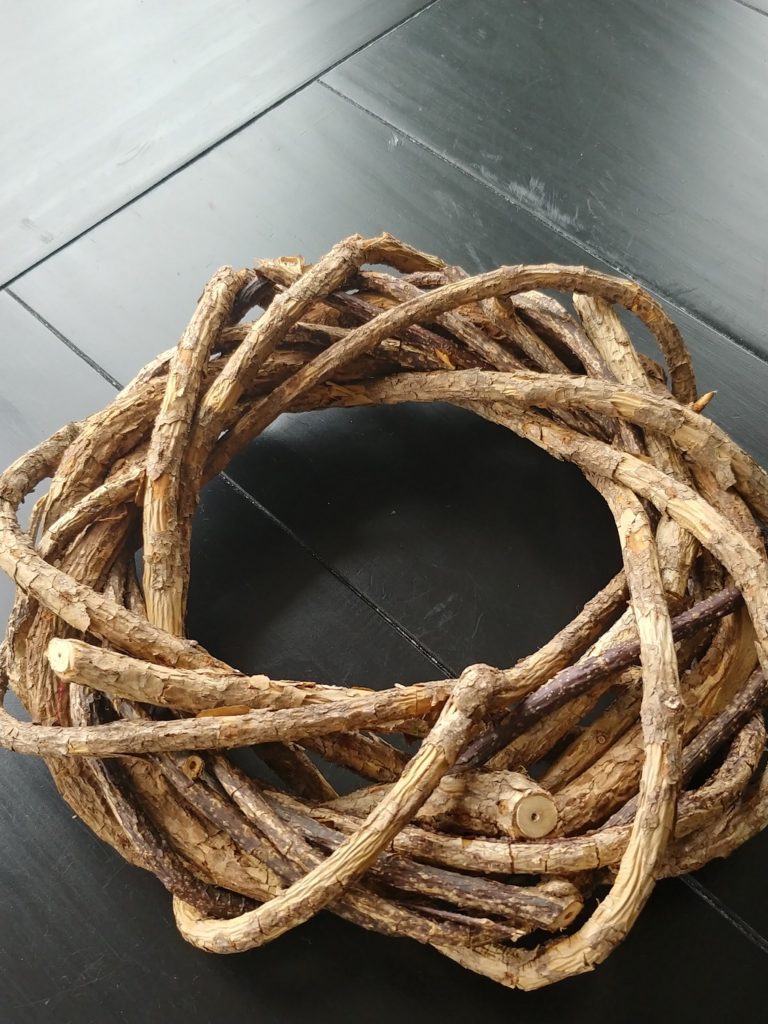 I started out this 13″ branch grapevine wreath from Hobby Lobby. It cost only $10.99.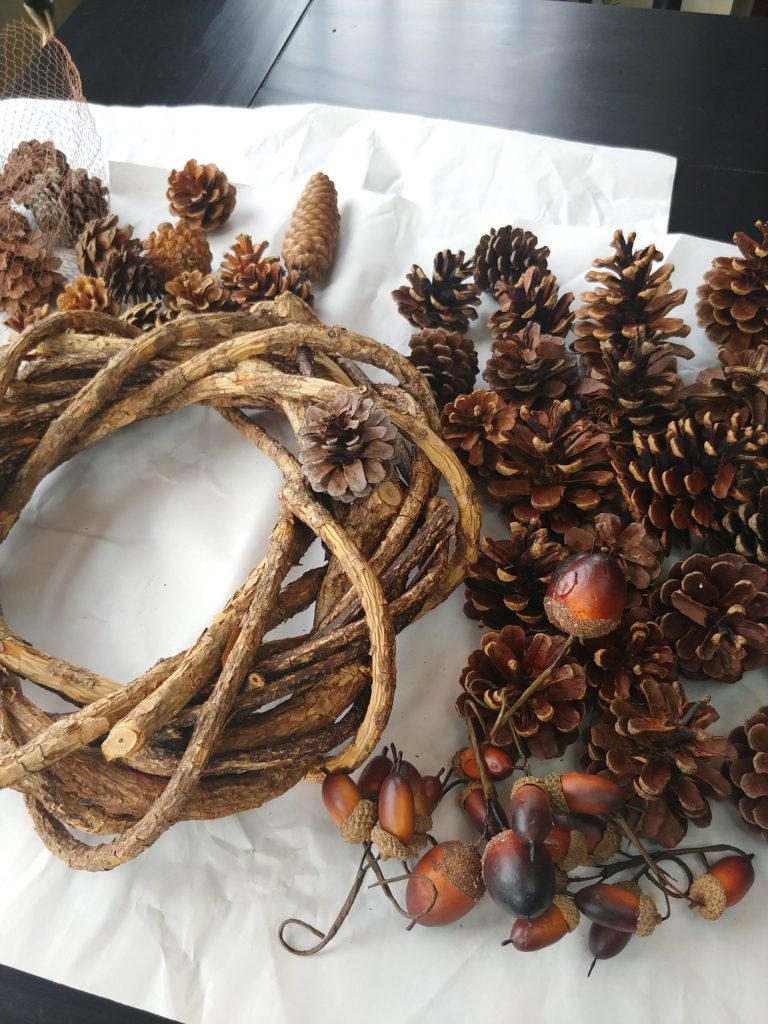 Next, I used a combination of pinecones I foraged recently along with several bags of pinecones I purchased like these. 
When using different-sized pinecones and textures it will add interest to your wreath or craft!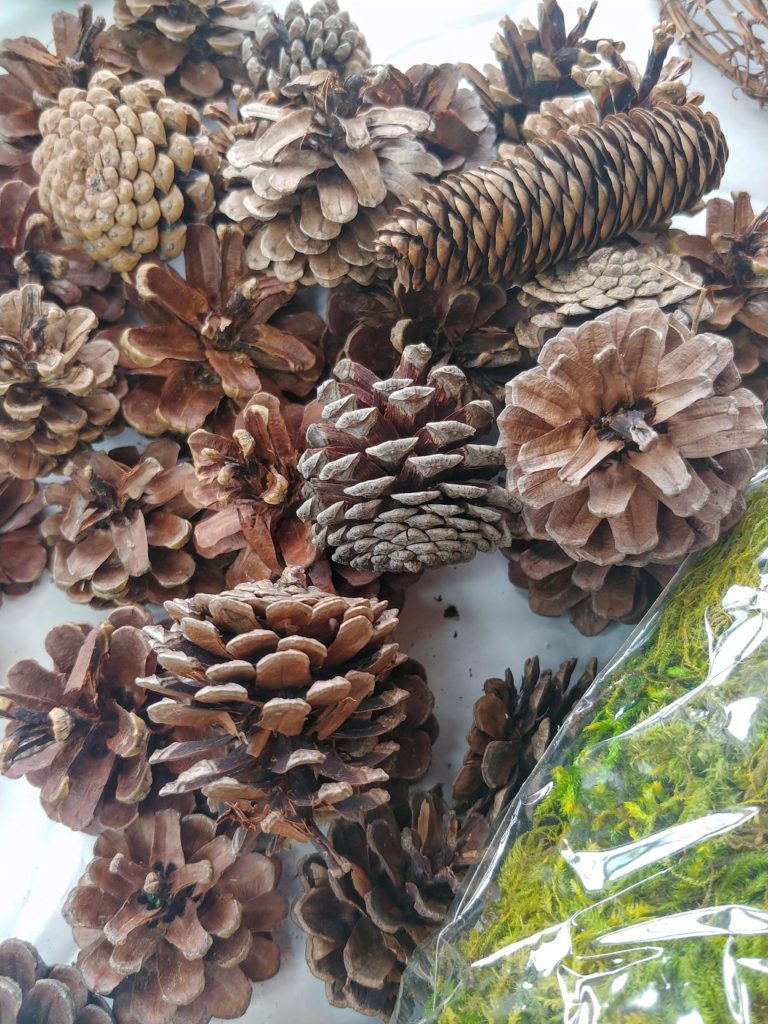 Next is where it gets fun. Did I mention this is super easy? The only thing you need to contemplate is how you are going to design your wreath or what ribbon you are going to pick. The rest, the glue gun will take care of. 
I've opted for my Pinecone Wreath DIY to have the pinecones placed on one side of the grapevine wreath. The options are limitless. You can go all the way around the wreath. Other options are to place the pinecones across just the top, or bottom.
I had these little acorns in my craft box, so I've added them as well. 
Ribbons or Bows Add Texture to Your Pinecone Wreath
When picking out a bow, there isn't a wrong color. You can select a bow with any color or design! The bow can always be changed out as well for any season, holiday, or occasion. I could see adding a colorful orange bow for an autumn wreath.
Earlier I asked if you knew what I was going to do with my Pinecone Wreath.? If you are anything like me, receiving a handmade craft or gift always means so much! When someone takes the time to create something it is always a special gift.
Here is my plan! I'm going to be wrapping this wreath up and giving it away as a hostess gift when I attend Thanksgiving Dinner or for a Christmas cocktail party or get-together!
We often think hostess gifts have to be a bottle of wine or a box of candy, or possibly flowers.
How about bringing your hostess a gift they can use over and over? This is a great way to get your hostess in the holiday spirit as well.  As soon as it is received, it can be hung on a door, a window immediately without much work at all for them. 
My
Favorite Crafting Tools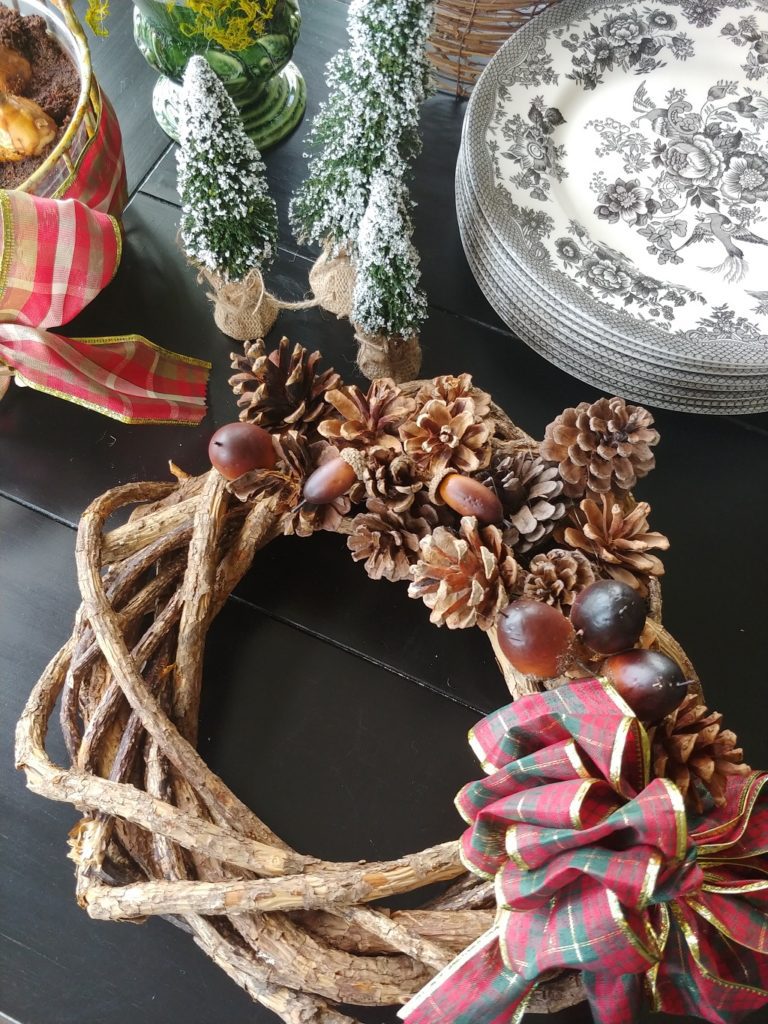 If you need help getting ready for the holidays, read this! 
Have you made this before? 
https://henandhorsedesign.com/wp-content/uploads/2021/11/1114211419.mp4
I hope you enjoyed this easy Pinecone Wreath DIY! Stay tuned for more holiday crafts using pinecones.
XO Susan