Spring Table Decor Using Pink and Blue
Are you excited about Spring? Today I'm sharing my gorgeous Spring Table Decor using Pink and Blue just in time for Spring or an occasion.
Bring Spring into your home with a beautiful pop of color! It always amazes me how quickly I can change and brighten any space in my home for Spring using beautiful colors, fresh flowers or even just moving things around in a new way. Pink and blue always say 'hello happy home' to me!
Decorating your table with Spring table decor can be an enjoyable and creative experience. To add a unique, romantic touch to your home decor, try creating a special cut flowers spring arrangement using pink and then add blues with dishes or other elements.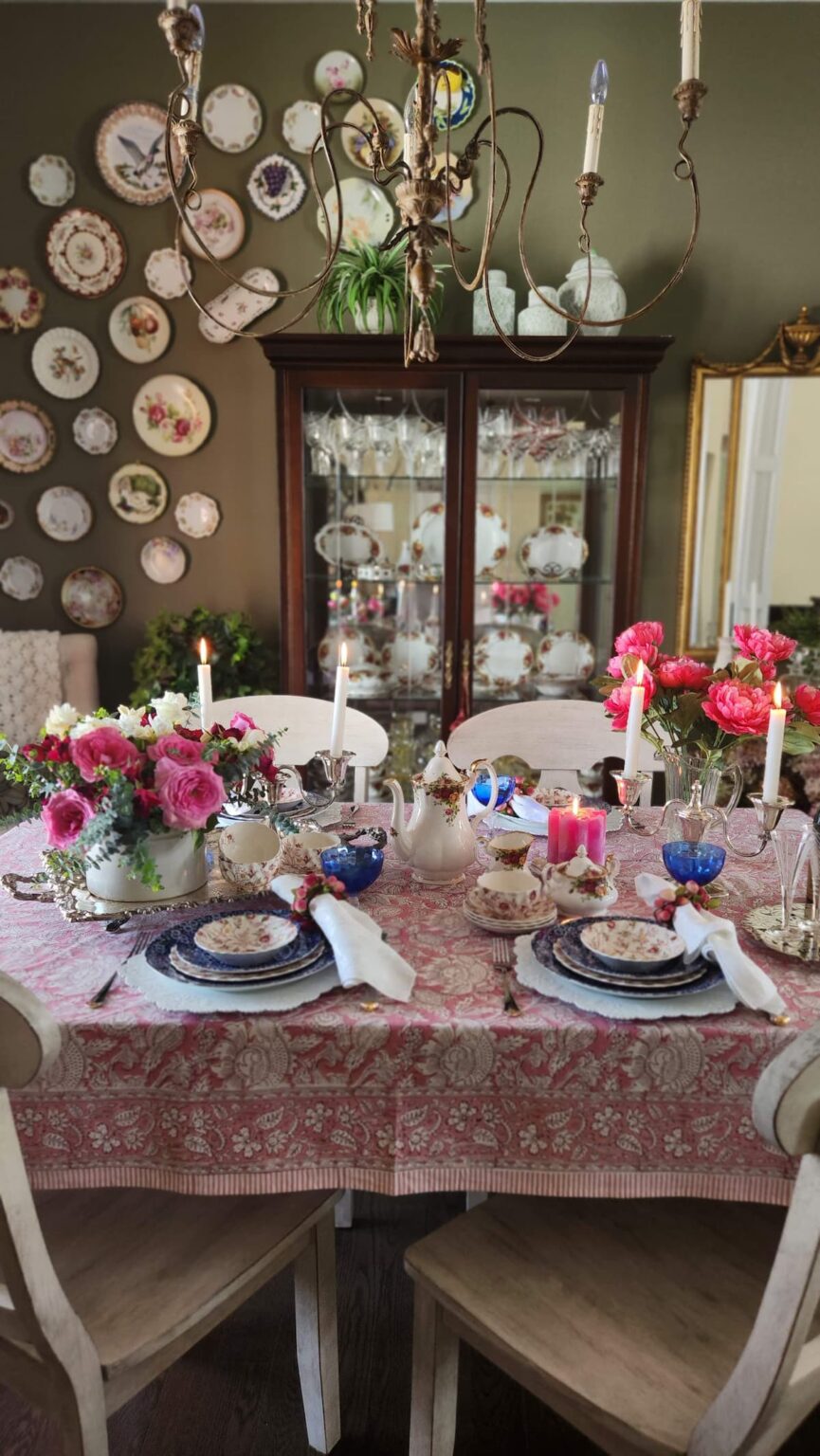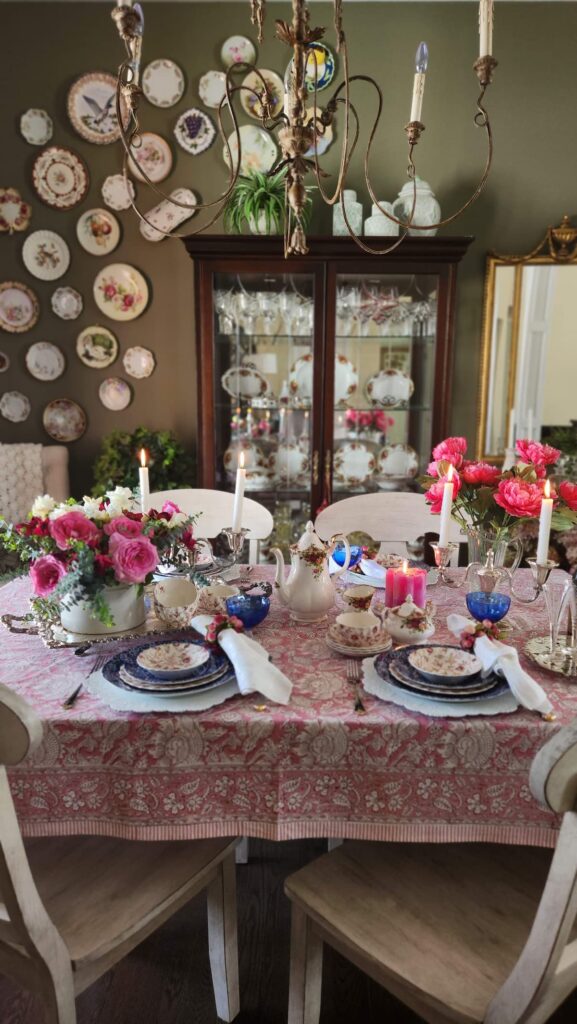 "This post may contain affiliate links which means I may earn a small commission. You may read my
disclosure policy here
".
With these elegant colors as inspiration, you can transform any space into an inviting atmosphere perfect for family gatherings or celebratory events.
Maybe it's something as simple as adding small accents like my silver trays, a special teapot, or something more extravagant such as an eye-catching centerpiece display, you'll have no trouble transforming your spring table decor and your room in time for spring!
Keep reading to find out how you can use pink and blue decoration ideas to make this happen in your own home.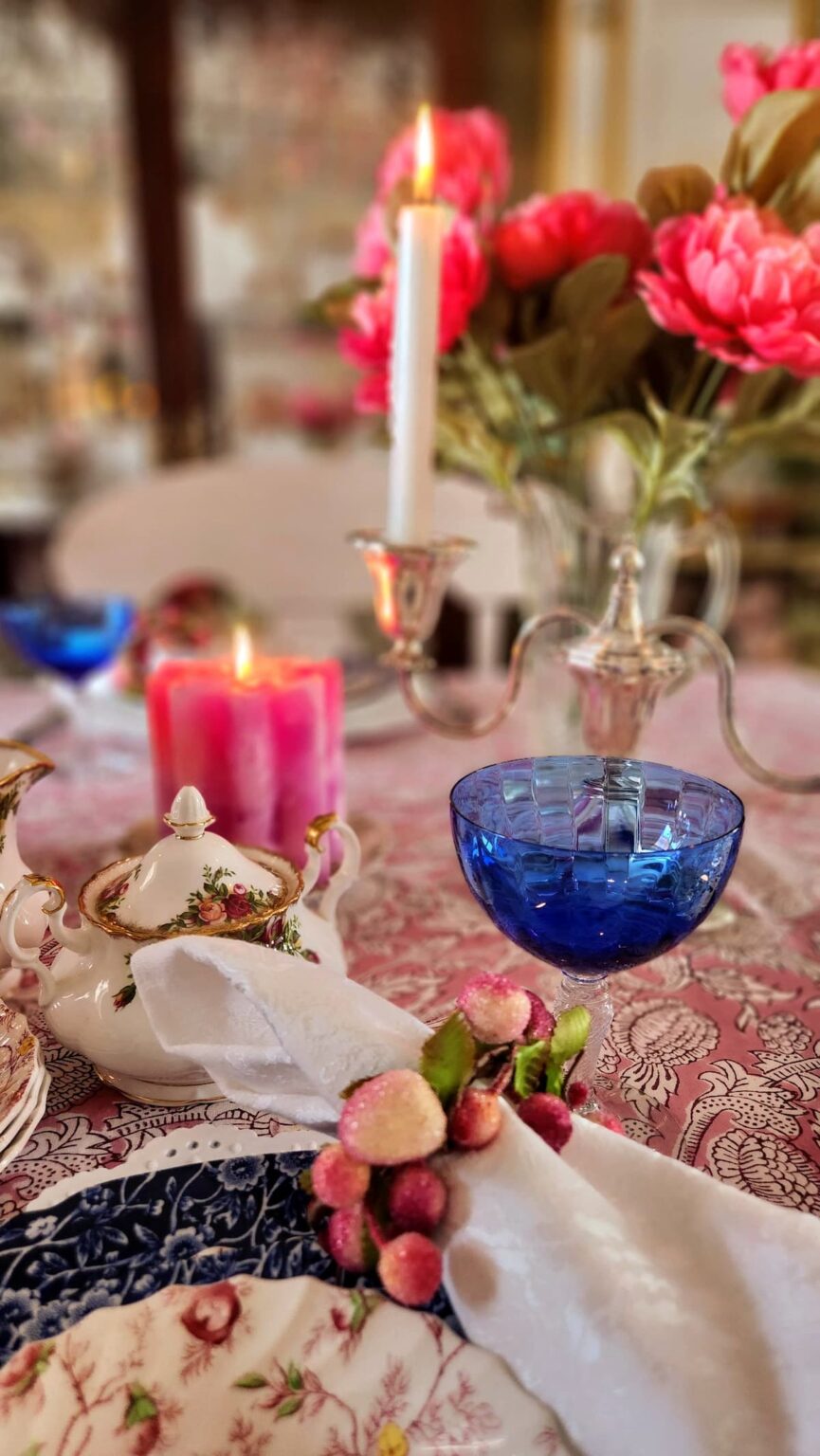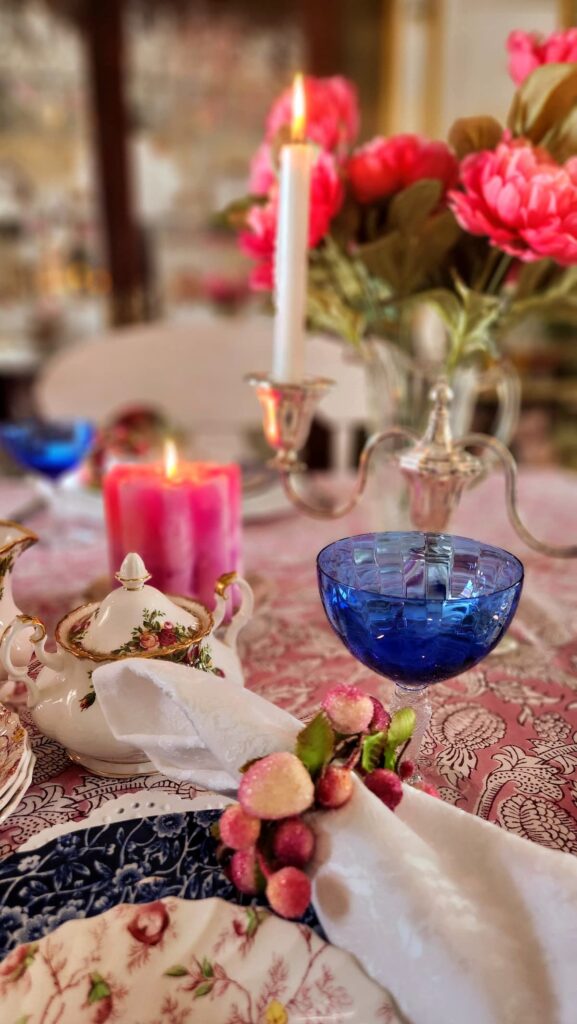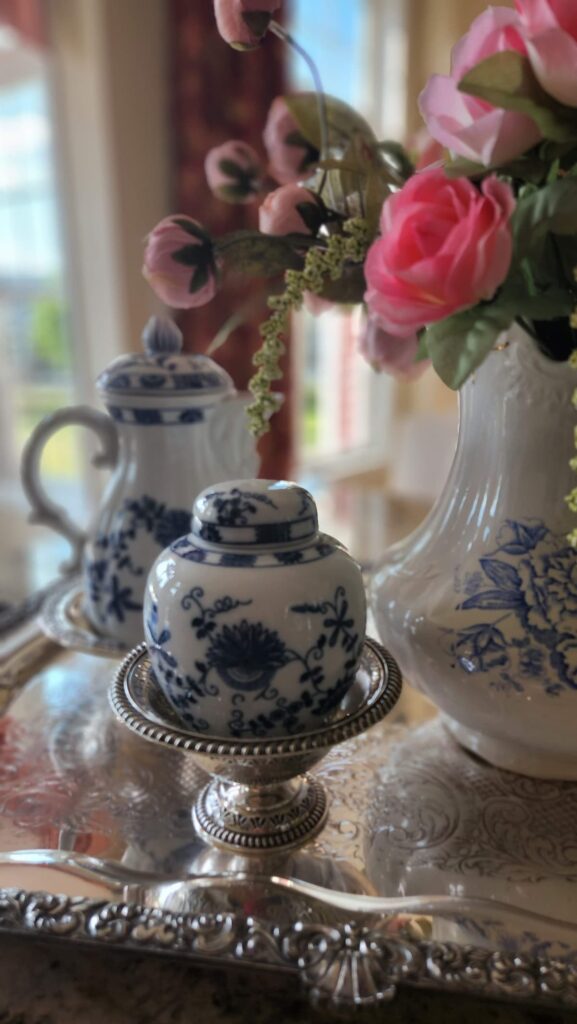 How to decorate a table for Spring
I always think of flowers, fresh greens, or pulling out a different set of dishes when I start to feel that 'spring' in my step. Nothing says Spring more than gorgeous fresh-cut flowers on a table.
Pulling out my blue chintz dishes seemed to be the perfect match for this tablescape.

Spring table decor ideas
create floral arrangements in unique vessels such as dough bowls, teacups, watering cans, cut out the center of a pineapple, an old boot, mason jars, or soup tureens
add moss around the base of your arrangement or under a cloche with items like a birds nest, a knick-nack
use fresh flowering plants in terra cotta pots
small wooden crates filled with jars of cut flowers
place your table runner width-wise rather than lengthwise, two table runners look beautiful this way
arrange cherry blossom stems in a vase
vintage crystal sugar and creamer containers make great plate toppers with a few baby rose buds in the water
mix your tableware with different patterns
use colorful napkins such as pinks, yellows, oranges, or violet
coordinate the napkins with different colored plate chargers or placemats
one favorite way to bring your spring table decor up a notch is to add forsythia stems
When should I start decorating for Spring?
I typically feel the need to change my decor in mid to late February which is earlier than most and the recommended time of March.
Usually, by the time March rolls around, I've already been into re-organizing every space in my home for several weeks and itching to get a new look for my freshly cleaned space.
Remember, however, this is my job or I should say it's my passion. Being ahead of the calendar is sort of what I do so that I can bring you fresh ideas in time for you to incorporate them into your home decor.
How to transition from Winter to Spring decor?
Okay! Let me count the ways! Or at least give you a few ideas.
change out your decorative pillows
lighten up the throws
remove any pinecones or winter greenery
add fruits or vegetables in arrangements
switch to lighter patterns on your bedding
remove any winter artwork and replace it with beautiful botanicals
freshen up your mantel with lighter shades and textures
declutter from the richer and cozy layers of winter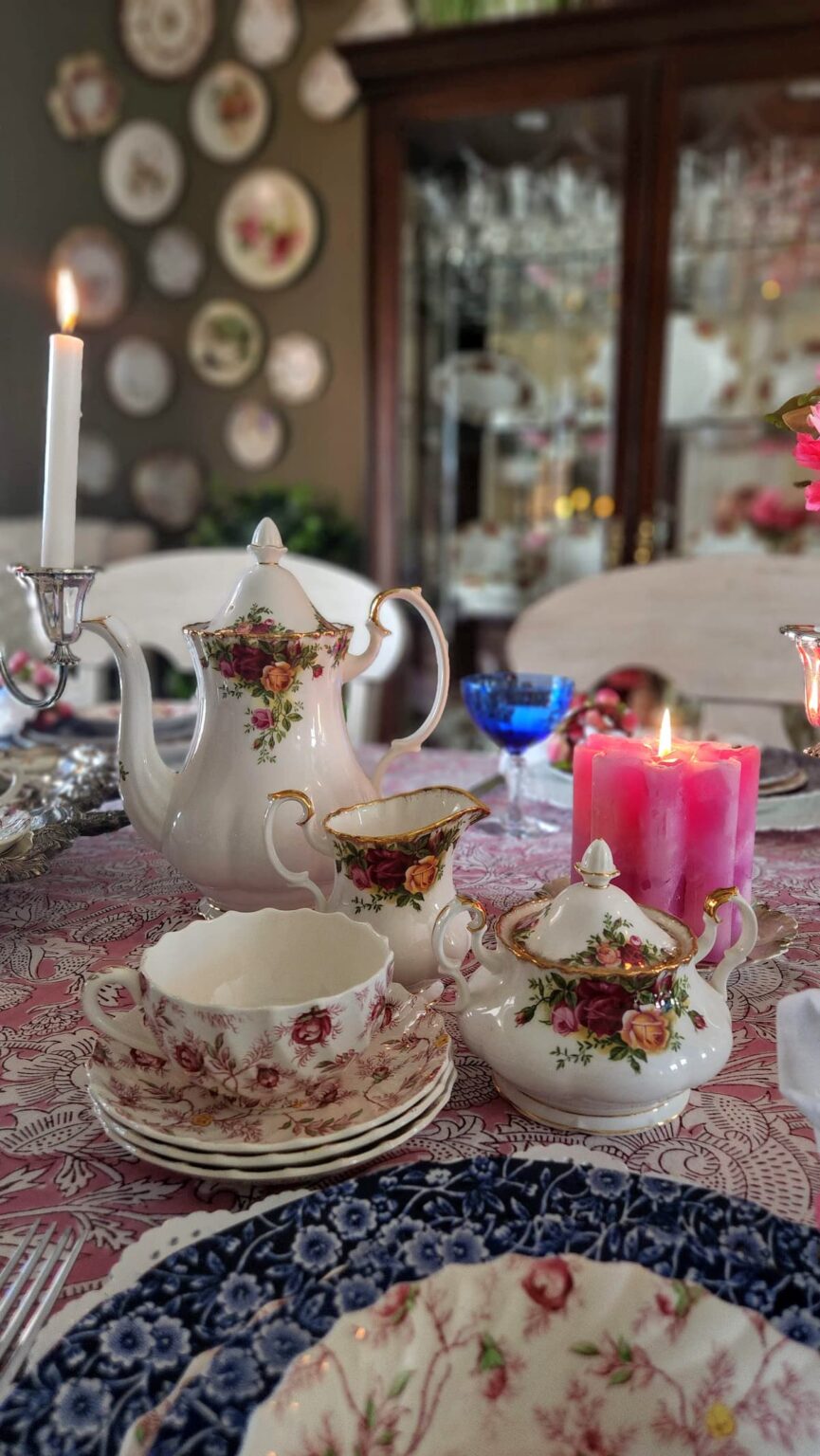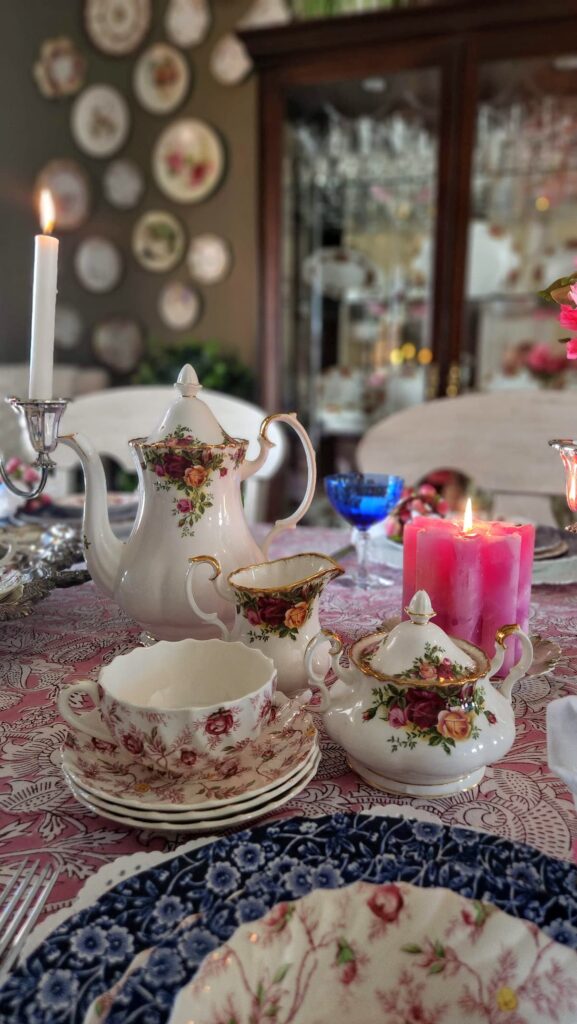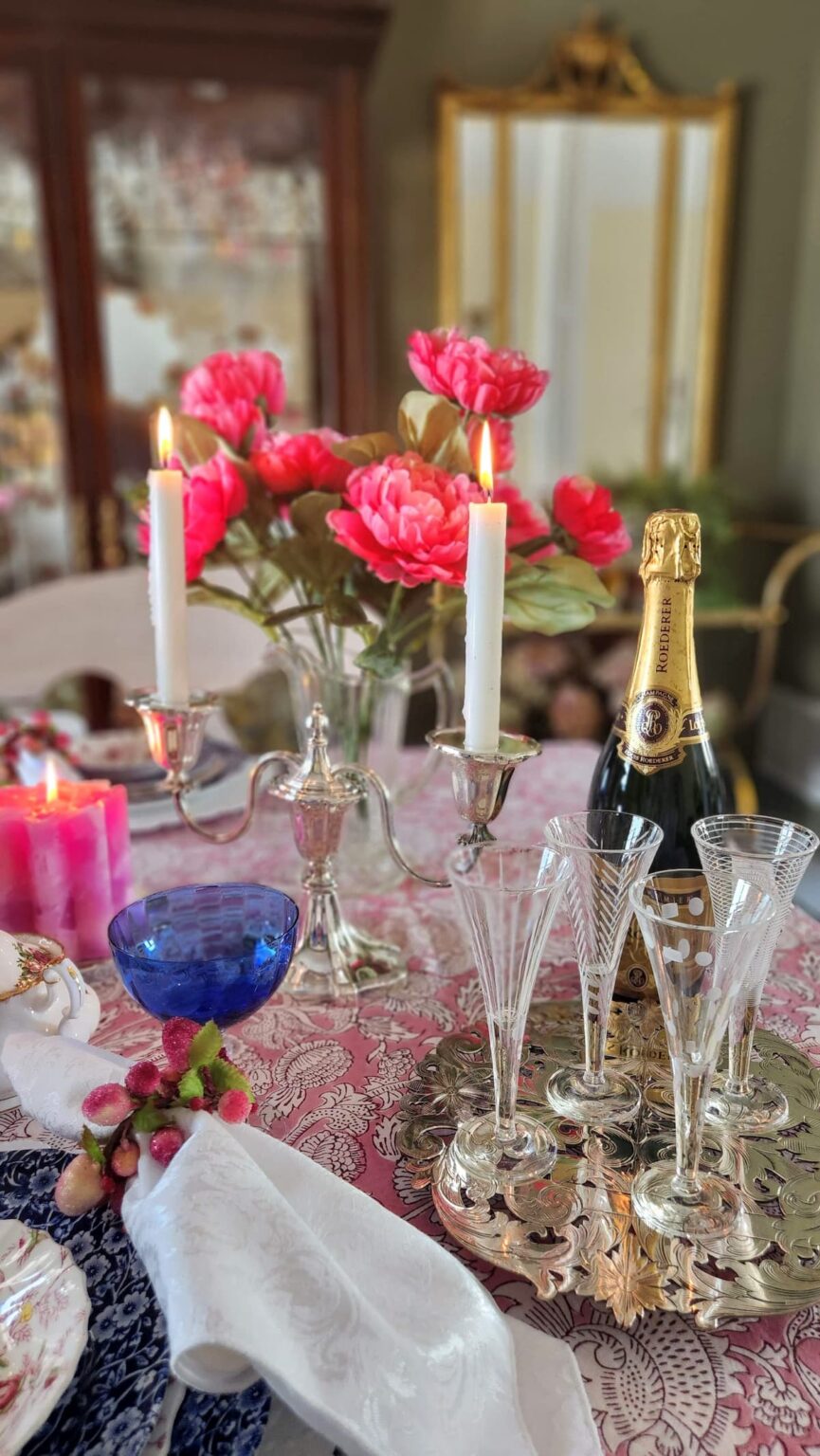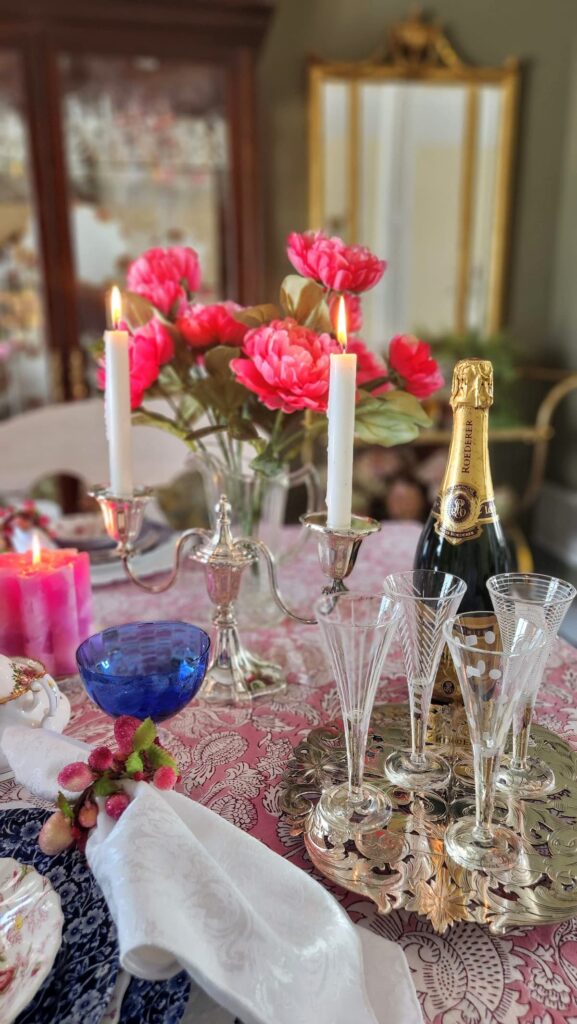 How to arrange a cut flower bouquet
When it comes to arranging flowers the key is to create balance. The height of the arrangement should be about one and one-half times the height of your vessel.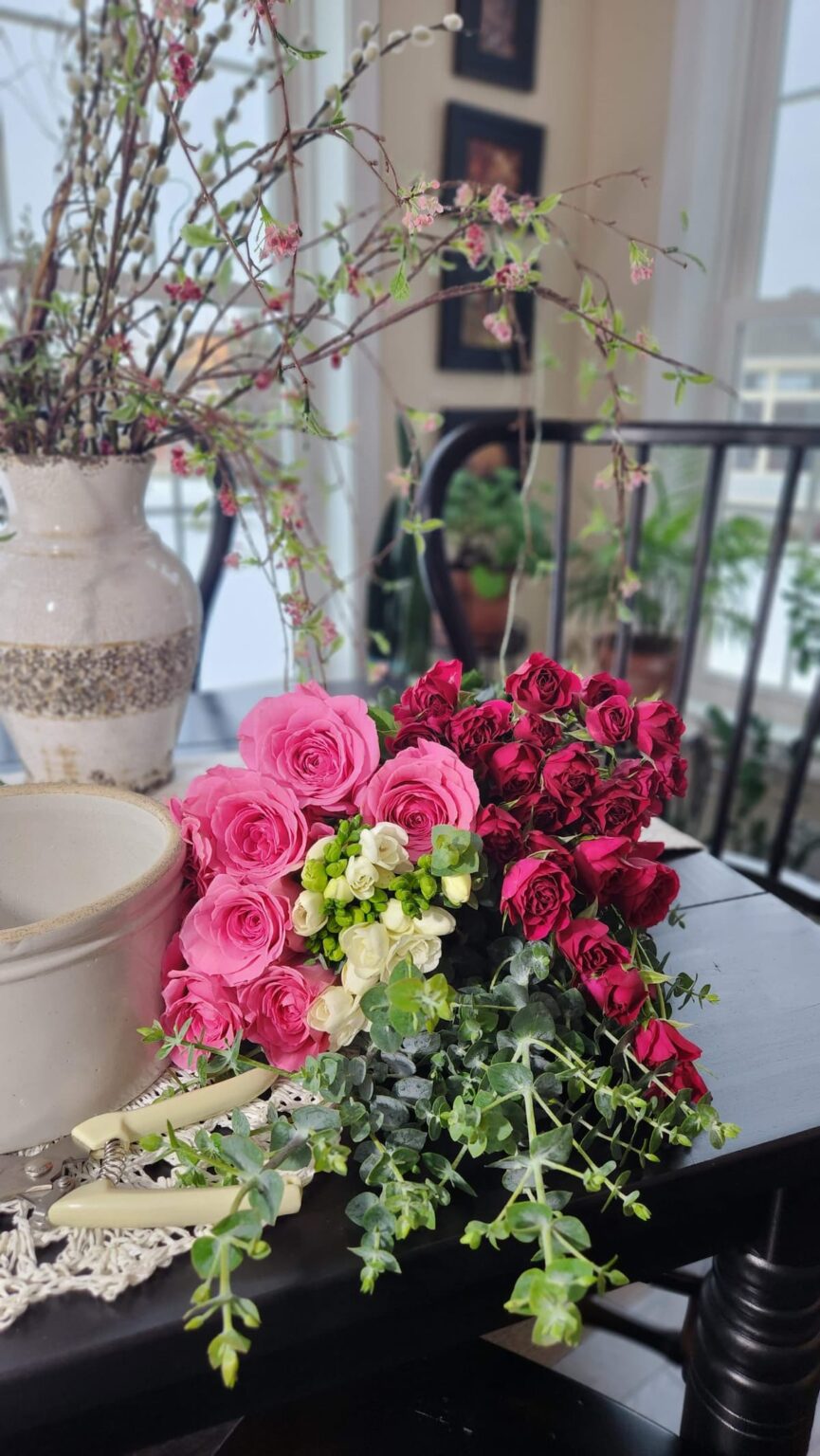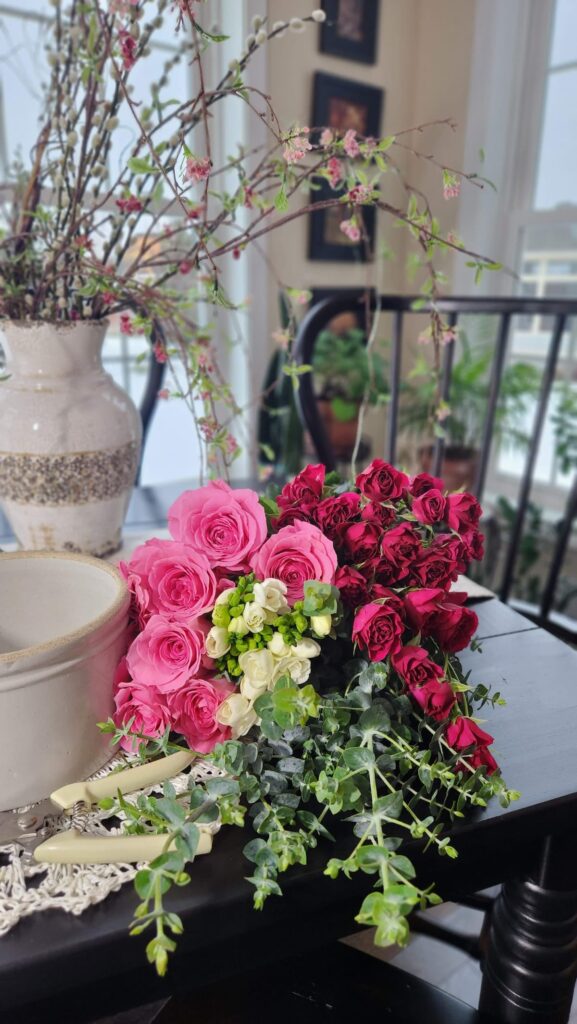 Do's and don'ts in making table centerpieces
Let's start with the do list first.
Pay attention to the height of the centerpiece on your table

Arrangements should be 24 inches or higher or 12″ and lower allowing guests to be able to carry on a conversation in view of each other
Keep in mind the size and shape of the table ( is your table long and narrow, wide, short, or round)
how about your vessel? is it large or smaller?
vary the flowers and greenery for interesting texture and bloom size

Don't fill the table with so much that guests cannot put their plates down

having enough space is key for your guests to feel comfortable
when using a rectangular table, be mindful of using just one arrangement, opt for two or three to even out the table
No need to limit yourself to just flowers, how about creating a centerpiece out of candles or old books that are stacked with vintage eyeglasses and greenery possibly for your book club meeting?
Creating a cut flower arrangement
Create a grid using scotch tape to hold the stems in place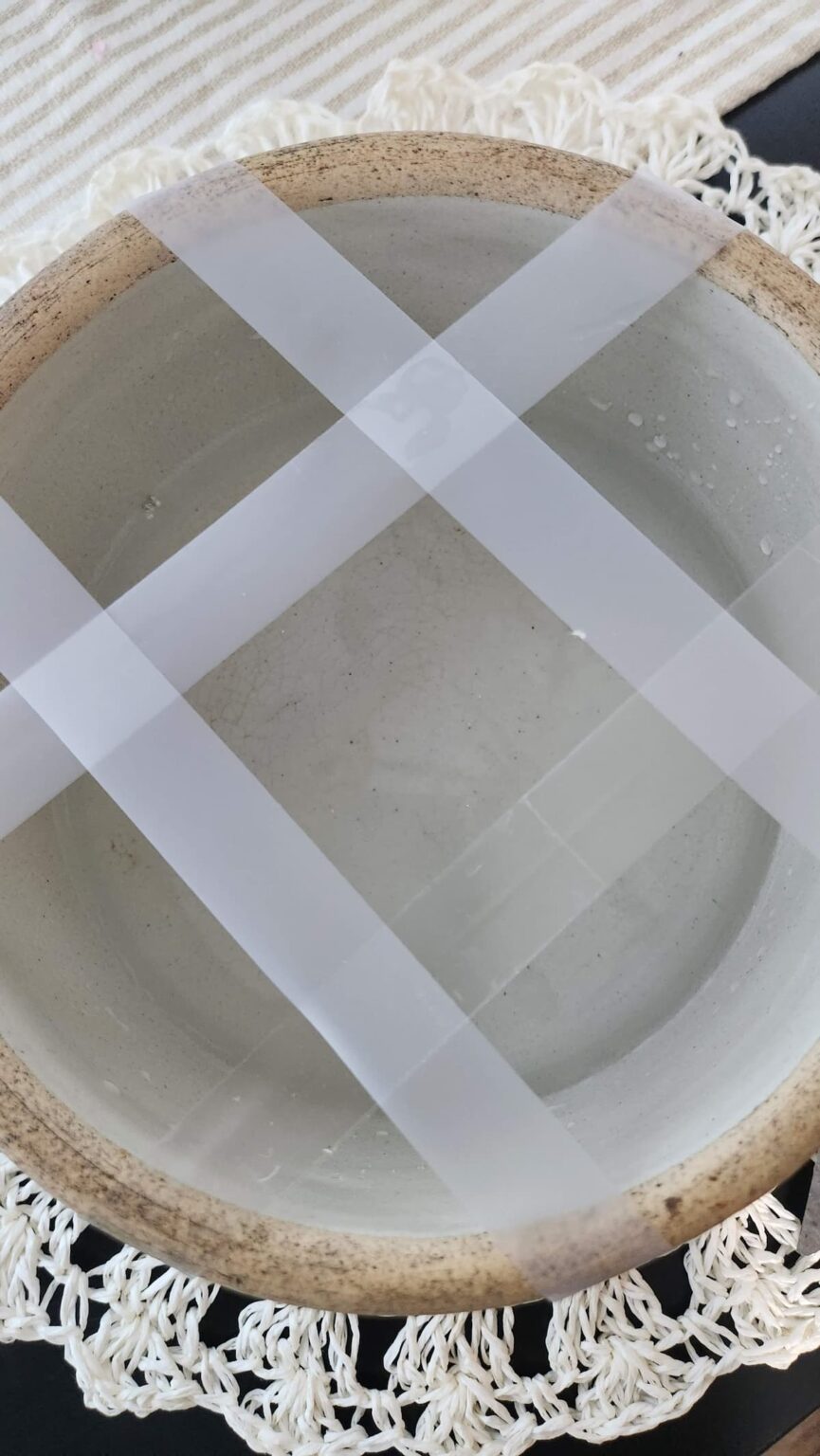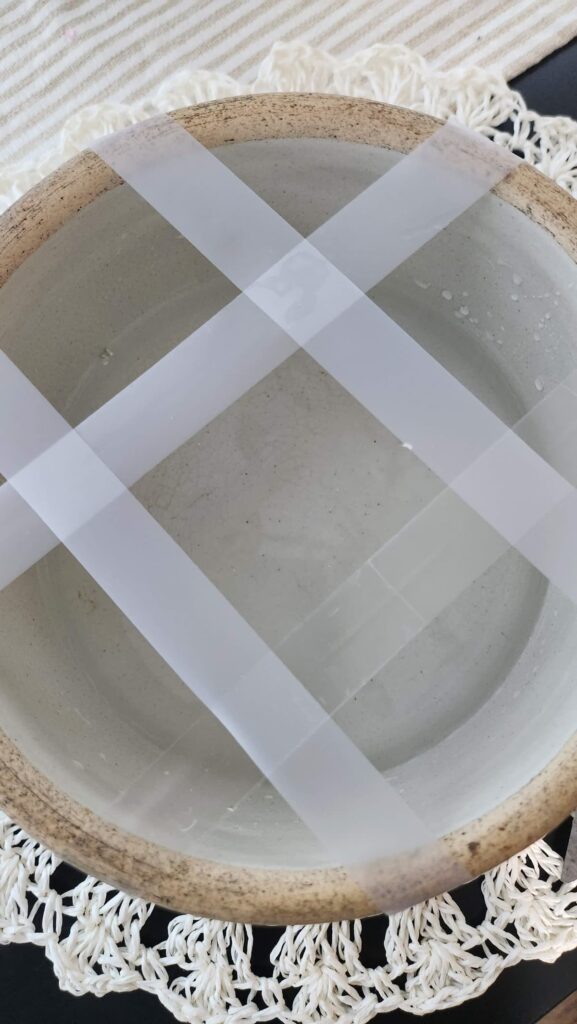 2. Add your greenery first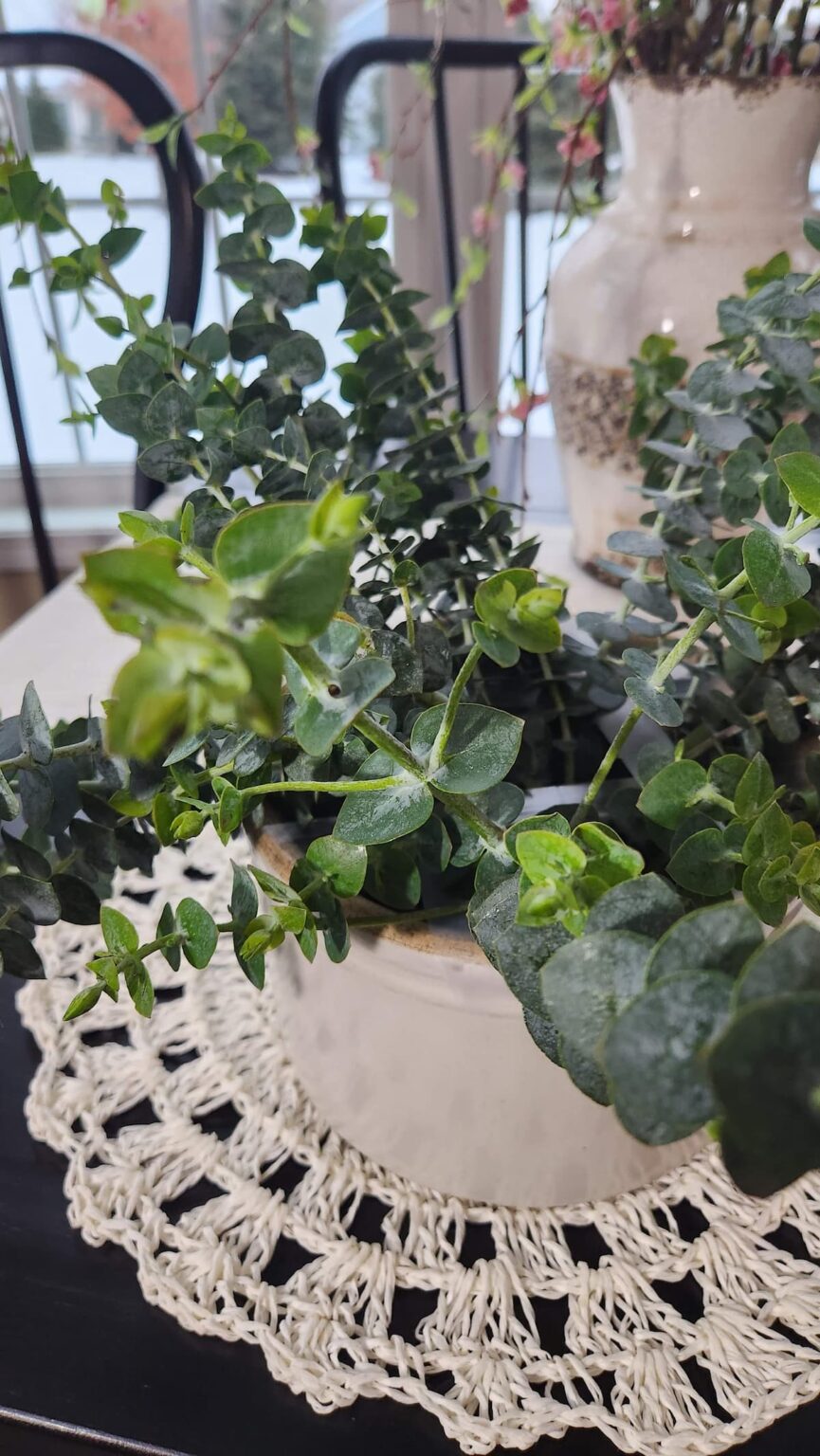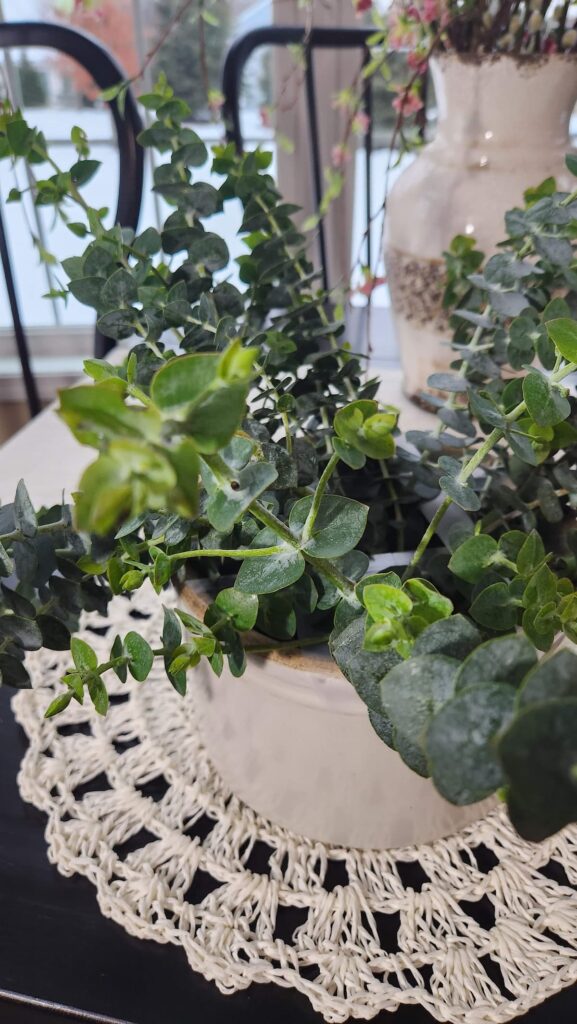 3. Next add your largest flowers. I used one bunch of pink country roses.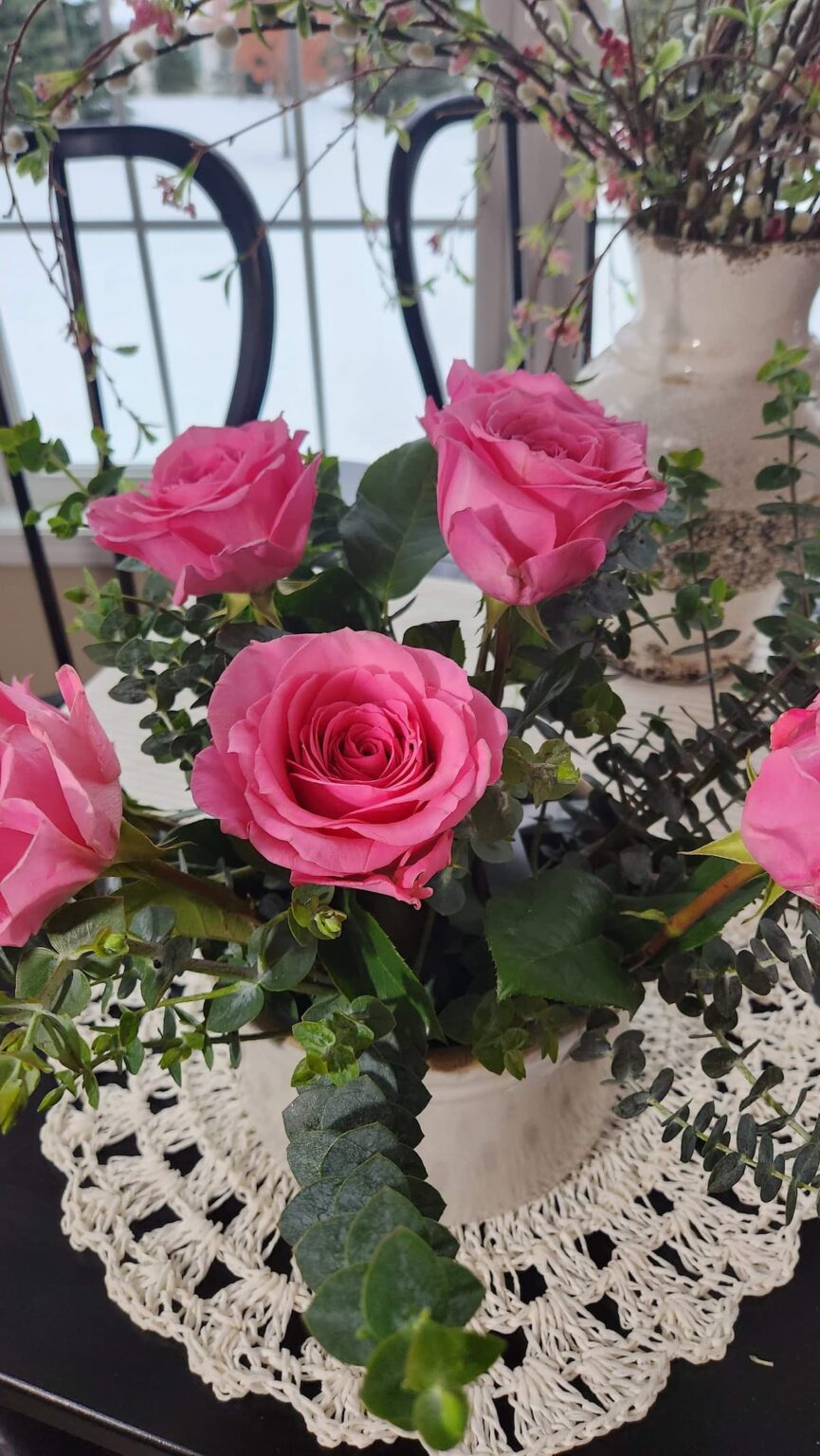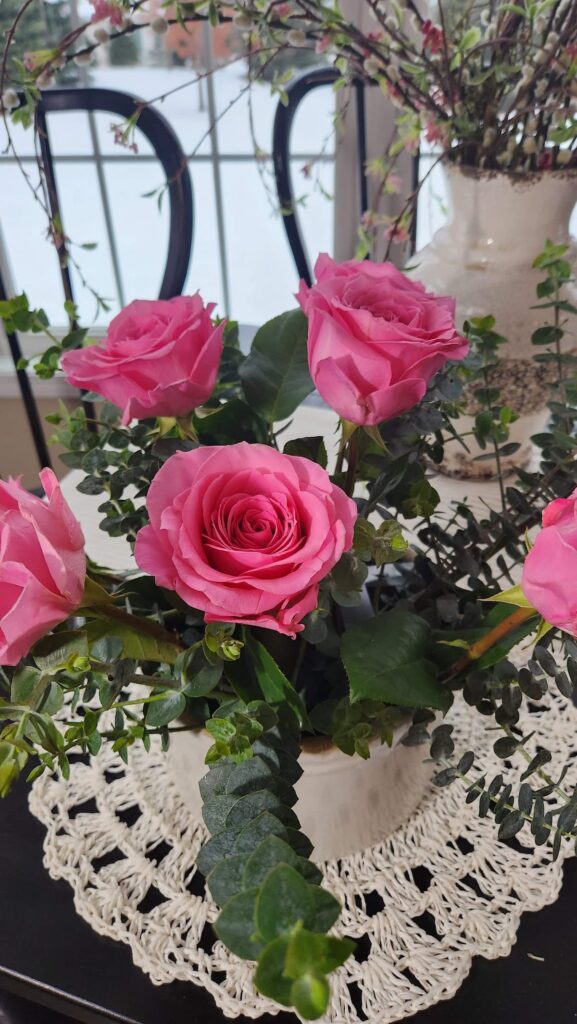 4. Place smaller floral stems in between the larger ones. I used one bunch of spray roses for this.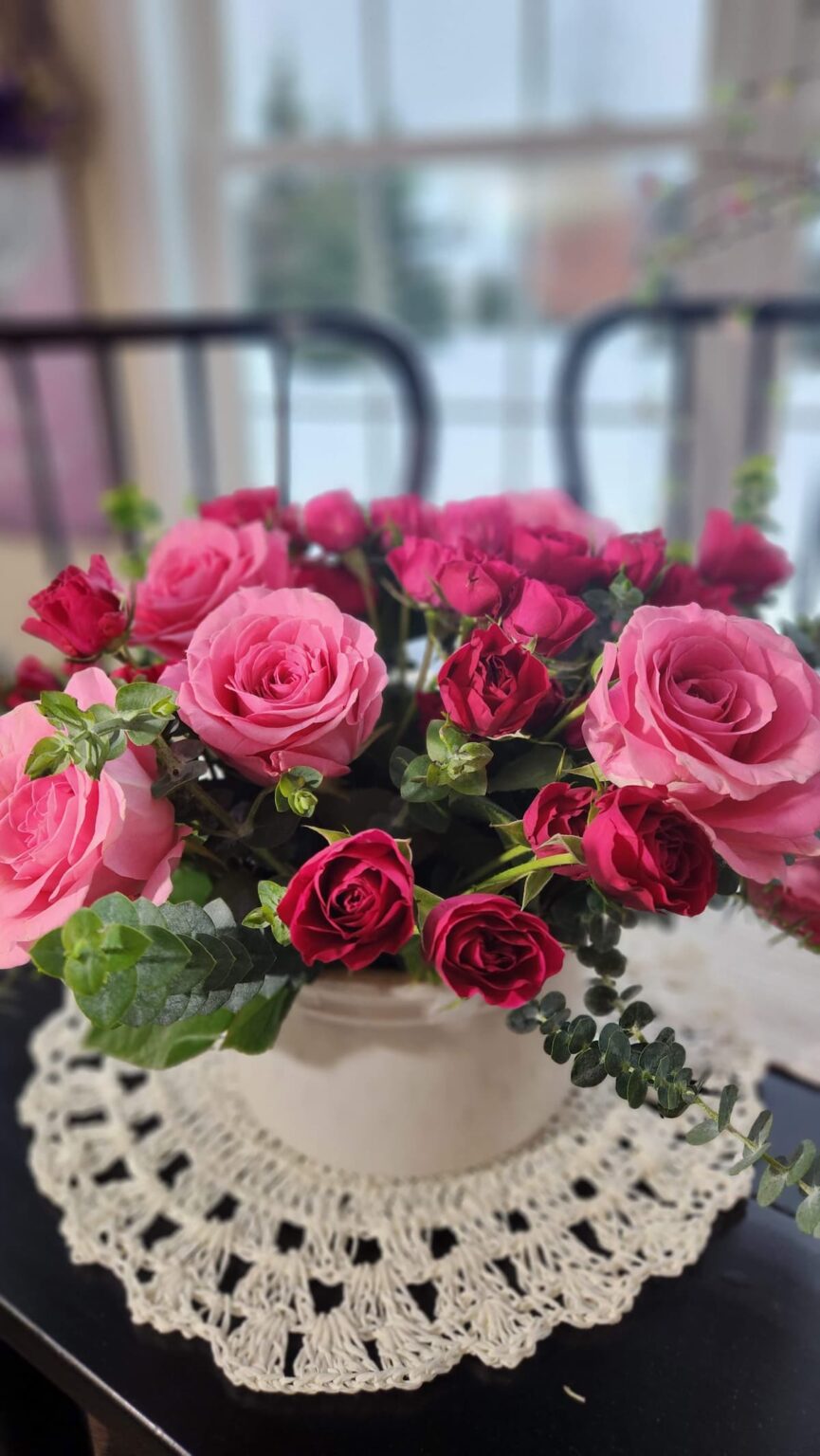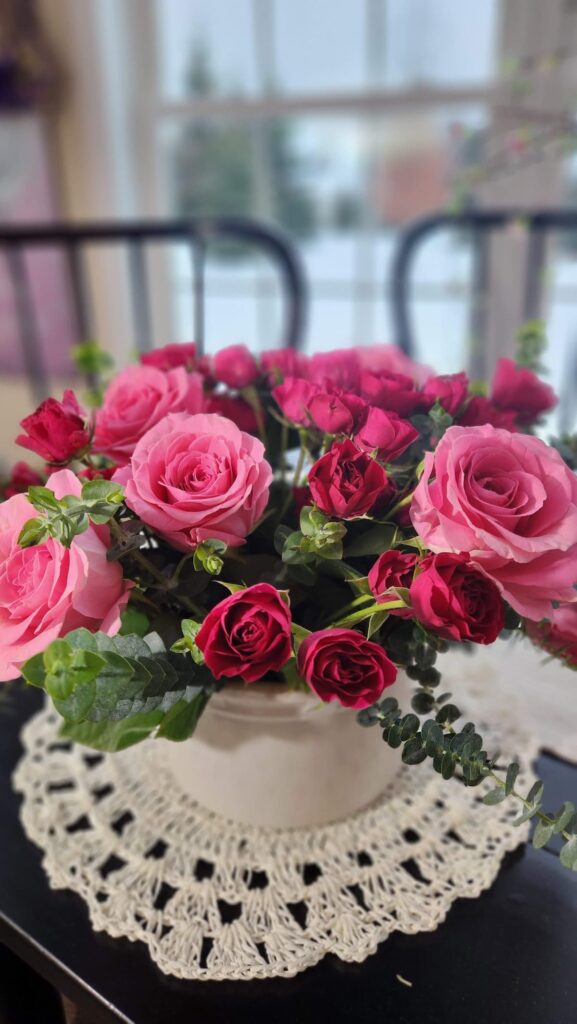 5. Fill in with other smaller stems of your choice, varying the texture and size of the blooms.
How to keep cut flowers fresh
Over the years I've had fresh-cut flowers last weeks and others only a few days. Here is what I've found works for me.
use a clean, freshly washed vessel
cut flower stems at an angle with sharp shears or clippers
remove all the leaves on the stem
dip the end of the stem in cool water
replace the water with fresh water every day
feed your flowers with flower food
Shoppable Spring pillow links are below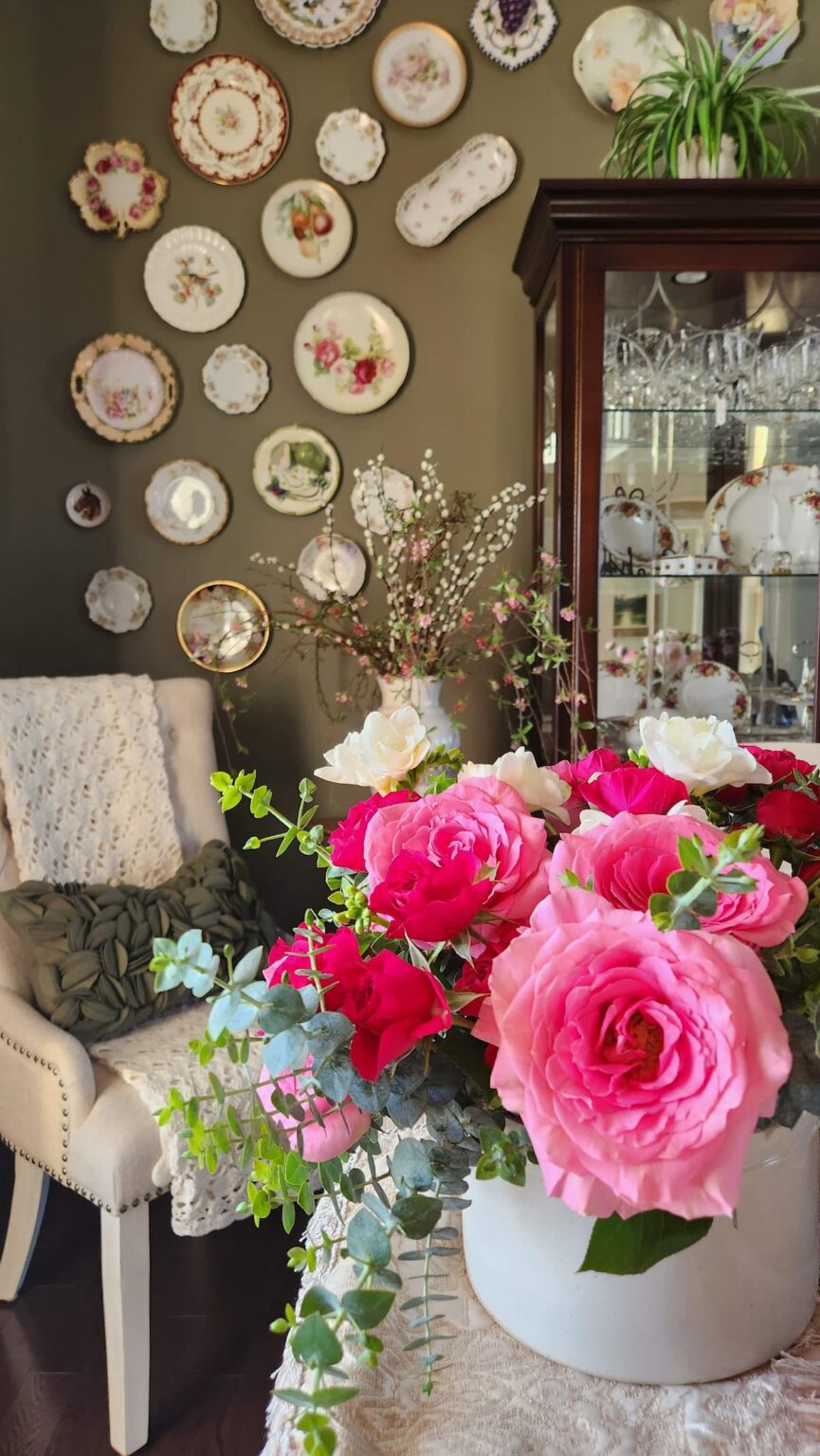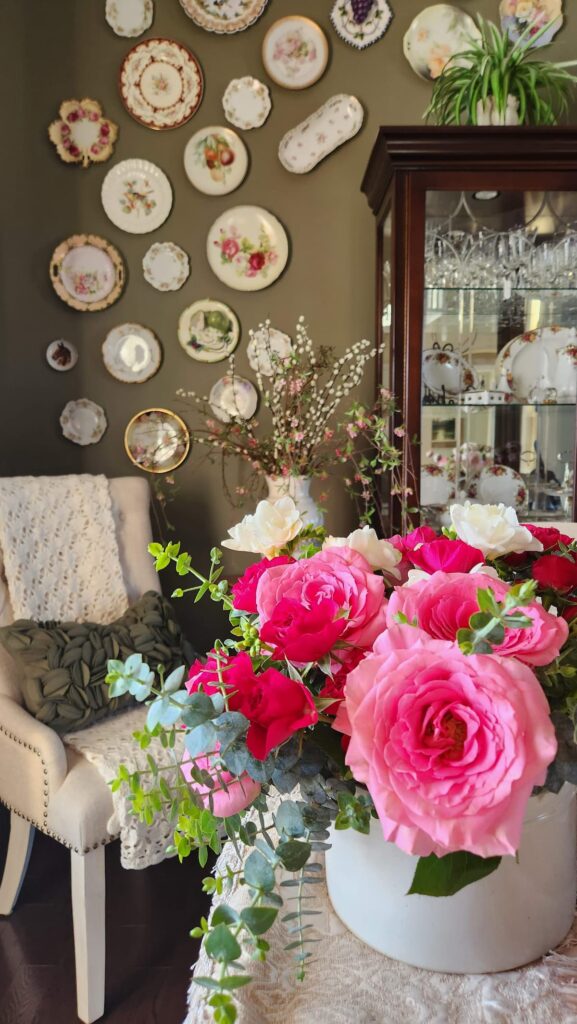 Pin it to remember it: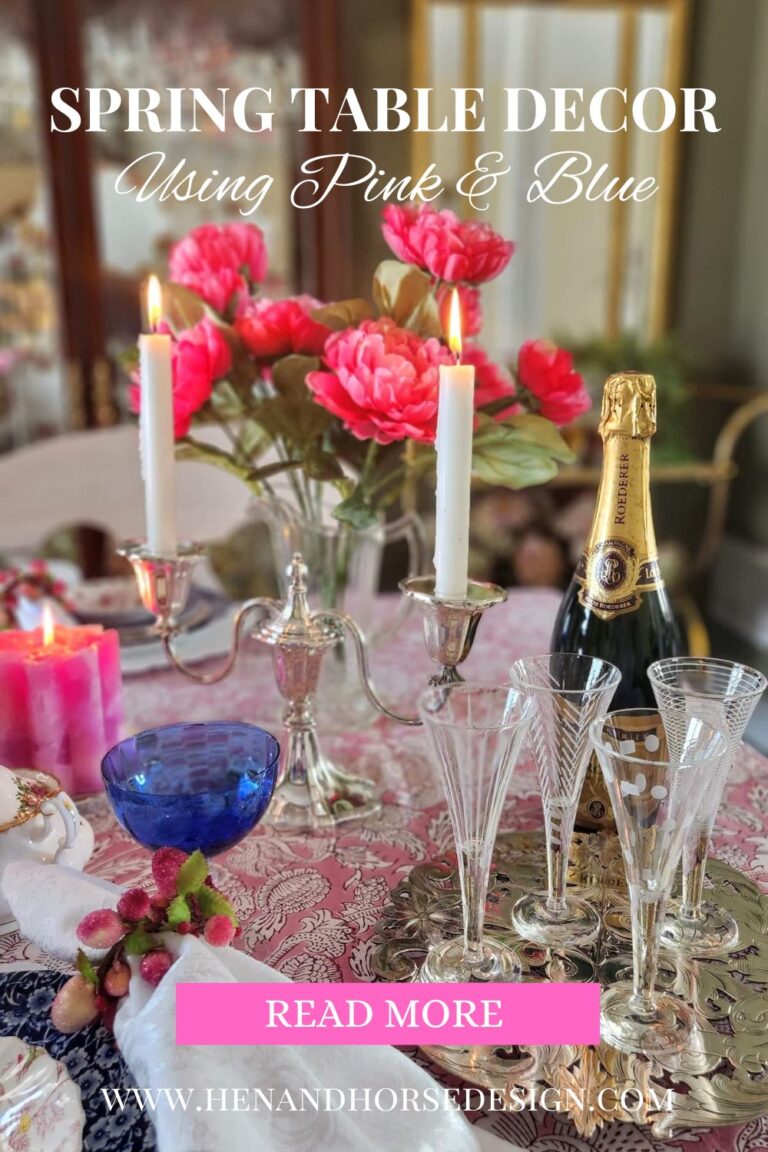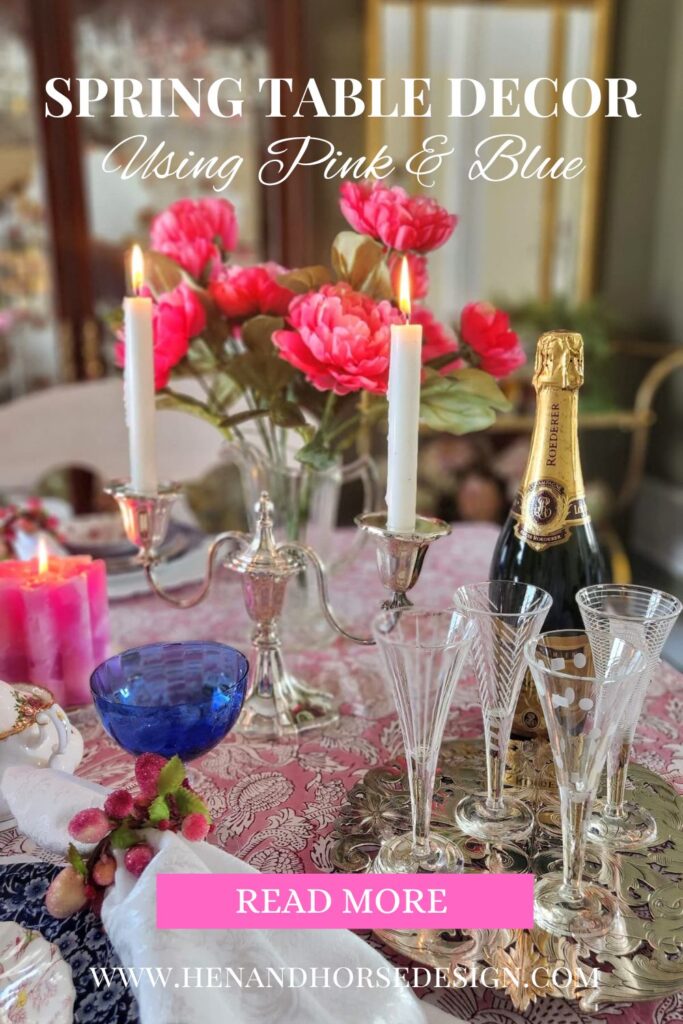 Spring is the perfect time to experiment with fresh, vibrant colors in your home decor. Pink and blue are a classic combination that can be used in a variety of ways to freshen up your space. Arranging a cut flower arrangement is a simple way to add a touch of spring to any room. There are a few things to keep in mind when arranging flowers, but don't let that stop you from getting creative! With a little practice, you'll be arrangements like a pro in no time. Are you ready to decorate for spring?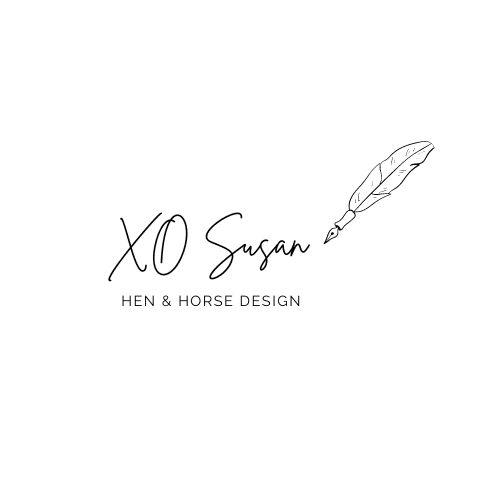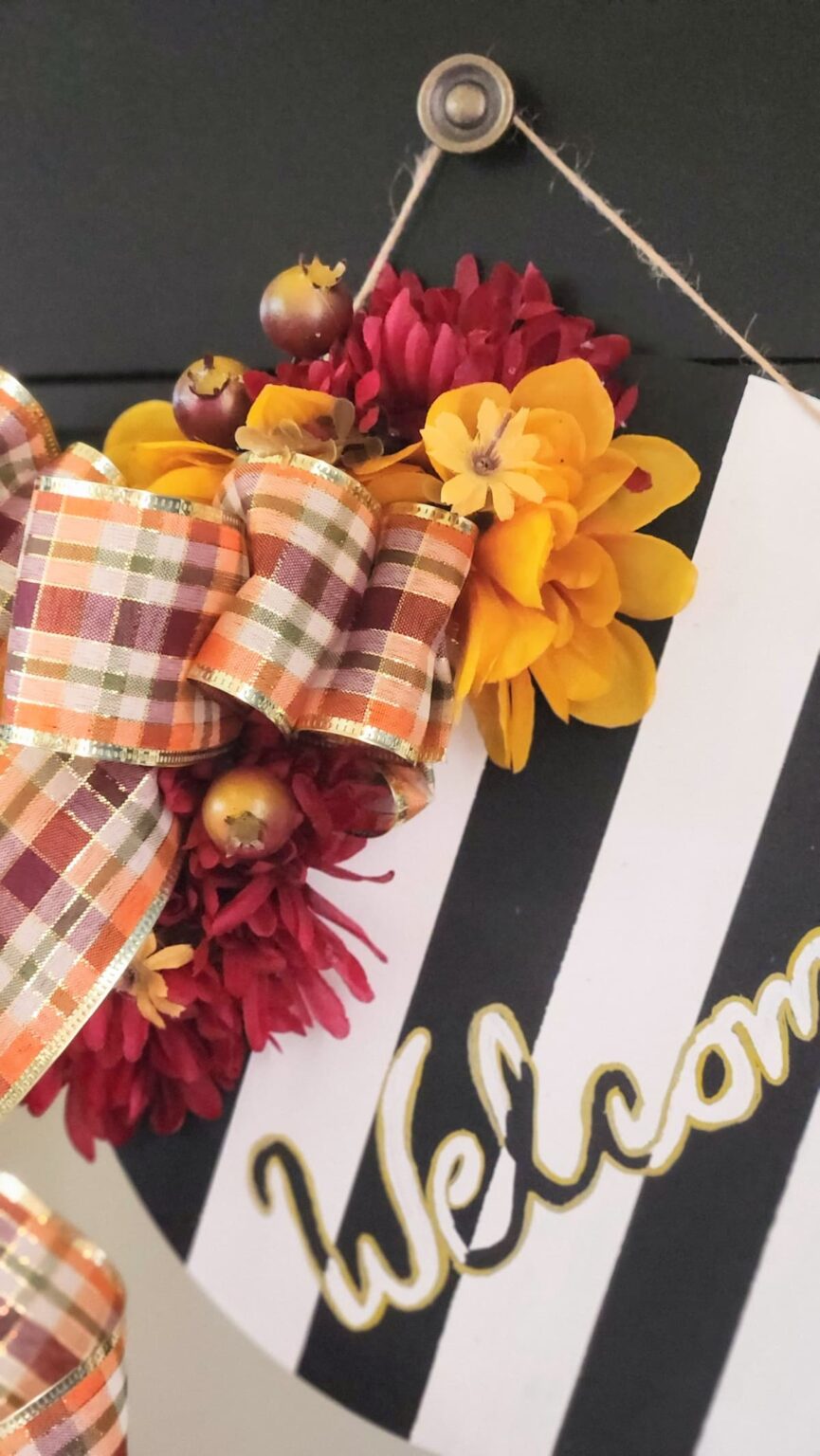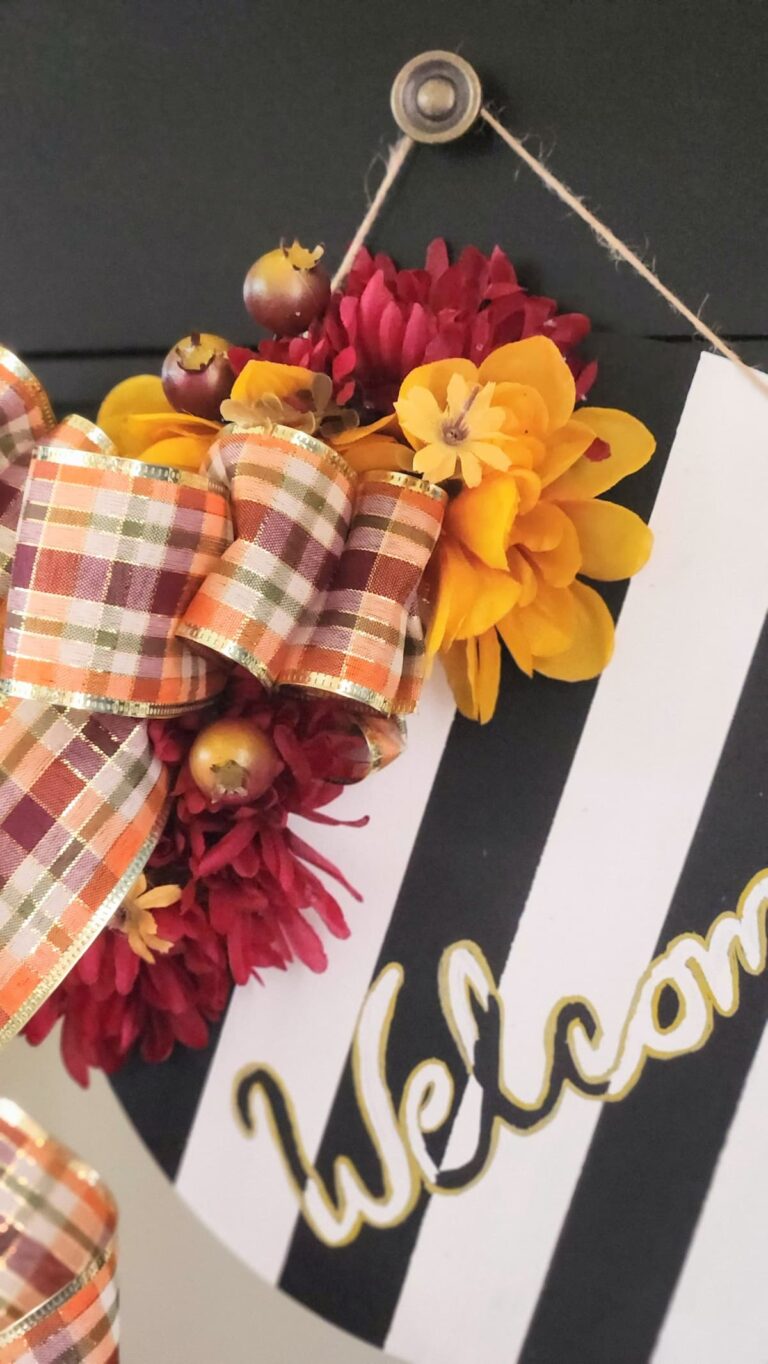 Hey there, crafty friend! Are you ready to dive headfirst into the wonderful world of DIY door hangers? Picture this: a cozy afternoon with your favorite tunes playing in the background, a table overflowing with colorful paints and craft supplies, and an empty wooden door hanger just waiting for your creative touch. It's like a mini canvas for your front door, and trust me, the possibilities are endless for a new pretty welcome sign.