How to Create a Black Accent Wall
Have you wanted to create a room with a Black Accent Wall? Oh good! Today I'm sharing How to Create a Black Accent Wall in the Bedroom!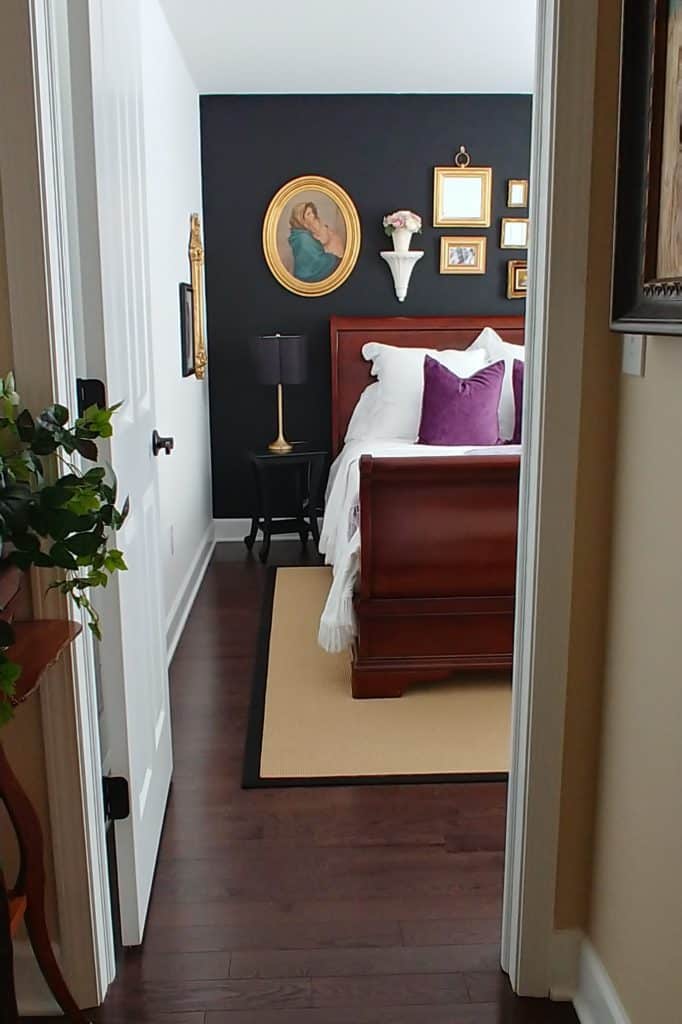 "This post may contain affiliate links which means I may earn a small commission. You may read my
disclosure policy here
".
How to Create a Black Accent Wall in the Bedroom
If you're anything like me picking out a wall color to paint a room can be daunting. What if the color you pick doesn't look right? What if the color is too light, or too dark? Worst of all what if I don't like it once it is painted? (In this case, don't be afraid to repaint! It's just paint! You'll look at it every day, so getting it the right color is very important) 
I went thru all of these thoughts prior to picking black for my black accent wall. When I searched my Instagram for inspiration, I wasn't convinced a black wall would work in my home. I was wrong. What I discovered was that black works in any style of home. 
Committing to a Color
Are you ready to add color to one of your rooms, you've come to the right place. Let's get started with your accent wall!
I started out thinking that paint is a big commitment. Furthermore, painting a wall black, is a huge commitment.  Here's the thing tho, painting a room is the easiest and quickest way to change and update your room for the least amount of money, no matter what color you choose!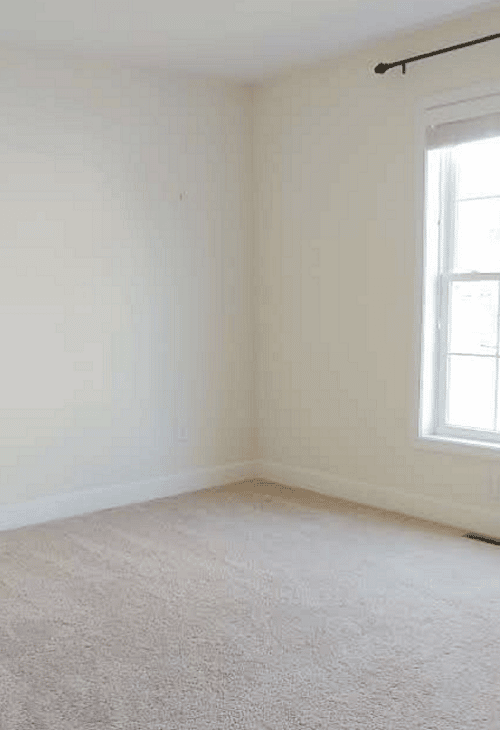 As you can see in the photo above, our guest room was pretty plain. Prior to painting, we had hardwood installed. 
Once I got over my fear of committing to a color ( I went all-in with a black accent wall). There is not a moment that I regret it!
Thru the years what I have discovered is that when I've painted my walls with color, rather than a beige or a white, I don't tire of the color quickly. That's not to say that light colors aren't lovely. They certainly are! I love a white or neutral home as well. I'm referring more to a basic builder paint color. 
How to Make an Accent Wall Look Great
How to make a black accent wall look great? 
Here is the secret! This is going to sound really simple but it's true. The best way to make your accent wall look great is to prep, and prep some more.
Using quality painting tape is key. I used FrogTape for this room for the first time, and I was totally sold on this product. The lines came out crisp without any bleed through.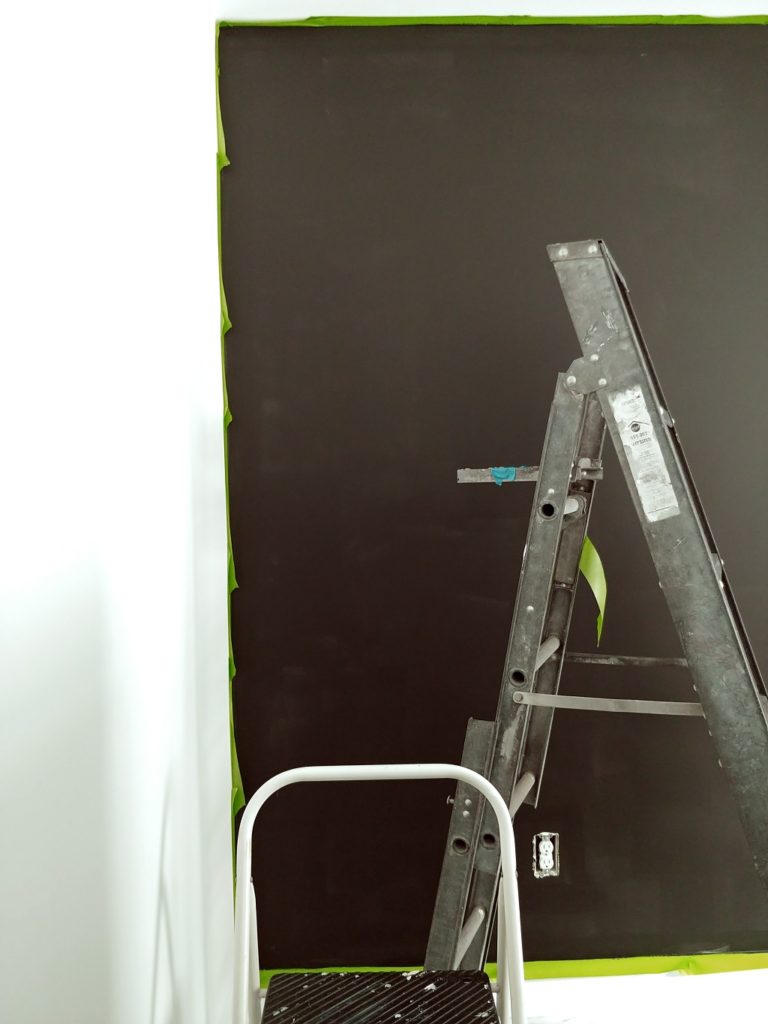 I've never been the best at the prepping portion before a project truthfully. I must admit though, after this renovation, I see the value in doing so.
I cannot state this enough. Painting the room and specifically, my accent wall was so easy because I was prepared with my Paint brushes,Drop Cloth, and other supplies. This made things go quickly. 

First let me say, black is an amazing color in home decorating. Whether it is black accents, black furniture, or black walls, color pops with a dark background!
The Black Accent Wall is Starting to Look Like Something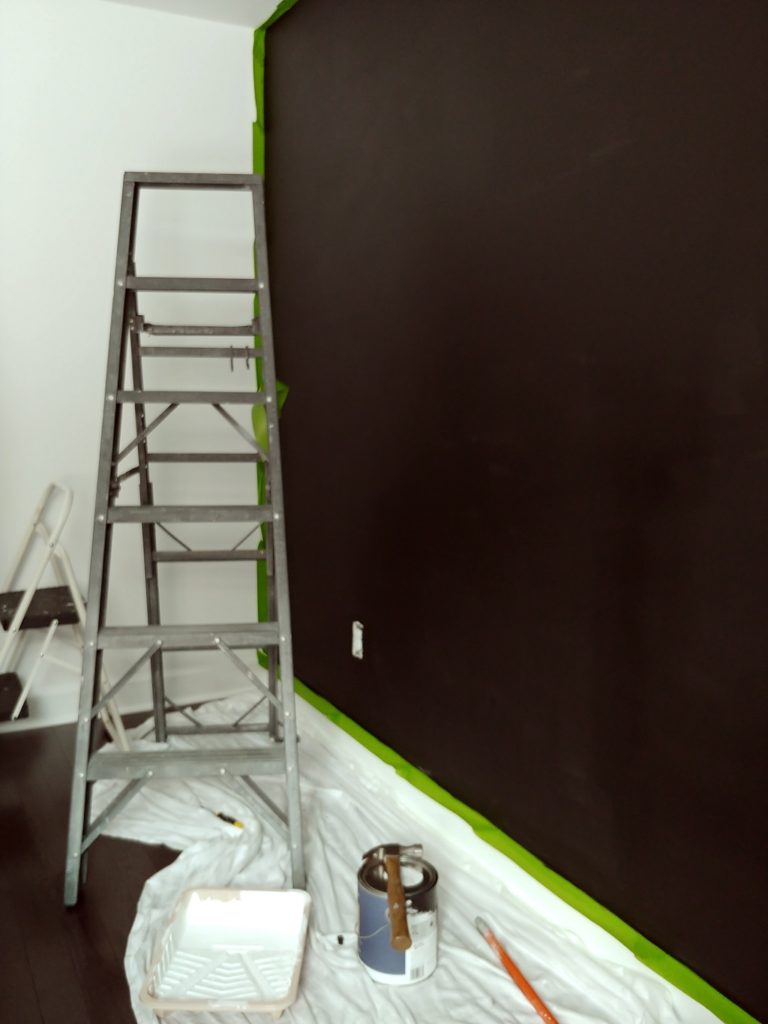 This brings me to the question, of how to add color? Bright color accents go perfectly with a black accent wall. In our guest room, I had first used green for a few accents pieces.
Using the green accents was lovely, but it didn't quite pop the way I'd hope. When I switched my accents out to the deeper jewel-toned purple, it went from that's nice, too, that's amazing!  I've found jewel tones work best with the rich tones of black. 
Black adds a cozy and comfortable atmosphere. It's true. The color black adds warmth to any room. Think of it as a grounding color to build on.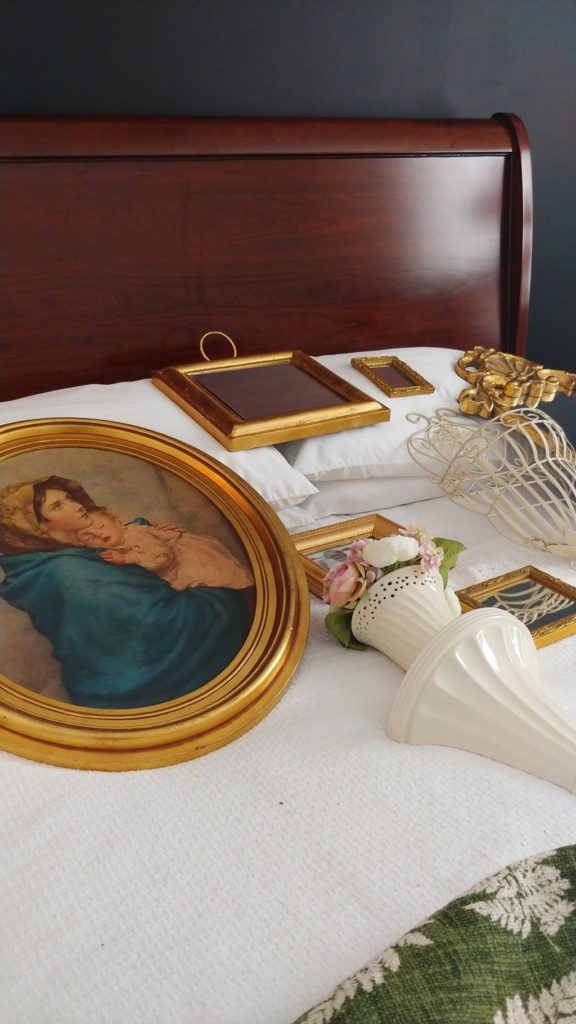 Ideas to Decorate Your Black Accent Walls
Add earthy accents & wood tones (baskets on the wall are a great option)
Grouping several mirrors on the wall adds to the depth of the room 
Gold accents pop with a black wall
Balance the dark wall with wood-toned furniture/wall hangings
Frame your room with white walls/white ceiling
White accents such as white curtains balance the room out
Use different textures for interest and warmth (throws, pillows, wall hangings work well)
Add Jewel Tones to your room
Lastly, adding a family heirloom or an antique furniture piece will enhance your black wall and the family treasure.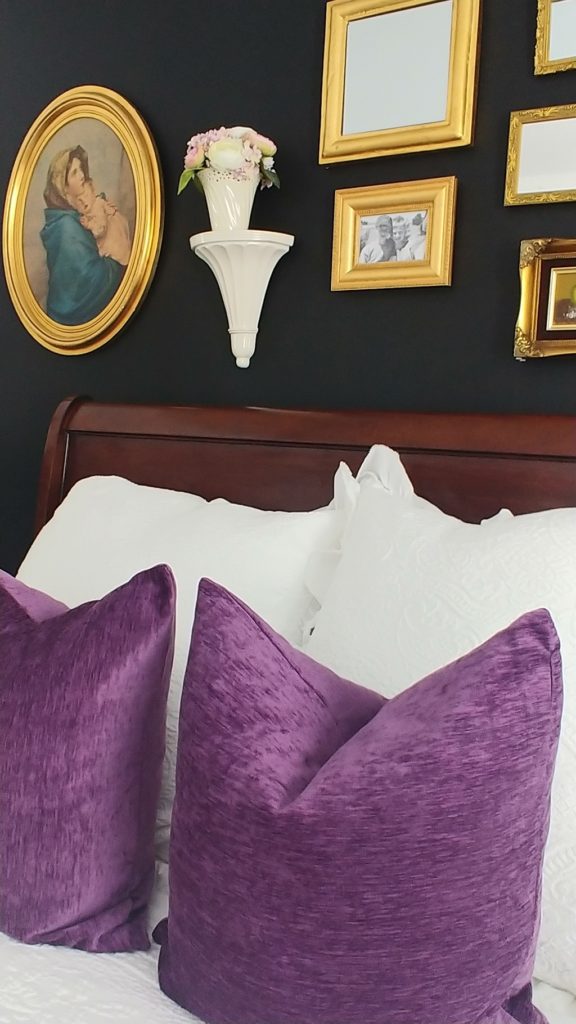 You can read how I found a few of my unique pieces here. 
I hope you've enjoyed this post on How to Make a Gallery Wall! It was so much fun to do.
I'd love to know your thoughts on accent walls. Do you love them as much as I do? Leave a comment below to share your thoughts!
XO Susan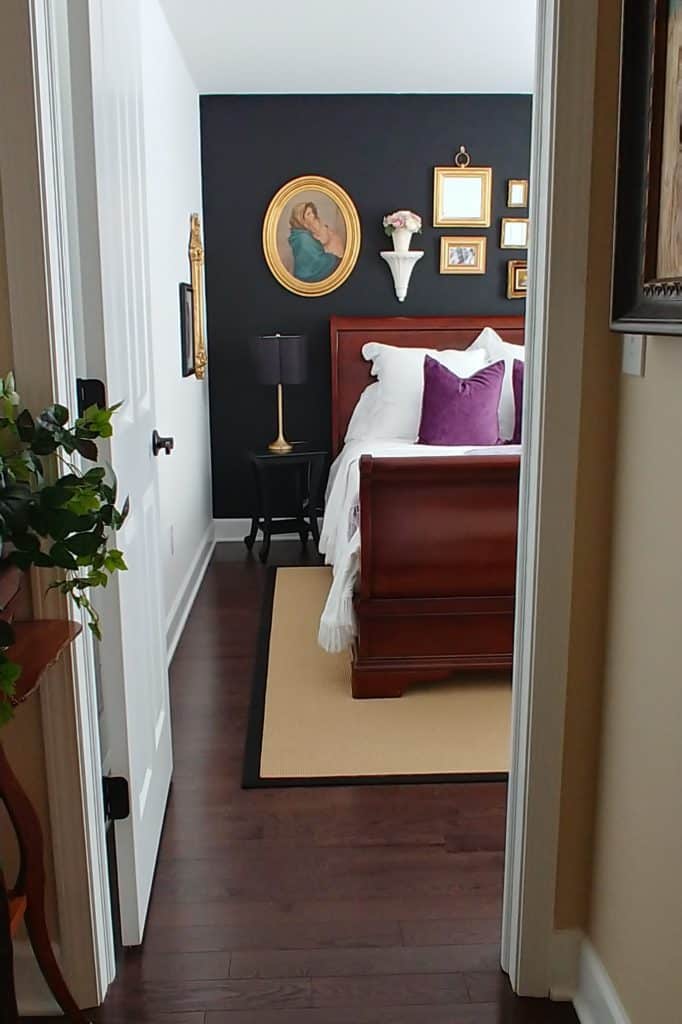 Affiliate links have been used in this post which means I may earn a small commission, although it will not cost you a penny more! You can read my disclosure policy here.