Farmhouse Table Setting Ideas
My Black and White Farmhouse Table Setting Challenge
When I first set out on creating a few Farmhouse Table Setting Ideas for you, the thought was to challenge myself and create a welcoming table using only black and white.
When you live in color, as I do, this might not be as easy as it sounds!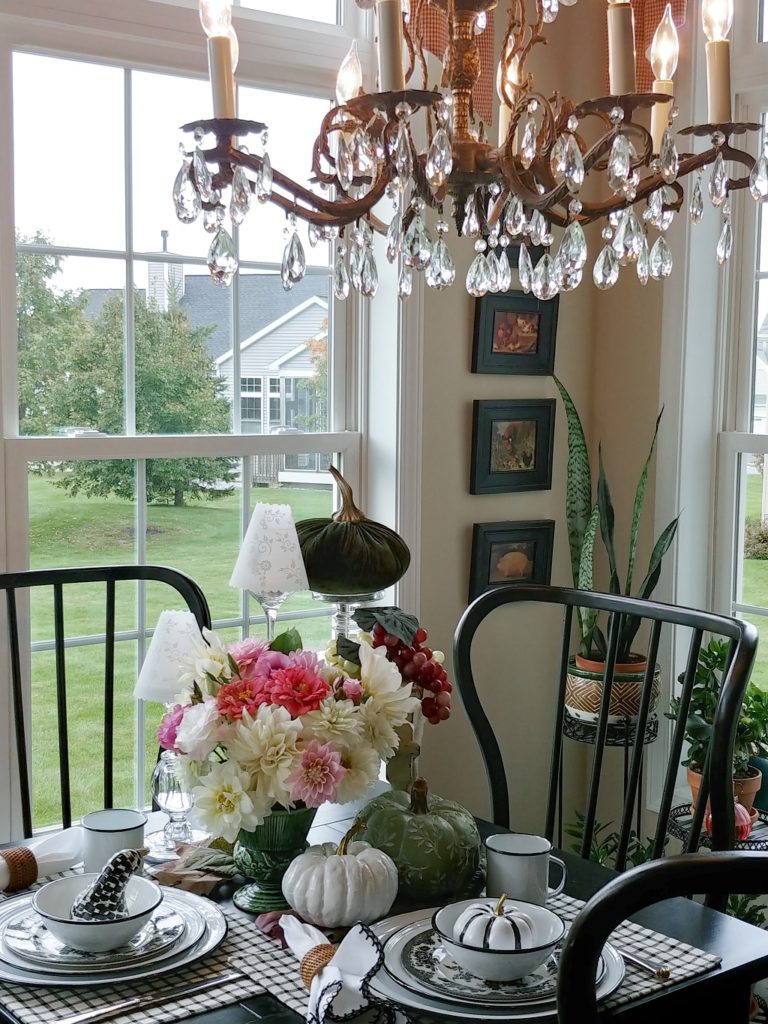 ""As an Amazon Influencer, I earn from qualifying purchases. This post may contain affiliate links which means I may earn a small commission. You may read my
disclosure policy here
".
I've always loved Black and White. For years, with clothing, I only wore those two colors. Then something wonderful happened. I discovered color!
In a home, especially in a home, color can bring added warmth and a come-on in and stay awhile feeling.
I started with the best intentions to share my Farmhouse Table Setting Ideas using only those two colors!  While I mostly succeeded, the colorful flowers and green pumpkins started to make their way in. Do you see how hard this was for me!
Let's see how I did!
The first thing I needed to do was find a few black and white pumpkins. Since I didn't have any, I used a few from the dollar store and painted them white!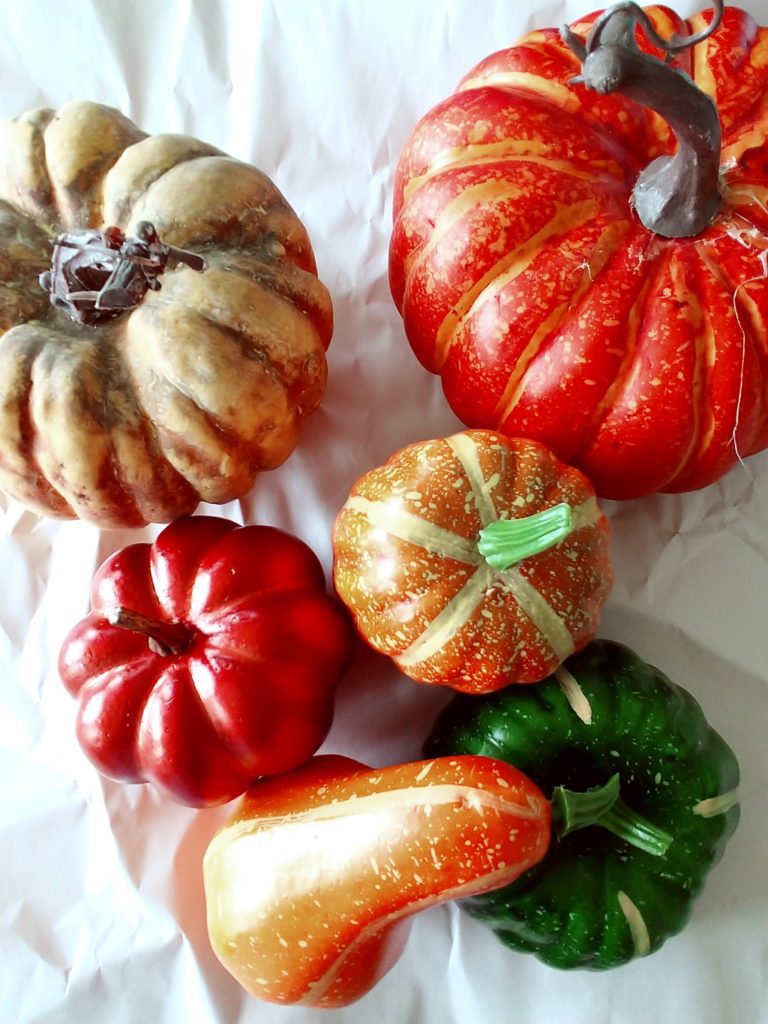 This started out as a bit of a flop since I didn't prep the pumpkins and the paint had trouble adhering. This was not about perfection for me! They only cost a dollar and I knew they would work out okay. Hey, it's just painting.
Here are a few similar pumpkins like the ones I used. Click HERE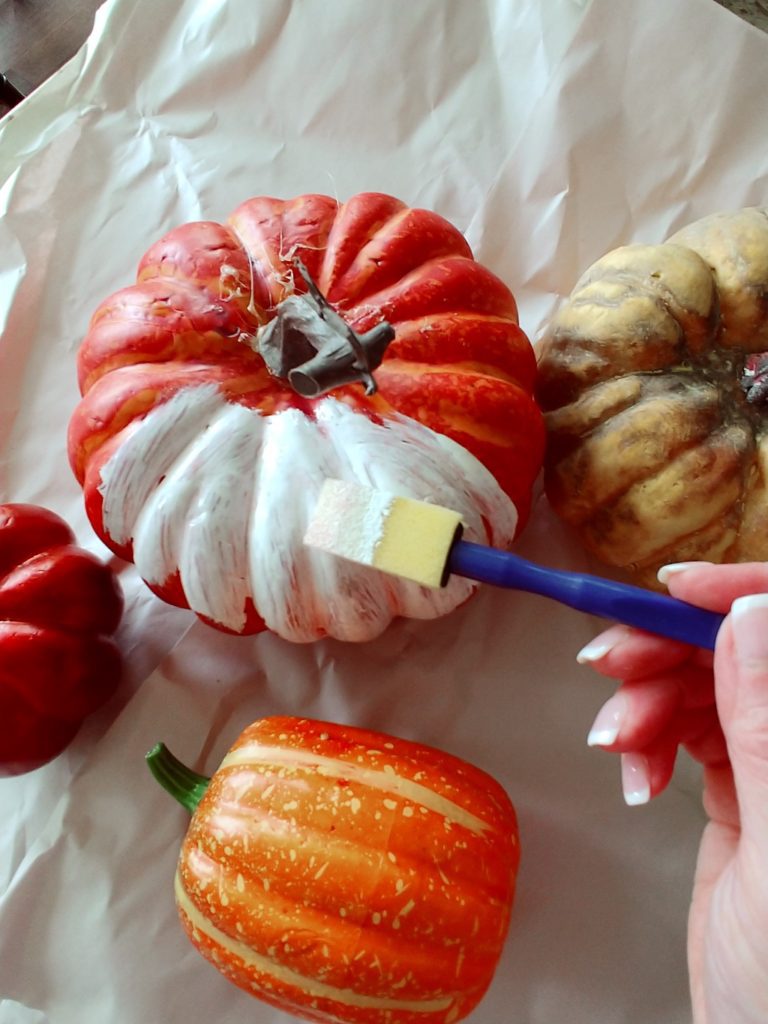 Once they were painted with a few coats of white paint, I added black splashes of checks, stripes, or any avant garde design. I'm no painter but had fun anyway just brushing away.
Staying between the lines, wasn't my forte in elementary school!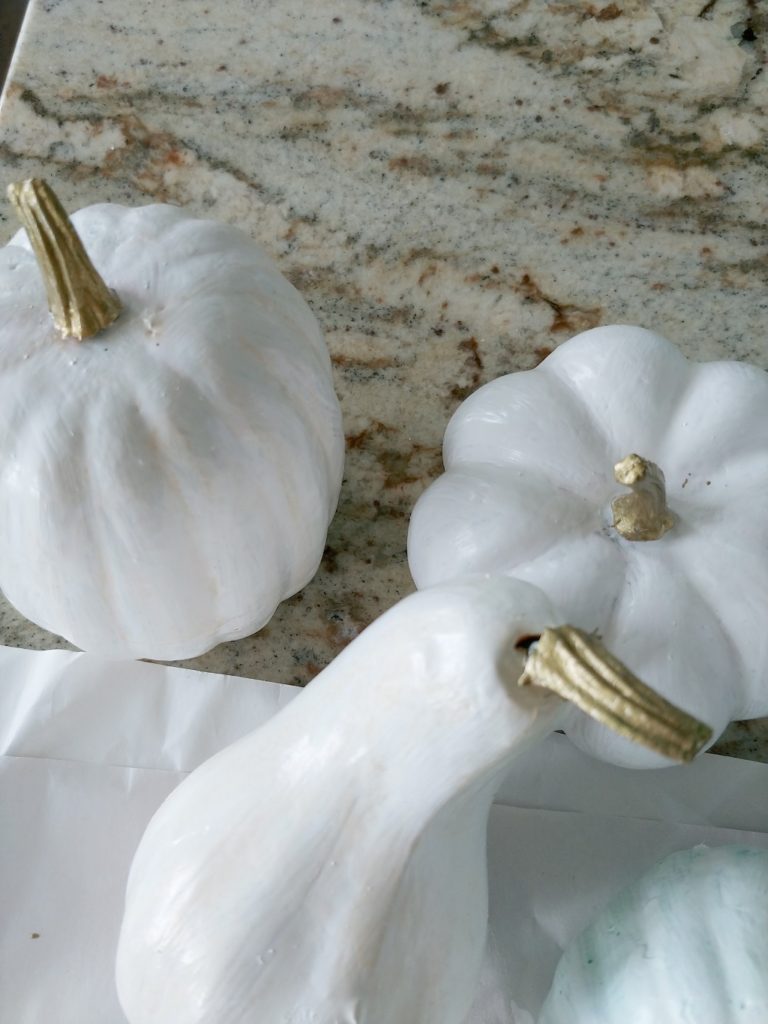 These Enamel Dishes are Perfect for any Farmhouse Table Setting
My Inspiration for a black and white table setting started with these enamel dishes! I've always wanted an enamel dish set.
You'll be seeing these styled differently over and over. They are a staple in any farmhouse home.
Here is where my challenge started to go a little bit off the rails. My colorful genes started to 'kick in' as they say! 
On a recent thrifting trip, I found this darling green urn/vase. This pretty thing seemed to want to jump in on the fun, green or not! 
I filled it with a beautiful farmhouse bouquet I picked up at the local farmers' market.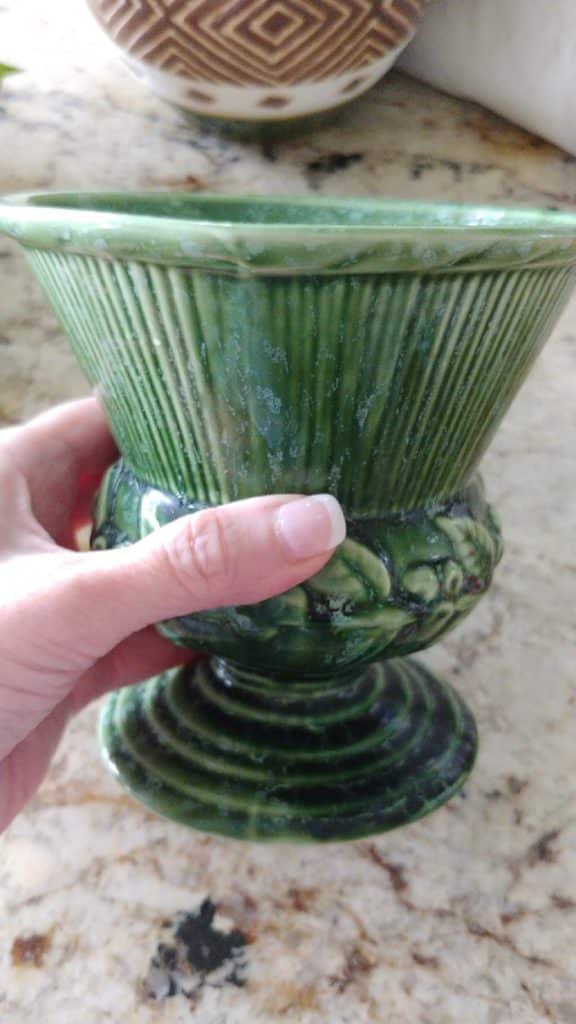 This one is similar. Click Here.
A Few Farmhouse Table Setting Ideas
First, add a piece of decor with some charm.
The second, add a rustic element
Use table accessories such as linens or placemats to ground the table display. I love using these black and white checked placemats. 
Aren't these napkins darling!
Light some candles! These vellum candle covers are paper covers that can go over the top of any wine glass. You can find them HERE. 
Lastly, my table setting wouldn't be complete without a beautiful and fresh, farmhouse bouquet. 
Click on the Photo for these Darling Tea light shades!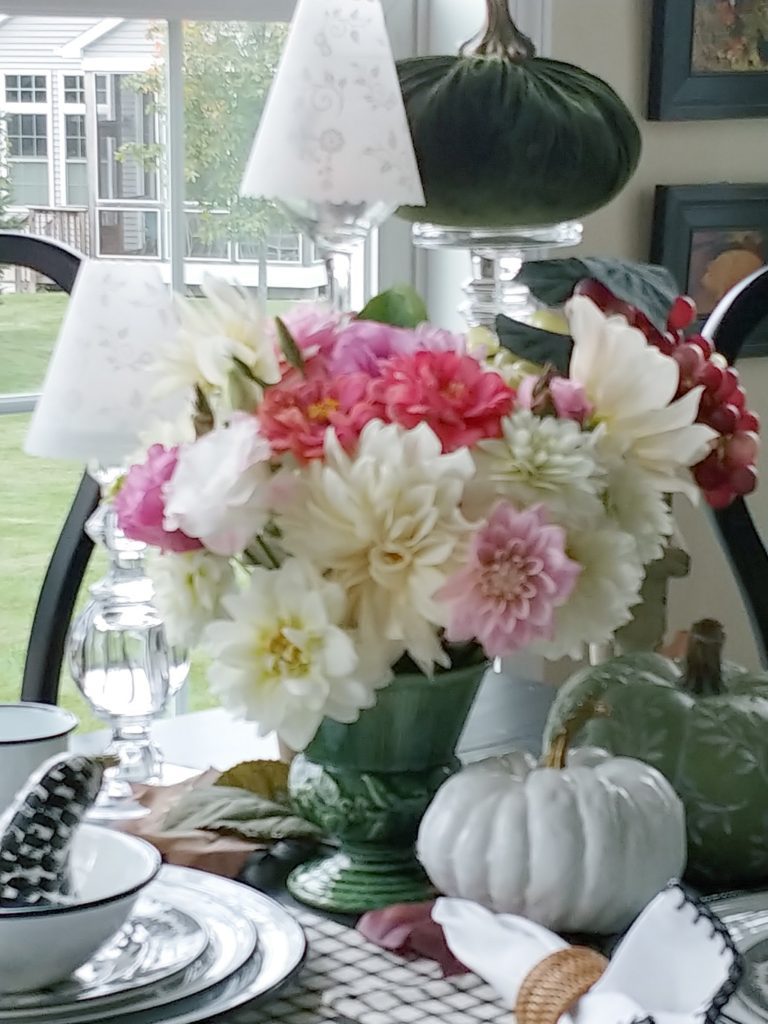 One of my favorite things each week is to create a new look for our breakfast room table. Since this is where we eat our breakfast and dinner, I love changing it often.
While I didn't completely succeed with a black and white design, I'm pretty sure you'll have a few more Farmhouse Table Setting Ideas in your pocket!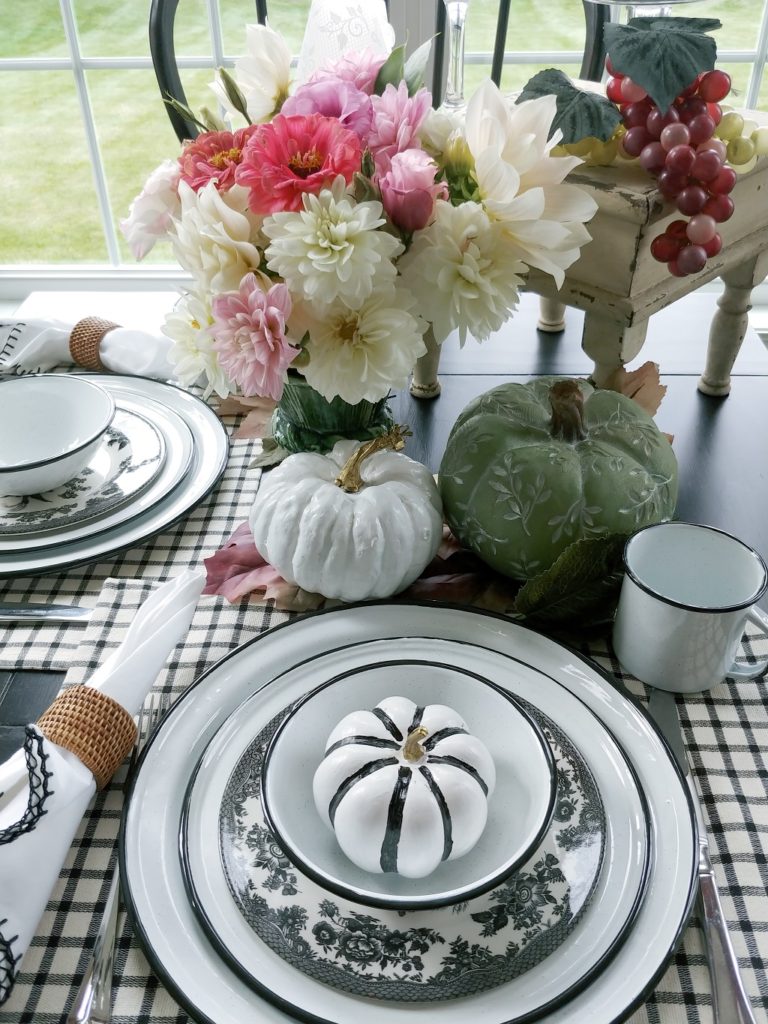 I hope you are inspired to create your own Farmhouse Table Setting! If you enjoyed this post, click on the photos below for more ideas. 
Shopping Sources
XO Susan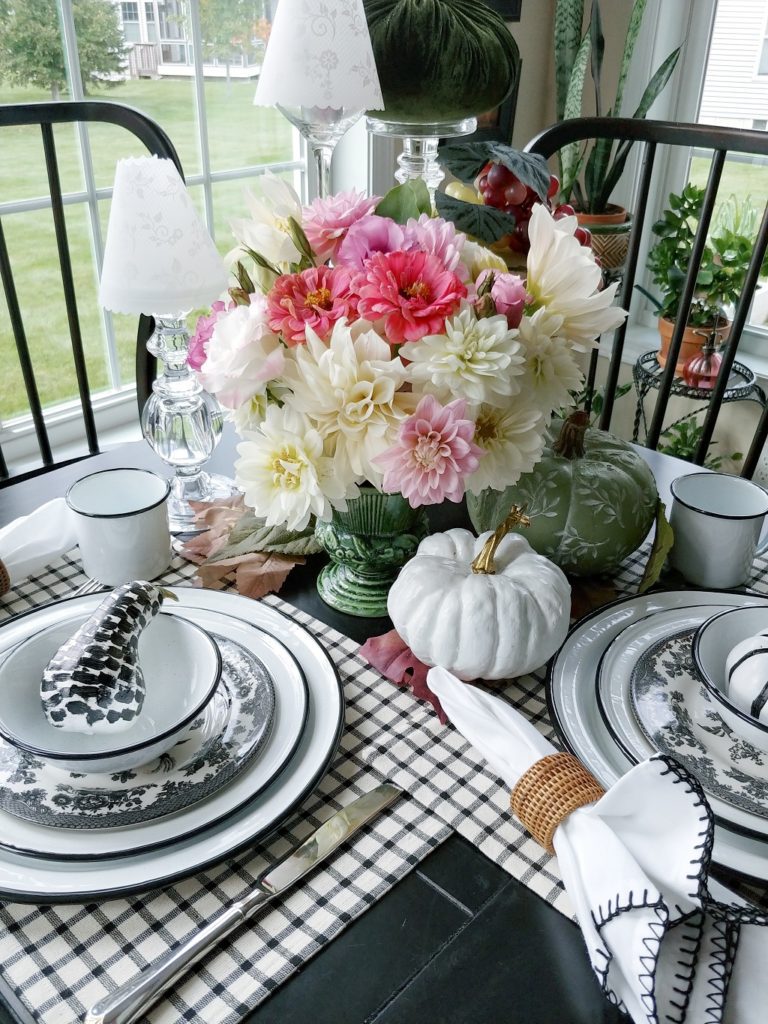 Affiliate links have been used in this post which means I earn a small commission, but it doesn't cost you a penny more.