Easy to Make Fall Mantel Banner Using Leaves
As the cooler weather begins to turn the fall leaves to brilliant shades of red, orange, and gold, it's time to infuse your home with the cozy charm of the fall season. One great way to do this is by creating a Fall Mantel Banner using leaves from your own backyard or from your local craft store.
In this blog post, we'll show you just how easy it is to craft a beautiful seasonal banner that will instantly transform your fireplace mantel into a warm and inviting autumn haven.
Today is our monthly Handcrafted Society post. This month's theme is all about leaves. I'm delighted to be in the company of so many talented bloggers and creators. It's an honor for me to be included and part of this group. Be sure to check out all of their blogs at the end of this post for tons of great Fall ideas for your home decor.
If you have come over from Nicole at Our Tiny Nest Blog, welcome! Doesn't her pie crust leaf cookies and apple dip look amazing? I'm drooling over those cookies!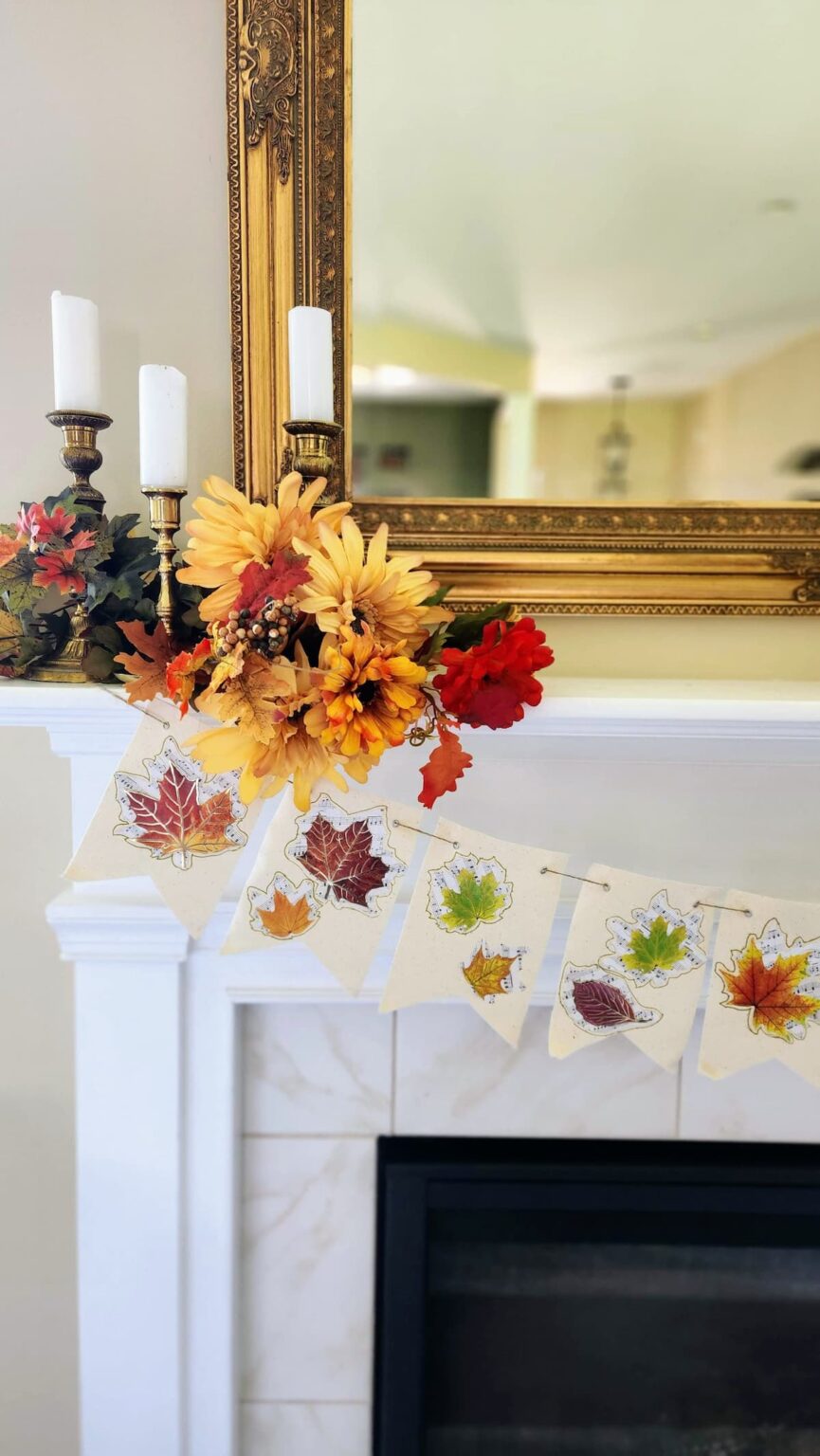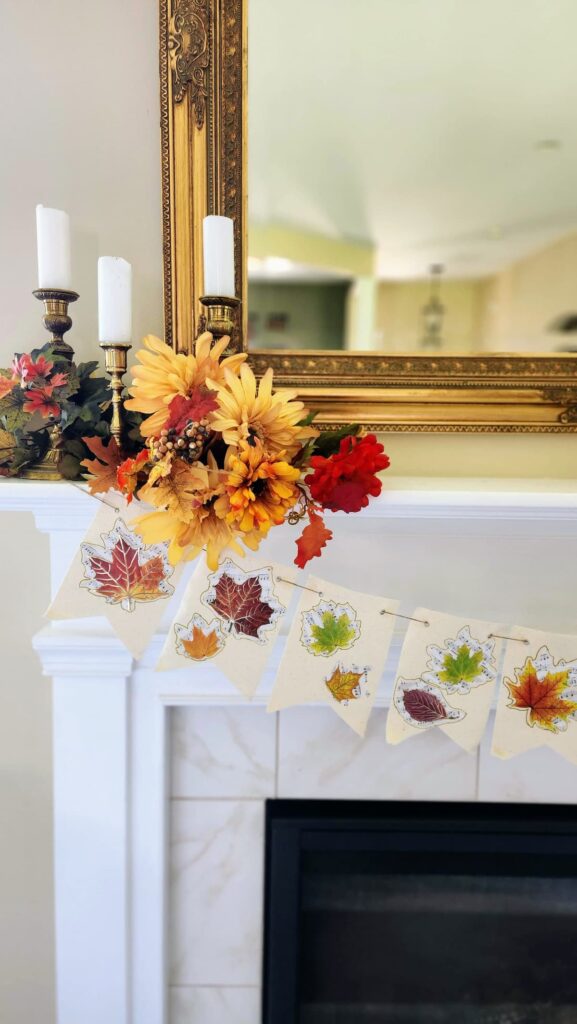 "This post may contain affiliate links which means I may earn a small commission. You may read my
disclosure policy here
".
Fall is the perfect season to bring with it a natural abundance of colorful leaves, making it the perfect time for DIY projects that embrace the beauty of natural elements and brilliant fall colors.
If you're looking for a creative way to spruce up your home decor this Fall, you're in the right place! Let's get started!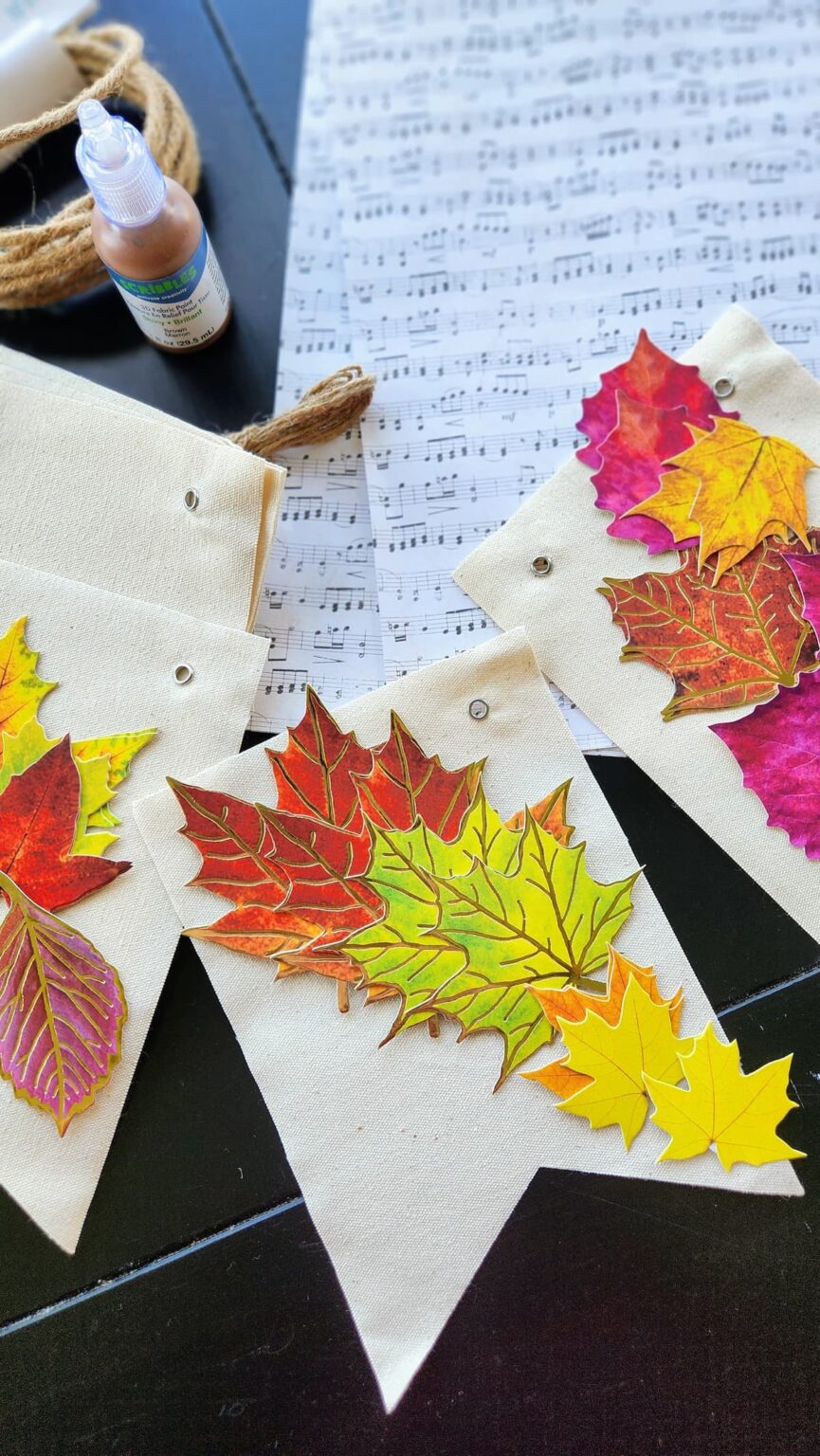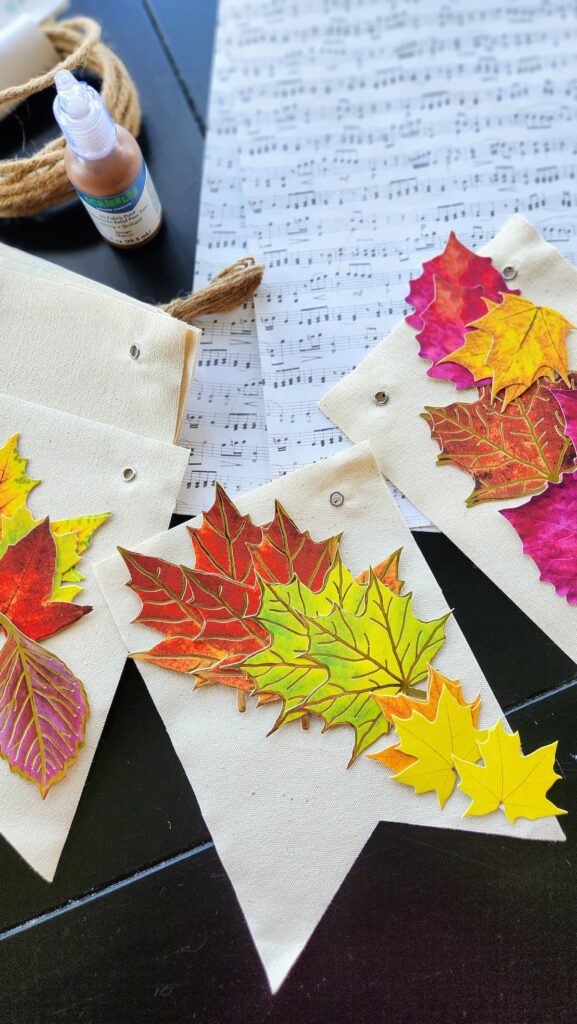 The crisp air, pumpkin spice lattes, and the breathtaking transformation of leaves – there's something undeniably magical about Fall colors.
As a matter of fact, growing up each Fall my mom would exclaim with an abundance of joy and enthusiasm, 'Look all around, God is painting us a beautiful picture with his paintbrush'! It's the time of year when nature itself becomes a masterpiece of art.
I've never forgotten her words and find myself saying this to my husband and children.
How do you make a fall leaf garland?
Creating a fall leaf banner is a fantastic way to bring the beauty of autumn into your home decor. Here are some tips to help you make a stunning fall leaf banner:
Gather Your Supplies to make a fall leaf banner using leaves
One of the things I love about this particular project is that it takes very little time. It also needs a pretty basic list of supplies.
Here is a list of craft supplies you will need:
Instructions to make Fall Leaf Mantle Banner
I've outlined a list of easy instructions to get you started. Follow these ten easy steps to create this charming mantel leaf banner.
Step One
Begin by collecting the necessary supplies, including fall leaves (real or artificial), string or twine, canvas banner with grommets, Mod Podge, paintbrush, scissors, acrylic paint pens (optional), sheet music, and any other optional embellishments you'd like to add.
Step Two: Choose Your Leaves
Decide whether you want to use real leaves or artificial ones. Real leaves can provide an authentic touch but may not last as long. Artificial leaves come in various colors and are more durable. I used faux leaves like this with a sticky backing on them.
Feel free to alter the color scheme of the leaves to match the decor in your home. Wouldn't different colors look great on this sweet banner? I can picture using blue and white leaves or with neutral tones of brown and tan. With the leaf theme, your banner will surely welcome fall into your home, no matter what colors you choose.
If possible, use a flat surface or cutting mat to work on.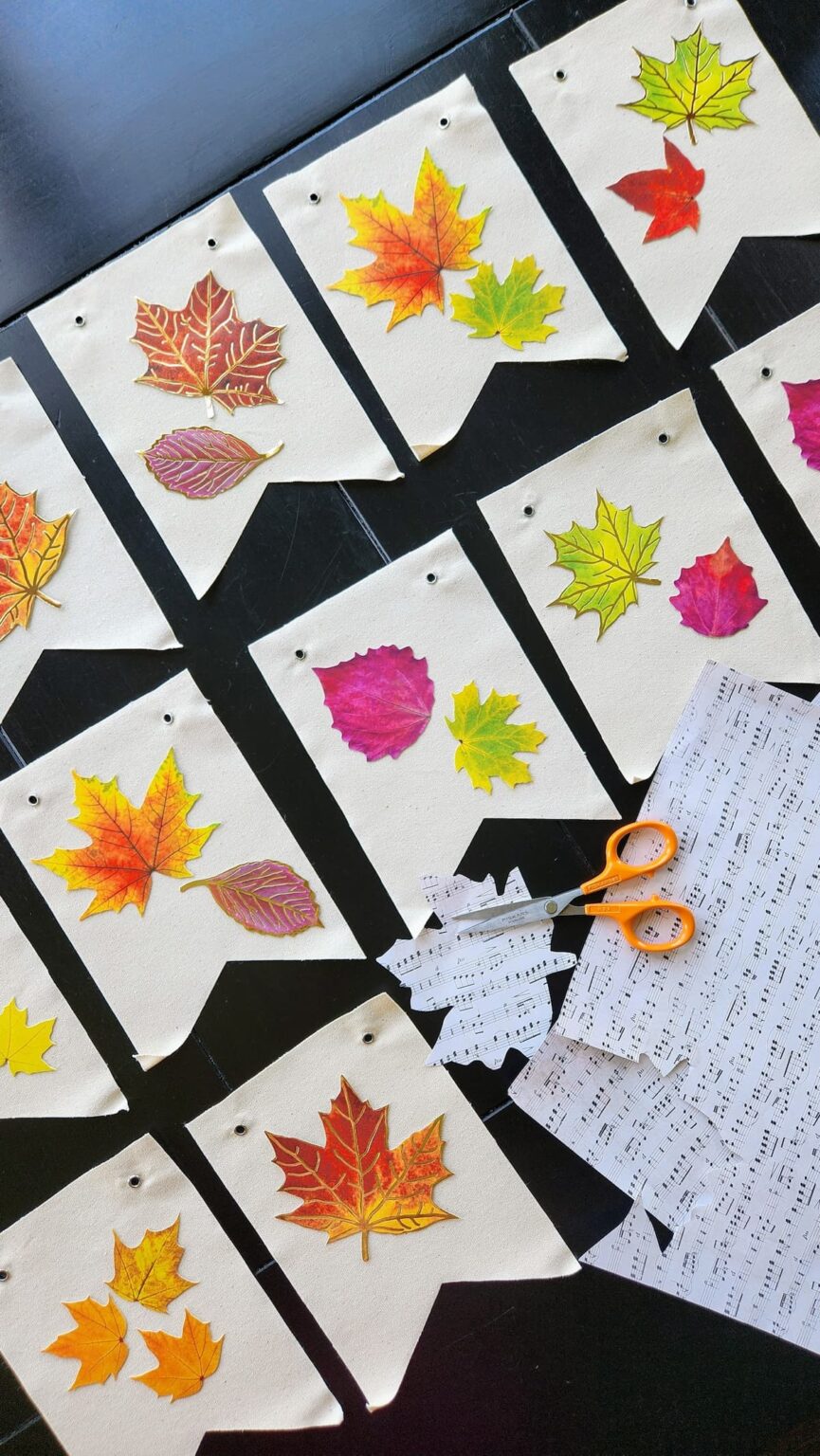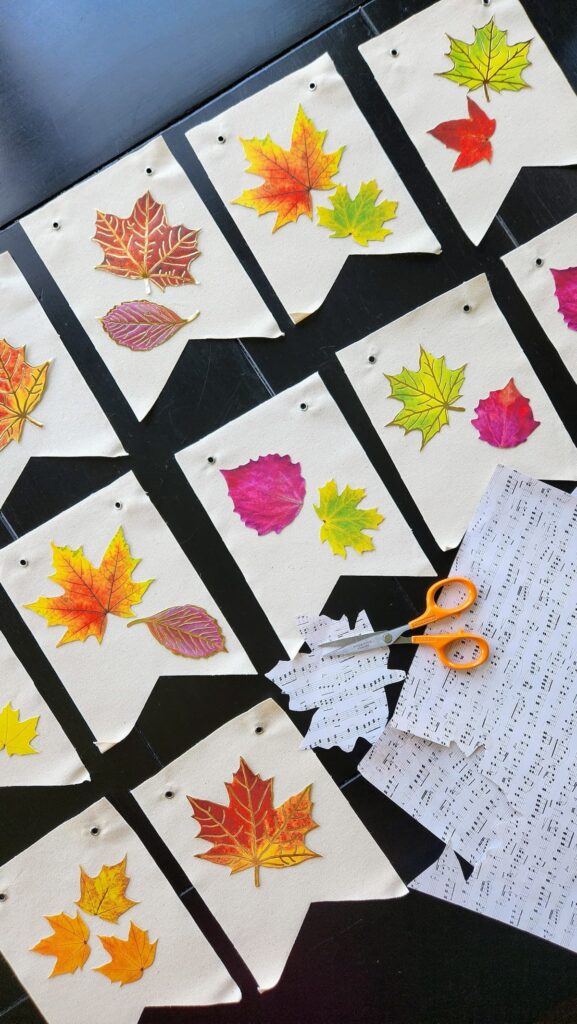 Step Three: Prepare your canvas banner
For the best results, lay out your banner with the design of the leaves you'd like to use before you begin on each piece of canvas. This is very helpful to visually see how each small banner section will look when your finished banner is completed.
I moved them around a little bit until I found the look I liked. I add two or three leaves together on a few of the burlap pennants. With the larger leaves, I used only one per piece.
If using real leaves, you will want to press them between heavy books for a few days to flatten and preserve them. Coat the leaves with a clear acrylic sealer to prevent them from drying out and crumbling.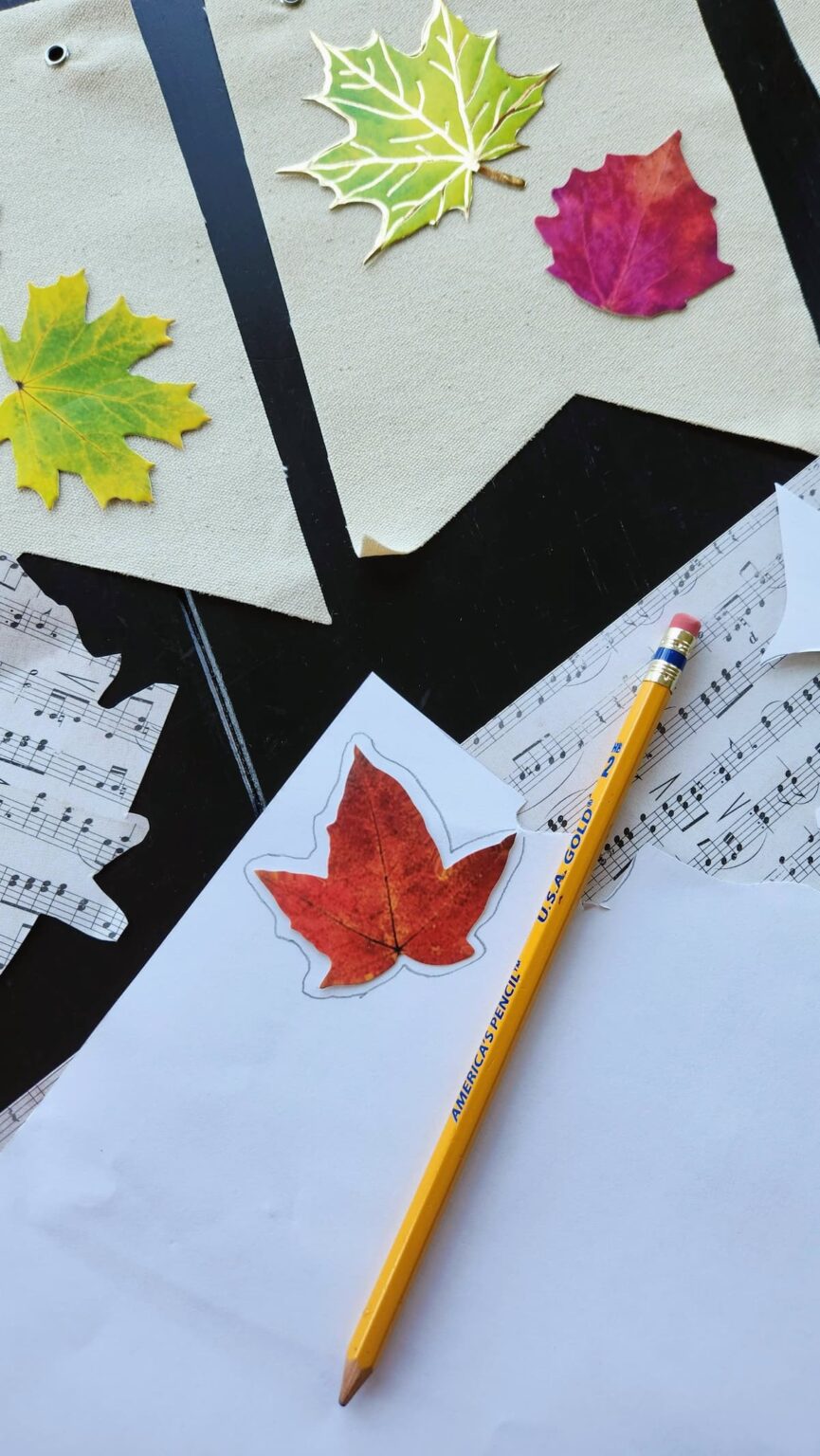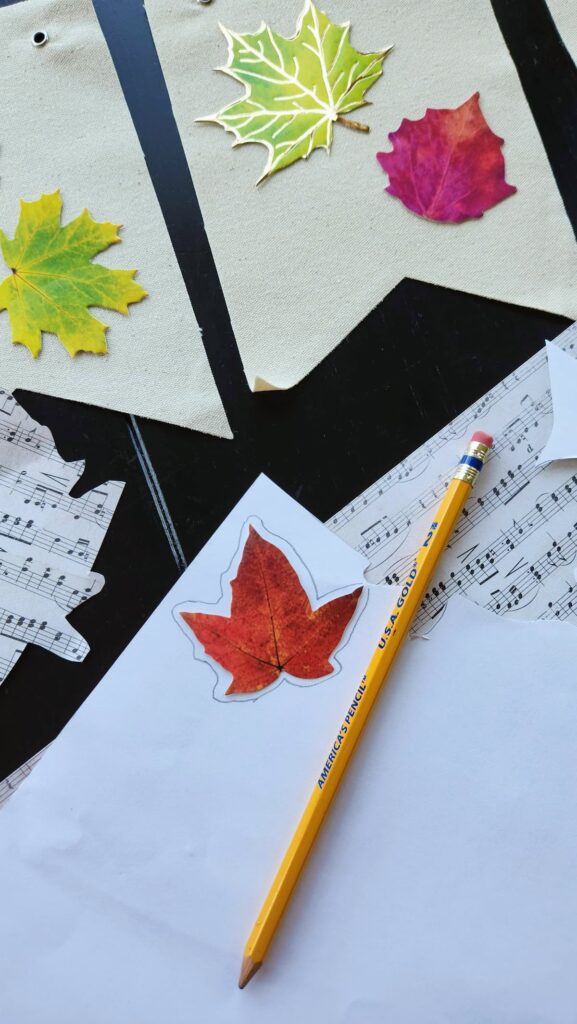 Step Four: Time to Trace Your Leaves
Step four is to trace your leaves on your sheet music. I love any time I get to add music to my decor. Whether it be an actual instrument or pieces of sheet music, it's so much fun to add creative ideas to your projects that make them unique to your home.
Be sure to trace the leaves larger than the actual leaf in order to have the sheet music appear behind the sticker leaf we are going to add in a moment.
It's okay if the leaves are not a perfect cut. This will give your banner a unique look.
Step Five: Cut out the Traced Leaf Pieces
Now that you have the leaves traced on the sheet music, it's time to cut them out.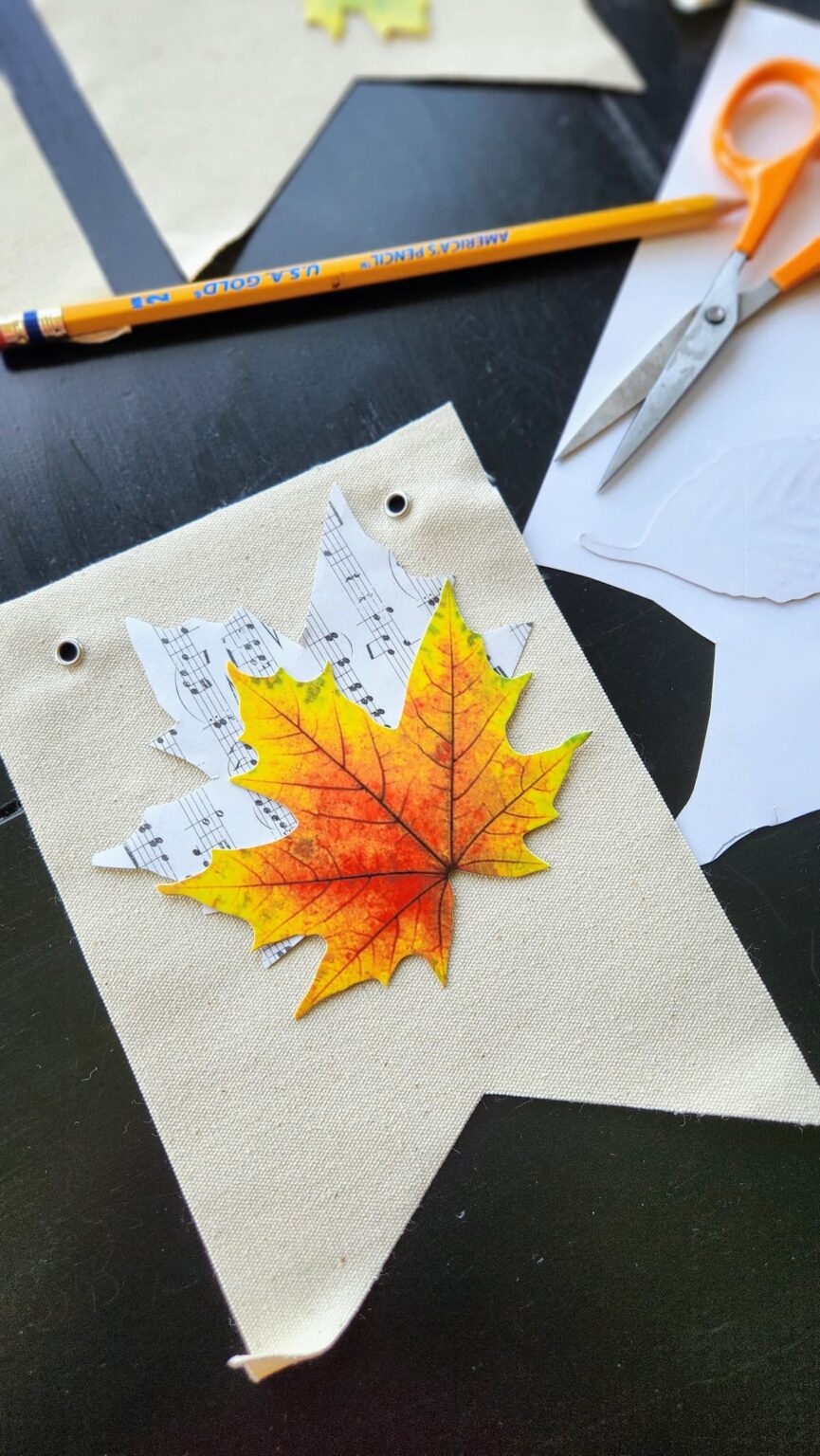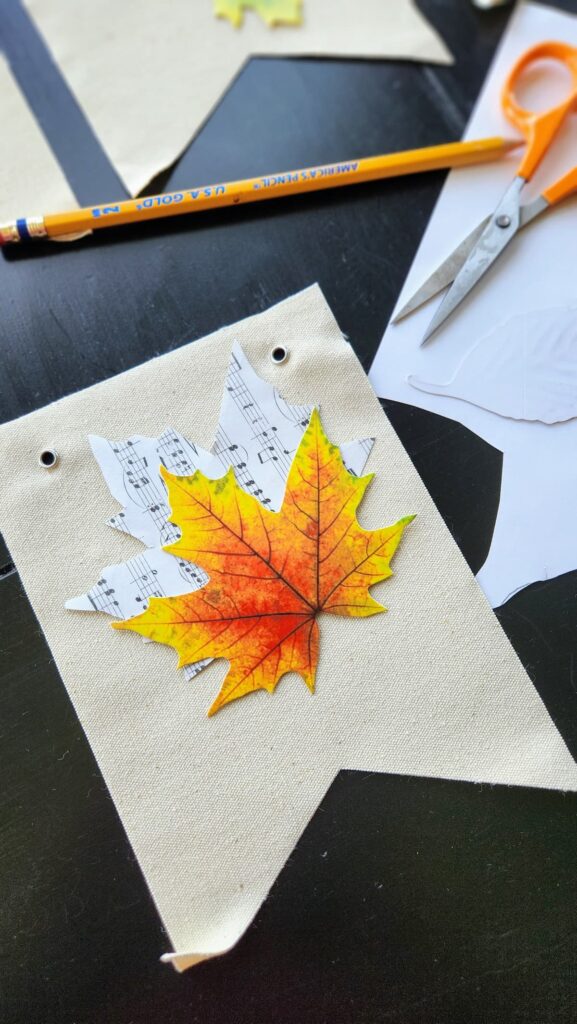 Step Six: Attach the Leaves to the Canvas
Use the Mod Podge to adhere to the cutout sheet music leaf first. Gently paint a small coat of the adhesive glue and press lightly onto the canvas banner.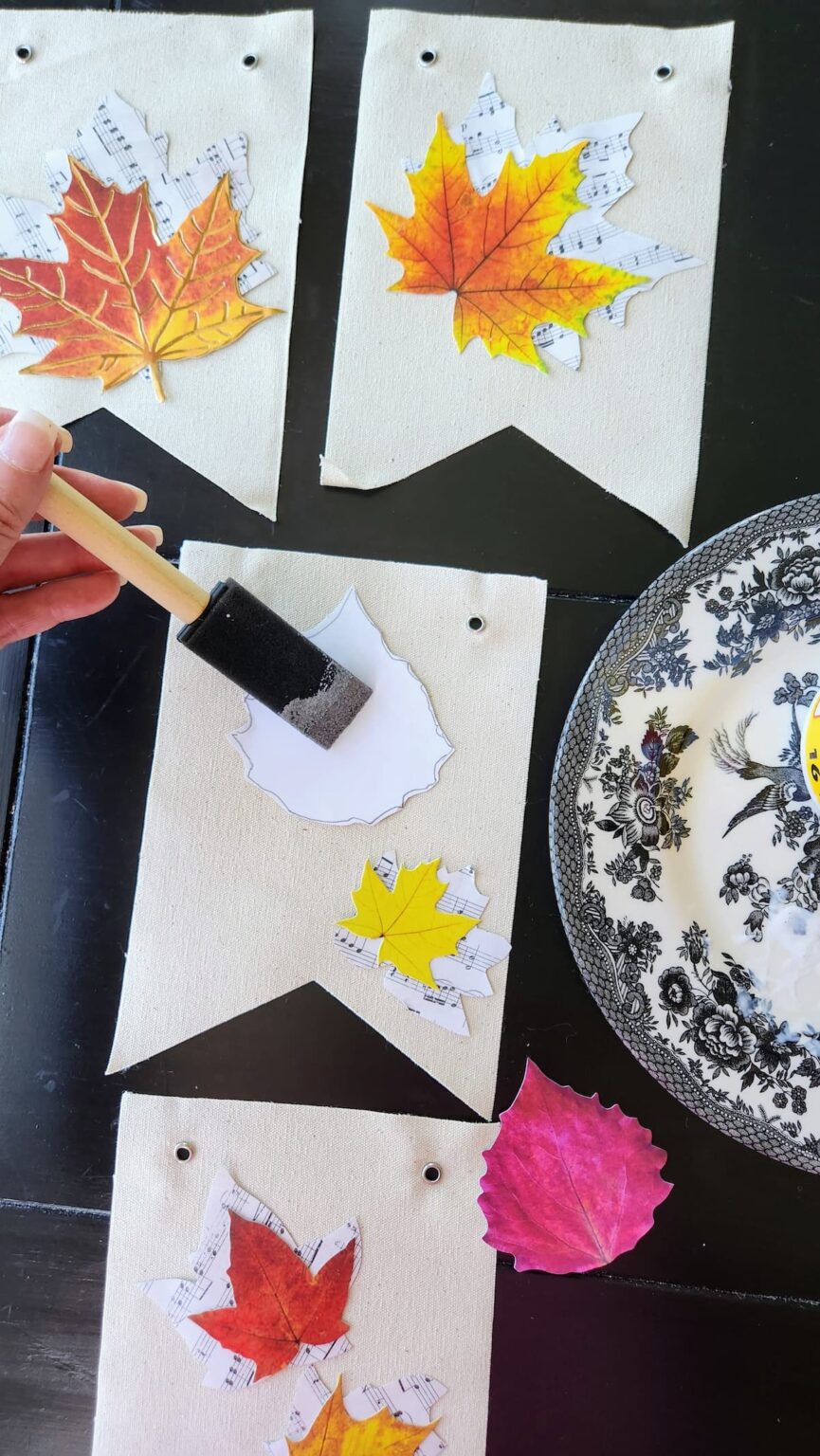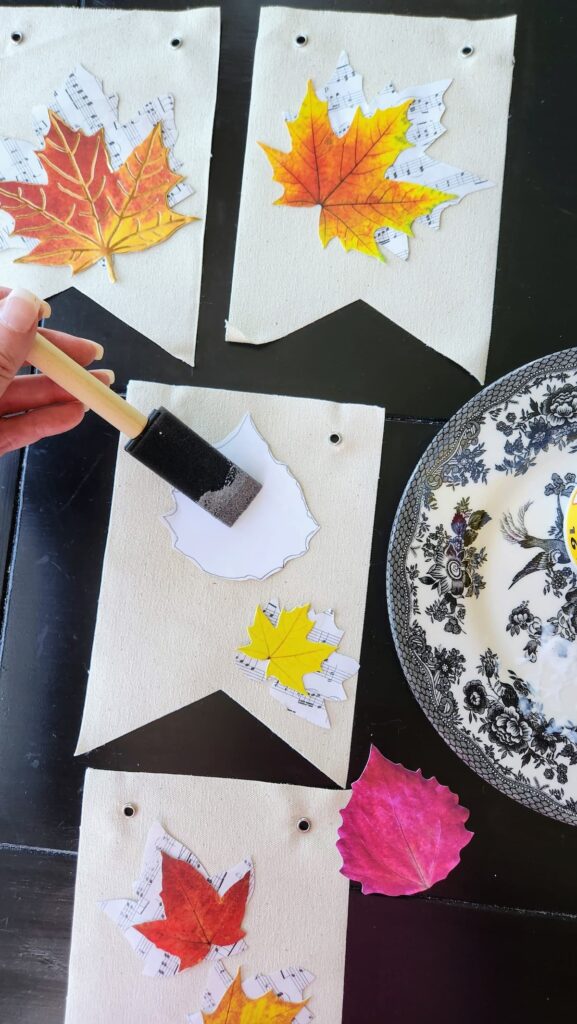 Step Seven: Remove Sticker Backing
Then, remove the sticker backing from the sticker leaf and place it on top of the paper cut-out leaf.
Staggering the tops of the leaves behind each other gives each leaf a layered look and an added dimension.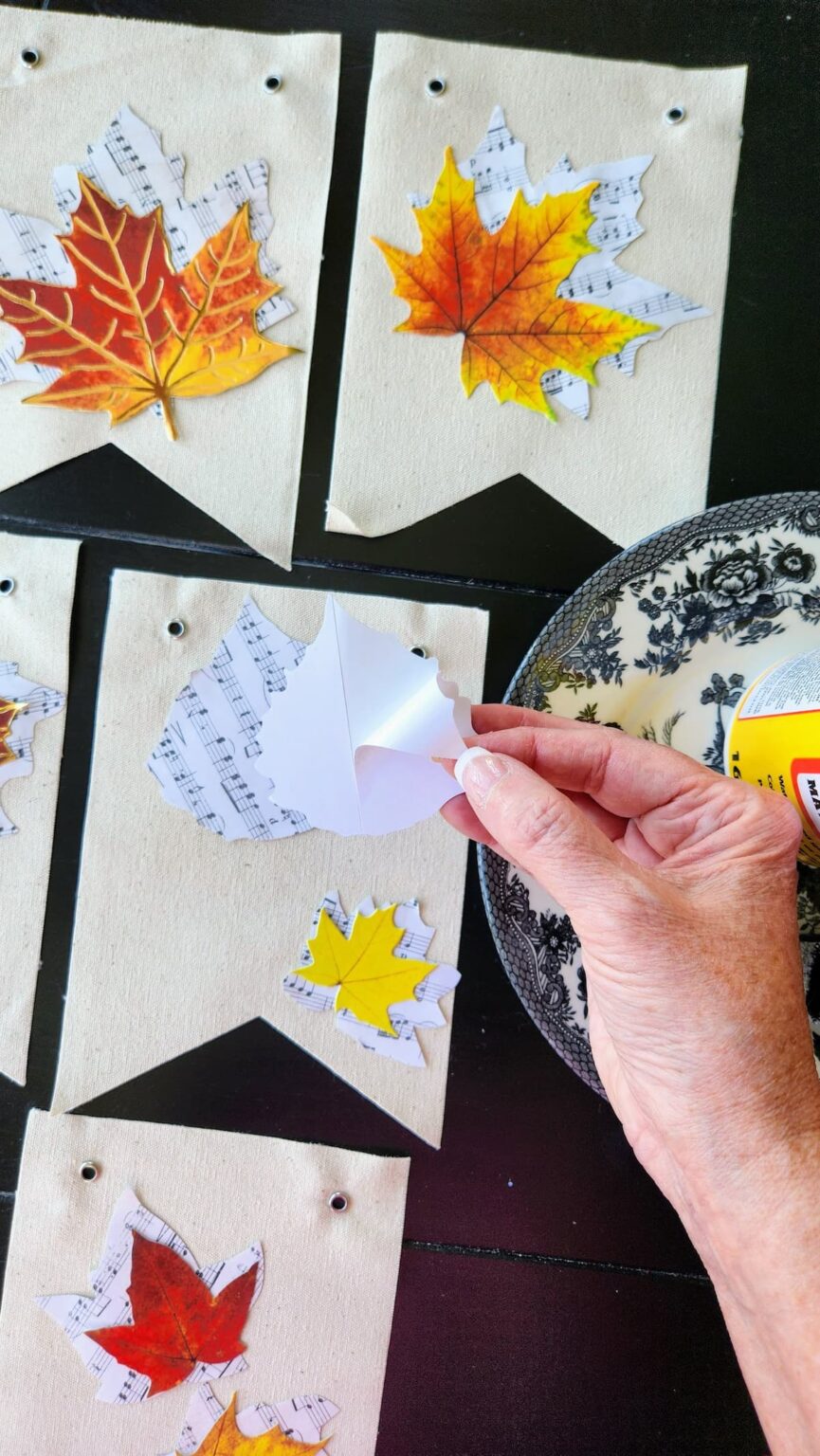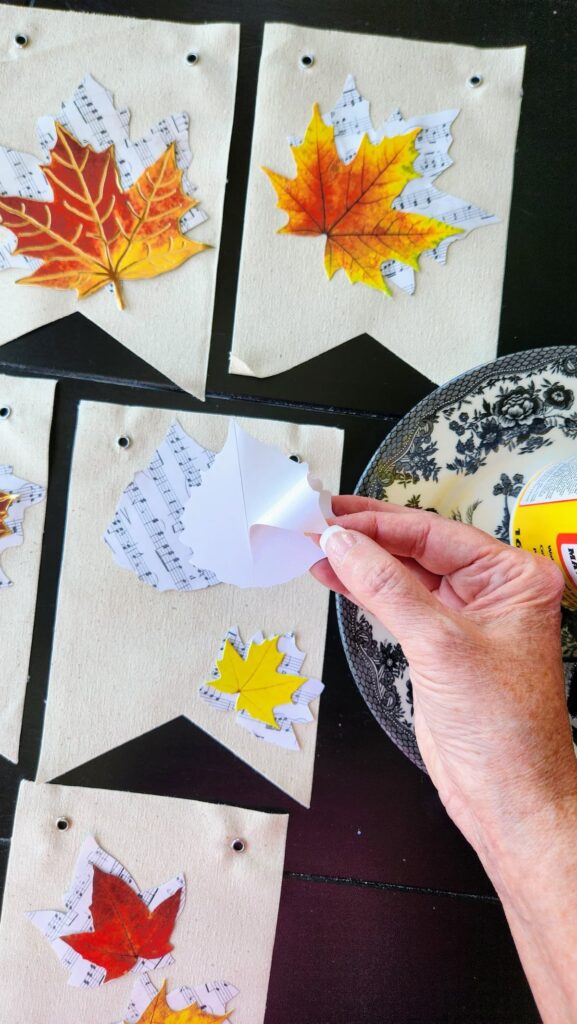 I used this set from Michael's although if you don't have a store near you, you can get this set delivered in a day or two.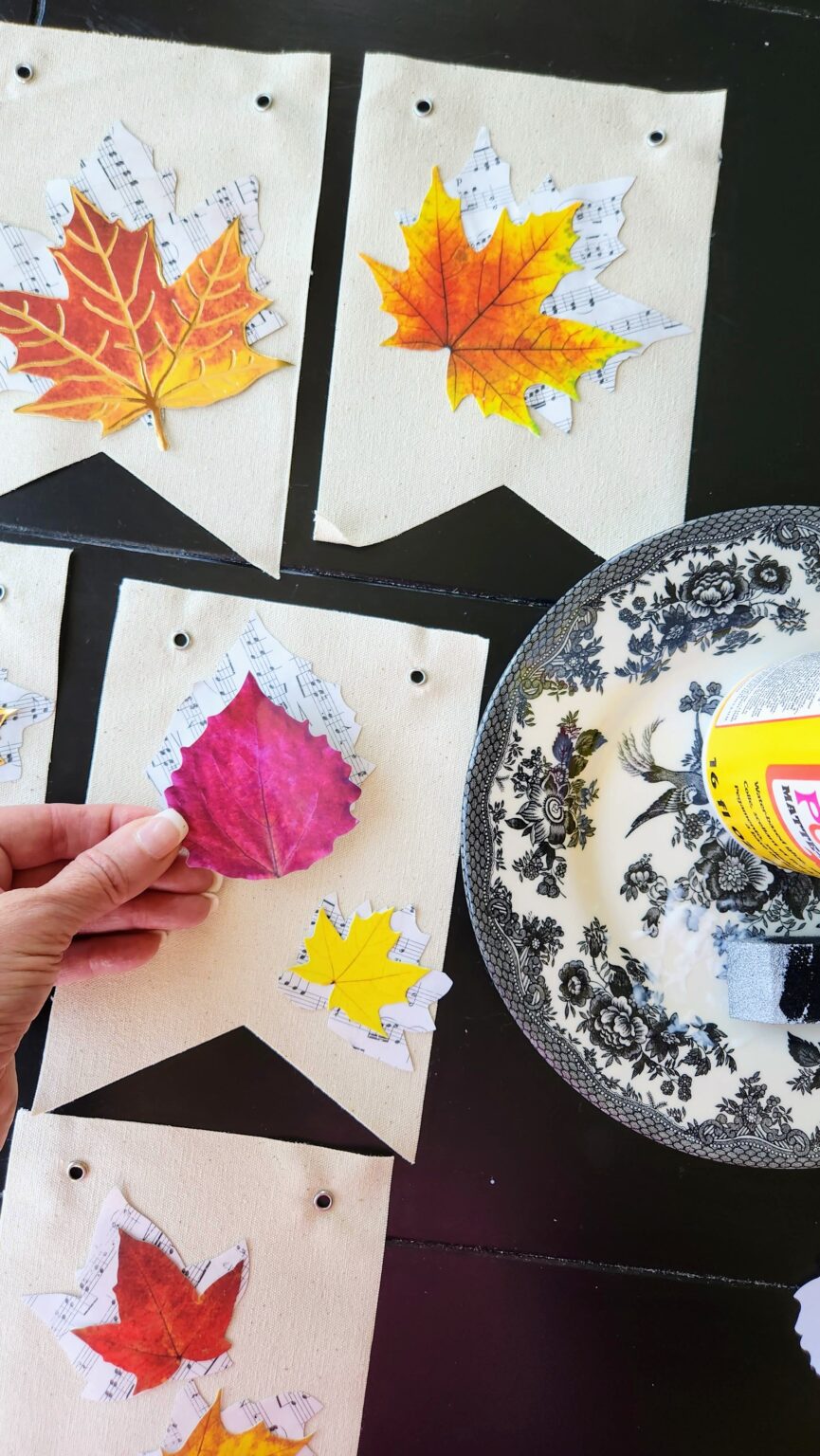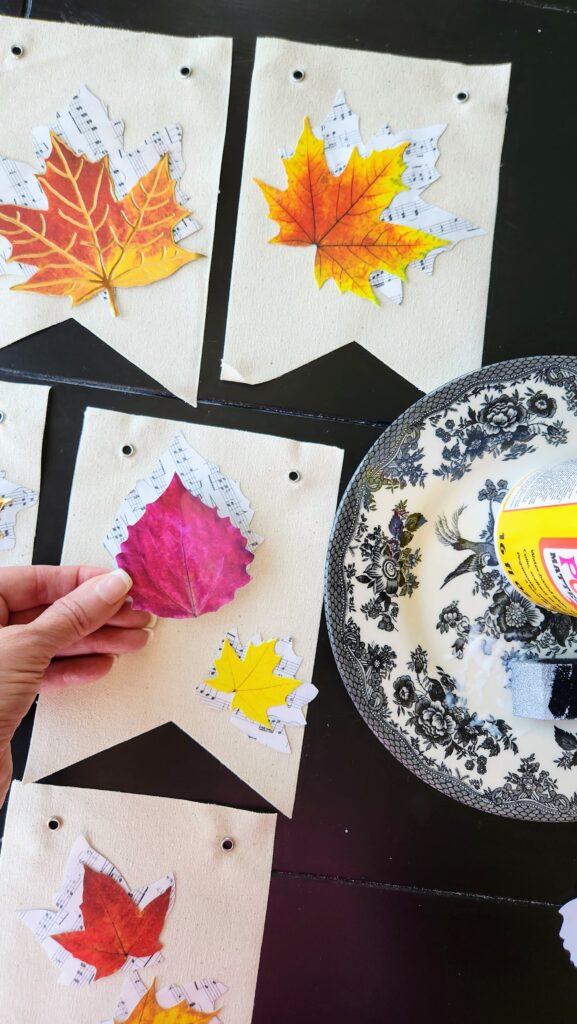 Experiment with Leaf Placement
Experiment with leaf placement and colors to create an appealing design. You can alternate leaf types or create patterns to make your banner more visually interesting.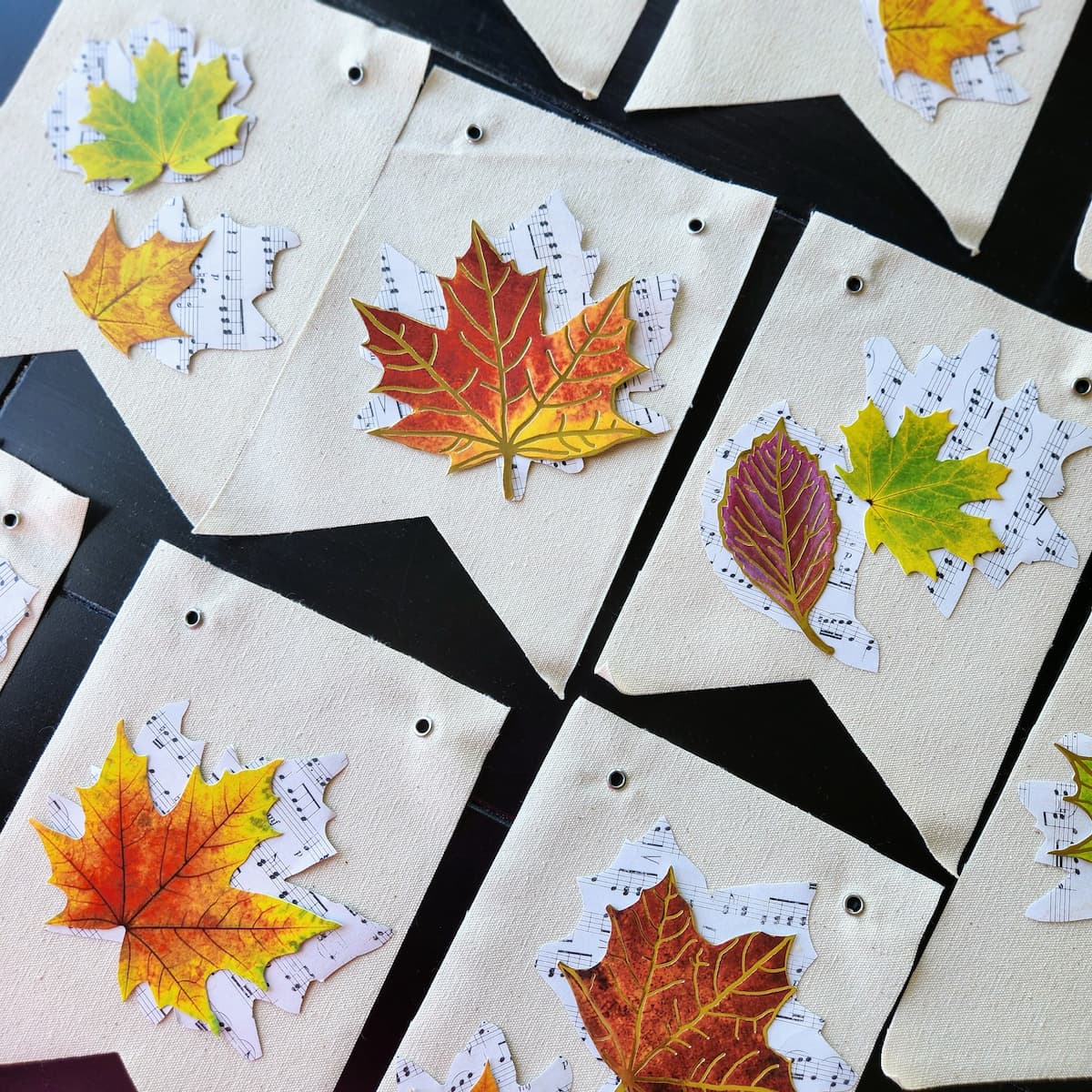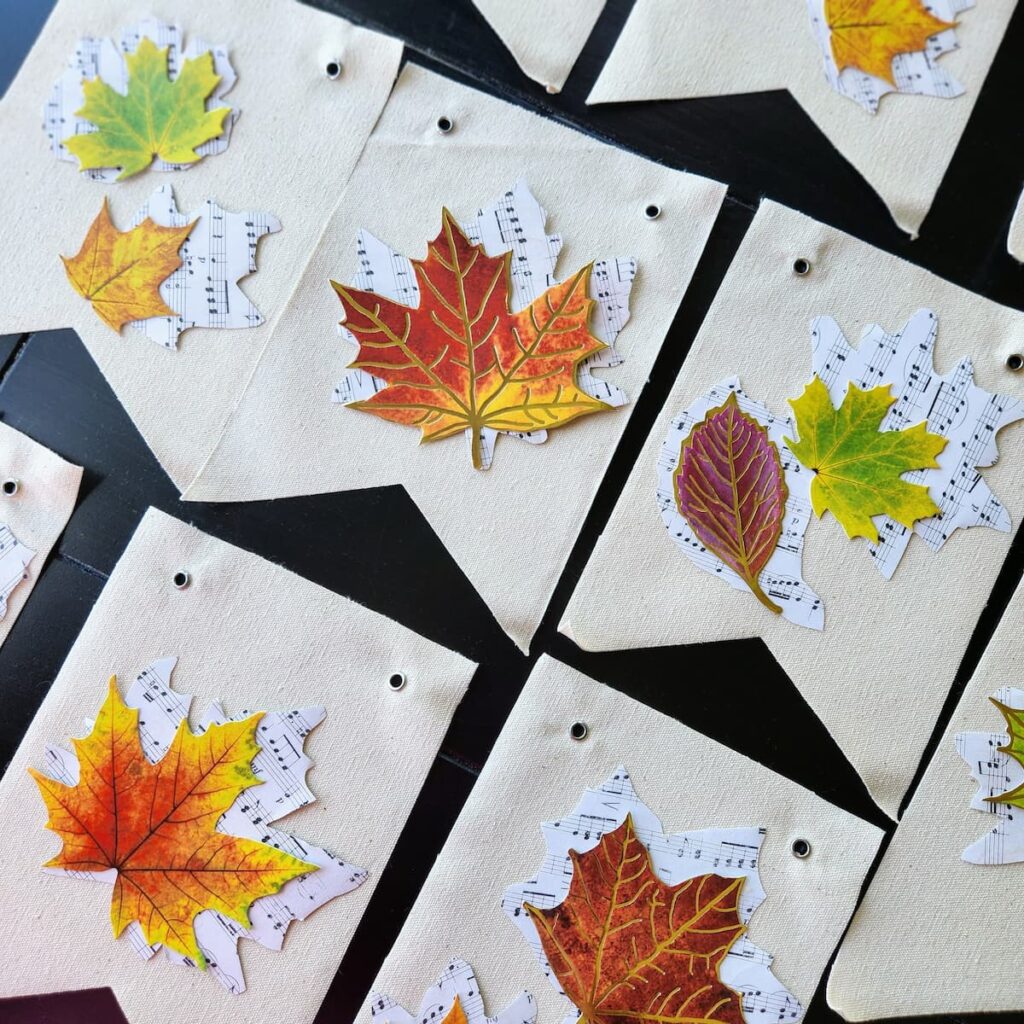 Step Eight: Add Embellishments (Optional)
I thought about using different glitter colors to add a pop to my fall banner. Instead, I opted to use a gold paint pen to outline the leaves. It was an easy way to add visual interest and depth to the canvas.
To enhance your fall leaf banner, consider adding embellishments. To add more dimension to your banner leaves, paint a gold outline around each of the leaves.
This step is optional but I really like how it gives this DIY project just the right additional touch.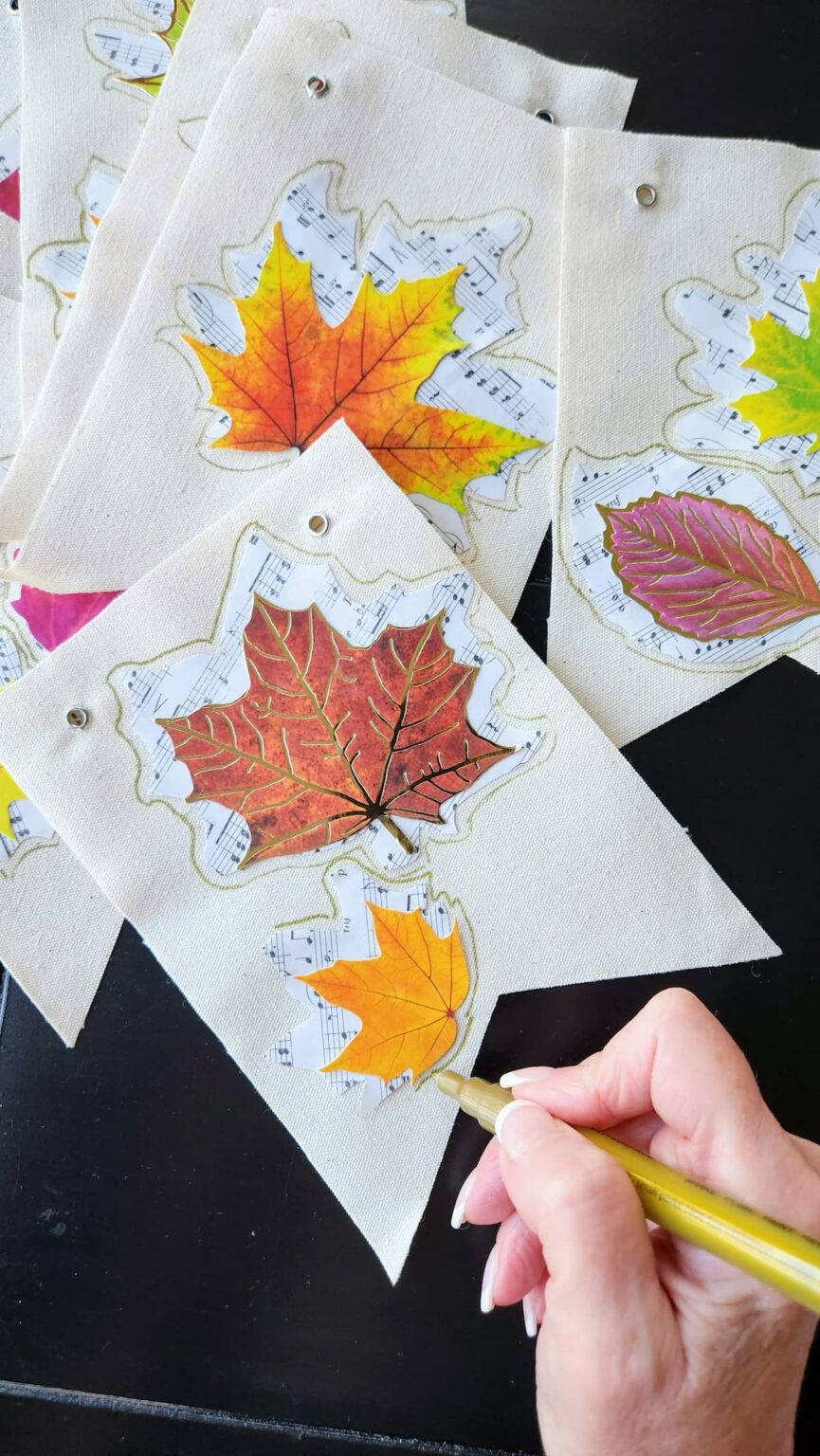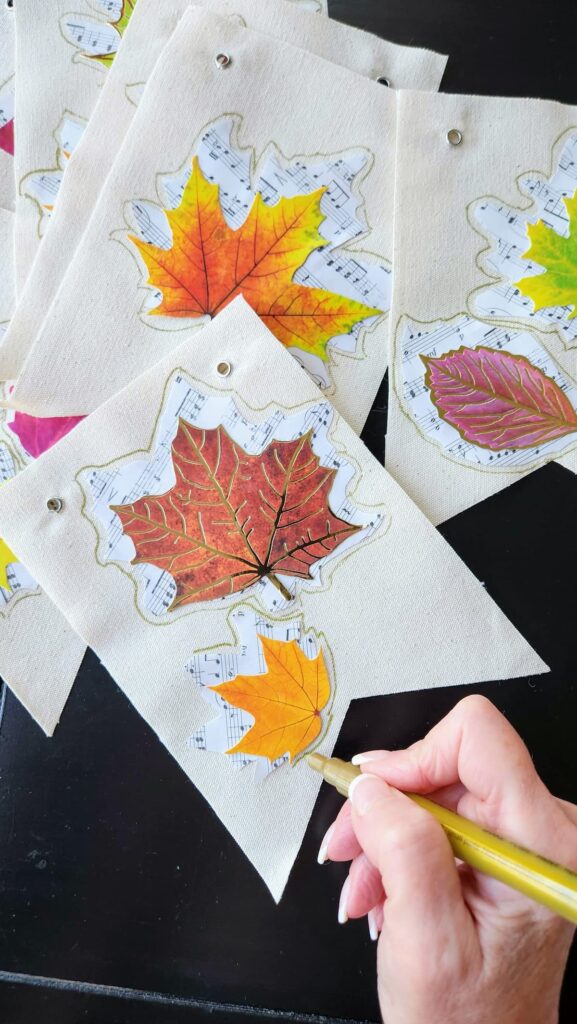 Lastly, add gold paint to the 'veins' of the leaf for a finished look.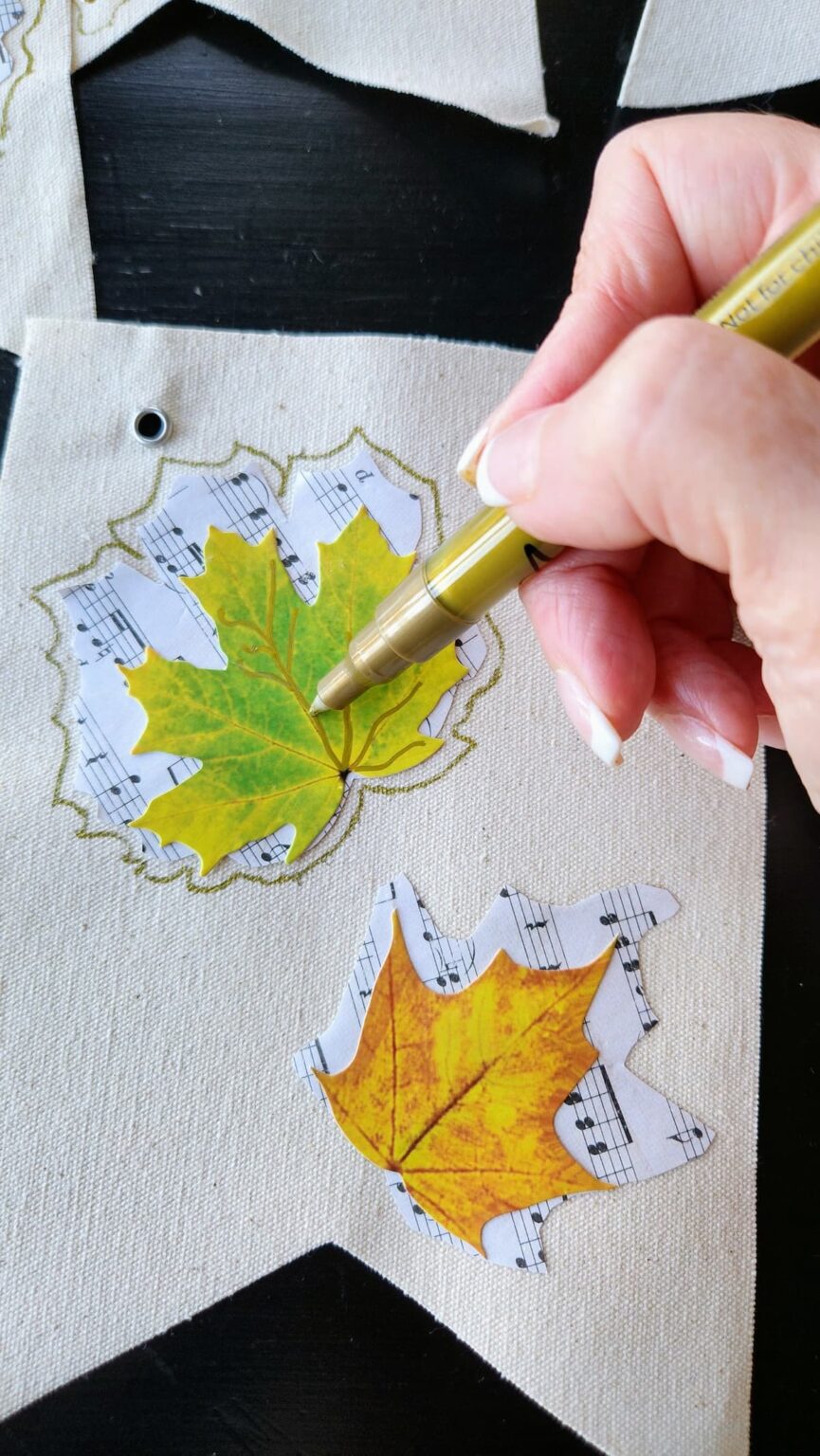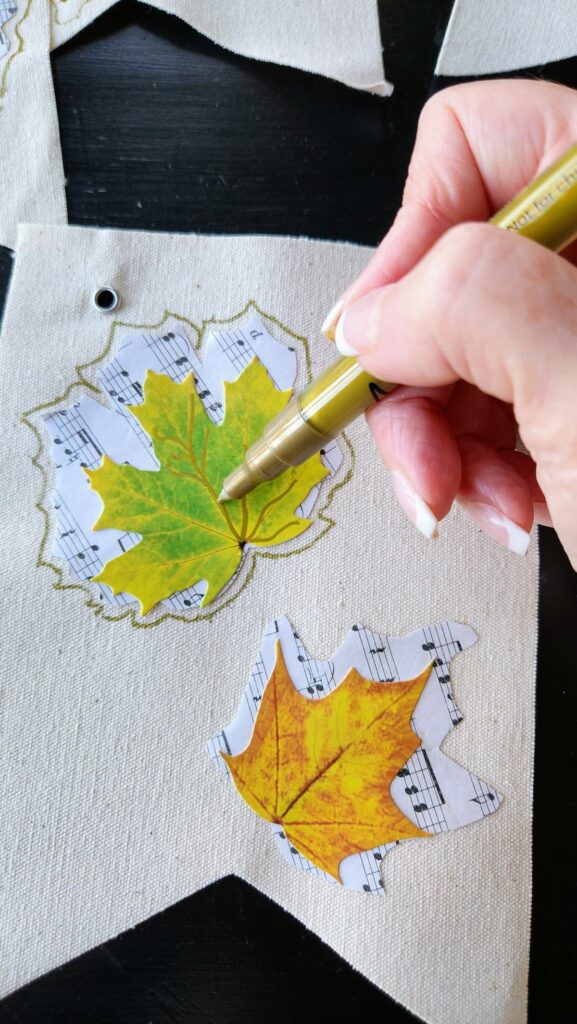 Hanging your banner: Step Nine
It's time to hang your banner. I chose to hang my banner on my mantel. The banner would also look great hanging across a farmhouse hutch.
Space the leaves evenly
To maintain a balanced look, space the leaves evenly along the string or jute twine. This ensures that your banner looks well-organized and visually appealing.
To hang your fall leaf banner, you can use removable hooks or adhesive tape without causing any damage to the rest of the mantel.
Shop & Source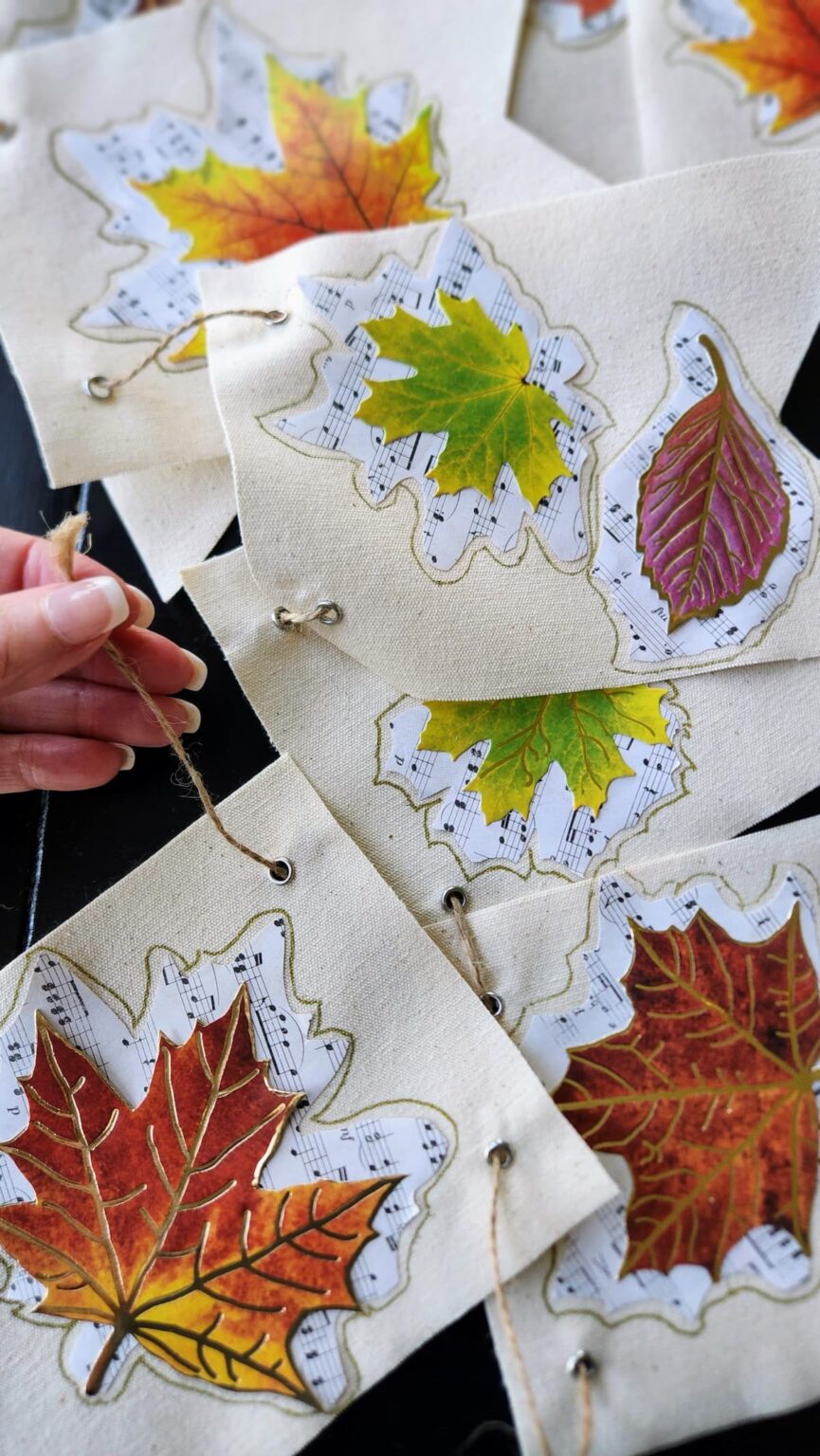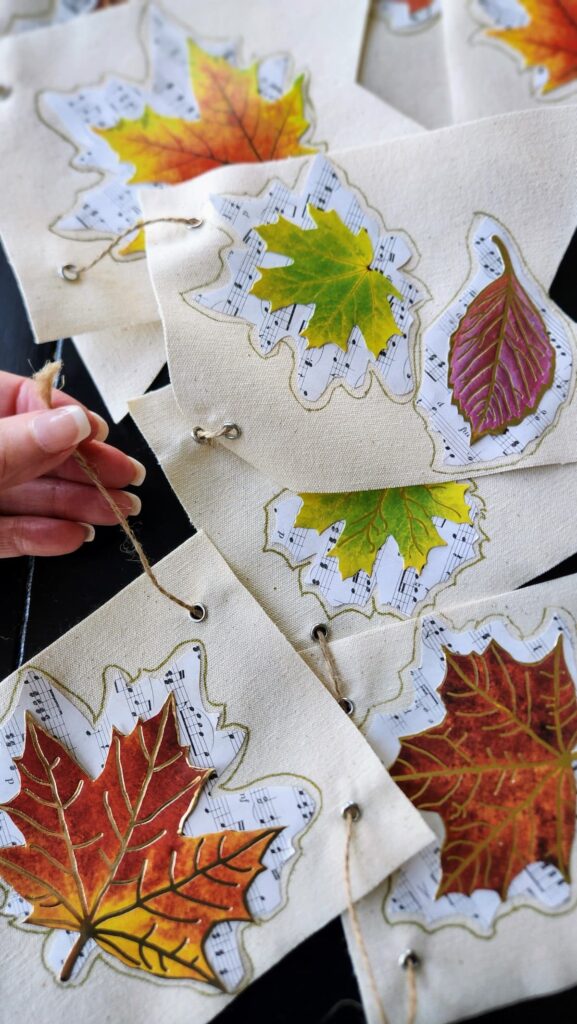 Step back and admire: Step Ten
Step back and admire your latest creation. Your homemade fall leaf banner adds a beautiful touch of autumnal charm and cozy ambiance to your space.
All that is left to do in your home is incorporate cozy blankets, a few more fall decorations, fall stems, and some throw pillows. These additions can truly transform your living space for the autumn season.
Crafting a simple fall mantel banner is a great project that effortlessly ties these elements together, adding a touch of warmth and seasonal charm to your home. So, cozy up and enjoy your haven of fall-inspired delight!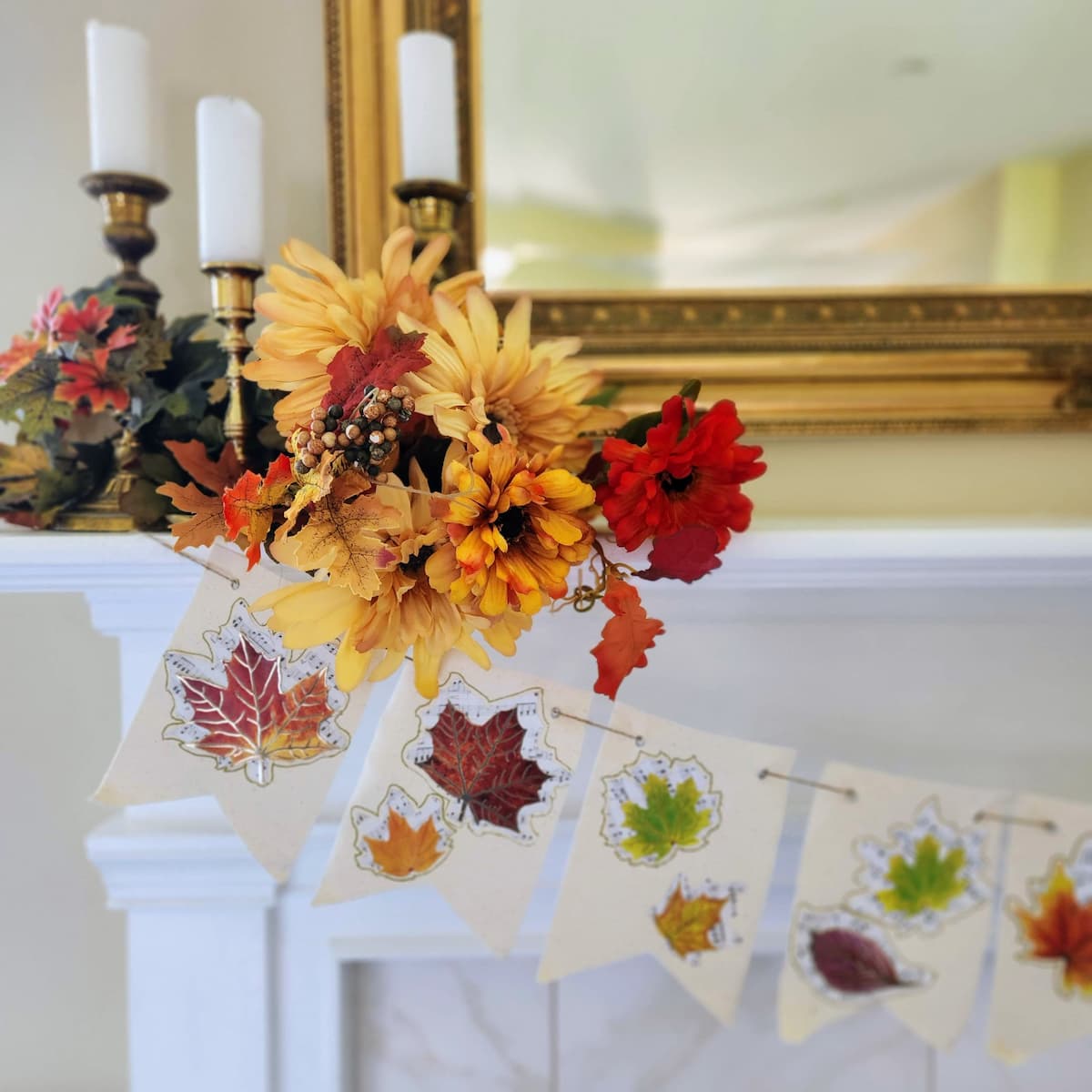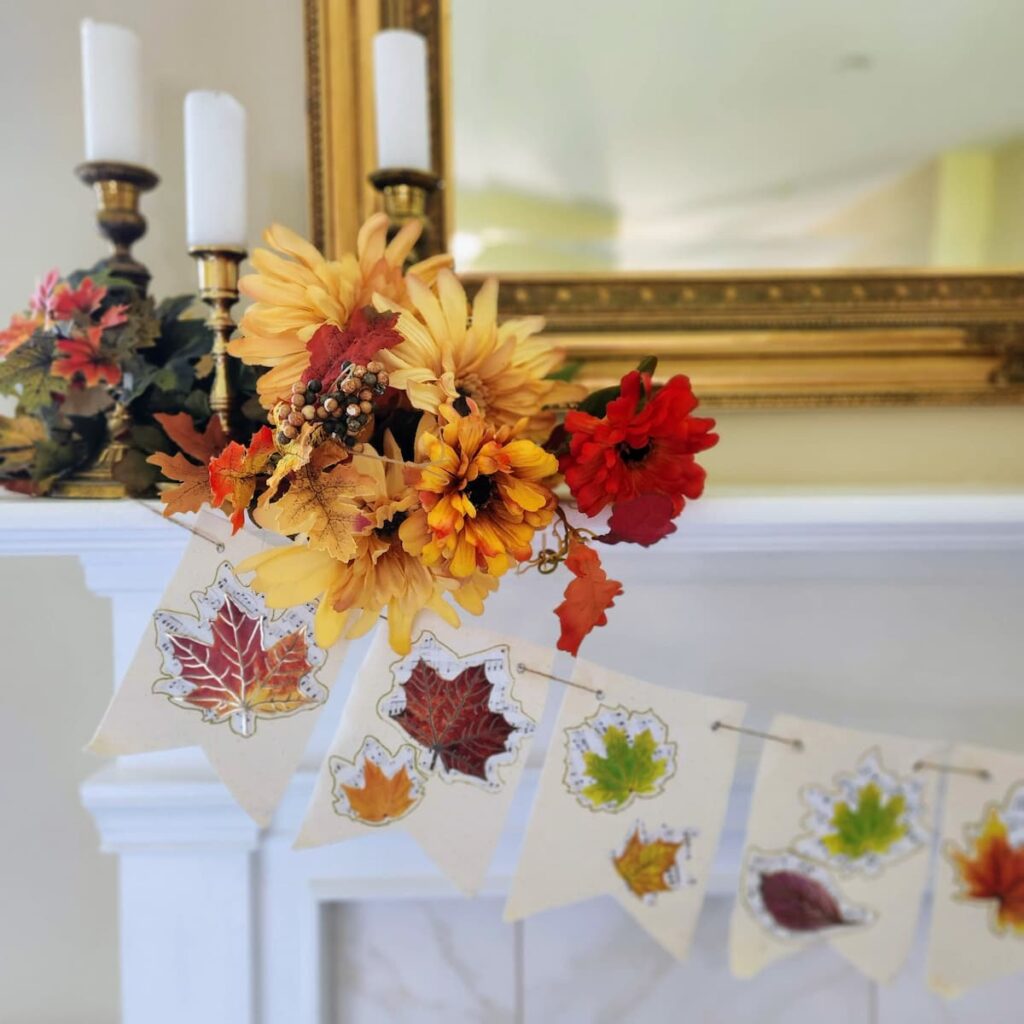 Creating a fall leaf banner allows for personalization and creativity, so don't hesitate to make it your own. Whether you choose real or artificial leaves, your banner will be a beautiful addition to your fall decor.
​What can I make out of leaves?
Here is a list of five things you can make out of leaves for your home decor.
Leaf Garland: String together a colorful assortment of fall leaves to create a stunning leaf garland that can be draped along mantels, staircases, or across windows for a festive touch.
Leaf Wreath: Craft a beautiful leaf wreath by attaching leaves to a circular frame. You can add some pinecones, acorns, or small faux pumpkins for extra flair.
Leaf Candle Holders: Decorate glass candle holders with pressed leaves, securing them with Mod Podge or clear tape. When you place a candle inside, the warm glow will accentuate the natural beauty of the leaves.
Leaf Centerpieces: Place a cluster of vibrant fall leaves in a decorative vase or mason jar, and you have an elegant yet simple autumn centerpiece for your dining table or sideboard.
Leaf Place Cards: Personalize your fall table setting by writing guests' names on large, dried leaves and using them as place cards. It's a charming way to add a rustic touch to your Thanksgiving or autumn gatherings.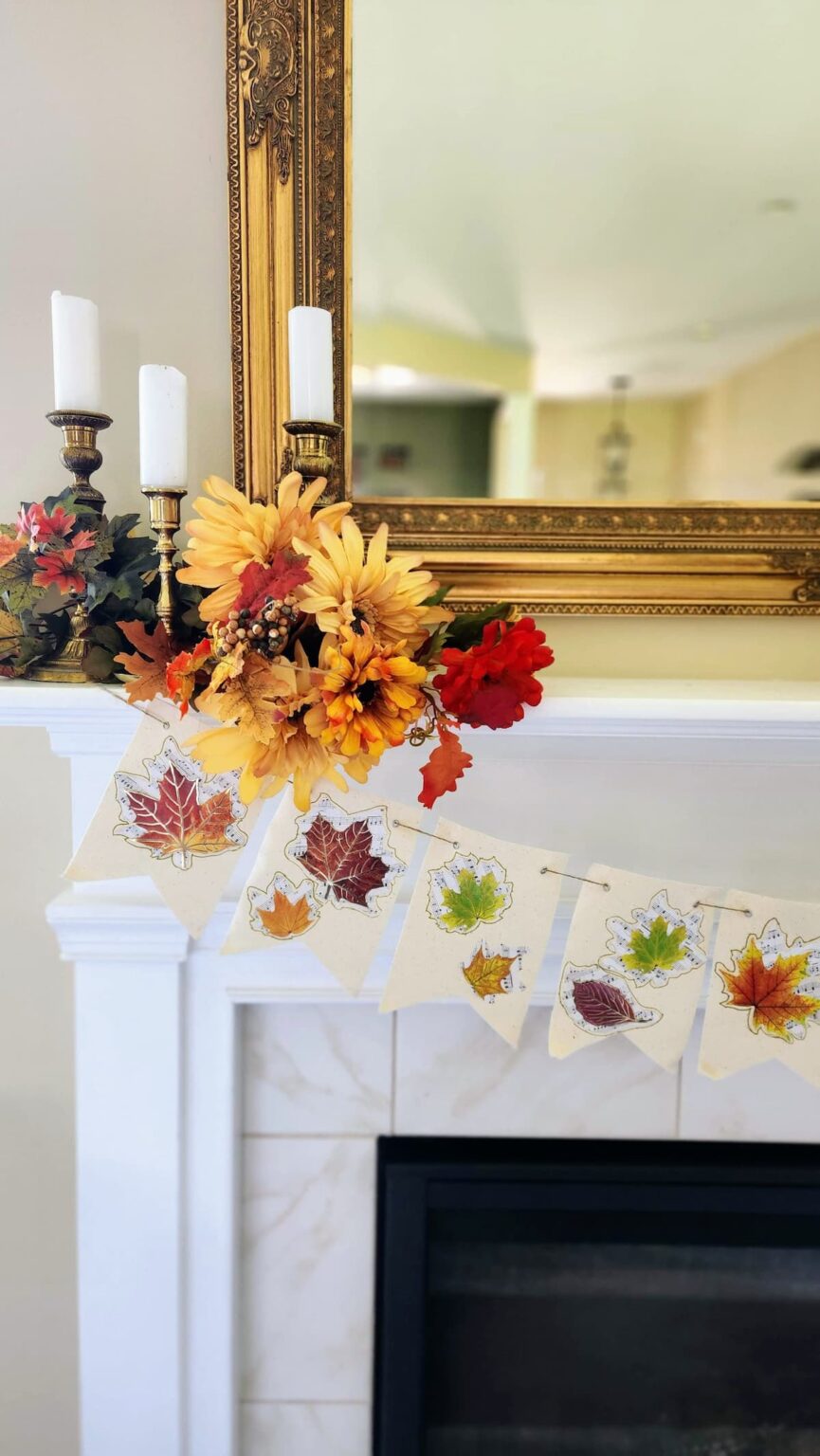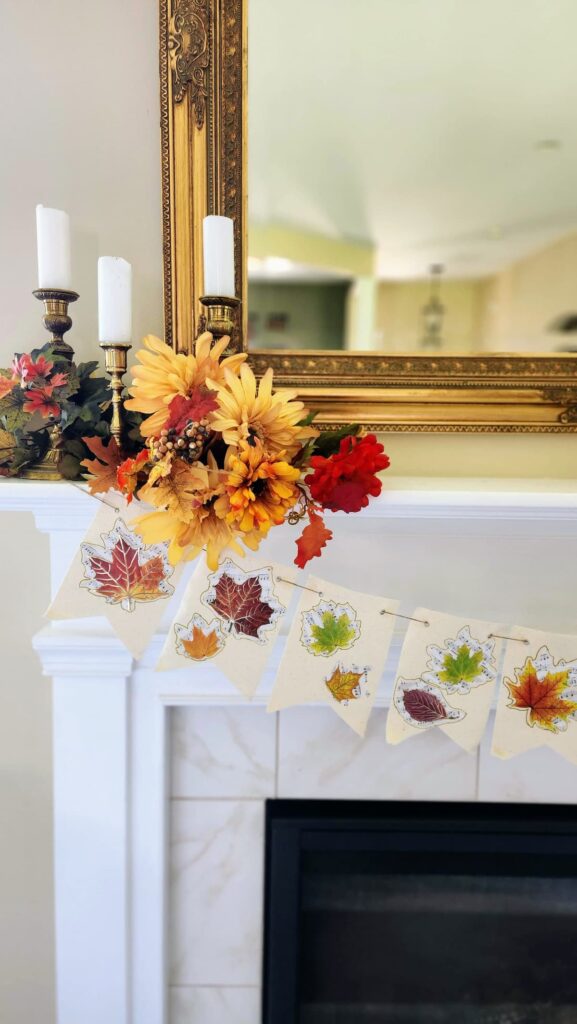 Now it's time to head over to Amy from Amy Sadler Designs. Wait until you see her copper leaf bowl diy blog post. You are going to fall in love with her and her creativity! It's next level.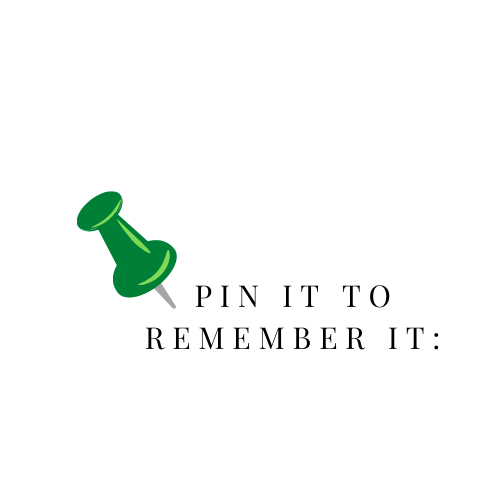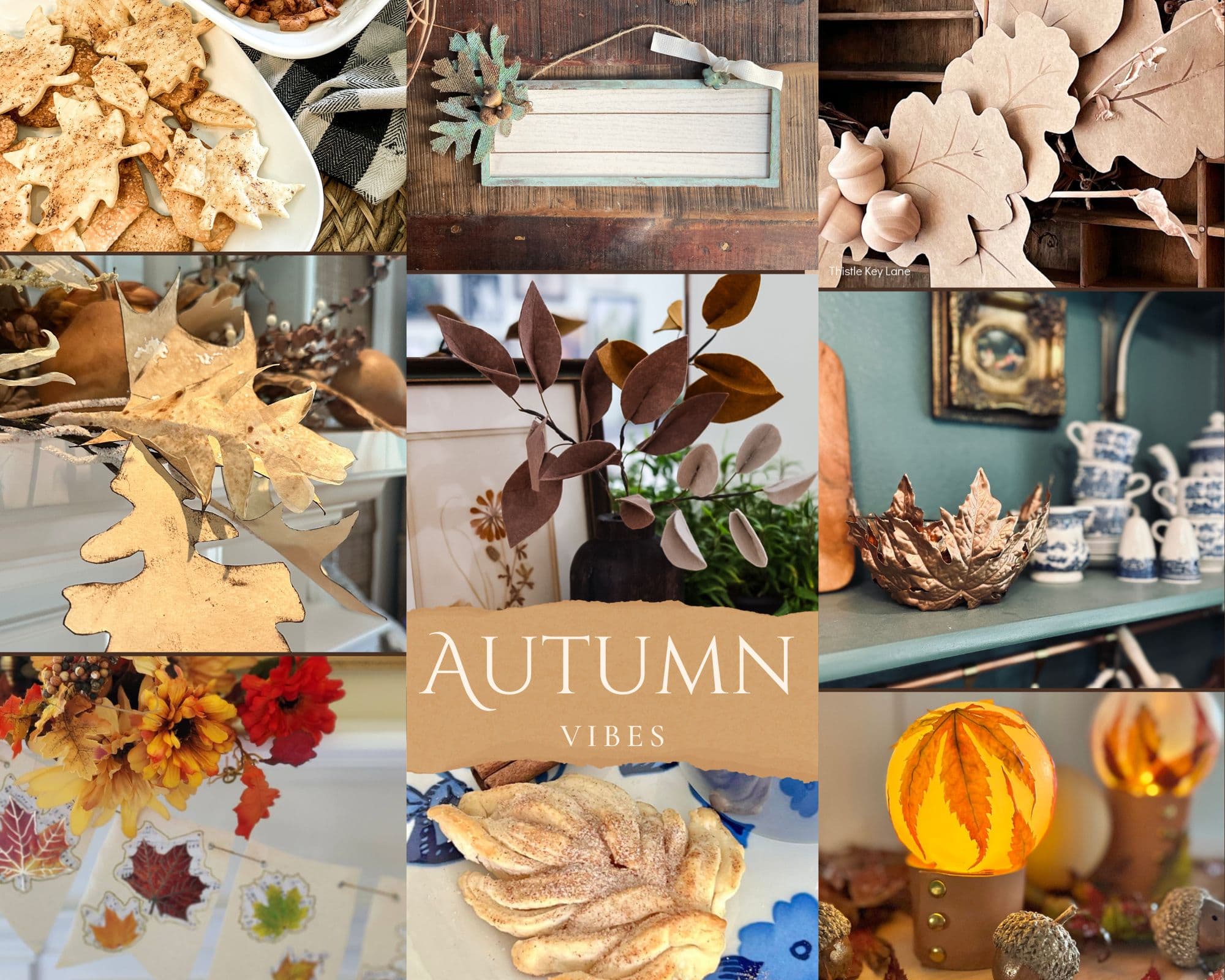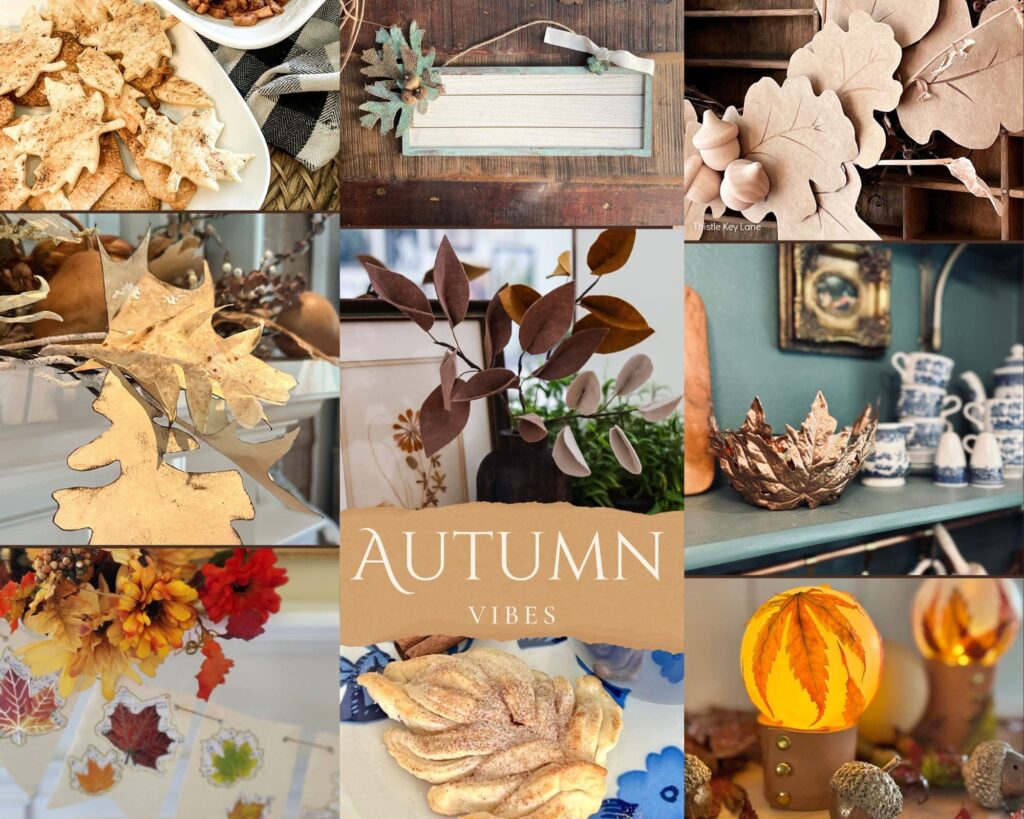 Fun fall decor ideas for home
Hi, I'm Susan: A little bit about me
Designing Dreams with Tinker Bell Sparkle: Hello there, If you're new here, I'm delighted to meet you! If you've been around for a while, thank you! I love seeing you here.
Hen and Horse Design is my canvas of creativity. My journey from ballet to design has been a graceful evolution.
Home, Garden, and Neverland: From pirouettes on stage to crafting designs with the same finesse, I bring a touch of Tinker Bell's sparkle to everything I create.
I believe that home should be a place where you can relax, recharge, and be inspired. That's why I focus on creating designs that are both stylish and comfortable. I also love to incorporate vintage elements into my home, because I believe they bring a sense of the past and interest to any space.
From Ballet Slippers to Sofas and Pillows: I've traded in my slippers for sofas and pillows. Whether you're looking for a new sofa, a fresh coat of paint, or a complete home makeover, I'm here to help you create a space that reflects your unique style and personality.
I'm also a big fan of cooking and gardening, so I love to incorporate those elements into my designs as well. I believe that a well-designed home should be a place where you can enjoy all the things you love, from spending time with family and friends to cooking delicious meals to relaxing in your garden.
Join me as I pirouette through the world of home décor, cooking, and gardening,
I'm excited to share my designs with you and help you create a home that you love. Read more here.
Susan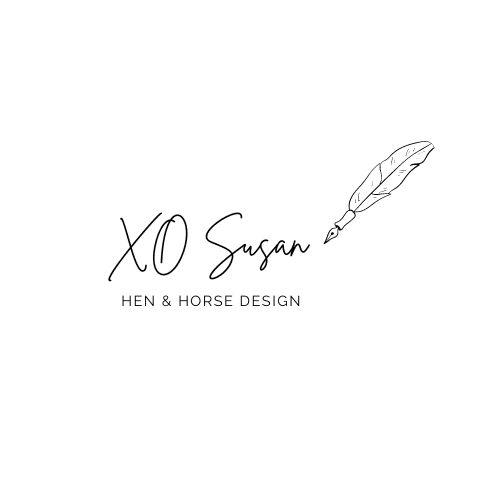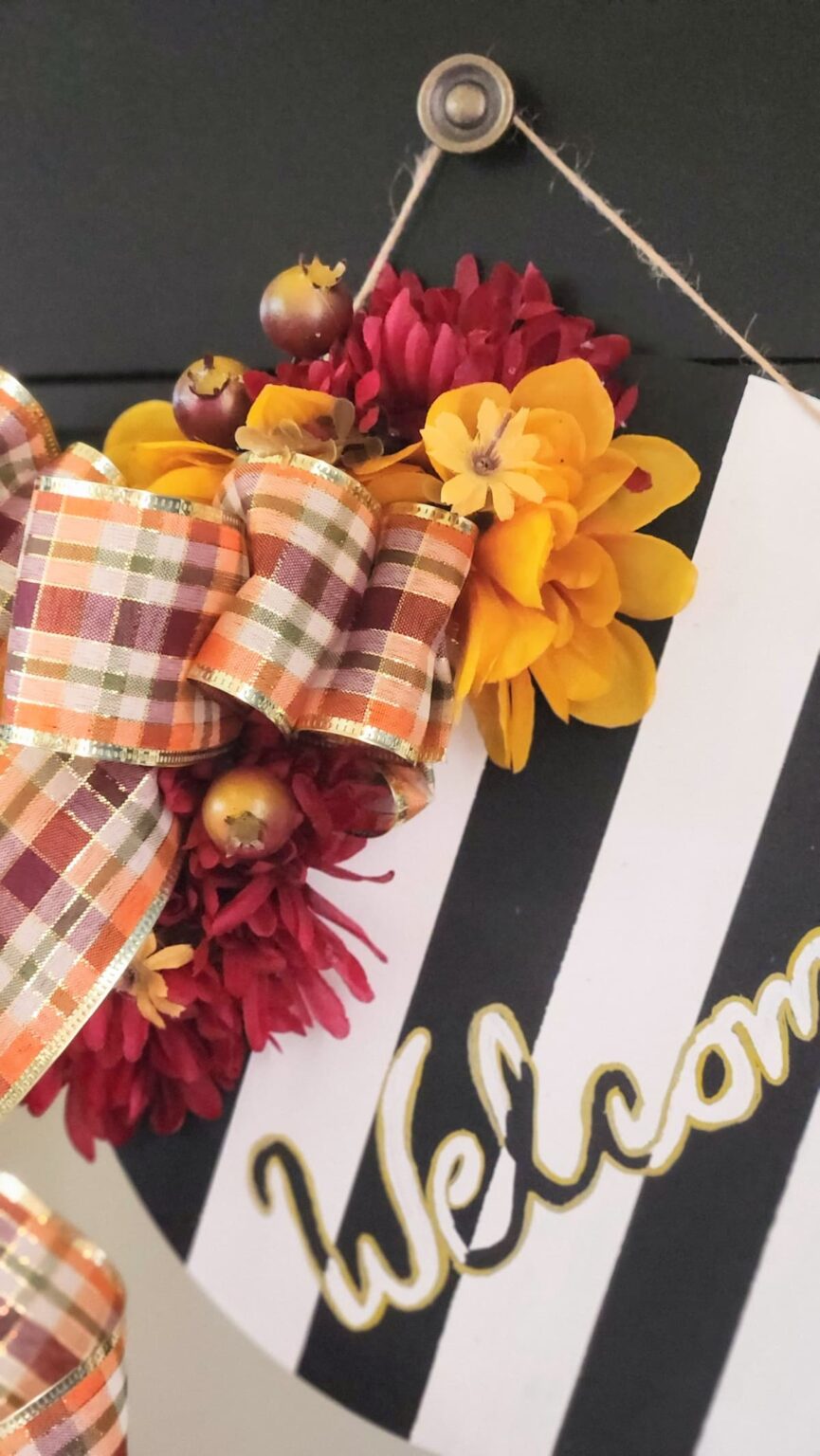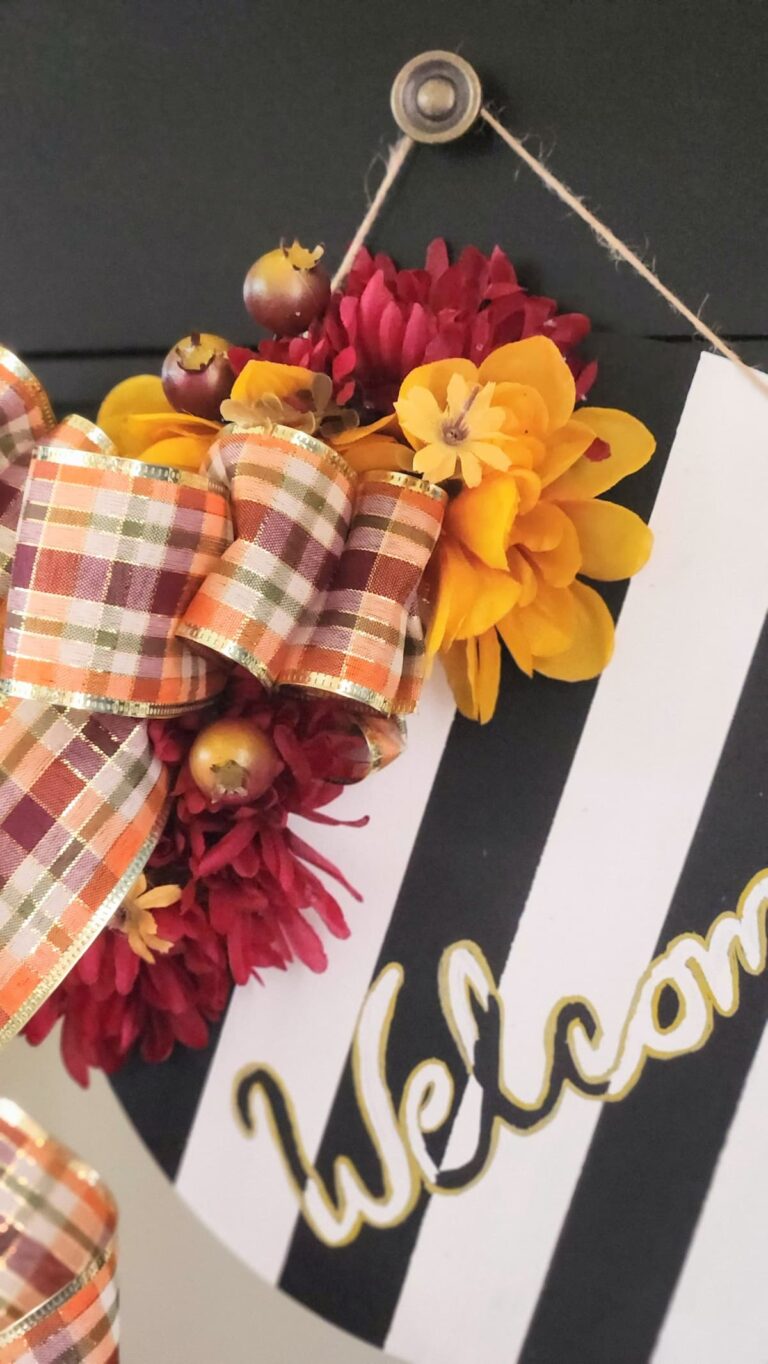 Hey there, crafty friend! Are you ready to dive headfirst into the wonderful world of DIY door hangers? Picture this: a cozy afternoon with your favorite tunes playing in the background, a table overflowing with colorful paints and craft supplies, and an empty wooden door hanger just waiting for your creative touch. It's like a mini canvas for your front door, and trust me, the possibilities are endless for a new pretty welcome sign.