My Latest Thrifted Blue Dishes
I'm always on the lookout for thrifted blue dishes to add a touch of whimsy to my table decorating. Here are some of the latest finds!
Do you love finding treasures at thrift stores? I do! Especially when those treasures are dishes. A few weeks ago, I went to the best estate sale this summer and found this set of blue dishes for an unbelievable price. I'm in love with them! Not only are they the perfect shade of blue, but they're also in perfect condition which makes them even more special. Keep reading to see photos of my new dishes!
Setting the table is one of my favorite things to do. I love to mix and match dishes, napkins, and silverware to create a unique tablescape. One of my favorite looks is vintage blue dishes. I thrift for most of my dishes, and I always look for unique patterns and colors. Blue and white dishes are classic and elegant, but they can also be fun and playful. I like to mix vintage dishes with more modern pieces to create a contrast. Whether you're setting the table for a special occasion or just everyday meals, vintage blue dishes are always a great choice.
Vintage Blue Dishes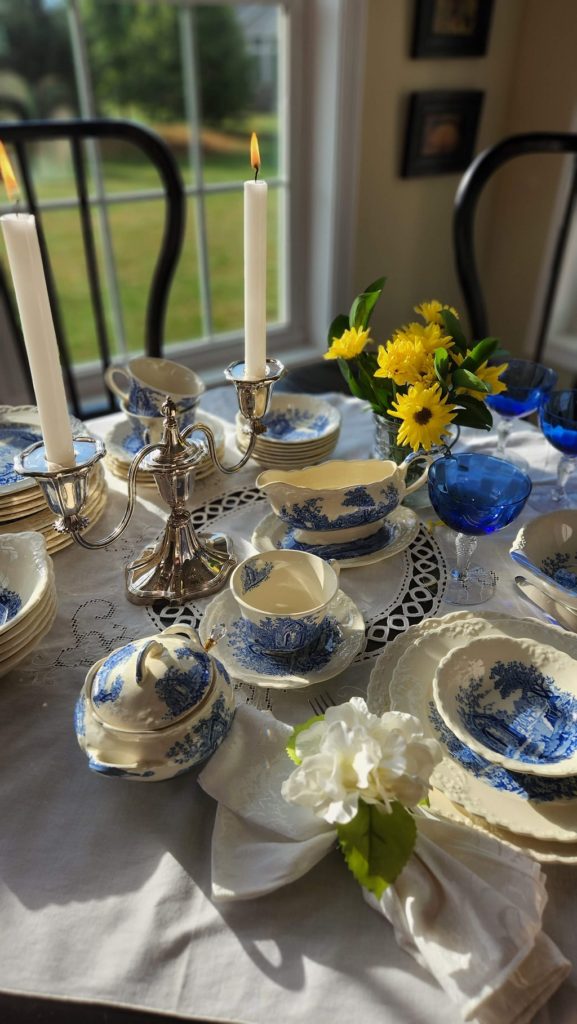 "This post may contain affiliate links which means I may earn a small commission. You may read my
disclosure policy here
".
A blue tablescape is a great way to add a touch of vintage charm to your home. Thrifted blue and white dishes are a great way to get the look without spending a lot of money. To create a cohesive look, start with a base of vintage blue dishes. Then, mix in some thrifted blue and white dishes. Add in some vintage accents like vintage silverware and napkins. For a final touch, arrange some fresh flowers in a vase. Blue tablescapes are perfect for any season, and they are sure to impress your guests.
Another great find were these cobalt blue glasses. I'm wishing they had more than four as I would have purchased them all. Plus they go perfectly with this dish set, wouldn't you agree?
vintage cobalt blue glassware has a long and fascinating history. The intense blue color was first created in the early 1800s, and it quickly became a popular choice for glassware and dishes. In the Victorian era, cobalt blue was often used for stemware and other decorative glassware. However, the Wassermann process, which was developed in the early 1900s, made it possible to produce cobalt blue glass on a large scale. As a result, Cobalt blue dishes and glasses became more affordable and widely available. Today, vintage cobalt blue glassware is highly prized by collectors. Thanks to its beautiful color and rich history, vintage cobalt blue glassware is a timeless classic.
Honestly, I was so pleased I was able to scoop a few of them up.
When it comes to vintage glassware this pattern is fabulous!
Thrifting Dishes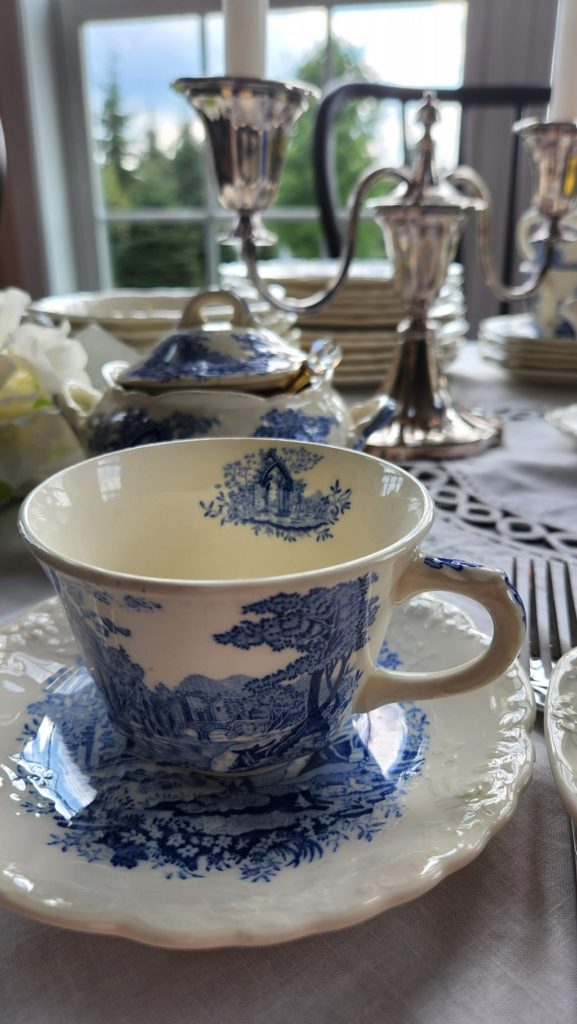 If you are unfamiliar, the name of this set is called 'English Abbey'!
Anyone who loves vintage blue dishes will be delighted to know that English abbey dishes are still being made today. These beautiful dishes have a long history, dating back to the Middle Ages. At that time, monasteries and abbeys were known for their production of high-quality pottery. Today, there are only a handful of factories still making English abbey dishes. However, it is still possible to find these beautiful dishes for sale, either online or at antique stores. Whether you are looking for a single piece or a complete set, English abbey dishes make a wonderful addition to any collection.
Blue and White Dishes
One thing to look for at thrift shops or estate sales is if the dishes can me made into a full set. For example, with this set, I was able to create a set of six. Each set includes a dinner plate, a salad plate, a berry bowl, a larger bowl and a teacup and saucer.
In the future, I'll be sharing more about my vintage finds. Until then, if you would like to shop fabulous vintage finds there is a new online market place called Vintage Keepers. I've opened a shop there along with many other vendors. You can check it out here.
Let me know what you think in the comments below.

Facebook-f


Pinterest


Instagram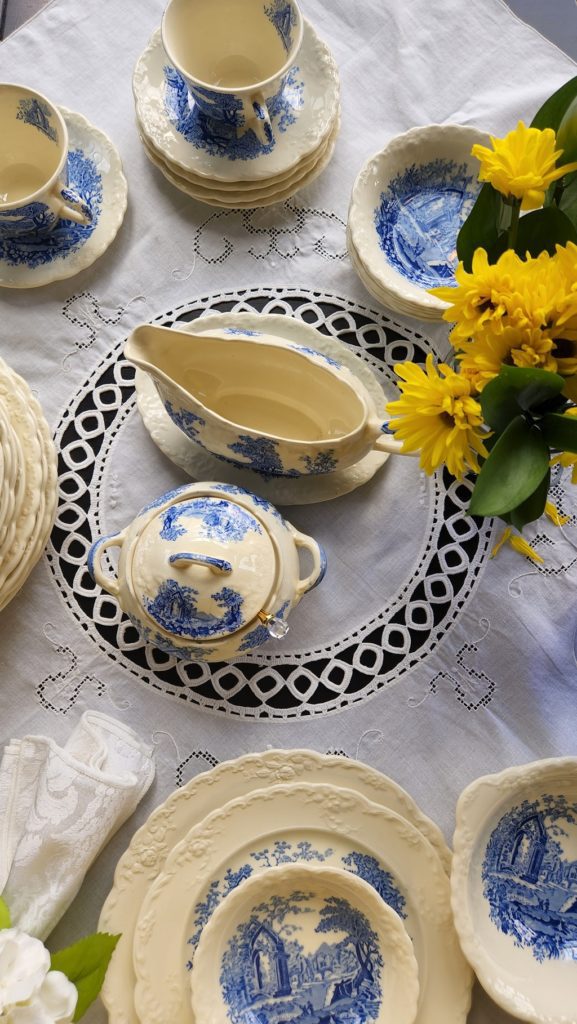 Up next, my table wouldn't be complete without having a bouquet of flowers. After I went into the garden, I thought these pretty yellow daisies would work well for adding the prettiest pop of color. Another fun floral yellow arrangement would be using yellow lemons.
Shop this post: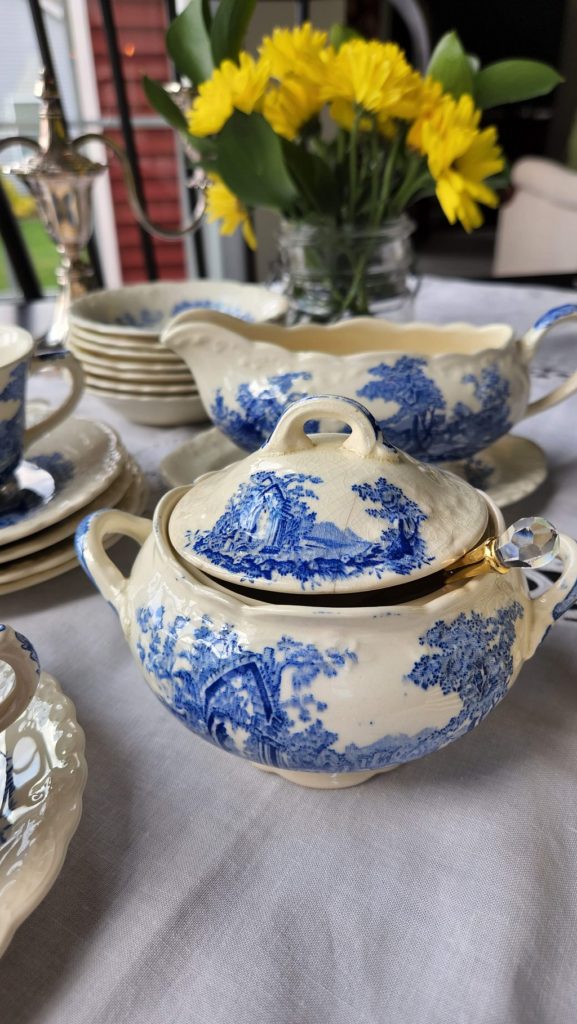 How to Find Thrift Shops & Estate Sales
For those who love vintage dishes, thrift shops and estate sales can be a treasure trove. But it can also be tricky to find exactly what you're looking for. When it comes to vintage English Abbey dishes, the search can be particularly challenging. These dishes are often quite delicate, and they can be easily broken if not handled properly. They are also often quite valuable, so it's important to be sure that you're getting a good deal. To increase your chances of success, start by scouring online listings for sales in your area. You can also check with local antique dealers to see if they know of any upcoming sales. With a little patience and perseverance, you should be able to track down the perfect set of vintage English Abbey dishes.
Thanks for reading! We hope you found this blog post helpful. If you are looking for more ideas on how to style and find dishes from thrift stores, be sure to check out our other posts. Happy decorating!
Don't miss out on any of my tips, recipes or stories! I'd love for you to follow me on Pinterest, Instagram and Facebook.
XO Susan
Pin it to Remember it: