How to Care for a Large Red Hibiscus Plant
Growing a red hibiscus requires time, patience, and proper care. Find out how to make your hibiscus thrive!
Are you the proud owner of a large red hibiscus plant? If so, you're probably wondering how to take care of it and keep it looking healthy. This blog post will teach you everything you need to know about caring for your hibiscus plant, from watering to pruning to feeding. Keep reading for tips on how to make your hibiscus thrive!
Time for Gardening
Our neighborhood has a large 'walking' community. When the builder designed our 'maintenence free' developement it was with the idea most residents would rather be busy doing fun things, (like pretty much anything else),  rather than mowing their lawns, or snowblowing the gazillion inches of snow over our long winters. Boy, was he right!
Along with that idea, he also created beautifully tree lined streets, with well maintained sidewalks and large black, welcoming lanterns that light up the street along the way. It's so lovely to stroll the neighborhood. 
This is where the 'walkers' come in! 
Deciding on a red hibiscus plant
Without a doubt, one of the most sought after garden plants my husband wanted in our yard and garden was a large red hibiscus plant. Andrew had one at a previous home and he just loved it so much!
As the saying goes, only if I had a penny for each time one of our neighbors walked by and asked about our red hibiscus.  I'd be rich girl. Big Red quickly became the pride of the neighborhood.
Being the proud owner of a large red hibiscus plant isn't easy. Every day, I'm tasked with caring for it (not exactly as it's really easy to care for, but it sounds good ) and making sure it gets the attention it needs. With so many people asking about it, I can't let them down!
Let's get started!
How often to water hibiscus plants?
First and foremost, I make sure to water it regularly. Watering is always important to keep the soil moist, especially in the summer months. We also like to give it a good soak once a week, just to make sure it's getting enough hydration.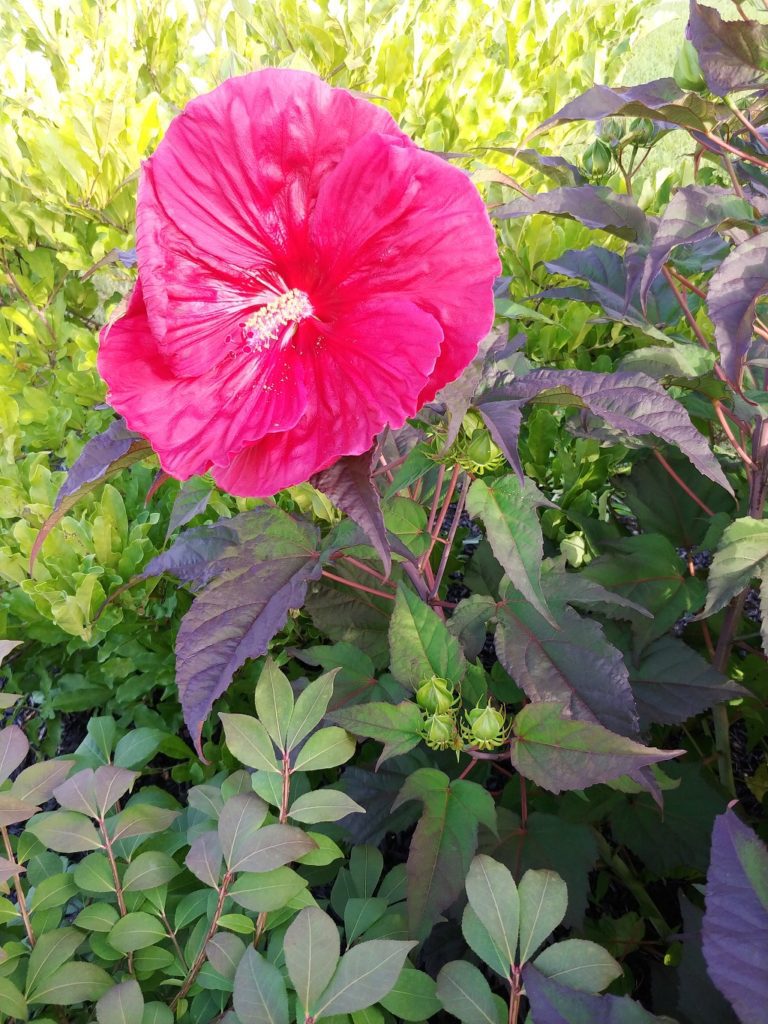 "This post may contain affiliate links which means I may earn a small commission. You may read my
disclosure policy here
".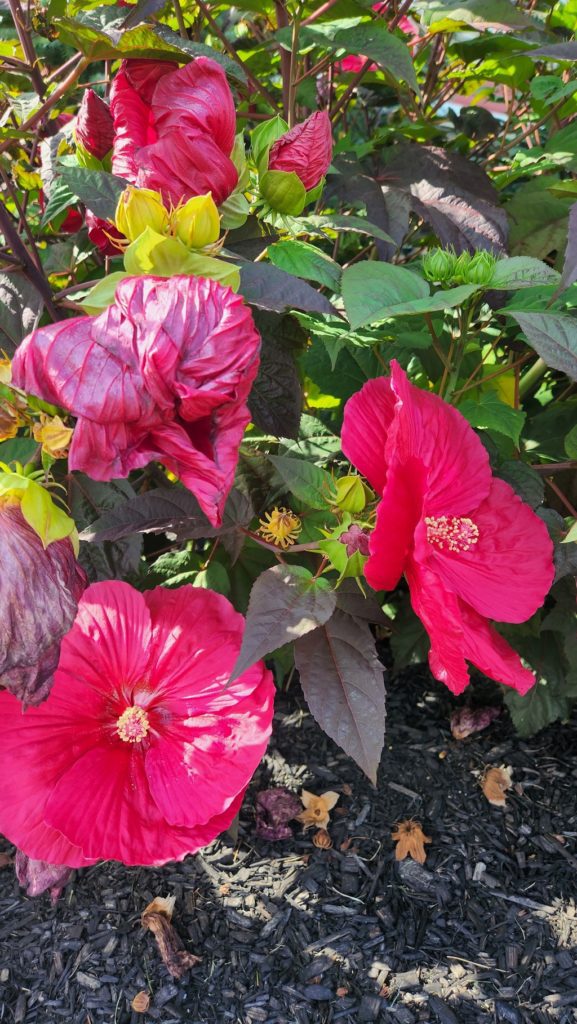 Red Hibiscus Blooms
1. The best way to water a hibiscus plant is to soak the soil until it's wet all the way through
2. Fertilize your hibiscus plant every other week with a balanced fertilizer. This helps ensure that the plant is getting all the nutrients it needs to grow big and strong.
3. Hibiscus plants like plenty of sun, so make sure to place it in a spot where it will get at least six hours of direct sunlight each day.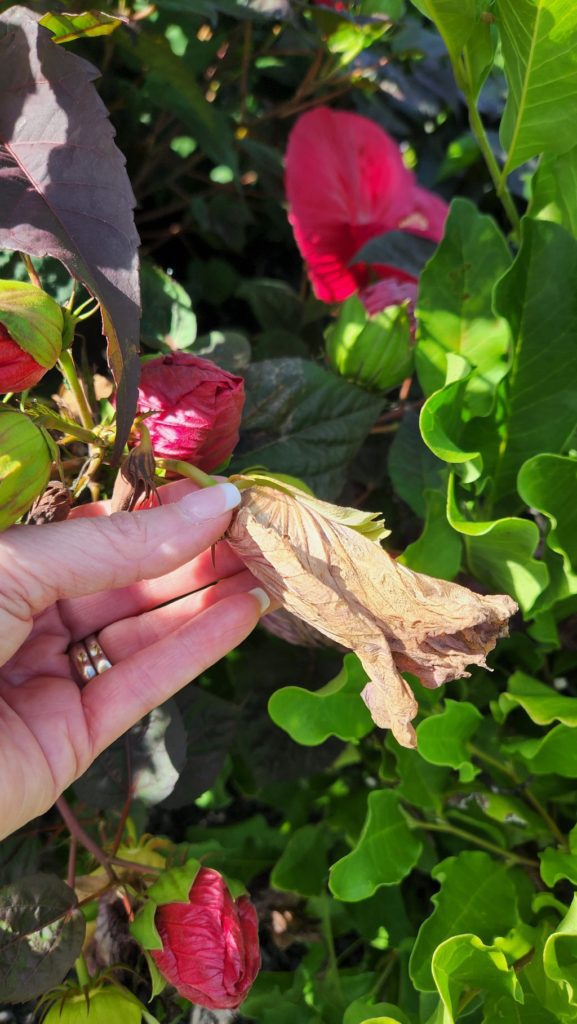 4. Prune your hibiscus plant regularly by cutting off any dead or dying branches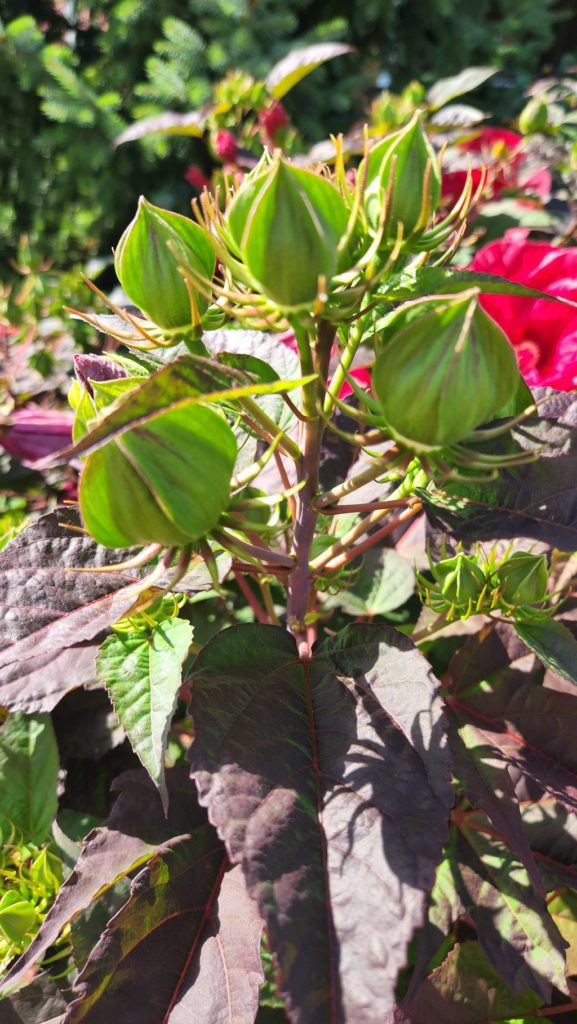 5. Up next! Be sure to check leaves and buds for bugs and diseases regularly and treat them accordingly.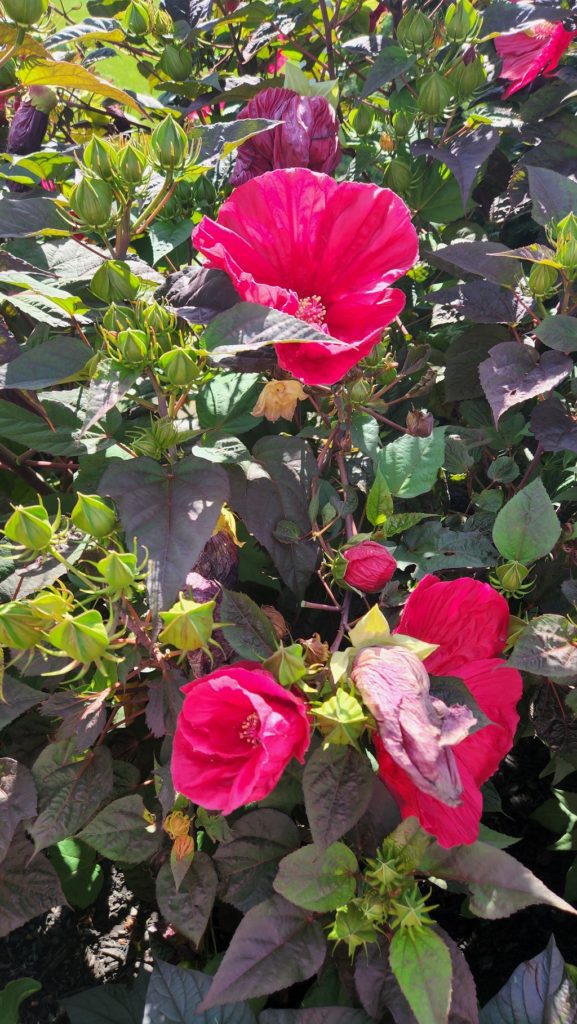 Shop my favorite garden tools

Caring for my red hibiscus was so easy I had time to make this last year for my kitchen.
Should you cut back your red hibiscus for winter?
Yes! Prior to the first frost I head out and do a final trimming of all of our garden perennials. In the fall, I cut it back completely to the ground. At first I wasn't sure how it would do, but I can assure you, it comes back bigger and brighter each and every year.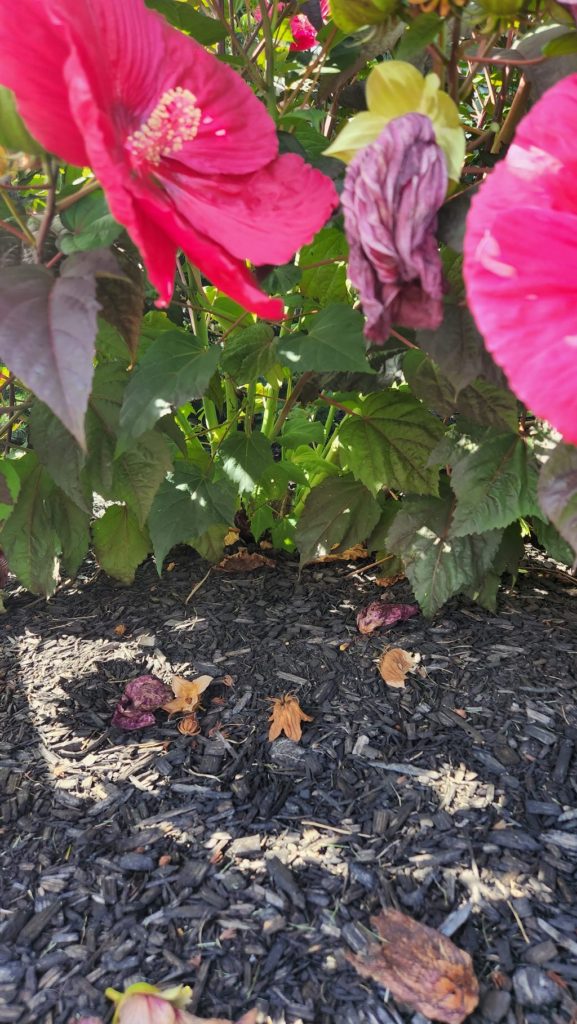 Cutting the plant to approximately three inches above the soil, has worked best for me.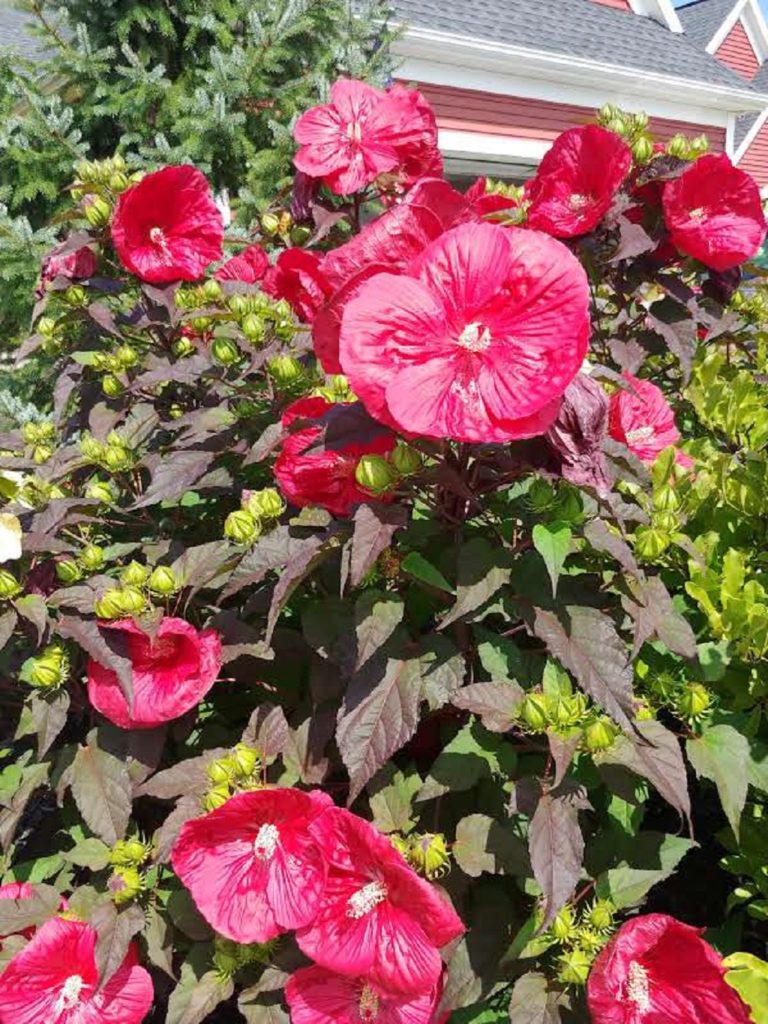 Using these 5 simple steps, I'm able to keep my hibiscus looking beautiful and healthy!
If you're the lucky owner of a large hibiscus plant, congratulations! These plants are beautiful and can be a great addition to any home. By following these tips, you can enjoy your hibiscus plant for many years to come. 
With a little care, yours will soon be the pride of the neighborhood as well!
Don't miss out on any of my tips, recipes or stories! Follow me on Pinterest, Instagram and Facebook. 
Pin it to Remember it: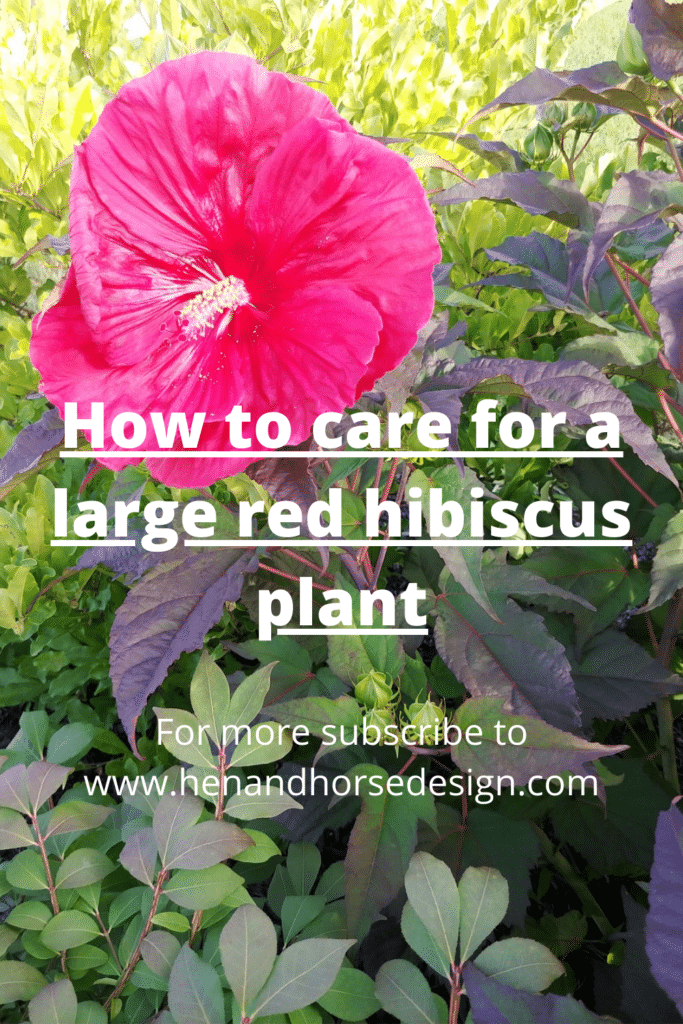 Have you ever grown a hibiscus plant before? Let me know in the comments below.
XO Susan