Simple Patriotic Patio Decorating for Your Backyard
Have you wanted an outdoor patio as much as I do but don't have a patio per se? My Simple Patriotic Patio Decorating for Your Backyard is just for you!
Although, I have to confess to you. I don't have a patio either. Yet! But I didn't let that stop me. Today I'm sharing with you ways to create a Simple Patriotic Patio for your Backyard just in time for the 4th!
Is it just me, or do you on occasion put the cart in front of the horse? So, if the horse is the patio, and the cart is decorating such said patio, I definitely am not doing things in order.
I really wanted a Patriotic Patio tho! Let me fill you in. But first, let's talk about finding tons of holiday inspiration.
Do I have a treat for you today? I'm so excited to be joining a group of my blogging friends to share inspirational ideas with a patriotic stars and stripes theme, for a fun blog hop hosted by Kristi from Kristymastrandonas.com .
If you are joining me from Ann over at Dabbling and Decorating, welcome! Ann has an amazing eye for vintage finds and her creativity is totally amazing. I love how she decorates her porch every season with such ease. You are going to be blown away by all of the red, white, and blue gorgeousness. You won't want to miss one. So grab your favorite beverage and get comfy while you peruse through everyone's blog posts!
You'll find a list of links to all bloggers participating at the bottom of this post.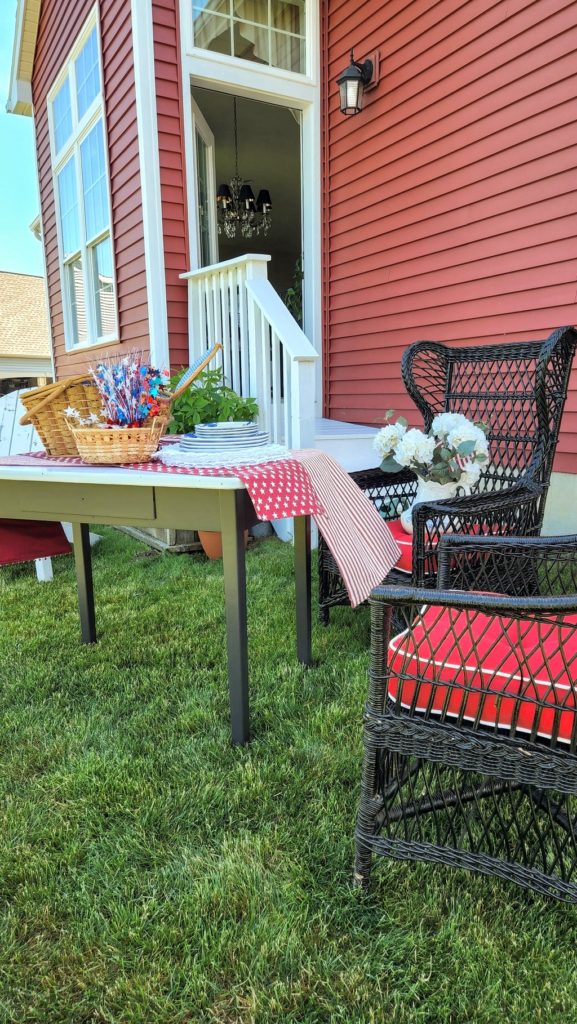 ""As an Amazon Influencer, I earn from qualifying purchases. This post may contain affiliate links which means I may earn a small commission. You may read my
disclosure policy here
".
Creating Your Patriotic Patio
Now let's get back to my patriotic patio, the one that doesn't really exist. Is grass considered patio material? 🙂
Before I began, I painted this table black to match the wicker chairs. It was in our basement for several years and was in much need of a facelift. You may enjoy reading How to Make an Easy Outdoor Planting Table. I'm no expert in furniture renovating, but this was super easy.
I plan on using it for a potting shelf but until then I'll be using it for my backyard picnic.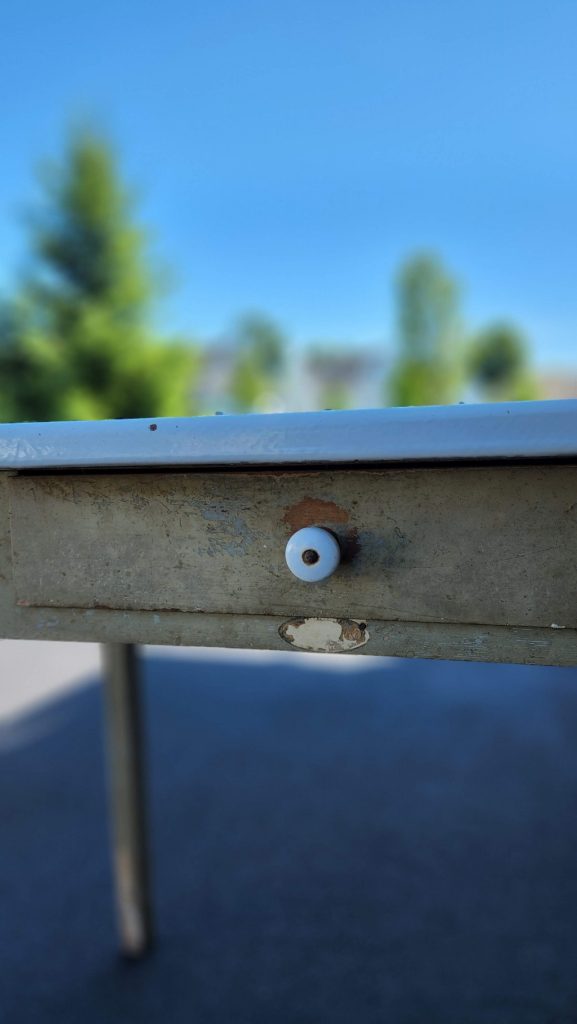 Painting the table was a quick fix to give an old table a new lift!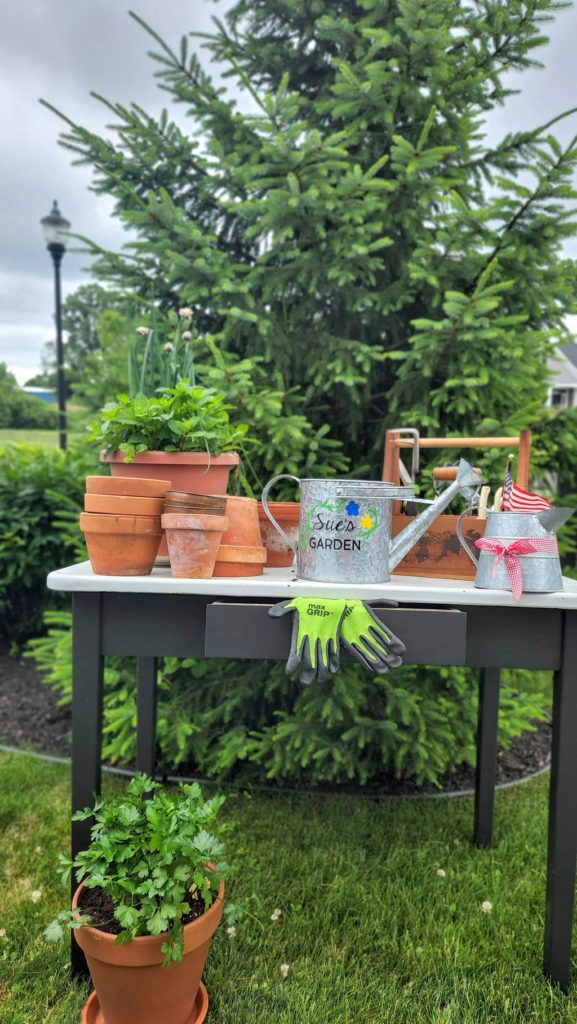 Let me start by saying, we have grande plans to build a pea stone patio this summer. You know, the ones where it looks like an English garden. Filled with greenery, plants, pots, comfy cushioned wicker furniture, and tons of flowers? Add a possible potting shed, and a farm table to serve dinners al fresco. Yeah! That's what I'm talking about. I think you're starting to visualize where I'm going with this.
That's all going to happen. Just not before my son's wedding. I'm so excited about this wedding and I knew I wouldn't be able to concentrate on any other thing until after this happy event! (stay tuned for all the fun)
What I could do temporarily was create a patriotic patio without actually having the patio. You can too! I'll show you how.
Let's get started
About two weeks ago, my husband and I went to an estate sale. We hit the jackpot. Not long after arriving my car was filled with three of the finest pieces of wicker furniture. (the estate sale had to deliver the other three pieces since we didn't have enough room)
My plan was to clean it off and store it until the patio was completed. This is where my plan starts to go in a different direction. What if I could use the furniture without having the patio built yet? Sounds like a plan to me!
Before I could entertain the idea of a 'outdoor living space', I needed to paint the back steps. I just couldn't see putting this fine wicker furniture next to this 'old thing', aka, steps! You can read all about How to Paint Wooden Steps in 4 Easy Steps here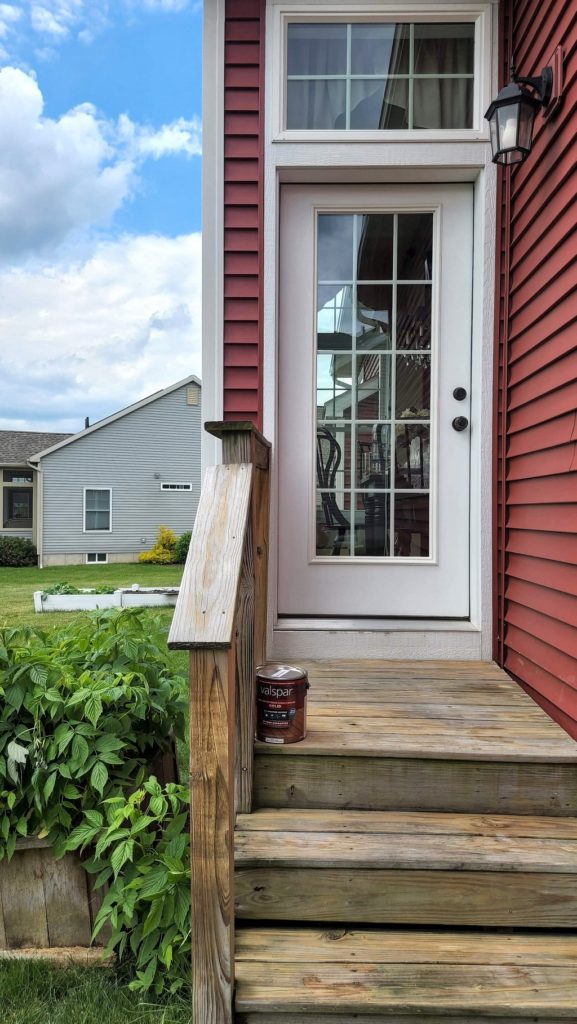 Once the steps were painted, and the table spruced up, all I needed to do was arrange my furniture, then decorate.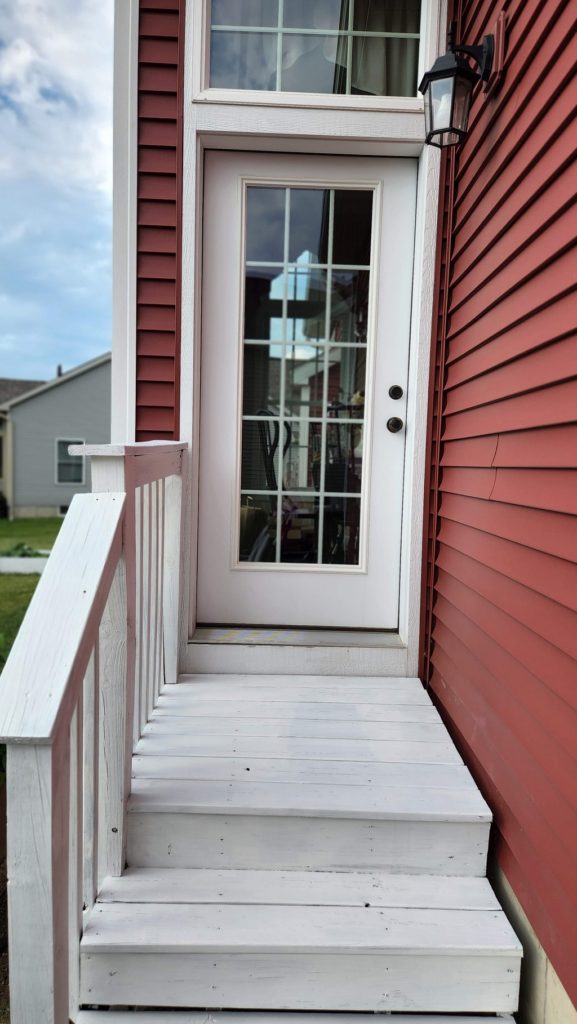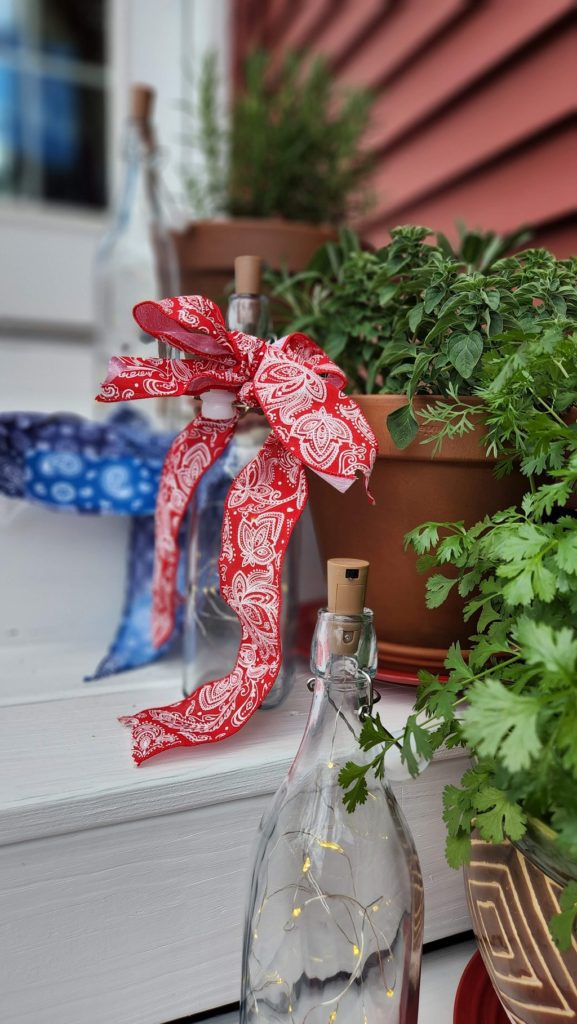 Once I was happy with the step painting, I added lighted water bottles for a pretty glow as the evening sun starts to set. The terra cotta pots pop out on the white steps, don't they?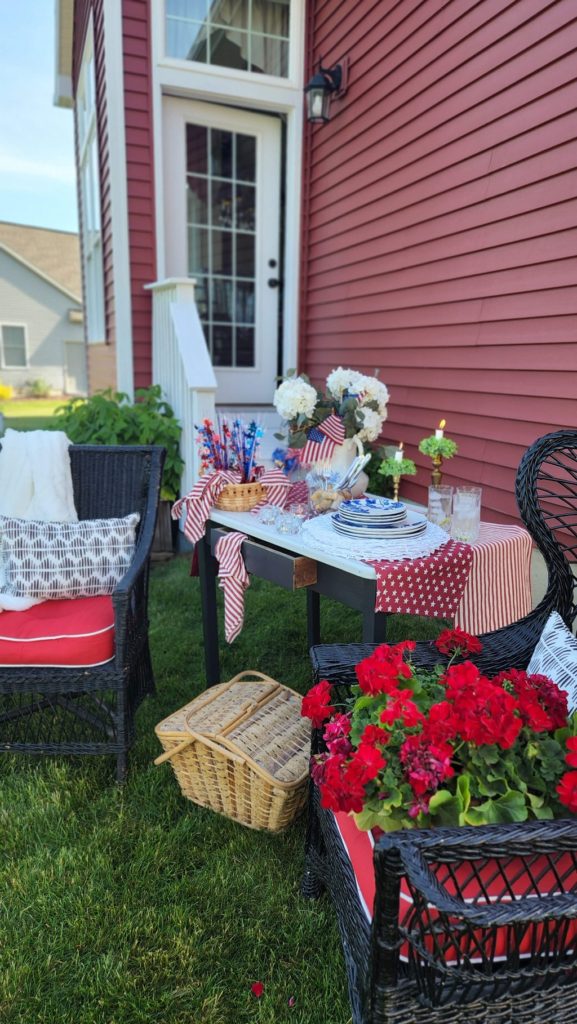 Patio Decorating with Vintage Finds
One of my favorite finds of all time is these black wicker chairs. Wait until you see the matching sofa. I'm getting new replacement pillows for it before I share it with you.
Almost all of the items used for my patriotic patio were either thrifted, or I've had for years tucked away in my basement, like this pretty wicker picnic basket.
I can't stress enough, shop your home first. It's amazing what you will find that may just need a coat of paint or a new way to style it.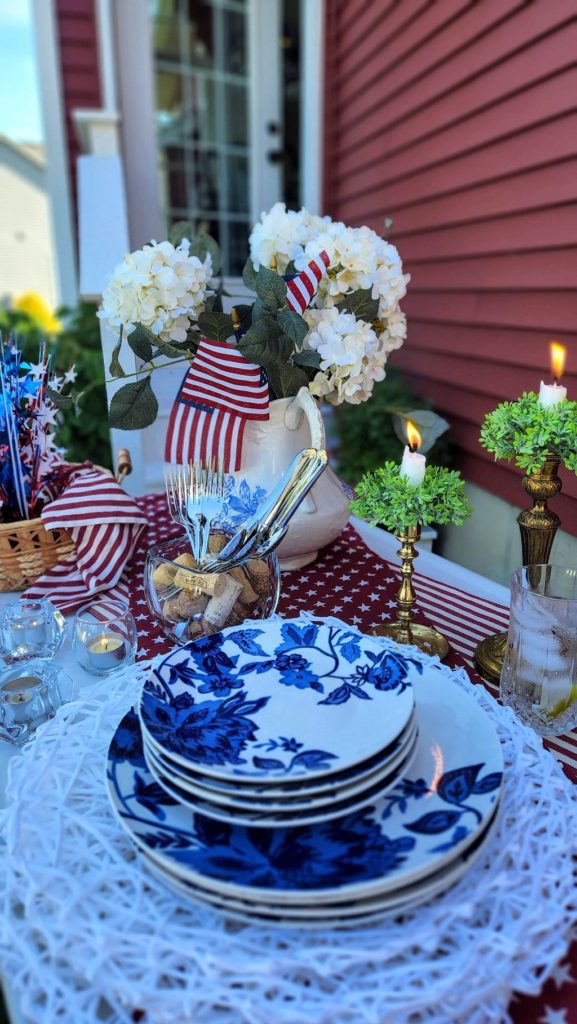 There is nothing prettier than blue and white dishes. Here is a melamine version.
You may click on the photos for a few ceramic options.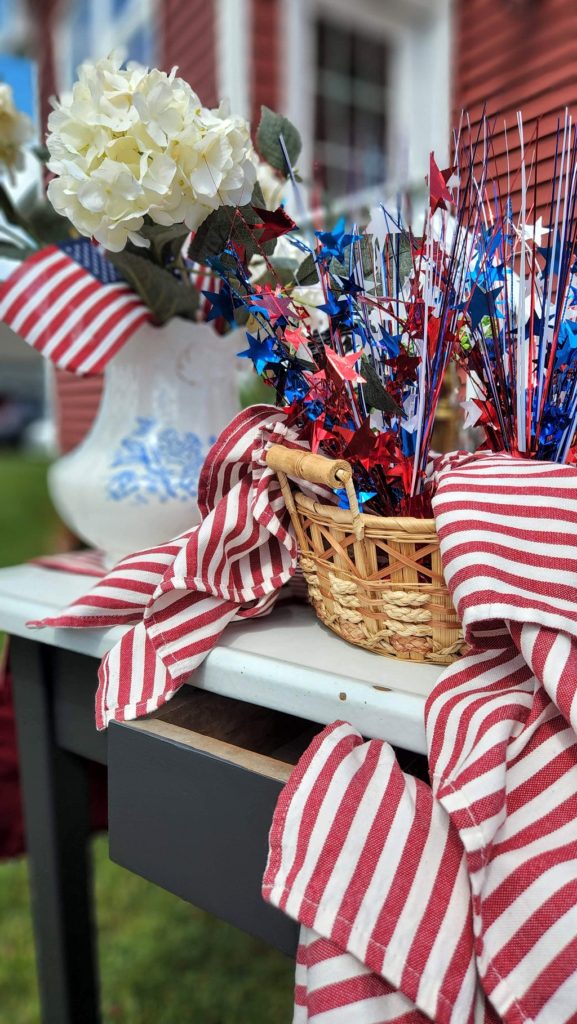 Using cloth napkins always makes your guests feel so special. I love how these striped napkins match the stripes in the flag. A great place to find cloth napkins inexpensively is your local church thrift shop. Just yesterday I saw red and white checked ones for only $3.00 for a set of six.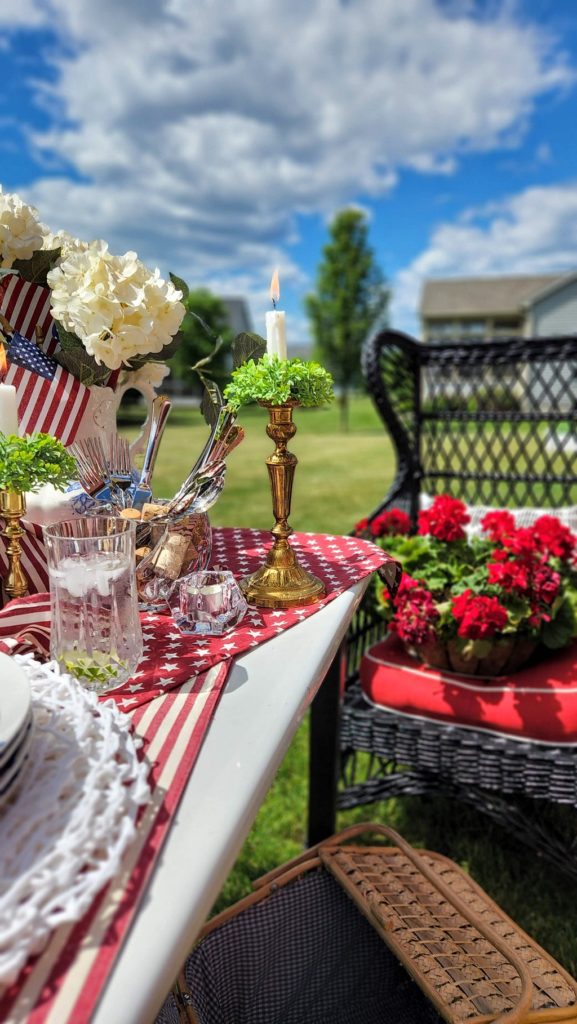 Bring on the red, white and blue! I've sourced some of my favorites for you below!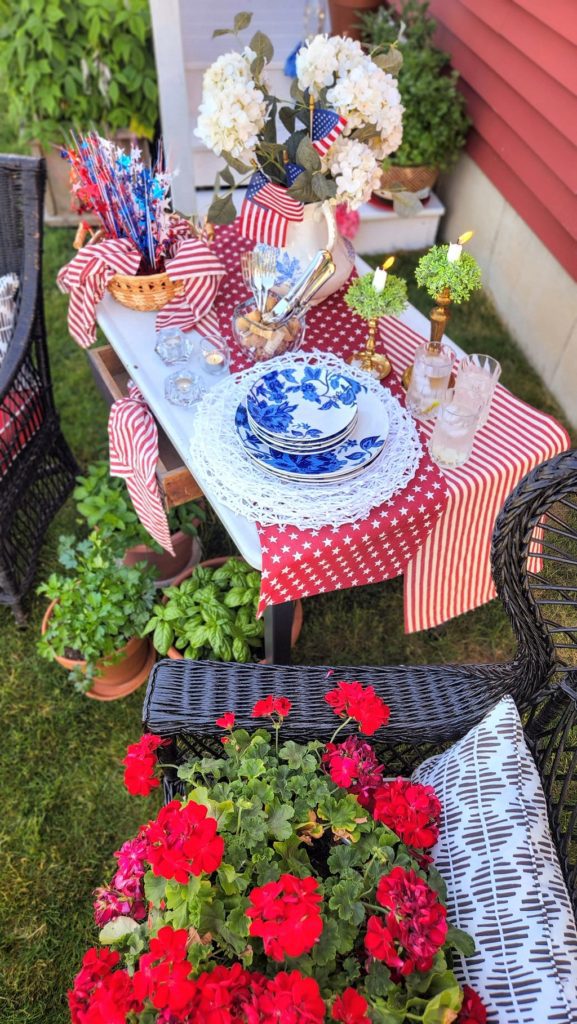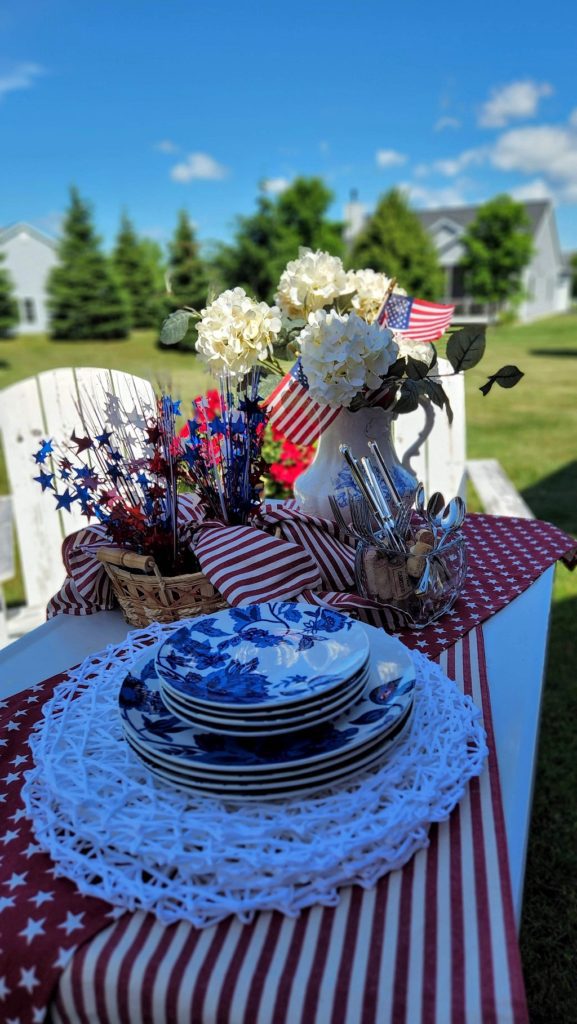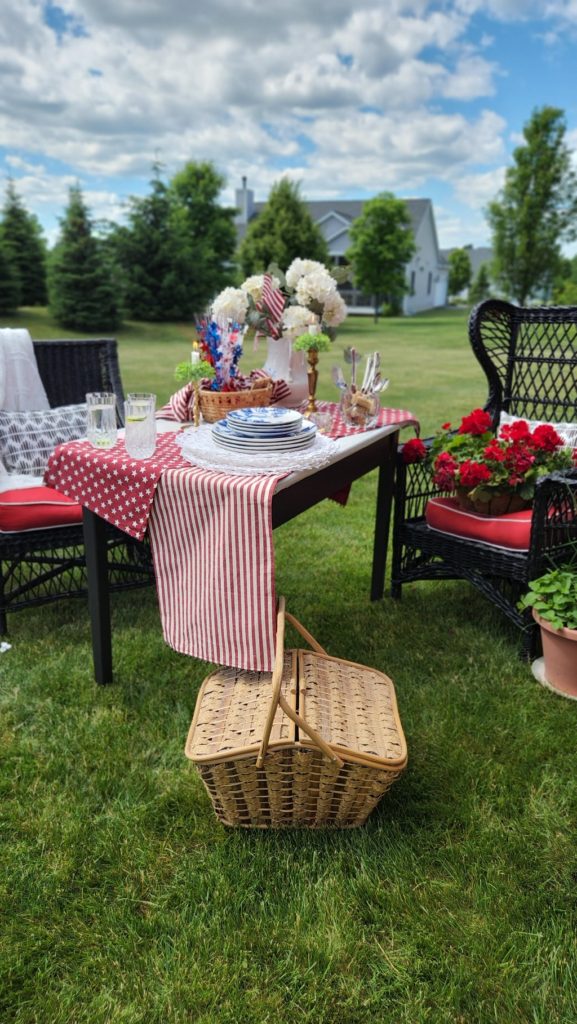 Up next is my friend Kristin from White Arrows Home. Wait until you see her beautiful post. I love reading Kristin's blog and especially enjoyed how she came up with the name 'White Arrows Home'!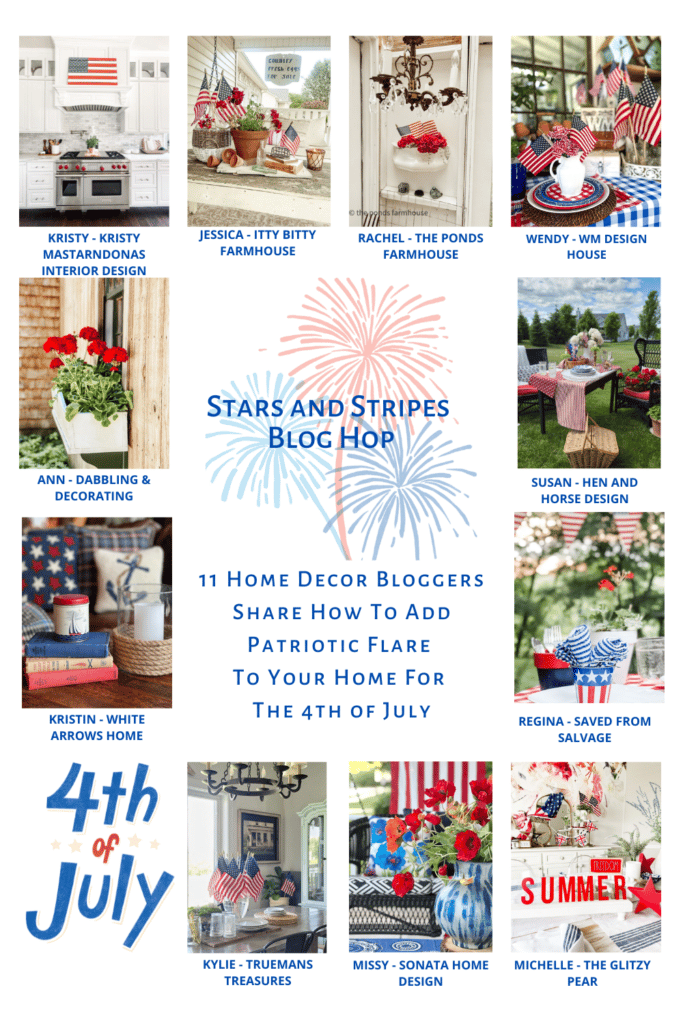 Thank you for stopping by! I hope you have a happy, healthy 4th!
XO Susan