How to Make a DIY Reindeer Bottle Decoration
It's hard to believe the holiday season is upon us. Are you looking for a fun and festive holiday craft to do with the kids? Look no further than this DIY reindeer bottle decoration! This simple project is perfect for all ages and skill levels, and it's a great way to reuse old glass bottles.
Variations and Creative Twist
Here's a fun twist. You can make a whole herd of reindeer! Gather up a bunch of different-sized glass bottles and decorate them all as reindeer. You can even add some bells or jingle bells to their necks for a festive touch.
All you need to make this reindeer is a glass bottle, some brown pipe cleaners, a red pom pom, and two googly eyes. Simply hot glue the pipe cleaners to the top of the bottle to create the reindeer's antlers, then glue on the pom pom nose and googly eyes. And that's it! Your DIY reindeer bottle decoration is complete.
You can display your reindeer anywhere in your home, or give it to a friend as a gift. It's sure to bring some holiday cheer in a fun way to any space. Today I'm going to show you how to make the absolute easiest Reindeer Bottle Decoration with these easy steps!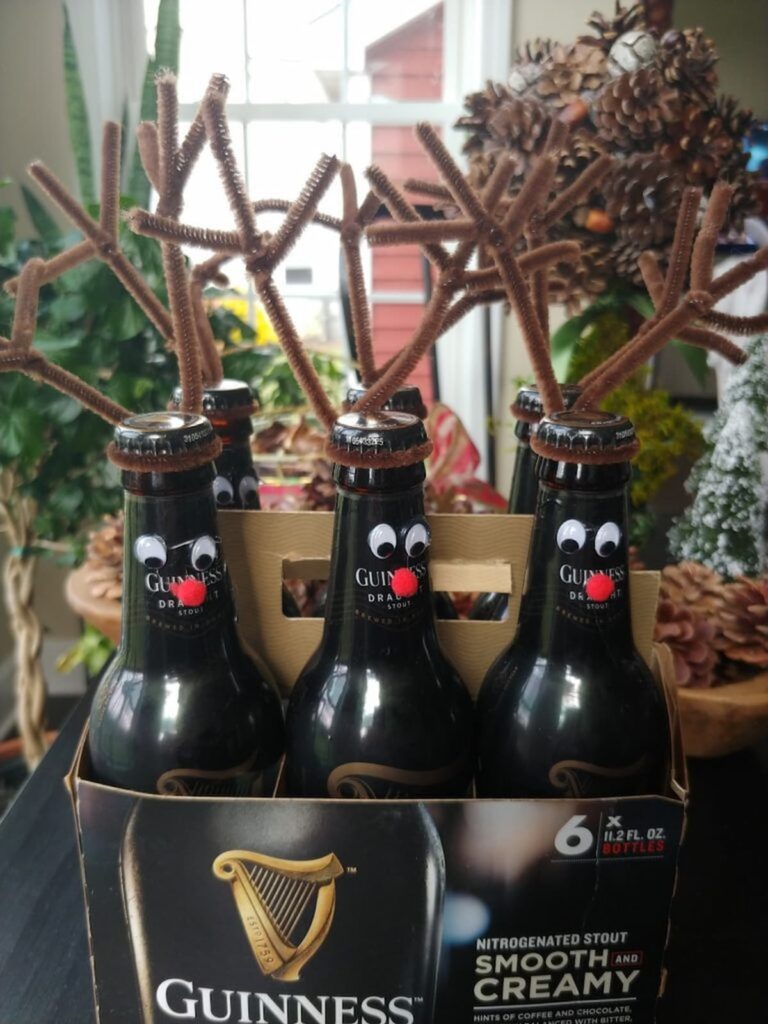 ""As an Amazon Influencer, I earn from qualifying purchases. This post may contain affiliate links which means I may earn a small commission. You may read my
disclosure policy here
".
I absolutely love Christmastime. I'm sure this stems from my parent's love of the holiday. They would set the table and each night after Christmas, all the way through New Year would invite different friends over for a party! I remember some nights when they would entertain, laughing and eating delicious treats they had made until the wee hours of the morning! They loved this!
What I also love is this wonderful group of ladies, I've joined up with to bring you so much holiday inspiration. If you are coming over from the amazing Karianne Wood from Thistlewood Farm Welcome.! Karianne is a dynamo and has the most wonderful blog!
How do you make a reindeer bottle?
Supplies you will need to make your reindeer bottles:
All supplies with the exception of the beverage bottles may be found at your local craft store.
Pipe cleaners (brown_
Mini red pom poms (for the red nose)
Google eyes
Root beer bottle, orange crush bottle, beer bottles, water bottle, or wine bottle may be used)
Hot glue gun
Glue sticks
Wire cutter
Once you decide which type of bottle you will use for your Reindeer Bottle it's full steam ahead! (I'm pretty sure that's what Santa told Rudolph when they were getting ready to fly off into the night delivering toys to all, or maybe that was Rudolph who said it?
You can even tie a scarf by using a festive ribbon around the reindeer's neck or a Santa hat on top for your reindeer bottle decorations. Wouldn't that be a great idea?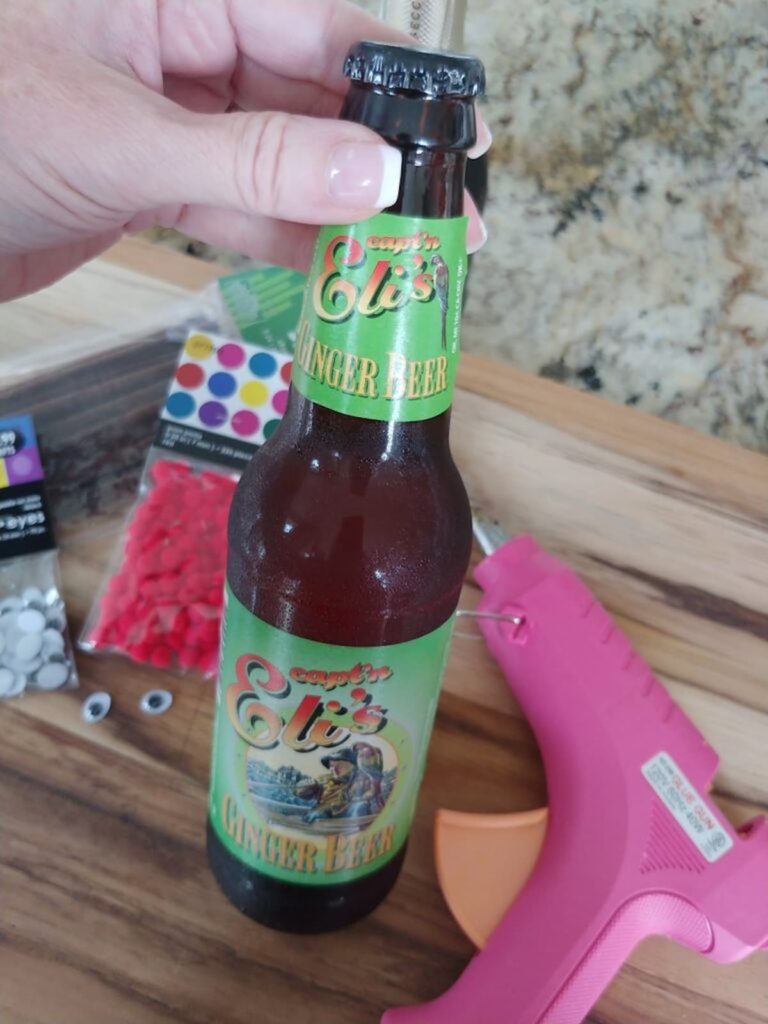 Step-by-step instructions:
1. Choose Any Bottle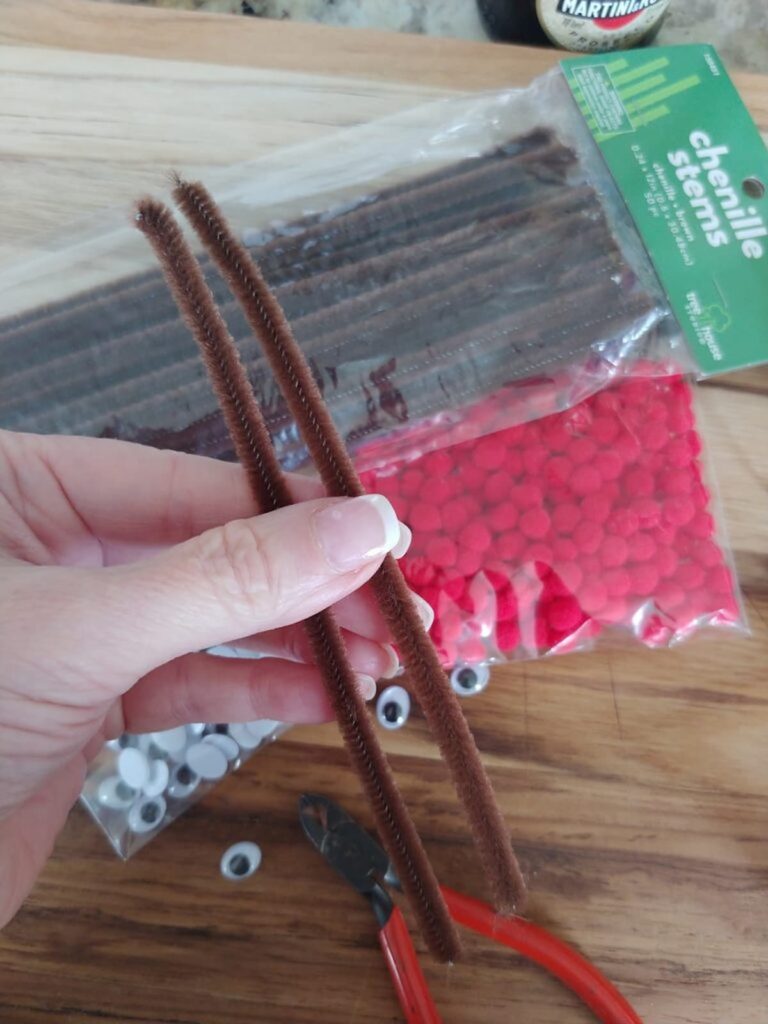 2. Cut the pipe cleaner in half. Set aside.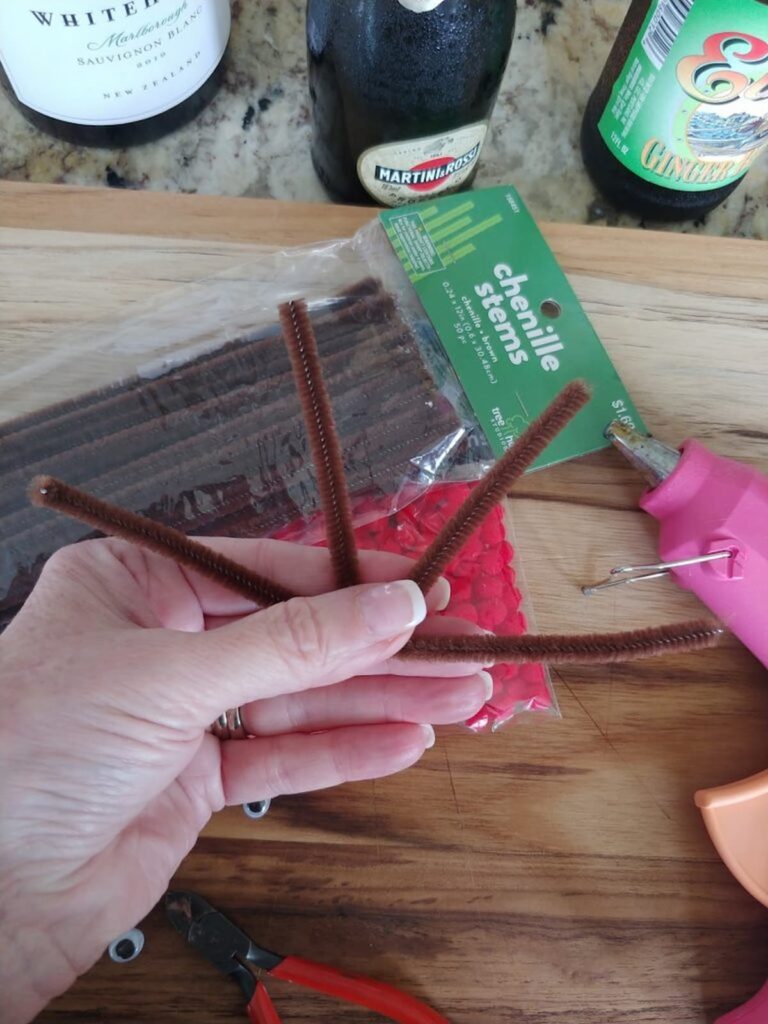 3. Take a second pipe cleaner (noncut pipe cleaner) and wrap it around the bottle.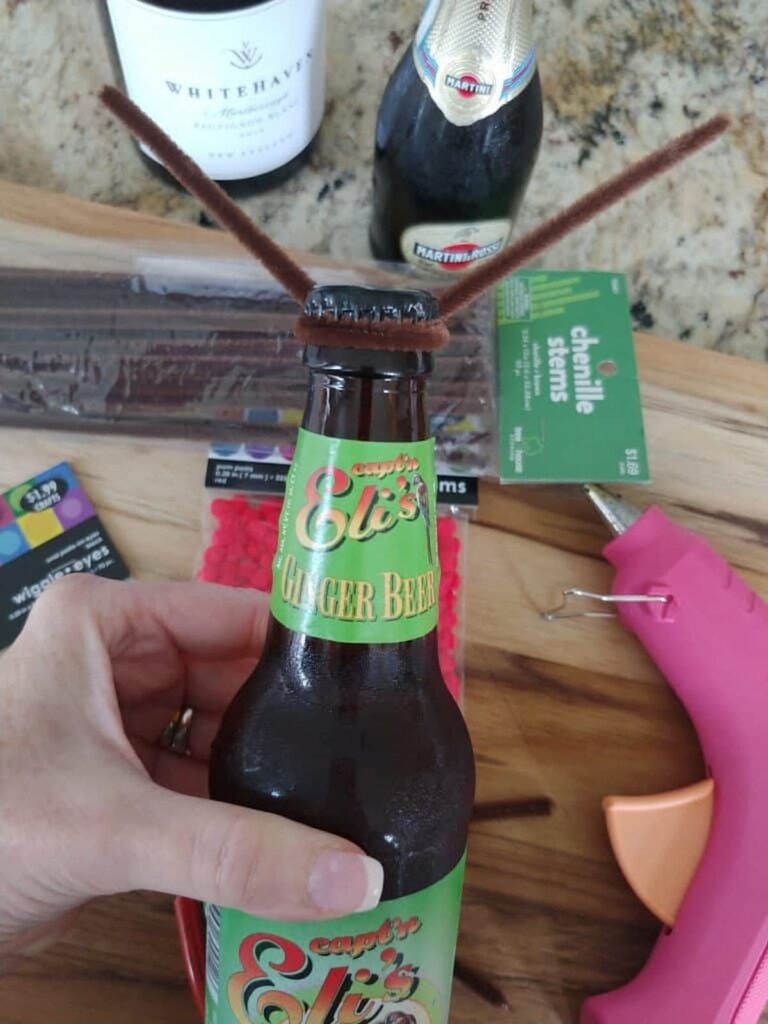 4. Next take the two cut pieces of pipe cleaner and create a V shape.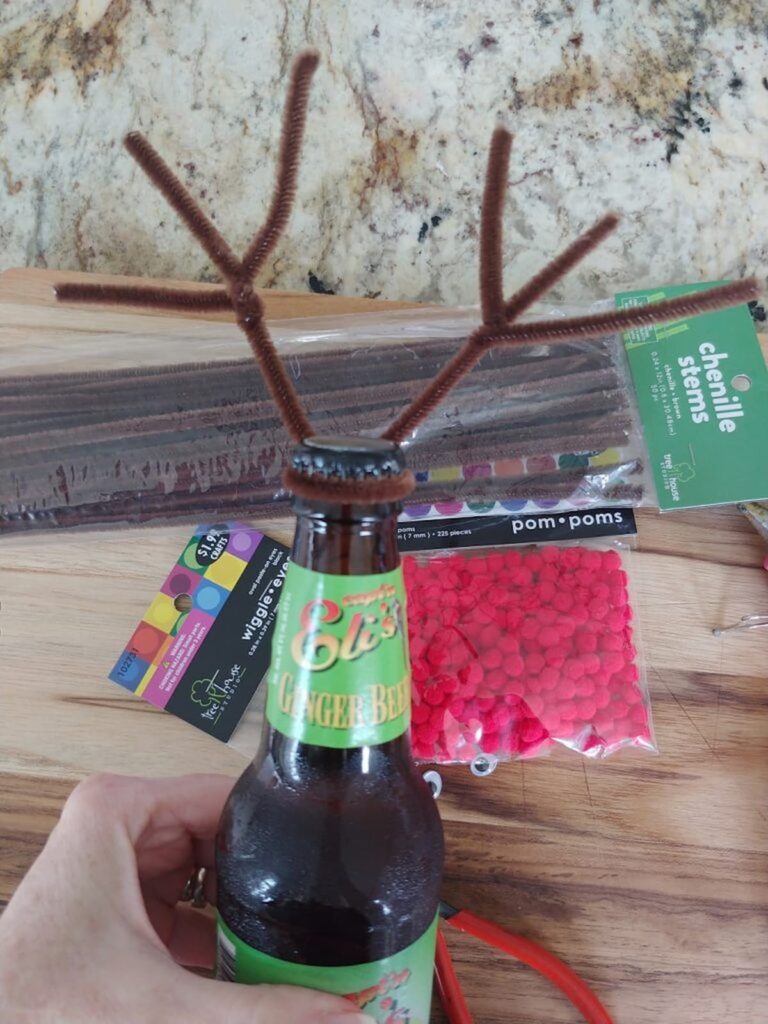 5. Wrap the V-shaped pipe cleaner around the end of the long pipe cleaner about three inches from the end to form little antlers. Do this on both sides of your 'reindeer'!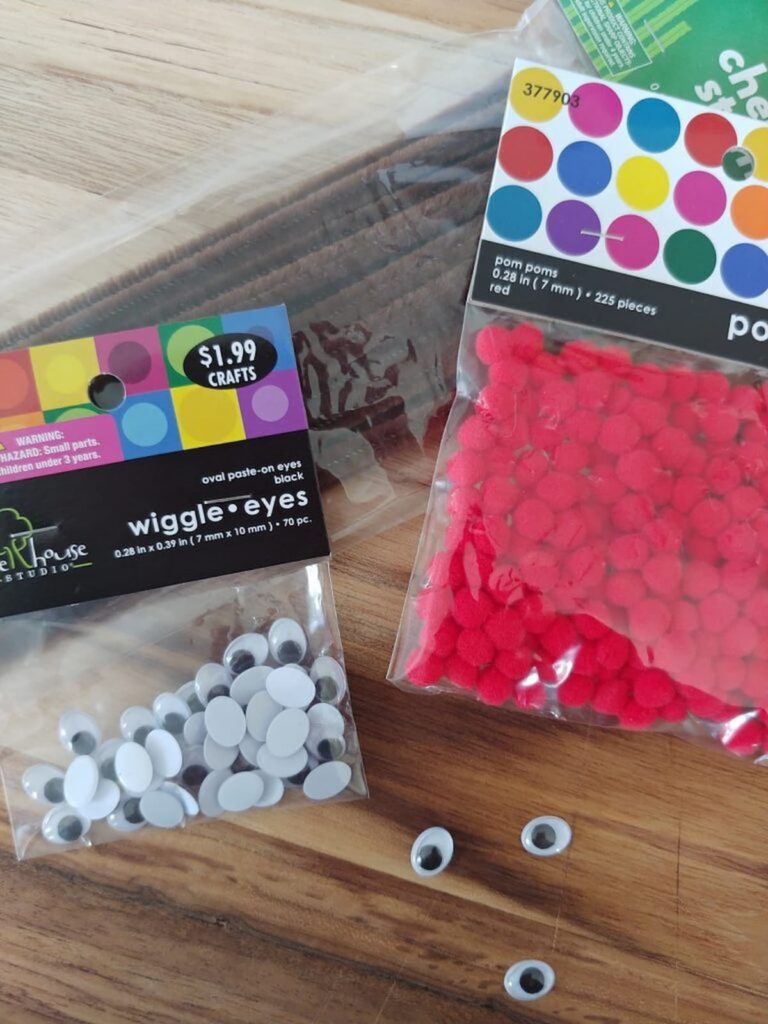 6. The next step is to add the big eyes. Dab a dot of glue from your glue gun to where you would like the eyes to be. Carefully add the googly eye on top of the glue dot. (some dots come already with an adhesive on them) Repeat for the other eye.
7. Lastly, add the red pom pom nose.
Shop & Source Supplies
I used one bag of eyes and one bag of red pom-poms like these!
Here are the pipe cleaners I used!
I used these wire cutters.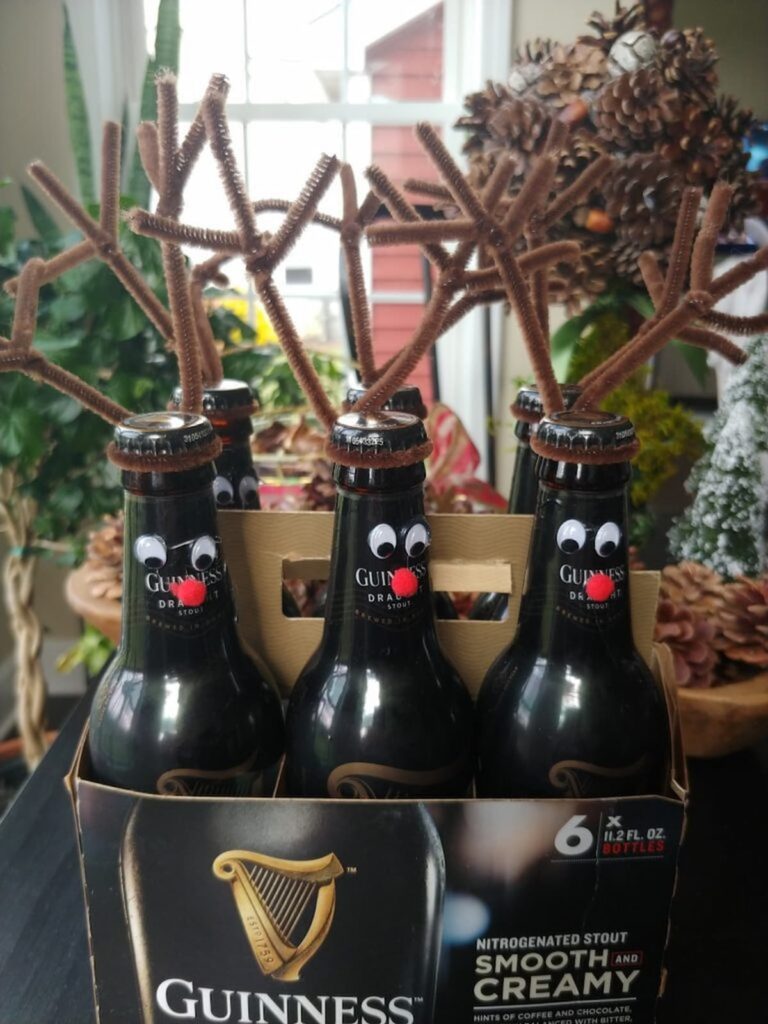 FAQ
What kind of glass bottle should I use?
Any type of glass bottle can be used, but it is best to use a bottle with a straight neck. This will make it easier to glue on the reindeer's antlers and other decorations.
What color pipe cleaners should I use for the antlers?
Brown pipe cleaners are the most traditional color for reindeer antlers, but you can use any color you like. You can even use different colored pipe cleaners for each antler.
What kind of glue should I use?
Hot glue is the best type of glue to use for this project. It is strong and dries quickly. However, you can also use craft glue or a glue gun.
How do I attach the reindeer's nose and eyes?
Simply glue the pom pom nose and googly eyes to the top of the bottle using hot glue or craft glue.
Can I add other decorations to my reindeer?
Of course! You can add any decorations you like, such as bells, jingle bells, ribbons, glitter, or stickers.
How can I display my reindeer?
You can display your reindeer anywhere in your home. You can place them on a table, shelf, mantel, or even in your Christmas tree.
Can I give my reindeer as a gift?
Yes! DIY reindeer bottle decorations are a unique and thoughtful gift for friends and family.
Here are some additional tips for making DIY reindeer bottle decorations:
Make sure to clean the bottle thoroughly before you start decorating.
If you are using hot glue, be careful not to burn yourself.
If you are making a whole herd of reindeer, try using different-sized glass bottles and different colors of pipe cleaners.
Add other festive decorations, such as bells, jingle bells, ribbon, glitter, or stickers, to make your reindeer even more unique
Wasn't the Reindeer Bottle Craft Fun!
With these simple steps and simple supplies, you'll be giving homemade Christmas reindeer bottle toppers to everyone. All you need to do is add gift tags. It's that easy!
My husband and are giving out a bottle of wine decorated to all our golfing buddies, tennis friends, and family.
Everyone loves them!
The holiday season is a time for family, friends, and fun. And what could be more fun than making your own reindeer bottle decorations? This simple craft is perfect for all ages and skill levels, and it's a great way to get into the holiday spirit.
Once you've made your reindeer, you can display them around your home to add a festive touch. You can also use them as unique and memorable Christmas photo props.
No matter how you choose to use them, these DIY reindeer bottle decorations are sure to bring some holiday cheer to your time of year
Up next on the blog hop
Next up on the Blog Hop is Missy Noonan from Sonata Home Design. If you click the link here, it will take you to her Christmas Blog post. It's so much fun as you can go from blog to blog by following along on each link!
Although it may seem early, there's no time like the present to get started on your Christmas decorating. You may also enjoy these posts!
How to Layer Your Christmas Tree Decorations
The Best Ricotta Vanilla Challah Bread Pudding Recipe is perfect for any holiday dinner!
Best Breakfast Charcuterie Board for any size crowd.
How to Get Ready for Christmas